Good Year Seafood Village In Tampines Avenue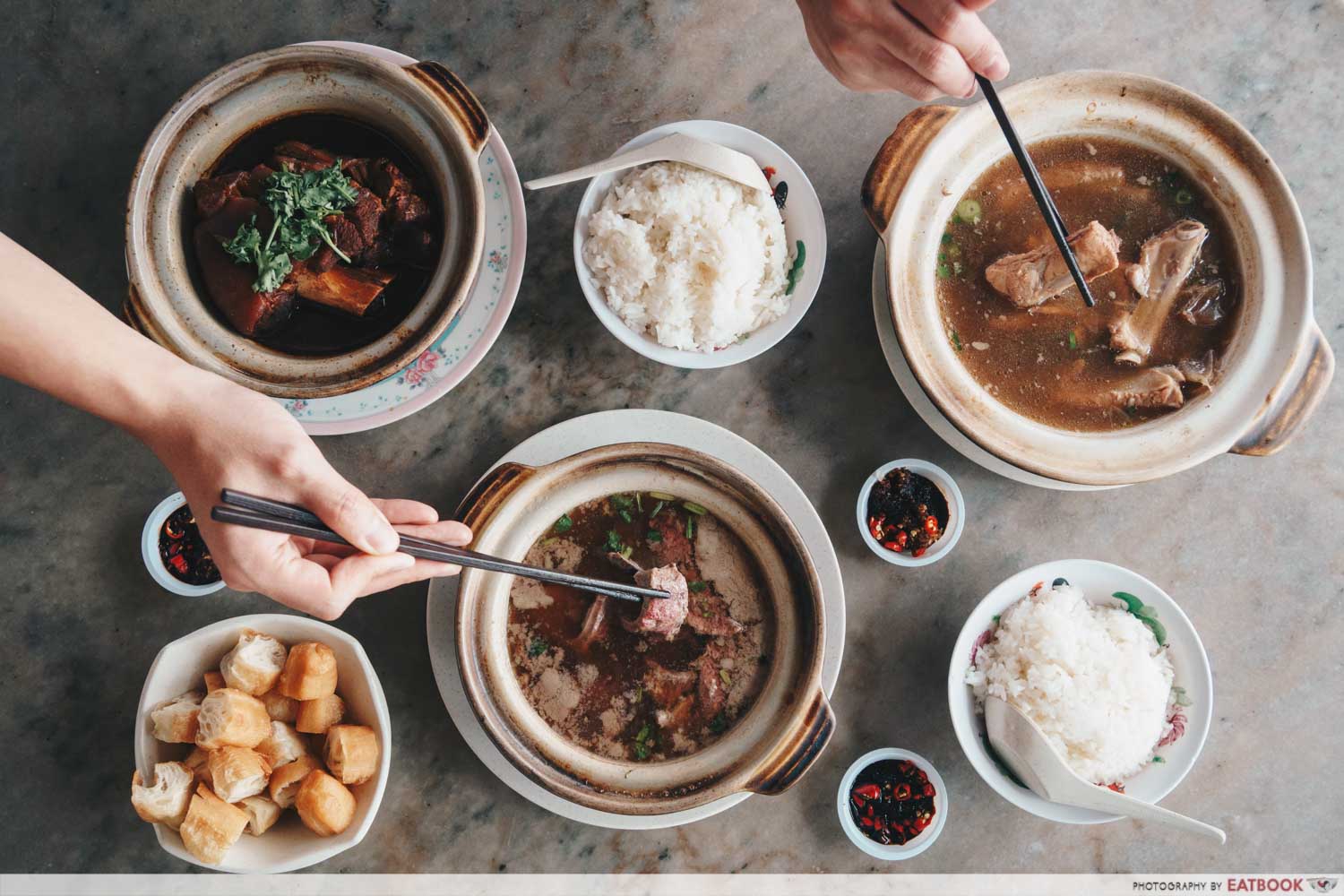 Everyone has their opinion on the best style of Bak Kut Teh. While some swear by the peppery Teochew variant, I find myself attracted to the more herbal and fragrant "Malaysian" Bak Kut Teh.
Also called Pontian style Bak Kut Teh, finding a good bowl is difficult in Singapore, with the robust Teochew versions proving to be more popular.
When a colleague recommended a herbal Bak Kut Teh store that's located inside the ulu Tampines Avenue, I knew I had to make the trip. Hopeful of finding a quality herbal bak kut teh, I visited Good Year Seafood Village for a taste of their herbal Bak Kut Teh.
Food at Good Year Seafood Village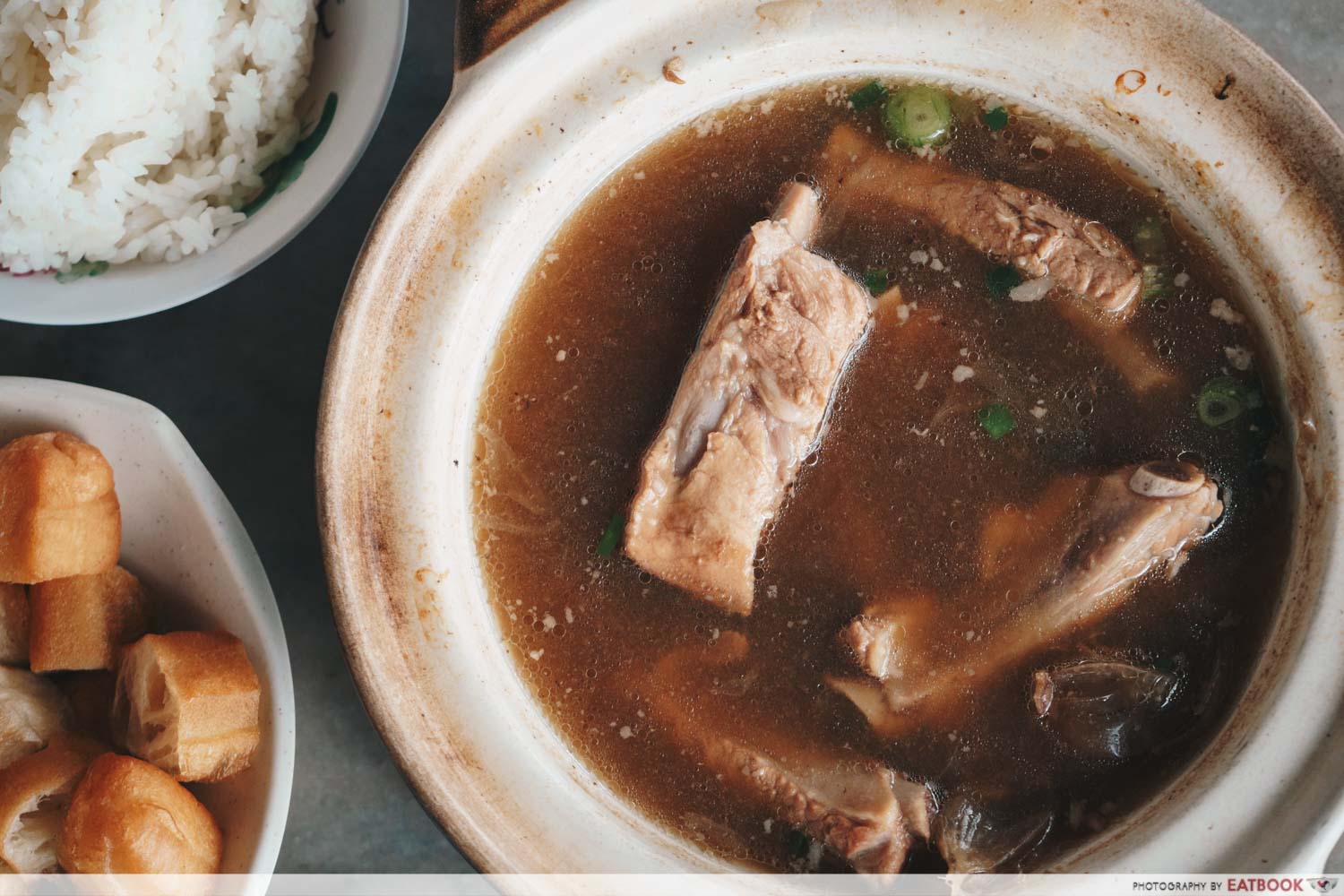 The Bak Kut Teh ($6.80+/$12.80+) comes in two sizes, but we got the larger size to share. You'll find a generous amount of ribs that are served inside a claypot to keep the contents warm.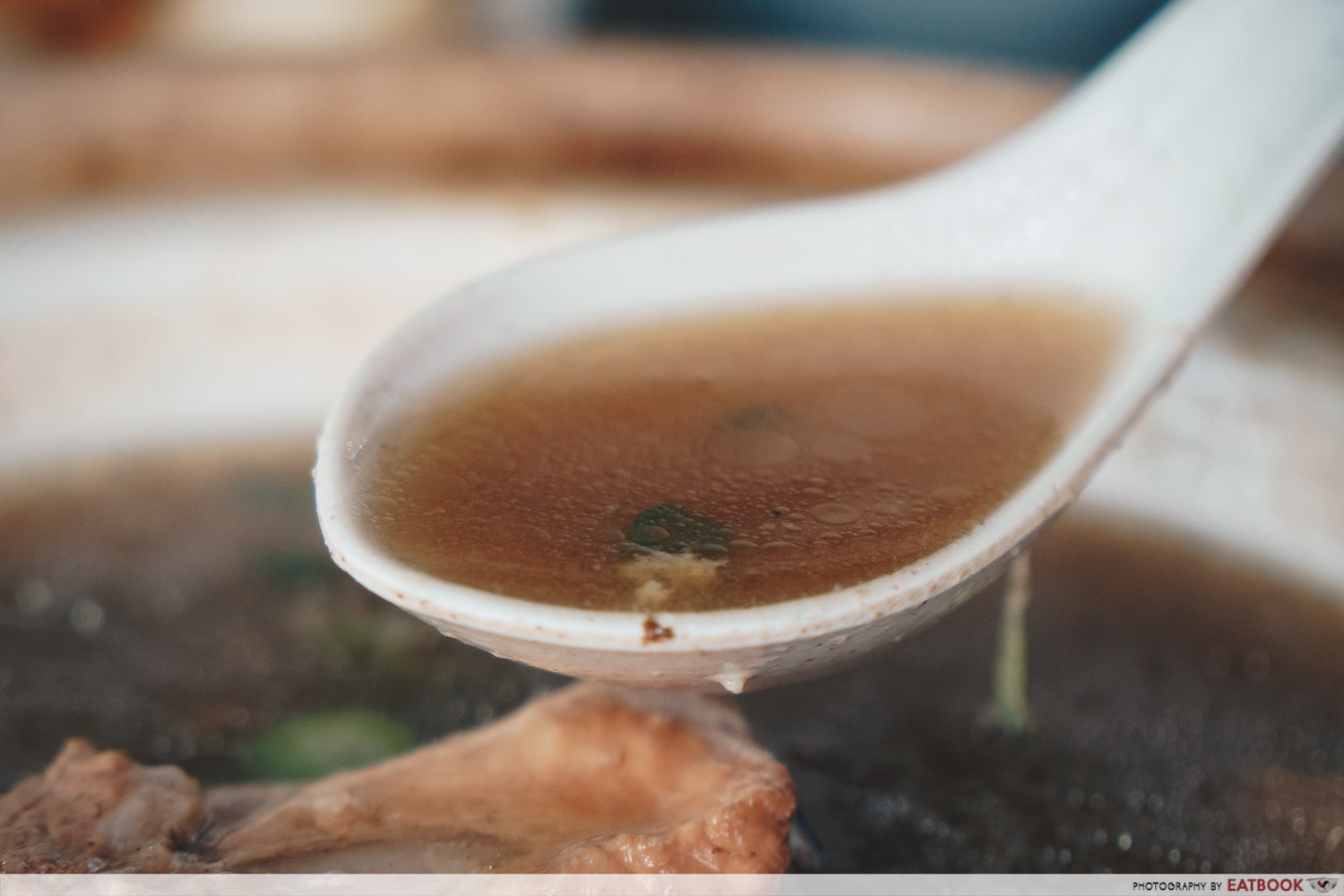 The soup is the star of the show here. Light and not too oily, it had a natural sweetness that is accompanied by a distinct herbal flavour. I also liked how ginseng was added to it, giving a nice luxurious taste.
While this version is not as heavy and peppery as the Teochew variant, you'll find plenty of garlic tossed inside, giving a strong body. They've been simmered for hours, so you won't be surprised by biting into any semi-raw garlic.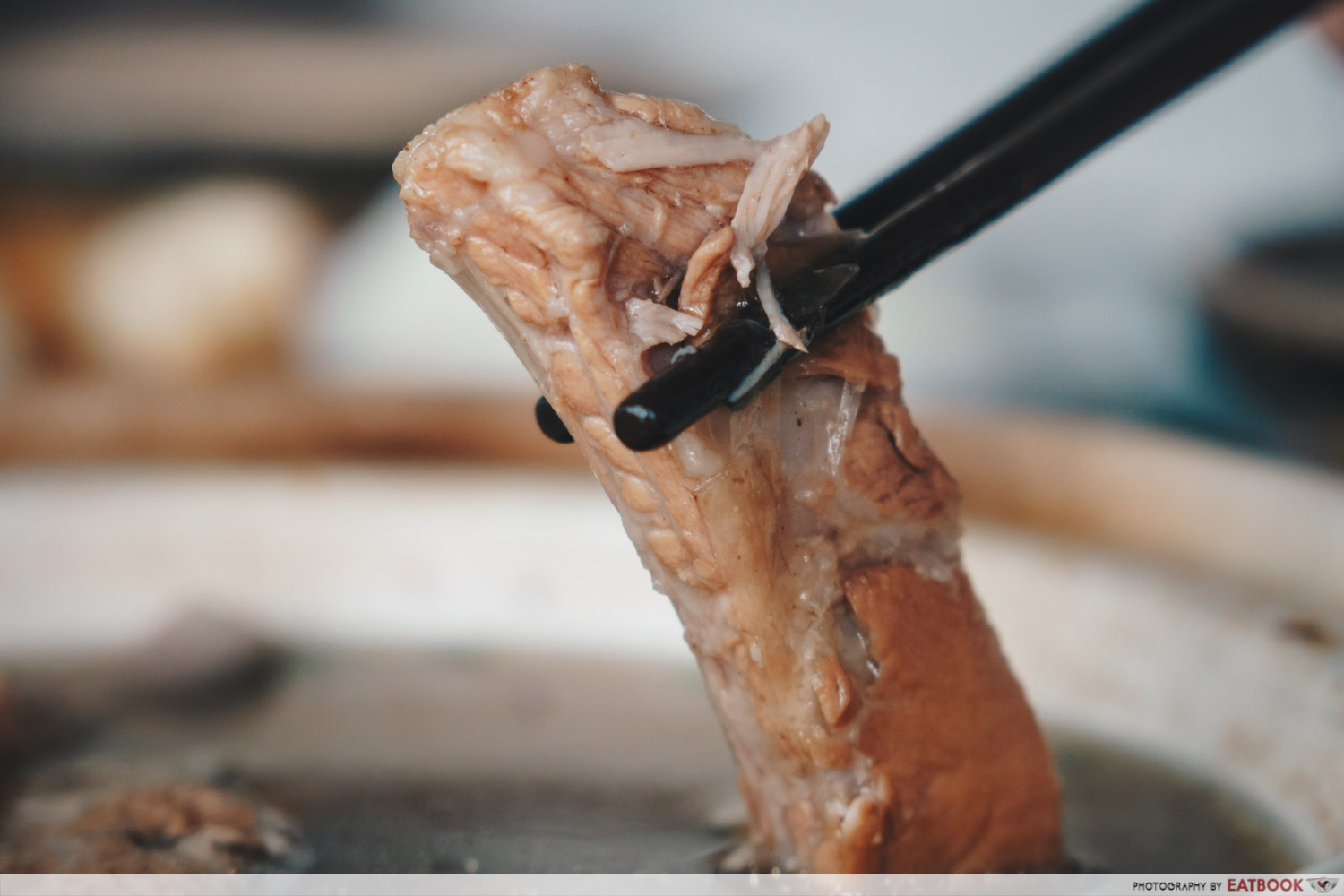 The meat here is not drop-off-the-bone but it comes with just the right firmness to give a nice bite. It took just one bite to know that the meat has been delicately cooked in the soup – absorbing the rich herbal flavours.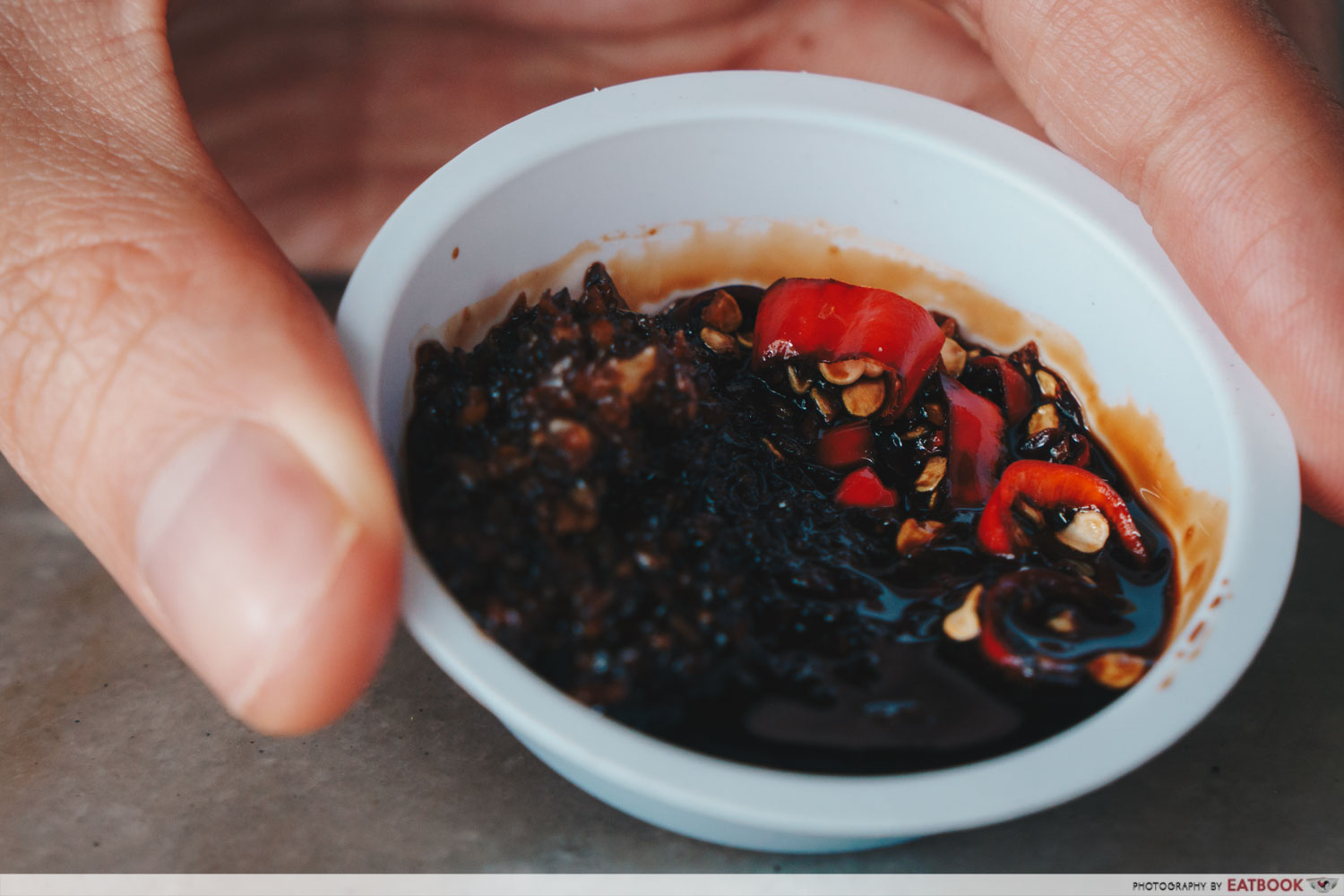 Just like how it's served in Malaysia –  chilli, chopped garlic and thick dark soy sauce are mixed together to form a dipping sauce. The sweet dark soy sauce, tangy garlic, and spicy chilli combined well to bring out the rich meaty flavours.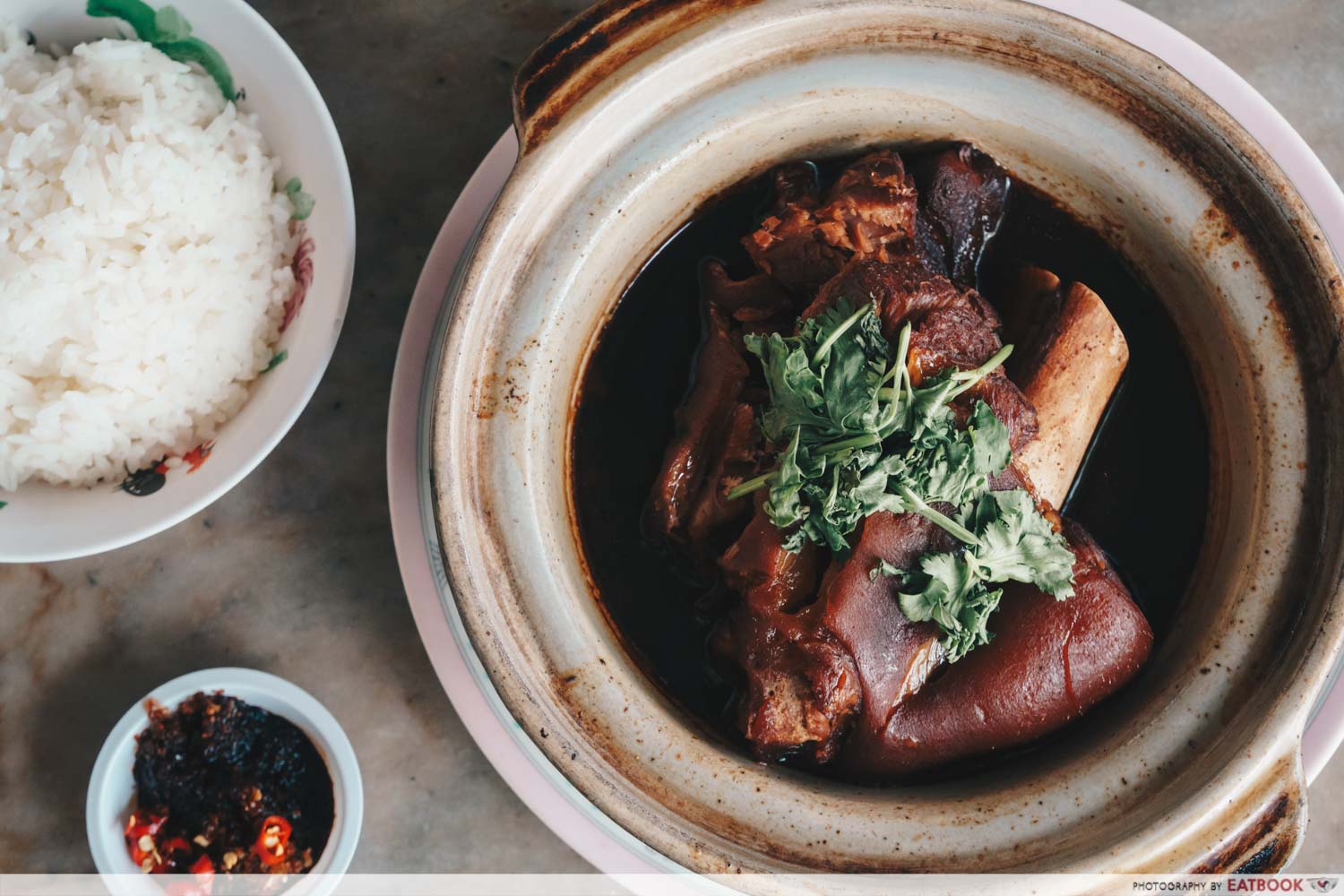 Braised Pig's Trotter ($6.80+) was another highlight of the meal. This dish comes with an entire chunk of pig's trotter that is braised in a sweet and velvety sauce. Another thing worth noting is that it's also served in a claypot, ensuring that everything reaches the table piping hot.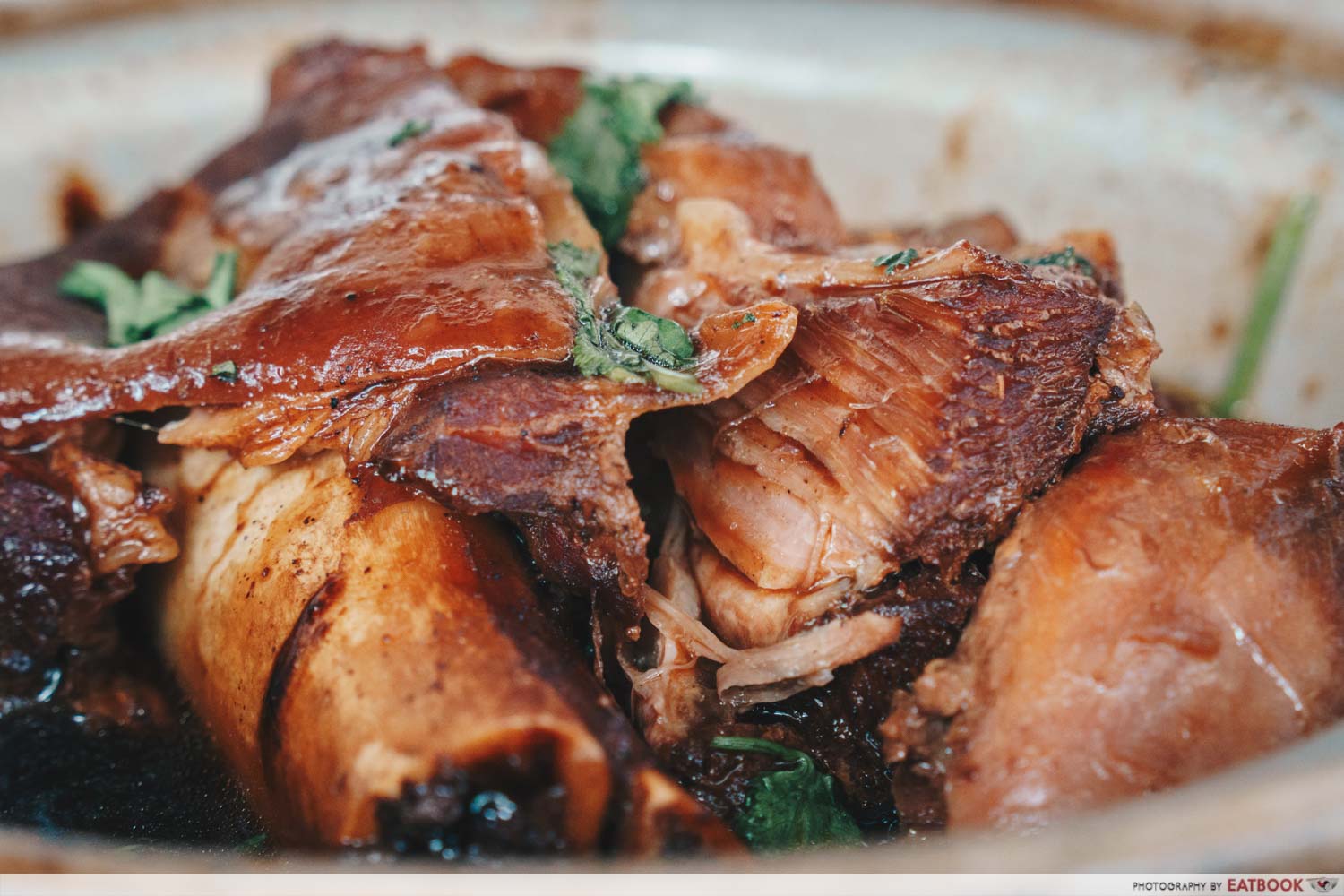 The meat was exceedingly tender, with thick collagen-rich layers of fat giving loads of flavour. There wasn't any strong porky odour, making it ideal for those who shun this overlooked part of the pig which can get too porky sometimes.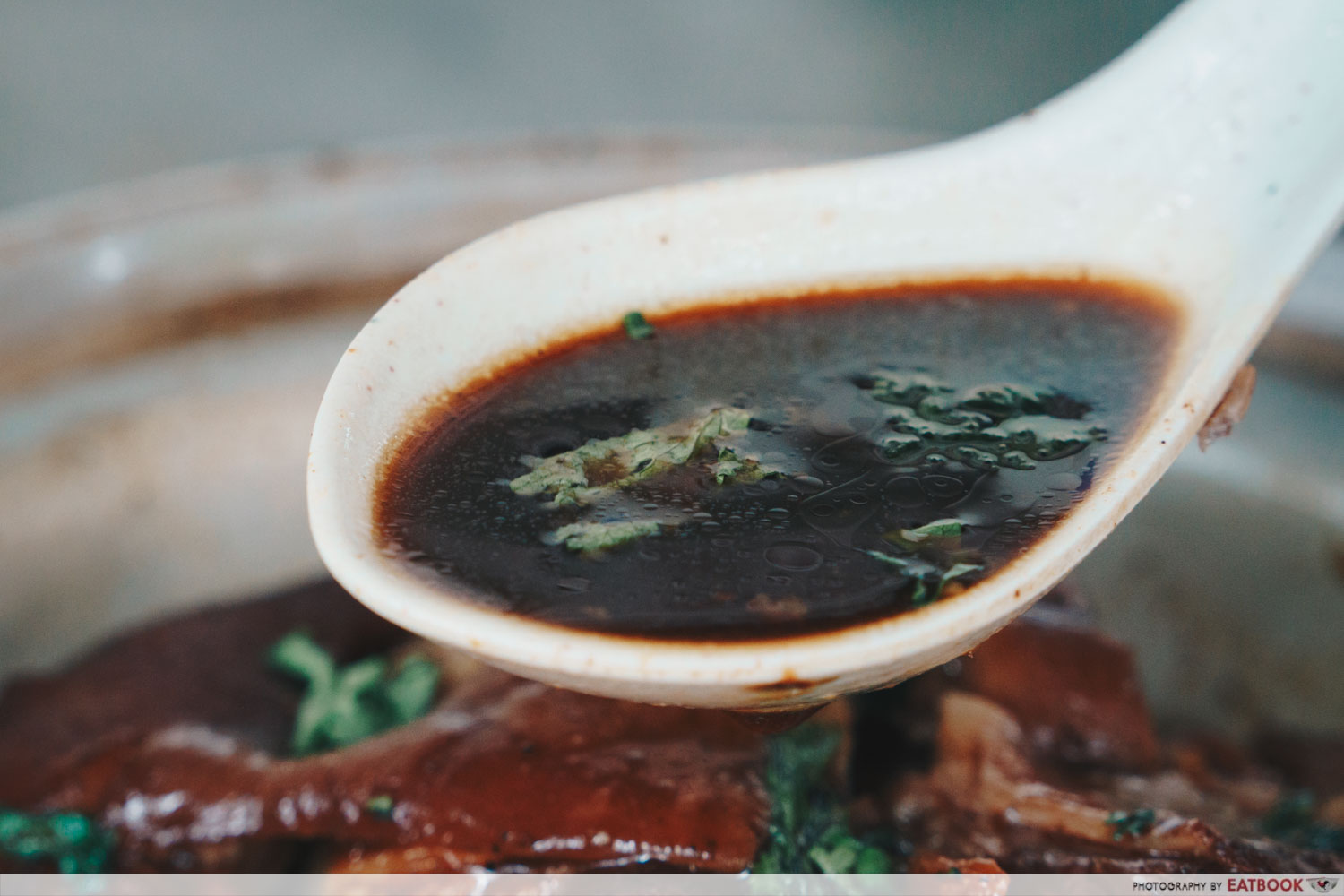 While we felt that the sauce could have been a little thicker, I liked how it didn't have that overpowering sweetness that masks the fatty pork flavours. It also had a tinge of ginger that added a nice touch to the trotters.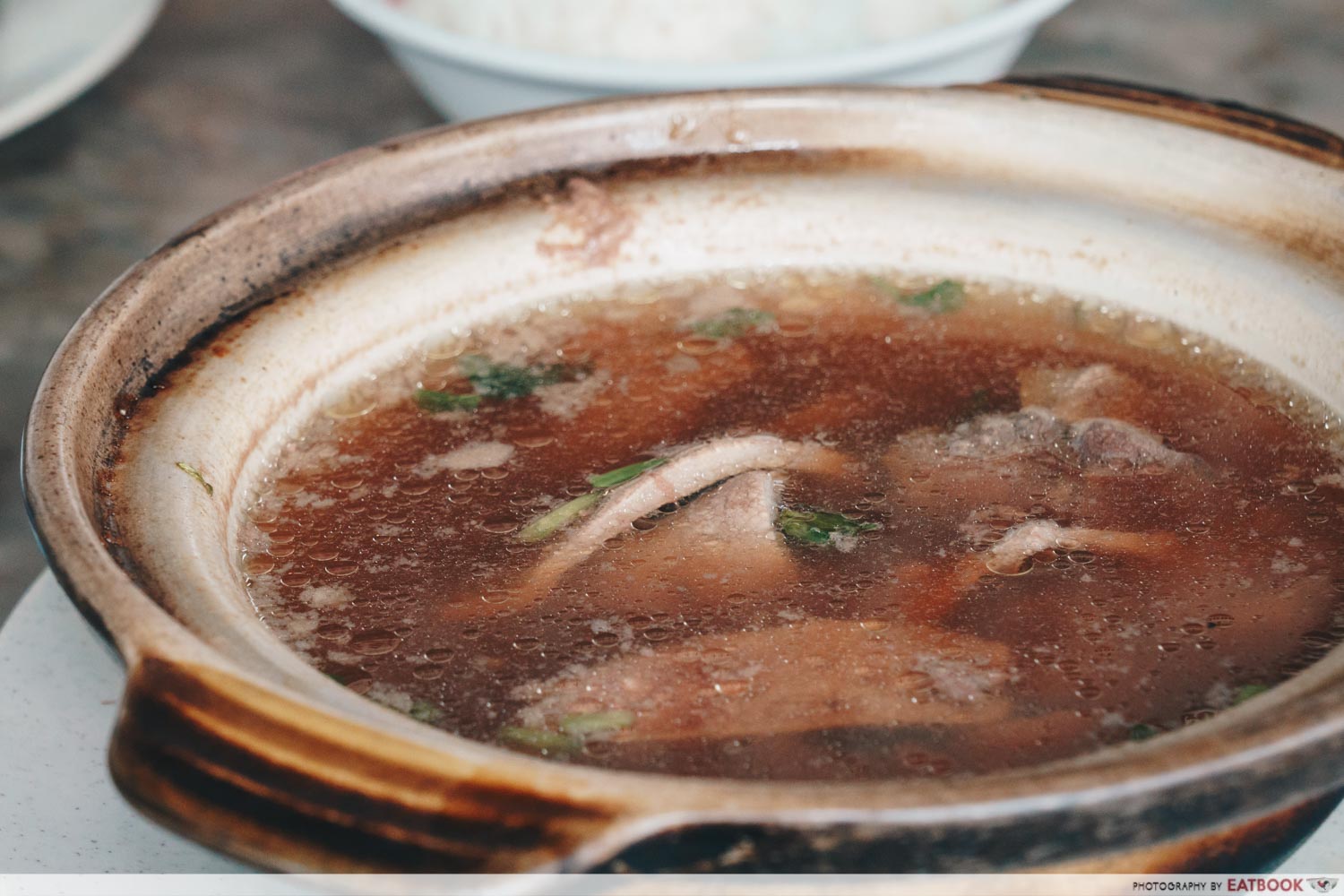 Pig's Livers Soup ($6.80+) will be a delight for those who like their meat rare and bloody. The broth here is slightly more peppery than the one found in the Bak Kut Teh, but was noticeably oiler as well.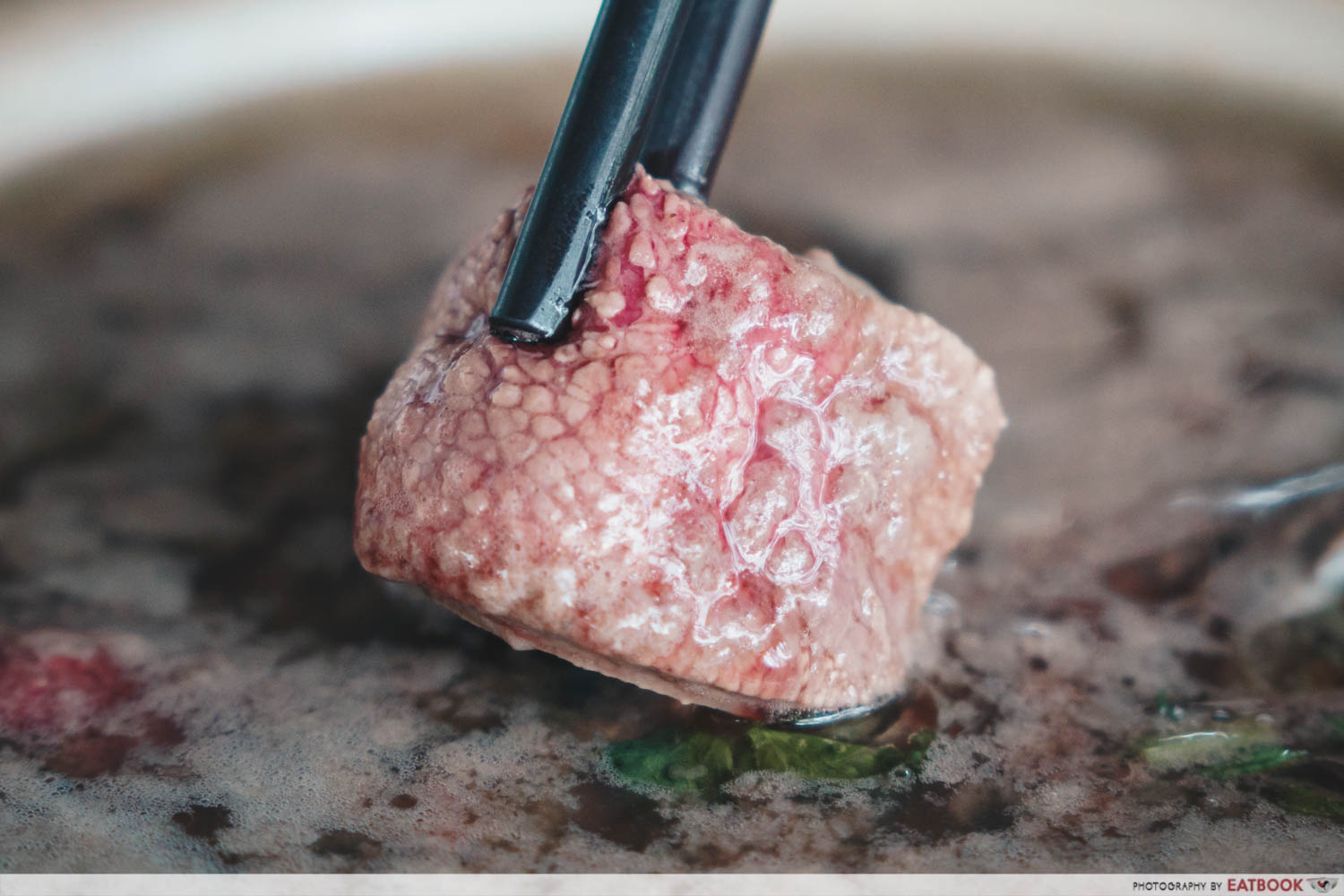 The pork liver slices are cooked to a rare pink consistency, resulting in a creamy and juicy texture. For those who find this to be a too raw, swish it in the soup to cook it further.
The liver gave the soup a strong bloody taste to it, which might be repulsive for some. Add a little of the dipping sauce into the soup to remove the strong bloody taste.
Ambience at Good Year Seafood Village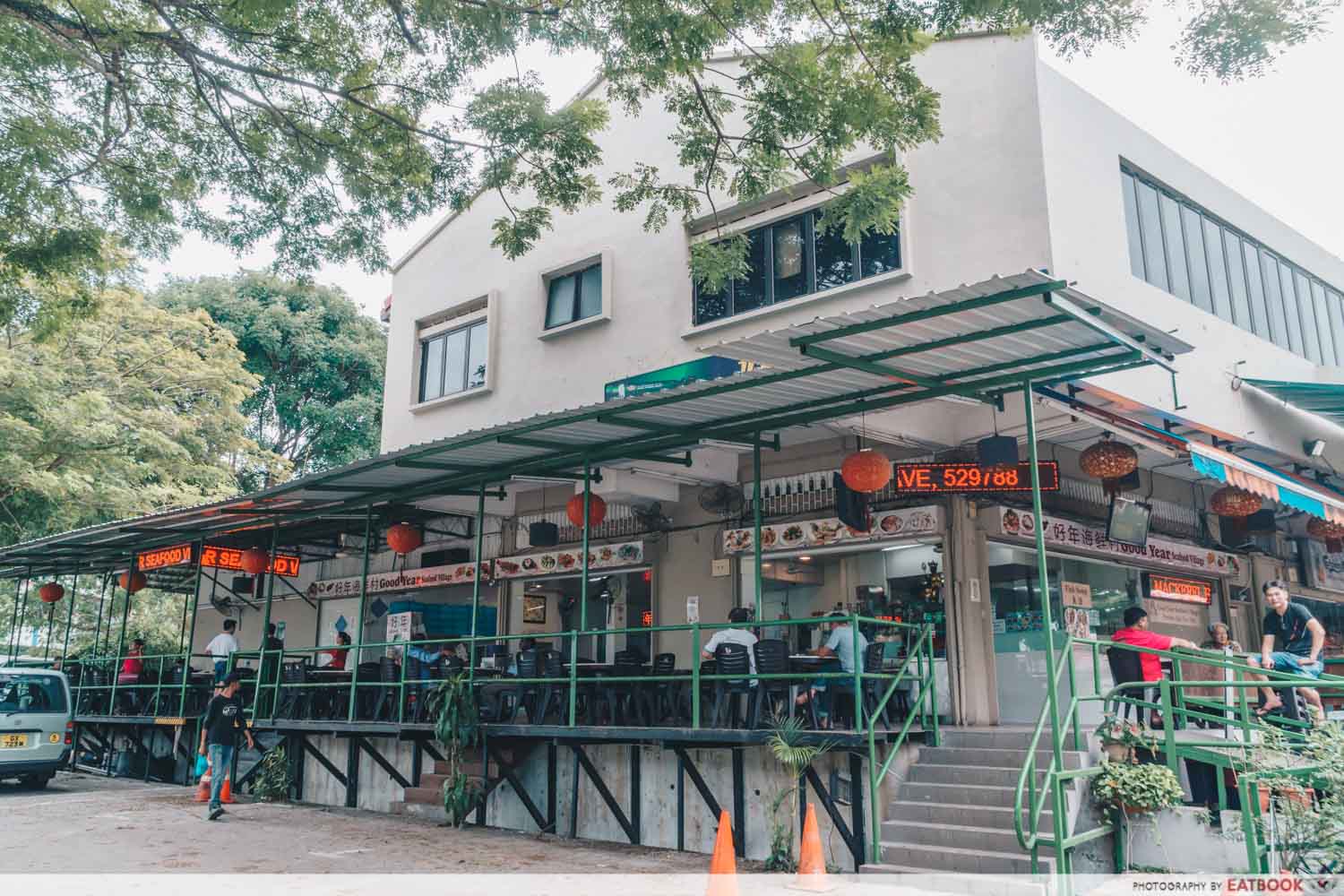 Located at the remote Tampines Avenue that links Hougang with Tampines, you might think you're in a quiet part of Malaysia at Good Year Seafood Village Restaurant.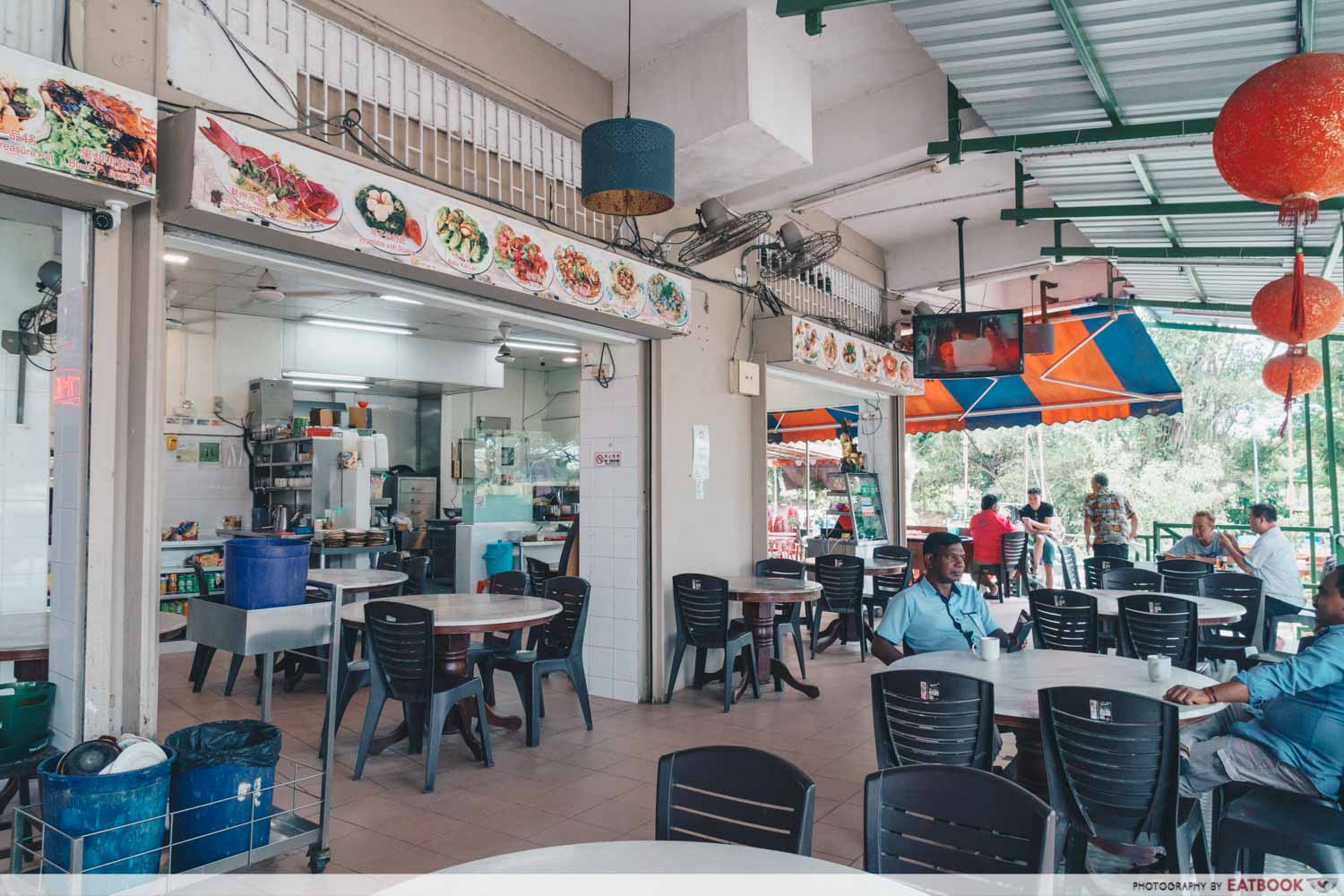 There's a "kampong" vibe here where cars can park wherever they like, along with lots of accompanying greenery all around the restaurant. This quaint spot is a popular destination for drivers looking for a relaxing meal, making it a good place to chill in the afternoon.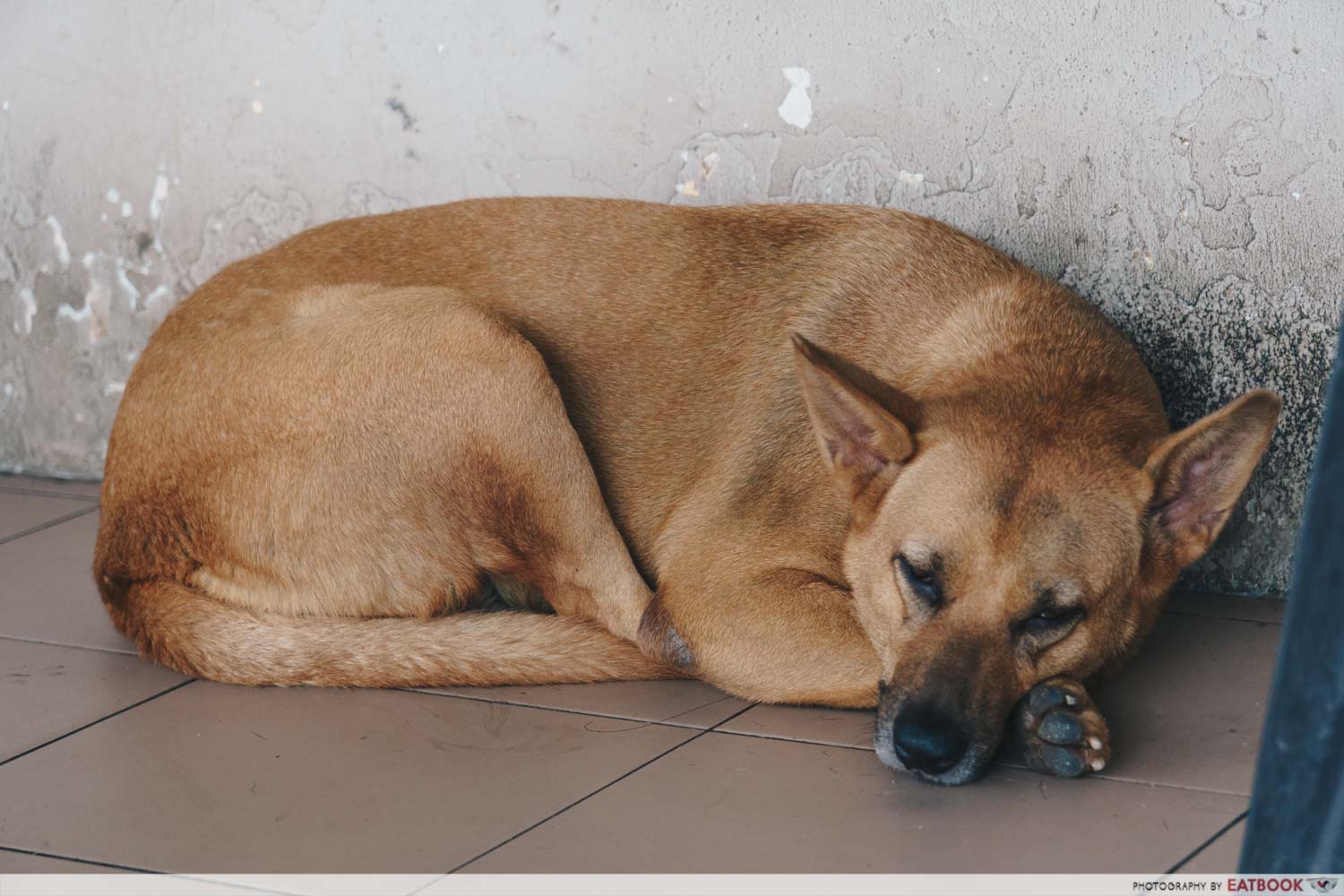 Look out for the many wild dogs that like to seek warmth and shelter here. Although they are harmless, they tend to lie around the restaurant, with some even choosing to sleep just next to us.
The verdict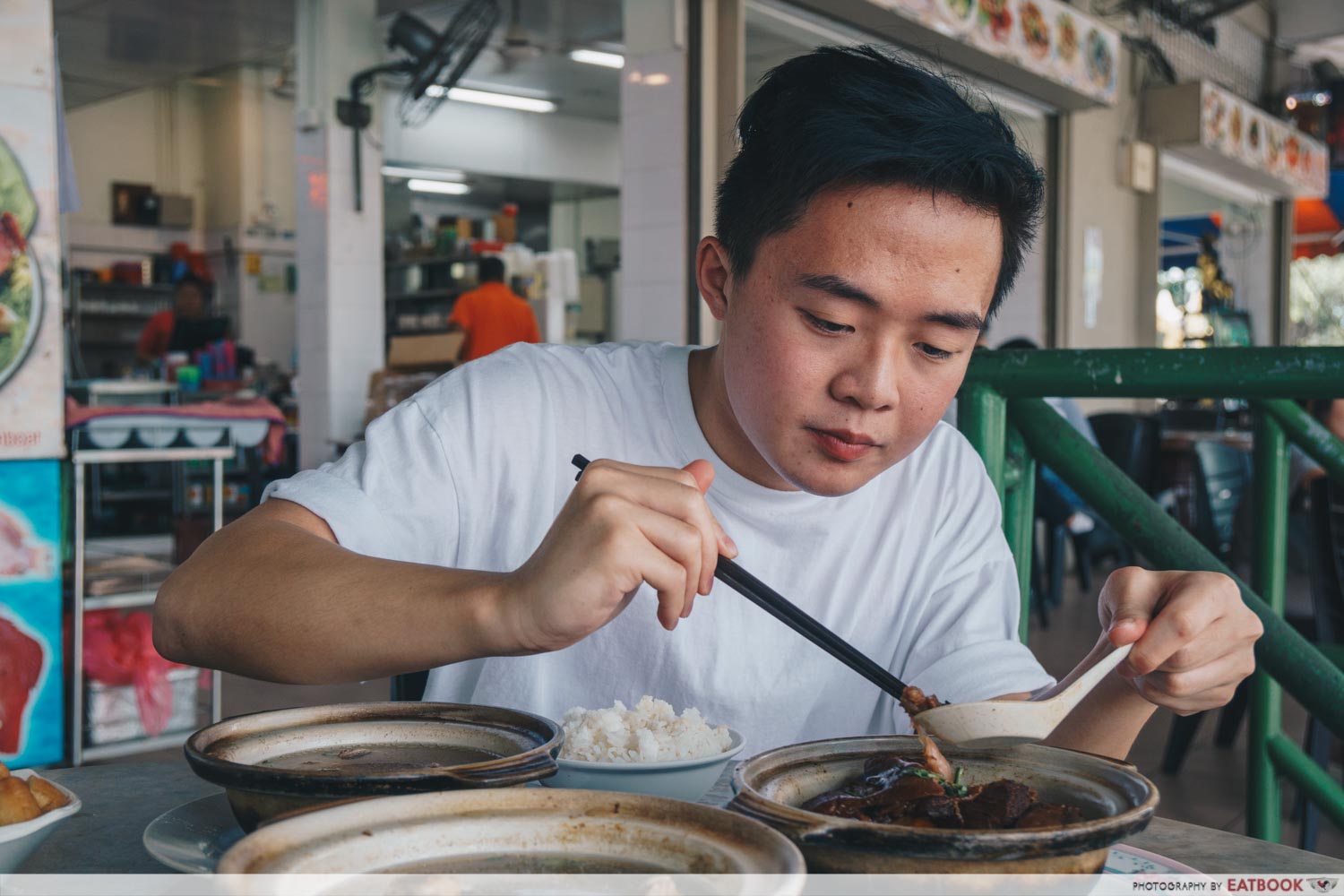 This store has entered my list as one of the best places to go for herbal Bak Kut Teh. Although it's a little out of the way, there are plenty of bus services that can take you to this remote restaurant in Tampines.
For those looking to take a break from the hustle and bustle of the city, this restaurant is definitely worth checking out for its laid-back and chill atmosphere.
If you're around Tampines, be sure to also check out Captain Kim and Tipsy Penguin!
Address: 15 Tampines Avenue, Singapore 529788
Opening Hours: Daily 11am to 10:30pm
Photos taken by Maverick Chua.
This is an independent review by Eatbook.
Summary
Pros
– Great tasting food
– Chill ambience

Cons
– Hard to find parking in the evenings
– Dogs might be imposing for some
Recommended dishes: Bak Kut Teh ($6.80+/$12.80+), Braised Pig's Trotter ($6.80+)
Opening Hours: Daily 11am to 10:30pm
Address: 15 Tampines Avenue, Singapore 529788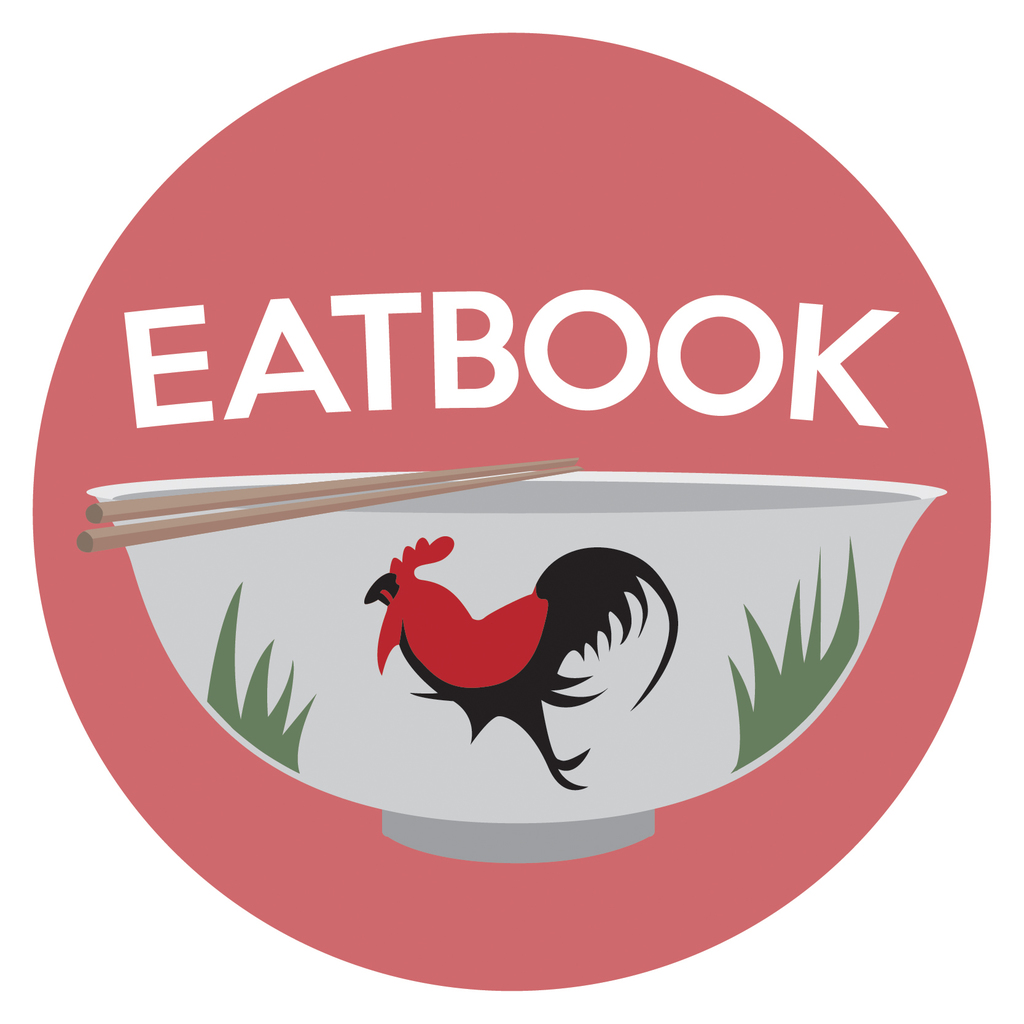 Drop us your email so you won't miss the latest news.