Haji M. Abdul Rajak has soup kambing at Upper Boon Keng Market & Food Centre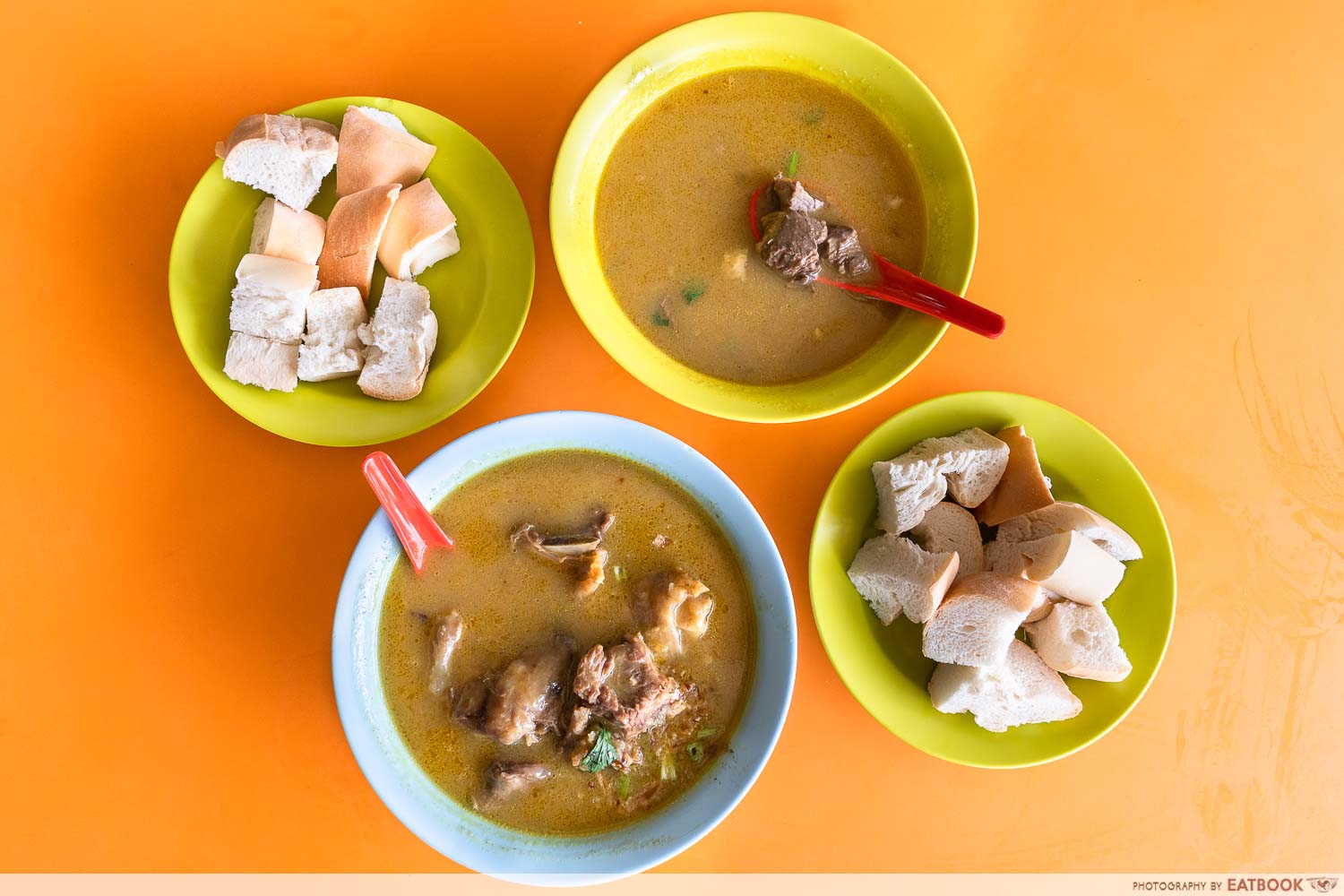 Like many older folks, my father loves to regale me with stories of his youth. One of his fondest memories involves him playing football with his friends near his old home in Upper Boon Keng. After games, they would walk over to Haji M. Abdul Rajak, a soup kambing stall, for a meal.
For those unaware, soup kambing is a Muslim Indian mutton soup that is stewed in rich spices and served with bread.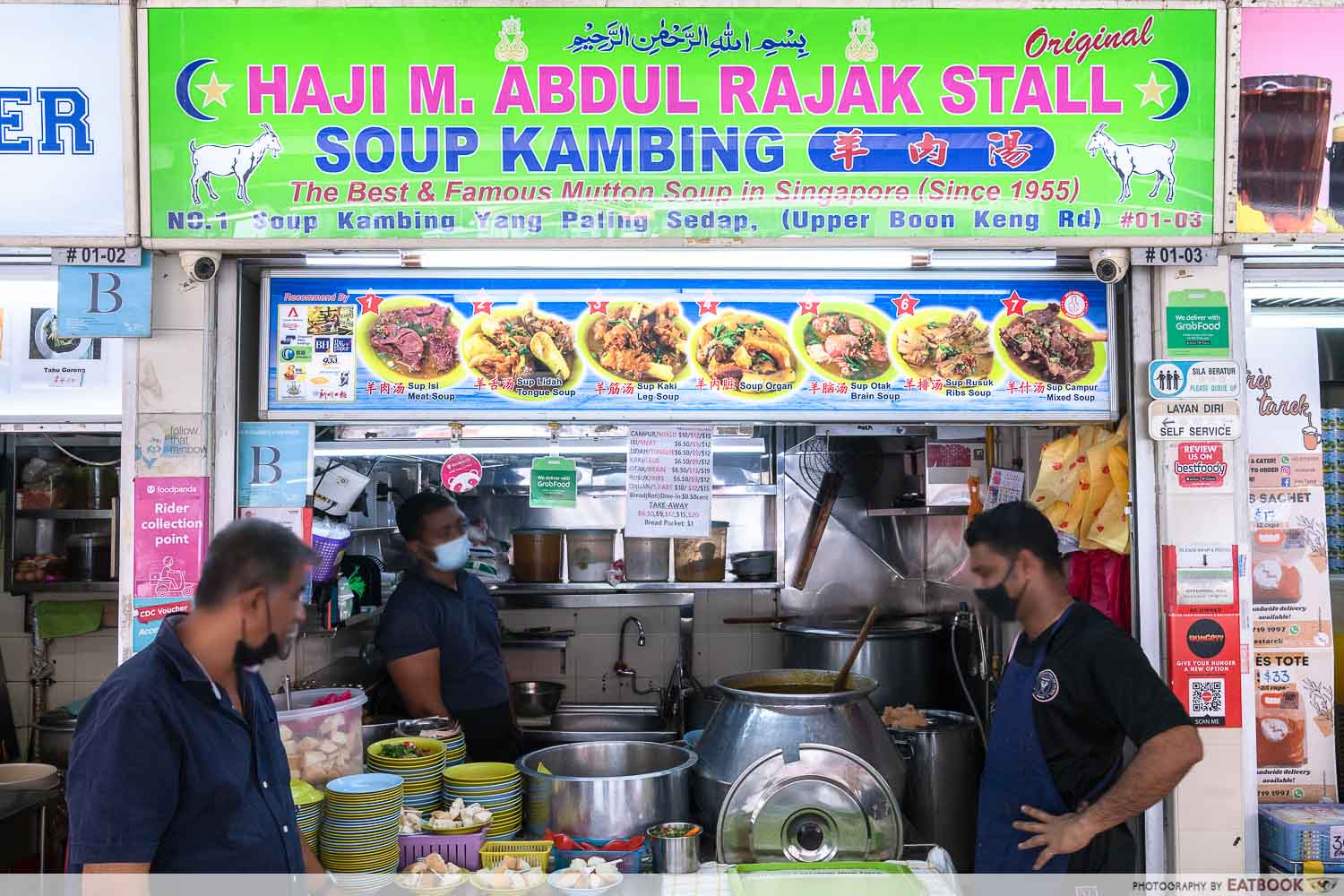 Today, my father is 64, and the popularity of soup kambing has waned greatly over the years. Haji M. Abdul Rajak, however, is still going strong, and remains the most iconic soup kambing stall in Singapore.
To find out how it has withstood the test of time, I dropped by the stall at Upper Boon Keng Market & Food Centre to try the famous mutton soup myself.
Food at Haji M. Abdul Rajak
Haji M. Abdul Rajak only sells soup kambing, but allows you to choose the cut of mutton, thereby varying the price. Do note that the stall offers many exotic cuts, such as tongue and, well, brain.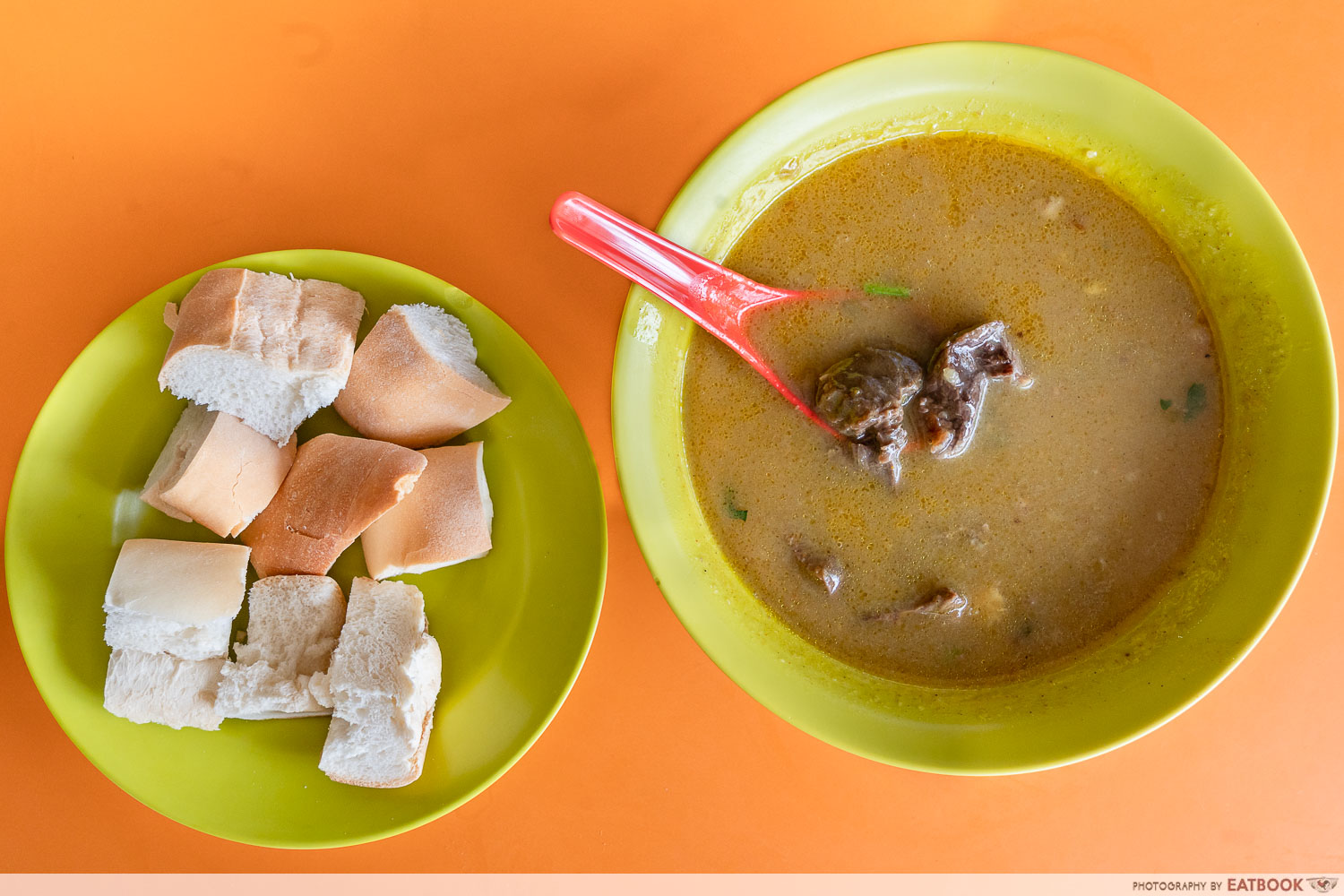 I decided to start with the most basic option Isi (from $6.50), which features mutton cubes. It goes without saying, but we also got some Bread ($0.50) to go along with the soup.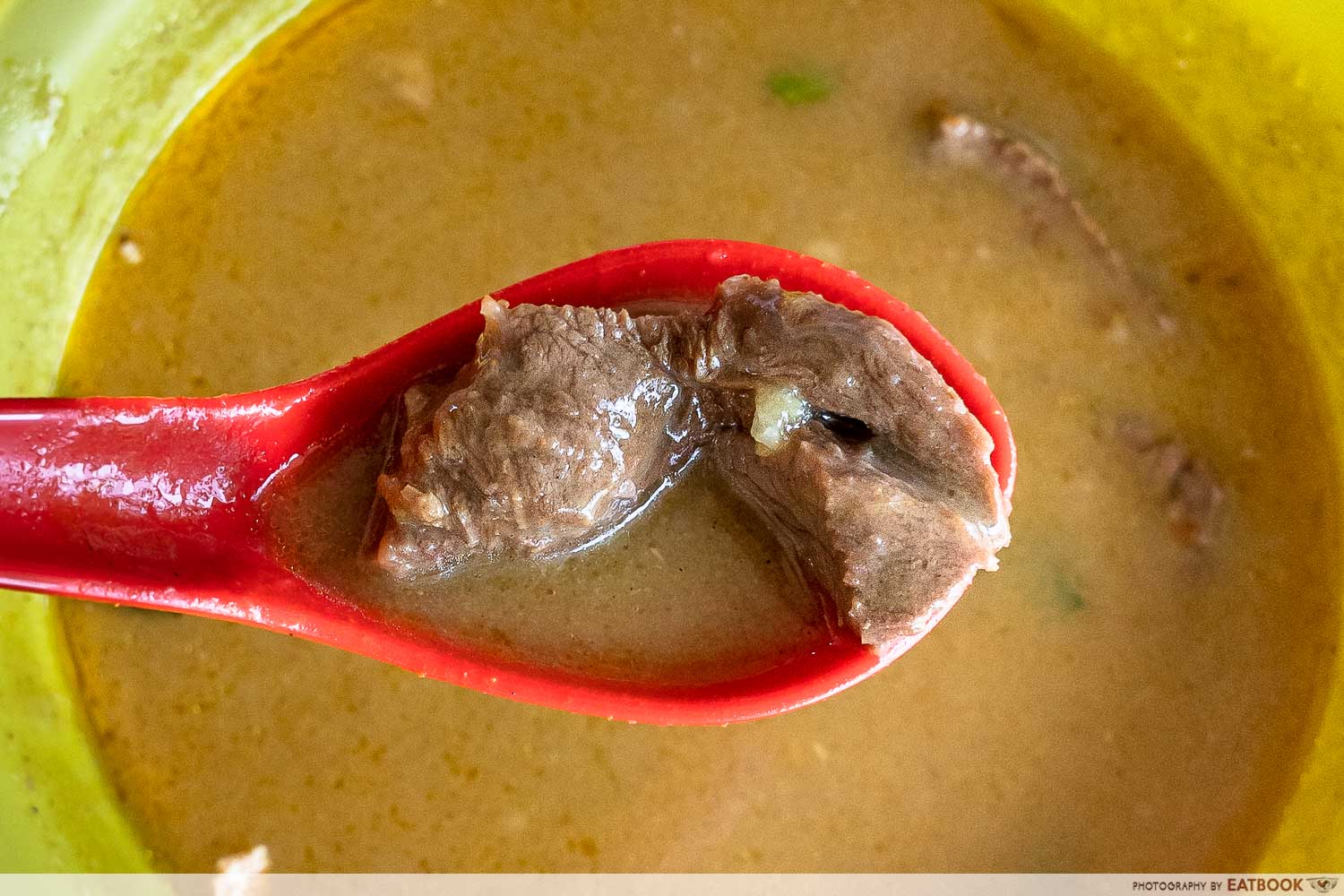 The soup was just spectacular. There was, of course, the flavour of mutton that permeated the soup, yet it didn't have an overt gaminess that would turn off some people. It also boasted an incredible aroma, courtesy of the blend of spices that went into the dish. Overall, it was rich, savoury, and comfortingly warm—perfect for a rainy day.
The cubes of mutton were tender and chunky, and like the soup, they didn't have that much of a gamey taste.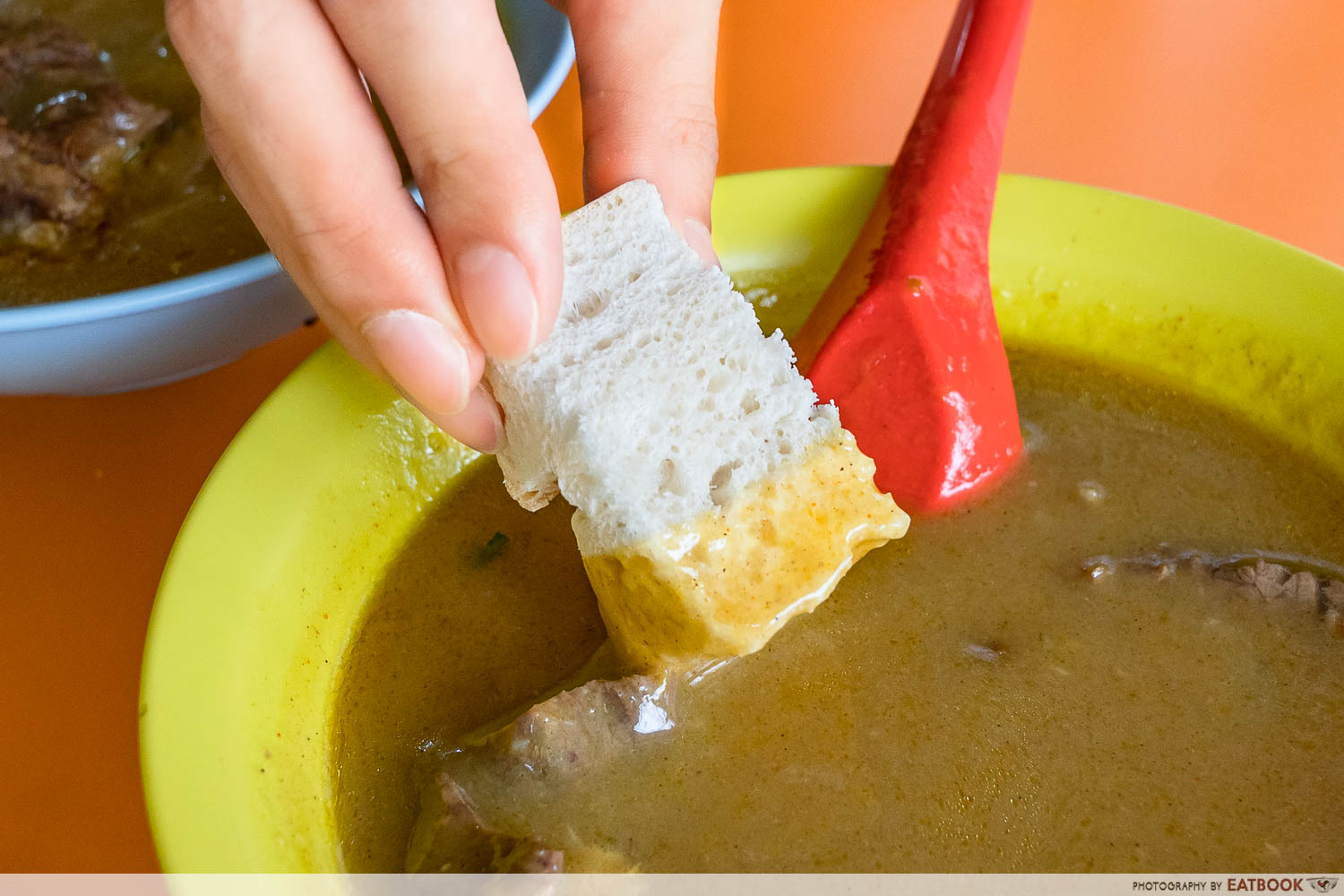 Dipping the soft, fluffy bread into the soup allowed it to soak up all of its tantalising flavours. It made for an easy-to-eat yet hearty accompaniment to the addictive broth.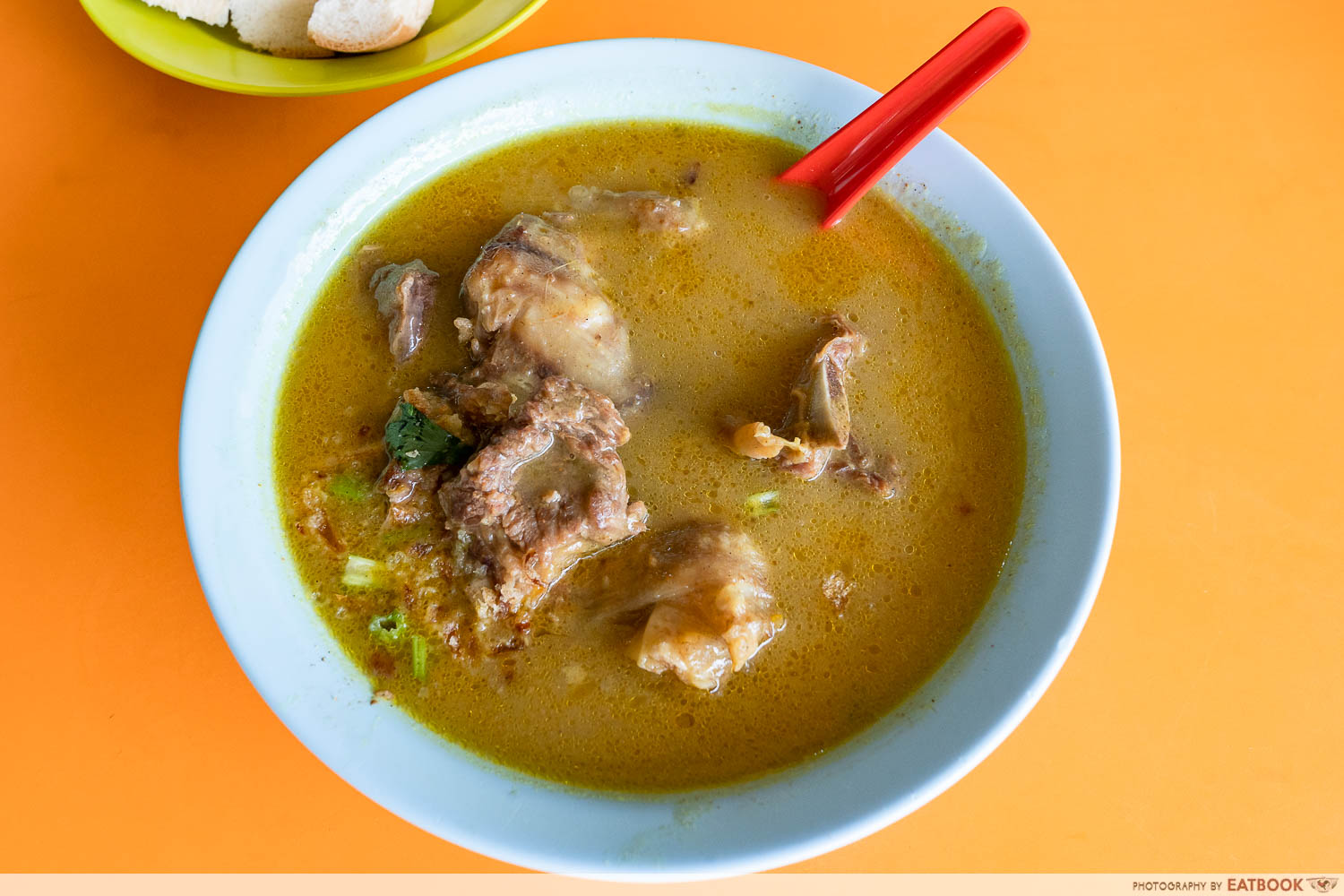 To introduce more variety into our meal, we also got the Mixed (from $10) option, which came with pieces of mutton cubes, ribs, and legs. Since we got the cheapest option, our bowl didn't come with brains, thankfully. I enjoy many "weird" cuts of meat, but that's where I draw the line!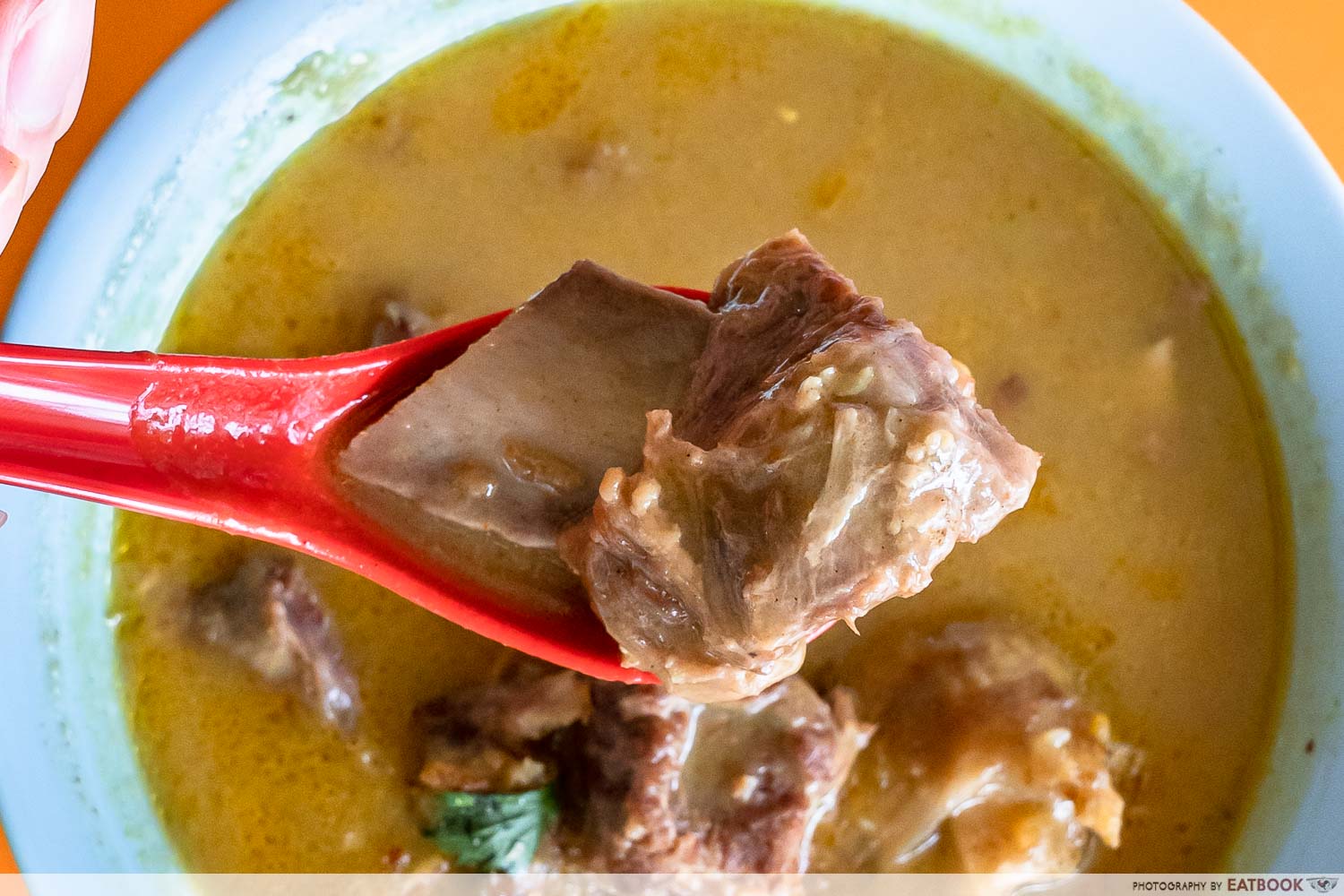 The ribs were fall-off-the-bone tender, and I mean that literally—at one point I scooped up a piece, and the meat just slipped right off, disappearing into the murky yellow soup. Taste-wise, it had all the goodness of mutton and none of the drawbacks.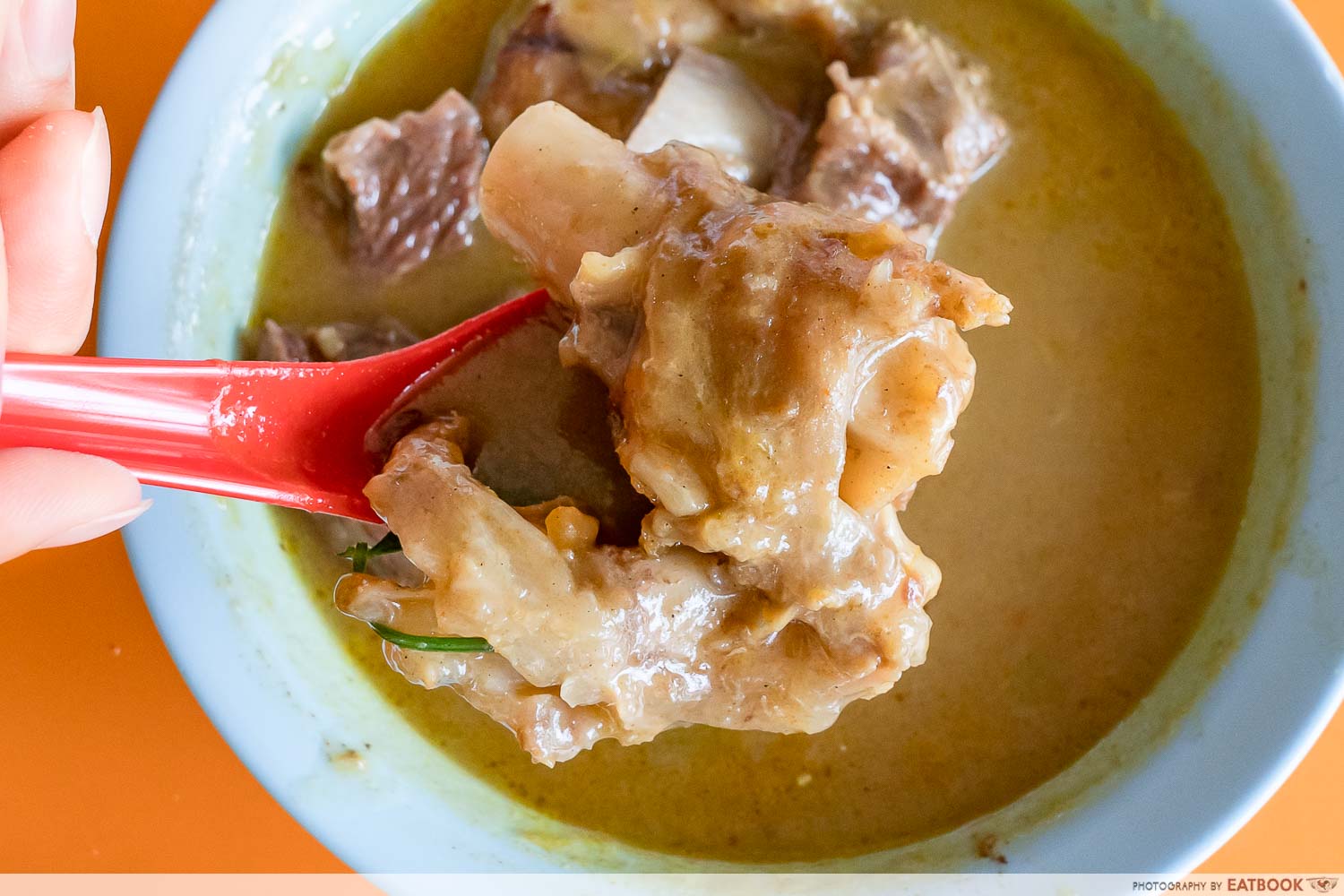 Those leg bones were super heavy—it was almost tiring to even lift them up on a spoon. The meat on them, however, was wonderfully soft and gelatinous.
Ambience at Haji M. Abdul Rajak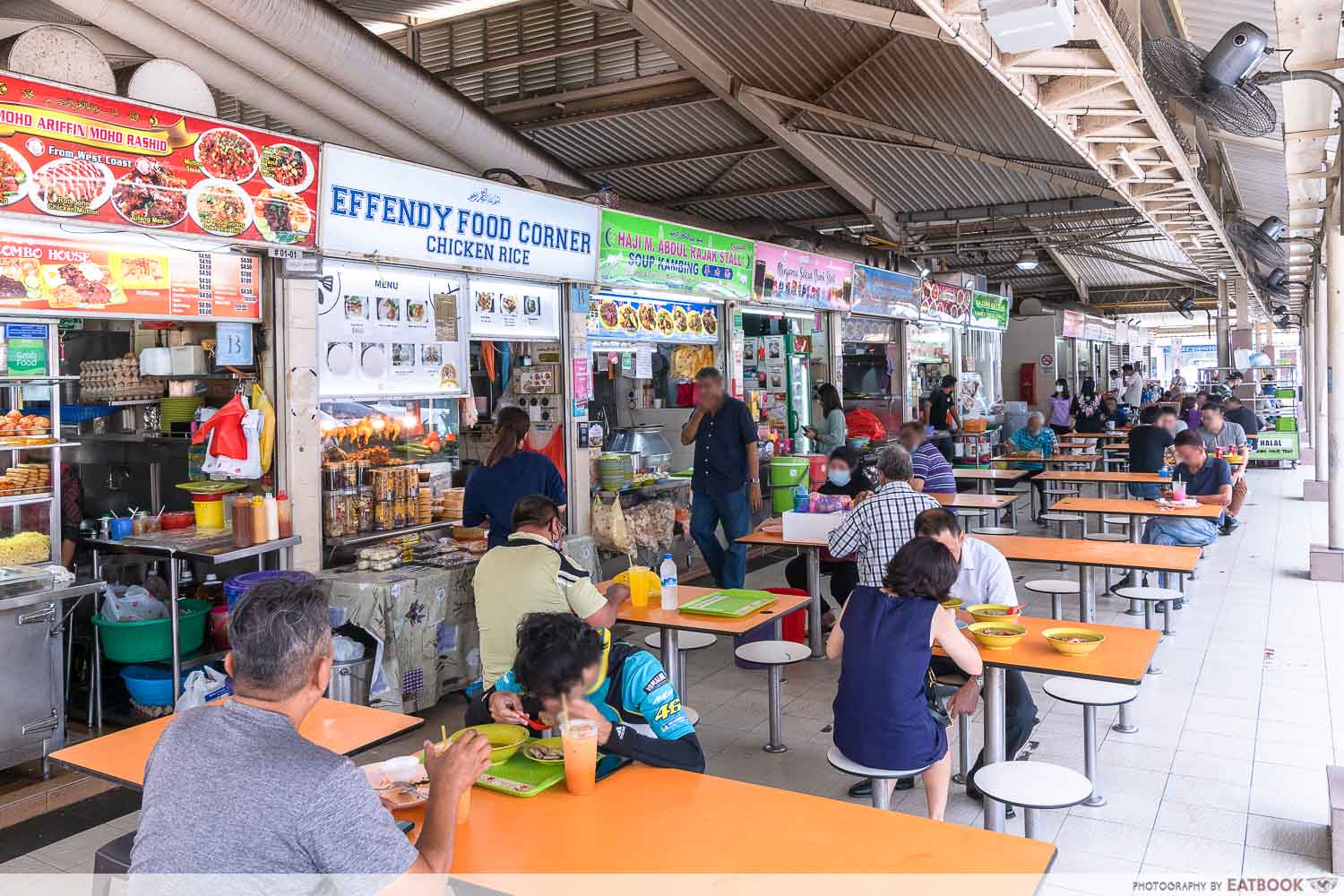 Haji M Abdul Rajak is located in Upper Boon Keng Market & Food Centre, which is home to plenty of other delicious eats, including Da Shao Chong Qing Xiao Mian. It has an old-school charm and is relatively spacious, but it can get crowded during lunch hours—especially when the office crowd streams in.
Upper Boon Keng Market & Food Centre is a seven-minute walk from Kallang MRT Station.
The verdict
It's clear why Haji M Abdul Rajak is still the most prominent stall of its kind—it offers truly excellent soup kambing that might even appeal to those who aren't fans of mutton. And as long as it keeps maintaining its standards, I'm sure that it'll continue to be around for generations to come.
For more soup kambing stalls to try, check out our list of 5 mutton soup stalls for soup kambing in Singapore. If a zi char restaurant that serves traditional Hock Chew cuisine, have a look at our Lee Do Restaurant review.
Address: 17 Upper Boon Keng Road, #01-03, Upper Boon Keng Market & Food Centre, Singapore 380017
Opening hours: Wed-Mon 11am to 11:30pm
Tel: 8581 1114
Website
Haji M. Abdul Rajak is a Muslim-owned eatery.
5 Mutton Soup Stalls For Soup Kambing In Singapore, Including A Stall Open Since 1955
Photos taken by Jasper Juay.
This was an independent review by Eatbook.sg.
Haji M. Abdul Rajak Review: Legendary 70-Year-Old Soup Kambing Stall At Boon Keng
Haji M. Abdul Rajak Review: Legendary 70-Year-Old Soup Kambing Stall At Boon Keng -

8.5/10
Summary
Pros
– Soup was very rich and flavourful
– Mutton meat was tender and succulent
Cons
– Taste of mutton may not appeal to everyone
Opening hours: Wed-Mon 11am to 11:30pm
Address: 17 Upper Boon Keng Road, #01-03, Upper Boon Keng Market & Food Centre, Singapore 380017