---
Halal Korean food in Singapore
---
Korean food is one of our go-to options when dining out, especially with friends. Whether it is army stew, K-BBQ, or hotplates of bulgolgi and bibimbap, a Korean feast is always a good time. If you're looking for Muslim-friendly, halal food in Singapore to enjoy, we've got your back.
Here are 9 options for halal Korean food in Singapore to check out.
---
1. Captain Kim Korean BBQ & Hotpot 
---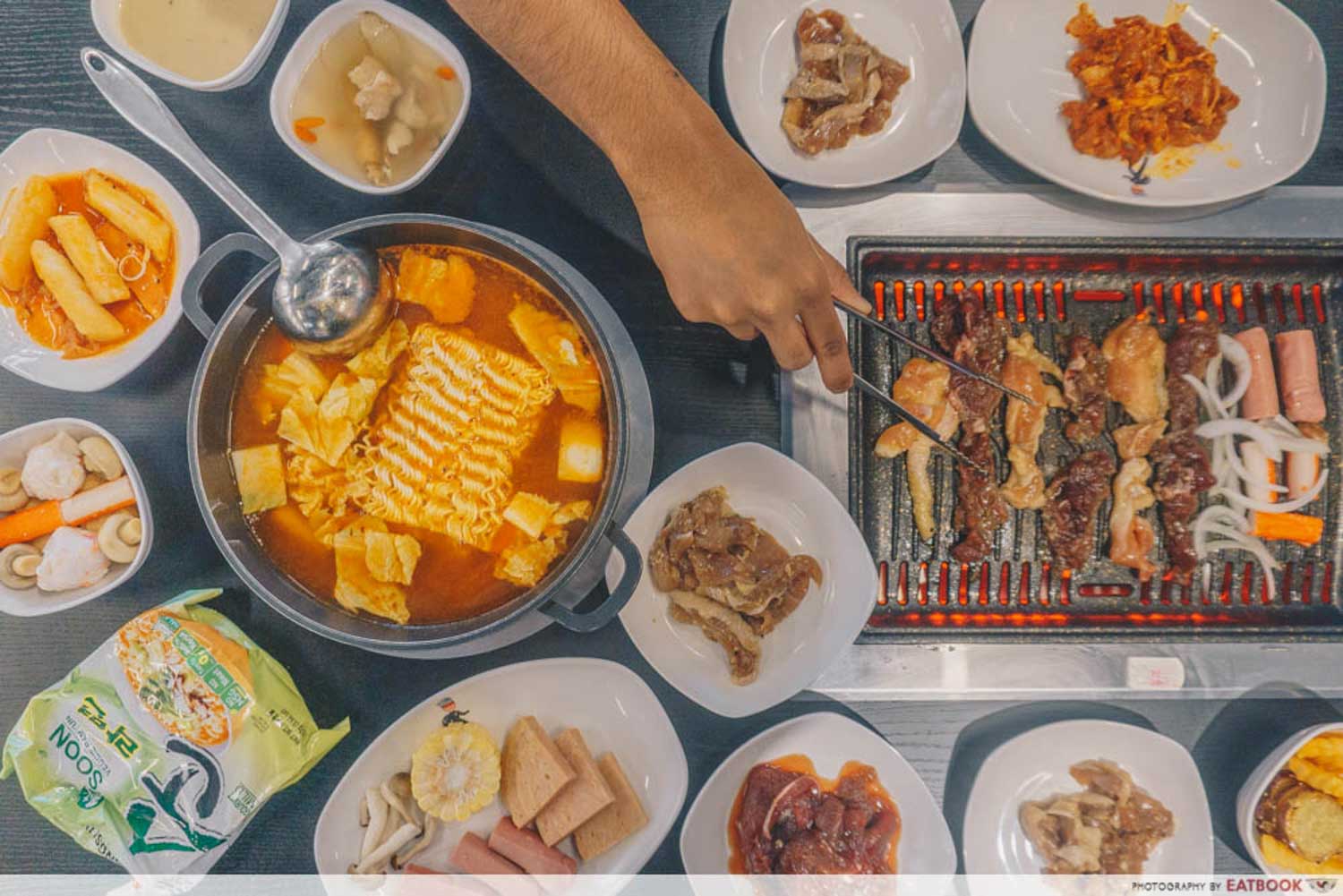 Grab your friends and fam and head down for a feast at Captain Kim Korean BBQ & Hotpot. Each 90-minute buffet slot entitles you to a huge variety of ingredients to grill or enjoy in your army stew hotpot. Apart from raw ingredients, you're also entitled to cooked Korean food such as tteokbokki, pajeon pancakes, ramyun, as well as ginseng chicken soup. Prices start at $18.90++ per adult for lunch on weekdays, and $28.90++ for dinner from Monday to Thursday, as well as lunch on Saturday to Sunday.
Read our Captain Kim Korean BBQ & Hotpot review!
Address: 300 Tampines Ave 5, #01-06, NTUC Income Tampines Junction, Singapore 529653
Opening hours: Mon-Thurs 11:30am to 3:30pm, 5:30pm to 10pm, Fri-Sun 11:30am to 3:30pm, 5:30pm to 10:30pm
Tel: 6260 4247
Website
Captain Kim Review: Muslim-Friendly Korean BBQ & Hot Pot Buffet From $16.90++/Pax At Tampines
---
2. Muk-Bang Korean Restaurant 
---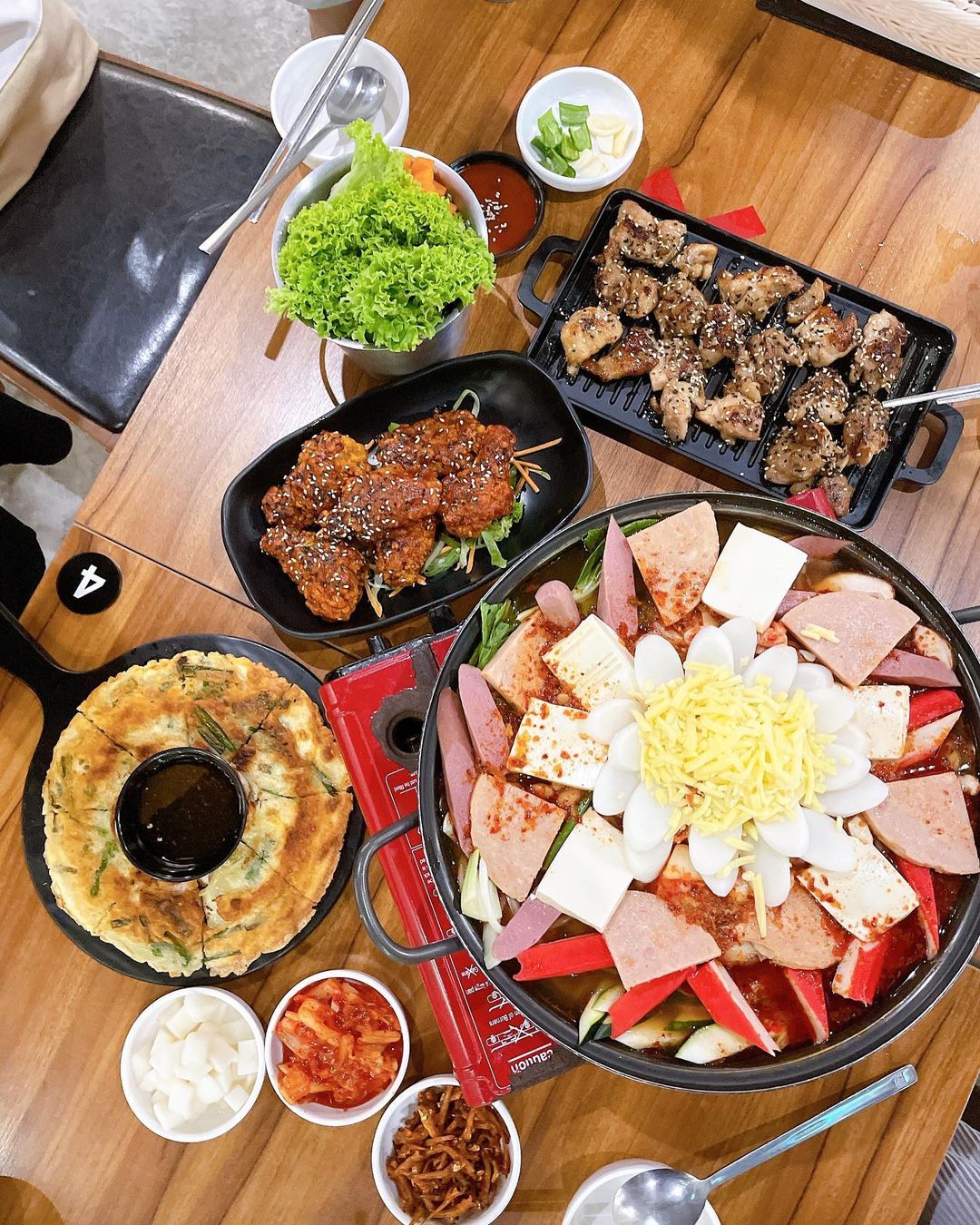 Image credit: @lohwanrongg
Muk-Bang Korean Restaurant offers homely halal Korean food to those living in the East. The Bedok restaurant has a menu full of Korean classic dishes, largely priced under $20. If you're dining as a group, try their Budae Jjigae set ($42.90++), which comes with a ramyun army stew, kimchi pancake, and mango bingsu for a sweet treat. Another popular sharing item is the Andong Jjim Dak ($39.90++), a huge serving of japchae and potatoes, topped with soy-braised chicken.
Address: 750 Chai Chee Road, Singapore 469000
Opening hours: Daily 11am to 9:30pm
Tel: 6604 6328
Website
---
3. Hanok by Masizzim
---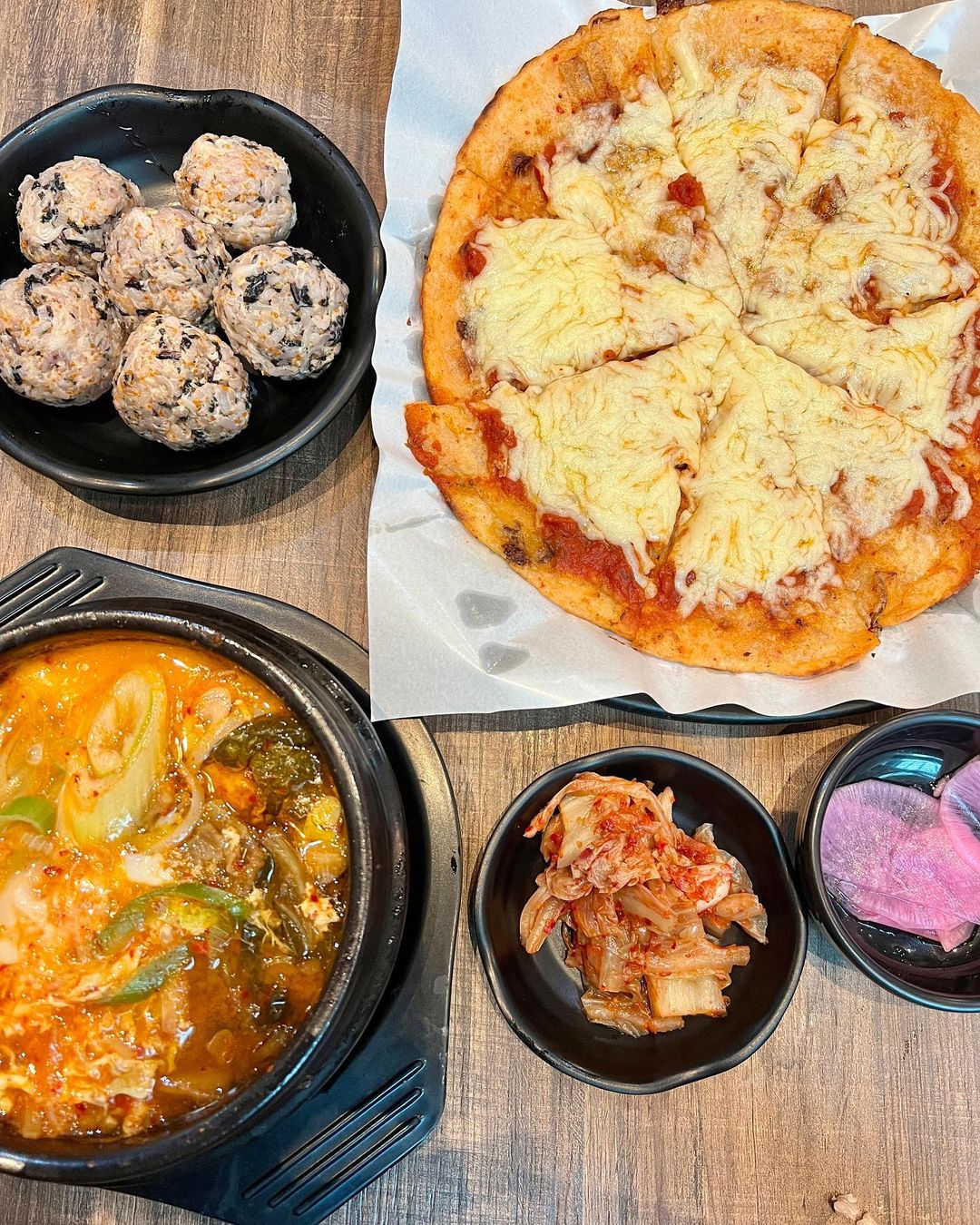 Image credit: @kasha8184
Hanok by Masizzim calls galbi-jjim a specialty, so head down expecting cosy meat stews great for rainy days. Their Soy Beef Rib Stew ($23.85++) is a signature, with tender beef slow-cooked in special, house-made sauce. Have any of their DIY rice balls, AKA Jumeokbap, to go alongside your stew. We recommend the Crabmeat & Roe Rice Ball ($13.80++) for some sweet-salty seafood goodness.
Address: 3 Gateway Drive, #01-07, Westgate, Singapore 608532
Opening hours: Daily 11am to 9pm
Tel: 6906 0965
Website
---
4. Seoul Graden
---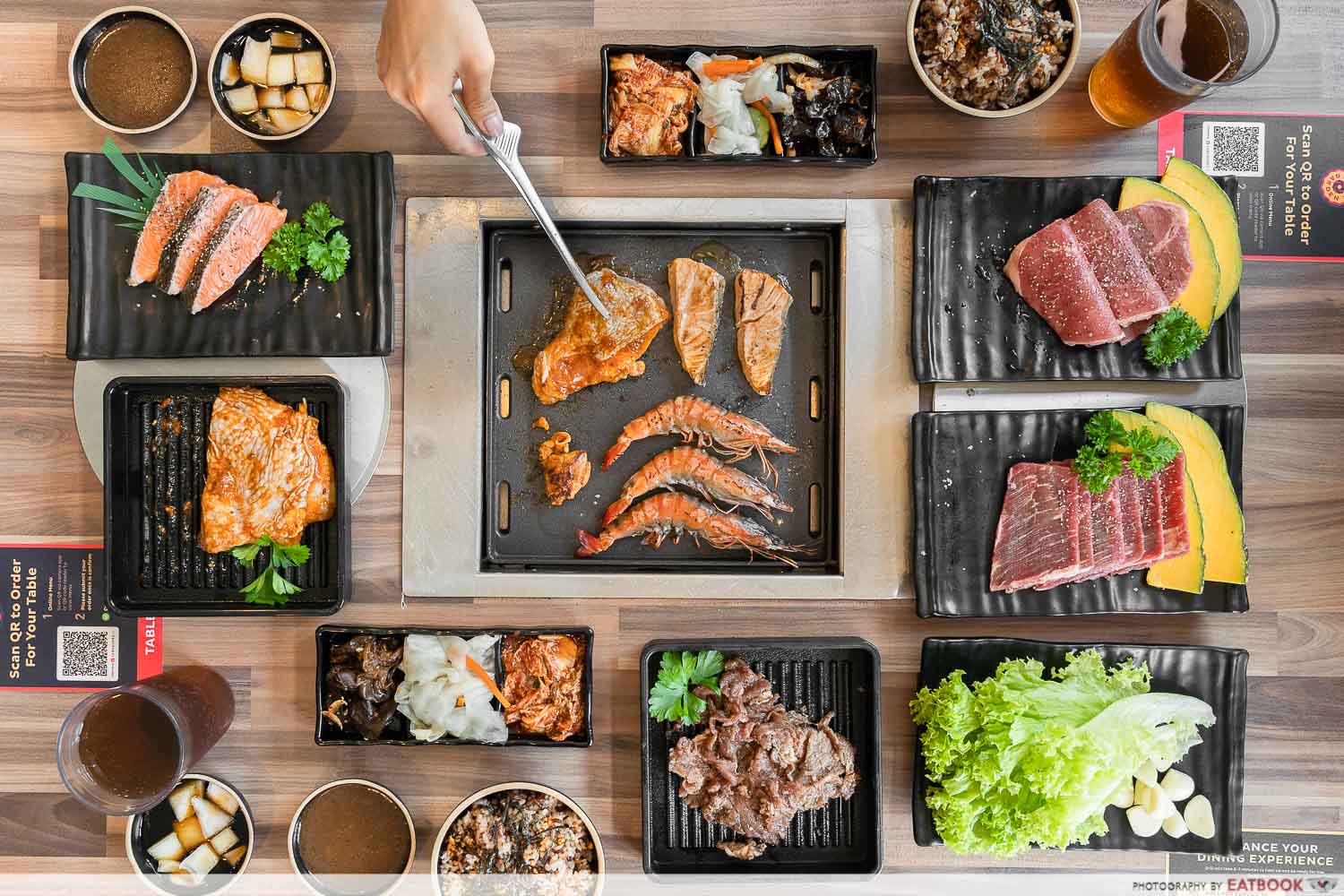 Seoul Garden has been an OG restaurant offering halal Korean food in Singapore, even before the K-wave hit our nation. They're still going strong with their affordable Korean barbeque offering, though they have since revamped their menu. Expect the experience at Seoul Garden to be just like visiting any other K-BBQ joint. You choose meat platters to order, and can add on a la carte seafood, add on more meats, and vegetables. If you don't want the full BBQ monty, the restaurant also has cooked Korean-fusion pasta on their ala carte menu, priced from $11++.
Website
Full list of locations
---
5. Jjinja Chicken 
---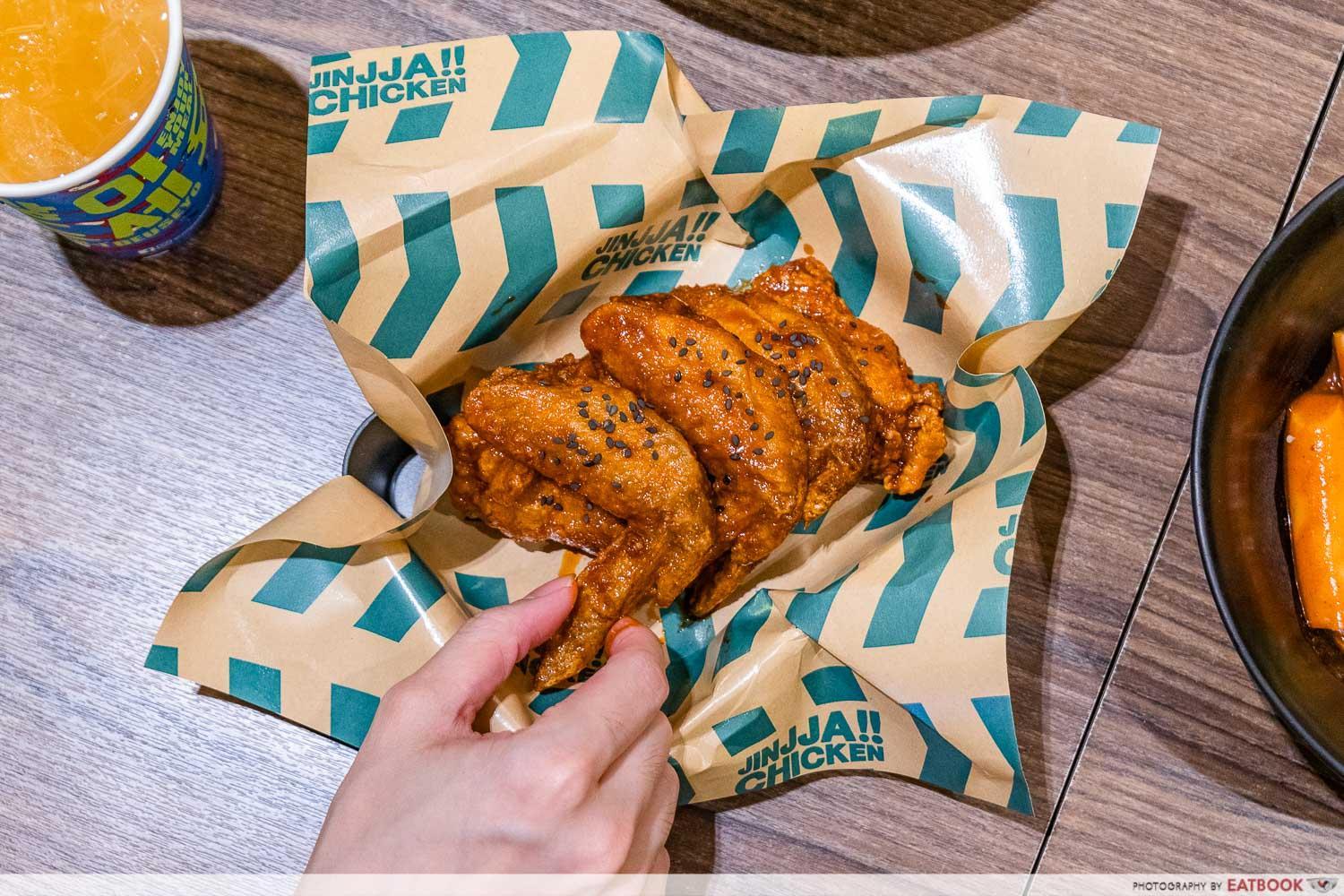 Korean fried chicken lovers can head down to Jinjja Chicken to enjoy their fix. The fast-casual eatery sells fried chicken in three flavours: soy garlic, yangnyeom, and an ultra-spicy Volcano option. Prices start at $7.90 for six-piece wings, or $8.90 for three-piece drumsticks. Apart from their double-fried chicken, the eatery also has other Korean bites on the menu, including Korean burgers, and Beef Ram-Don ($10.90).
Website
Full list of locations
---
6. JW Korean Food Stories 
---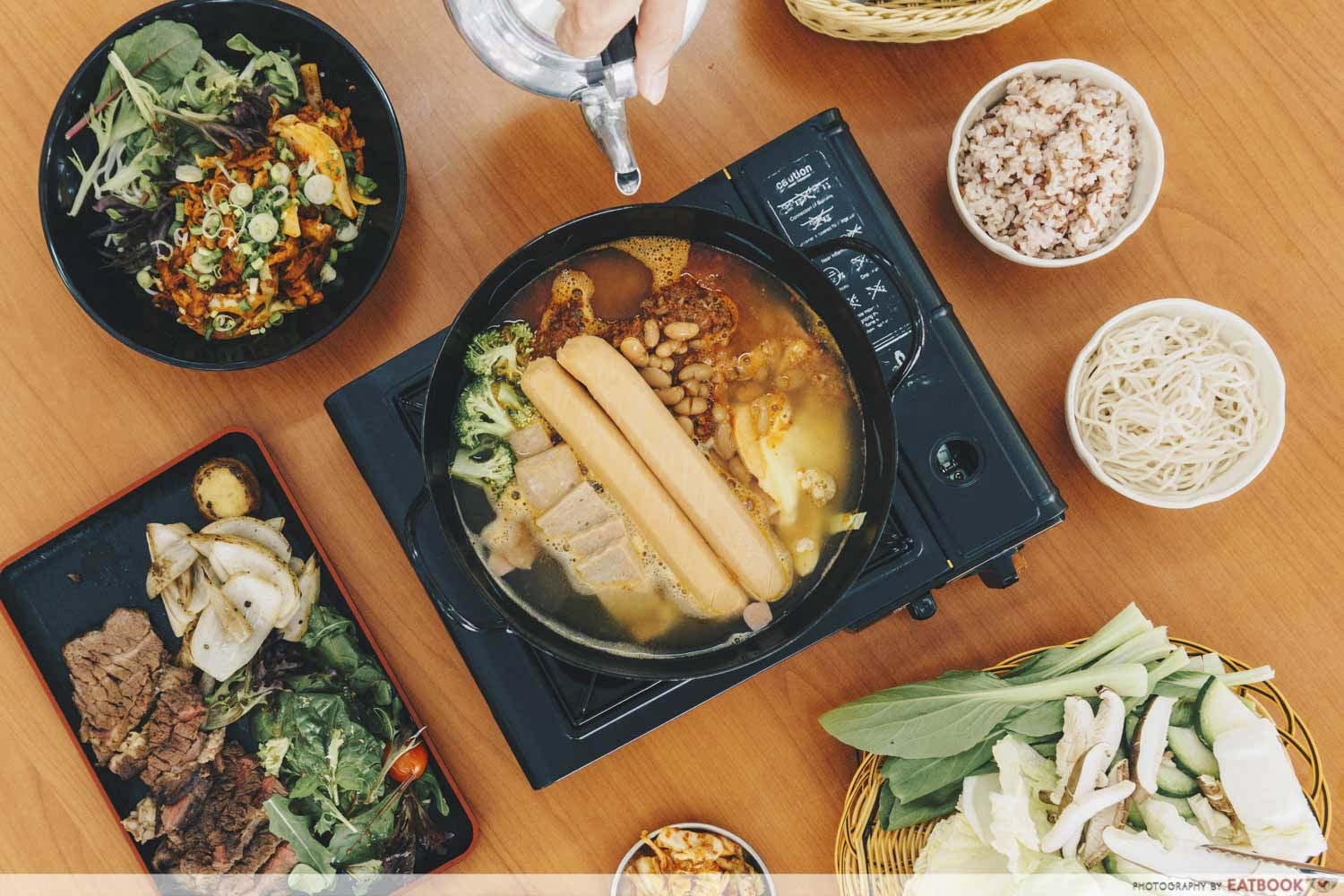 JW Korean Food Stories, run by a former Pan Pacific Hotel chef, serves up wallet-friendly halal Korean fare. Their menu largely comprises four types of dishes: BBQ ramen, grilled dishes, steamboat, and rice bowls.  
Go for the steamboats if you're looking to share a meal with two to three people. Their Kimchi Chicken Stew ($24.80++) features a huge serving of piquant, kimchi marinated chicken, tofu, and a spicy broth, served with your choice of rice or ramen. If you're here to dine solo, their jjampong offerings are all priced under $6.90.
Read our JW Korean Food Stories review.
Address: 129 Upper Paya Lebar Road, Singapore 534840
Opening hours: Tue-Sat 11am to 10pm, Sun 11am to 9:30pm
Tel: 9366 1298
Website
JW Korean Food Stories Review: Muslim-Owned Korean Hawker Stall With Army Stew And Spicy Ramyeon
---
7. Seoul Sedap 
---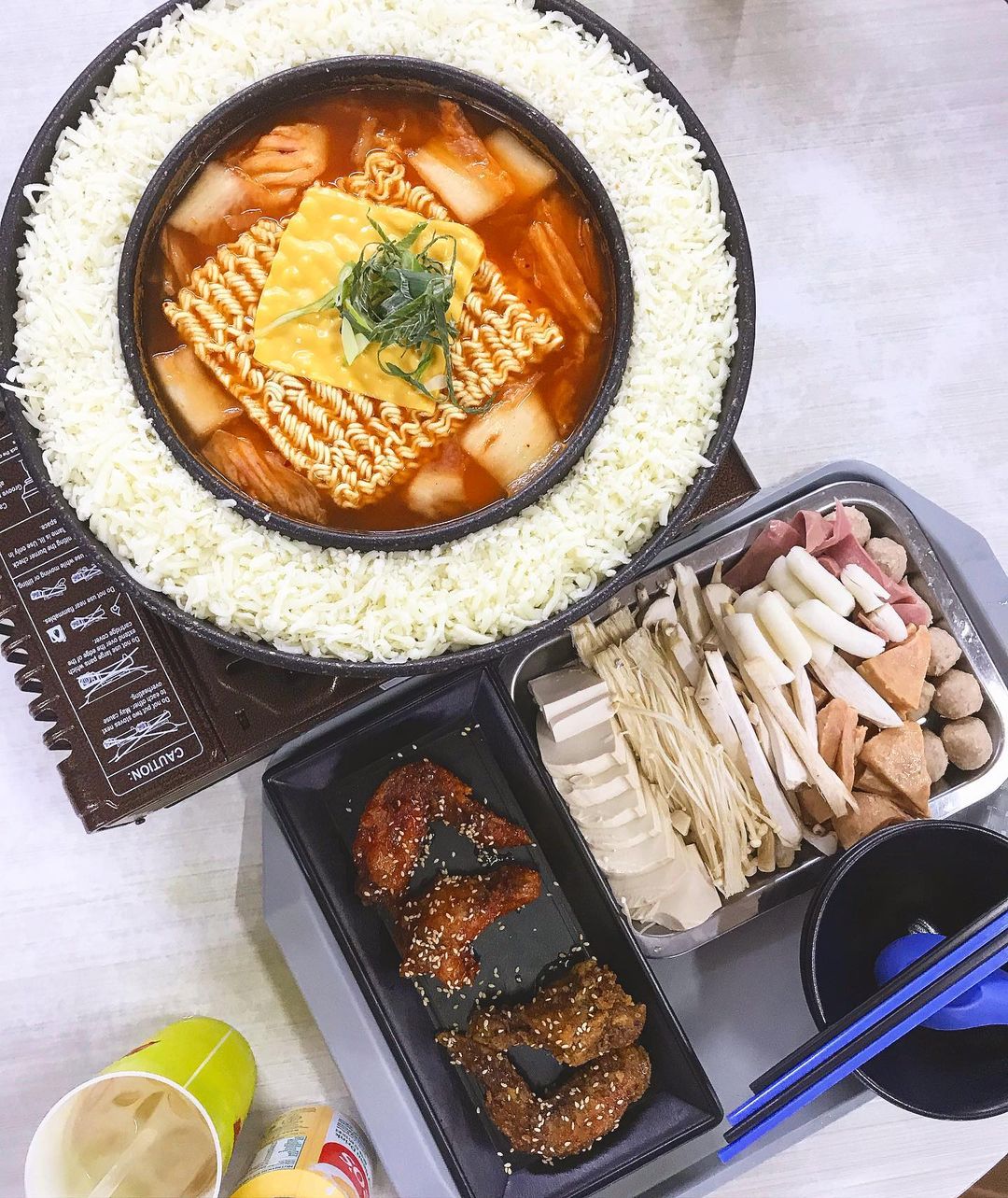 Image credit: @foodie.forevers_
Seoul Sedap is a Chinese Muslim-owned Korean food stall in Tampines, and they specialise in army stew. Their Army Stew with Cheese ($29.90) is a hot favourite, where all the usual army stew fixings come served with a moat of molten cheese. Apart from their army stews, Seoul Sedap also has Rabokki ($7.90), a spicy medley of ramyun and tteokbokki, as well as deep-fried snack platters from $17.
Address: 138 Tampines Street 11, Singapore 521138
Opening hours: Tue-Sat 10am to 8pm, Sun 10am to 3pm
Tel: 8023 9745
Website
---
8. NeNe Chicken 
---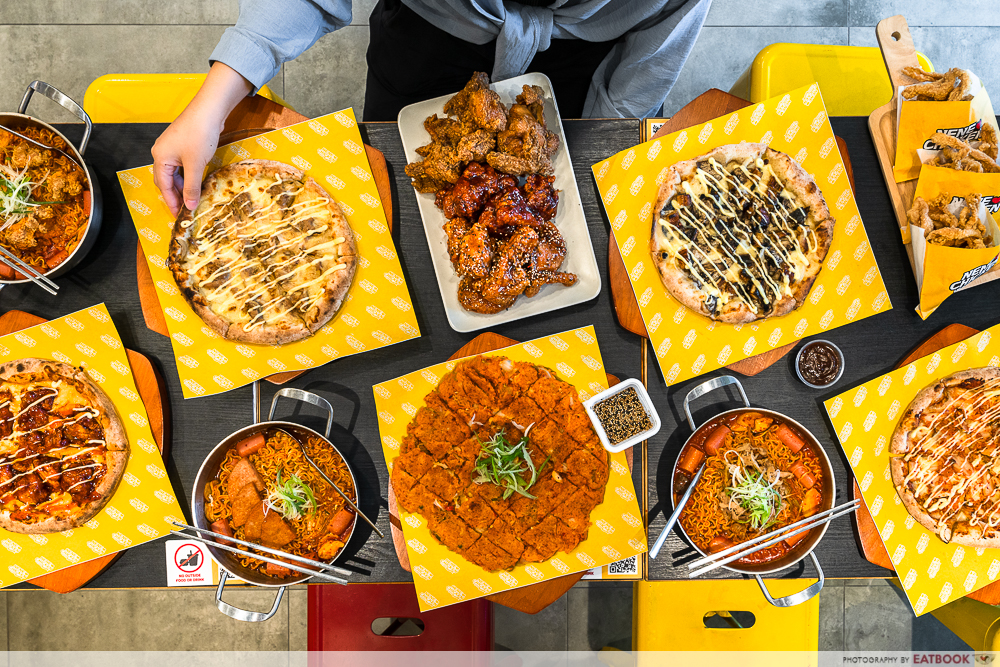 NeNe Chicken is one of the most popular options for halal Korean food and fried chicken in Singapore. While they have many outlets at malls islandwide, they also have recently opened an outlet in Upper Paya Lebar. There, they serve up exclusive Korean-influenced pizzas and kimchi pancakes, along with their signature fried chicken.
The 9-inch personal pizzas start from just $12.90, and come with toppings like spicy fried chicken, as well as unagi. The crust is also dense and fluffy, thanks to the use of wholemeal flour.
Read our NeNe Chicken review.
Website
Full list of locations
Popular Halal Korean Fried Chicken Eatery NeNe Chicken Opens In Paya Lebar With Korean Pizzas And More
---
9. Ha-Jun Korean Food 
---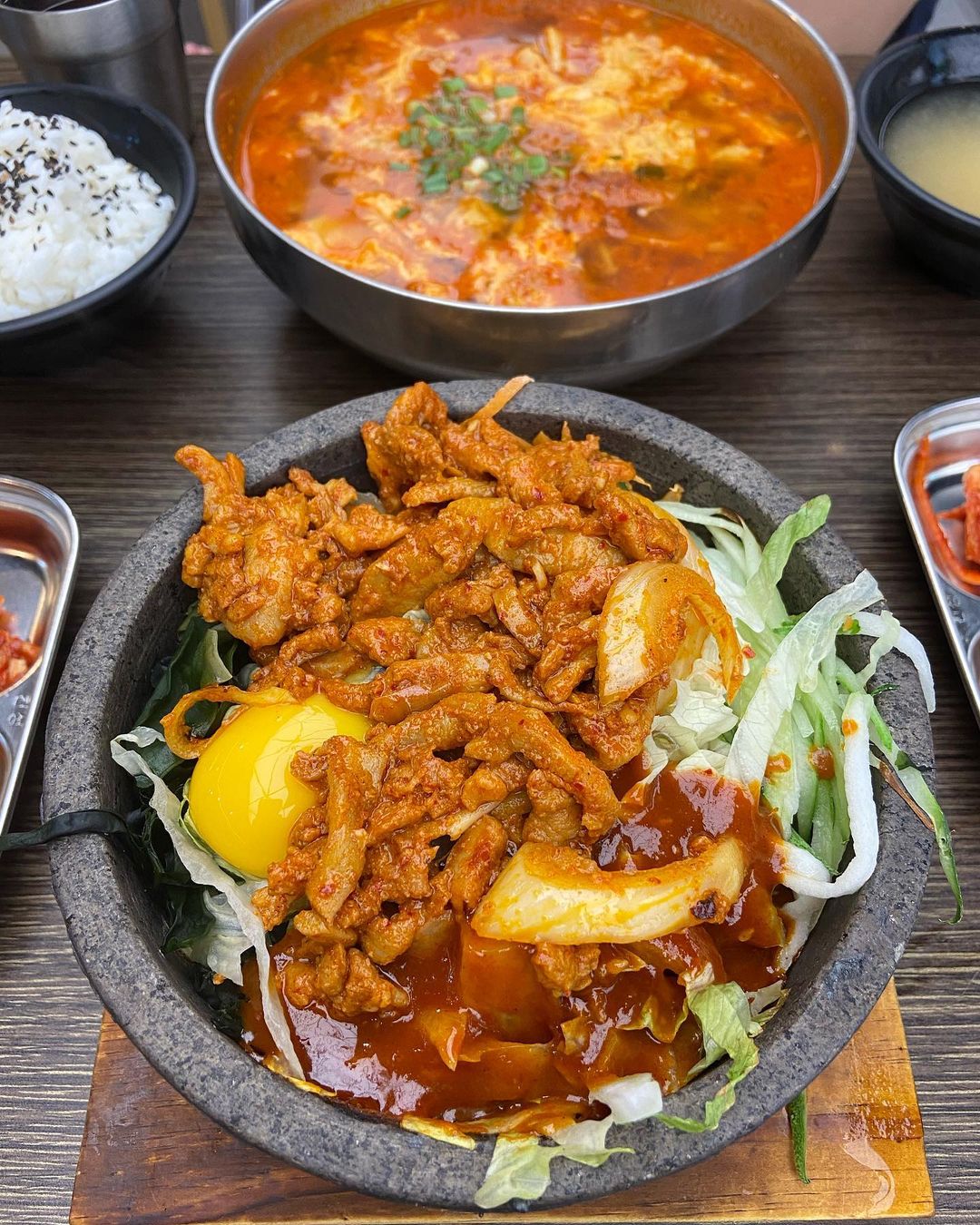 Image credit: @gluttonthoughts
Ha-Jun is a hidden gem for halal Korean food in Singapore, with outlets in Aperia Mall, Hillion Mall, Westgate, and more. Their menu is largely priced under $10, great for fuss-free lunch or dinner breaks. Their Dolgot Bibimbap ($6.80++) is a popular order, served on a sizzling hot claypot, as well as their hearty Kimchi Fried Rice ($5.80++) topped with a fried egg.
---
Where to eat halal Korean food in Singapore
Check out these places if you'd like to enjoy halal and Muslim-friendly Korean fare. For other halal eateries, check out our guide to halal restaurants in Singapore, as well as our halal buffets list.