NeNe Chicken in
Upper
Paya Lebar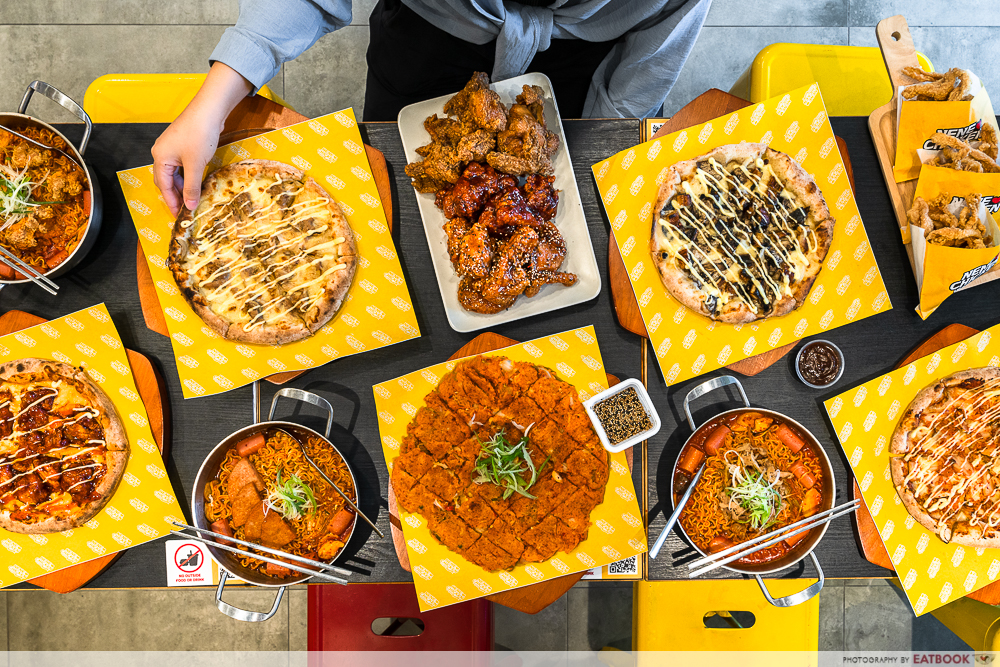 NeNe Chicken is a familiar name, known for their halal-certified Korean fried chicken, burgers, and other fast Korean fare, but their latest outlet in Upper Paya Lebar brings something new to the menu━Korean-inspired pizzas. 
With more than 1,000 outlets in South Korea alone, and six in Singapore, you could say NeNe Chicken is quite the authority on Korean fried chicken. This newest one, though, is the only outlet that serves pizzas, baked in their very own pizza oven.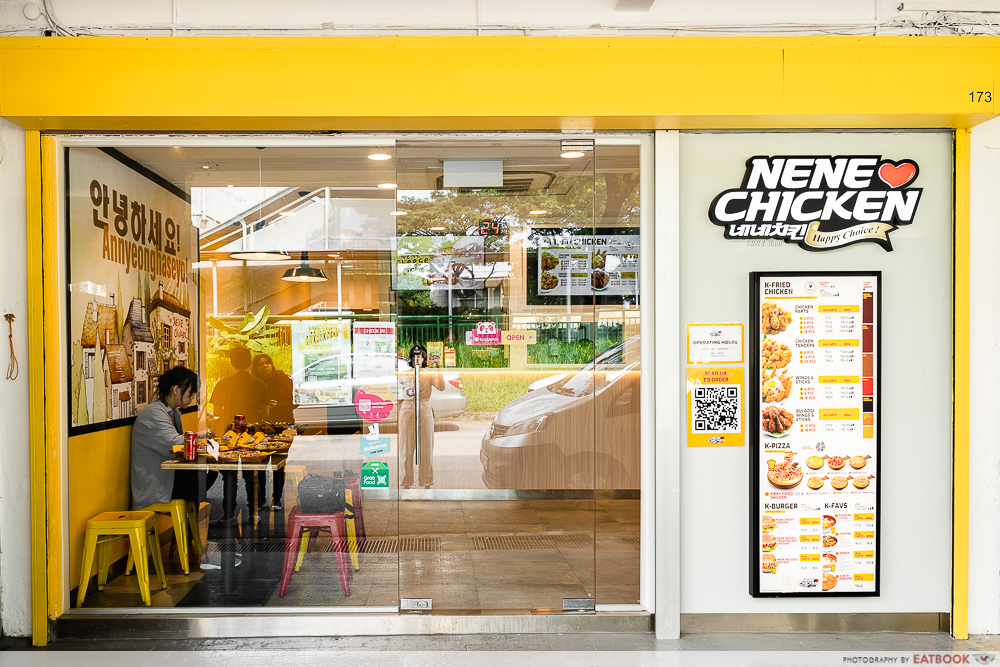 More than that, this new space is an almost-replica of NeNe Chicken's Korean outlets, from store decor to its location. Housed along a row of shophouses, walk through the bright yellow storefront and you'll feel exactly like you're dining in NeNe Chicken Korea!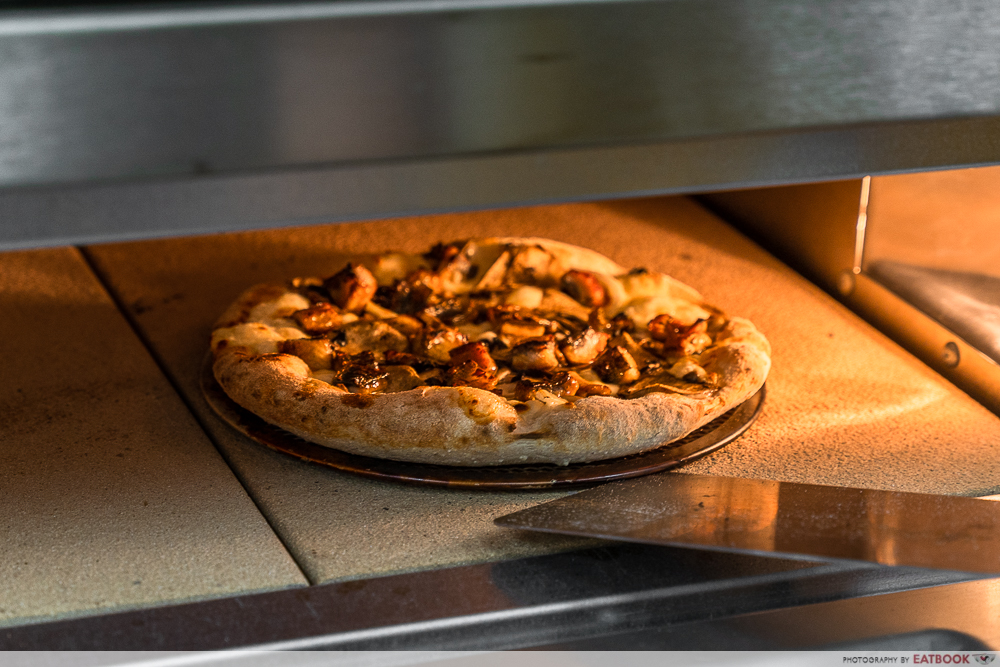 Prices of the 9-inch personal pans, baked fresh to order, start from just $12.90, with toppings including their proprietary Fiery Fried Chicken, Grilled Unagi and more. 
Unlike the typical tomato or cream bases, cured meats and such, the Korean toppings on NeNe Chicken's pizzas marry the Italian dish with Asian flavours for a unique accompaniment to your next Korean fried chicken meal.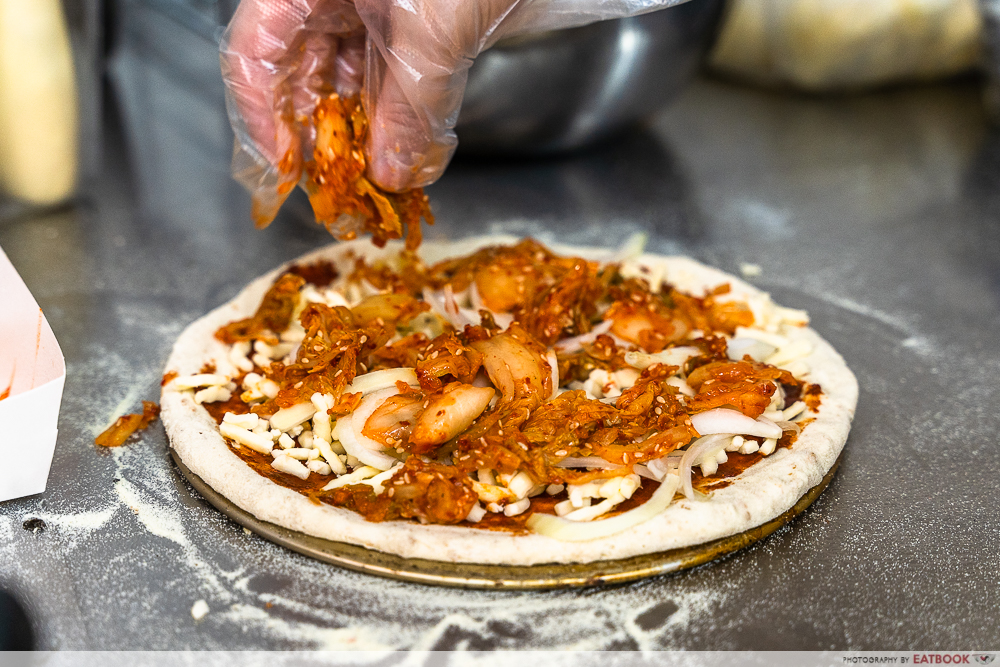 Every thick crust pizza is handmade to order with a wholemeal crust━this lends a pleasant earthiness to the pie, so you'd actually be eating healthier without noticing it!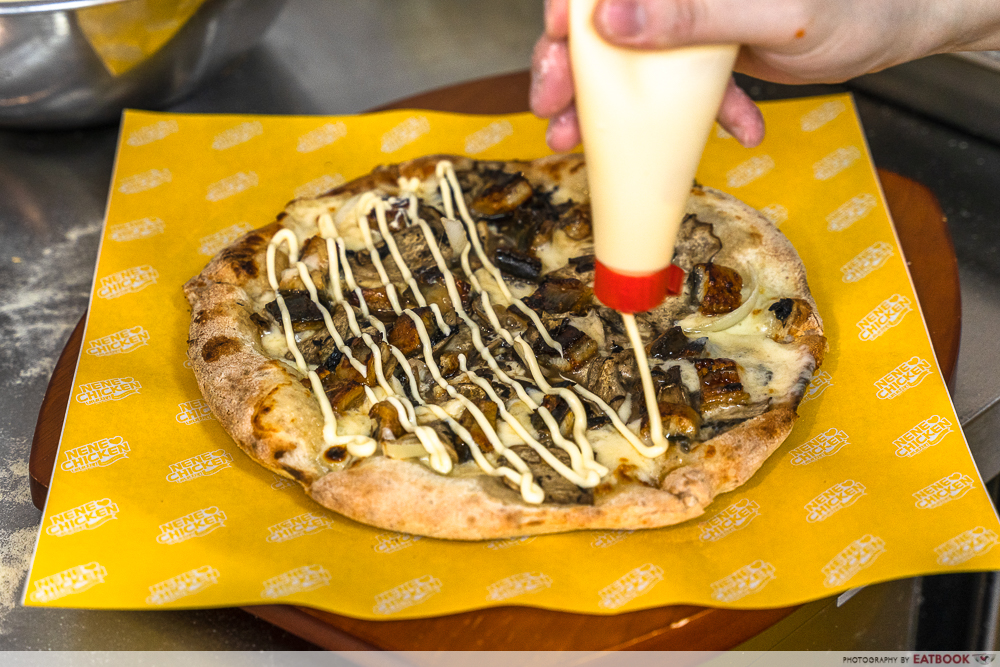 All of the pizzas are finished with Japanese mayonnaise fresh out of the oven, which melts slightly into the hot pizzas, and lends each bite its distinctive flavour.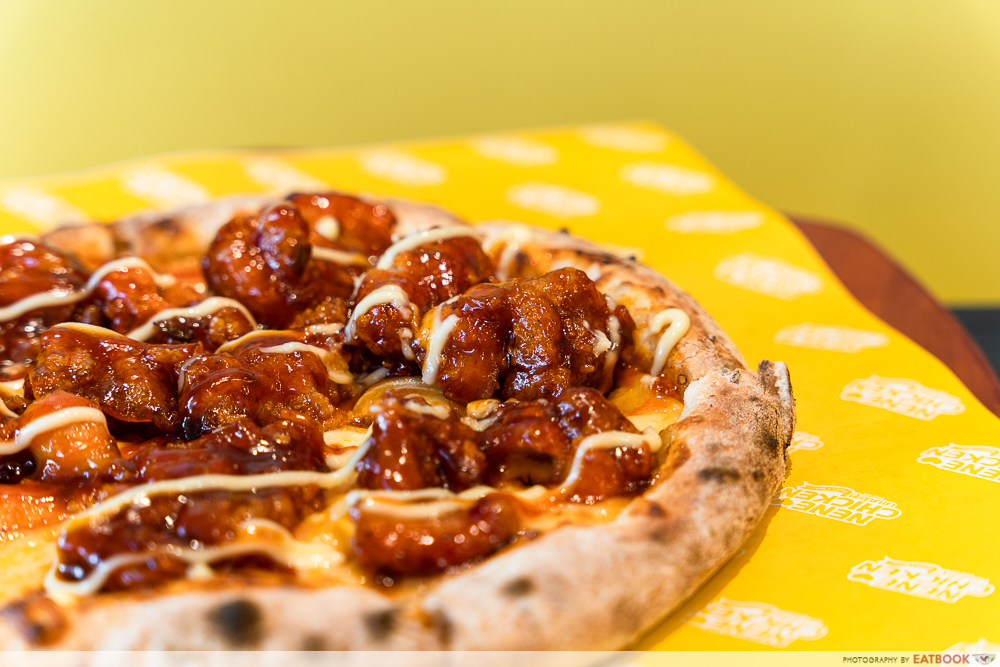 If you can't decide between fried chicken and pizza, the Fiery Fried Chicken ($21.90) should be your pick. The boneless chicken tenders are basted in an addictive spicy, sweet-sticky sauce, which the mayonnaise and cheese took the edge off of.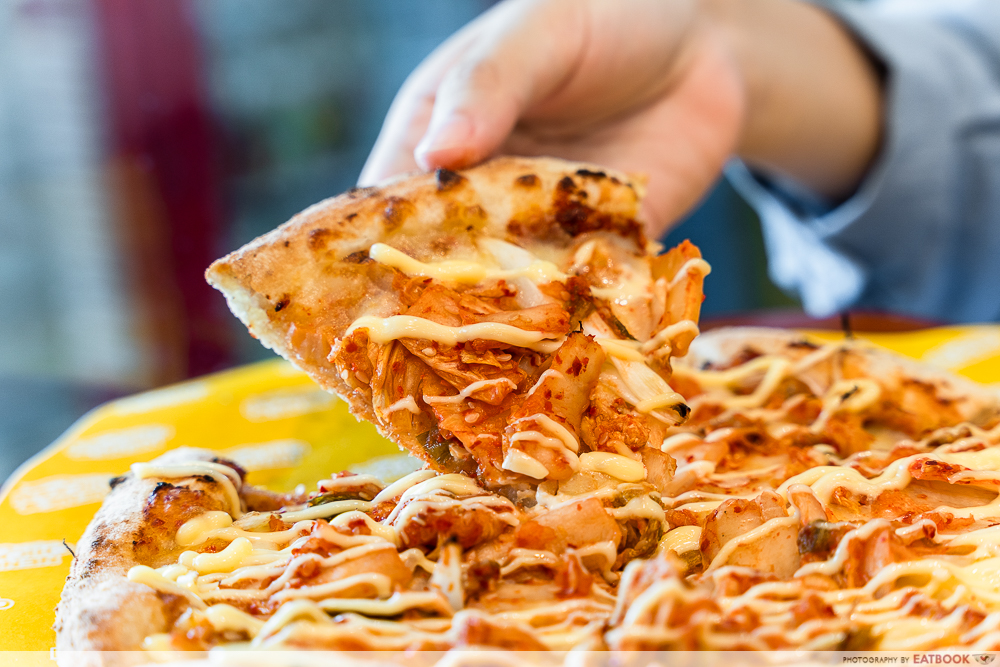 Then there is Kimchi ($19.90), generously topped with the fermented vegetable. It's particularly moreish with the mayonnaise, especially after the baking process accentuates the kimchi's tasty goodness.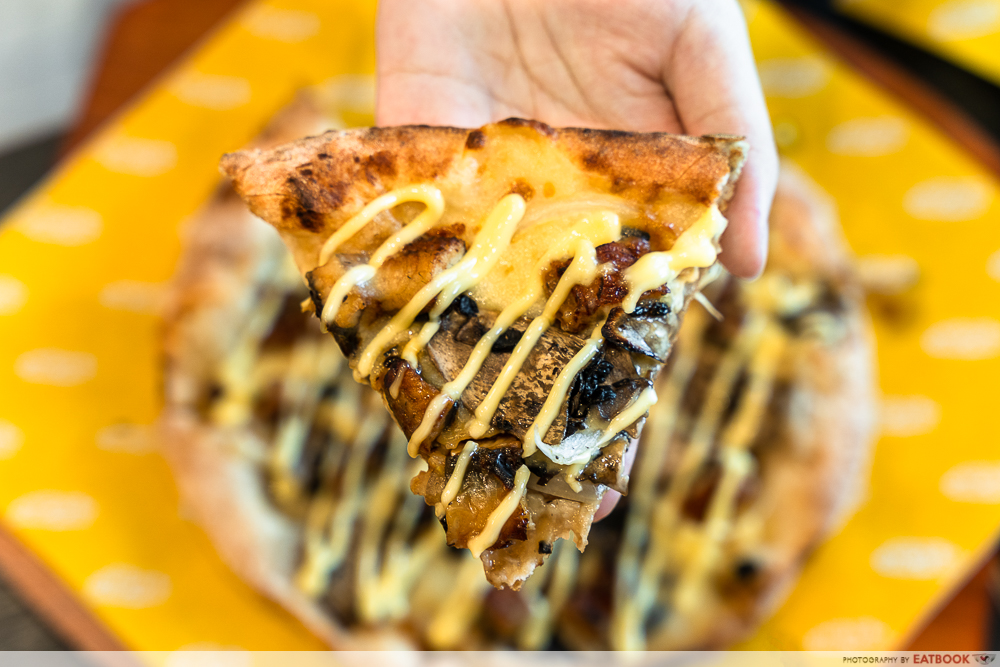 Rather than the same old unagi don, consider NeNe Chicken's Grilled Unagi ($28.90) pizza for a modern take on the grilled eel. Otherwise, a child-friendly option is the Bulgogi Chicken ($17.90), topped liberally with lightly sweet pieces of tender chicken.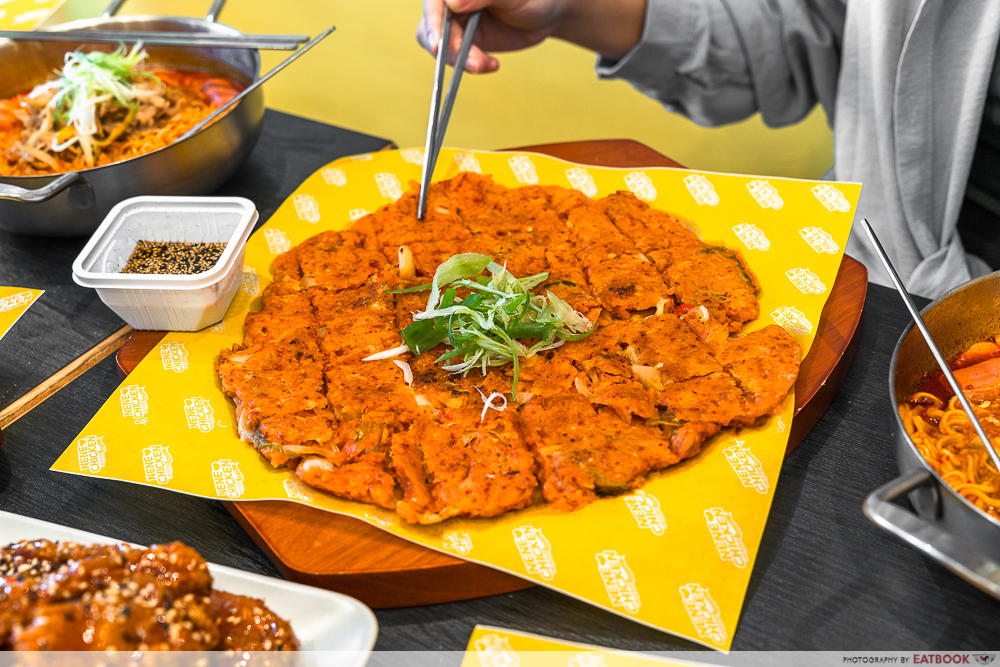 Another new item that's exclusive to NeNe Chicken's Paya Lebar outlet is Kimchi Pancake ($16). If your preferred kimchijeon is the ultra crispy sort, this chunkier, softer version may not be for you.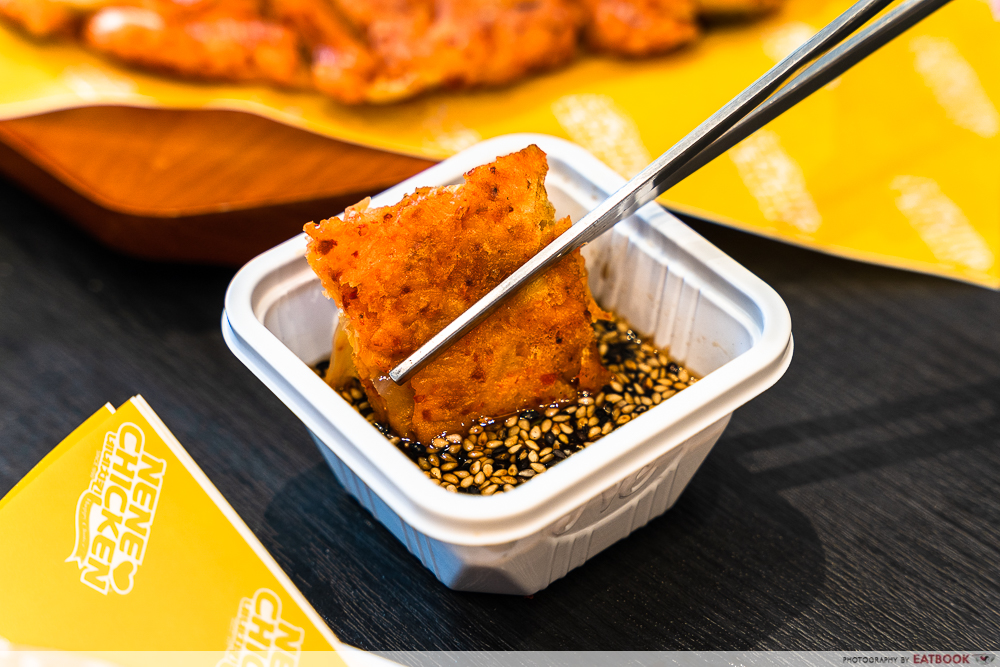 It's served with a saucer of sesame seed-laced soya sauce, the saltiness of which brings out the acidic notes of the kimchi.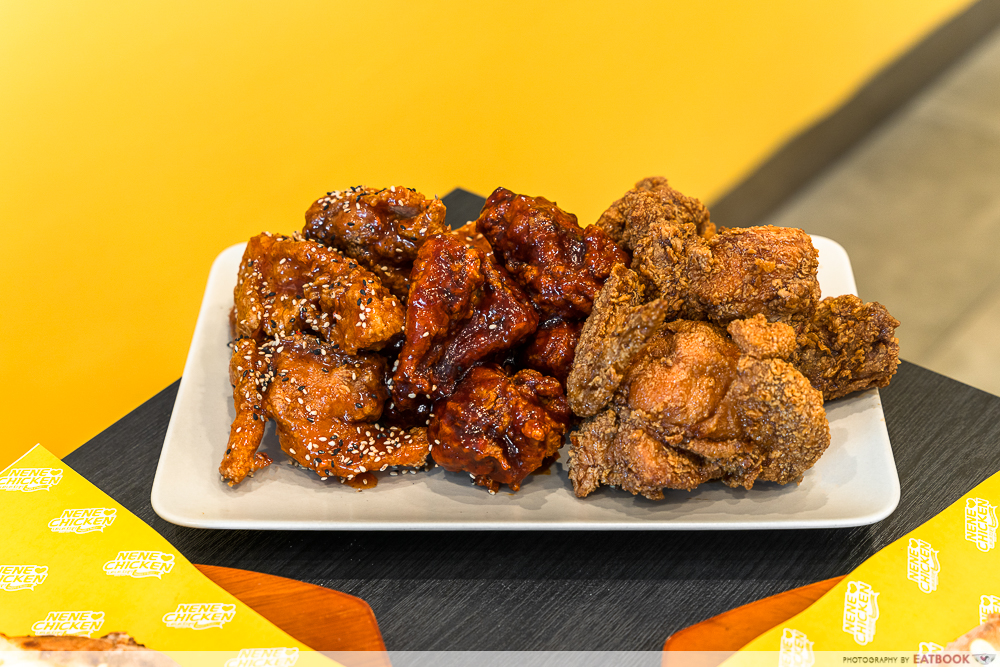 Of course, there's also the obligatory Korean fried chicken that NeNe Chicken is famous for. Prices of the Chicken Parts start from $7.50 for two pieces, a la carte, to $30.80 for an 18-piece meal, which comes with your choice of two starters, three drinks, and two sauces!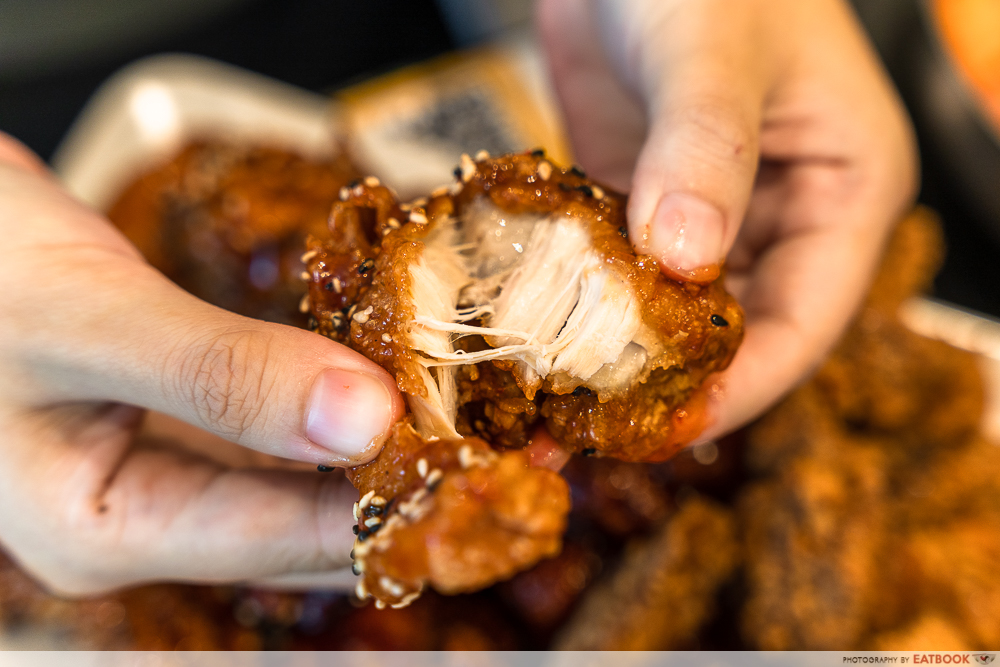 Through a house-secret method of batter-dipping, each piece remains moist and tender within, with a crust that retains its crunch even when doused with sauce. Choose from Double Freaking Hot, the spiciest option on the menu, Soy or Spicy, which are the classic options with a touch of heat, or Smoky Barbeque for a non-spicy finish.
Fun fact: all the sauces on the fried chicken here are imported directly from Korea!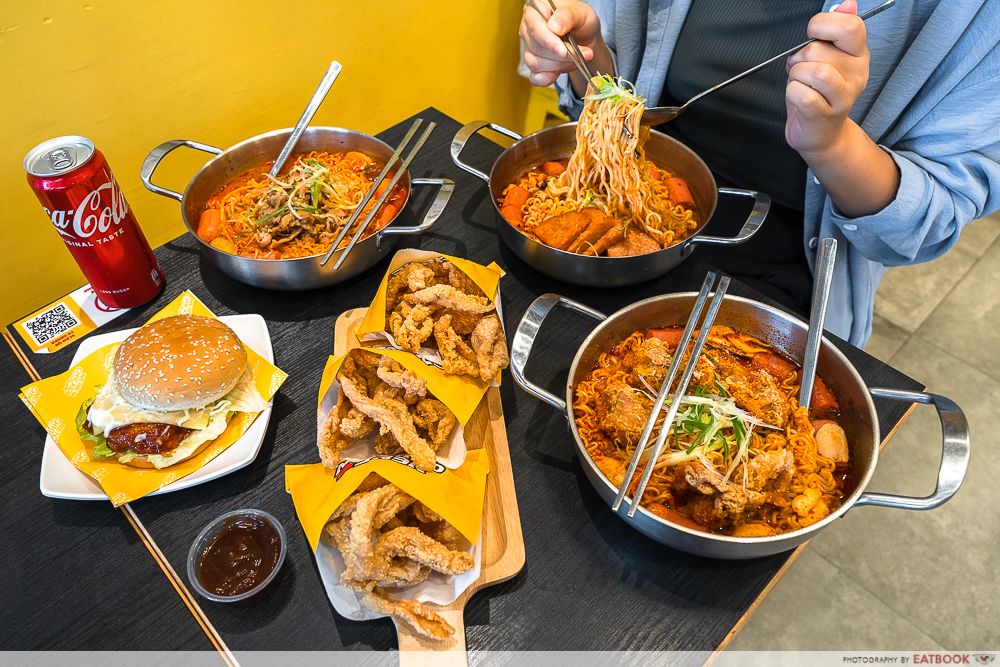 Complement your meal with one of their K-Burgers, such as the NeNe Chicken Burger with Cheese (from $6.50), and K-Favs including Sundubu Jjigae (from $7.90) and Ramyeon (from $7.90). Alternatively, upgrade your K-feast with Crispy Chicken Skin, available with a top-up of $1.50 on any set meal.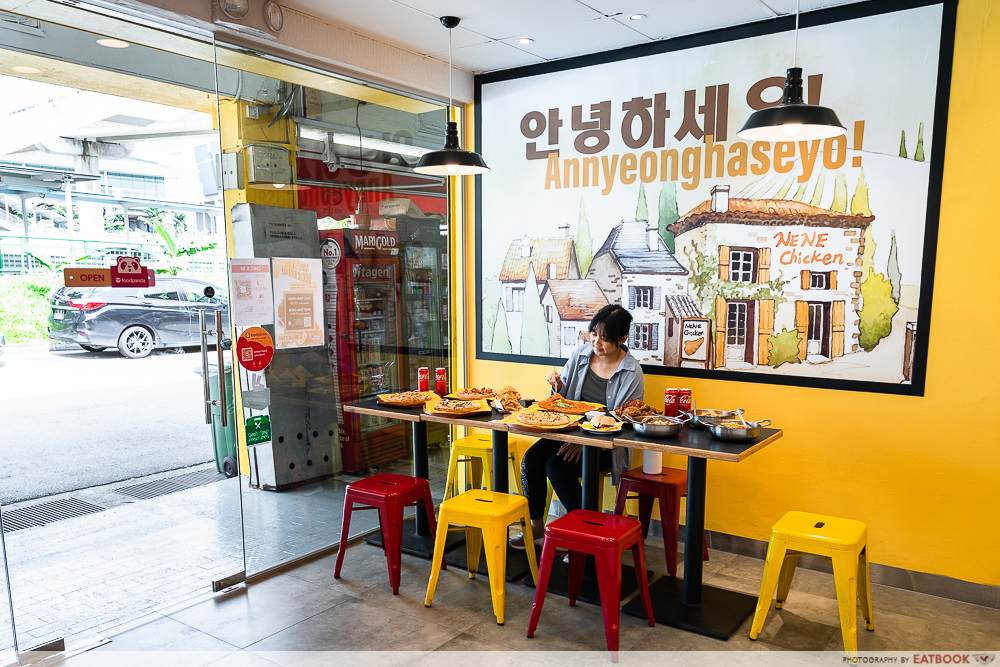 From now till 31 May 2022, head to NeNe Chicken's Paya Lebar outlet and pick up a flyer to get a free Crispy Chicken Skin with $25 spent on your next takeaway order! You'll need to place your order by calling 6222 6363, or through their online ordering platform, and present your flyer when you collect your food, to enjoy this promotion.
Address:173 Upper Paya Lebar Road, Singapore 534862
Opening hours: Daily 11am to 10:30pm
Tel: 6222 6363
Website
NeNe Chicken is a halal-certified eatery.
Photos taken by Chew Yi En.
This post was brought to you by NeNe Chicken.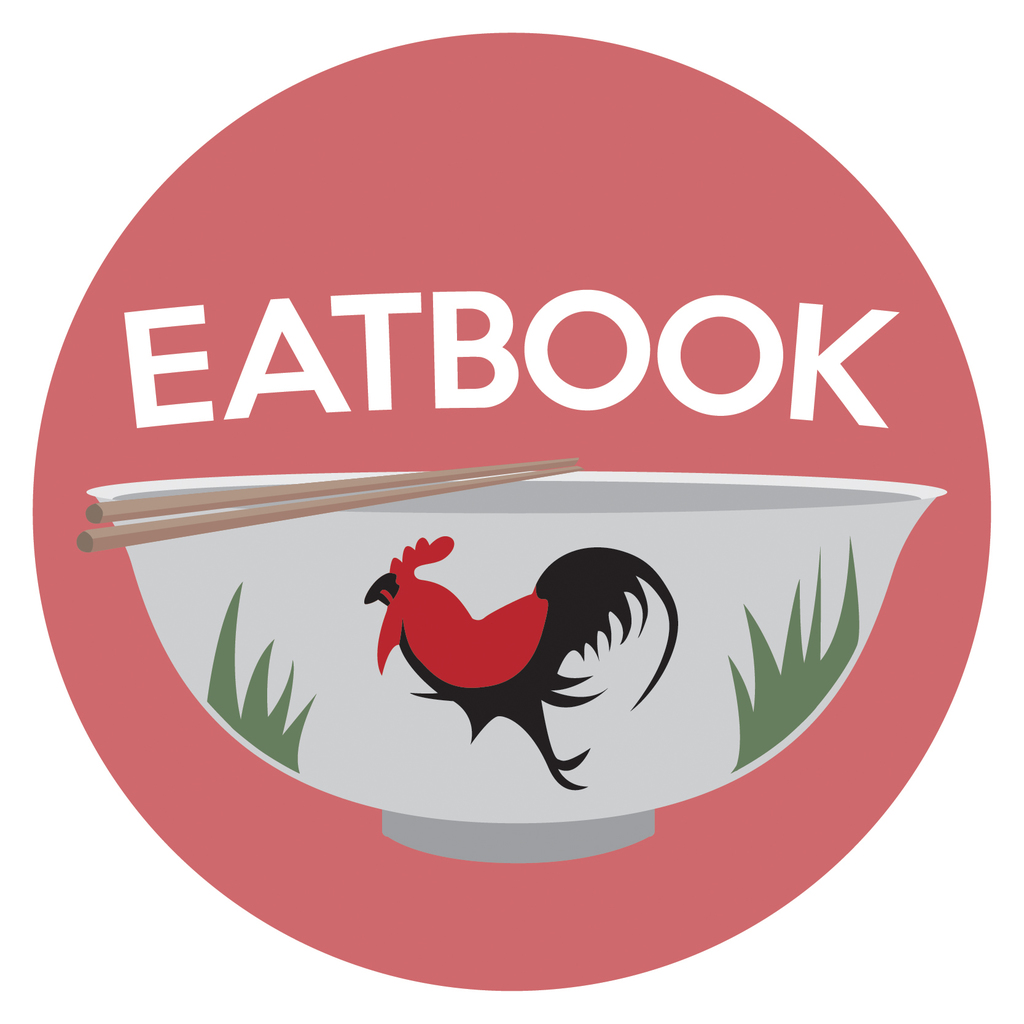 Drop us your email so you won't miss the latest news.