Meokja by JUNGGA for Muslim-friendly Korean food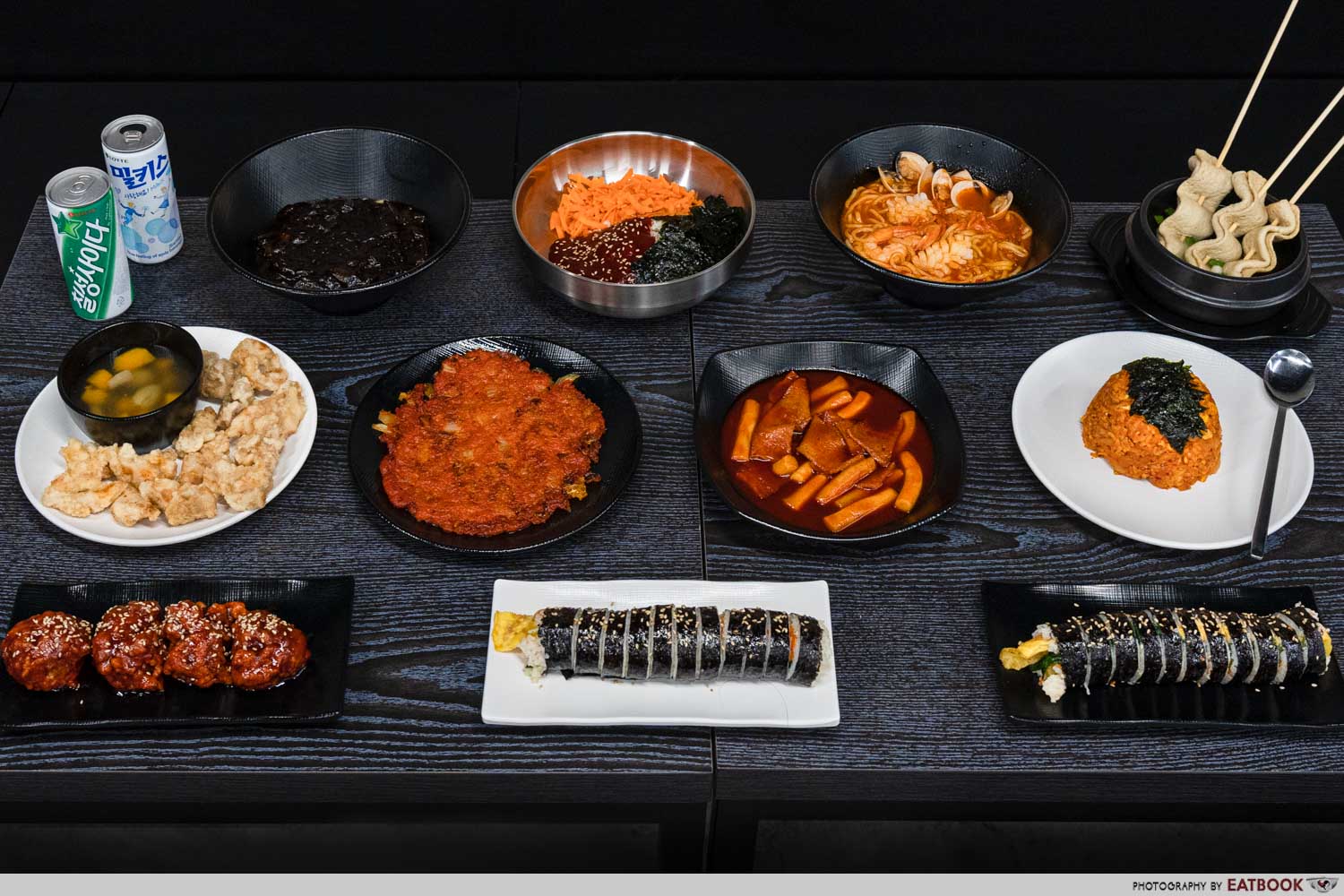 About a year ago, I came across Meokja by JUNGGA on Instagram, a popular home-based business specialising in Muslim-friendly Korean fare. So when I found out that they finally opened a physical store in Dhoby Ghaut, I immediately jumped at the opportunity to review them. The new restaurant is helmed by Chef JungSangWoo, a Korean-Muslim convert, and his wife, Afrah.
Food at Meokja by JUNGGA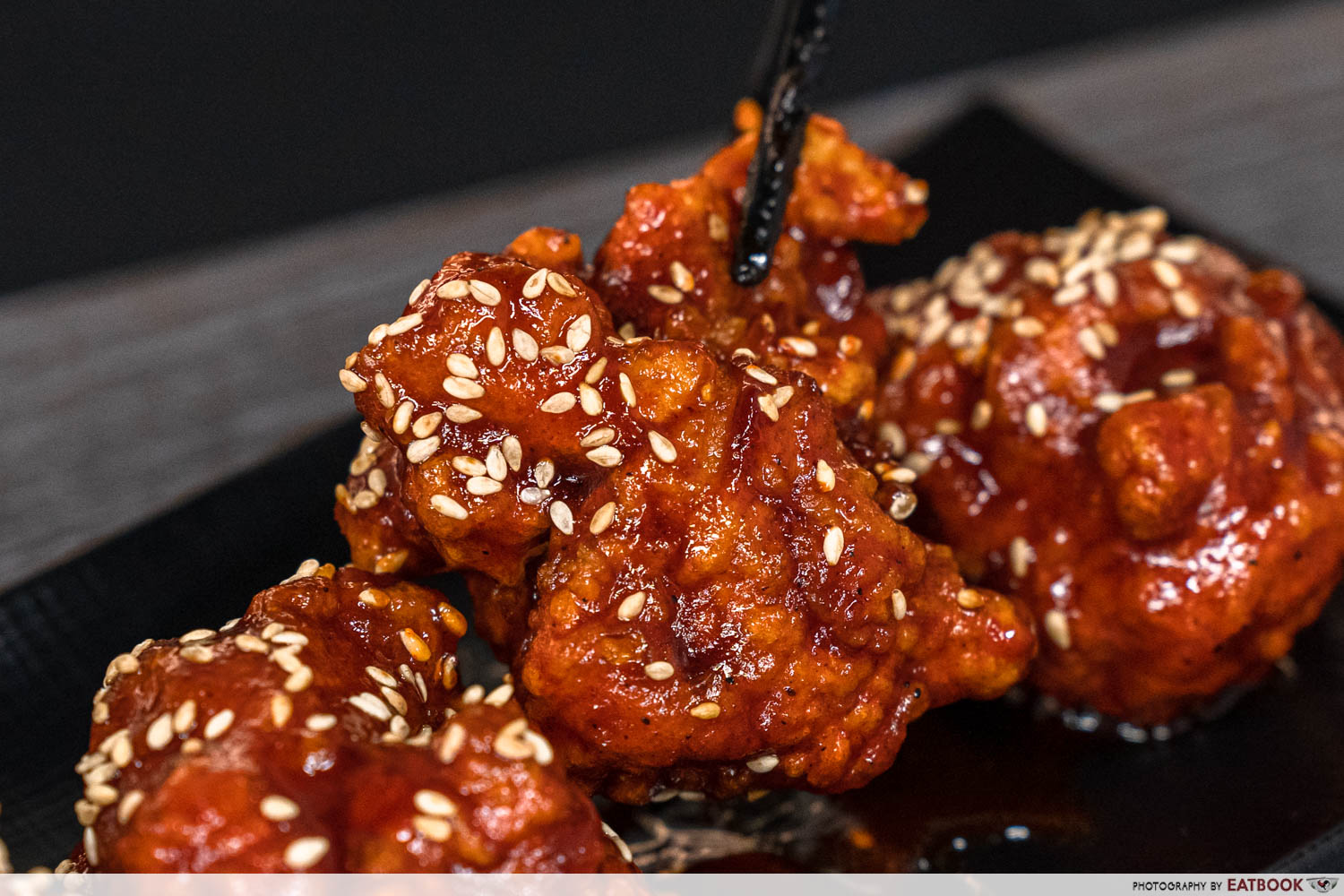 We started off our meal with the Yangnyeom Chickin ($6.90+), comprising chunky boneless chicken marinated in a piquant gochujang sauce and sprinkled with sesame seeds. The chicken was surprisingly tender on the inside and had a tinge of zestiness that prevented it from being too jelak. It had the right amount of spiciness—just enough to make your lips tingle without needing to reach for a cup of water.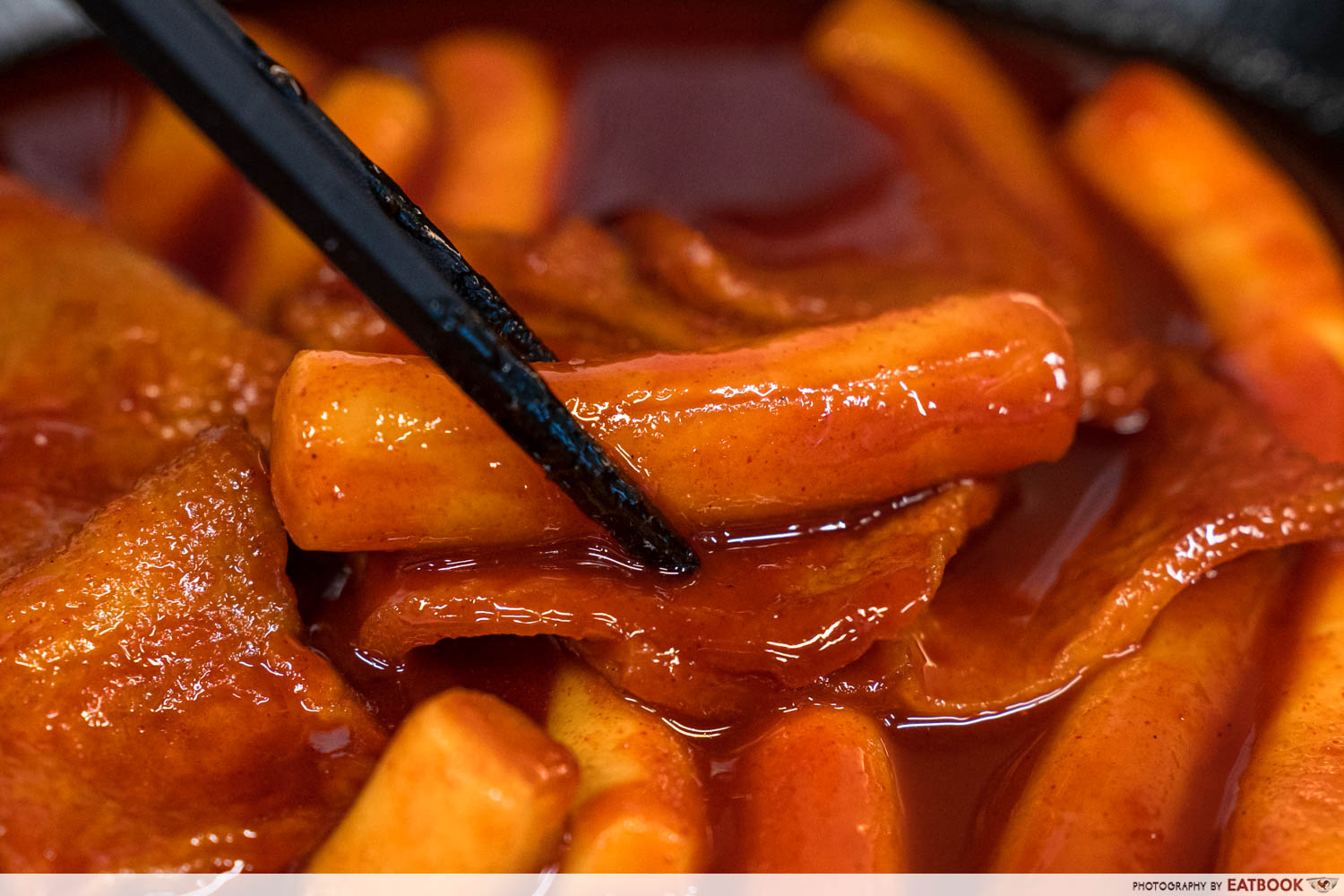 We also had the TteokBokki ($6.90+), starring chewy rice cakes slathered in a punchy gochujang sauce. The rice cakes offered a satisfying chew, though I would've preferred them to be a little softer. I also liked how the gochujang sauce wasn't too spicy, although the heat did build up over time.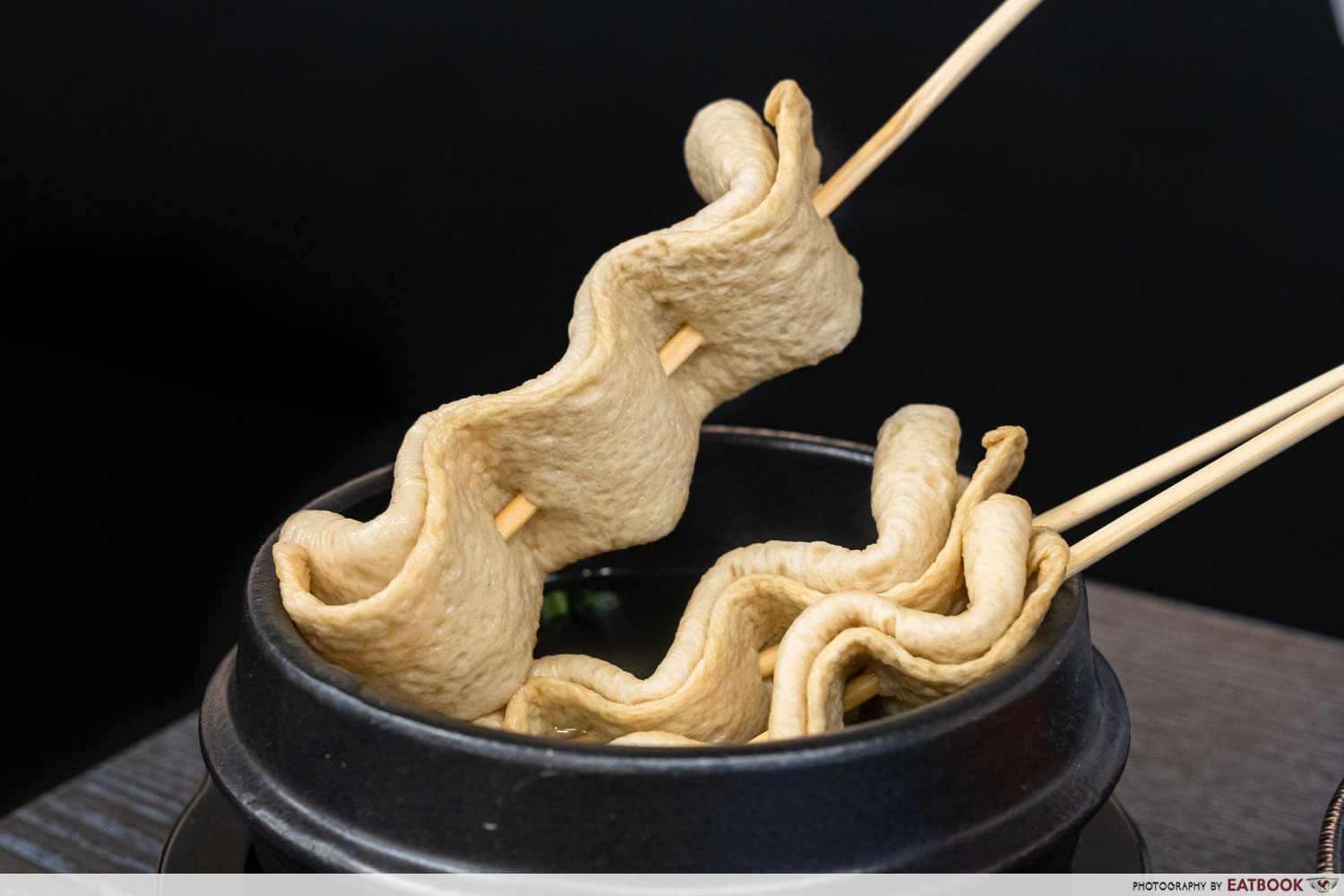 Next was the Eomuk Tang ($6+), another popular Korean street food that's typically served alongside tteokbokki. I liked the fish cake's light sweetness, as well as its spongy texture that was similar to tau pok. Unfortunately, the broth was too bland, and I found myself dipping the fish cakes into the leftover tteokbokki sauce instead to make it more palatable.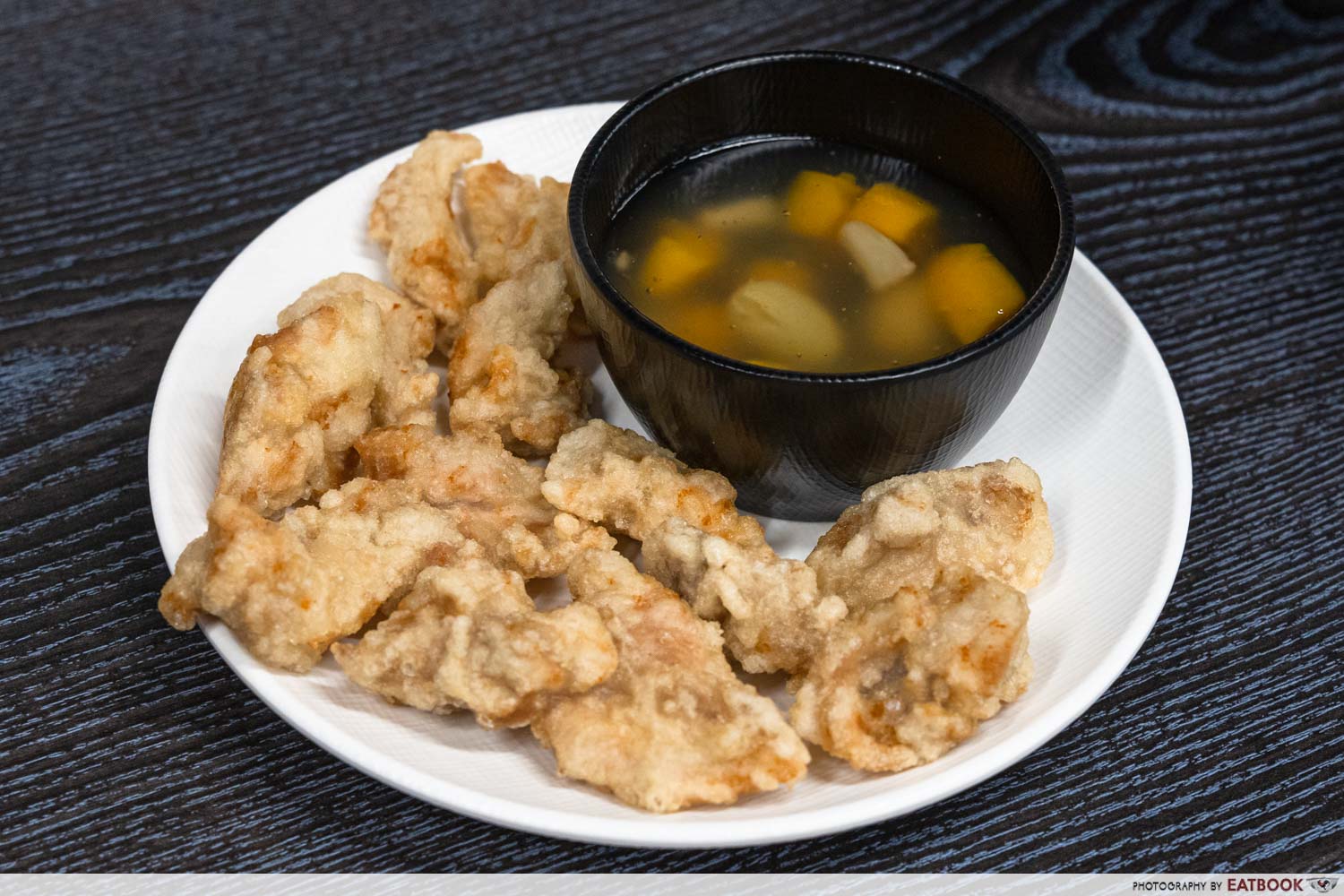 This was also my first time trying TangSuYuk ($11.90+), a crispy Korean meat dish featuring battered fried chicken served with applesauce on the side. My colleague—a self-proclaimed Korean food pro—told me that I could dip the chicken into the sauce or pour it over the meat. I opted to do the former.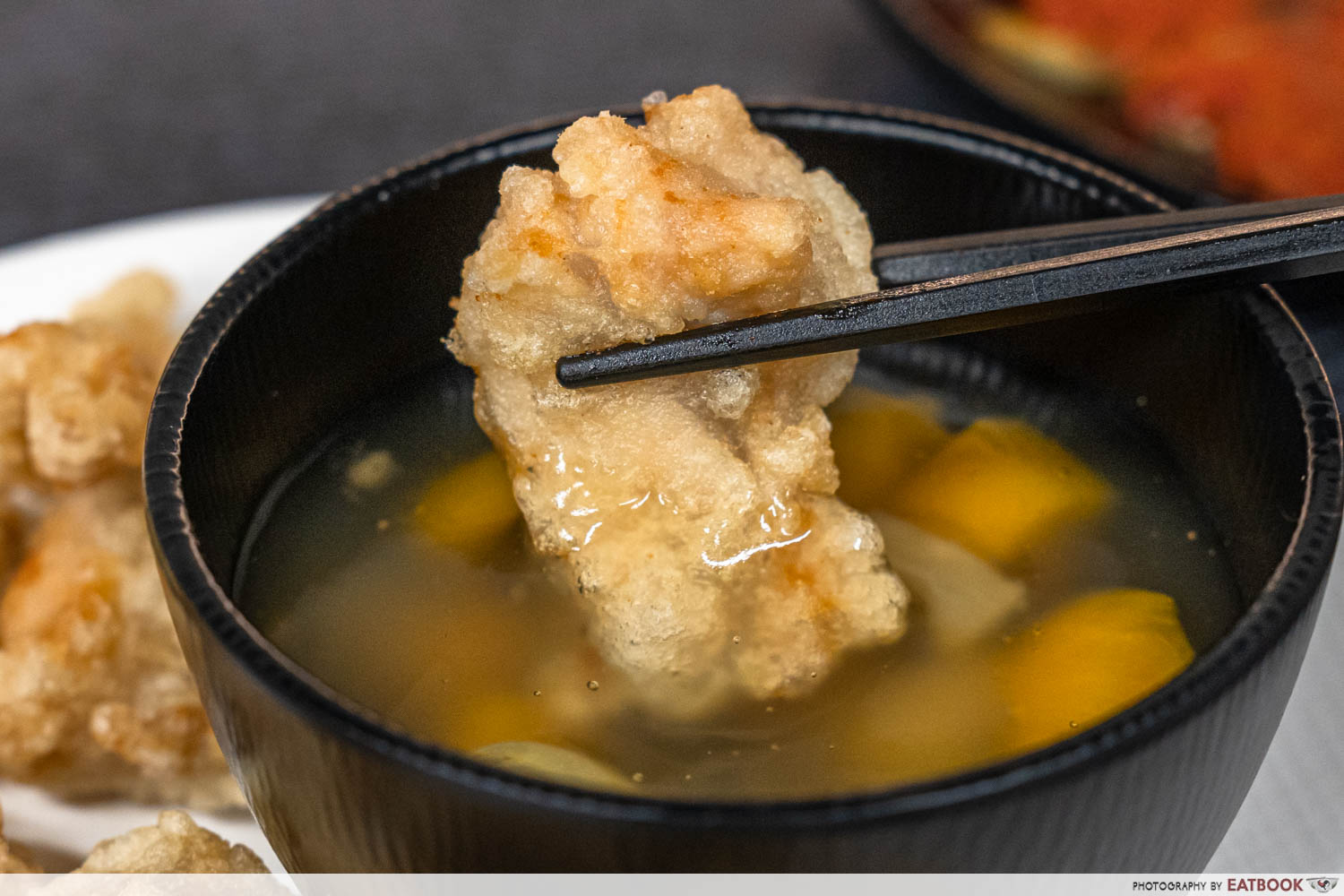 The fried chicken was delightfully tender with a pleasant chew, although the skin was a tad too soggy from sitting out during our shoot. As for the sauce, it was tangy and had a familiar taste that reminded me, oddly, of fruit punch. I also liked how there were actual apple slices in the sauce, which added extra sweetness and crunch to the dish.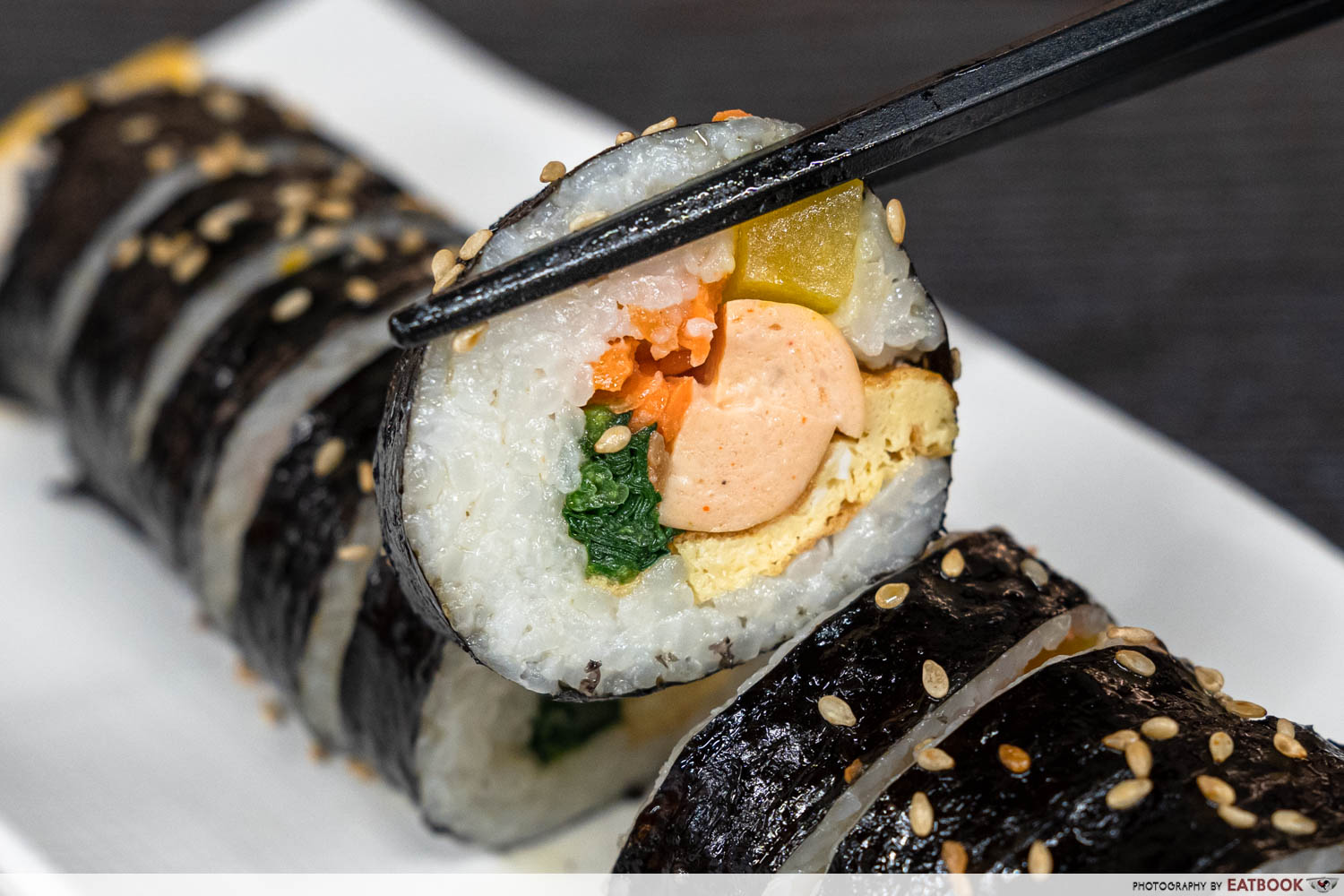 Next came the Kimbap ($4.90+): seaweed rice rolls stuffed with eggs, pickled radish, carrots, sausages, and bite-sized carrots. There's also the Chamchi Kimbap ($6.90+), which had an additional layer of tuna, though I personally thought that there was not much difference between the two versions, taste-wise. While I enjoyed the pleasant mix of textures in the kimbap, from the crunchy vegetables to the soft egg omelette, the rice was a little mushy for my liking, but that was simply a minor hiccup in an otherwise satisfying dish.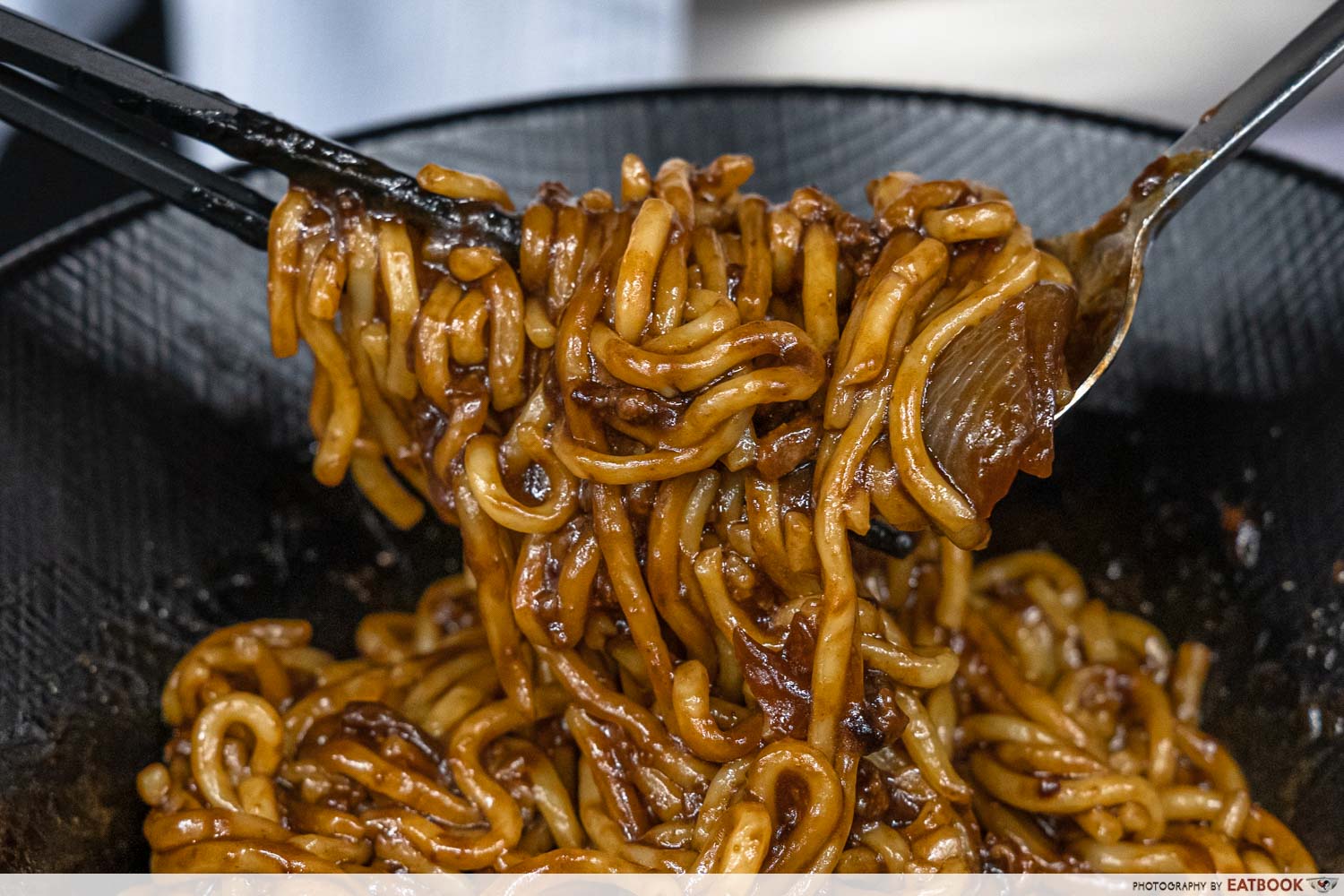 Although my food baby was already showing through my jeans, I couldn't say no to the JjaJangMyeon ($9.90+), featuring thick noodles blanketed in a rich black bean sauce. I usually prefer my jjajangmyeon sweet instead of savoury, which is why Meokja's rendition stole my heart. The sauce was thick and sticky, coating every inch of the chewy noodles and smoky minced beef, while the caramelised onions were soft and almost candy-sweet.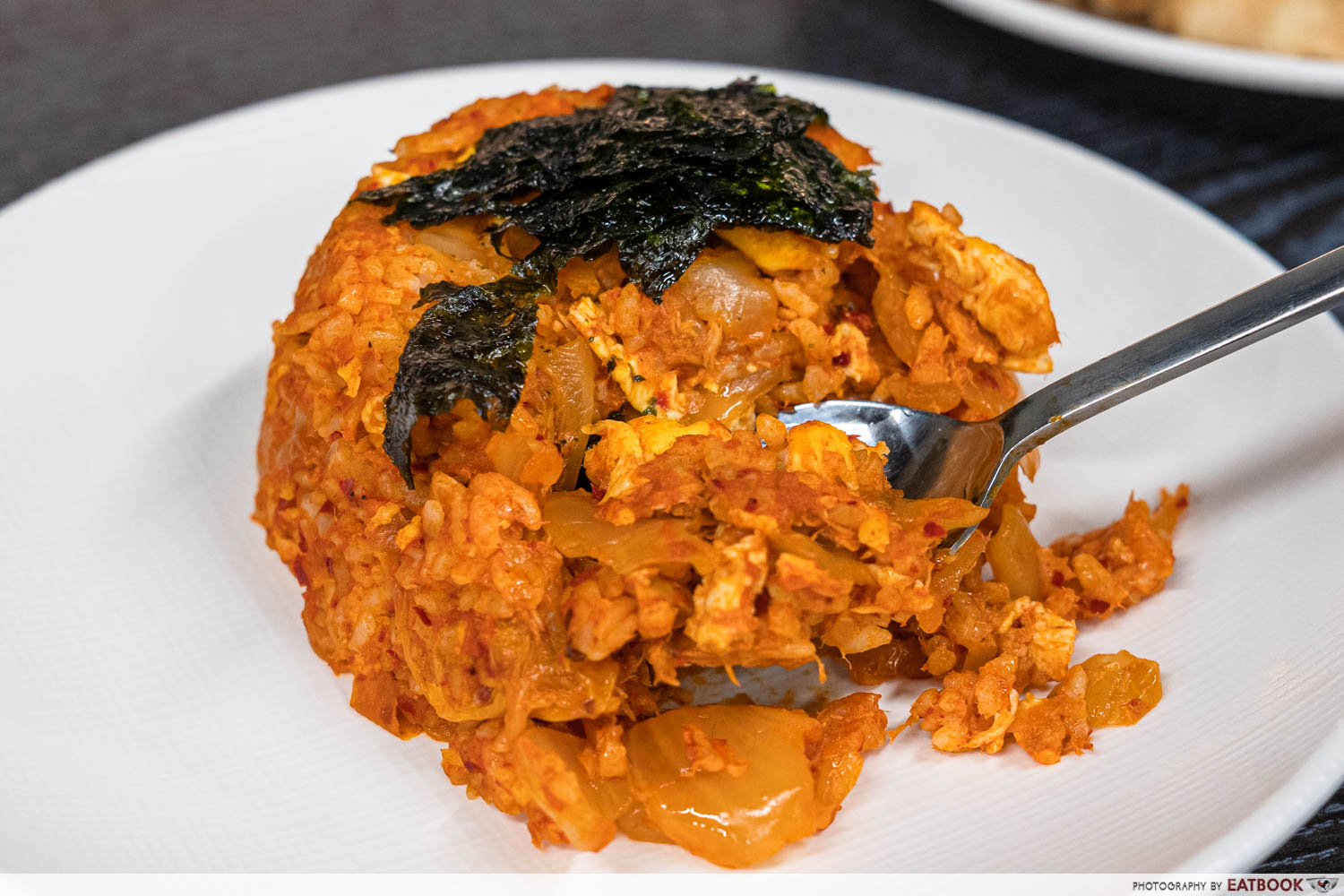 Another dish we had was the Kimchi Bokkeum Bap ($10+): kimchi fried rice topped with Korean roasted seaweed. The kimchi here was more sour than sweet, which added a nice tang to the fried rice. This could've been an excellent dish, if not for the overly mushy rice. I also could use a sunny-side-up on top of the rice for a more complete meal.
Yogiyo Korean Restaurant Has Legit Korean Marinated Raw Crabs And Bossam Pork
Ambience at Meokja by JUNGGA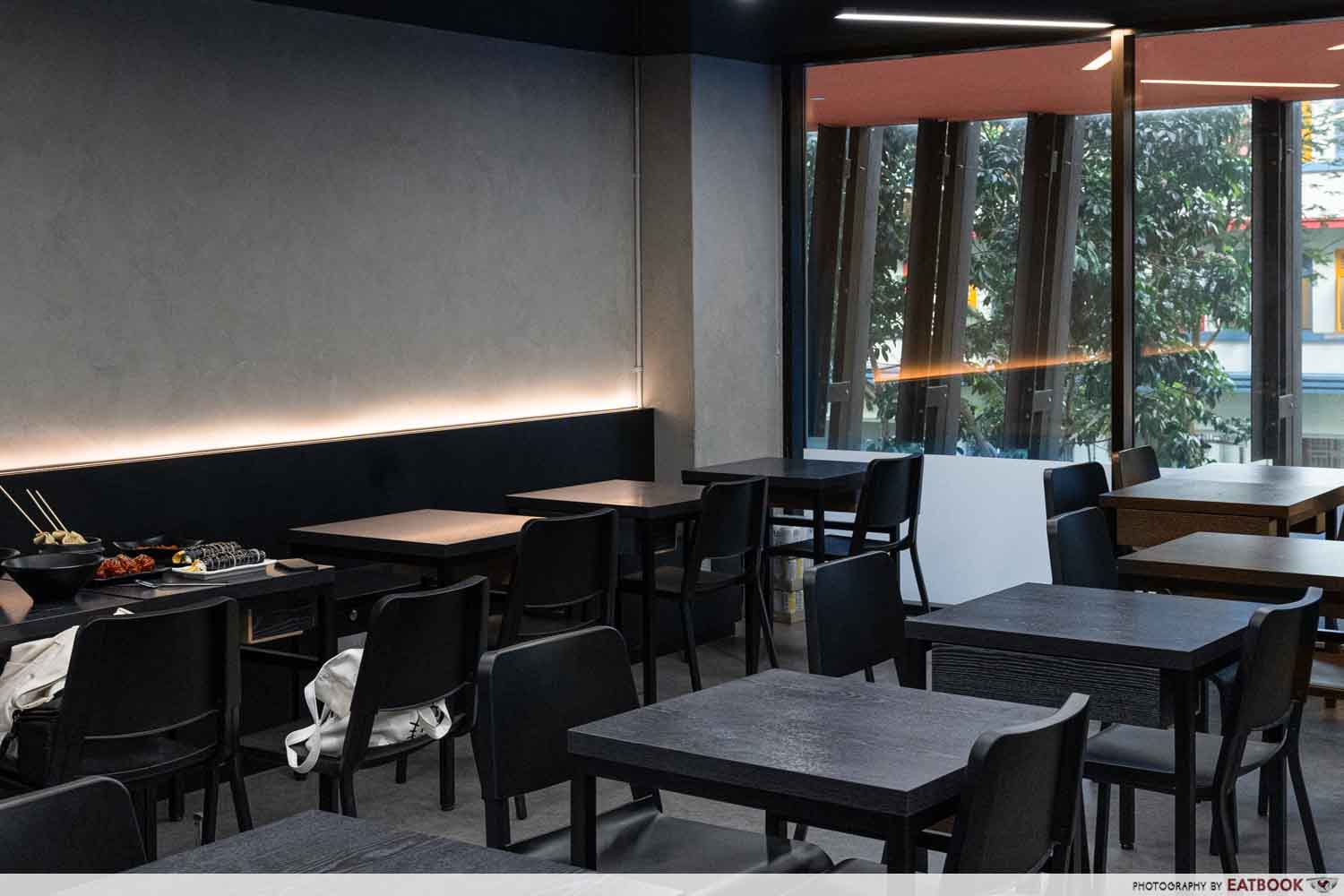 Meokja by JUNGGA is housed on the third level of GR.iD, taking up a spacious unit decked in a soothing grey cement. While the restaurant's aesthetics are simple, the owners paid extra attention to the furniture used—Afrah mentioned during our shoot that the tables were all hand-picked by her and imported from Korea. The restaurant also has charging ports built into the seats, so you don't have to worry about your phone running out of battery as you stream your favourite K-drama.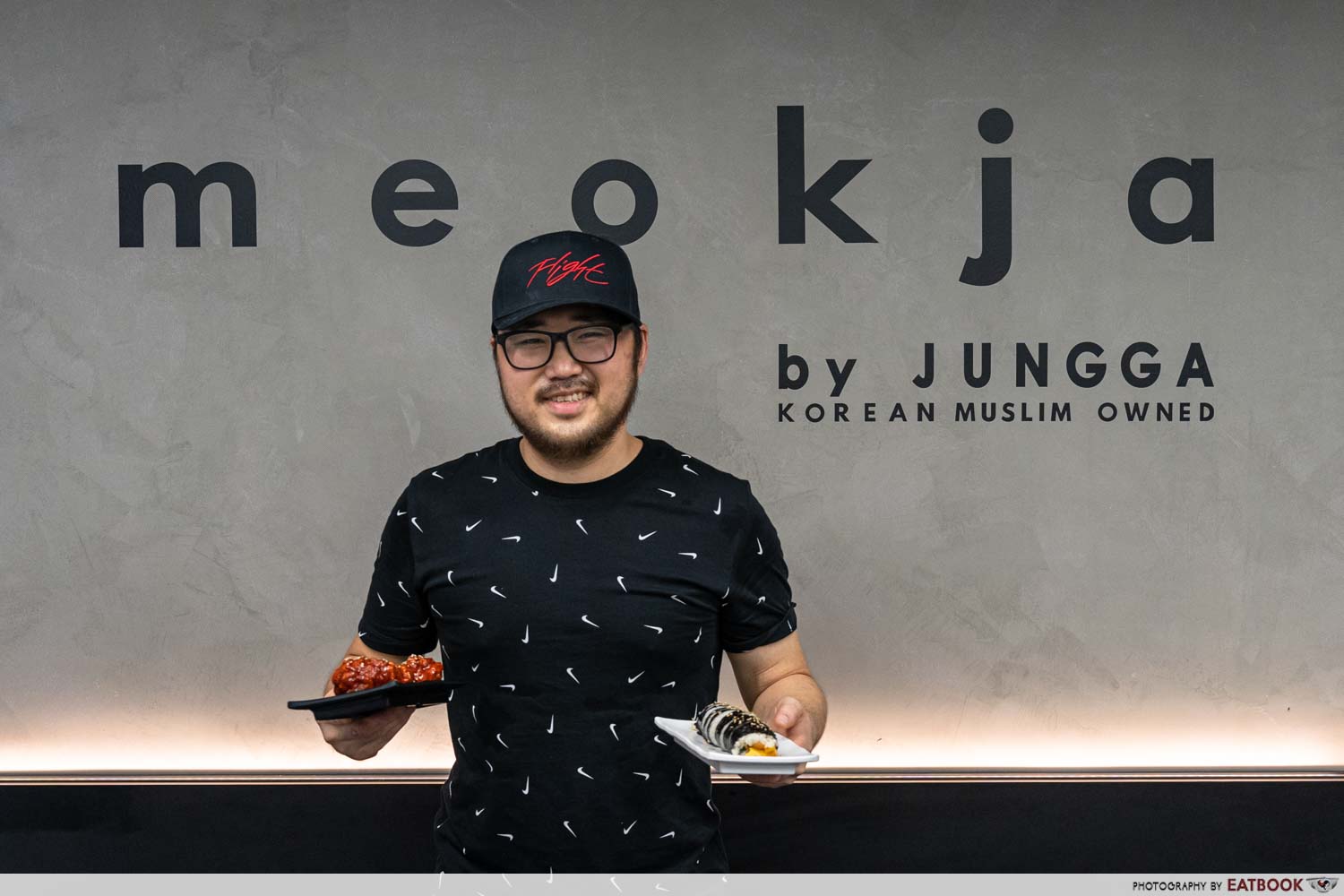 Meokja by JUNGGA is a three-minute walk from Dhoby Ghaut MRT Station.
The verdict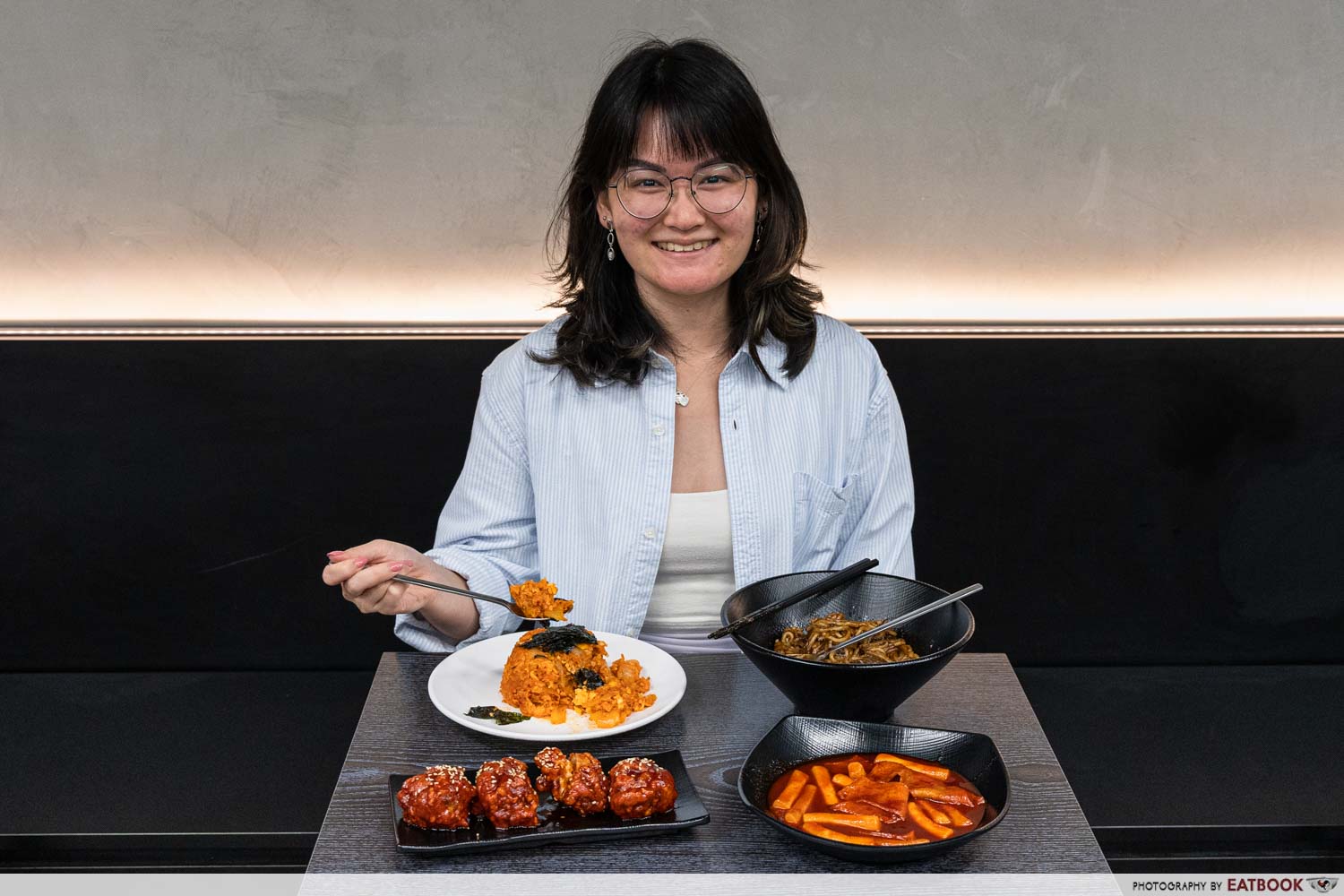 Overall, I found the food at Meokja to be pretty decent, with some impressive dishes that left me craving more, including the jjajangmyeon and tangsuyuk. After taking into account their affordable prices, hearty portions, and central location, I may consider coming back again to try the other dishes they have to offer!
If you're looking for more food in the mall, read our 8 GR.iD Mall food places guide. For more Korean food, check out Market Blue, a Korean kopitiam in Tanglin Mall with a ramyeon library.
Address: 1 Selegie Road, #02-03 GR.iD, Singapore 188306
Opening hours: Thur-Tue 10:30am to 3pm, 5pm to 10pm
Tel: 9067 7077
Website
Meokja by JUNGGA is a Muslim-owned eatery.
8 GR.ID Food Places To Try In The Former PoMo Mall, Including A Rooftop Tapas Bar And Sweet Potato Mille Crepe
Photos taken by Hui Hui Lau.
This was a media tasting at Meokja by JUNGGA.
Meokja by JUNGGA Review: Muslim-Friendly Korean Restaurant In Dhoby Ghaut With Mains Below $10
Meokja by JUNGGA Review: Muslim-Friendly Korean Restaurant In Dhoby Ghaut With Mains Below $10 -

7.5/10
Summary
Pros
– Wide variety of Korean street food and Korean mains
– Affordable food with hearty portions
– Central location
Cons
– Eomuk tang was quite bland
– Kimchi Bokkeum Bap was a little mushy
Recommended dishes: TteokBokki ($6.90+), TangSuYuk ($11.90+), and JjaJangMyeon ($9.90+)
Opening hours: Thur-Tue 10:30am to 3pm, 5pm to 10pm
Address: 1 Selegie Road, #02-03 GR.iD, Singapore 188306