Hifumi offers unlimited sides with every main ordered
Update (9 July 2020): Hifumi is now permanently closed.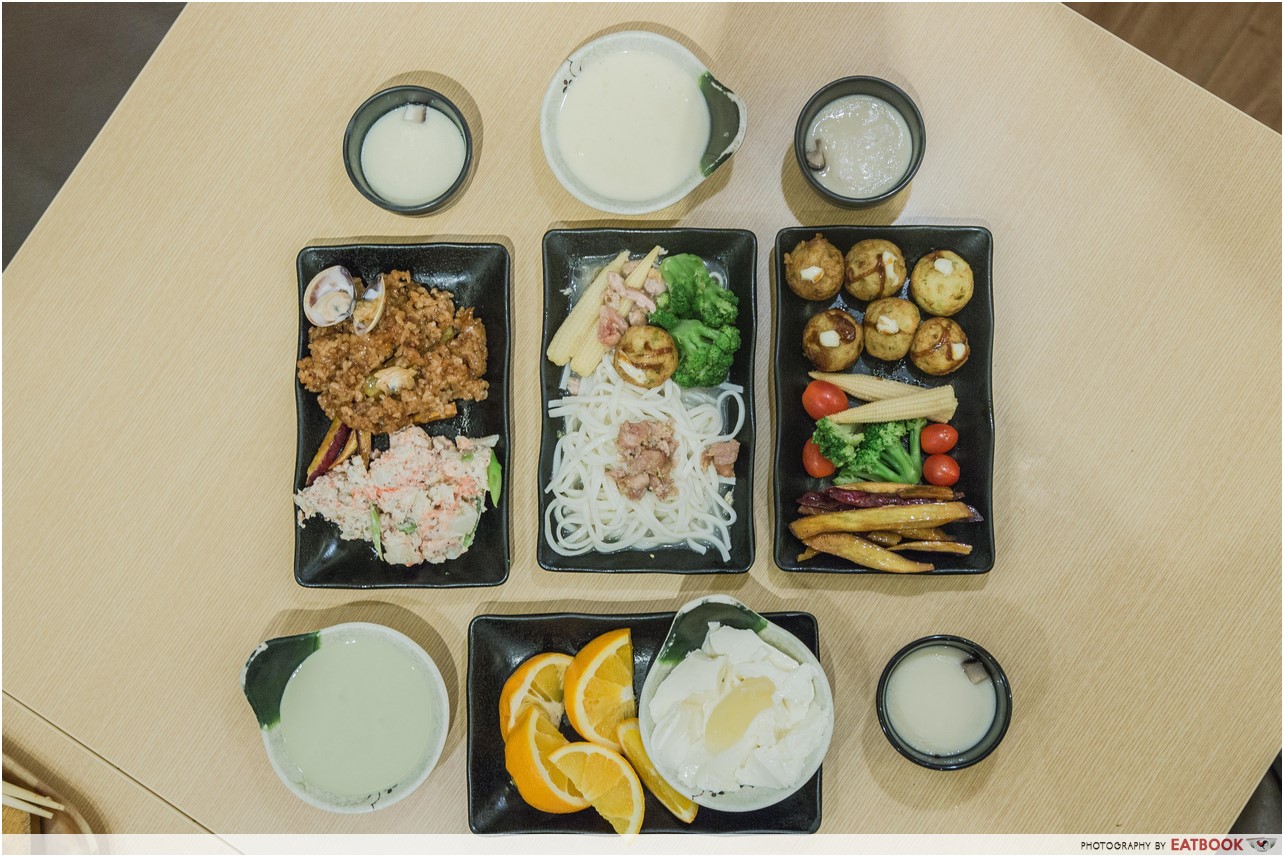 It's no secret that every Singaporean loves a restaurant a little bit more when it offers free-flow anything, be it french fries, xiao long bao or, in this case, Japanese side dishes. So it's no wonder that, in a quiet corner of Marina Square, Hifumi was bustling. The rainy afternoon sure didn't stop this place from filling up when we arrived at noon, and we're convinced that stands testament to something.
Food at Hifumi Japanese Restaurant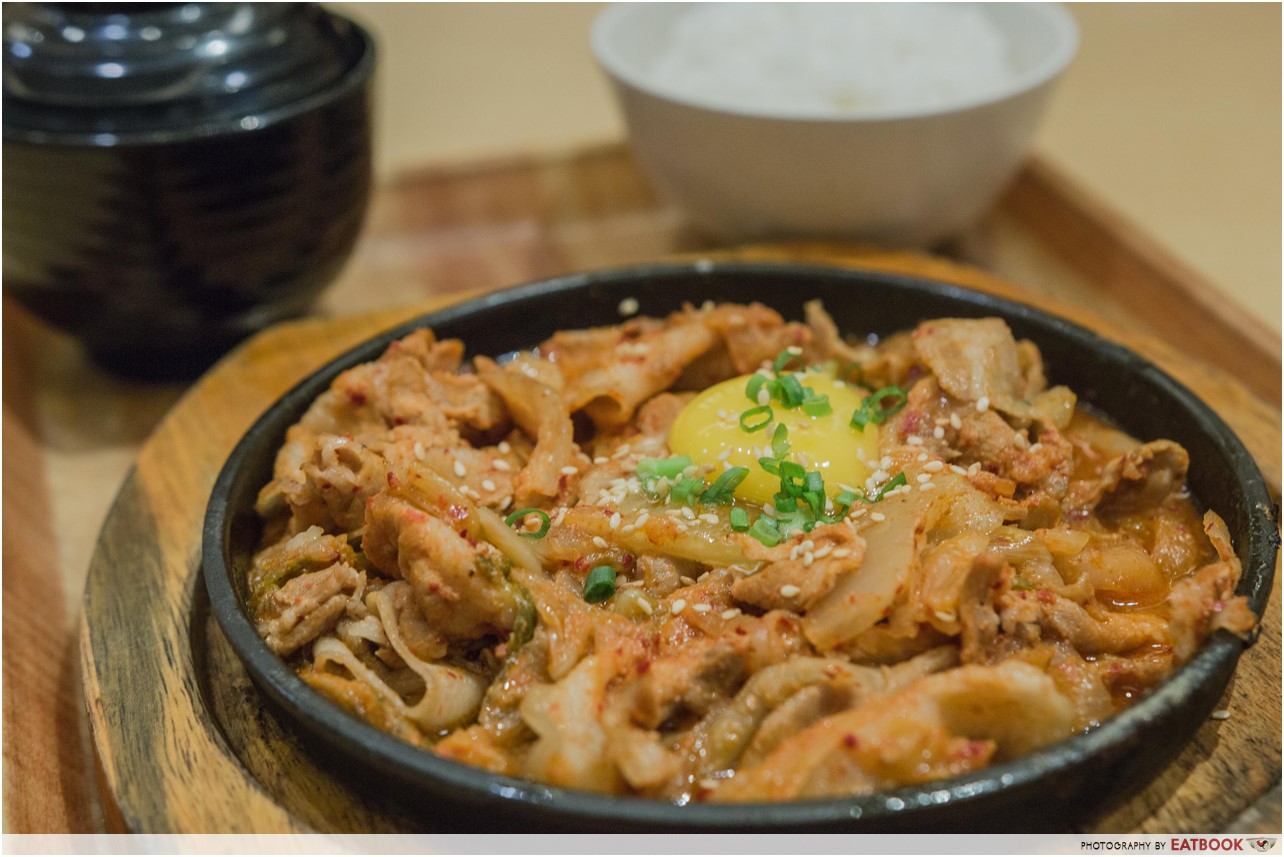 At Hifumi, you have to order a main in order to unlock the buffet. To make sure we got the best deal, we ordered Pork Kimchi ($9.99++) from their lunch promo menu as it was the most affordable key to our soon-to-be rampage. Filling the hot plate was slices of fatty meat topped with a glistening yolk, and the set came with rice and miso soup.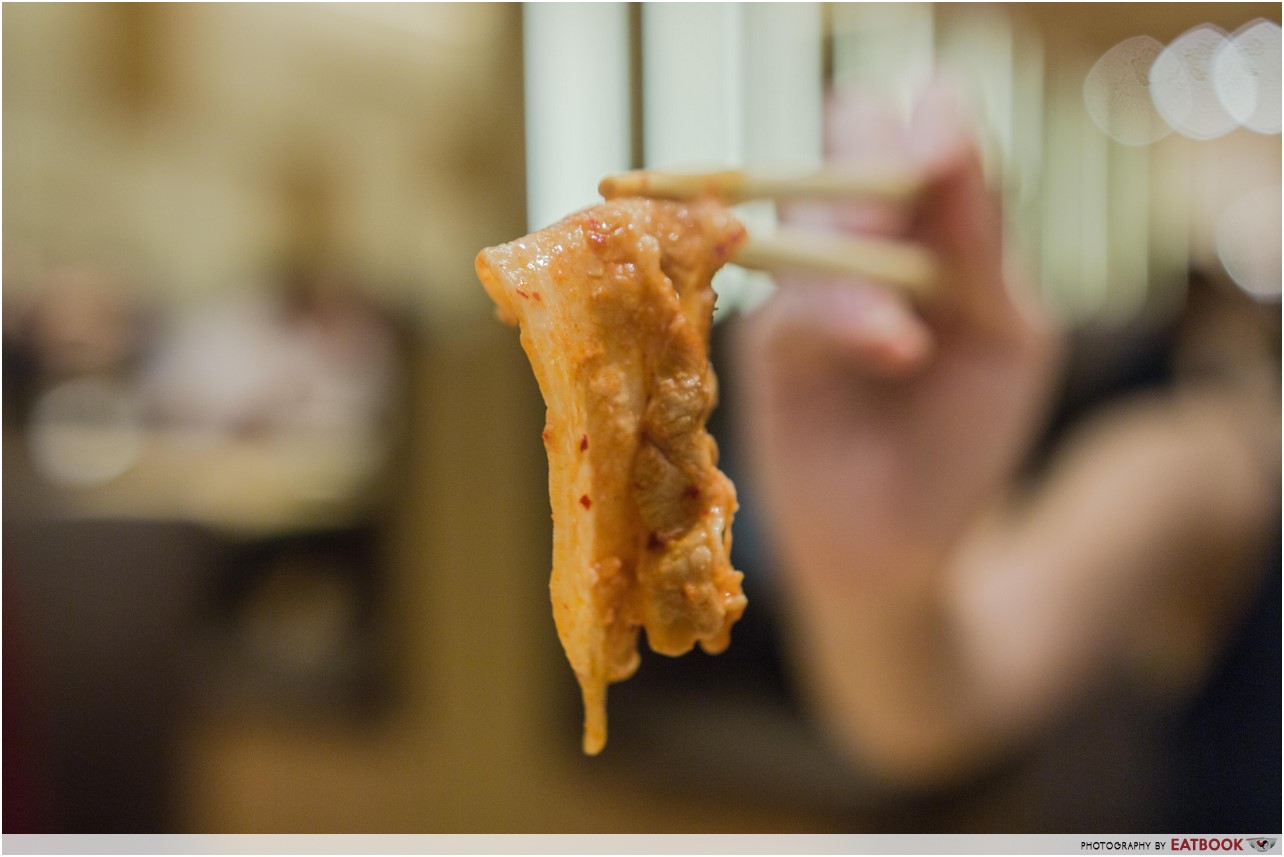 The pork was chewy with a strong taste of kimchi and the fats gave it a creamy texture. This helped to balance the sour and spicy flavours from the kimchi, making it easy to polish off the accompanying rice. We wished they used Japanese short-grain rice instead of regular rice.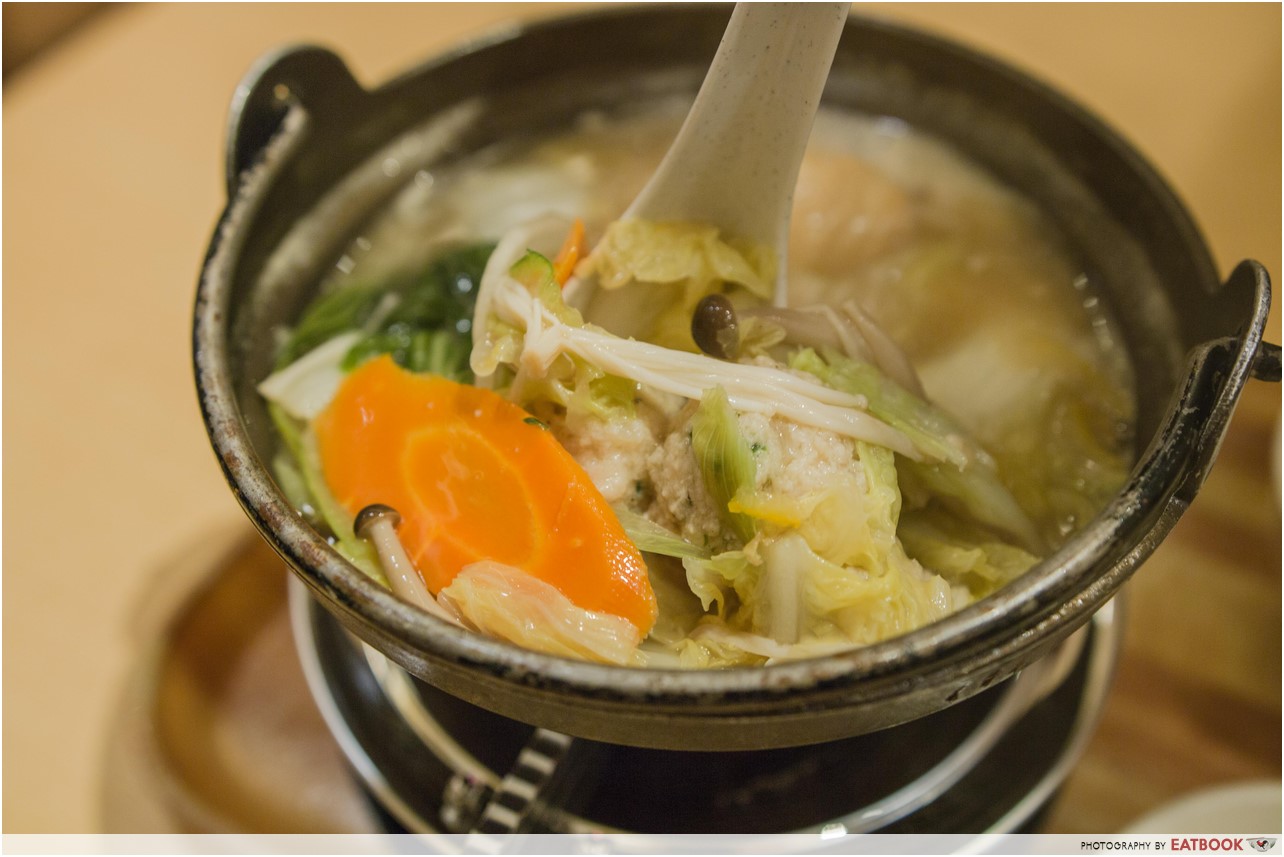 Because collagen is said to be good for our skin, no objections were made when Yuzu Collagen Hotpot ($17.99++) was ordered. It came crammed with an assortment of vegetables and mushrooms, including enoki and shiitake.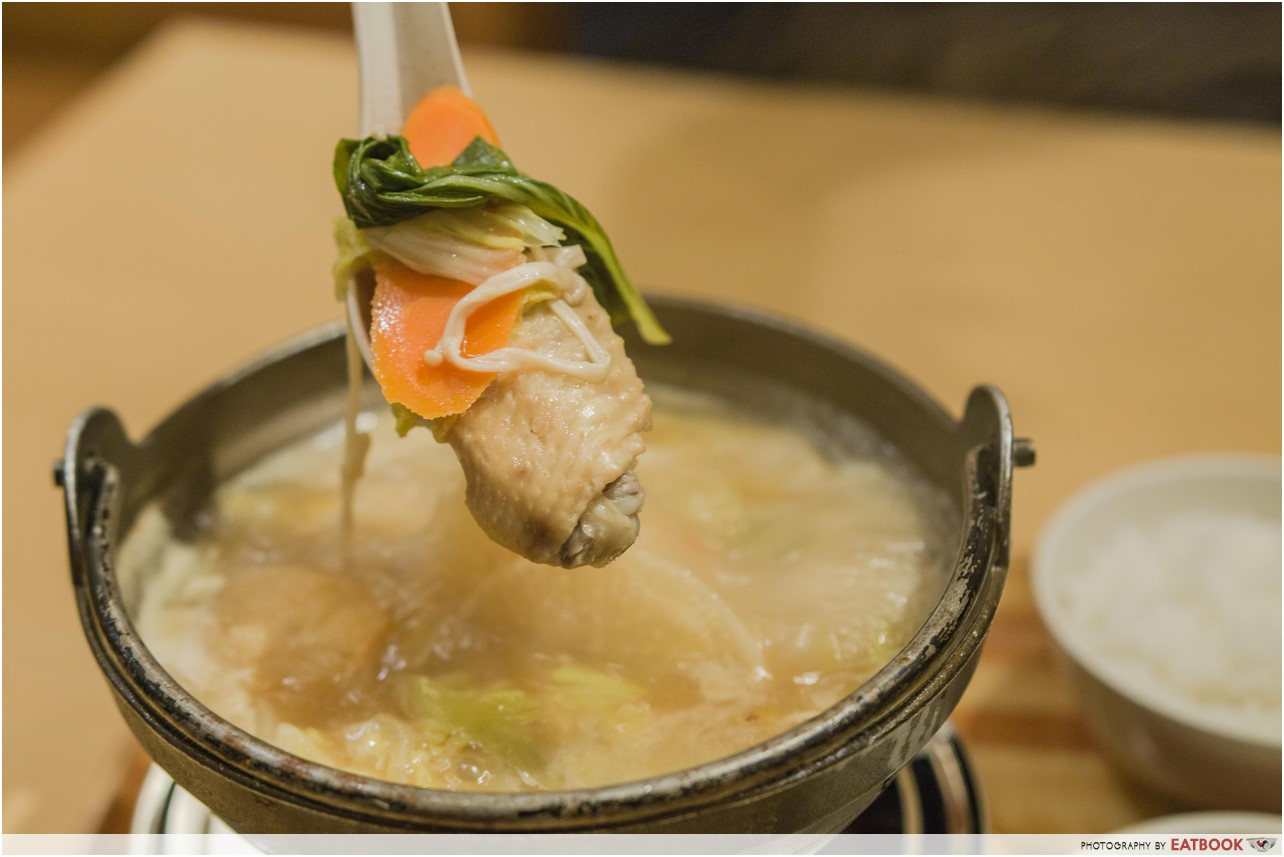 But of course, the star of the show was the broth. The first slurp was filled with rich savoury flavours with a tang of the citrusy yuzu, and the other spoonfuls to come had the sweetness of the vegetables shining through. Sharing it among the three of us proved to be the biggest challenge of the day 'cause the soup had to be refilled – for free – within minutes of our attack.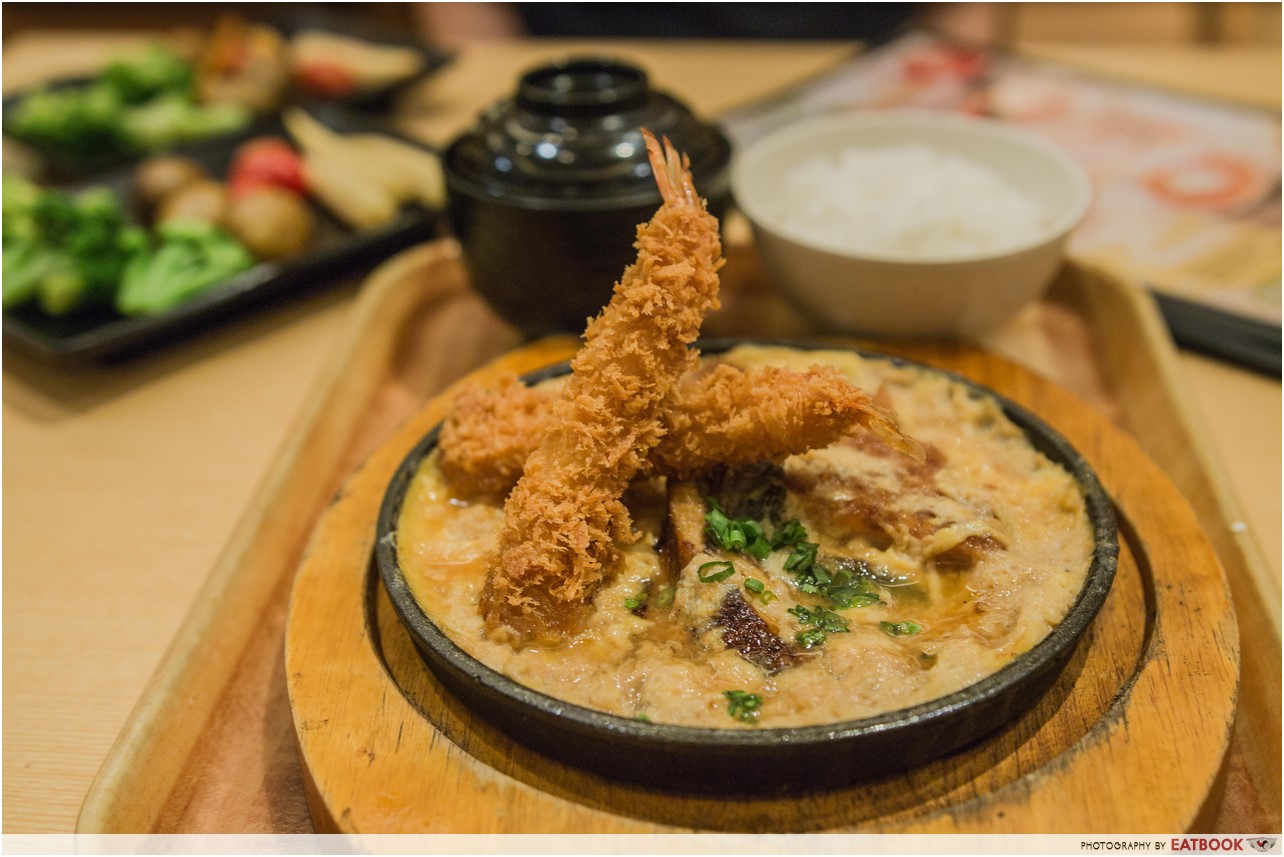 The last on our hit list was Mixed Toji ($16.99++). This dish includes an ebi fry, pork katsu and unagi on a bed of beaten eggs in shoyu broth. Despite being soaked in the runny eggs and broth, the ebi fry remained crisp upon first bite. The batter was light and the prawn used was fresh and crunchy.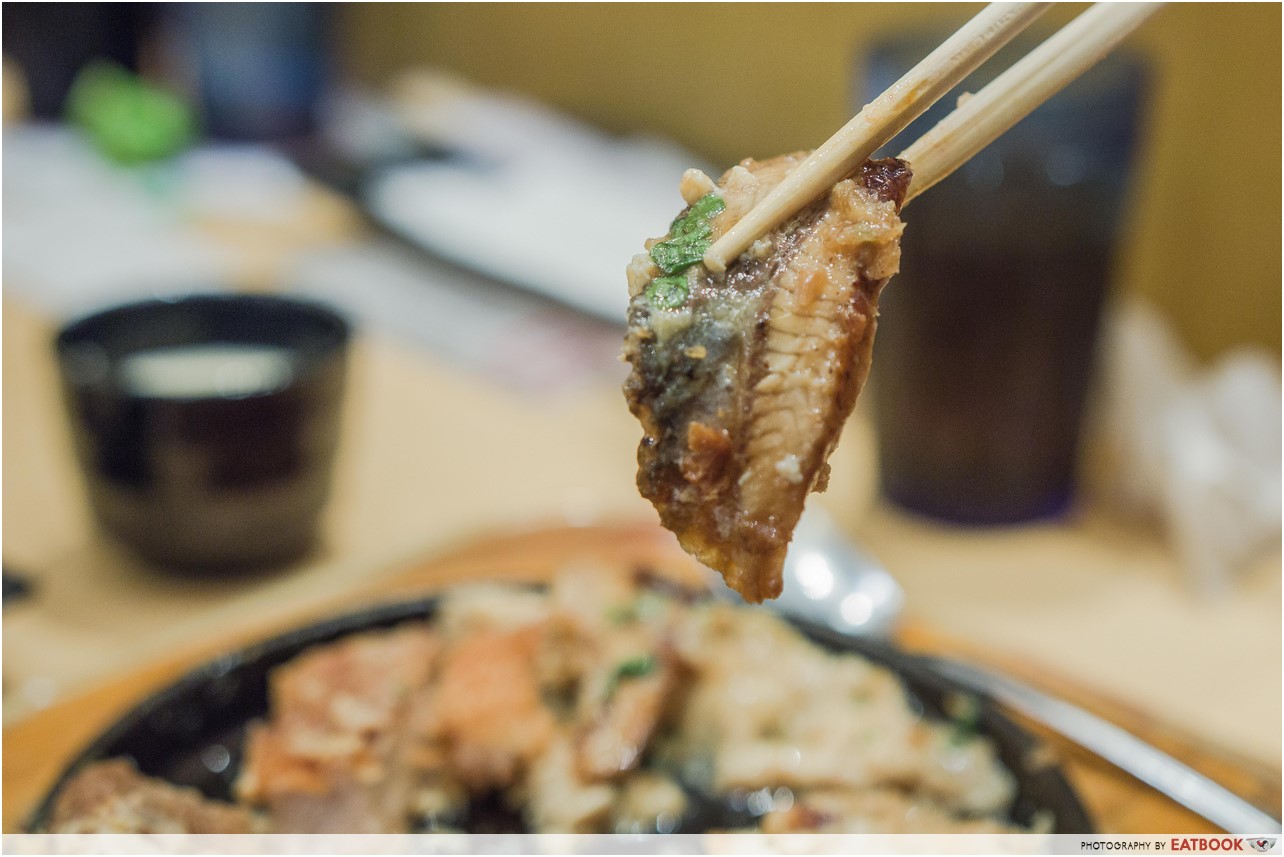 The unagi that was hidden under the fried goodies turned out mushy and fishy – not what I had in mind. As we bit into the pork katsu, it was tough and had a strong stench. The saving grace for this dish was the ebi.
Free-flow sides at Hifumi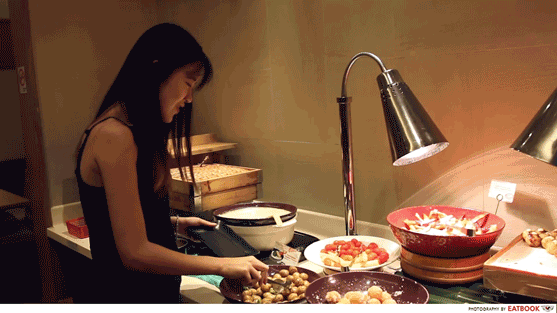 Now onto what we were here for: the all-you-can-eat sides. The buffet line changes monthly, but some popular favourites – such as cheese fondue and takoyaki – are permanent residents.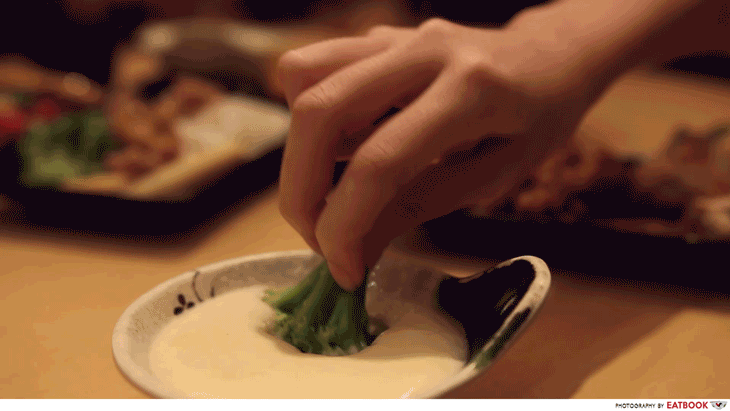 And it's easy to see why. The cheese fondue sauce was rich and savoury, and didn't have us feeling jelak even after we cleared out two plates of veggies that were liberally coated in the sauce.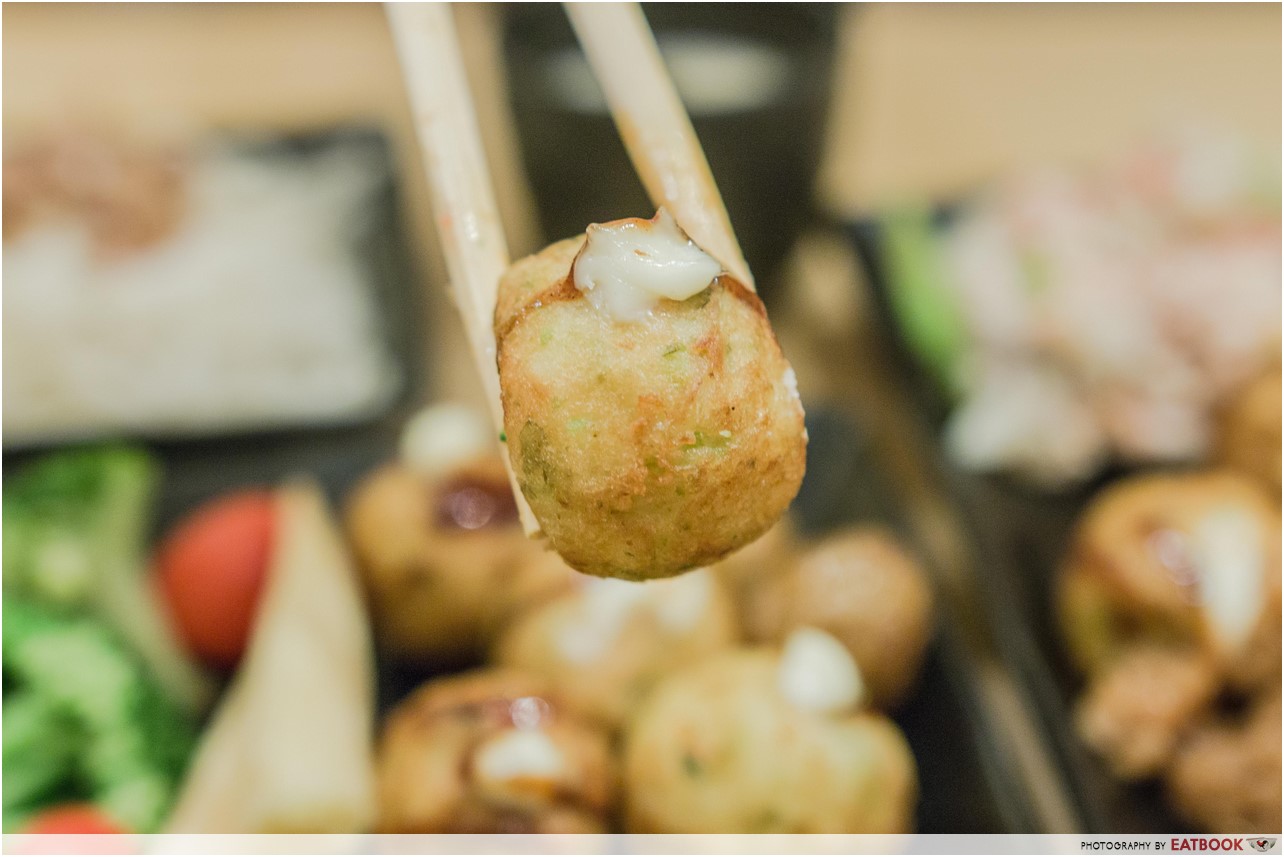 With a soft interior and a crisp outside, the takoyaki was similar to the usual ones you'd get outside, perhaps due to the takoyaki sauce and Japanese mayo drizzled on the ball.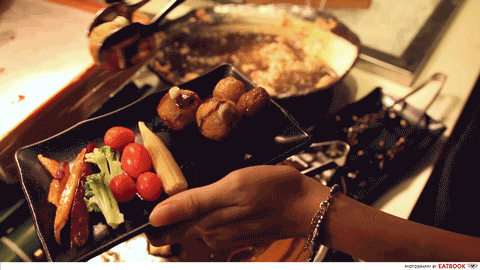 Other appetisers included slices of sweet potato that were coated with honey and jazzed up with a hint of lemon and cinnamon. We also saw Asari Clam Glutinous Rice, Chicken with Shichimi (seven spice powder), Mentaiko Potato Salad and Crabmeat Omelette with Ankake Sauce.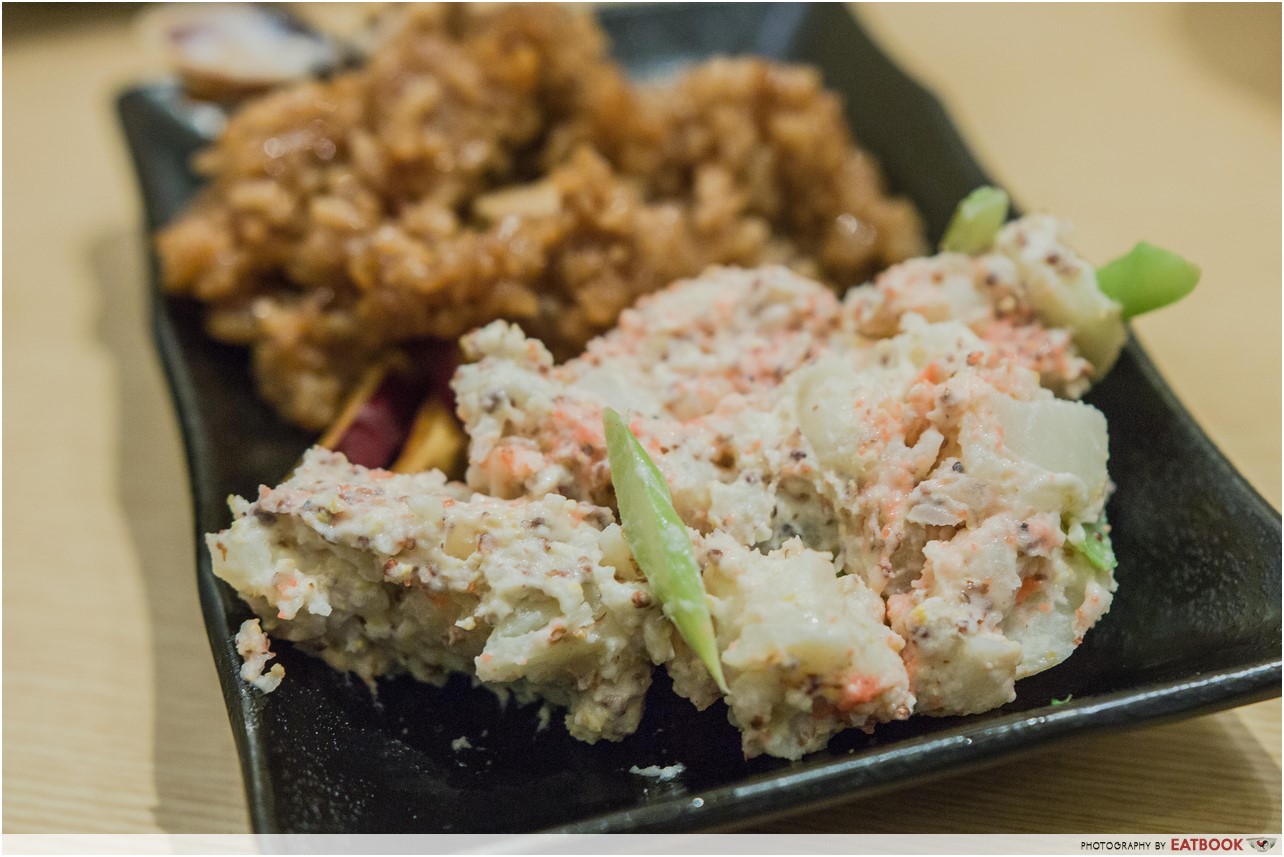 Although the variety was wide, the taste of some dishes was disappointing. The sweet potato slices were a little too chewy from the honey and sitting outside in the cold, the clam glutinous rice was underwhelming, and the mentaiko potato salad had a sourish tinge, which we were unsure if it was because it had gone bad. We also barely tasted the mentaiko although we could see it in the salad.
Some dishes worth mentioning are the Crabmeat Omelette with Ankake Sauce and Chicken with Shichimi. The omelette was slightly sweet and crabstick was used instead of actual crab meat, but the egg still turned out to be a treat. The layers of rolled egg created a fluffy, almost creamy bite, which made this dish a hot favourite for seconds. The shichimi helped to pack the chicken with flavour, with the taste of sesame and chilli coming through the most.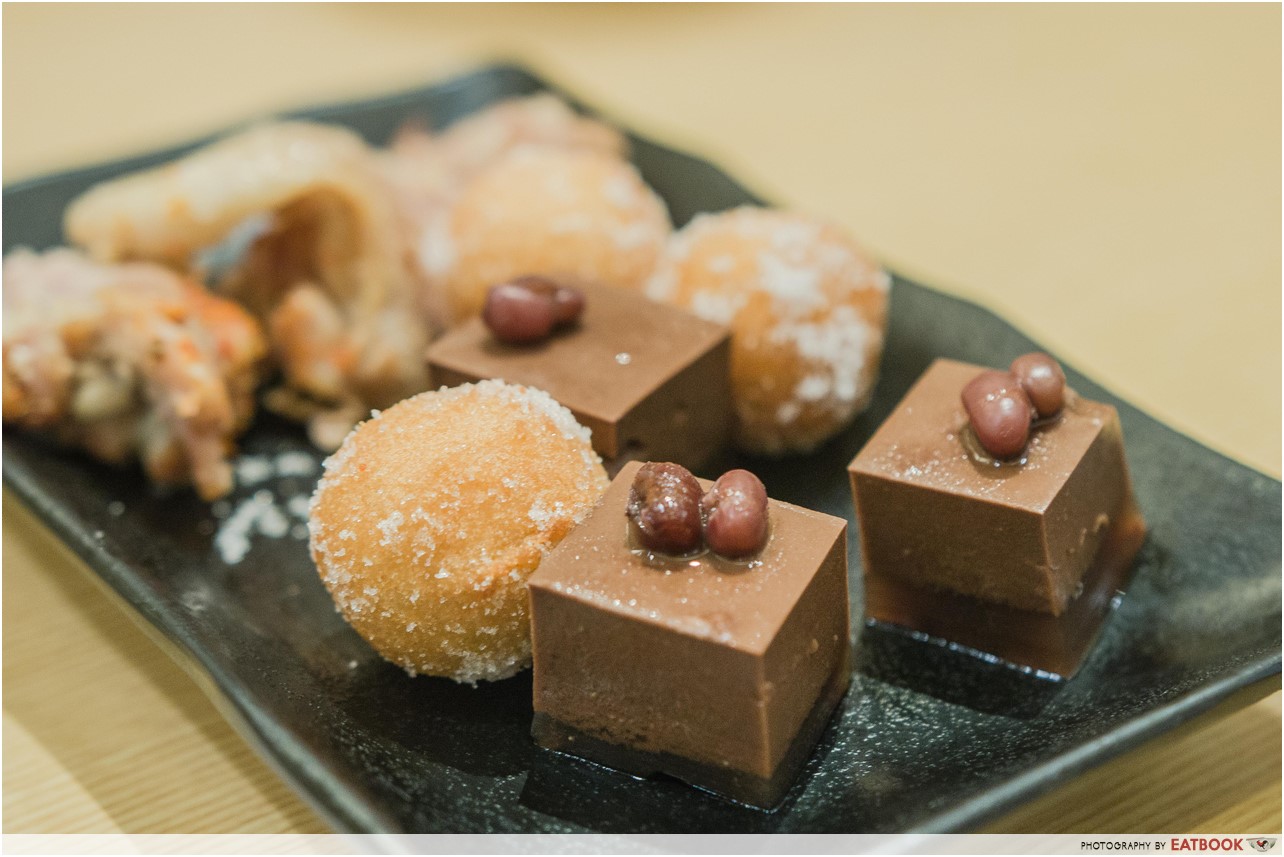 To end things off on a sweet note, we helped ourselves to the desserts on display. Chocolate & Azuki Agar Agar caught our attention right away, with the chocolate portion adopting a mousse-like texture. I had expected it to be weak in flavour but it surprised me with a strong bitter-sweet taste upon first bite.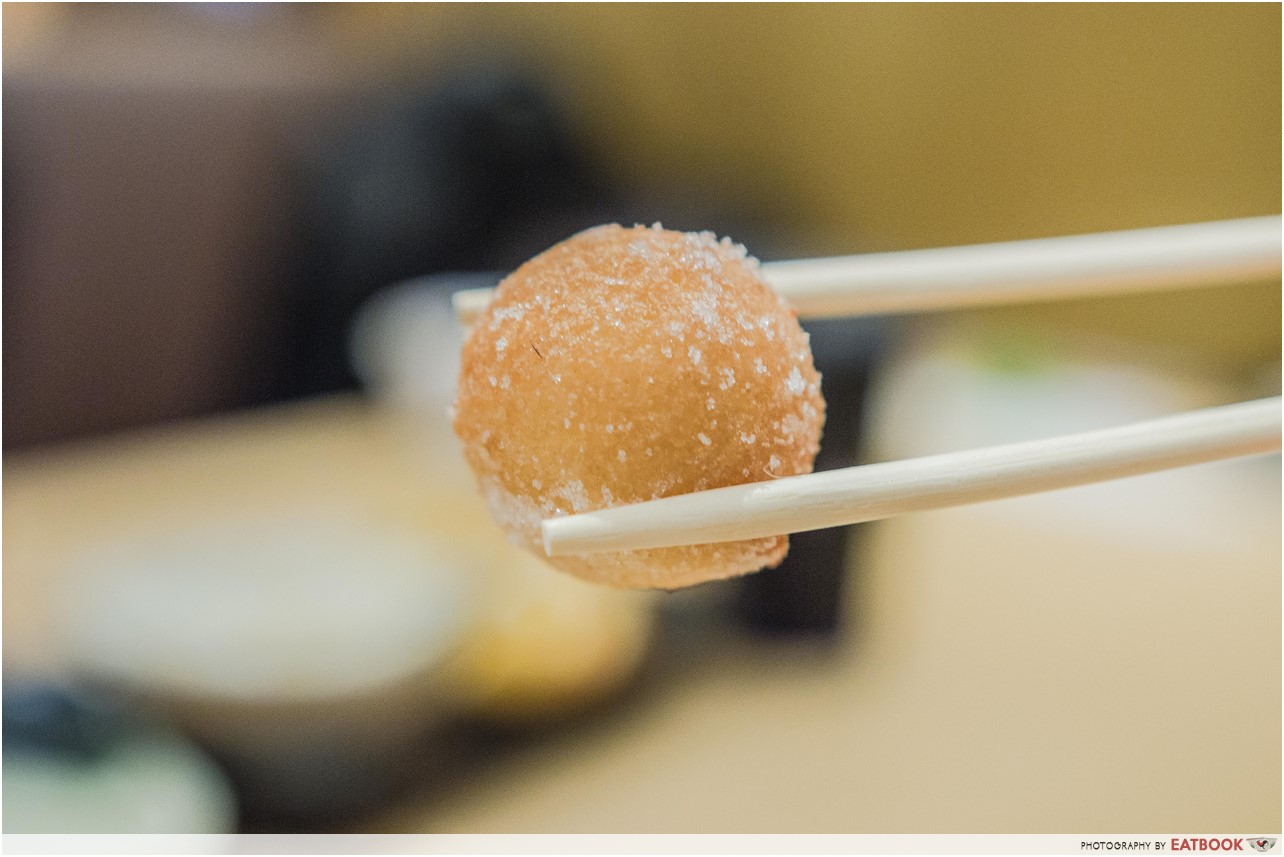 Although Sugar Tofu Donut looked promising, biting into it resembled biting into old, stale, bread. While the experience wasn't all that bad, it wasn't a dessert we reached for again.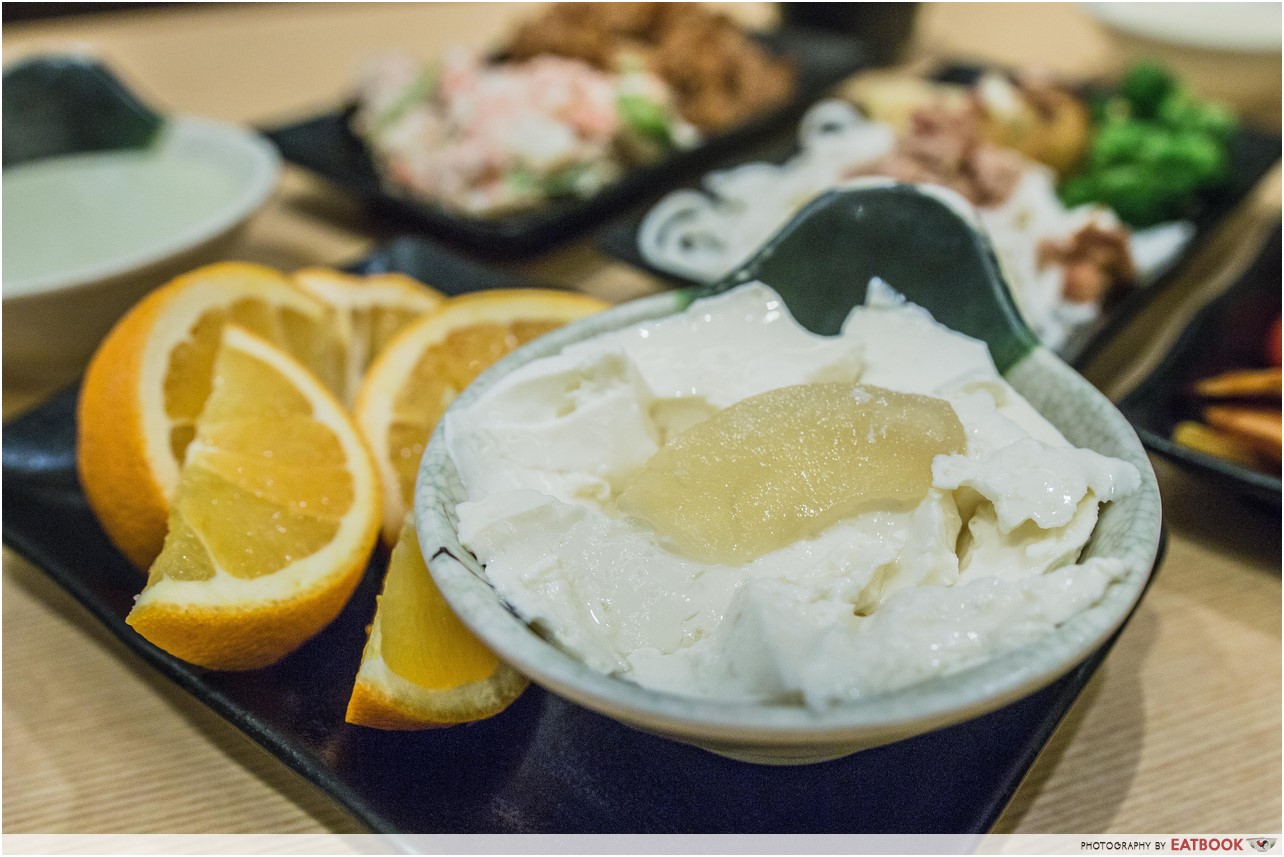 Ginger Panna Cotta with Sliced Apple was also unpopular at our table, as it was overly chunky and creamy. That being said, the ginger was a genius addition to the dessert as it helped to cut through the creaminess and gave the dessert an additional layer of flavour.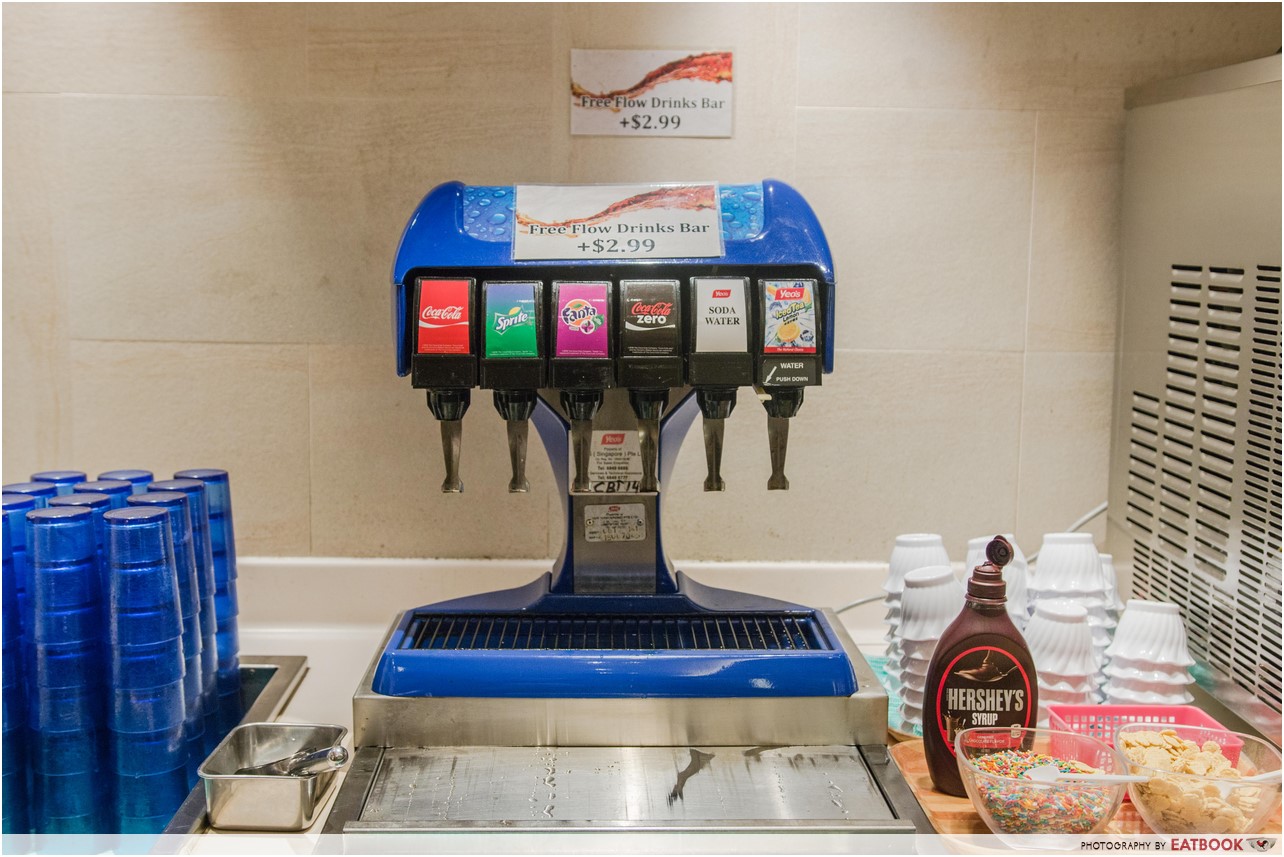 For an additional $2.99++, you can have unlimited drinks and ice-cream at your feast. You get the usual soft drinks and as many servings of soft serve ice-cream topped with rainbow sprinkles, cornflakes and chocolate syrup as you like.
Ambience at Hifumi Japanese Restaurant
Just a five-minute walk away from Esplanade MRT Station, Hifumi is situated at a cosy little corner of Marina Square. The tables are spacious enough to lay everything from mains to plates of appetisers, and not close enough for you to be eavesdropping on the conversation beside you.
The verdict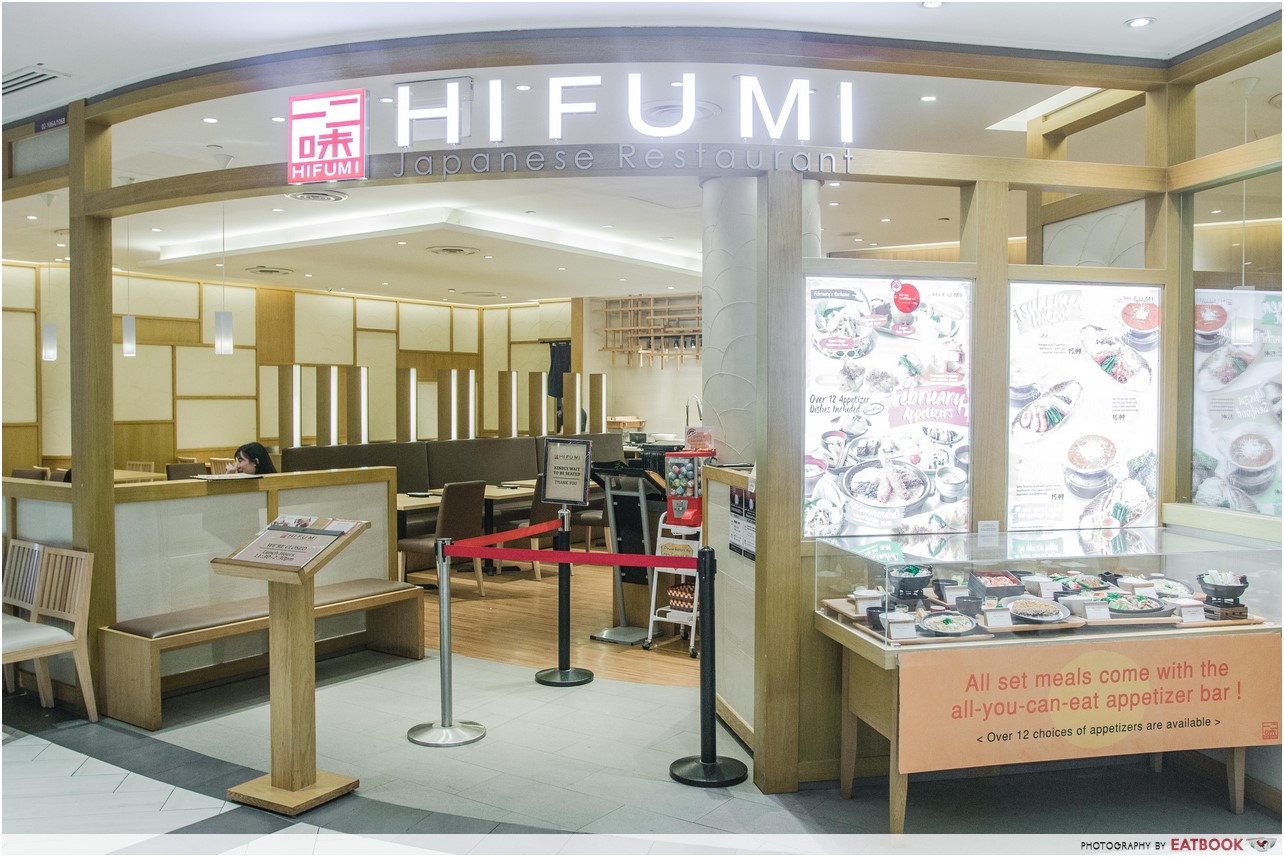 For what you pay, Hifumi will definitely give you its worth and more. I can see myself coming back to this place when I'm meeting my friends. Besides, it's hard to say no to a place where you can get unlimited sides!
This is an independent review by Eatbook.sg.
Address: 6 Raffles Boulevard, #02-106A, Marina Square, Singapore 039594
Operating Hours:
Monday – Friday 11:30am to 3pm, 5pm to 10pm
Saturday – Sunday 11:30am to 10pm
Tel:
6337 4721
Summary
Pros
– Value for money
– Convenient location
Cons
– Crowded
– Some sides were not good
Recommended Dishes: Yuzu Collagen Hotpot ($17.99++), Pork Kimchi ($9.99++)
Operating Hours:
Monday – Friday 11:30am to 3pm, 5pm to 10pm
Saturday – Sunday 11:30am to 10pm
Tel:
6337 4721
Address: 6 Raffles Boulevard, #02-106A, Marina Square, Singapore 039594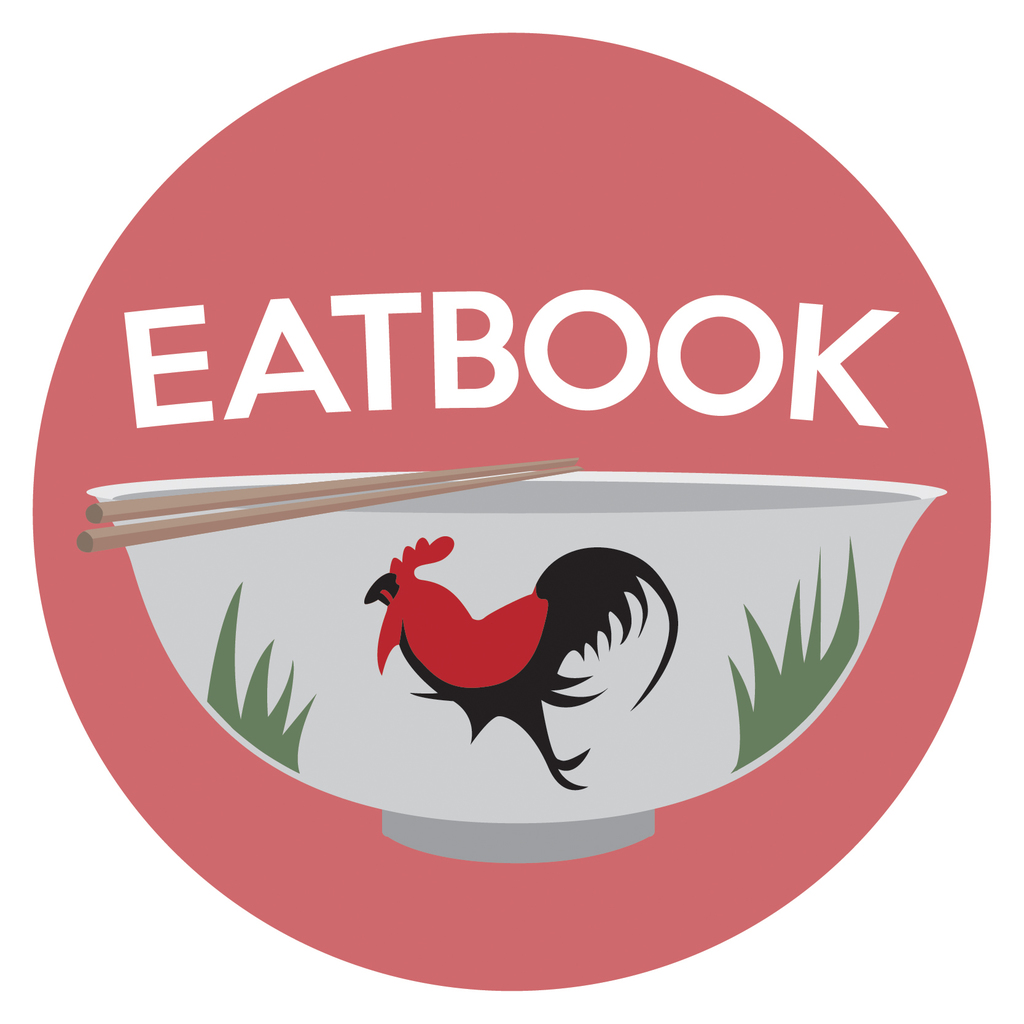 Drop us your email so you won't miss the latest news.