Hokkien Mee Master
If you've heard of real estate group Dennis Wee Group (DWG), you'll know that it was founded by Dr Dennis Wee, a man who wears many hats. Here's a fun fact: 69-year-old Dennis' father was the late Jolly Wee—a fabled Peranakan chef. It's no surprise then that Dennis is the man behind the wok at Hokkien Mee Master, a passion project and home-based business which he runs out of his home kitchen, and sees long waitlists, which at this point is four weeks.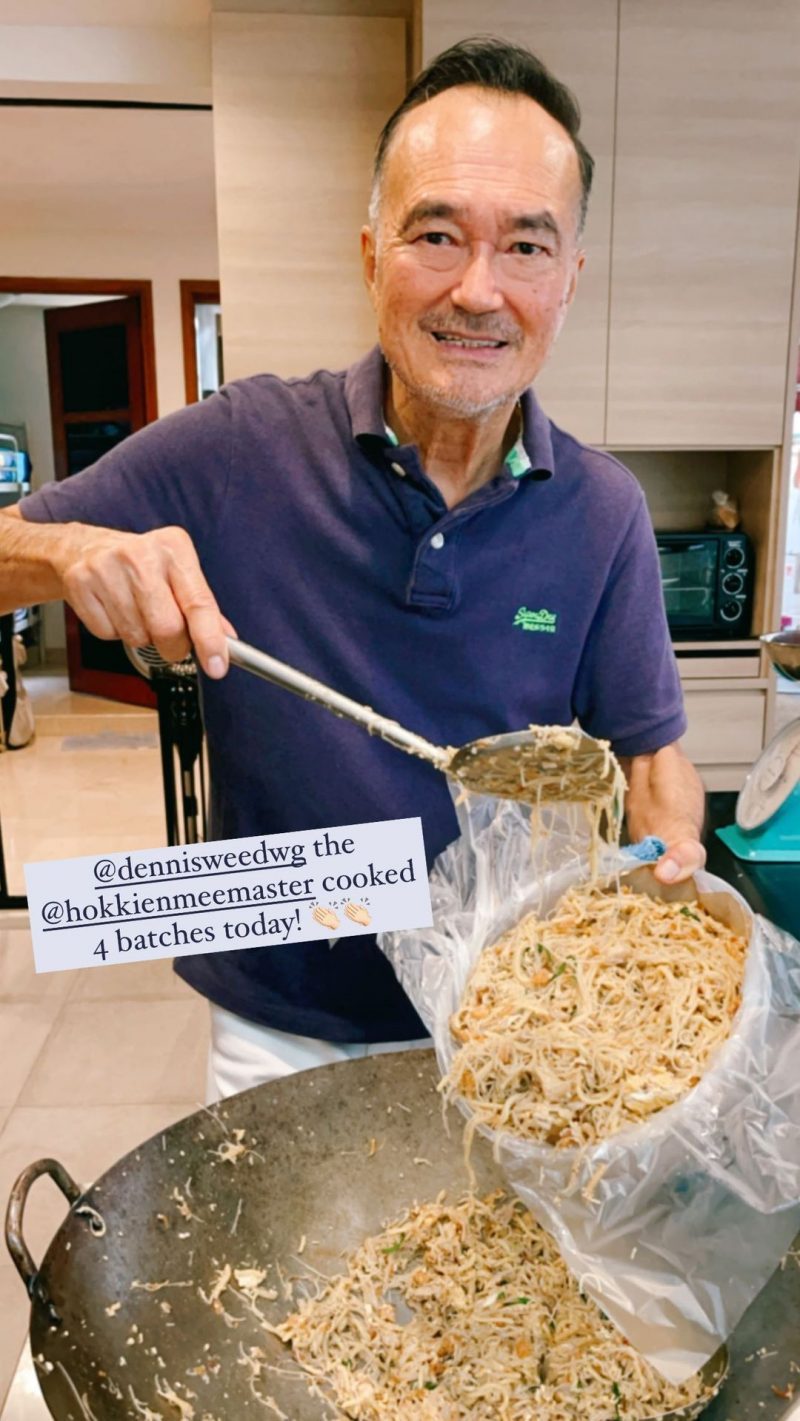 Image credit: @xdaphnewee
Dennis Wee's Hokkien mee is legendary among staff at DWG, for whom he cooks this dish once a year to thank them for their contributions. Outside of that, it's a treat he whips up every Chinese New Year for the family and visiting guests, in a massive operation that takes at least three days of prep work, and feeds hundreds.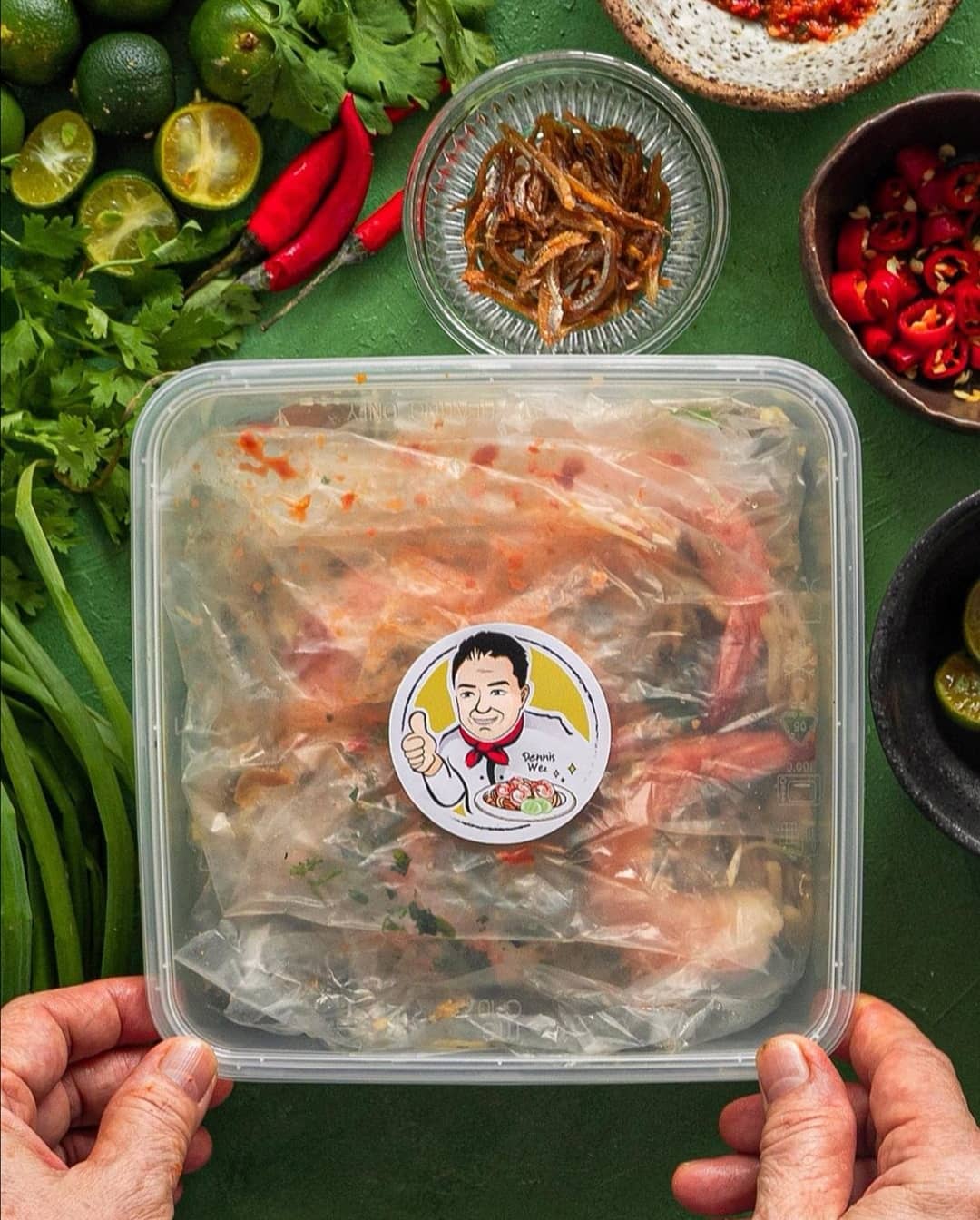 Image credit: @hokkienmeemaster
They received so many requests for the Hokkien mee that he finally agreed to cook it for sale to close friends, which then proved to be a hit as his daughter, Daphne, started offering extras for sale through her Instagram page. She frequently posts Story updates of her dad cooking up a Hokkien mee storm, with so much demand now that they have now set up his very own Hokkien Mee Master account and ordering page.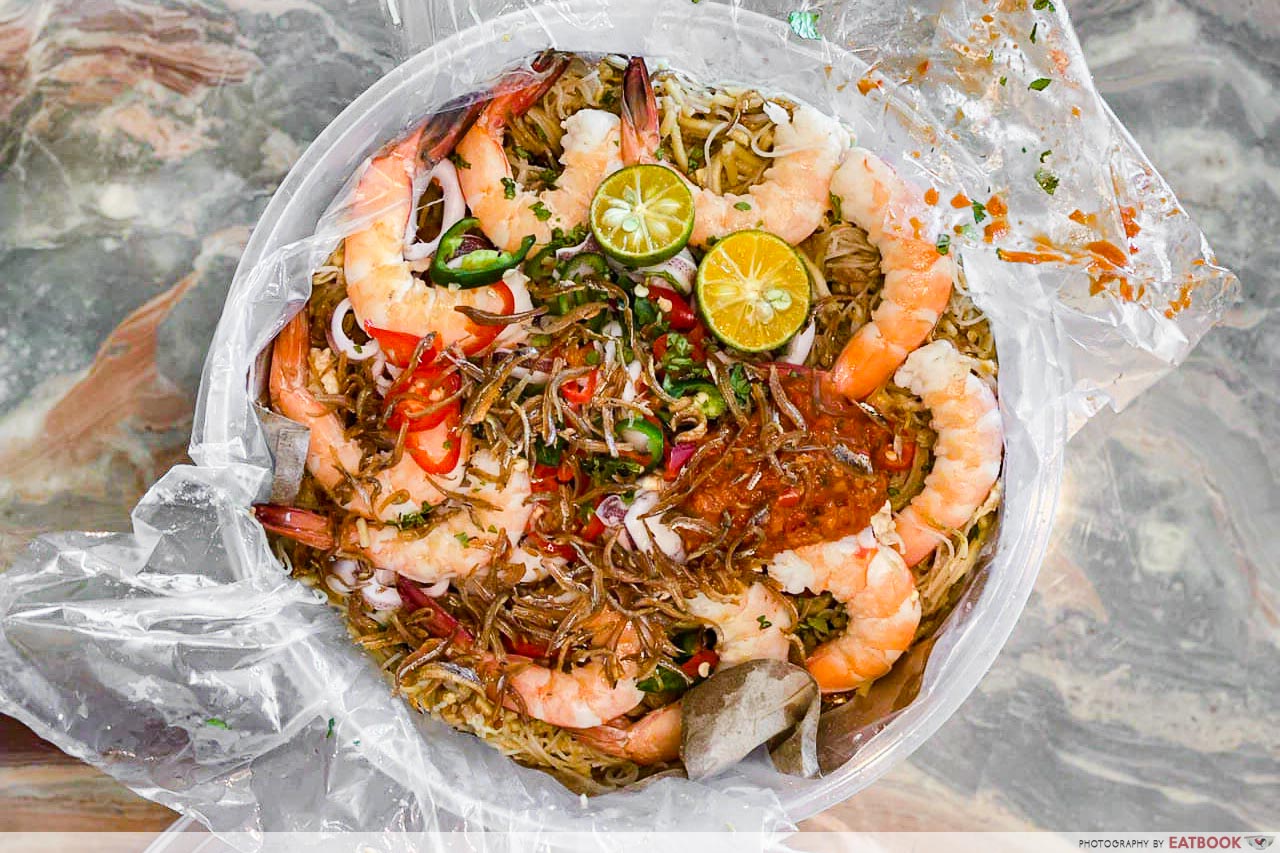 Fair warning, though, that Hokkien Mee Master's fried prawn noodles are not cheap—but a portion of the proceeds from each order goes to charity. A single, Small, portion is priced at $28, while a Regular, which feeds two, costs $38. If you're ordering for your family, the Platter ($88) is good for five to six.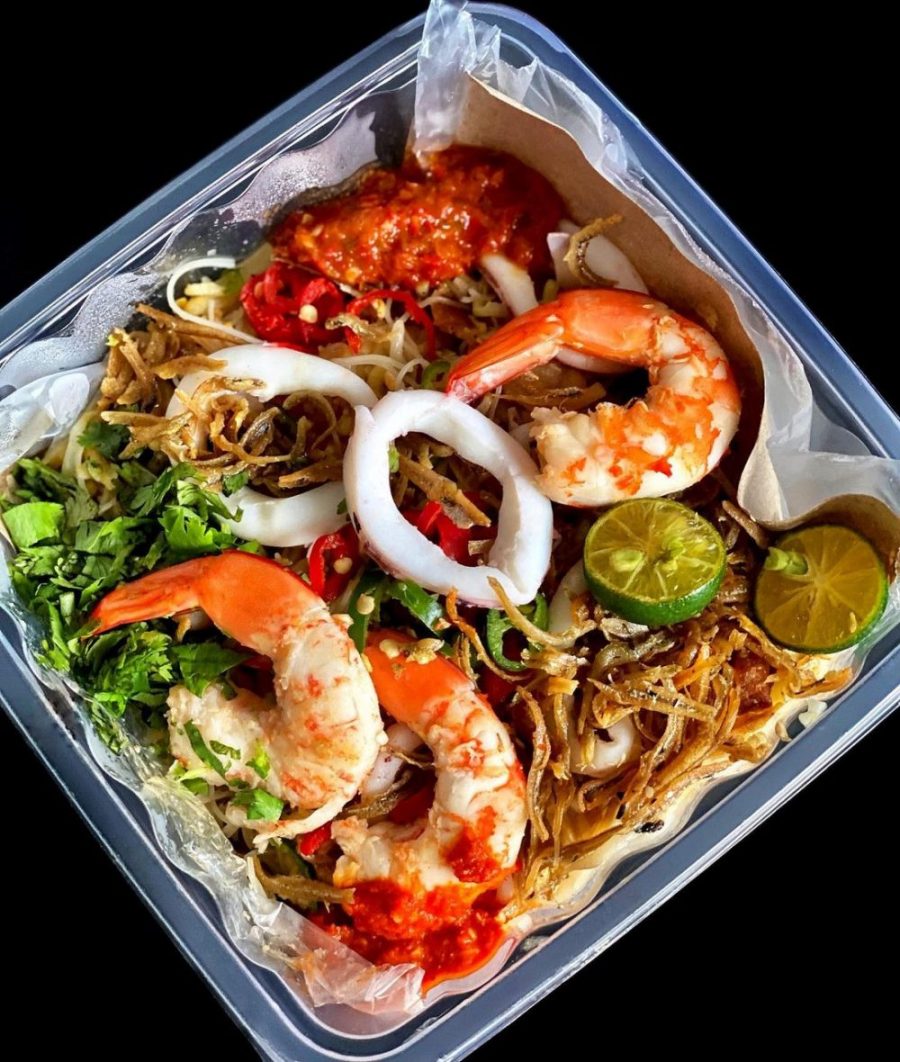 Image credit: @renztan
Unlike your regular plate of Hokkien mee, the Hokkien Mee Master version is topped with fried ikan bilis, shallots, crisp lard, sliced red and green chilli, their house-made sambal, and finely minced fresh coriander. Having hopped on the bandwagon and ordered myself a platter, I can attest that this medley of toppings make a world of difference in the layers of flavour that they add to the fried noodles.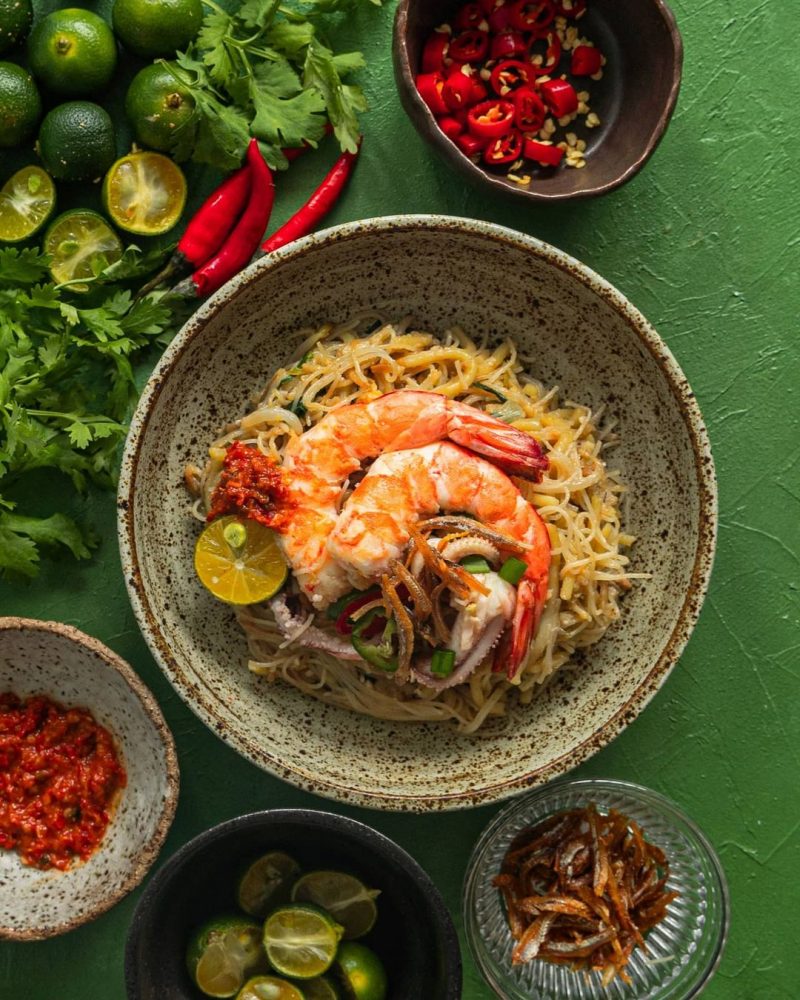 Image credit: @hokkienmeemaster
Other than these condiments, you're also paying for seafood that's extra plump, fresh and sweet—not the scanty pieces that you'll typically see. It's fried with thin bee hoon, rather than thick, and is more of a dry Hokkien mee than wet. So if you prefer a wetter Hokkien mee, fried with thick bee hoon, this may not be for you.
You can also add on extra Lard ($3), Chilli ($3/$10), or Ikan Bilis ($3), all of which the family chips in to help prepare! If you go through the Dad's HKM reel on Daphne's highlights, you'll see that Dennis personally heads to market as early as 7am on days that he's taken orders for the Hokkien mee to get his ingredients, then frying up to five or six batches throughout the day.
Previously only available through DM-ing Daphne on her Instagram account, you can now get updates on the next batches on Hokkien mee on the Hokkien Mee Master Instagram page, and make your orders through their new website, with payments made through PayNow.
10 Hokkien Mee Stalls In Singapore Every Local Foodie Must Try
Delivery is currently unavailable, so you'll have to head to their house in Tanjong Katong to pick up your order, or make arrangements for a courier to pick it up. At the point of writing, the next available date for you to get in your Hokkien mee order is on 1 September.
If you can't wait for your Hokkien mee fix, here's a guide to Hokkien mee in Singapore. If hae mee is more your thing, we also have a list of prawn mee soup places you can hit up!
20 Prawn Mee And Seafood Soup Stalls In Singapore For XXL Hae Mee, Lobster Noodles And More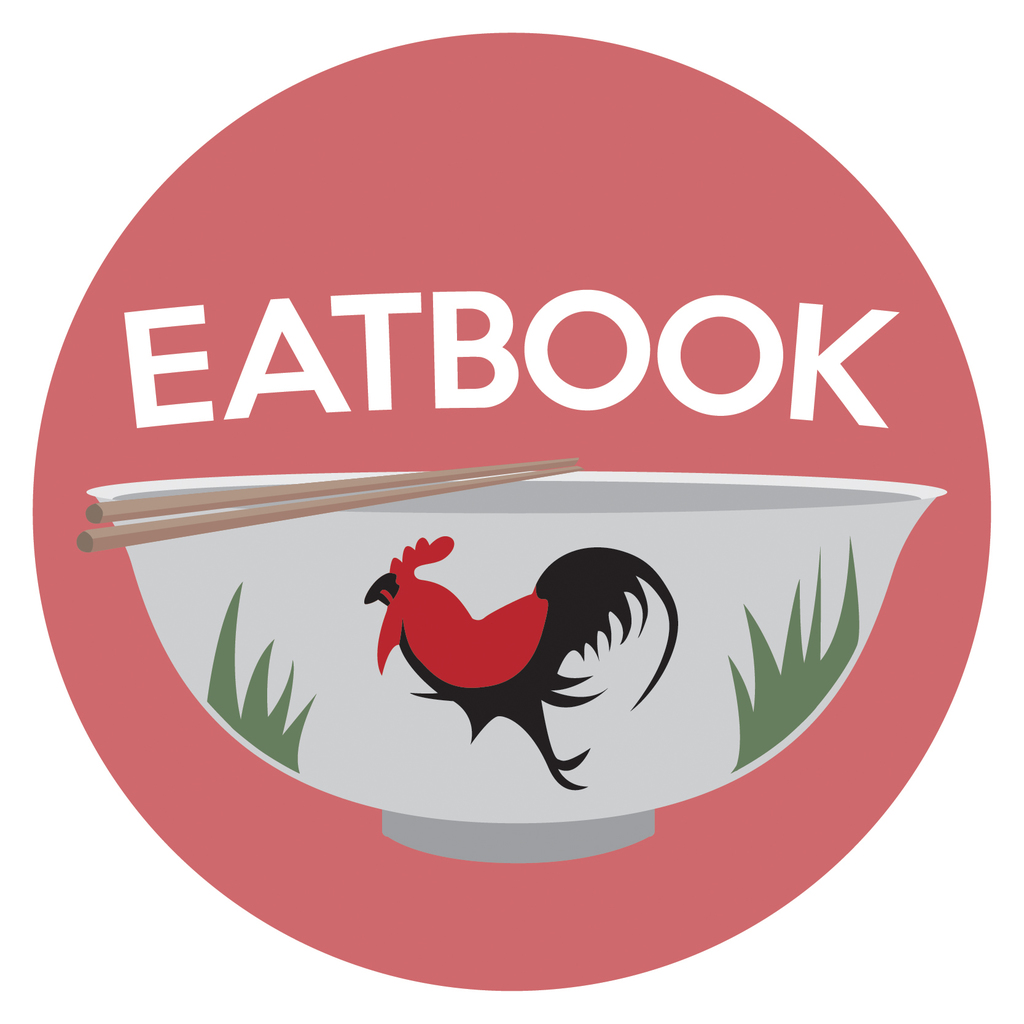 Drop us your email so you won't miss the latest news.