Hong Kong Dessert serves halal dim sum
Update: Hong Kong Dessert has relocated to Newton Food Centre (#01-16).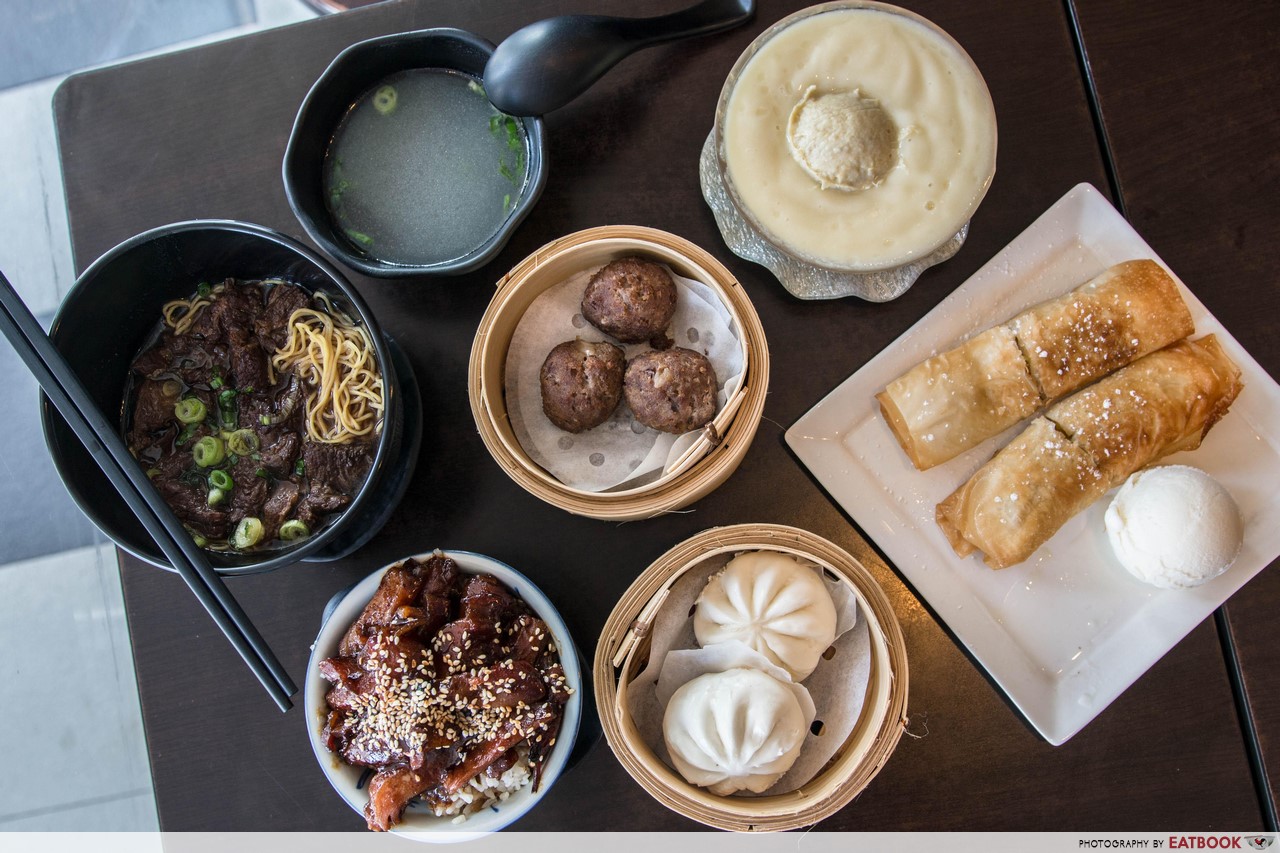 I can still vividly remember that point in time when everyone went cray cray over Swee Choon and swamped my 'gram feed with flat lays of their glorious feast. The worst part of it was not being able to try it for myself as it isn't halal. I had to make do with a siew mai or bao from 7-11 to satiate my never-ending dim sum cravings. On days that I'm not feeling lazy, I would drag my bum to Changi Village's 89.7 Supper Club just to get the love of my life – salted egg yolk bun. But recently, we discovered Hong Kong Dessert, a halal-certified dim sum restaurant located at Jubilee Square. We decided to give it a shot and see if it's worth the journey.   
Food at Hong Kong Dessert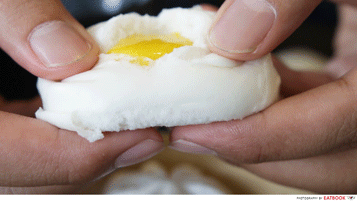 Since we were at a dim sum restaurant, we simply couldn't give their Custard Bun ($3.20 for two pieces) a miss. We watched in awe as the waitress placed the bamboo basket on our table with steam spiralling into thin air. Without further ado, we each took a piece and carefully stripped off the paper on its base. I gently pulled the bun apart, and was greeted by a gush of golden and luscious salted egg yolk custard. It oozed gracefully onto my fingers and I had to lick it off 'cause I didn't want to waste a single drop of this precious creation.
I popped half of it into my mouth and boy, my taste buds were soaked in the sweet and warm liquid. I really liked it as its sweetness didn't overpower the salted egg yolk taste which is absent in some liu sha buns I've tried. The bun was soft, fluffy, and complemented the custard really well. I finished my bao even before I knew it. I really wanted to get another basket but I had more dishes to go.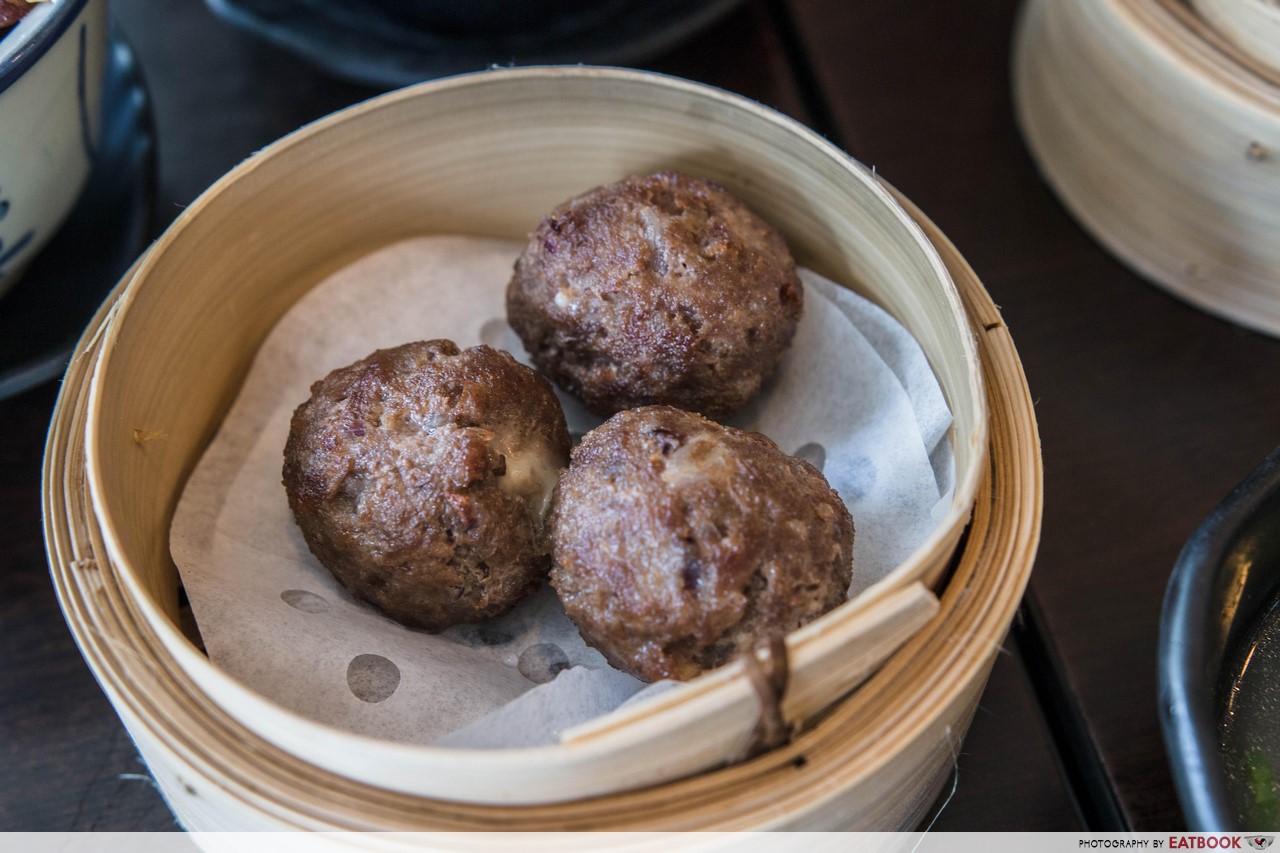 We had to try their Cheese Beef Balls ($4.30) which seemed really interesting. I mean, meatball with cheese? I'm sold. As much as I was looking forward to it, I must say that the morsels looked pretty dry. And true to its appearance, the beef ball was dry and lacked seasoning. The cheddar cheese was okay but it might have been better with some mozzarella as well.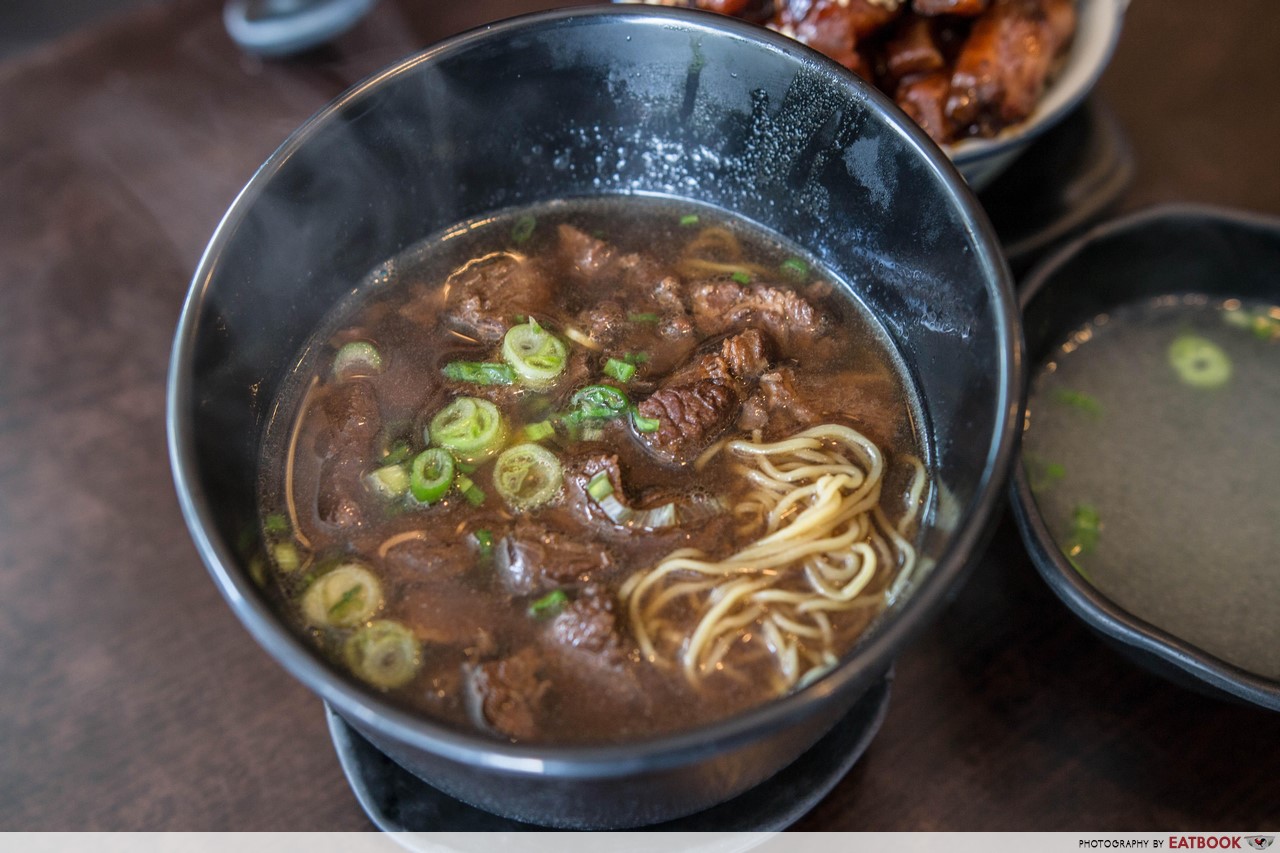 For mains, we had Beef Noodle ($5.20) which was served in a tall bowl. The first thing that struck us was its aroma. It had a strong smell and we were a little hesitant to give it a try. The broth was bland and had a stench to it. We were a little puzzled with the broth as we couldn't really tell what flavour they were going for.
The chunks of beef were surprisingly alright – tender yet they weren't strange-smelling at all unlike the broth. The garnish – chopped chives and scallions – added contrast to the dish's appearance.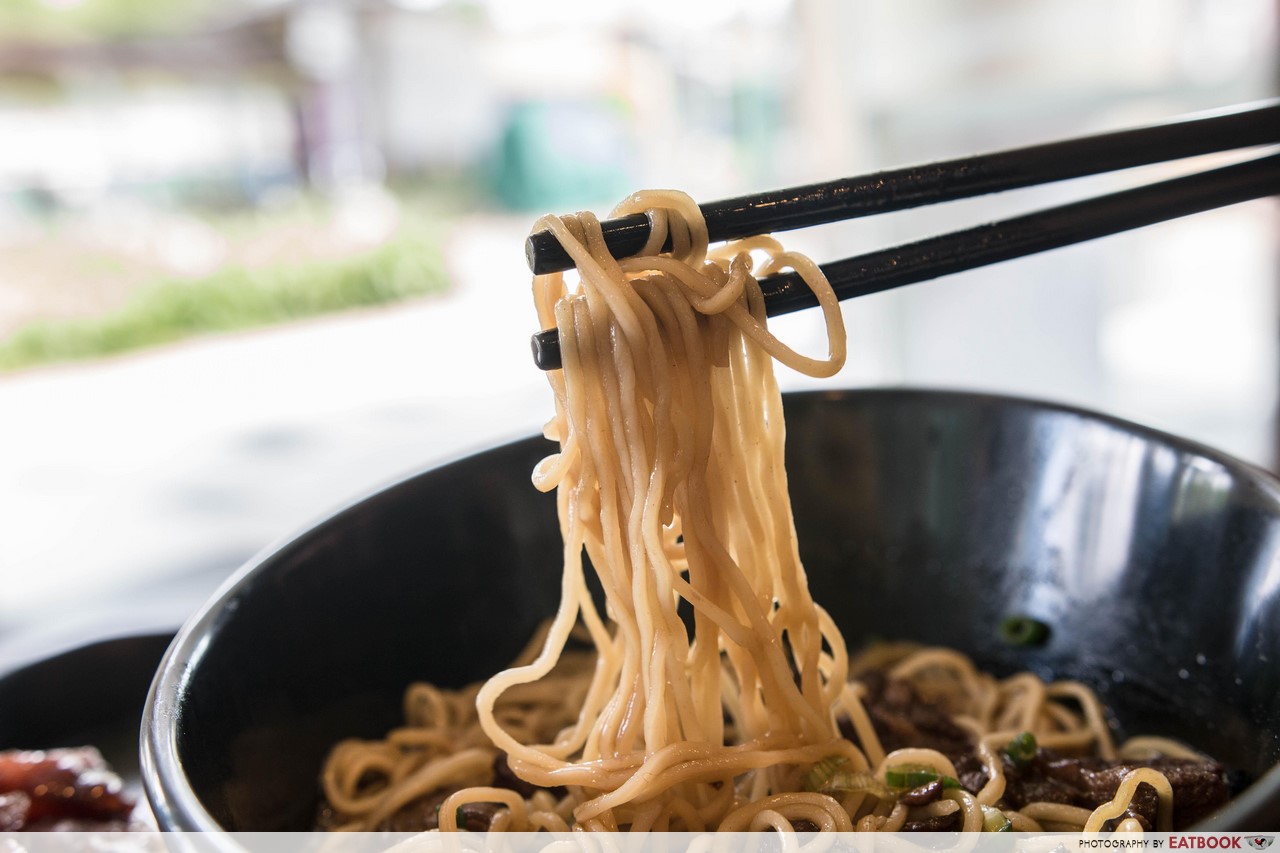 The egg noodle itself was well-cooked. It was quite springy and eggy, though a little bit starchy. The dish would have fared better if they can get rid of the stench of the broth and improve on its seasoning. They could also have provided soya sauce with chilli padi to add a little heat into the dish.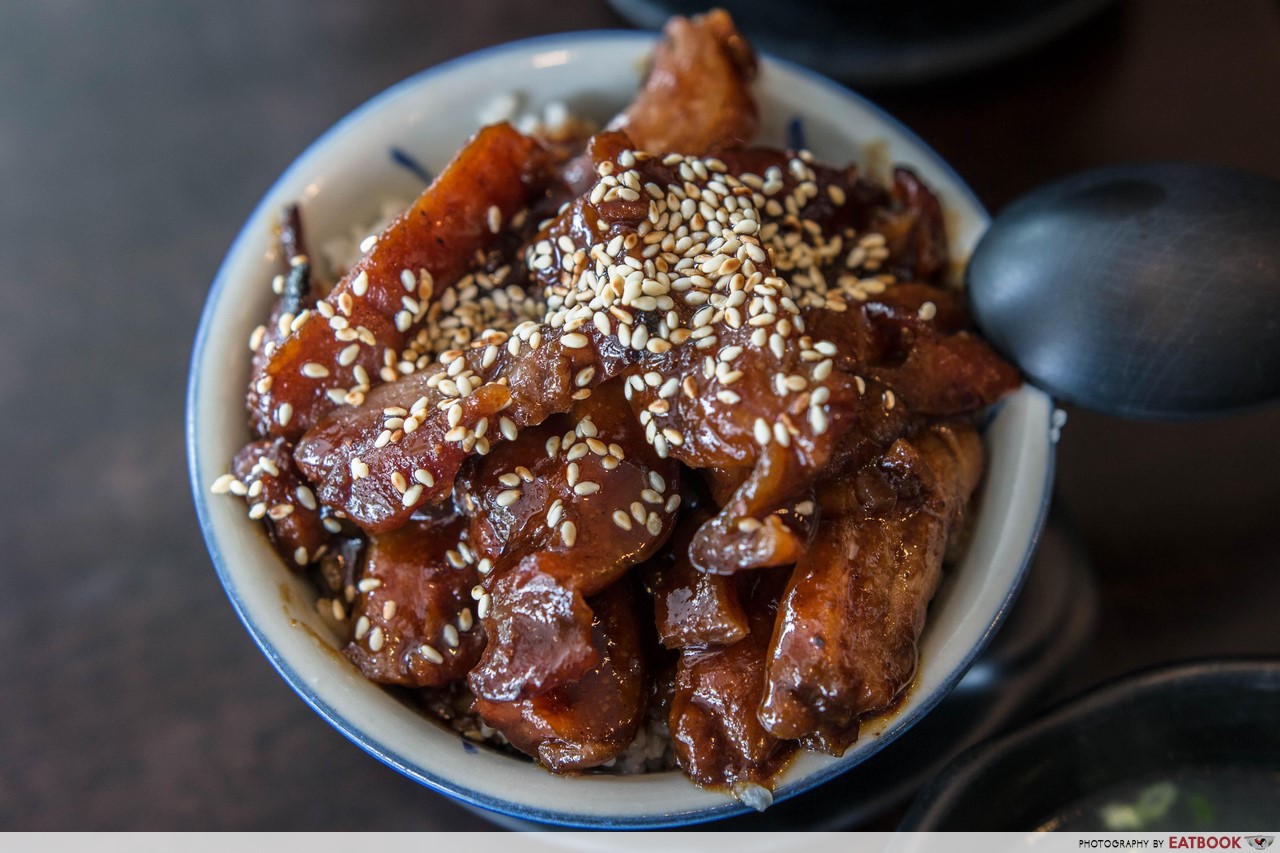 Being the basic Asian that I am, I must have my rice for every meal so I had Char Siew Chicken Rice ($4.90) as well. I liked the idea that it was served in a traditional Chinese ceramic bowl with intricate details. The bowl was topped with a mound of char siew chicken and garnished with a generous amount of sesame seeds. The chicken meat was glossed in teriyaki sauce, which gave a nice sheen to it. I picked up a slice of chicken and popped it into my mouth with my chopsticks after much consideration on which piece to start with. The sauce was nicely balanced – sweet, tangy, and savoury. The meat was tender and well-seasoned, with the glaze seeping into it.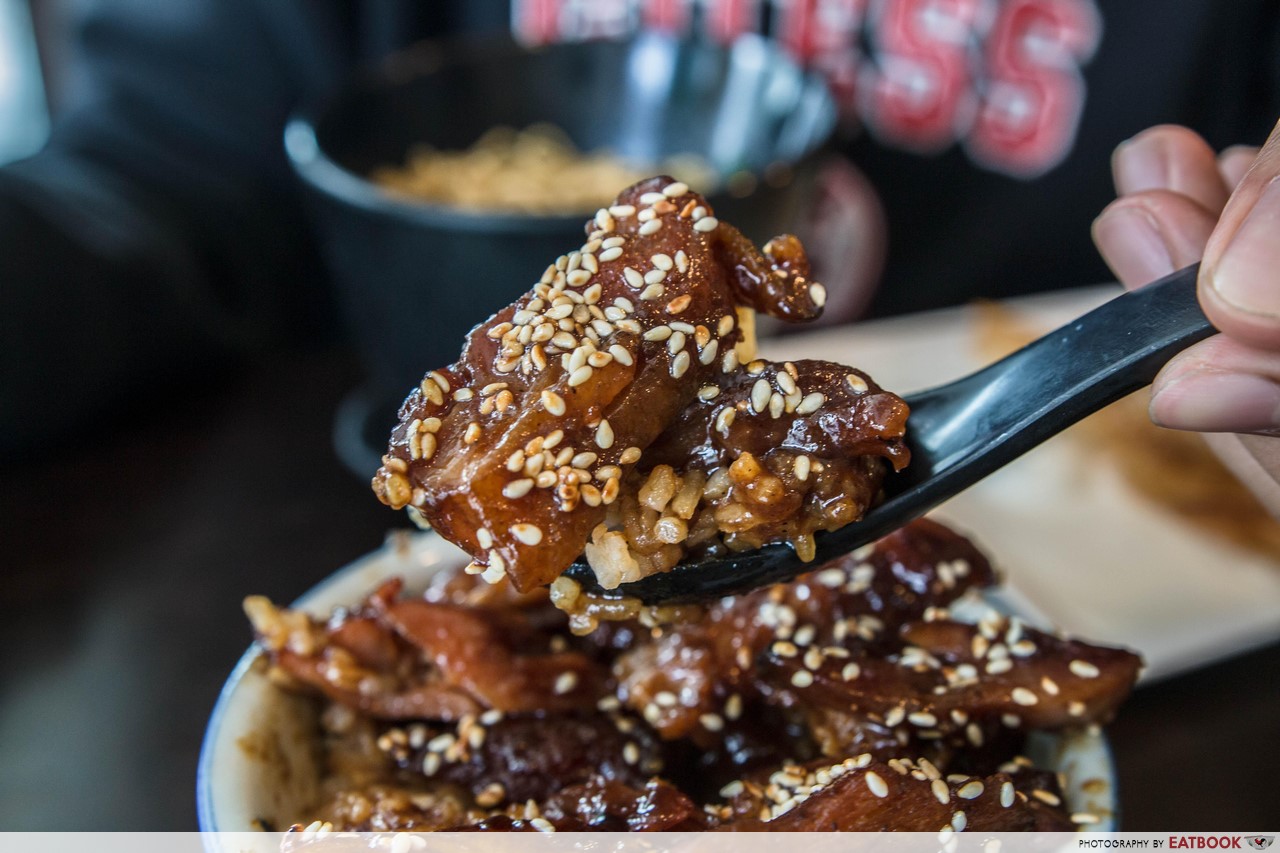 After some excavation, I finally managed to see the rice which was buried underneath the pile of chicken. To my surprise, they used short-grain rice. Every grain of it was fully coated with the sauce. The rice was moist which is how I like my rice to be. It was so good and this dish definitely offers bang for your buck. However, I think the ratio of chicken to rice could be improved as there wasn't enough rice to go with the chicken which was a pity.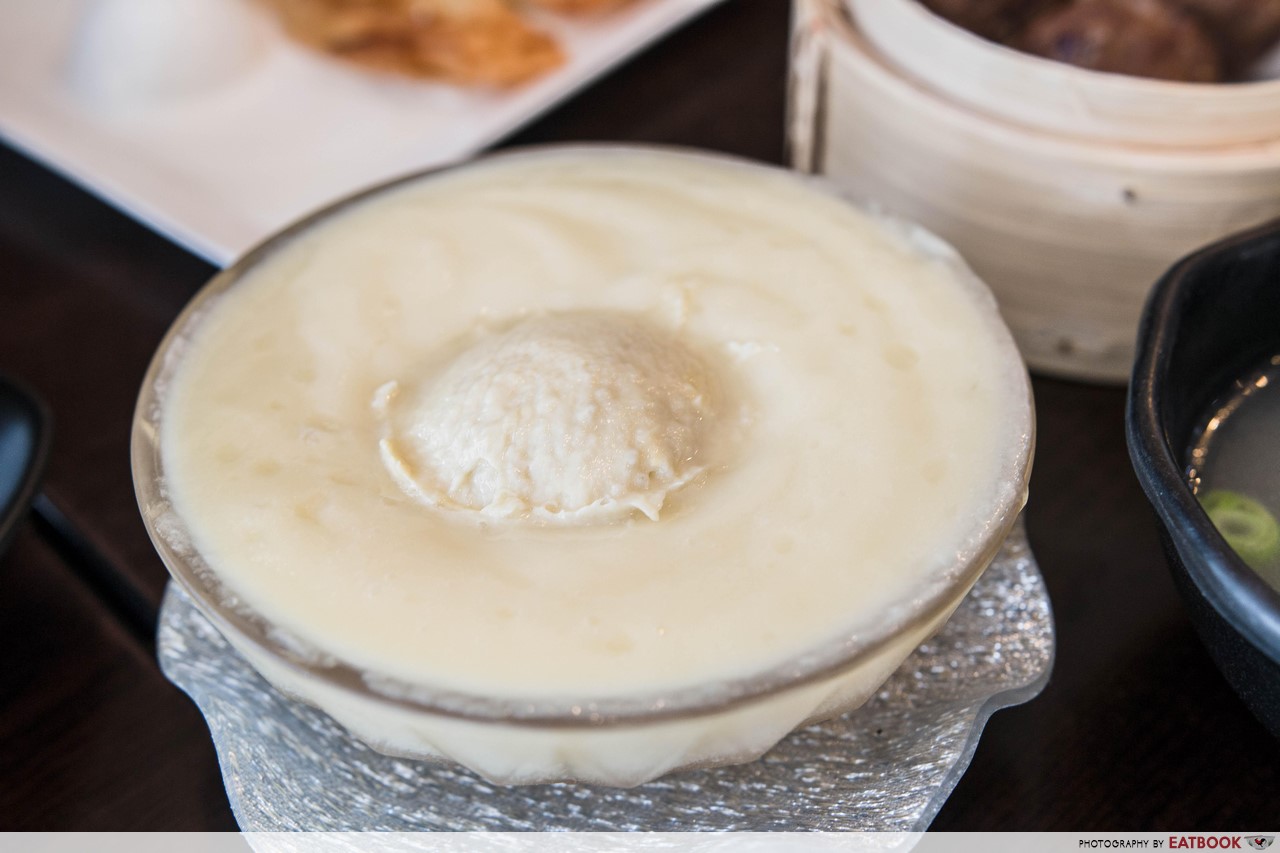 Moving on to desserts, we had their best-seller – Durian Shake with Durian Flesh ($6.50). I am a huge fan of durian so I was looking forward to this. It came in a bowl instead of a cup like a typical shake. A ball of durian flesh was placed smack in the middle of the bowl. The shake was icy but smooth enough. It was not overly sweet and I could taste the durian in it. The durian flesh itself was bitter and creamy. It complemented the shake very well and I could see why this is their best-seller.
Fried Durian Roll ($6) came in two rolls, both cut into half and also a scoop of vanilla ice-cream. It looked like a spring roll, except that it is flattened and filled with durian flesh. The skin was deep-fried, giving it a golden brown colour and crispy texture. The durian flesh was a tad bitter but the amount of filling was just right. Have a bite of it with a scoop of the sweet ice-cream – you can never go wrong with vanilla. If I had to choose, I prefer the previous dessert. This was good, but lacked that extra oomph.  
Ambience at Hong Kong Dessert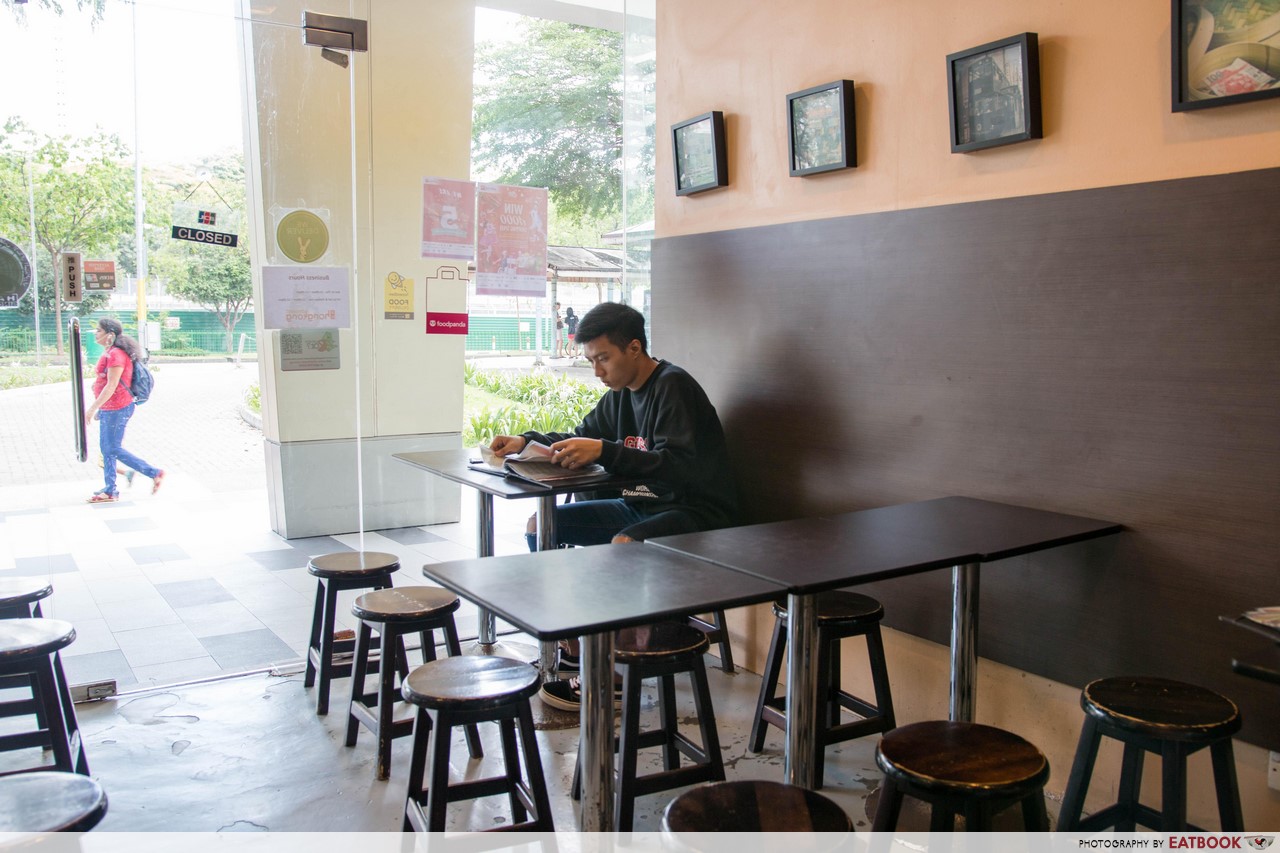 The humble eatery is located at Jubilee Square, a three-minute walk away from Ang Mo Kio MRT Station. Their seating capacity is a little small and can only fit up to 20 people. If you ever plan on dropping by, remember to bring along your perfume with you. The first thing that we noticed when we stepped into the place was its funky and musty odour, despite being air-conditioned. It took us quite some time to get used to the smell. That aside, cheapskates like me can rejoice as the place does not have GST and service charge. The Burmese staff members were very approachable and were able to converse in Mandarin and basic English. 
The verdict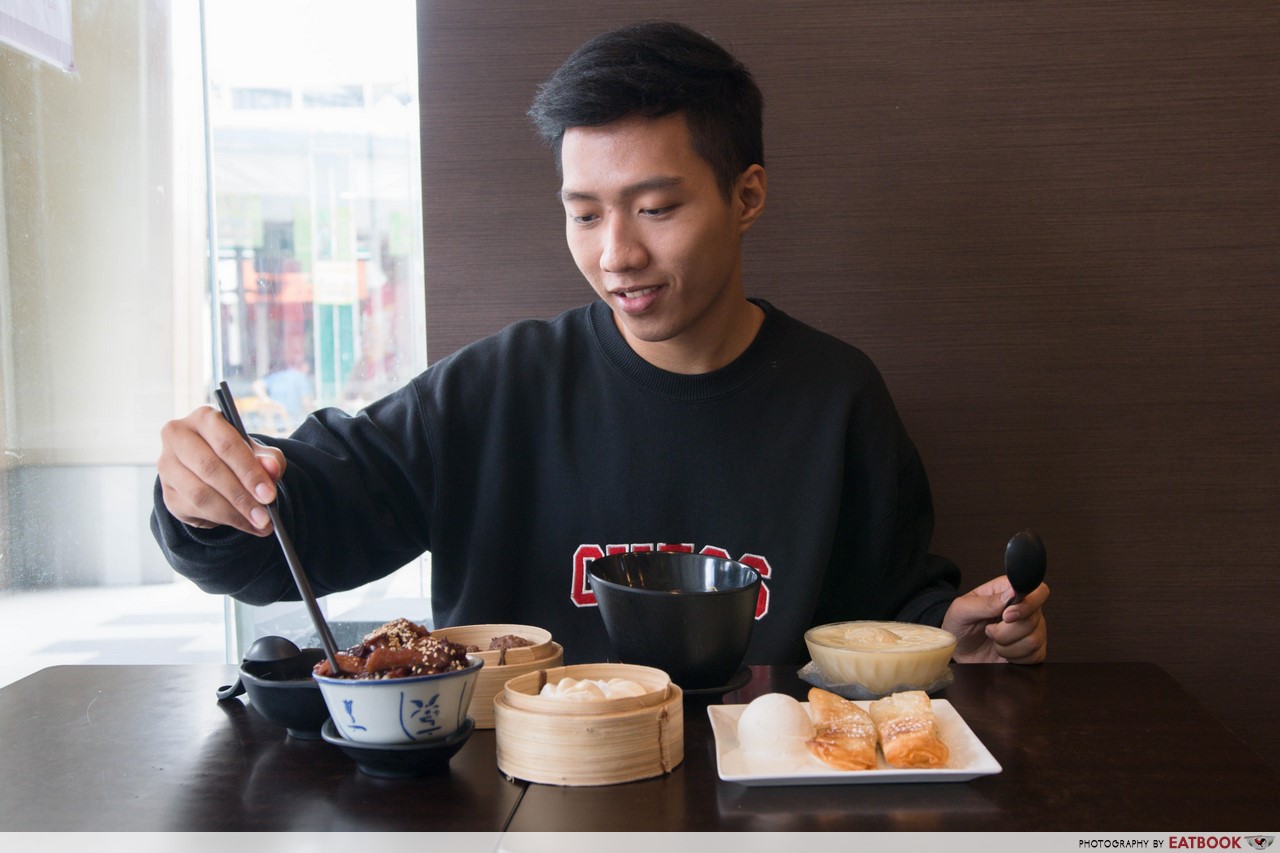 The food is great and I would drop by if I was ever in the area. However, I wouldn't travel all the way to Ang Mo Kio from the East side just to have dim sum. Knowing the lazy ass that I am, I would just settle for somewhere closer if I ever craved for some liu sha bao. For halal-certified dim sum at a more central location, check out The Dim Sum Place at Bugis. If you love having dim sum for supper, these late-night dim sum spots that open past 2am can help satisfy your cravings. Durian fans, check out these durian desserts and durian delivery services as well!
Address: 500 Clemenceau Avenue North, #01-16, Newton Food Centre, Singapore 229495
Opening hours: Sun-Thur 11am to 11pm, Fri-Sat 11am to 11:30pm
Tel: 6457 1203
Website
Hong Kong Dessert (Jubilee Square) is a halal-certified eatery.
This is an independent review by Eatbook.sg
Summary
Pros
– Nett prices
– Air-conditioned
– Good char siew chicken
– Good custard bun
– Very affordable
Cons
– Dry cheese beef balls
– Restaurant has a funky odour
– Small seating area
Recommended Dishes: Char Siew Chicken Rice ($4.90), Custard Bun ($3.20), Durian Shake with Durian Flesh ($6.50)
Operating Hours: Sun-Thur 11am to 11pm, Fri-Sat 11am to 11:30pm
Address: 500 Clemenceau Avenue North, #01-16, Newton Food Centre, Singapore 229495