---
Best hotpot ingredients for CNY at Cold Storage
---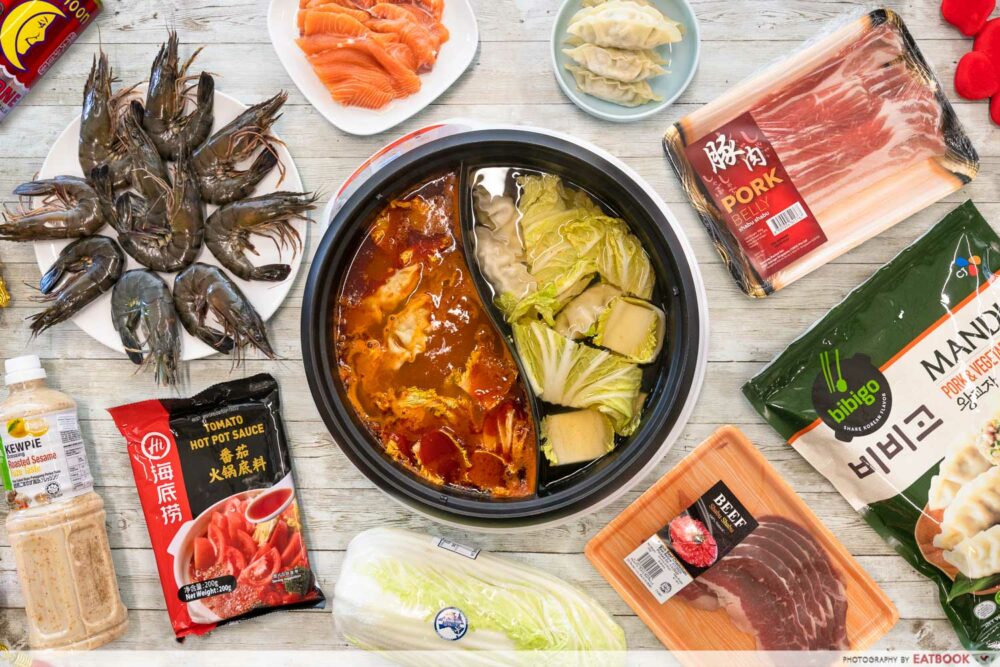 Hotpot naysayers should know that Chinese royalty loved it too, including the Emperor Qianlong, who was said to have loved it so much, he had it at almost every meal. These days, we have it as often as we like, too, but there's just something about the communal dining experience that makes it all the more cosy when enjoyed at home during CNY. This Lunar New Year, zhng-up your reunion steamboat with these 10 best hotpot ingredients from Cold Storage, some of which are now at special prices for a limited time only!
---
1. Haidilao Soup Base (Tomato)
---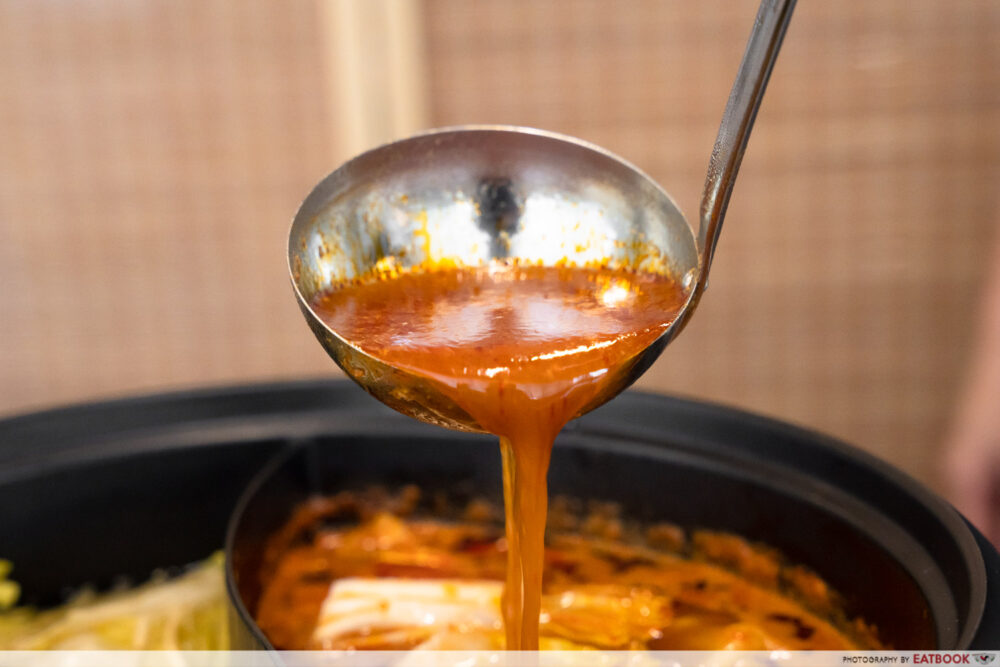 Bring the HDL experience home with their signature Haidilao Tomato Soup Base ($3.80). The rich, moreish broth is cut through with a light tangy note, which makes the soup base easy to drink. 
Cold Storage is also running a promotion till 9 February 2022, where any three packets of the assorted soups go for $9.90━perfect for your yuanyang pots so you get more than one choice of soup base.
---
2. Kewpie Roasted Sesame Yuzu Dressing
---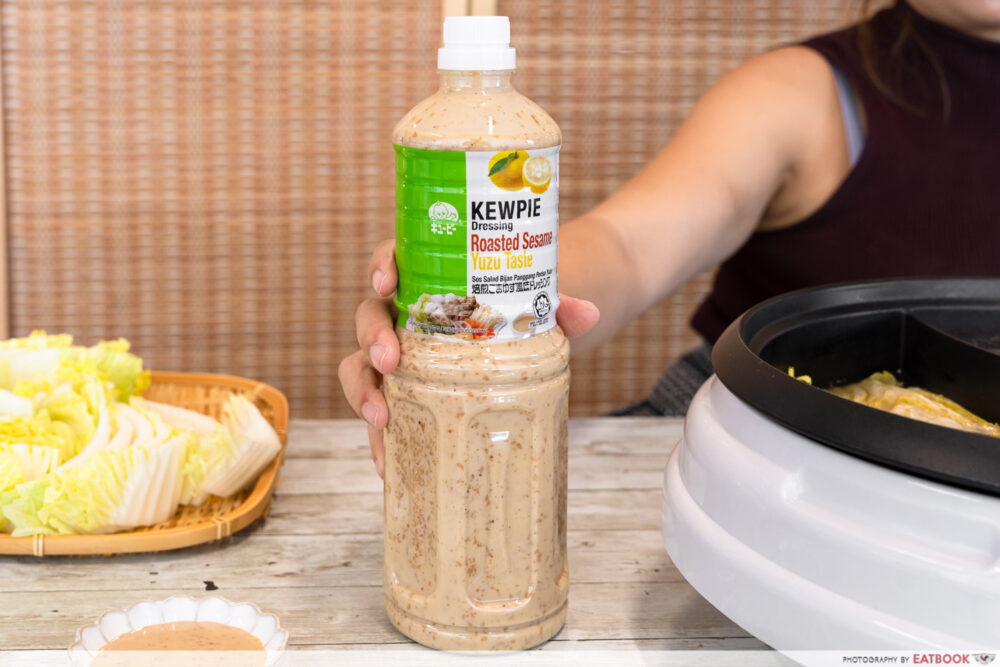 One of my favourite parts of having hotpot is the endless sauces you can have to go with the food. Rather than have the usual goma sauce, AKA Japanese sesame dressing, opt for the Kewpie Roasted Sesame Yuzu Dressing, now priced at $12.80 throughout the whole CNY till 15 February 2022. 
This citrus-spiked dip has all of the toasted, nutty creaminess of the OG, but with an aromatic, bright edge that makes it so very appetising. It's also super versatile: try dipping your meats and seafood in this!
---
3. New Moon Australia Abalone
---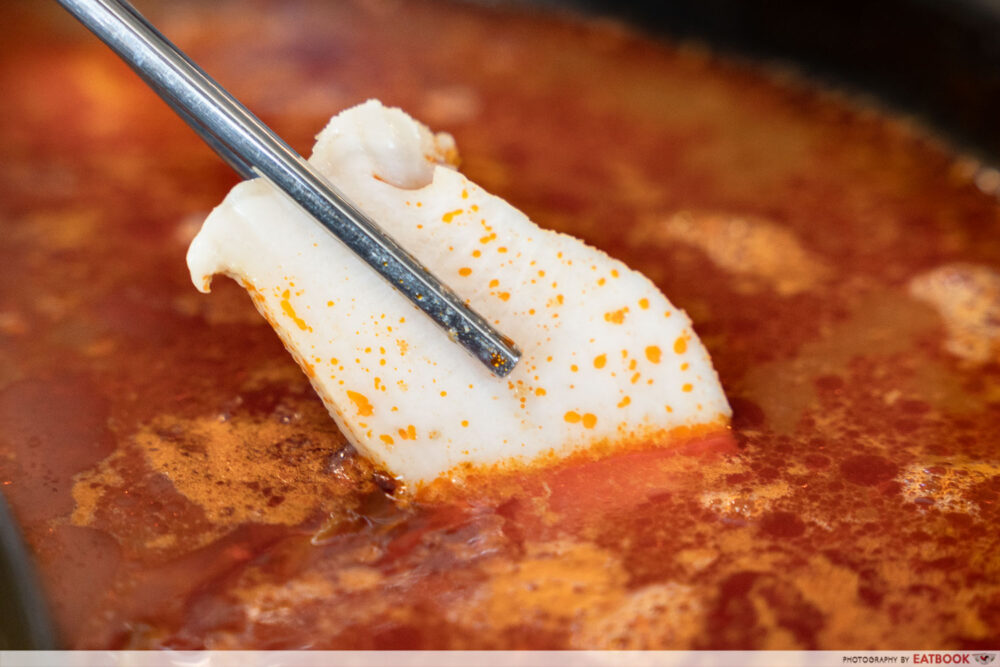 Cue the 'oohs' and 'ahhs' when you crack open a can of New Moon Australia Abalone. Slice up the luscious, thick-fleshed whole abalone, and give it a quick dip in the hotpot to heat it before digging in.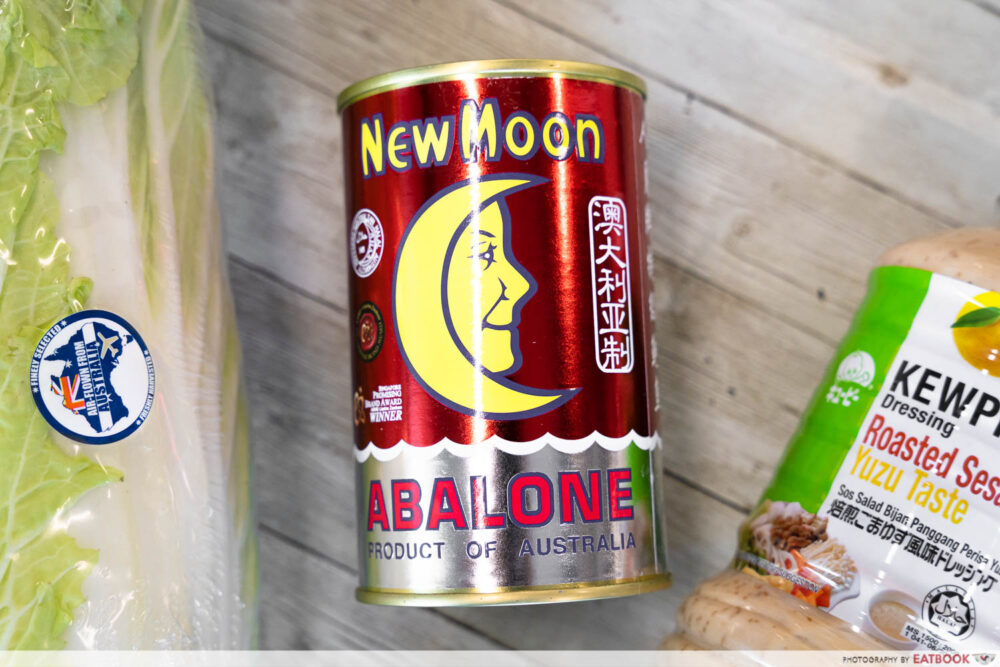 Don't waste the brining liquid that comes with the abalone! Give yourself extra huat with the essence of abalone by adding it to the hotpot broth to level up the flavours.
---
4. Pork Belly Sukiyaki
---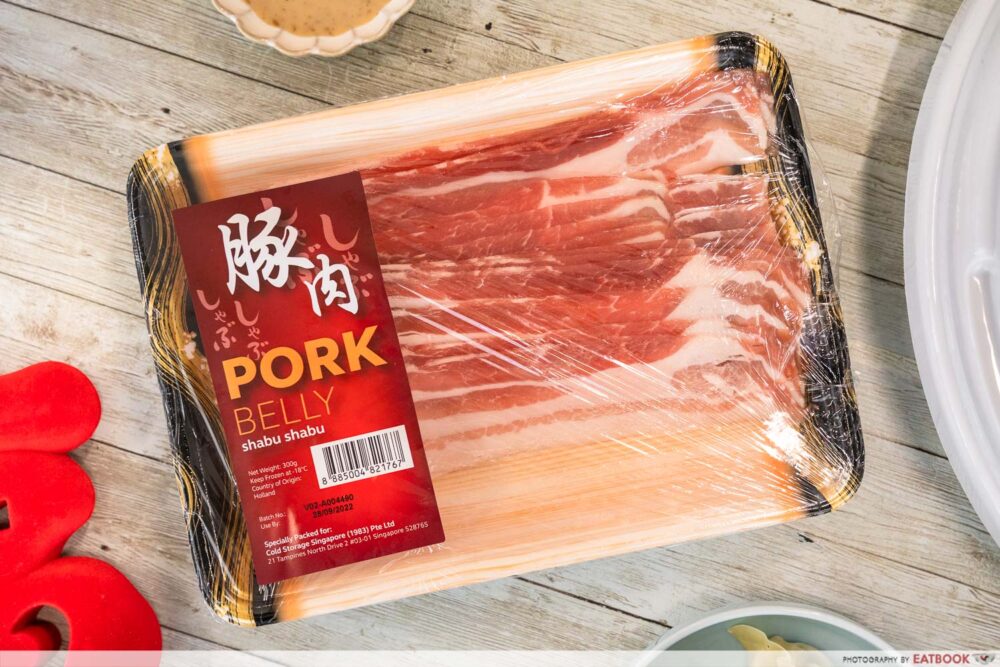 You can't have hotpot without meats, and these Pork Belly Shabu Shabu slices, now at the promotional price of three for $11 till 26 January 2022, are layered with fat, bring lots of extra flavour to your hotpot broths.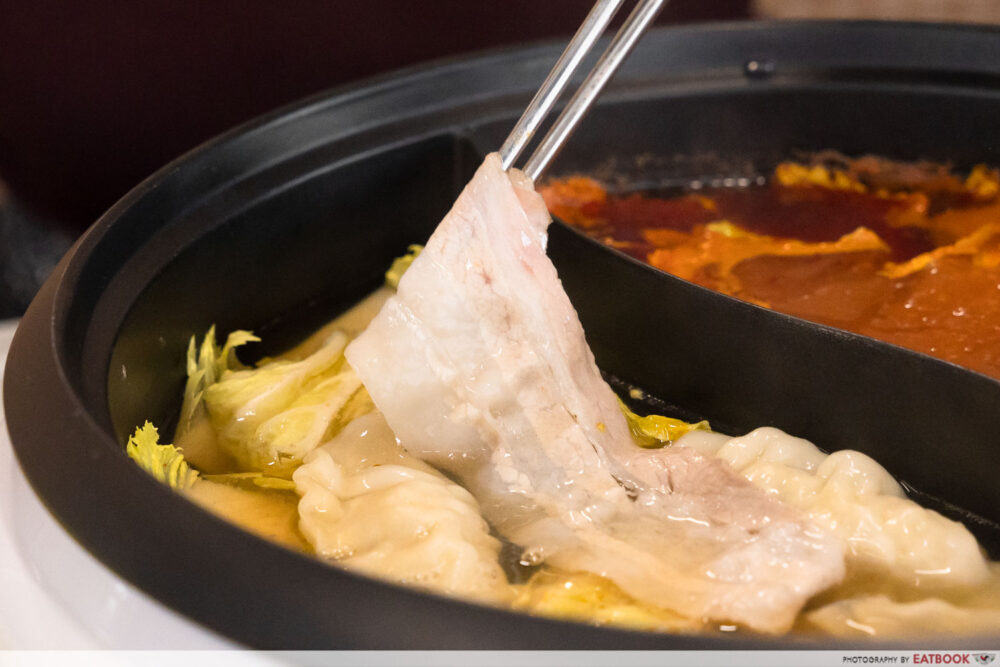 Because of the alternating layers of fat, the meat is super tender. Whether you're dipping this into a plainer stock, or a more robust broth such as the Haidilao Tomato Soup Base, these slices of pork will hold up well. 
---
5. CJ Mandu Pork & Vegetable Dumpling
---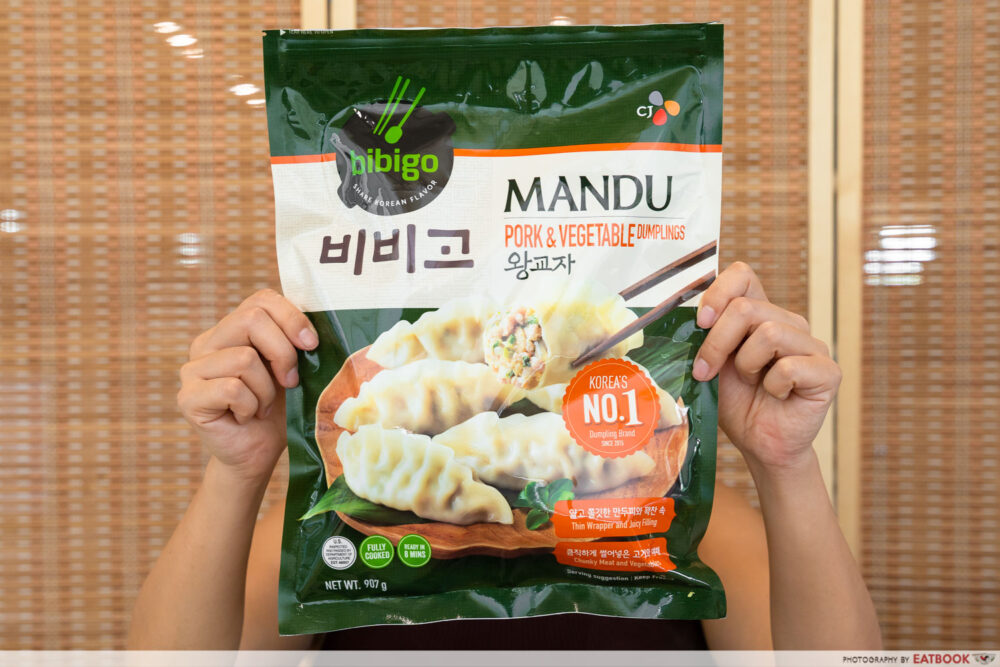 Dumplings signify togetherness, so they're a must-have at your CNY gatherings with friends and family! These CJ Mandu Pork & Vegetable Dumplings ($12.50 till 26 January 2022) are the perfect addition to the table with their toothsome, juicy meat-vegetable filling, encased in a thin, slightly chewy skin.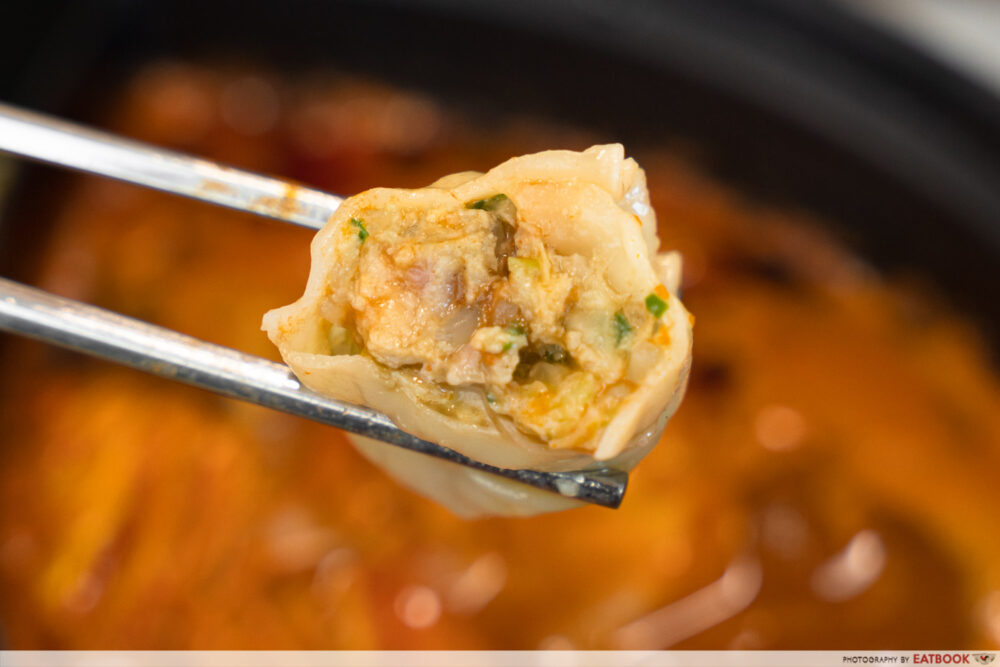 These dumplings go well with any soup base at all, but we highly recommend having them in the tomato soup, because the appetising broth cooks into the mandu, making them even tastier!
---
6. Angus Beef Chadolbaki
---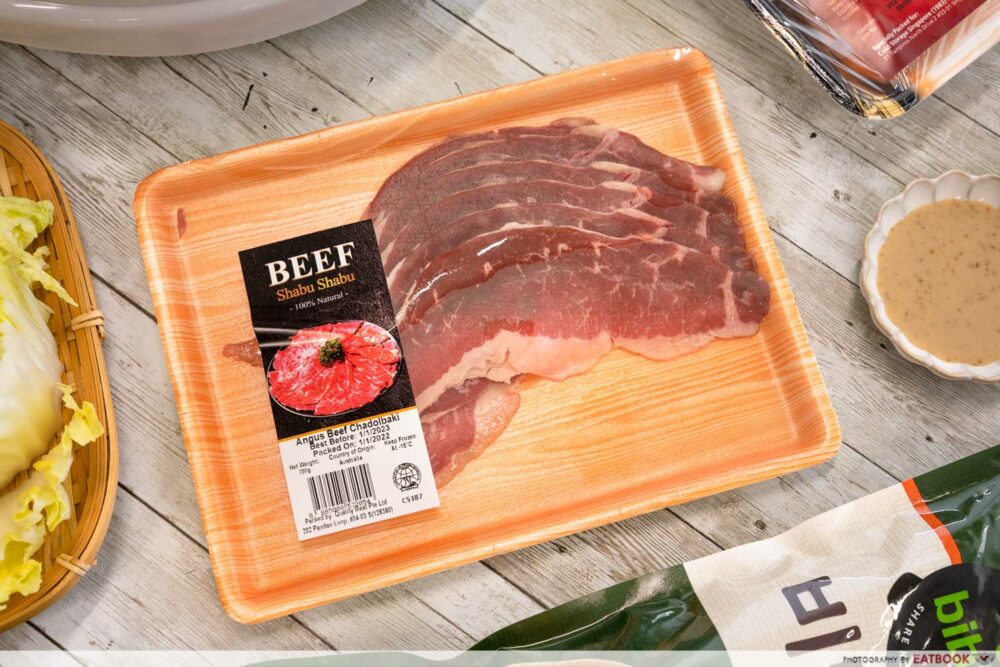 Another meat option you could go for is the Angus Beef Chadolbaki ($11), which gets you a 200g platter of the sliced beef. What's more, this halal-certified option is now on a buy two, get one free deal from now till 26 January 2022!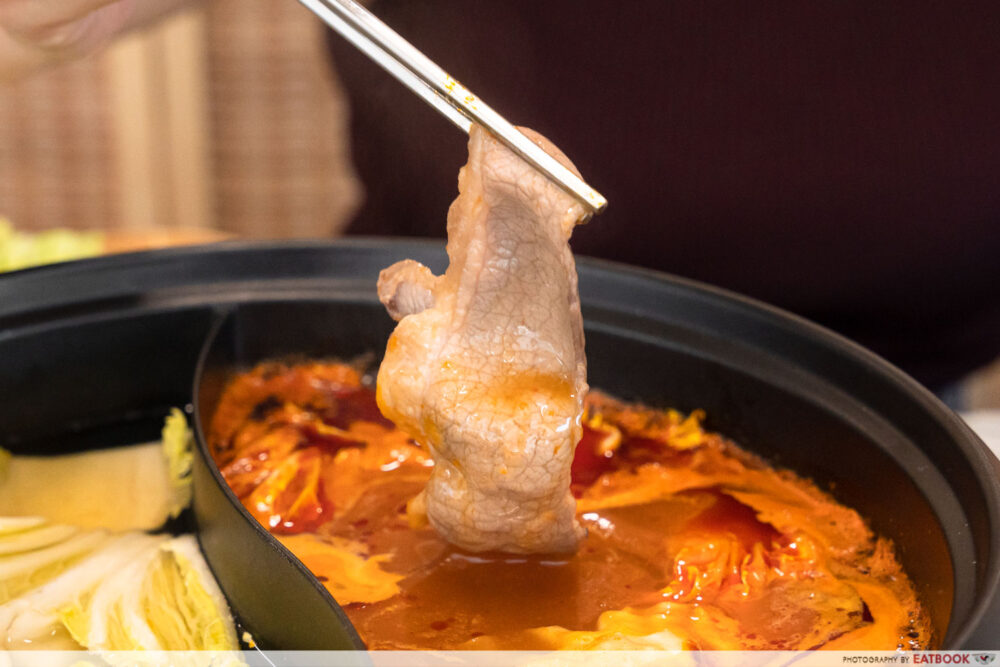 The Australian beef is full-flavoured, despite being on the leaner side.
---
7. Sunshine Hokkaido Scallop
---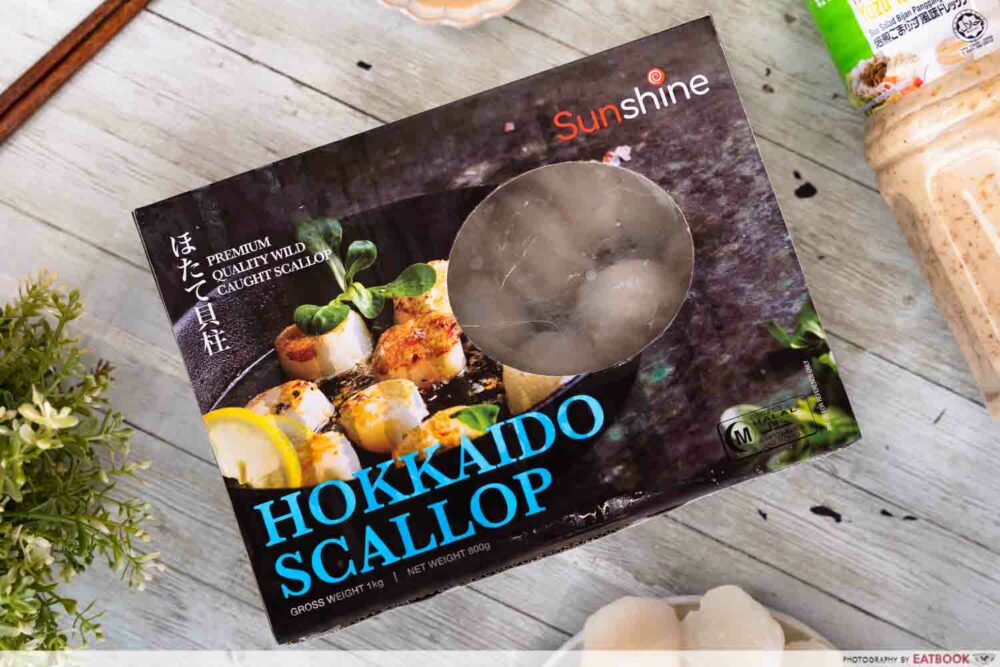 Upgrade your CNY hotpot this year with Sunshine Hokkaido Scallops ($25.80), some of the most sought after hotate in Japan━now one for one till 26 January 2022. They're known to be exceptionally fleshy, and these generously-sized, wild-caught shellfish are as premium as it gets.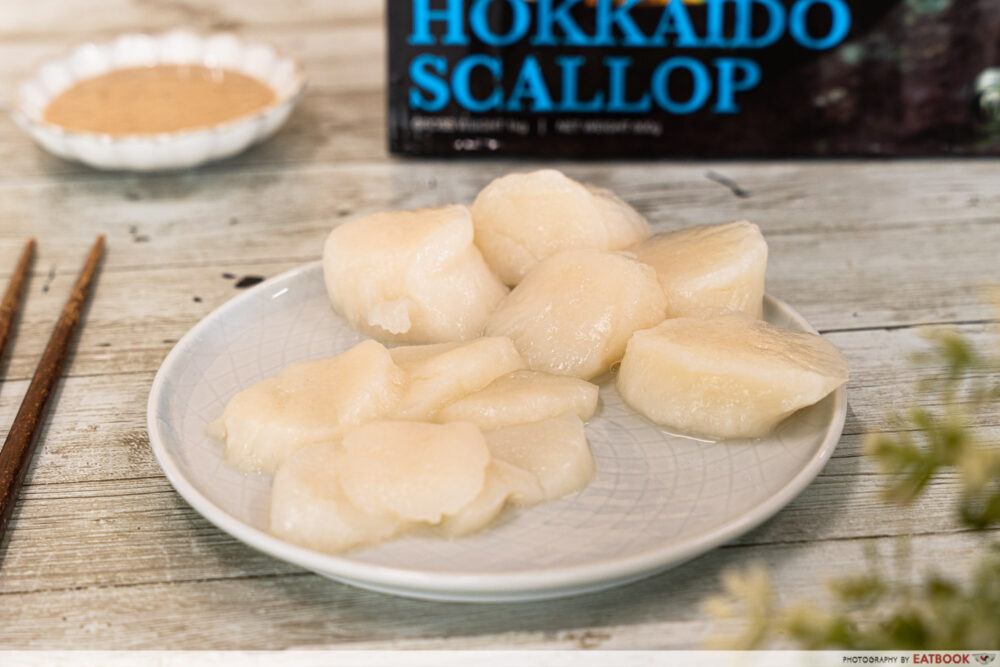 You can enjoy these scallops whole in your steamboat, or thinly sliced so it takes mere seconds of swishing in the hot broth to cook. If you're having them whole, gently poach them so they remain tender within.
---
8. Fresh Jumbo Tiger Prawns
---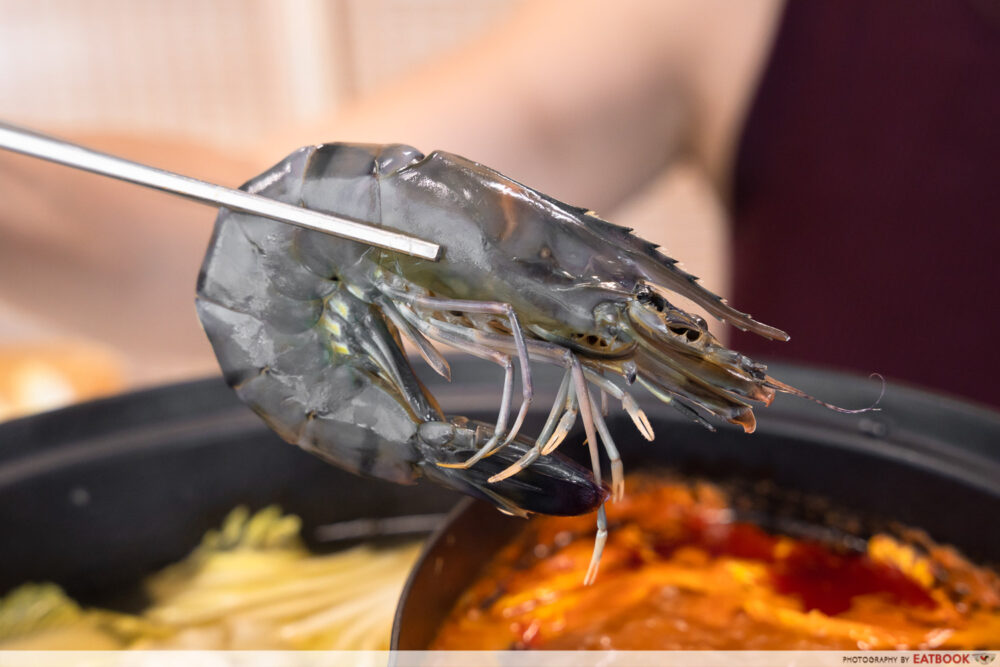 Laugh all the way to your next hotpot with these Fresh Jumbo Prawns, each of them easily bigger than a palm. They're graded as 16/20, which means 1kg of these gets you between 16 to 20 pieces!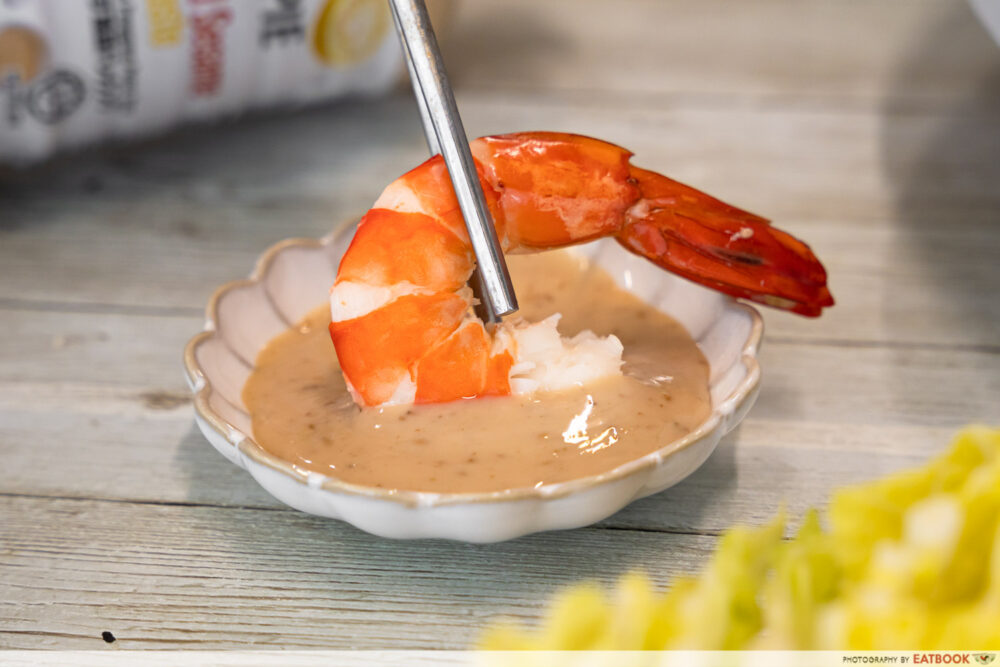 With prawns these fresh, there's no need to dress them up for the hotpot. Trim off the long antennae so they're not sticking out all over the pot, and if you'd like, snip the legs too. Prawns cook pretty quickly, so don't leave them in too long after the colour has turned for absolutely succulent, sweet flesh.
---
9. Fresh Salmon Fillet 
---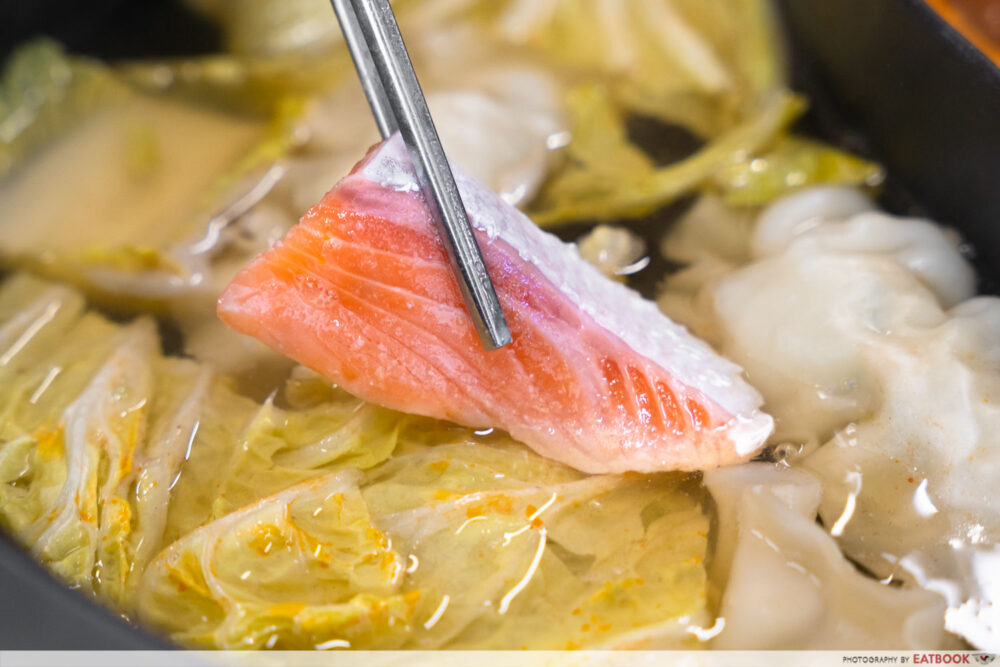 We typically eat fish during CNY to welcome a prosperous year ahead because it sounds the same as the Chinese word for 'surplus': 'yu'. Other than having salmon sashimi with your yusheng, check out some fresh salmon fillets, now sold at $27.90/kg, which is 26% off the usual price till 26 January 2022.
Go over the skin side with a sharp knife to get any lingering scales, and slice thinly for the hotpot feast! 
---
10. Australian Wong Bok
---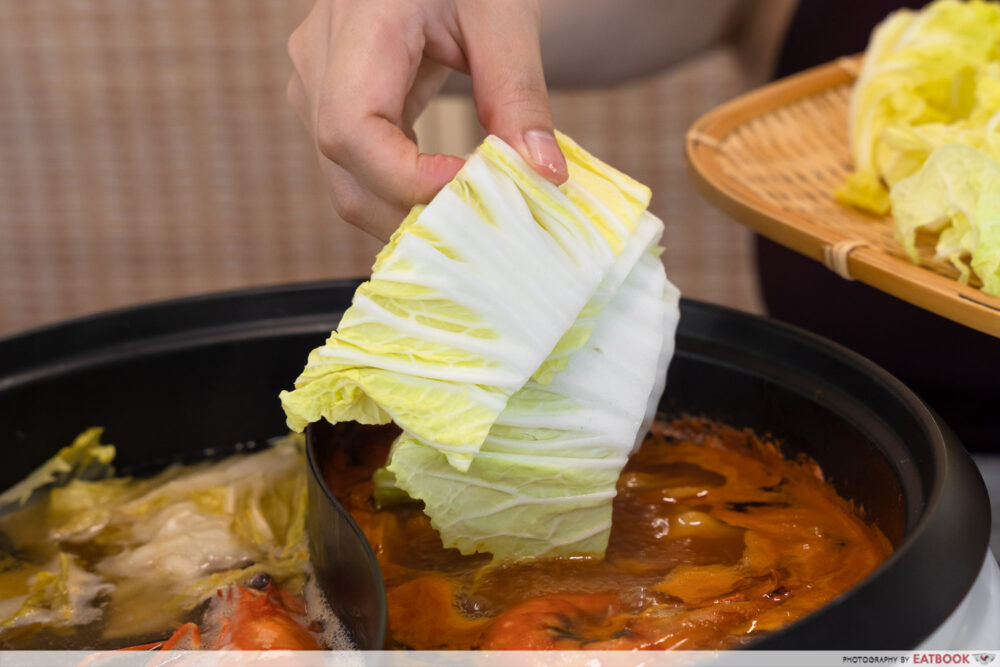 Whether you call it wombok, wong bok, Chinese cabbage, or Napa cabbage, this pale green and white vegetable is a good source of vitamin C. The Australian-grown ones are said to be more tender and crisp, and lend a sweetness of flavour to any hotpot broth as they cook down. They're especially yummy when they've soaked up the tasty soup base!
Here's a pro tip when selecting your head of wong bok: choose one that's got some heft to it, and has nice, firm leaves. It's also common to find pepper spots, or tiny black dots, on the leaves━so don't throw them out.
---
Hotpot ingredients from Cold Storage
---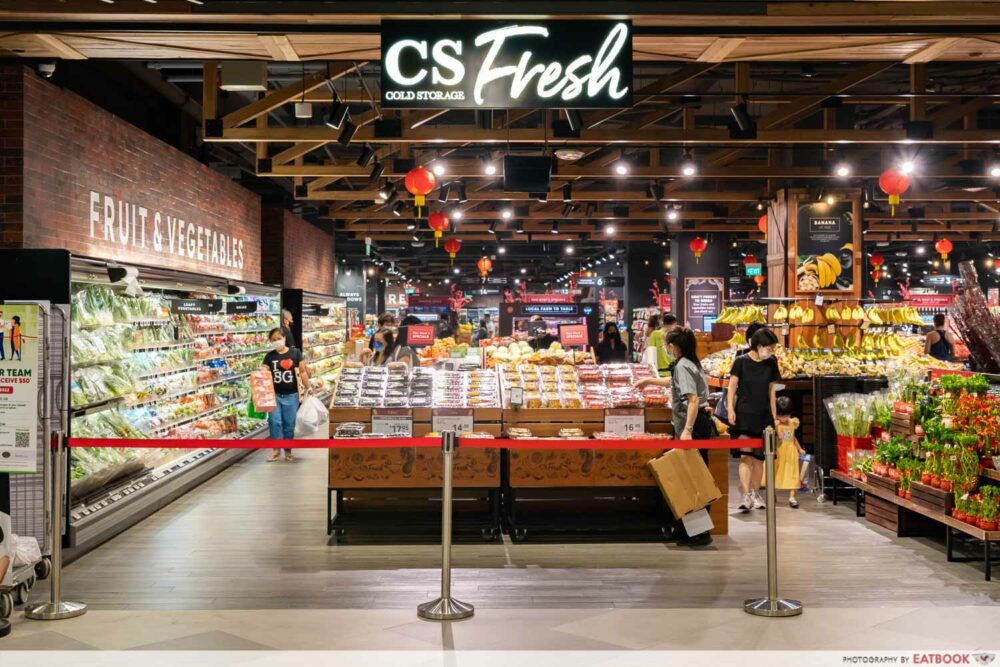 If you've made a last-minute decision to throw a hotpot party, don't panic, because same-day delivery is available when you purchase your ingredients from Cold Storage, via the CART App! Do note that same-day delivery is subject to availability. What's more, new CART users can redeem $20 worth of coupons!
Otherwise, if you're purchasing your groceries from Cold Storage online, delivery is free with purchases above $59.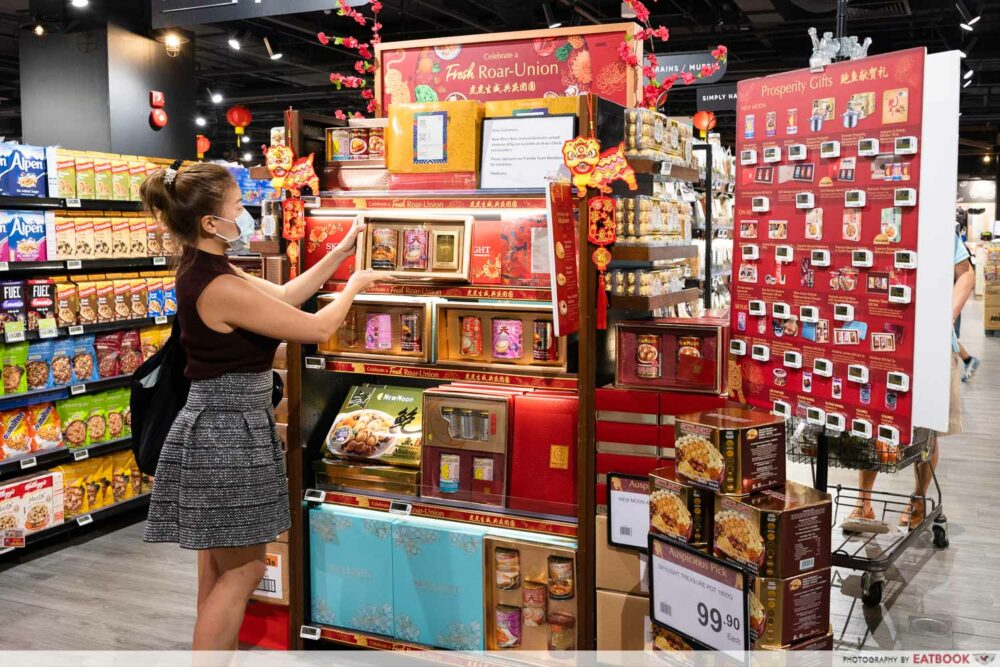 Prepare the house for your CNY gatherings with the wide selection of mandarin oranges, including packaged gift boxes, drinks, festive goodies, and so much more. Other than the products listed above, Cold Storage has lots of other hotpot necessities, including broths from Mizkan, sauces from Haidilao, frozen dumplings from CP, Spanish Iberico pork and more. 
Photos taken by Melvin Mak.
This post is brought to you by Cold Storage.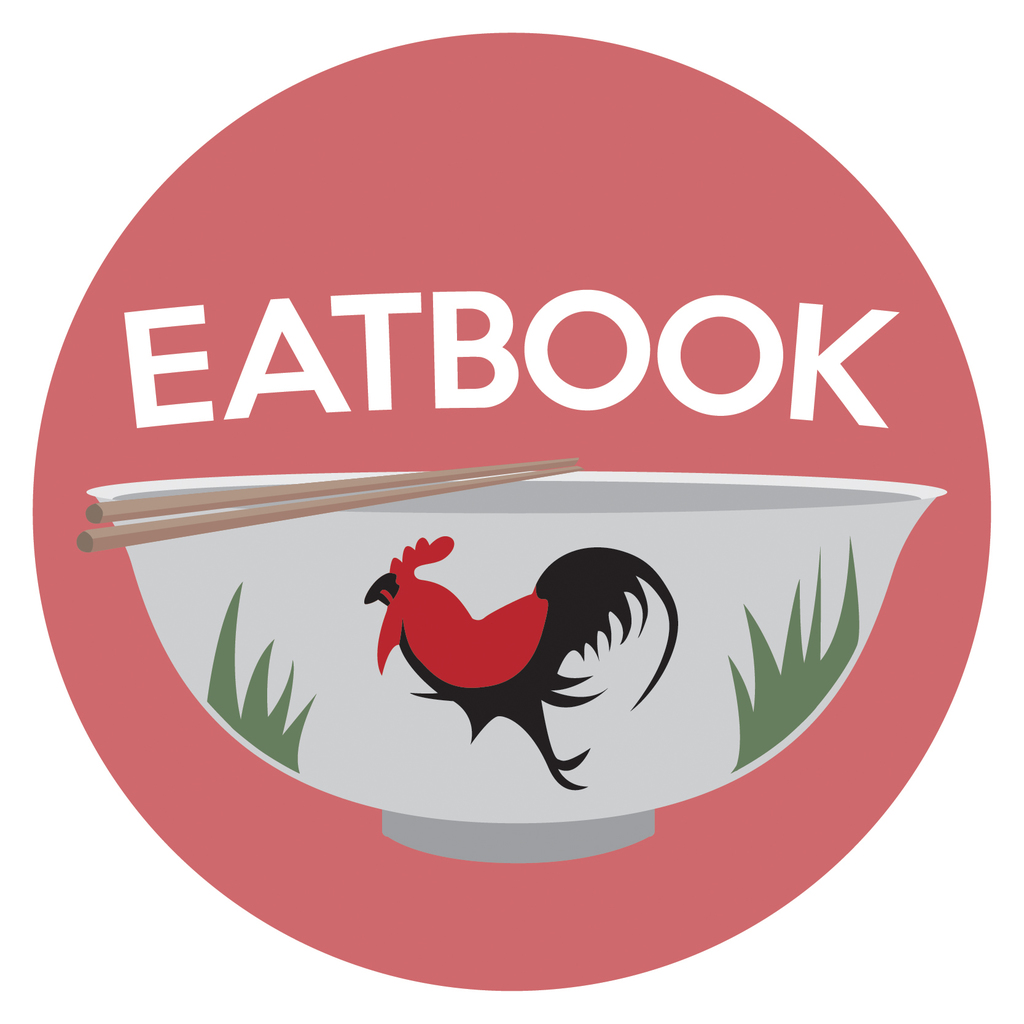 Drop us your email so you won't miss the latest news.