ISETAN Sakura Matsuri Japanese food fair at NEX till 26 March 2023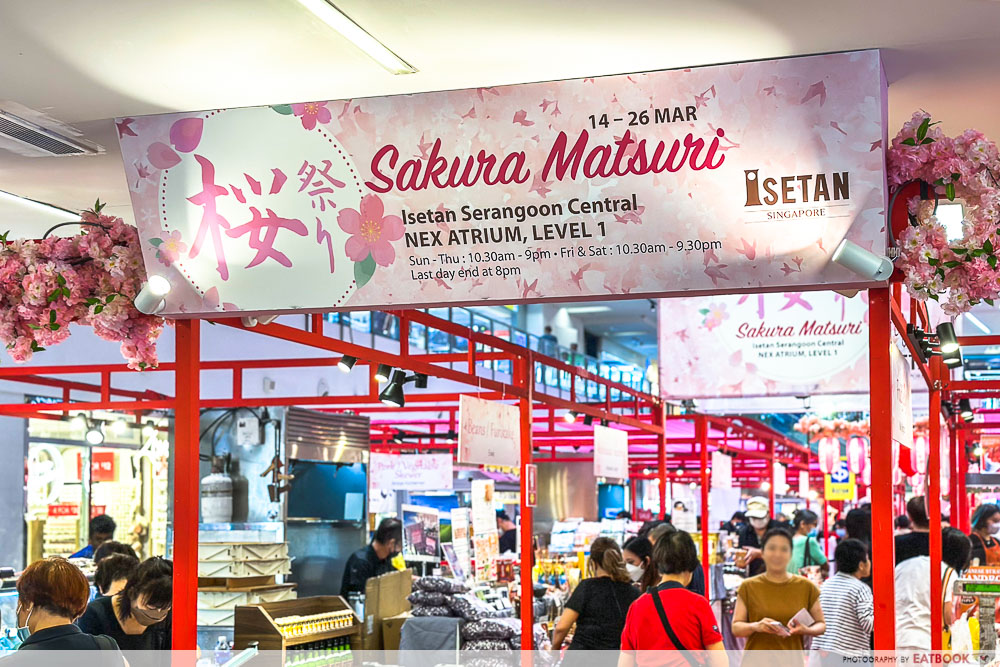 As we head into sakura season, some of us are headed for Japan to take in the gorgeous cherry blossoms, along with the festivities that surround the occasion. But if you're like me, and can't make the trip to see those flowers, there's still a way for us to experience similar festivities. I am talking, of course, about ISETAN Sakura Matsuri, a Japanese food fair located at NEX Atrium Level 1.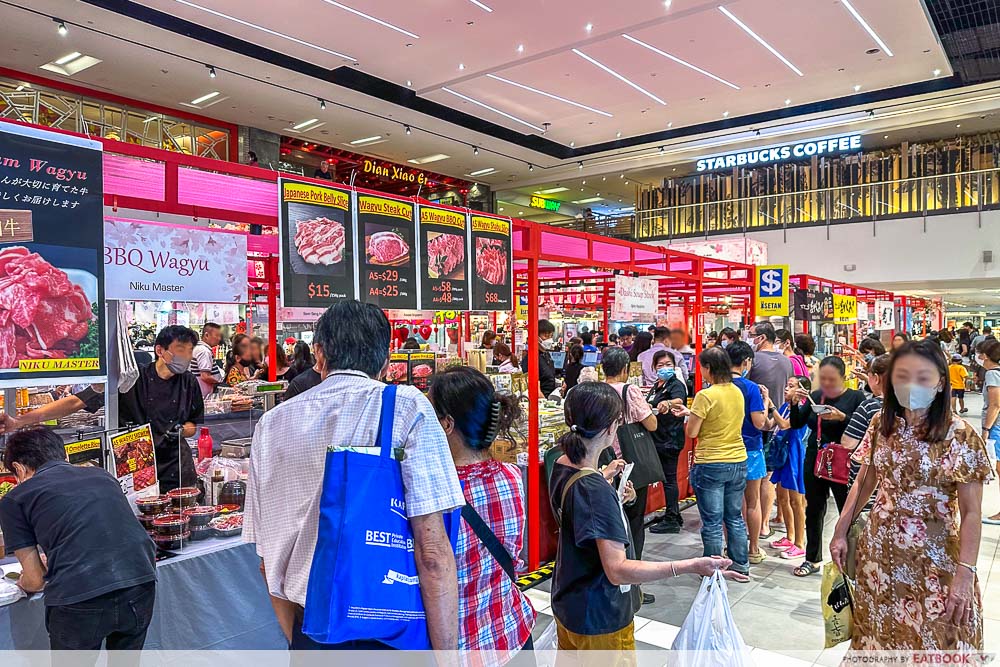 Those familiar with NEX will know that ISETAN periodically holds similar fairs in the mall, but this latest iteration that runs from 14 to 26 March 2023 introduces some new and exciting stalls to check out. They offer sweet and savoury street snacks that are similar to what you'd get in Japan during the sakura season.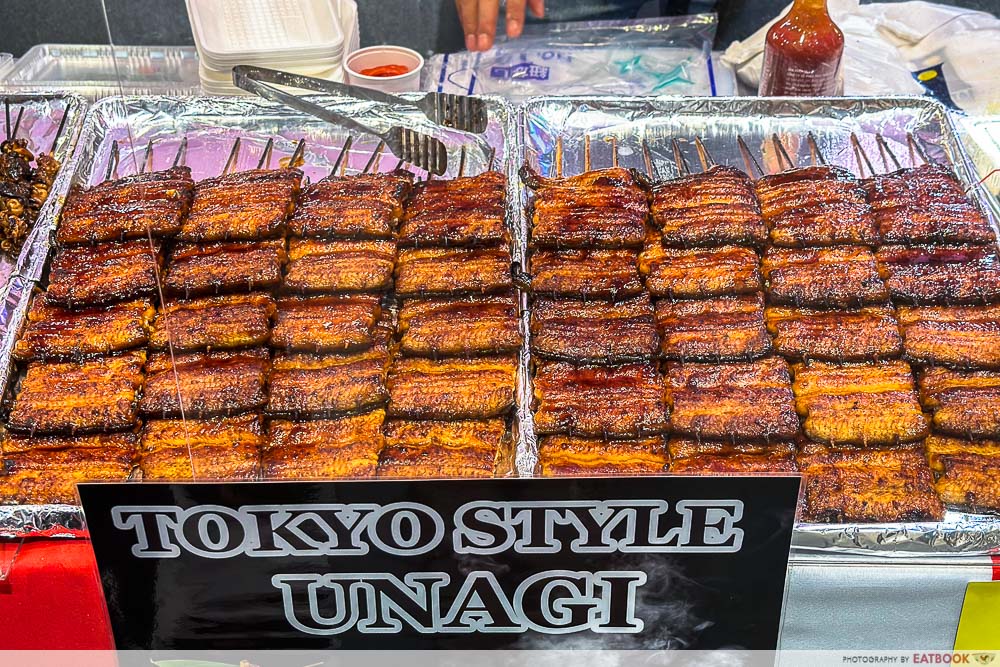 One of the most eye-catching debutants at the fair is Tsukiji Unagi Shokudo, an unagi speciality stall from Tsukiji, Tokyo. Make sure you get the juicy and fresh Unagi Skewers ($4 per stick/$10 for three sticks), made from baby eels that are under a year old.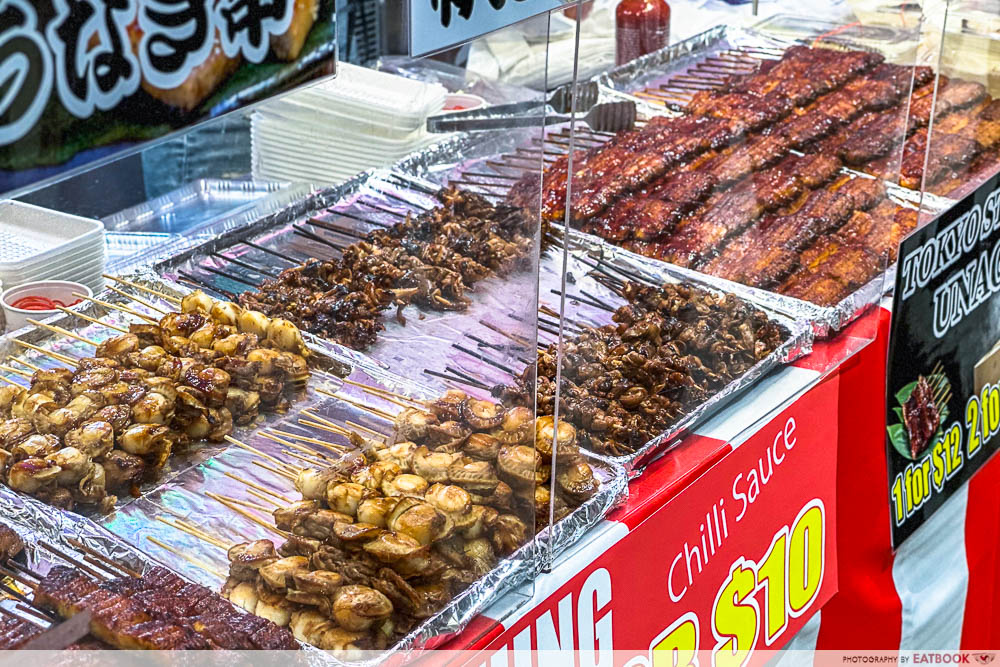 There are also other seafood snacks worth checking out at the stall, such as the Hotate Skewers and the interesting Unagi Liver Skewer—both of these will set you back $4 per stick or $10 for three sticks.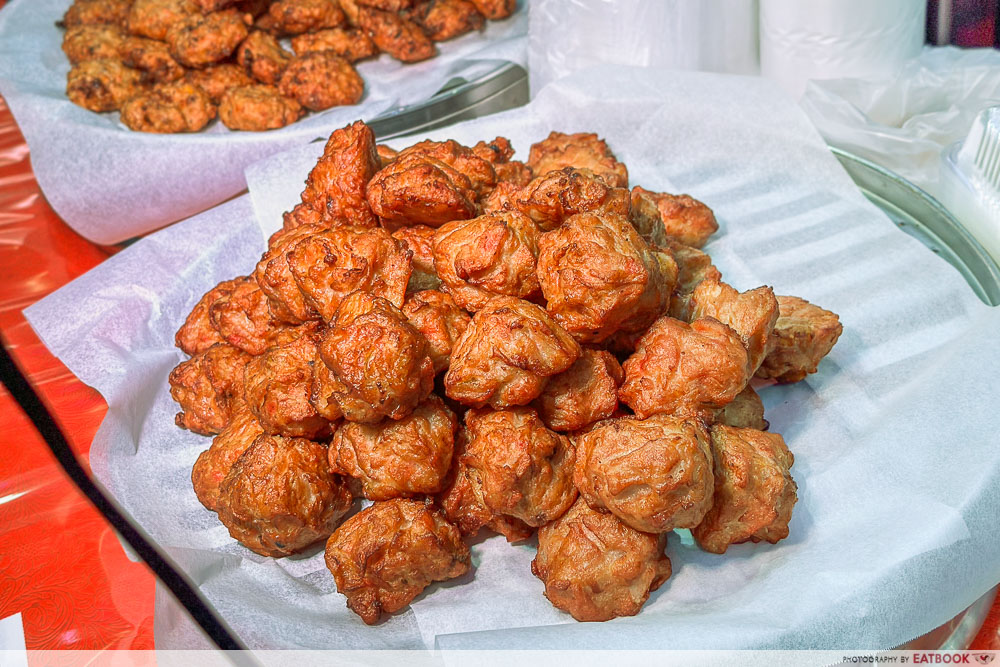 Another stall that seafood fans should look out for is Otaru Bonki. It is known for Takozangi, a kind of deep-fried octopus fishball that's made from giant Pacific octopus paste. These are sold at $8 for two pieces.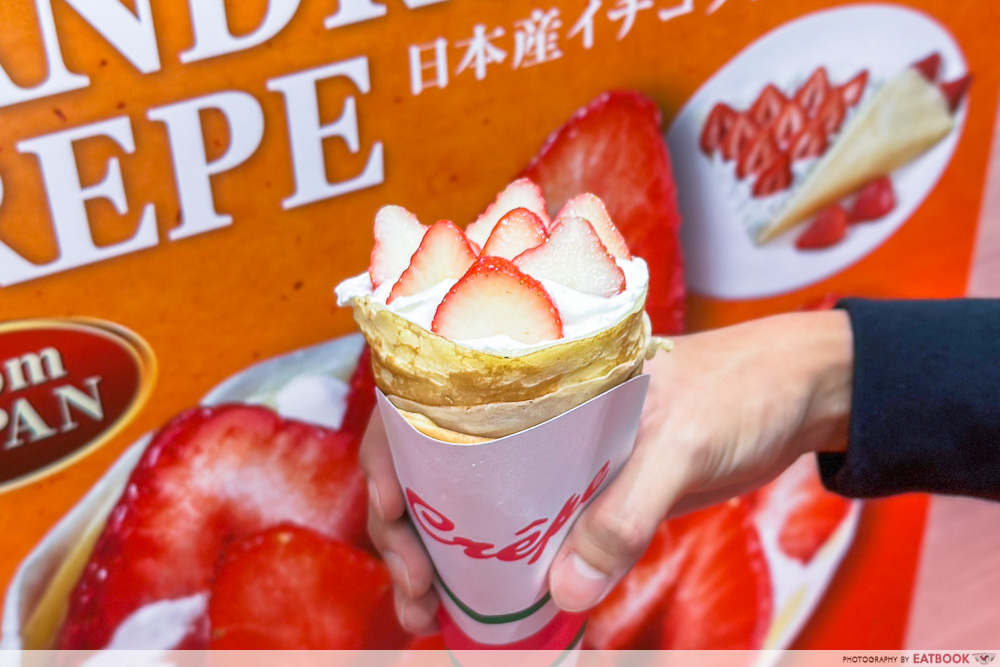 As for returning brands, you can find TOKIO and its much beloved Strawberry Crepe ($10) at the fair. The strawberries that are used in the crepe are wonderfully fresh and sweet—it's no wonder that this is one of Harajuku's most popular street foods.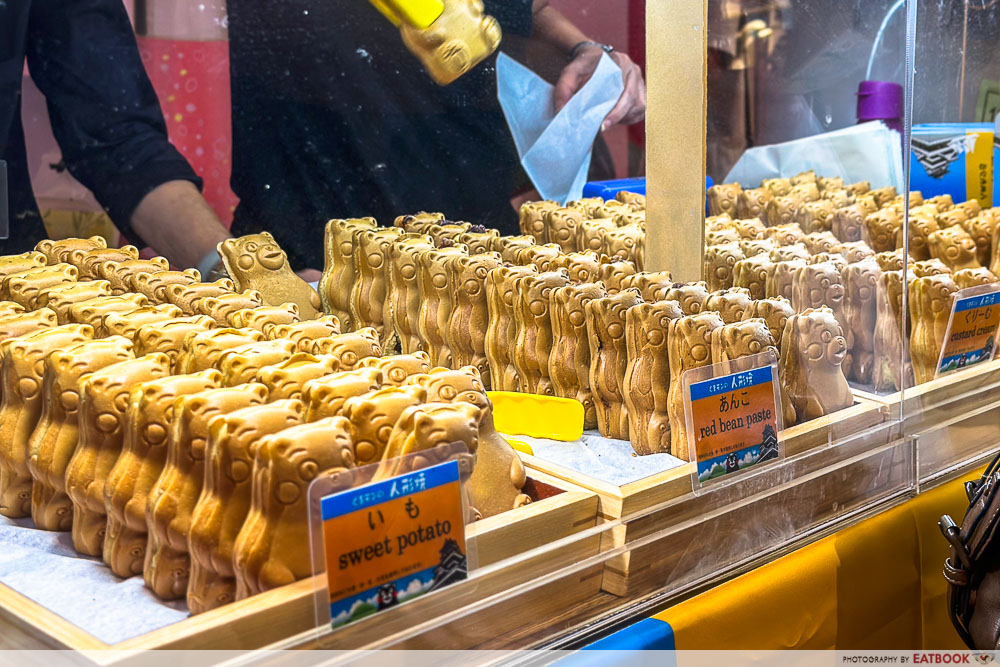 The army of bears that you see in the image above is sold by MONARIO. They are called Kumamon Ningyo Yaki ($4.50), which are baked sponge cakes in the shape of the Kumamoto Prefecture's mascot. These come in flavours such as sweet potato, red bean paste and more.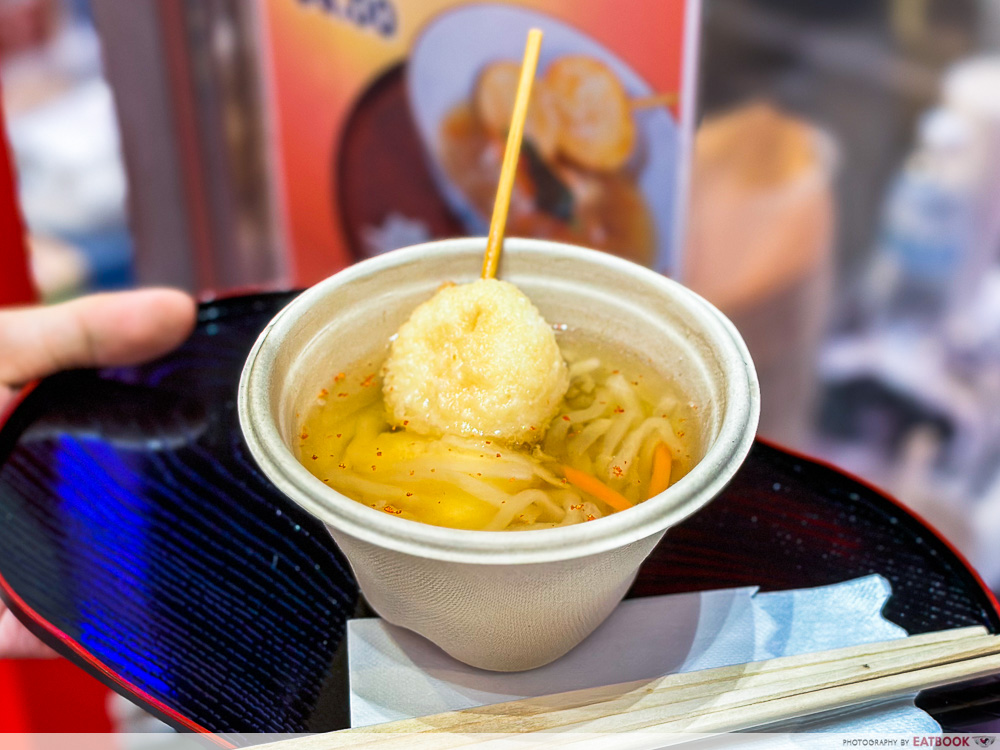 A fascinating dish you need to check out is the Mochi Tempura Soup ($8), which you'll find at Kurikoma Chaya. Often eaten on New Year's Day in Japan, these battered and deep-fried mochi balls are steeped in a dashi-based soup to create a refreshing and savoury treat.
For a good unagi restaurant to check out, have a look at our Unatoto review. If you're looking for reasonably-priced Japanese donburi in a food court, read our Fukudon review.
Address: 23 Serangoon Central, NEX Atrium Level 1, Singapore 556083
Opening hours: Sun-Thurs 10:30am to 9pm, Fri-Sat 10:30am to 9:30pm
Website
Unatoto Review: Famous Japanese Chain Opens With Unagi Bowls From $9.50+ In Tanjong Pagar 
Photos taken by Casandra Nicholas and edited by Chew Yi En.
This was a media tasting at ISETAN Sakura Matsuri.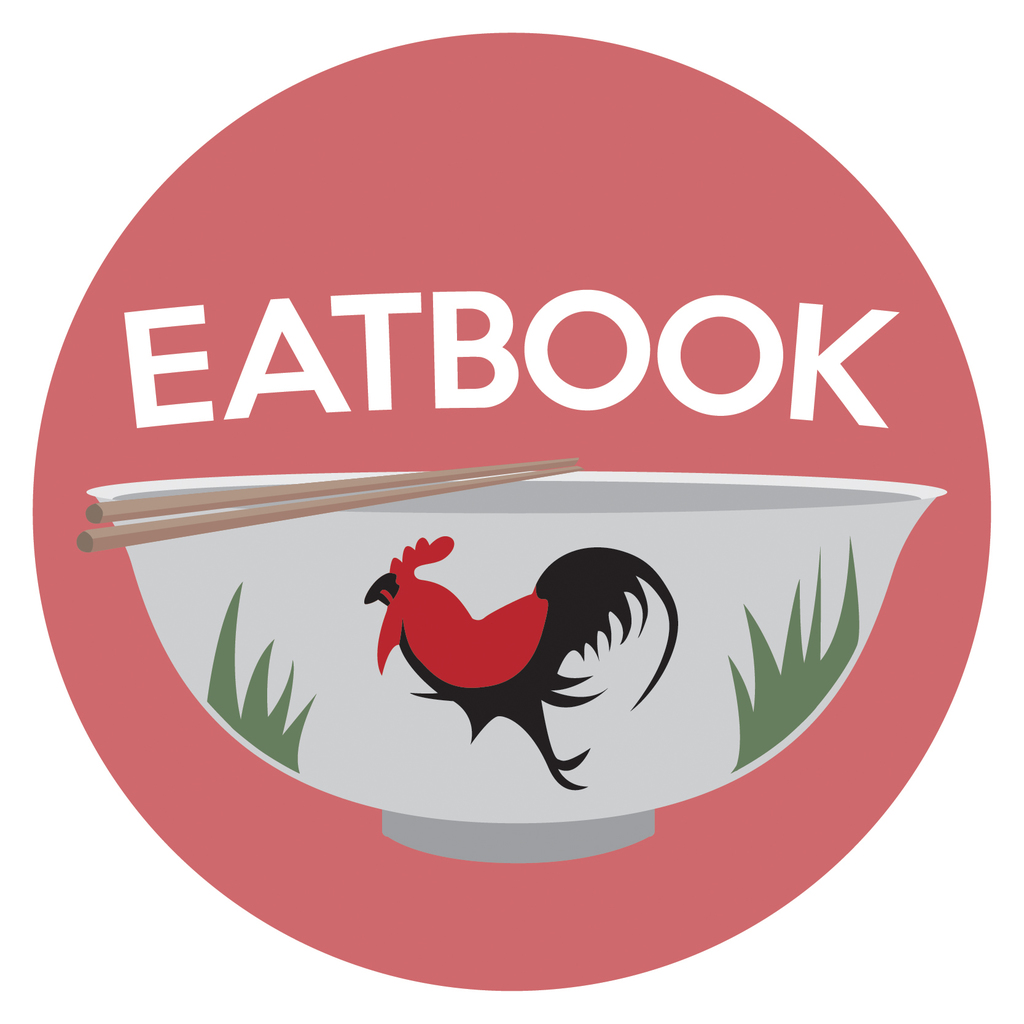 Drop us your email so you won't miss the latest news.