Johor Road Boon Kee Pork Porridge at Jalan Besar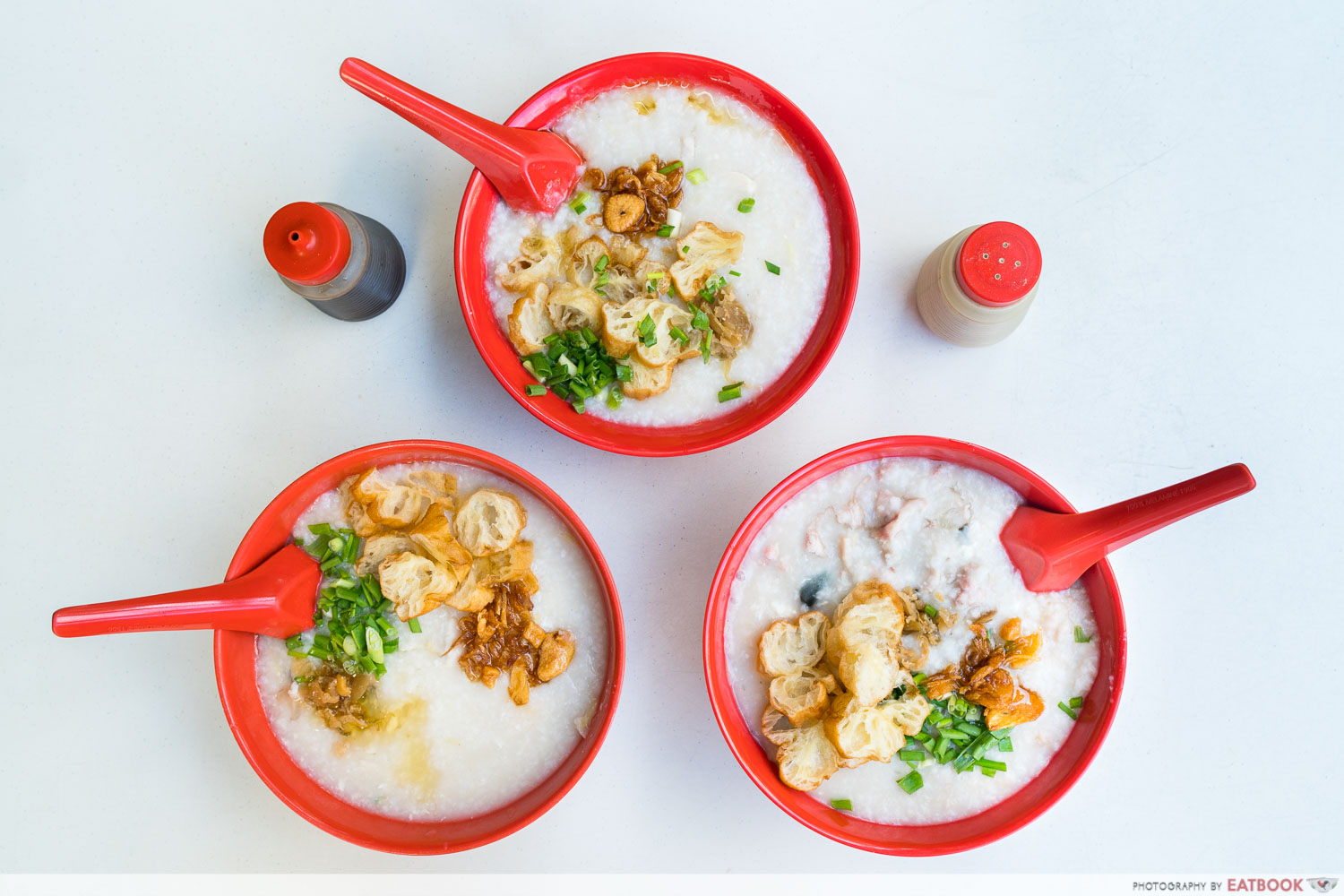 Yi He Eating House at Jalan Besar has a star-studded lineup of famous hawker stalls, that keeps the awkwardly located hawker centre bustling with life. The morning crowd starts off at Johor Road Boon Kee Pork Porridge, before the baton is passed to Victor Famous and Tian Wai Tian Fish Head Steamboat.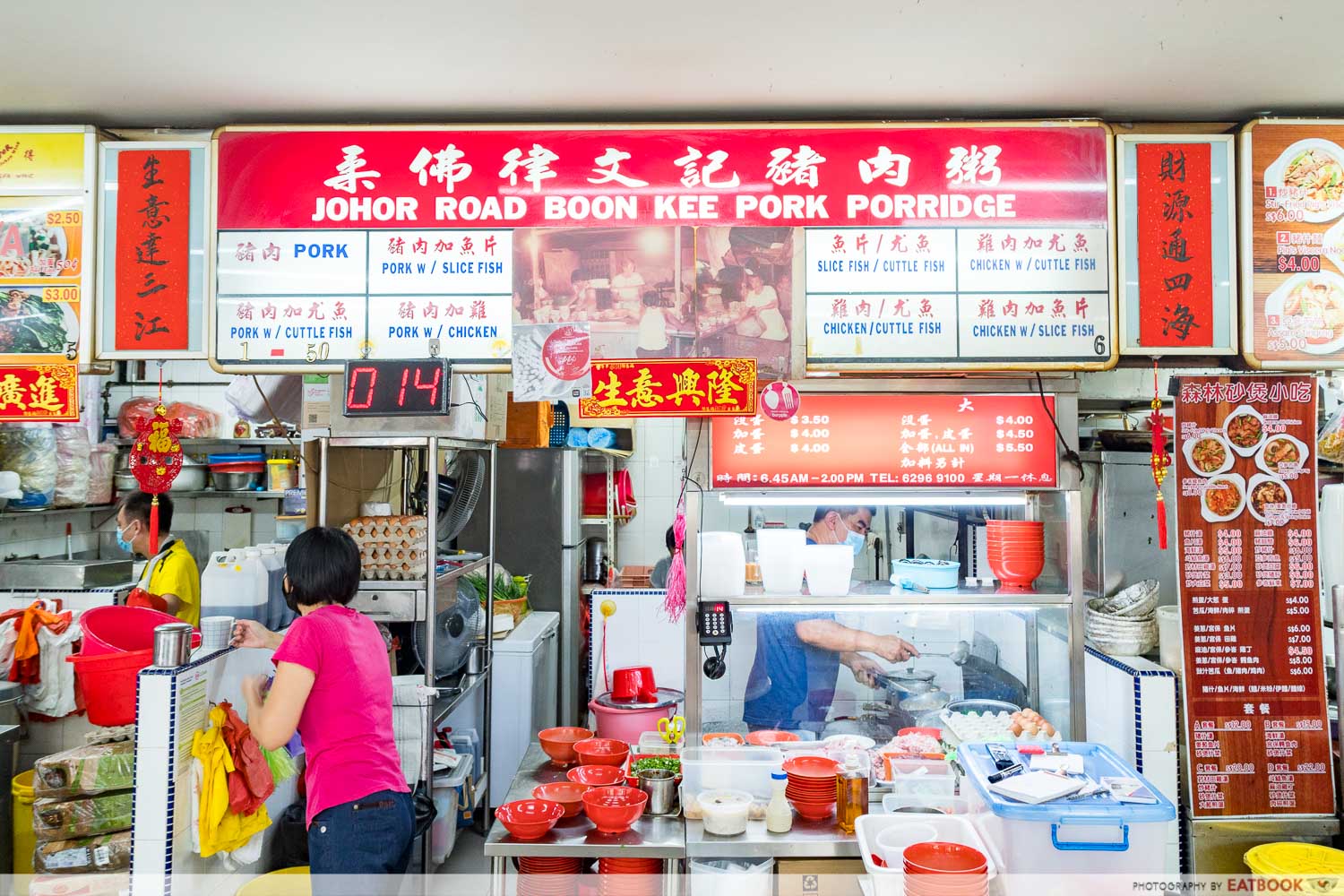 The owner's paternal grandfather started selling Hainanese congee back in the 1950s, on a pushcart along Johore Road. With the long history, they have gathered many loyal customers, who constantly come back for their comfort food. 
These bowls of hearty, flavourful congee are sold daily from 6:45am. I suppose congee is so popular as a breakfast food because it is easily palatable and great for our groggy minds or sleepy jaw muscles. 
Food at Johor Road Boon Kee Pork Porridge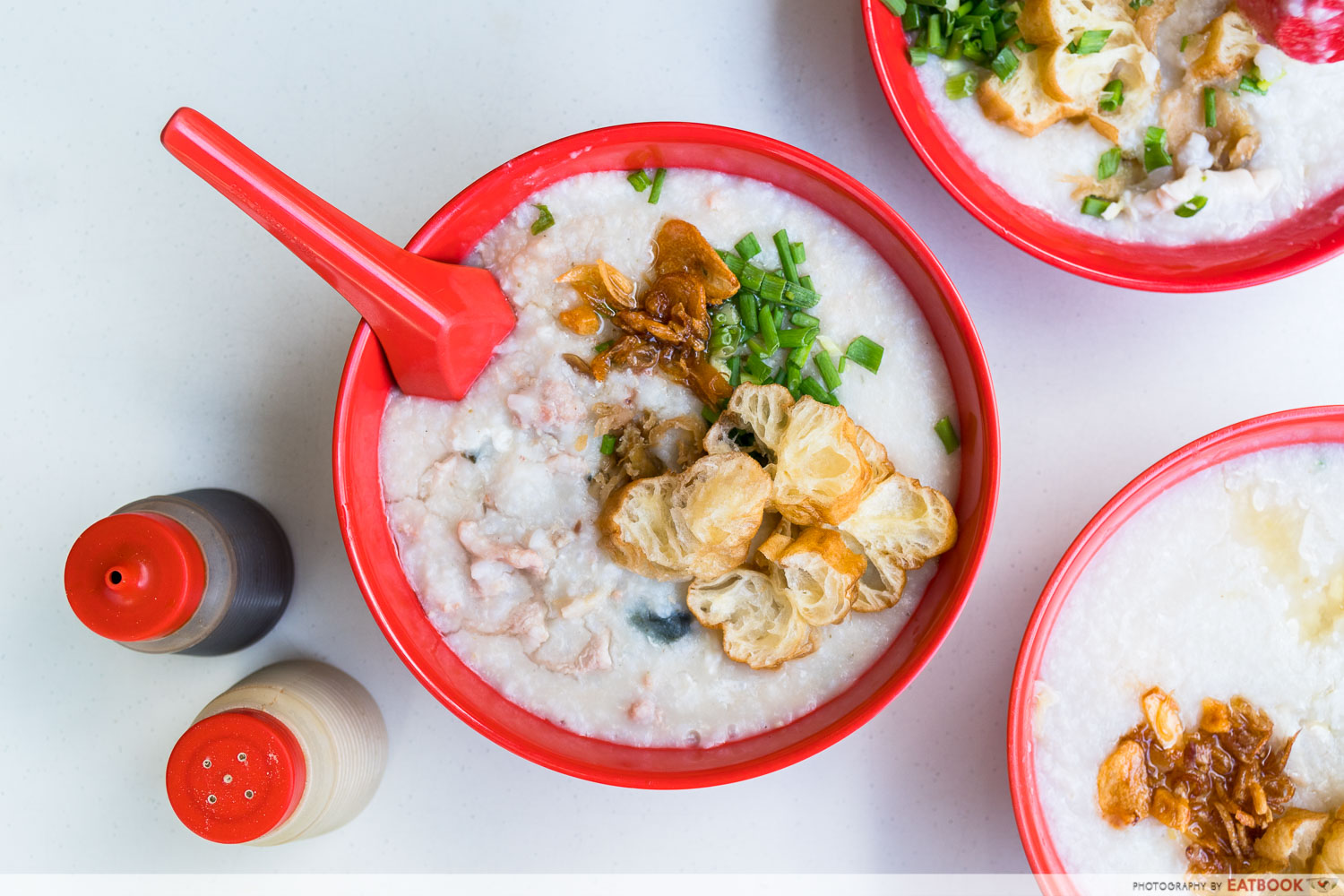 Considering the stall's name, going with a Pork ($3.50) porridge seems to be a no brainer. I also went ahead with add ons of Egg and Century Egg that totalled my bowl to $4.50. 
I deem century eggs to be an essential part of congee. Like butter and kaya toast, the creamy eggs and warm congee are a match made in heaven. The century egg's creamy yolk plus gelatinous "whites" were engulfed with a lingering pungent aroma, which provided a subtle oomph to each spoonful.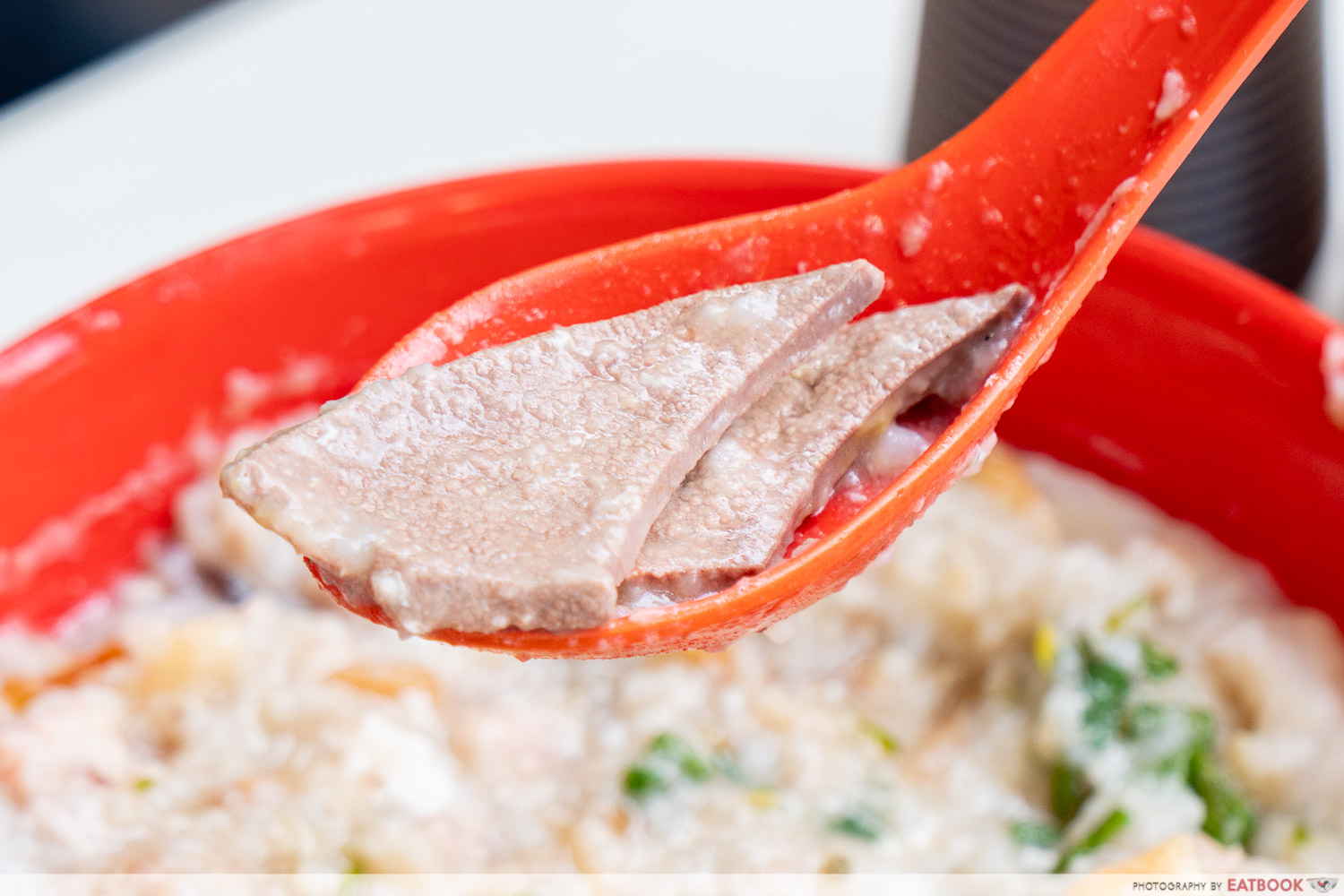 Their pork porridge isn't limited to just pork slices but also pig liver slices. They are cooked to the right doneness so that their metallic taste is subdued, while still maintaining a satisfying bite.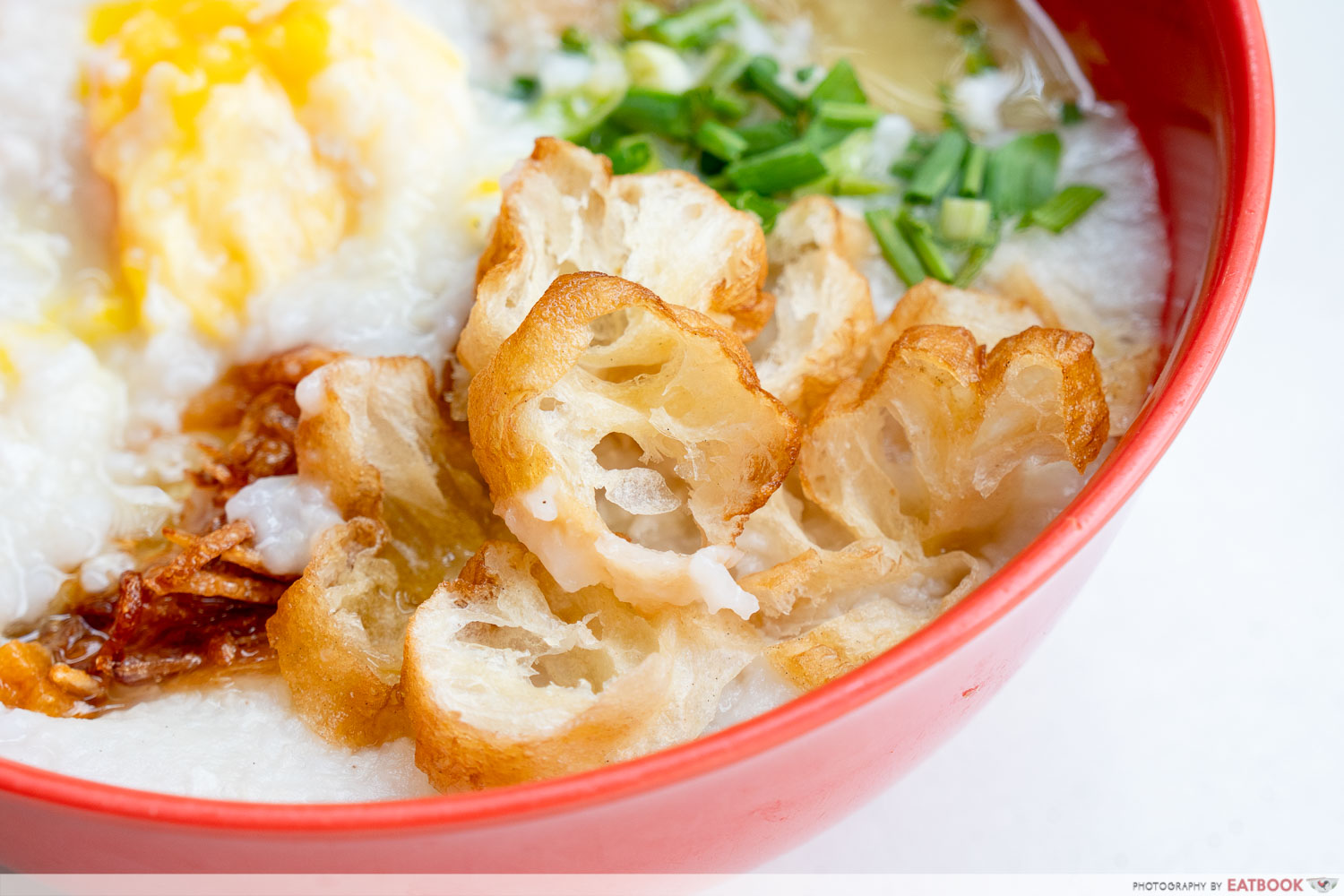 An icing on the cake for this wonderful bowl of congee would be the generous amounts of condiments given. Not only do they give extra colour to the dish, but they also add new aspects of flavour and texture. Although I'm not a big fan of crispy fried shallots, I appreciated the aromatic fragrance that it added to the dish.
Pro tip: eat your fried dough fritters first or they absorb the congee like a sponge and lose their crunch.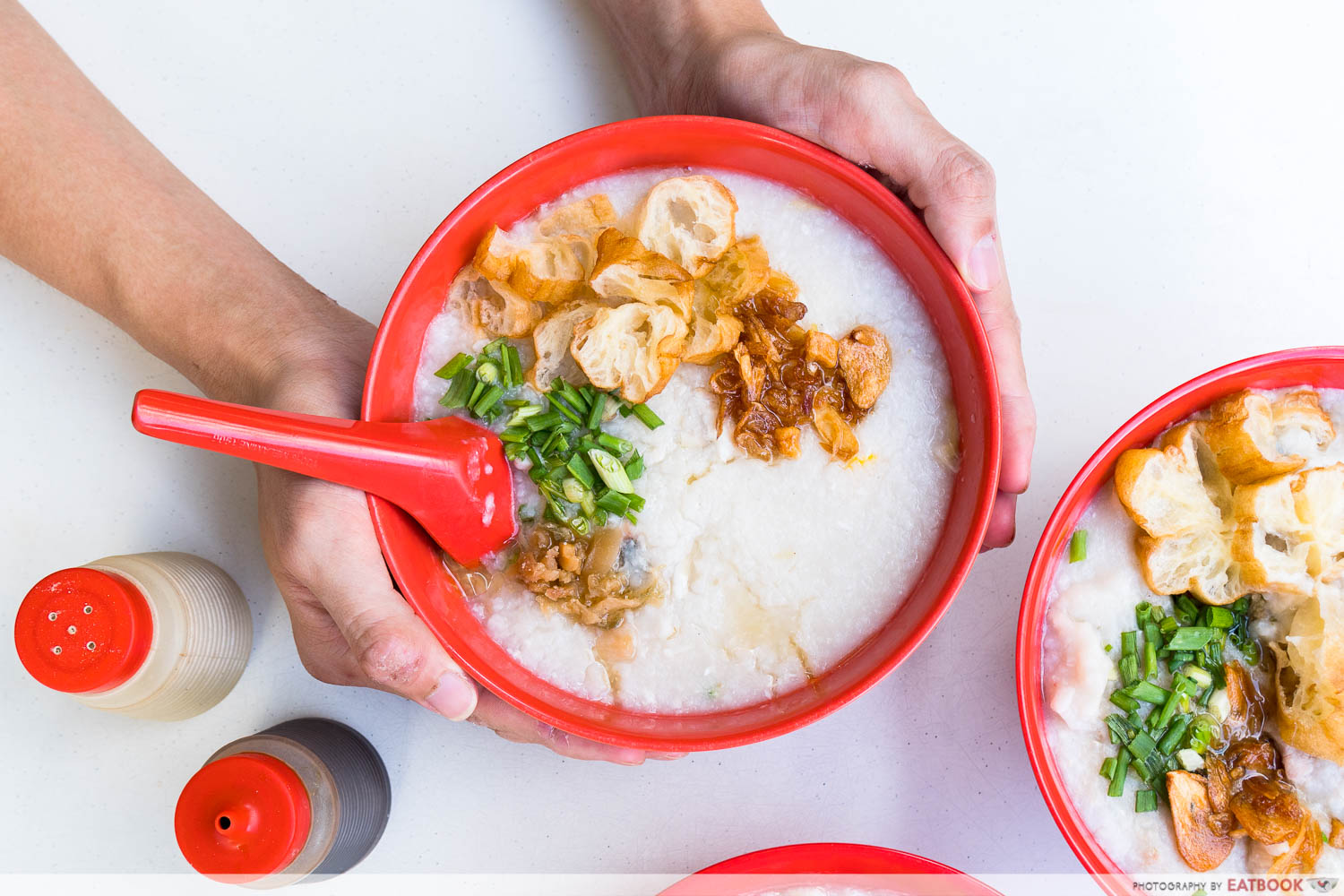 Other than their signature pork porridge, there are also seafood options such as Sliced Fish and Sliced Cuttlefish porridge, both priced at $3.50 each. I tried to exercise their flexibility with what you can order by getting a bowl of Sliced Fish porridge with additional Sliced Cuttlefish, which totalled up to $4.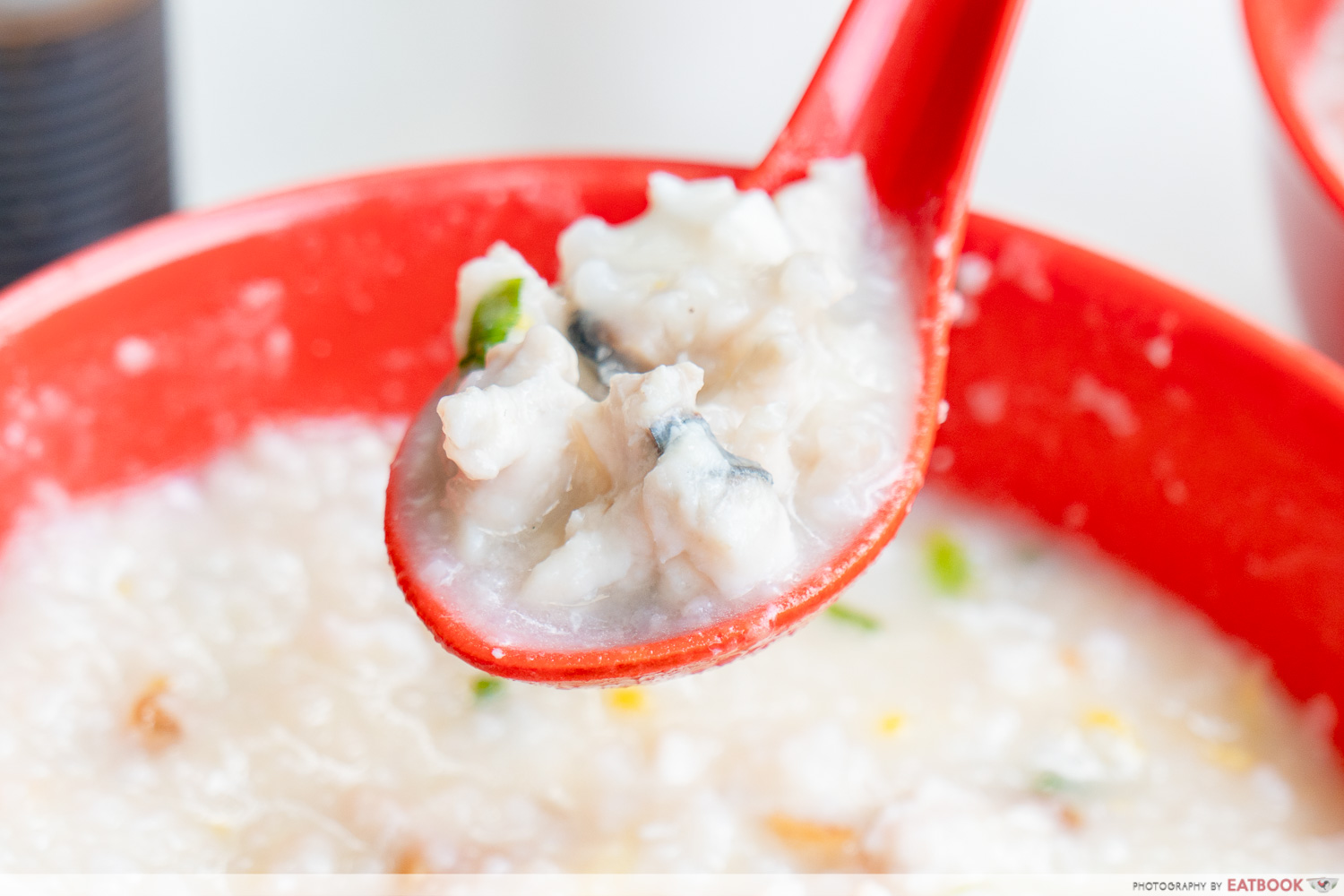 The batang fish slices were fresh and tender, and were accompanied by thin ginger slices that kept the bowl light tasting with its sharpness.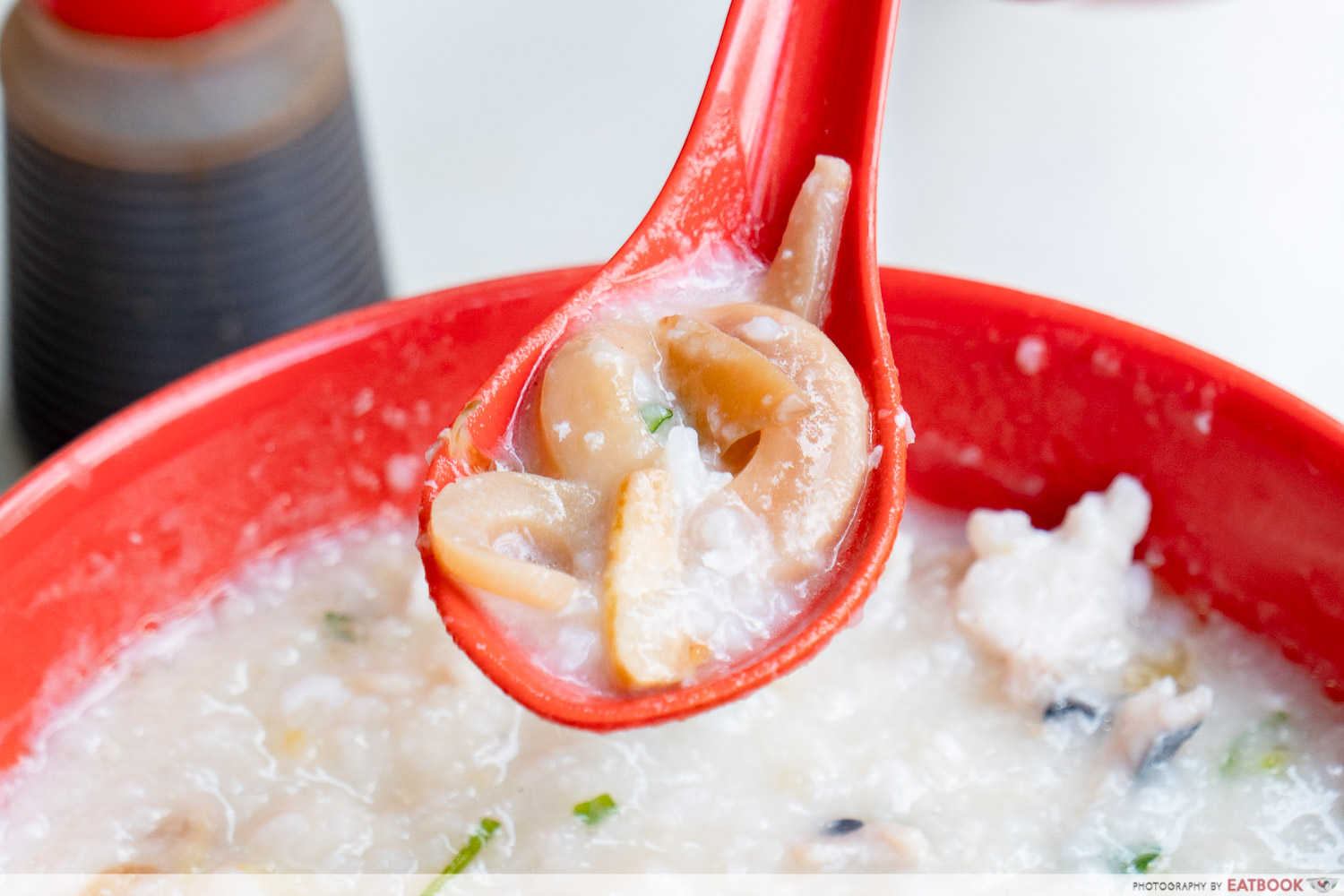 The cuttlefish made its presence felt as it landed on the opposite spectrum from the congee in terms of texture. This is great for those who need a nice bite from the velvety porridge. The sweet, briny flavours also complemented the savoury bowl well.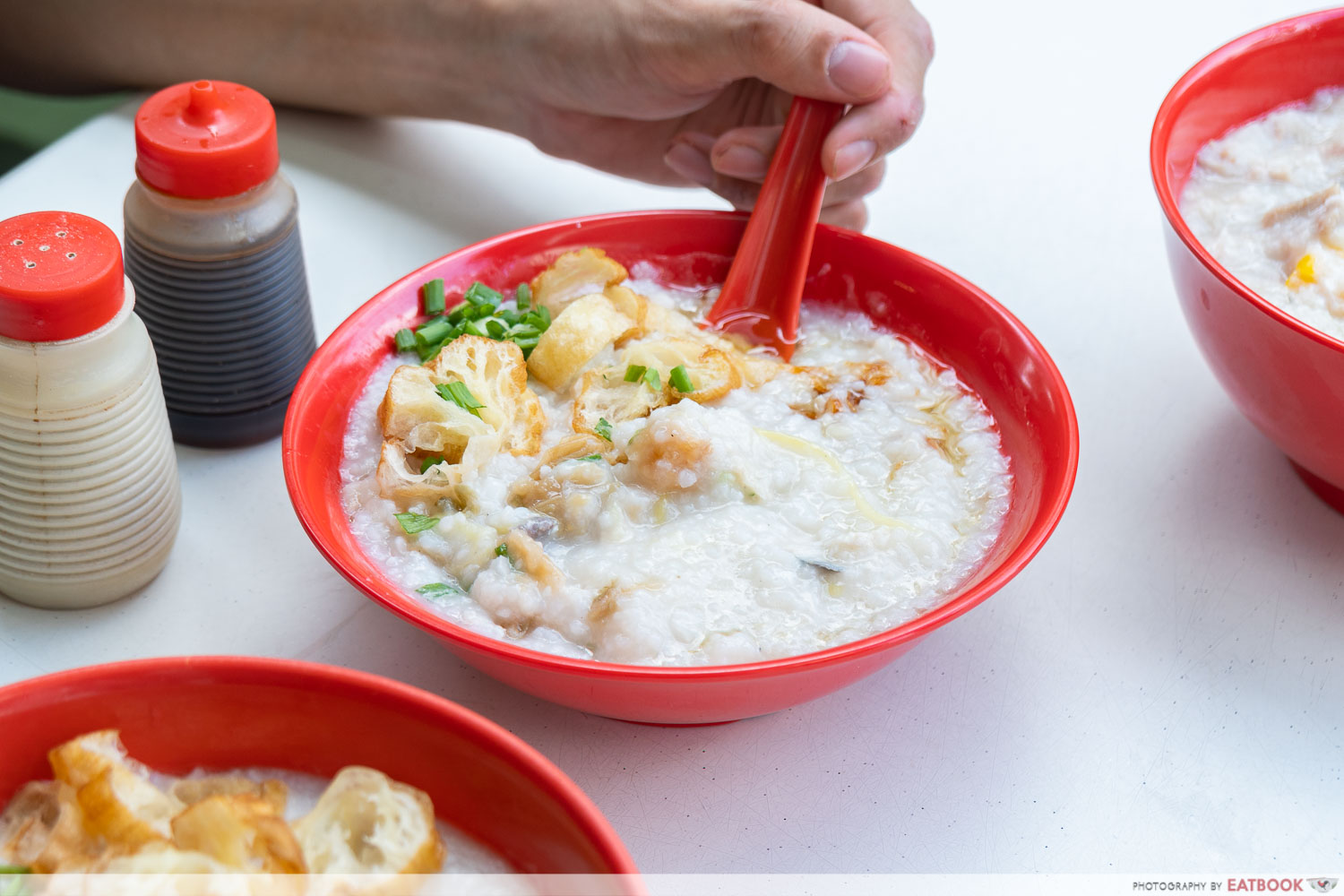 Despite naming themselves after only the pork porridge, I believe their Sliced Chicken And Sliced Fish ($4) also deserves some recognition.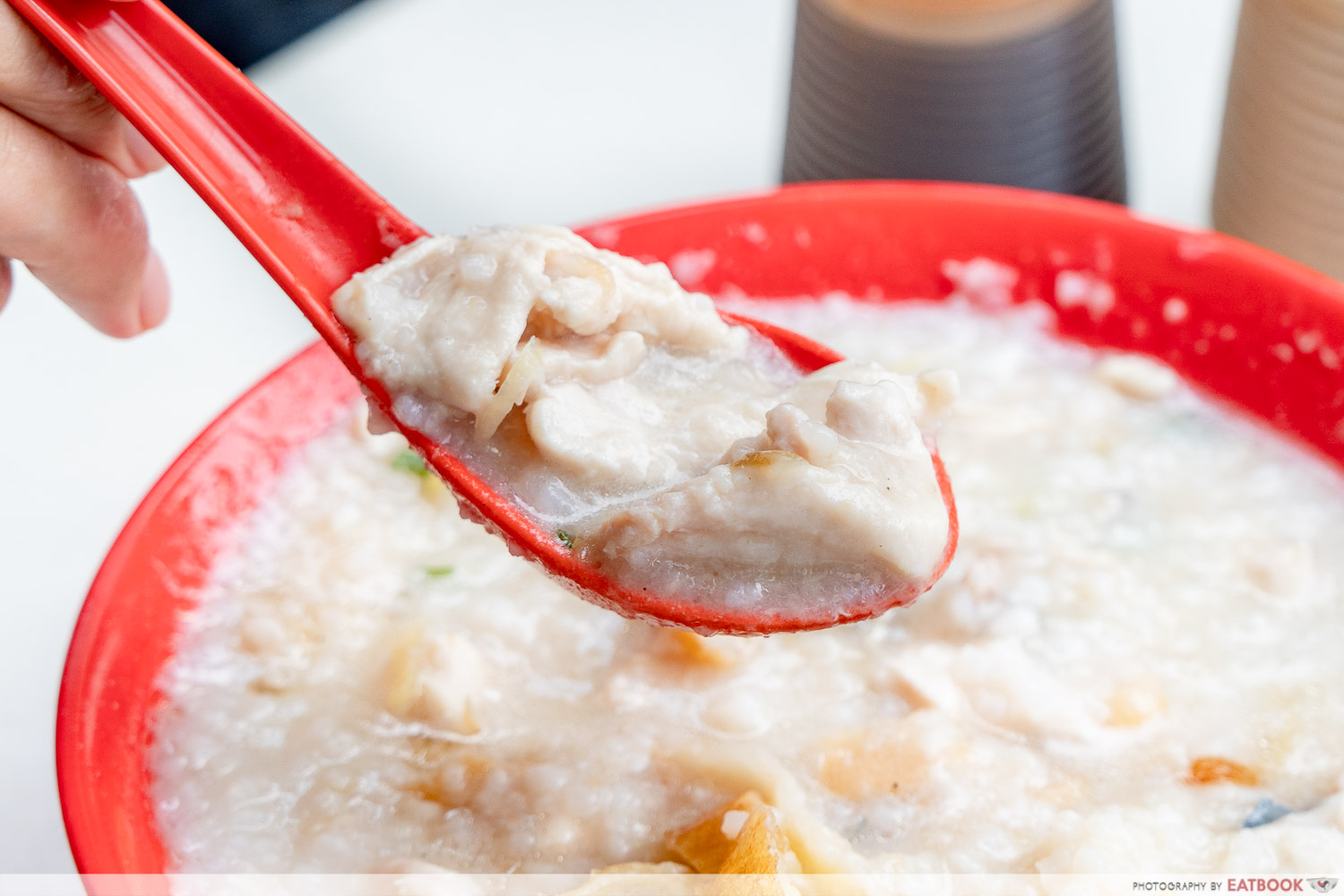 Both the sliced chicken and fish bore textures similar to the porridge, which is suitable for those who are looking for something easy to stomach in the morning. I wasn't particularly used to the rather soft chicken meat and it was confusingly similar to the fish.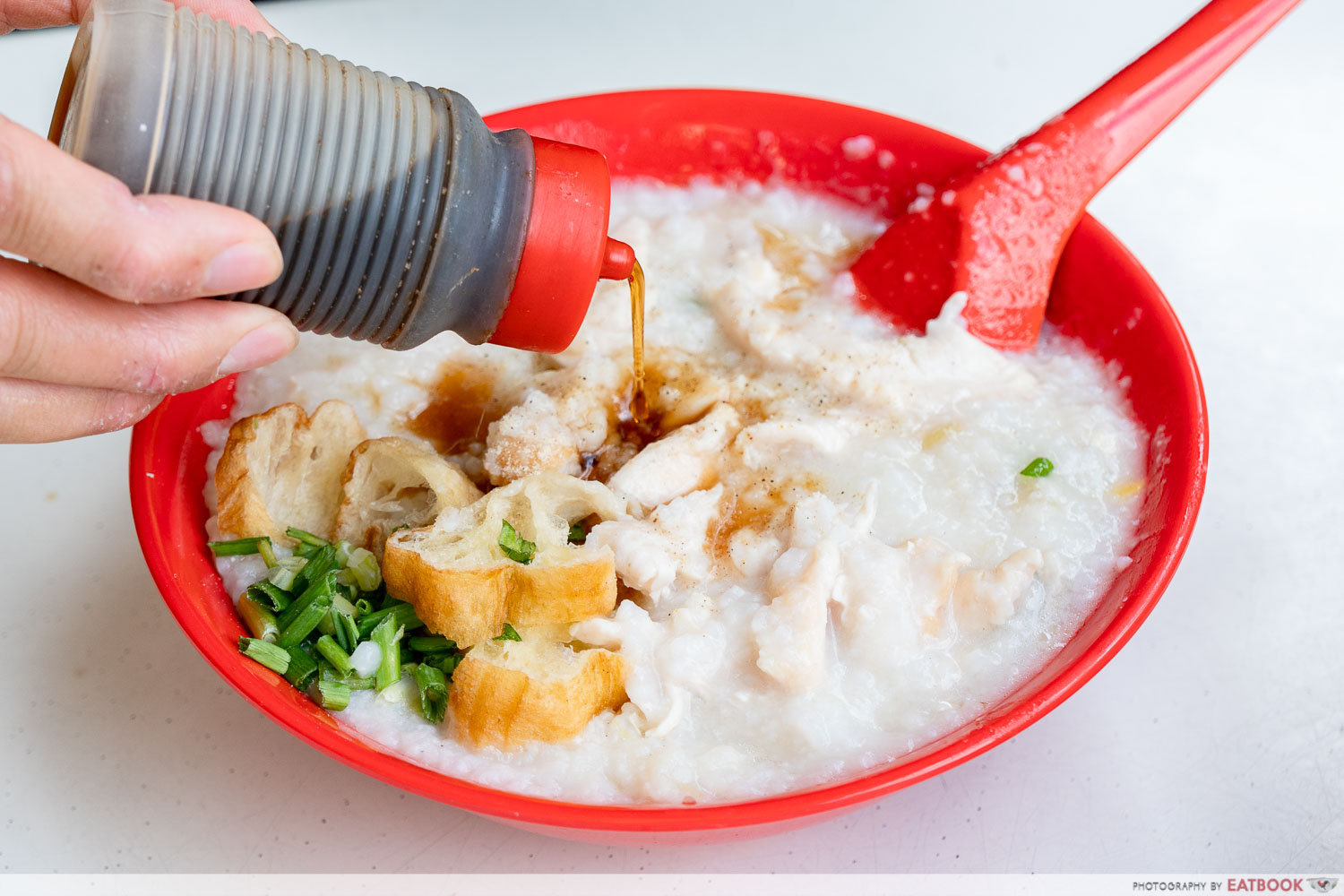 The bowl arrived like every other dish, with generous helpings of dough fritters, sesame oil, and proteins. For those with a heavier palate, they have soya sauce and white pepper available for self-service. I would advise against adding too much as you do not want to mask the original flavours of the congee.
Ambience at Johor Road Boon Kee Pork Porridge
With a five-minute walk from Jalan Besar MRT Station, you will find Yi He Eating House nestled within an industrial area.
Rather stuffy with not much air flow in the coffee shop, it gets warm really quick. However, that did not prevent this coffee shop from being extremely popular. Do expect a minimum of 20 minutes wait at the pork porridge stall during meal times. 
The verdict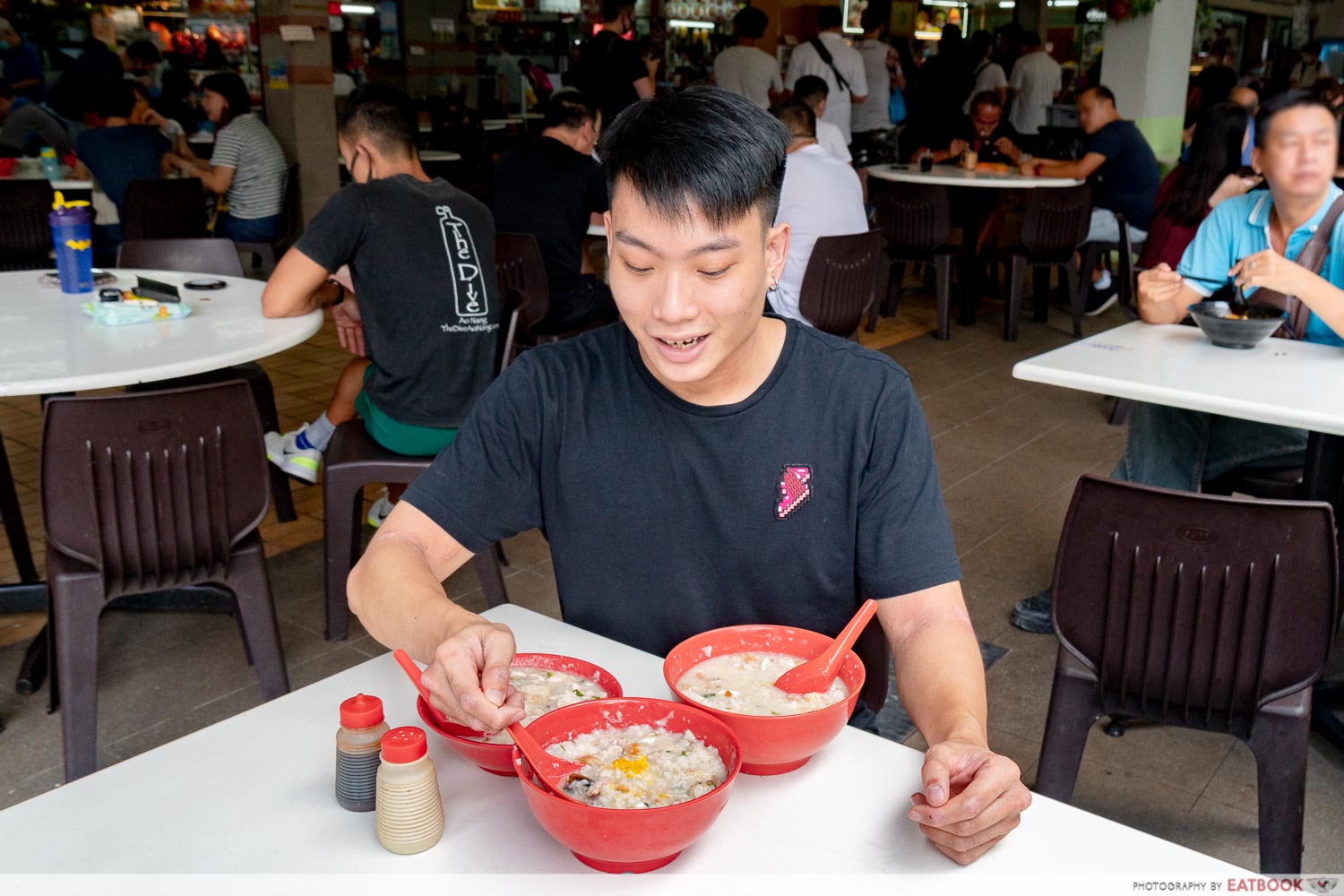 These bowls of pearly white congee seem to reveal more and more as you mix them. I managed to pull out so many flavours from these small bowls of congee that Doraemon would be proud. I can see why this stall manages to stay in operation after 70 years! As long as they are willing to continue serving up their delicious bowls of Hainanese porridge, there will be a crowd to keep them alive.
If you love Hainanese porridge check out our Soon Lee Porridge review. Or, for more food around the area, check out our Little India food guide for banana leaf rice, prawn biryani and more.
Address: 638 Veerasamy Road, Yi He Eating House, Singapore 200638
Opening hours: Tue-Sun 6:45am to 2pm
Tel: 6296 9100
Johor Road Boon Kee Pork Porridge is not a halal-certified eatery.
Soon Lee Porridge Review: Famous Hainanese Porridge Under $4 At Clementi Food Centre
Photos taken by Keith Kok.
This is an independent review by Eatbook.sg.
Johor Road Boon Kee Pork Porridge Review: Traditional Hainanese Porridge With Almost 70 Years Of History
Johor Road Boon Kee Pork Porridge Review: Traditional Hainanese Porridge With Almost 70 Years Of History -

8/10
Summary
Pros
– Rich, flavourful congee
– Affordable prices
Cons
– Long waiting times
Recommended dishes: Pork Porridge (from $3.50), Sliced Fish With Sliced Cuttlefish ($4), Sliced Chicken And Sliced Fish ($4)
Opening hours: Tue-Sun 6:45am to 2pm
Address: 638 Veerasamy Road, Yi He Eating House, Singapore 200638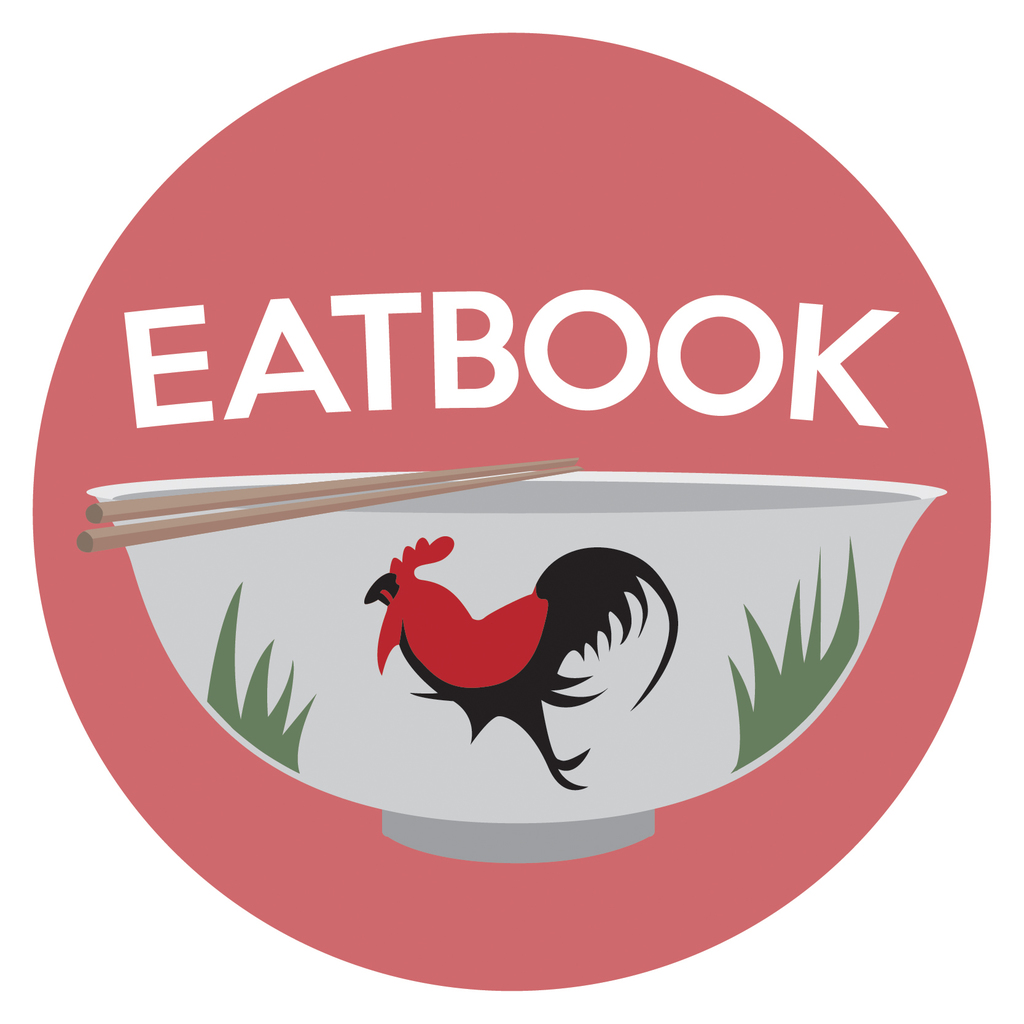 Drop us your email so you won't miss the latest news.