---
Kembangan food places
---
Most of my friends live in Kembangan, so I tend to always venture there for food and drinks. In the past, we used to hit up rows of dingy hawker stalls that are found beside neatly lined terrace houses. In recent years, however, the sleepy neighbourhood saw an influx of kicky restaurants and bars, adding more life into the area. Here are some Kembangan food places you must check out when you're there!
---
1. Garang Grill
---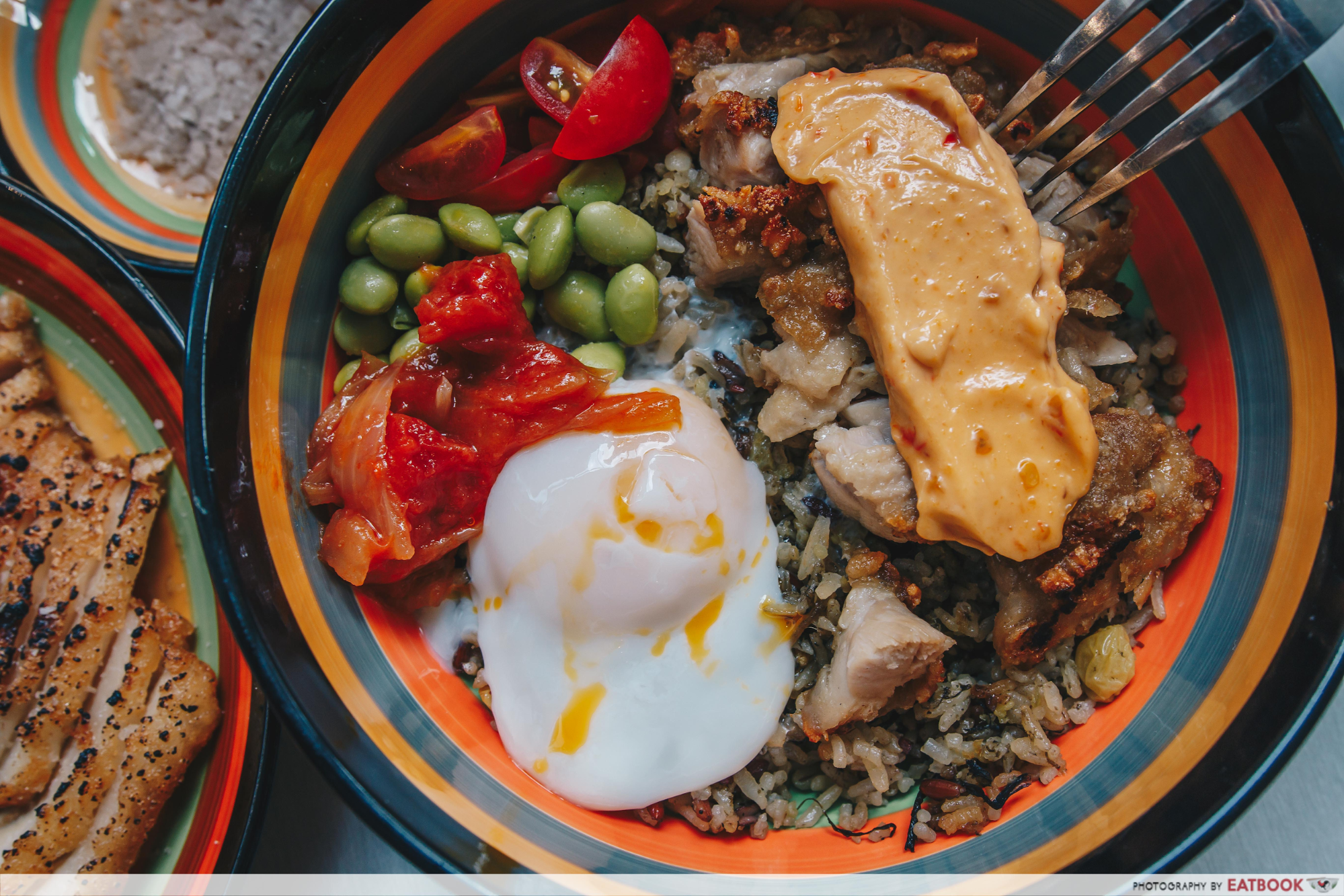 At Garang Grill, the food is bold and prepared over a charcoal grill. Sink your teeth into their USDA Prime Rib Eye ($55 for 250g, $90++ for 500g). The top grade steak comes served with grain mustard and Bordelaise butter. If the dinner prices are too expensive for you, come by during lunch and enjoy rice bowls such as Lime Leaf Chicken Rice Bowl ($9++).
Garang Grill Review: Beef Fried Rice, Lime Leaf Chicken Rice And More At Henderson Road
Address: 15 Swan Lake Avenue, Singapore 455711
Opening hours: Tue 6pm to 10:30pm, Wed-Sun 11:30am to 3pm, 6pm to 10:30pm
Tel: 9245 0184
Website
---
2. Seng Kee Black Chicken Herbal Soup
---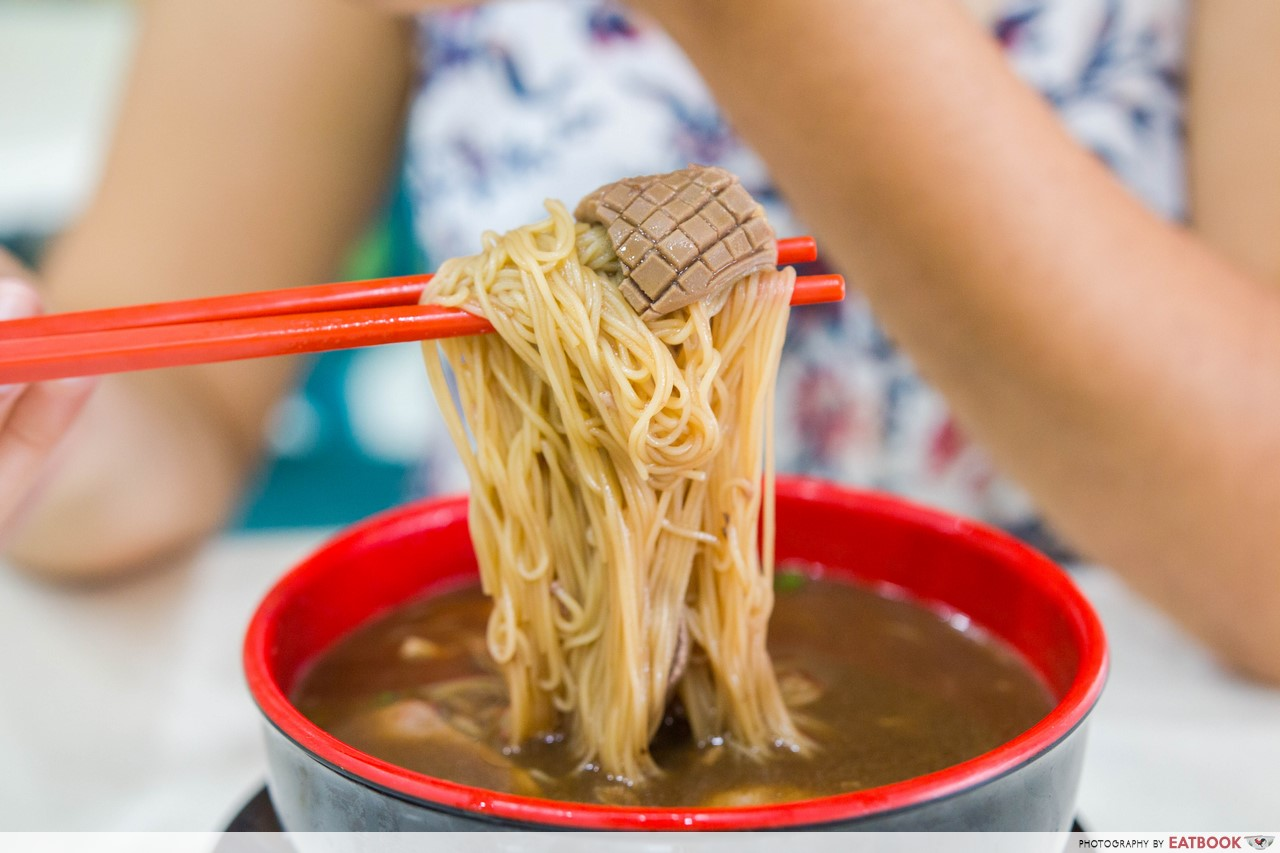 Opened until 4am daily, Seng Kee Black Chicken Herbal Soup is a popular spot for supper-goers. While they do whip up scrummy zi char fare, it is their Herbal Mee Sua ($5) that's the highlight of this restaurant. The soup is extremely flavourful, with strong herbal undertones, and comes generously filled with silky mee sua, pork kidney, pork liver and pork slices.
Seng Kee Black Chicken Herbal Soup Review: Zi Char Spot That Opens Till 4am At Kembangan
Address: 467 Changi Road, Singapore 419887
Opening hours: Daily 11am to 4am
Tel: 6746 4089
---
3. South Union Park
---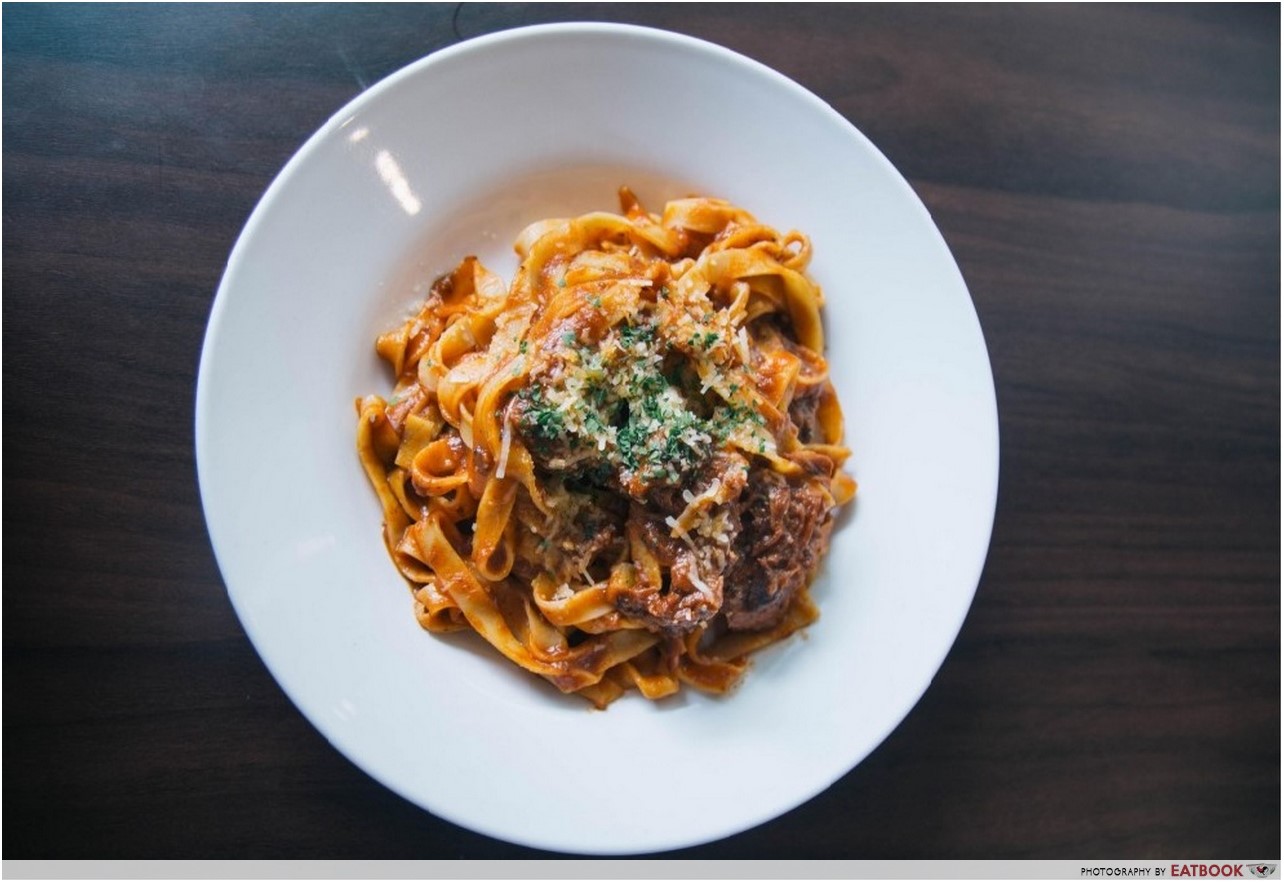 A short walk away from Kembagan MRT Station is South Union Park. Hidden among private houses, this cosy restaurant is a well-kept secret among those living in the area. On the menu is a selection of hearty Western grub. When you're there, order their Short Rib Cavatelli ($24). Served in a moreish tomato ragu sauce and topped with parmesan, the robust dish will definitely leave you with a satisfied belly.
Check out our full review of South Union Park!
Address: 101 Jalan Kembangan, Singapore 419139
Opening hours: Tue-Thur 5:30pm to 10pm, Fri 11:30am to 10pm, Sat 10am to 10pm, Sun 10am to 9pm
Tel: 9061 8703
Website
Menu
---
4. Birdie Num Num Gastrobar
---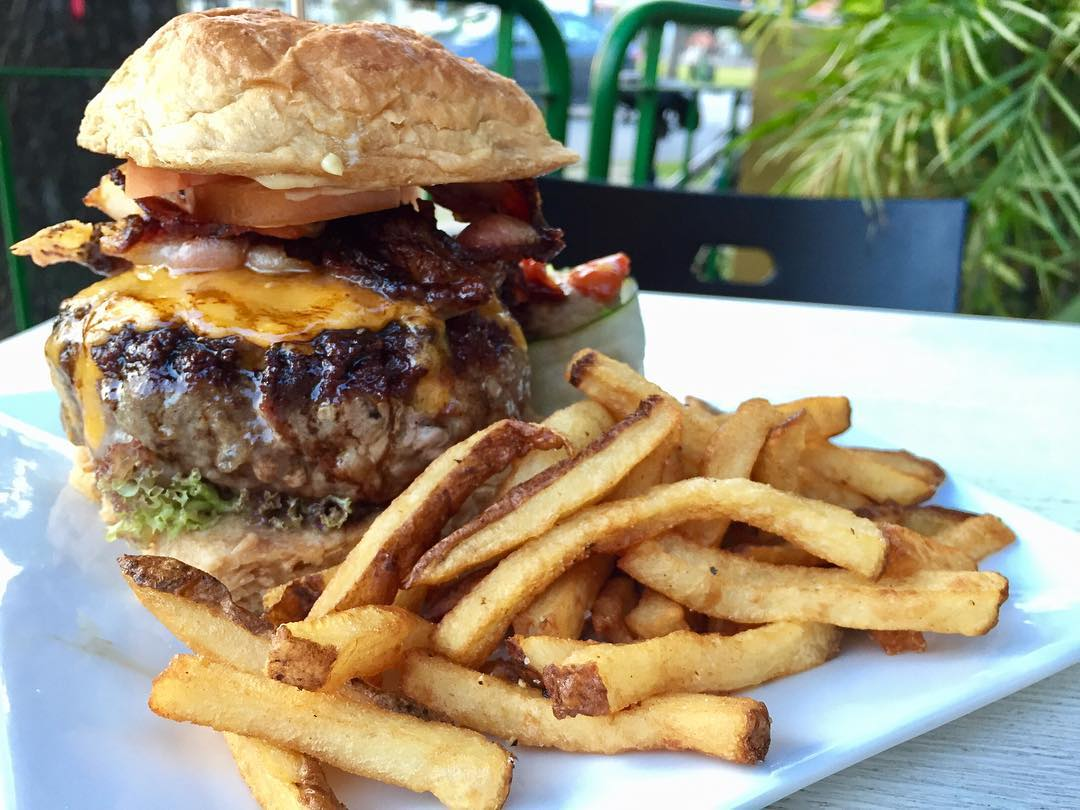 Image credit: @birdienumnumgastrobar
This is my go-to spot for beers. But aside from being a stellar drinking den, Birdie Num Bum Gastrobar also does top-notch food. Get your hands dirty and sink your teeth into their succulent Birdie's Burger ($15.90++). The towering mess comes with a massive beef patty topped with melted cheddar and bacon, as well as a side of russet fries.
Address: 54 Jalan Kembangan, Singapore 419119
Opening hours: Mon & Wed-Sat 3pm to 1am, Sun 3pm to 12am
Tel: 6449 2546
Website
---
5. Seafood Western
---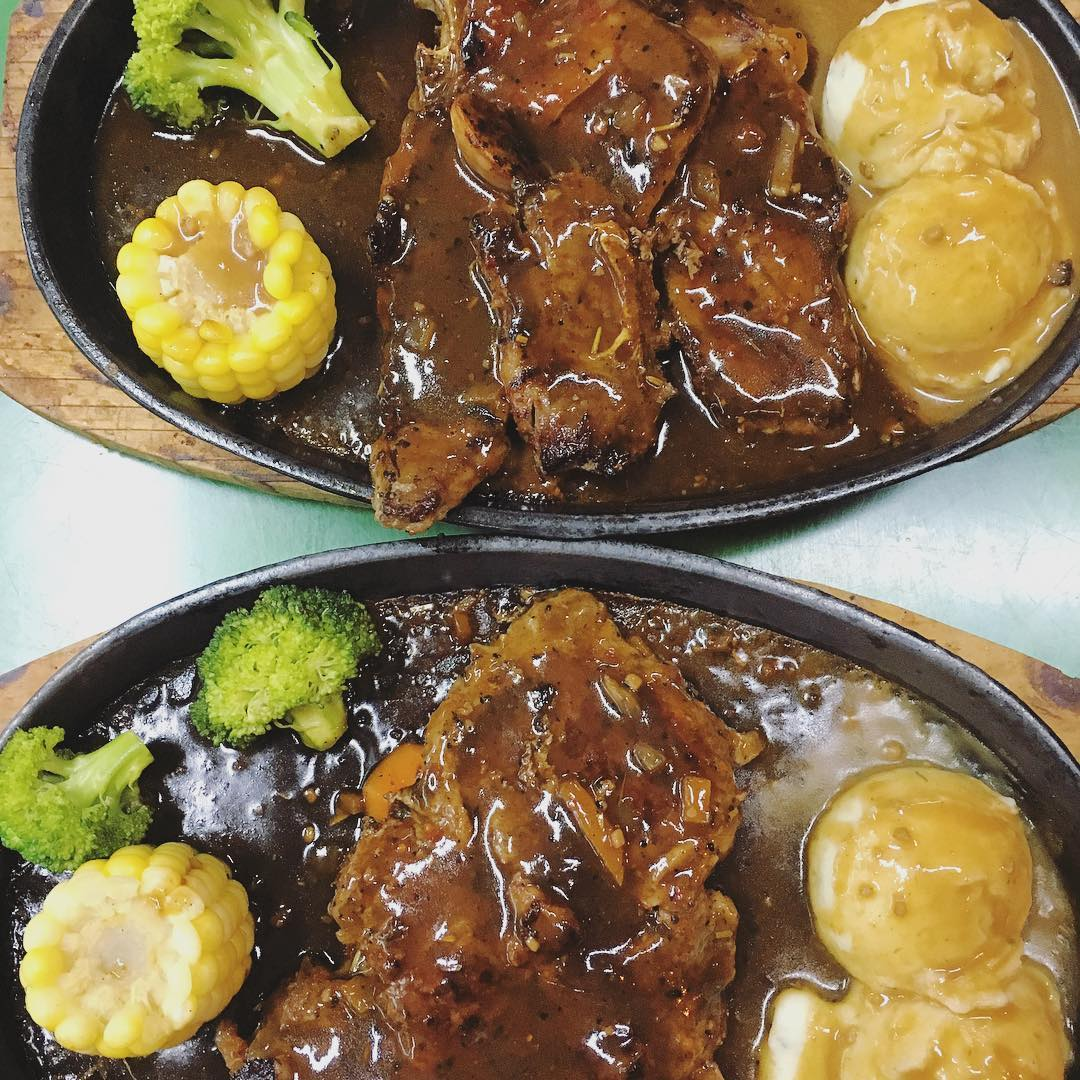 Image credit: @nabeezee
Housed in Raimah Eating House, a kopitiam with stalls serving prata and ayam penyet, is Seafood Western. There, you can take delight in a selection of Western food such as Bullet Pepper Steak ($13), where tender steak is doused in a peppery sauce and accompanied by mashed potato and vegetables. They also do a range of pasta dishes such as Seafood Olio ($9).
Address: 56 Jalan Kembangan, Singapore 419120
Opening hours: Daily 3pm to 12am
Tel: 6241 3841
Website
---
6. Mak's Place – The Hawkerant
---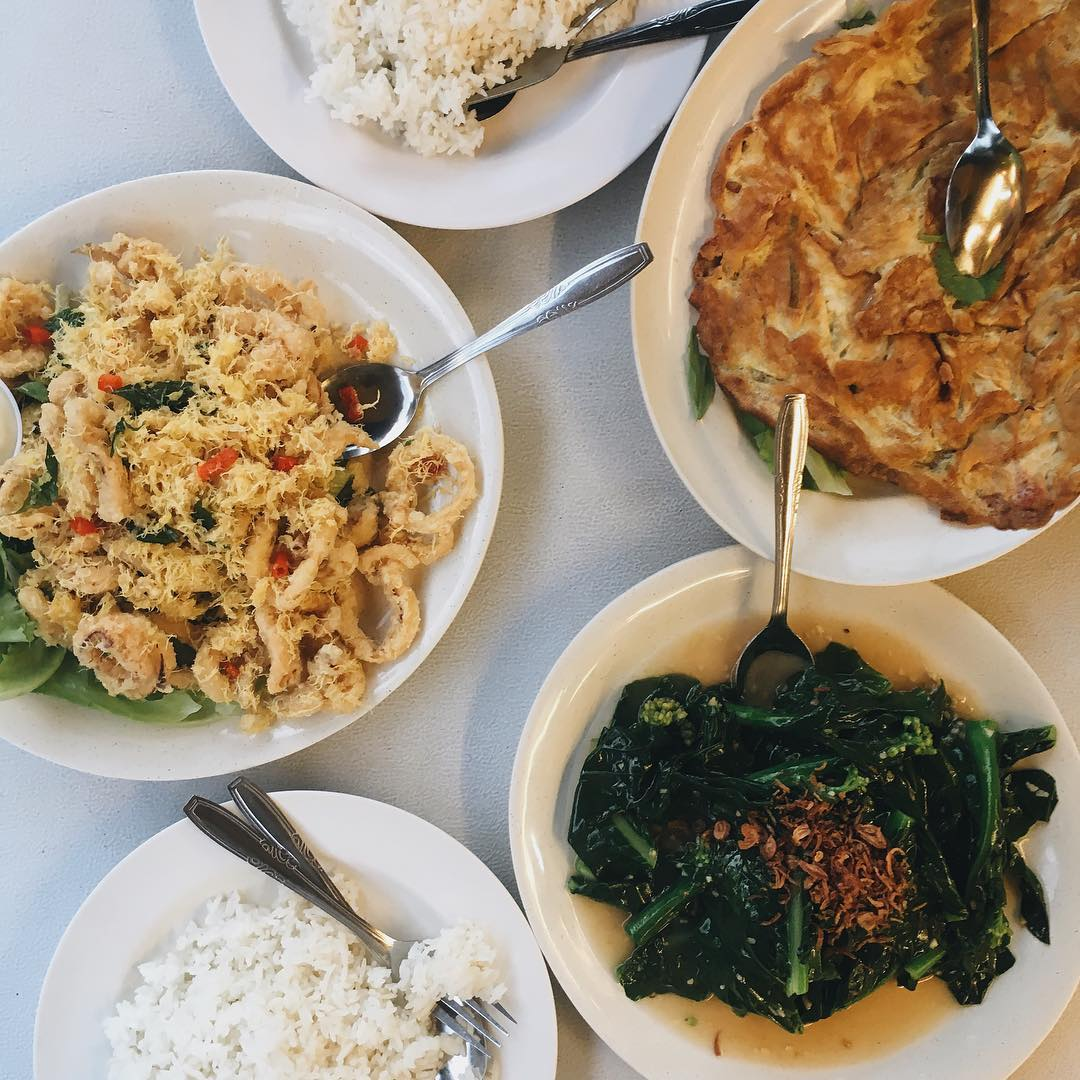 Image credit: @fitrirashid
Mak's Place – The Hawkerant is a Muslim-owned eatery that pushes out really delicious zi char dishes. Whenever I'm here, I never fail to order a plate of their Butter Sotong ($16), where the tender rings are covered in a rich golden batter. Aside from Chinese fare, the menu also features Western food – great for the fussy little diners tagging along.
Address: 401 Changi Road, Singapore 419847
Opening hours: Tue-Sun 4pm to 1am
Tel: 6844 7656
---
7. Rice & Fries
---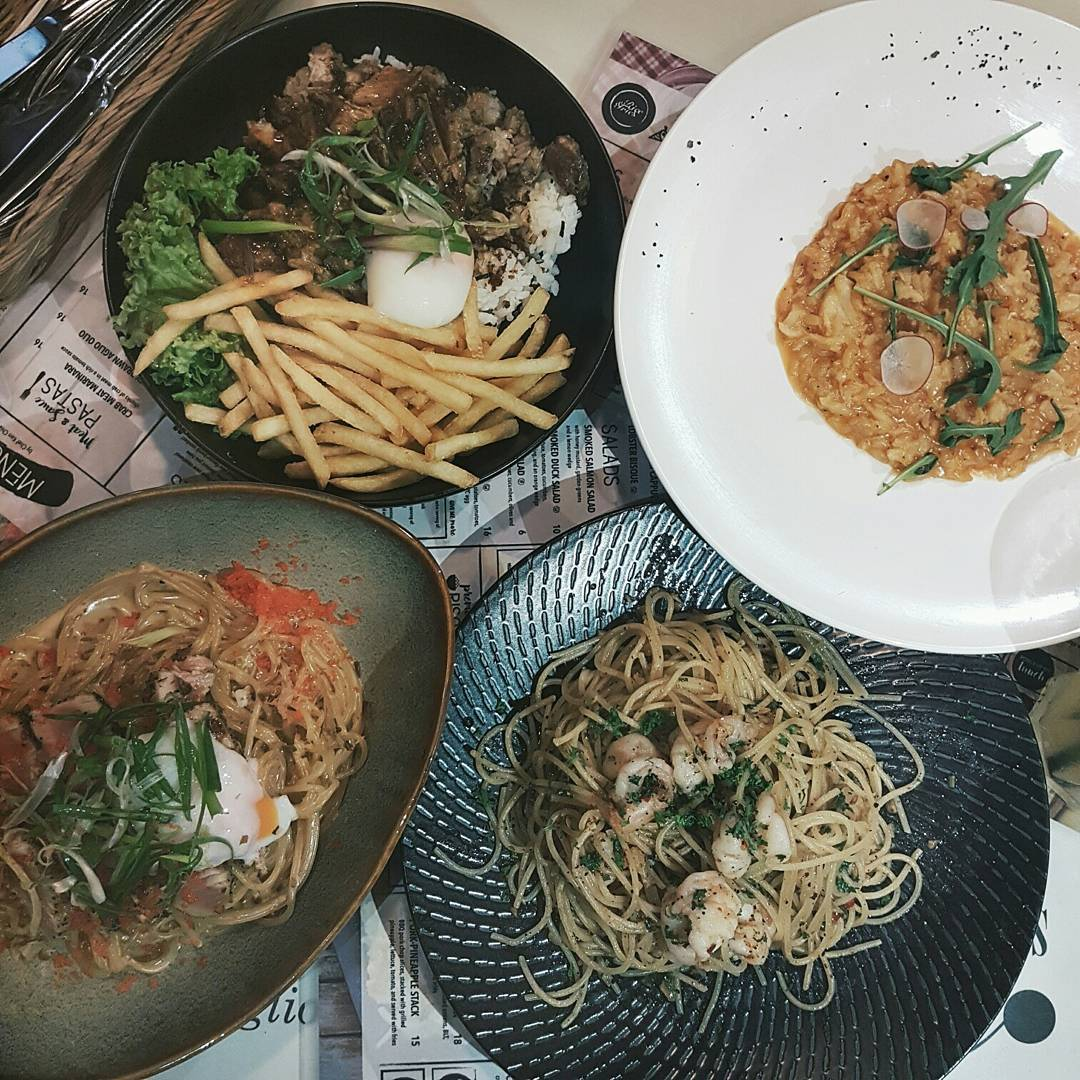 Image credit: @gnitiem
If you're looking for a satisfying meal, look no further than Rice & Fries. The casual family-friendly restaurant presents an array of European dishes that will tantalise your palate. Start your meal on a right note with their Forest Mushroom Cappuccino ($4.80); an earthy soup that's full of flavour. For mains, you can find scrumptious items such as a fall-off-the-bone tender Lamb Shank ($26.80).
10 Child-Friendly Restaurants To Brunch At While Watching Your Kids Play
Address: 484 Changi Road, Singapore 419896
Opening hours: Mon-Fri 5:30pm to 11pm, Sat-Sun 11am to 11pm
Tel: 9738 6648
Website
---
8. Lava Lava Cafe and Steakhouse
---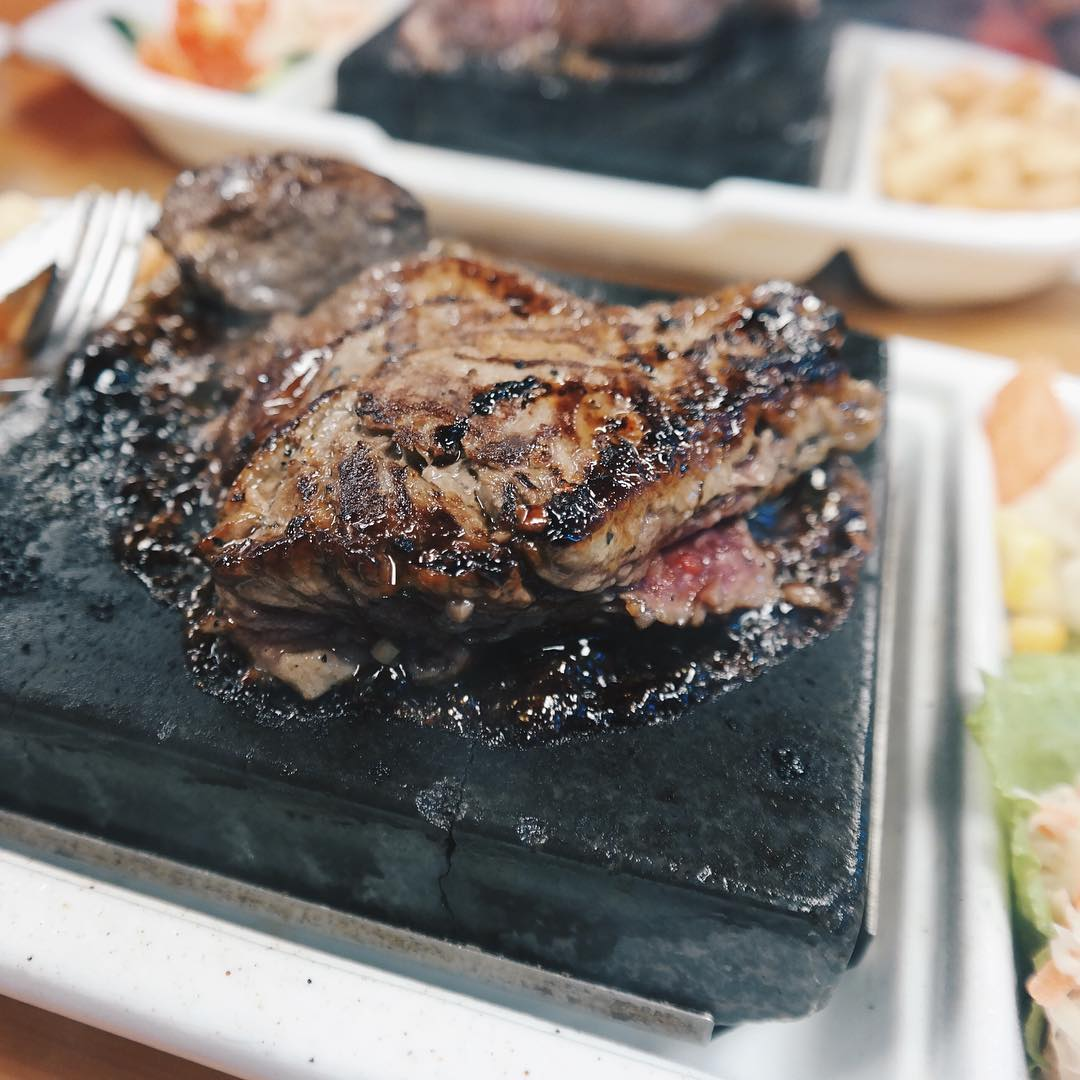 Image credit: @a.sakinah
At Lava Lava Cafe and Steakhouse, raw beef is served – and cooked – on hot stone! It is said that this method is a better way to prepare your steak as compared to a grill, as it seals the moisture and juices in the meat. A must-get at this Muslim-owned eatery is their Striploin Steak Meal ($25.90+), which comes with a side of fries, salad and soup of the day.
Address: 10 Jalan Masjid, Singapore 418930
Opening hours:  Mon-Fri 4pm to 11pm, Sat-Sun 1:30pm to 11pm
Tel: 6842 7317
Website
---
9. Yummy Veggie
---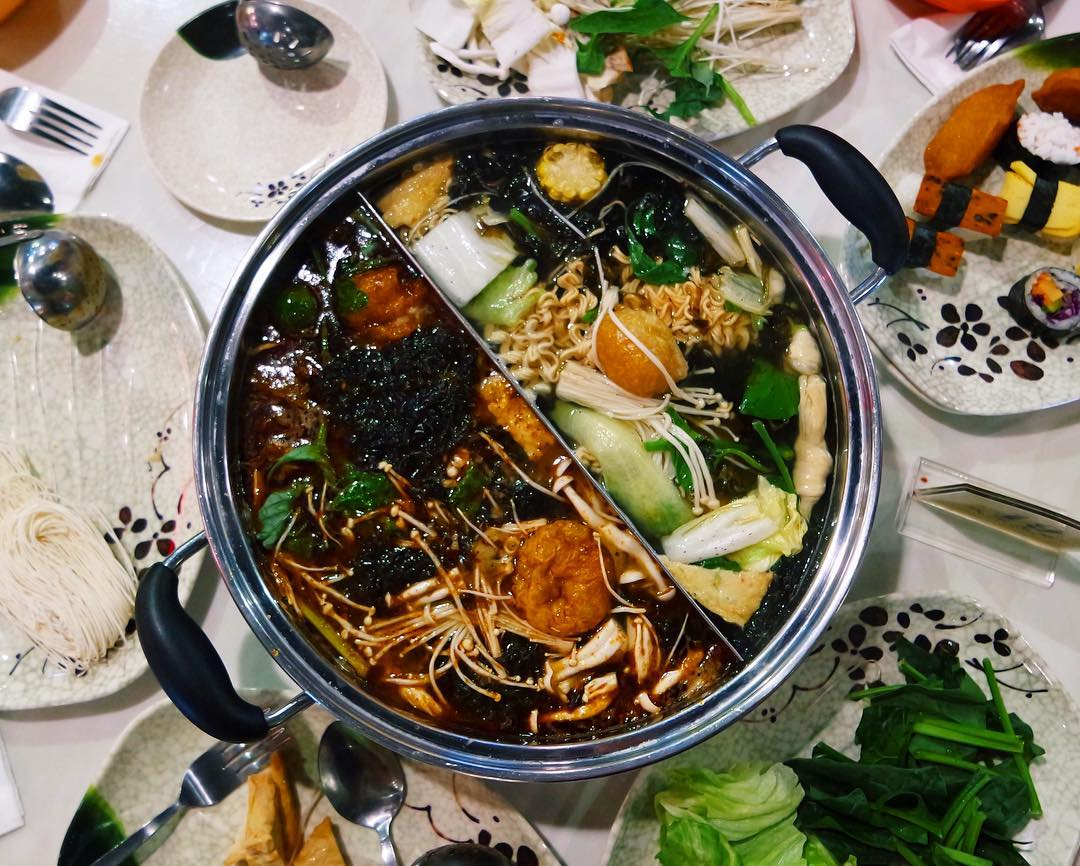 Image credit: @simplyalphonsine
Situated within Kampong Kembangan Community Centre is Yummy Veggie. Now, what makes this vegetarian restaurant special is that it has Vegetarian Buffet and Steamboat (from $24.80++). The steamboat features a range of soup bases including Lemongrass Tom Yum, Oriental Vegetable and Korean Kimchi. While you wait for your veggies to cook, check out the counters serving sushi, deep-fried goodies, pizza and dim sum. There's even a counter offering hawker classics such as chicken rice and yong tau foo!
9 Halal Steamboat Places To Go All Out At Your Next Clique Dinner
Address: 5 Lengkong Tiga, #01-04, Kampong Kembangan Community Club, Singapore 417408
Opening hours: Daily 11am to 3pm, 5:30pm to 9pm
Tel: 6441 2688
Website
---
10. Al-Jasra
---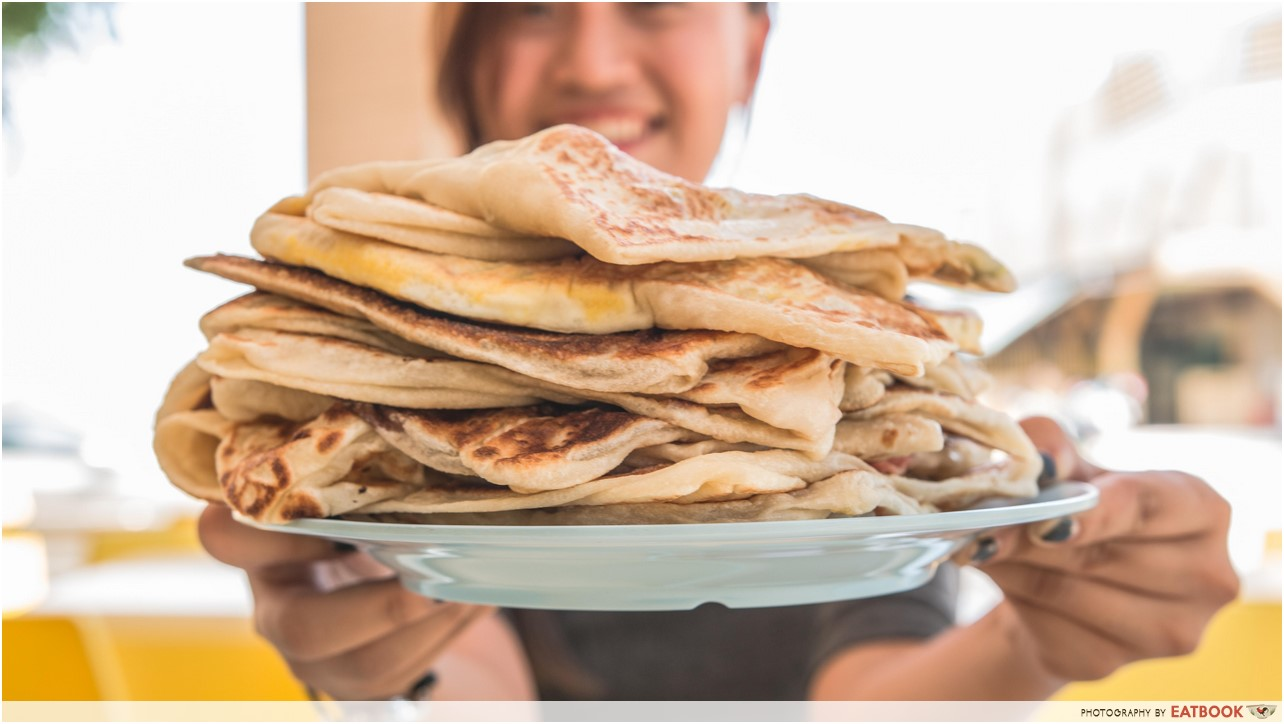 Go on a carb overload at Al-Jasra's Parta Buffet ($7.90)! The unique buffet showcases 16 varieties of prata including masala, ikan bilis and honey! Although the waiting time for the prata can be a tad long, and service isn't usually the best, this is where to go for a cheap and definitely filling meal. 
Al Jasra Restaurant Review: All-You-Can-Eat Prata Buffet For $7.90
Address: 459 Changi Road, Singapore 419882
Opening hours: Daily 24 hours
Tel: 6742 5786
---
Great food at Kembangan
---
The next time you're in the East, pay a trip to Kembangan and check out these food places. Share with us in the comments section below if you have any other eateries to recommend!
---
Featured image adapted from Instagram user @nabeezee's post.