KitKat's new locally-inspired flavours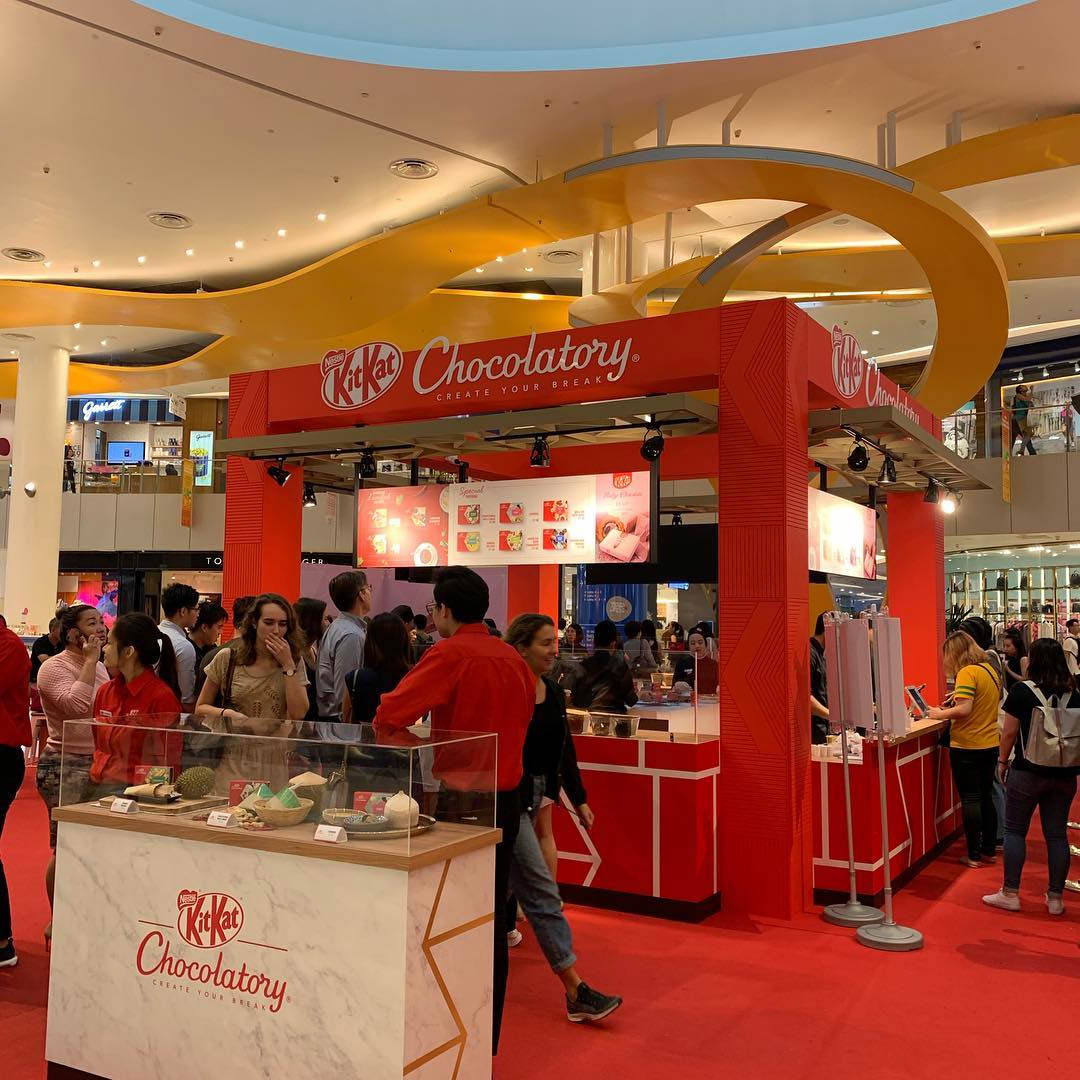 Image credit: @bearnice
The headline getting you too excited? Take a break, have a chilli crab-flavoured KitKat.
KitKat is back at it again. After a near-six month absence, the chocolatiers are releasing a slew of new locally-inspired flavours. Singapore Chilli Crab, Kopitiam Breakfast and Salted Egg Yolk ($7.50 for a 4-stick pack) are on the menu this time, and we're scratching our heads as to how they're going to stuff those iconic local flavours into their signature chocolate wafer.
Get your paws on these renditions of the legendary snack by heading down to the KitKat Chocolatory Pop-Up Store at VivoCity Level 1 Concourse from 8 to 14 April.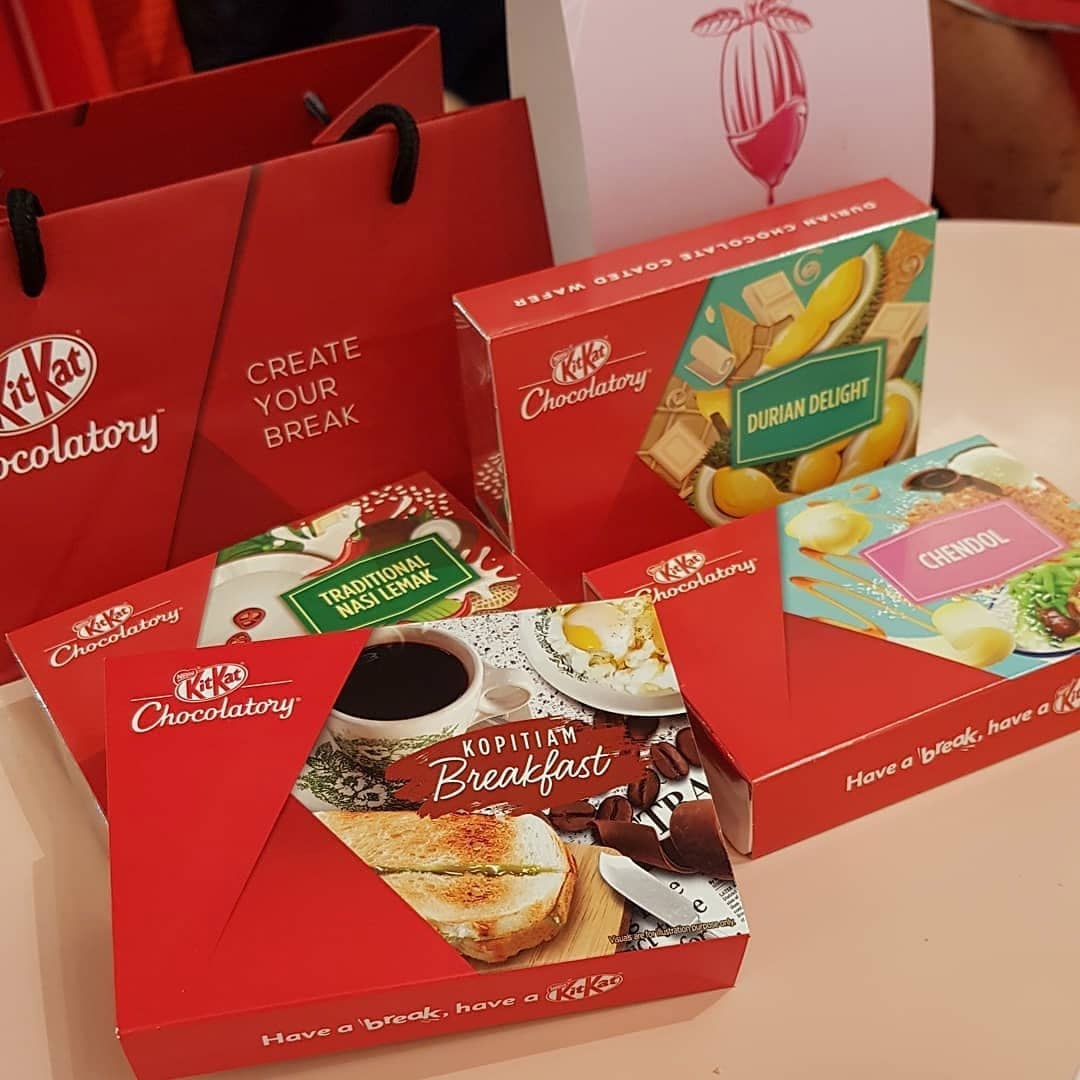 Image credit: @mintroses
KitKat Chocolatory is a concept store that churns out customisable KitKats, with over 10,000 possible flavour combinations. While there are unfortunately no plans to open a permanent outlet in Singapore at the time of writing, they've lent their wizardry to craft these mind-blowing new flavours.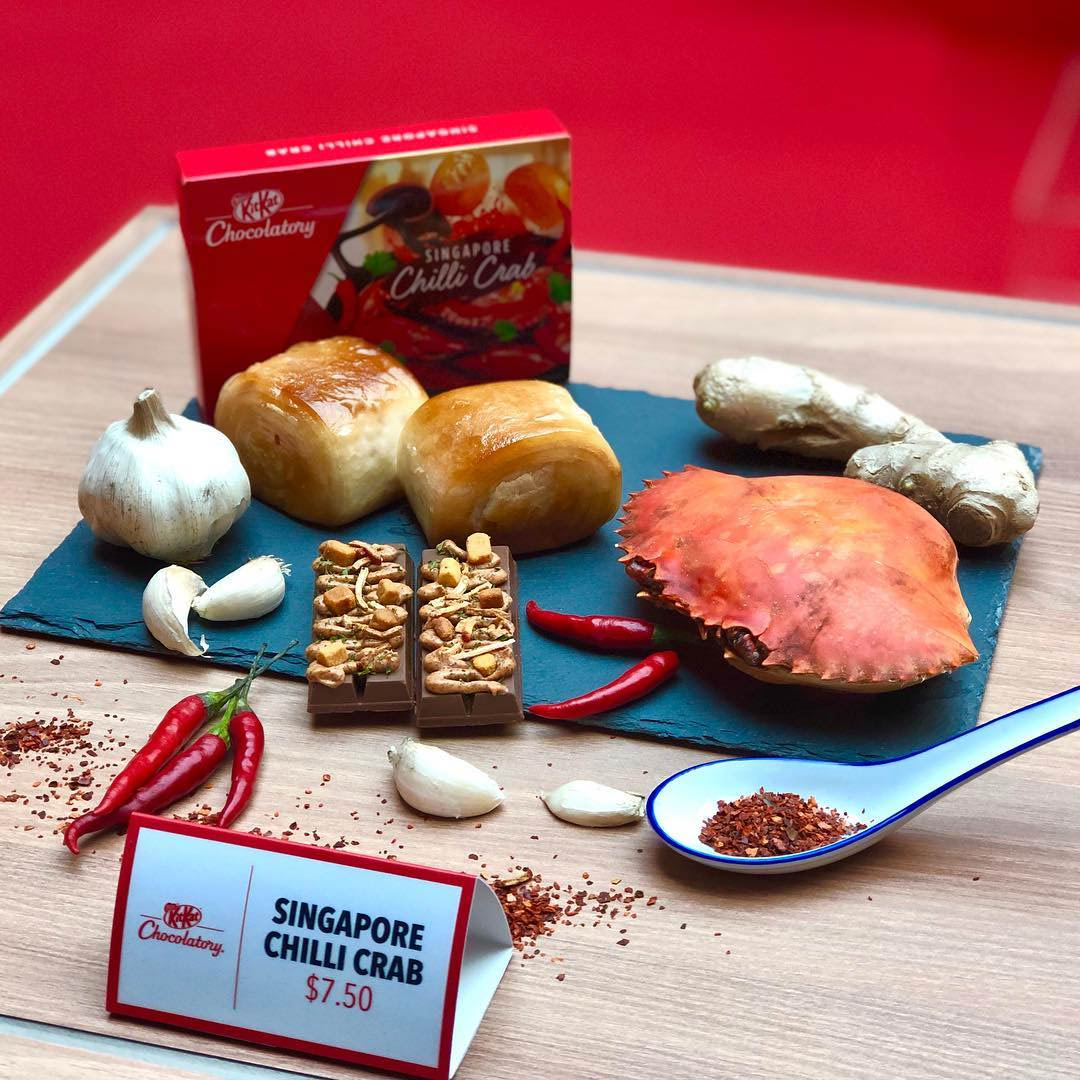 Image credit: @patisserie.cle
Sweet, spicy, seafoody and piquant, chilli crab is a beloved local favourite. Every Singaporean has their own opinion on where to get the best version of this dish, so we're intrigued to find out how KitKat is going to incorporate its complex flavour profile into a crowd-pleasing chocolate bar.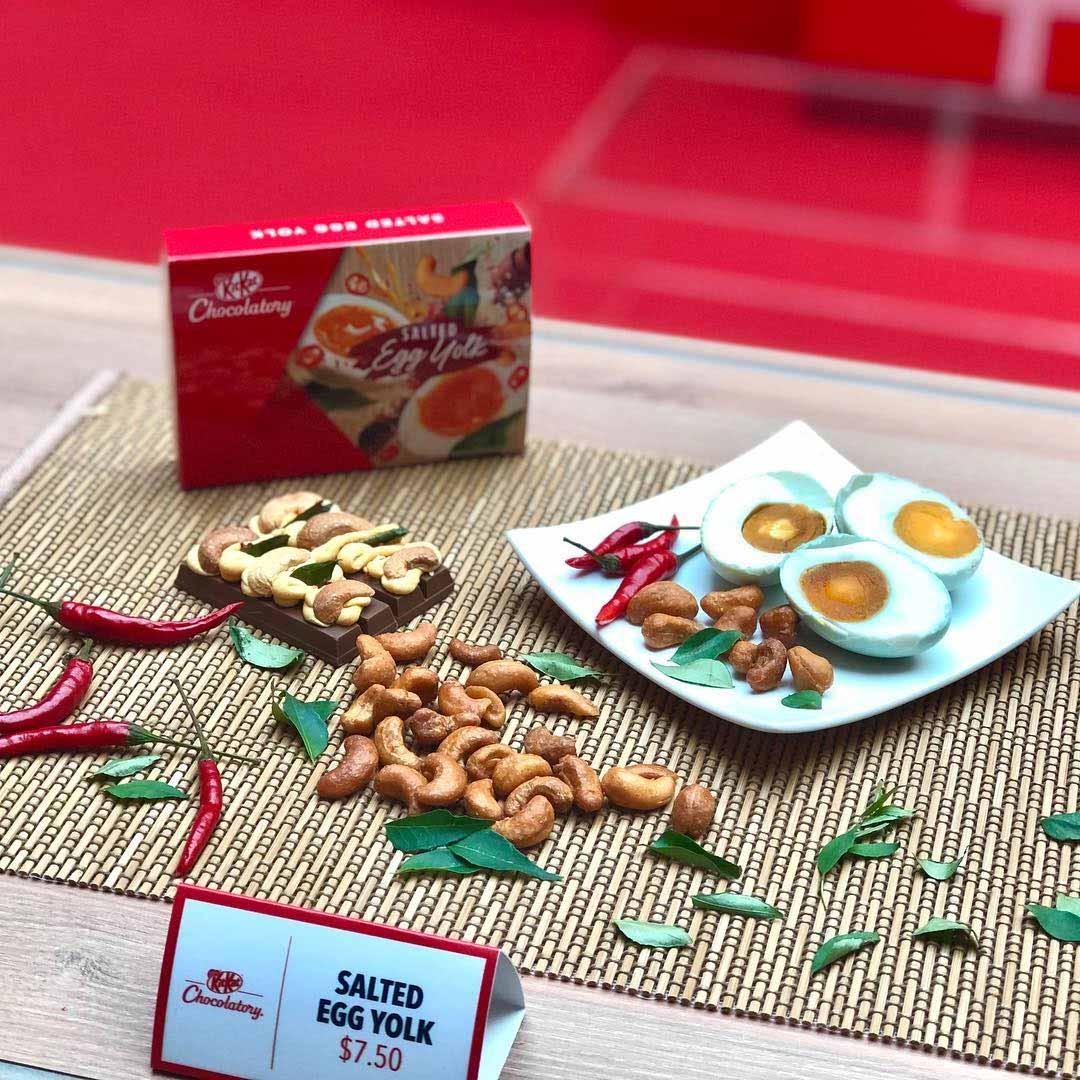 Image credit: @patisserie.cle
It seems like the salted egg yolk is more than just a passing trend, with new combinations like salted egg yolk ramen and salted egg yolk xiang guo still popping up this year. KitKat is leaping on the hype train with their Salted Egg Yolk flavour. Chillies and curry leaves grace the packaging, suggesting a savoury edge and a fragrant spicy punch to this bar
Three Good Guys: Salted Egg Yolk Xiang Guo Stall Opens At Golden Mile Food Centre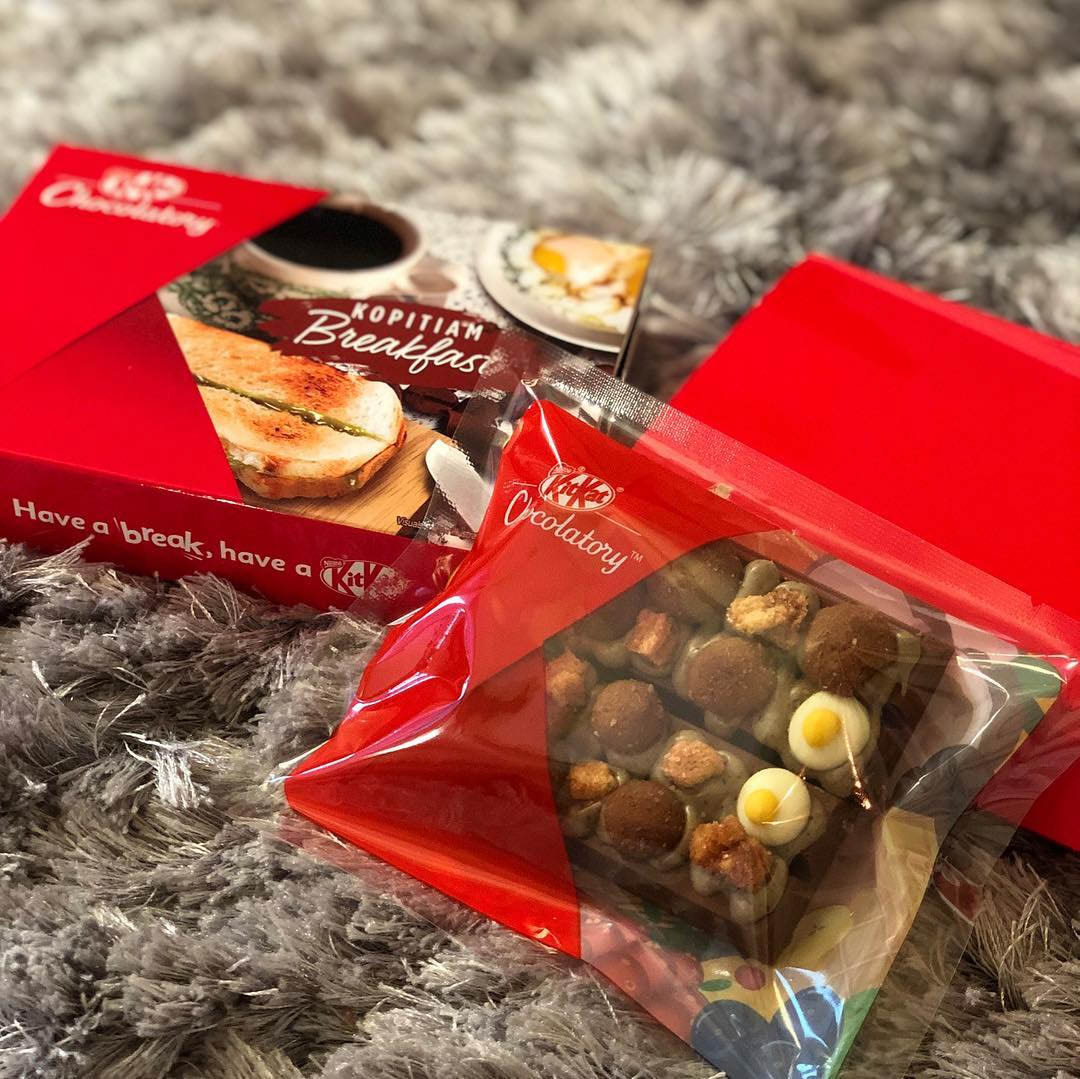 Image credit: @watzdot
A simple Kopitiam Breakfast is pretty much sacred. With crispy kaya toast, jiggly soft boiled eggs and steaming cup of kopi, Singaporeans aren't used to crazy iteration on this traditional meal. Hence, we're a little apprehensive of the Kopitiam Breakfast flavoured KitKat. That being said, the flavour profile sounds the most appetising, and I look forward to seeing how KitKat pulls this one off and combines coffee, kaya and egg flavours into a bar.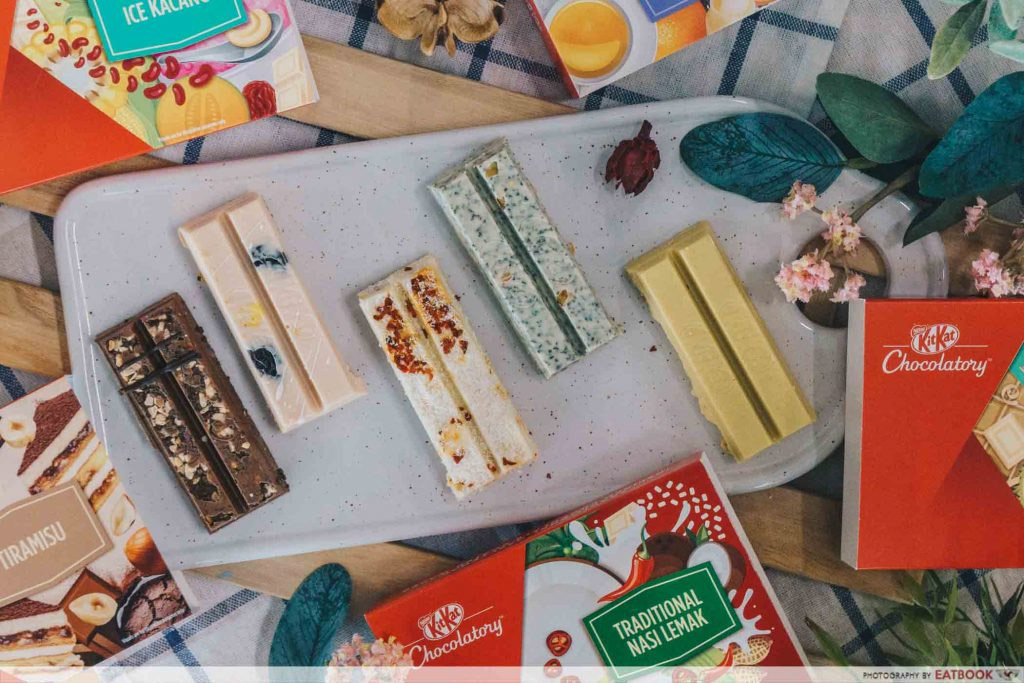 This isn't the first time KitKat Chocolatory has made their presence in Singapore. They first made waves late last year, with five bar line-up of crazy local flavours. Singapore-inspired Durian, Nasi Lemak and Ice Kacang were all worthy of our midday snacking, but it was ultimately the Italian Tiramisu that blew us away with its deep espresso flavour and earthy hazelnut toastiness.
Nasi Lemak And Ice Kachang KitKats Are Now In Singapore And Here's What We Thought Of Them

Image credit: @mrdidijiak
If you can't get enough of KitKat, check out Terang Bulan and Brotherbird Milk & Croissants for places that incorporate these chocolate wafers in their dishes.
Brotherbird Milk & Croissants Review: Unique Mochi Croissants With Matcha Kit-Kat, Hazelnut Fillings And More
Address: 1 Harbourfront Walk, Level 1 Concourse, VivoCity, Singapore 098585
Website