---
Keep your tastebuds, tummy and wallet happy
---
We love cafe-hopping and stuffing ourselves silly with all sorts of gourmet hipster fare, but sometimes we long for kopitiam western food that won't break the bank while giving us a #throwback to our childhood where our parents only let us have it if we did well in school. Here's a list of some of the best old-school western food as well as a couple of modern options that will make you wonder why you ever paid so much at cafes and restaurants.
---
1. Wow Wow West
---
As I'm writing this, my mind is already drifting off to the unbelievably light and crispy breading on Wow Wow West's Fish & Chips ($7). Cutlets are served fresh out the fryer and the breading always delivers a satisfying crunch. Crinkle-cut fries on the side are also perfectly seasoned and you'll also get a pile of creamy coleslaw that's refreshing and not jelak at all. Expect at least a 20-minute wait for your food, but one bite into the crispy batter and you'll know it was all worth it.
Address: 6 Jalan Bukit Merah, #01-133, ABC Brickworks Food Centre, Singapore 150006
Opening hours: Tues-Sat 10:30am to 7:30pm
Tel: 9380 8571
Find out where else to get cheap fish and chips here.
---
2. Happy Chef Western Food
---
Next time you're at this kopitiam, skip the 45-minute queue for Michelin-starred Hill Street Tai Hwa Bak Chor Mee and give Happy Chef Western Foods a shot. For cheese fanatics out there, Chicken Kiev ($9) is made with pounded chicken fillet that's rolled with ham and stuffed with a generous amount of mozzarella cheese before being breaded and deep fried. It's closer to chicken cordon bleu, but who cares about its name when THIS much cheese is involved. Also, you get to choose from a variety of sides like fries, pasta, veggies and more.
Address: 466 Crawford Lane, #01-12, Tai Hwa Eating House, Singapore 190466
Opening hours: Mon-Sun 11am to 10:30pm
Tel: 6398 0773
---
3. Ah Bong's Italian
---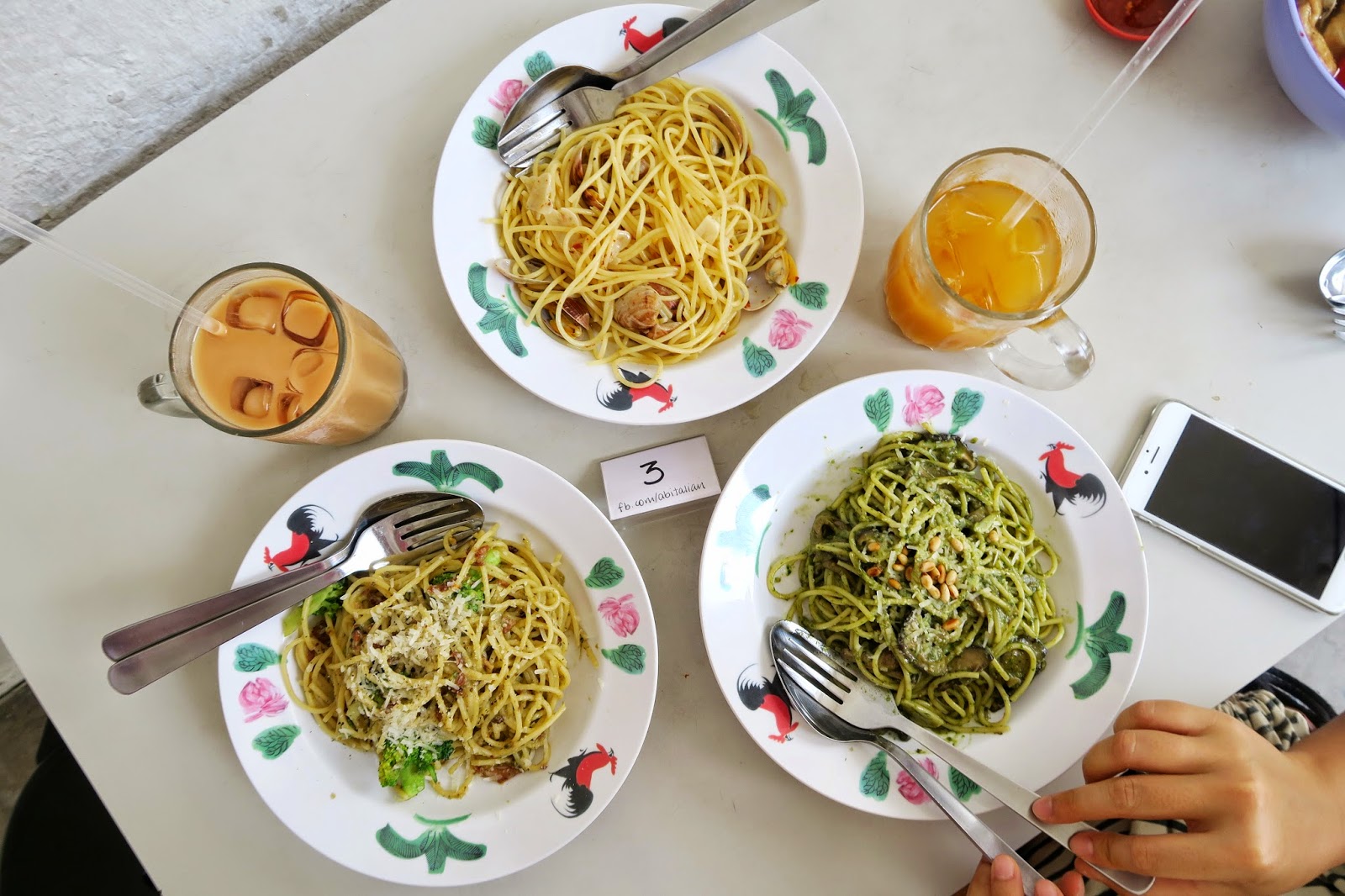 Source
Say goodbye to mediocre pastas with overcooked noodles and watery tomato sauce, because Ah Bong's Italian serves restaurant-standard pasta dishes for less than $10. They have 3 or 4 items on their menu that changes every day, so you'll be able to try something new whenever you drop by. Truffle Mac 'n' Cheese ($8) is rich and smoky thanks to the black pig bacon used, and bursting with truffle flavour. Other favourites include Ah Bong's Birthday Pasta ($7) with roasted broccoli pesto, Roasted Pepper Pesto ($7) and Truffle Mushroom Carbonara ($8). Their Facebook and Instagram pages are updated with their menu-of-the-day so be sure to check it out before heading down. Ah Bong's kopitiam stall at Tiong Bahru closes after lunch, so head down to their Bugis outlet if you're craving pasta for dinner.
Check out our full review of Ah Bong's Italian!
Address: 56 Eng Hoon Street, #01-46, Tiong Bahru Estate, Singapore 160056
Opening hours: Mon-Sat 10am to 2pm
Tel: 9650 6194
---
4. The Cafe Menu
---
Just when you think you've seen enough variations of mac & cheese, The Cafe Menu brings you Claypot Chicken Mac & Cheese ($5), where you have the option to truffle-it-up for an additional $3. Some may find it a bit too milky so I recommend adding extra cheese sauce ($1). If you're more of a burger person, try Open-Face Beef Burger ($8.50) that comes with a thick juicy beef patty and tangy tomato jam.
Address: 433A Sengkang West Way, #01-01, Happy Hawkers Coffeeshop, Singapore 560531
Opening hours: Mon-Thurs 12:30pm to 8:30pm, Fri 3pm to 8:30pm, Sat-Sun 5pm to 8:30pm
Tel: 9067 5190
Read our full review here.
---
5. Ye Lai Xiang Tasty Barbecue
---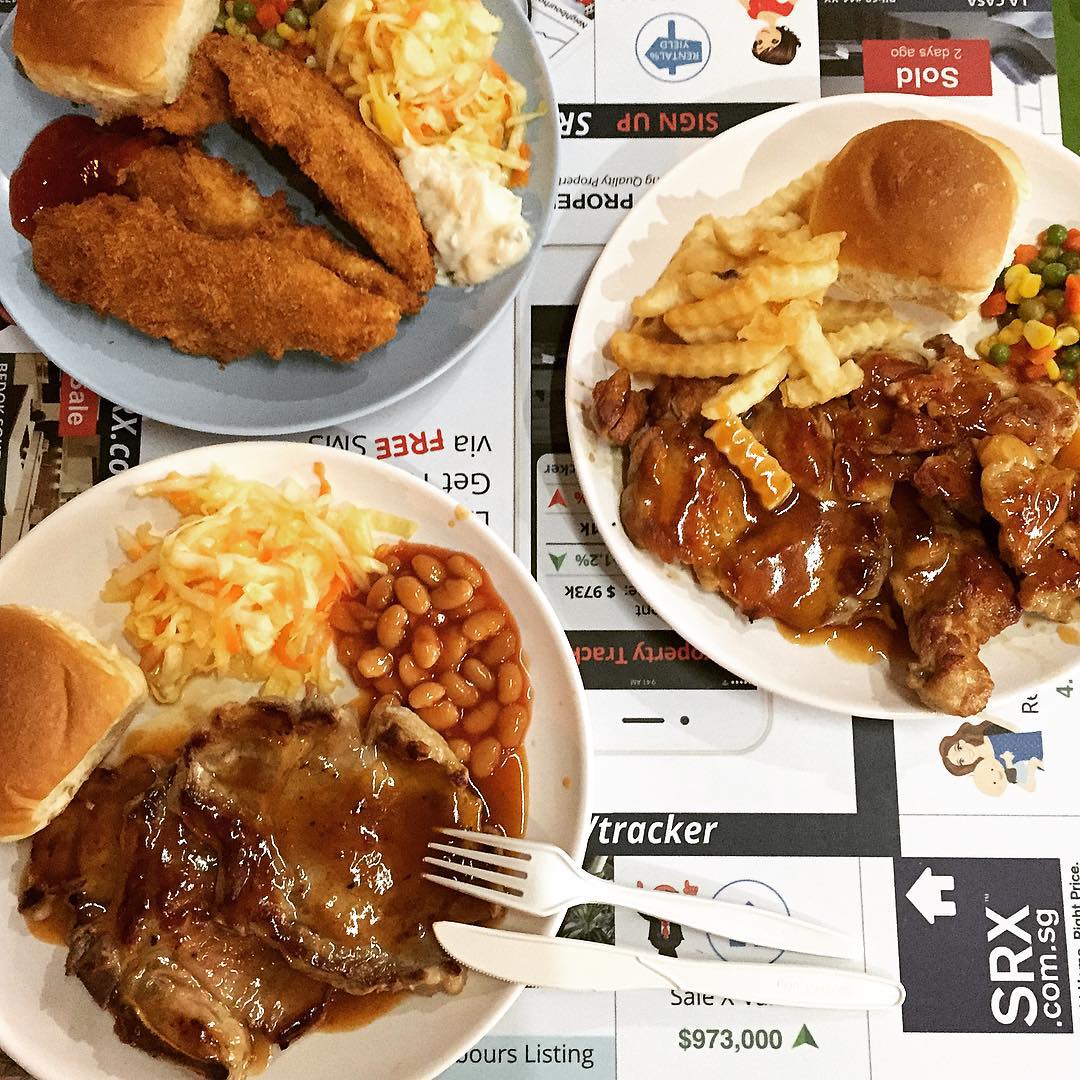 Source
I can't remember the last time I saw a quintessential toasted butter bun served with chicken chop. The old-school charm and generous portions of Ye Lai Xiang Tasty Barbecue is probably why it remains a popular destination for true-blue Hainanese-style western food. Chicken Chop ($7.50) is tender and grilled to perfection, before being drenched in their secret brown sauce made from a 40-year-old family recipe created by a former head chef to the British Navy!
Address: 1 Kadayanallur Street,  #01-94, Maxwell Food Centre, Singapore 069184
Opening hours: Mon-Fri 6pm to 10pm
---
6. Ham Bao Bao
---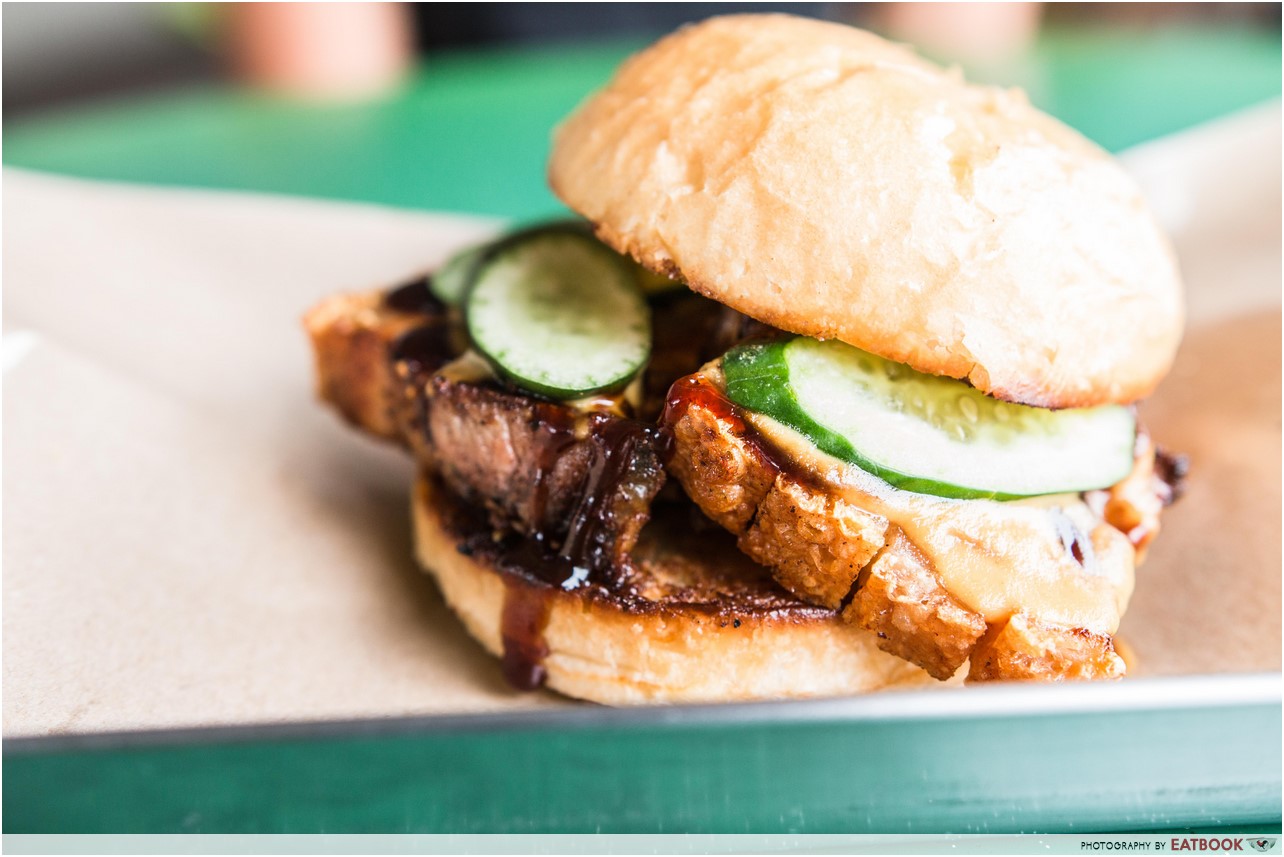 Ham Bao Bao's Crispy Pork Belly ($5) burger is one you won't want to miss. Crispy is an understatement for the thick slices of pork belly that are paired with lightly-toasted buns and spicy English mustard hoisin sauce. The crunchy pork belly and soft bun creates a party in your mouth that you never want to stop. If you're feeling bold, try a Nyonya-style Ayam Buah Keluak ($5) burger that comes with chap chye and a mean homemade sambal chilli. Be sure to come early, because when I dropped by at 5:30pm on a Sunday, they were out of hand-cut fries and I was also denied an additional beef patty as they were running low on that too!
Check out our full review of Ham Bao Bao!
Address: 144 Upper Bukit Timah, #04-49, Beauty World Centre, Singapore 588177
Opening hours: Wed-Sun 12pm to 8pm
Tel: 9667 5254
---
7. Rasa Sayang Western Food
---
Rasa Sayang Western Food is definitely another one to add to your Hainanese-style western food arsenal. This stall has been dishing up chops and cutlets for a good 15 years and its familiar taste will take many Millennials back to childhood times. Chicken Chop ($6.50) is an all-time favourite with the usual suspects of fries, coleslaw and garlic bread, but if you're REALLY hungry, switch those up for Sunshine Fried Rice ($3.50 for ala carte) that includes a side of wok hei.
Address: 711 Ang Mo Kio Avenue 8, #01-07, S11 Food Centre, Singapore 560711
Opening hours: Mon-Sun 11:30am to 12:30am
---
8. The Pasta Stop
---
Believe it or not, The Pasta Stop used to be owned by the same people behind Italian fine dining spot, Ristorante da Valentino. While the stall's owners have since changed, The Pasta Stop's signature Crabmeat Pasta ($6.80) is still worth a try. This delicious plate of spaghetti is swirled in tomato cream sauce with bits of real crab meat but for half the price of what you would get at a restaurant. That aside, the spaghetti is cooked to a perfect al dente and the velvety, slightly spicy and smoky sauce makes it worth way more than its price.
Address: 51 Hougang Ave 9, #01-27, Ci Yuan Community Centre, Singapore 538776
Opening hours: Mon-Fri 10am to 9:30pm, Sat-Sun 8am to 9:30pm
---
9. Grazie
---
Located at a corner of Serangoon Garden Market, Grazie is run by young chaps who hand-pick fresh ingredients and prepare MSG- and preservative-free sauces every morning. Grilled Pork Chop with Apple Sauce ($8.80) comes with a pounded, marinated pork chop drizzled with sweet apple sauce made from apples stewed with rosemary and lemons. For a taste of the freshness of their seafood, give Seafood Aglio Olio ($8) a go. Grazie is also very generous with the amount of ingredients in their pastas!
Address: 49A Serangoon Garden Way, Serangoon Garden Market Stall 1, Singapore 555945
Opening hours: Wed-Sun 12pm to 9pm
Tel: 8462 4720
---
10. UNO Beef House
---
UNO Beef House serves juicy, tender and toothsome cuts of beef you'll normally pay $25 and above for at fancy restaurants. Grilled Black Pepper Tenderloin Steak ($15) is a good mid-range choice if you want a cut that's easier on your jaw. Also, a great part about hotplate steaks here is definitely their signature fried creamy mashed potato ball. If you're on a tight budget, they've got the usual chicken, fish and pork chops and cutlets that range from $5.50 to $6.50. I'd also recommend Fried Wings Plate ($7) because their chicken wings are super crispy and absolutely to die for.
Address: 51 Lorong 5 Toa Payoh, #01-60, Singapore 311052
Opening hours: Tues-Sun 11:30am to 10:30pm
Tel: 9003 3832
---
Gimme all that meat
---
Let your wallet take a break from cafe-hopping and hit up these affordable and homely western food stalls that'll warm the cockles of your heart and stomach. Let us know down below if you have any other favourite haunts for cheap western food!