Kori King brings Japanese shaved ice to Singapore
Update (5 April 2019): Kori King has permanently closed.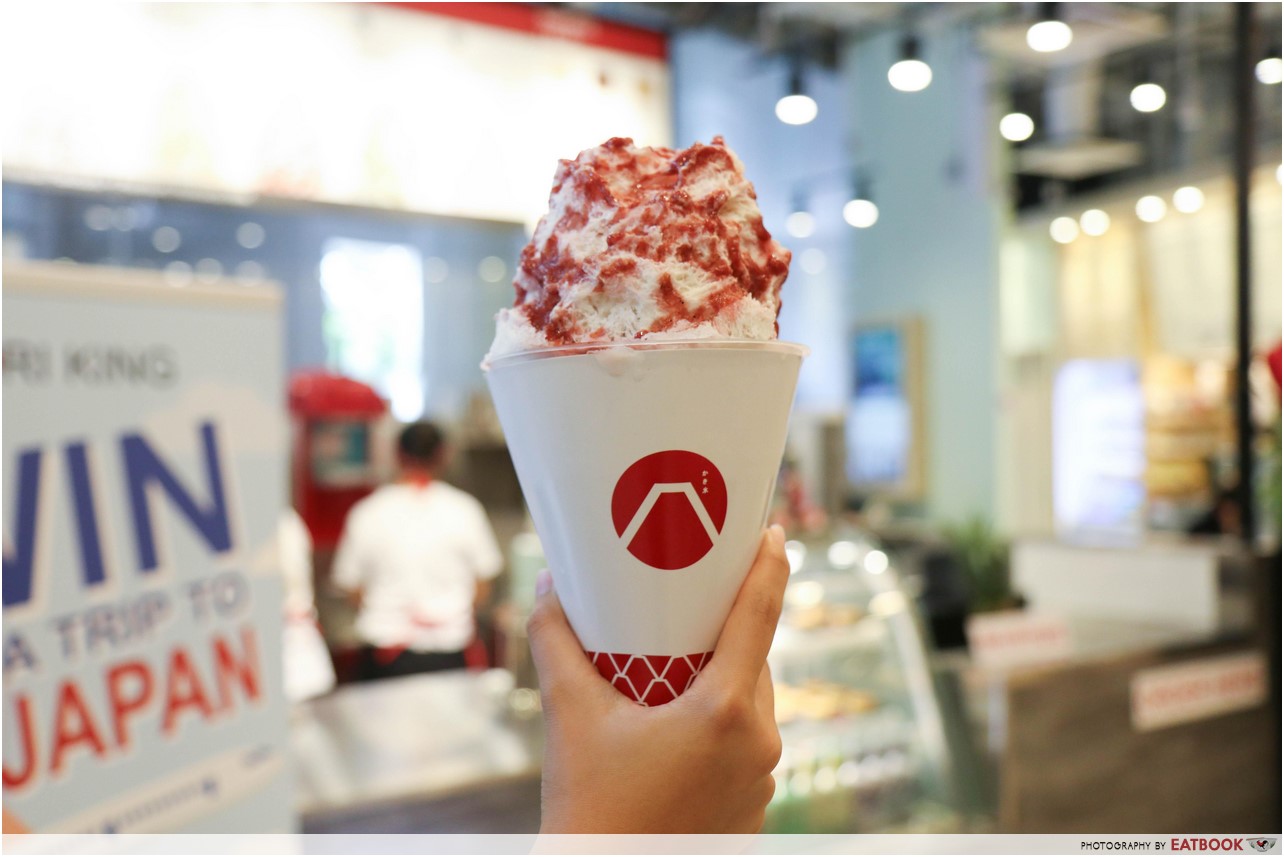 In our summer-all-year-round country, cold desserts like ice kachang and bingsu are not only familiar but much loved by Singaporeans. This August, Kori King joins the bandwagon by introducing the first kakigori store in The Cathay. Kakigori is a traditional Japanese dessert made of shaved ice, and flavoured with syrup or a sweetener.
Food at Kori King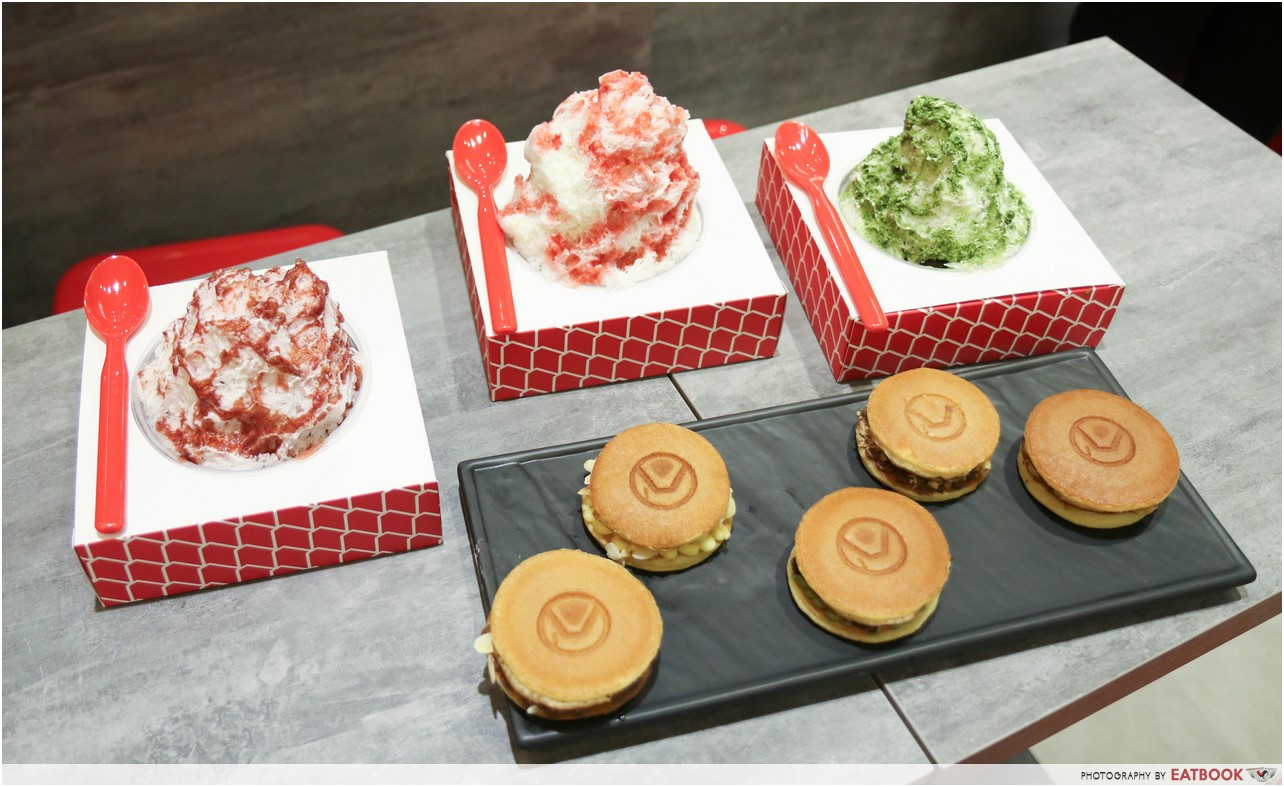 Kori King offers eight different kakigori flavours including strawberry, black sesame, matcha, as well as gula melaka. Each kakigori is priced at $5.90, and it comes with four small mochi balls. A variety of toppings such as azuki beans, coconut flesh, and tapioca pearls are also available at an additional $1 each. For those who are not a fan of icy desserts, Kori King serves dorayaki as well. Instead of traditional red bean dorayaki, you can find interesting flavours like praline, lemon custard, and peanut butter, at $2.90 each.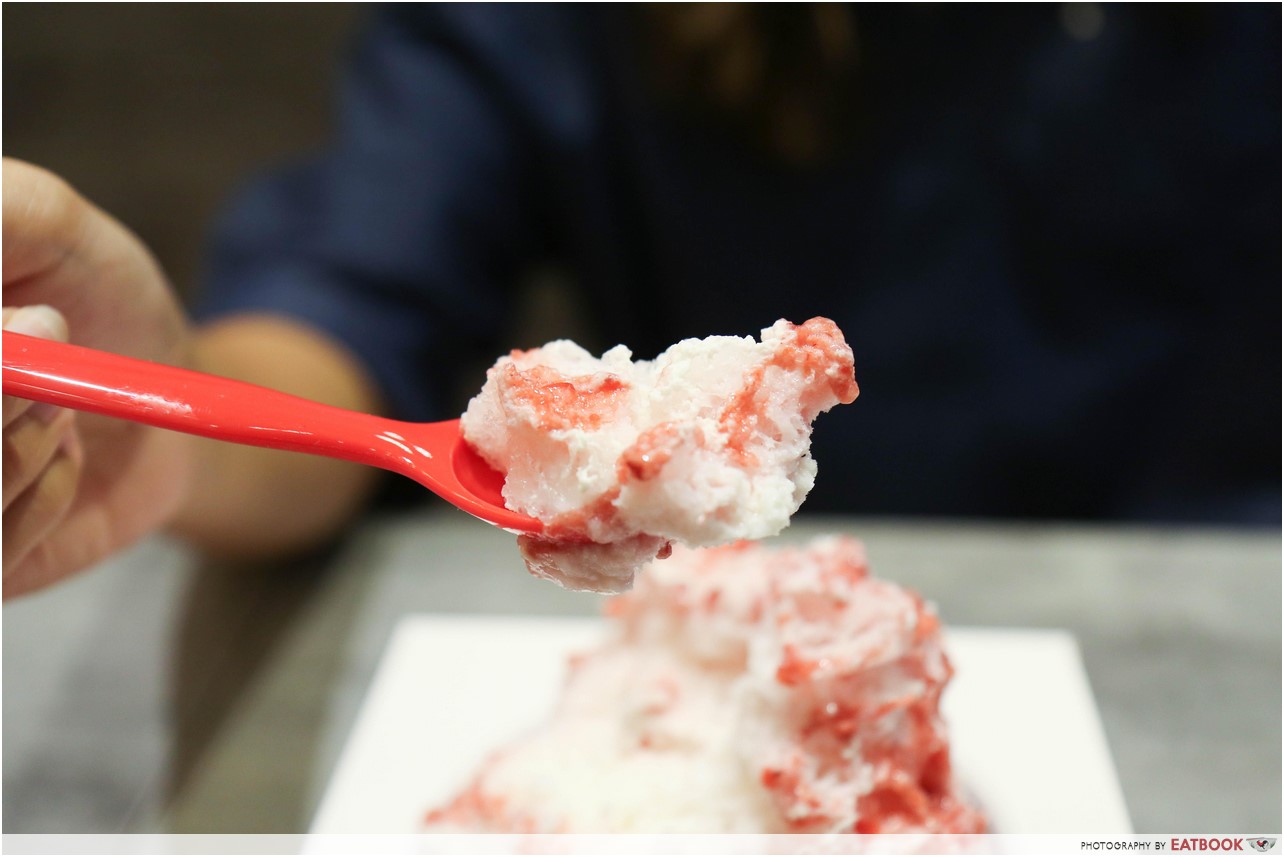 We tried four different kakigori – Strawberry Wonder, Gula Melaka, Matcha Haven, and Sour Plum. The texture of each kakigori was like a mixture between an ice kachang and a bingsu. It was icy and crunchy like ice kachang, but the Hokkaido milk sauce added to the ice created a creamy texture that was similar to the softness of bingsu.
For the Strawberry Wonder, the strawberry sauce that coated the shaved ice gave the dessert a rich and slightly sweet taste. Unlike some overly sweet desserts, the strawberry kakigori was refreshing as it carried a tinge of natural sourness from the fruit.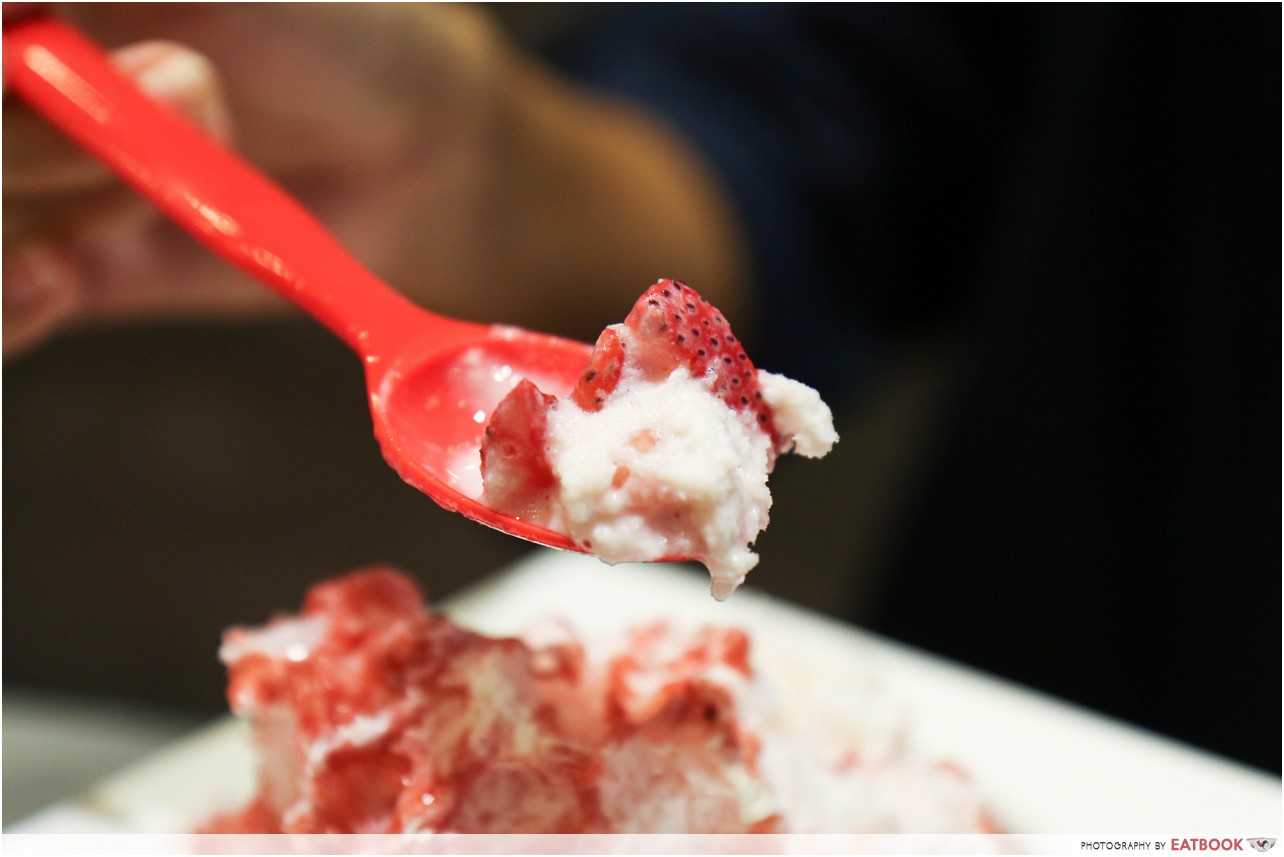 We also added fresh strawberries into our kakigori, giving the dessert a wider range of texture and taste. It would be better, however, if the strawberry kakigori came with bits of fresh fruit to begin with, as the shaved ice and strawberry syrup alone tasted rather flat and dull after a while.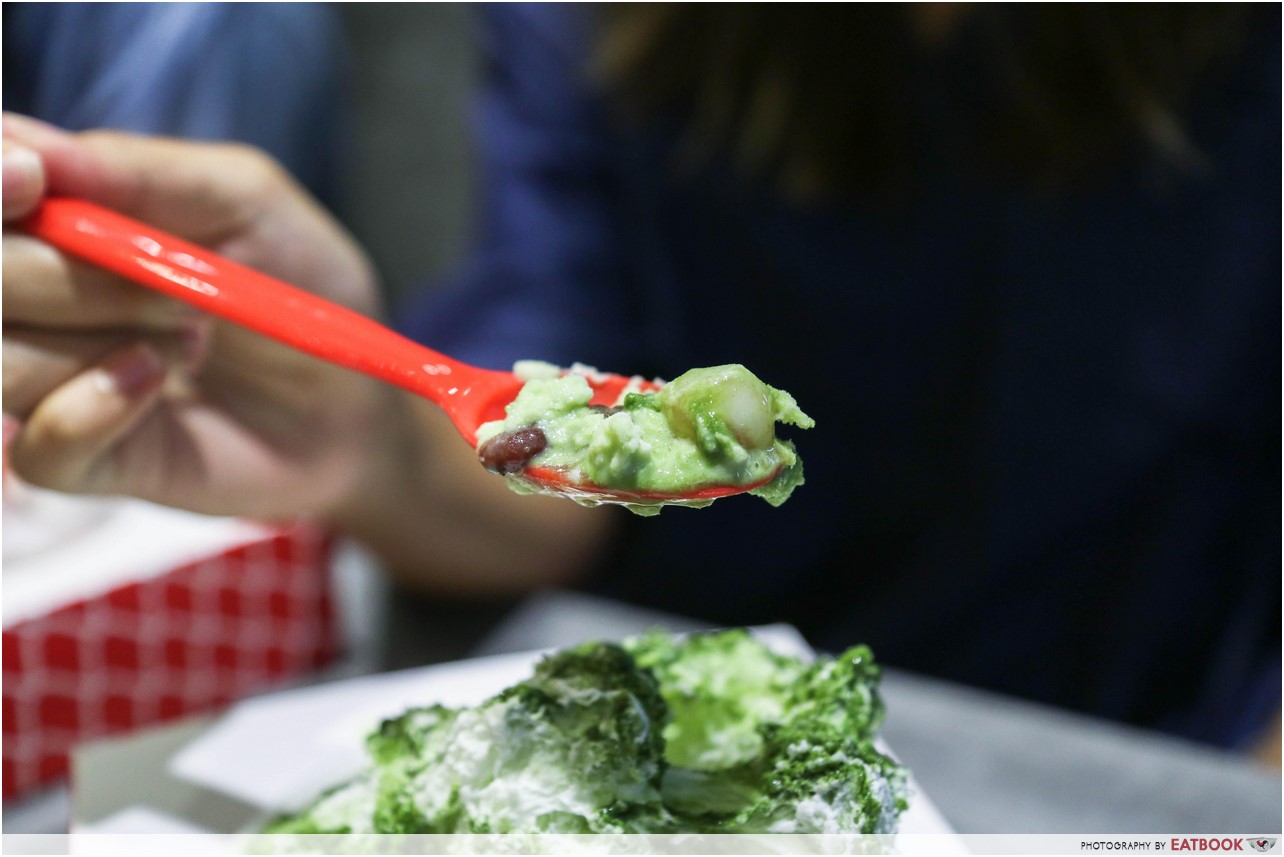 Of the four flavours, my favourite was the bittersweet Matcha Haven. At first look, the dessert seemed unexceptional. The intense green tea flavour it carried therefore left me pleasantly surprised. For an additional dollar, we added azuki beans, and the sweet topping along with the creamy milk sauce balanced out the earthy taste of the matcha syrup.
In each bowl of shaved ice, four small mochi balls were buried deep inside to give a chewy and more substantial texture to the fluffy dessert.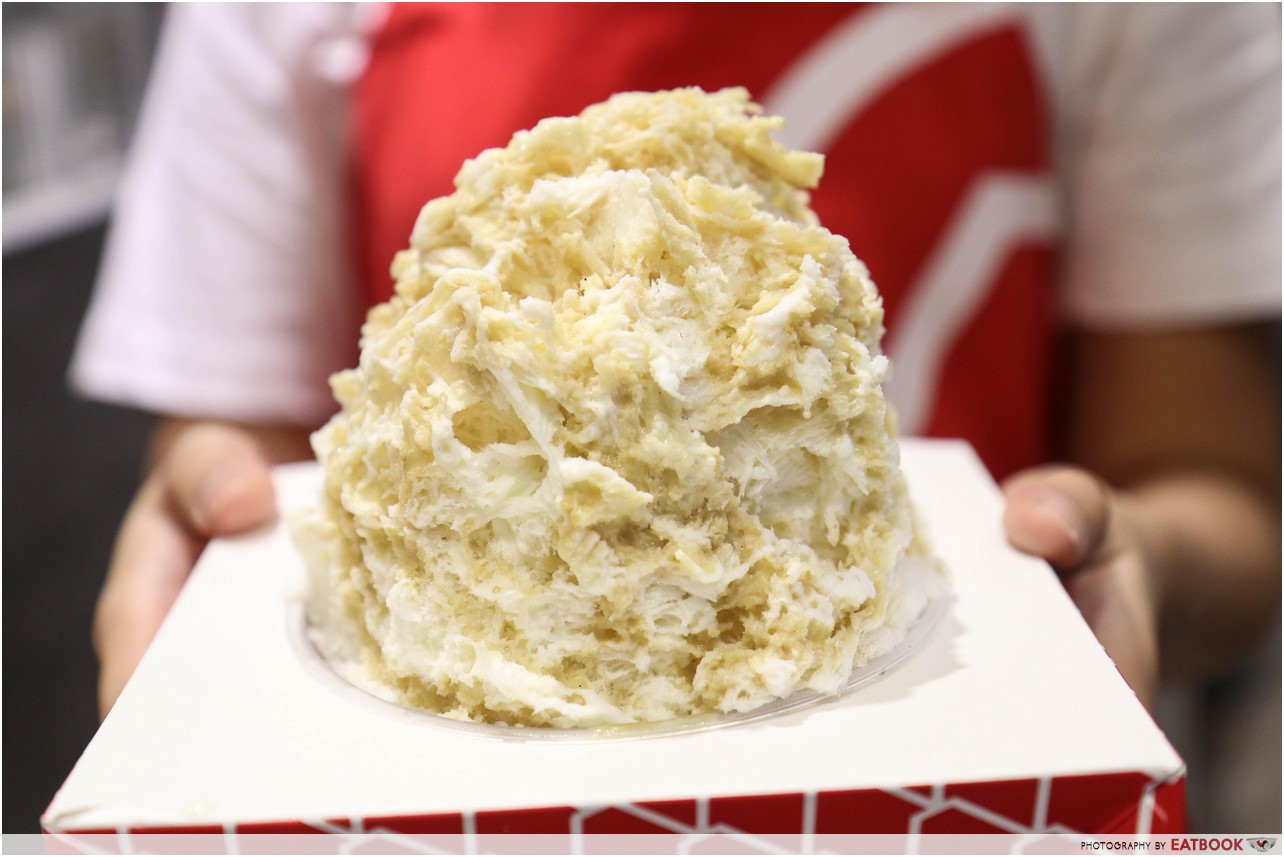 As for the Gula Melaka, it tasted like a less sweet and creamier version of cendol. The subtle sweetness of the gula melaka sauce and the coconut flesh we added to the dessert were complementing and brought out the richness of the milky shaved ice instead of overpowering it.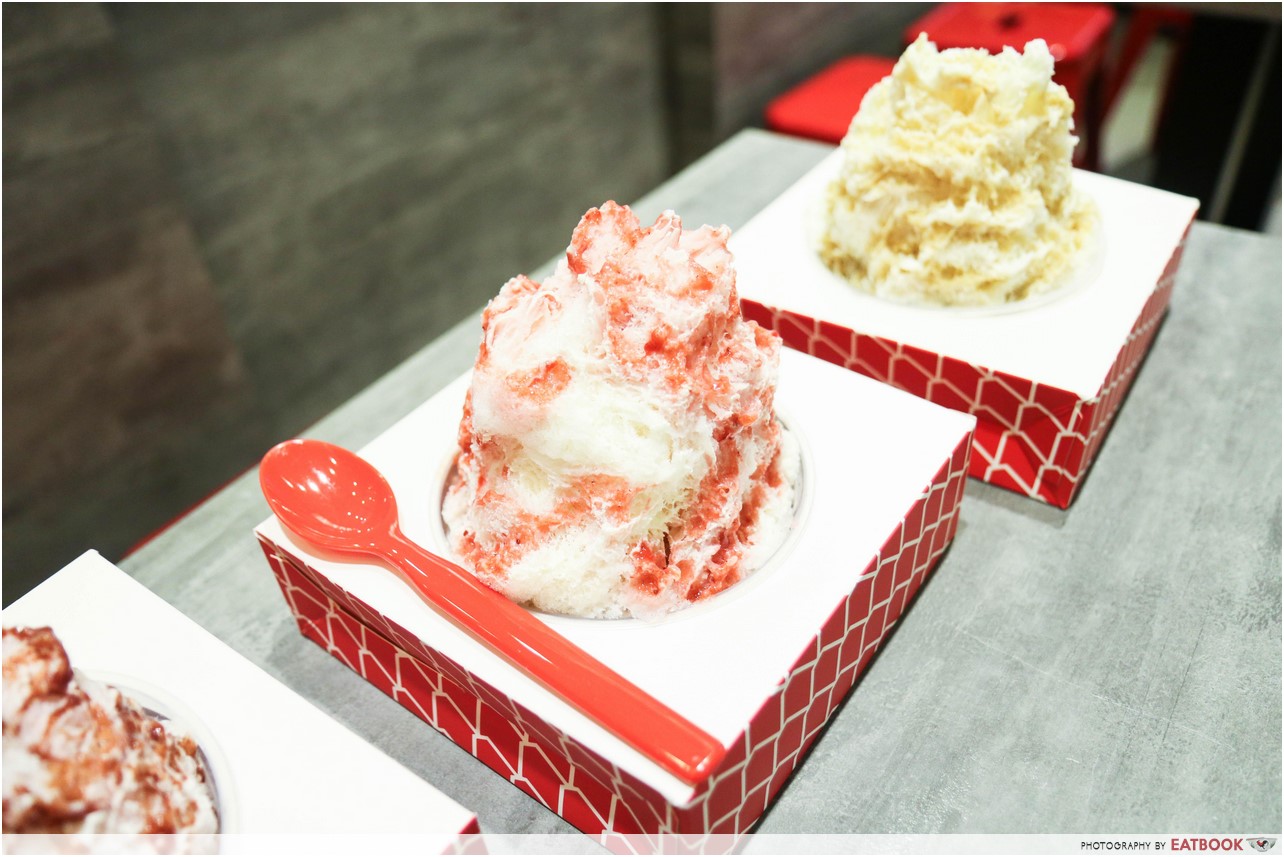 The Sour Plum was, however, much less delectable. The intensely sour and tangy flavour did not sit well with me and I preferred the strawberry flavour which carried a slight resemblance in taste but was less strong in flavour.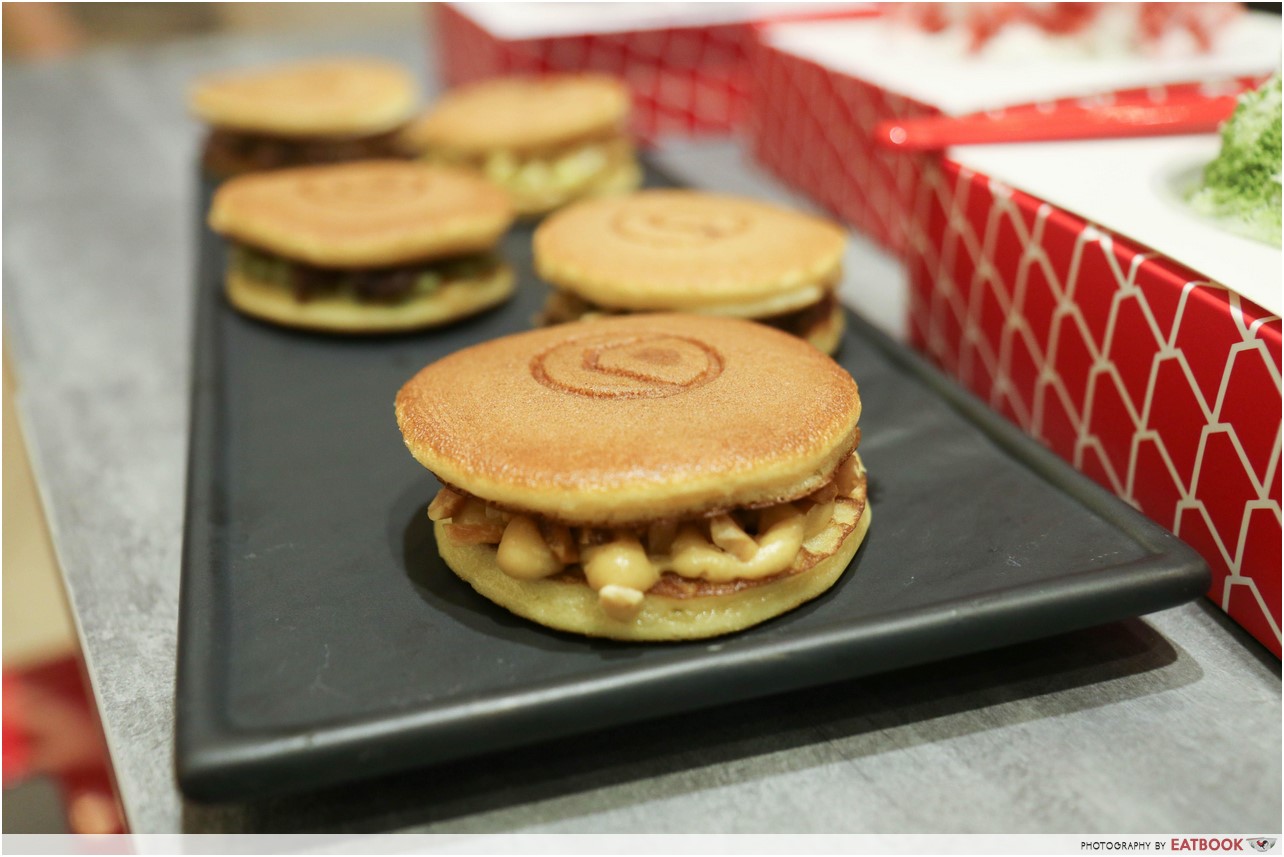 After a refreshing but brain-freezing time trying the kakigori, we had a go at all the five different flavours of dorayaki. Each palm-sized pastry is made of two fluffy pancakes sandwiched with a generous amount of cream and nut toppings.  
Of the five flavours – praline, lemon custard, dark chocolate, matcha, and peanut butter – my favourites were praline and matcha.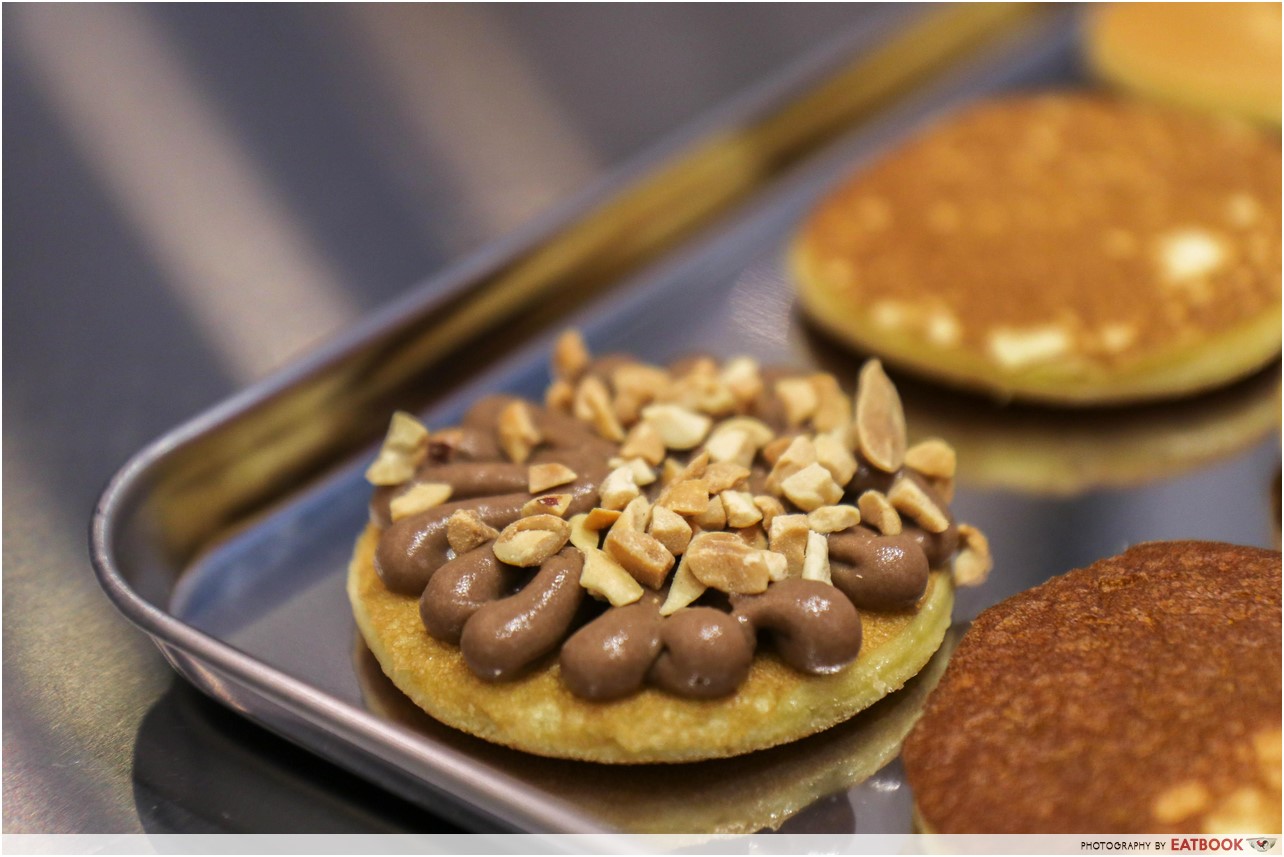 I had my first taste of a French praline dessert at Tiong Bahru Bakery, and Kori King's praline dorayaki reminded me of what a sucker for nutty chocolate desserts I am. The smooth and rich chocolate cream sprinkled with crunchy nuts gave the pastry just the right amount of sweetness. Like a less-sweet Ferrero Rocher in the form of a dorayaki, the pastry was addictive and filling.
As for the pancake itself, I found it pretty bland in comparison to traditional dorayaki. However, given its fluffiness, it was surprisingly dense enough to hold the fillings together without me  having to fumble clumsily to keep the pastry in tact.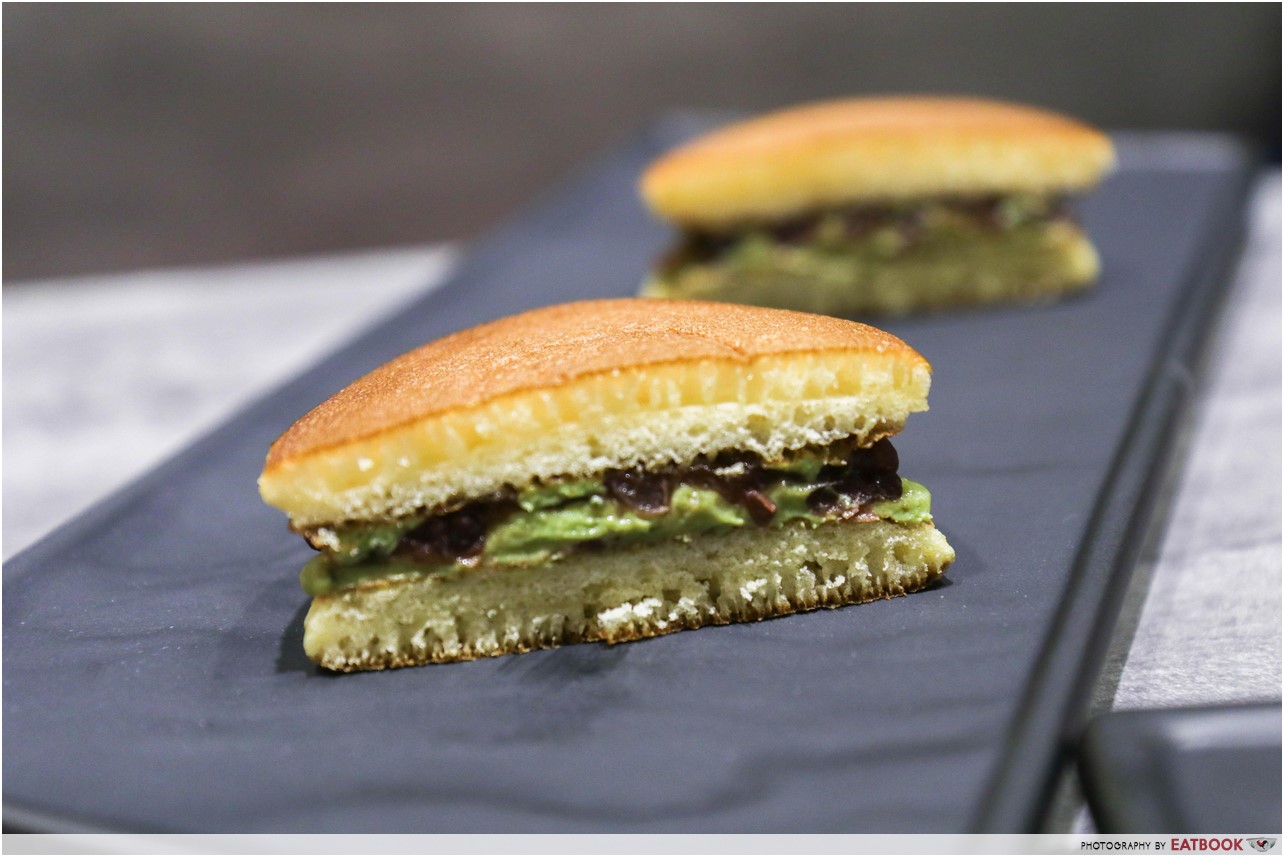 As for the matcha dorayaki, the strong green tea flavour coupled with sweet red bean most closely resembled the traditional dorayaki. Like the matcha kakigori, the matcha cream was rich and intense but not overwhelming, and the sweetness of the red bean paste brought a good balance to the matcha.
Ambience at Kori King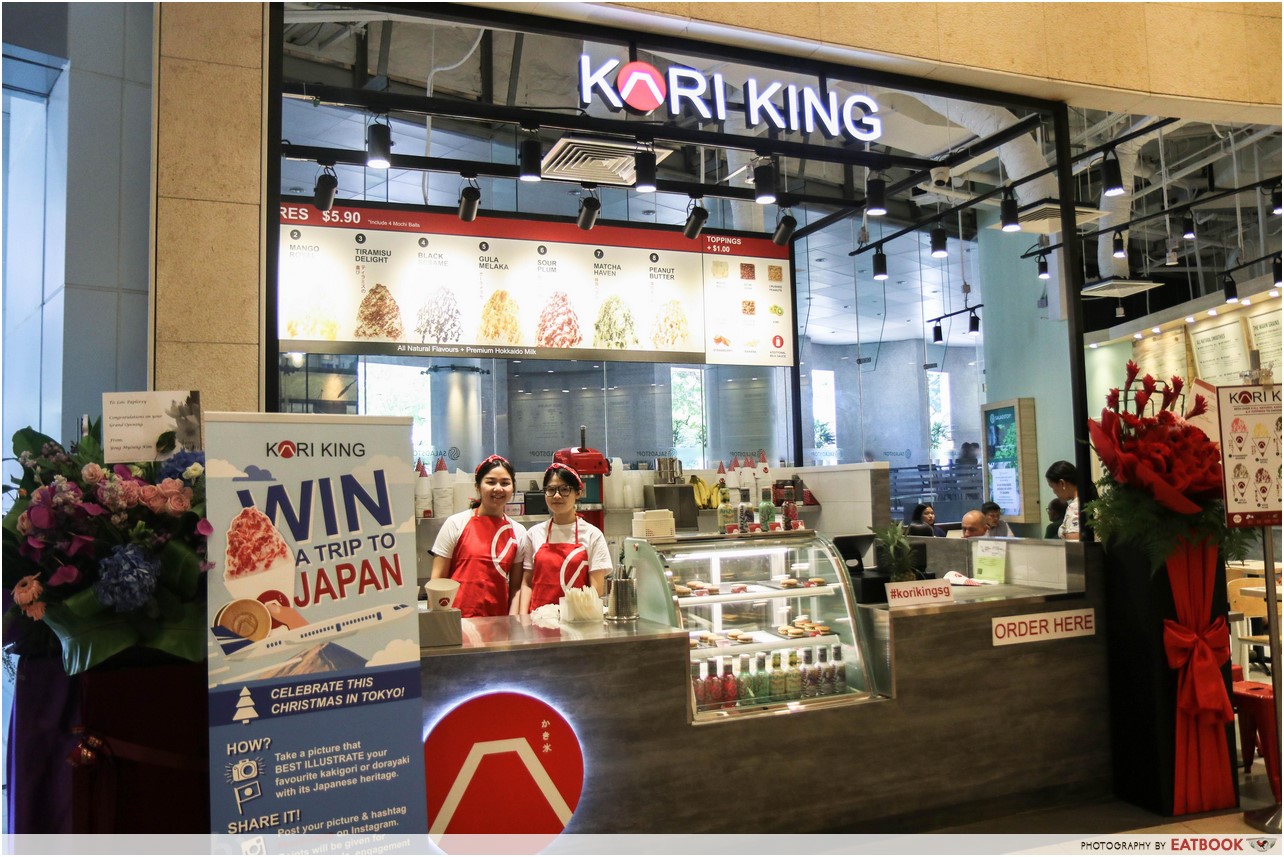 Kori King's store is located at The Cathay's ground level, sharing a space with Salad Stop. Located right next to the entrance of the mall, it is a convenient spot for shoppers to pop in and grab a serving of kakigori to cool down during a hot day. At the counter, you can watch the staff skillfully shaping the shaved ice into a small mountain topped with milk sauce and syrup. The shared space has limited seats, so I would recommend going for the takeaway option where your bowl of kakigori sits in a paper cone.
While attempting to get a good shot of the kakigori cone, I walked around the mall with the cone for about 10 mins and was pleased that the dessert remained in shape and not a drop of shaved ice melted down the paper cone. This is a plus point for messy eaters like me!
The verdict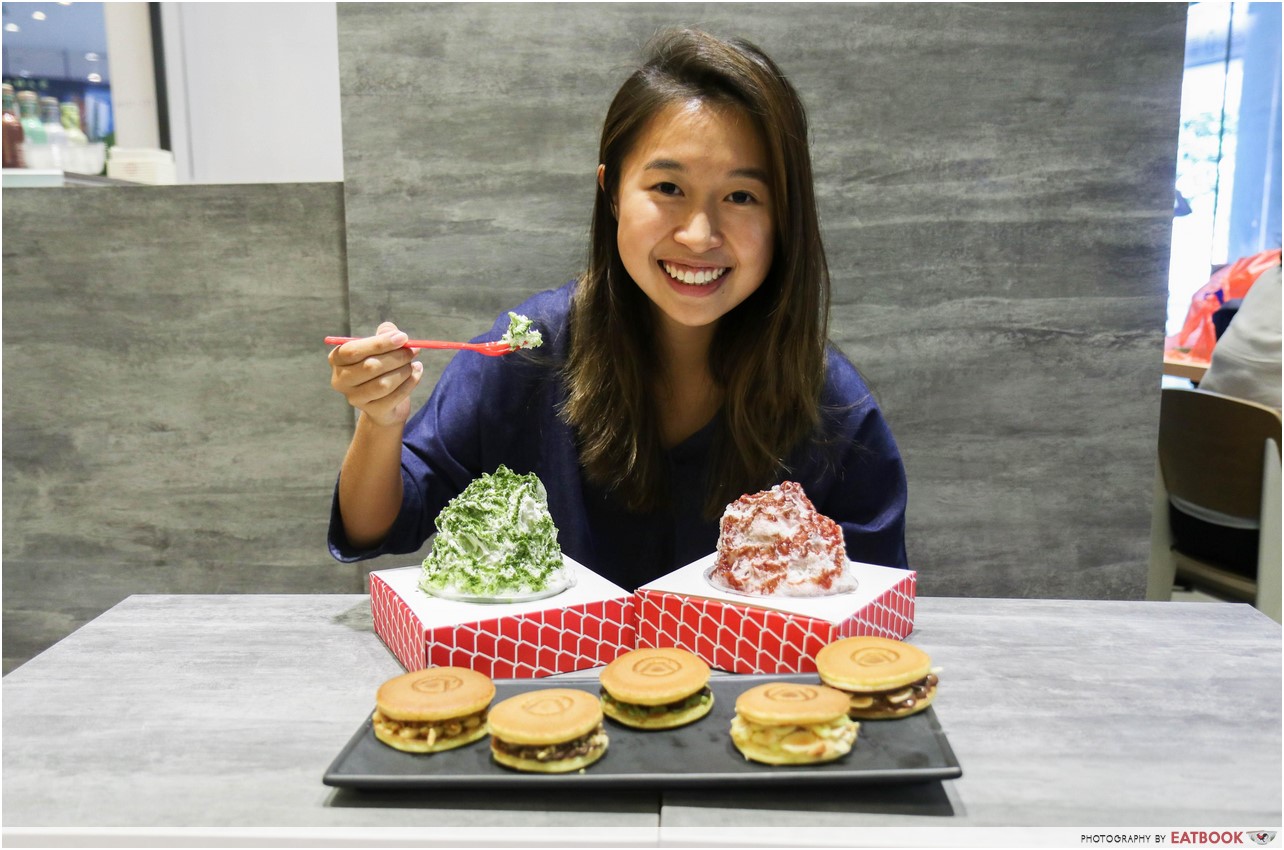 While my first experience with kakigori was not mind-blowing, I would still return for a second due to its affordable price. For those in town and craving for something cold and relatively light, this would be a satisfying grab-and-go treat! Although the dorayaki may be pricey for its size, the unique flavours make them worth a try. To satisfy your craving for more sweet treats, check out our list of soft serve ice-cream or deep-fried desserts around Singapore!
Address: 2 Handy Road, #01-01, The Cathay, Singapore 229233
Opening hours: Daily 12pm to 10pm
Website
Menu
Kori King is not a halal-certified cafe.
This was a media tasting at Kori King.
Summary
Pros
– Affordable price
– Convenient location
Cons
– Limited seats
– Nothing special compared to similar desserts like bingsu
Recommended Dishes: Matcha Haven Kakigori ($5.90), Praline Dorayaki ($2.90)
Operating Hours:
Daily 12pm to 10pm
Address: 2 Handy Road, #01-01, The Cathay, Singapore 229233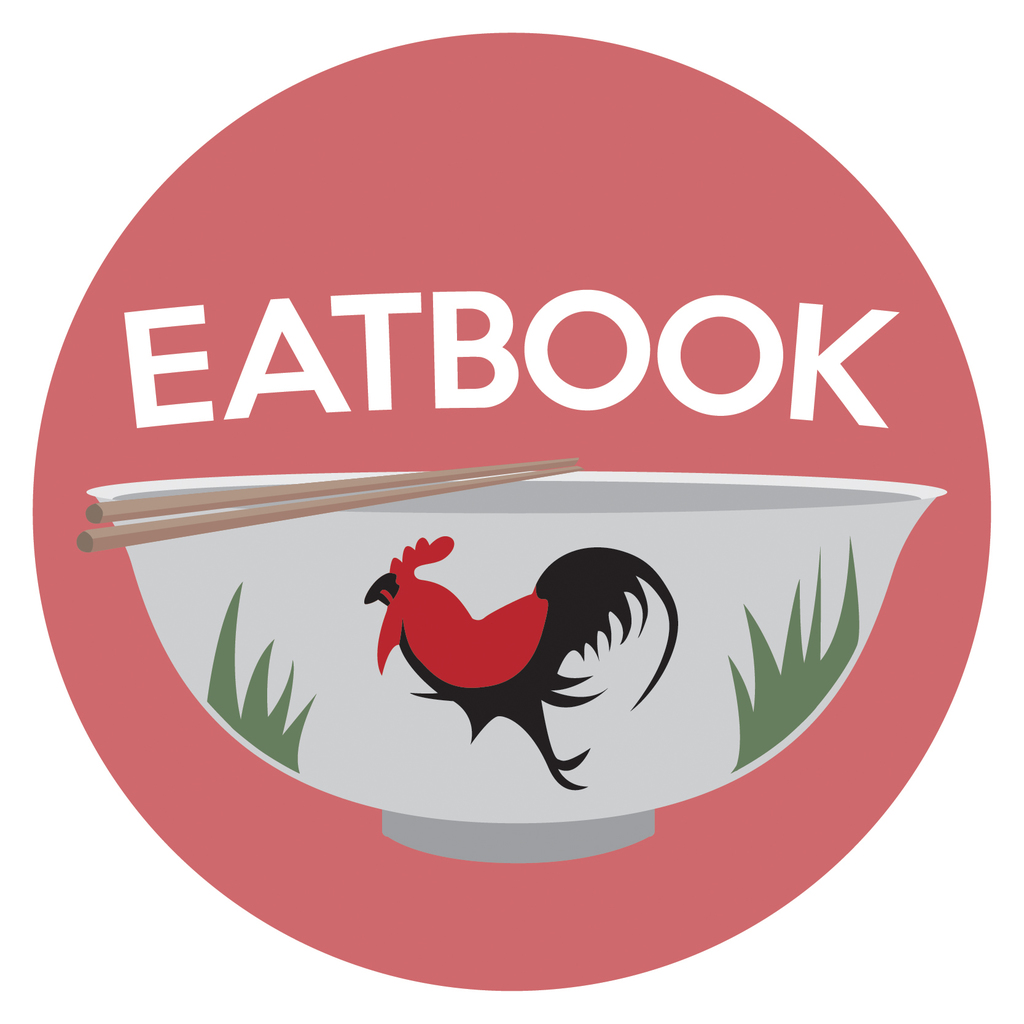 Drop us your email so you won't miss the latest news.