---
Deep fried desserts your sweet tooth will thank you for
---
We are all guilty for indulging in desserts sometimes and, while some of us do it more often than necessary, it's without a doubt how a serving of sugary goodness can uplift even the dullest days. As if the usual soft serve and ice-cream desserts are not enough, some places in Singapore offer deep fried desserts that can get your taste buds cheering. Here are 10 you can sink your teeth into to make stressful days better.
---
1. Mochi bursts
---
BrotherBird has changed the way we eat soft serve with their signature mochi bursts that come in distinctive flavours. These flavours, like their soft serve, are offered on a rotational basis, and include classic flavours such as matcha and liu sha (salted egg yolk). At $15, you can get a swirl of soft serve, three mochi bursts, as well as a handful of crunchy toppings.
Find out where else to get interesting soft serve in Singapore.
Address: 32 Bali Lane, Singapore 189868
Opening hours: Wed-Mon 12pm to 10pm
Tel: 9800 7628
Website
Menu
---
2. Fried Durian Roll
---
Hong Kong Desserts' Fried Durian Roll ($6.80) features warm and rich durian paste encased by a thin, flaky pastry. The dessert is served with a scoop of vanilla ice-cream, and the contrast in temperatures makes this extra shiok. Another durian dessert to try here is Durian Shake with Durian Flesh ($5.70), which has creamy durian mousse served with a scoop of durian pulp.
Find out what other durian desserts you can get in Singapore.
Address: 61 Ang Mo Kio Avenue 8, #01-02, Jubilee Square, Singapore 569814
Opening hours: Sun-Thur 11am to 11pm, Fri-Sat 11am to 11:30pm
Tel: 6457 1203
Website
Full list of outlets
---
3. Fried durian ice-cream
---
For durian lovers looking for something with a little more kick, Majestic Restaurant's Crispy Fried King of Durian Ice Cream with Maple Syrup ($10++) can tick all the right boxes. Pungent Mao Shan Wang durian pulp is mixed with custard, and frozen before being dunked in batter. It's then sent to the fryer to obtain its remarkably crispy exterior. The dessert is not overly greasy, and makes a nice ending to your meal.
Address: 31-37 Bukit Pasoh Road, Singapore 089845
Opening hours: Tue-Sun 11:45am to 2:30pm, 6pm to 10pm
Tel: 6511 4718
Website
Menu
---
4. Hokey-Pokey Ice Cream Fried Bao
---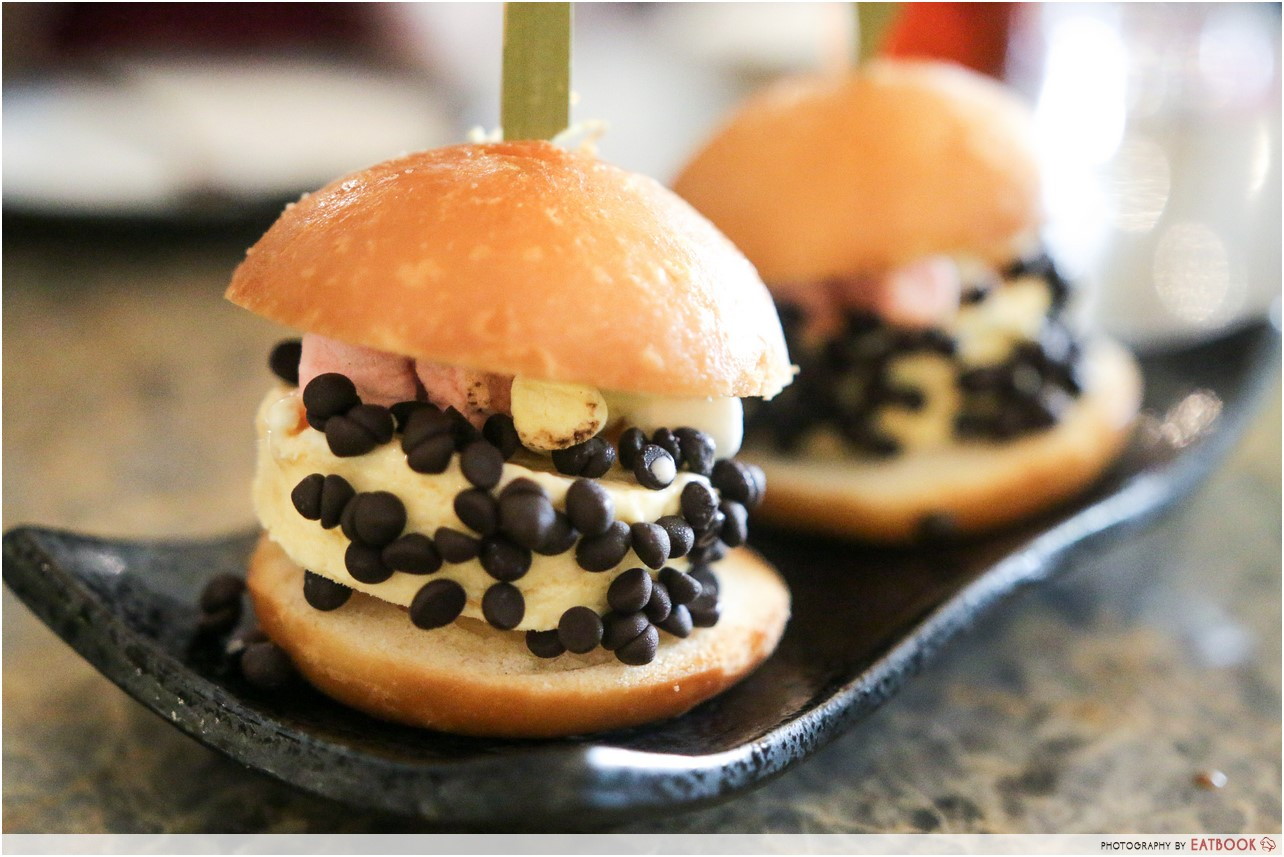 Full of Luck Club's Hokey-Pokey Ice Cream Fried Bao ($6.50++) is nothing if not adorable. A slab of honeycomb ice-cream and toasted mini marshmallows are sandwiched between fried mantou, and surrounded by chocolate chips. Matcha lovers, go for Matcha Ice Cream Fried Bao ($6.50++) that features matcha ice-cream, red bean paste and evaporated milk tucked between a fried mantou!
Check out our full review of Full of Luck Club and other interesting mantou dishes around Singapore.
Address: 243 Holland Avenue, Singapore 278977
Opening hours: Daily 11am to 11pm
Tel:6208 6845
Website
Menu
---
5. Gooey Banana Donuts "Milo Dinosaur"

---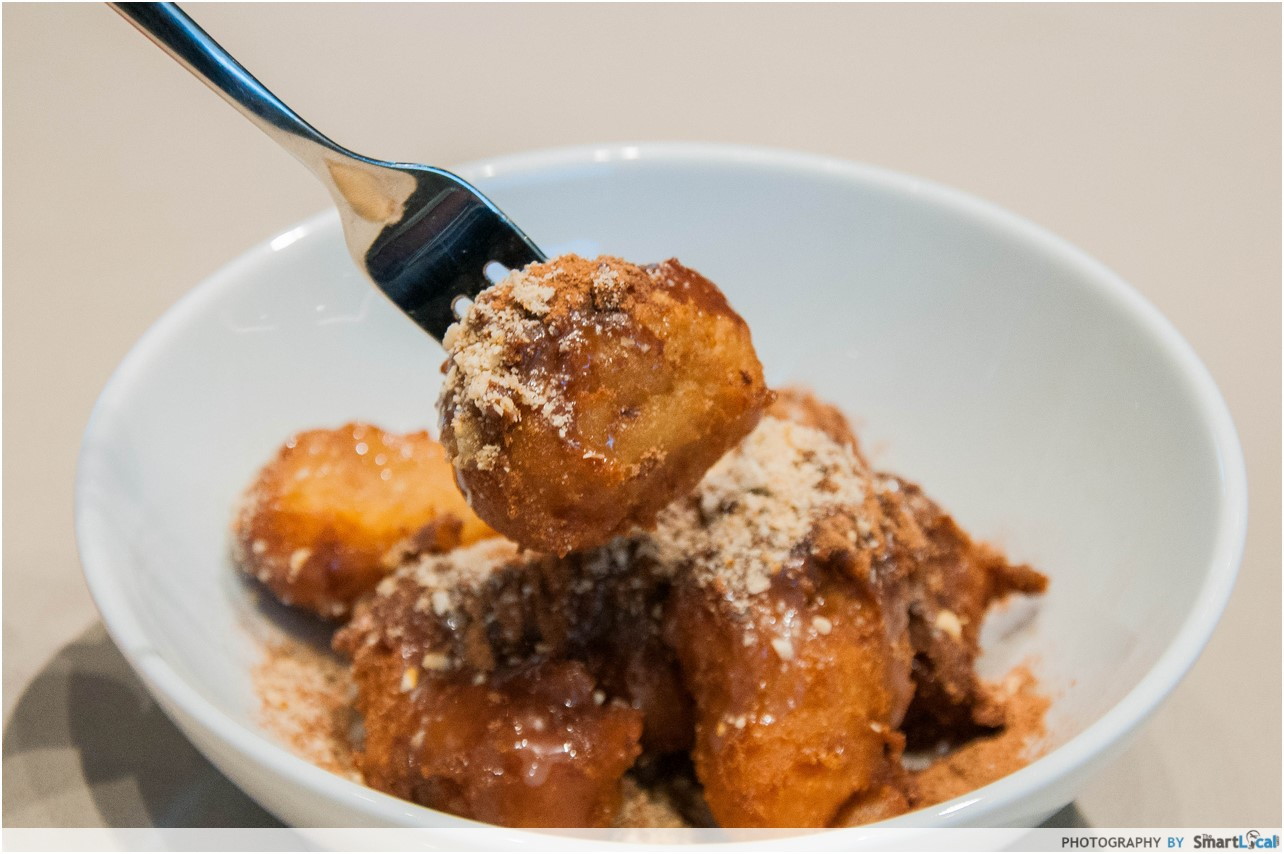 While we're no stranger to goreng pisang and Milo Dinosaur, RedPan managed to make both of them work together in their Gooey Banana Donuts "Milo Dinosaur" ($7++). These deep fried balls of banana are topped with a generous amount of Milo powder, and the gooey insides of each piece contrast well with the crunchy shells. Be warned, this dessert can get quite jelak, so it's best to share it with the rest of your table.
Check out our full review of RedPan.
Address: 6 Raffles Boulevard, #02-03/04, Marina Square, Singapore 039594
Opening hours: Mon-Thur 11am to 3pm, 5:30pm to 10pm, Fri 11am to 3pm, 5:30pm to 11pm, Sat-Sun & PH 11am to 4pm, 5:30pm to 10pm
Tel: 6255 5850
Website
Menu
---
6. S'mores Fries
---
Not only does Wolf Burger throw together a mean burger, they do a pretty fine job with their sides as well. Their S'mores fries ($8) is a big hit with the crowd and the reason is clear; there's nothing not to love about warm crunchy sticks of sweet potatoes topped with crisp cereal bits and soft gooey marshmallows torched right before they leave the kitchen. Everything is then drenched in glistening maple syrup. Pair these freshly-fried sweet tubers with their popular Holicks Vanilla Milkshake ($6) to make your weekend even sweeter.
Address: 3 Temasek Boulevard, #455-456/459-461, Suntec City, Singapore 038983
Opening hours: Daily 12pm to 9:30pm
Tel: 9384 7096
Website
Menu
---
7. Beignets

---
Beignets are fluffy squares of dough that have been deep fried and buried under a generous amount of powdered sugar. Dancing Crab offers Beignets ($3++ for two, $6++ for six pieces) that seem to be buried in even more sugar than usual, and each batch of these are made a la minute so you'll get them piping hot! Order a cup of coffee so you can get dunkin' while eating.
Address: 200 Turf Club Road, #01-20/21, The Grandstand, Singapore 287994
Opening hours: Mon-Fri 5pm to 10:30pm, Sat-Sun 11.30am to 3pm, 5pm to 10:30pm
Tel: 6466 3303
Website
Menu
Full list of outlets
---
8. Crodo

---
A crodo is, simply put, a hybrid of a donut and croissant. These deep fried rings of croissant-like pastry from Da Paolo Gastronomia have a crispy exterior and are flaky on the inside. They are also filled with delicious pastry cream. Their Crodo ($4.90) comes in three flavours, namely original, chocolate, and a monthly special decided by the chef. Each batch of crodo is prepared fresh every morning and goes well with a hot cuppa.
Address: 43 Jalan Merah Saga, Singapore 278115
Opening hours: Daily 8:30am to 9:30pm
Tel: 6475 1323
Website
Full list of outlets
---
9. Fried Mars Bars
---
Here's an oldie but goodie. Chippy's Fried Mars Bars ($3.80 for three, $5.30 for six pieces) comes with crispy golden spheres of ooey-gooey chocolate and caramel, accompanied by a scoop of vanilla or chocolate ice-cream. While you are there, go for their signature British Battered Fish ($5) as well. Each portion features piping hot chunks of moist and flaky white fish that'll fill your tummy on the go!
Address: 68 Orchard Road, #B2-38, Plaza Singapura, Singapore 238839
Opening hours: Daily 11am to 10pm
Tel: 94491724
Website

---
10. Lemon Curd Doughnut Balls
---
Lolla's Lemon Curd Doughnut Balls ($12++ for six pieces) is great for those who like a little bit of tartness in their dessert. Each poofy donut ball is covered in a dusting of confectioners' sugar and served with a side of house-made lemon curd. Prepared a la minute, these balls of airy dough are best consumed when they're hot.
Address: 22 Ann Siang Road, Singapore 069702
Opening hours: Mon-Sat 12pm to 2:30pm, 6pm to 11pm, Sun 10:30am to 3pm
Tel: 6423 1228
Website
---
Fried desserts found all around Singapore
---
We are all well-versed with the usual goreng pisang and donuts, but it's about time you up your game with all these other fried desserts. Leave a comment and let us know your personal favourite!