Kumamoto Ramen at Serangoon North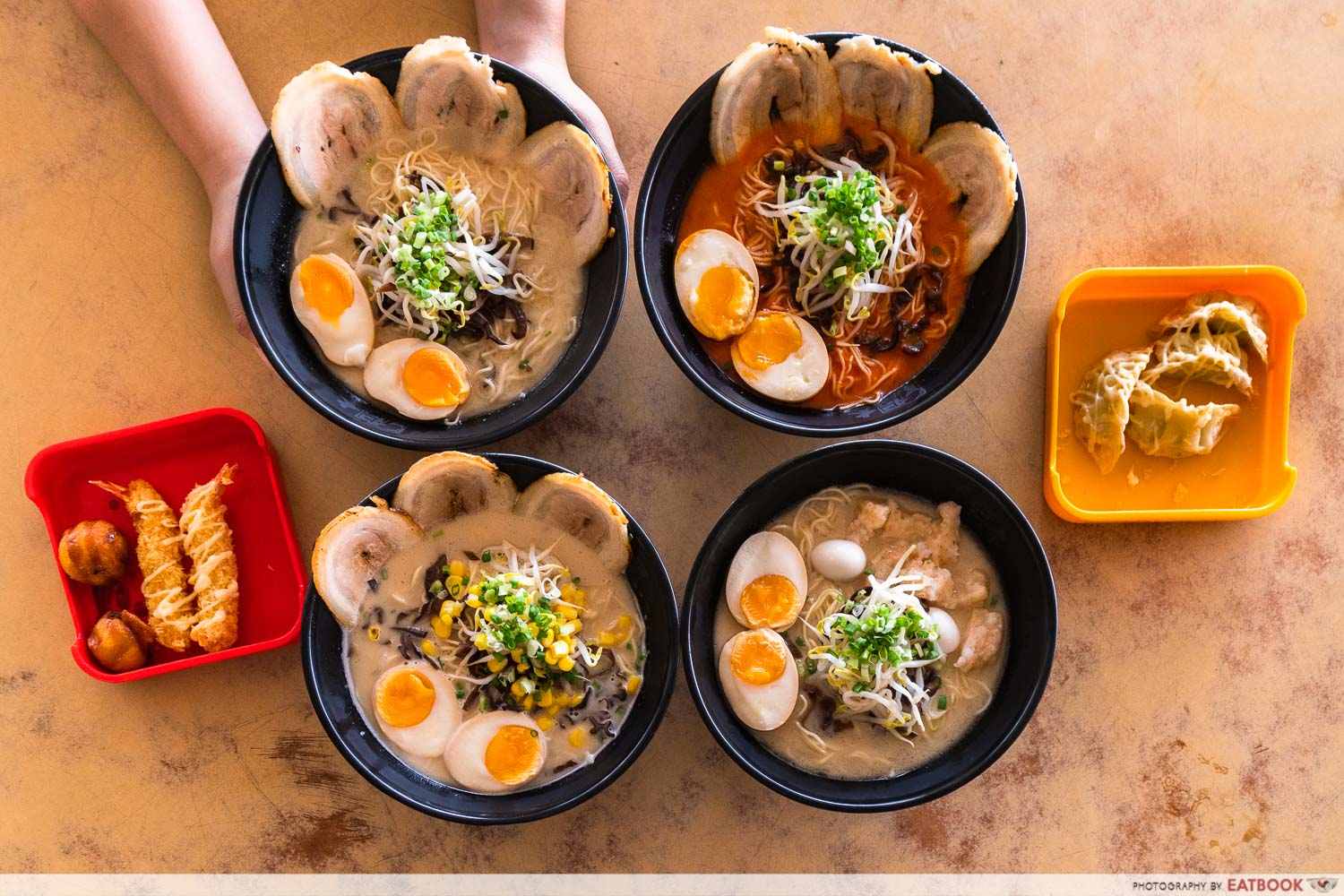 I often opt for a bowl of Japanese ramen whenever I can't decide what to eat, as it's hard to go wrong with umami-packed broth and springy noodles—so it's great that some places offer good quality ramen at affordable prices. One such eatery is Kumamoto Ramen, which serves ramen priced from just $6.80.
Mee Bagus Review: Halal Spicy Volcano Ramen, Seafood Laksa And Mee Ayam In Clementi
Food at Kumamoto Ramen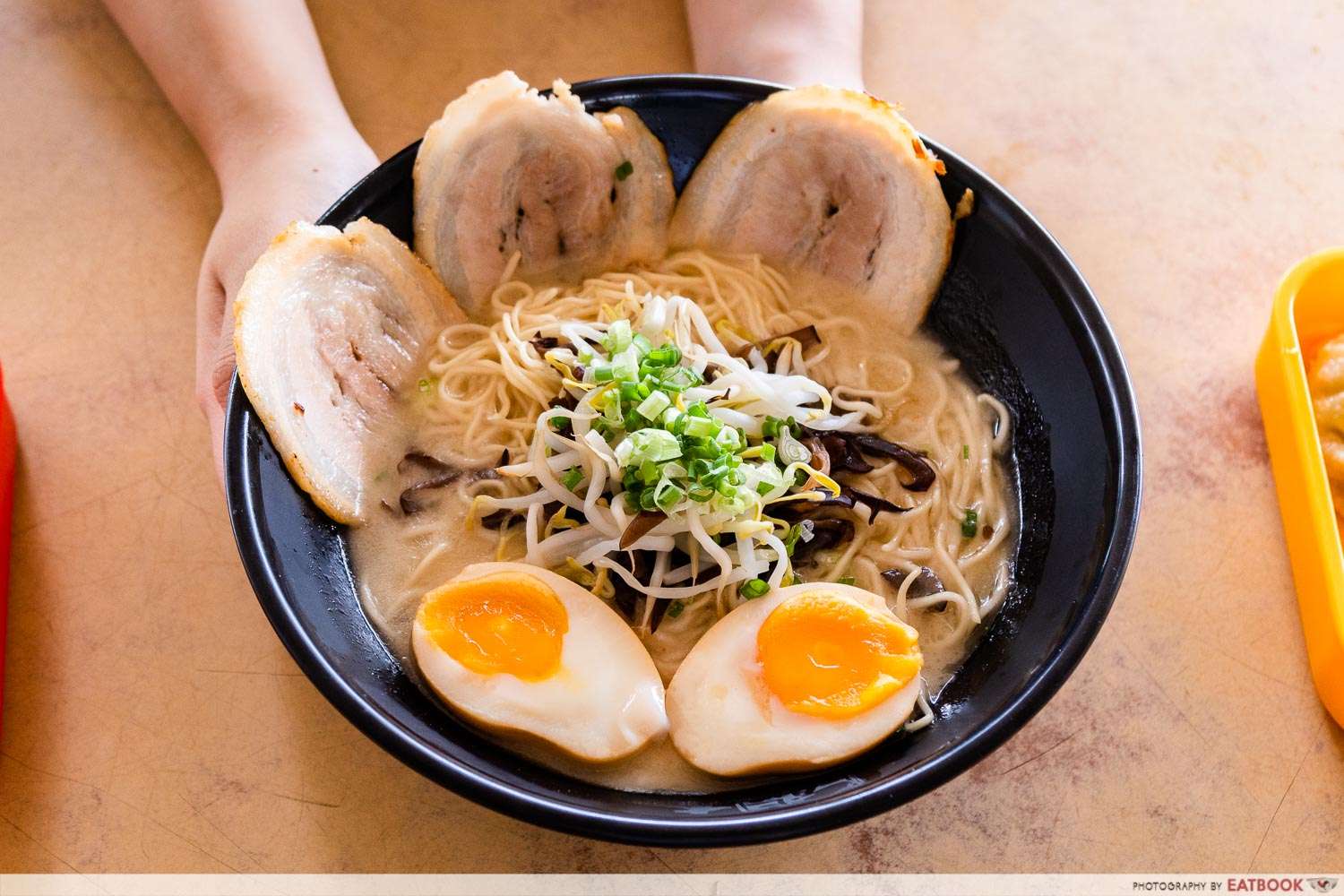 Mr. Yang, the owner of popular local mala chain You Ma You La, established Kumamoto Ramen, a Japanese ramen stall in a small coffee shop at Serangoon North. When the pandemic struck his business, causing him to shut down eight of his 14 outlets, he decided to venture into serving affordable Japanese ramen at a hawker stall. 
There are a variety of ramen and sides to choose from, as well as set meals for those looking for value-for-money options. We chose the Two Ramen Set Meal ($18.90), which includes two ramen of your choice and three sides. We ordered the signature Kumamoto Ramen and Spicy Tonkotsu Ramen, both of which can also be ordered as a la carte items at $6.80 each.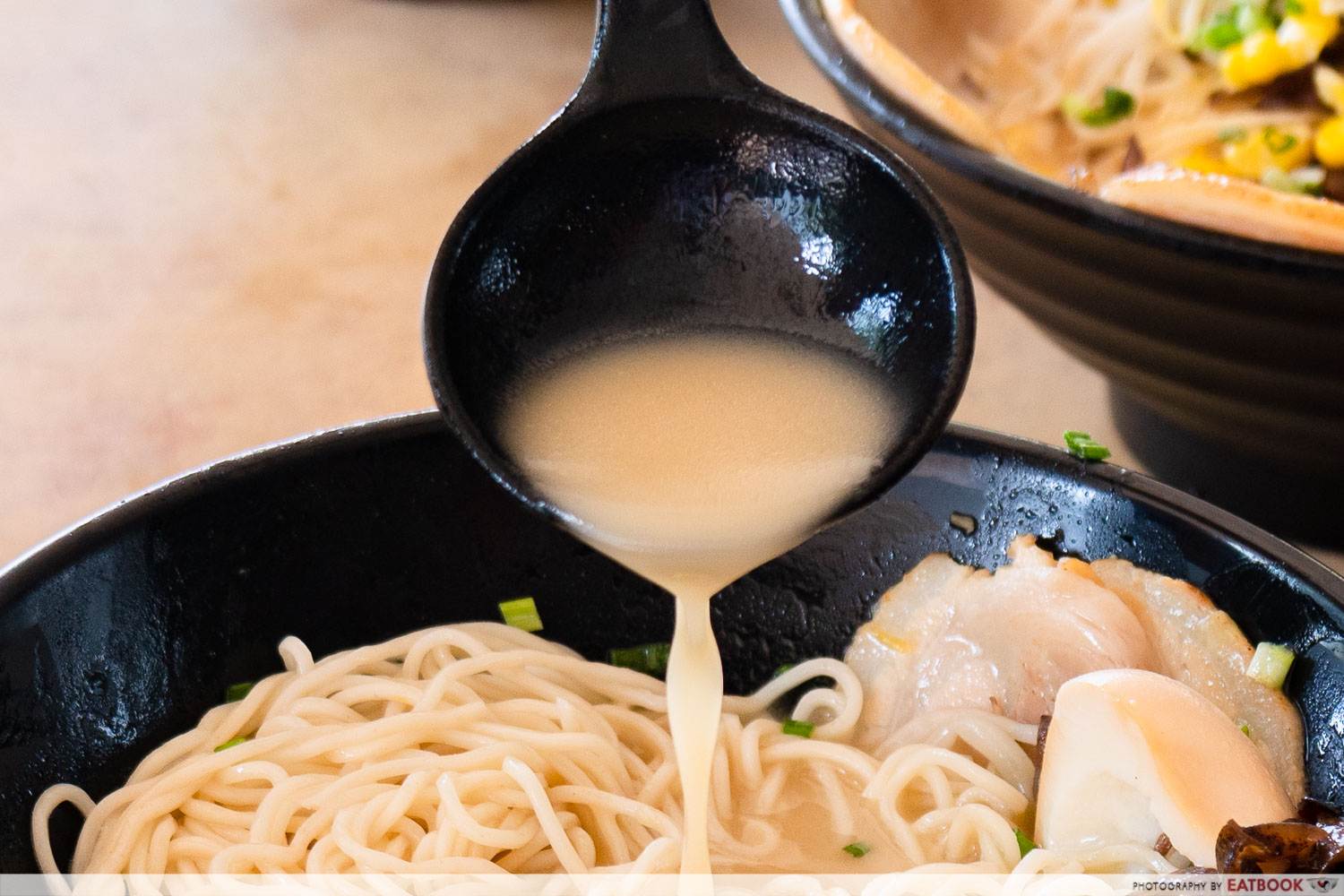 The signature Kumamoto Ramen is a tonkotsu broth served with two pieces of chashu, ajitama egg, black fungus, bean sprouts and spring onions as toppings. Apparently, the soup is cooked for approximately 10 hours with pork bone, pork trotters, chicken feet, and other ingredients. This long cooking process paid off, as the soup was significantly creamy and packed with flavour.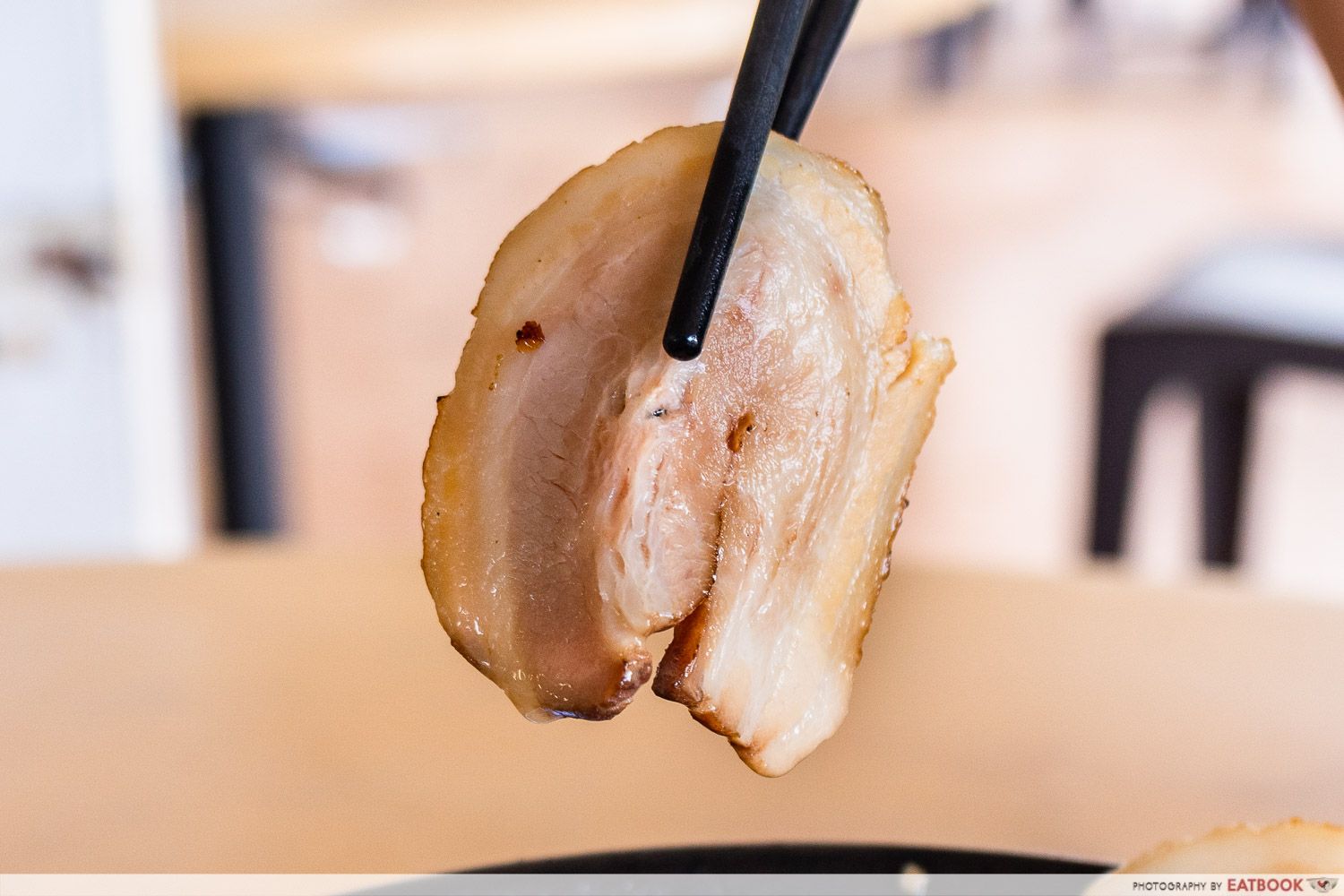 The chashu we got was tender with the right amount of meat-to-fat ratio, and it was also slightly torched for a smoky flavour.
Unfortunately, I was rather disappointed with the ajitama egg as the centre was a tad overcooked and lacked the gooey texture that I was expecting from a ramen egg. The noodles were also a little overdone, lacking the firm texture I was looking for. While they had a slight alkaline taste, it did not bother me as much.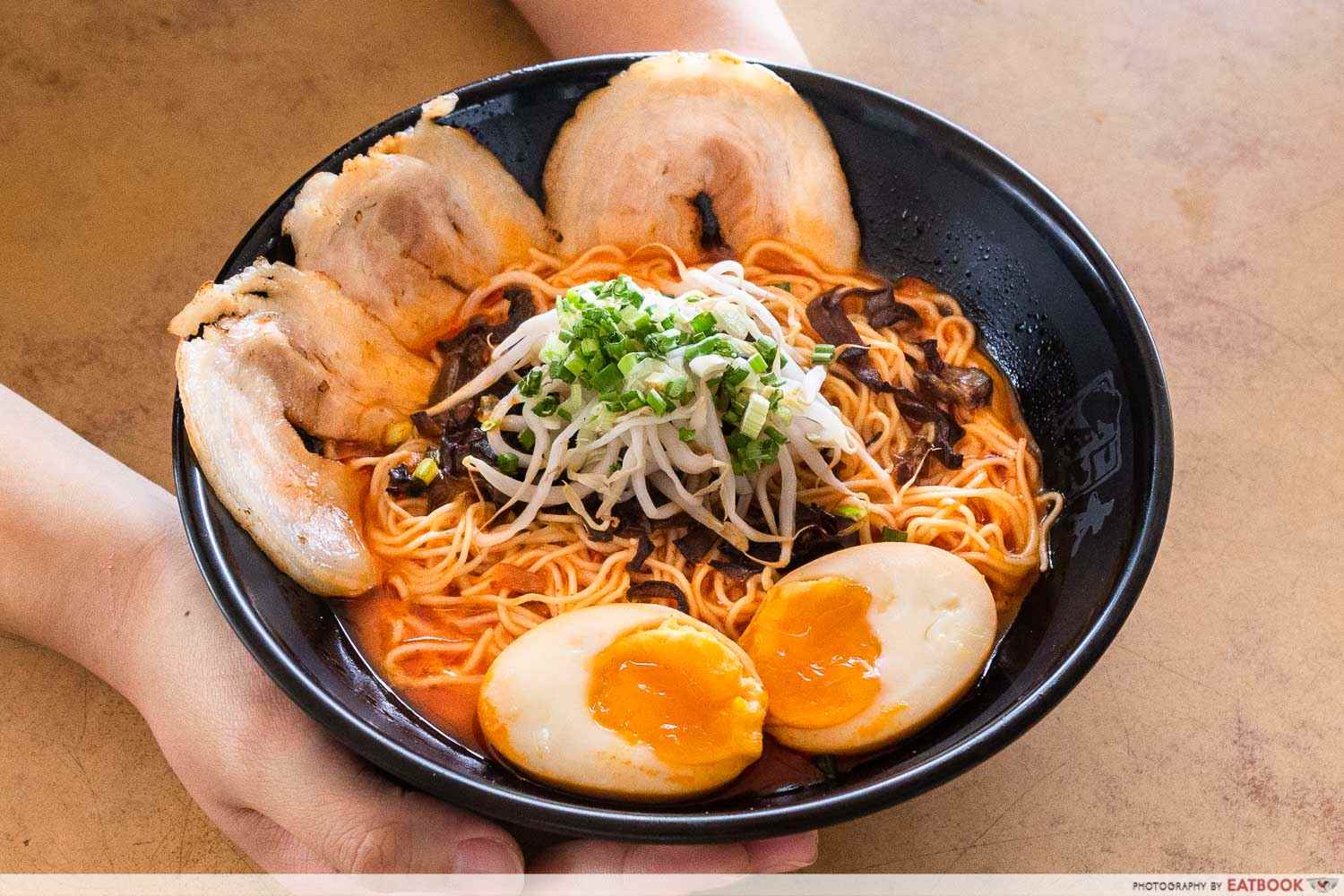 I moved on to the Spicy Tonkotsu Ramen, which came with the same toppings as signature Kumamoto Ramen, but with added chilli oil. The chilli oil paired well with the tender chashu while giving the dish a spicy kick, which I enjoyed. This was my favourite dish out of all, mainly because I particularly love spicy food.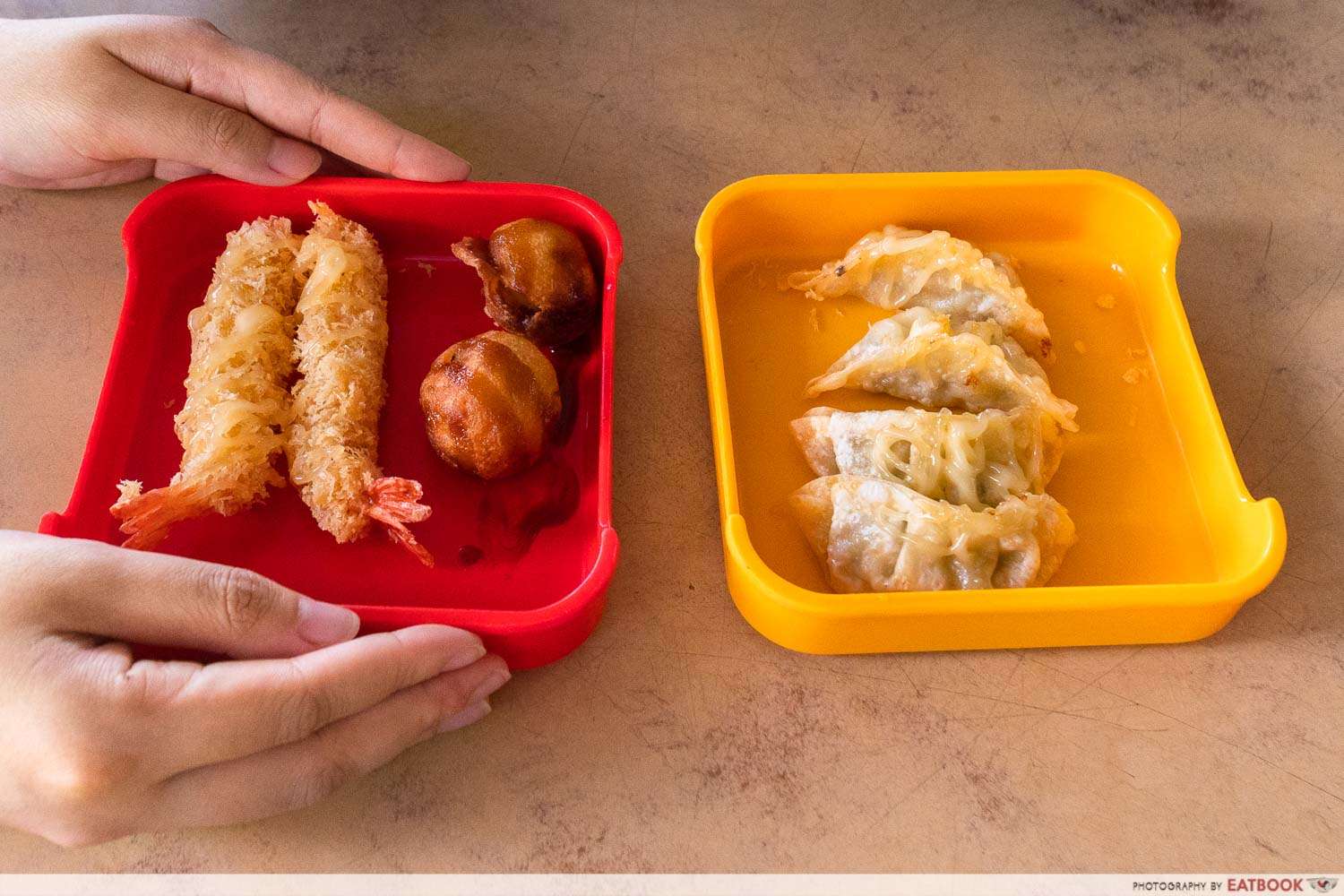 We also tried their sides, namely Gyoza ($5), Takoyaki ($5), and Ebi Fry ($6). If you're dining with friends or family and want to add more variety to the table, you can consider ordering them. Although the sides tasted average, I would recommend opting for the One Ramen Set Meal ($9), which comes with your choice of side, as it's value for money.
Ramen King Review: Ex-Restaurant Chef Sells Affordable Tonkotsu Ramen, Cheese Gyoza And More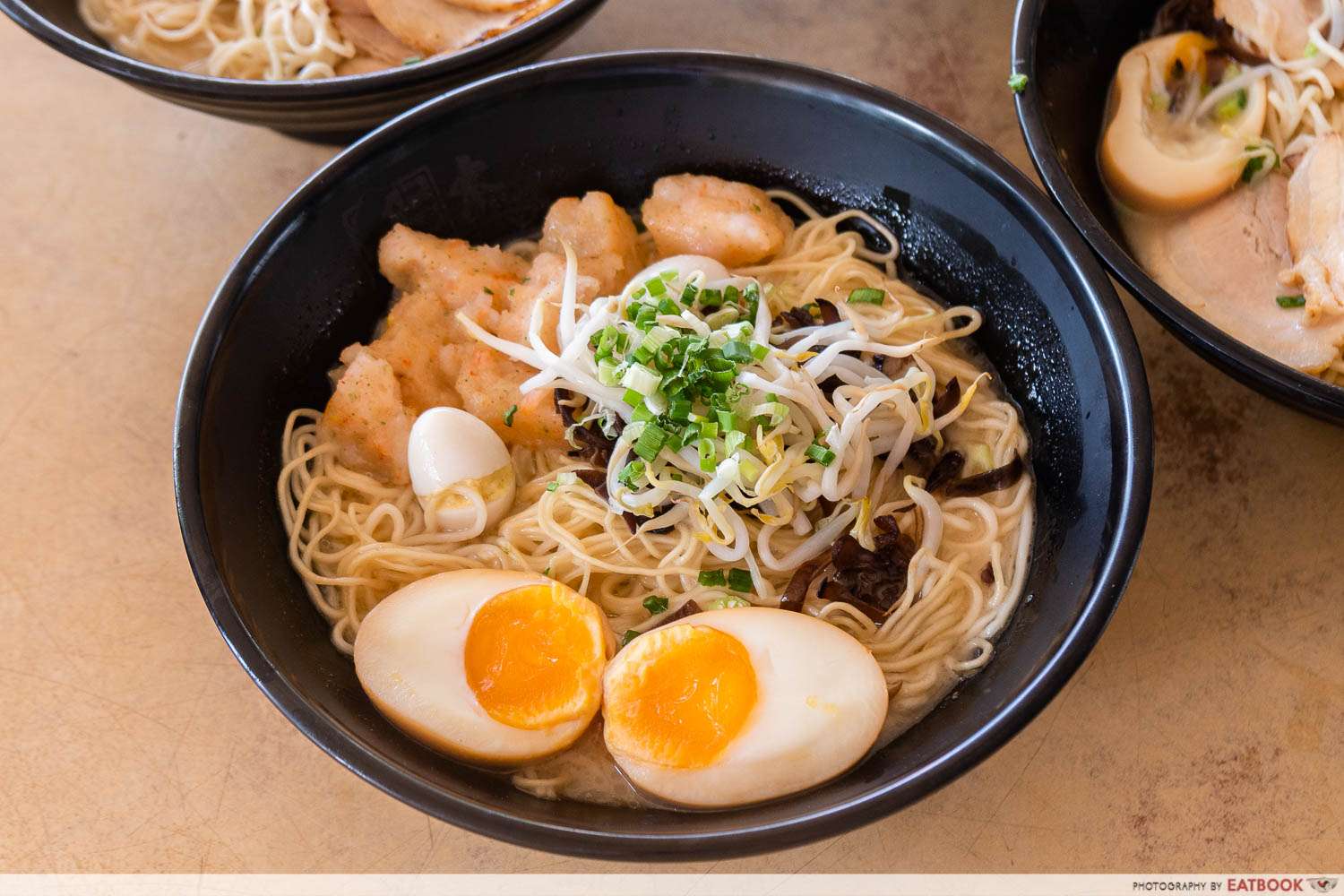 We added two a la carte ramen items in addition to our set meal. The Itsuki Prawn Paste Ramen ($9.80) came with prawn paste balls, which was a first for me. The chunky balls had a similar texture to the prawn filling in har gao, AKA prawn dumplings.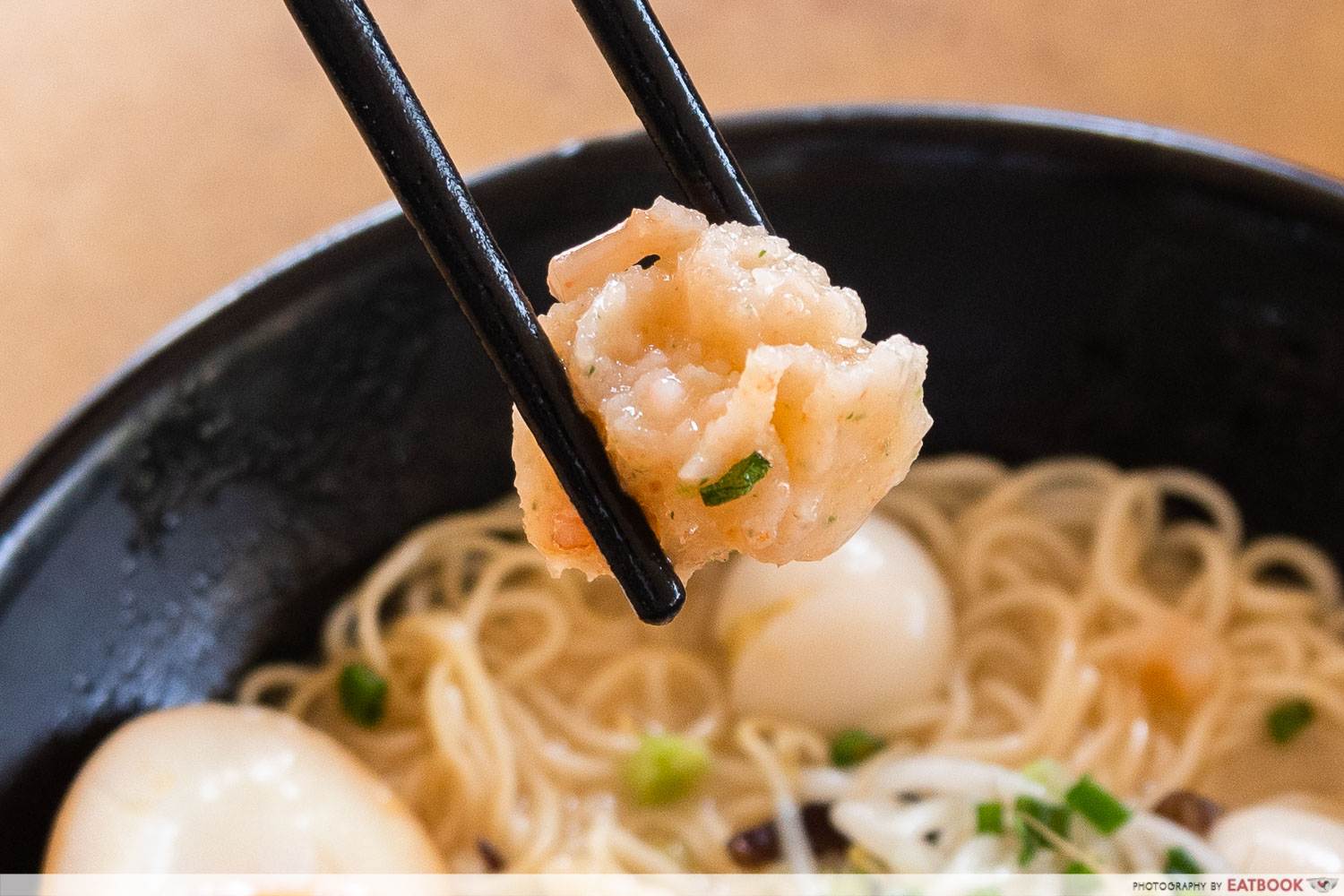 Unfortunately, I felt that they were a little mushy for my liking. I would have preferred if they were more firm with a slight crunch from the prawns. 
You can also feel free to add on any toppings such as chashu ($2.50, three pieces), seaweed ($0.50), or hotate ($3, two pieces) to spruce up your ramen.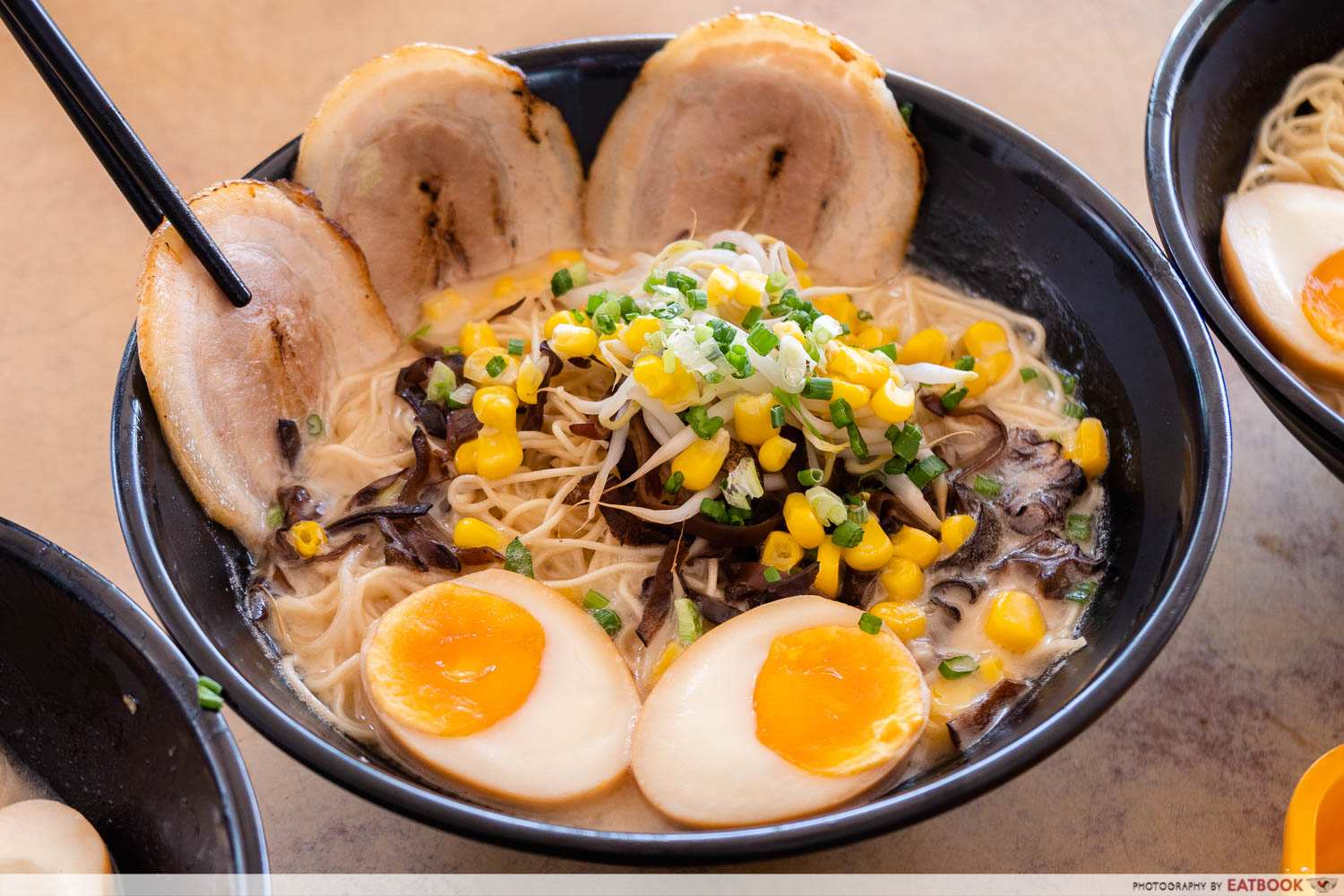 The last dish we tried was the Miso Tonkotsu Ramen ($6.80). If you're looking to zhng-up the classic tonkotsu ramen, this is definitely an option to try. The corn helped to add sweetness and crunch to the traditional tonkotsu broth.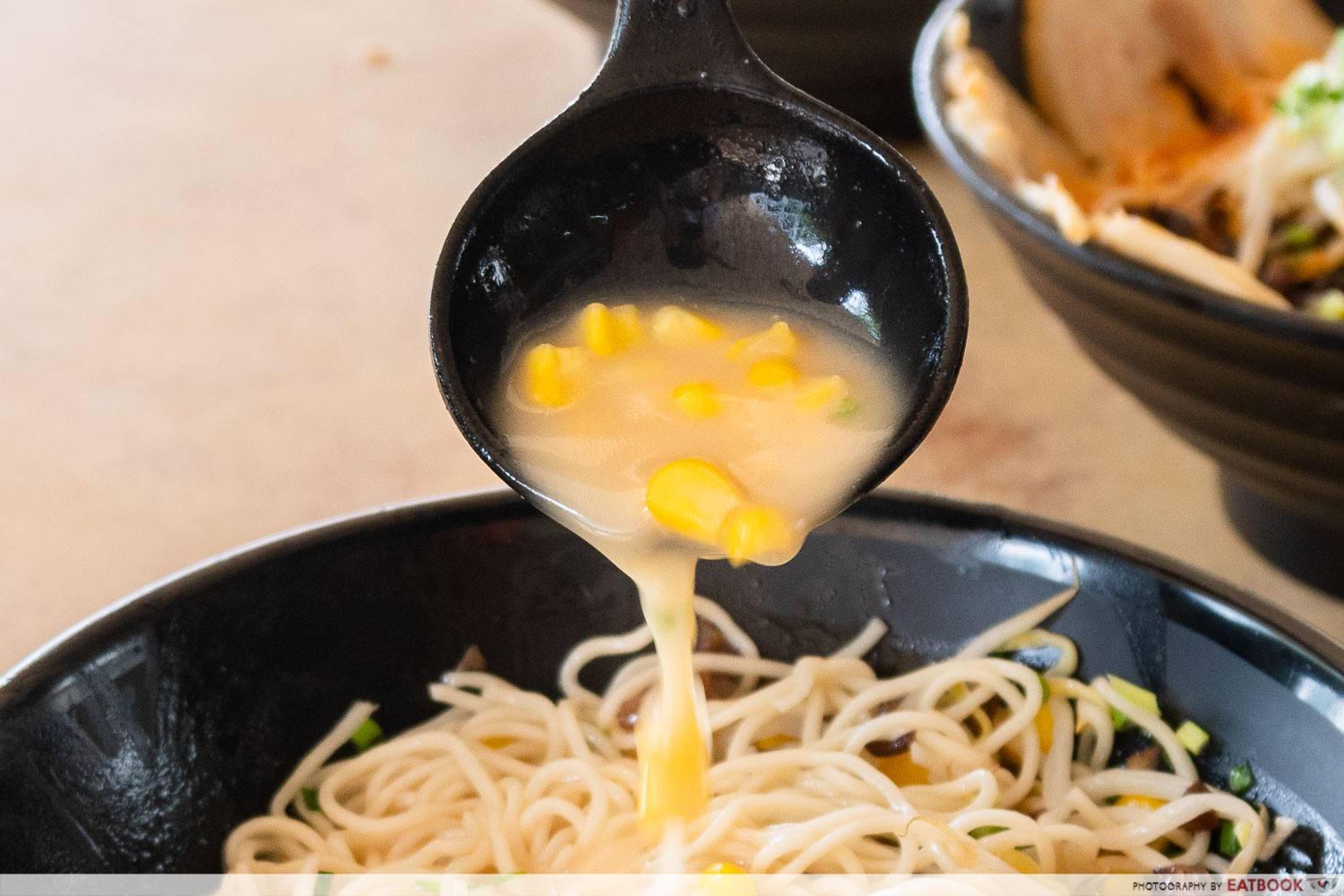 Compared to the other soups we tried, the broth here had a thinner consistency. It is flavoured with a miso soup base, so you get a pleasant sweet and savoury combination. You do have to dig in quickly, as the noodles get soggy pretty fast.
Ambience at Kumamoto Ramen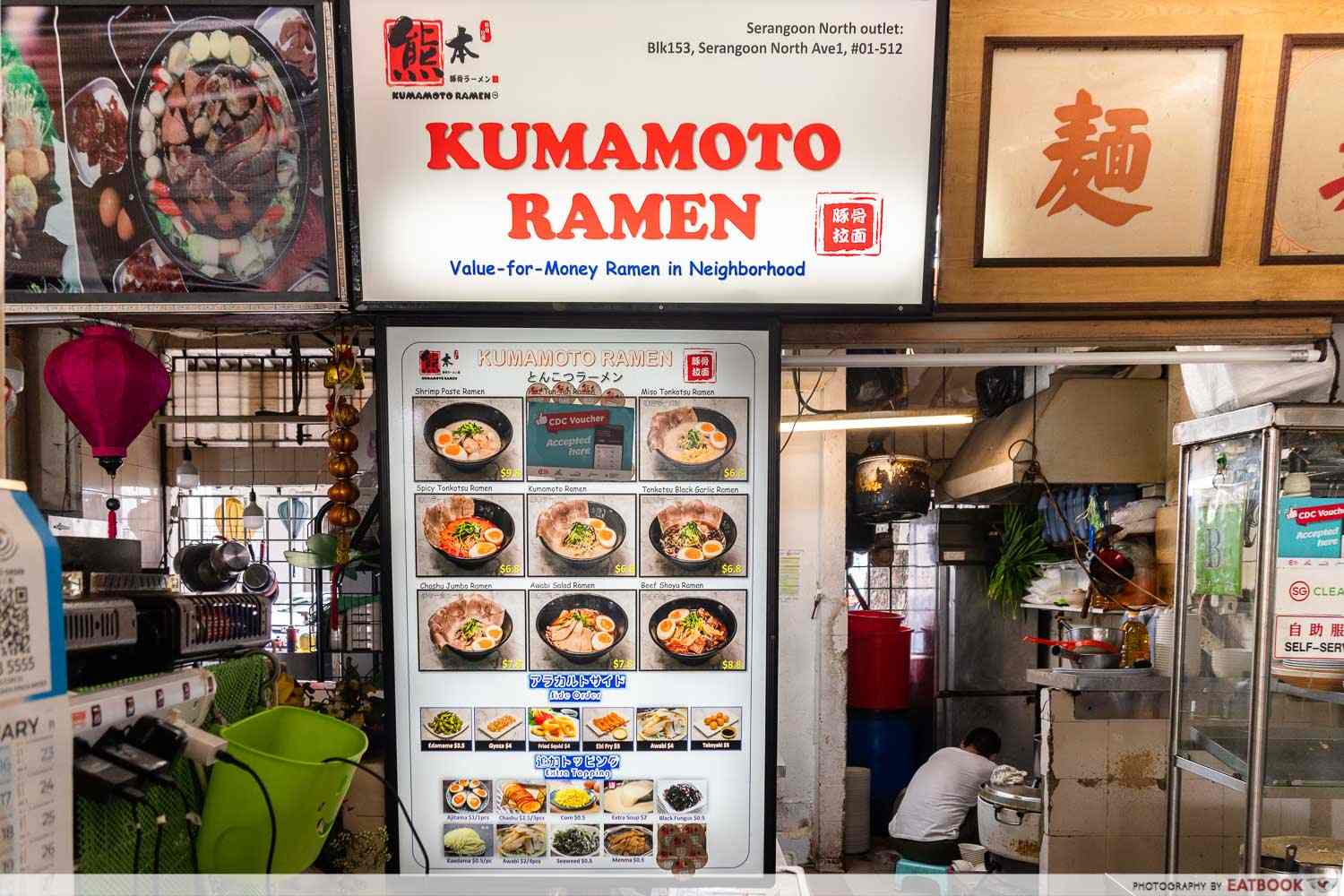 This humble stall is tucked amongst the residential buildings in Serangoon North. We had to take a 10- to 15-minute bus ride from Ang Mo Kio MRT Station to get here.  
It was a little difficult to find the coffeeshop. Furthermore, it was dimly lit, so we weren't sure if the stall was open. One plus point was that there were only a few people dining there, which allowed us to find seats very easily. 
The verdict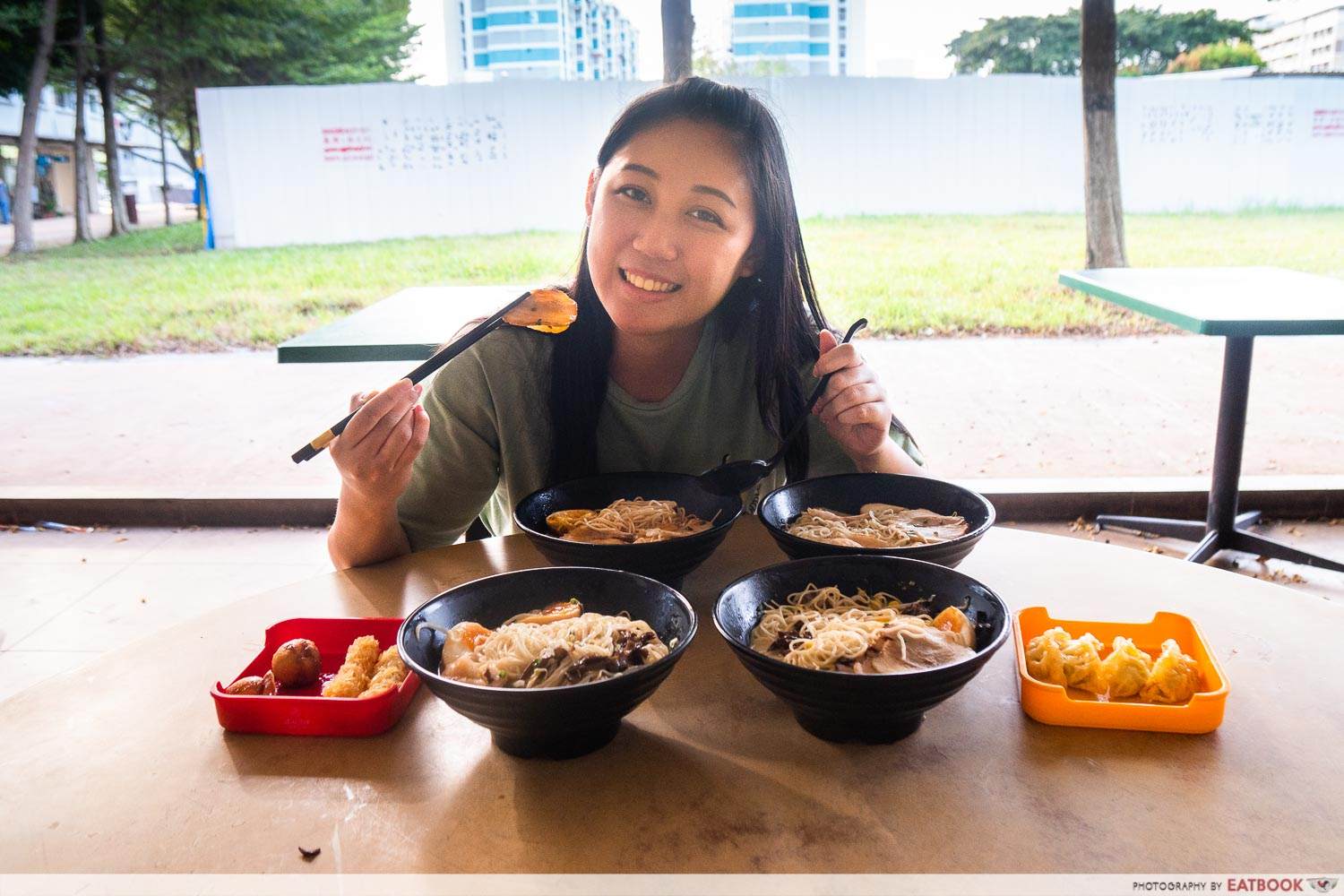 Despite a few misses during our dining experience, $6.80 for a decent bowl of ramen noodles is definitely a steal. Although the prices were indeed attractive, I felt that there could be slight improvements made to the dishes, for me to justify travelling all the way down for a second visit.  Nonetheless, if Ang Mo Kio isn't a convenient location for you, they have two other outlets: Jalan Bukit Merah and Tampines.
For more food recommendations around the area, check out our The Better Scoop review for nian gao waffles and pi pa gao latte. Alternatively, you can check out our Joji's Diner review, which serves chicken and waffles in a retro-themed cafe.
Address: 153 Serangoon North Avenue 1, #01-512, Singapore 550153
Opening hours: Daily 10am to 10pm
Tel: 9732 3419
Website
Kumamoto Ramen is not a halal-certified eatery.
The Better Scoop Review: Nian Gao Waffles, Pi Pa Gao Latte And More At This Dessert Cafe In Serangoon
Photos taken by Zu Yi Kong.
This was an independent review by Eatbook.sg
Kumamoto Ramen Review: $6.80 Tonkotsu Ramen At Serangoon North By Popular Mala Chain Owner
Kumamoto Ramen Review: $6.80 Tonkotsu Ramen At Serangoon North By Popular Mala Chain Owner -

7/10
Summary
Pros
– Value for money
– Reasonable sized portions
Cons
– Noodles were slightly overdone
– Inconvenient location
Recommended dishes: Spicy Tonkotsu Ramen ($7.80), Itsuki Prawn Paste Ramen ($9.80)
Opening hours: Daily 10am to 10pm
Address: 153 Serangoon North Ave 1, #01-512, Singapore 550153