Kurohanabi has wagyu innards hotpot in Suntec City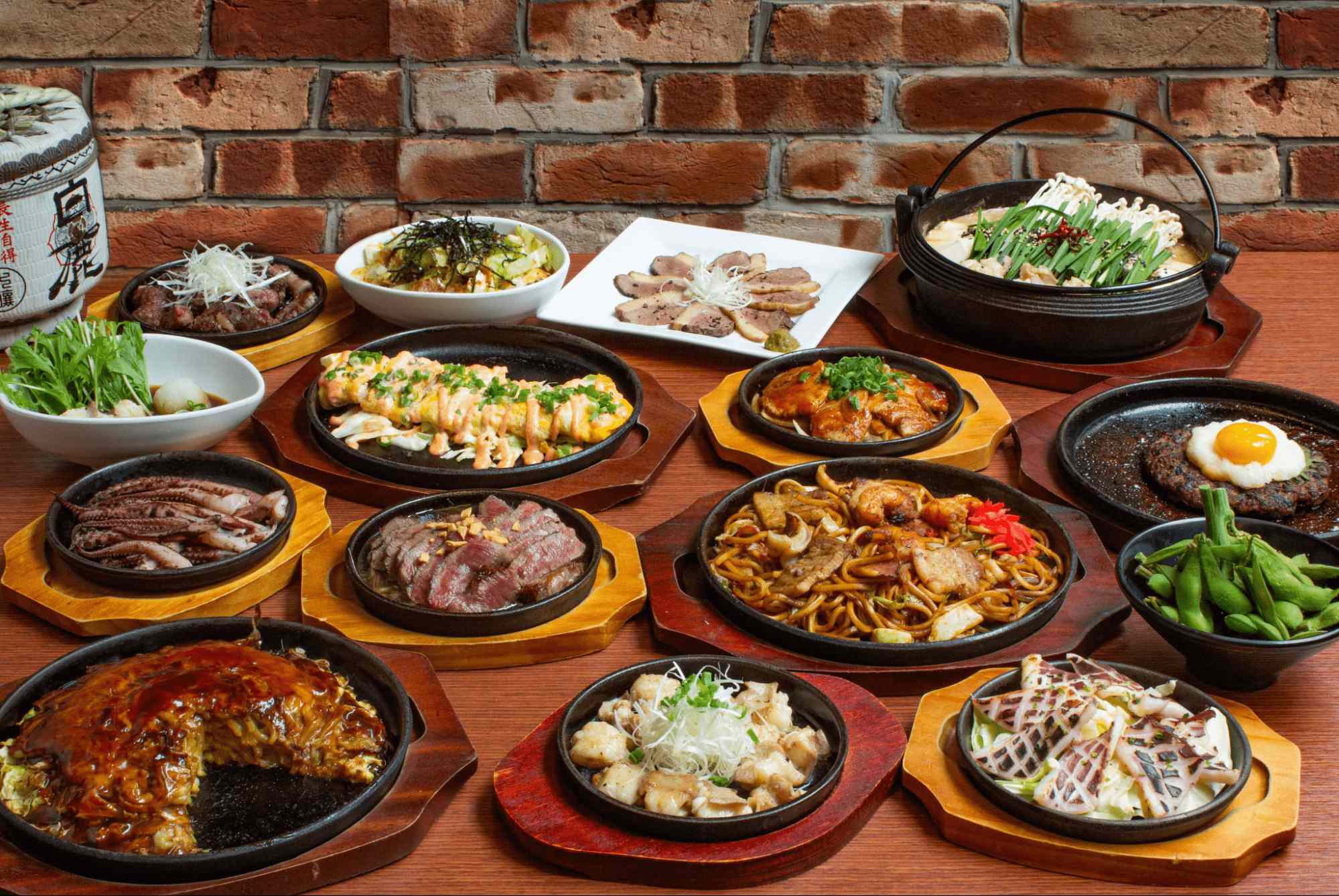 Image credit: @kurohanabi.sg
Many Singaporeans are no strangers to innards in their food—kway chap, pig's organ soup and more all make use of entrails. Most of these, however, feature innards from a pig. Kurohanabi, a Japanese restaurant in Suntec City, specialises in hotpot with Wagyu innards as its central ingredient.
Originally a popular restaurant in Hokkaido, Kurohanabi recently opened in Singapore and is already turning heads.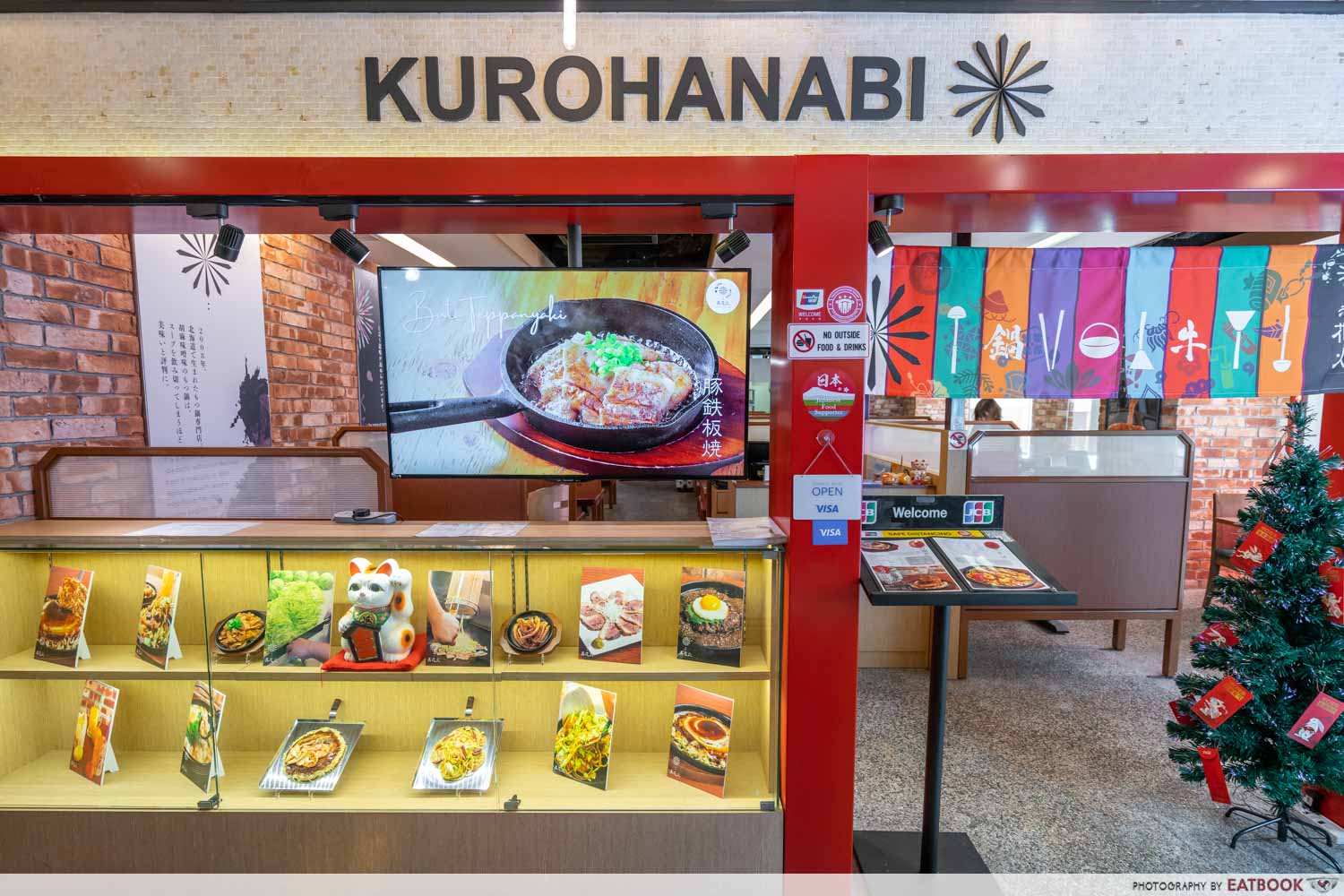 I've never had beef entrails before, so I jumped at the chance to review the restaurant. What I found was a fascinating restaurant that went far beyond just hotpot.
11 Pig's Organ Soup Stalls In Singapore For Comforting Broth, Including A Stall Open Since 1950s
Food at Kurohanabi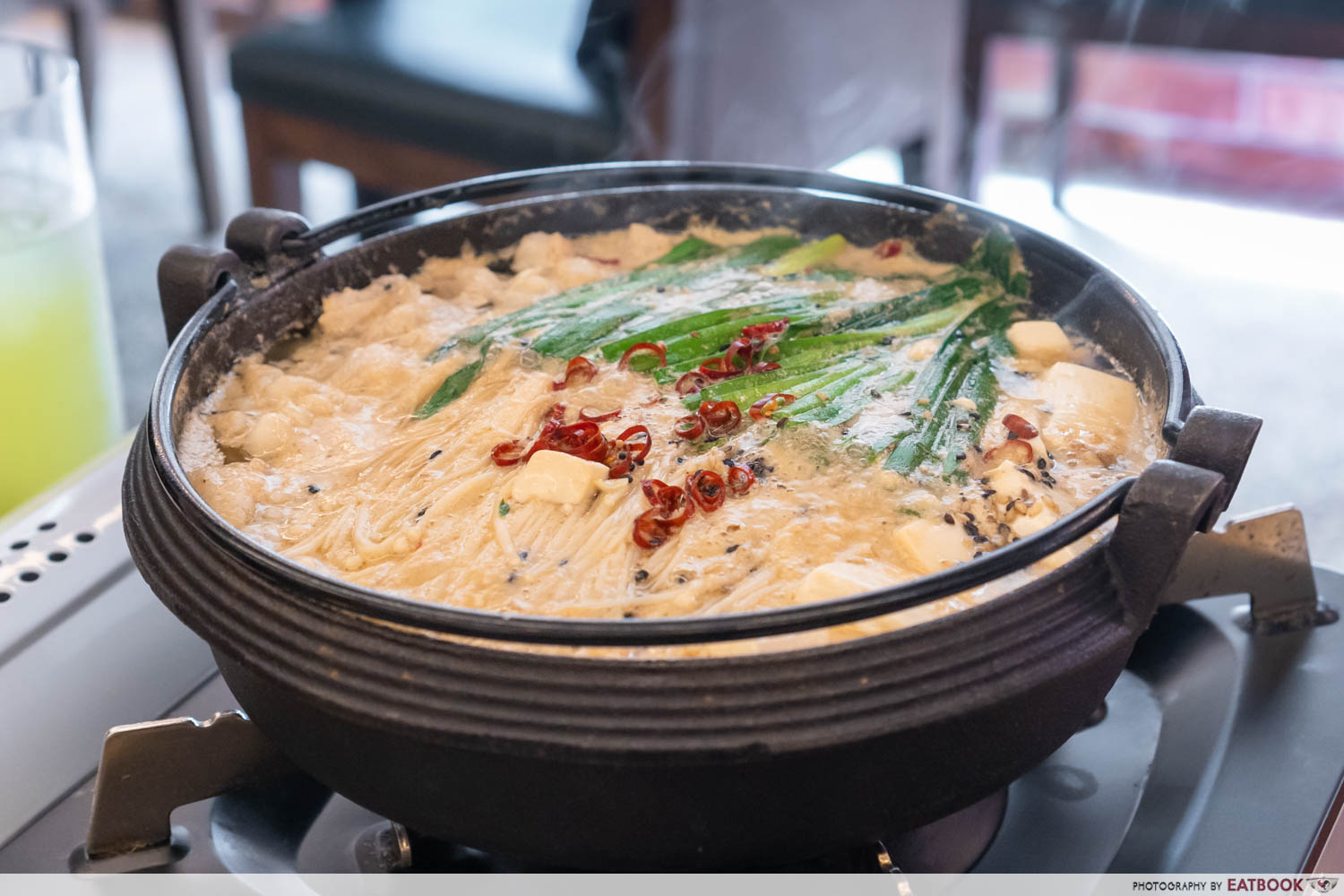 We'll get into the headlining act, the Hokkaido Motsu Nabe ($32++), first. Inside a bubbling cauldron of sesame miso soup, you'll find a medley of ingredients such as tofu, chives, cabbage, and enoki mushroom. Of course, pieces of beef intestines are strewn throughout as well.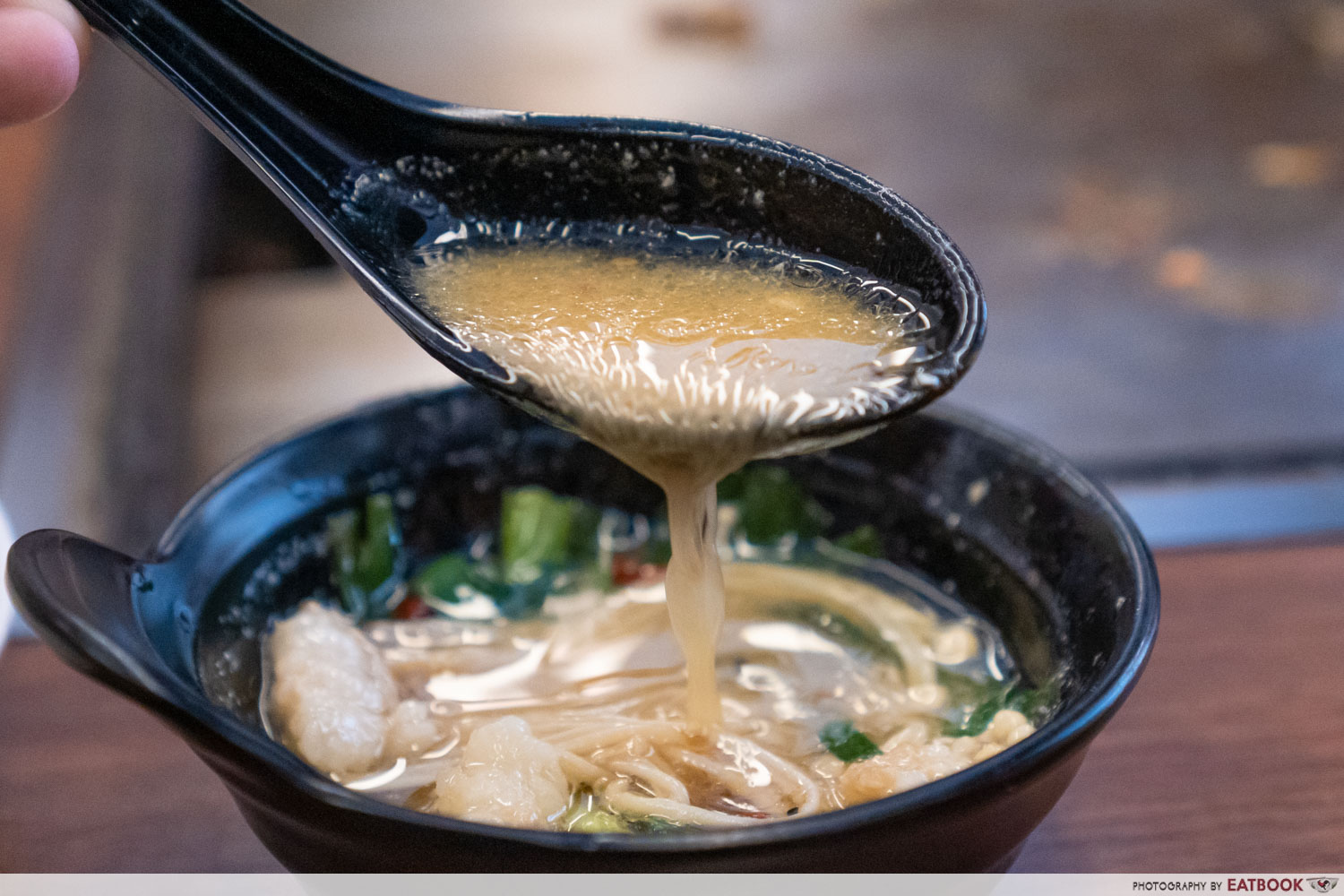 The sesame miso soup was top drawer. It brimmed with miso's natural umami that was enhanced by the beef intestines' fatty flavour, and had all the sweet goodness of cabbage and enoki mushroom. After we added some black pepper to the mix, the thick broth gained a layer of earthiness and spiciness that made it all the more satisfying.
After thoroughly savouring the aroma and flavour of the soup, it was time to try the Wagyu motsu, AKA beef innards.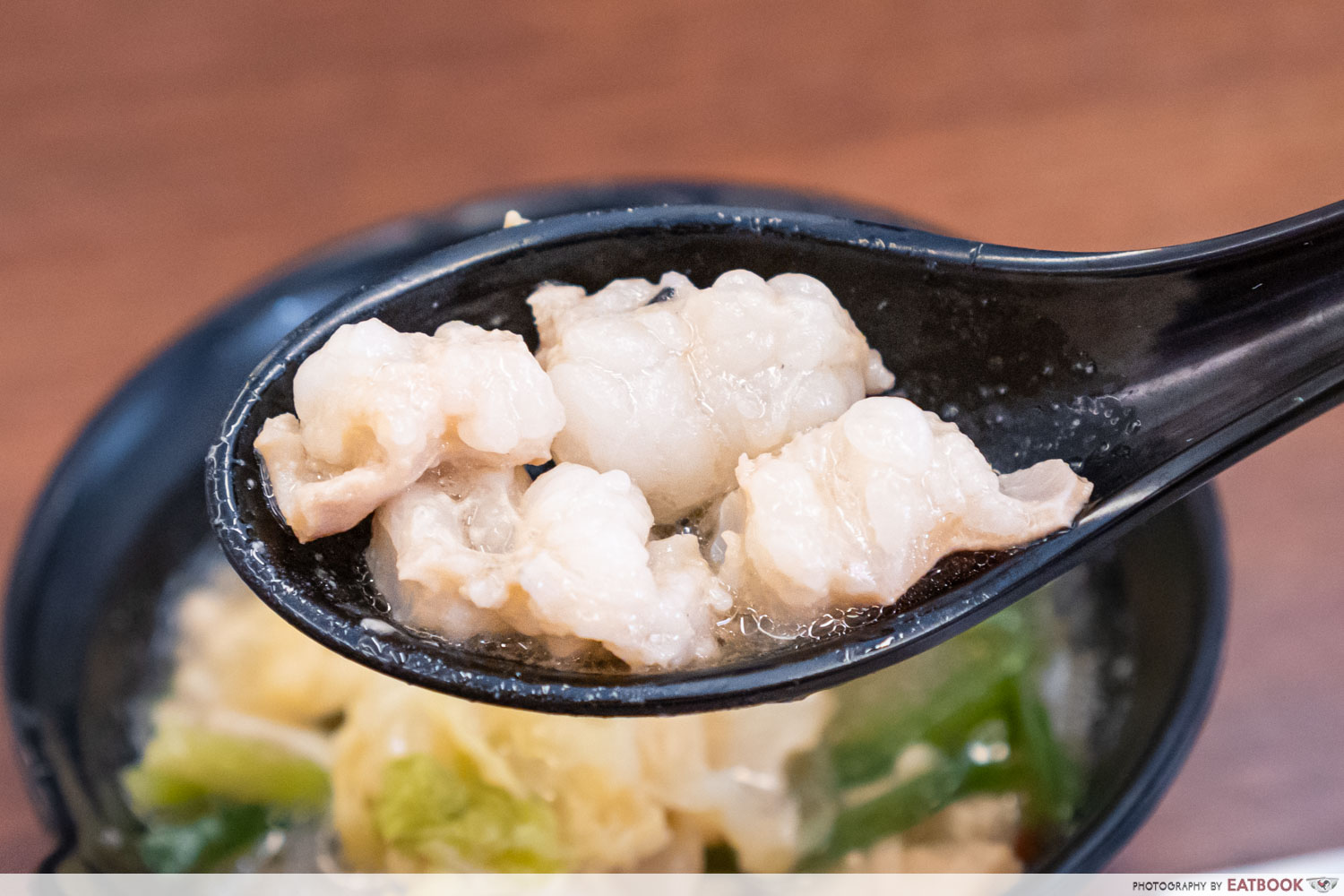 Wagyu meat is known for being particularly tender; I found the same is true for its fatty innards. Their chewy, almost silky texture made them a joy to eat, and their delicate taste—which had absorbed the sweetness of all the other ingredients—was very palatable.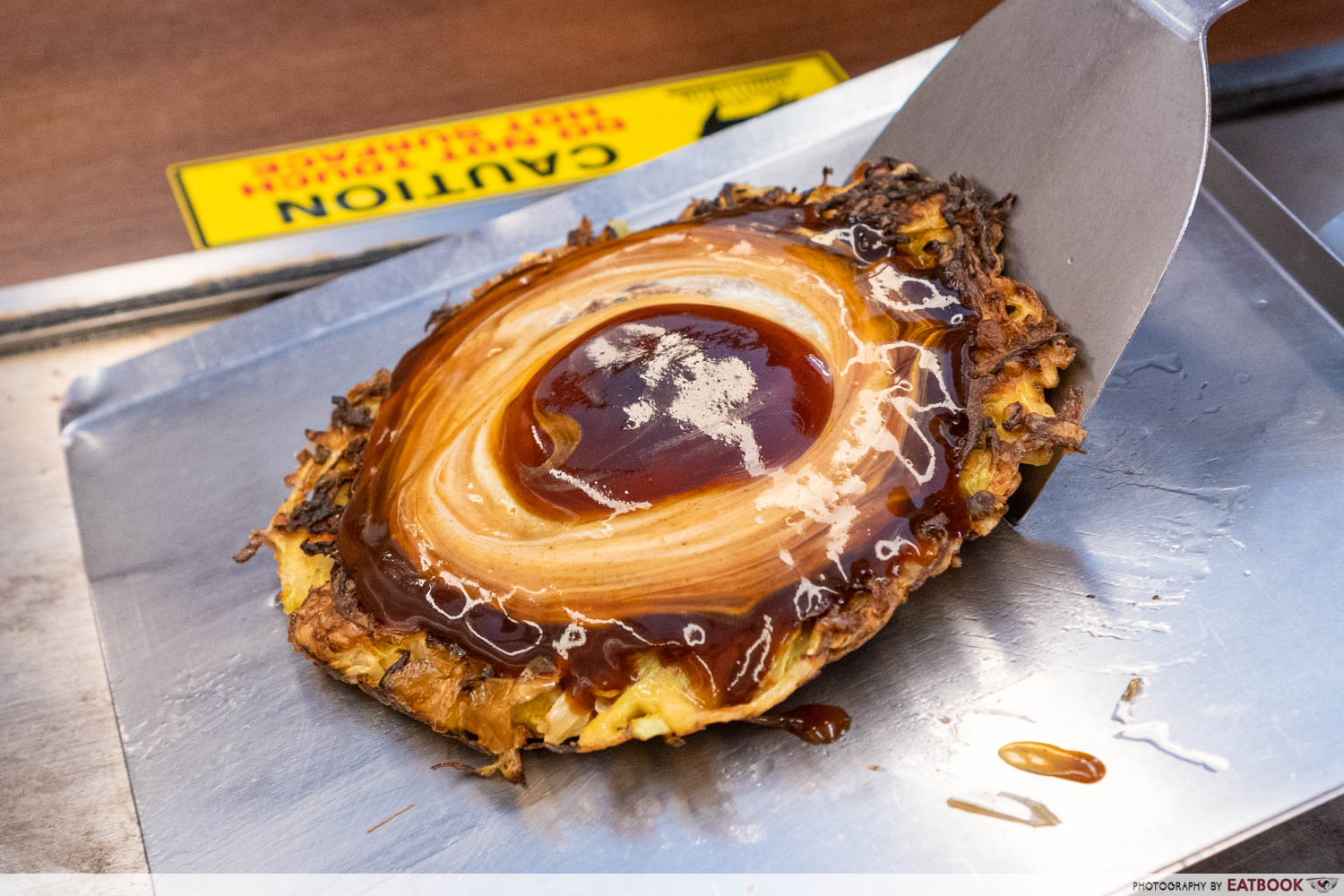 Kurohanabi's other signature dish is the Motsu Okonomiyaki ($19.80++), which is a unique take on the classic Japanese street food.
As the name suggests, Wagyu motsu is cooked into this pancake dish, and the result is just excellent. The melt-in-your-mouth quality of the beef innards contrasts the crispy batter and mix of ingredients—including eggs, seafood, and vegetables—really well, and the sweet-savoury okonomiyaki sauce imbued the dish with plenty of flavour.
While I was really impressed by the previous two dishes, the rest of our meal was a slight disappointment. The Wagyu Motsu Yakisoba ($21.80++) featured the same beef innards as before along with succulent beef chunks, but it was let down by the overly tough yakisoba noodles. I did, however, enjoy the sweet, savoury, and tangy yakisoba sauce that covered each strand.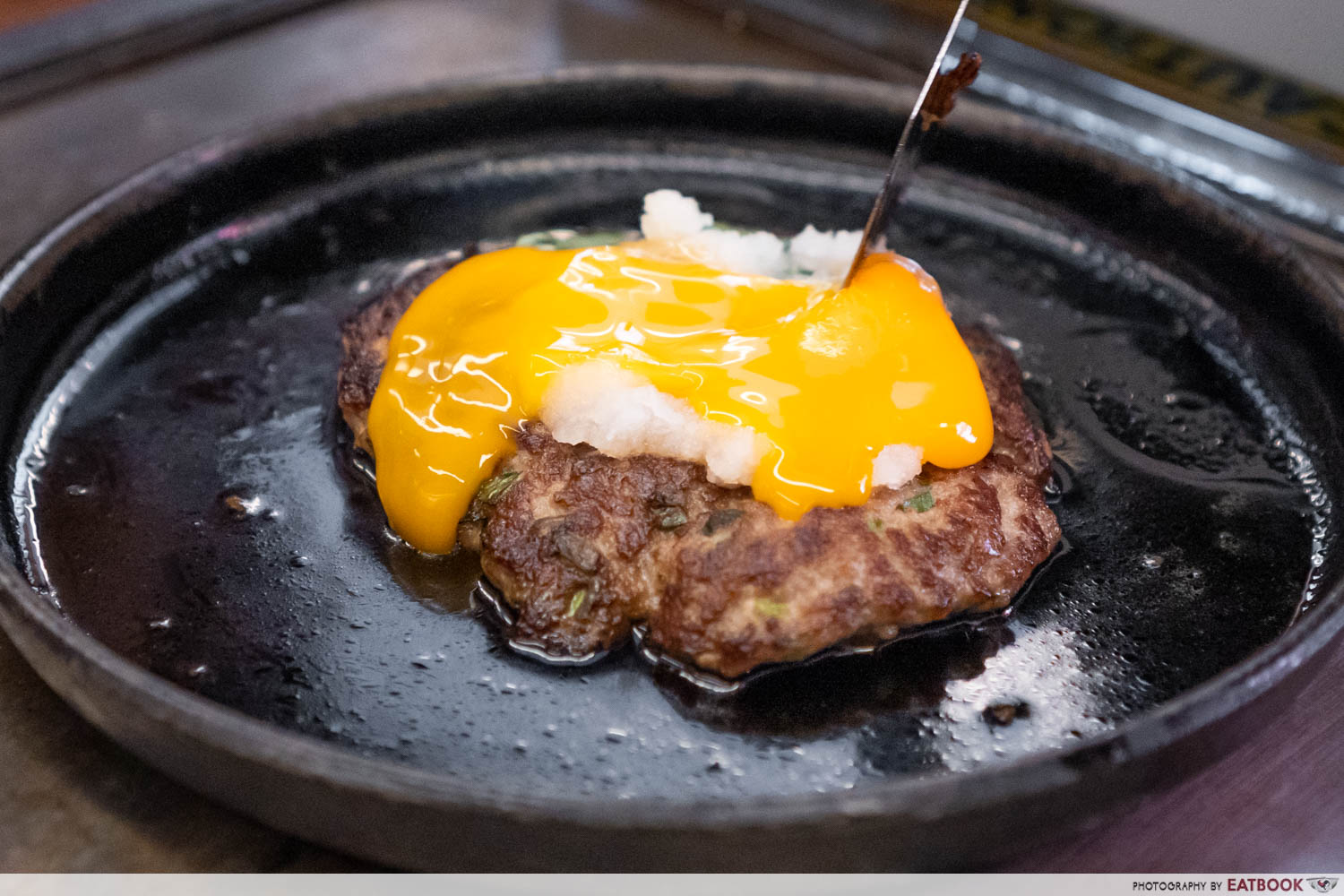 And then there was the Lamb Tsukune ($15.80), which is a pan-fried lamb patty topped with radish, fresh egg yolk, and teriyaki sauce. This was a tasty enough dish, especially with the presence of Chinese yam, onions, and chives in the patty. Unfortunately, I just couldn't ignore the gaminess of the meat, as it overpowered the other flavours a little too much for my liking—and this is coming from someone who generally likes mutton.
Ambience at Kurohanabi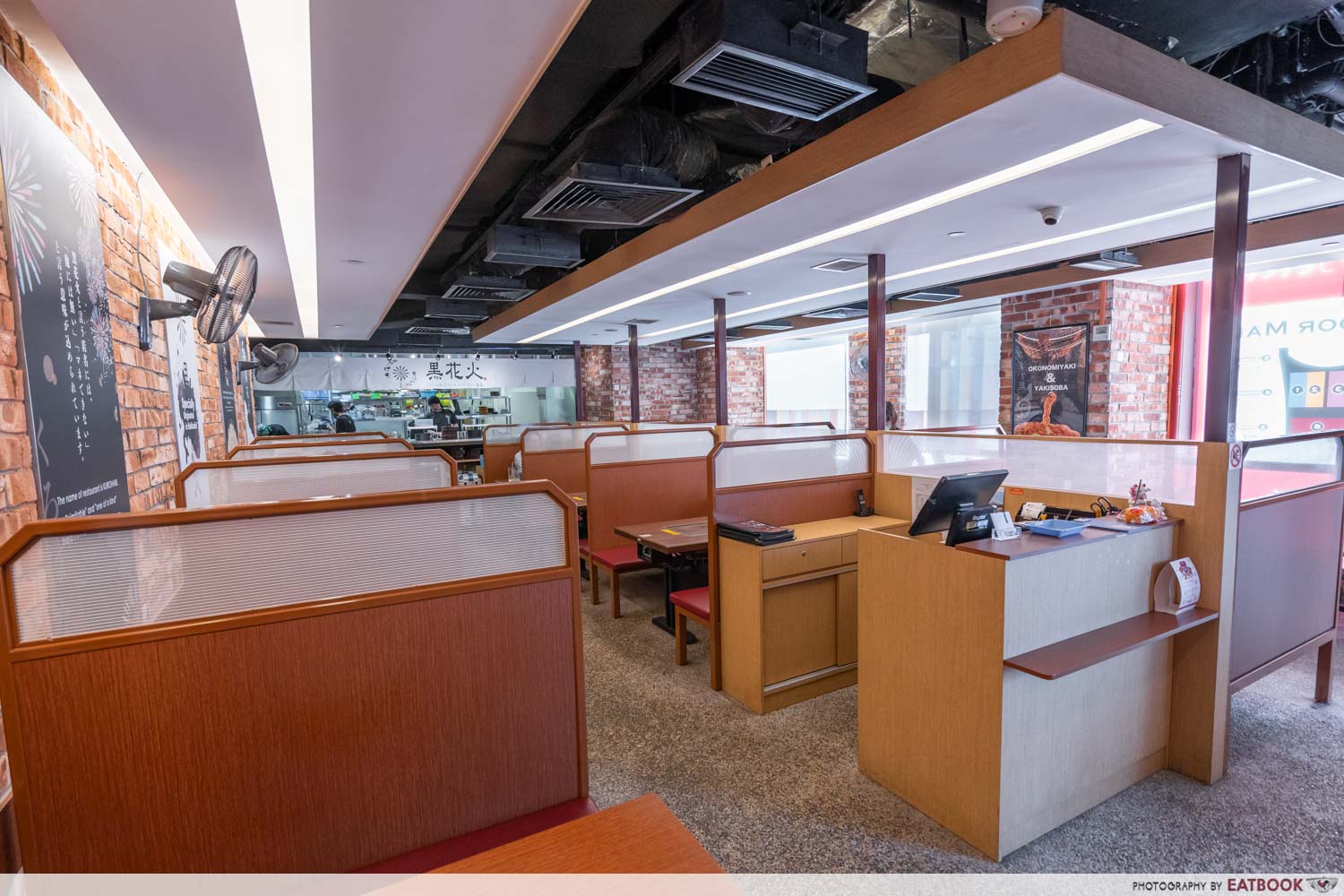 Kurohanabi is tucked away in the corner of Suntec City's Japan Food Street, which makes it a little hard to locate. You'll have to walk right of Menya Kokoro and turn into a narrow alleyway, which is where you'll find the likes of Una Una and of course, Kurohanabi. And once you're there, you'll find a homely looking restaurant that's a great setting for some hotpot.
The restaurant is a five-minute walk from Promenade MRT Station.
The verdict
Kurohanabi offers a pretty unique dining experience, especially since motsu nabe is so rare in Singapore. While not all of its dishes are stellar, it's definitely worth a shot if you have never tried the motsu nabe or Wagyu innards before.
For another Japanese restaurant to check out, have a look at our Unatoto review. As for good Japanese food in hawker setting, read our Shin Okaya review.
Address: 3 Temasek Boulevard, #03-316, Suntec City Tower 1, Singapore 038983
Opening hours: Daily 11:30 am to 3 pm, 5:30pm to 10 pm
Tel: 6250 1561
Website
Kurohanabi is not a halal-certified eatery.
Unatoto Review: Famous Japanese Chain Opens With Unagi Bowls From $9.50+ In Tanjong Pagar 
Photos taken by Melvin Mak.
This was a media tasting at Kurohanabi.
Kurohanabi Review: New Wagyu Innards Hotpot And Okonomiyaki Restaurant In Suntec City
Kurohanabi Review: New Wagyu Innards Hotpot And Okonomiyaki Restaurant In Suntec City -

7.5/10
Summary
Pros
– Hokkaido Motsu Nabe was flavourful and comforting
– Wagyu innards were melt-in-your-mouth
– Motsu Okonomiyaki is a good rendition of the classic Japanese street food
Cons
– The noodles in the Wagyu Motsu Yakisoba were overly tough
– The Lamb Tsukune's gamey taste was a little too overpowering
Opening hours: Daily 11:30 am to 3 pm, 5:30pm to 10 pm
Address: 3 Temasek Boulevard, #03-316, Suntec City Tower 1, Singapore 038983