Lowercase offers gravity-defying waffles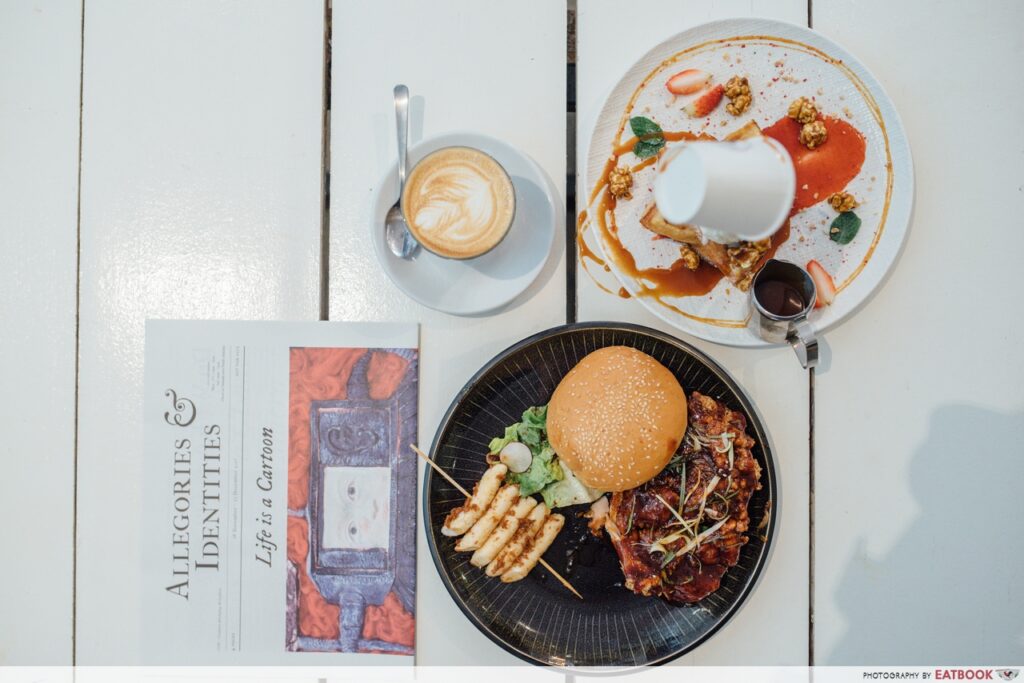 I'm all for food that can up my 'gram game. So when I saw Lowercase's latest item on the menu, I knew I had to make a beeline to this cafe located within LASELLE. Their gravity – or should we say gravity-defying – waffle was unlike anything I've ever seen. It wasn't your usual rainbow bagels or unicorn drinks, and I was in absolute wonderment. How on earth did they manage to make the popcorn stack up like that?! With this question in mind, I decided to take the Downtown Line from our office to Rochor to uncover the magic.
Food at Lowercase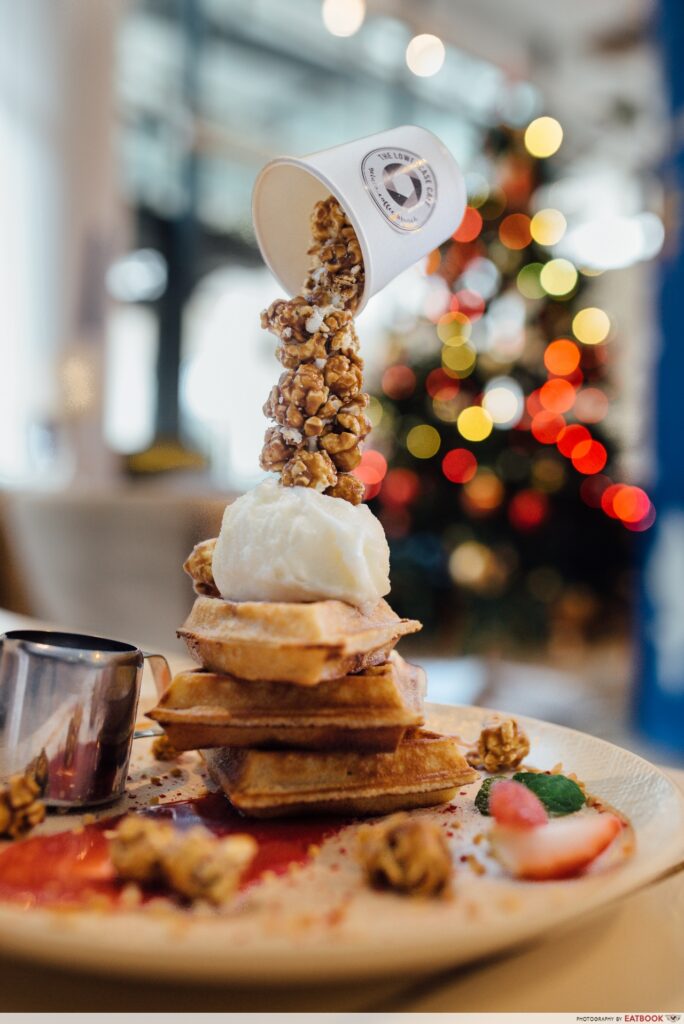 I was met with an animated grin by the cashier when I ordered the Gravity Waffle ($15). Excitement bounced off him as he announced my order to his pastry chef. This made me even more eager to see if the waffle tastes as remarkable as it seemed.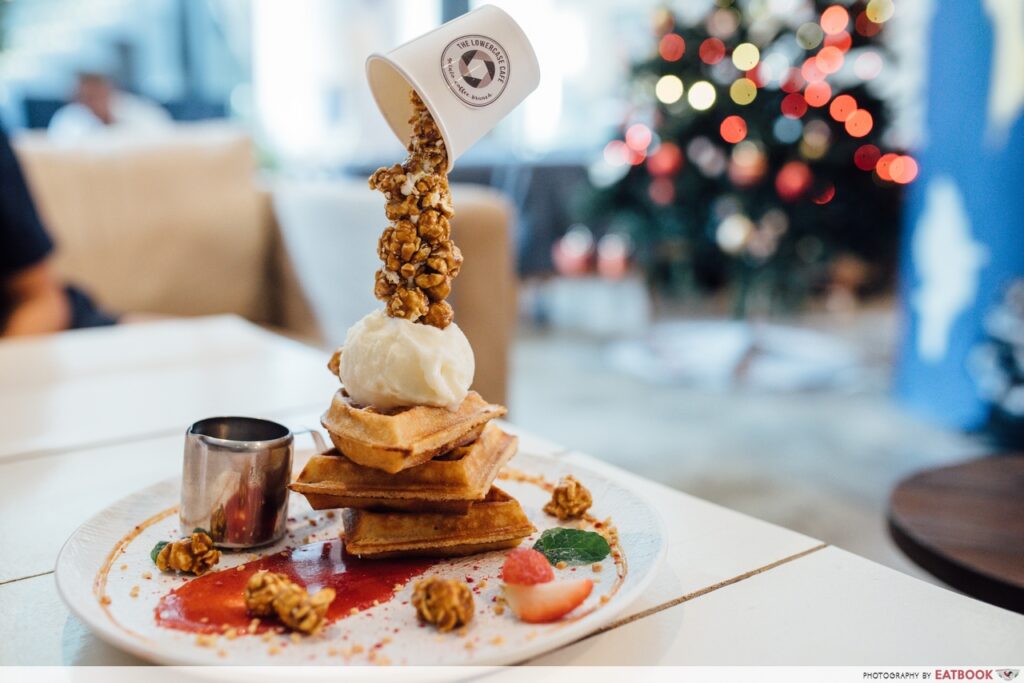 We waited a good long 20 minutes before the Gravity Waffle finally arrived. Food is nothing without taste, and the Gravity Waffle certainly scored well for a sweet treat. If you like Garrett's caramel popcorn, then you will be pleased to know the popcorn used is from the famed Chicago gourmet popcorn store. It was crunchy and not the least bit lao hong. While its toasty, nutty aroma did tease my appetite, the waffles could have done better in terms of fluffiness. Its crisp, well-browned exterior was brought down by a bready inside, which I felt could have been much lighter and airier.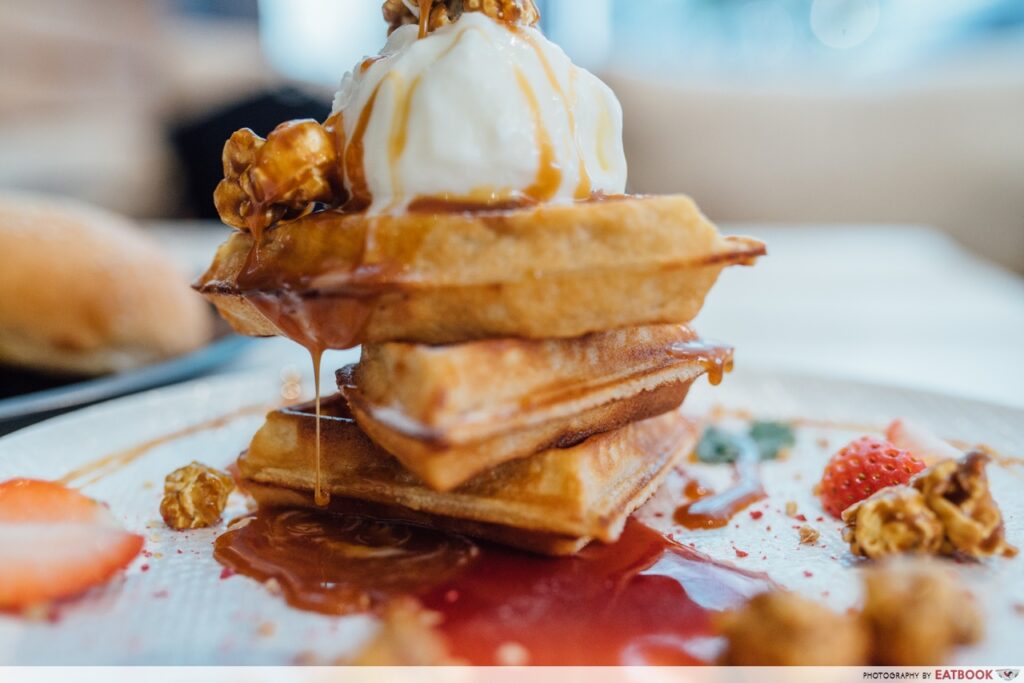 Lowercase is best known for their delicious in-house gelato, and the winner of the entire dish was definitely the Cocktail Caribbean ice-cream. It tasted just like a piña colada and I would go down to Lowercase again just for it. Sweet, tangy notes from the tropical pineapple refreshed my palate, while the coconut flavour gave the ice-cream a nice buttery finish. It wasn't too sweet, and helped balanced out the caramel popcorn, accompanying caramel sauce and sweet strawberry sauce.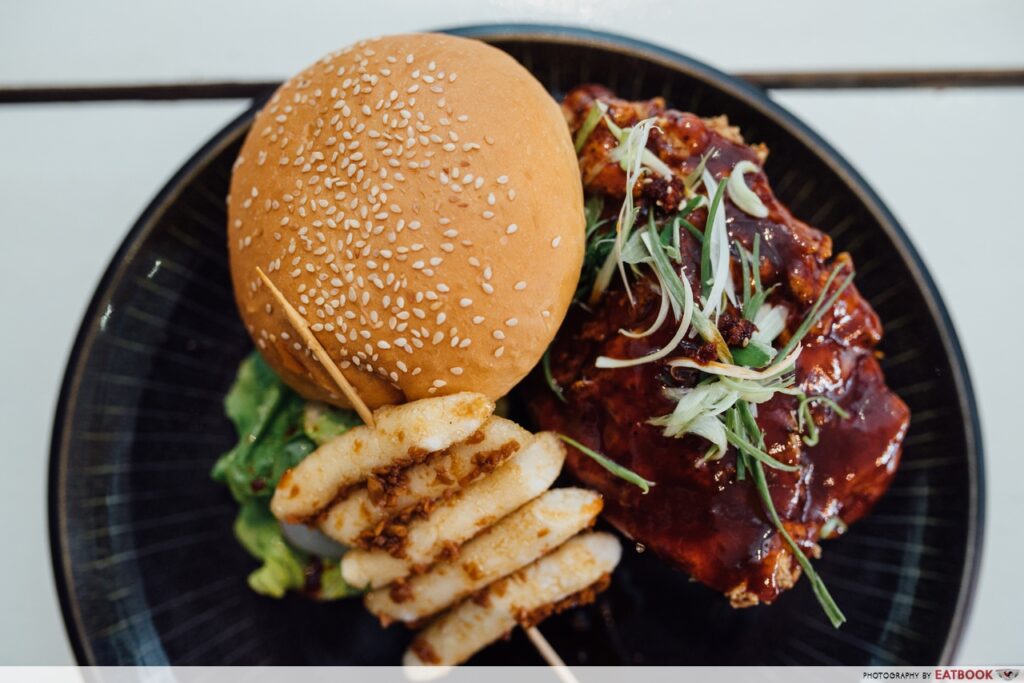 We also had their Kimchi Chicken Burger ($16.50) to try. The massive fried chicken patty was heavily doused in blood-red gochujang sauce and topped with slices of leek. The sauce had a mild heat, but it was not well-balanced; it lacked the complex mix of sweet, salty and savoury flavours a good gochujang sauce should have.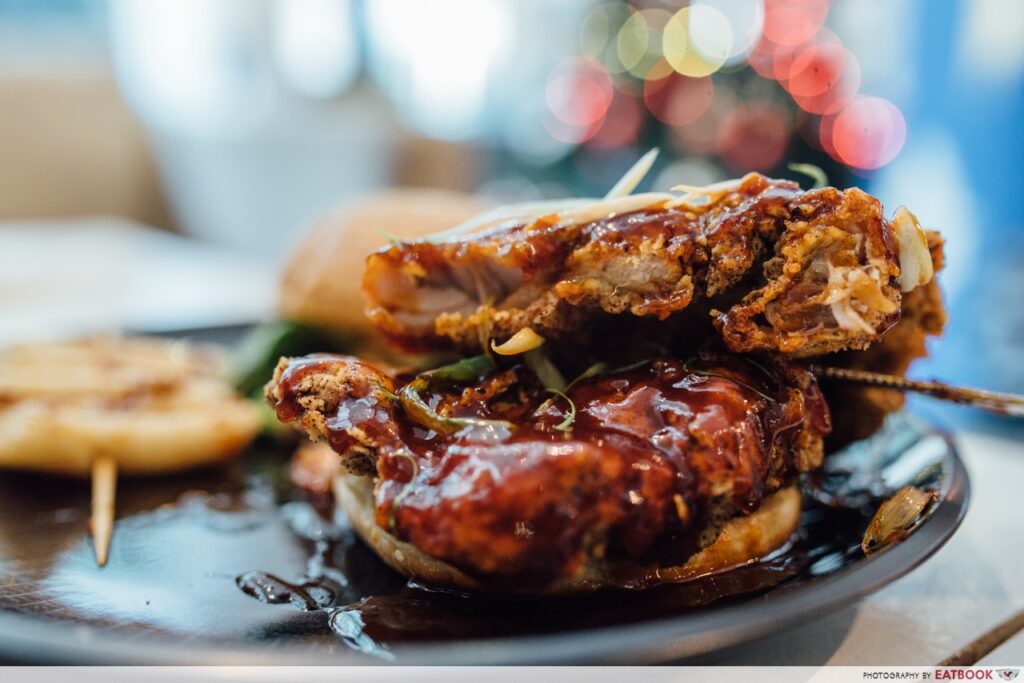 Like the waffle, the chicken looked good on the outside, but the meat beneath the batter left much to be desired – it was super dry. The batter-to-meat ratio was also not up to standard, with more crunchy batter than meat.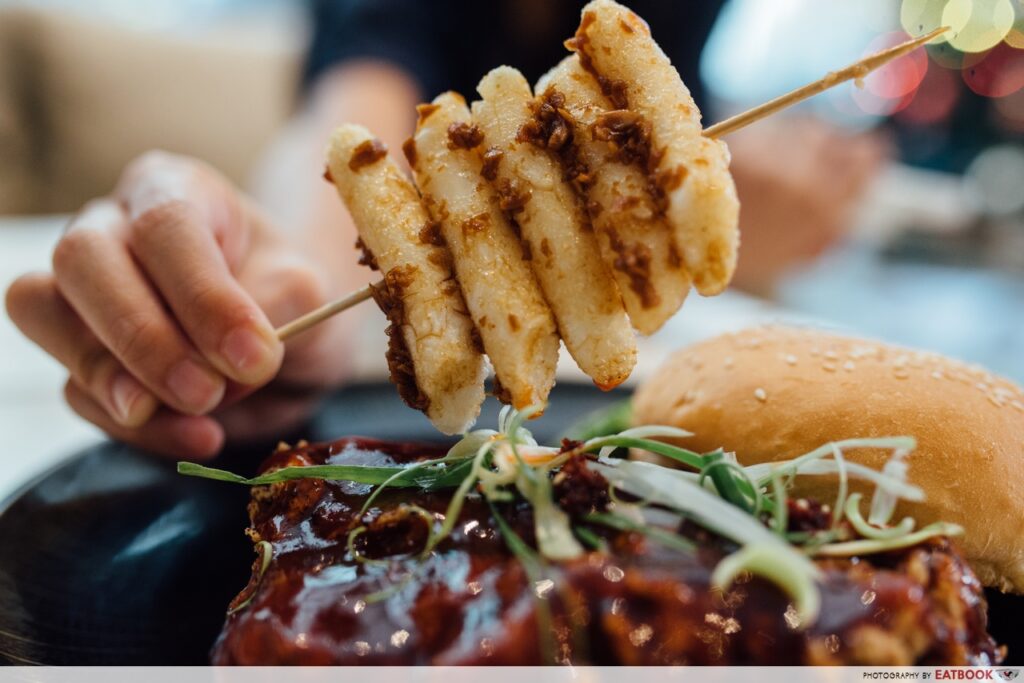 A skewer of honey garlic fried tteok was served instead of fries. Sadly, the rice cakes were over-salted and not as chewy as I hoped it would be. My dining partner and I agreed that the only saving grace was the buttery toasted bun.
Ambience at Lowercase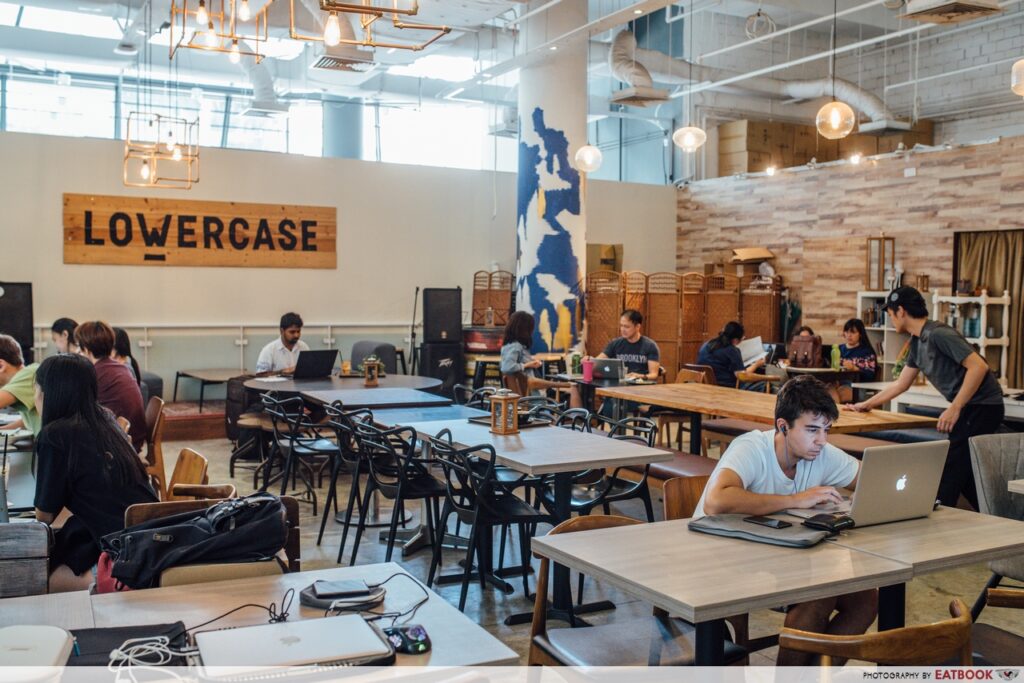 Offering free Wi-Fi, Lowercase makes for a conducive working spot in town. The space is sprawling with ample seats too, so you can easily hold a meeting or study group here. In fact, we saw quite a few groups of students huddling over a laptop, as well as office workers having a serious conversation. There are also comfy sofa seats, great if you're coming here just to chill out. A stage was spotted at the front, and I was told that at night, the space transforms into a drinking den, with musicians serenading you while you sip back a beer.
The verdict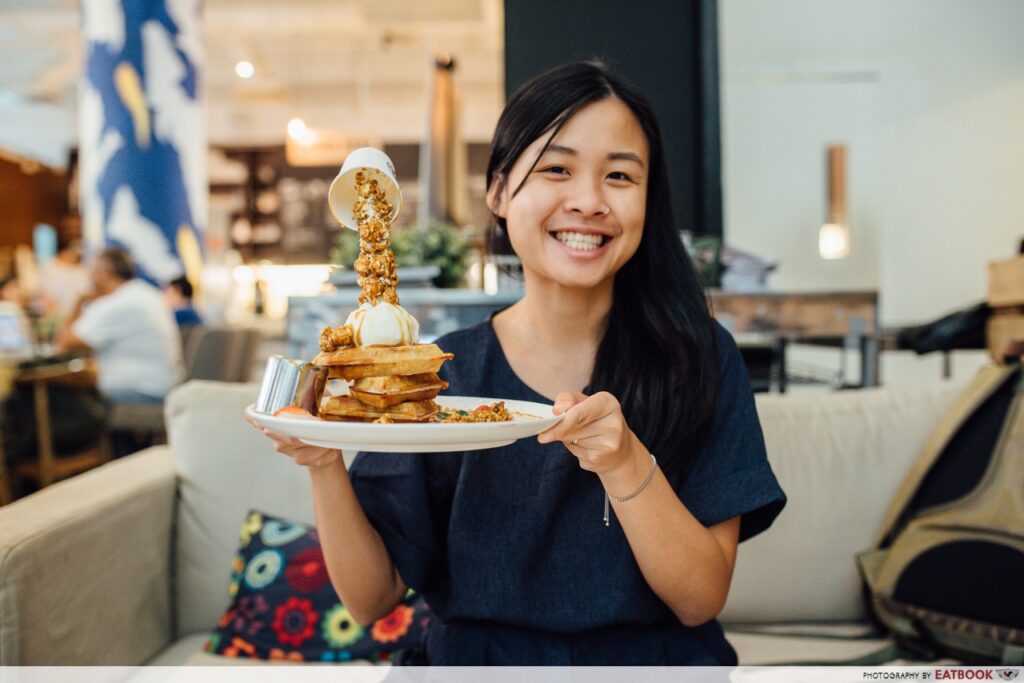 Food takes a backseat at Lowercase. The only thing solid is their house-made ice-cream and coffee. Other than that, what we had was not as rave-worthy as we hoped it would be. Nonetheless, if you're looking for a cafe that can accommodate big groups or simply finding a nice spot to get your work done, Lowercase will make a good choice. Up your Instagram follower count and snap an #OOTD at these prettiest storefronts in Singapore or post an Insta-story of these flaming dishes!
Address: 1 McNally Street, #01-01, Block D, LASALLE College of the Arts, Singapore 187940
Opening hours: Mon-Sat 9:30am to 10pm, Sun 9:30am to 3pm
Tel: 6337 5581
Website
Menu
This is an independent review by Eatbook.sg
Summary
Pros
– Instagrammable food
– Delicious ice-cream
Cons
– Expensive
– Food did not fare well

Recommended dishes: Gravity Waffle ($15)
Opening hours: Mon-Sat 9:30am to 10pm, Sun 9:30am to 3pm
Tel: 6337 5581
Address: 1 McNally Street, #01-01, Block D, LASALLE College of the Arts, Singapore 187940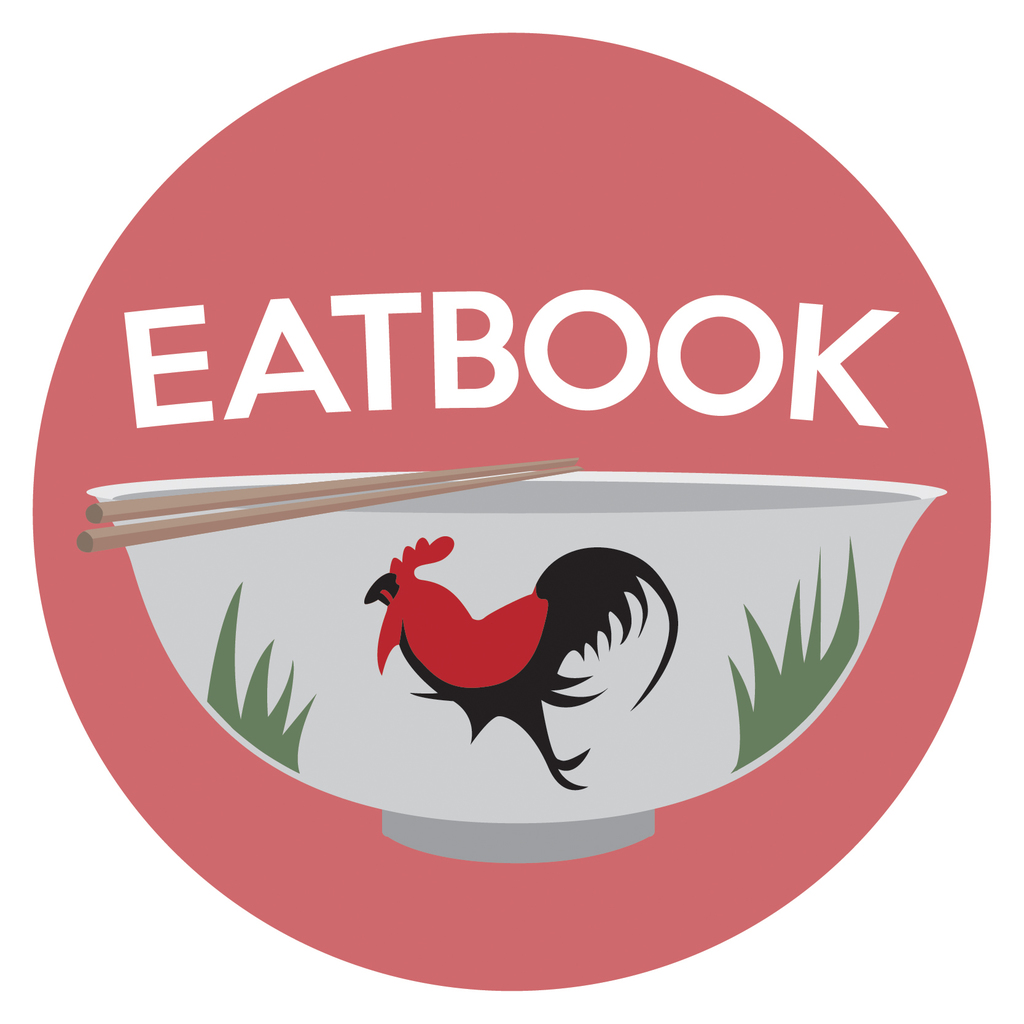 Drop us your email so you won't miss the latest news.