---
Value-for-money lunch deals in the West
---
There are plenty of reasons to love lunch deals: generous portions, plenty of sides, and cheap prices are more than enough to make me look forward to 12pm. Lunch-time promotions are all over Singapore, but finding the right one can be difficult. 
For those who live or work in Clementi, Bukit Panjang, Jurong, or Buona Vista, count yourselves lucky as the area is filled with affordable and delicious fare such as mentaiko carbonara and legit ramen from Japan. Read on to find out more.
---
1. Tonkotsu Kazan
---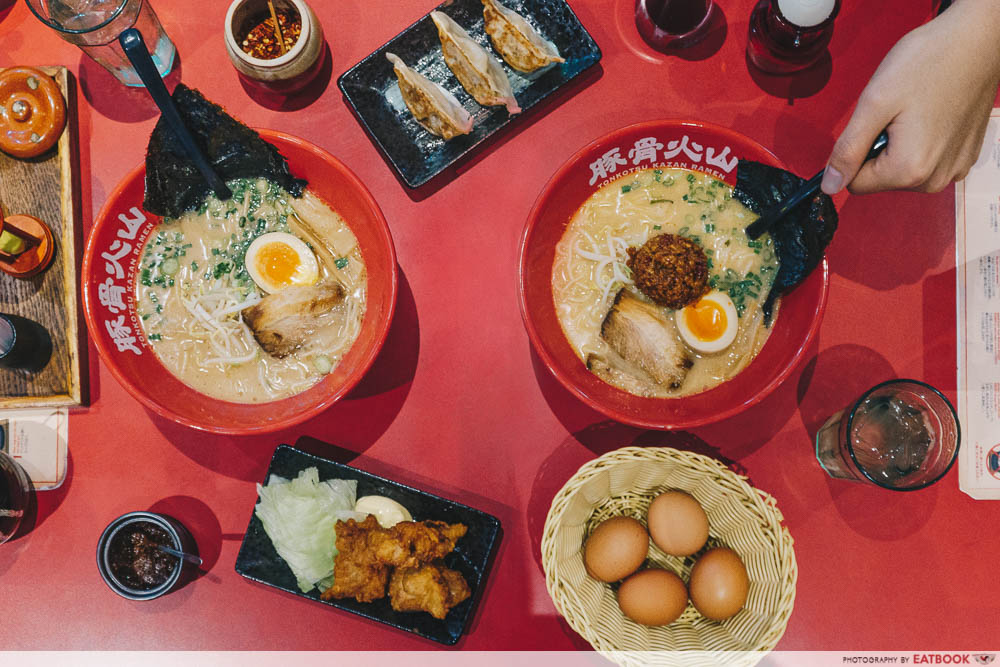 Originating from Japan, Tonkotsu Kazan is a well-kept secret of the denizens of Bukit Panjang. This small ramen joint was packed even on a Monday afternoon, with many opting for their affordable ramen sets. Their tonkotsu broth is made fresh in-store and uses pig's head to give an extra layer of gelatinous richness.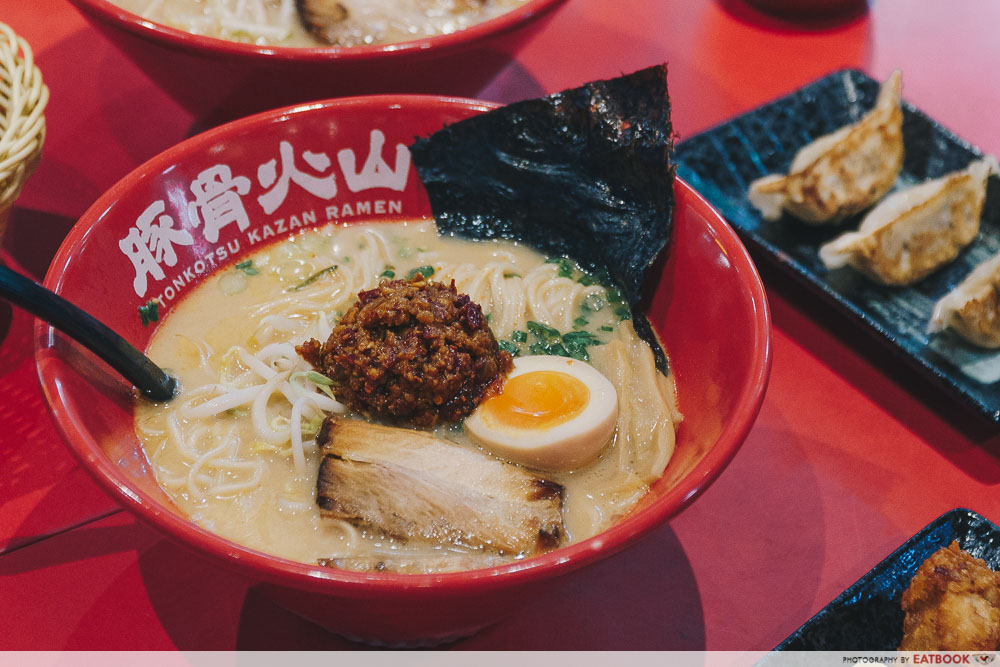 Karamiso Ramen Set ($12.80++) gets you a piping hot bowl of spicy miso ramen and a choice between five different side dishes. What we like about this lip-smacking soup is how the spices seem to hit the sweet spot, gently teasing us with its subtle spicy notes. The noodles also have a nice springiness to them, making it extra fun to slurp up. 
Address: 1 Jelebu Road, #01-64/65, Bukit Panjang Plaza, Singapore 677743
Opening hours: Daily 11am to 10pm
Tel: 6767 2675
Website
---
2. 5 Senses Bistro
---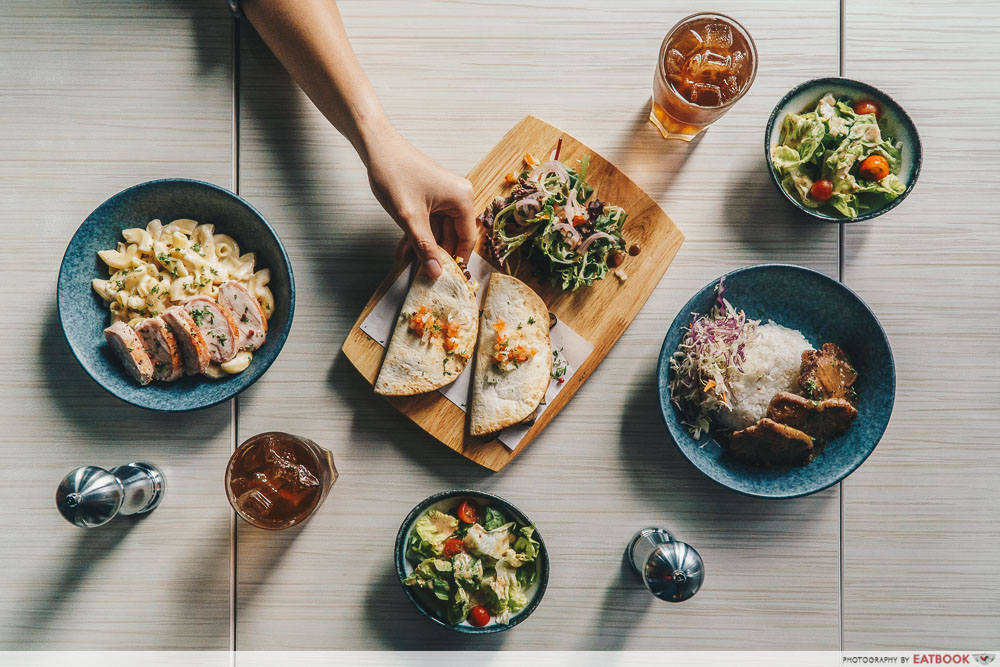 Locally-owned 5 Senses Bistro ought to be on your list for lunch dates. Unlike many chain restaurants, most of the items here are made from scratch. The cosy restaurant also has an open kitchen, letting you catch the chefs at work.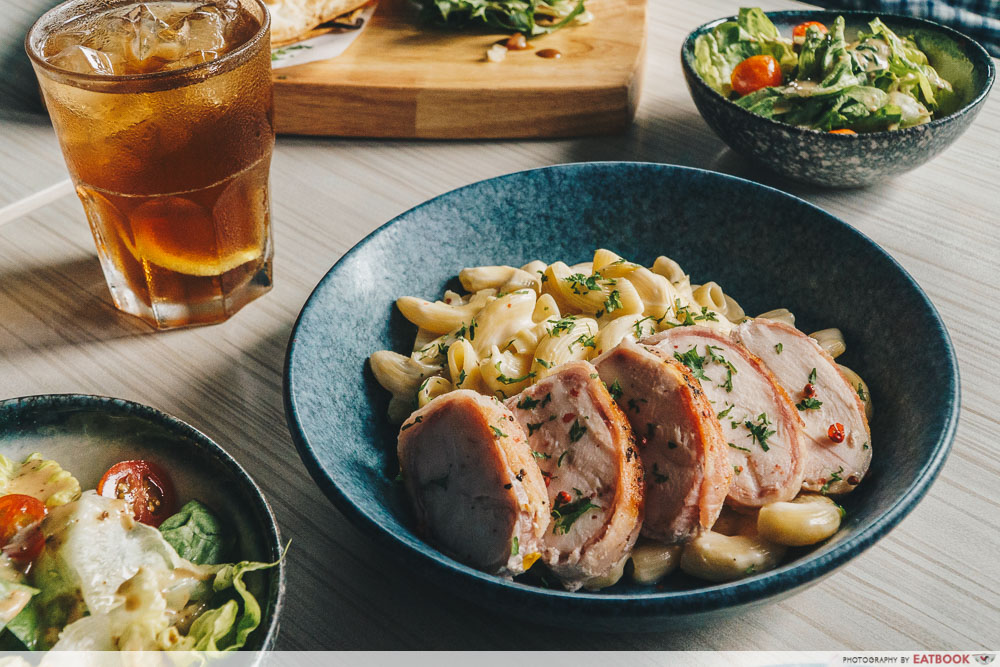 There's a variety of lunch specials that rotate monthly, but the Smoked Chicken Breast Mac & Cheese ($10.90++) is our clear favourite. This hearty dish features the restaurant's signature chicken breast that's wrapped with a layer of extra smoky bacon. Each set also comes with a side of salad and lemon tea, making it extra good for value.
Address: 1 Vista Exchange Green, #02-21, The Star Vista, Singapore 138617
Opening hours: Daily 11am to 9pm
Tel: 6339 1435
Website
---
3. WATAMI Japanese Dining
---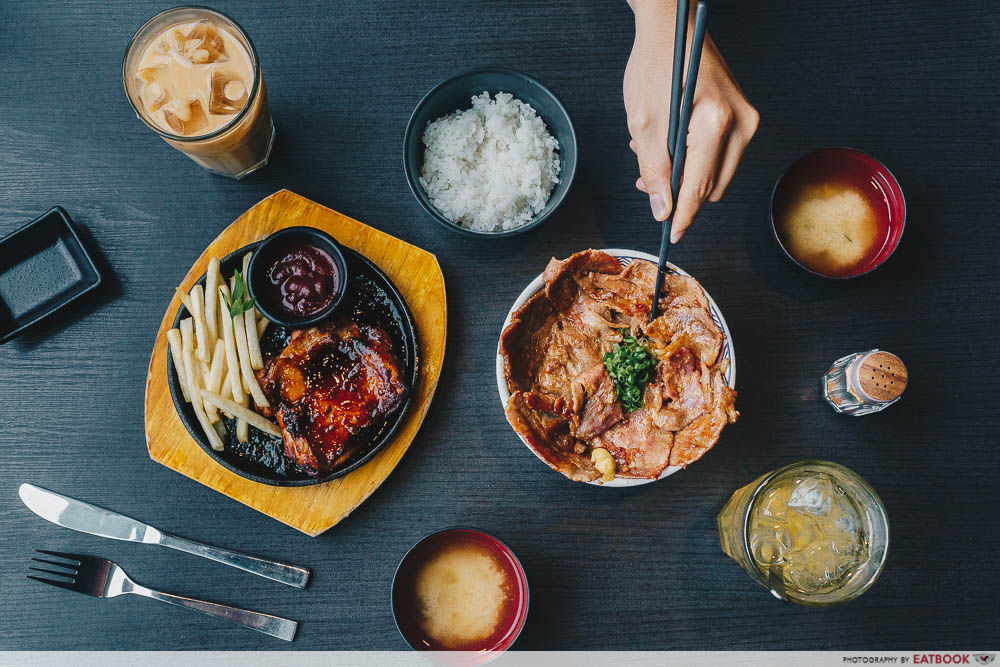 Brimming with hungry students and office workers during lunchtime, WATAMI Japanese Dining is a popular spot for those around the Buona Vista area. The restaurant even has an exclusive lunch menu that's filled with loads of exciting sets to choose from.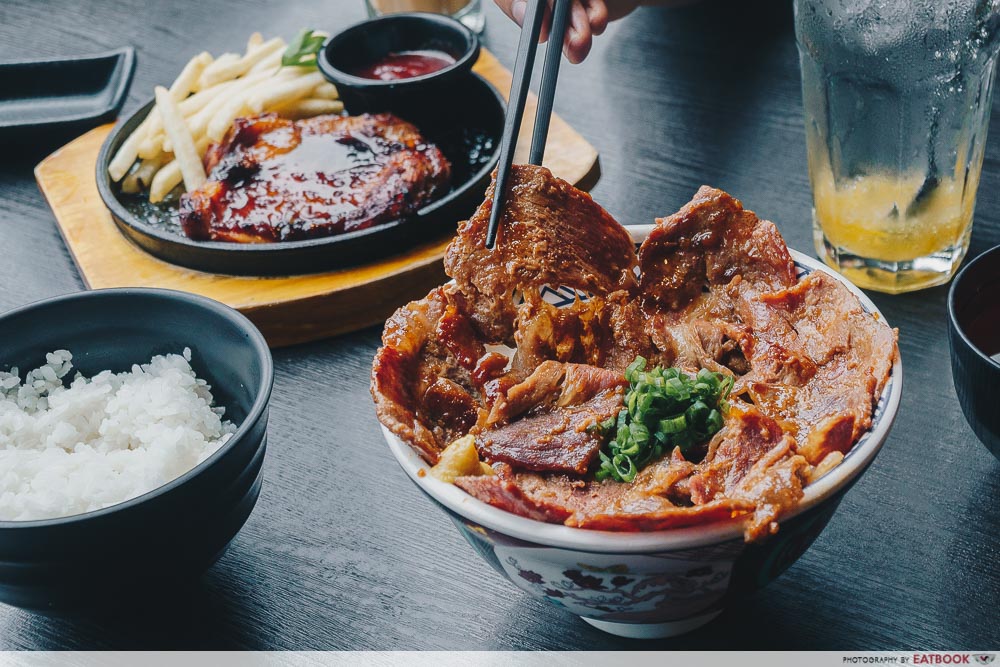 The Tokachi-style Pork Rice Set ($12.90++) is one of their best-sellers, featuring thick slices of succulent pork loin that are marinated in yakitori sauce before being seared on the griddle. The set also comes with a healthy selection of drinks, with several house-made items such as yuzu soda, milk tea, and yuzu tea. 
Address: 1 Vista Exchange Green, #02-16, The Star Vista, Singapore 138617
Opening hours: Daily 11:30am to 10pm
Tel: 6694 3643
Website
---
4. Yomenya Goemon
---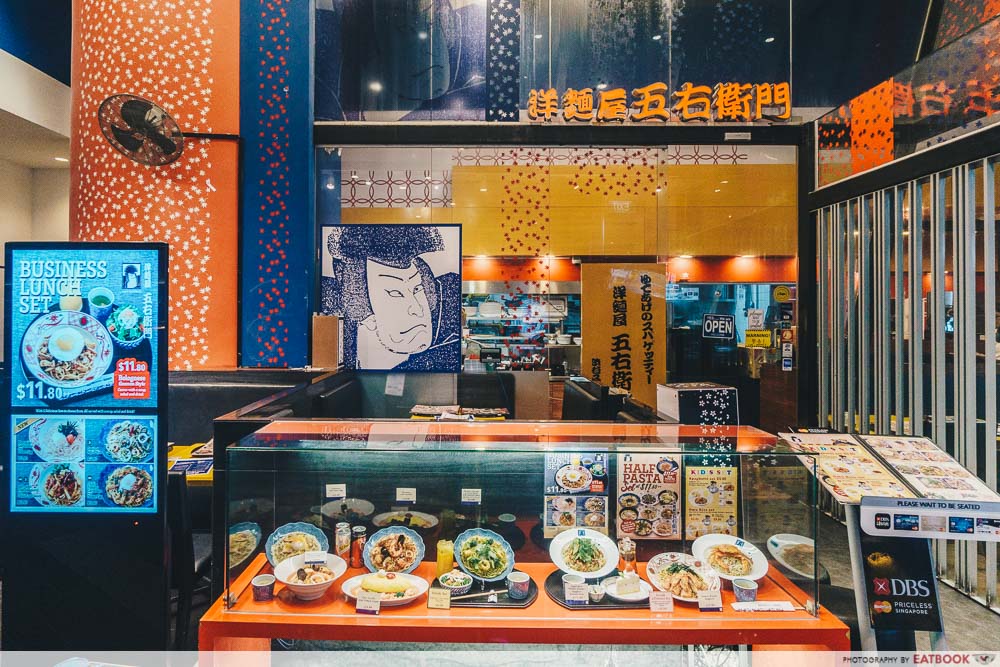 Yomenya Goemon is known for dishing up spaghetti with elegant Japanese flavours. Just like how ramen noodles are best enjoyed by noisily slurping them up, the same is encouraged for their spaghetti. Unlike at regular pasta joints, you won't find forks and spoons here. Instead, a pair of chopsticks is given for you to inhale these springy noodles.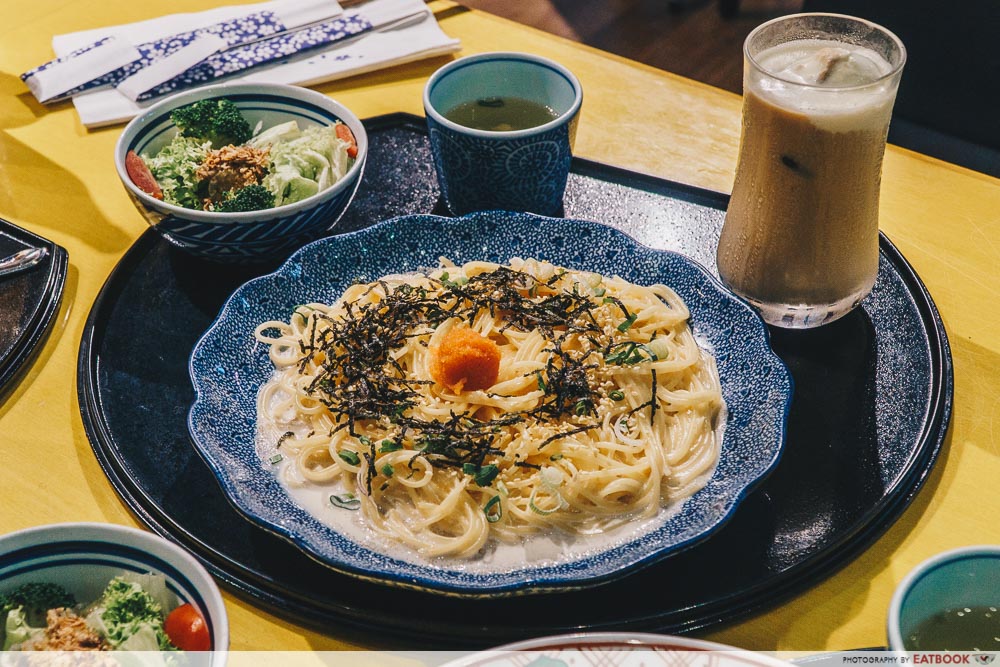 Their business lunch sets offer great value for money, with five different pasta flavours to choose from. A side salad, soup, and drink are also included in the set. We tried most of their pasta on the lunch menu and liked their Mentaiko Carbonara with Onsen Egg ($11.90++) best. Cooked spaghetti noodles are mixed with cream, then topped with a generous serving of mentaiko. It's recommended to give the noodles a good mix so that the flavourful roe coats everything evenly. 
Address: 1 Vista Exchange Green, #02-04, The Star Vista, Singapore 138617
Opening hours: Mon-Thur 11:30am to 9:30pm, Fri-Sat 11:30am to 10pm, Sun 11:30am to 9:30pm
Tel: 6694 3570
Website
10 Buona Vista Food That'll Tempt You To Alight The Next Time You're Changing Train
---
5. Menya Musashi
---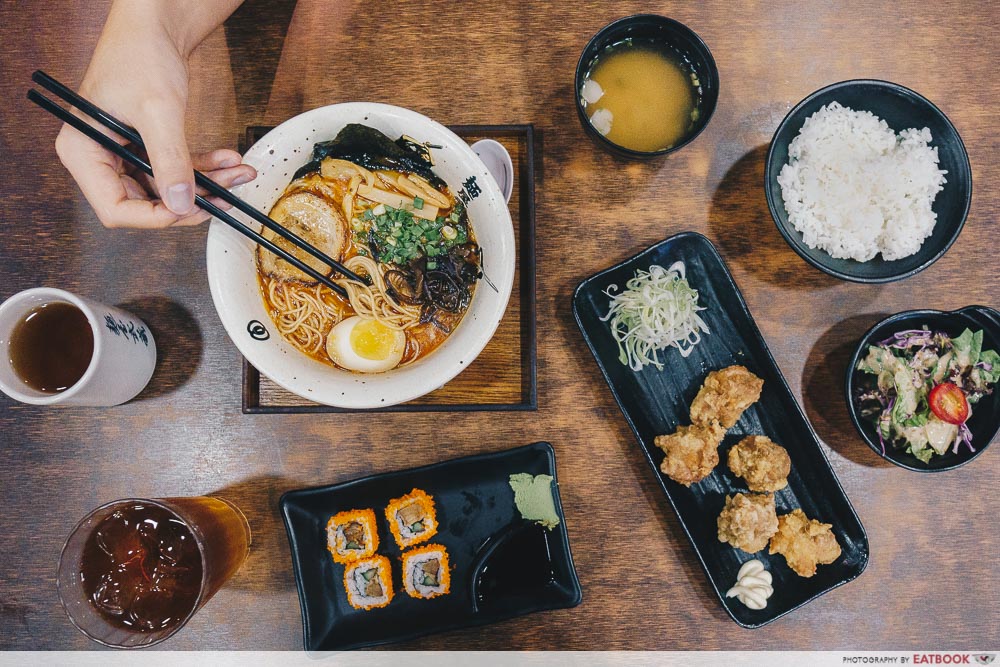 Frequent visitors to Japan should be familiar with Menya Musashi. The Tokyo-based ramen chain is widely recognised as one of the best in the city. The Star Vista outlet is the next best alternative for those who're missing a taste of Tokyo.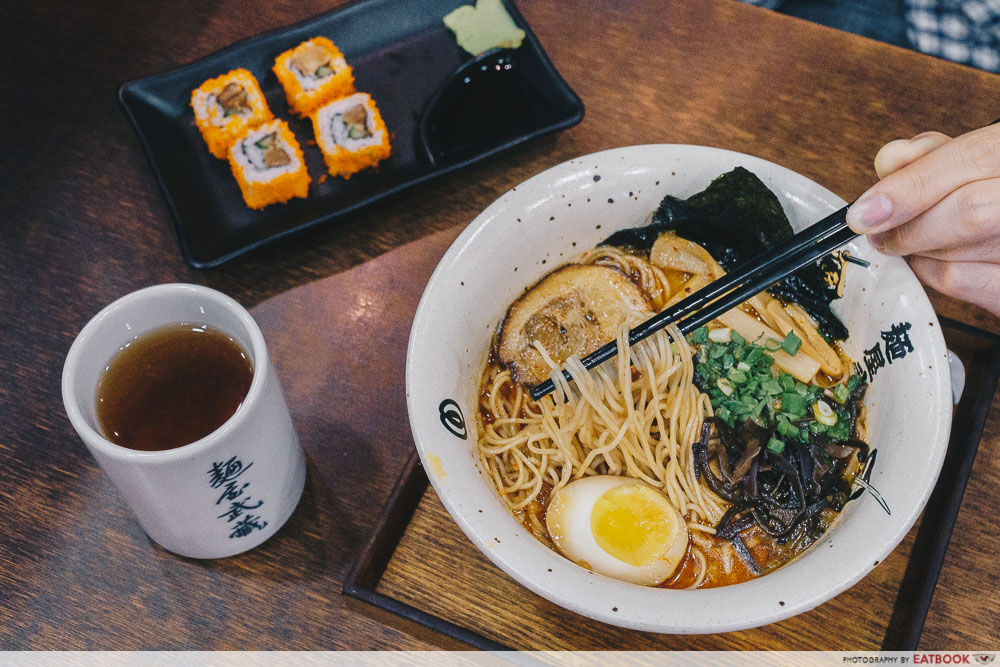 The Lunch Ramen Set ($11.90++) lets you choose from three different types of ramen, and also six different side dishes. We were spoilt for choice with options such as grilled gyoza and fried chicken, but eventually settled for their cha shu maki. The soup packs a hearty punch and is slightly thicker and creamier than other stores'. It also comes with a free houji tea, which you can enjoy either cold or warm. 
Address: 1 Vista Exchange Green, #B1-08, The Star Vista, Singapore 138617
Opening hours: Daily 11am to 10pm
Tel: 6694 2515
Website
---
6. Gochi-So Shokudo
---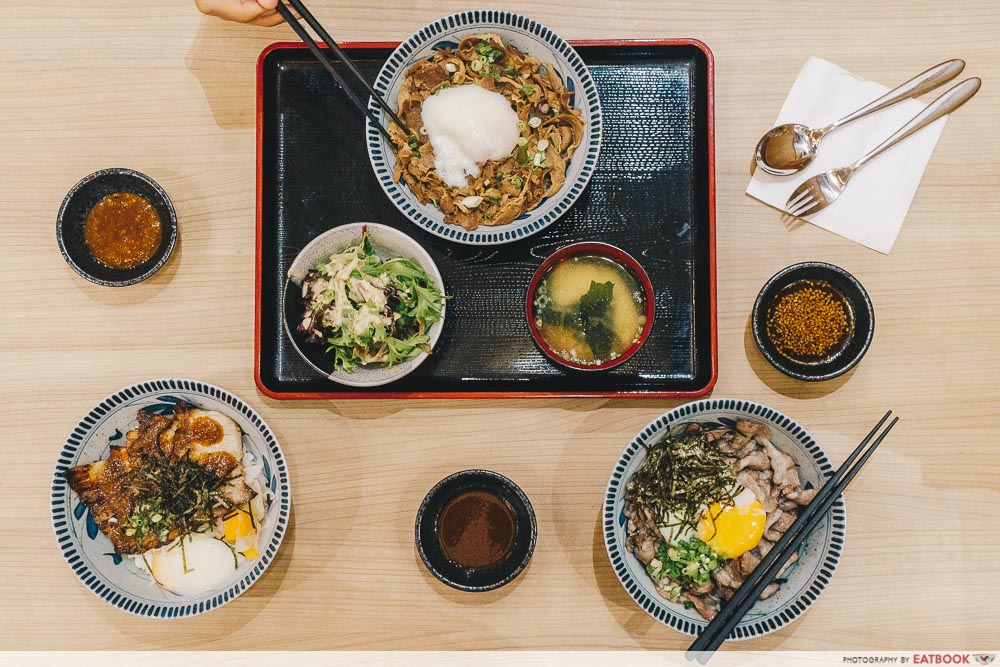 Iberico pork is the name of the game at Gochi-So Shokudo. These highly-prized pigs are free to roam the lush fields of Spain, and are fed with acorns to give silky ribbons of fats that are punctured with a hazelnutty taste. Prices here are nett, leaving more room for that post-lunch bubble tea.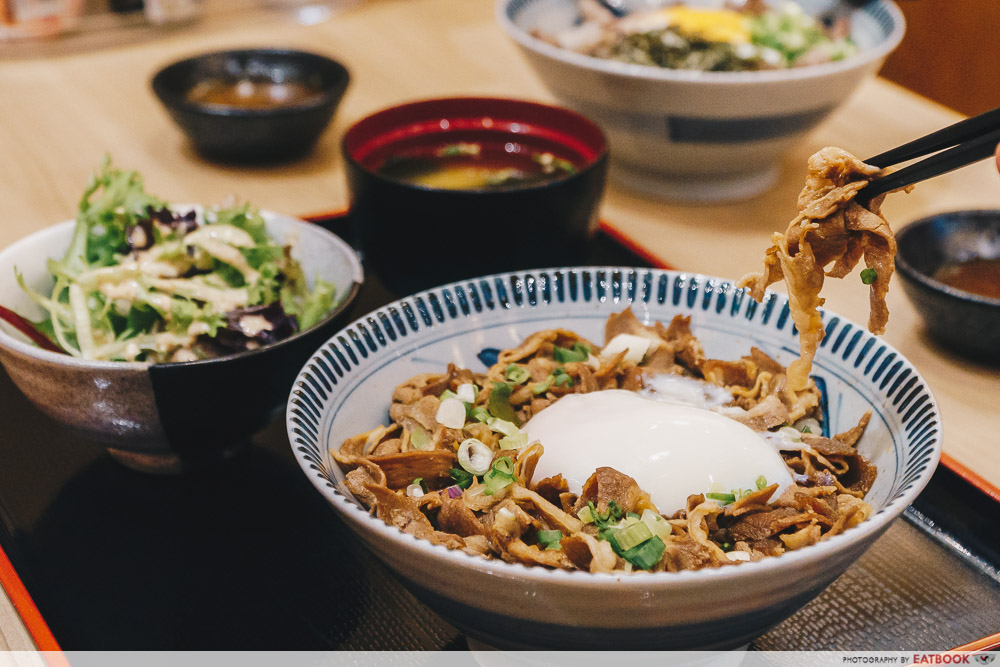 Teriyaki Iberico Pork Don Set ($8.90) is one of the cheapest lunch deals that we've come across. Iberico pork slices are marinated in sweet teriyaki sauce and served with a mountain of rice, side salad, and miso soup. The teriyaki sauce has a well-balanced sweetness, complementing the meaty strips of pork well. 
Address: 3 Gateway Drive, #01-02, Westgate, Singapore 608532
Opening hours: Mon-Fri 11am to 9:30pm, Sat-Sun 11am to 10pm
Tel: 6909 6120
Website
---
7. AJI ICHI
---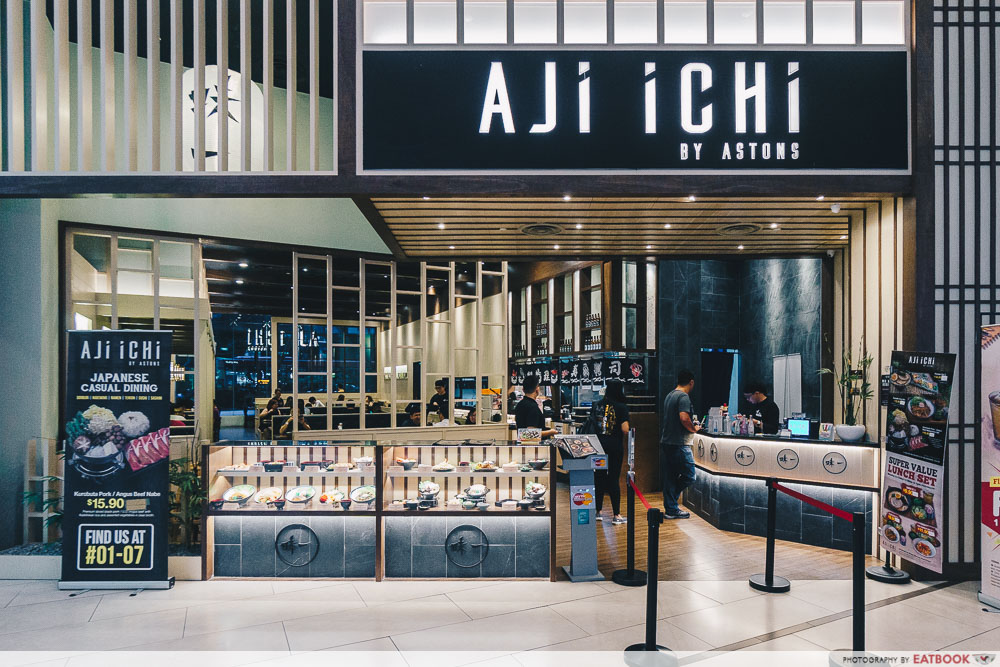 Value-for-money Western fare is not the only thing that ASTONS pushes out. AJI ICHI is another concept by the locally-owned chain, serving up affordable Japanese fare. They also use aromatic Koshihikari rice from Niigata, Japan—an area known for their rice growing expertise.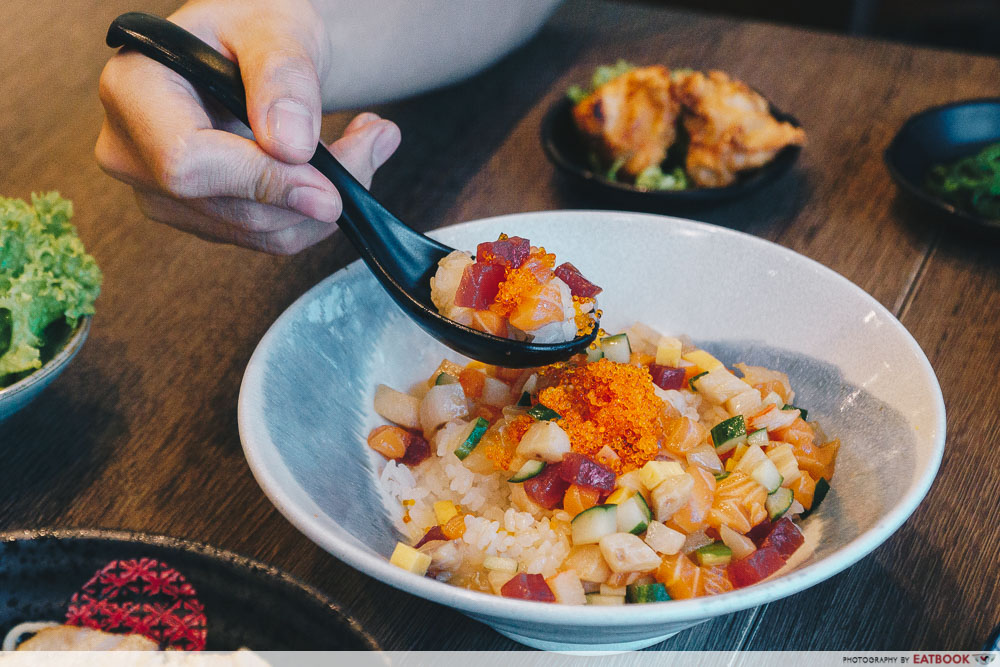 For a complete meal, go for their Yuzu Chirashi Don Set C ($11.90+). This filling set comes with a seaweed salad, house salad, chicken karaage, green tea, and a large bowl of chirashi don that's coated with fragrant and tangy yuzu sauce. An assortment of cubed sashimi, which includes favourites such as tuna, salmon, and tobiko can be found inside the rice bowl.
Address: 2 Jurong East Central 1, #01-07, JCube, Singapore 609731
Opening hours: Daily 11:30am to 10pm
Tel: 6570 2526
Website
---
8. Fish & Co.
---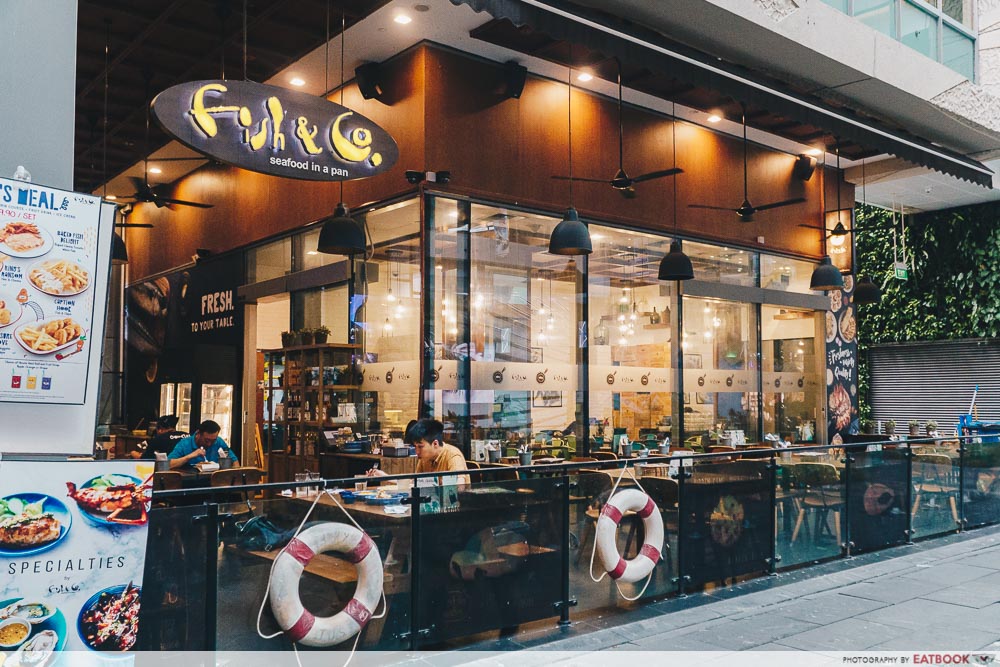 Reeling in crowds for 20 years, Fish & Co. is no stranger in plating out exciting seafood options. The halal-certified restaurant at Westgate is large and spacious, complete with a sheltered outdoor seating area that lets you watch the world go by.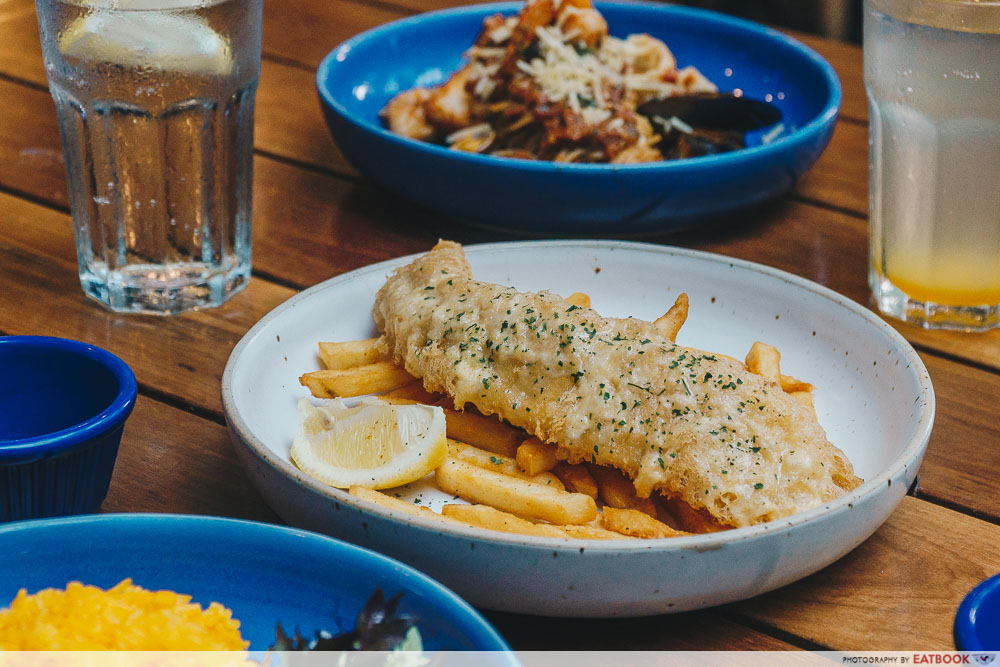 Their lunch set menu includes more than 20 different items, with each set coming with a drink. A wide variety of choices are available, with baked salmon, pasta, and many more appearing inside. You probably can't go wrong with Best Fish & Chips ($8.95++). Fried to a golden crisp and topped with lemon butter sauce, the fish is moist and flaky. Their lunch portions are slightly smaller than regular ones, but are also half the price.
Address: 3 Gateway Drive, #01-03, Westgate, Singapore 608532
Opening hours: Daily 11:30am to 11pm
Tel: 6266 4235
Website
---
9. Nando's
---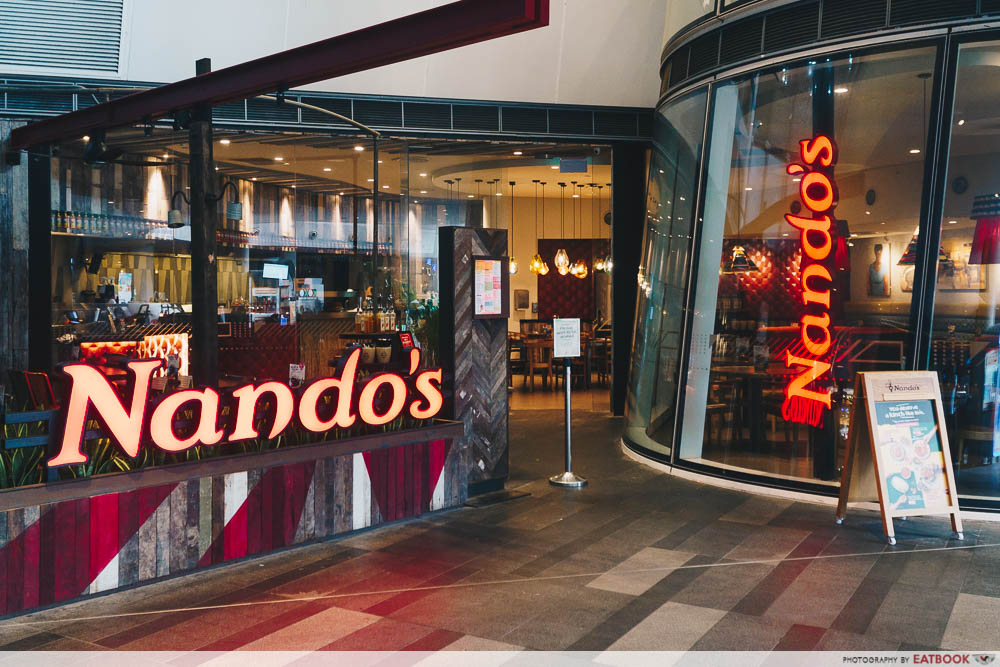 PERi-PERi Chicken specialist Nando's offers four different lunch meals on their menu, along with unlimited refills from the Coca-Cola Freestyle dispenser. This fancy drink dispenser allows you to customise your drink with unique flavours such as cherry- and vanilla-flavoured Coke.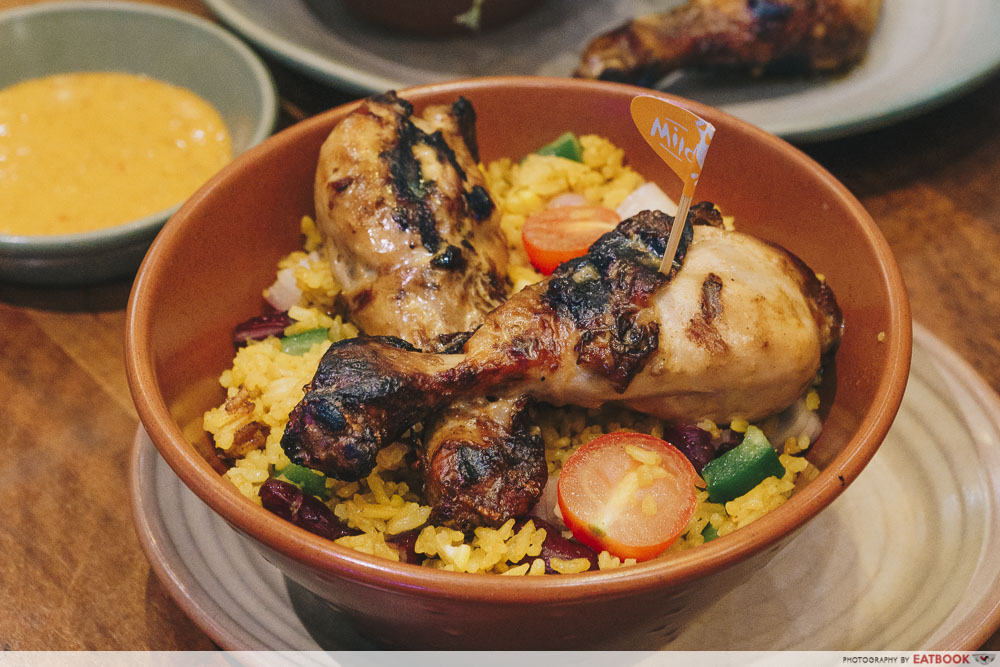 The Drumsticks & Summer Rice Bowl + Bottomless Soft Drink ($12.90+) features two grilled drumsticks that are served on a bed of fluffy spiced rice mixed with vegetables, providing the best of both worlds. The portions are quite generous, and you have a high chance of getting a #foodcoma after this hearty lunch. 
Address: 1 Vista Exchange Green, #B1-09, The Star Vista, Singapore 138617
Opening hours: Daily 10am to 10pm
Tel: 6694 0630
Website
---
10. Itacho Sushi
---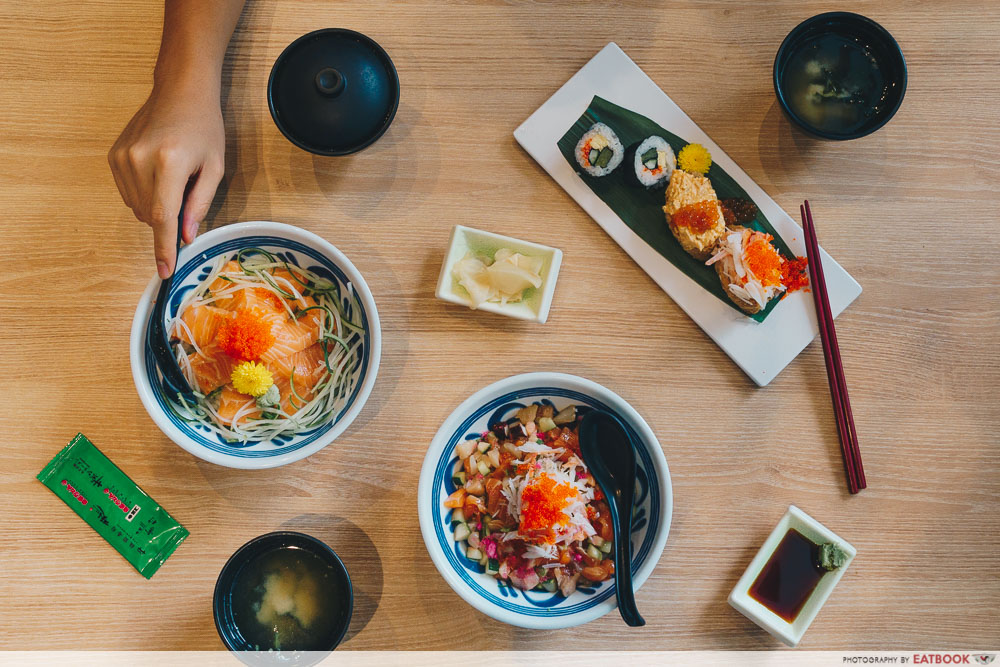 Sourcing their ingredients directly from Japan, Itacho Sushi serves up affordable and quality Japanese fare. Step inside the restaurant and you'll be greeted with the chefs working hard behind the sushi bar. Their lunchtime promotions are definitely worth checking out, with each set coming with a bowl of miso soup as well.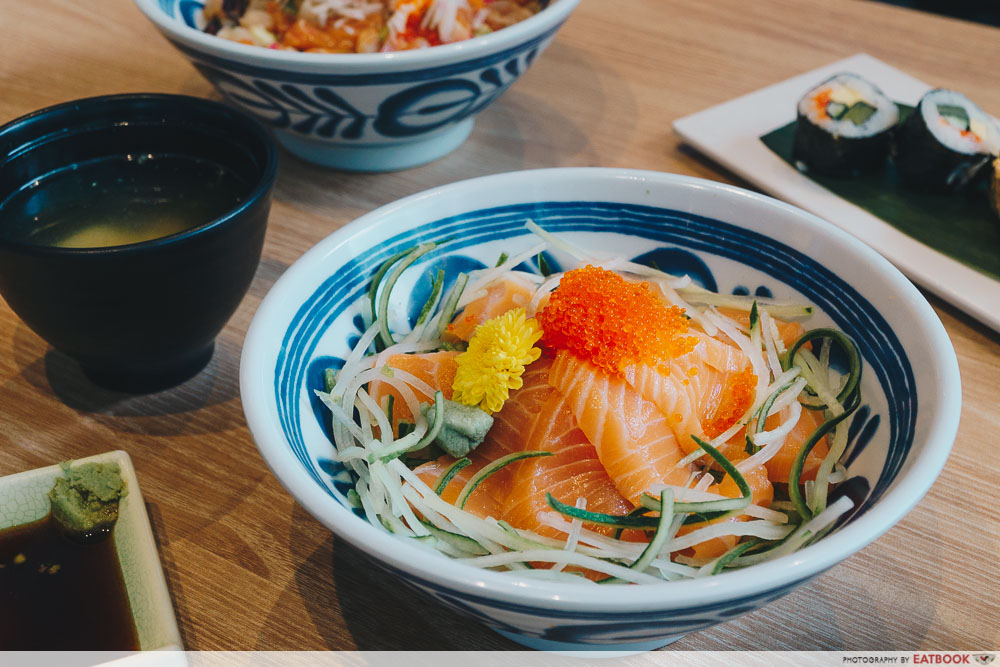 The Sakura Don ($12.50++) is a new entrant to their lunch menu, featuring a bounty of salmon sashimi slices that are layered on a bed of pearl rice and topped with flying fish roe. The salmon slices are streaked with strips of fats, giving a luxurious and silky smooth mouthfeel to this decadent dish. 
Address: 1 Vista Exchange Green, #B1-12, The Star Vista, Singapore 138617
Opening hours: Mon-Thur 11am to 10pm, Fri-Sat 11am to 11pm, Sun 11am to 10pm
Tel: 6694 0880
Website
---
Lunch plans settled at these malls in the West
---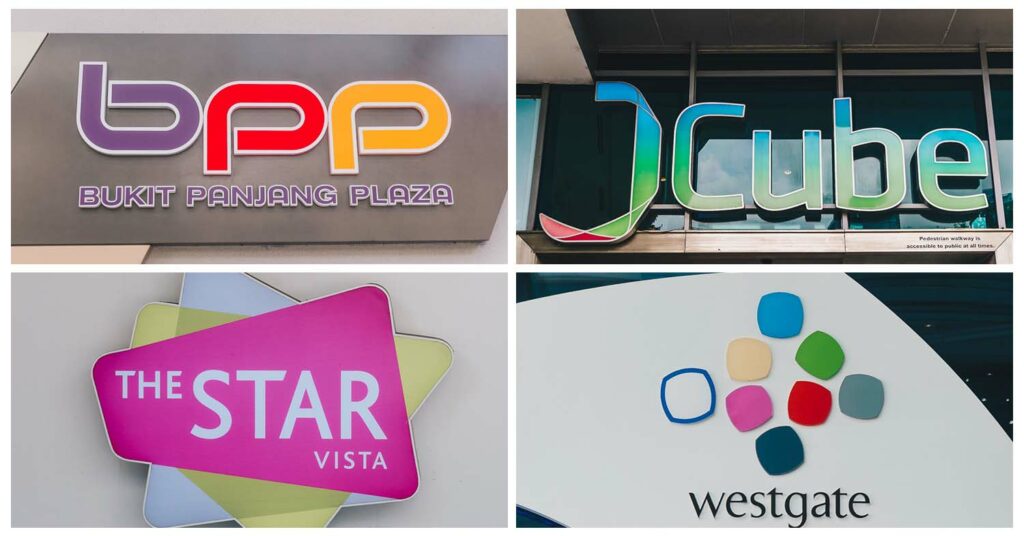 There's no reason to skip out on lunch with these exciting deals. Located inside comfortable and air-conditioned environments, check out these restaurants the next time you're deciding on what to eat for lunch! 
For the latest updates on new restaurants, deals, and events, make sure to follow Bukit Panjang Plaza on Facebook and Instagram, JCube on Facebook and Instagram, The Star Vista on Facebook and Instagram, and Westgate on Facebook and Instagram. 
9 Hawker Centres In The West That Can Rival Food Stalls In The East Of Singapore
Photos taken by Pichan Cruz.
This post is brought to you by CapitaLand malls.