---
Buona Vista food places near to the MRT
---
While The Star Vista might be the only place that pops up in your mind when "Buona Vista food" is mentioned, it's not the only spot you can get food at when you're in the area. The food scene in the area is more vibrant than what people give it credit for, so we've gathered 10 Buona Vista food spots to prove it.
---
1. 6ixs Rosti
---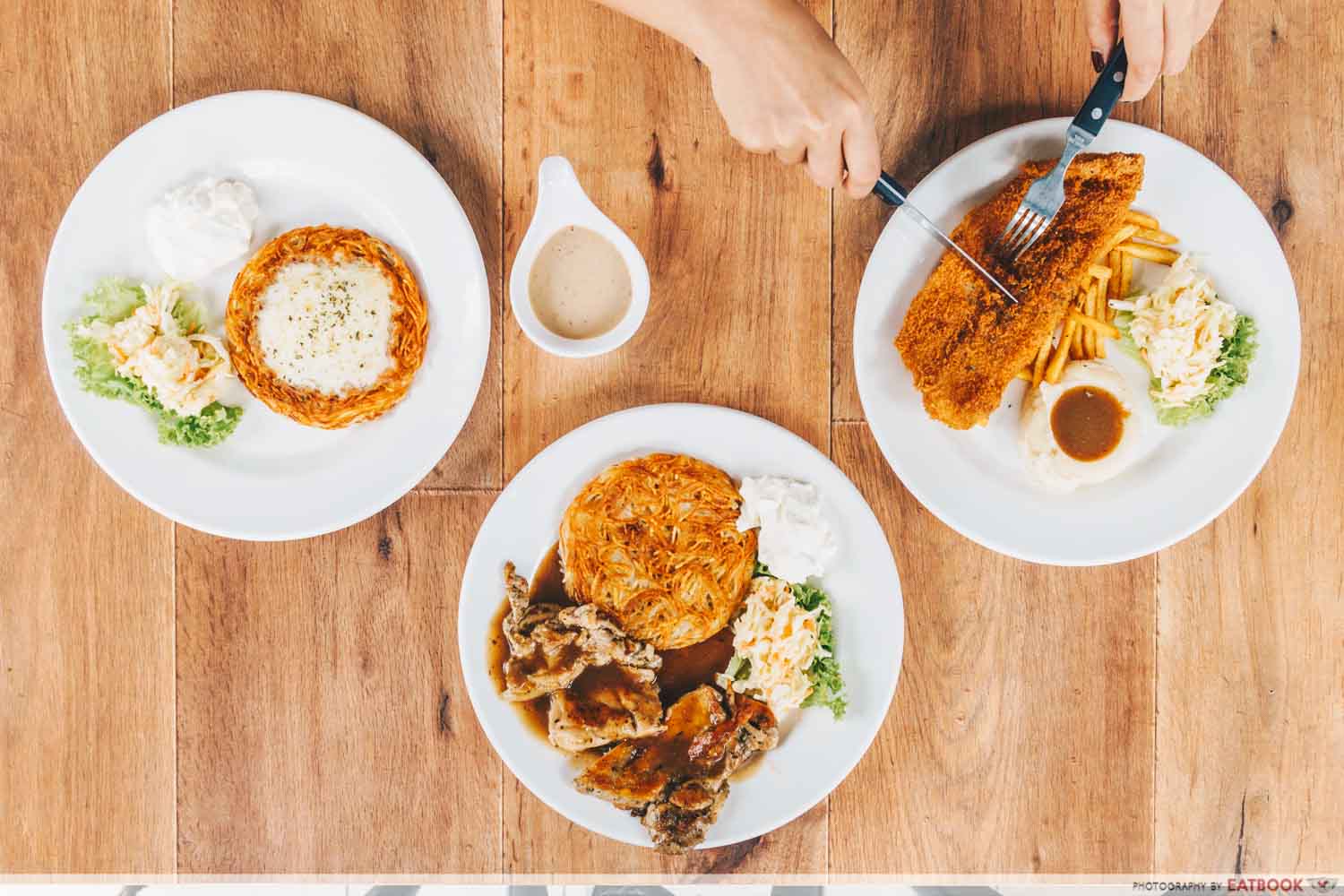 At 6ixs Rosti, $10 will get you a thick cake of rosti and a protein on the side. While the Ghim Moh hawker stall is a 10-minute walk from Buona Vista MRT Station, their swiss potato fritters are said to be worth every bite, especially the Classic Rosti with Chicken Chop ($9). This sees the crusty cake of Russet potatoes paired with a moreish boneless chicken leg, well-seasoned with a strong taste of thyme.
Cheese lovers can go for the Cheesy Rosti ($7), served on a plate with coleslaw and a dollop of homemade sour cream. It's also topped with a generous amount of mozzarella cheese.
Address: 25 Ghim Moh Link, Singapore 270025
Opening hours: Tue-Sun 12pm to 8:30pm
Tel: 9008 9135
Website
The 6ixs Rosti is not a halal-certified eatery.
The 6ixs Rosti Review: Hawkers With Rosti And Chicken Chop Under $10 In Ghim Moh
---
2. New Lucky Claypot Rice
---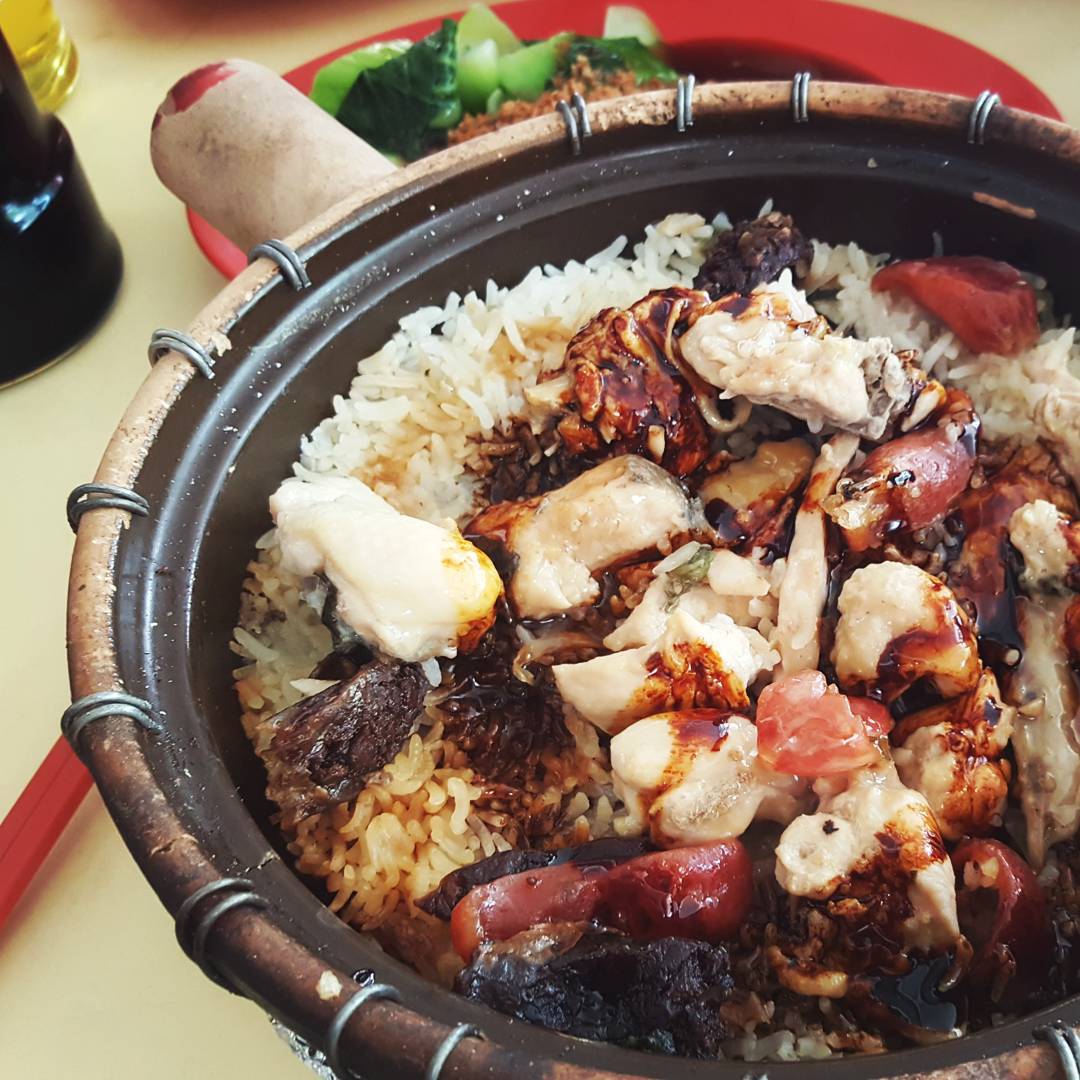 Image credit: @justepourjouer
Make your walk to Holland Drive Market worth it with New Lucky's Claypot Rice ($15 for two people). With a generous serving of succulent chicken chunks as well as slices of lup cheong, you can be sure you're getting good value and flavour here. Be sure to try a spoonful of the fragrant rice before adding dark soy sauce to it!
Address: 44 Holland Drive, #02-19, Holland Drive Market & Food Centre, Singapore 270044
Opening hours: Thurs-Sun 11am to 1pm, 5pm to 8pm, Mon-Tue 11am to 12:30pm, 5pm to 8pm
Tel: 6778 7808
Website
New Lucky Claypot Rice is not a halal-certified eatery.
10 Claypot Chicken Rice Cooked Over Charcoal Fire Worth The Queue And Wait
---
3. Ice On You
---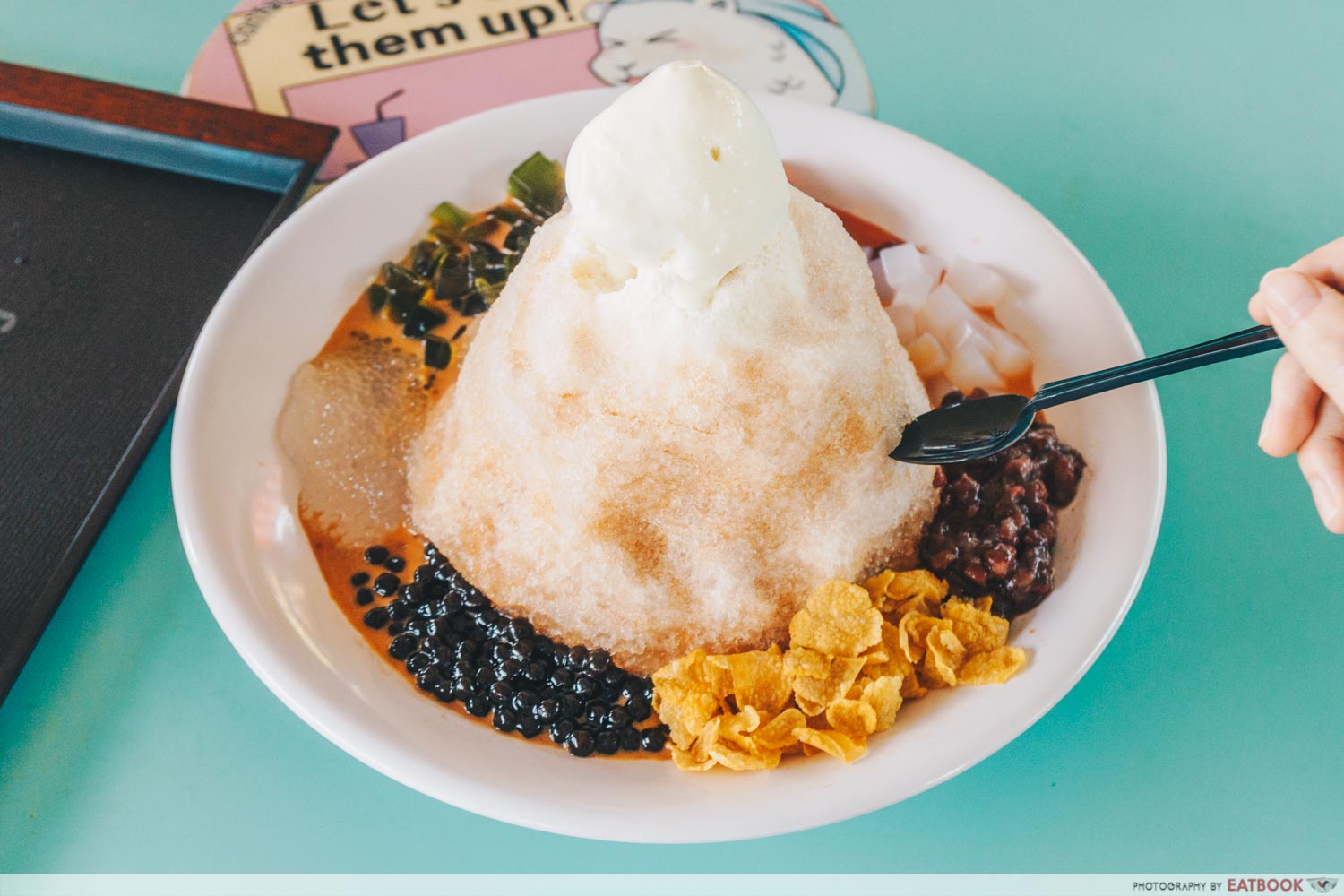 Expect XXL Thai Milk Tea chendol and other Bangkok-style desserts at Ice On You, another hawker stall at Ghim Moh Market and Food Centre. Go straight for the Giant Thai Milk Tea Shavers ($13.80), an off-menu item that's more than enough to feed a family of four. The towering pyramid of shaved ice is drenched with Thai milk tea and topped with a scoop of vanilla ice cream. It also comes with accompaniments including black pearls, sago, jelly, and cornflakes.
Their Thai Chendol Shavers ($3.80) is another noteworthy dessert, glazed with gula melaka and topped with red beans, atap seeds, and strands of pandan jelly. If you're here just for drinks, get the Thai Coconut Blenders ($3.80) and add on a scoop of Coconut Ice Cream ($0.80) for a mouthful of creaminess.
Address: 20 Ghim Moh Road, #01-01, Ghim Moh Market and Food Centre, Singapore 270020
Opening hours: Thu-Tue 11am to 7pm
Website
Ice On You is not a halal-certified eatery but uses no pork or lard.
Ice On You Review: Hawker With XXL Thai Milk Tea Shaved Ice And More Bangkok-Style Desserts
---
4. Hin Fried Hor Fun
---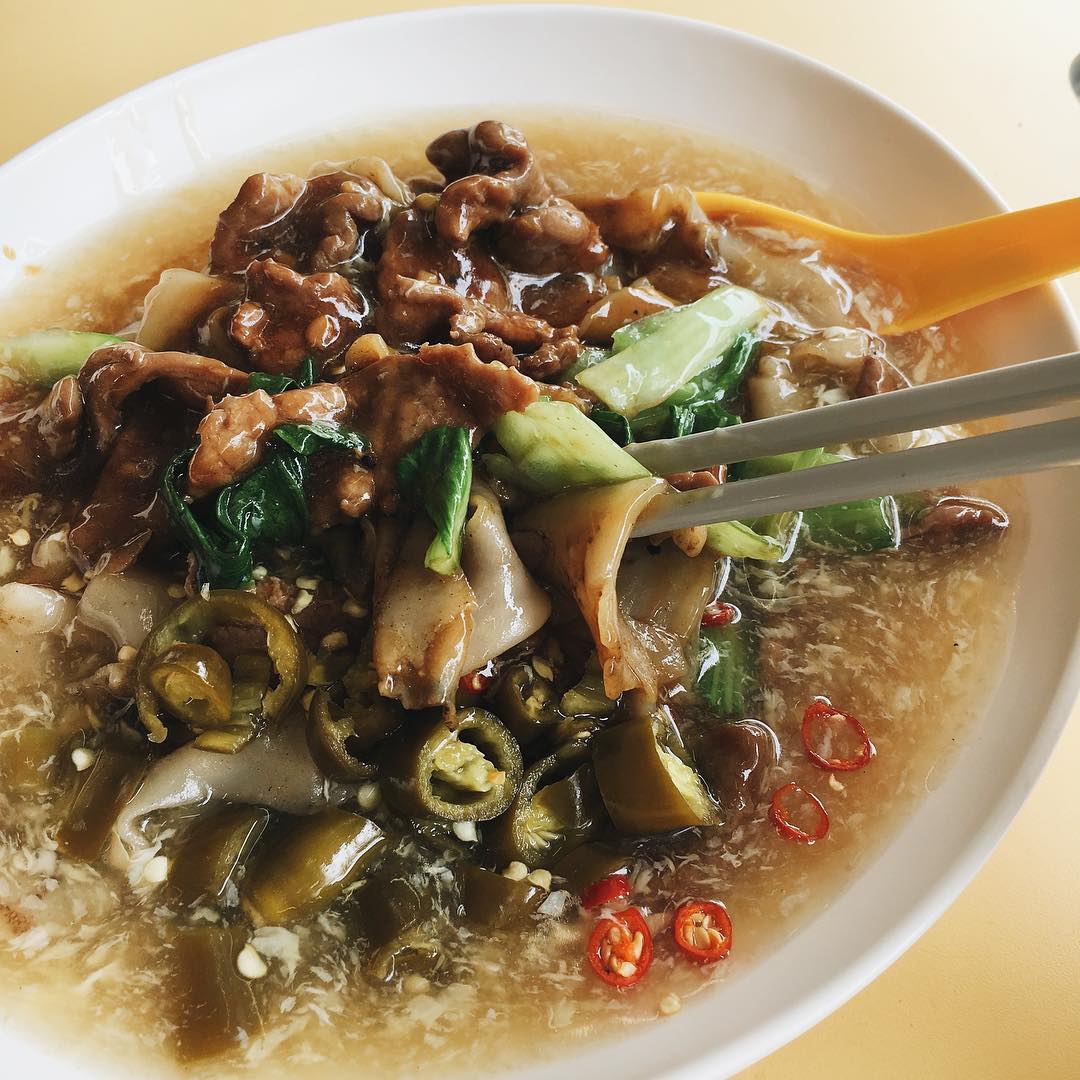 Image credit: @aprilyap
Located within Ghim Moh Market, Hin Fried Hor Fun is a hawker stall that specialises in – you guessed it – hor fun. This place gives you the freedom to pick your toppings among options including prawns, beef and sliced fish, and the price stays at $6 no matter which combination you pick. They are generous with portions and each plate comes with strong wok hei. The stall is incredibly popular, so be prepared to queue for food here.
Address: 20 Ghim Moh Road, #01-56, Ghim Moh Market and Food Centre, Singapore 270020
Opening hours: Tue-Sat 10am to 3pm, 5pm to 8:30pm, Sun 10am to 3pm
Website
Hin Fried Hor Fun is not a halal-certified eatery.
---
5. Jiu Jiang Shao La

---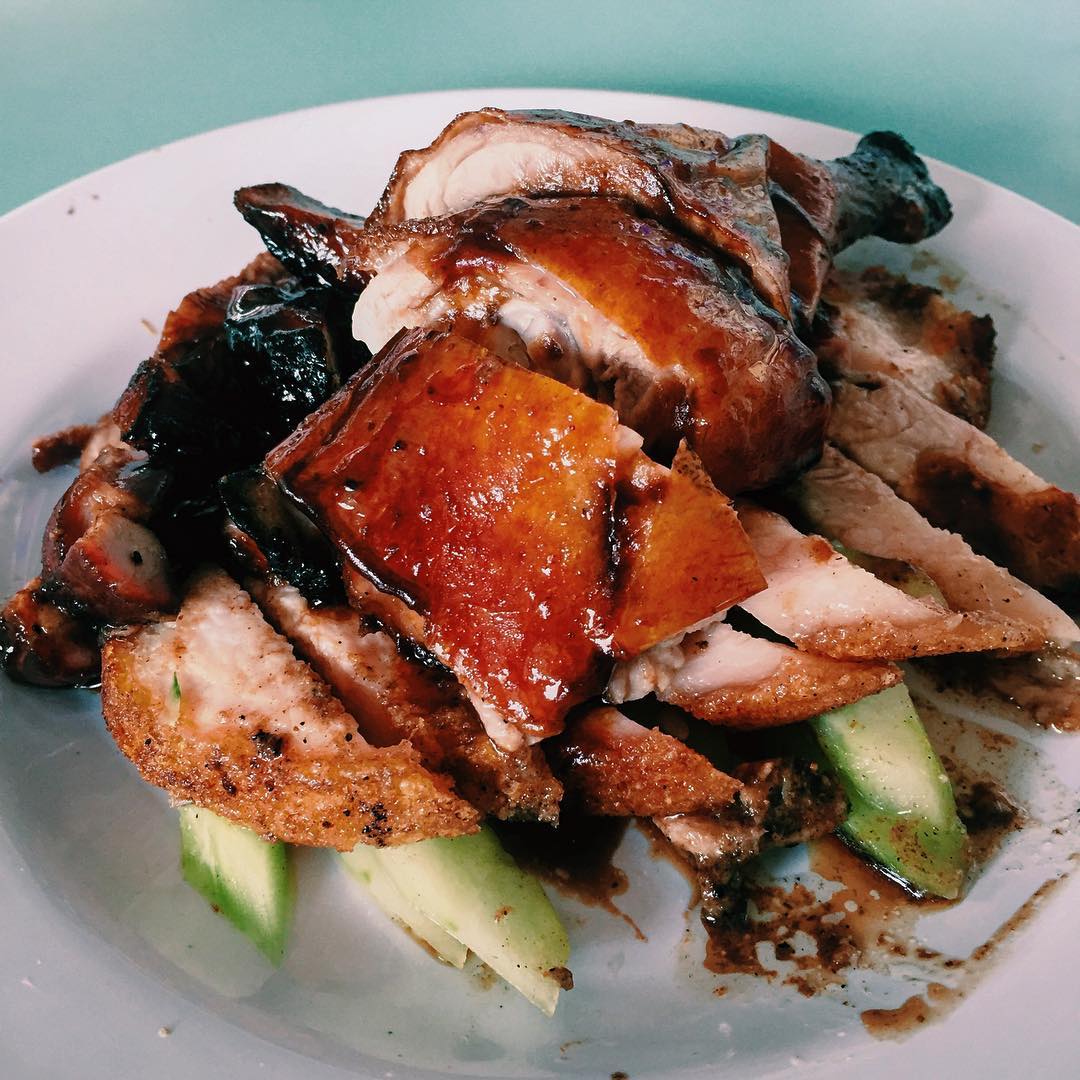 Image credit: @gastrology
Also found at Ghim Moh Market is Jiu Jiang Shao La. This roasted meats stall lets you customise your plate with sio bak, char siew and roasted duck, and prices start at $4 for a plate of duck rice. Char siew here is lightly charred and evenly coated with their sweet sauce. Go for the sio bak, which can be slightly salty, but has an incredibly satisfying crackling. Remember to pop by early as they close after lunch and, just like at Hin Fried Hor Fun, be prepared to wait a fair bit before getting your food.
Address: 20 Ghim Moh Road, #01-45, Ghim Moh Market and Food Centre, Singapore 270020
Opening hours: Thurs-Sun 10am to 2pm
Jiu Jiang Shao La is not a halal-certified eatery.
---
6. Les Bouchons
---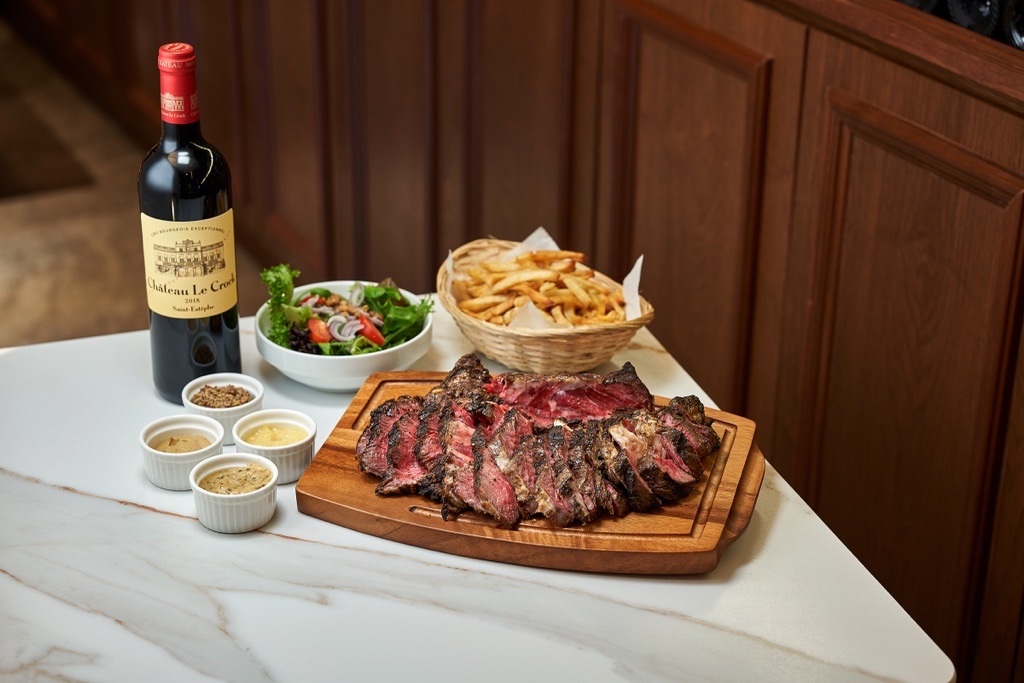 Wow your significant other with a classy dinner at Les Bouchons. Housed in a two-storey bungalow, the steakhouse serves classic French cuisine—-think French Ceps Soup ($17++) and Foie Gras Toast ($26++), as well as drool-worthy Grilled Sirloin Wagyu (from $92++). All steak dishes come with a side of free-flow fries.
If you're planning a lunch date, you'll be pleased to know that their Three-course Set Lunch is relatively inexpensive. At $35++ per person, you'll be treated to your choice of entree, one main, and a dessert or drink.
Address: 10 Rochester Park, Rochester Commons, Singapore 139221
Opening hours: Tue to Fri 12pm to 2pm, Sat-Sun 12pm to 3pm, Tue to Thurs 6pm to 10pm, Fri to Sat 6pm to 10:30pm, Sun 5pm to 9pm
Website
Les Bouchons is not a halal-certified eatery.

---
7. Mun's Seafood Pao Fan
---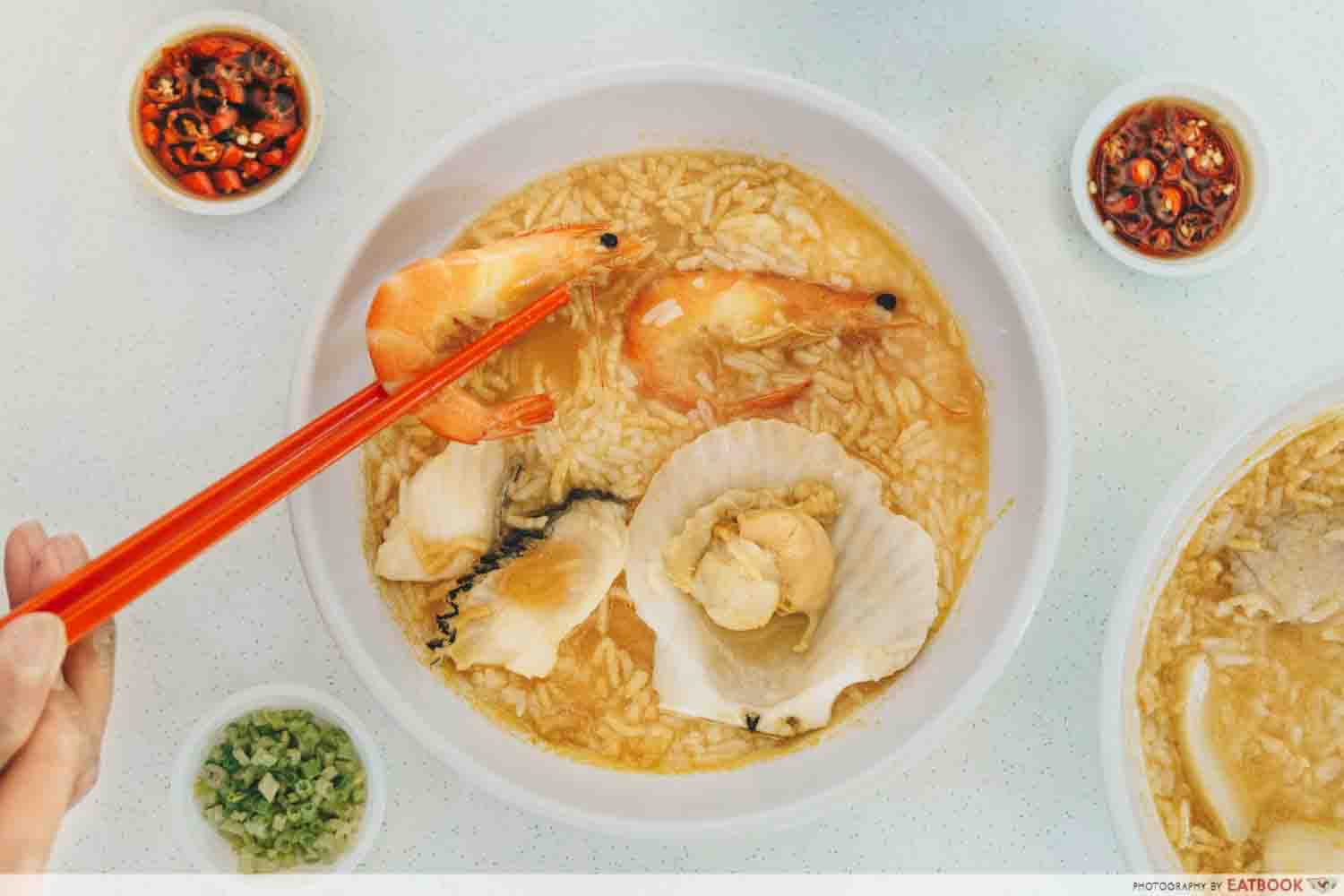 Headed by an ex-hotel chef turned hawker, Mun's Seafood Paofan dishes out simple and relatable dishes at Ghim Moh. Go for the Seafood Pao Fan ($6.90) and indulge in a bowl of succulent prawns and fish slices, or the Fish Ball Pork Rice ($5.80), which is accompanied by generous slices of pork meat and fish balls. Noodle lovers can give the Ipoh Mixed Pork Noodle ($5.80) a try, which comprises a bowl of yellow noodles coated in sweet dark soya sauce, served with a side of mixed pork soup.
Address: 25 Ghim Moh Link, #01-01, SStar Coffee Shop, Singapore 270025
Opening hours: Wed-Mon 11am to 3pm, 5:30pm to 7:30pm
Website
Mun's Seafood Pao Fan is not a halal-certified eatery.
Mun's Seafood Pao Fan Review: Ex-Hotel Chef Serves Affordable Pao Fan At Ghim Moh
---
8. 2nd Serving
---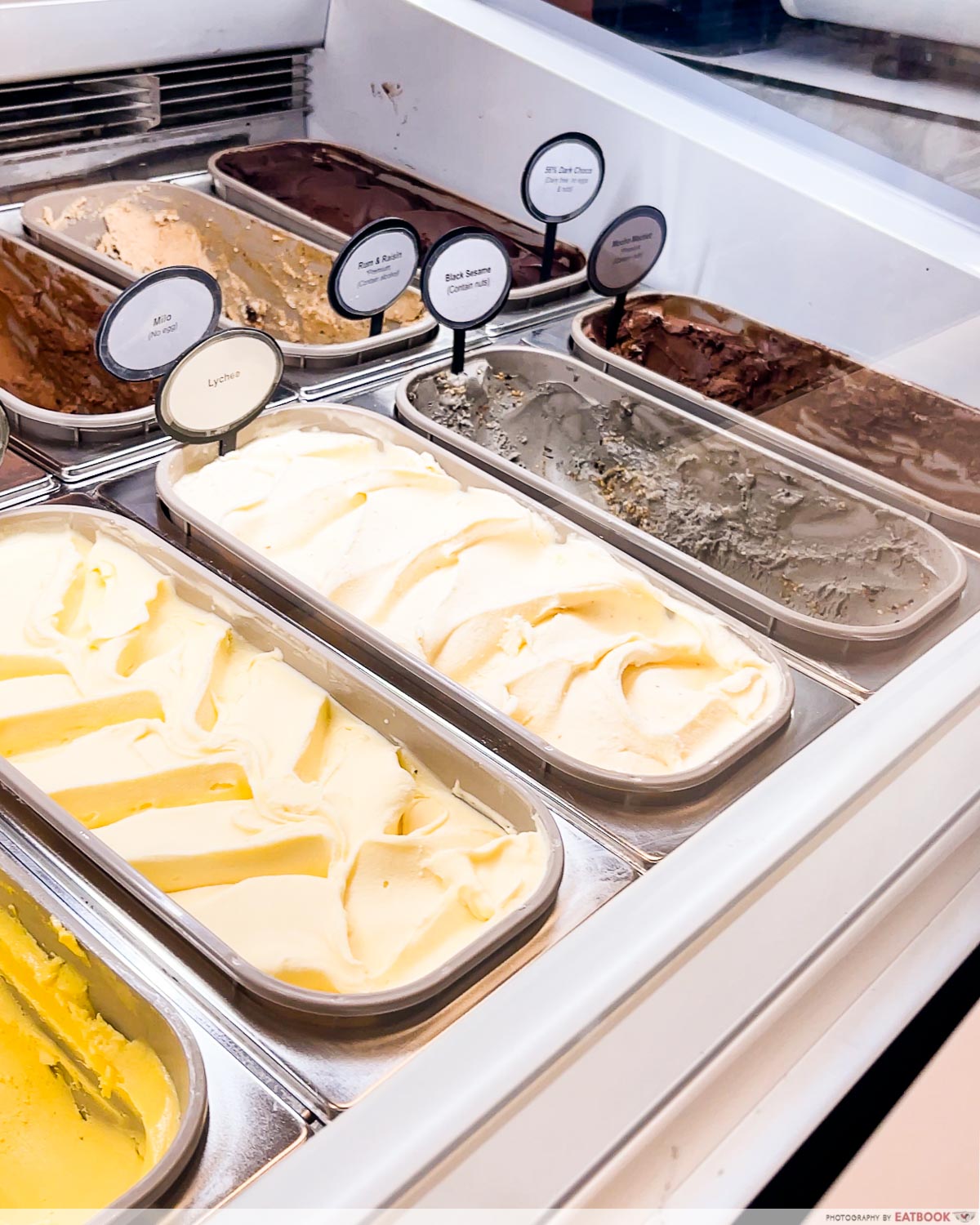 You may have heard of 2nd Serving, a cafe hidden behind a red vending machine door. They're most known for their chocolatey mochi waffles, as well as their tea-based items such as Tie Guan Ying ice cream and Lady Yang brewed tea.
The Brownie Mochie Waffle ($7.50) will please any chocolate lover with its rich cocoa flavour and stretchy mochi. If you're craving ice cream, go for the Cookie Dough or Pu Er flavours, priced from $4.50 for a single scoop and $8 for a double scoop.
Address: 41 Holland Drive, #01-07, Singapore 270041
Opening hours: Thurs-Sat 12pm to 11pm, Sun-Wed 12pm to 10pm
Website
2nd Serving is not a halal-certified eatery.
---
9. Original Botak Jones
---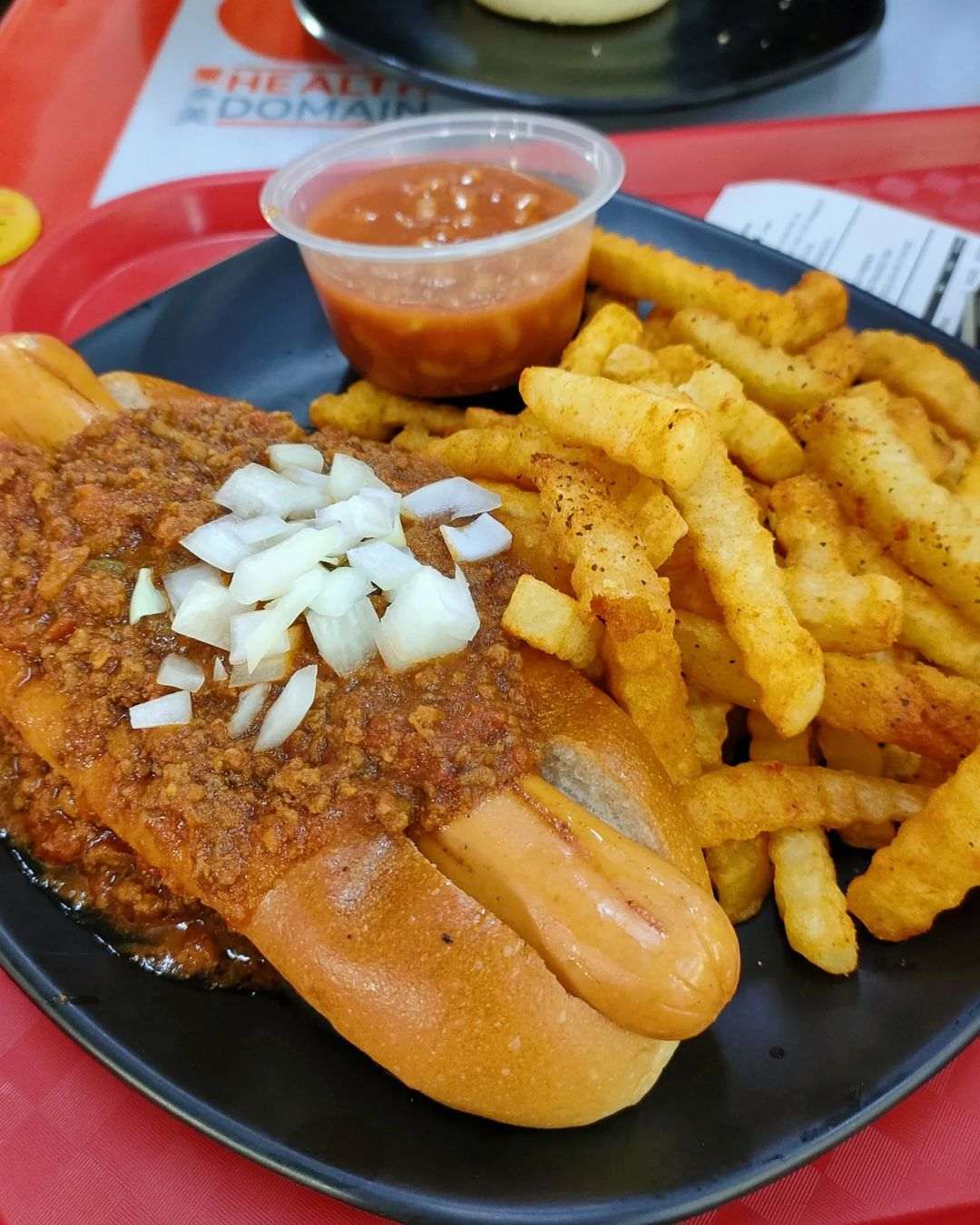 Image credit: @agstnhelena
Original Botak Jones has launched their fourth outlet in the West along with an announcement that they are now Muslim-owned! Dig into their signature Western hawker delights, such as the Whoopass Chili Dawg ($14 for a set), served with two sides of your choice. The portions are said to be generous, which may justify the higher price point.
For something meatier, try the Ribeye Steak ($24), which comes with a 250g slab of hand-marinated steak, or the Fish & Chips Standard ($11.50), featuring a whole fillet of premium white basa or Pacific dory fish.
Address: 43 Holland Drive, Singapore 270043
Opening hours: Daily 11:30am to 3pm, 5pm to 9pm
Tel: 8826 2335
Website
Original Botak Jones is a Muslim-owned eatery.
---
10. Orange & Teal
---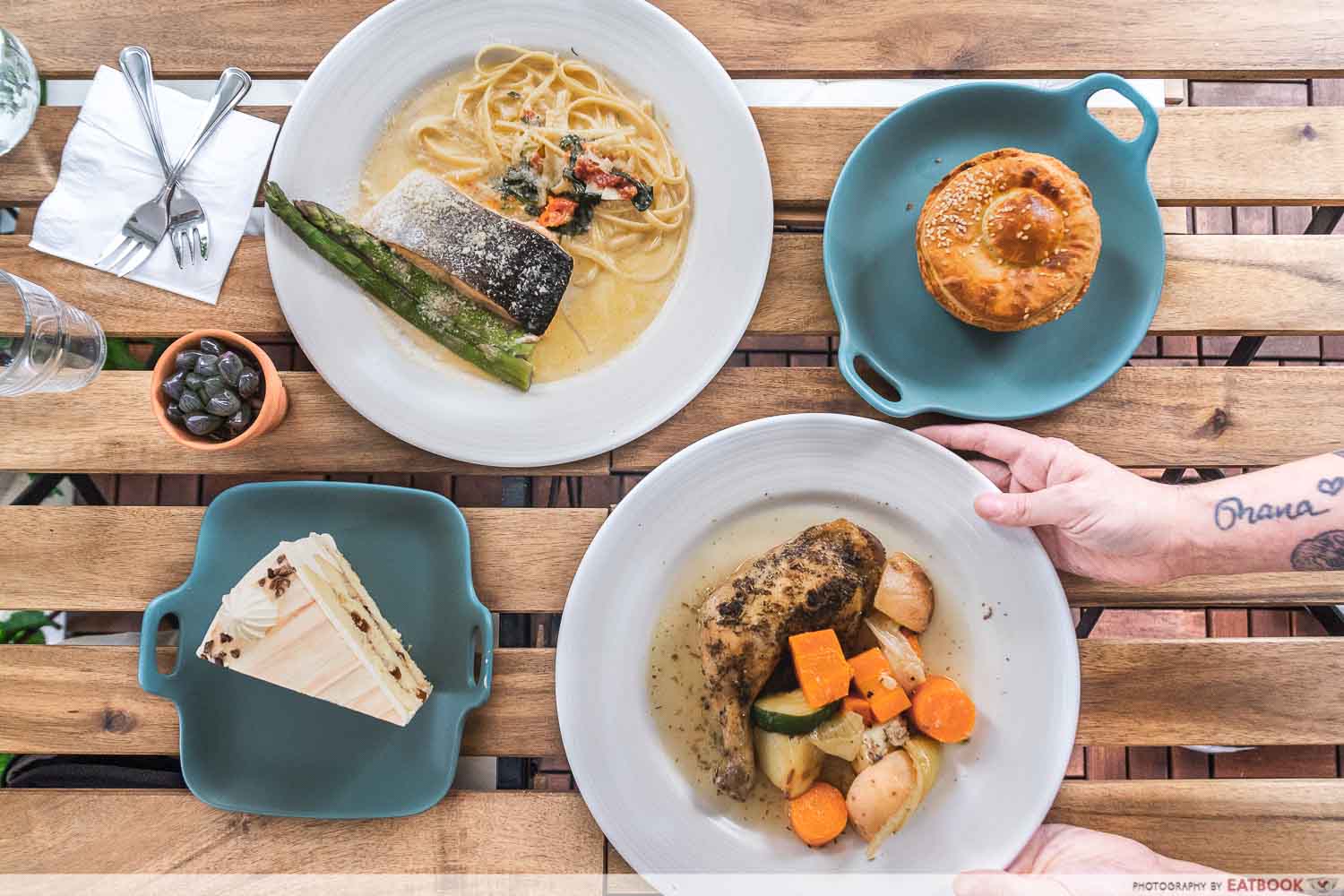 Orange & Teal at Rochester Mall serves lunchtime mains from 11:30am onwards, with a menu comprising pastries, small bites, and cakes. The Beef Pie ($5.80+) makes for a good breakfast snack, sporting a golden brown crust with pulled beef filling hidden within. Their two most popular mains are the Poulet Roti ($12.90+) and Creamy Butter Tuscan Salmon ($20.80+), with the former consisting of an oven-roasted chicken leg, and the latter comprising creamy linguine in butter sauce, served with a poached salmon fillet.
Address: 35 Rochester Drive, #02-12, Rochester Mall, Singapore 138639
Opening hours: Sun, Tue-Thurs 11am to 9pm, Fri-Sat 11am to 10pm
Tel: 6993 1006
Website
Orange & Teal is not a halal-certified eatery.
Orange & Teal Review: Chee Soon Juan's Cafe Serves Beef Pie And Okinawa Milk Tea Cake In Rochester
---
Buona Vista food FTW
---
Whether you're an NUS student or a resident of Buona Vista, there's something on this list that can satisfy your cravings. Let us know in the comments if we missed out your favourite BV eatery!
Feature image adapted from @gastrology, and @justepourjouer