MADLYGOOD serves gelato and waffles
One thing that'll never go out of fashion in Singapore is ice cream. Owe it to our sweltering weather to drive crowds straight into ice cream cafes for a sweet, ice-cold dessert. That's why MADLYGOOD probably had the right idea when it opened its doors right next to an ice rink, selling gelato on top of other sweet treats.
10 New Ice-Cream Cafes In Singapore With Unique Flavours, Doughnut Cones, And OTT Toppings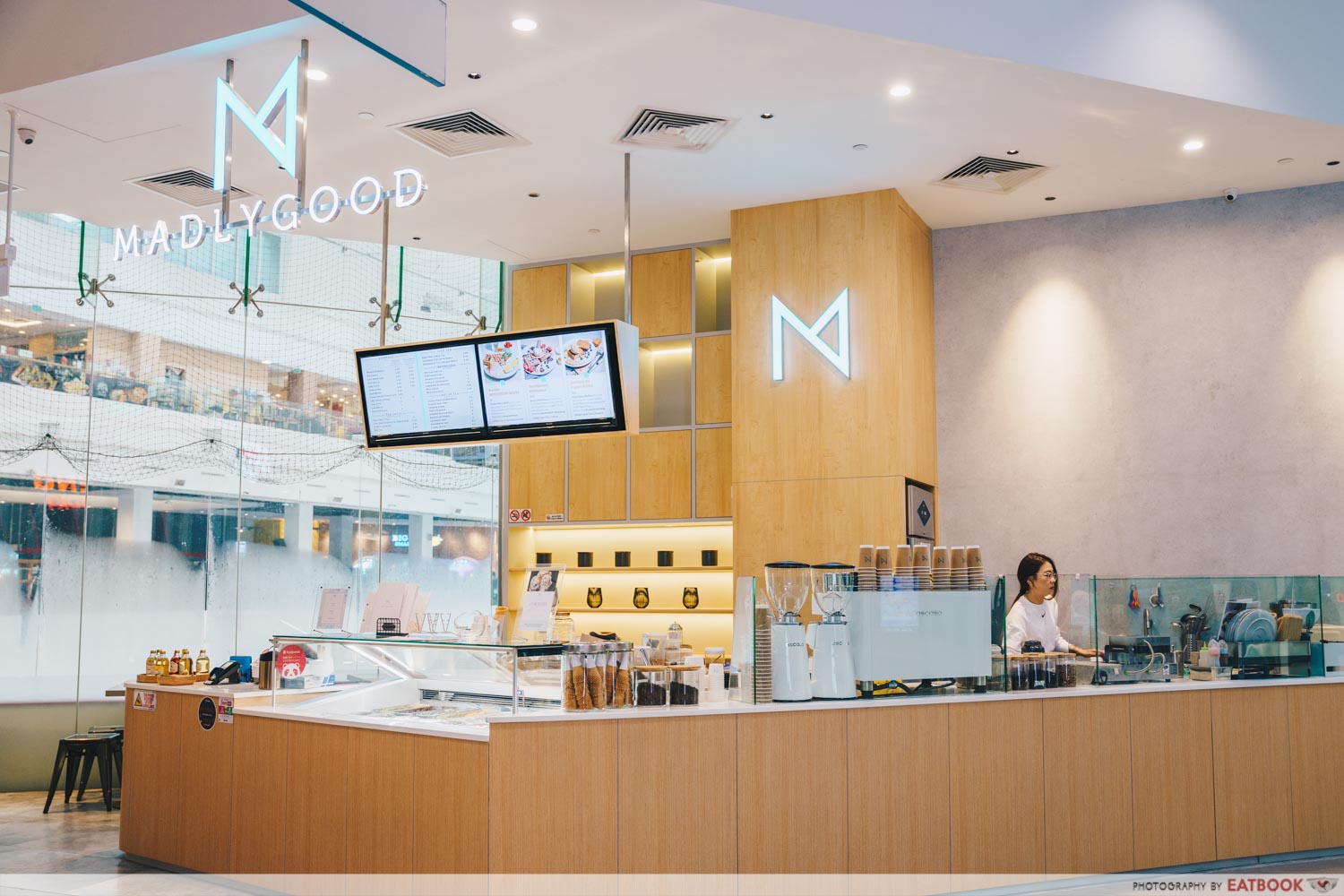 A big inspiration behind this newly opened gelateria is the Blue Bottle Cafe in America, which played a big part in bringing the visions of the cafe to life. Much like the coffee house in California, the cafe owners wanted MADLYGOOD to be a place people could visit for both coffee and desserts.
Food at MADLYGOOD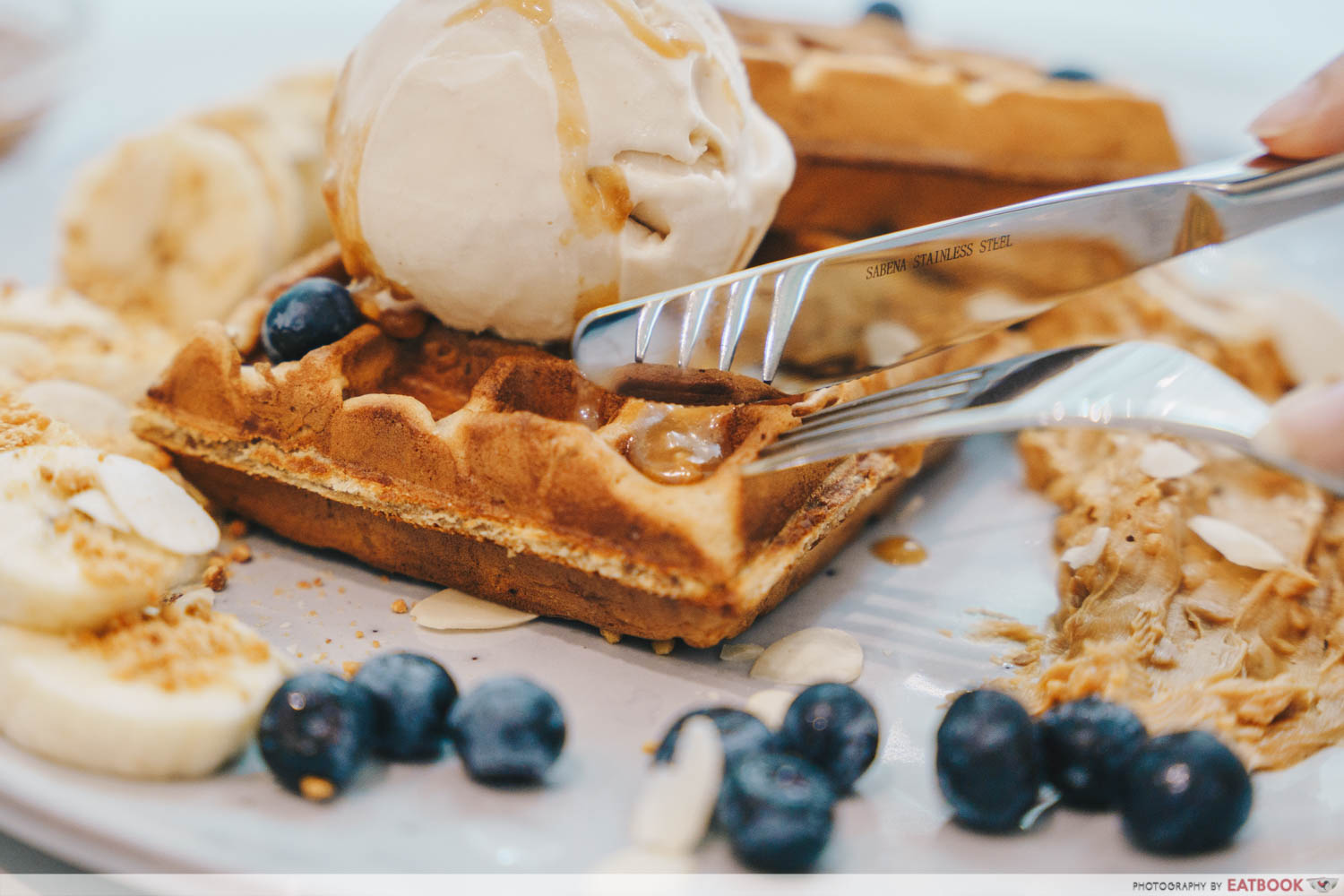 The cafe launched its new waffles menu in mid-March, featuring a whole range of sweet and savoury waffles. These creations include Cinnamon Roll Waffs and Cheddar Cheese Waffs which are served with a full plate of complementary ingredients. All their waffles are available for takeaway now.
We chose the Buttered-Up Peanut Butter Waffs ($12.50) and topped it with a scoop of That's Peanuts gelato for an additional $3.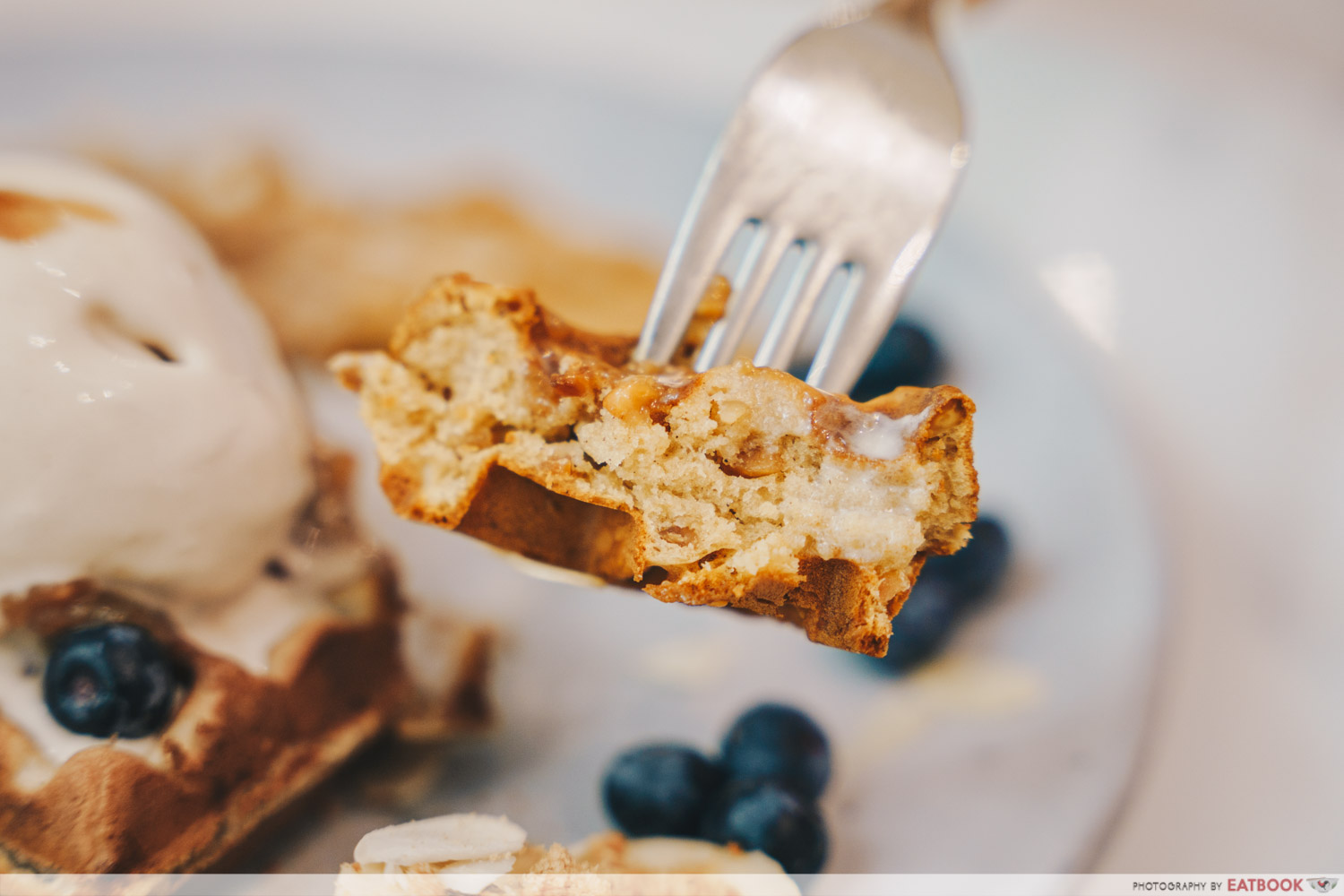 They don't scrimp on the peanut butter here. When we peeked into the open kitchen, we witnessed a thick glob of the crunchy spread lathered onto the waffle iron. The resulting waffles had a crispy, browned surface with crunchy chunks incorporated into the batter.
While I applauded the ingenious peanut butter infusion, the dense texture of the waffles wasn't my favourite. I'm usually partial to light and fluffy waffles, so this thicker batter was a tad bit too dry by itself.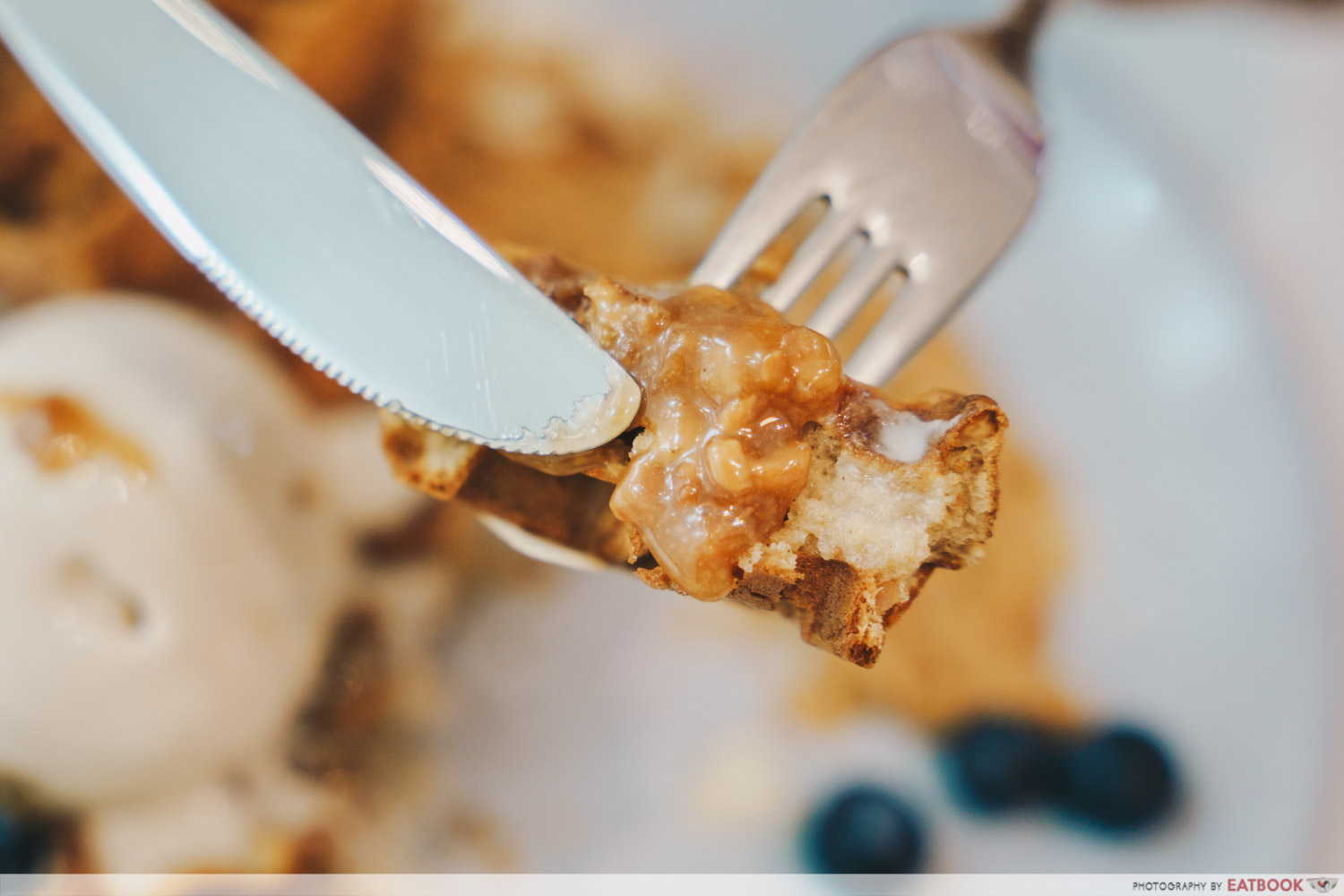 Luckily, any problems I had with the texture were easily rectified with a smear of roasted peanut syrup that came with the dish. The thick, decadent sauce tasted like a mix of caramel and peanut butter.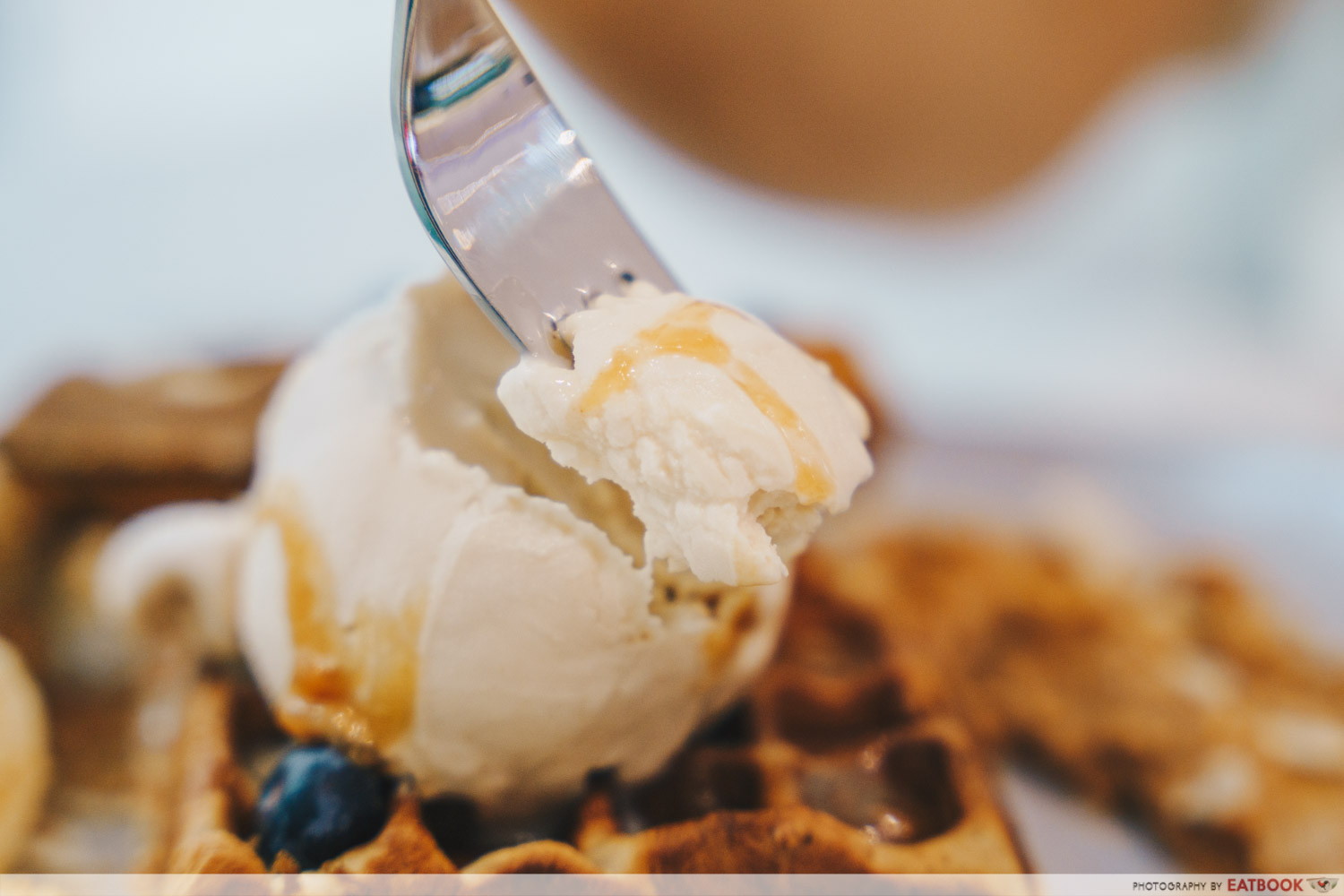 Compared to the waffles and peanut sauce that served potent hits of peanuts, the gelato was much lighter than expected. While it gave balance to the entire plate, the scoop might be underwhelming on its own. 
The plate had a thick smear of peanut butter on one side, and a scattering of banana slices on the other. Finishing touches of sliced almonds, peanut powder, and blueberries were then sprinkled on. It's small details like these that elevate a plate of waffles to another level, and make it a feast for your eyes as well as your belly.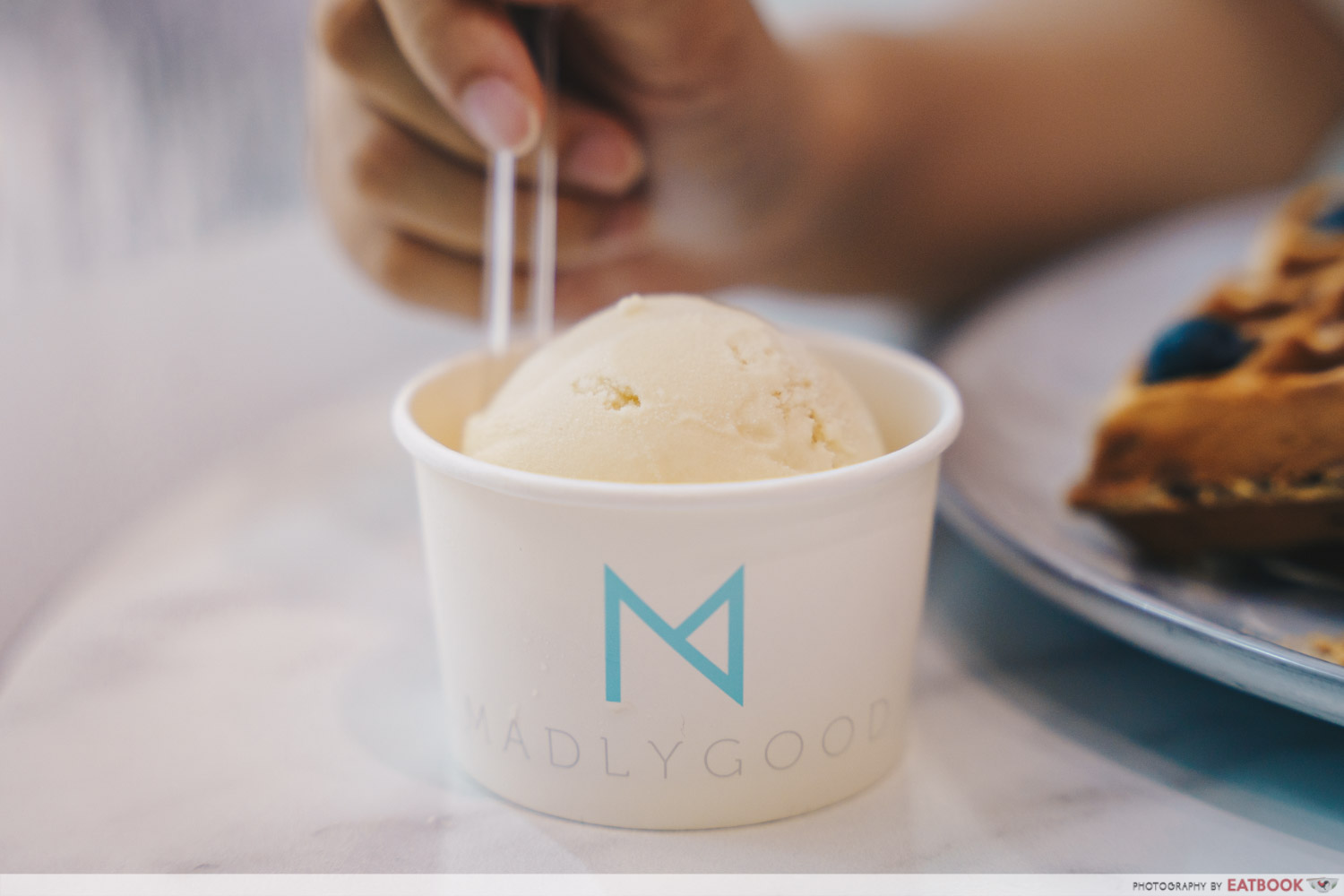 A single scoop of gelato goes at $4.50 while premium flavours are priced at $5.50. Scanning their gelato selection, I spotted a handful of tempting offers including Gorge Us, which is a sinful mix of salted caramel and cream cheese, and the fruity Yuzu Bliss.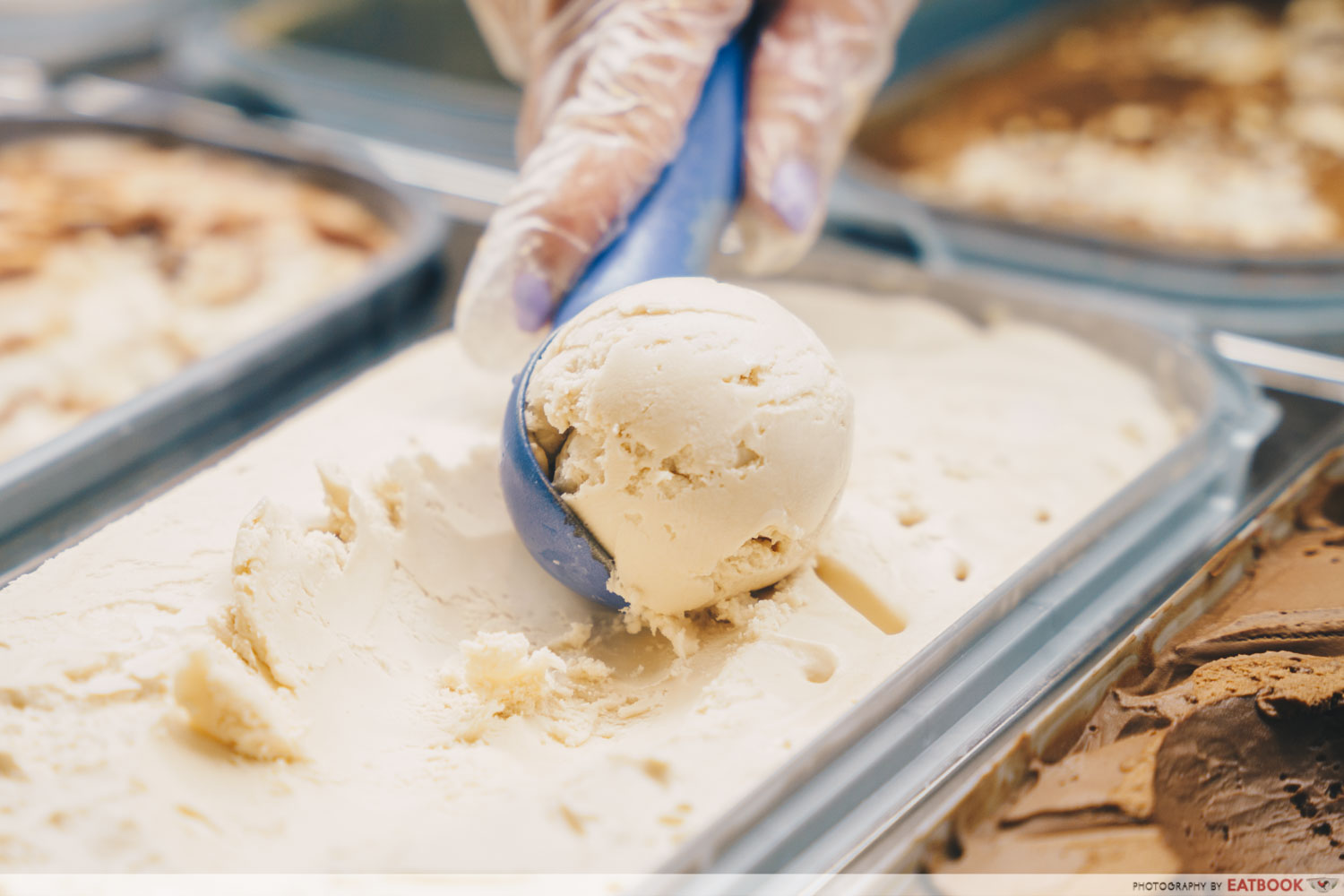 We settled on a scoop of Honey Bunny, which is an elegant combination of honey and lavender. The scoop of gelato looked stiff when the staff was scooping it out, but it began softening shortly after we got back to our table. Each scoop was luxuriously smooth, and we savoured it quickly before the golden window of creaminess was gone.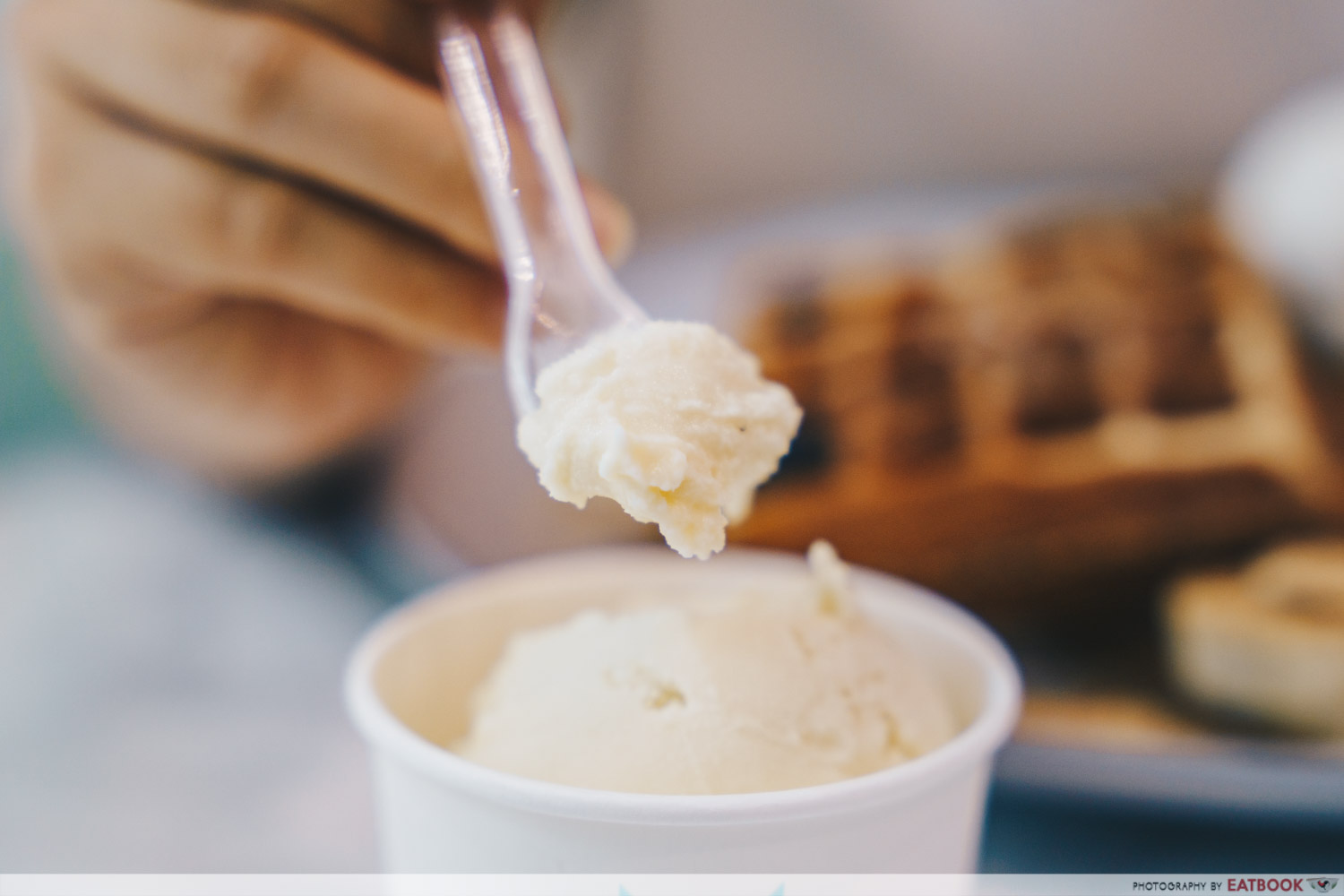 Incorporating flower-based flavours isn't always easy. Too much extract, and the gelato becomes bitter; too little, and the fragrance won't be detectable. It's safe to say MADLYGOOD found the delicate balance in this flavour. The sweet honey did well to balance out the aromatic notes of lavender. However, I felt that its sweetness could be toned down a notch, as the gelato got a bit cloying after a few tries.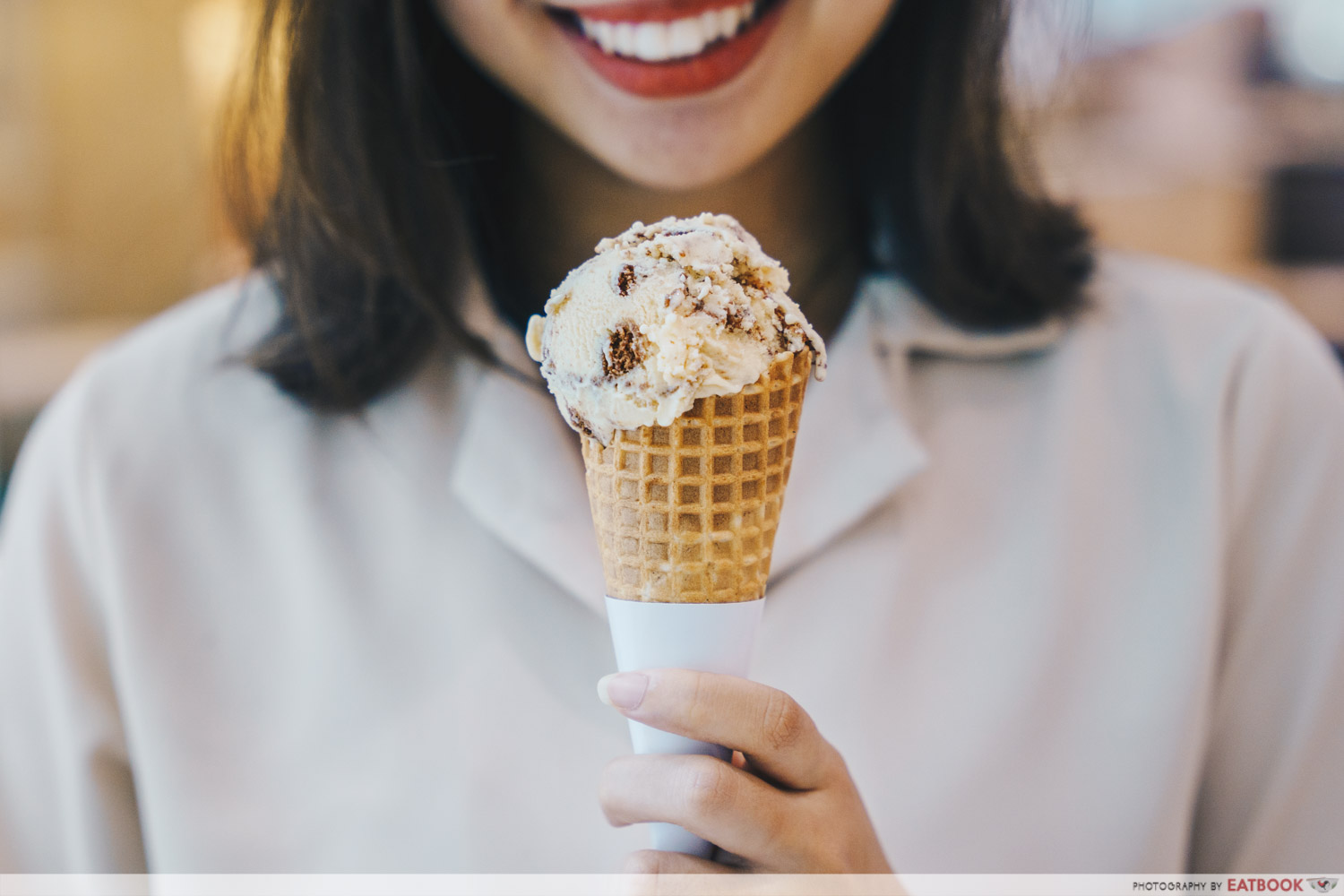 Nothing screams comfort food more than a warm slice of apple pie. MADLYGOOD's Apple Tartlet ($4.90) is made with poached apple pie filling, speculoos cookies, and cinnamon swirled into the ice cream. We topped up an extra $1 to get a waffle cone for good measure.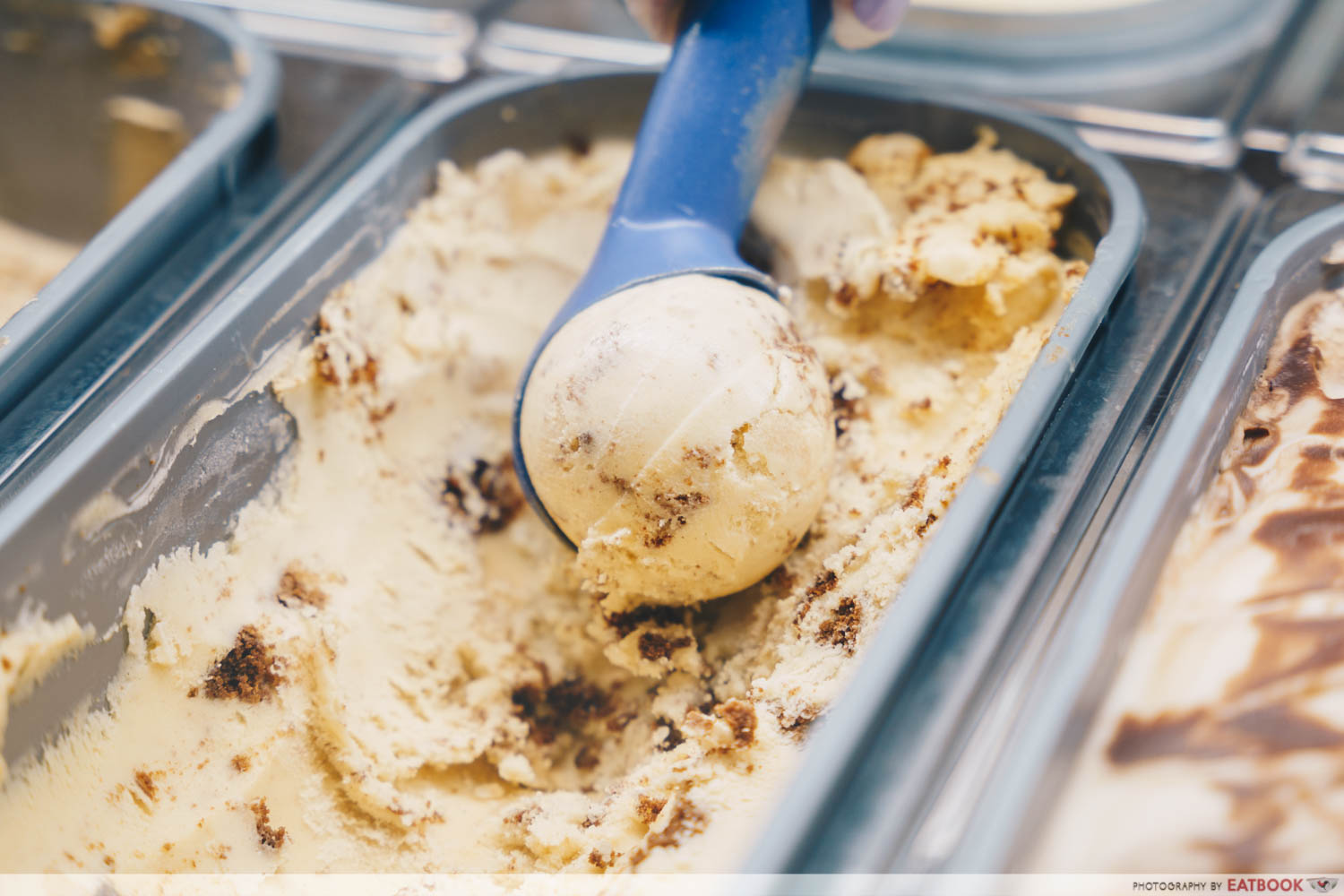 The gelato tasted just as good as it sounded on paper. The warm tones of cinnamon spice took centre stage. Its spicy, woody aroma melded into the cream, bringing its richness down a notch. Speckling the ice cream were softened chunks of speculoos that didn't offer much texture-wise, but compensated with pops of gingery caramel flavour.
An apple tartlet wouldn't be one without apples. There were also chunks of soft apple buried in the gelato, adding juicy bursts of tartness when chanced upon. I'll take this ice cream version over an apple pie any day.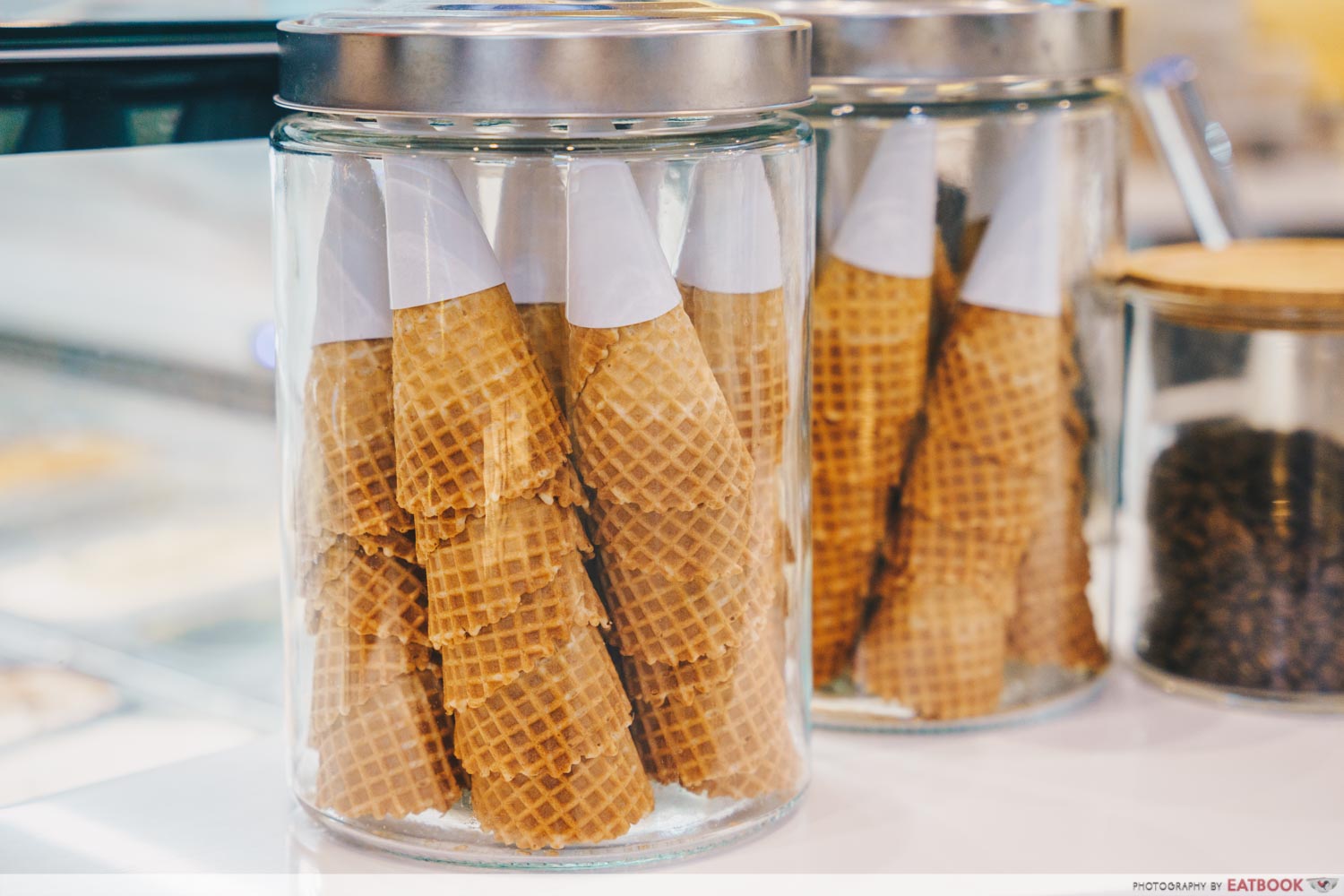 Commendably, the buttery sweet cone remained crunchy even as the gelato melted and soaked into its crevices. It held up well until we finished off the ice cream.
Ambience at MADLYGOOD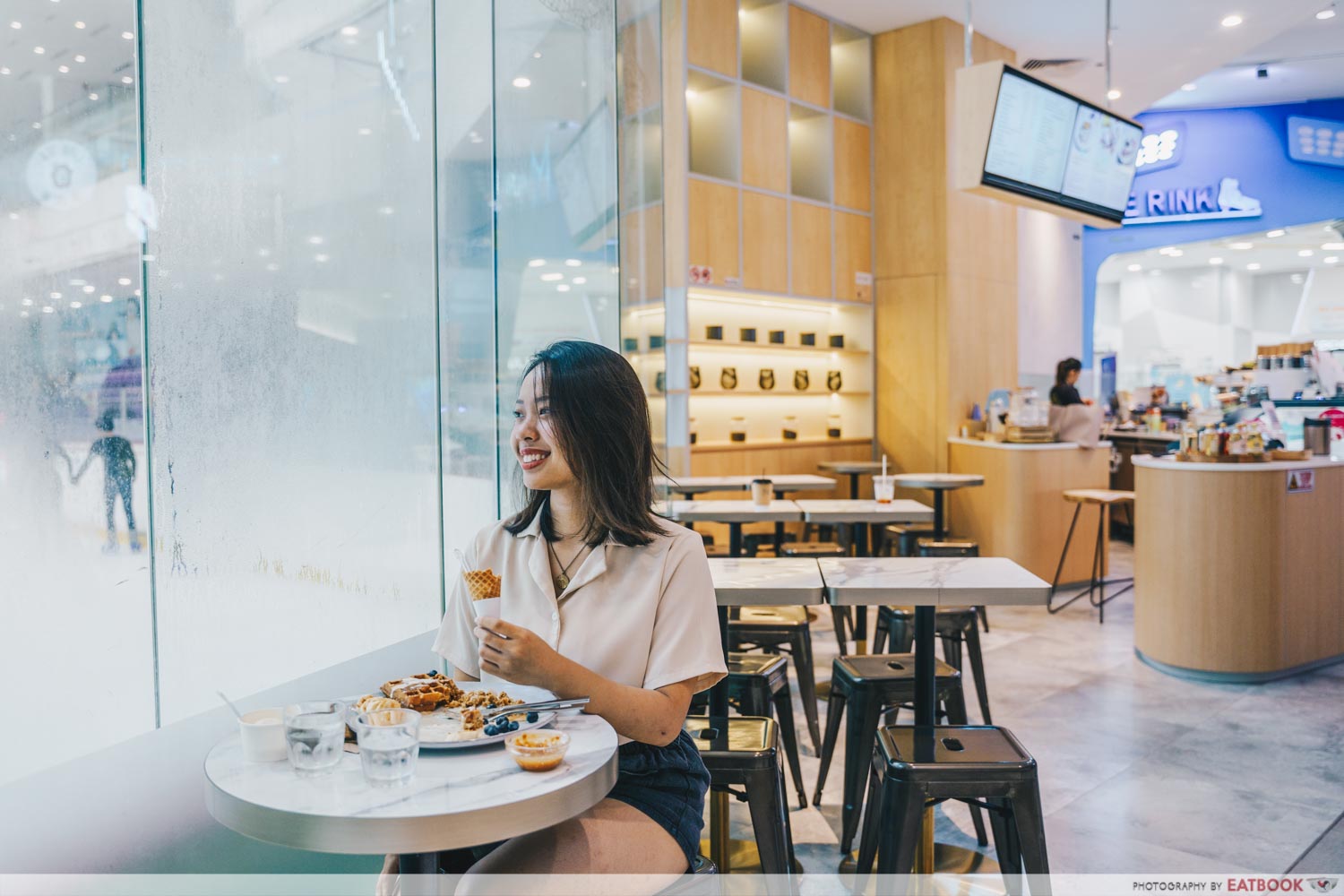 Positioned right by the ice rink in JCube, the small gelateria fits right into the chilly theme. I was washed over by a sense of serenity as I sat along the curve of the rink, peering at skaters through the frosted glass. 
If you're planning to make a visit once the COVID-19 situation has improved, the cafe has a decent number of tables open and is tucked away in a quiet corner of the mall, so you won't have to worry about seats being snatched up.
The verdict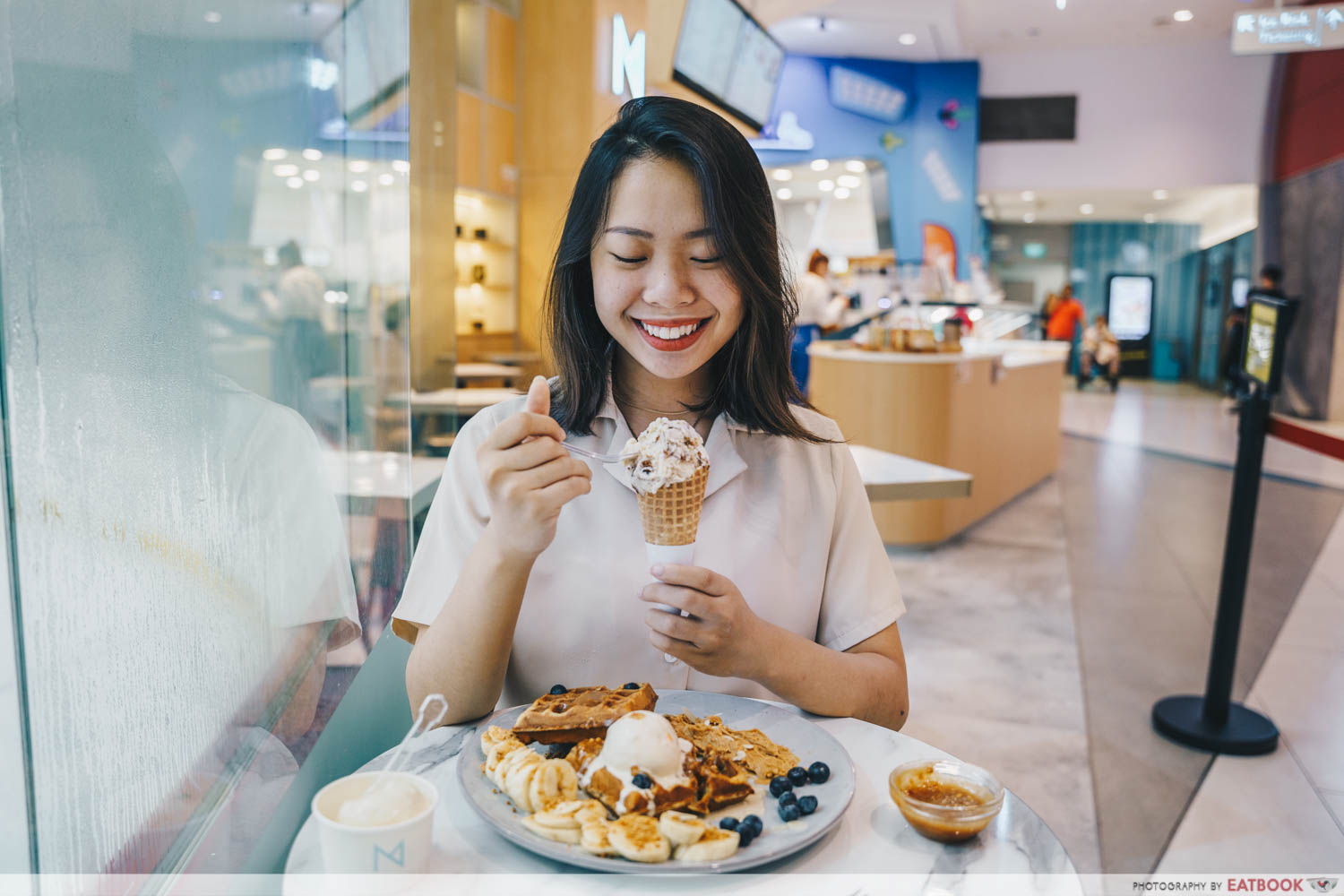 As a young ice cream cafe, MADLYGOOD is constantly experimenting with new dessert creations. They definitely hit the sweet spot for me with their over-the-top waffles. Part of the cafe's charm was also the peaceful ambience which quietly lulled me into hanging around longer. If I'm ever in the area next time, you can count on me to check out the new gelato inventions they have in store.
Currently, the store provides takeaway options and is available on a bunch of delivery platforms such as GrabFood and Capita3Eats.
Three's A Crowd Cafe Review: Horlicks Waffles At A HDB Ice Cream Cafe In Tampines
For more one-of-a-kind waffle creations, check out our review of Three's A Crowd Cafe. Or, if you're clamouring for more gelato, this review of Monarchs & Milkweed Gelato is worth a read! 
Address: 2 Jurong East Central 1, #03-12, JCube, Singapore 609731
Opening hours: Mon-Thurs 12pm to 9:30pm, Fri 12pm to 10:30pm, Sat 11am to 10:30pm, Sun 11am to 9:30pm
Website
MADLYGOOD is not a halal-certified eatery.
Photos taken by An Lim.
This is an independent review by Eatbook.sg, and was written before the Circuit Breaker measures.
MADLYGOOD Review: New Cafe With Cream Cheese Gelato And Peanut Butter Waffles At JCube
Summary
Pros
– Unique gelato flavours
– Beautifully plated waffles
– Peaceful ambience
Cons
– Pricey
– Honey Bunny was a tad too sweet 
Recommended dishes: Apple Tartlet ($4.50), Buttered-Up Peanut Butter Waffs & That's Peanuts Gelato ($15.50)
Opening hours: Mon-Thurs 12pm to 9:30pm, Fri 12pm to 10:30pm, Sat 11am to 10:30pm, Sun 11am to 9:30pm
Address: 2 Jurong East Central 1, #03-12, JCube, Singapore 609731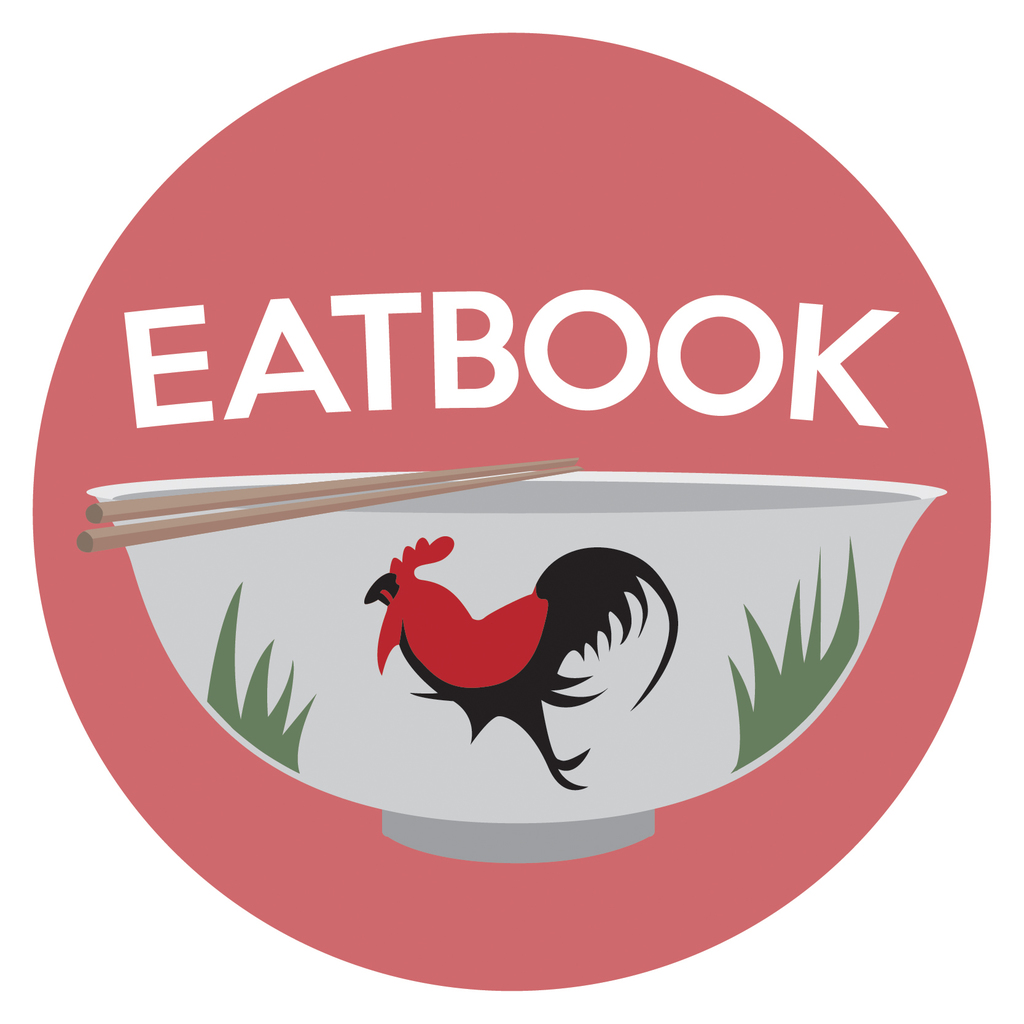 Drop us your email so you won't miss the latest news.