Mei Kee Bakery in Yishun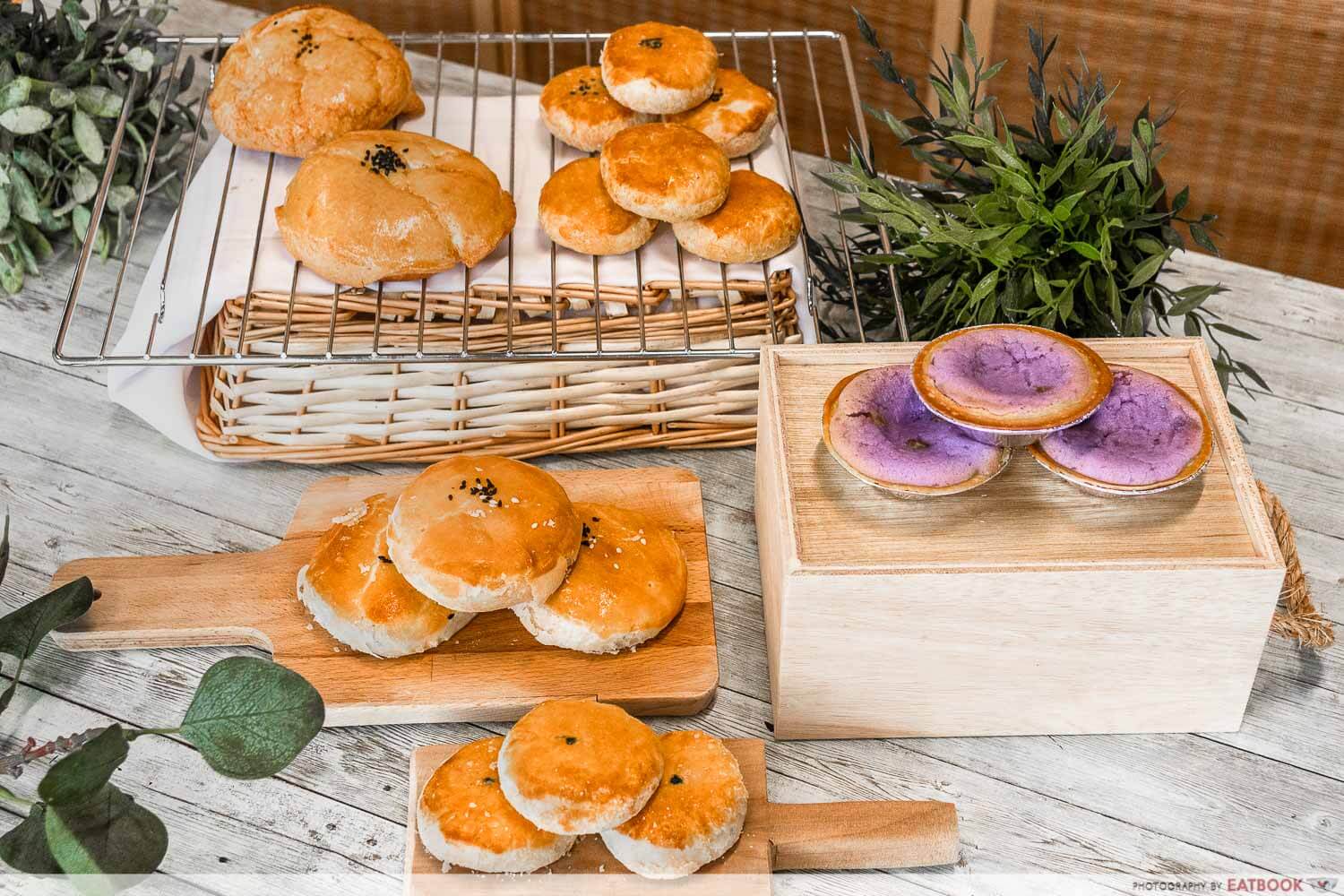 After my experience with Lau Chong Kee Mini, I was on a continuous hunt for more traditional bakes, which led me to Mei Kee Bakery. Run by the Bakery Cuisine, Mei Kee Bakery was opened in 2019, with the concept of serving a range of Hong Kong-style baked goods.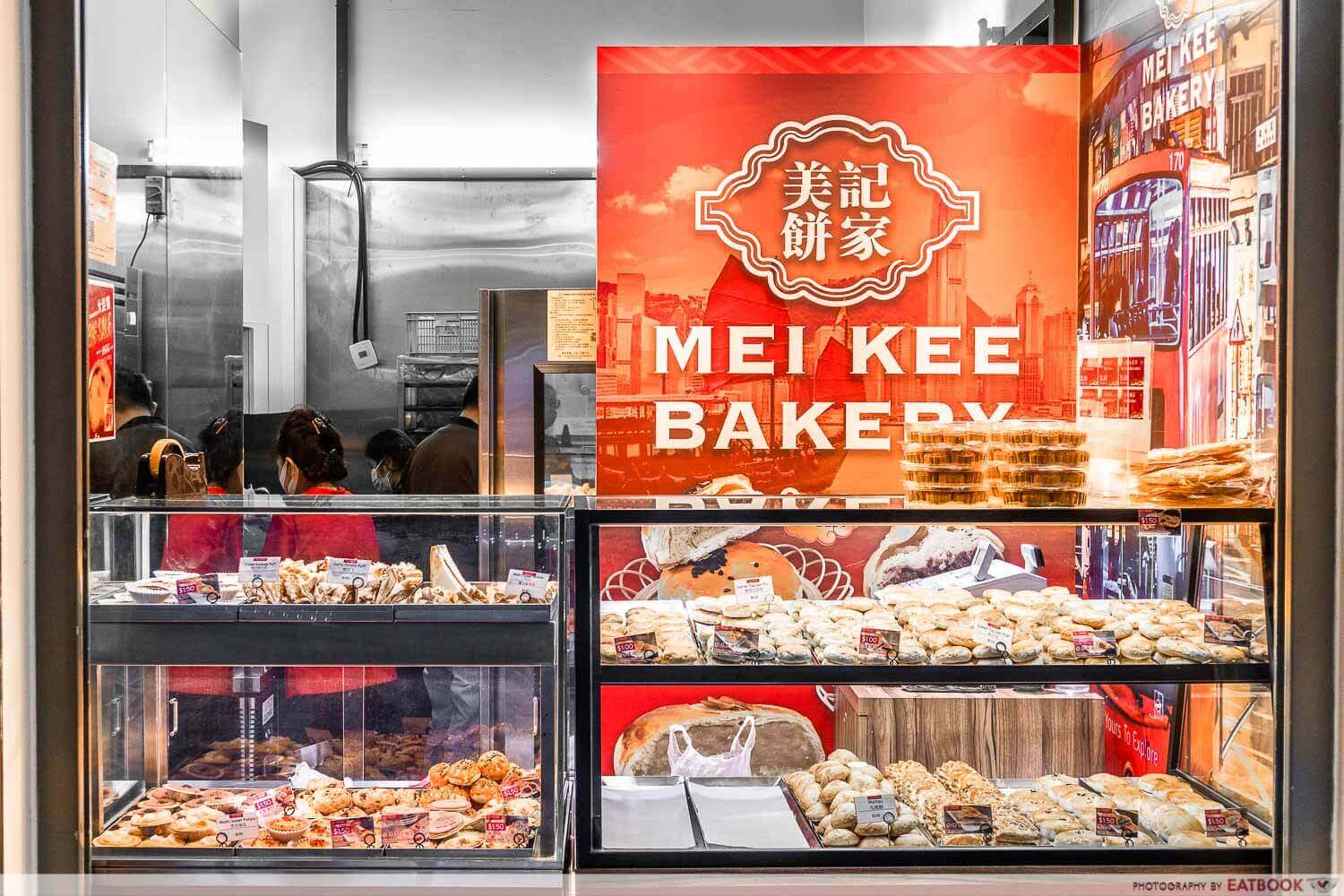 For Mei Kee Bakery, they serve an array of tau sar piah pastries, with innovative flavours such as coffee, shrimp, durian and many others. What caught my attention was the orh nee tarts. As these tarts are rarely commonplace in bakeries, I knew I had to make my way down to give them a try. 
Lau Chong Kee Mini Review: Old-School Bakery With Custard Buns, Char Siew Su and More From $1
Food at Mei Kee Bakery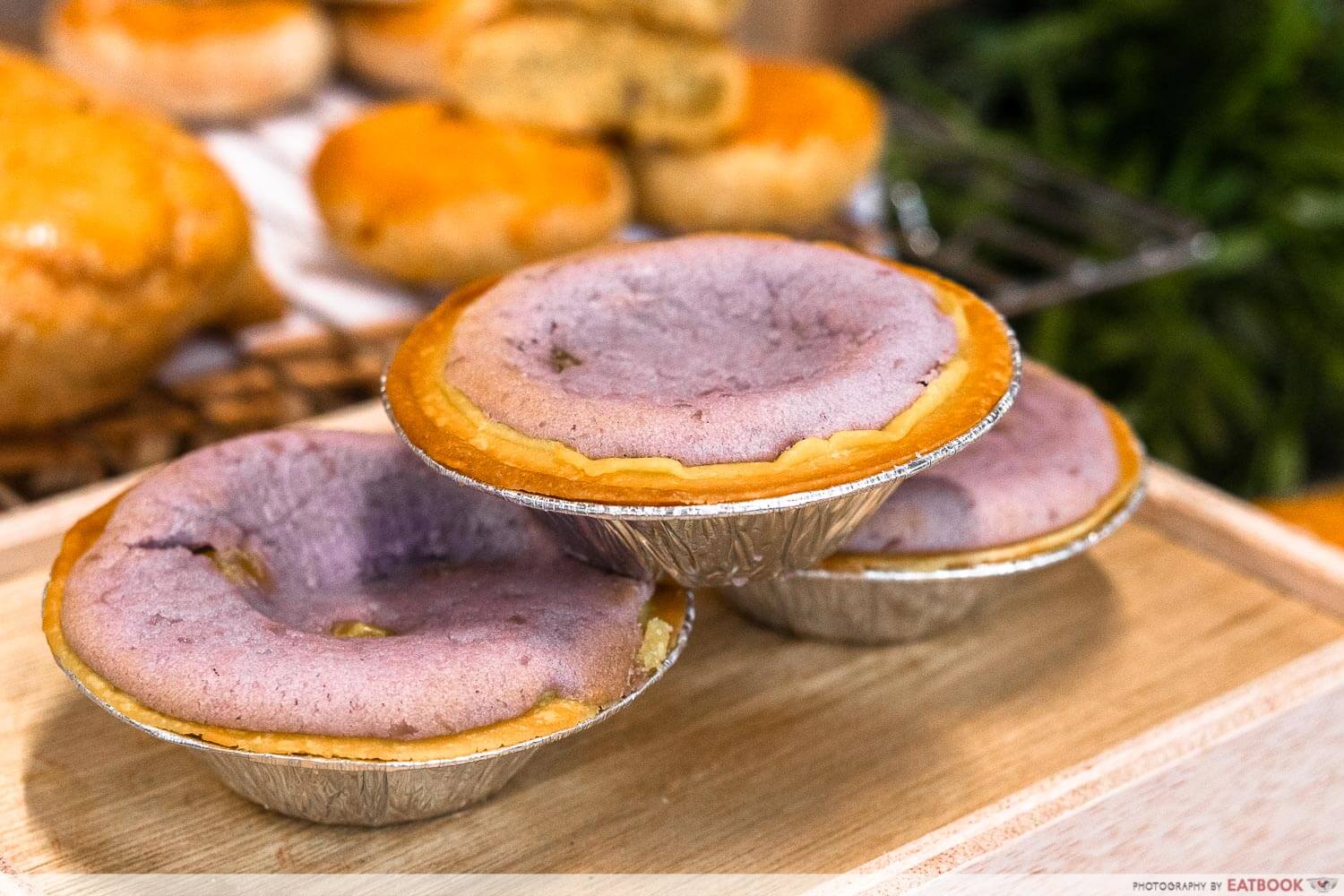 The first item I tried was Mei Kee Bakery's Ginkgo Taro Tarts ($1.50+), which features a lavender-coloured yam filling, held within a thin, golden shell.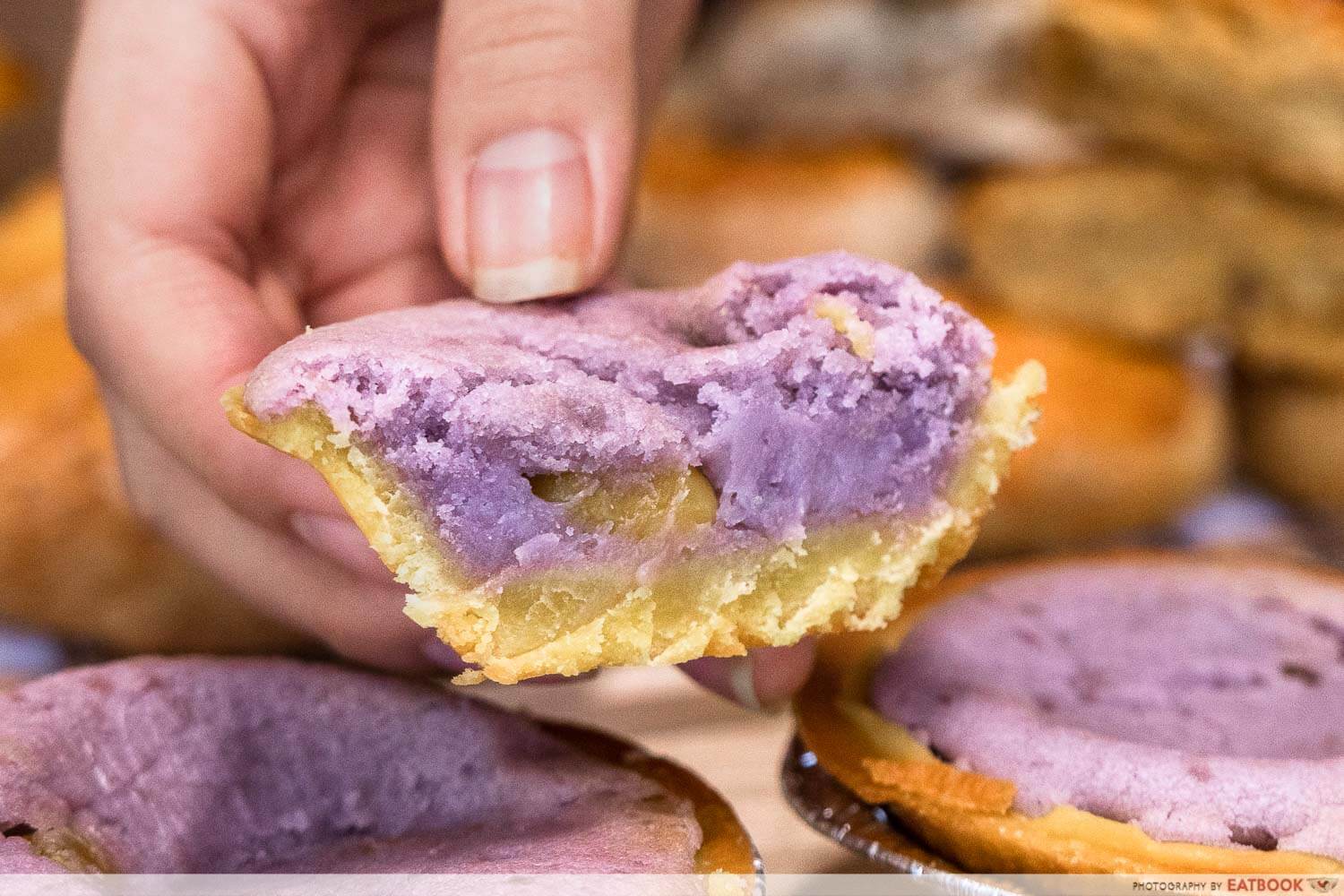 Slicing the tart in half revealed a generous amount of yam filling, with ginkgo nuts hidden within. The texture of the filling was rather soft and paste-like, perhaps mimicking the creamy, and thick paste that traditional orh nee dessert has. The tart casing on the other hand was flaky and thin, giving an optimum filling to tart ratio. 
The filling was mildly sweet, with a hint of bitterness from the ginkgo nuts, and a buttery aroma from the crust. Unfortunately, I felt that the filling was missing a prominent yam flavour. Nevertheless, it is a good fix if you are ever in the area, and hankering for a yam tart.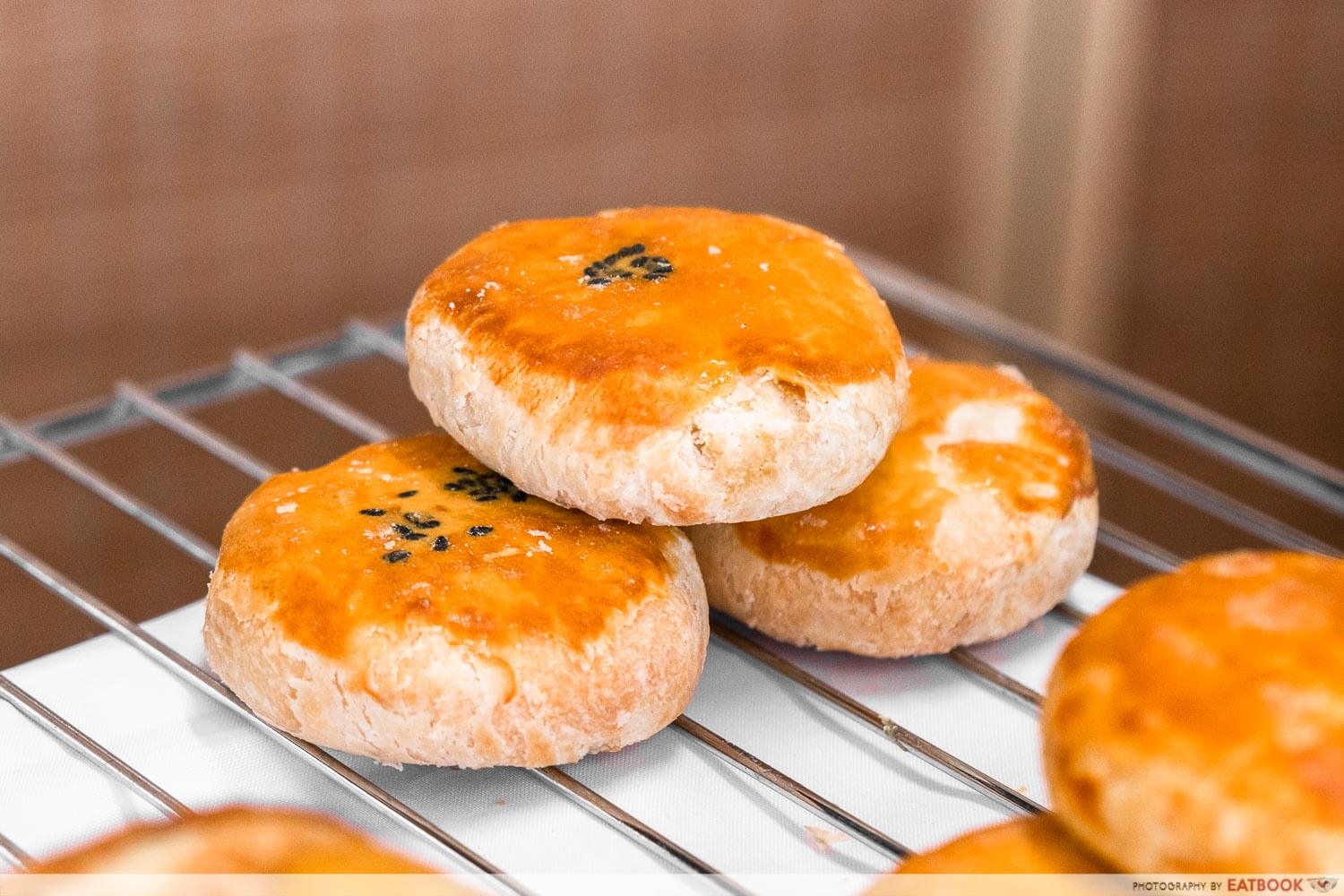 Next, I tried a few of their tau sar piah items. There were nine flavours to choose from, leaving me totally spoilt for choice. After contemplating, I decided to go with the flavours that stood out to me the most: coffee, shrimp, yuan yang, and durian.
All of the tau sar piah consists of a flaky, golden-brown pastry, encasing a fine, melty filling. I loved how there was a clear textural contrast between the pastry and the filling, giving it a pleasant mouthfeel.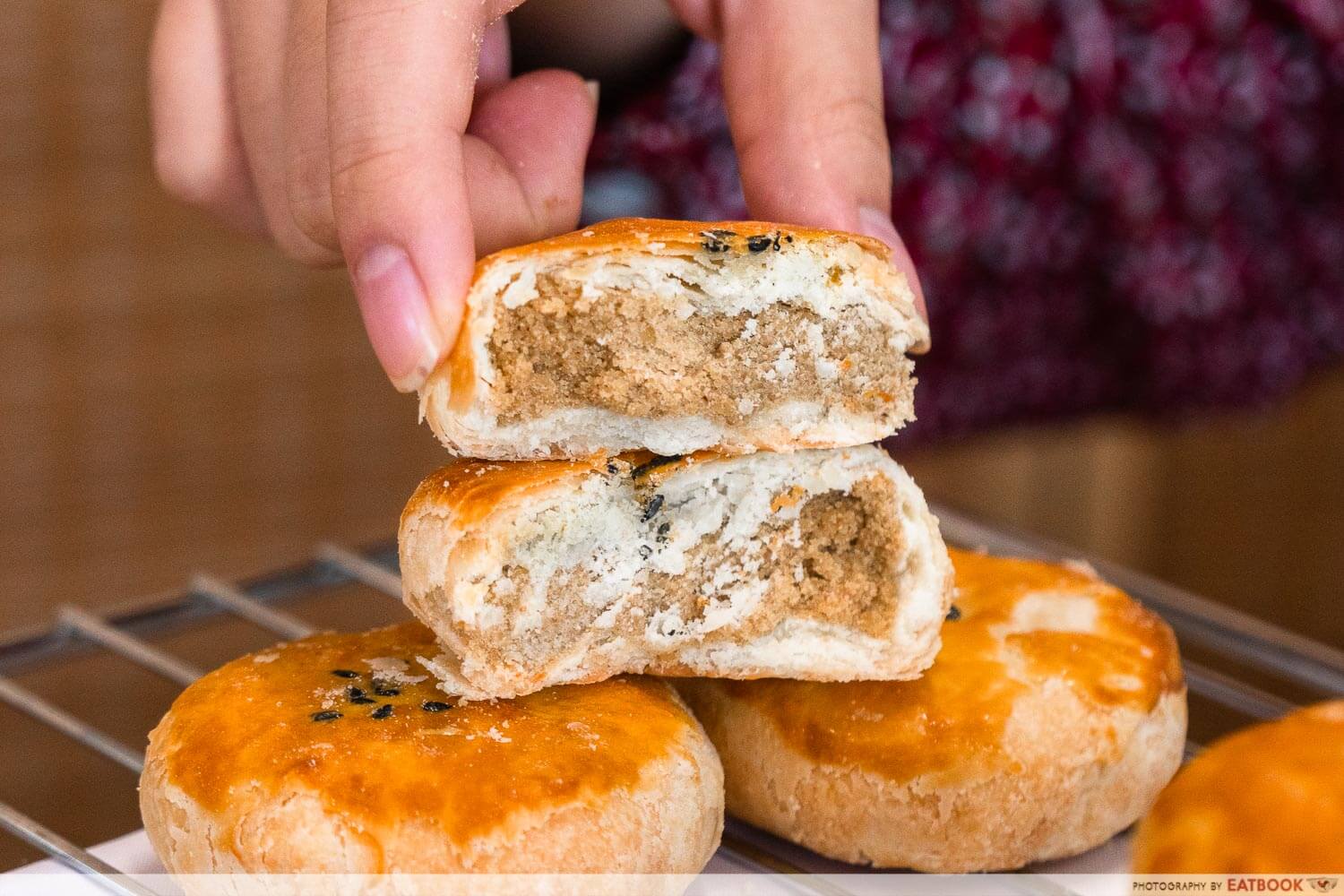 First up was the Coffee Tau Sar ($1+). Cutting the pastry in half released a sweet, and rich coffee aroma. The filling was so soft and fine that it immediately melted on my tongue. I also enjoyed the balance between the sweet coffee filling, and savoury pastry skin, making it easy to chow down within seconds.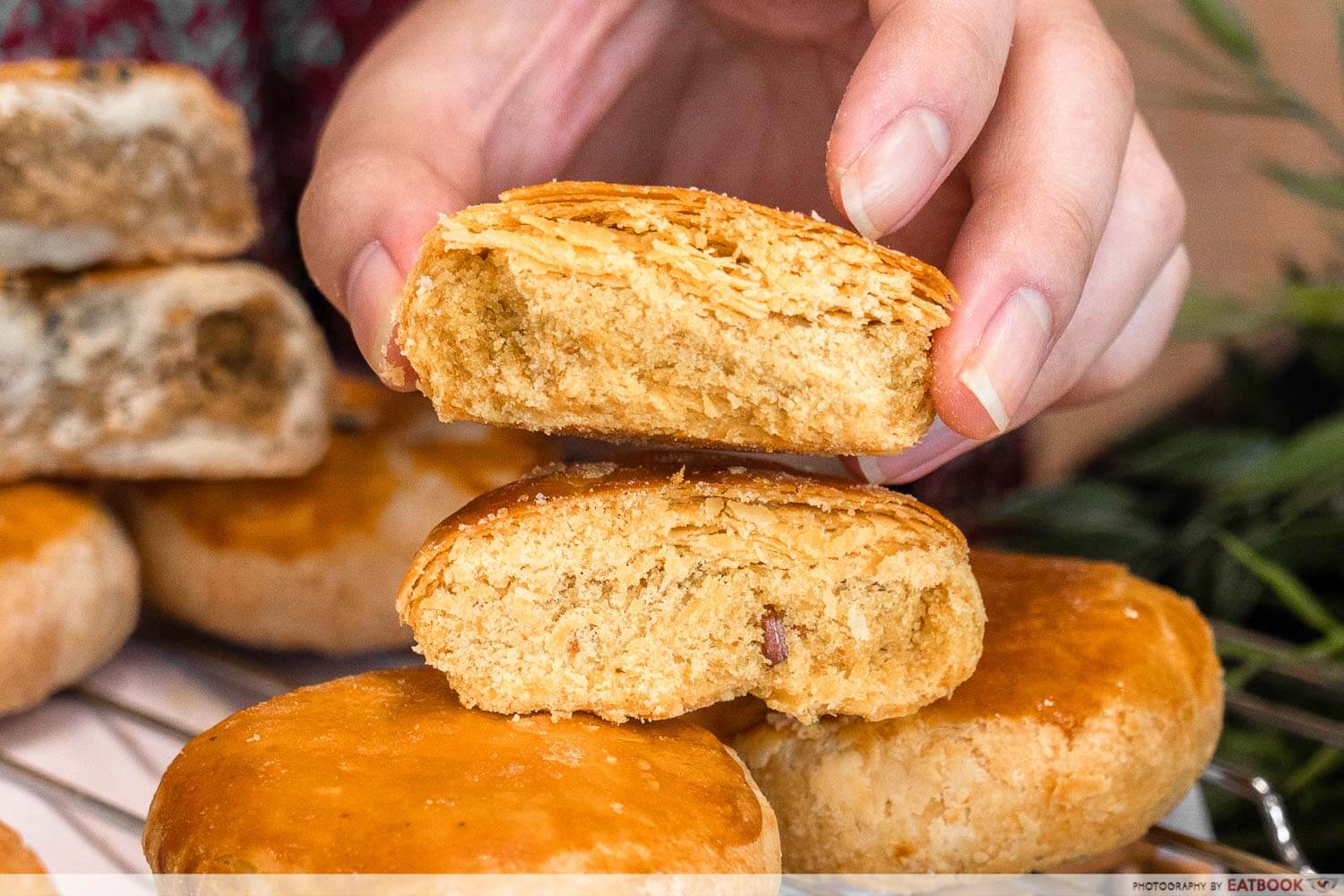 Out of all the tau sar piah flavours, the Shrimp Tau Sar ($1+) was hands down my favourite. It did not have a strong shrimp flavour, but rather a  curry aroma—think barbecue flavoured Twisties. What I enjoyed the most was the depth of flavours. 
First, there was the aromatic curry with a savoury note from the pastry, then a tinge of sweetness settled in, and before the bite ended with a spicy kick at the back of my throat. It was a real party in my mouth and I couldn't stop coming back for more.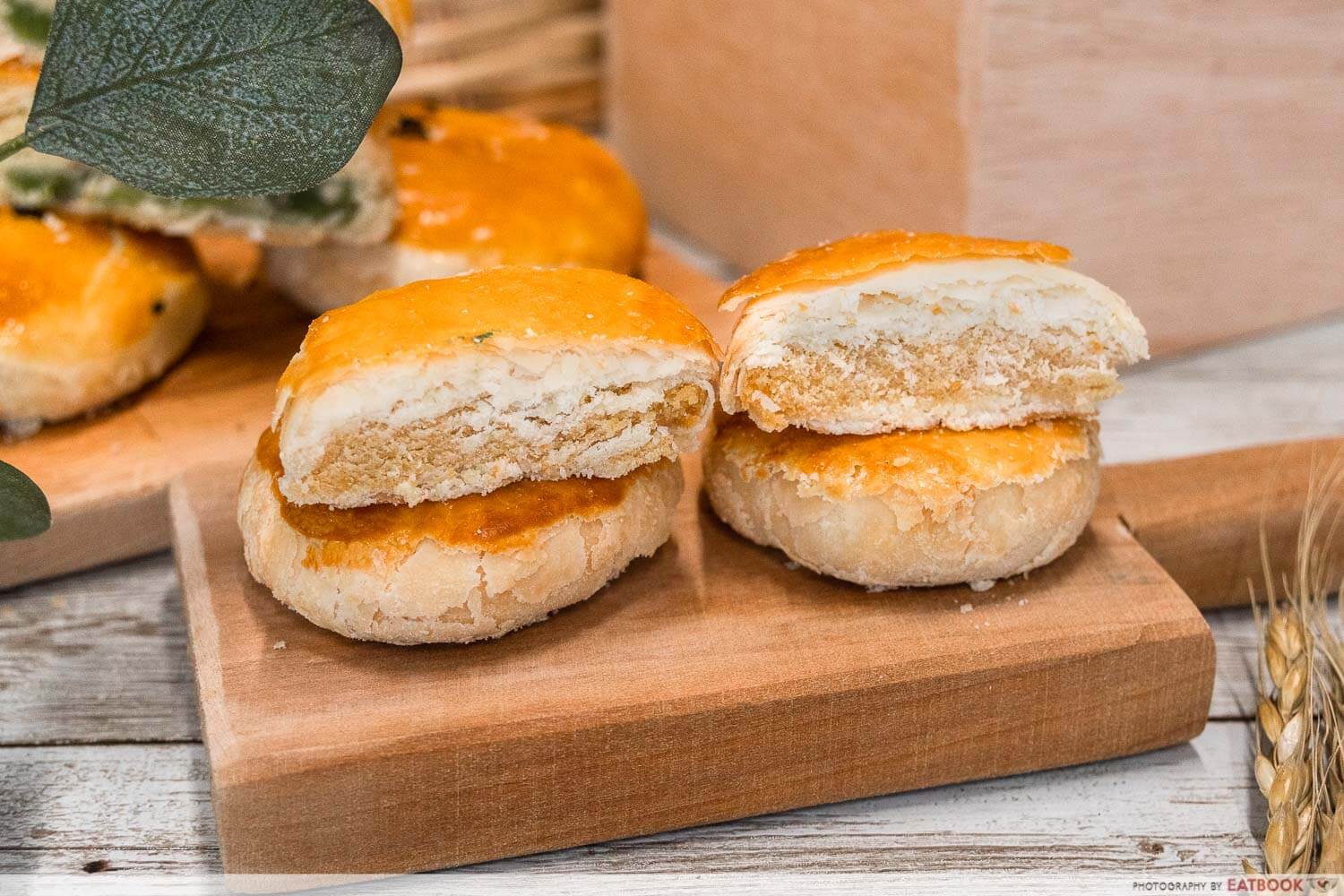 Just like the other tau sar piah, this Durian Tau Sar ($1+) was generously packed with durian filling. For a person who dislikes durian, I found this tau sar piah palatable. However, it did taste a tad bit artificial as it was strong on durian fragrance but not in taste. Moreover, it was slightly skewed towards the sweeter end. Nevertheless, I wouldn't mind having this as a dessert if I'm craving something really sweet.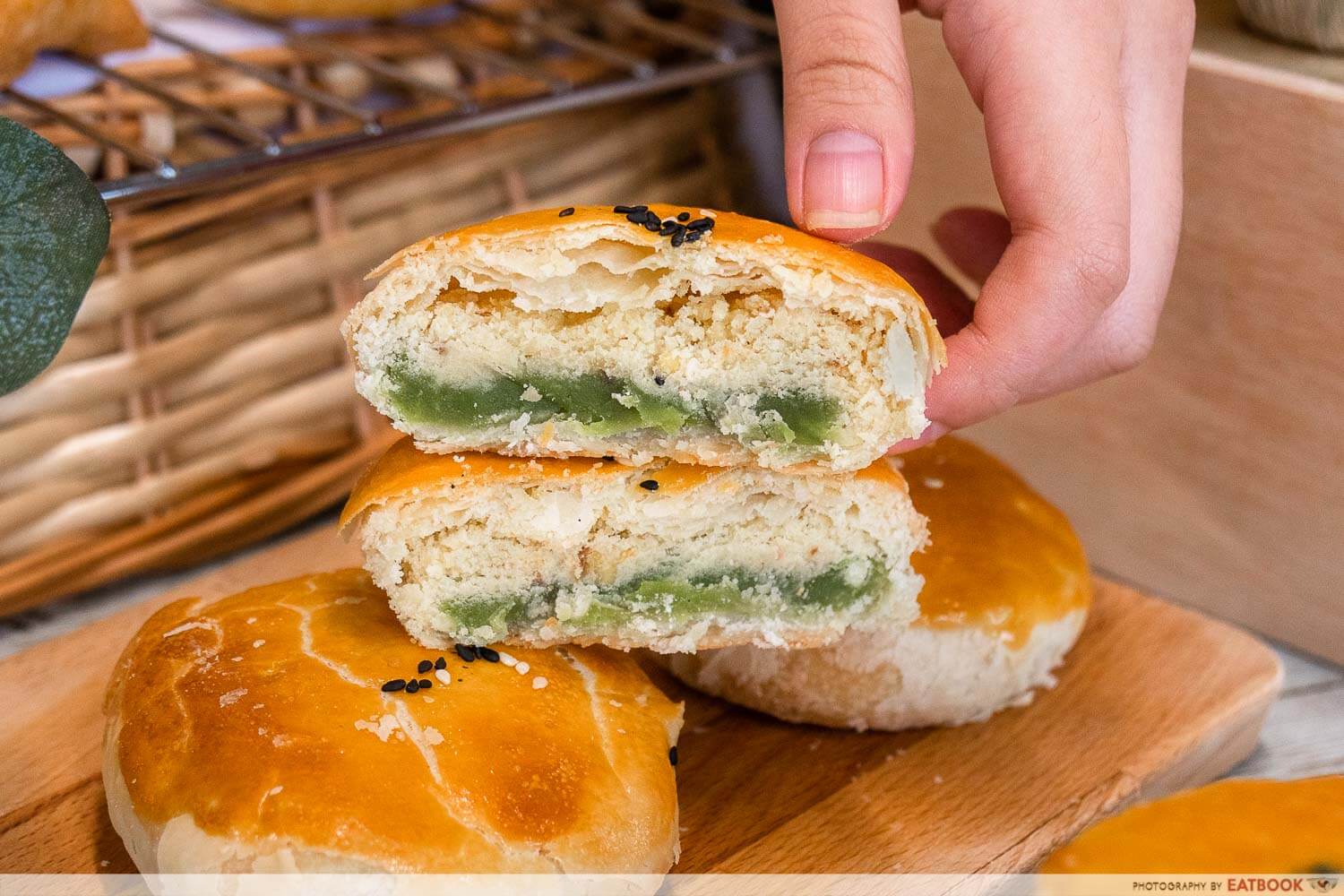 If I had to pick, my least favourite was the Yuan Yang Tau Sar ($1.50+). This pastry featured a layer of salted mung bean filling, atop a layer of pandan paste. 
It was a strange and confusing blend of flavours and textures. Having tried all of the standard tau sar piah fillings, having this last may have confused my palate. The mung bean filling was melt-in-the-mouth, but the pandan layer was pasty.
Texture aside, the flavours didn't wow me either. The pandan was very light in flavour, overpowered by the sweet and savoury mung bean.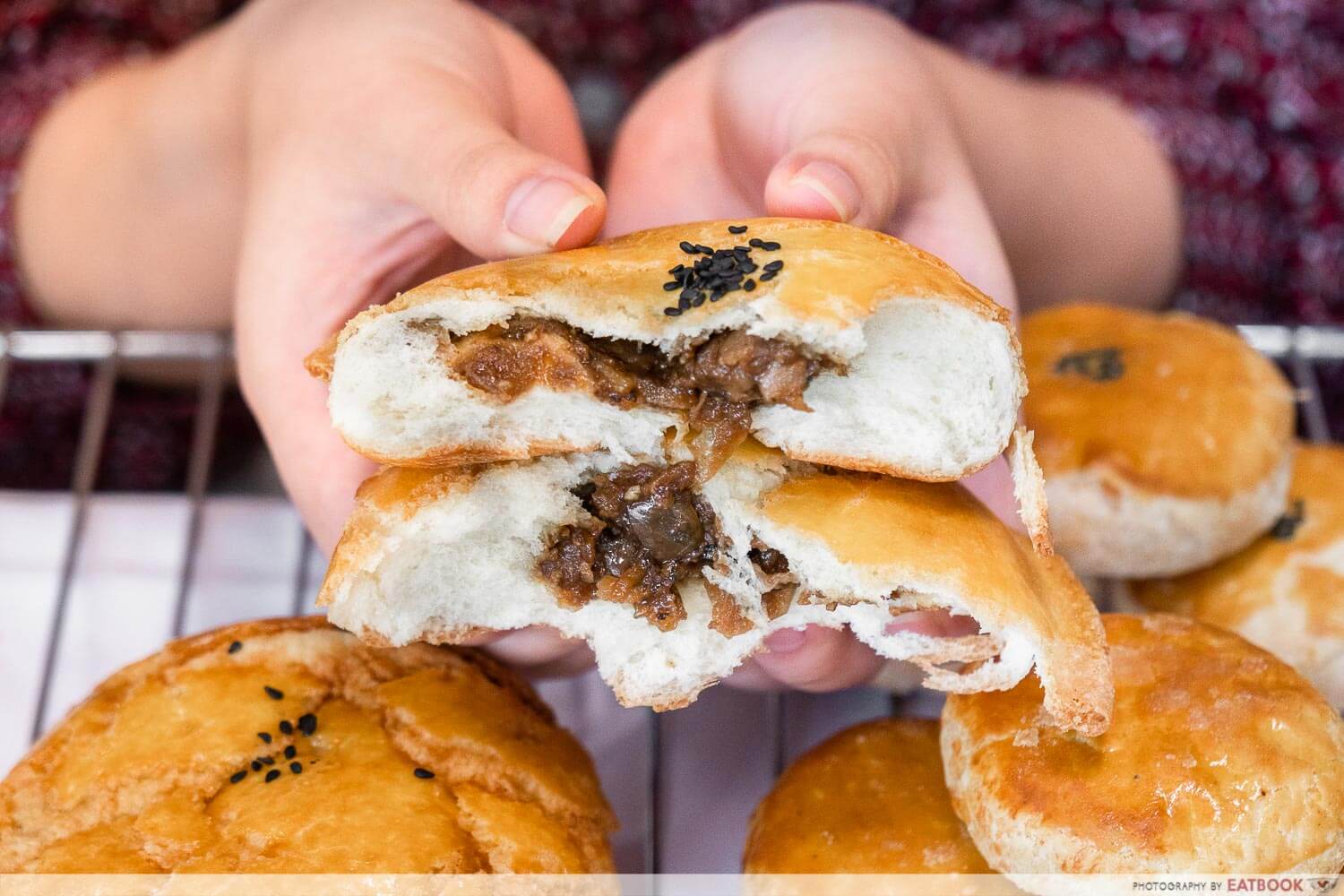 Besides the array of tau sar piah, Mei Kee Bakery also offers a range of baked goods that are suited for breakfast, such as the Black Pepper Polo Bun ($1.80+), Chicken Sausage Puff ($1.80+), Curry Potato Puff ($1.80+), and more. 
As I am a huge fan of bread, I went straight for the Black Pepper Polo Bun. Peeling open the bread revealed a black pepper-rich meat filling. Although I felt that there was more bread than filling, each bite was well-balanced. The black pepper was so prominent that if there had been any more filling, the bread would have been too spicy for me to handle. The best part of this was the iconic cracked shell, typical of a polo bun. It was crunchy and sweet. 
16 Traditional Bakeries In Singapore For Old-School Banana Pie, Orh Nee Tarts And More
Ambience at Mei Kee Bakery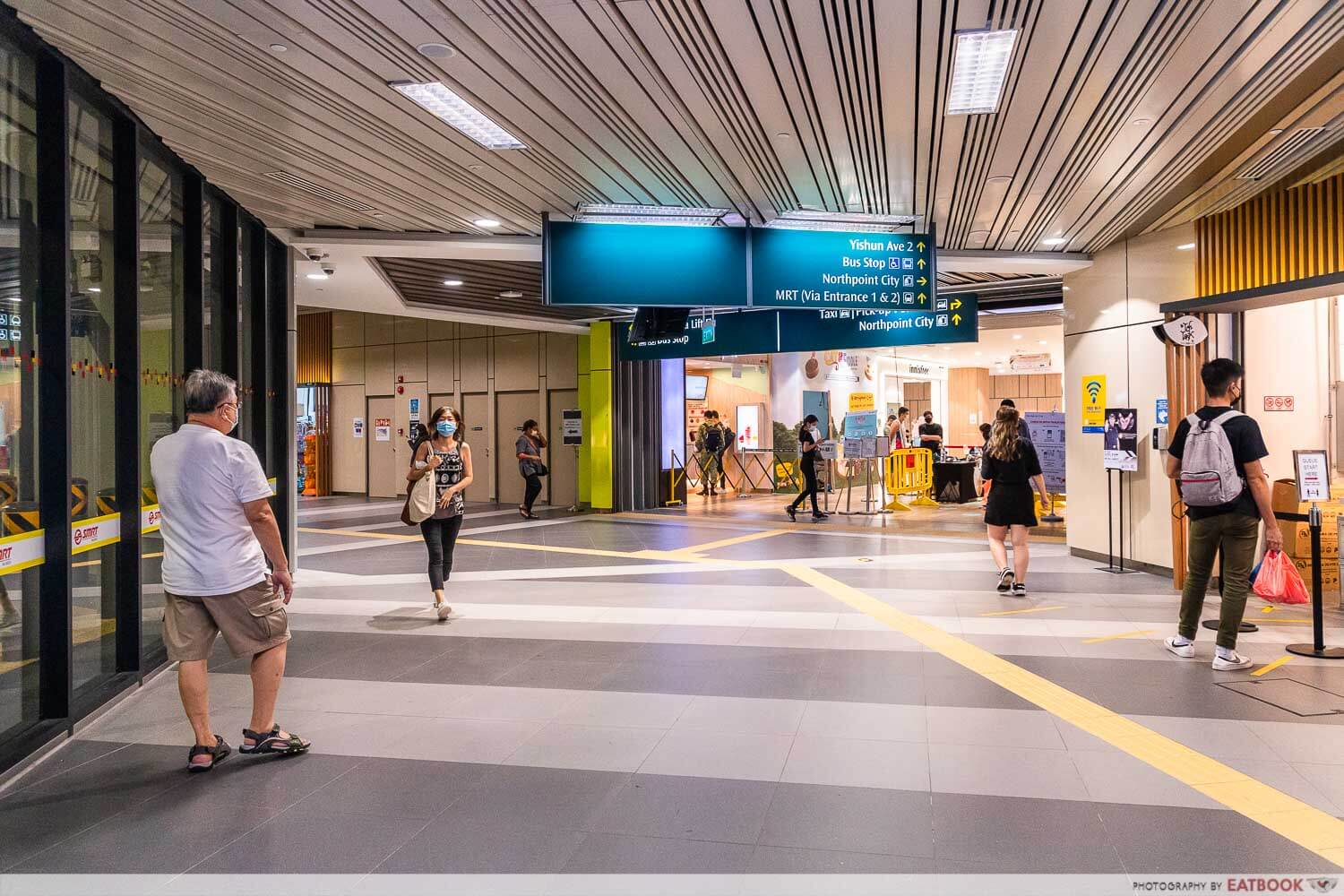 Mei Kee Bakery is conveniently situated in Yishun Bus Interchange at Northpoint City. Over there, you'll see a stretch of eateries offering snacks, beverages, and even takeaway meals.  However, you won't have to worry about missing Mei Kee as they evidently stand out with their red signage, and display of baked goods. 
Northpoint City Food Guide: 15 Places For Ayam Penyet, Mala Grilled Fish And More
The verdict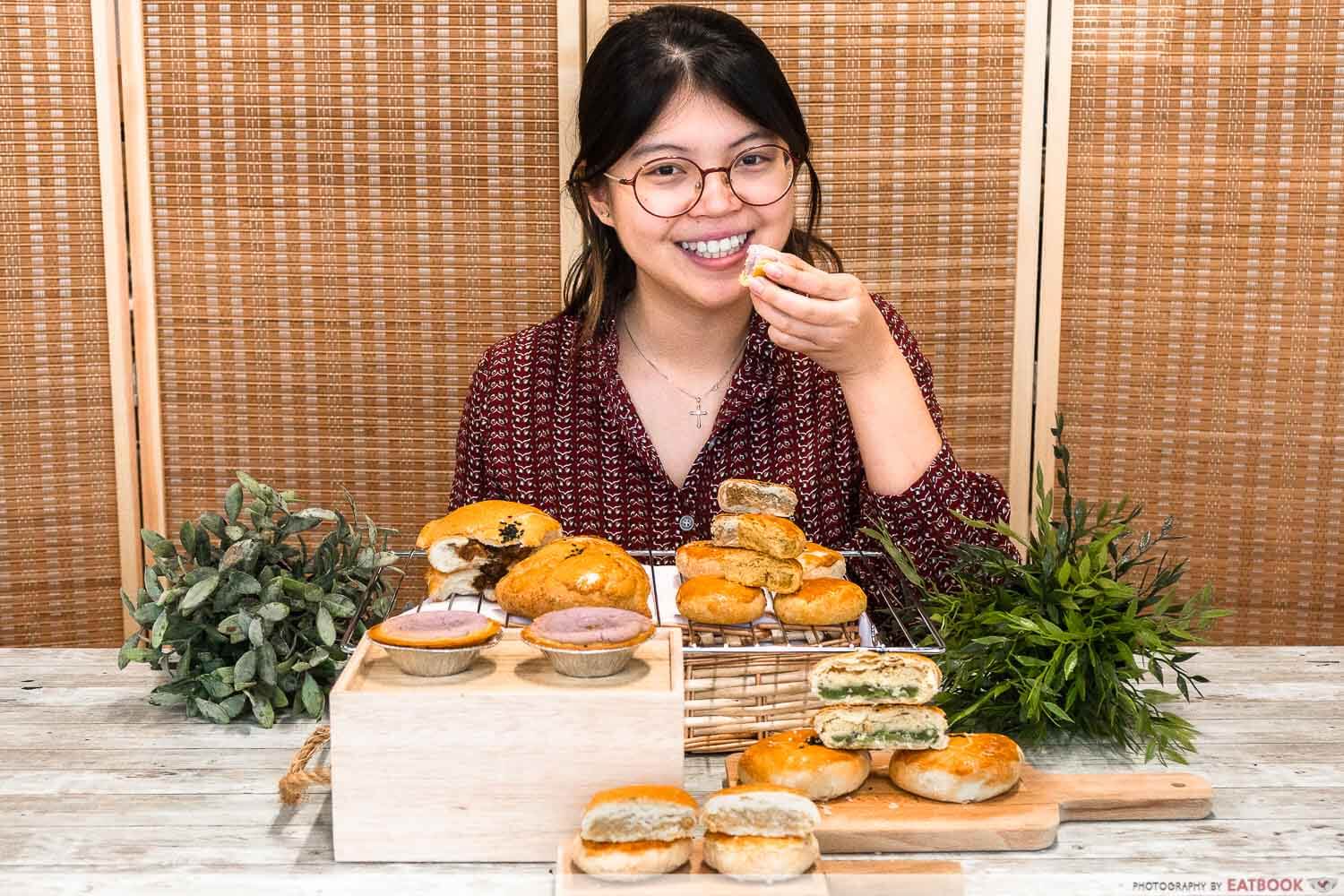 Although I visited Mei Kee Bakery specifically for its orh nee tarts, I am glad that I found something even better, their tau sar piah. They have truly impressed me with their selection and execution of the tau sar piah flavours. If I'm ever in the area, I will definitely drop by to try the remaining flavours. I was slightly bummed that I couldn't find the other polo bun options that were seen on their website. So if I ever have the chance, I would visit their bigger outlet at Rivervale Mall for their Polo Matcha Red Bean, Polo Chicken Floss and more! 
For more traditional baked goods, check out our traditional bakery guide which includes options such as orh nee tarts, old-school banana pies, and more. Alternatively, check out our Northpoint City food guide if you feel spoilt for choice in this massive shopping mall. 
Address: 1 North Point Drive, Yishun Bus Interchange, Singapore 768019
Opening hours: Daily 11am to 8pm 
Mei Kee Bakery is not a halal-certified bakery.
Northpoint City Food Guide: 15 Places For Ayam Penyet, Mala Grilled Fish And More
Photos taken by Emily Teu.
This is an independent review by Eatbook.sg.
Mei Kee Bakery Review: Bakery in Yishun With Orh Nee Tarts, Coffee Tau Sar Piah And More
Mei Kee Bakery Review: Bakery in Yishun With Orh Nee Tarts, Coffee Tau Sar Piah And More -

7.5/10
Summary
Pros
– Well executed tau sar piah flavours and textures
– Reasonably priced
– Convenient location
Cons
– Mainly sells tau sar piah
– Orh nee tart was mediocre 
Recommended dishes: Shrimp Tau Sar Piah ($1+), Coffee Tau Sar Piah ($1+)
Opening hours: Daily 11am to 8pm
Address: 1 North Point Drive, Yishun Bus Interchange, Singapore 768019