Monzen@Gardens for Japanese rice bowls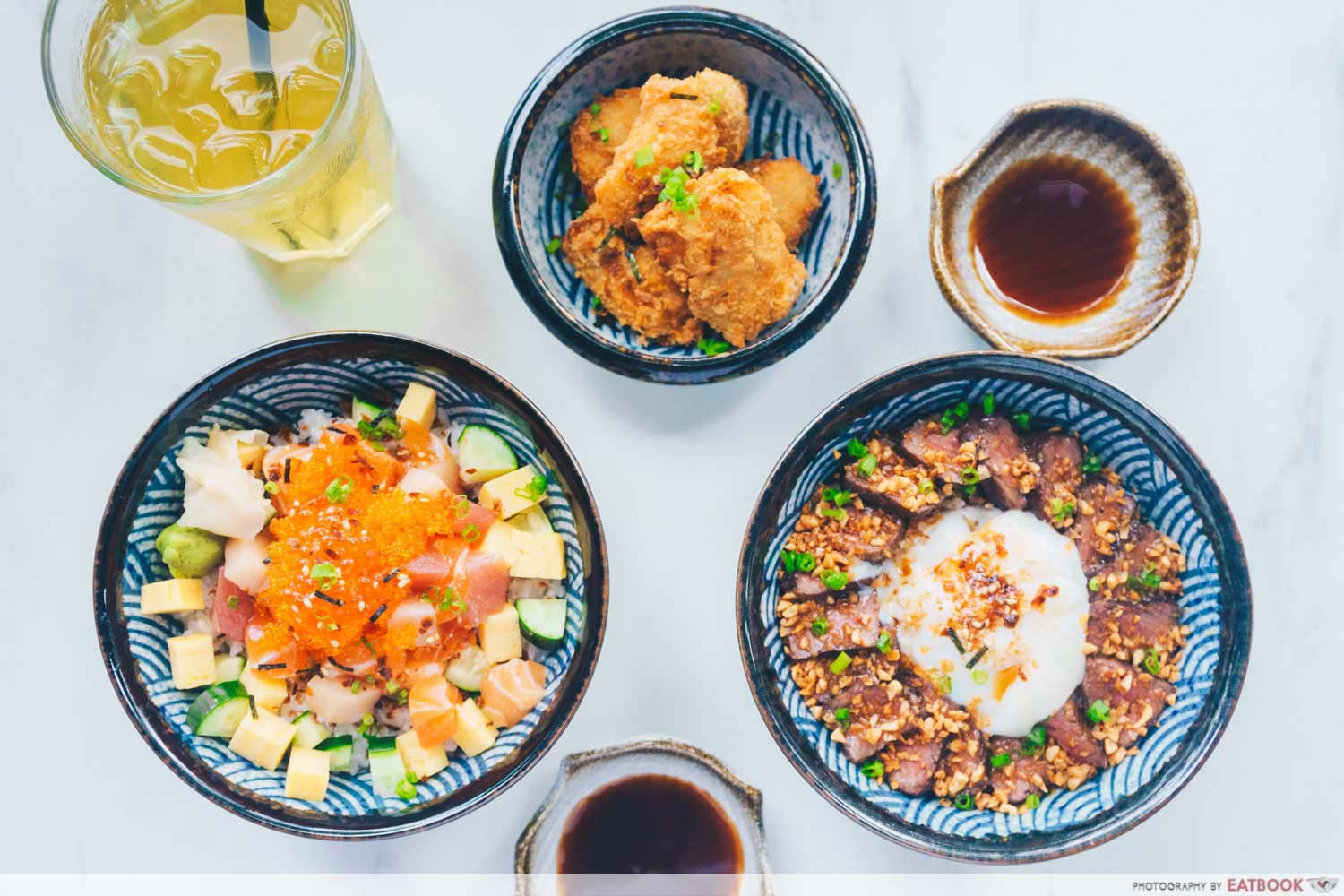 I like to think that Serangoon Gardens is the Holland Village of the North-East. Located slightly off Serangoon Central, this tranquil area is home to a wealth of exciting restaurants, and possesses a remarkably chill vibe.
Adding on to the list of restaurants worth checking out is Monzen@Gardens. This newly opened joint is tucked in the corner of myVillage@Serangoon Gardens and serves up Japanese-inspired rice bowls.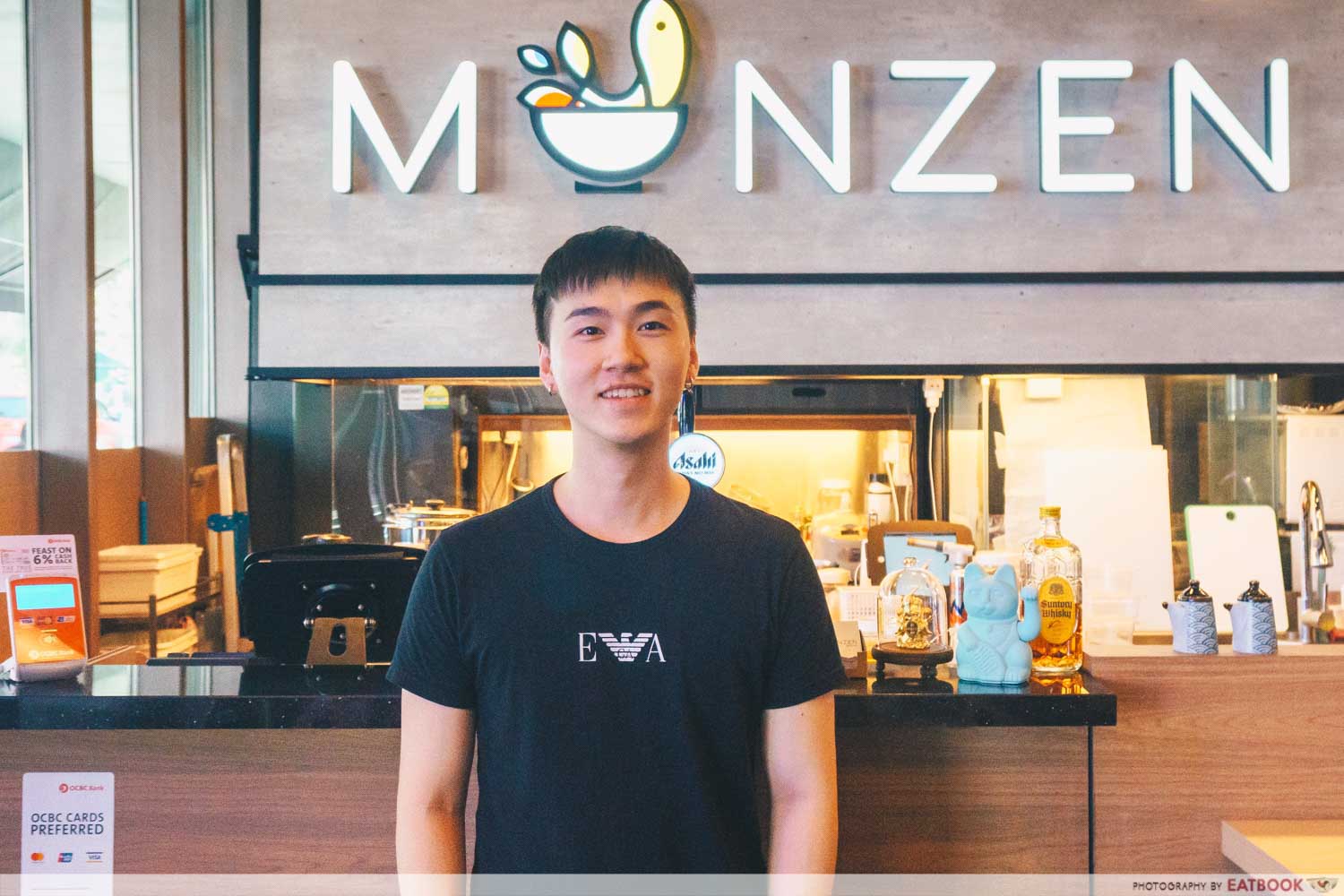 The restaurant is helmed by Alfred Ng who also opened The Milky Way—an ice-cream cafe at Tanglin Halt. He has since sold his ice-cream business and decided to focus his efforts on Japanese cuisine instead. 
Swapping the ice-cream scoop for a chef's knife might sound surprising, but the 32-year-old was heavily inspired to serve up Japanese rice bowls after a visit to Japan.
Together with his brother, he enrolled in the prestigious Tokyo Sushi Academy in Tokyo to learn more about Japanese food. The gruelling eight-week course was tough for someone without formal kitchen experience, but the training gave him a better understanding of Japanese fare. 
Food at Monzen@Gardens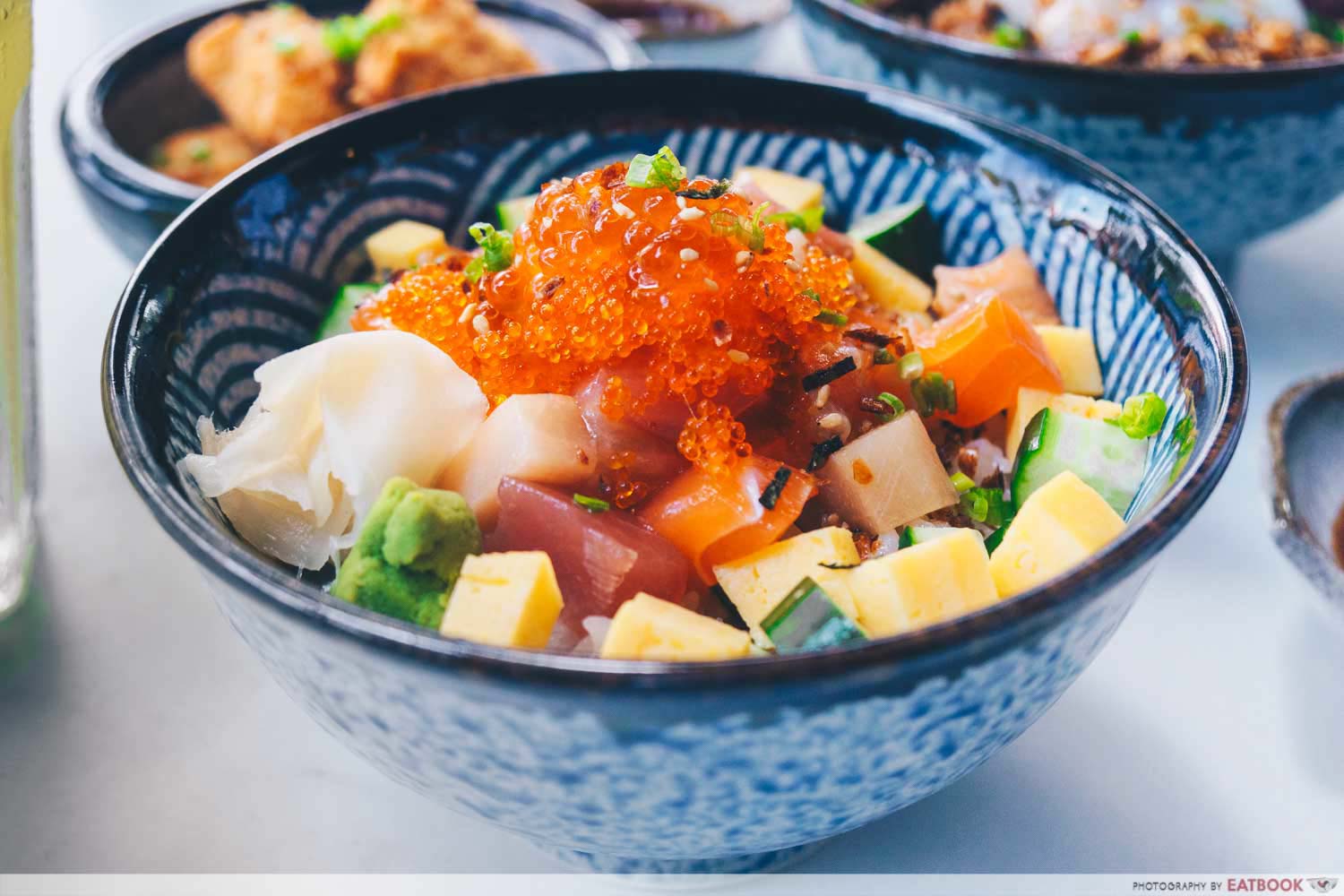 Alfred takes pride in sourcing the freshest ingredients, insisting that his sashimi be delivered fresh daily. This means that his rice bowls might get sold out earlier than expected. While it would mean losing out on prospective sales, Alfred tells us that it's a necessary cost to pay for quality.
Bara Chirashi Don ($15.80+) features a generous serving of chopped salmon, tuna, swordfish sashimi, tamago, and tobiko that's heaped over sushi rice.
The pieces of sashimi are marinated in a special house-made sauce, which includes shoyu and a hint of sesame oil. I liked how it binds everything together, lacing everything with a kiss of well-balanced savouriness.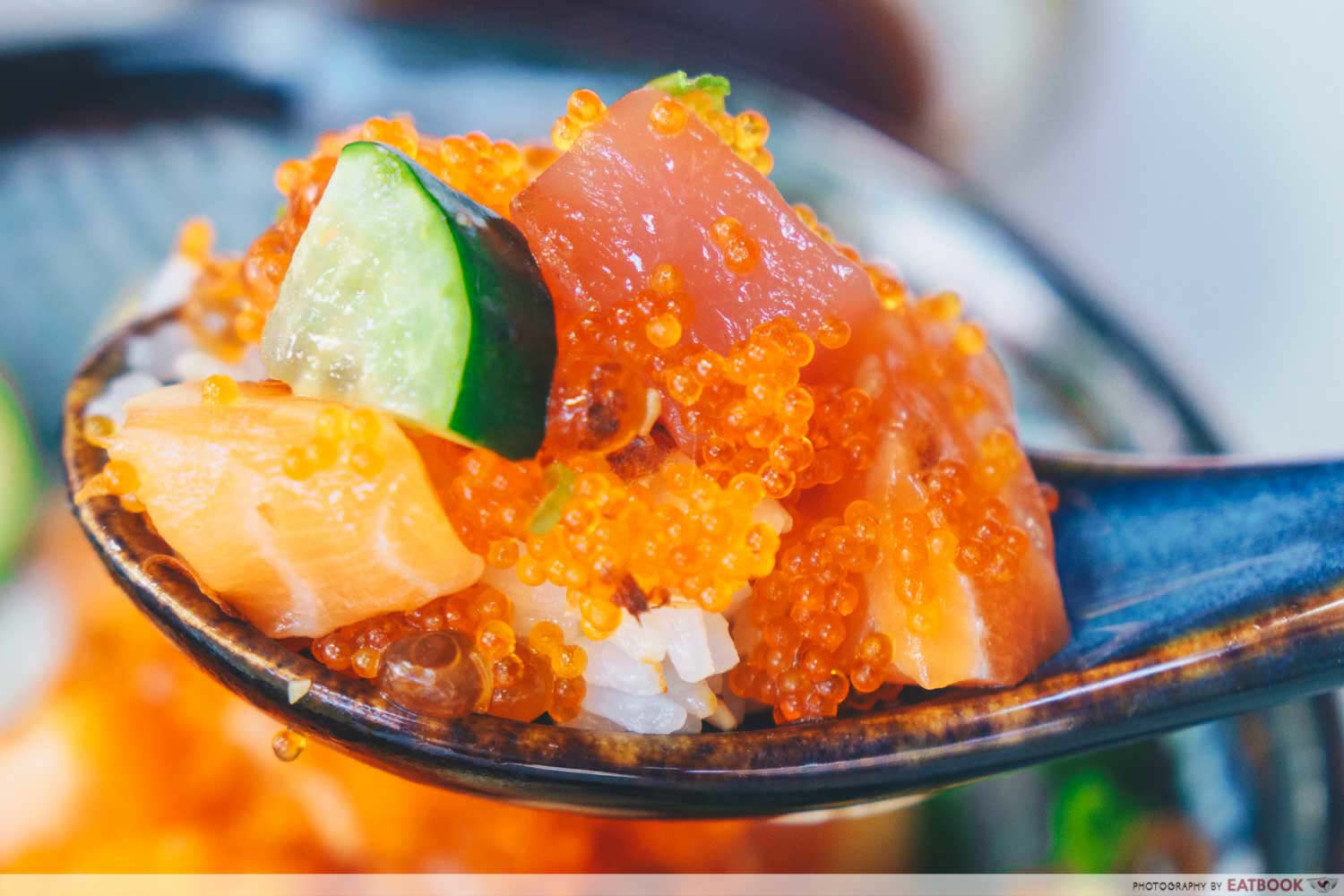 There's a pleasant mix of seafood tossed inside, so you're bound to scoop up different pieces with each spoonful. 
The seafood we had on that day were fresh and did not have an overly offensive fishy taste. I also appreciated how there were fatty pieces of salmon inside the chirashi bowl, giving everything a pleasant burst of rich flavour.
Koji Sushi Bar and Manzoku are a few notable players in my list of quality chirashi don at affordable prices, and Monzen looks set to join them.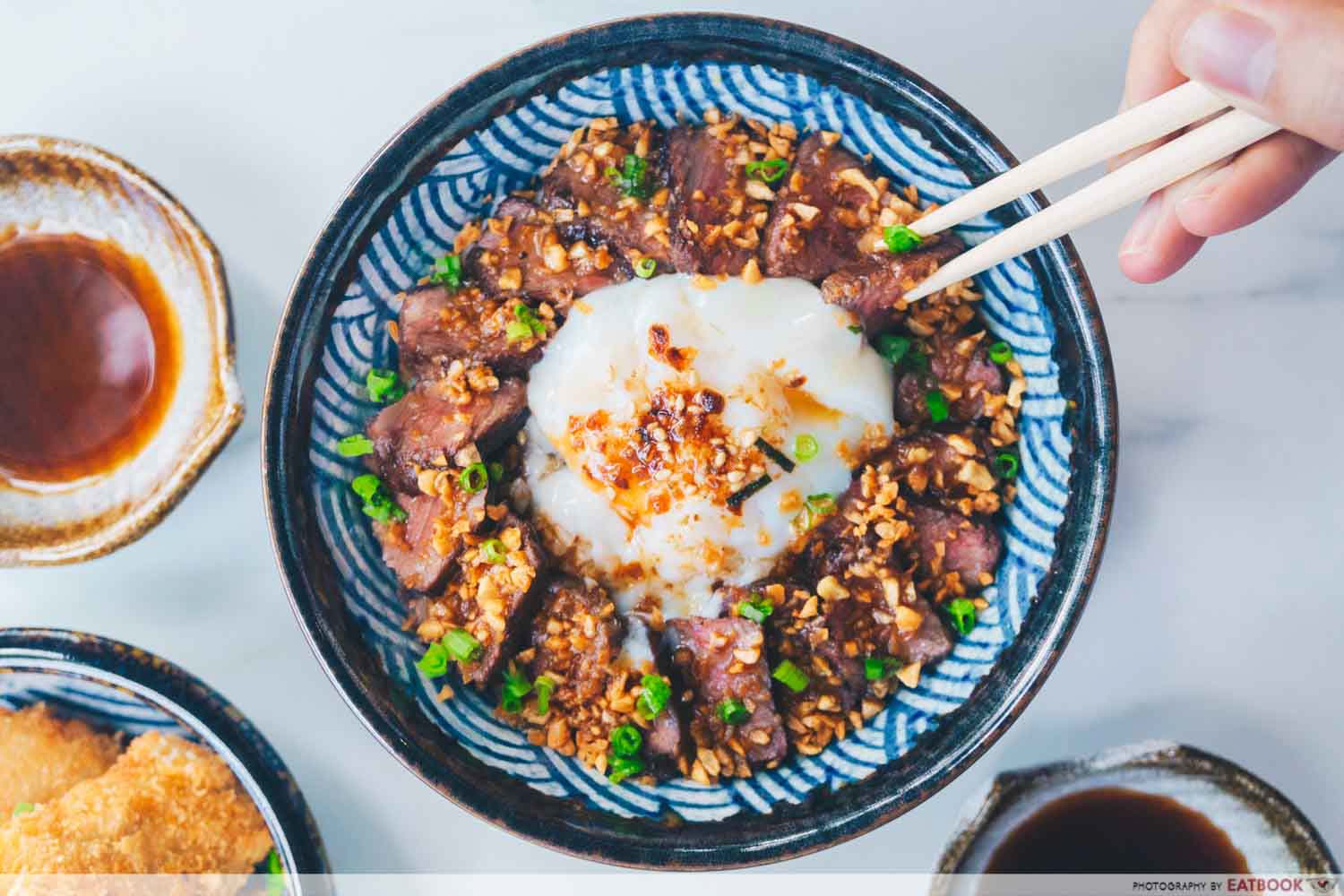 The restaurant also serves up a limited selection of cooked food, which includes the Wagyu Beef Don ($18.80+). Wagyu beef is seared and served on a bed of white rice, then drizzled with a special truffle shoyu. The beef bowl is then garnished with garlic chips, green onions, and an onsen egg. 
Monzen uses only the feather blade cut for their beef bowls. This cut is getting increasingly popular and has received plaudits for its tenderness and flavour.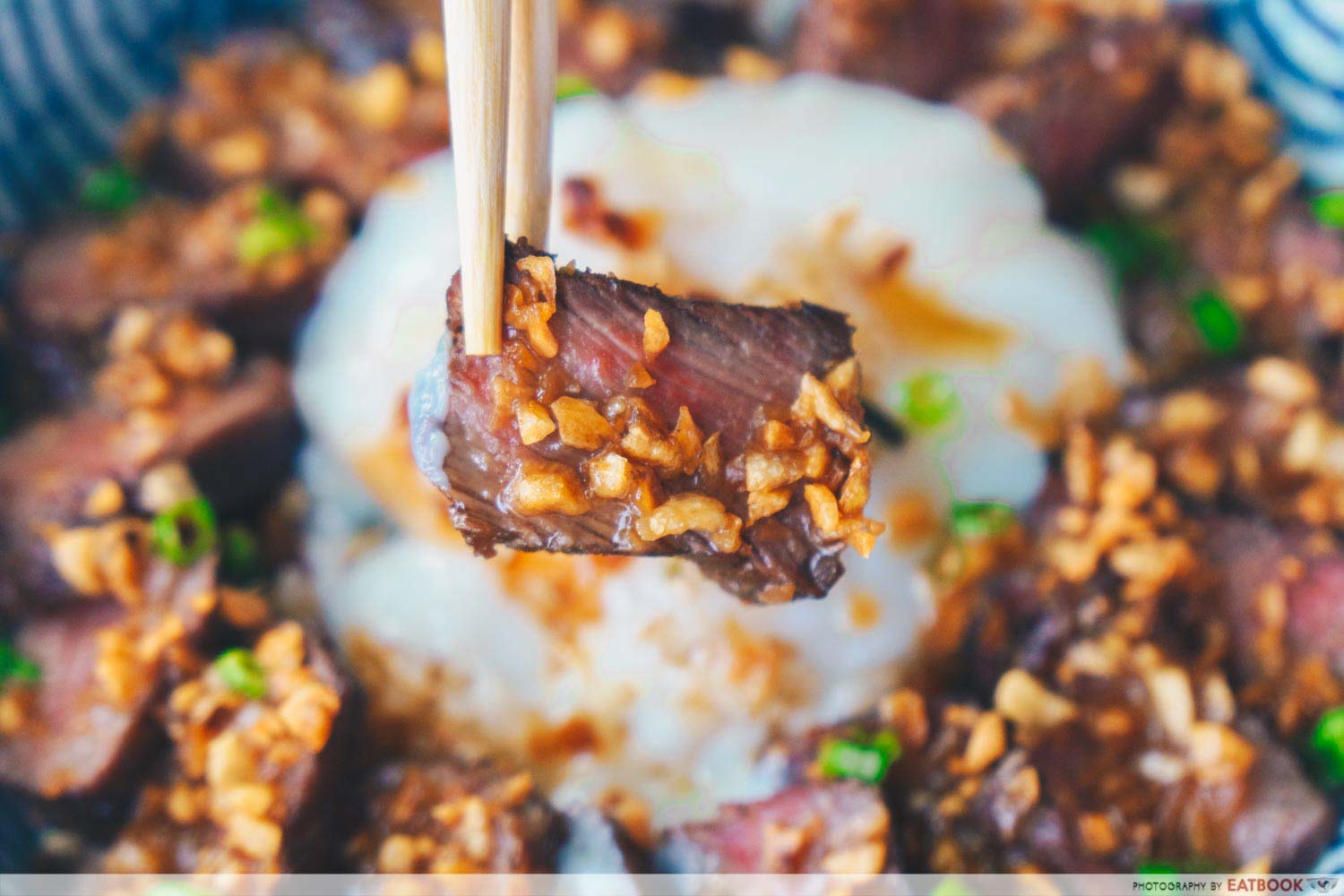 The beef was cooked to a nice medium and had an attractive sear to it. Loads of deep-fried garlic bits were also tossed inside to give a sharp flavourful punch to it.

I would recommend mixing the creamy egg yolk, piquant garlic, and beef for a real explosion of flavours. 
My only gripe was how the beef was cut a little thinly. This gave a lack of meaty oomph to it. A thicker cut would have given a much pleasurable mouthfeel to this otherwise delicious dish.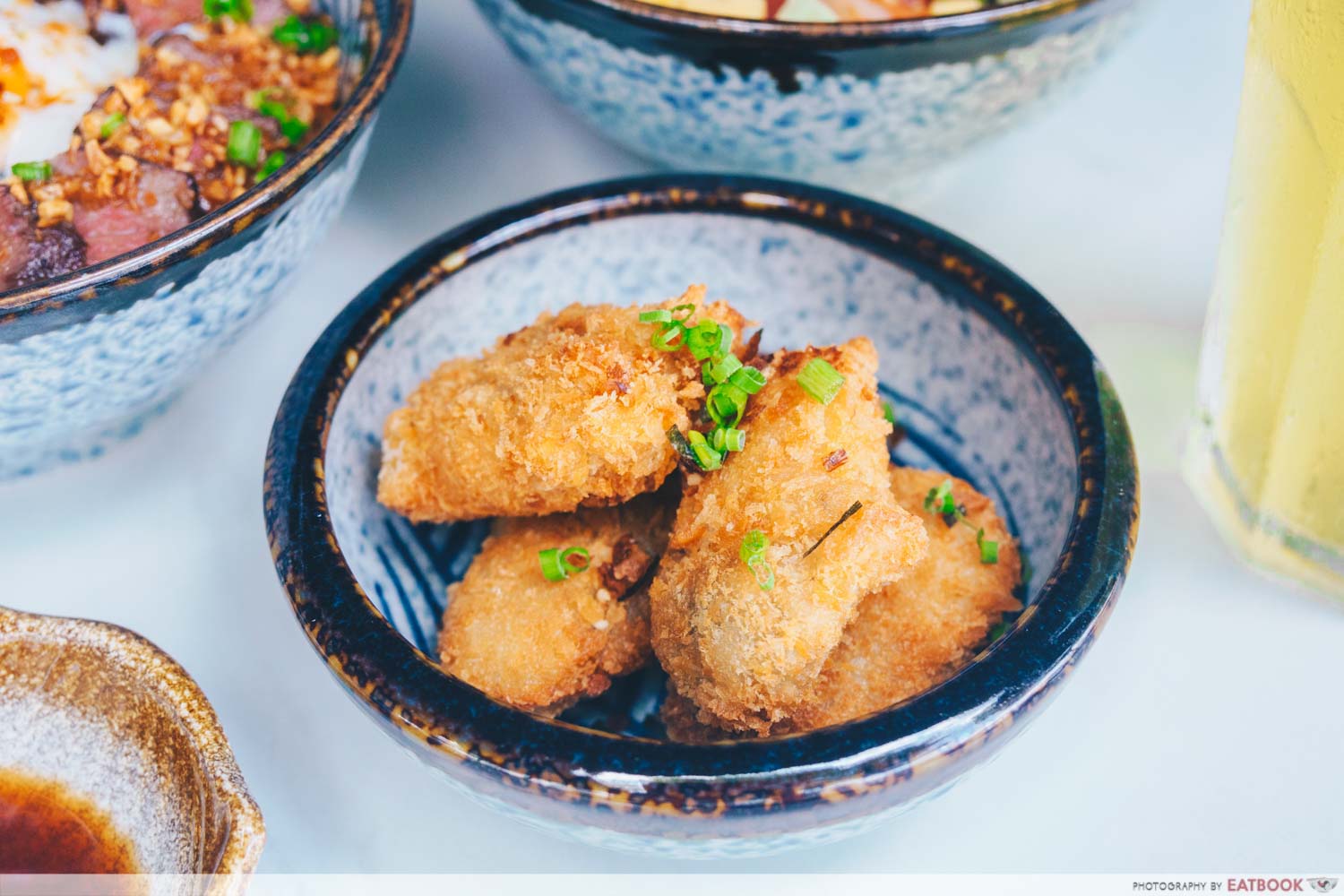 There is also a variety of bar bites that you can enjoy with the restaurant's permanent happy hour promotion. Their Kronenbourg Blanc and Asahi pints are going for $10 nett at any time of the day. 
Kaki Fry ($10+ for four pieces) are Japanese oysters that are breaded with panko crumbs and deep-fried to a golden-brown crisp.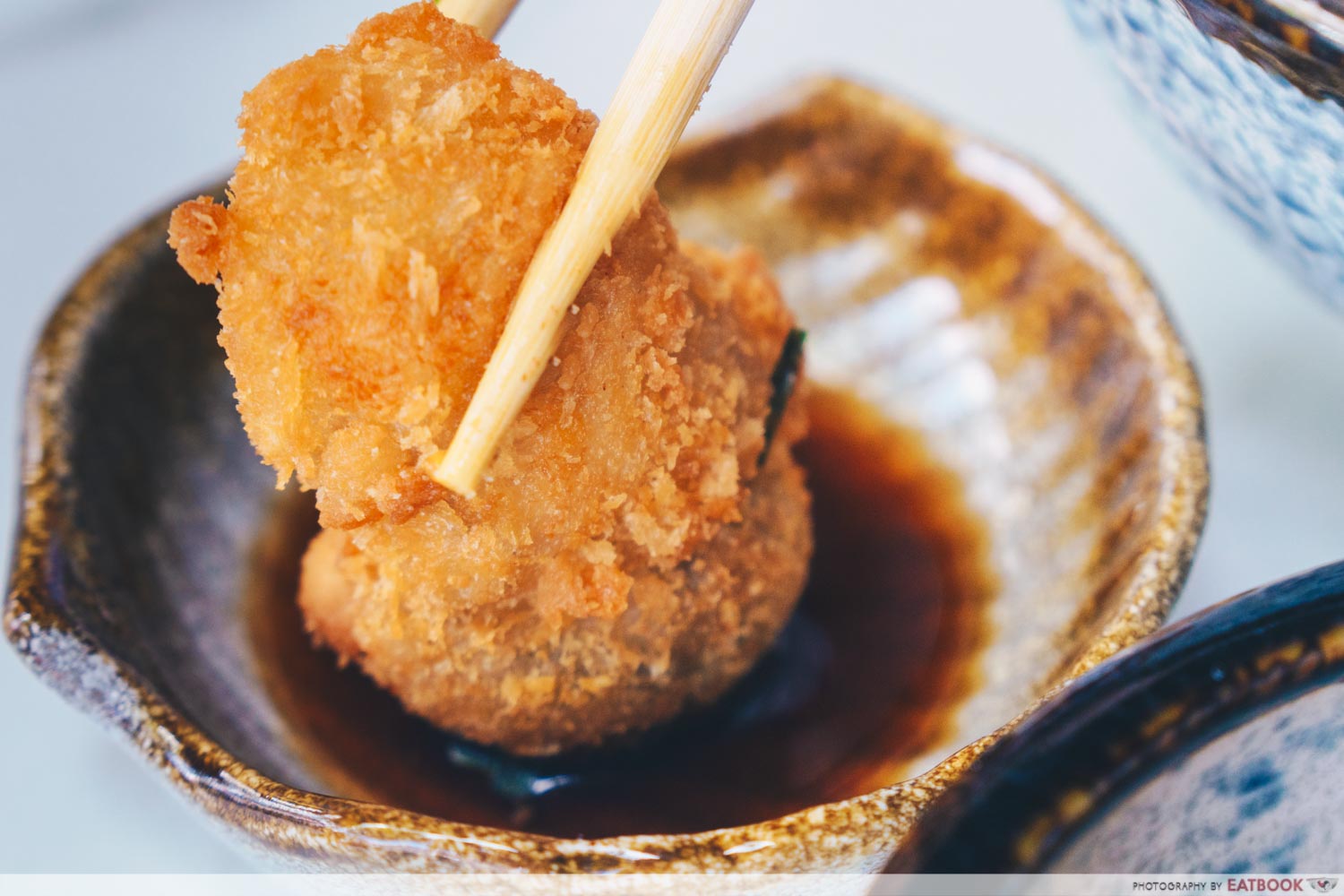 While the oysters were plump, juicy, and packed an addictive brininess, my dining companion and I felt that the batter could be improved.
It was a little too thick, giving a chewy texture that prevented us from savouring the oyster fully. This wouldn't stop me from ordering the oysters again though. Alfred is always changing his recipes according to feedback, and I'm sure that the oysters will turn out great next time.
Ambience at Monzen@Gardens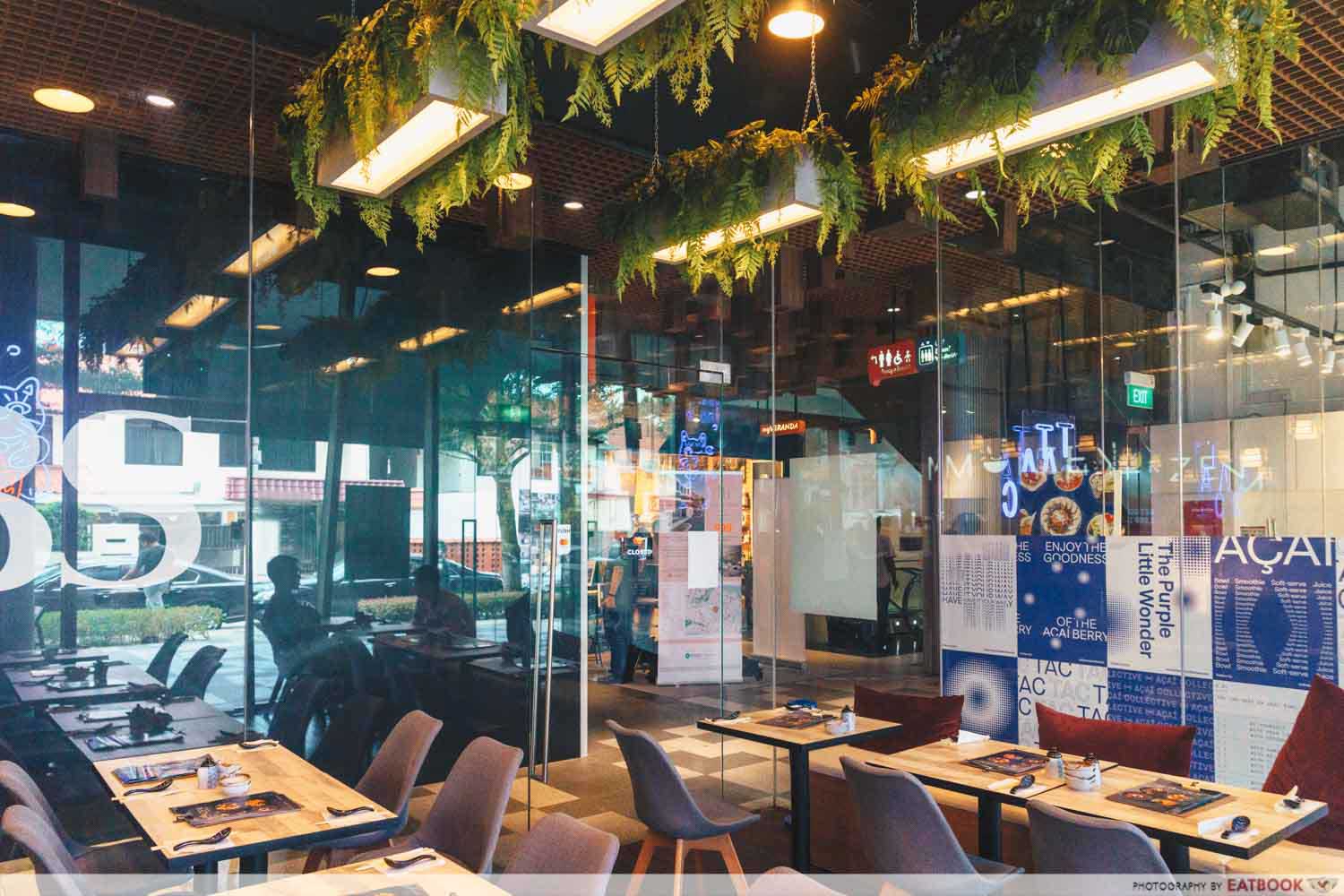 Both indoor and outdoor seatings are available here. The indoor setting is comfortable and features warm lighting along with comfortable chairs. The staff were friendly when we visited, and I appreciated how there's no service charge here as well.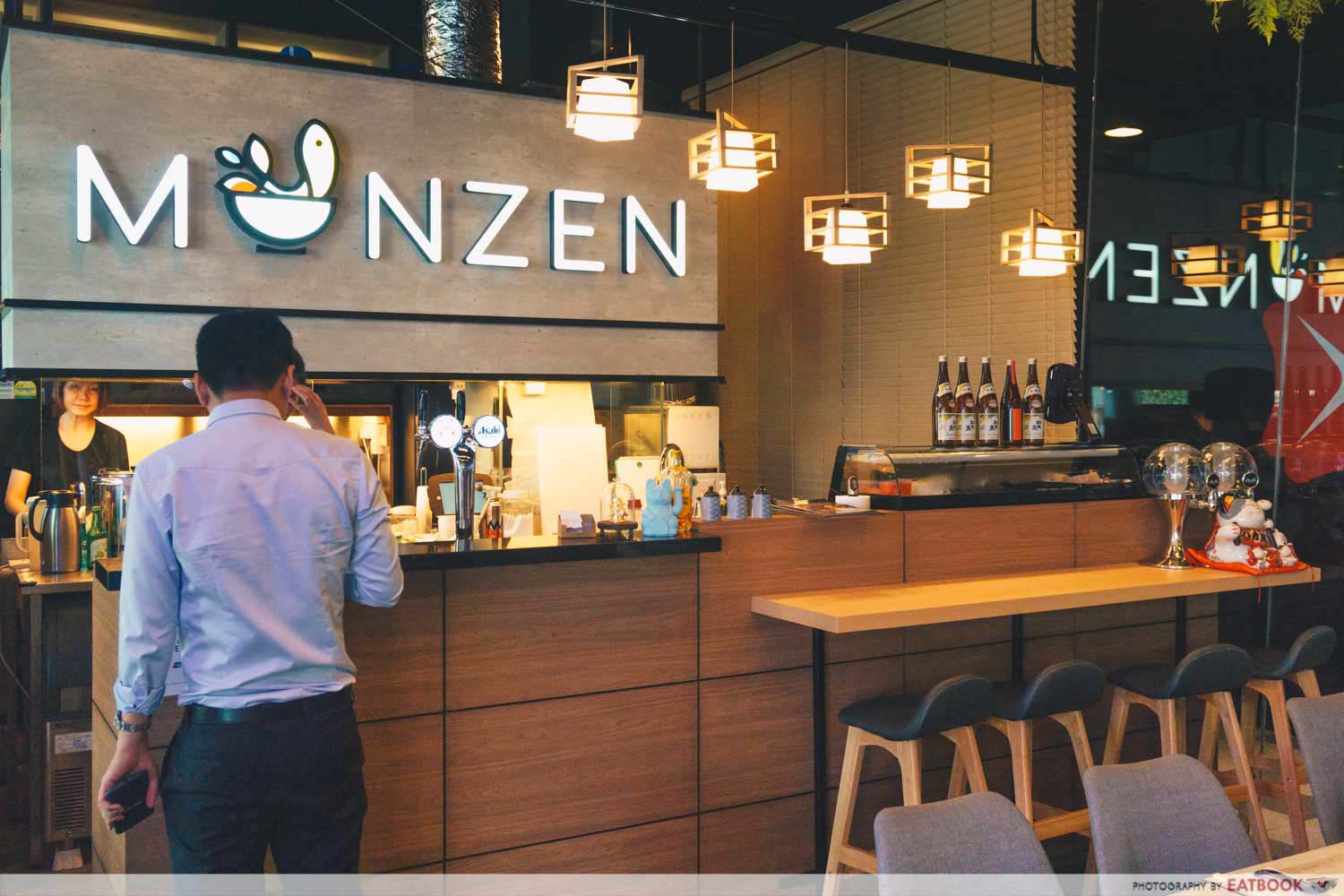 You might have to wait for your food though. Alfred is currently running the kitchen as a one-man operation, so you'll have to be patient.
If you have the time, be sure to have a chat with Alfred after your meal. He's a chatty individual and will be more than happy to share more about Monzen and his time in Tokyo with you. 
The verdict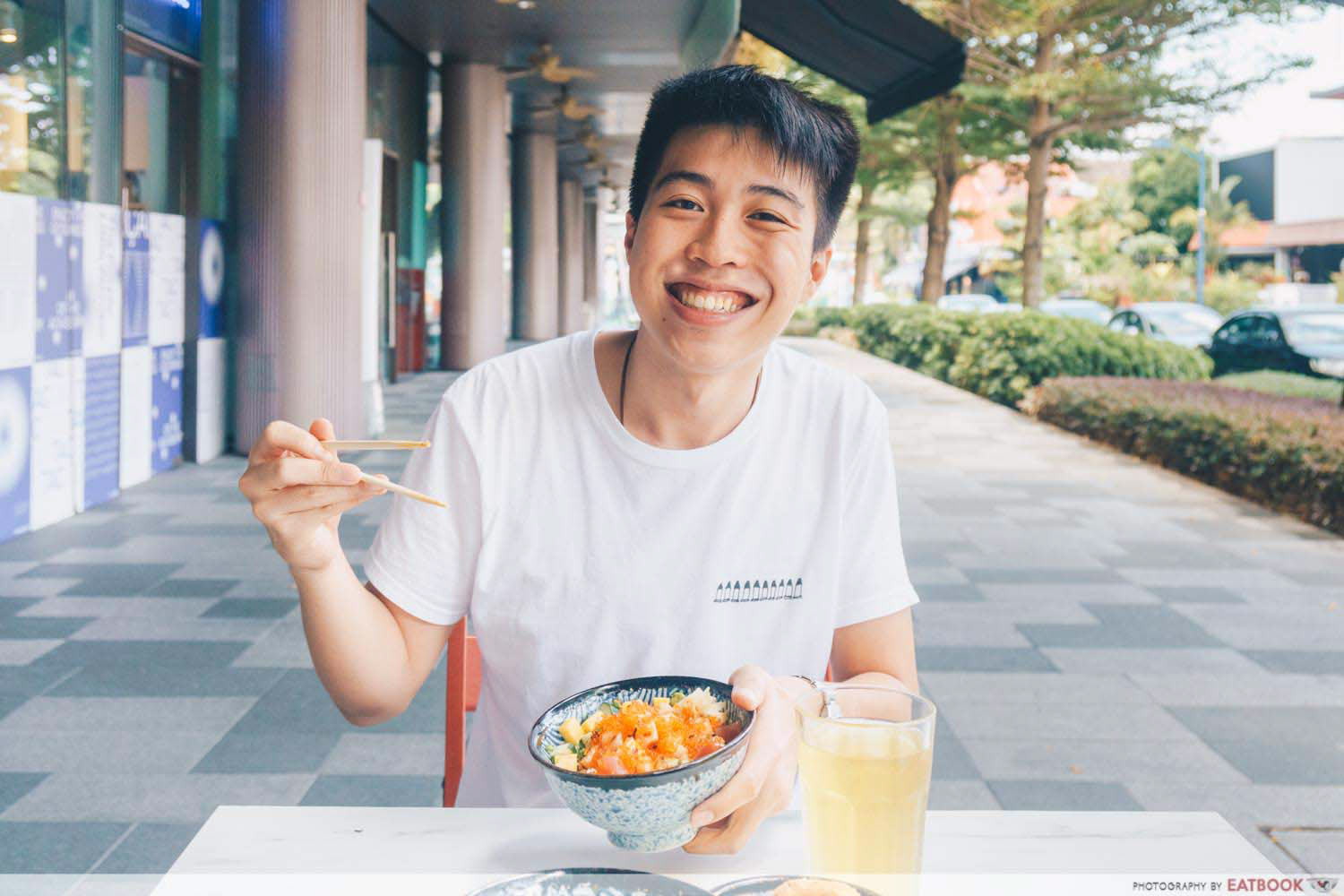 Quality Japanese fare is commonly found in town, away from the heartlands. Serving up tasty food with generous portions, Monzen@Gardens is a welcomed addition to Serangoon Gardens. Besides Sushi Tei, there aren't any other Japanese food options around at this tranquil neighbourhood.
While there's room for improvement, Monzen looks set to be a name for fans of Japanese food to remember in time to come. 
For more Japanese dishes, check out Seizan Uni Ramen at Wisma Atria. They serve up a unique tasty broth that's made from creamy uni. If hawker fare is more your thing, our guide on Serangoon Garden market food stalls is something you ought to keep handy as well!
Address: 1 Maju Avenue,  #01-09/10, myVillage@Serangoon Gardens, Singapore 088387
Opening hours: Wed-Fri 12pm to 3pm, 5pm to 11pm, Sat-Sun 12pm to 11pm, Mon 12pm to 3pm, 5pm to 11pm
Tel: 9119 0700
Website
Monzen@Gardens is not a halal-certified eatery.
Photos taken by Ian Teoh.
This is an independent review by Eatbook.sg.
Summary
Pros
– Quality chirashi bowls
– Cozy and comfortable location 
Cons
– Execution of some dishes can be improved
– Inconvenient location for some
Recommended dishes: Bara Chirashi Don ($15.80+)
Opening hours: Wed-Fri 12pm to 3pm, 5pm to 11pm, Sat-Sun 12pm to 11pm, Mon 12pm to 3pm, 5pm to 11pm
Address: 1 Maju Avenue, #01-09/10, Singapore 556679