Mother-In-Law Egg Tart at Clarke Quay
When it comes to egg tarts, I love them all—be it the flaky Portuguese tarts with a silky smooth egg custard filling and blistered cap, or the sweeter cookie-crusted variants. To me, this palm-sized treat is the perfect pick-me-up, as it's small enough that you don't feel too guilty indulging in one, or two.
That's why I was stoked to discover Mother-In-Law Egg Tart during the Circuit Breaker last year. Back then, the family-run business was a small home-based business churning out Portuguese tarts in a handful of flavours. Today, they've upgraded to a physical store at Havelock 2 in Clarke Quay, with more than seven innovative flavours available. The Portuguese egg tarts are freshly baked daily in the back kitchen of the dedicated store, which also serves as a convenient collection point for online pre-orders.
Whiskdom Review: IG-Famous Bakery Opens At Clarke Quay With Lava Brownies And Chunky Cookies
Food at Mother-In-Law Egg Tart
Mother-In-Law Egg Tart was started by a mother- and daughter-in-law duo, which I think is really cute. It's almost a rarity these days to see such a close in-law relationship like this!
If it's your first time trying, you won't go wrong with the OG: the Signature Egg Tart ($2). Made with less sugar, these moreish tarts feature ultra-flaky, buttery layers encasing a rich and smooth custard centre.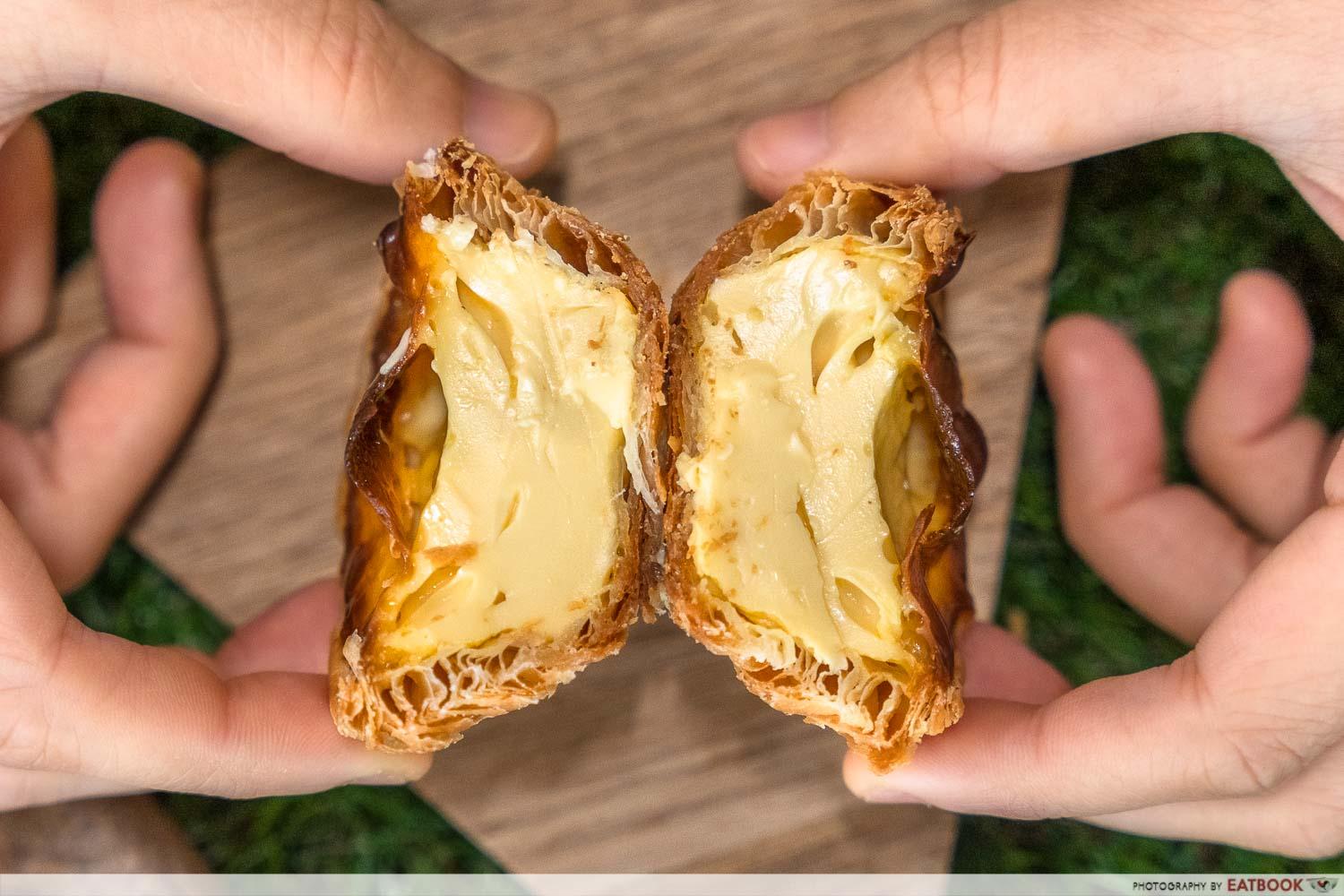 I was blown away on my first bite, as it tasted even better than I'd recalled. The layers were still fresh and crispy despite being left out for an extended period of time, and the generous amount of vanilla-scented custard complemented the savoury pastry. The cherry on top was the scorched lid, caramelised to a beautiful golden brown.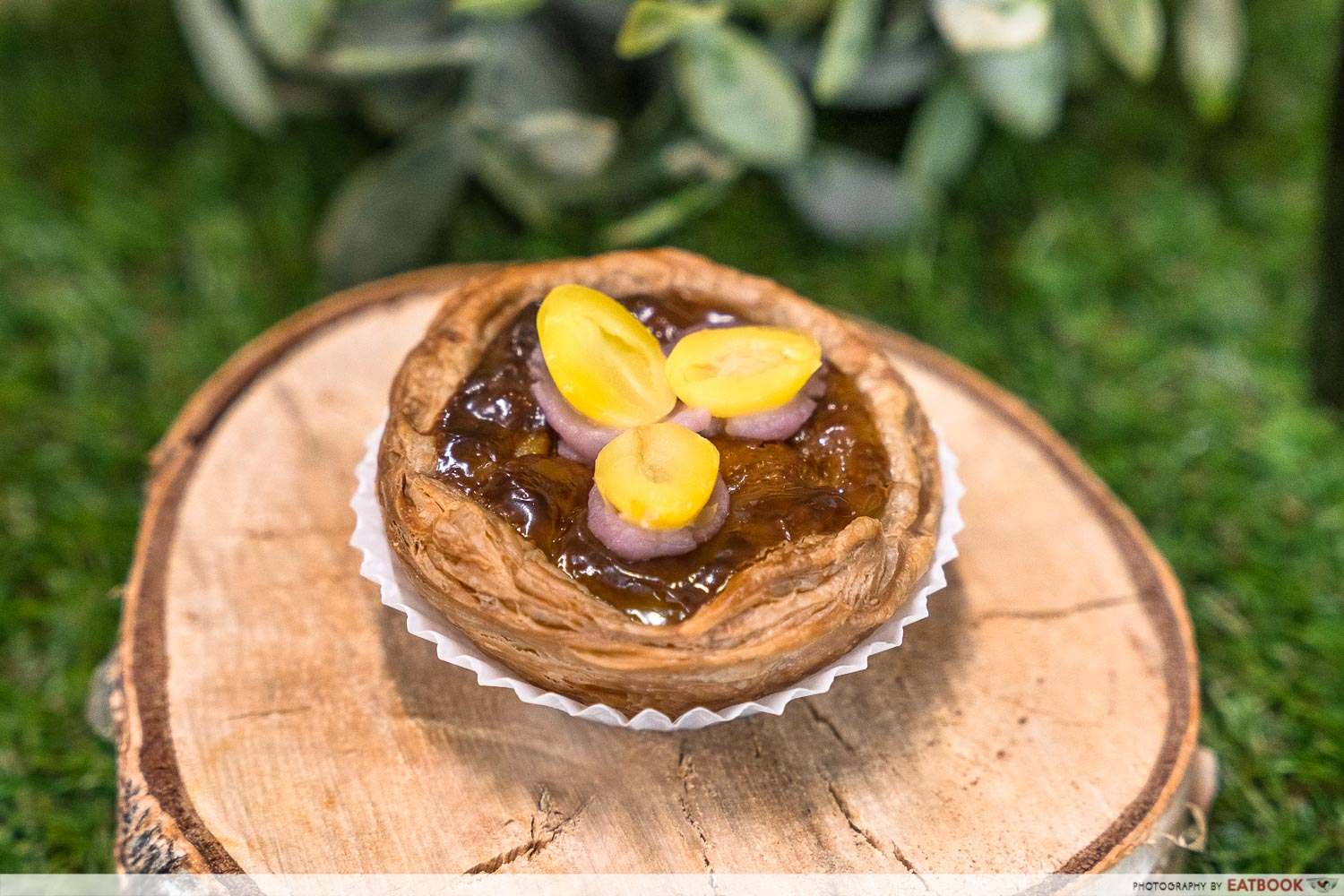 Another must-try is the Yam & Purple Potato ($3.30), which speaks to orh nee lovers like me. Filled with a special blend of yam and sweet potato chunks in the middle, this purple-swirled treat was a delight. It's even topped with gingko nuts, a homage to the all-time fave Teochew yam paste dessert. I'm a big fan!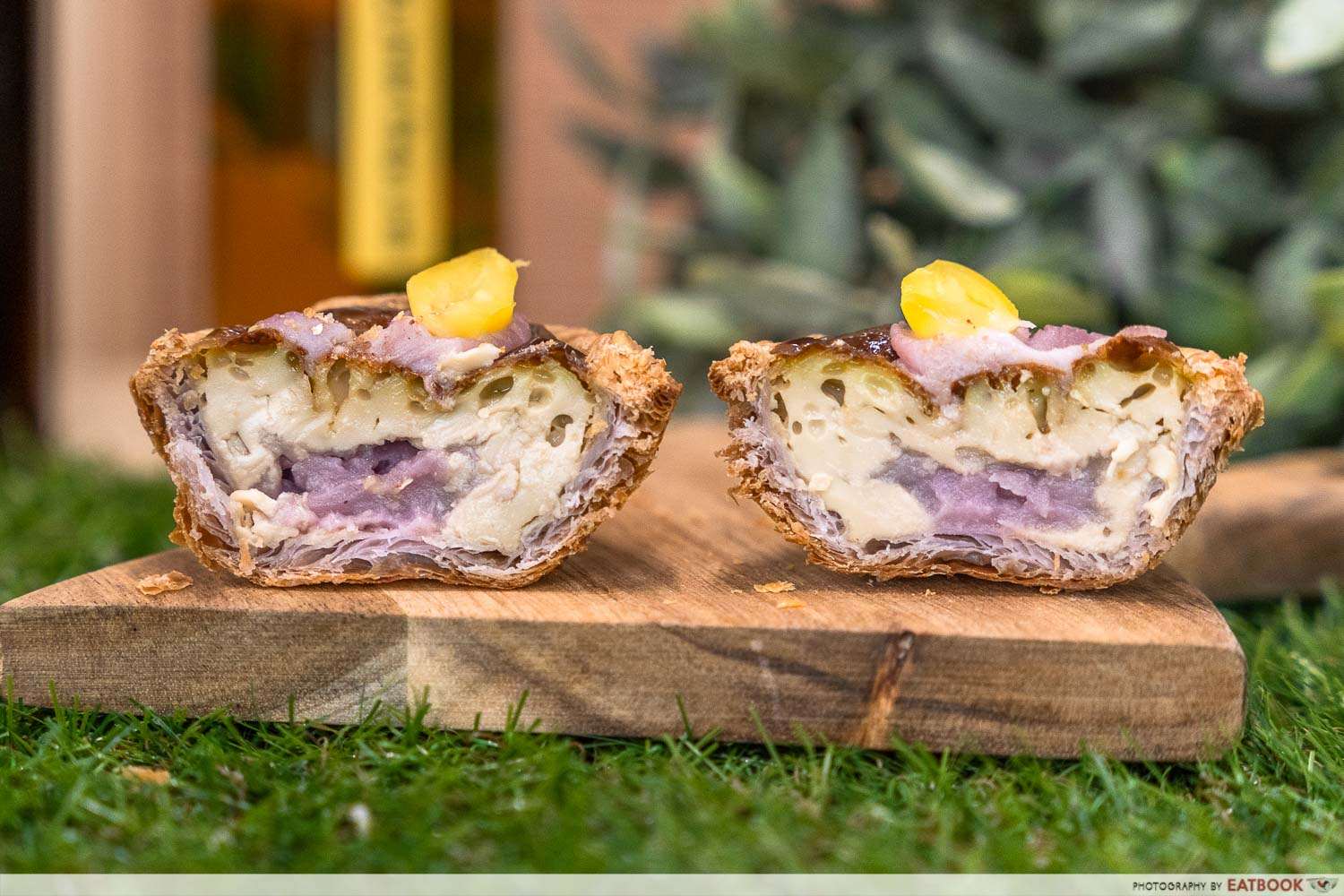 The nutty and creamy yam tasted naturally sweet, so I managed to wolf it down without feeling jelak. Adding the bite-sized bits of yam and sweet potato was a clever decision for both visuals and taste.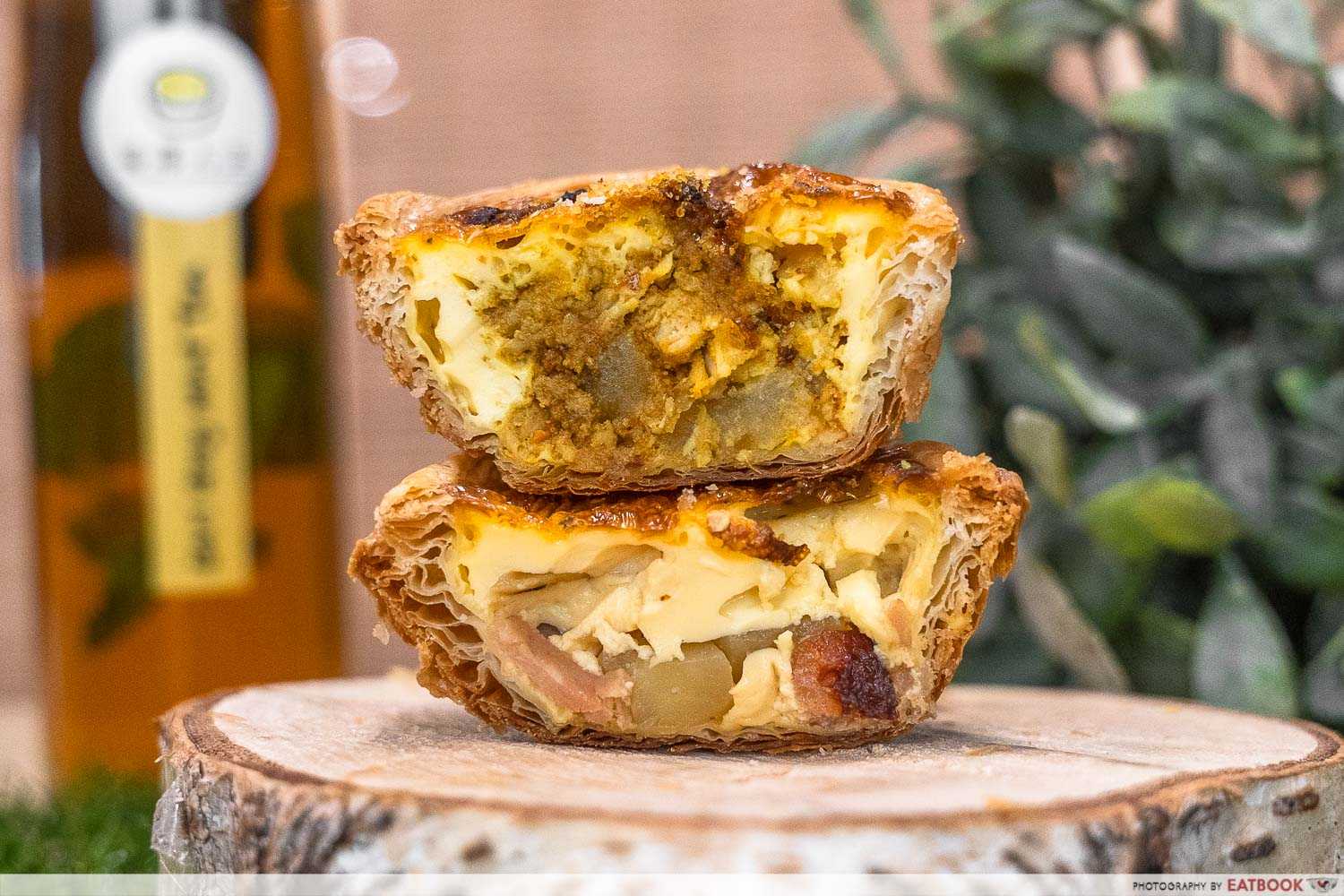 There aren't many egg tart shops that offer savoury flavours, so I was pleased to see two options available here. The Savoury Ham & Mushroom ($3.50), which tasted somewhat like a quiche, was a breath of fresh air amidst the sweet lineup. I preferred the Chicken Rendang ($3.50) for its generous, punchy, and meaty filling.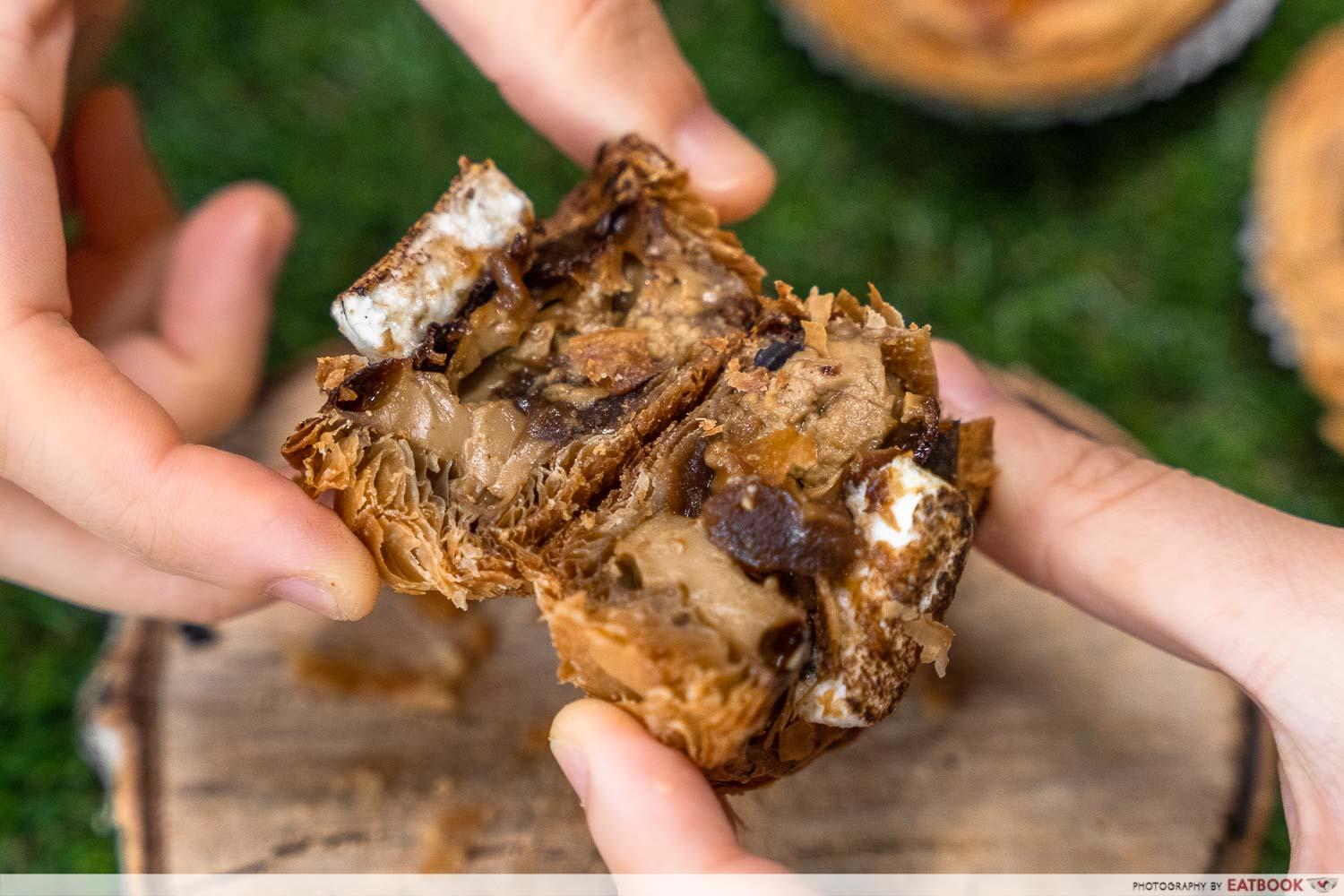 If you're a caffeine addict like me, you'll appreciate the strong java notes in the Crispy Layers Coffee ($3.30) egg tart. Not only is the custard infused with coffee, but the flakey pastry layers are also java-spiked, so the strong notes of coffee hit you as soon as you take a bite. You first get the crispy and buttery pastry, followed by the full-bodied coffee flavour of the filling, rounded out by the fragrant mung bean centre for an added sweetness and creaminess—it's an entire experience.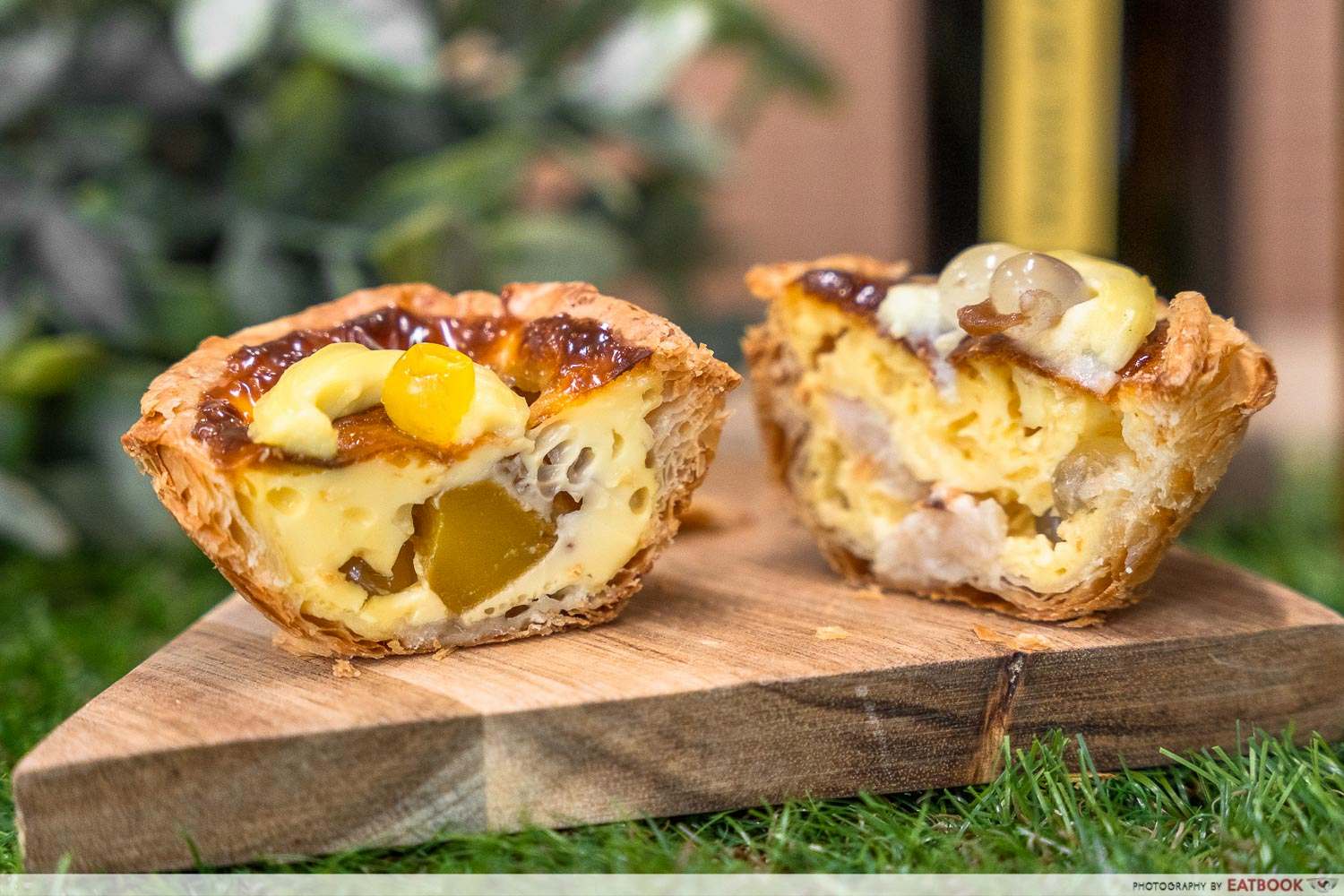 Generally, fruity flavours are a crowd-pleaser in pastries, and I think the two options Mother-In-Law offers cater to those who prefer a lighter tasting snack. The Lychee Champagne ($3.30) came studded with lychee bits within, but wasn't as champagne-forward as I'd hoped for—rightly so, as it's completely alcohol-free. Likewise, the Refreshing Mango ($3.30) had a mild mango flavour that's easy on the palate. Unfortunately, the bottom layers were soggier than the others due to the juicy mango chunks.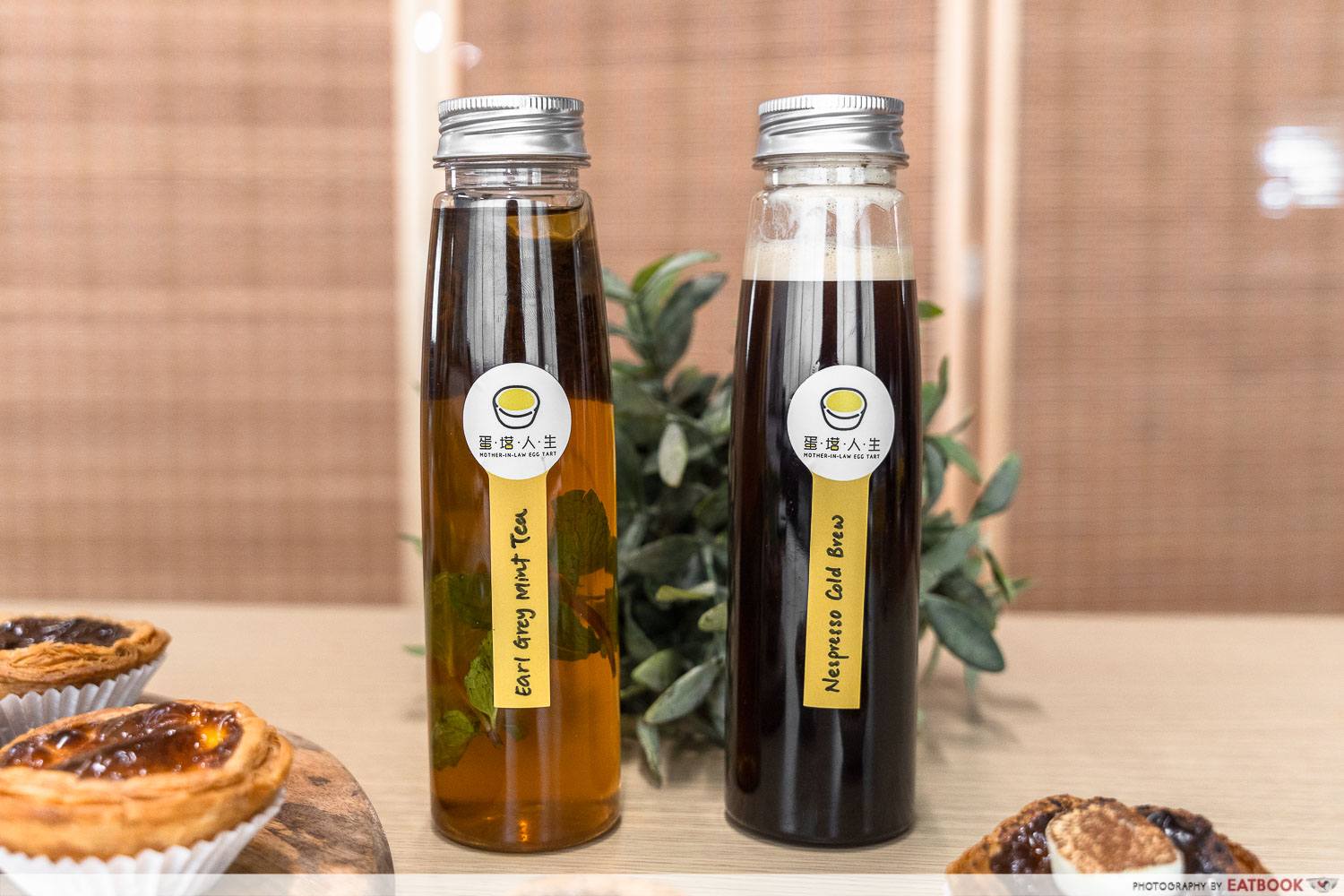 If you need something cold to pair with your snack, there are two refreshing drinks to choose from: Earl Grey Mint Tea ($3.50) and Nespresso Cold Brew ($3.50). I preferred the former, as the coffee was sweeter than what I'd typically go for. The tea had a cool minty flavour, which I enjoyed, but some of the leaves were turning black during the course of the shoot—not the most visually appealing. I'd say go for their tarts instead of drinks!
14 Best Egg Tarts In Singapore, Including Famous Hong Kong And Heritage Brands
Ambience at Mother-In-Law Egg Tart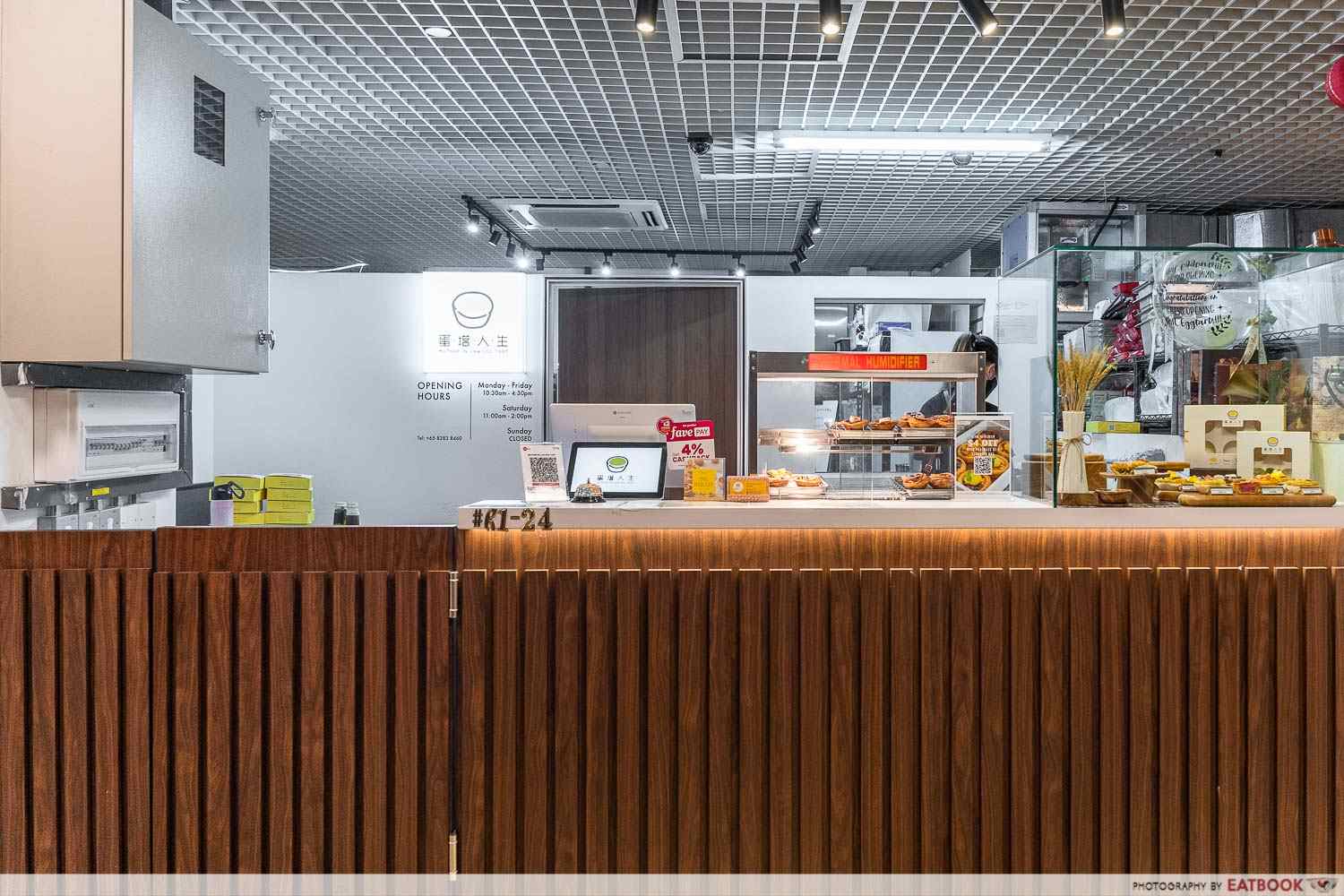 Mother-In-Law Egg Tart operates out of a small space at Havelock 2, which is a two-minute walk from Clarke Quay MRT Station. There's a takeaway kiosk with a limited number of egg tarts up for grabs, but I think the main bulk of their customers pre-order online and collect the goodies instead. There's also a baking station behind the counter where they churn out the tarts daily, so you can be assured that you're getting them fresh. In fact, when we collected our order, the bakes were still warm!
The verdict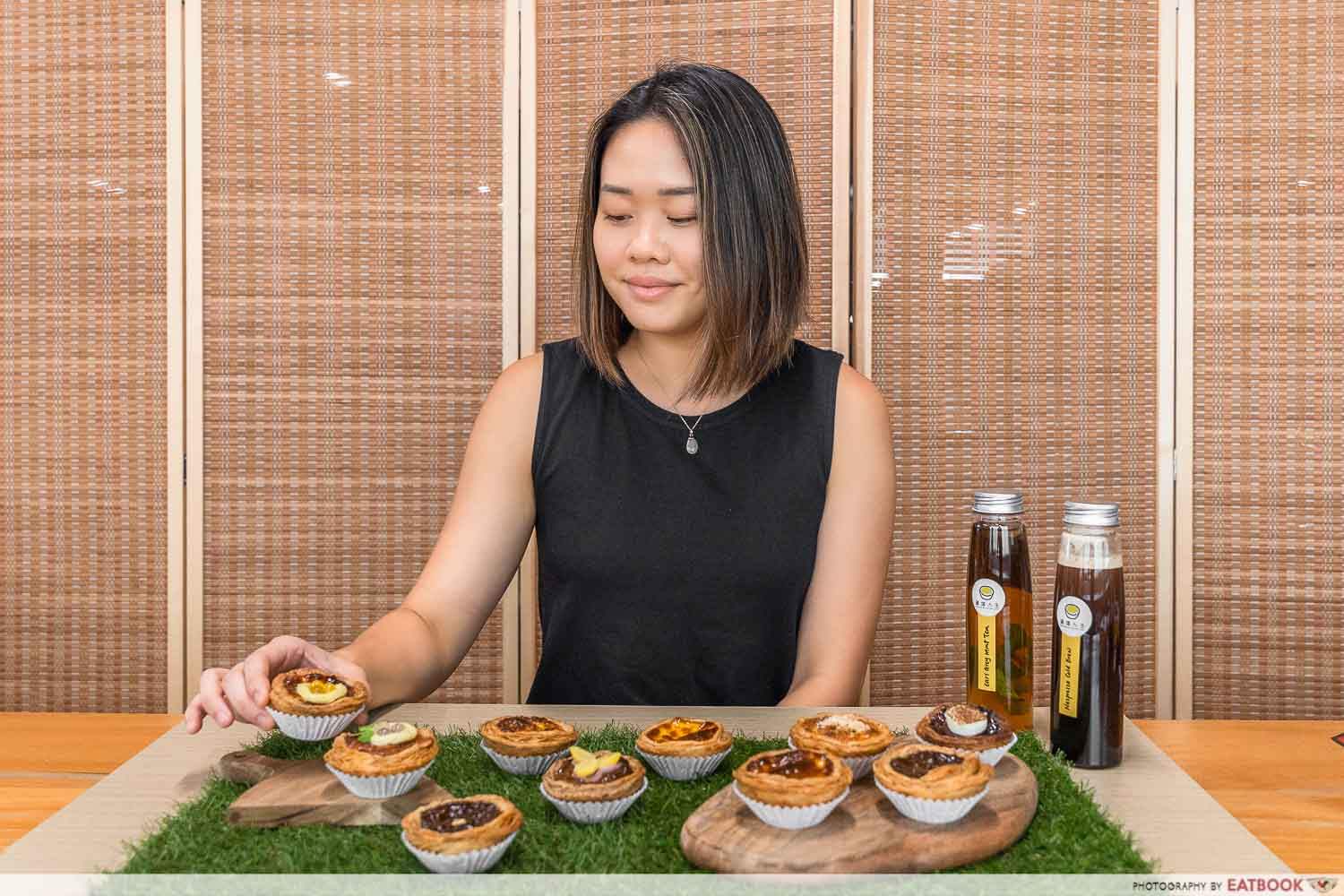 I'm glad I gave Mother-In-Law Egg Tart a second try. Their tarts seem to have improved from when they were still a home-based business, now with a tastier and flakier pastry crust, and a smoother filling that's less sweet, yet more flavourful. The convenient location also makes it dangerously easy to get my egg tart fix whenever I'm in town! This is definitely one pitstop you have to make when you're in the area.
If you're in the area, check out our Whiskdom review for lava-filled brownies and cookies, also in Havelock 2! There's also our Big Mouth Eat review if you're hankering for Taiwanese bento and street snacks.
Address: 2 Havelock Road, #B1-24, Havelock 2, Singapore 059763
Opening hours: Mon-Fri 10:30am to 4:30pm, Sat 11am to 2pm
Tel: 8383 8460
Website
Mother-In-Law Egg Tart is not a halal-certified bakery.
Big Mouth Eat Review: Affordable Taiwanese Bento Sets, Lu Rou Fan And Street Snacks At Clarke Quay
Photos taken by Lim Yu Hui
This was an independent review by Eatbook.sg
Mother-In-Law Egg Tart Review: Handmade Portuguese Egg Tarts From $2 By Family-Run Bakery
Mother-In-Law Egg Tart Review: Handmade Portuguese Egg Tarts From $2 By Family-Run Bakery -

8/10
Summary
Pros
– Wide range of sweet and savoury flavours
– Convenient location
– Great as gifts
Cons
– Some flavours are pricey
– Mediocre drinks
Recommended dishes: Signature ($2), Yam & Purple Potato ($3.30), Crispy Layers Coffee ($3.30)
Opening hours: Mon-Fri-Sun 10:30am to 4:30pm
Address: 2 Havelock Road, Havelock 2, #B1-24, 059763