Mrs Hen has halal ayam geprek at East Village in Bedok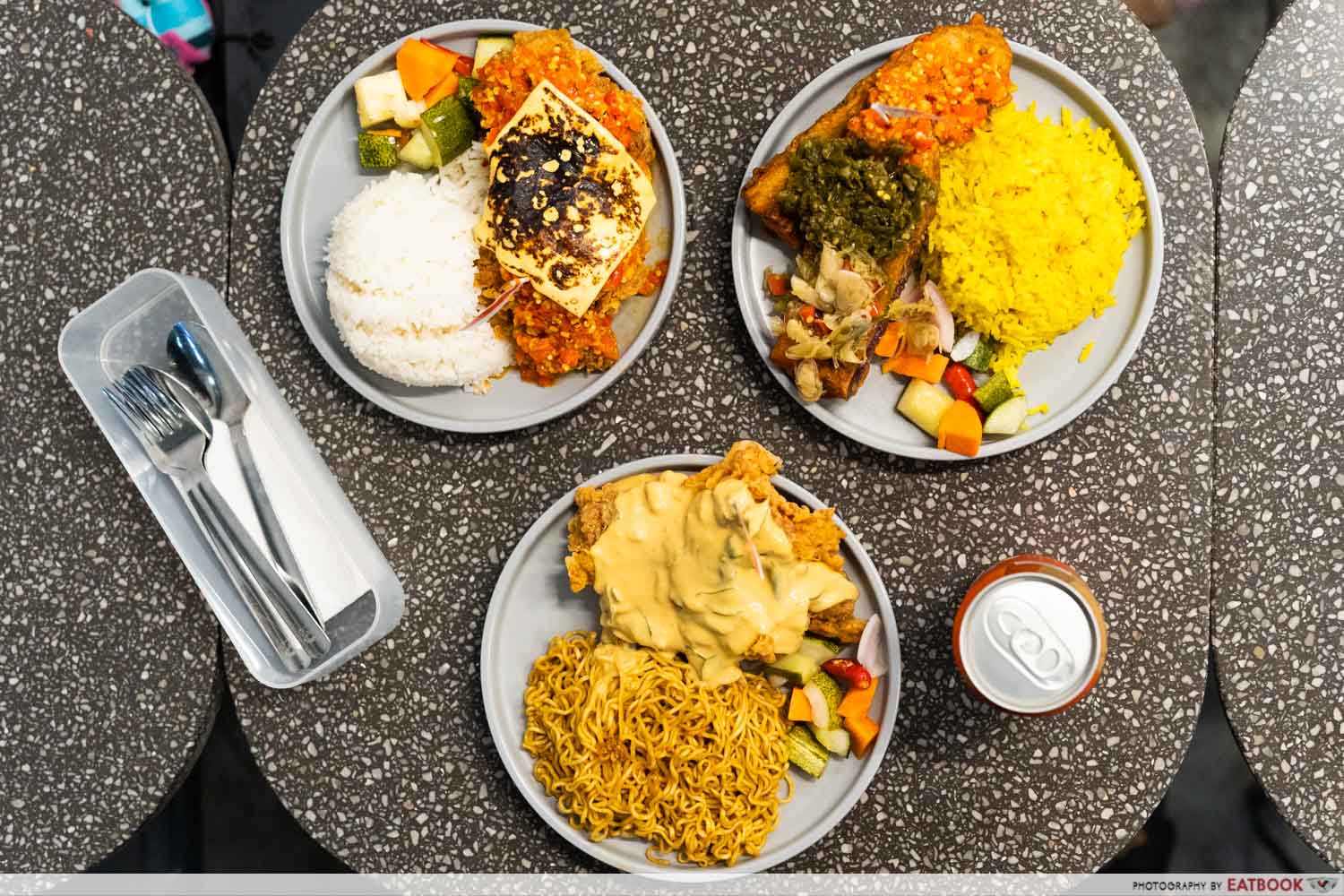 I am a mala xiao la kind of person, so when my colleague recommended Mrs Hen's popular ayam geprek and dangerously spicy sambal, I was pretty nervous about it, albeit slightly curious. He specifically mentioned that this is an Indonesian restaurant, so I should expect nothing less from the house-made chill they have here. Nonetheless, I plucked up my courage and decided to head down. 
Green Chilli Chicken Rice Review: Incredibly Tender Chicken With Handmade Green Chilli Sauce For $4.80
Food at Mrs Hen
For a complete meal, decide on your choice of protein, rice or salad as your base, followed by your desired sambal as a topping. Prices start at $7.50, and you get to customise your dish in different ways, with additional top-ups for some ingredients.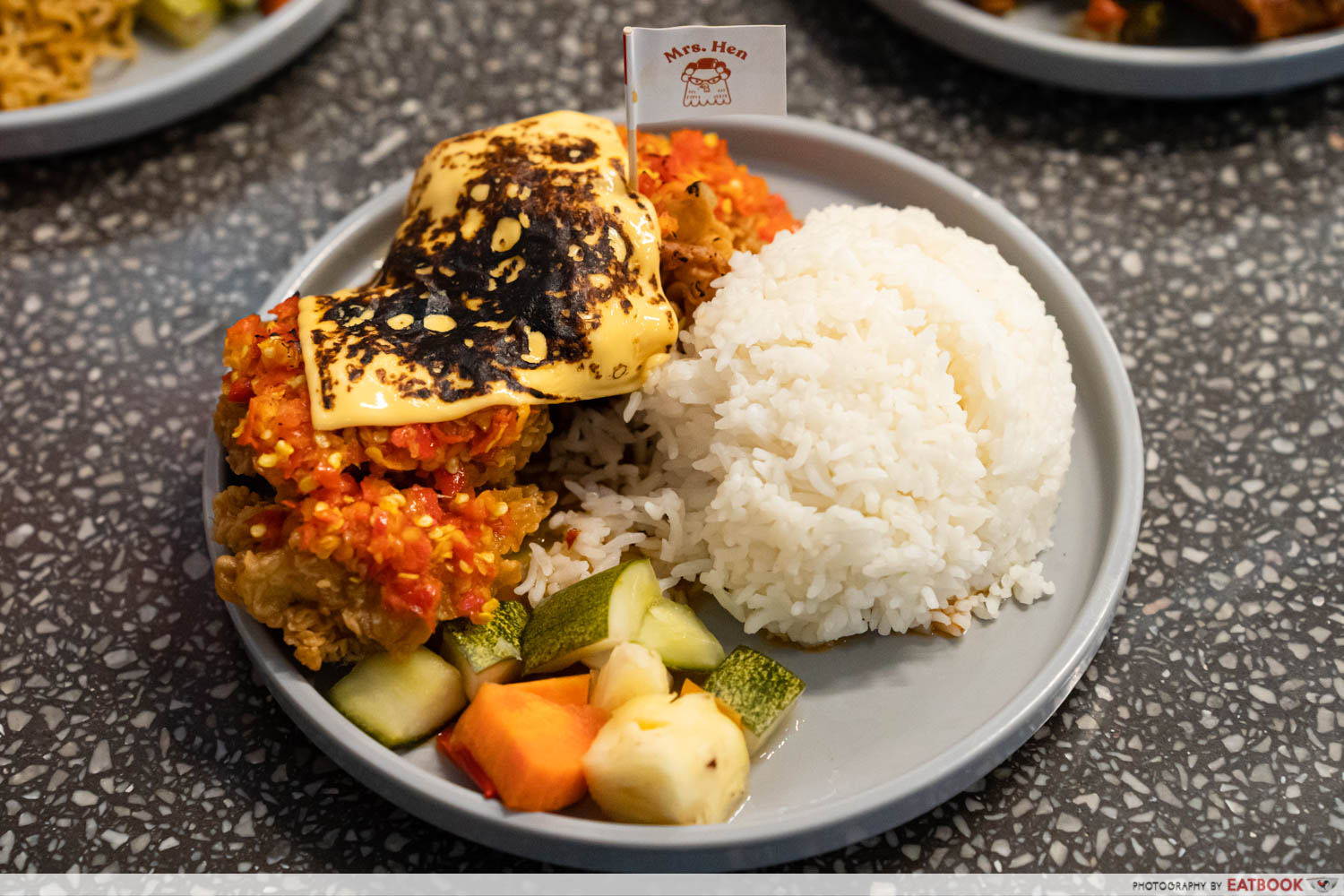 We started with the Ayam Geprek Sambal Signature ($8.60) which features the popular smashed fried chicken topped with their signature red chilli at the spiciest level, a mound of white rice, with a side of achar. I took a bite of the chicken and found that the meat, while juicy, leaned tough. The fried chicken might also be too greasy for some people.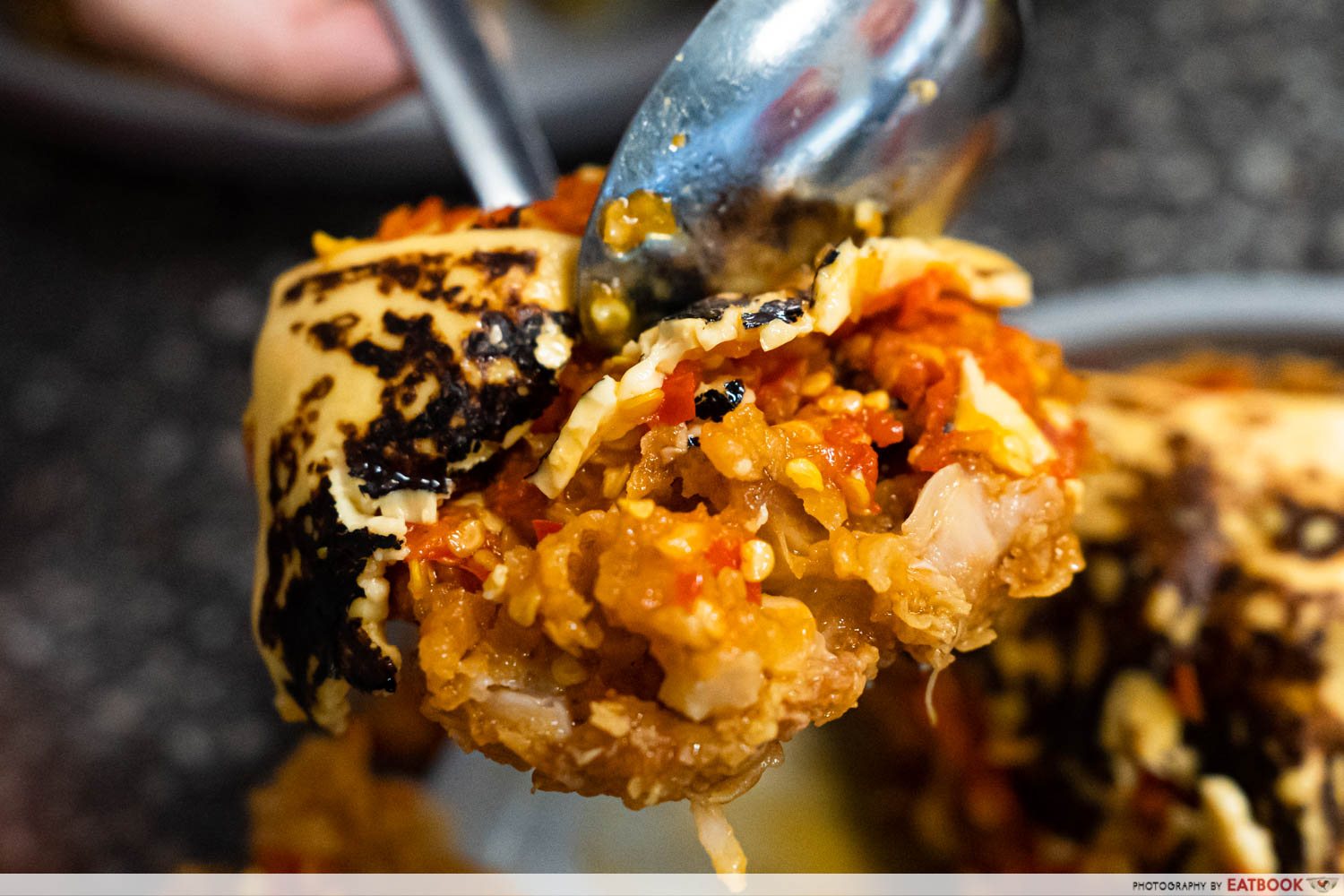 Unfortunately, the spice from the sambal was too much for me to handle. It took a while before it settled in my throat and made me cough; I had to finish a whole can of drink to wash everything down. Even the melted cheese (+$1.50) atop the chicken did nothing to ease the spice. 
However, if you're a spice champ, you'd probably be able to appreciate the sour-spicy balance of the house-made chilli. It's worth noting that there are four spice levels to choose from, so you can opt for something more tolerable if you're not used to spicy food.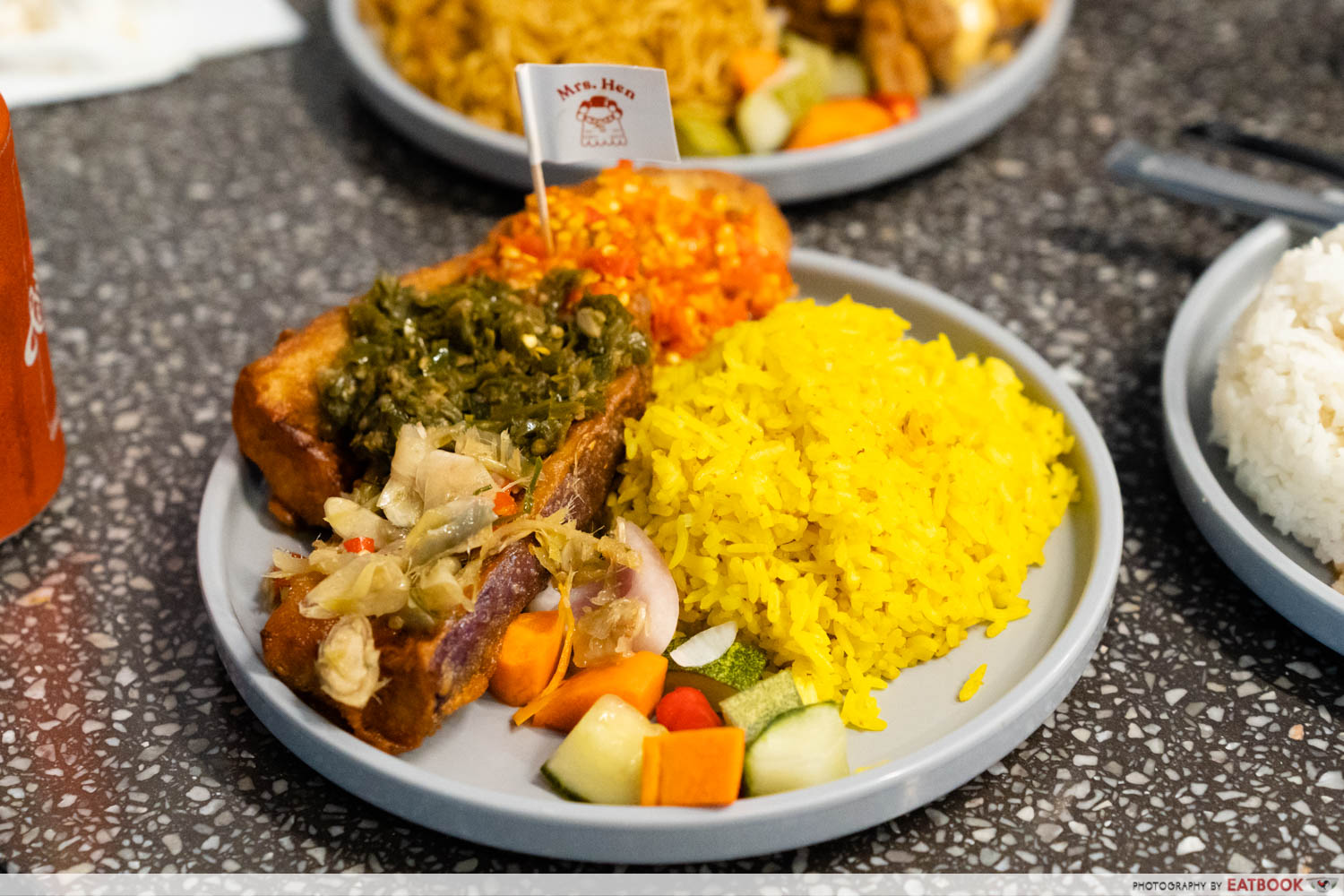 We moved on to the Terong Geprek Sambal Platter ($8.50), which comprises their signature red chilli, green chilli, and Balinese lemongrass chilli atop fried eggplant. Mind you, I've never liked eating eggplant as it usually holds a slightly bitter taste. However, this eggplant really surprised me as it boasted a fibrous yet creamy texture that was moreish. Meanwhile, it had a crisp golden-brown exterior that I loved.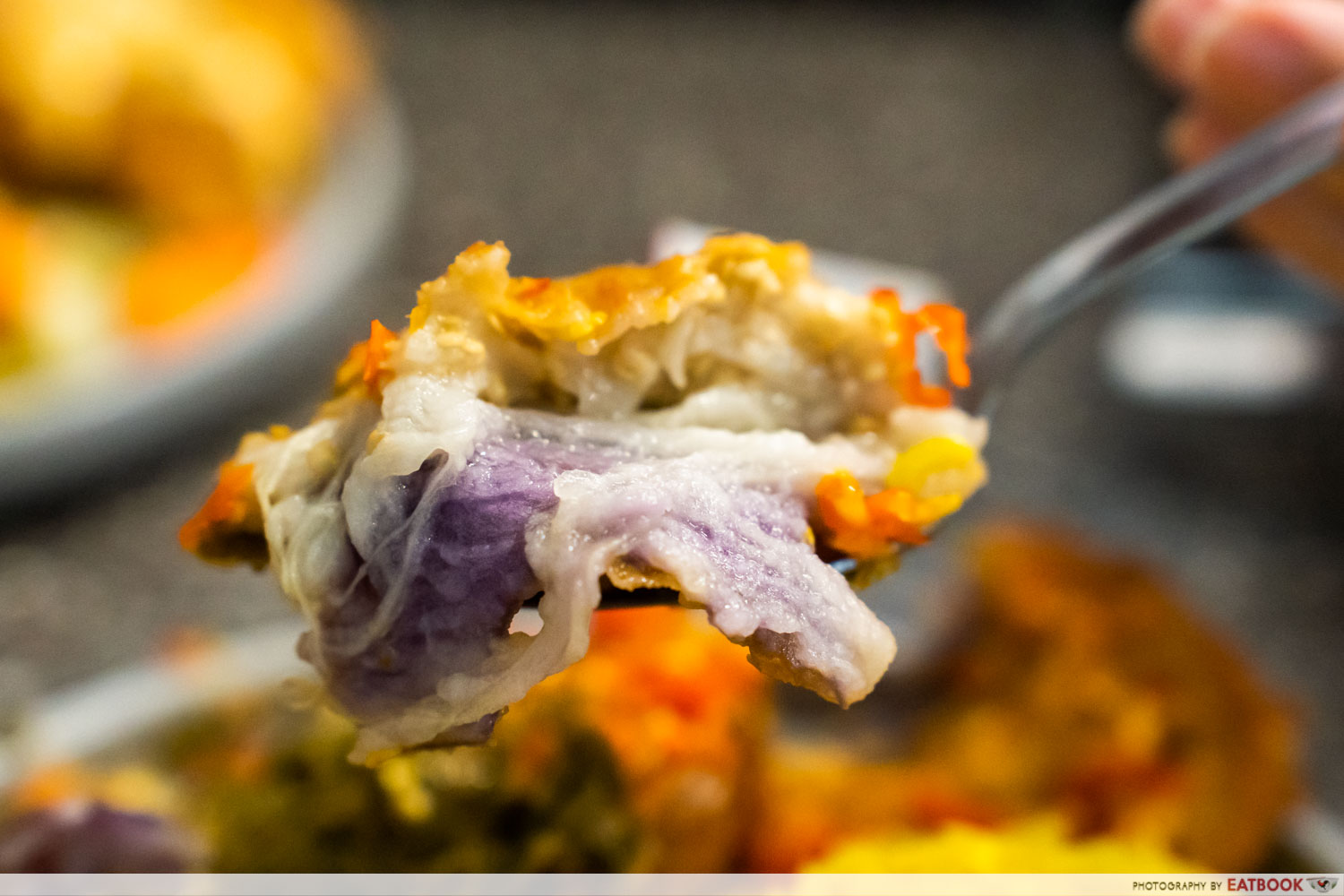 The eggplant paired well with the different types of chilli here. The lemongrass chilli was my favourite as it was aromatic and flavourful. The green chilli was also satisfyingly rich and spicy. The fluffy yellow rice (+$2) was a great accompaniment to these condiments as it was lightly flavoured. I would definitely recommend this eggplant dish for its well-balanced flavours and textures.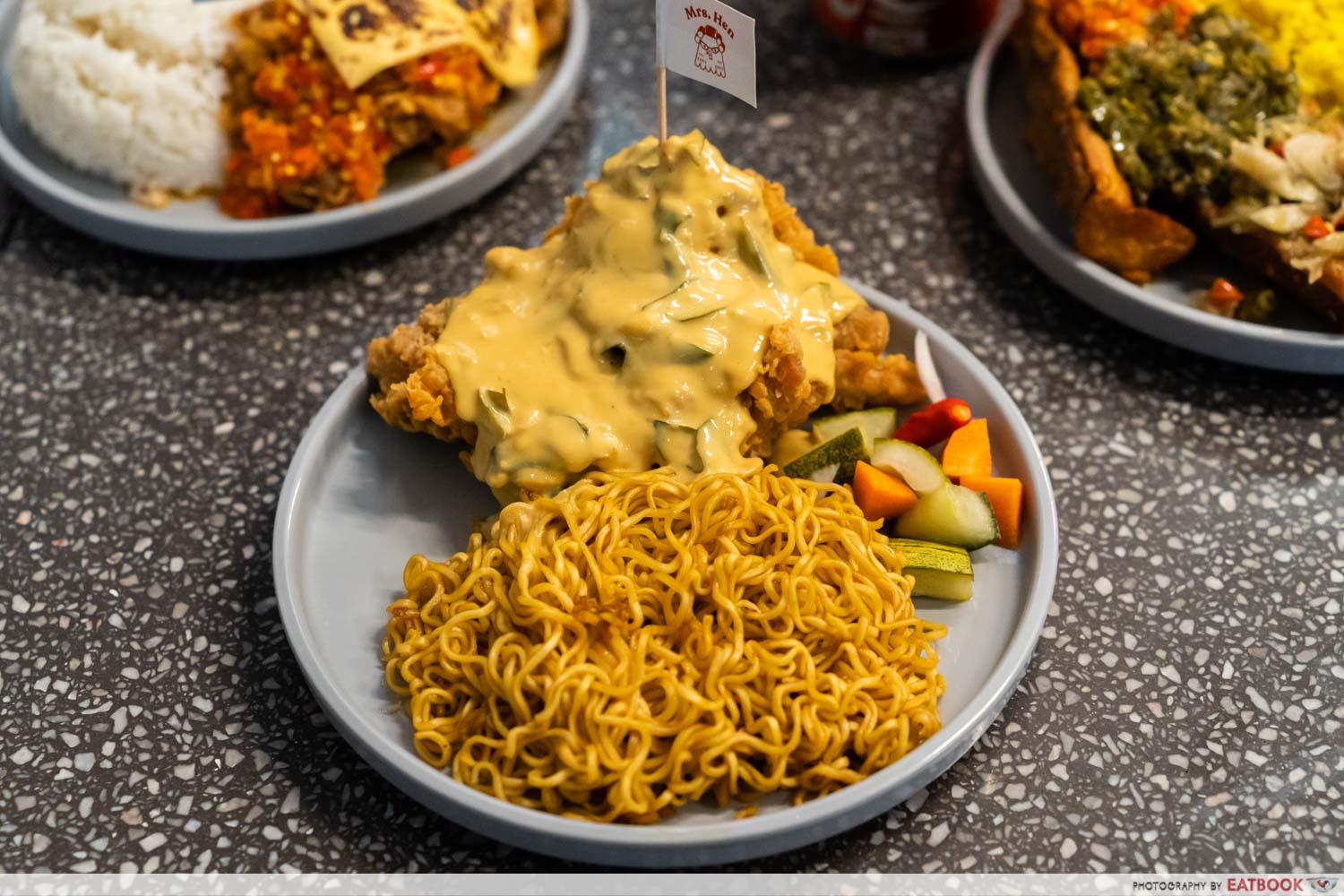 We finished off with their Ayam Geprek Salted Egg ($9.60): their only non-spicy option on the menu. I found the fried chicken here tender enough, but a bit dry. Also, this dish sat out for a while, resulting in a mushy exterior from all the sauce. 
While the sauce itself did not have an overpowering salted egg yolk flavour, the slab of chicken became quite jelak towards the end as it was drenched in it. I'd recommend that you request the sauce to be placed on the side instead. Otherwise, there's a side of achar on each plate that could help cut through all the heavy flavours.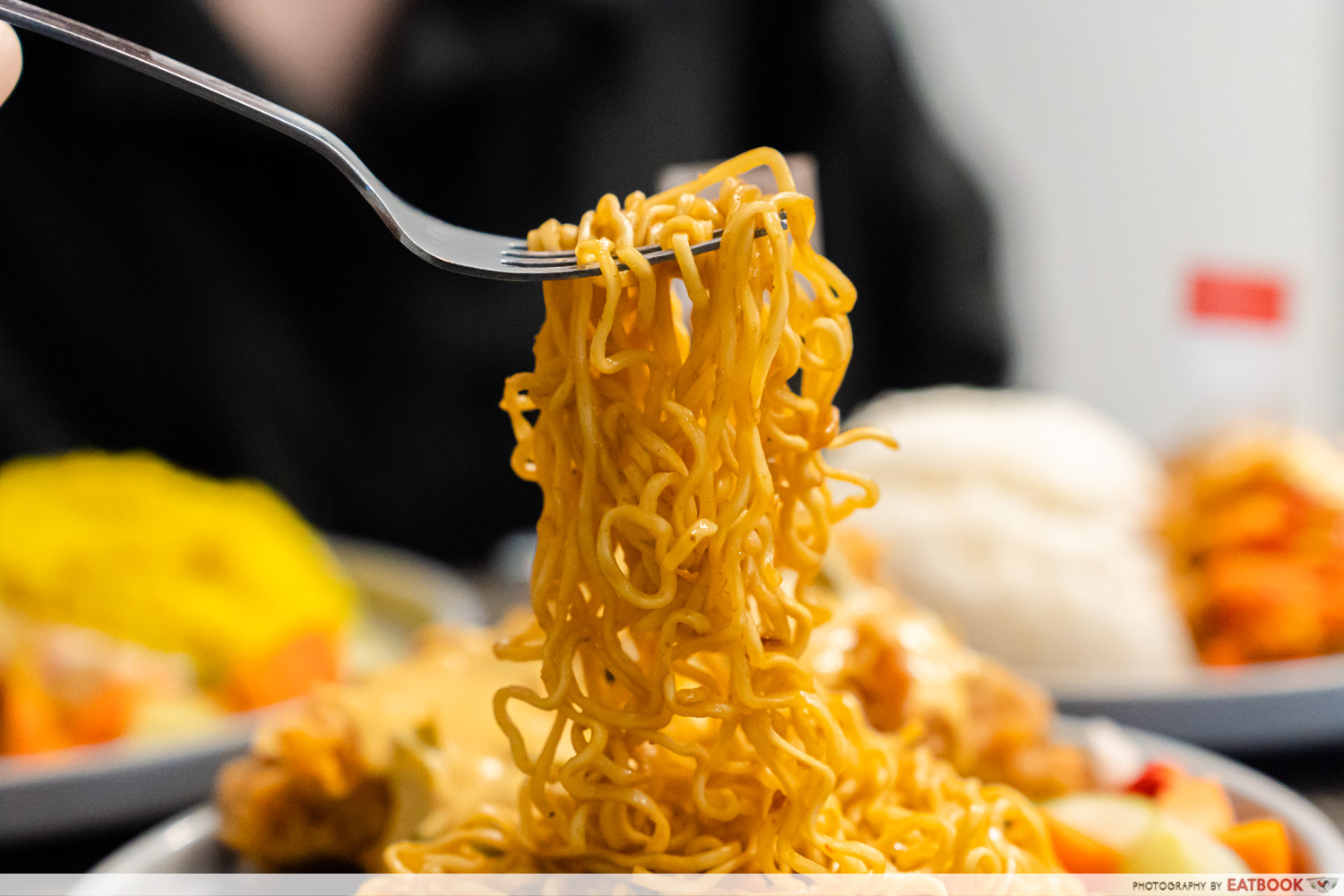 The Indomie noodles (+$2) were springy and flavourful too. I'd opt for this over white rice any time! 
Papa Ayam Review: Singapore's First Ayam Geprek Brand With 15 Levels Of Sambal In Yishun
Ambience at Mrs Hen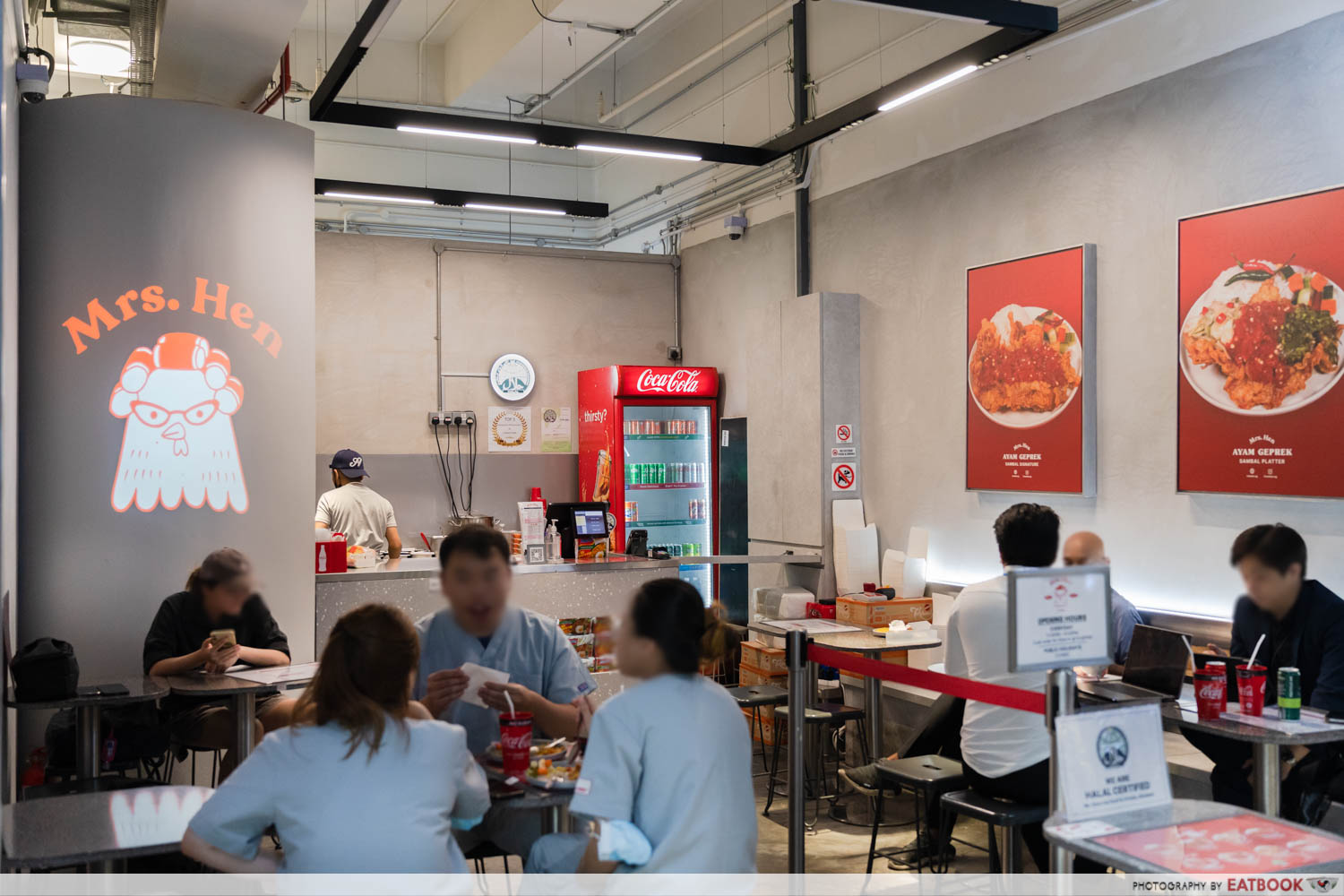 Mrs Hen is a humble space located in East Village, a mall near Simpang Bedok that packs a number of eateries and stores. We arrived after lunchtime and found that the place was pretty quiet. I'd recommend that you visit during non-peak hours as the stall has limited seating.
You can get here with a short three-minute bus ride from Tanah Merah MRT Station. 
The verdict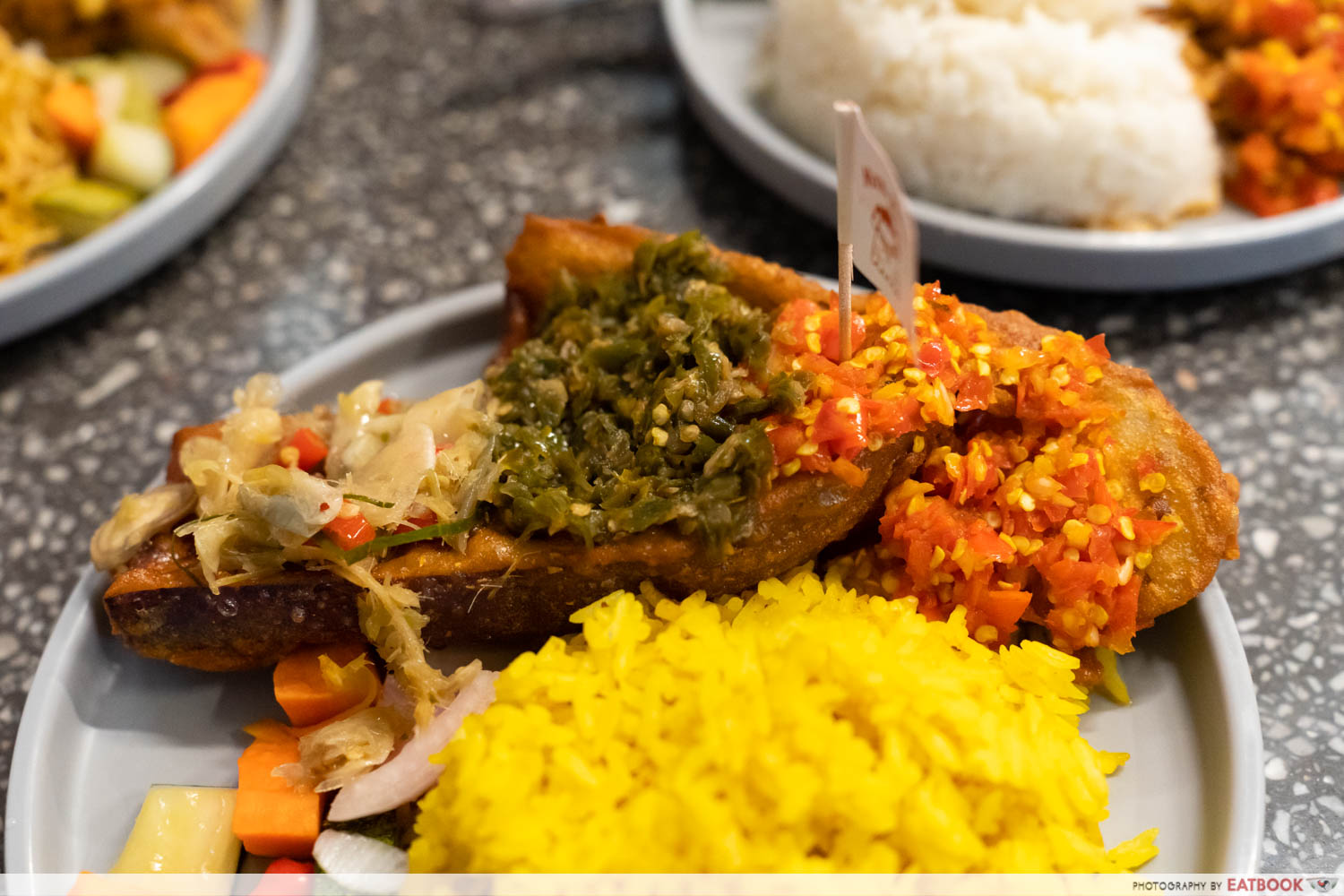 I liked that there was a variety of sambals to choose from, especially in the sambal platter that I'd recommend to my spice-loving friends. While the dry chicken was a sore point for me, the fried eggplant turned out to be a pleasant surprise. I'd drop by for another round of terong geprek the next time I'm in the area again!
For more places to get your ayam geprek fix, read our Papa Ayam review for Singapore's first ayam gebrek brand with 15 levels of sambal! Alternatively, for more food in the same area, check out our Chulop! review for pandan and s'mores churros.
Tel: 6208 2082
Website | Full list of outlets
Mrs Hen is a halal-certified eatery. 
Chulop! Review: Churros Stand In Tanah Merah With S'mores Churros And Pandan Ice Cream Sandwiches
Photos taken by Rifdi Syahir.
This was an independent review by Eatbook.sg
Mrs Hen Review: Popular Smashed Chicken Rice With Spicy Sambal In Bedok
Mrs Hen Review: Popular Smashed Chicken Rice With Spicy Sambal In Bedok -

7/10
Summary
Pros
– Fried eggplant was well cooked
– Variety of options for your meal
– Convenient location
Cons
– Dishes were slightly costly
– Fried chicken was not as well cooked
– Salted egg chicken was a bit jelak
Recommended dishes: Ayam Geprek Sambal Signature ($8.60), Terong Geprek Sambal Platter ($8.50)
Opening hours: Daily 11:30am to 8:30pm
Address: 430 New Upper Changi Road, #01-43, East Village, Singapore 487048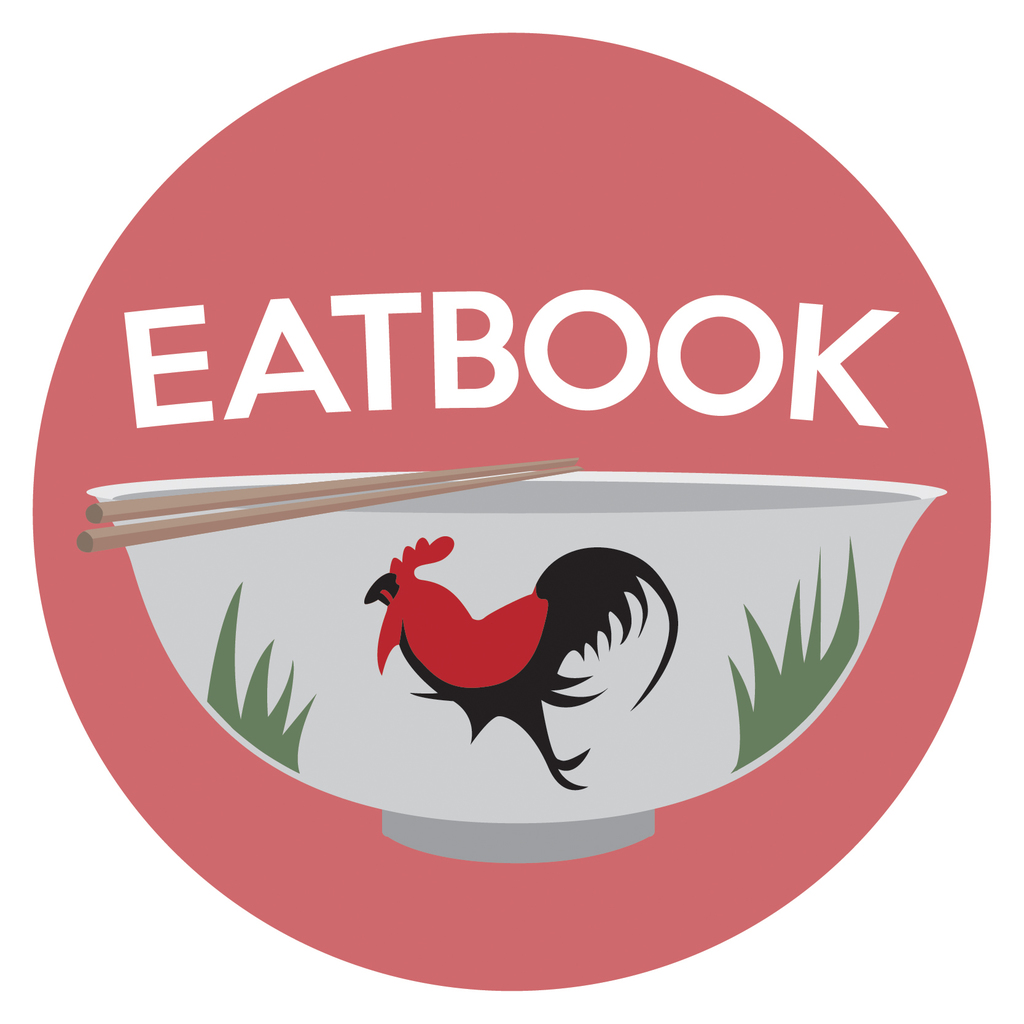 Drop us your email so you won't miss the latest news.