---
Easy and atas tuan yuan fan recipes
---
The eve of Chinese New Year this coming 2021 falls on 11 February. This happens to be a midweek Thursday, that might make preparing for reunion dinner a bit of a pickle, if you have to juggle work and cooking.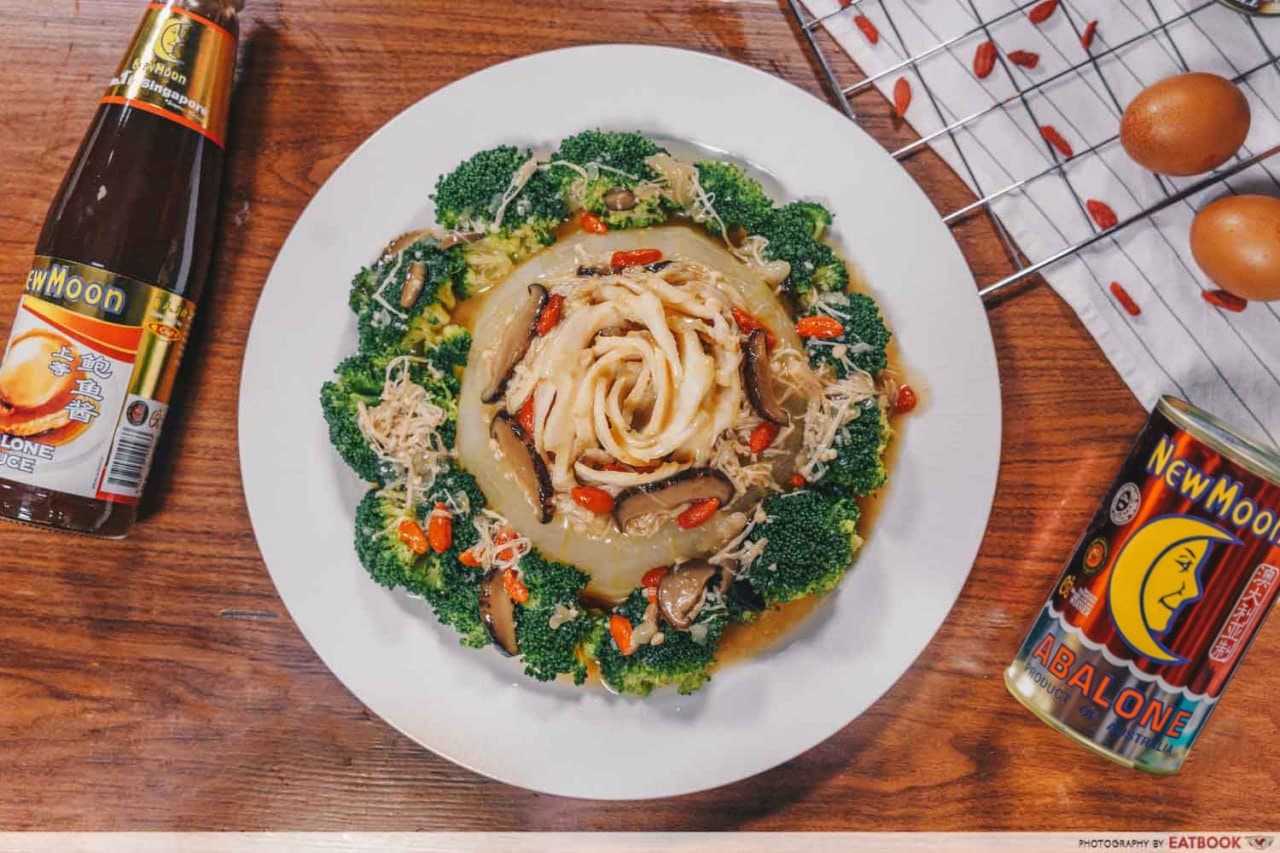 With help from New Moon's range of premium abalone, and canned soups, we've come up with three easy and atas tuan yuan fan recipes that you can whip up in just two hours. These dishes taste great, look like they came off a banquet menu, and are nourishing for the family to boot. In this age of the global pandemic, health is definitely the wealth we all need.
---
1. Buddha Jump Over the Wall in Golden Pumpkin
---
Traditionally, Buddha Jump Over the Wall is a double-boiled soup that requires hours of soaking, and simmering, of premium ingredients. With New Moon, all you'll have to do is crack open a can, heat, and serve!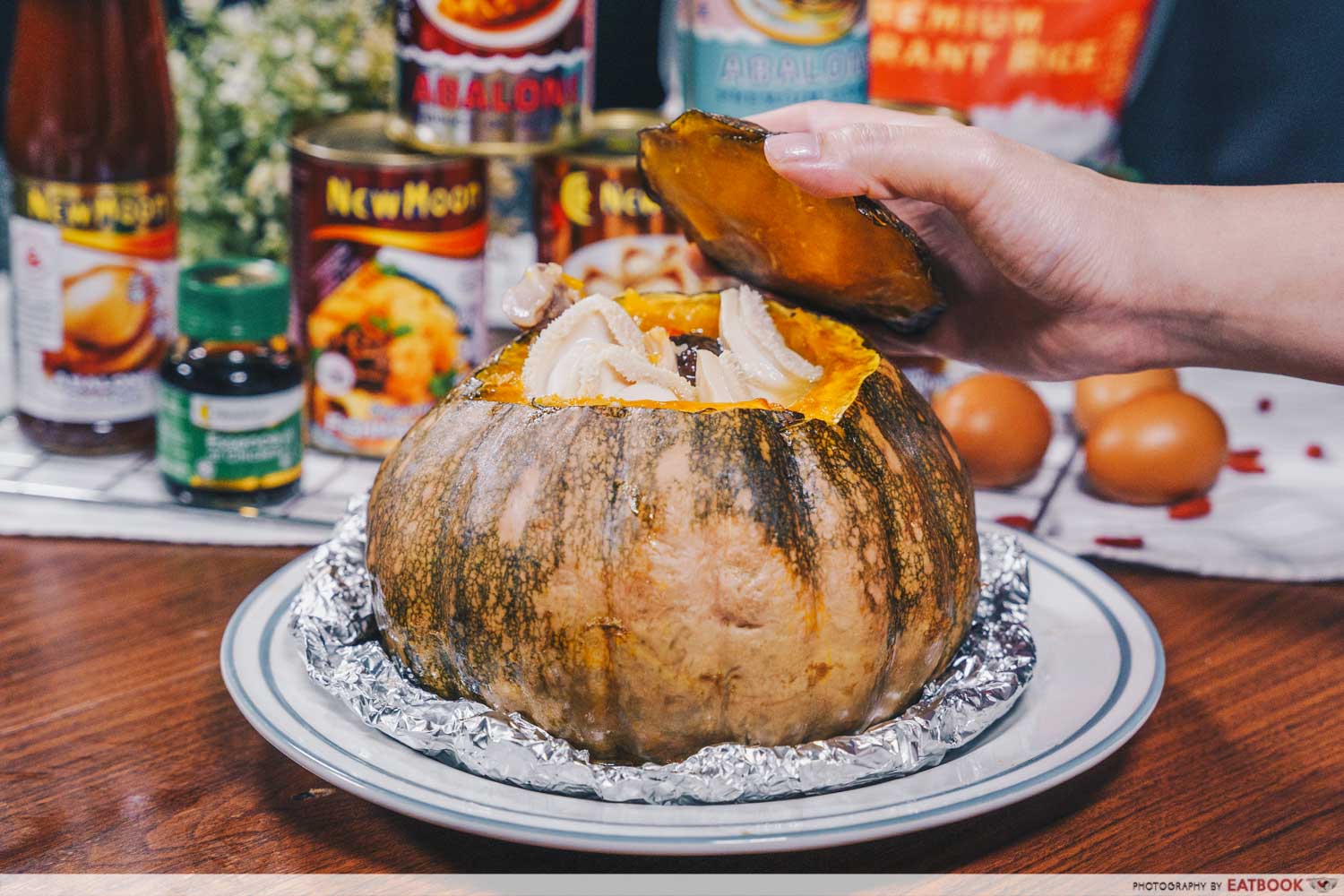 If that's a little too basic, we've zhnged-up the nourishing soup by cooking it in a pumpkin to wow your family at reunion dinner. What's more, pumpkins symbolise abundance and prosperity in the coming year too!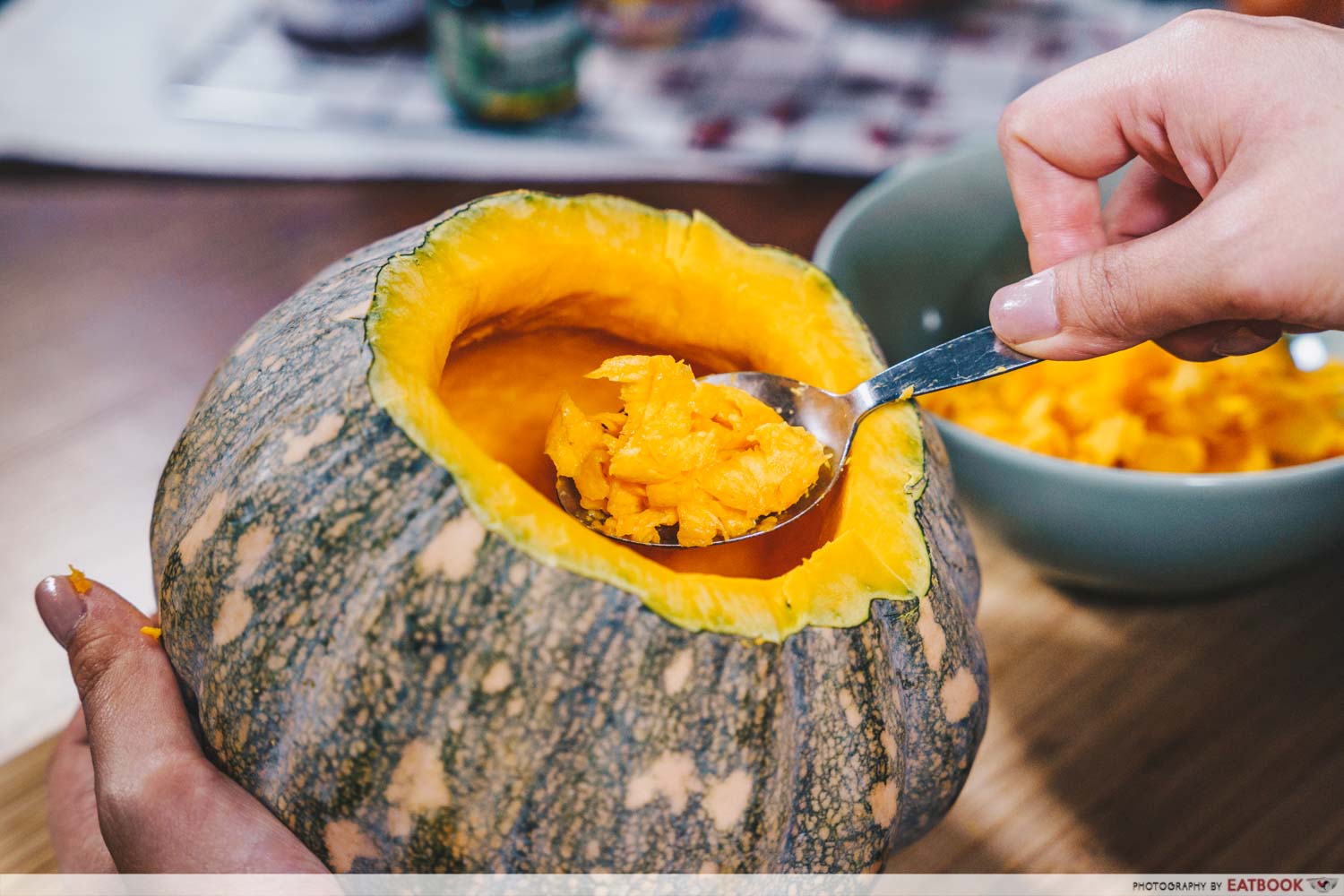 Carving the pumpkin can easily be done the night before, if you're concerned that it may take a while. Here's a tip: use Malaysian pumpkins, rather than Australian kabocha pumpkins. While the latter is undeniably sweeter, it costs a lot more. It also has a very thick rind, and layer of flesh, that makes hollowing out the centre extremely difficult.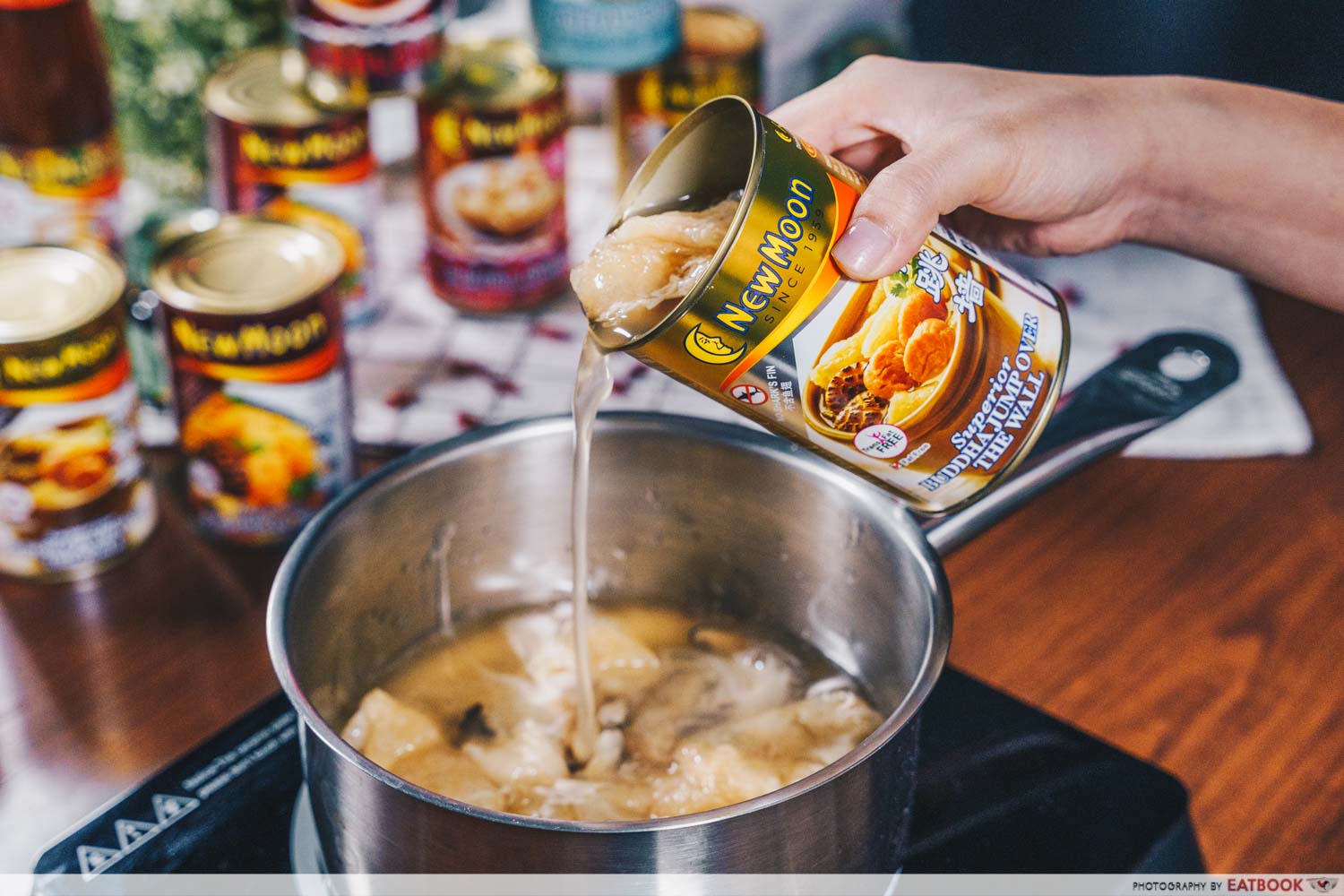 Combine one can each of New Moon Buddha Jump Over the Wall, and Fish Maw Soup, in a pot. You might not be able to fit all the soup in the pumpkin at first, but don't throw the extras away! 
I find that mashing the pumpkin flesh into the soup also adds sweetness. Besides lending the soup more body and creaminess, none of it goes to waste this way.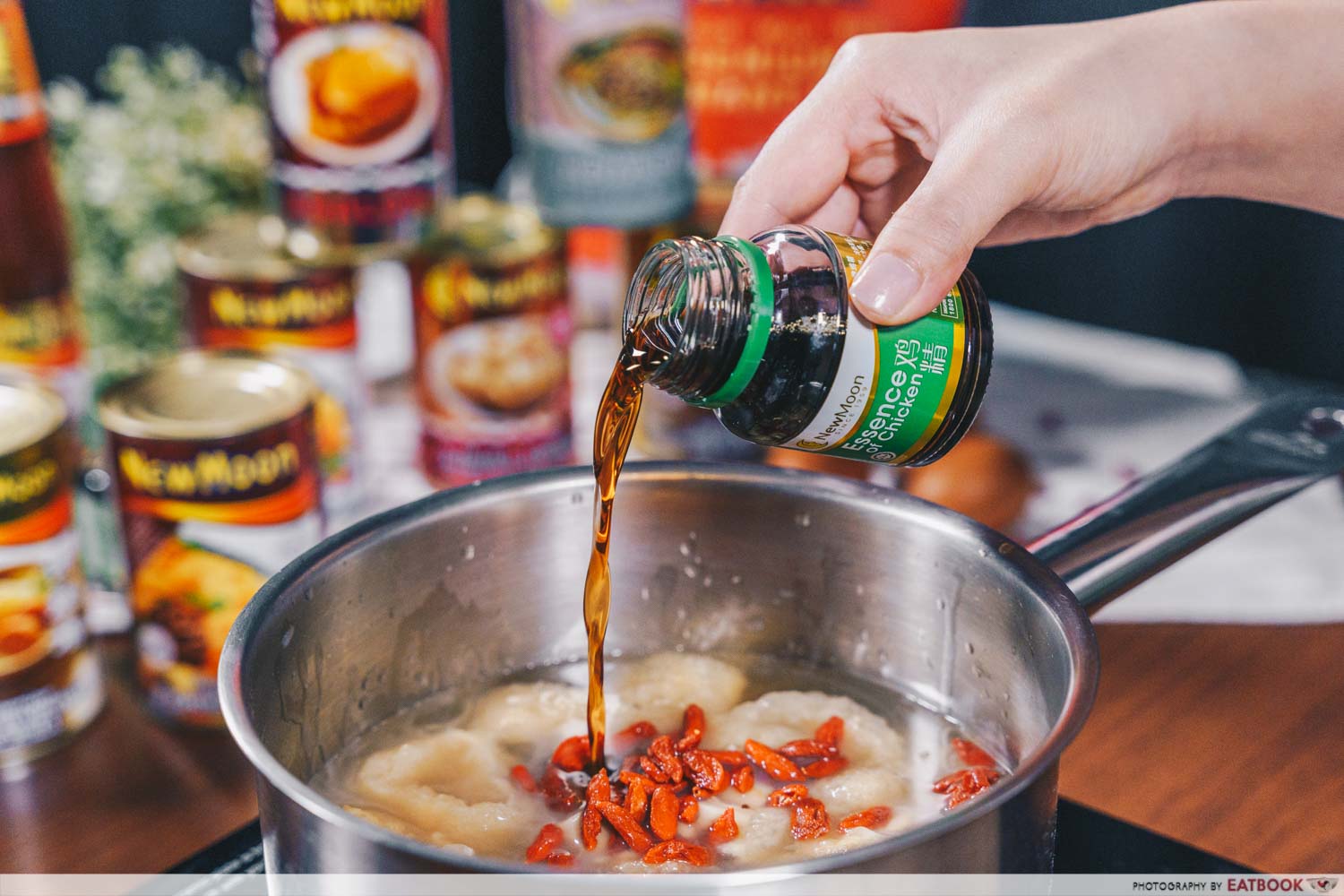 For extra nourishment, I also add a bottle of New Moon Essence of Chicken. This enhances the flavour of the chicken that is to be added, too. It also adds colour to the broth, without making it too dark. You can opt for boneless chicken leg meat, instead of worrying about whether the bones will fit into the cavity of the pumpkin.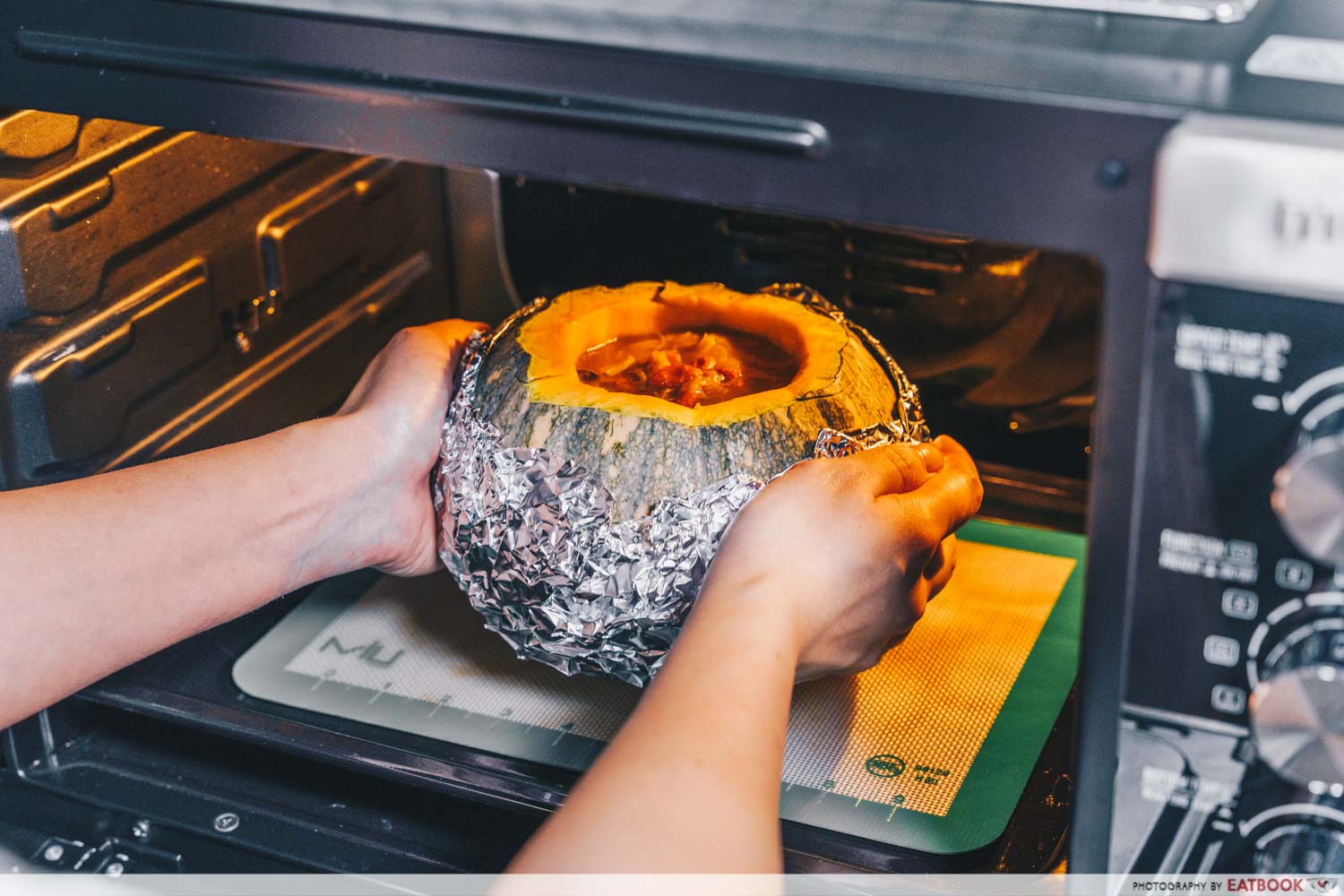 I found that roasting the pumpkin produced better flavour, and more consistent results, than steaming. You can also let the pumpkin continue to sit for a while in the oven after it's done, until it's time for dinner. Top it up with the excess soup if you find that the pumpkin has absorbed some of the liquid.
Yield: Serves 4 to 5
Cooking time: 2 hours
Ingredients:
1 pumpkin, approx 1.7kg before carving
1 New Moon Buddha Jump Over the Wall
1 New Moon Fish Maw Soup
1 New Moon Essence of Chicken
2 chicken legs, or 400g boneless chicken leg meat
Handful of wolfberries
1 New Moon South Africa Abalone 
Cooking time hacks: Carve the pumpkin ahead of time, and start on this dish first.
Directions:
Cut a lid off the top of the pumpkin, and carve out the flesh, leaving a wall of about 2cm thick. Wrap the pumpkin in foil. Preheat the oven to 180ºC.

Prepare the chicken. Empty Buddha Jump Over the Wall, Fish Maw Soup, Essence of Chicken, wolfberries, chicken, and reserved pumpkin flesh into a pot. Cover, and bring to a gentle boil. Simmer for 20 minutes. 

Mash the pumpkin flesh into the soup. Transfer the contents of the pot into the pumpkin.

Replace the lid, cover with a piece of foil, and bake at 190ºC for 90 minutes, or till the pumpkin is tender.

Five minutes before serving, uncover the pumpkin and add the drained abalone pieces into the soup. Unwrap foil to serve.
---
2. Abalone in Winter Melon Ring
---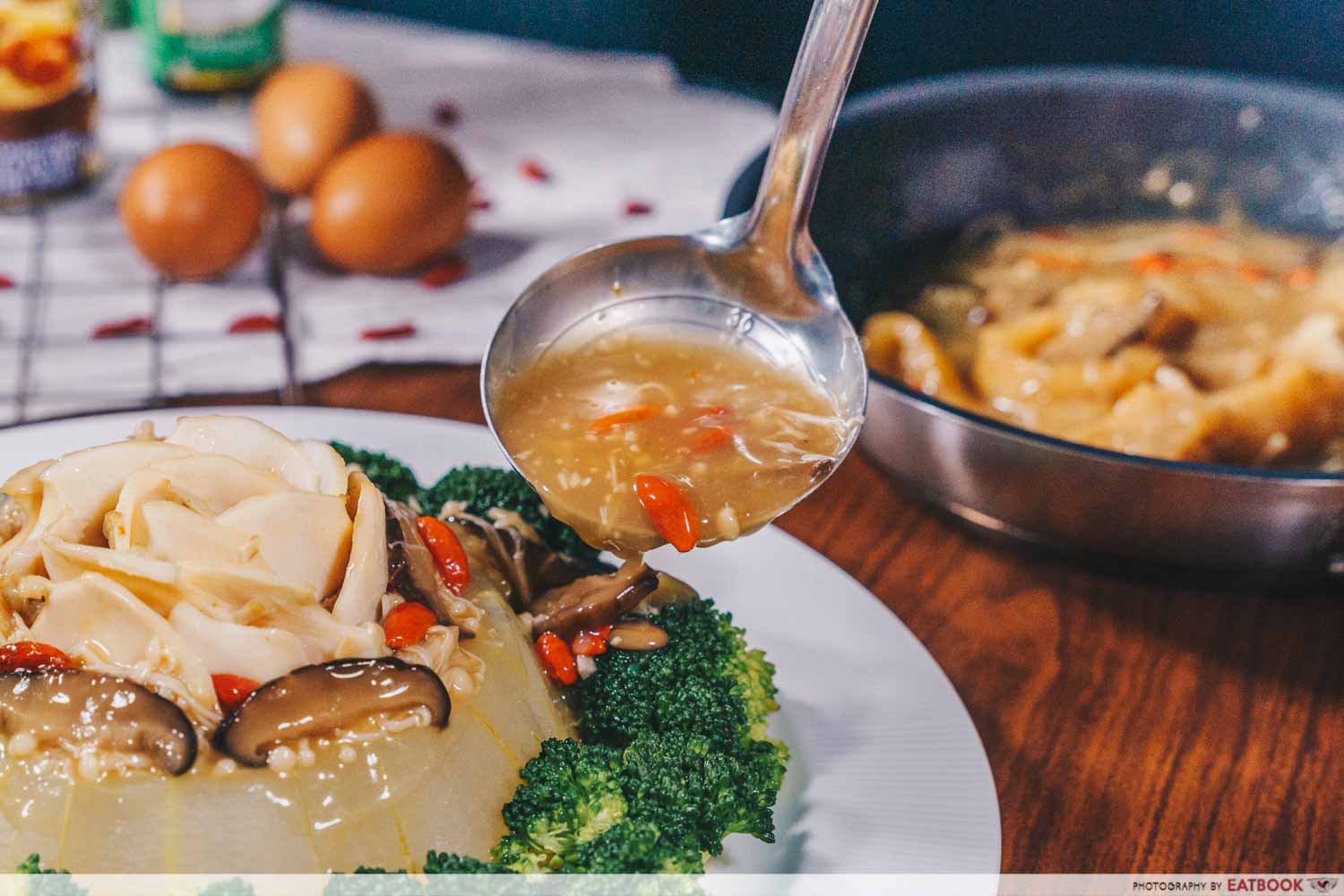 The winter melon symbolises growth and good health in the year ahead. Pork represents strength and wealth; prawns, liveliness and good cheer. Abalone resembles ingots of gold, and flowers at Chinese New Year are synonymous with vitality and prosperity. This second dish marries all of these on a single plate, with New Moon Fish Maw Soup, and New Moon Australia Whole Abalone, making preparation a breeze.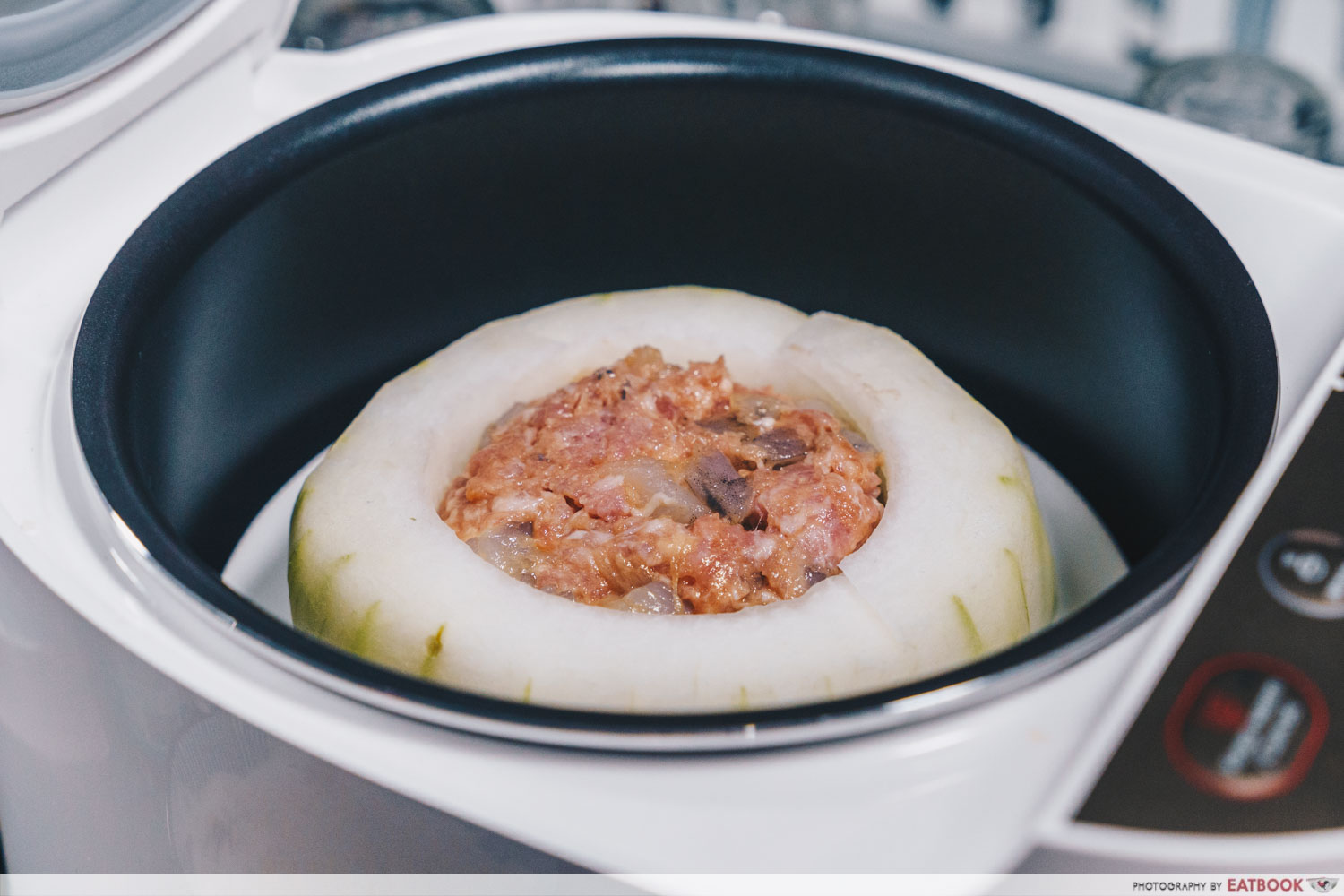 Level the surface of the pork mixture when you scoop it into the winter melon ring. You'll be sliding the finicky abalone rosette onto this to steam, so it helps if the surface is as flat as possible. Get it as close to the top of the ring as you can, too, or your abalone rosette will not stand out.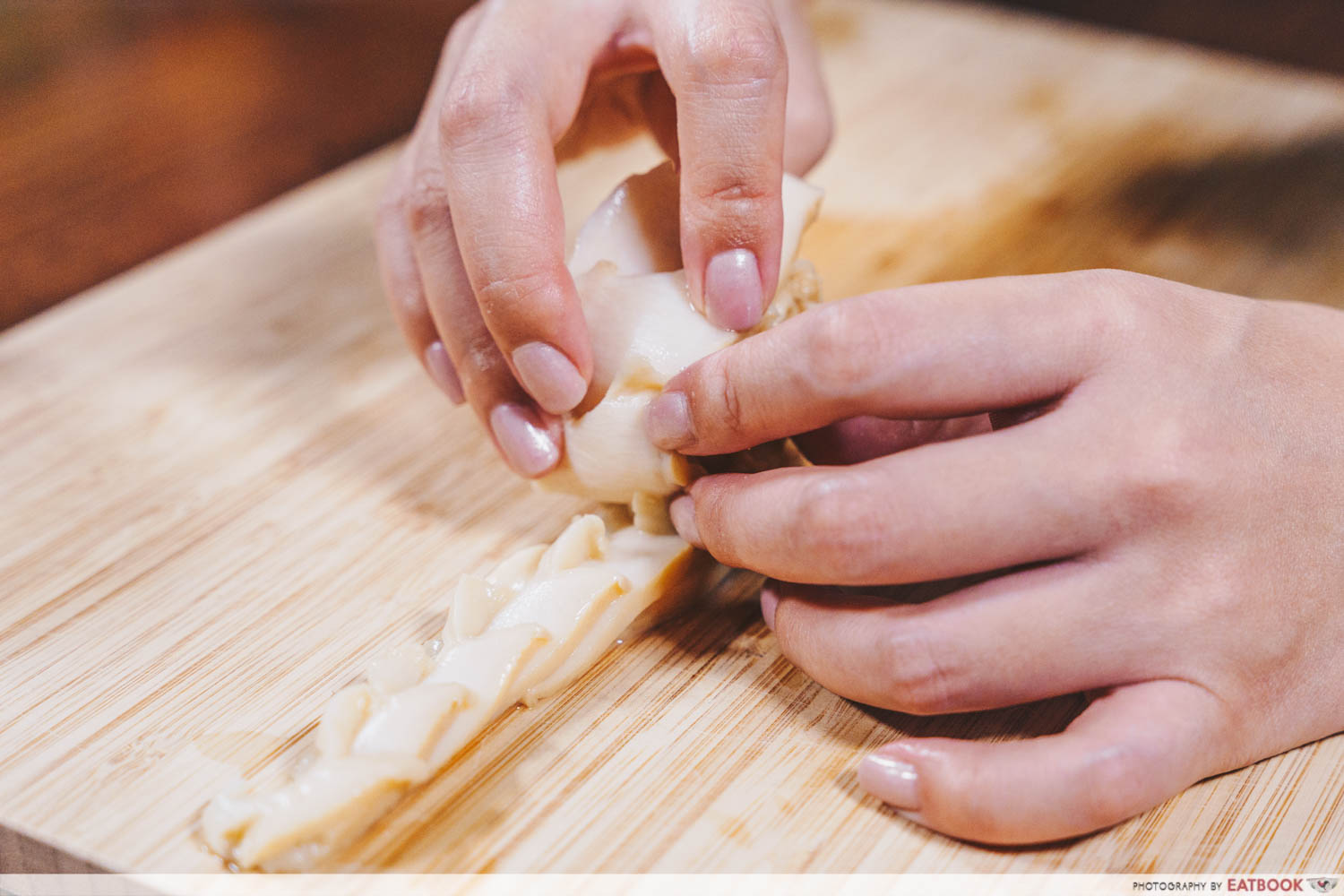 Slice the abalone as thin as you can, because this makes the slices easier to roll into the rosette. Hold them firmly as you roll, as they can be rather slippery. I find that transferring the abalone rosette to a saucer, or bowl, of the right size helps it hold its shape before sliding it onto the meat patty.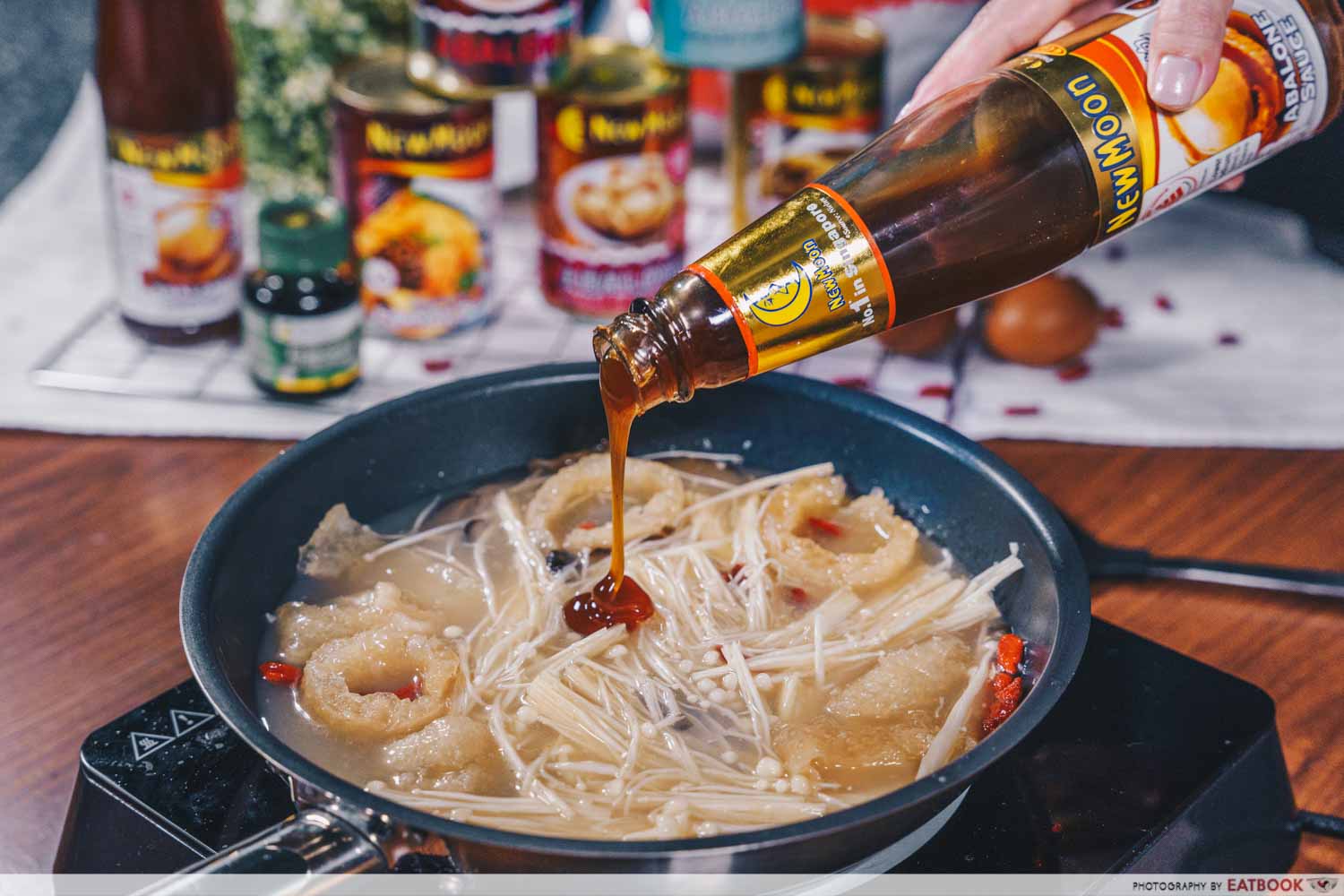 While the Fish Maw Soup is tasty on its own, I've added the abalone liquid to bring out the taste of the abalone. This is spruced up further with the addition of New Moon Abalone Sauce, a concentrated dash of umami that pairs well with the broccoli and winter melon.
Yield: Serves 4 to 5
Cooking time: 30 minutes
Cooking time hacks: Omit the conpoy and prawns to save time.
Ingredients:
1 4-5cm thick section of winter melon
200g minced pork
10 prawns, in 1cm chunks
3 tsp light soya sauce 
3 tsp Shaoxing wine
3 tsp + 2 tbsp water
1 tsp sesame oil
Dash of white pepper
2 tbsp corn flour
2 conpoy, soaked in hot water and shredded
1-2 tbsp oil
2 cloves garlic, finely minced
100g enoki mushrooms
Handful of wolfberries
1 New Moon Australia Whole Abalone
1 New Moon Fish Maw Soup
½ tbsp New Moon Abalone Sauce
½ tsp dark soya sauce
Corn starch slurry
1 large broccoli
Directions:
Scoop out the centre of the winter melon ring. Use a circular cookie cutter for convenience, if you have one. Slice the skin off the winter melon.

Combine minced pork and prawns with light soya sauce, Shaoxing wine, sesame oil, white pepper, corn flour, and 3 tsp water.

Place winter melon ring on a shallow dish. Spoon the meat mixture into the centre, almost to the top of the ring. Steam for 20 minutes.

Reserve the liquid in the abalone can. Thinly slice the abalone, lay it flat, and roll it into a rosette.

Turn the heat on the steamer off. Carefully slide the abalone rose onto the minced meat, placing it in the centre. Cover and steam for another five minutes, then remove from the steamer. Scoop or drain away the liquid in the dish.

On low heat, dry fry the shredded scallop for one minute till it's almost dry, then add the oil. Continue frying till the scallops start to turn opaque and pop, about two minutes. Transfer onto cooking paper.

Add minced garlic to the oil, and fry till fragrant, about half a minute. Pour in Fish Maw Soup, abalone sauce, conpoy soaking water, and half a can of the abalone liquid.

Simmer for five minutes, before adding enoki mushrooms, wolfberries, and dark soya sauce. Allow to cook for two minutes.

Make a slurry with 2 tsp corn flour and 2 tsp water, and stir into the mix to thicken.

Cut the broccoli into big florets and blanch. Place them around the winter melon. Arrange enoki around the abalone rosette, and dish gravy. Sprinkle fried conpoy to serve, if desired.
Adapted from Share Food Singapore's recipe.
---
3. Abalone & Seafood Pao Fan
---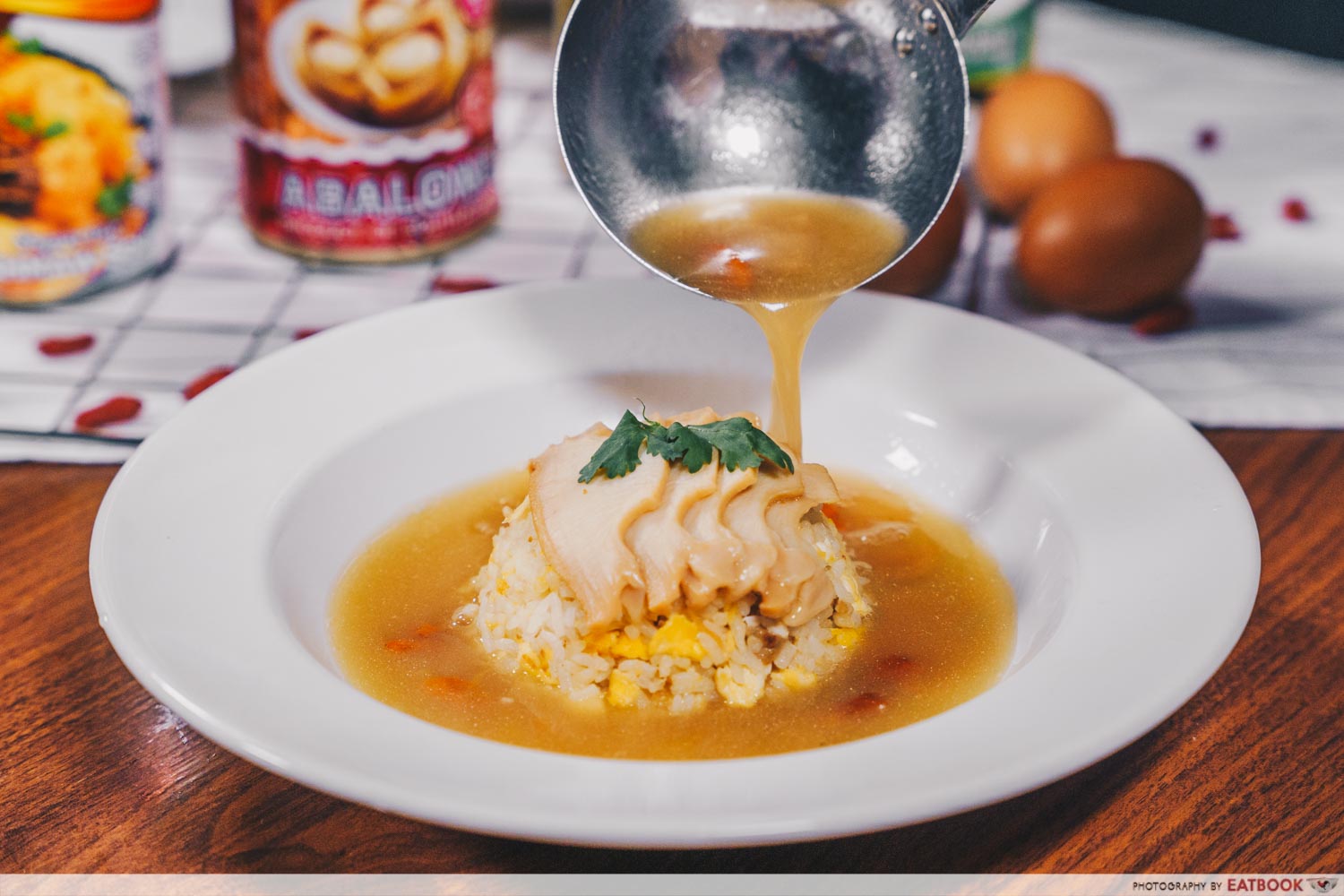 Pao fan is one of the latest trends to hit the local food scene as 2020 comes to a close. It's simple to prepare, and comforting to have. We decided to elevate this dish with New Moon New Zealand Whole Abalone, paired with a golden collagen stock that brings out the flavour of the shellfish.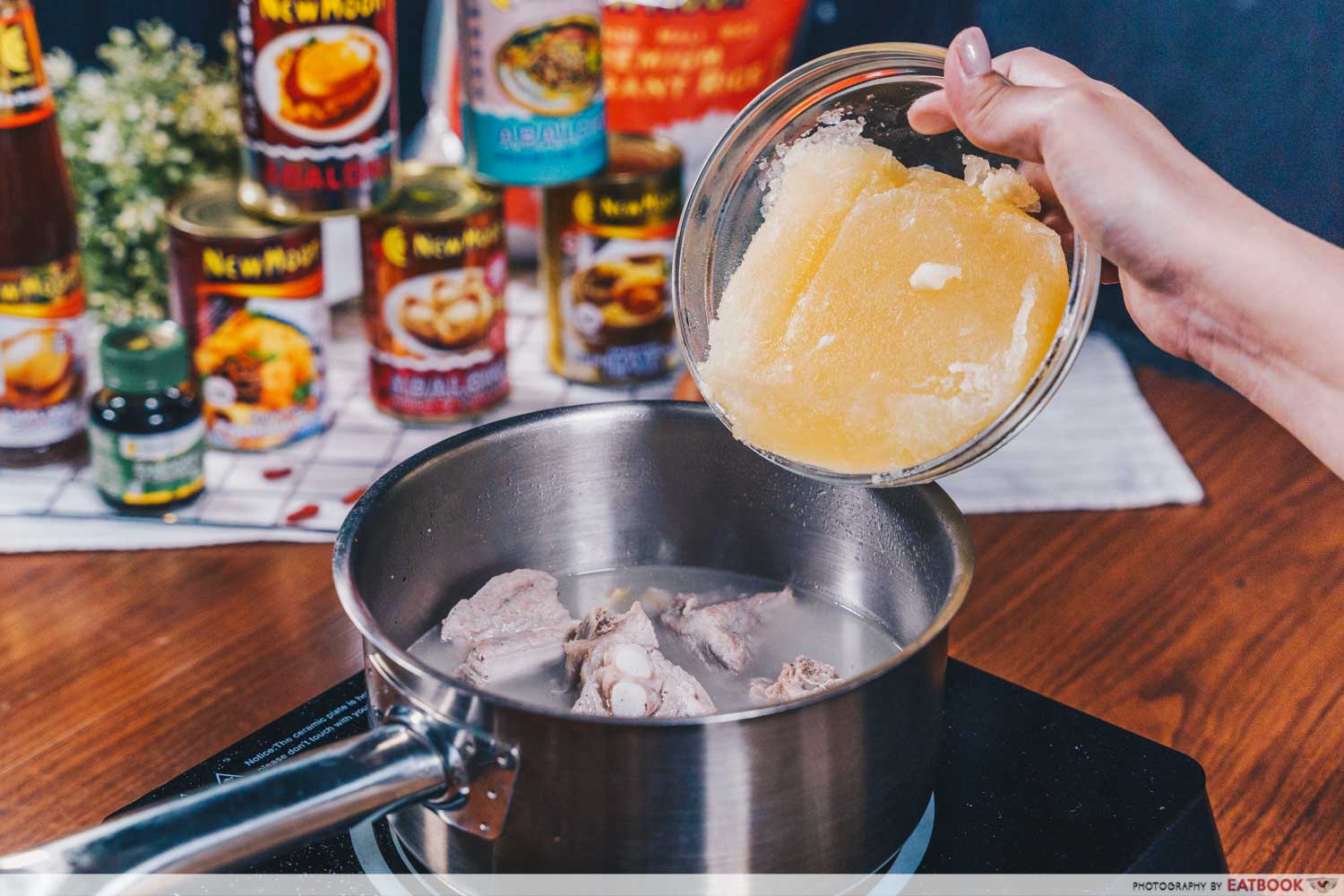 I've used frozen collagen soup here as a quick hack, enriched with a simple pork broth. I find that the pork broth adds a robust body to the chicken collagen soup. If you can spare the time, you may make your own superior broth with chicken carcasses, chicken feet, pork bones, and conpoy, boiling till the liquid is reduced by half.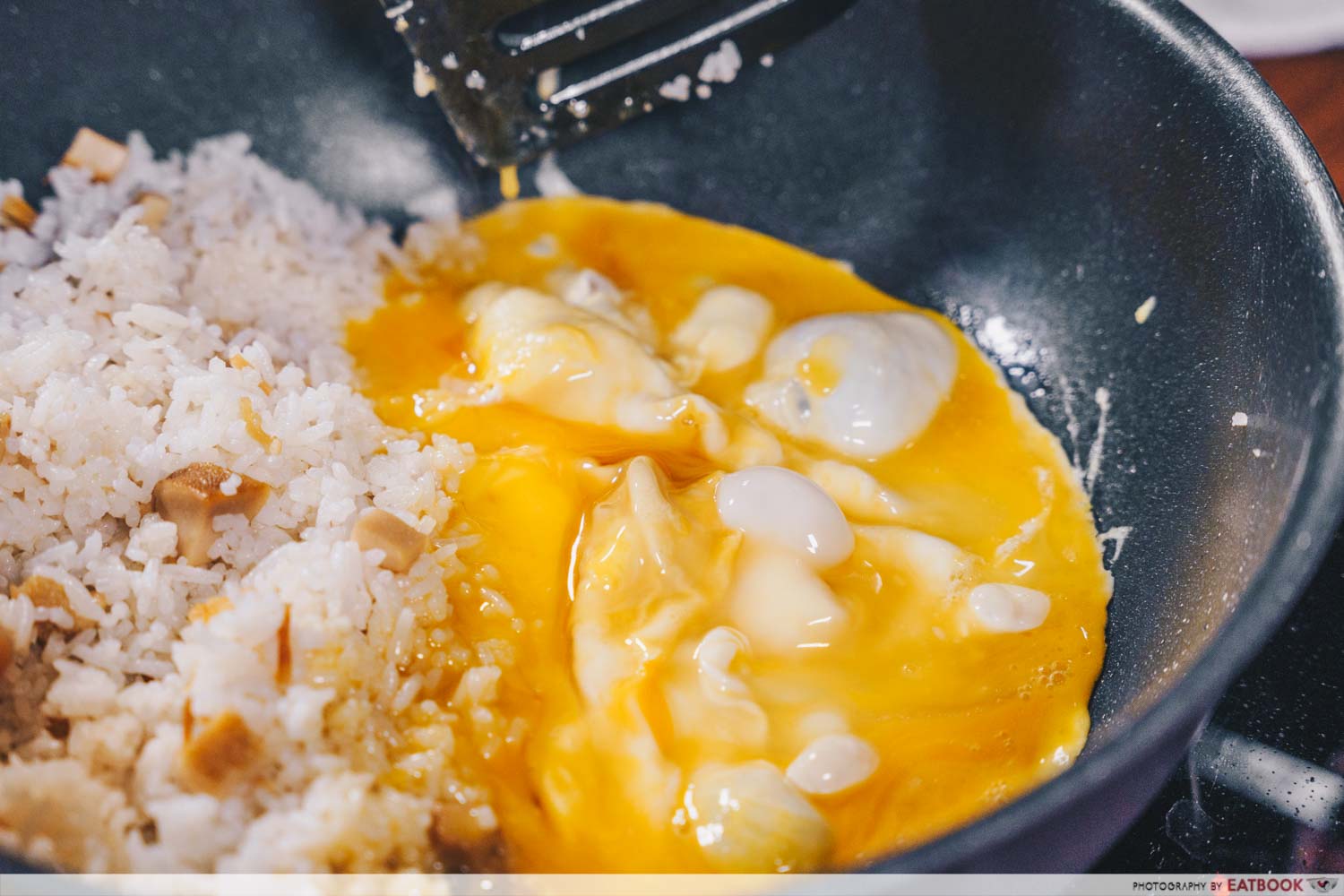 To ensure the rice stays in shape when you pour the soup in, pack it tightly into a bowl before turning it out onto your final plate. If you already have plain rice in the fridge, go ahead and fry this! You may want to add a little more New Moon Abalone Sauce for flavour, in this case.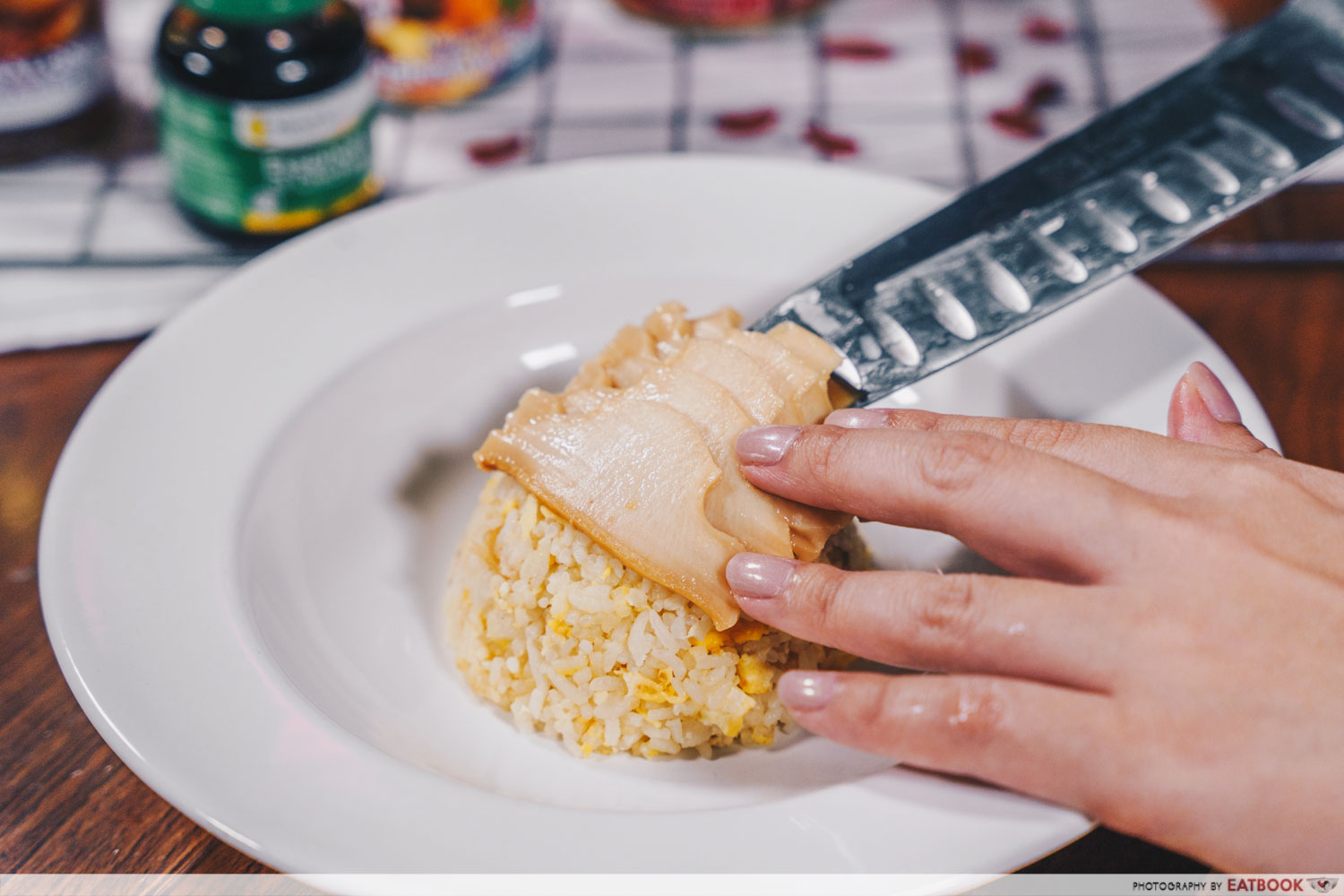 If you'd like, you could lightly poach the whole abalone in the broth before slicing and plating. New Moon's wild-caught premium New Zealand abalone is ready to eat, so you can easily slice it straight out of the can.
Yield: Serves 3 to 4
Cooking time: 40 minutes
Cooking time hacks: Cook the rice the night before, or at the start of the entire meal preparation process.
Ingredients:
1 cup New Moon Thai Hom Mali Premium Fragrant Rice
1 New Moon New Zealand Abalone
8-10 conpoy
300g spare ribs
1 slice ginger
500ml water
250ml collagen soup
Handful wolfberries
2 tbsp oil
3 eggs
1 tsp light soya sauce
½ tbsp New Moon Abalone Sauce
Dash of white pepper
Salt, to taste
Coriander (optional)
Directions:
Cook rice with half of the abalone liquid, and water. Add three to four whole conpoy.

Blanch spare ribs. Add a slice of ginger, and water. Boil for 30 minutes till milky.

Add at least five conpoy, wolfberries, and collagen soup. Simmer for 20 minutes. Add salt to taste, if desired.

Dice half an abalone. Beat eggs and season with light soya sauce.

Shred the conpoy from the rice cooker. Fry this on low heat in a pan till dry, about 30 seconds. Add 1 tbsp oil, and fry for about two minutes, or till golden and fragrant.

Throw in the diced abalone, and fry on medium heat for a minute before adding the rice. Turn the heat up and give it a good toss.

Move the rice to the side of the pan, add 1 tbsp oil, and pour in the eggs. Let the eggs cook for 30 seconds, then stir into the rice. Add Abalone Sauce, white pepper, and salt to taste.

Thinly slice the abalone. Plate to serve.
---
Tuan yuan fan with New Moon
---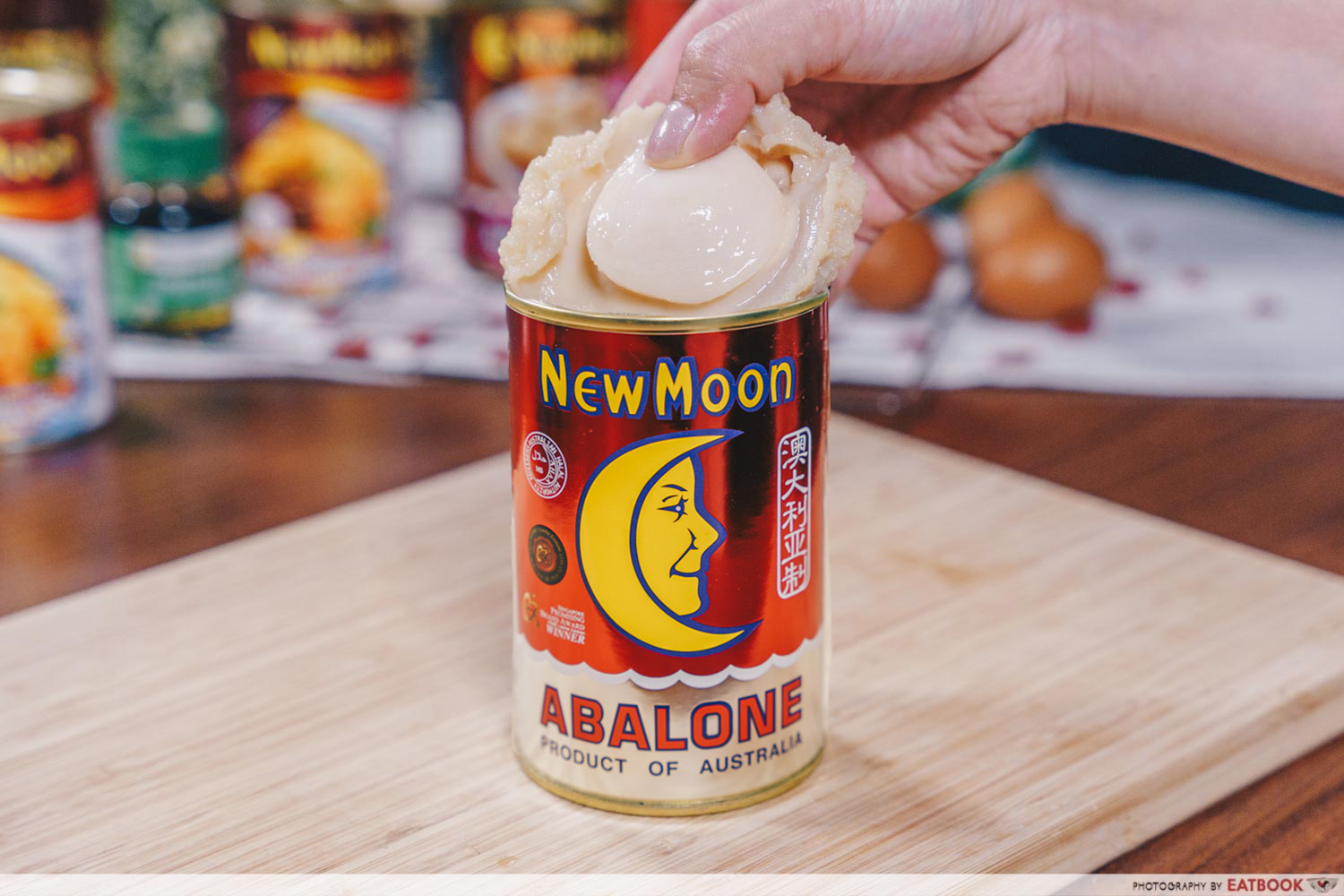 Reunion dinners can be time-consuming to prepare, or expensive to order in for. Skip all that fuss with New Moon's products, which are kitchen hacks we never knew we needed. Even if you're a novice in the kitchen, they'll help you prepare a tuan yuan fan so tasty and atas-looking, your family will think you've been moonlighting as a Chinese banquet chef.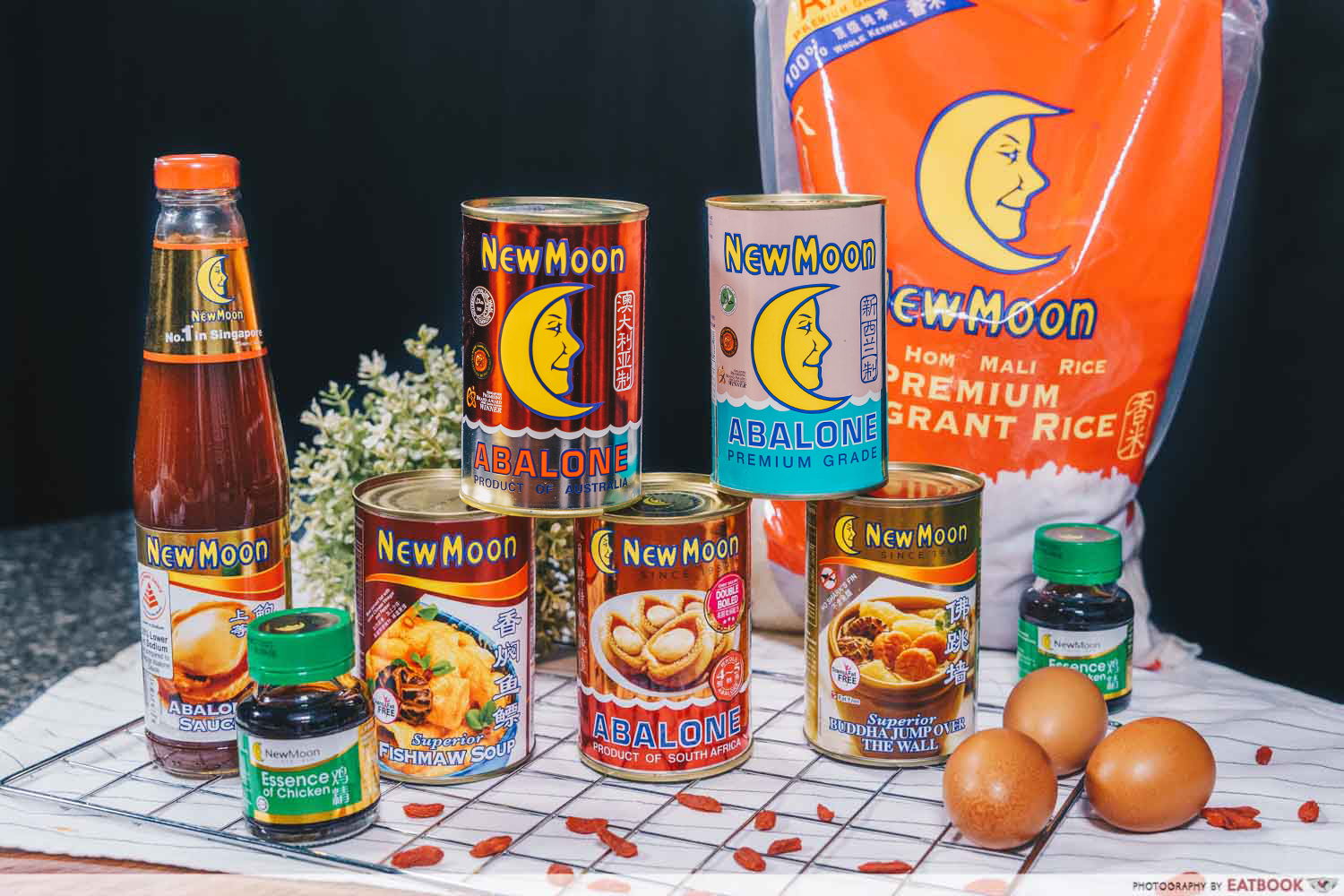 With less than a month to Chinese New Year, stock up on Singapore's best-selling abalone and other New Moon products at all leading supermarkets, including NTUC FairPrice, Cold Storage, Giant, Sheng Siong. You can also get them delivered to you when you shop through Shopee, Qoo10, Redmart, Lazada and Amazon, so you don't have to worry about lugging all these heavy cans home.
Photos taken by Hay Thi.
This post was brought to you by New Moon.