---
New restaurants to visit in June 2019
---
Summer is officially in season. That means you'll have plenty of time to bring the younglings out for a family day filled with good vibes and good food. From roast chicken to ice-cream donuts and chocolate gateau, here are some food you can eat at these 12 new restaurants in June 2019.
---
1. Chico Loco
---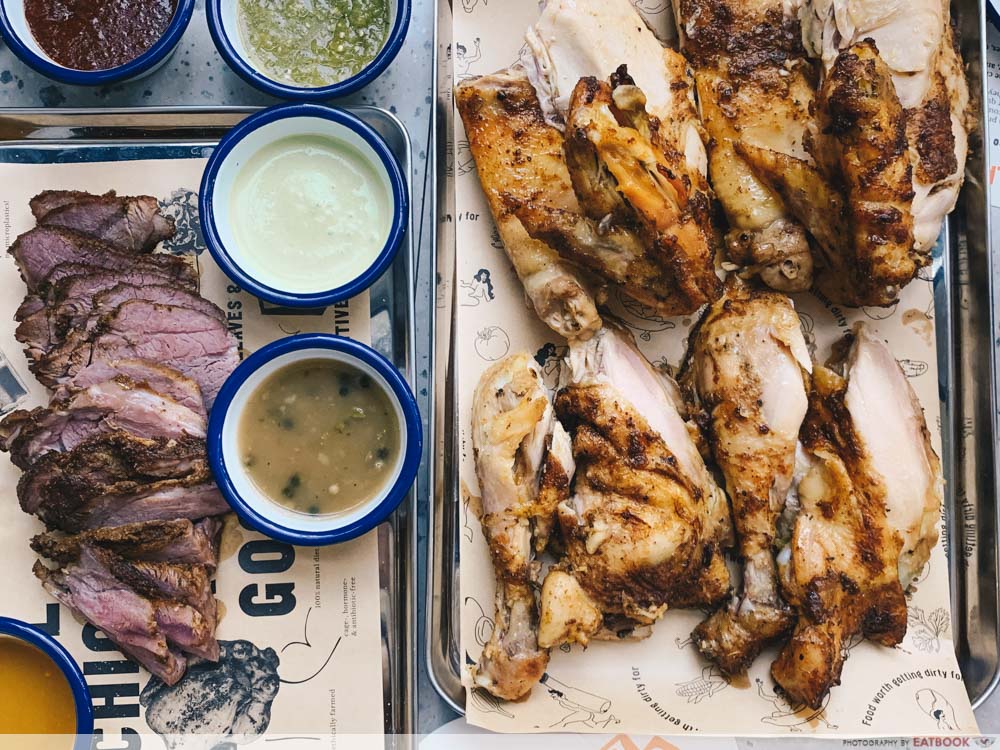 Roasted chicken doesn't have much fanfare in Singapore, but all that is about to change with the arrival of Chico Loco. Opened by the folks behind the fame Lucha Loco, you can expect the vibe at this new restaurant to be just as edgy. Headlining the menu are two types of spit-roasts – chicken (from $9+) and lamb (from 12+).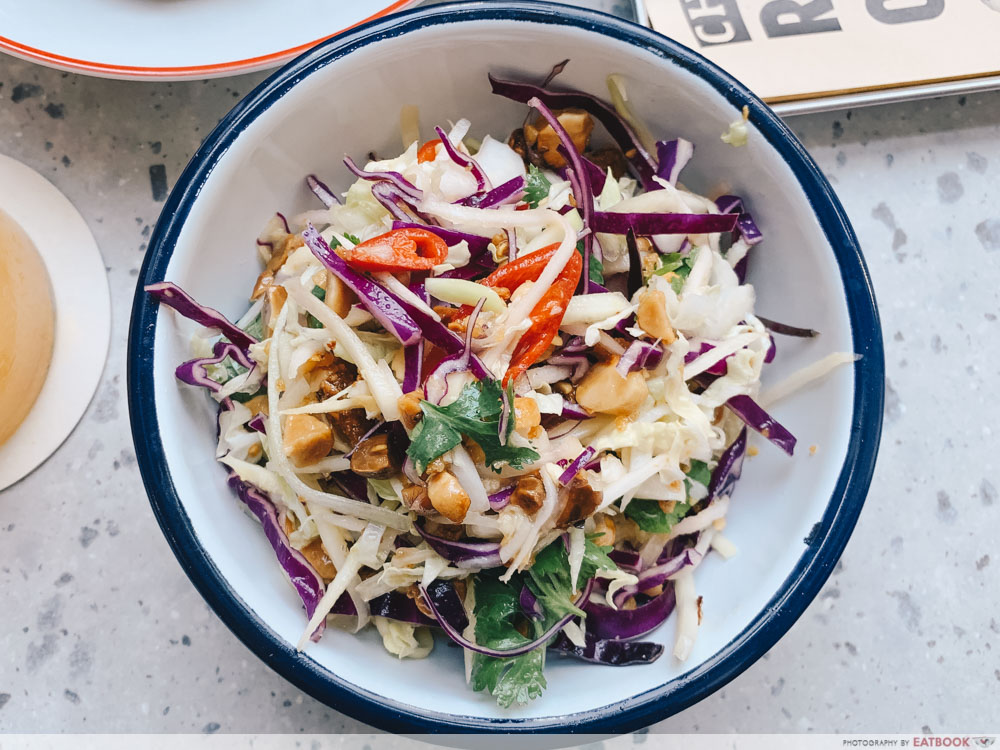 The chicken falls off the bone easily, which comes as no surprise, as they are brined in a tantalising mix featuring agave nectar for 10 hours. They are then basted in 11 herbs and spices, before being roasted over a naked flame. We much prefer the lamb, which was robust in flavour without any gaminess. Complete your meal with their Thai-inspired Chicoslaw ($6+) which boasts mango and green papaya, and a whole load of zing.
Address: 102 Amoy Street, Singapore 069922
Opening hours: Mon-Thur 8am to 10pm, Fri 8am to 12am, Sat 5pm to 12am
Tel: 9738 7828
Website
---
2. Coney Donut
---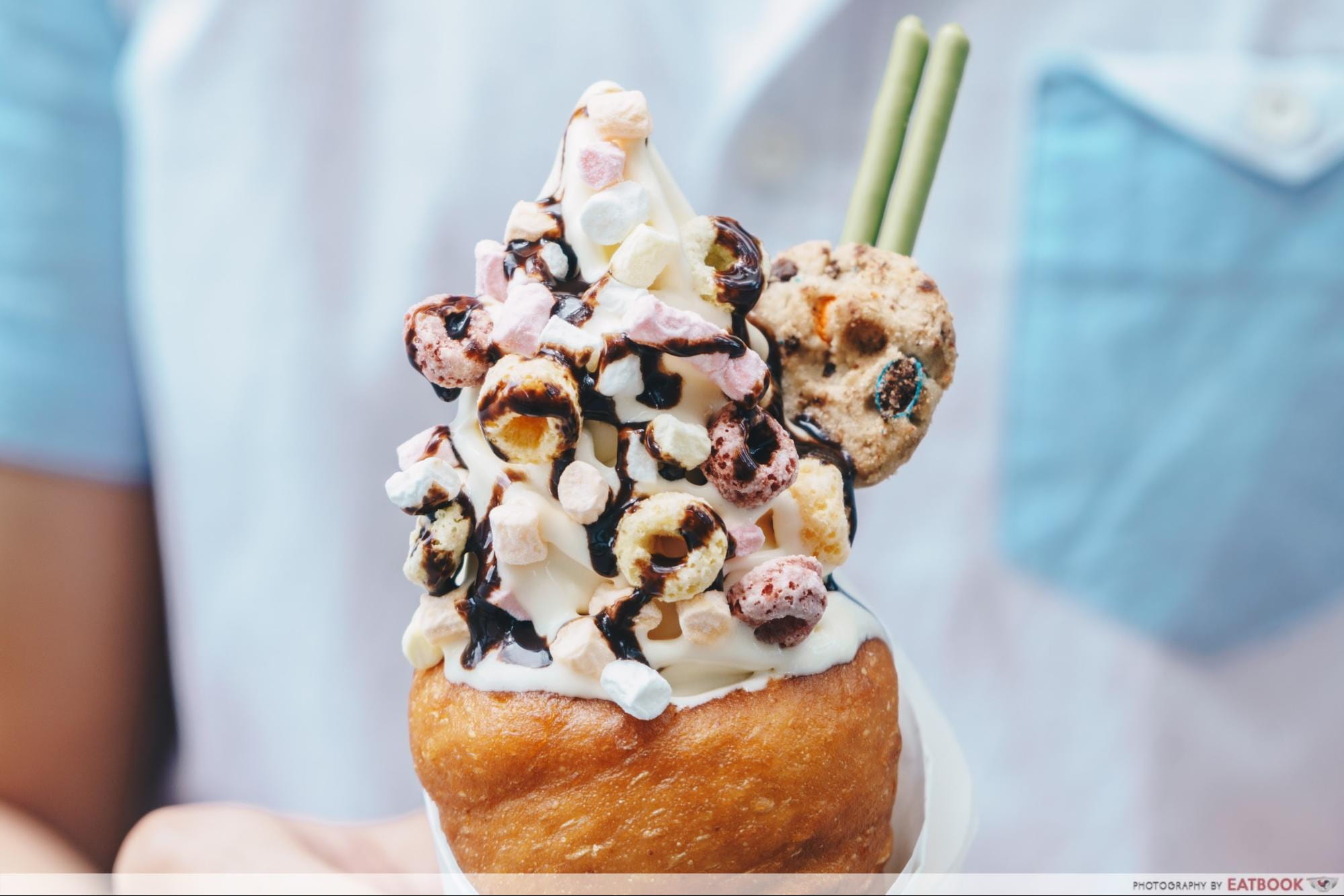 Up your IG game with the Soft Serve Donut Cone ($6.80) from Coney Donut! Freshly made each day, their lightly flavoured donut cones pair nicely with the sweet soft serve. The real treat, however, comes from the additional toppings ($0.50). Unleash your inner artist and choose from condiments such as Matcha Pocky and Marshmallow.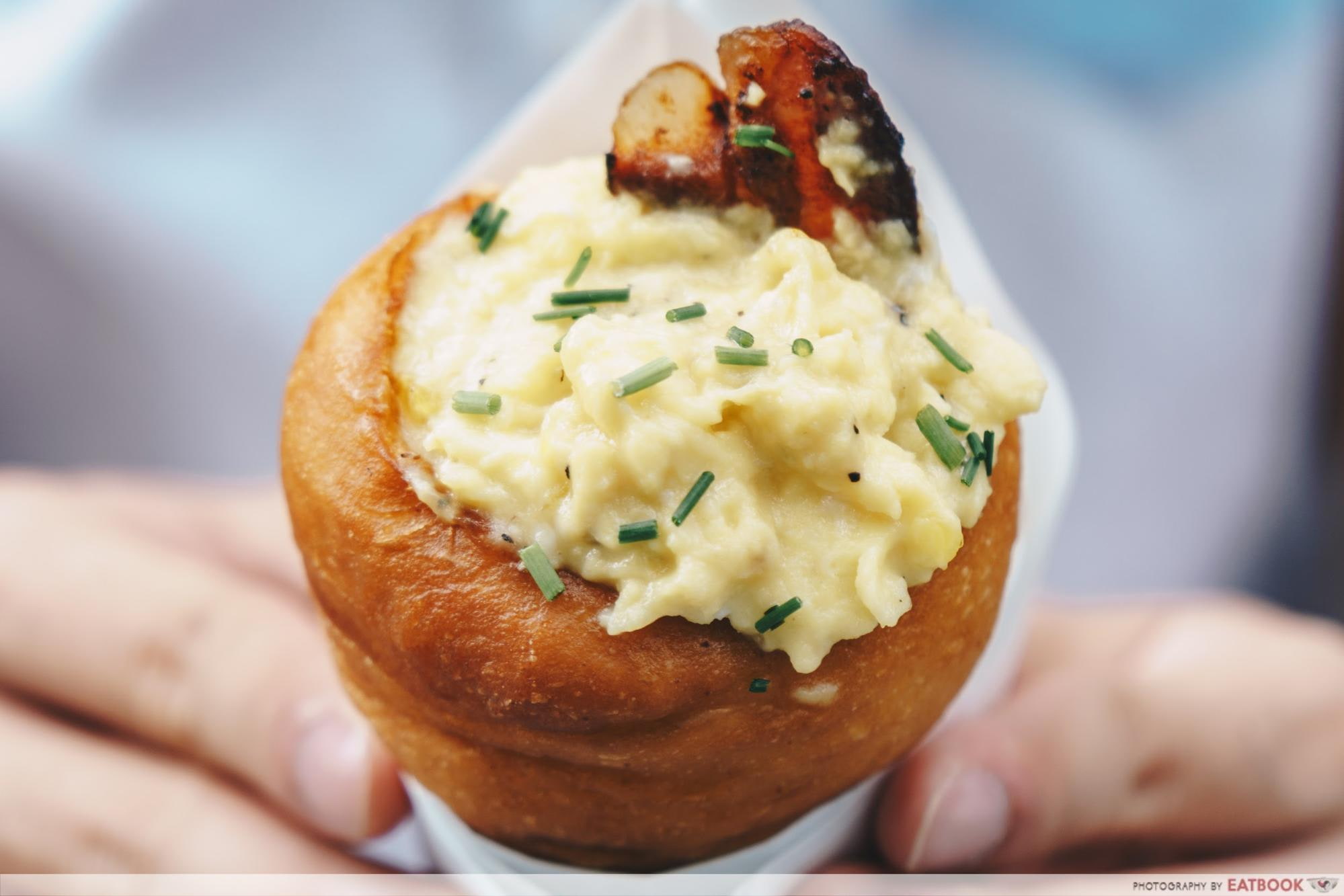 If you prefer a more savoury dish, check out their English Breakfast Cone ($4.80) instead! Sink your teeth into the pillowy scrambled eggs and savour the pepperiness it leaves on your tongue. Rashers of bacon are added to the cone as well, bolstering it with a salty tang.
Address: 111 Somerset Road, #01-K1, TripleOne Somerset, Singapore 238164
Opening hours: Daily 10am to 9pm
Website
---
3. Pink Fish
---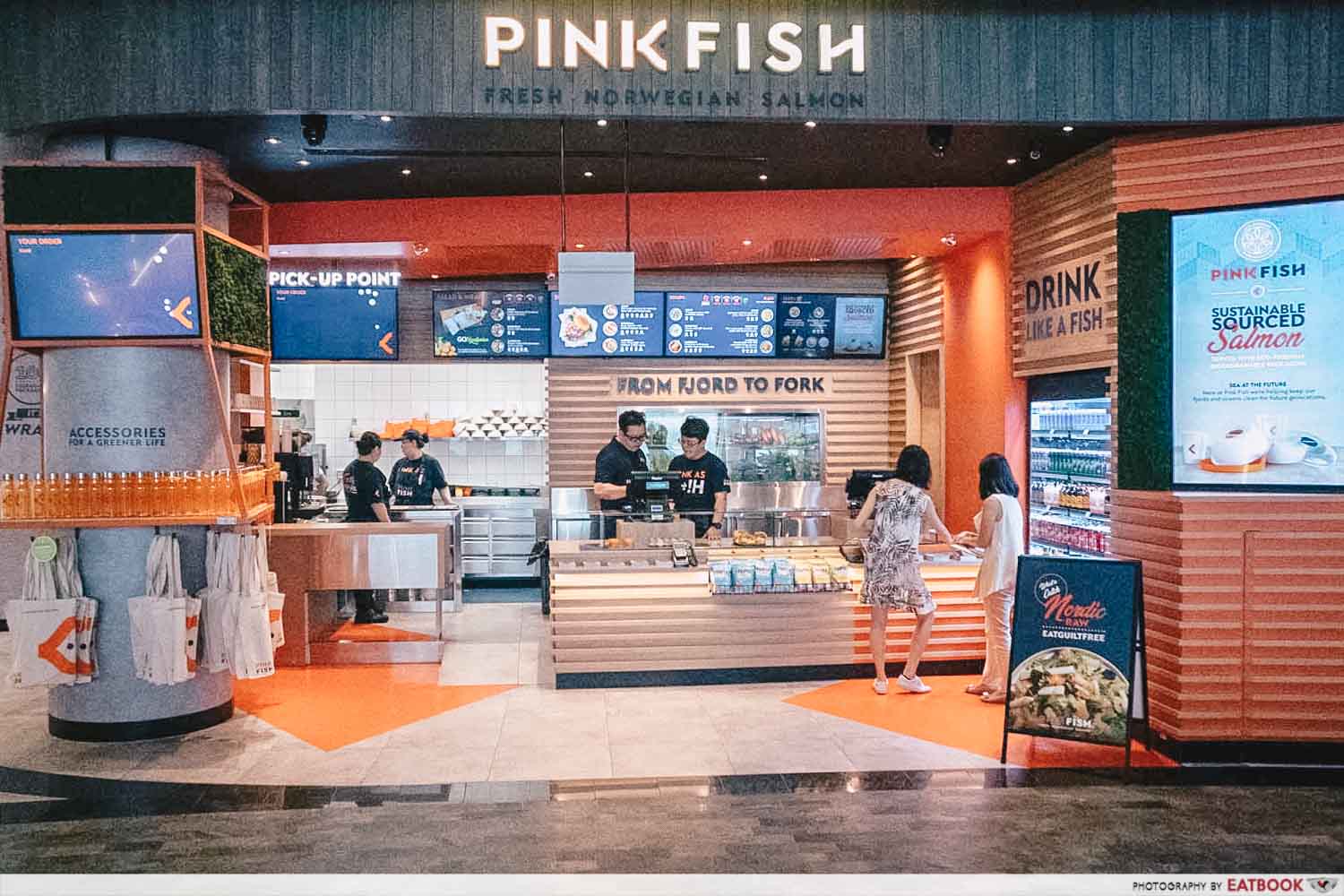 Mention Pink Fish to your friends and you'll probably receive puzzled stares. Few have heard of this seafood-centric fast food chain outside of Norway. Yet, this eatery has garnered numerous admirers for proving that fast food can be healthy as well.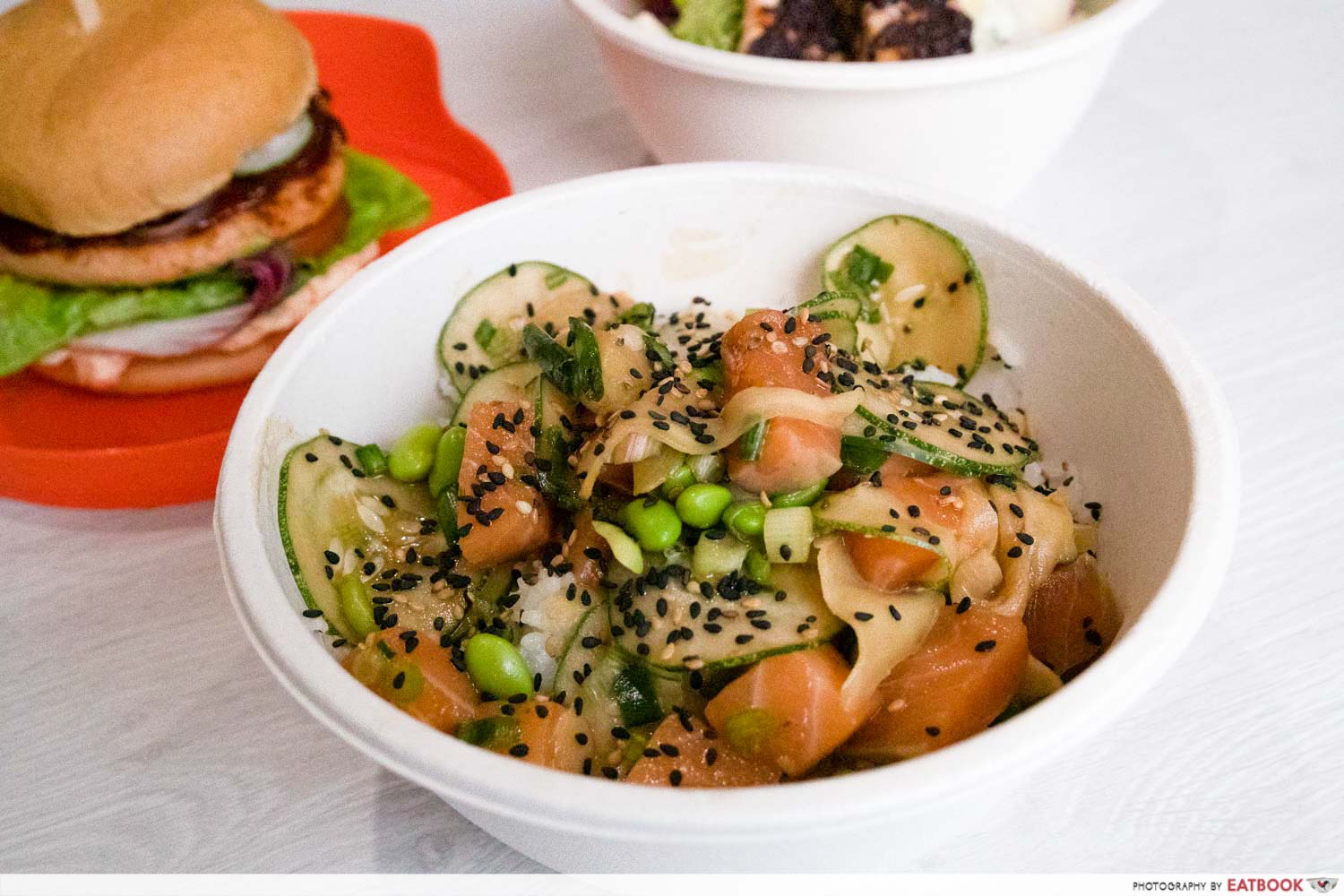 Drop by their flagship outlet at Jewel and marvel at the various salmon-based wraps, burgers, and soups. Also worth a shot is their Asian Raw (from $10.90). Raw salmon and sushi rice are a match made in heaven, but it's the sprinkle of yuzu that elevates the pairing with a refreshing zest.
Address: 78 Airport Boulevard, #B1-261/262, Jewel Changi Airport, Singapore 819642
Opening hours: Daily 10am to 10pm
Website
---
4. Zui Yu Xuan Teochew Cuisine
---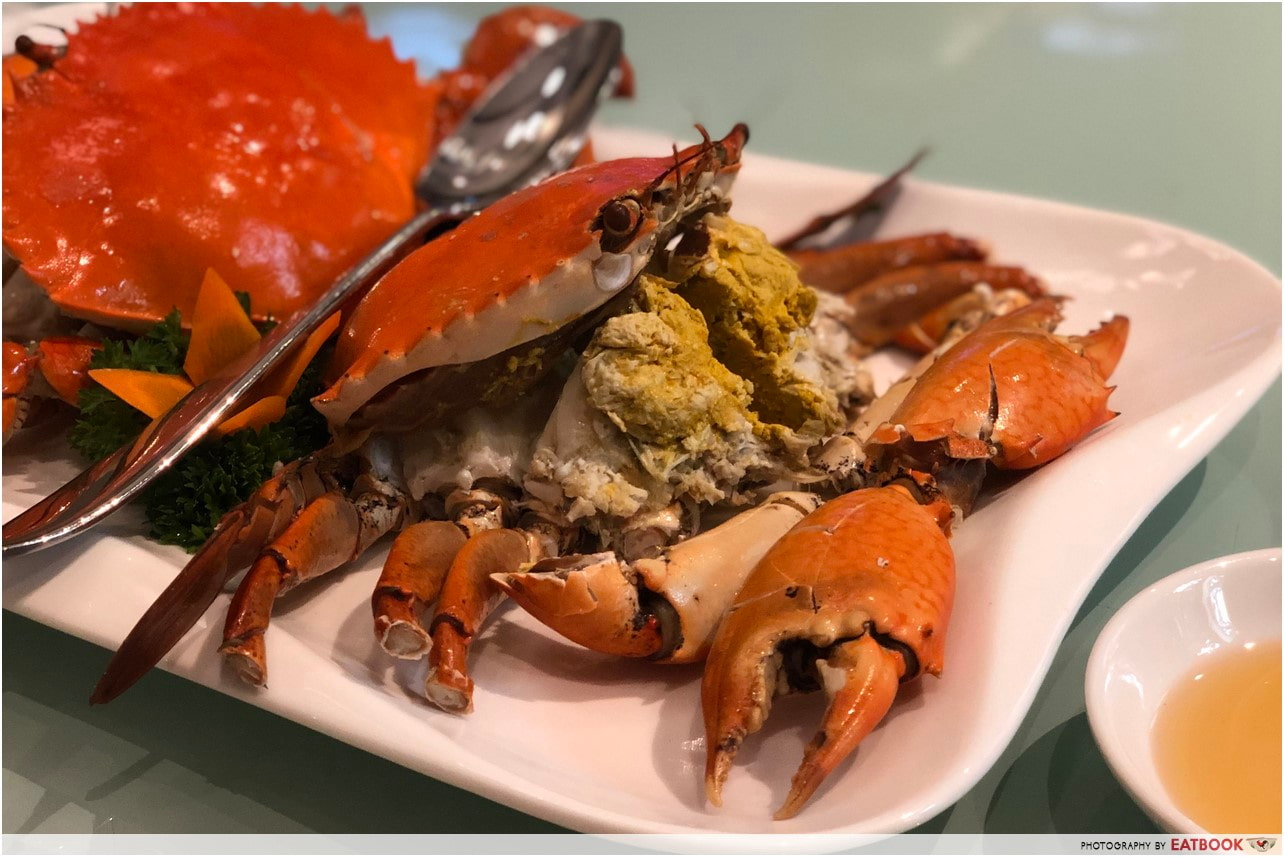 Specialising in Teochew food, Zui Yu Xuan Teochew Cuisine is a good place for formal family dinners. The dishes follow traditional Teochew recipes, and you'll be impressed with the quality of ingredients used. Start your meal with a Cold Crab ($12++ per 100g) that's filled with chunks of gold roe. If high cholesterol is a concern, go for some Deep Fried Ngoh Hiang ($13++) instead.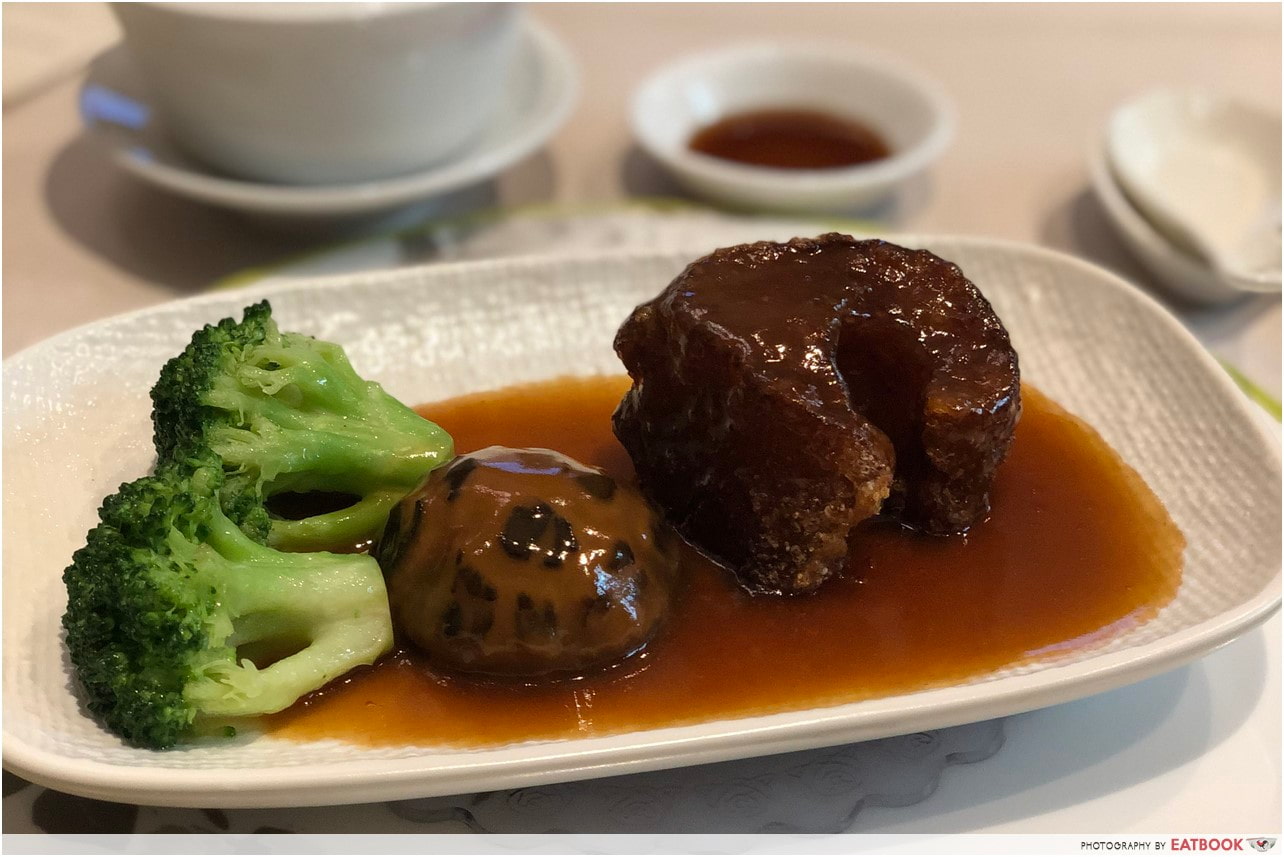 We highly recommend the Crispy Fried Sea Cucumber and Shiitake Mushroom with Abalone Sauce ($24++). Crispy on the outside and gooey inside, this fried dish has a unique mouthfeel. When combined with the abalone sauce, each mouthful gives a burst of savoury, umami flavour.
You can't miss out on orh nee at a Teochew restaurant. The Yam Paste with Pumpkin and Gingko Nuts ($5.20++) is made without pork lard, and comes with bits of pumpkin that brighten the sweet treat.
Address: 130/131 Amoy Street, Far East Square, Singapore 049959
Opening hours: Daily 11:30am to 3pm, 6pm to 11pm
Tel: 6788 3637
Website
---
5. Shang Social
---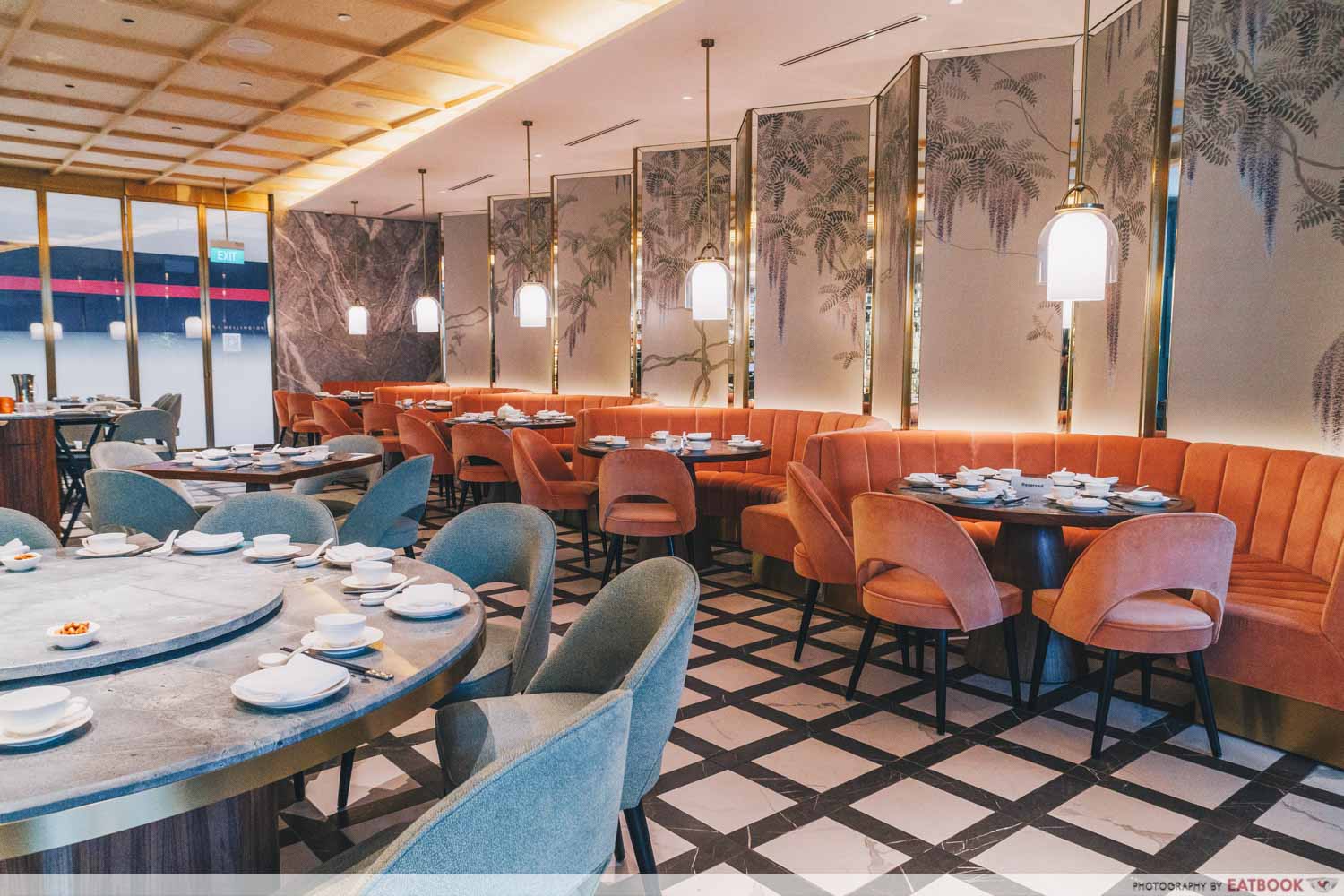 Shang Social is a swanky new restaurant at Jewel that offers traditional Chinese food. Opened by the Shangri-La group, you can expect some great quality here.
The restaurant is divided into three concepts: DINING for atas occasions, MRKT for casual meals and BAR for some booze. So this means it can be a one-stop venue for dates, affordable eats and drinks.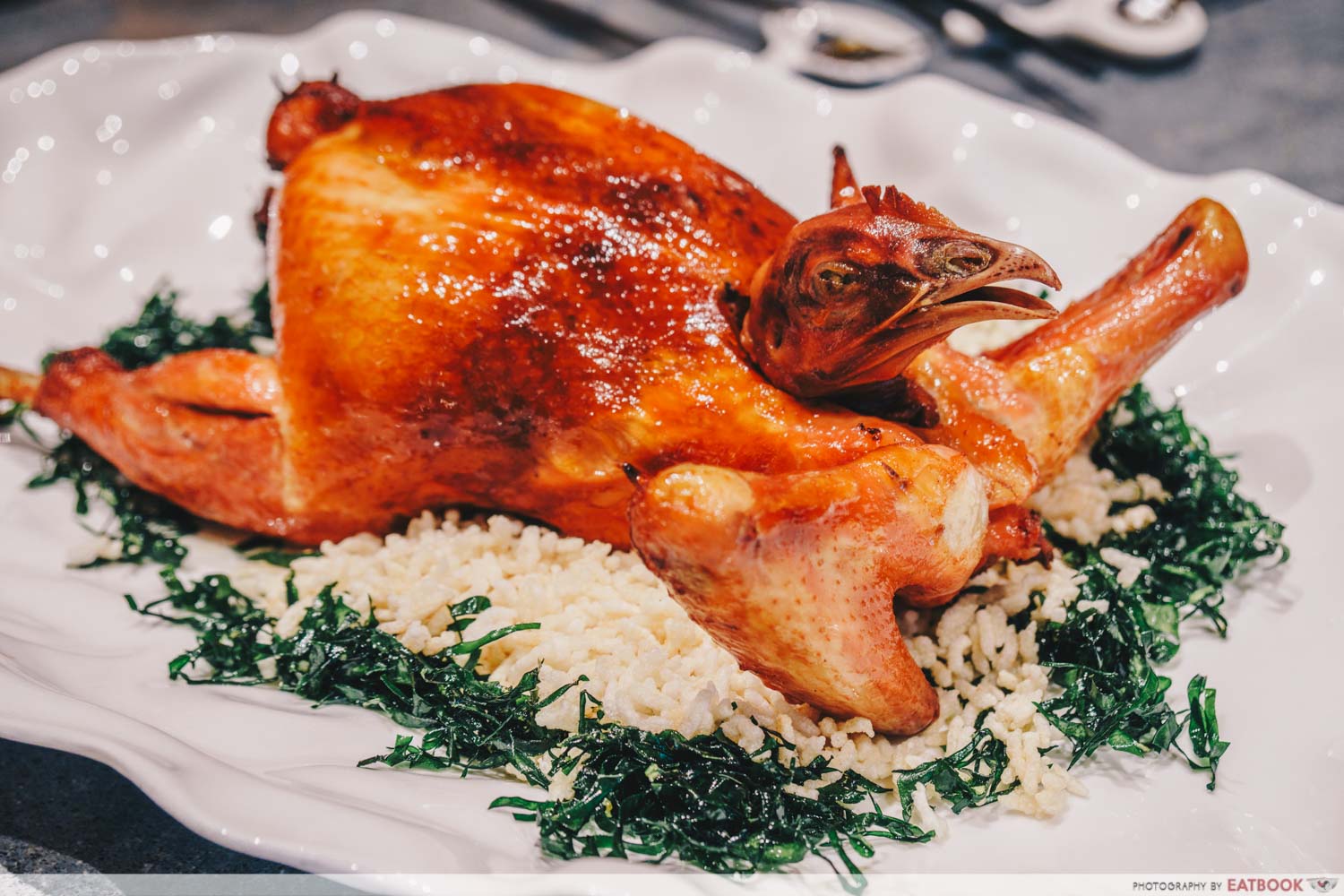 The DINING concept serves up a crispy Deep Fried Whole Boneless Chicken Filled with Glutinous Rice ($78++). Its flesh is supple and juicy, contrasting against the shatter-in-the-mouth chicken skin.
At MRKT, opt for the Bamboo Noodles with Dark Sauce & Lard ($6++) instead. Despite comprising only springy noodles tossed in dark sauce and lard, it's packed with loads of flavour.
Shang Social Review: Beautiful Chinese Restaurant Serving Lard-Filled Noodles And Pandan Cocktail At Jewel
Address: 78 Airport Boulevard, #01-219/220/221/222, Jewel Changi Airport, Singapore 819666
Opening hours: Daily 10am to 10pm
Website

---
6. OCD Cafe
---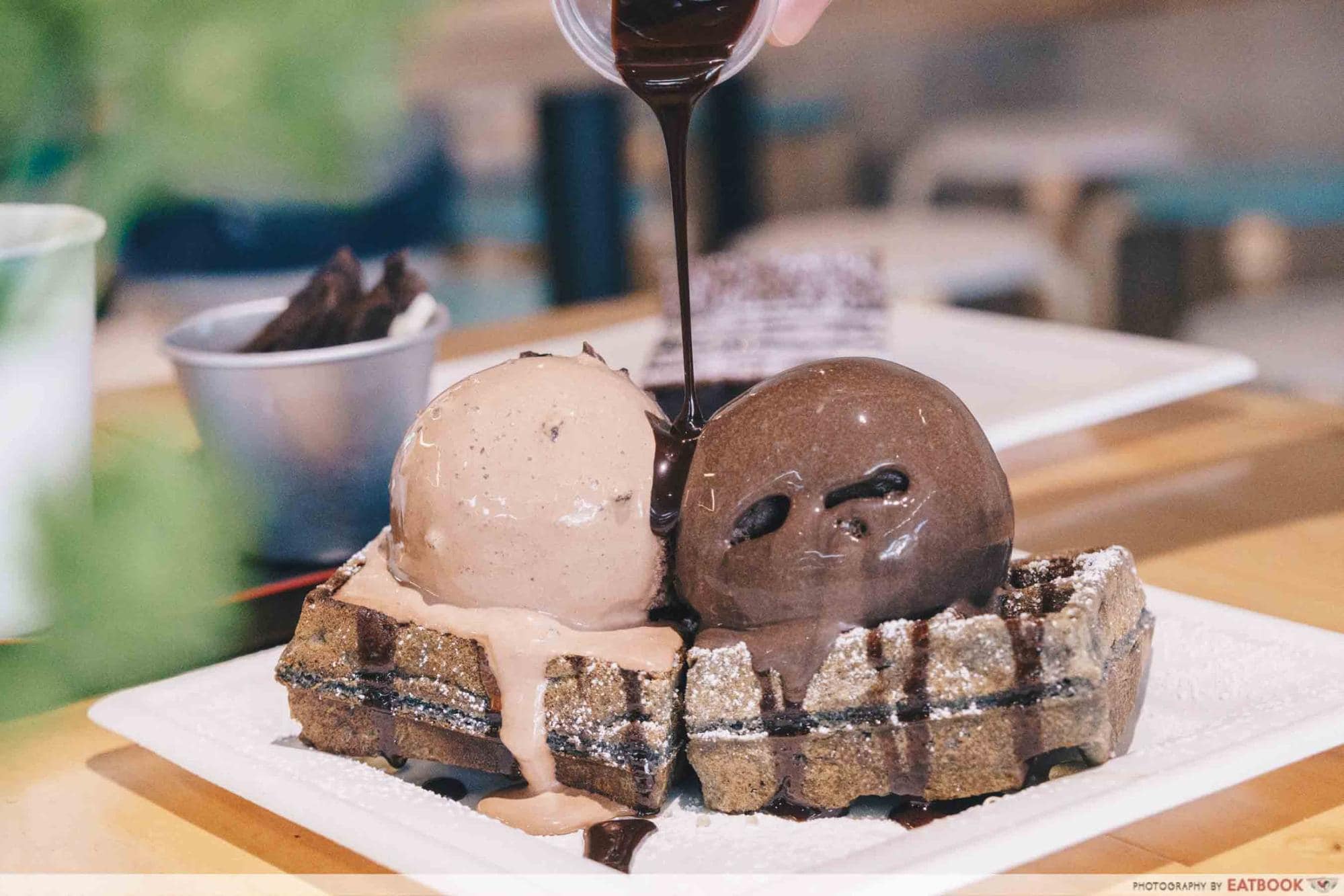 Satisfy your chocolate cravings at OCD (Obsessive Chocolat Desire) Cafe and cool down from the heat with their Africa 85% Dark ($3.60) ice-cream. Despite the high cacao content, it isn't overpoweringly bitter and surprises you with fruity hints instead.
For a more filling treat, get their ice-cream with the Sesame Waffles ($4). Their nutty taste adds a layer of savouriness to the dark ice-cream.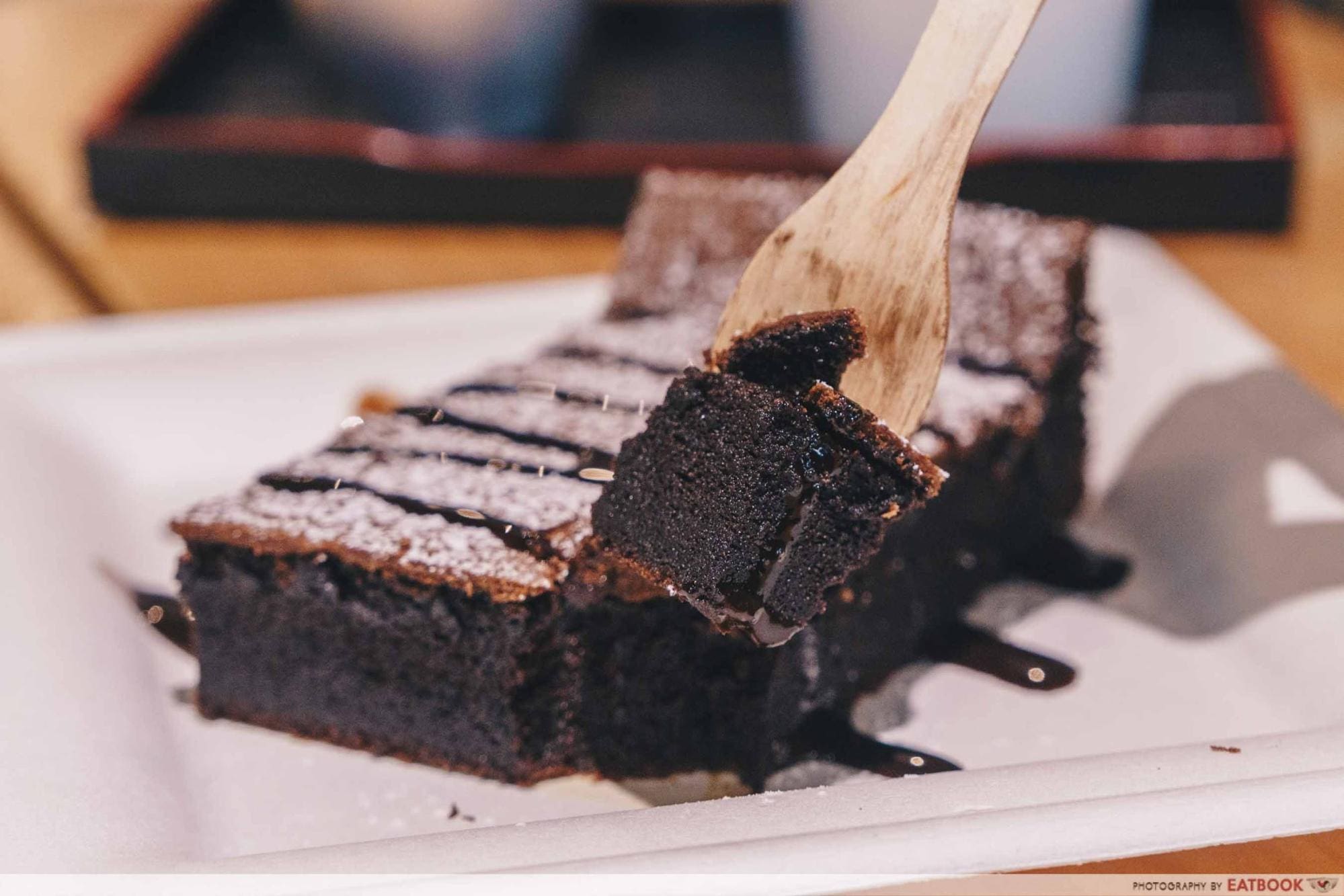 For those searching for the stairway to chocolate heaven, give the Gateau Au Chocolat ($5/$12) a try. Word of caution though, it can be pretty jelak for even the most die-hard chocoholic. Best to share this sinful treat with a friend!
Address: 529 Ang Mo Kio Avenue 10, #01-2353, Singapore 560529
Opening hours: Mon-Thur 12pm to 10pm, Fri-Sat 12pm to 1am, Sun 2pm to 10pm
Website
---
7. Cafe De Nicole's Flower
---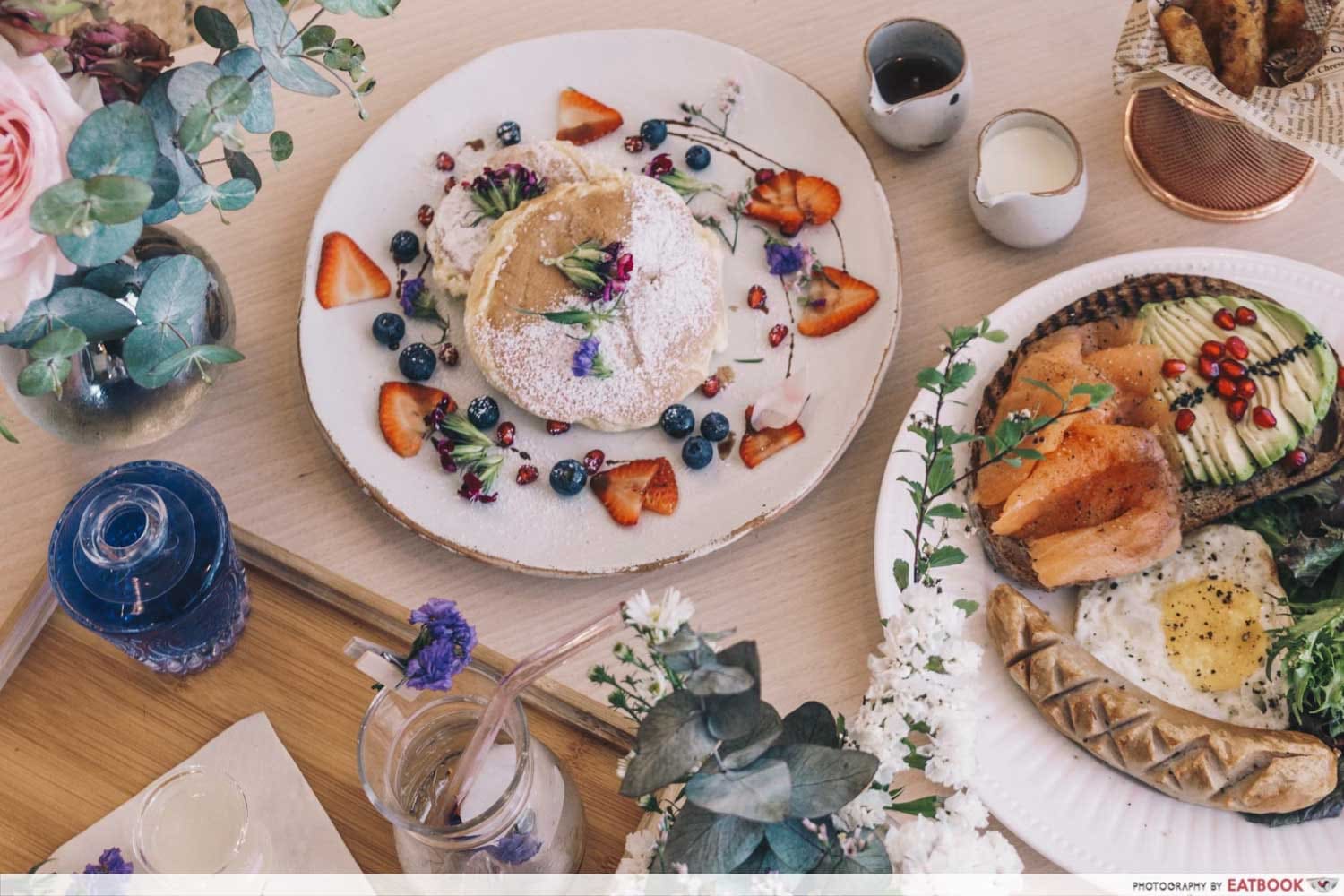 Hidden within rows of private apartments, Cafe De Nicole's Flower is a floral-themed cafe which wows you with #aesthetic desserts. Accompanied by a colourful assortment of fruits and adorned with dried flowers, their Souffle Pancakes ($19.90+) is a work of art. Drizzle maple syrup and buttermilk on the cakes and enjoy the dance of honeyed and creamy flavours on your tongue.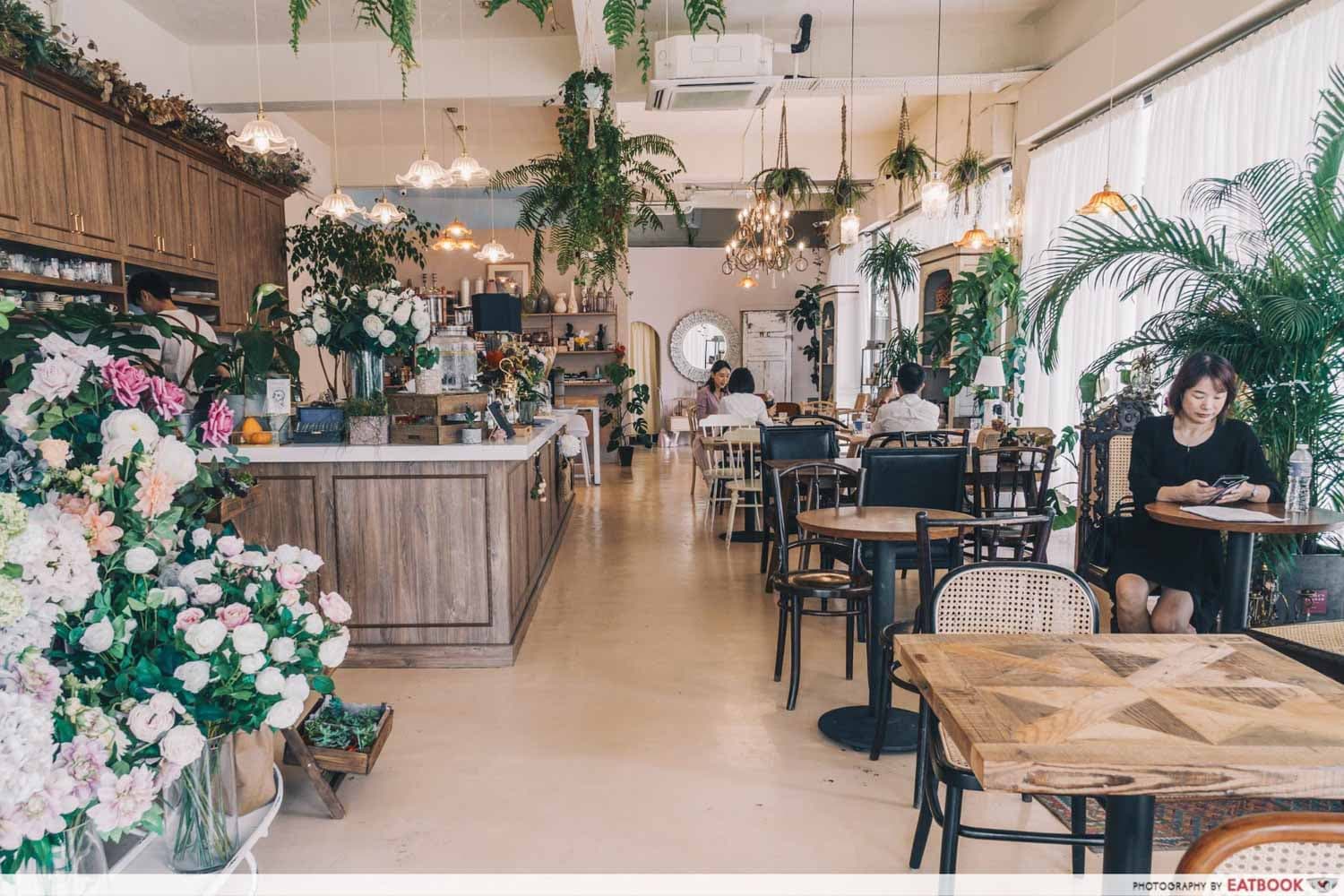 The gorgeous ambience is worth an excursion to this ulu cafe in East Coast as well. Spruced up with a litany of flowers and air plants, the place is like a secret garden for you to relax and find some me-time. Don't forget to take photos of their adorable cat, Lao Ban.
Cafe De Nicole's Flower Review: Beautiful Floral-Themed Cafe Serving Equally Gorgeous Brunch Food
Address: 224 Telok Kurau Road, #01-01, Singapore 423836
Opening hours: Tue-Sun 8:30am to 8:30pm
Website
---
8. Shan Pin Steamboat
---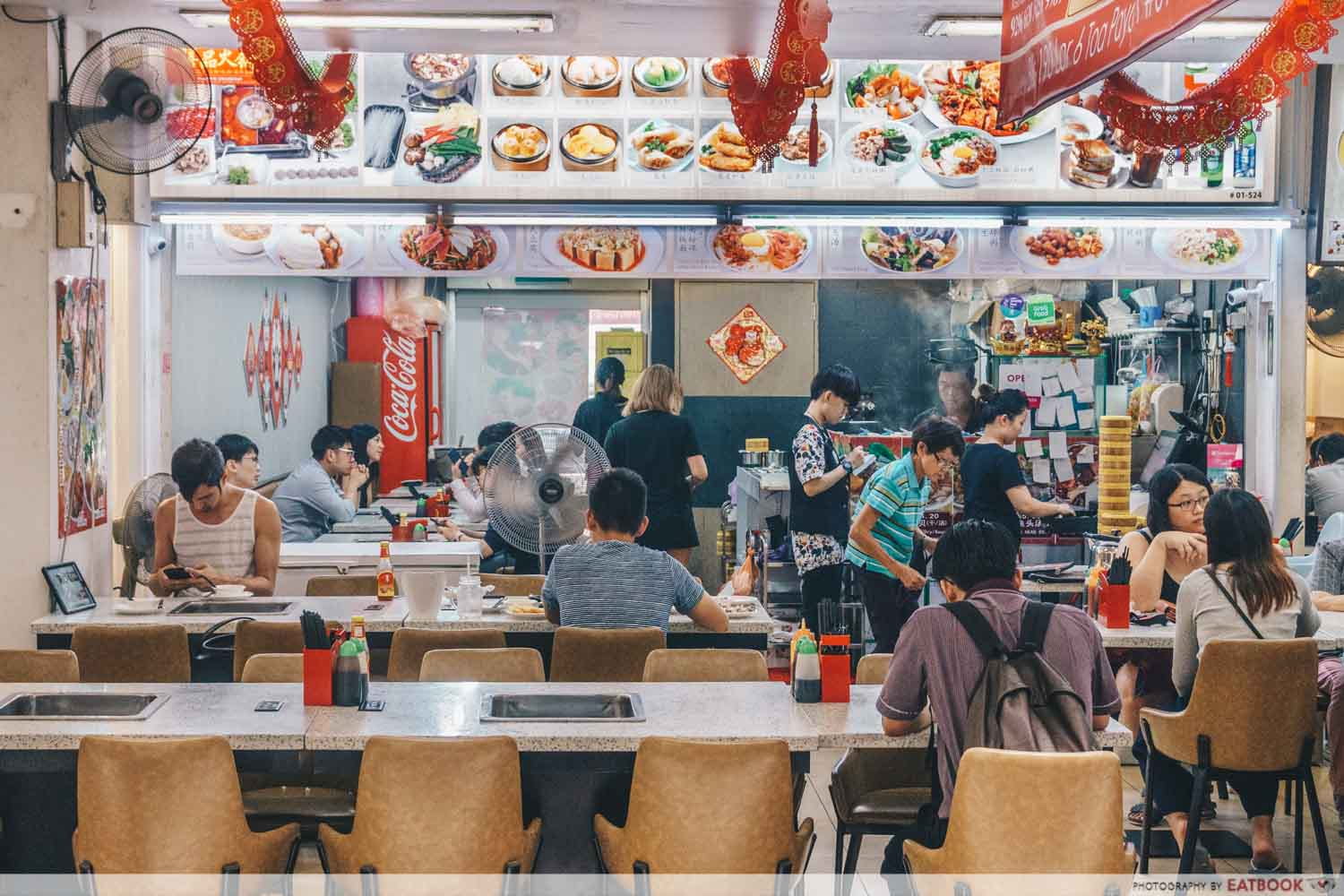 Shan Pin Steamboat might not have the theatrics and service of Hai Di Lao, but their affordable all-you-can-eat hot pot buffet ($19.80) is worth the trip.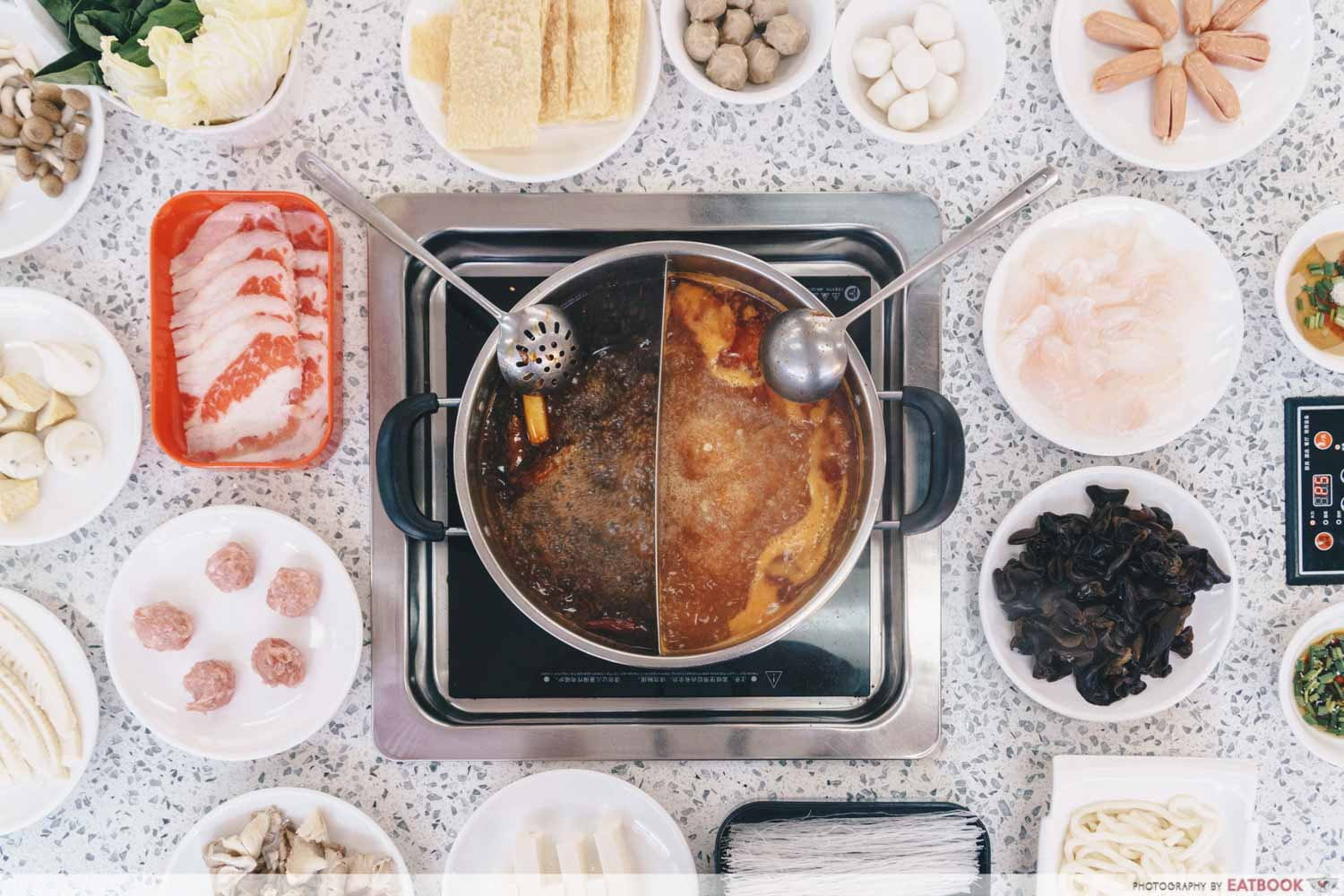 They have six robust house-made soup bases, of which we tried the fiery ma la and subtly sweet tomato variants. The spicier broth was great for cooking meat, such as pork belly, lamb and beef, while its mellower partner was pleasant for cooking vegetables. Don't forget to let your inner mad scientist loose at their sauce counter, which lets you craft your own formula from up to 20 sauces.
Shan Pin Steamboat Review: $19.80 Hai Di Lao-Style Buffet With DIY Sauce Bar At Toa Payoh
Address: 190 Lorong 6 Toa Payoh, #01-524, Singapore 310190
Opening hours: Daily 11am to 12am
Tel: 6258 9989
Website
---
9. You Kee XO Restaurant
---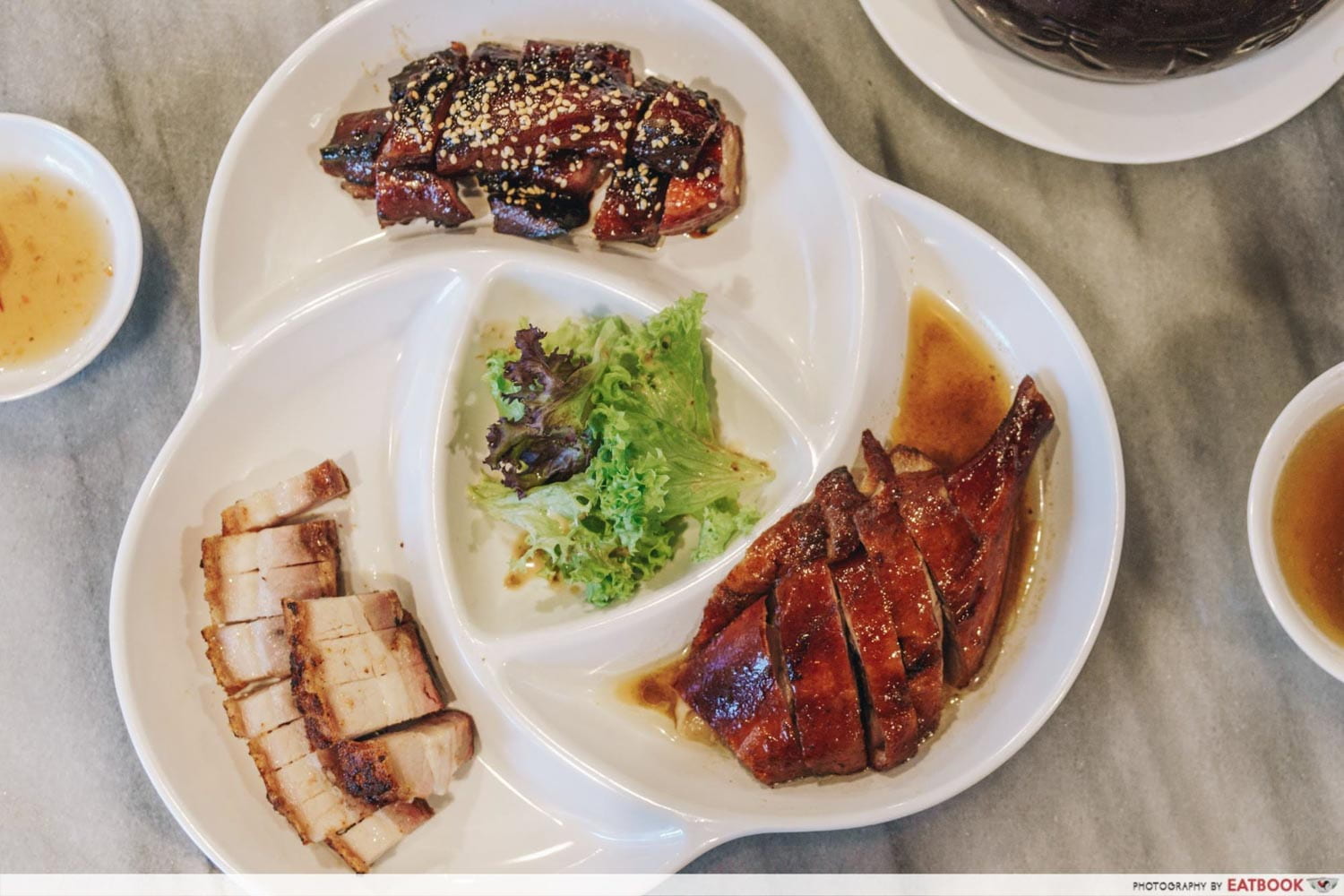 One of the ultra-popular eateries in JB's KSL City, You Kee XO Restaurant has opened its first overseas outlet in Joo Chiat! Make a beeline for their calorific Crystal BBQ Pork Belly Char Siu ($9.80). Clothed in a honeyed sauce, the meat unfurls in a medley of sweet and buttery flavours.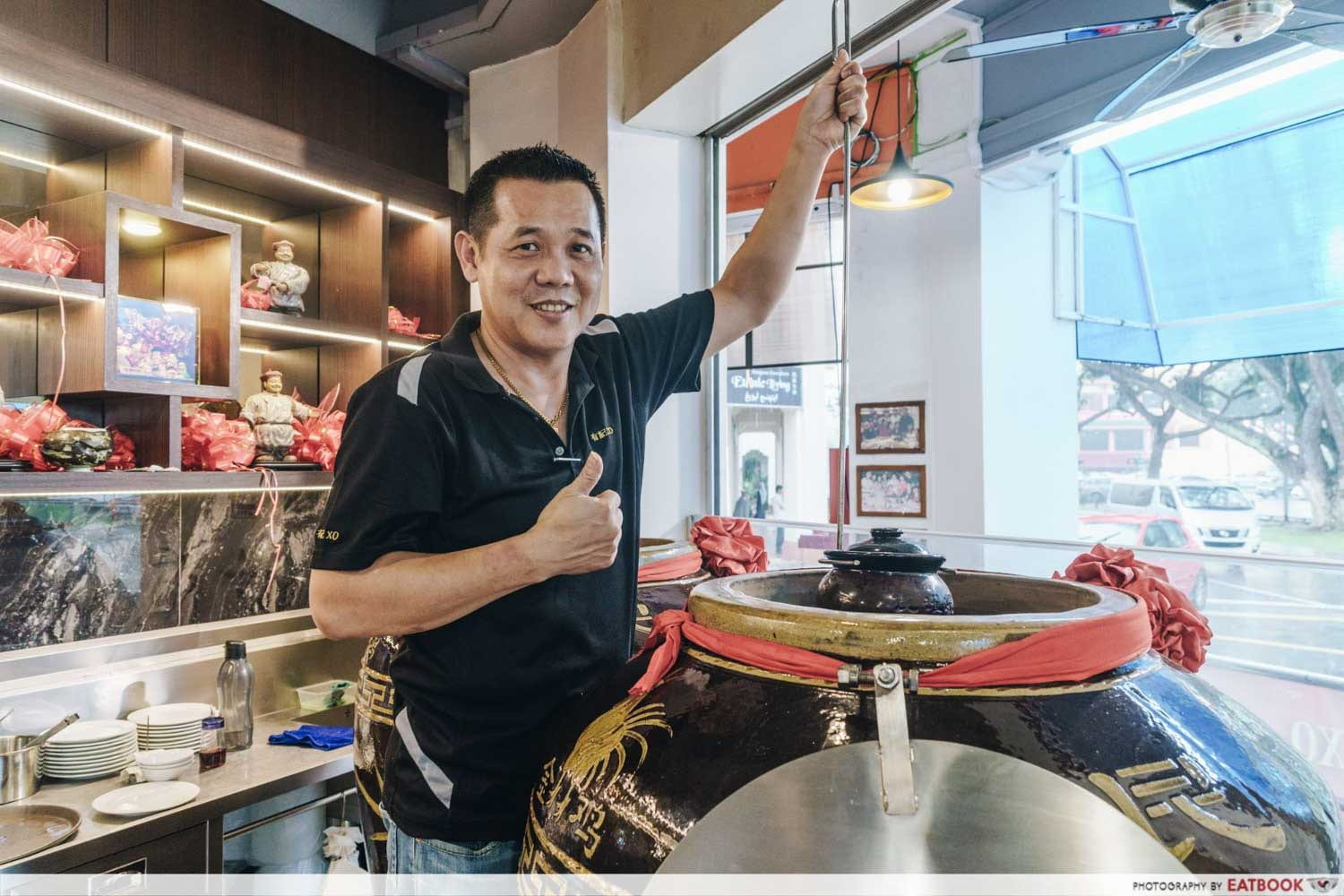 The other instantly identifiable feature here is their giant ceramic urn, which is used to charcoal boil their Soup Of The Day ($12) for more than 15 hours. As their herbal broths are rotated daily, you can always try something different when you visit.
Address: 43 Joo Chiat Place, Singapore 427767
Opening hours: Mon-Fri 10:30am to 3pm, 5pm to 9pm, Sat-Sun 10:30am to 9pm
Tel: 6214 9891
Website
---
10. Kind Kones
---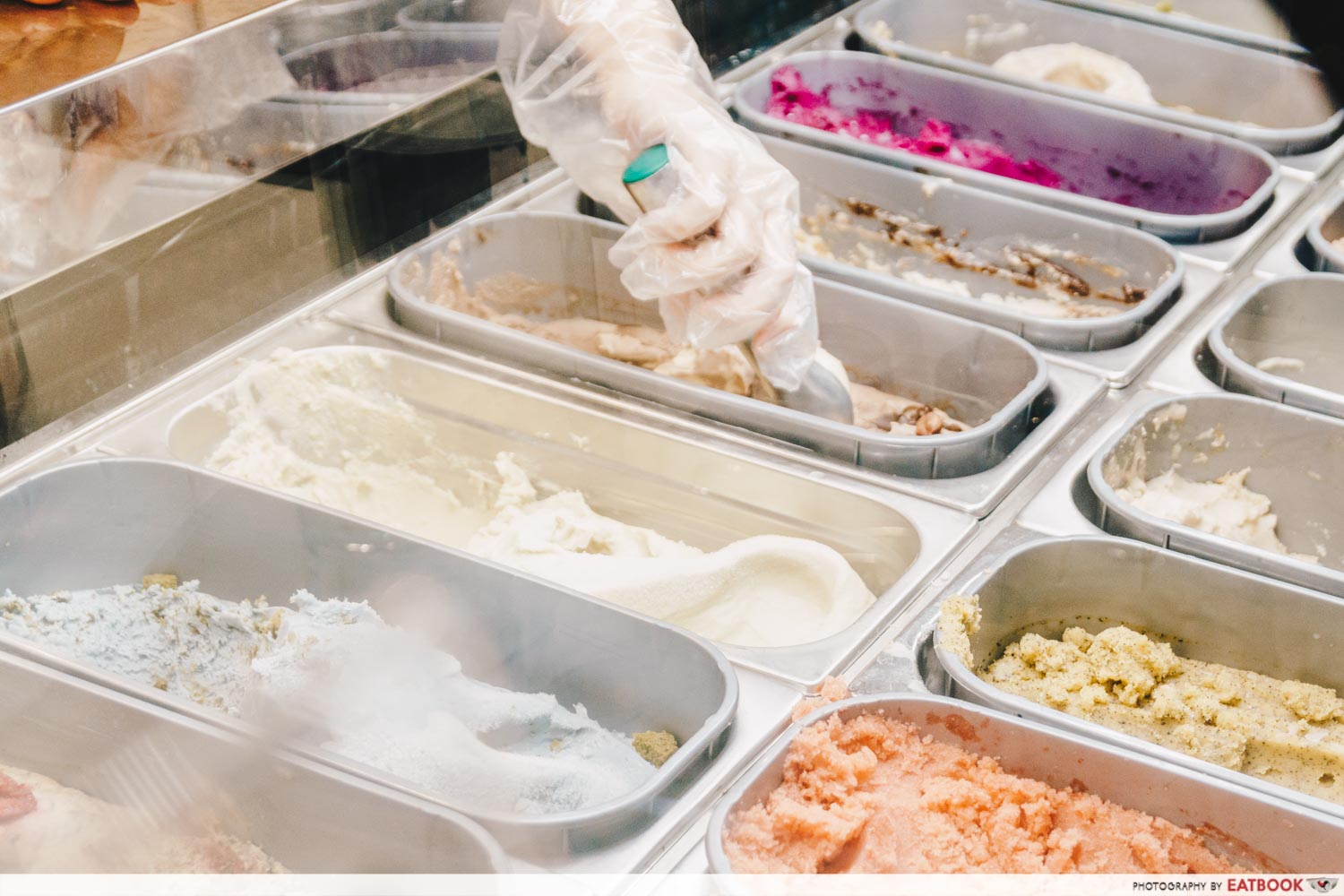 After opening five successful outlets in Malaysia, vegan ice-cream venture Kind Kones has set foot onto Singapore, launching its flagship branch at Forum. Made with a blend of nut milk and ingredients like flax seeds, we were stunned by how they managed to bring out such rich flavours in their ice-cream (from $4.90) without the use of dairy. Without prior knowledge, you'd be hard-pressed to distinguish this from regular gelato.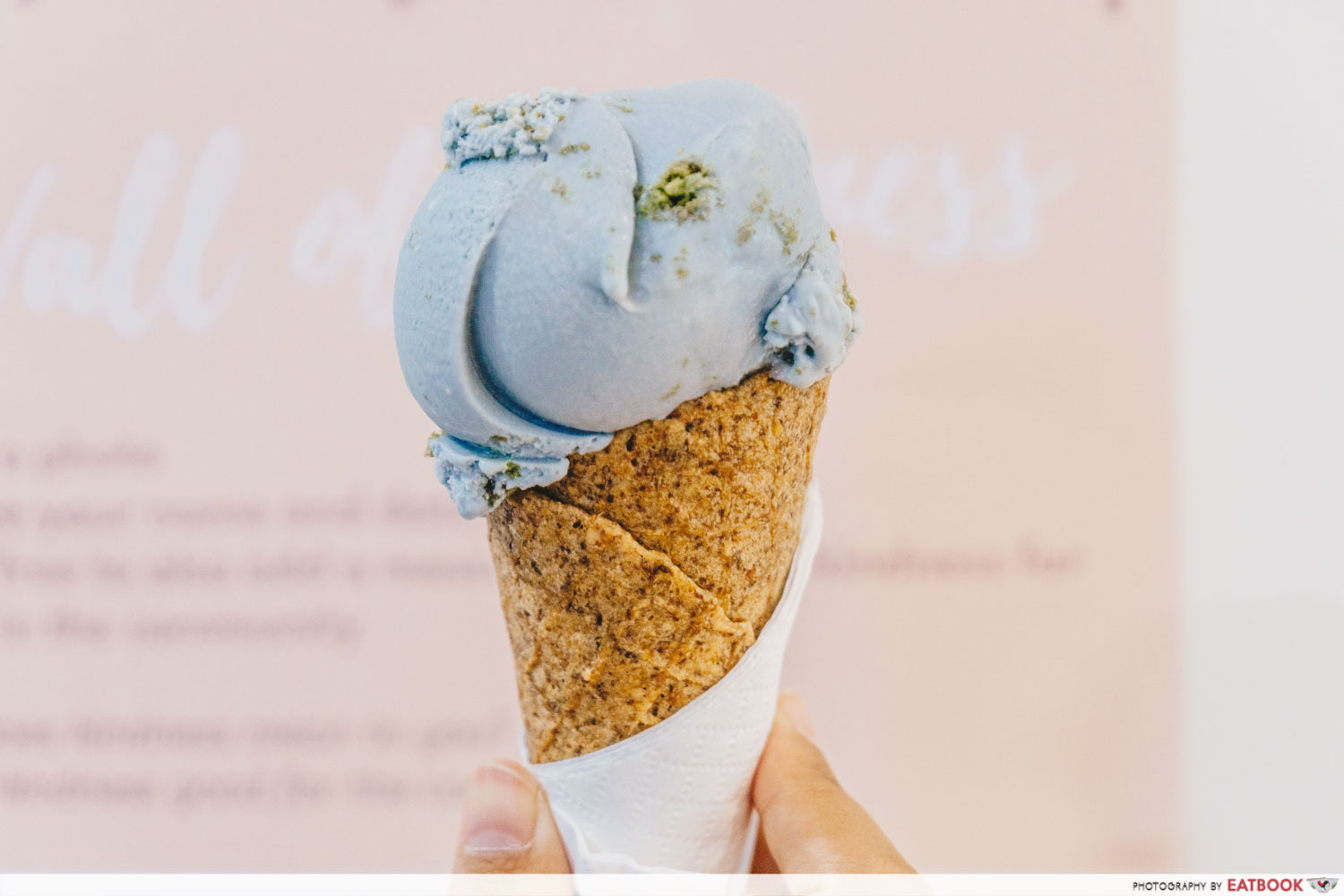 Flavour-wise, they've got more than just the standard vanilla, chocolate and strawberry. A rotating array of unique flavours is available, such as the matcha cake-studded Blue Planet and refreshing Dragonfruit Banana Sorbet. This innovation also extends to their Flourless Gluten-Free Cones ($1), which are made with almond flour for a subtly nutty flavour.
Address: 583 Orchard Road, #B1-27, Forum The Shopping Mall, Singapore 238884
Opening hours: Daily 10am to 10pm
Tel: 9687 8413
Website
---
11. Homeground Grill & Bar
---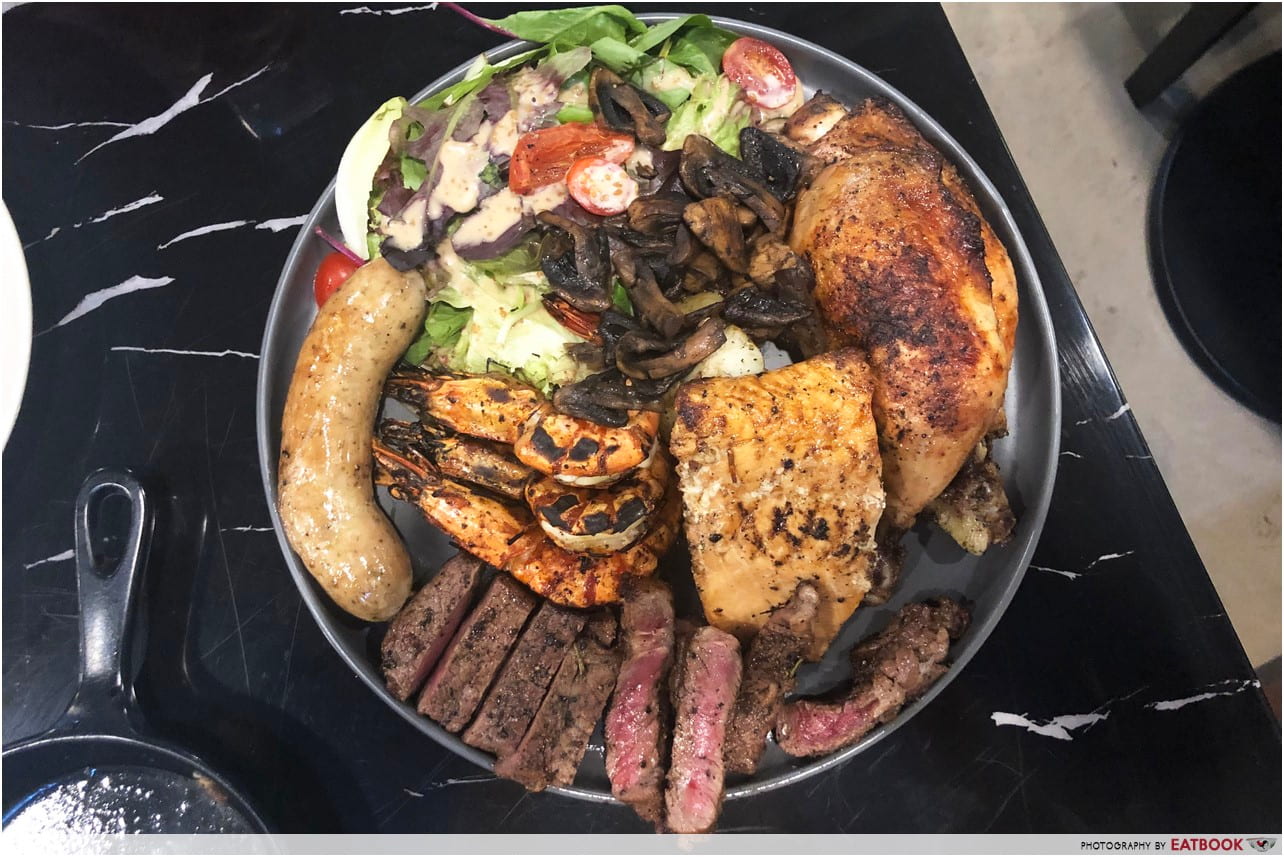 With its chic cafe-like vibe, Homeground Grill & Bar is the place to chill at after a long day's work. The food is great too. The Homeground Mixed Platter ($72+) comes with salmon, steak, prawns, chicken, salad, mushrooms and a sausage. The meats are all grilled over charcoal, and the two that stood out were the salmon and steak.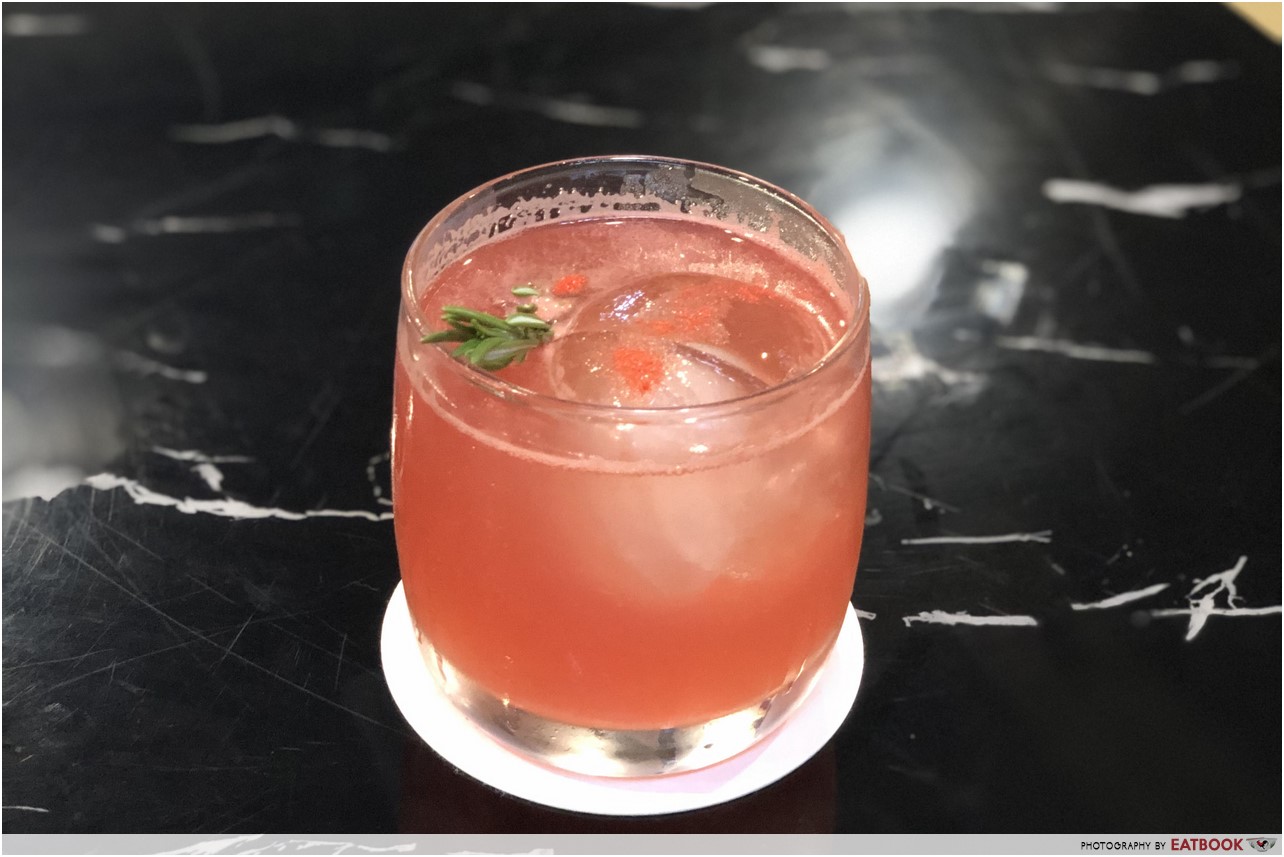 Their drinks are not to be missed too. Their Moondust ($16+) is a refreshing and balanced concoction of watermelon, lychee and vodka. For something slightly stronger, try their Smoky Bastard ($17+). This mix of rum, apple and tonic water is smoked with cinnamon, and pairs well with their meats. Keep an eye out for their Happy Hour promotions on Tuesdays, Wednesdays and Thursdays, where you can get two glasses of booze from $16+!
Address: 1088 Serangoon Road, Singapore 328188
Opening hours: Tue-Fri 6pm to 12am, Sat-Sun 1pm to 12am
Tel: 8774 9278
Website
---
12. Burger & Lobster
---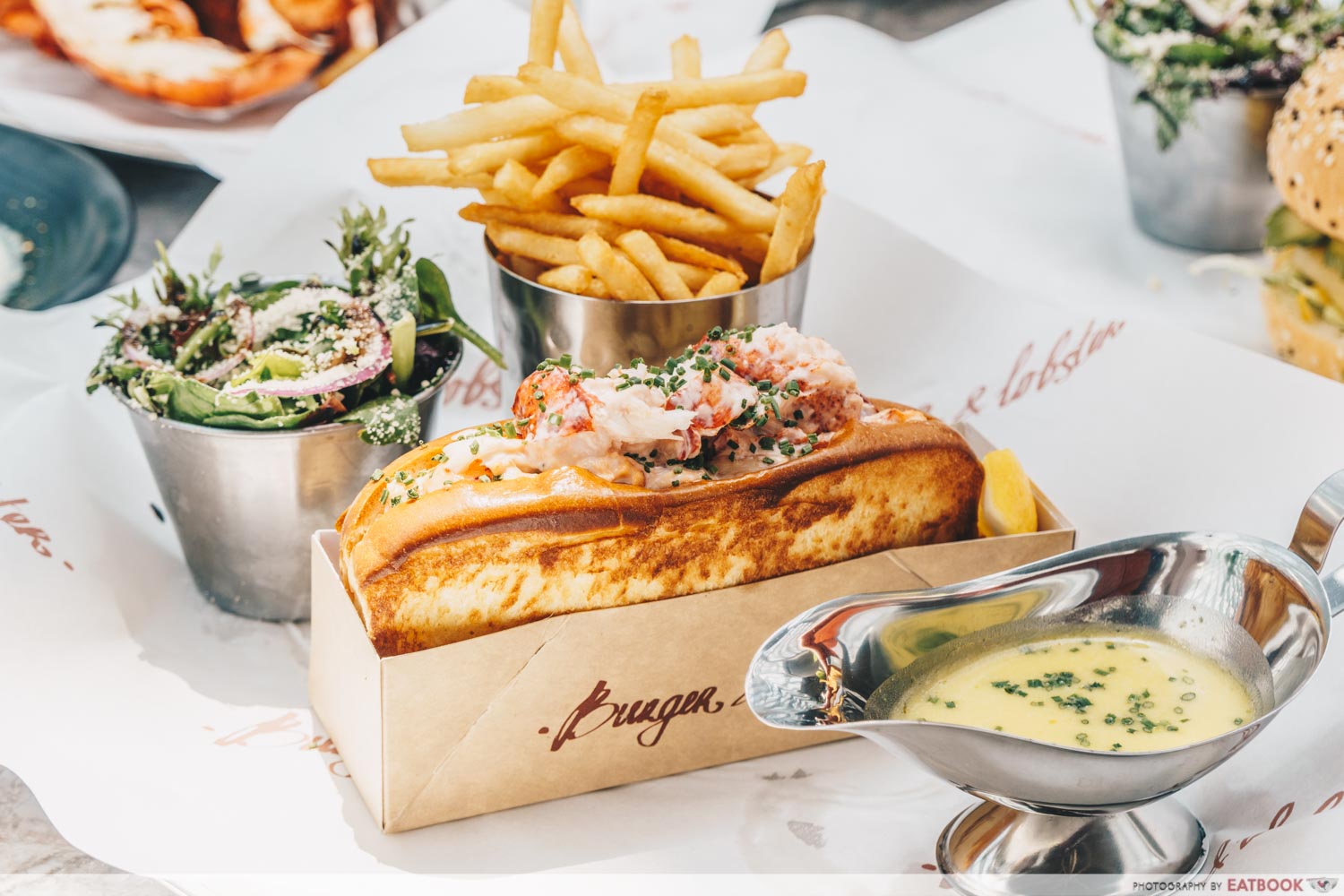 Adding to the list of popular eateries in Jewel Changi Airport is London's famed Burger & Lobster. Out of their menu or beef burgers, lobsters, and desserts, the number one must-try is the Original Roll ($40++). This bad boy is stuffed with plump morsels of chilled lobster, coated with a thin but rich Japanese mayo sauce.
Other notable mentions would be the Sambal Glazed Lobster ($65++) and The Mayfair ($25++). The former is a Jewel-exclusive, featuring a 680-gram lobster drenched in a spicy and fragrant sambal sauce, and the latter is a Nebraskan patty burger that's an alternative for those who've had enough of lobsters.
Burger & Lobster Review: Famous London Restaurant Opens With Lobster Rolls And Sambal Lobsters
Address: 78 Airport Boulevard, #05-203, Jewel Changi Airport, Singapore 819666
Opening hours: Daily 9am to 3am
Website
---
Bonus 1: Les Bouchons Rive Gauche
---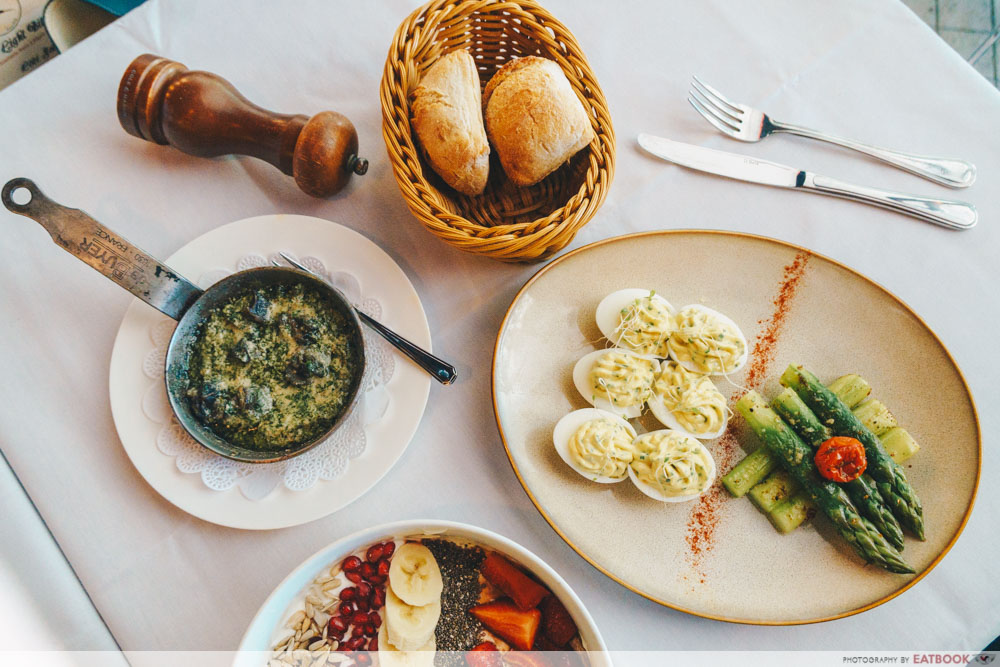 Les Bouchons Rive Gauche celebrates Sunday brunch with their all-new Bouchons Riviera Brunch menu. Light, refreshing, yet extremely indulging, the Riviera Wellness Bowl ($18++) comprises granola, honey yoghurt, goji berries, bananas, strawberries and chia seeds. It's unlike any boring ol' health bowl, with tart and sweet flavours greeting you at every bite. The portion is huge though, so share this with your mate.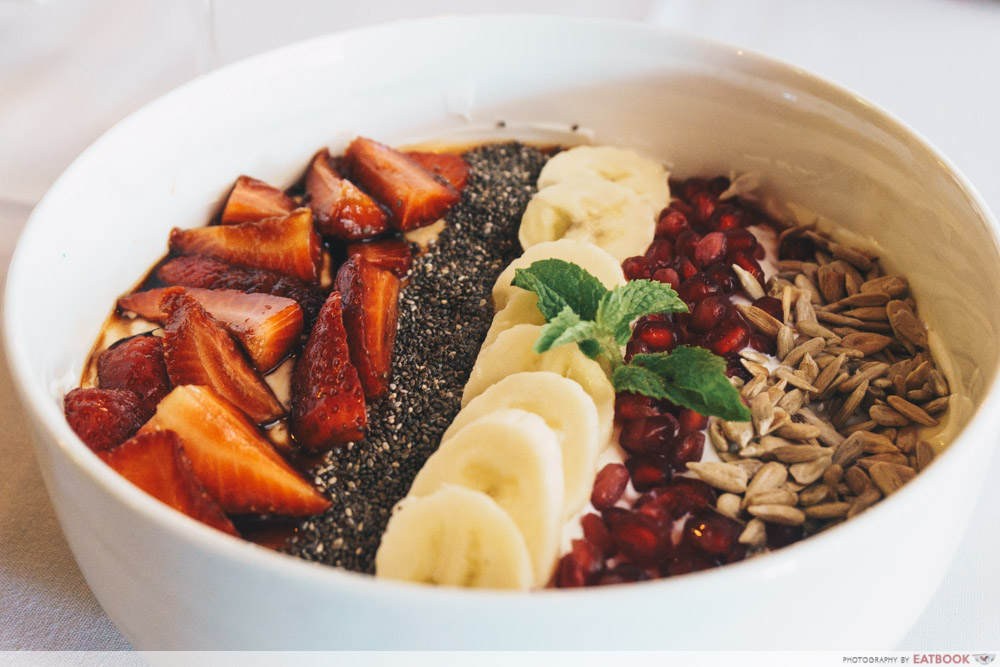 Skip the Bloody Marys and order the Bouchons Hangover Cure ($24++). The hearty sourdough sandwich features scrambled eggs with truffle oil, sautéed porcini mushrooms, and Impossible meatballs. It's vegetarian-friendly, but you won't realise that as you're wiping your plate clean.
Address: 60 Robertson Quay, #01-02, Singapore 238252
Brunch hours: Sun 11:30am to 3:30pm
Tel: 6733 4414
---
Bonus 2: Sun with Moon
---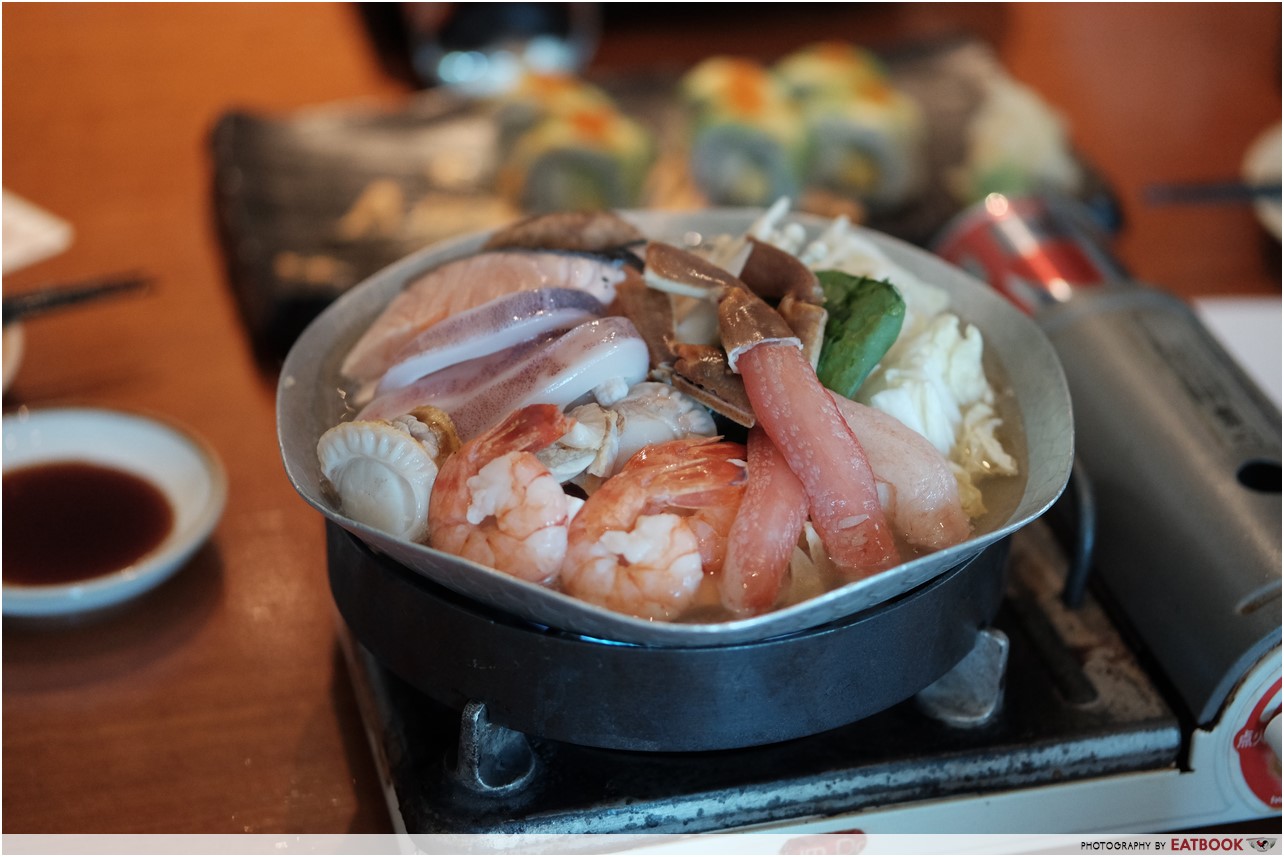 Sun with Moon is no stranger to most of us, and they've recently launched some new dishes that are worth a try. One of them is the Premium Kaisen Mix Nabe Set ($34.80++), which includes a combination of seafood including snow crab legs and scallops. There are four soup bases to choose from, namely Sukiyaki, Wafu, Pirikara Miso and Thick Miso. Go for Pirikara Miso if you want something slightly spicy. This reddish soup offers a slight kick without overpowering the natural taste of the other ingredients.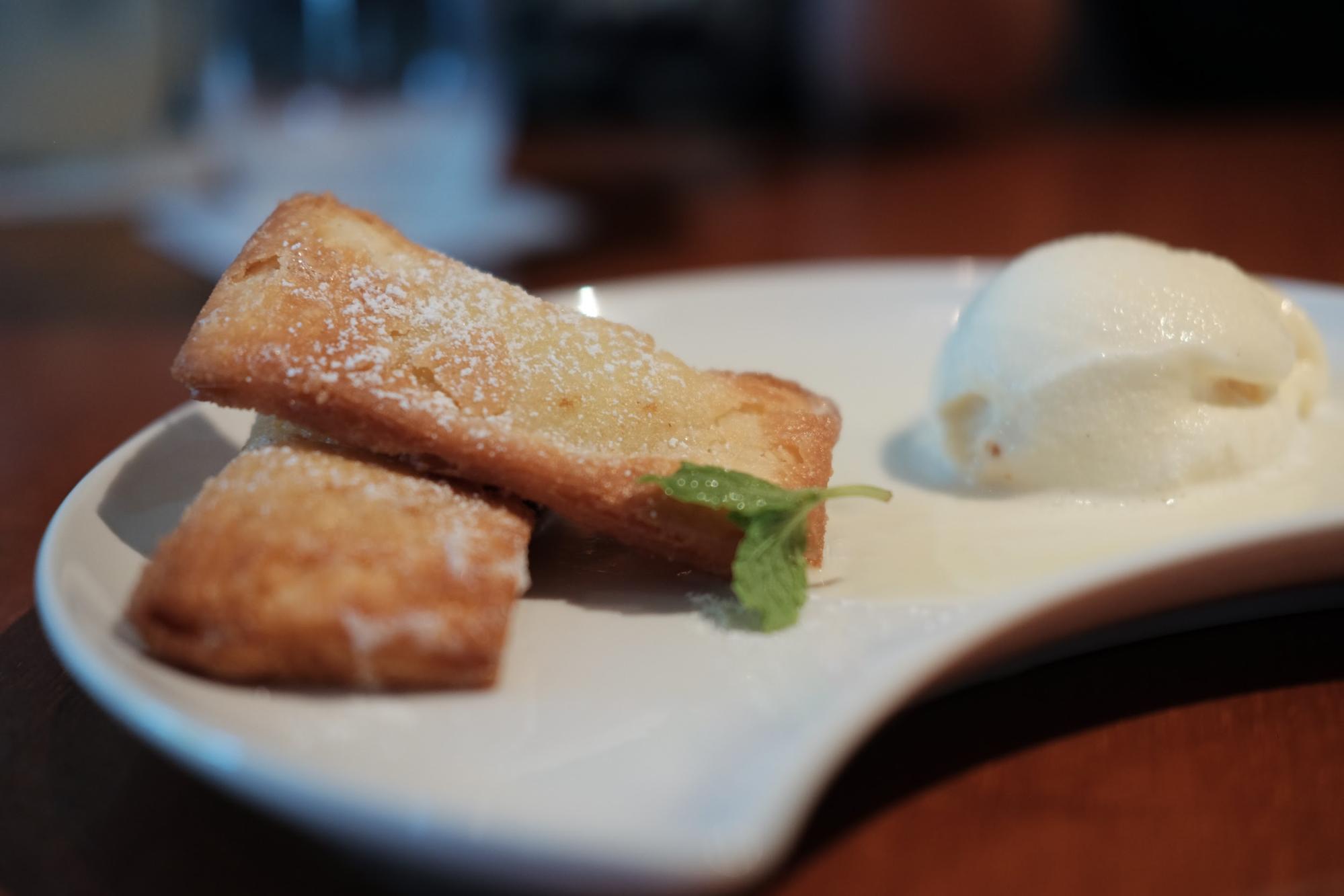 A surprisingly yummy dessert is their Crispy Fried Apple Pie ($8.80++). While it doesn't look like much, the crumbly crust was delightfully buttery and complemented the sweet cinnamon apple filling.    
Address: 501 Orchard Road, #03-15, Wheelock Place, Singapore 238880
Opening hours: Sun-Thur 11:30am to 10pm, Fri-Sat 11:30am to 10:30pm
Tel: 6733 6636
Website
---
Time for a holiday
---
June is the month of school holidays. It's a month to unwind and enjoy the simple pleasures in life –  like food. From atas Chinese food at Shang Social to beautiful cafe fare in Cafe de Nicole's Flower, there's def' a new place this June to suit everyone's taste.
Hey, there's even a Takashimaya Food Fiesta where famous BBT brand Xing Fu Tang will be having a pop-up!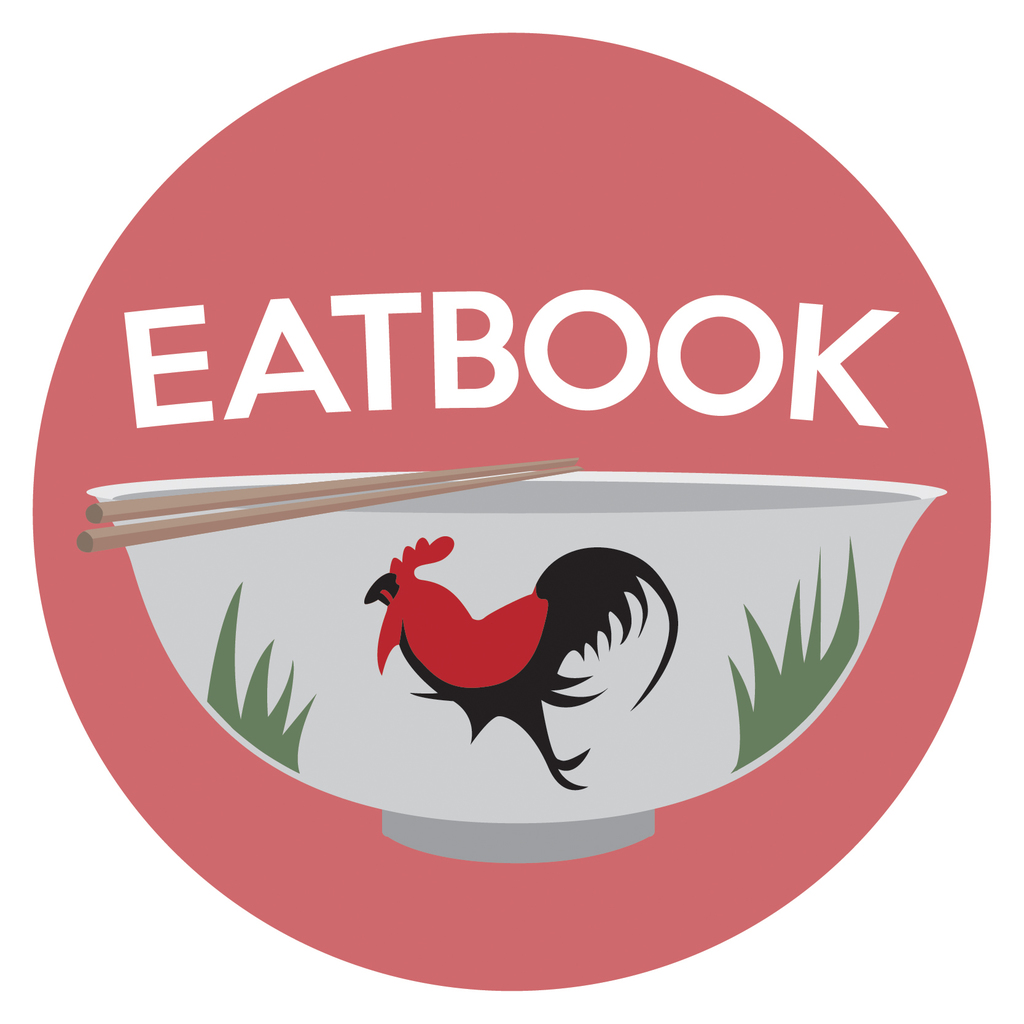 Drop us your email so you won't miss the latest news.