---
New restaurants to visit in March 2019
---
It's possible to not eat at the same place twice if you live in Singapore. Afterall, there are plenty of new restaurants popping up each month. Whether it's a casual Italian joint pushing out fusion creations or a hidden dessert gem in Jurong, there's literally something opening up at all corners of our little red dot. Here are 10 new restaurants you have to check out in March 2019!
---
1. Lee's Confectionery
---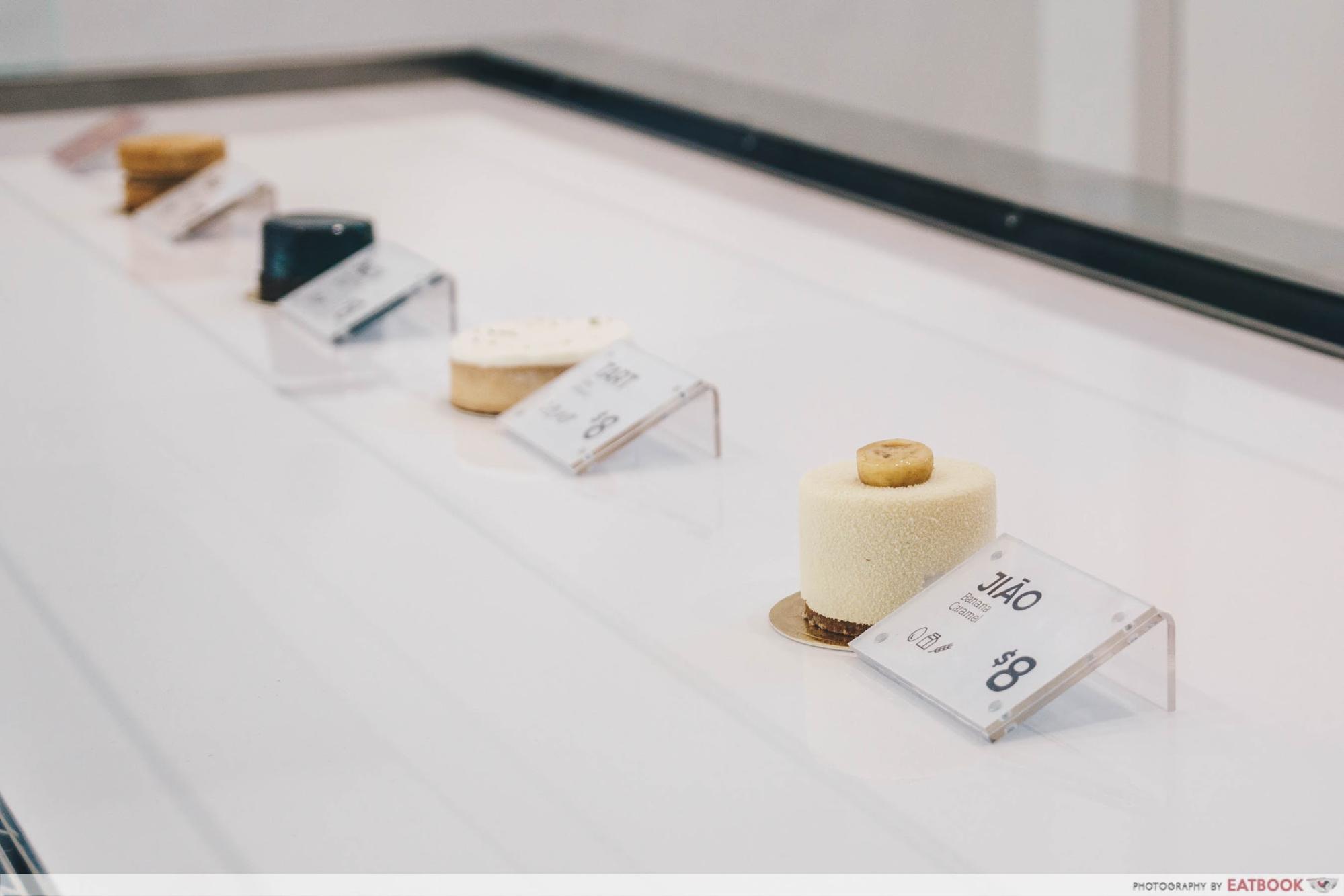 Lee's Confectionery brings French haute pastry to Jurong West with their unique and intricate pastries. Inspired by his experiences working for award-winning pastry purveyors in Paris, Lee Yin Quan showcases attention to detail and creativity in each cake. He makes them upon receiving an order, rather than sliding them out of a display case, to ensure freshness and the result is quality that shines.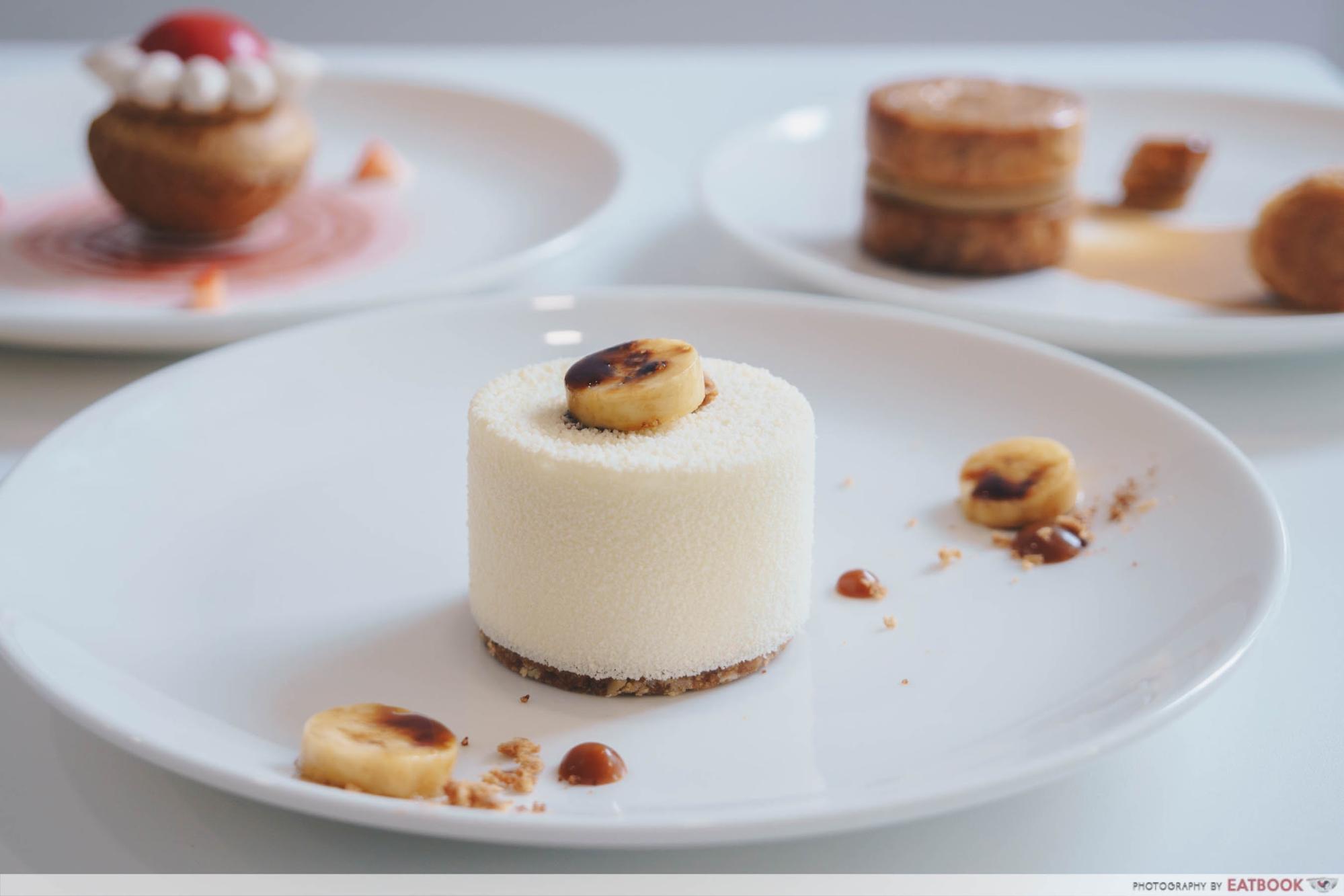 Jiāo ($8) is an extravaganza of banana flavour, comprising banana sponge injected with banana compote and mascarpone, seated on an oatmeal crust and sprayed with a film of white chocolate. Its fantastic balance of flavours floored us. Puff ($7) features Earl Grey-infused kaya sandwiched between crisp puff pastry if you're looking for something with a local slant.
Lee's Confectionery Review: Minimalist Jurong Cafe With Beautiful Desserts That Can Rival Janice Wong's
Address: 343 Jurong East Street 31, #01-59, Singapore 600343
Opening hours: Daily 10am to 10pm
Tel: 9183 8447
Website
---
2. Pasta Bar
---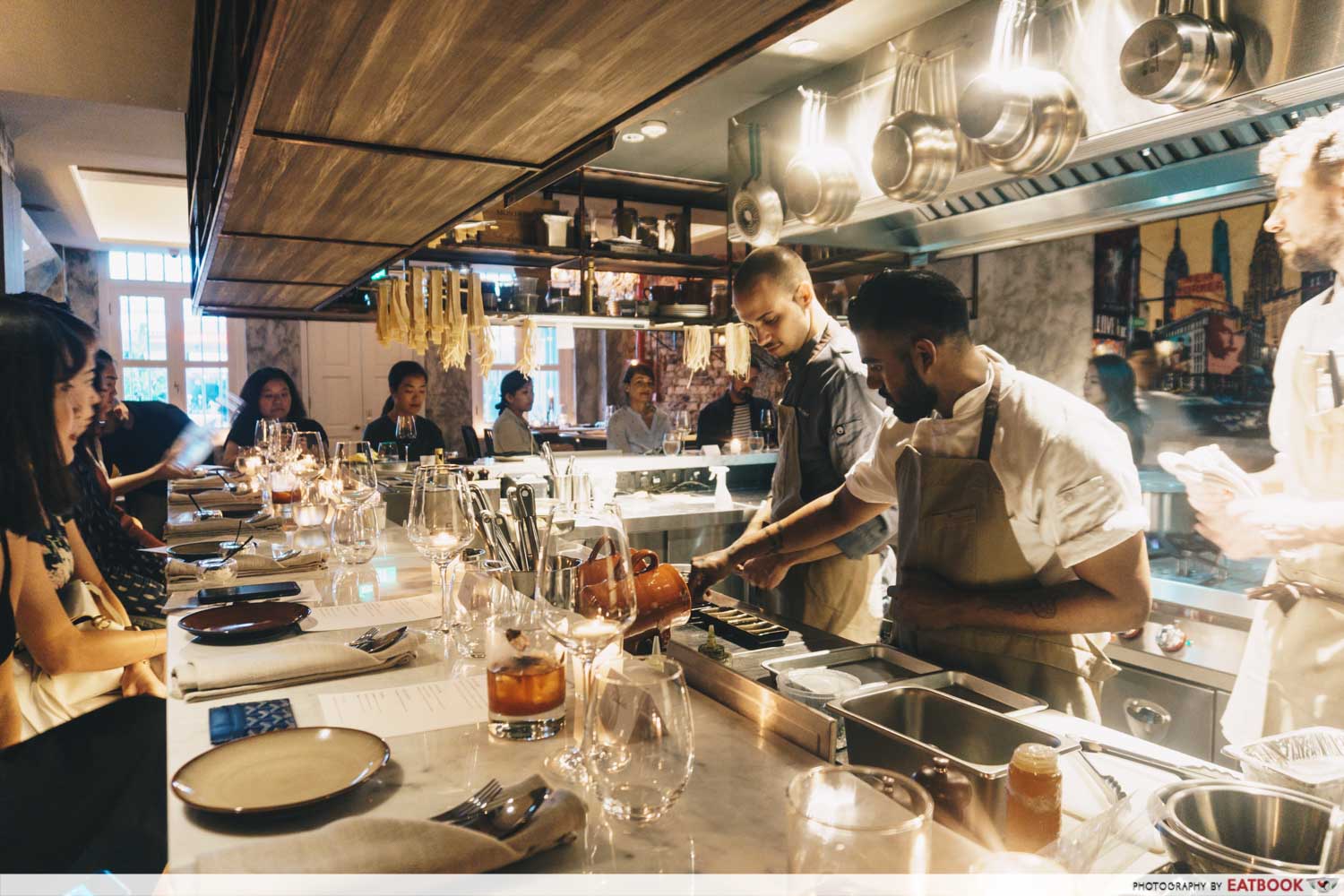 The cosy Pasta Bar is fronted by Genoese chef Alessandro Giusetti, formerly of Michelin-starred Garibaldi. Pasta is definitively the focus here, as their 11 pasta dishes all feature a different fresh pasta, each with a different blend of flour. With Michelin pedigree and Italian heritage, Chef Alessandro dishes out high quality, fiercely authentic pasta here.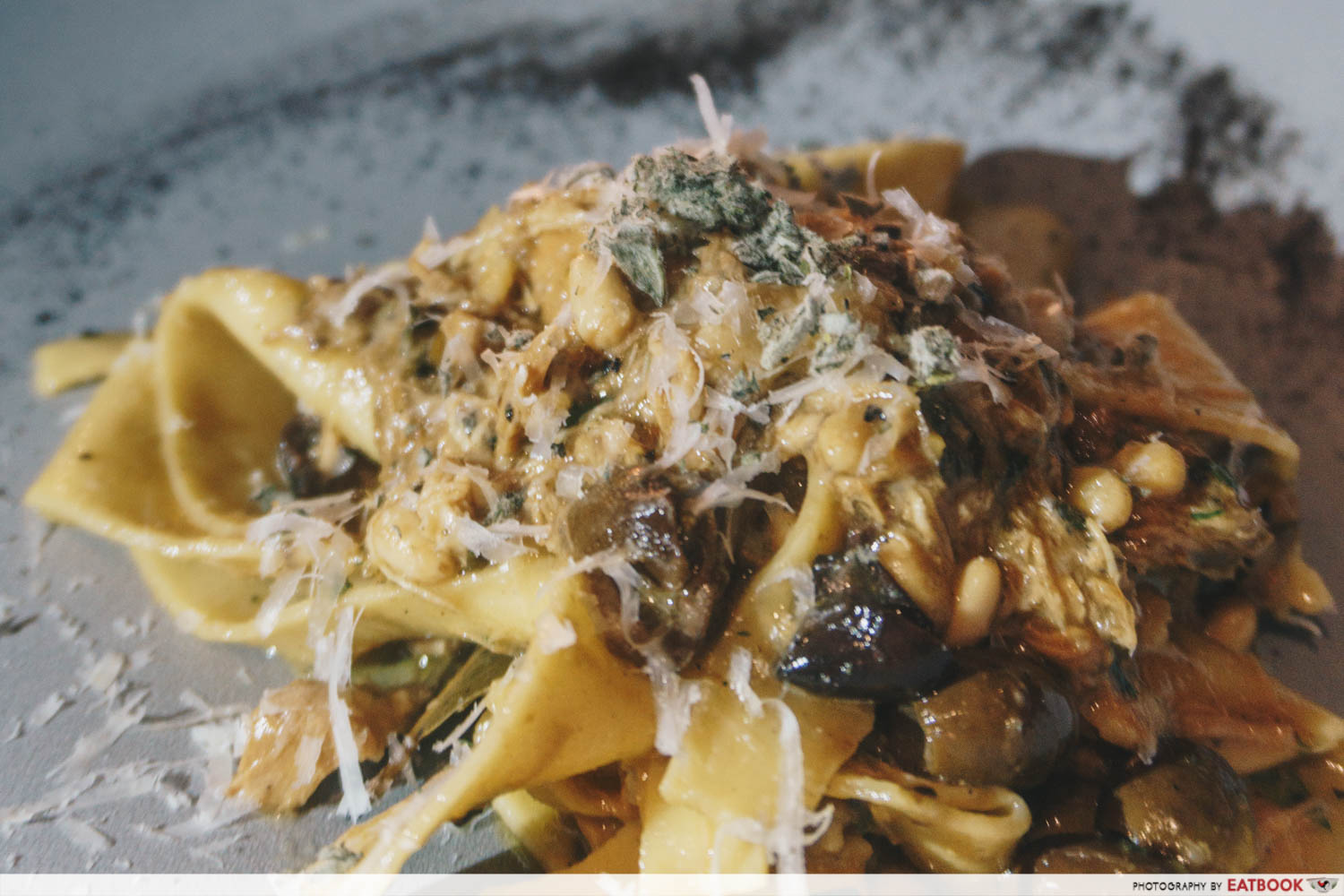 Pappardelle ($30++) features broad ribbons of egg noodles in a rich rabbit ragu, dotted with olives and pine nuts. The gamey rabbit meat is balanced out with aromatic sage and earthy pine nuts for a satisfying meal.
Lagane ($28++) is a pasta nearly unheard of in Singapore, but is an uber traditional recipe hailing from Southern Italy. Made using only flour and water, this pasta is almost like miniature lasagne sheets, and is paired with a rich and cheesy chickpea and garlic sauce.
Address: 55 Keong Saik Road, #01-05, Singapore 089158
Opening hours: Tue-Sun 6pm to 11pm
Tel: 6222 0627
Website
---
3. Auntie Wok's & Steam
---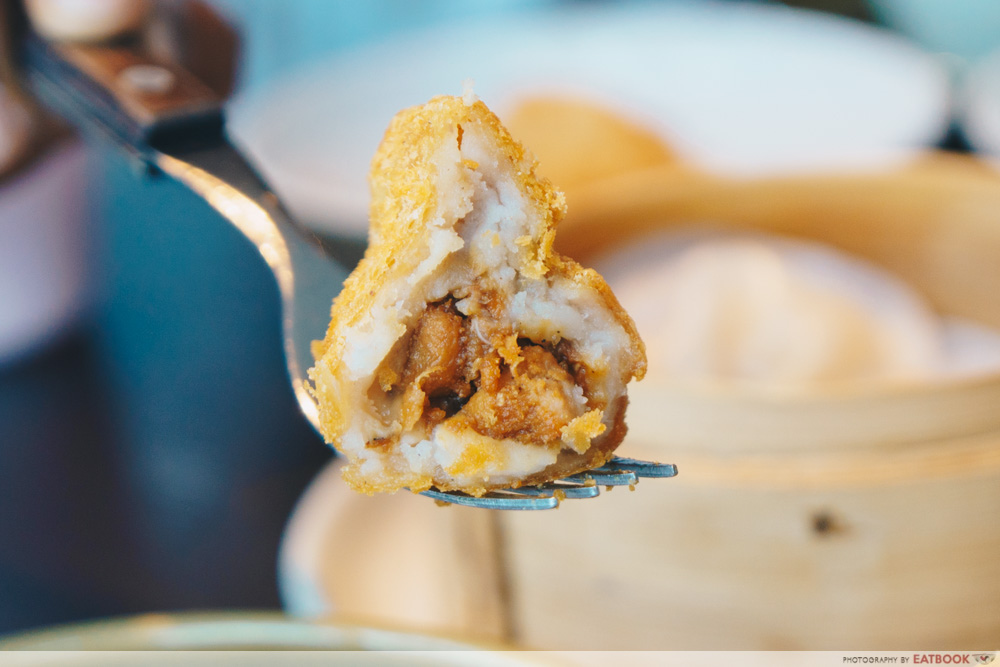 Auntie Wok's & Steam at Andaz has just launched a dim sum buffet: Yum Cha Weekends. The buffet is rather affordable at $35++ per person, and features a selection of traditional Cantonese bites such as siew mai and har gao. It works on an a la carte basis, which means you have to order via a sheet of paper.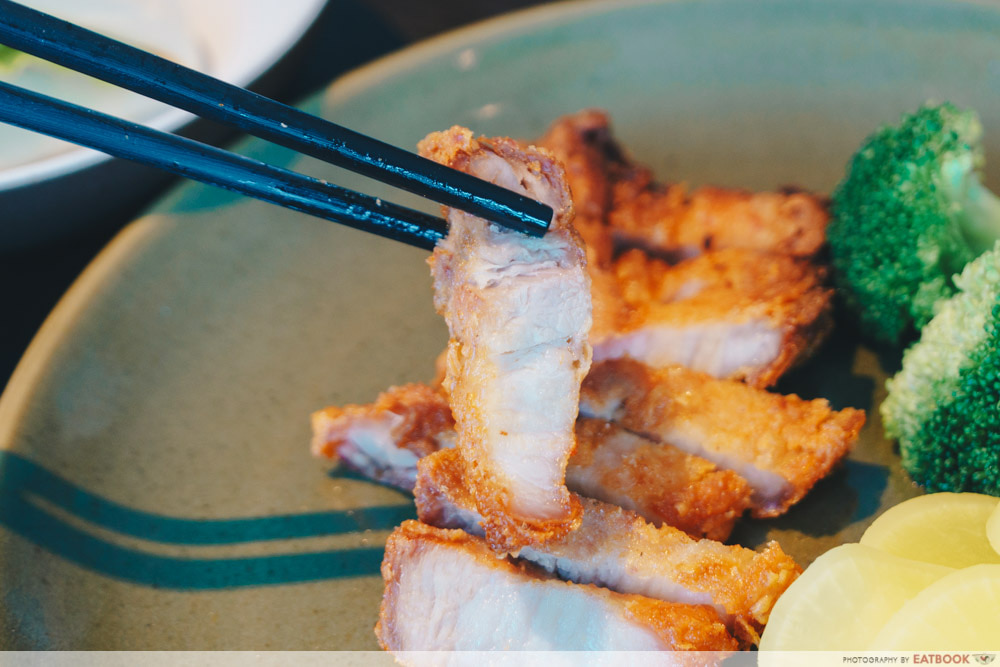 Fret not though, if you're the sort who likes to pile your plates high with food. There is still a buffet line showcasing hearty carb dishes including their famous Organic Wok-Fried Rice. Old-school desserts like barley and luo han guo can also be found on the line-up. If you want mains to go with your dim sum, you can get them at $10++ a dish. A must-order is the Deep-Fried Pork Belly, which comes with a crispy coat.
$35++ Weekend Dim Sum Buffet With Lobster Porridge And Wagyu Mantou At Andaz
Address: 5 Fraser Street, Level 25, Andaz, Singapore 189354
Buffet hours: Sat-Sun & PH 12pm to 2:30pm
Tel: 6408 1288
Website
---
4. Baan Ying
---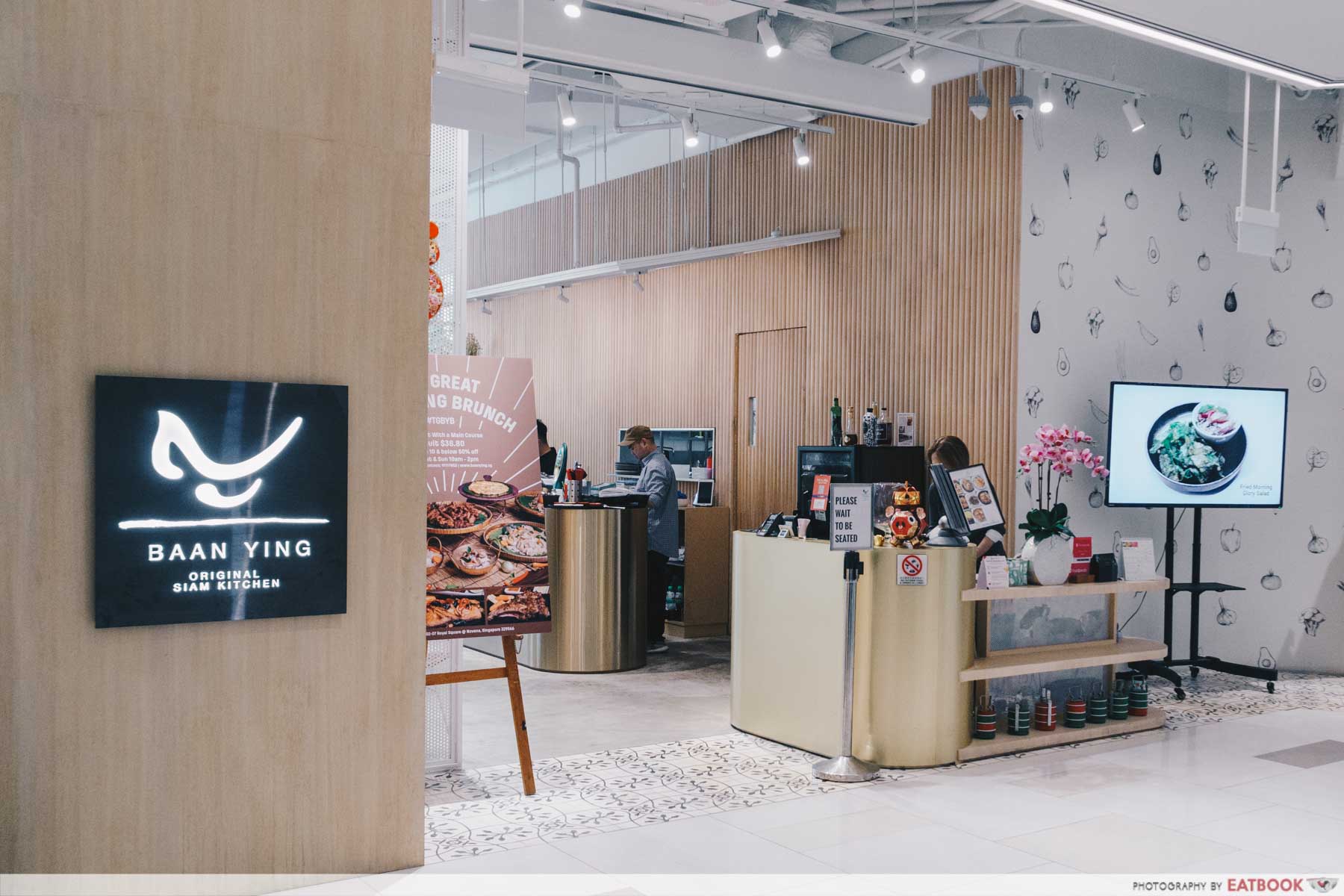 Baan Ying opened its doors on our shores last year, marking their first overseas venture after building up an empire in Bangkok.
To sample a smorgasbord of Thai classics and Baan Ying's original recipes, check out The Great Baan Ying Brunch ($38.80++), a new semi-buffet available every Saturday and Sunday from 11am to 3pm. Enjoy your choice of main course and indulge in a flow of more than 15 salads, sides and desserts.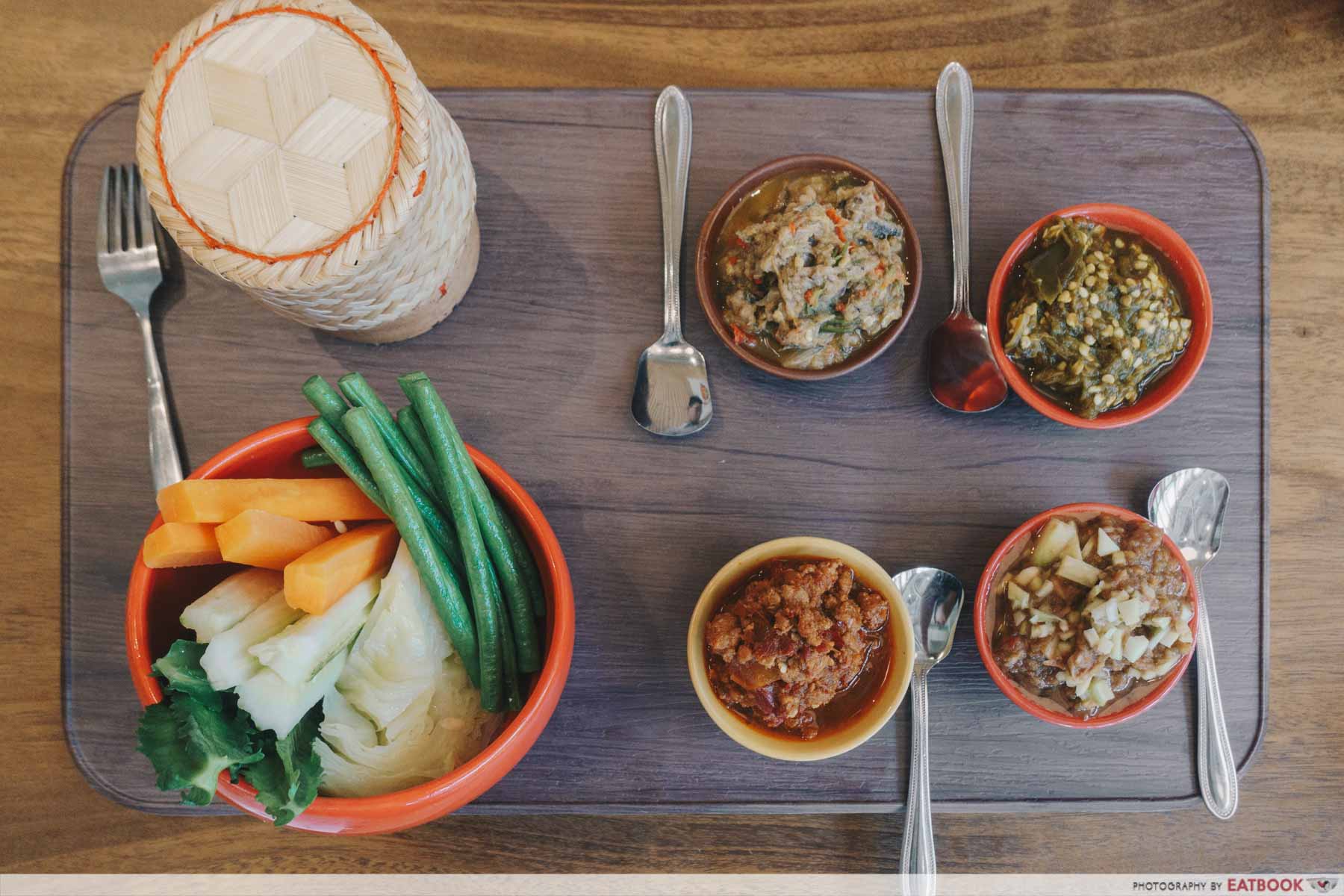 Kick your meal off with Nam Prik, a collection of fiery dips paired with fresh vegetables, before creating your ideal som tum or papaya salad at the DIY Thai Salad station. A massive variety of sides can be found, but the Glass Noodle Salad and Thai Style Minced Pork Balls rank among our favourites.
Also included in the buffet are unlimited portions of curry, soup, and a rice or noodle dish of the day. Make sure to leave some space in your tummy for your one main dish; go for their Thai-style Angus Beef Steak or Grilled Large River Prawns to make your money's worth.
Address: 103 Irrawaddy Road, #02-07, Royal Square @ Novena, Singapore 329565
Opening hours: Mon-Fri 11am to 3pm, 5:30pm to 10pm, Sat-Sun 11am to 10pm
Tel: 9111 7852
Website
---
5. The Feather Blade
---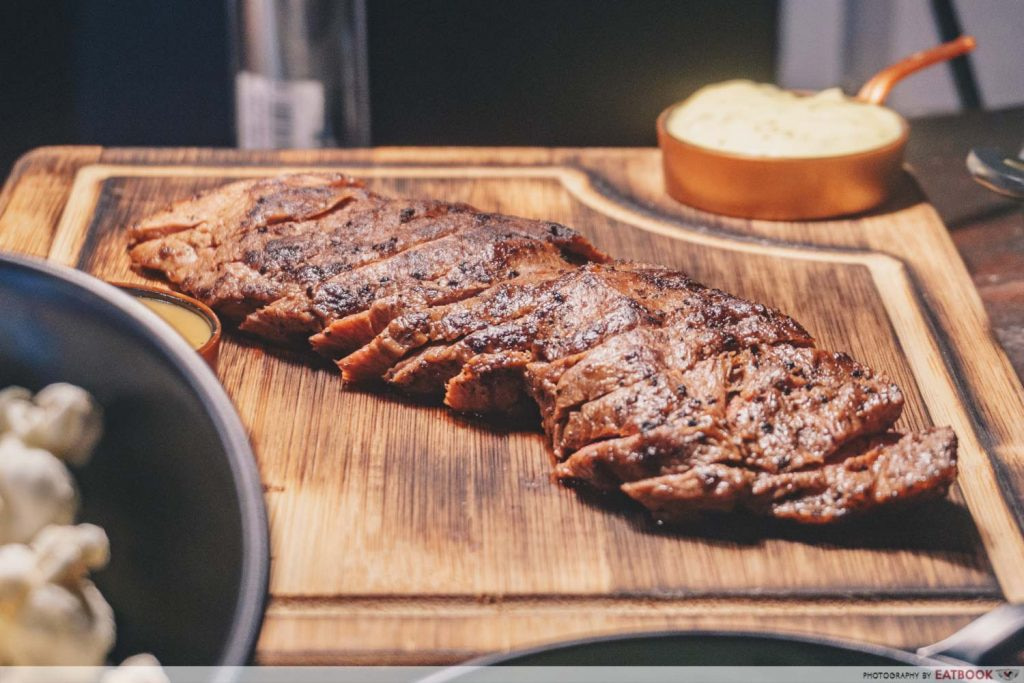 For eight weeks only, The Feather Blade ($21++) will be pushing out their rendition of flat iron steak at cocktail bar Zui Hong Lou. With the fibre tissue removed, this slab of beefy goodness is extremely tender, melting in your mouth with a single bite. Uplifting the robust flavour of the beef is the generous slather of brown butter and smoked salt.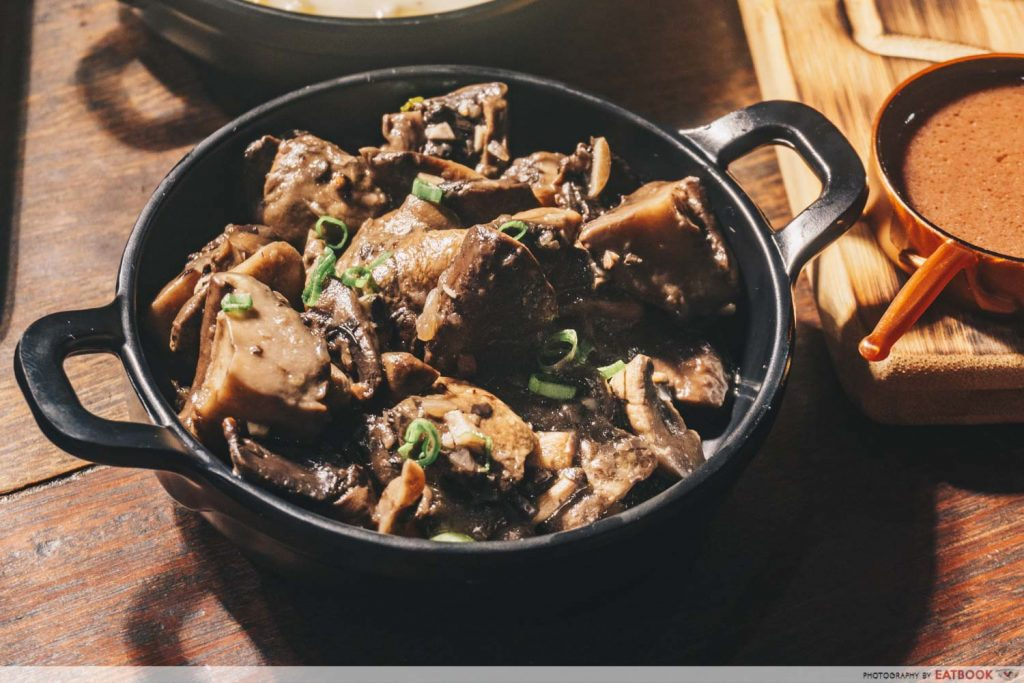 Swing by on their opening day on 2 March and score yourself a free 200-gram of tantalising steak with no strings attached! Since it's free, we recommend you add one of their sides at $7++ to share. Choices include Mushrooms, Potatoes, Spinach and Corn. The latter is our favourite, as it comes served in a milky truffle cream base.
The Feather Blade: Get Free Flat Iron Steak Worth $21++ On 2 March 2019 At Club Street
Address: 90 Club Street, Singapore 069458
Pop-up hours: Fri-Sun 5:30pm to 1am
Website
---
6. The Lobby Lounge
---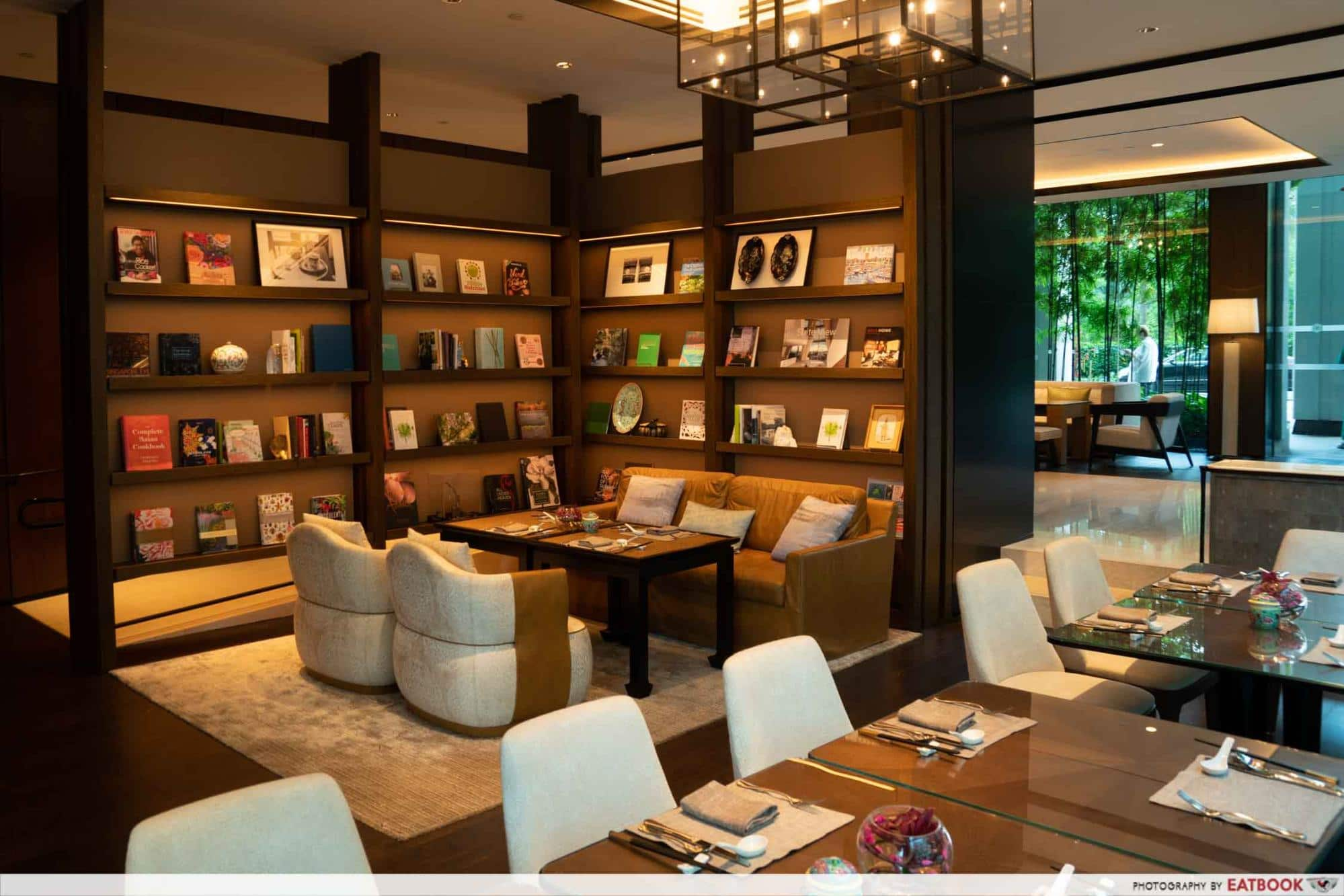 Set in the opulent backdrop of Shangri-La Hotel's Tower Wing, The Lobby Lounge is the ideal location for a luxurious weekend brunch. Their Heritage Breakfast Buffet Menu ($29.50++) entitles you to one of six specially designed signature dishes as well as a multitude of free-flow sides.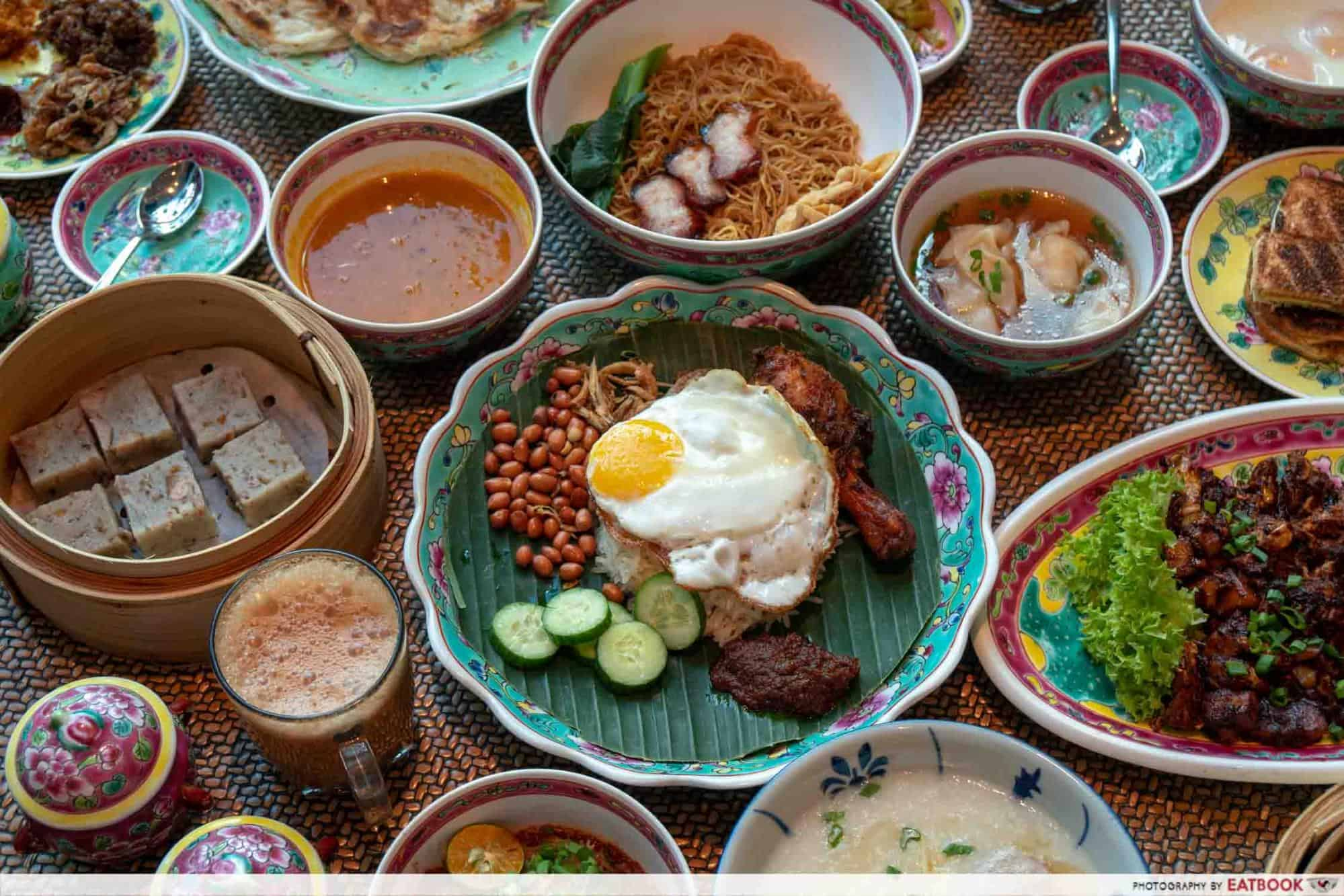 If you are undecided, we recommend their Nasi Lemak, which is prepared with the original recipe of The Coconut Club – a recipient of the 2018 Michelin Bib Gourmand. What distinguishes their nasi lemak from the rest is the fried drumstick. Rubbed in an aromatic mix of lemongrass, turmeric, and galangal, the fried chicken whets your appetite with its blend of sweet and woody flavours.
Address: 22 Orange Grove Road, The Lobby Lounge, Shangri-La Hotel, Singapore 258350
Buffet hours: Sat-Sun 7am to 11am
Tel: 6213 4398
Website
---
7. Basque Kitchen by Aitor
---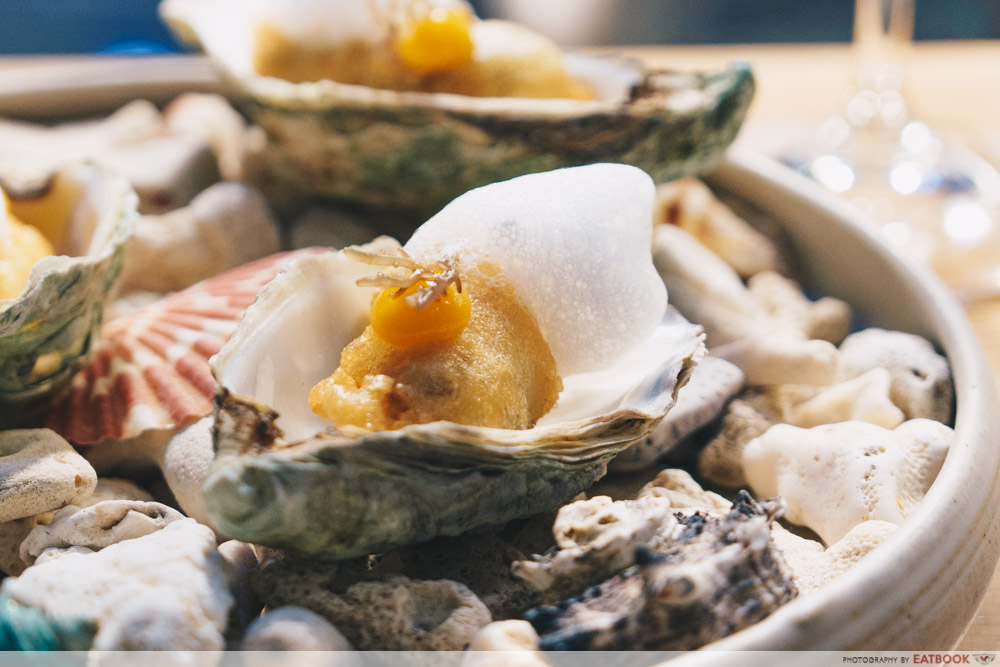 If you've always wanted to try Basque cuisine but never got the chance, you can now do so at the spiffy Basque Kitchen by Aitor. More affordable than a plane ticket to Europe is their Tasting Menu ($98++), which offers five courses of exciting small plates. Lunch is a cheaper alternative starting at $38++ for two courses.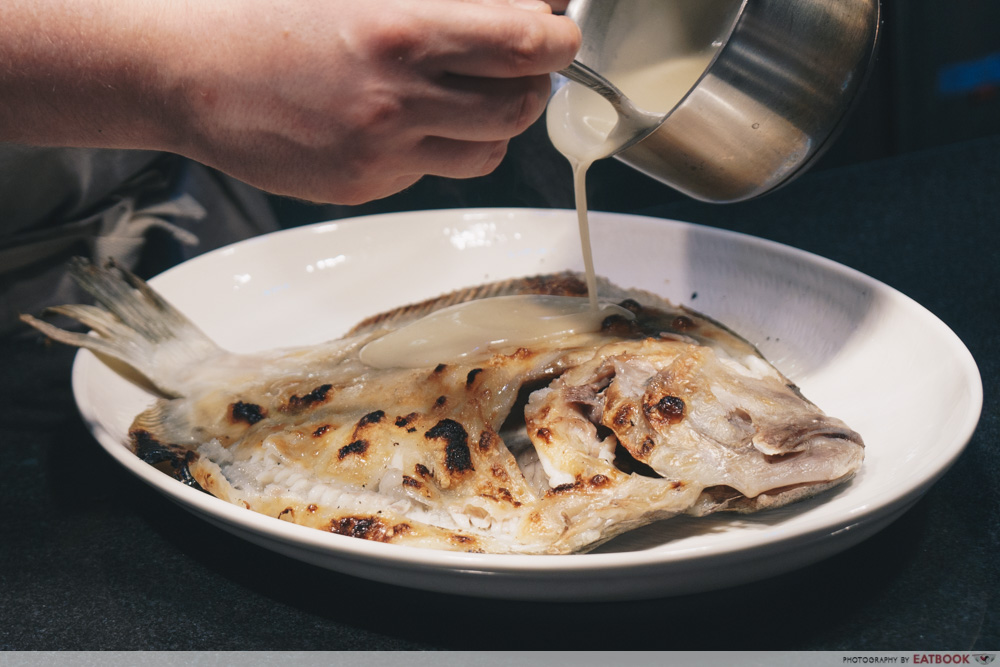 Setting the tone for the Tasting Menu are three elegantly crafted snacks. Thereafter, you can expect a lineup of small plates with bold, punchy flavours. Our favourite was the Turbot, which perfectly demonstrated how fresh ingredients are pivotal in a dish's success. Here, the flatfish is lightly charcoal-grilled before being covered in a bold garlicky sauce. It's such a simple dish, yet it manages to highlight the delicate flavour of the collagen-rich fish.
Address: 97 Amoy Street, Singapore 069917
Opening hours: Mon-Sat 12pm to 2:30pm, 6:30pm to 11pm
Tel: 6224 2232
Website
---
8. Four Seas Fish Grill
---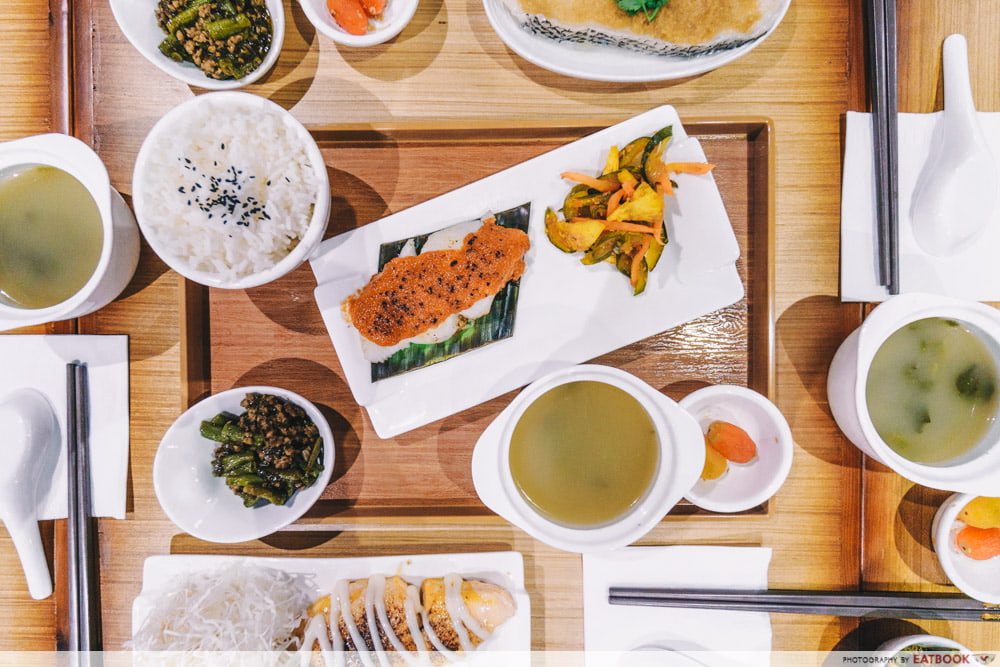 Great World City now has a slew of new restaurants, and amongst them is Four Seas Fish Grill. Fans of all things fish would be wise to fill their tummies here as the joint has a myriad of fish dishes, cooked in a variety of ways to maximise their flavour.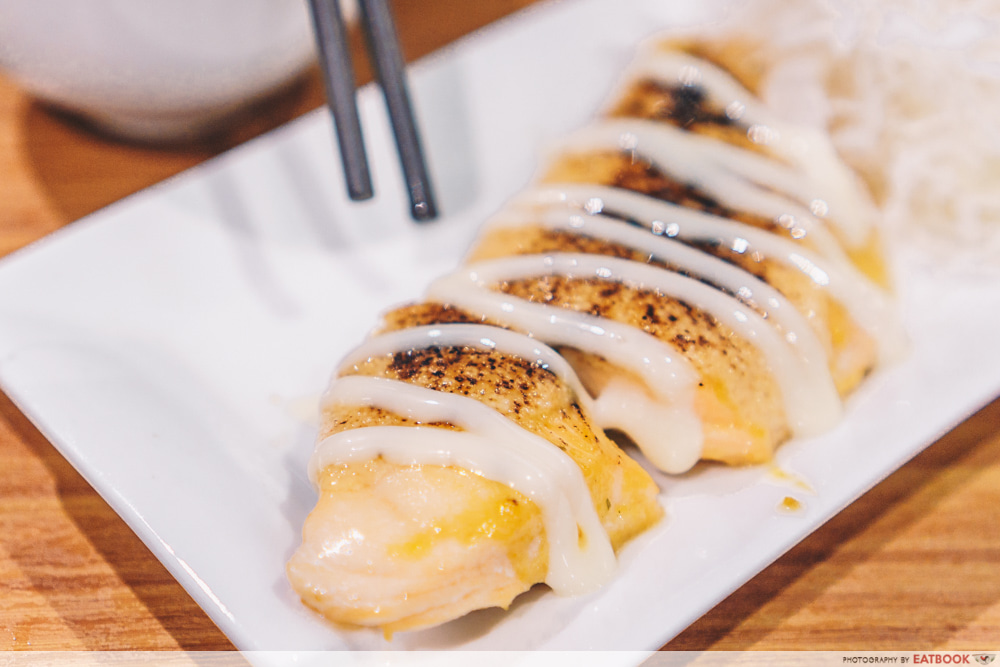 You can never go wrong with mentaiko, which is why the Grilled Salmon with Mentaiko Mayo set ($14.80++) is a safe yet delish choice. The fish tears apart with minimal effort and popping it in your mouth unleashes a flurry of rich juices.
Great World City Now Has Michelin-Starred Ramen From Japan And More New Makan Spots
Address: 1 Kim Seng Promenade, #01-142, Great World City, Singapore 237994
Opening hours: Daily 11:30am to 3:30pm, 5pm to 9:30pm
Website
---
9. Kafe UTU
---
African food may not be popular in Singapore, but Kafe UTU is about to change all that. Nestled in a three-storey shophouse along Jiak Chuan Road, this African cafe pushes out hearty fare that is far less exotic than you'd imagine. In fact, there are plenty of familiar cafe bites such as pancakes and eggs Benedict, except they are punched up with African spices.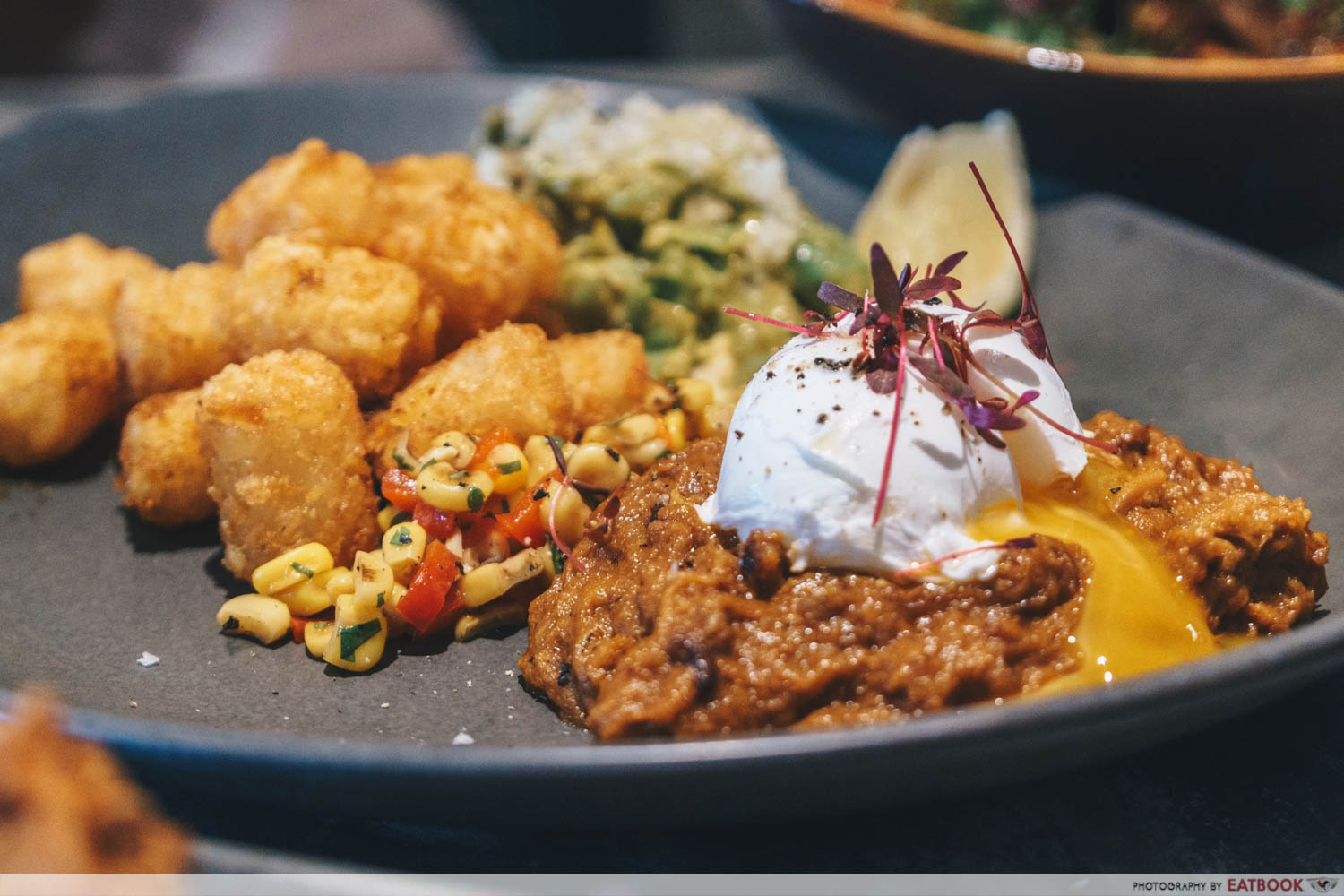 Take for instance their Pulled Pork Breakfast ($25). While it may sound and look like a typical dish, the flavours were far from it. In fact, the smashed avocado came combined with curry, while the bits of corn were tossed in a spicy salsa mix. Even the Buttermilk Fried Chicken ($15) impressed, thanks to the accompanying house-made sauces with different heat levels. For something more "traditional", get the Caribbean Goat Curry ($28); it is essentially mutton rendang, and comes with a side of fluffy coconutty rice.
Address: 12 Jiak Chuan Road, Singapore 089265
Tel: 6996 3937
Opening hours: Tue-Sun 8am to 5pm, Tue-Thur 6pm to 11pm, Fri-Sat 6pm to 1am
Website
---
10. Pasta Supremo
---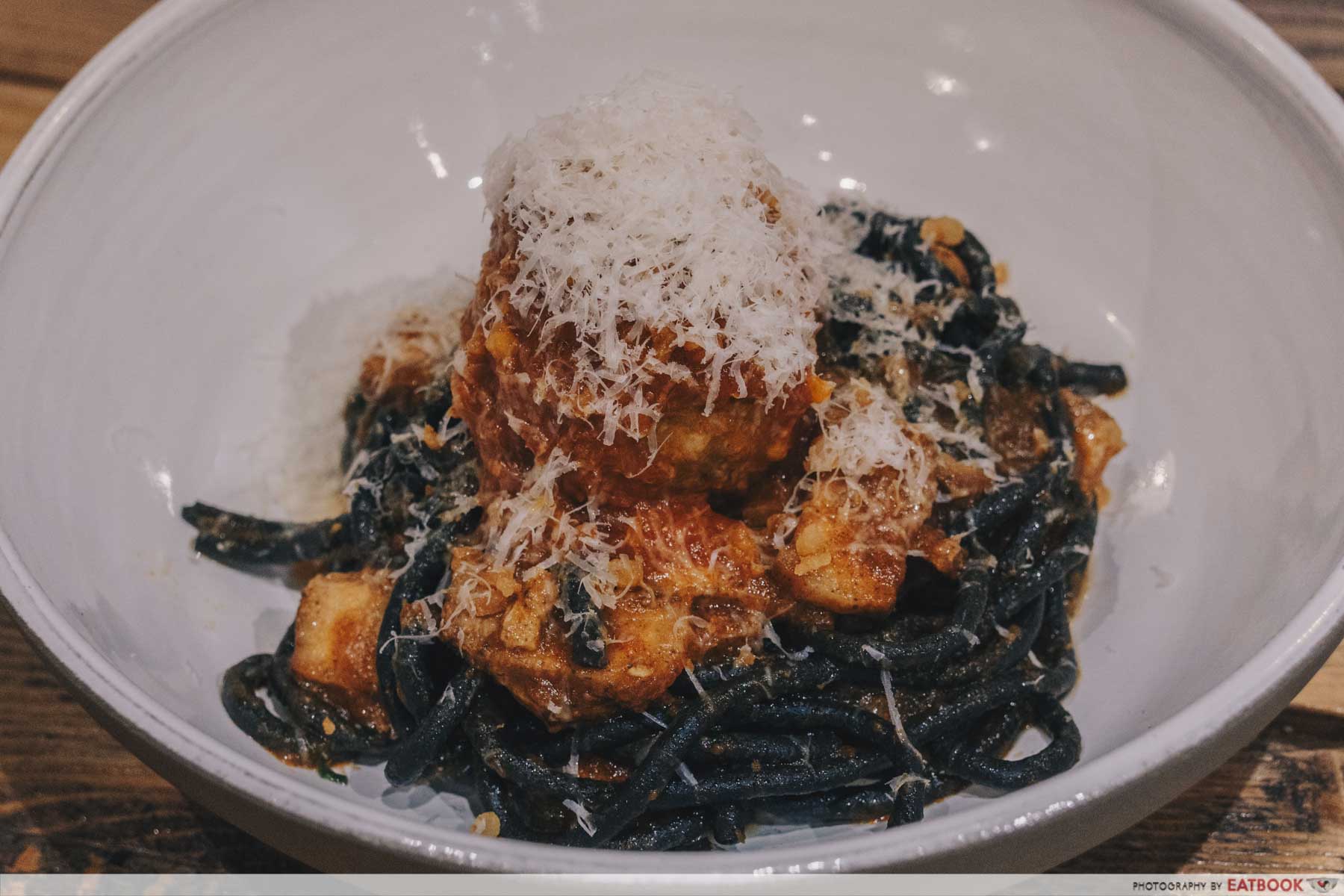 Before Pasta Supremo came around, handmade pasta had never been this affordable. This DIY pasta bar lets you choose from a range of noodles, sauces, and toppings to create your very own pasta dish. Their Haus Marinara and Sichuan Peppers, Chilli, Garlic & Duck Fat sauces are worth checking out. Toppings such as Supremo Pork Meatball (additional $5++) and Bak Kwa Jam (additional $5++) are also available to up the anté. Prices for their DIY pasta start at $8++.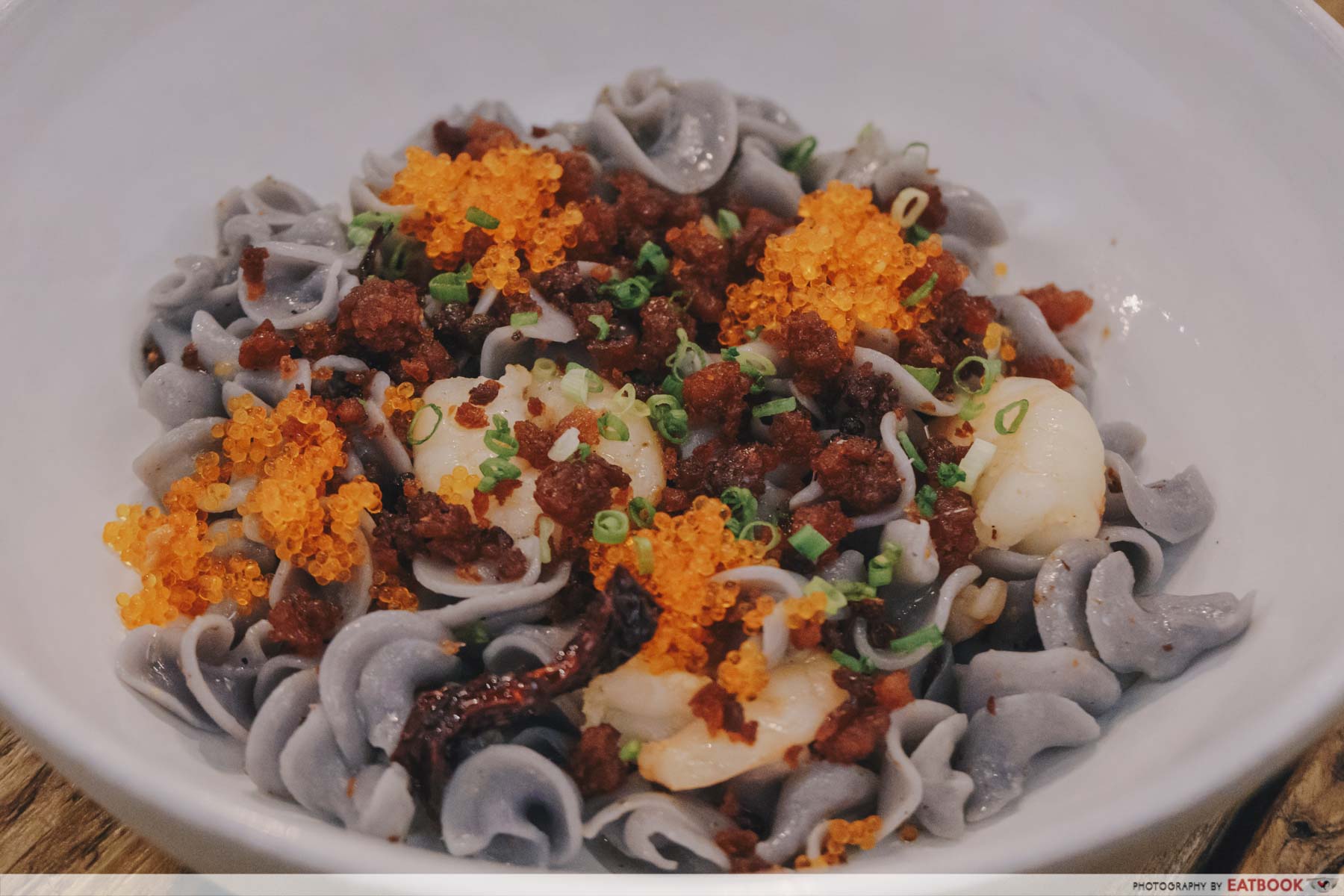 If you want to skip the hassle, order their Prawn Olio Olio ($20++) instead. The orange beads of tobiko that glisten in the light burst in your mouth with a wave of umami, and you'll be surprised by the unexpected kick of ma la sauce that numbs your tongue.
Pasta Supremo Review: Ma La Pasta And Bak kwa Jam From $5++ At Suntec City
Address: 3 Temasek Boulevard, #01-365/366/373/374, Singapore 038983
Opening hours: Daily 9am to 9pm
Tel: 6909 8138
Website
---
Bonus 1: Baba Chews
---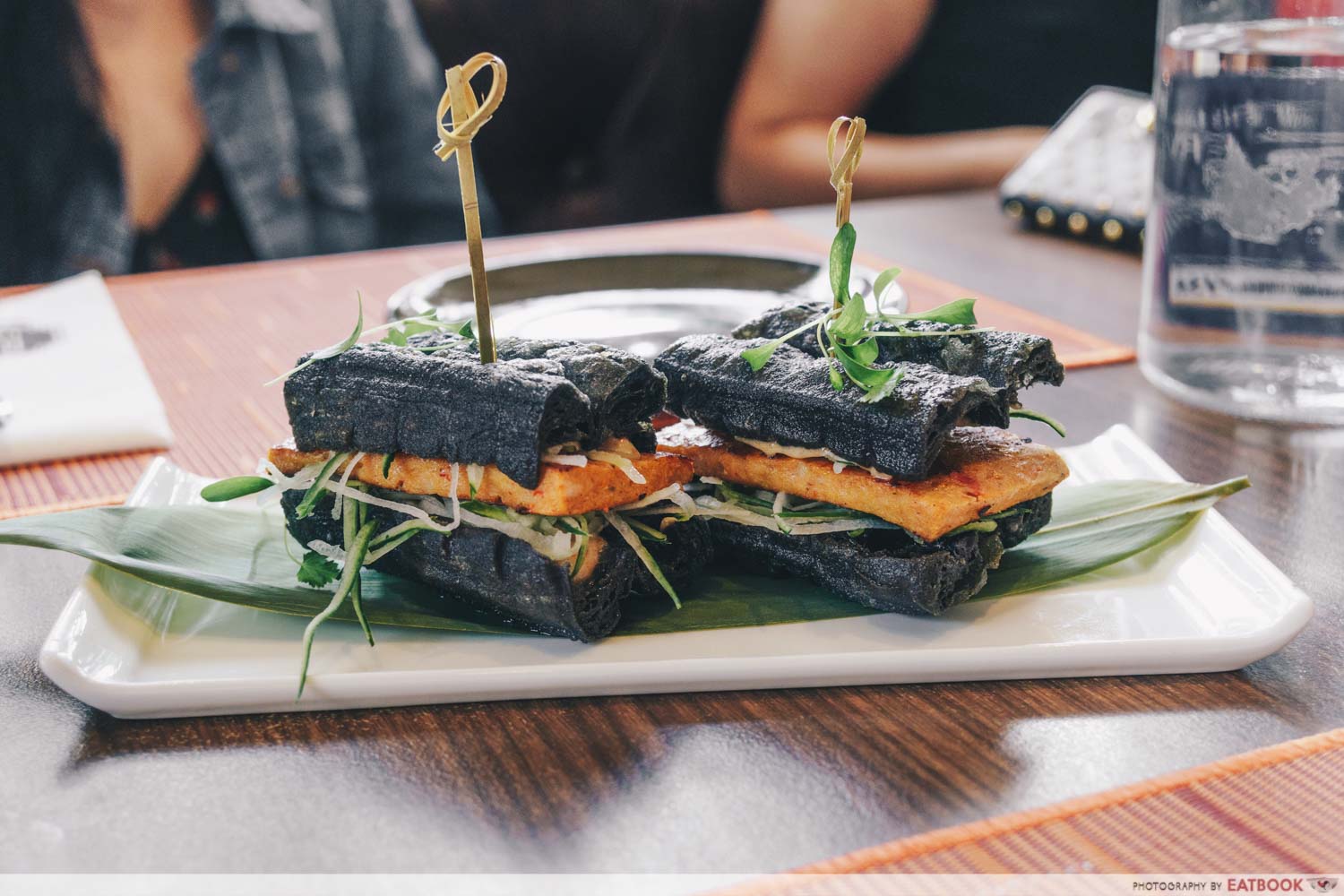 Baba Chews has recently revamped their menu to push out more modern Peranakan creations. With only 20% of their previous menu remaining, followers of the restaurant can expect to explore the entire menu all over again. A great starter to begin your meal with is the Otah Yu Tiao ($12++), which features their signature house-made otah nestled between two crispy charcoal dough fritters.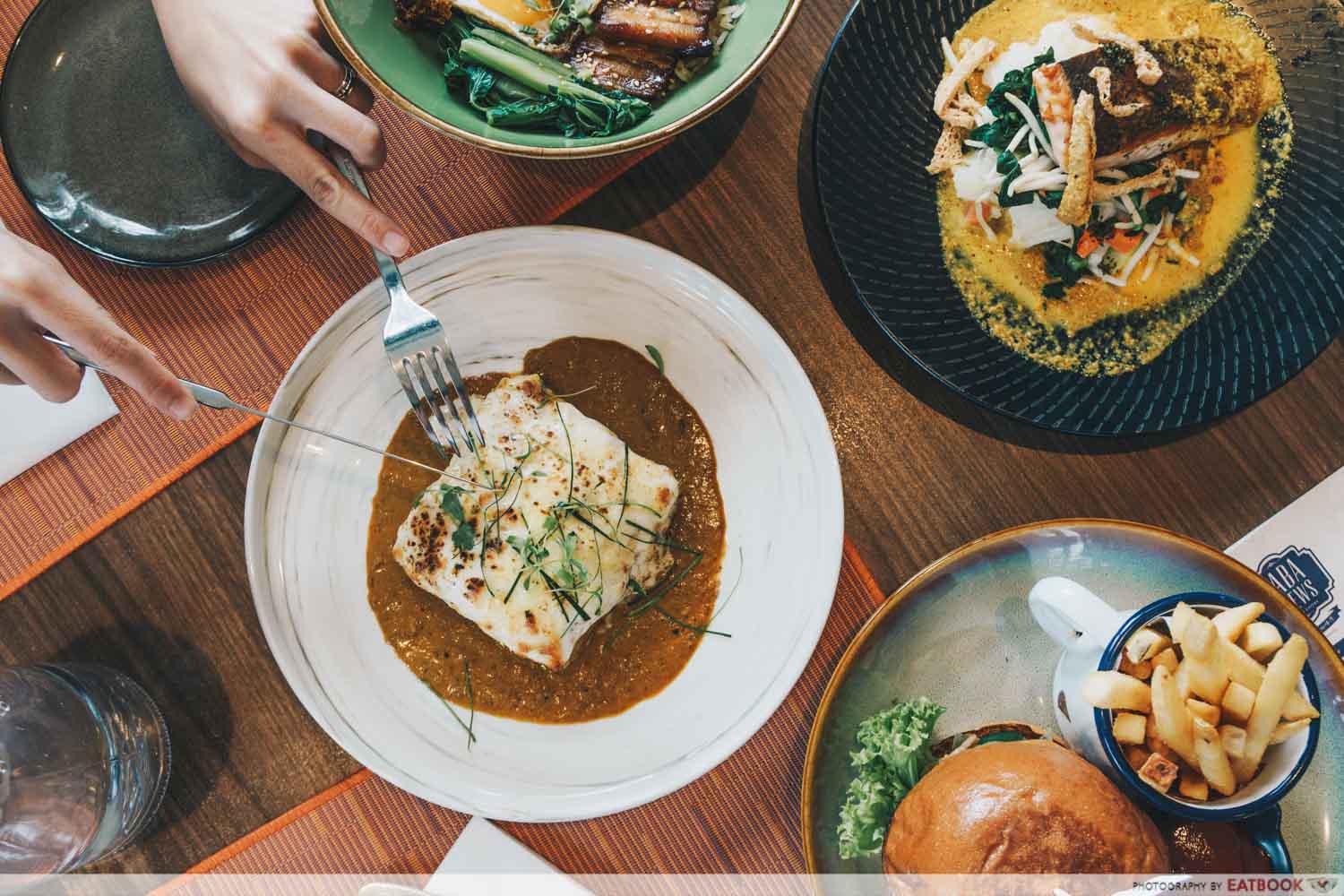 The Chicken Rendang Lasagne ($18++) will impress even Peranakan-cuisine purists, as the bold flavour of rendang spices shone through the creamy béchamel-doused lasagne. Expect to down a glass of iced cold water when you savour their Chilli Crab Tagliatelle ($20++), which comes crowned with a huge piece of tempura soft-shell crab and a sous vide egg. Slurping up the pasta, you'll be greeted by an intense sweetness that develops into a fiery burn.
Address: 86 East Coast Road, Katong Square, Singapore 428788
Opening hours: Sun-Thur 6:30am to 11pm, Fri-Sat 6:30am to 12am
Tel: 6723 2025
---
Bonus 2: Tim Ho Wan
---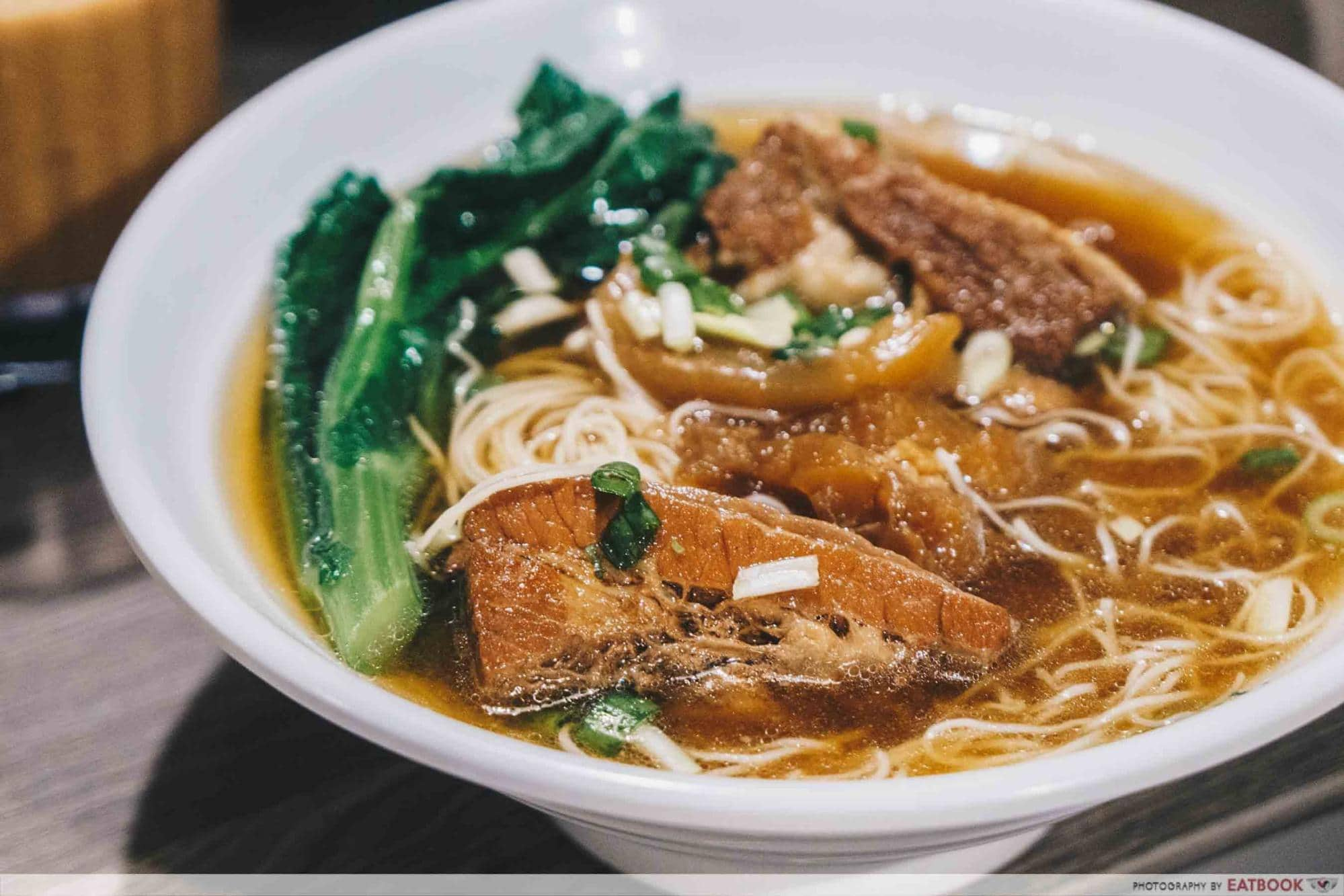 Tim Ho Wan may be a familiar name in Singapore's dim sum scene but it recently underwent a complete revamp of its menu. One of the new dishes – exclusive to Singapore – is the Hong Kong Braised Beef Soup Noodle ($8.80++). The beef meat and tendon, which are patiently braised for three hours, effortlessly disintegrate in your mouth.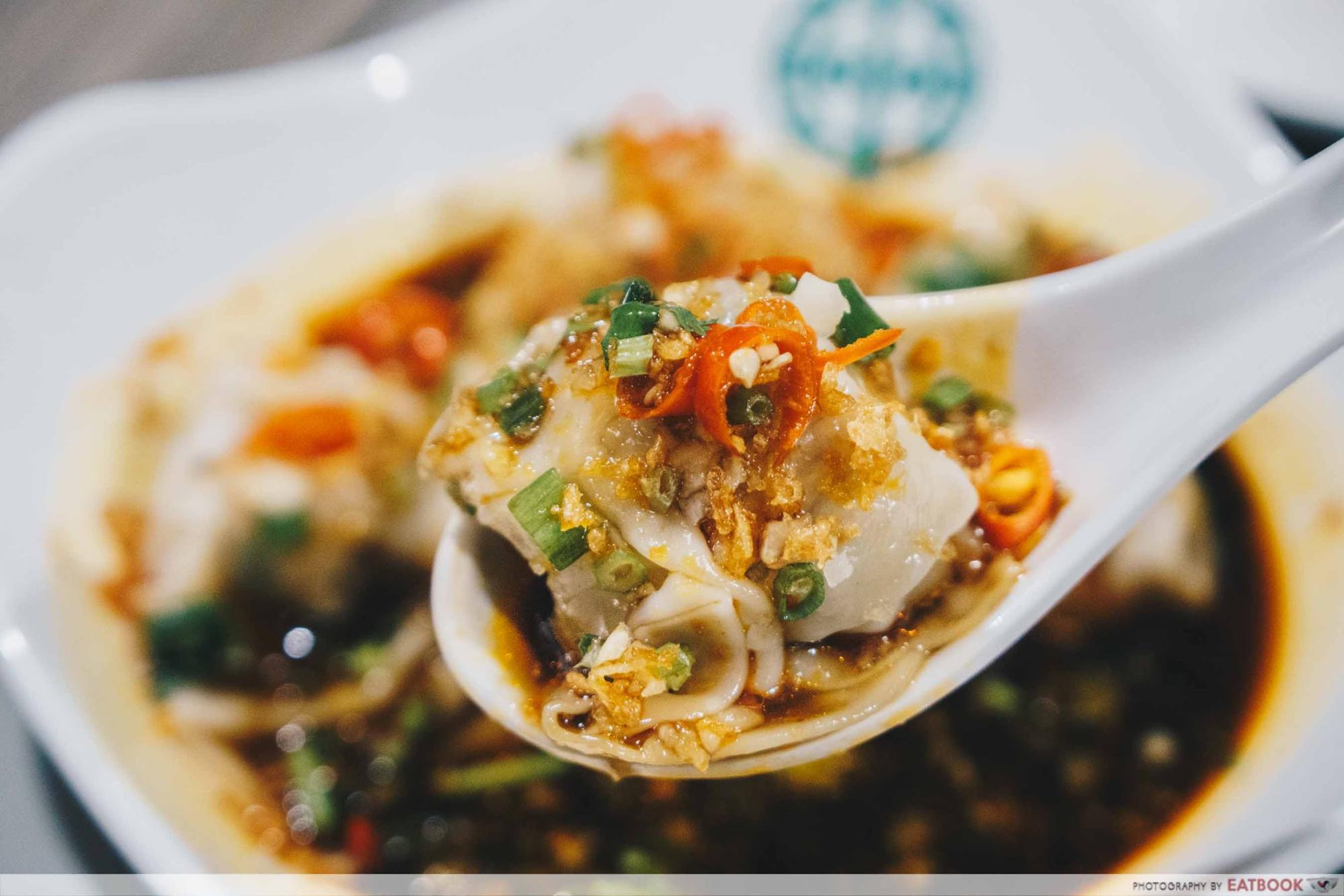 While we usually rush for the acclaimed Baked BBQ Pork Buns ($5.80++), the Pork Dumplings in Hot & Spicy Sauce ($4.80++) is a hidden gem. Made from 18 different herbs and spices, the sauce coats the dumplings with a cohesive burst of spicy, sour, and salty flavours that leaves you craving for more.
Address: 1 Kim Seng Promenade, #01-139, Great World City, Singapore 237994
Opening hours: Mon-Fri 11am to 10pm, Sat-Sun 9am to 10pm
Tel: 6483 2000
Website
Full list of outlets
---
Bonus 3: Strangers' Reunion
---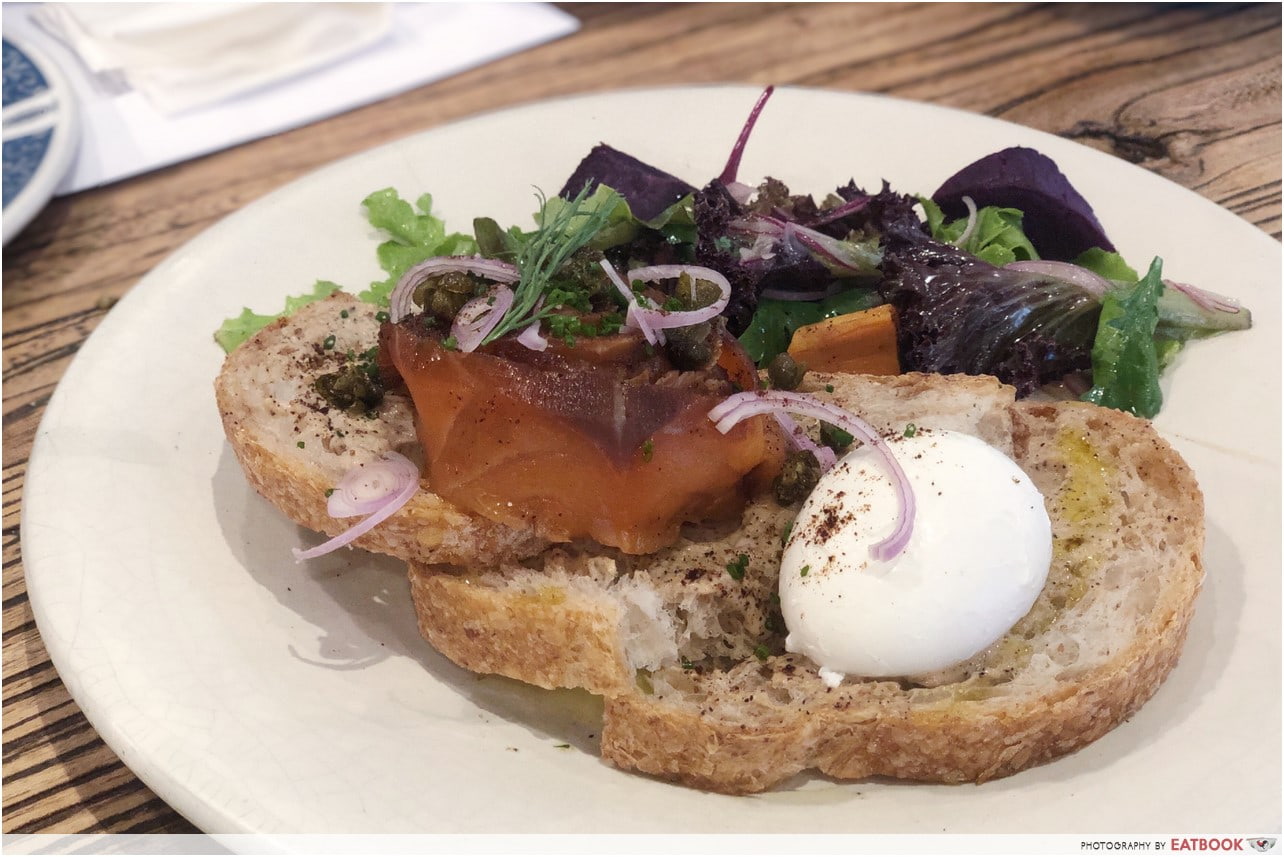 One of the OGs in the cafe scene, Strangers' Reunion has just revamped their menu with unique dishes that can't be found elsewhere. Strangers Coffee Smoked Salmon on Toast ($18.90++) features a thick roll of salmon that's been smoked in-house using spent coffee grounds and hickory wood. Unlike regular smoked salmon, this one's not too salty and comes with a light coffee fragrance. Have a bite of it along with the toast and espresso-infused creme fraiche for a party in your mouth.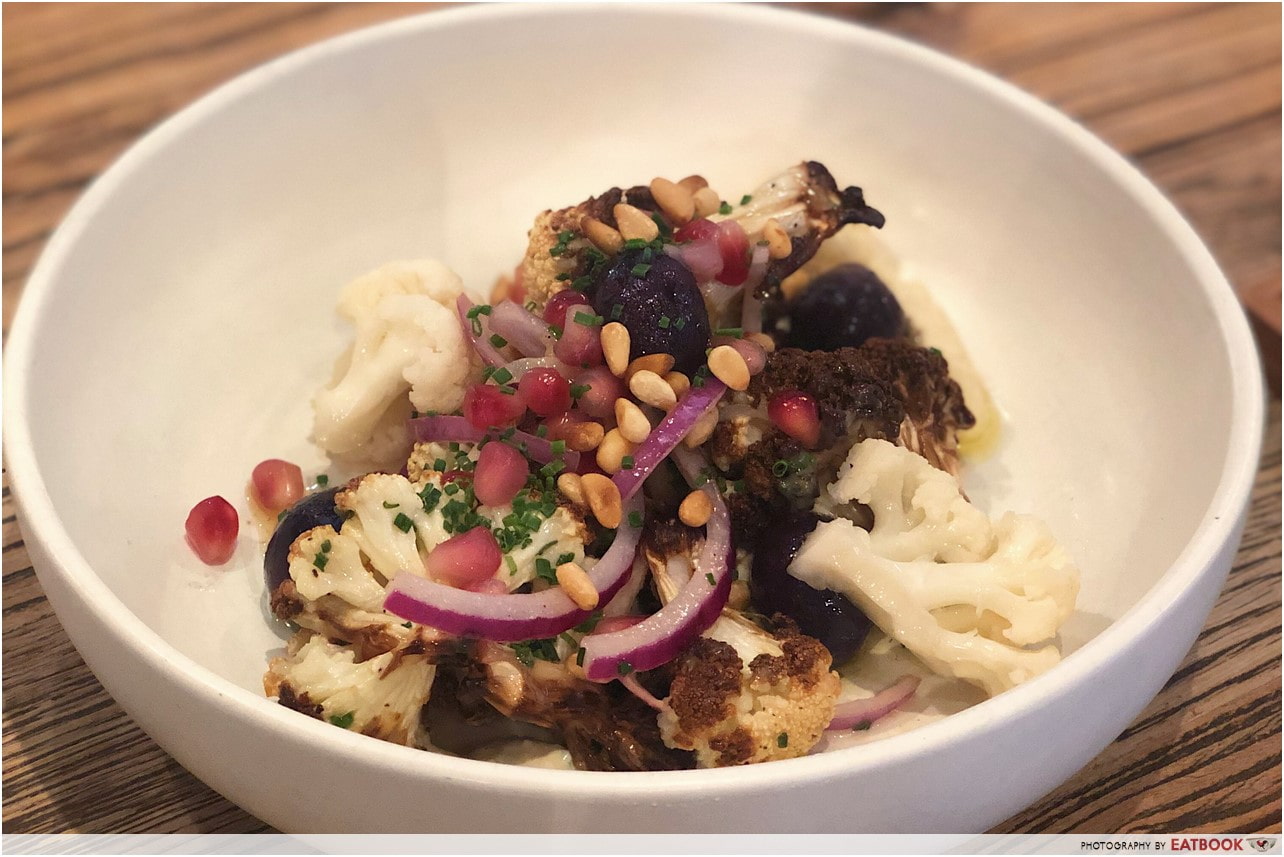 There are some lighter dishes on the menu too. Their Roasted Cauliflower Salad ($14.50++) sounds simple, but tastes great. Each floret is slightly crisp on the outside, with bits of caramelisation that makes it addictive. If you've been a fan of their waffles, check out the new Buttermilk Waffles with Hazelnut Praline & Almond Crumble ($14.50++) for a sweet ending before you leave.
Address: 33/35 Kampong Bahru Road, Singapore 169355
Opening hours: Daily 9am to 6pm
Tel: 6222 4869
Website
---
New restaurants to check out in March
---
With so many new places to choose from, it's going to be difficult figuring out where to head to for your next dinner date. So good luck making a decision, and let us know in the comments if you know of any other new restaurants!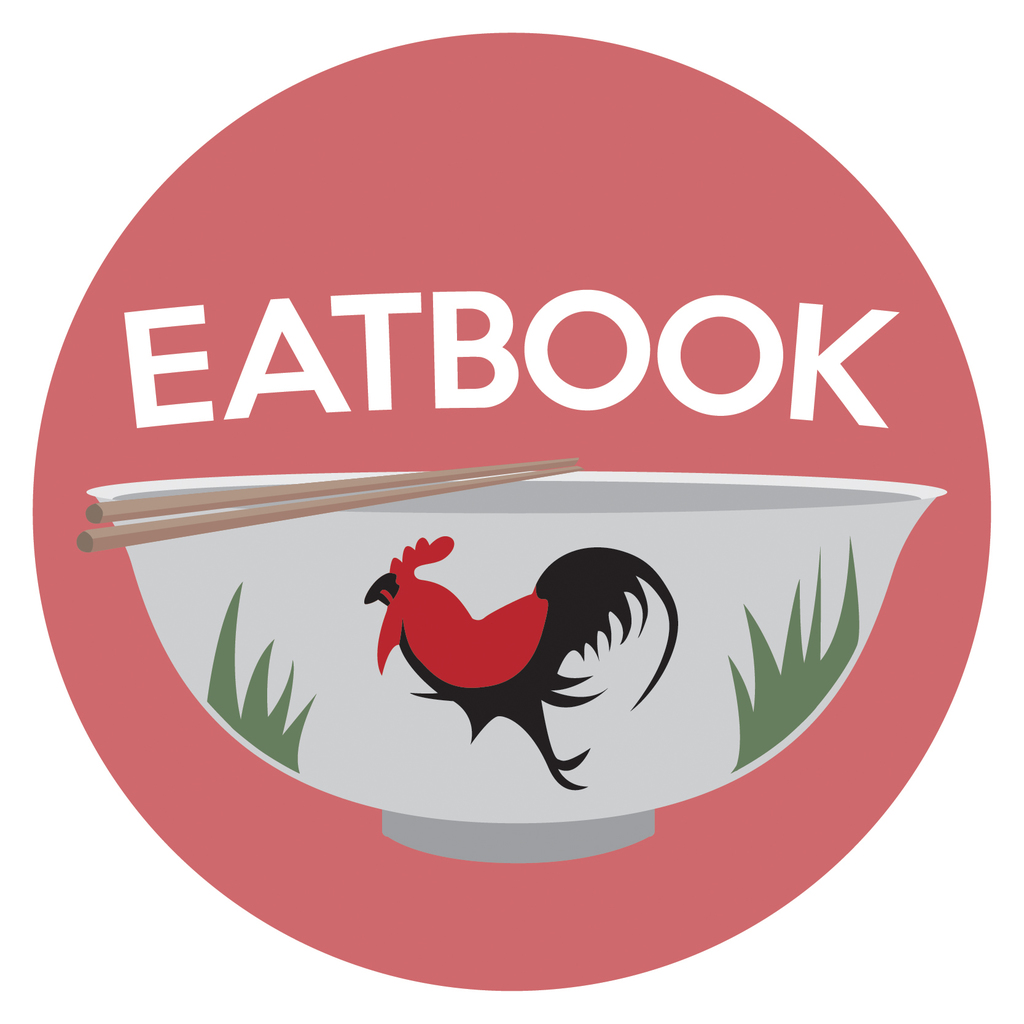 Drop us your email so you won't miss the latest news.