---
New restaurants to visit in November 2018
---
And just like that, we're reaching the final lap of 2018. That being said, the surfeit of new restaurants in Singapore isn't dying anytime soon. From game cafes to hybrid art galleries, check out these restaurants in  November.
---
1. King and the Pawn
---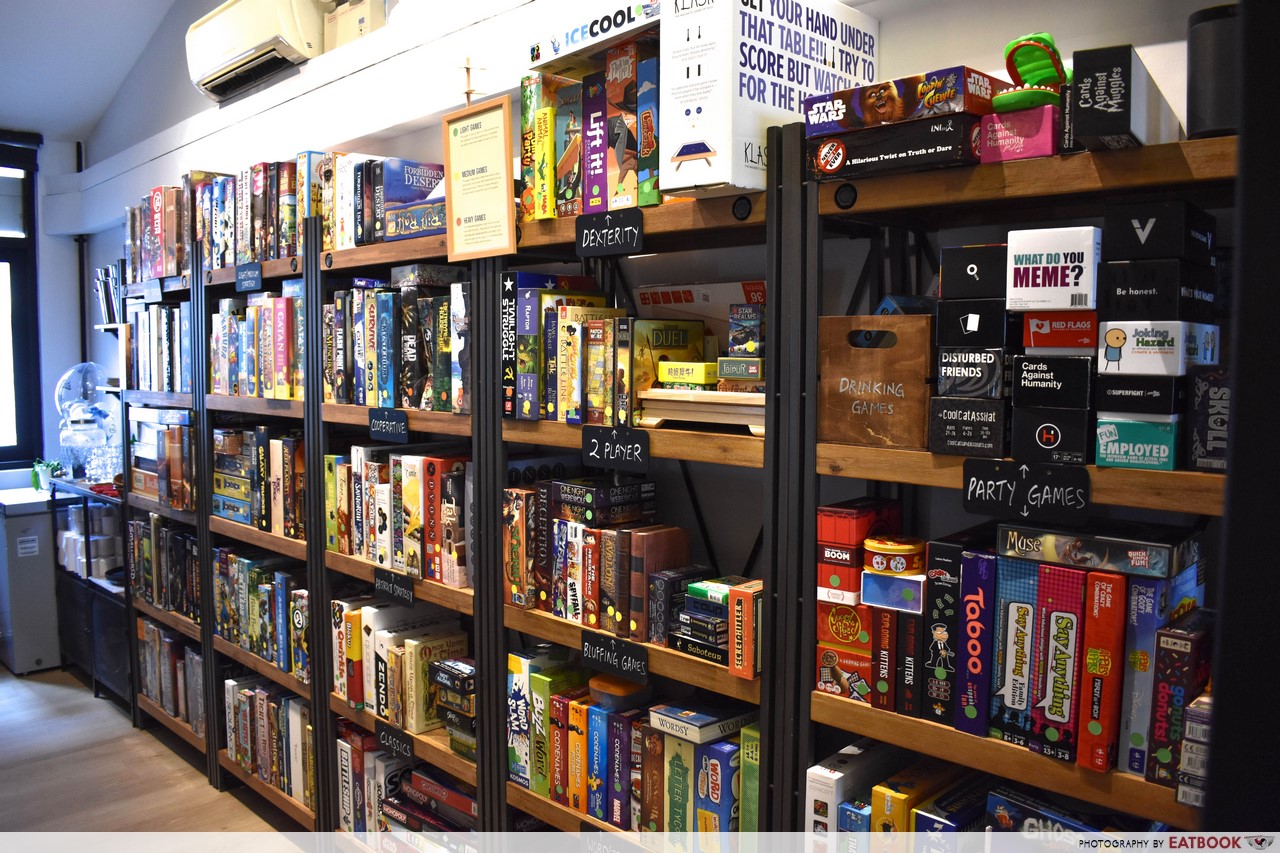 Fans of game cafes would be wise to roll the dice and take a chance on King and the Pawn. The brand-new joint boasts an impressive collection of over 300 games – from favs like Cards Against Humanity to obscure gems like Klask. You can play all these without any time limit from just $8 per person.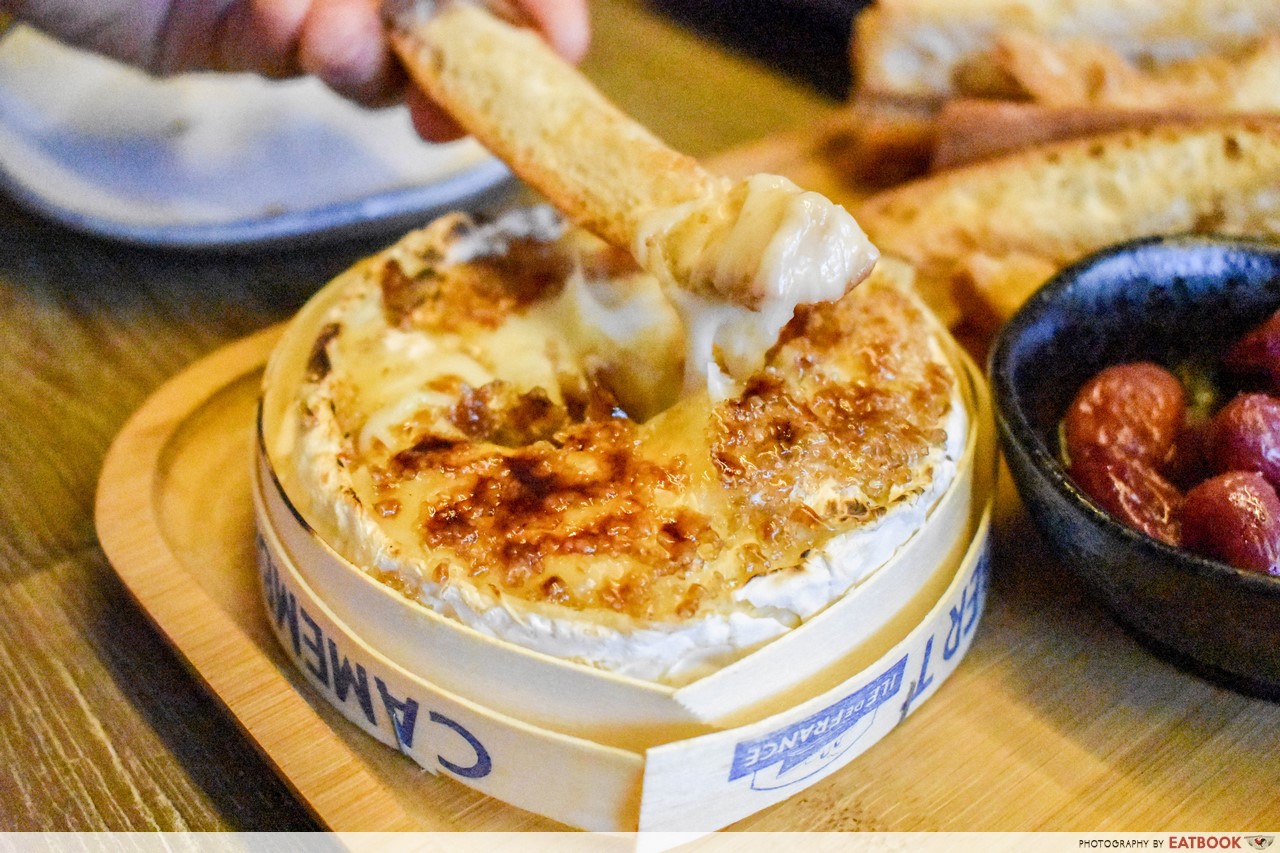 Of course, no gaming sesh is complete without nomming on delicious grub and fortunately, the cafe has 'em in spades. We absolutely loved the Camembert Brulee ($23) – a baked camembert with roasted grapes, crisp pear and crostini. The pear, in particular, paired excellently with the gooey cheese, as the creamy dip elevated the sweetness of the strips. Other standouts include The King's Nachos ($23) and the Spiced Apple French Toast ($18).
Address: 24 Purvis Street, Level 2, Singapore 188601
Opening hours: Tues-Thurs 5:30pm to 11:30pm, Fri 5:30pm to 2am, Sat 11am to 2am, Sun 11am to 10pm
Tel: 6259 1913
Website
---
2. Gyunion
---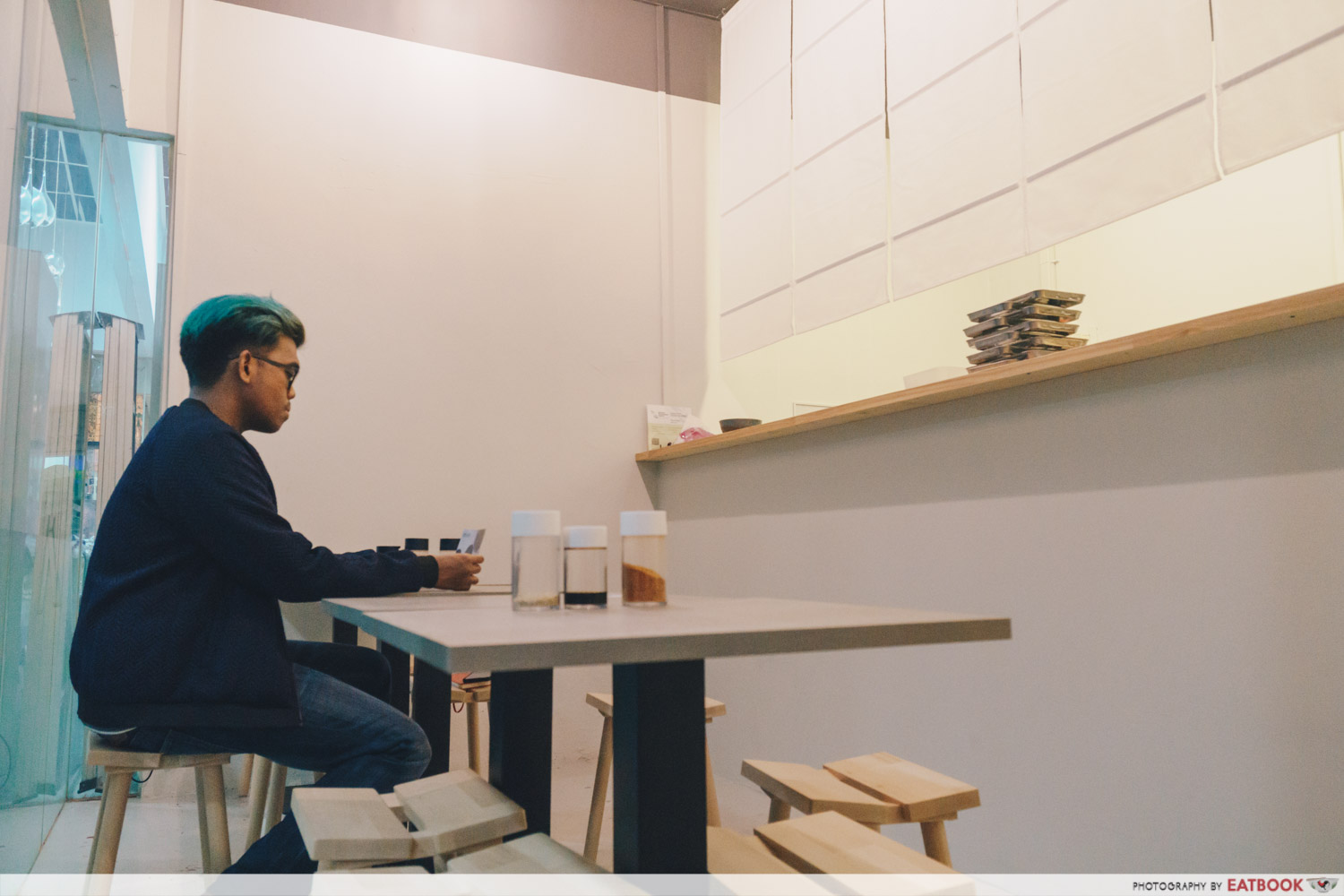 Latest in the line of halal Japanese restaurants in Singapore is Gyunion, where you can find dons, ramen and soba at affordable prices against a cosy and minimalist ambience.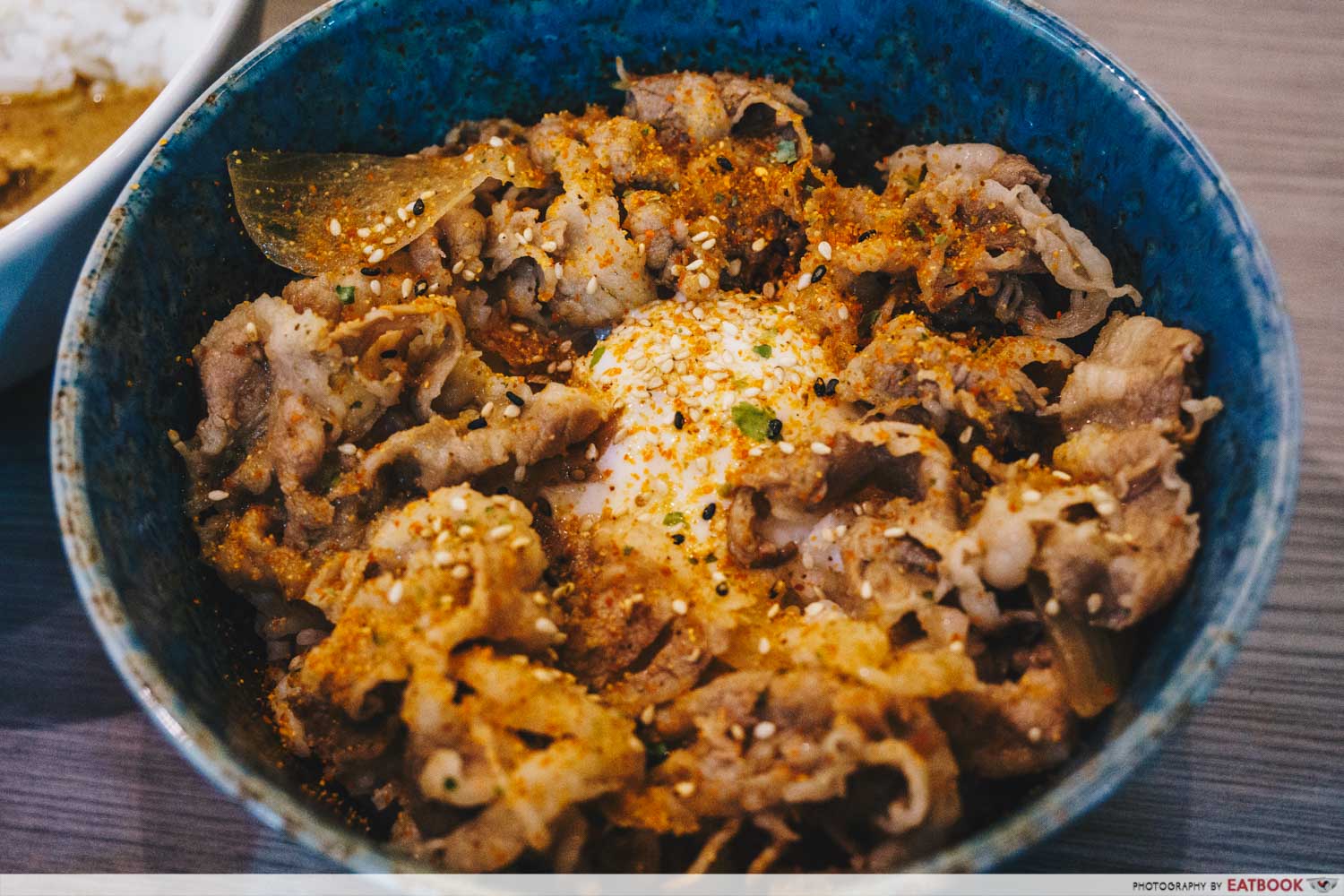 The gyu (meat) in their name isn't just for show as their Gyu-don ($7.90) was a definite standout. The beef slices packed a good lean-to-fat ratio and were juicy to boot. Be sure to spring for an additional onsen tamago ($1) to give the dish an added richness.
Students and office workers on the daily grind will also be glad to know that the eatery has a weekday lunch promo, where you can get any main, drink and egg for just $9.90!
Address: 91 Bencoolen Street, #01-23, Sunshine Plaza, Singapore 189652
Opening hours: Daily 11am to 3pm, 4pm to 10pm
Website
---
3. Halcyon and Crane
---
Opened by the same people behind Sichuan-inspired restaurant Birds of a Feathers, Halcyon and Crane serve up Western dishes that are similarly influenced by Sichuan elements. The chic restaurant hardly looks out of place in the refined walkways of Paragon, using plenty of wooden elements in the decor that are handmade by craftsmen in Chengdu.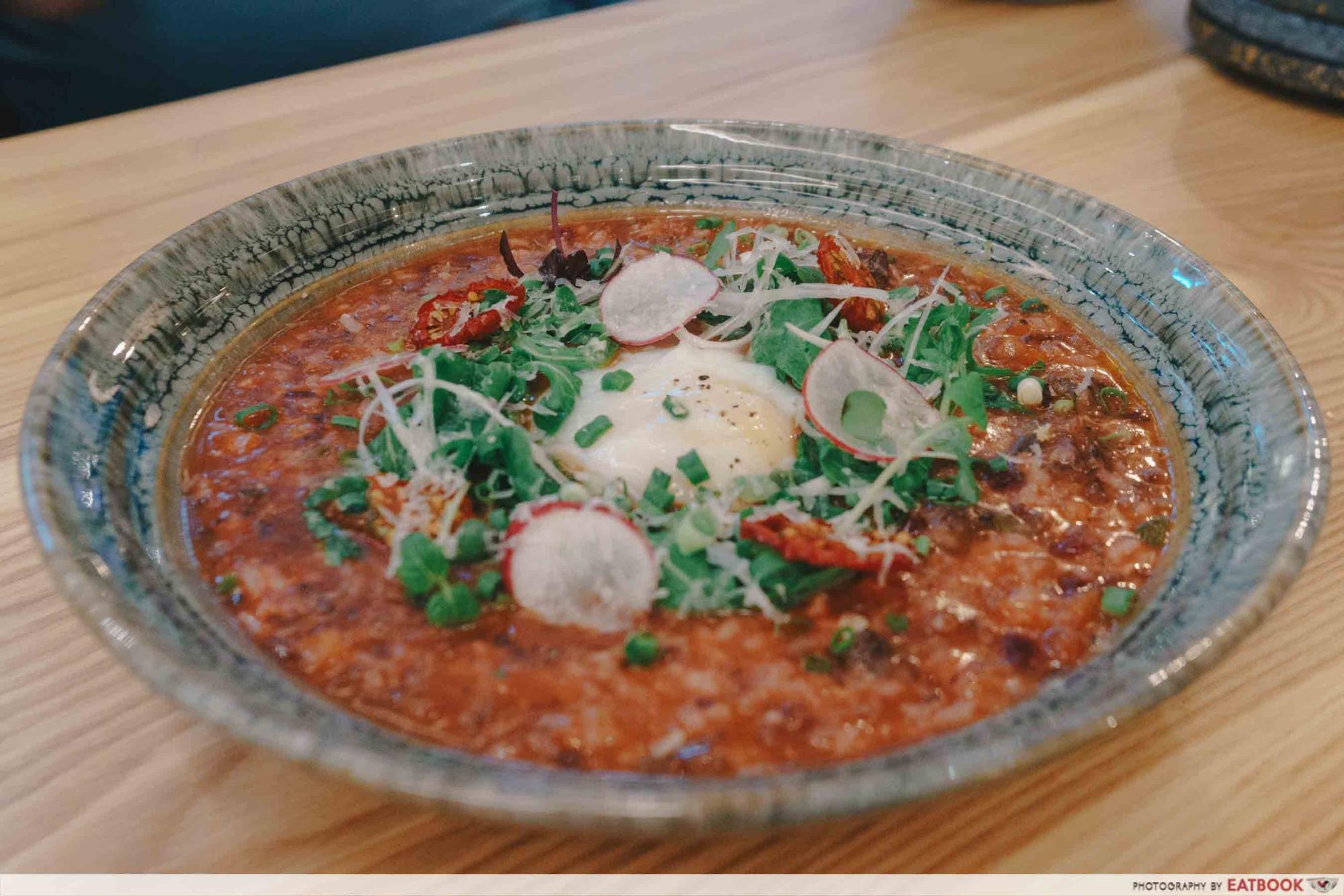 Speciality Beef & Tomato Braised Rice ($28++) proved to be immensely comforting, with rich beefy flavours that are mixed with a variety of earthy grains. The rice is actually a mixture of six type of grains to give a wholesome and velvety texture. I also liked how the cubes of brisket were tender and not too tough.
Address: 290 Orchard Road, #03-09, The Paragon, Singapore 238859
Opening hours: Daily 9am to 10pm
Tel: 9727 5121
Website
---
4. Mister Wu
---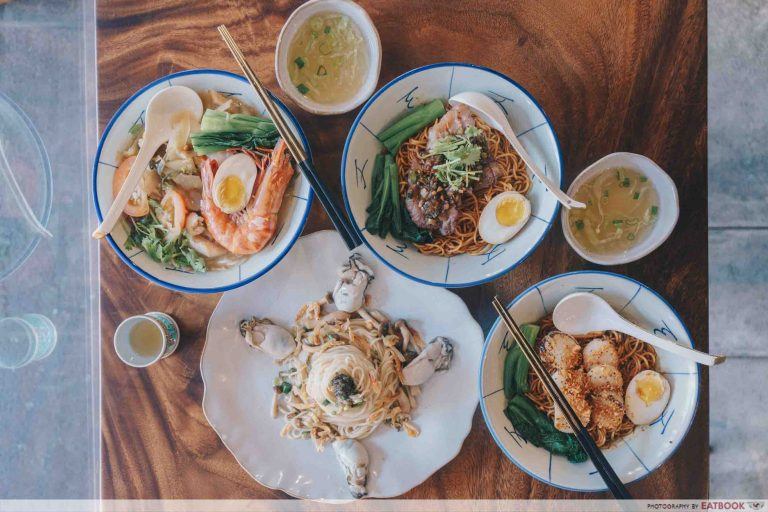 Mister Wu takes the usual Chinese nosh up a notch with their range of dishes that incorporate premium elements like wagyu steak and Hibiki whisky. Just a short walk from Telok Ayer MRT Station, you can dine like a king from just from $8++.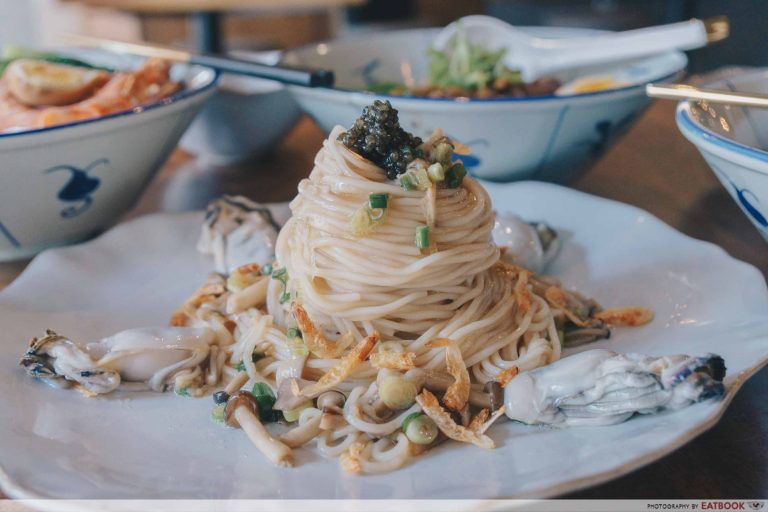 If you're looking to up the indulgence factor, be sure to try the Chilled Truffle Caviar Oyster La Mian ($23++), which comes with plump oysters from Hiroshima. These oysters are bigger and juicier than the usual ones, and pair well with the delicate flavour of the pasta.
Address: 3 Pickering Street, Nankin Row, #01-44/45, China Square Central, Singapore 048660
Opening hours: Mon-Sat 11:30am to 2:30pm, 6pm to 10pm
Tel: 6781 3833
Website
---
5. Dumpling Darlings
---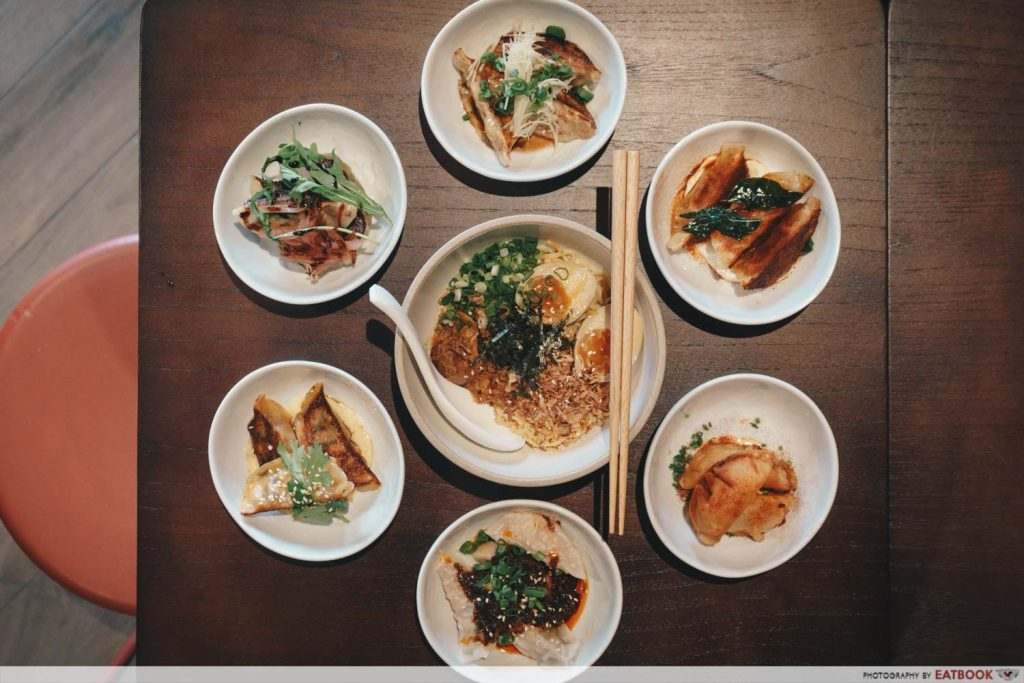 Opened by the folks behind Lola's Cafe, Dumpling Darlings pushes out – you guessed it – dumplings! On the menu are six savoury dumplings, one dessert dumpling and three noodles. Since it's located in the CBD, their lunch set is competitively affordable at $16++ for a bowl of noodles, dumplings and drinks.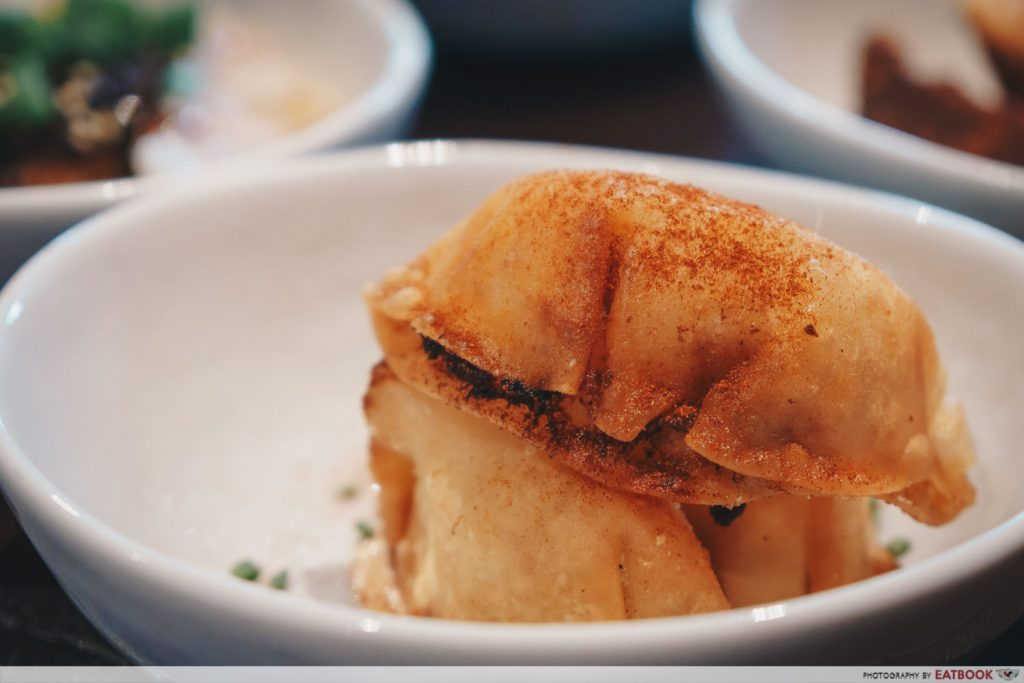 To try all their dumplings, get a Dumpling Platter of 15 ($20++), which includes three of each of these flavours: The Original, Veggie Mandu, Momo Curry, Fried Pierogi, Smoked Duck. Our favourite is the Fried Pierogi, which comes filled with smoked bacon, truffle potato, caramelised onion, and cheddar.
Address: 44 Amoy Street, Singapore 069870
Opening hours: Mon-Thur 11:30am to 3pm, 6pm to 10:30pm, Fri 11:30am to 3pm, 6pm to 2am, Sat 6pm to 2am
Tel: 8223 9249
Website
Menu
---
6. Telok Ayer Arts Club
---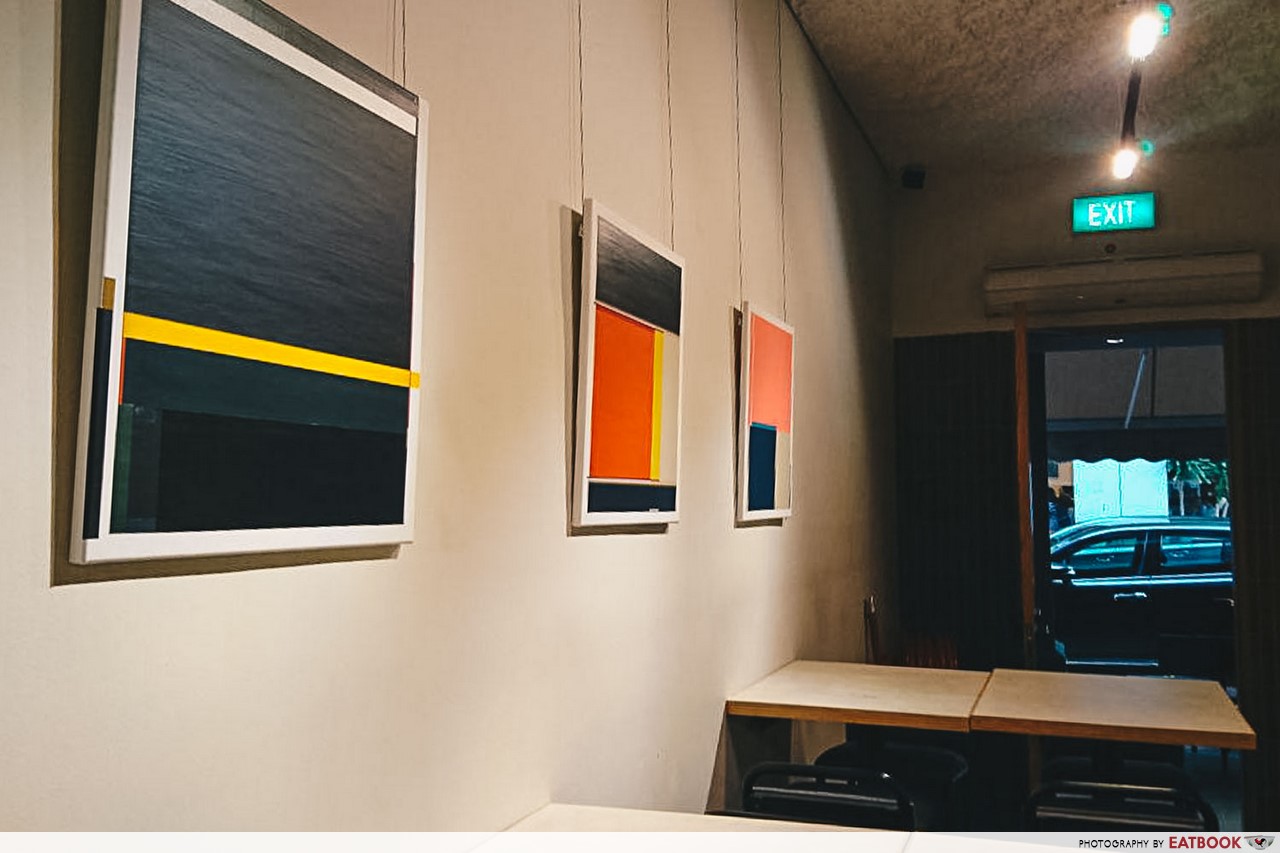 Opened by the people behind SPRMRKT, Telok Ayer Arts Club is not any other art club. Instead, this establishment is more like a colourful combination of a restaurant, gallery, bar and cafe all put together. Local and regional artists are invited to show off their work, with the artworks changing frequently.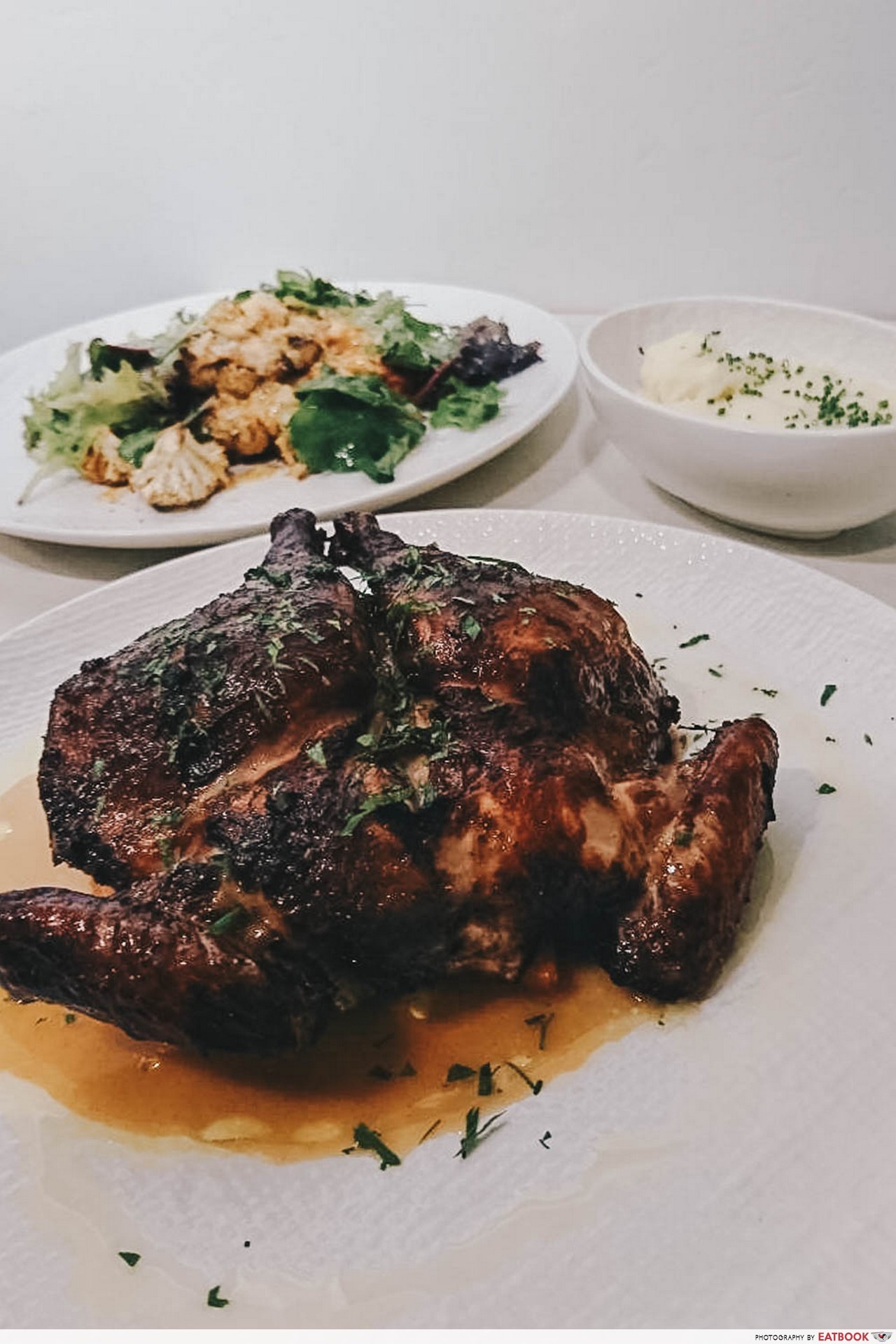 Similar to SPRMRKT, the food consists of Western influences with a touch of Asian elements. Most of the dishes are sharing plates, with the Locally-Bred Spatchcock ($28++) proving to be ideal thanks to its generous serving size and creamy whipped potatoes.
Address: 2 McCallum Street, Singapore 069043
Opening hours: Mon-Sat 11am to 11pm
Tel: 6221 0712
Website
---
7. Chunky Crab  
---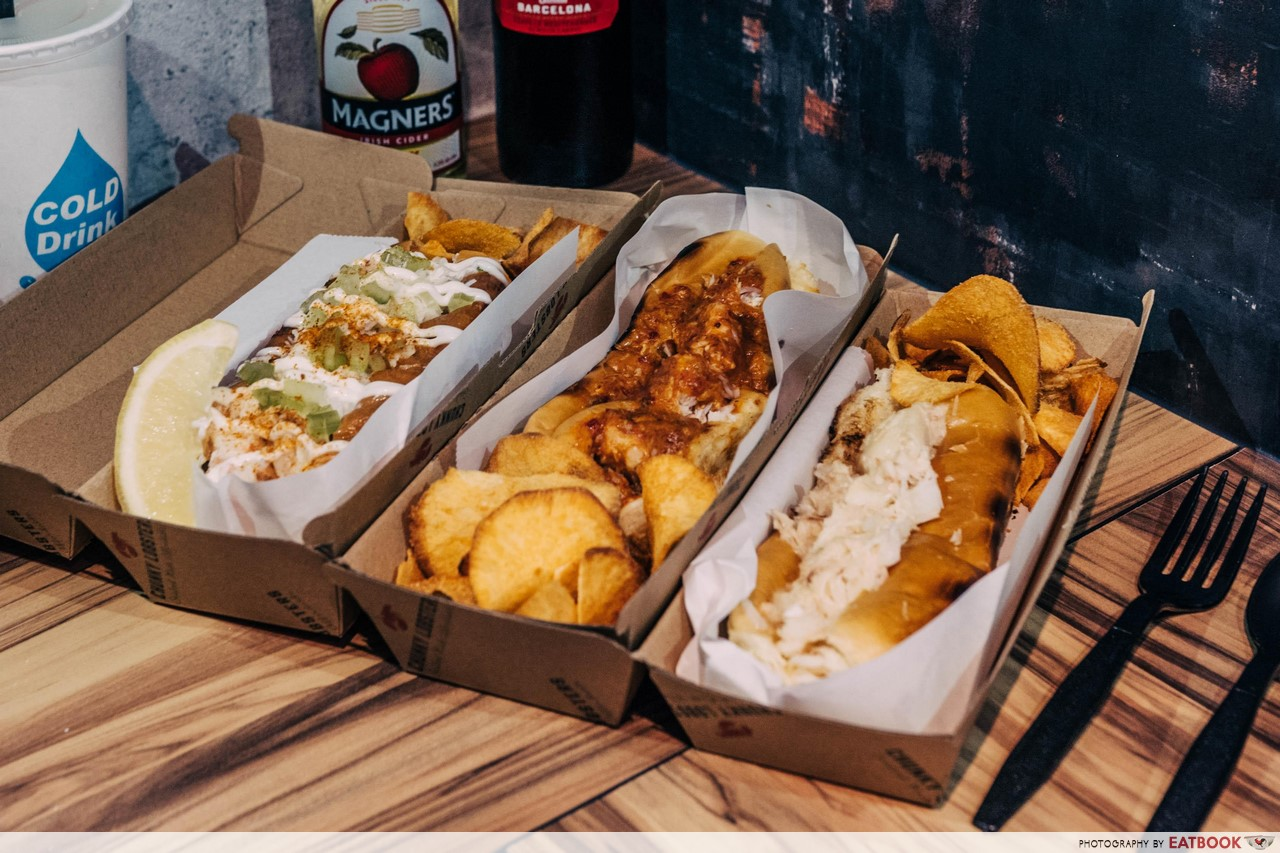 There ain't nothing crusty about the crabs at Chunky Crab. The sister outlet of Chunky Lobsters, you can find rolls filled with hearty amounts of crab meat here. If you're the kind who takes a long time picking out from the menu, don't fret as this stall sells only three variations of crab rolls at $16.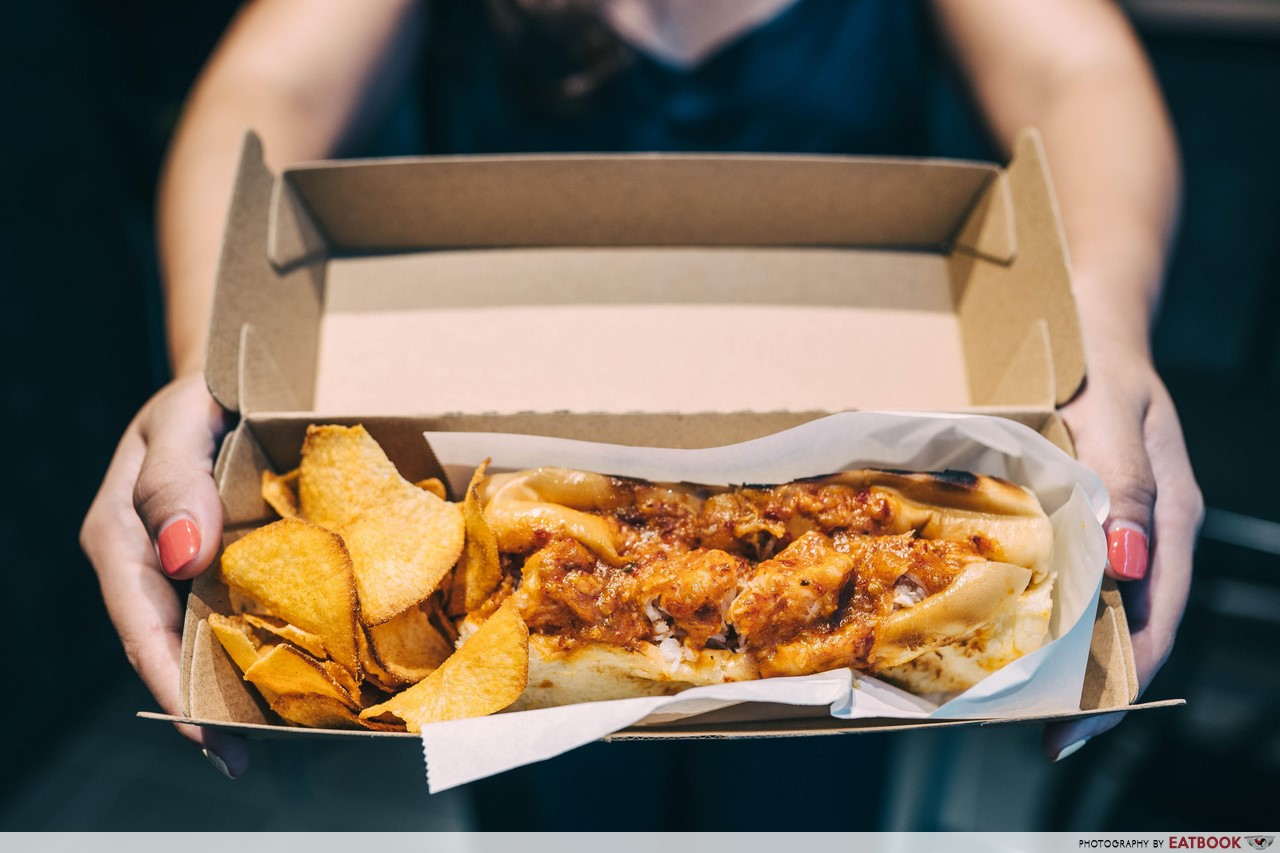 Fans of our national dish will love Chunky's Chilli, which is served warm and doused with a sweet chilli crab sauce that isn't too spicy. Each roll also comes with a side of Cassava Chips which are dusted with a barbecue-flavoured seasoning. If you're here for lunch, make your order a set meal with drinks by topping up $0.90, or get both a drink and a bowl of crab bisque by topping up $3.90.
Chunky Crabs Review: Super Generous Chilli Crab And Butter Crab Rolls At $16 Nett
Address: 51 Telok Ayer Street, #01-06A, China Square, Singapore 048441
Opening hours: Mon-Sat 11am to 10:30pm
Website
---
8. Menya Kokuro
---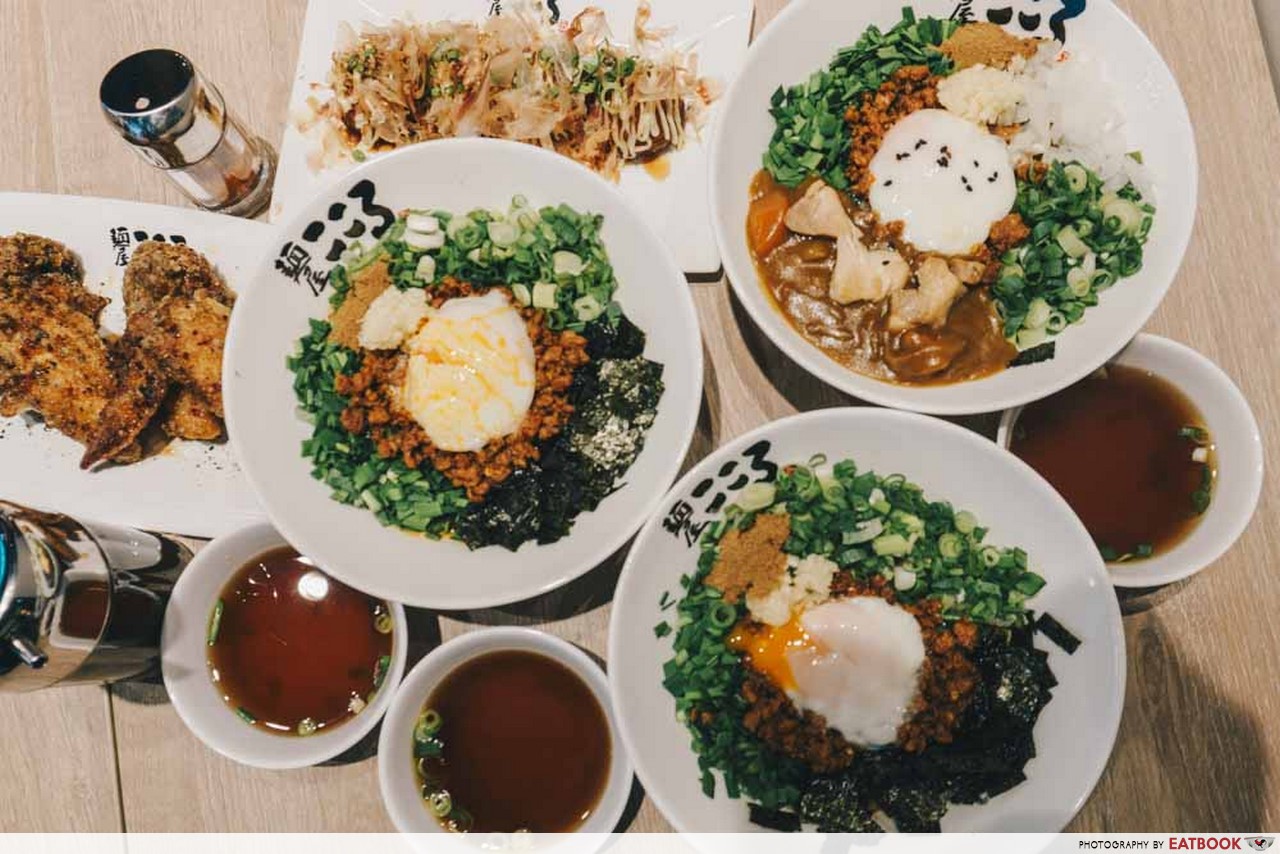 The mazesoba, or dry ramen, sensation is heating up with Menya Kokuro in the market. These noodles are a relatively new trend, and originated in 2008 when a young Japanese chef was tinkering with a recipe of 'Taiwanese Ramen' that comprises sweet ground meat sans soup. It turned out to be a huge success and gained a loyal following.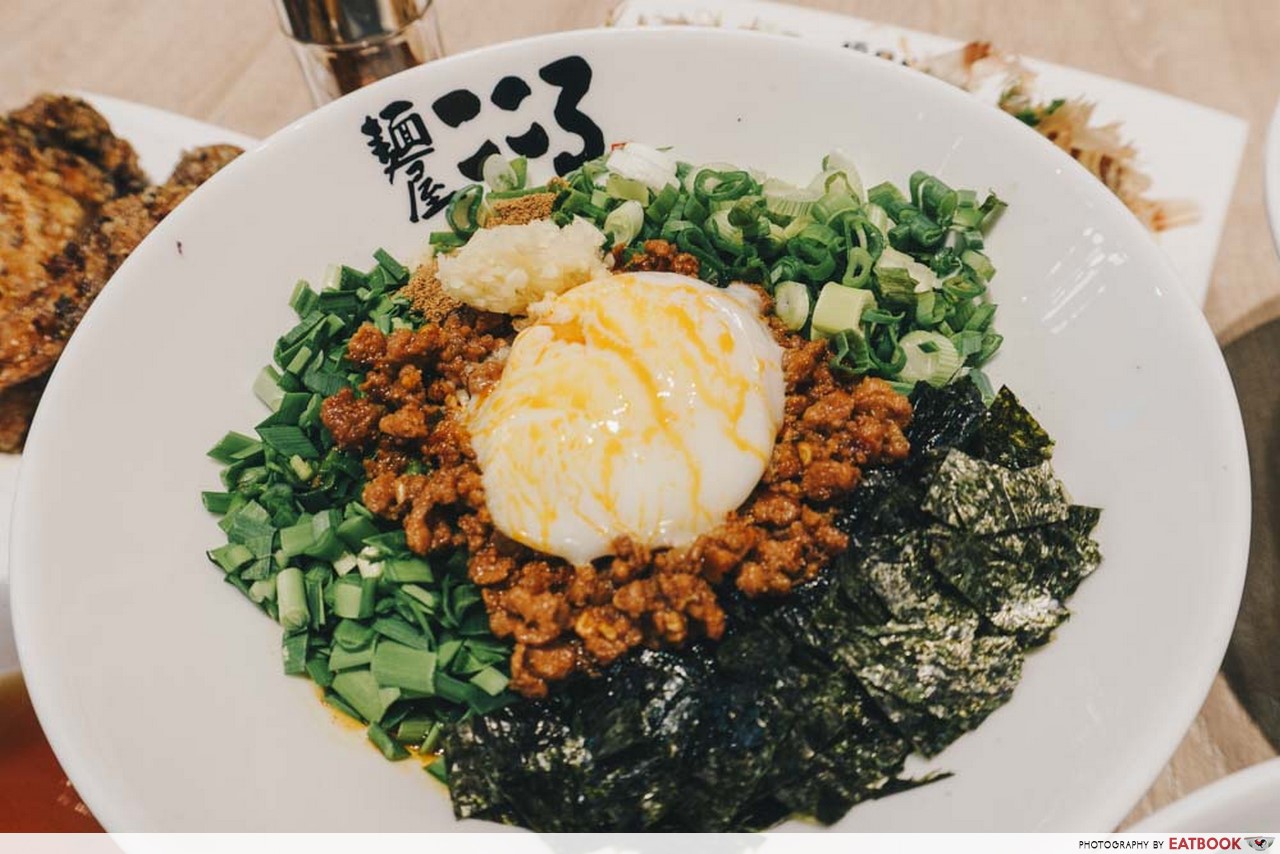 With 27 outlets worldwide, this joint is one of the most popular speciality maze-soba you can find. My personal favourite was the Spicy Maze-Soba ($11.80++) that had an intense spiciness to it. You'll get thick noodles which look a little similar to yellow mee, minced meat sauce, and a variety of toppings including an onsen egg. Make sure to drizzle a generous amount of their house-made kelp vinegar that goes nicely with the heat.
Address: 3 Temasek Boulevard, #03-313, Suntec City Mall Tower 1 & 2, Singapore 038983
Opening hours: Daily 11am to 10pm
Tel: 6235 3386
Website
---
9. Sampan
---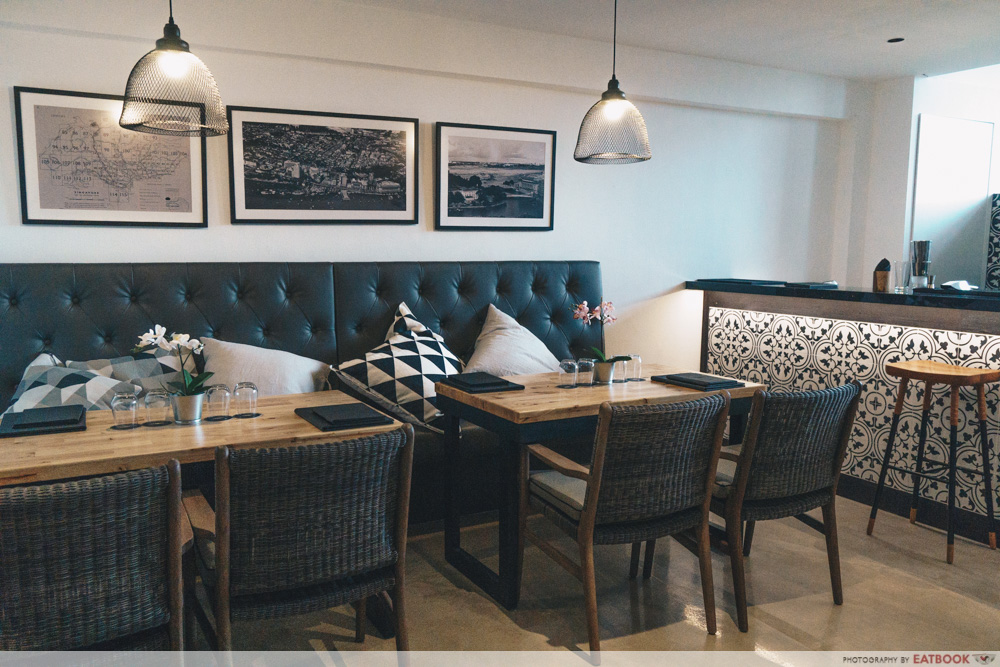 Taking over a three-story shophouse at Boat Quay, Sampan is set to be a hot dining spot in the vicinity. The space embodies a Bali-esque vibe, with rattan chairs, throw pillows and wicker lamps decorating the space. If you're only here for drinks and light bites, there's also a cushy sofa out front to luxuriate in. If you have the time, do explore the space and check out the photographs of olden Singapore.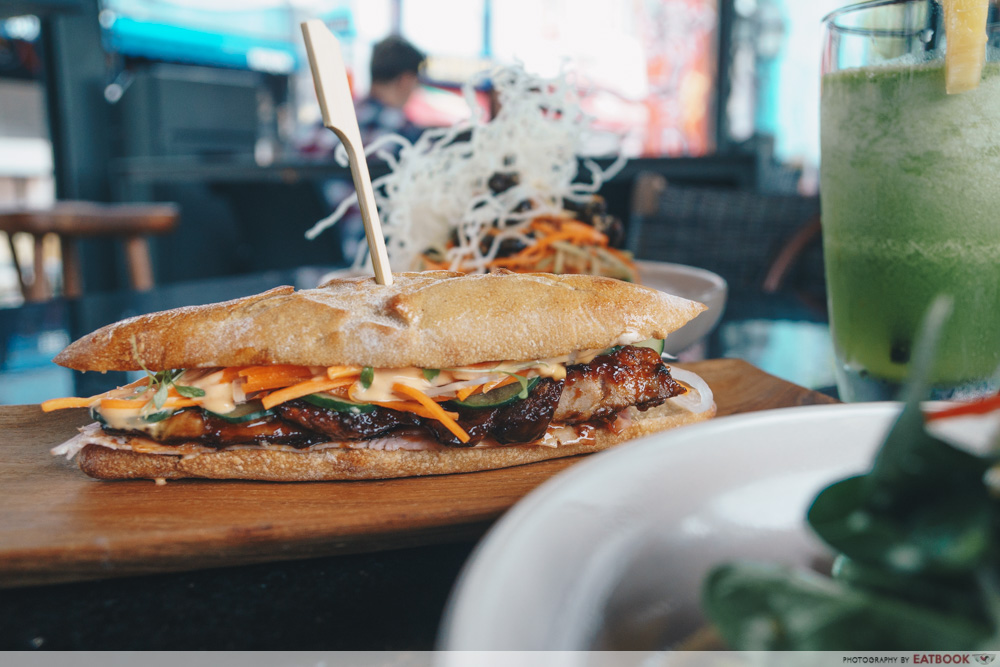 What I like about Sampan is that the flavours are very much Asian; it's not like the usual Western-Asian fusion fare I tend to find at such restaurants. All the dishes served are punchy in taste, without being overly complicated. For a light lunch, order the Bahn Mi ($12++), in which rye bread is packed with tender pork neck, sriracha mayo, foie gras and veggies. Another dish worth ordering is the Pani Puri ($6.50++), which was creamy from stracciatella cheese, yet earthy from the lentil stuffing.
Address: 63 Boat Quay, Singapore 049851
Opening hours: Mon-Fri: 11:30am to 12am, Sat 5:30pm to 12am
Tel: 6732 1698
---
10. Nonya Nonya
---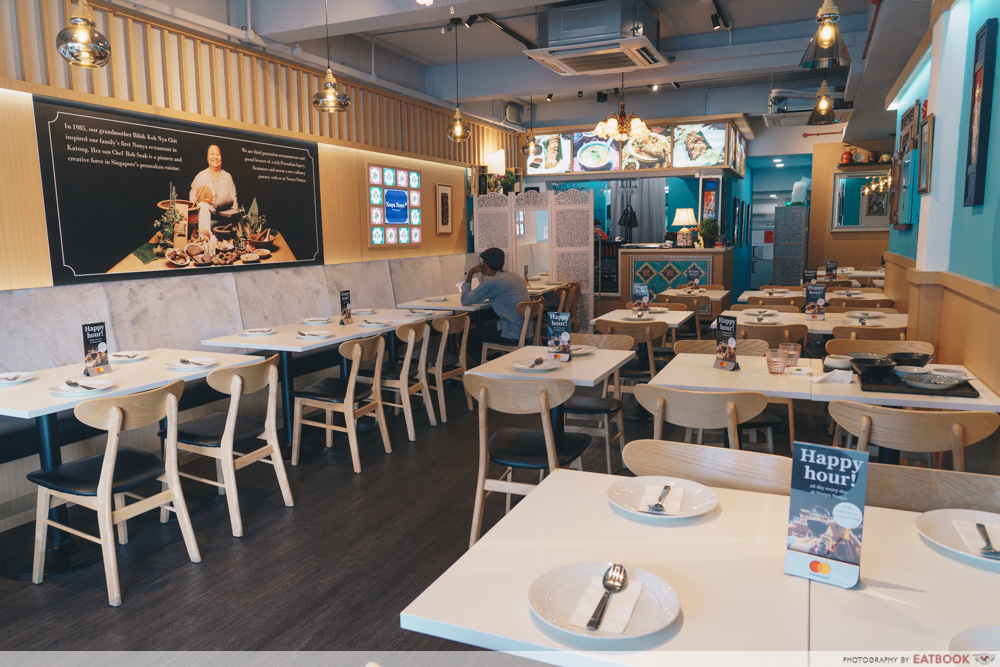 Opened by the third-generation family behind pioneering Peranakan restaurant, House of Peranakan, Nonya Nonya caters to the younger folks with a menu that stays true to the authentic recipe, but with a subtle twist – either in ingredients used or its presentation.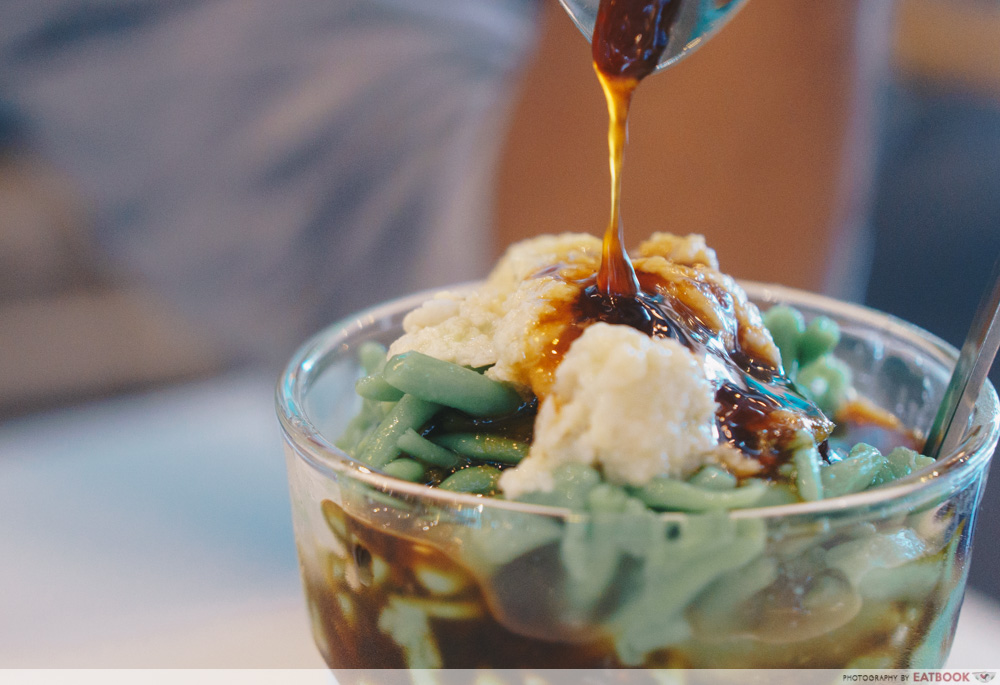 For instance, the classic Ayam Buah Keluak ($16++) stays true to the recipe, except for the fact that the buah keluak nut fillings are served on the side for easy sharing. The Scallop Lemak ($28++) also comprises all the fragrant ingredients of Nonya dish, with the exception of the juicy Japanese scallops. Lastly, the Durian Chendol ($6.50++) replaces coconut milk with a luscious coconut ice cream!
Nonya Nonya Review: Scallop Lemak And Pork-Stuffed Grilled Sotong At Serangoon Garden
Address: 12 Maju Avenue, Serangoon Garden Estate, Singapore 556690
Opening hours: Mon-Sun 11:30am to 3pm, 5:30pm to 10pm
Tel: 6282 4021
Website
---
Bonus 1: Blue Jasmine
---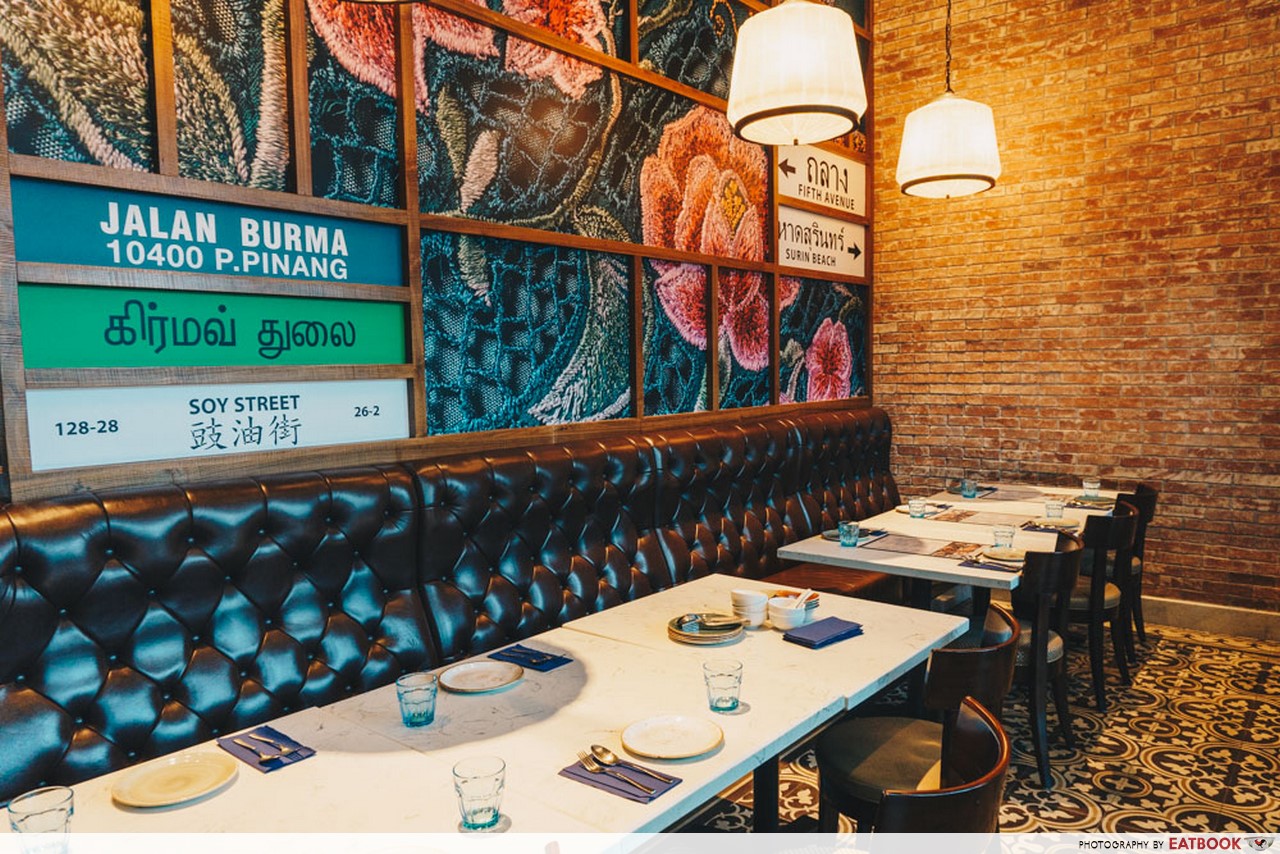 Chef Khun Nipaporn now helms halal-certified Thai restaurant, Blue Jasmine. Adding several twists to the restaurant's mainstay of dishes, the menu has been refreshed to offer several regional specialities from all regions of Thailand. The cosy restaurant has nicely patterned tiles on the floors and walls, along with gentle lighting to make it a great place to chill out over authentic Thai food.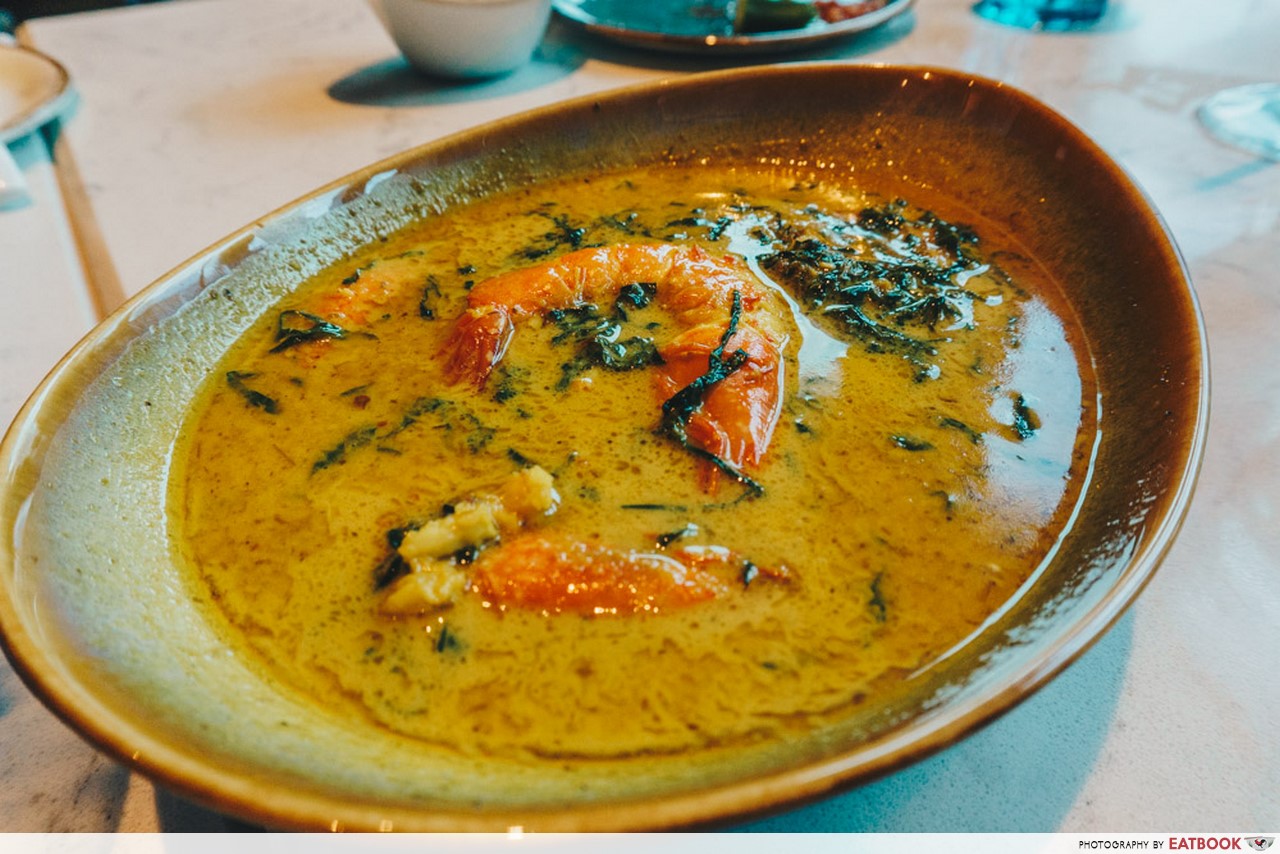 Yellow River Prawn Curry ($26++) comes with an intense creaminess that was one of the richest we've ever tried. It wasn't too cloying though. The spices gave a little kick to the dish, brightening up the flavours. The prawns were also plump and fresh, soaking up all the goodness of the curry.  
Address: 10 Farrer Park Station Road, Level 5, Park Hotel Farrer Park, Singapore 217564
Opening hours: Mon-Sun 11:30am to 10pm
Tel: 6824 8851
Website
---
Bonus 2: Salted Plum
---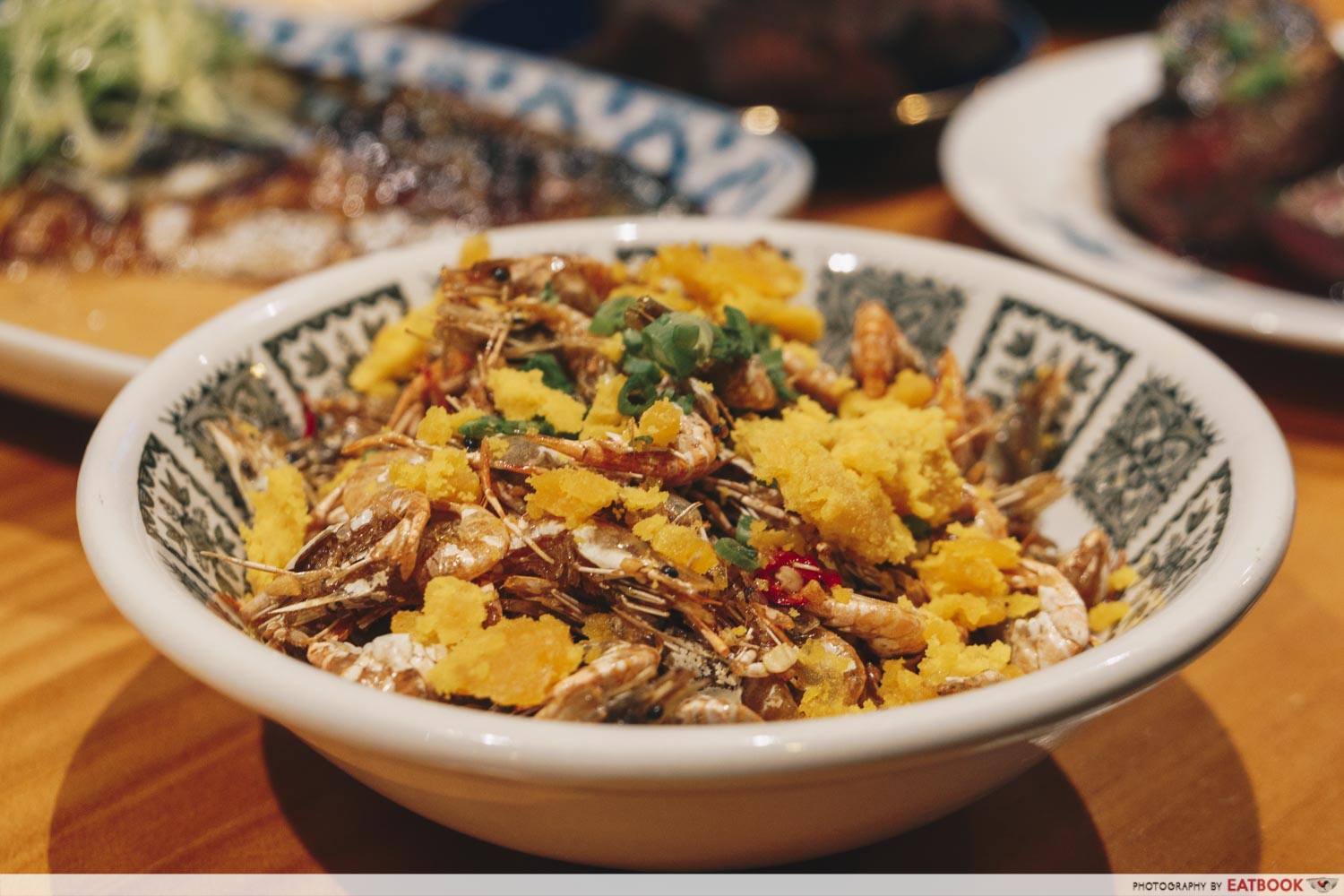 Since its opening in March this year, Salted Plum has gained a loyal following for dishes that brings Taiwanese cooking methods and flavours to local palates. The restaurant has surprised us once again with 10 new dishes that are available at pocket-friendly prices of $5, $10, and $15.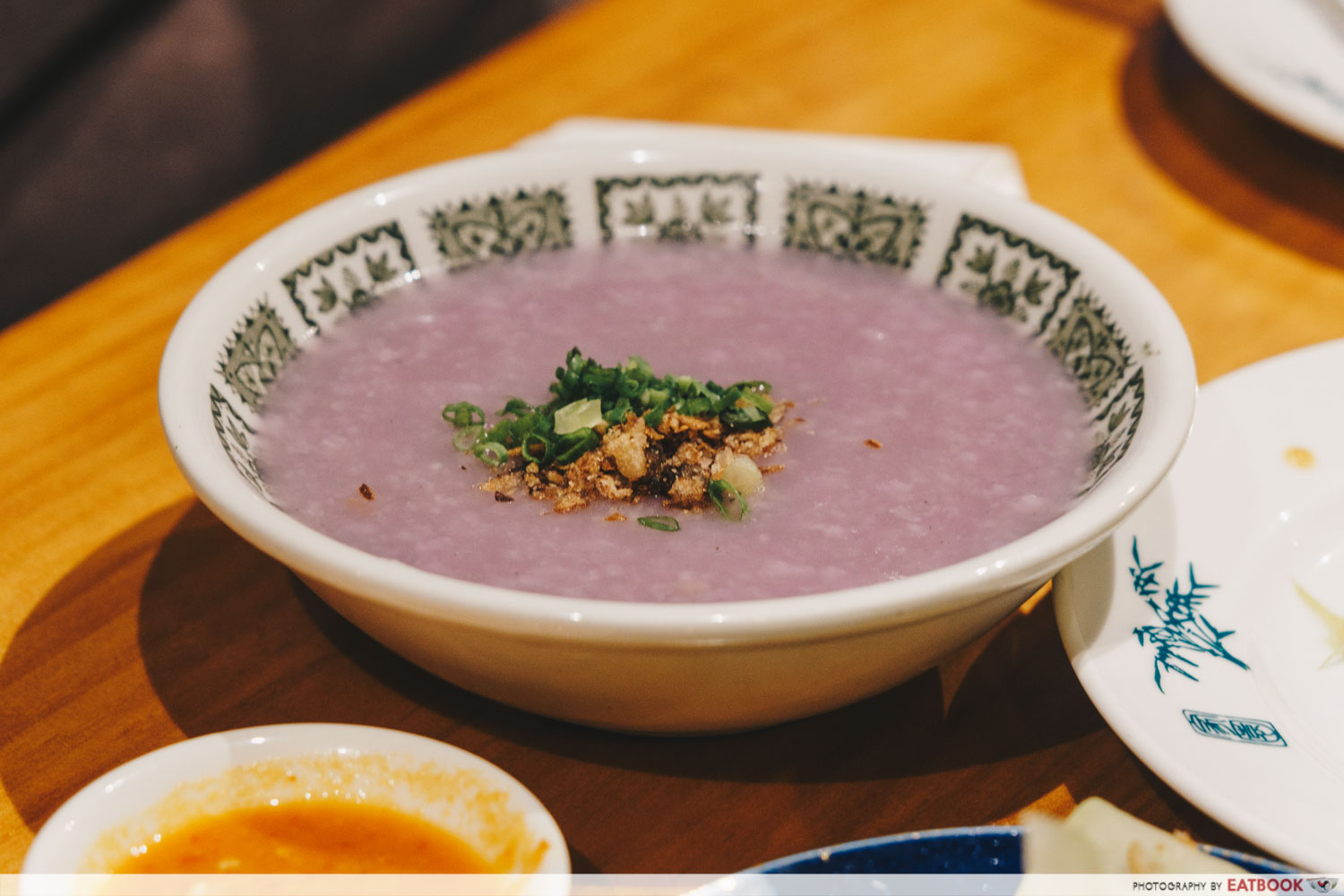 The Baby shrimp with salted egg yolk ($10+) comes packed with intense shrimp flavours that is further enhanced with sharp and fatty salted egg yolk bits. It's recommended to pair this with the thick and creamy sweet potato congee ($3+) that is lightly flavoured with dashi broth.
Address: 10 Circular Road, Singapore 049336
Opening hours: Daily 11:30am to 2:30pm, 6pm to 9:30pm
Tel: 6260 0155
Website
---
Bonus 3: Edge Sunday Brunch  
---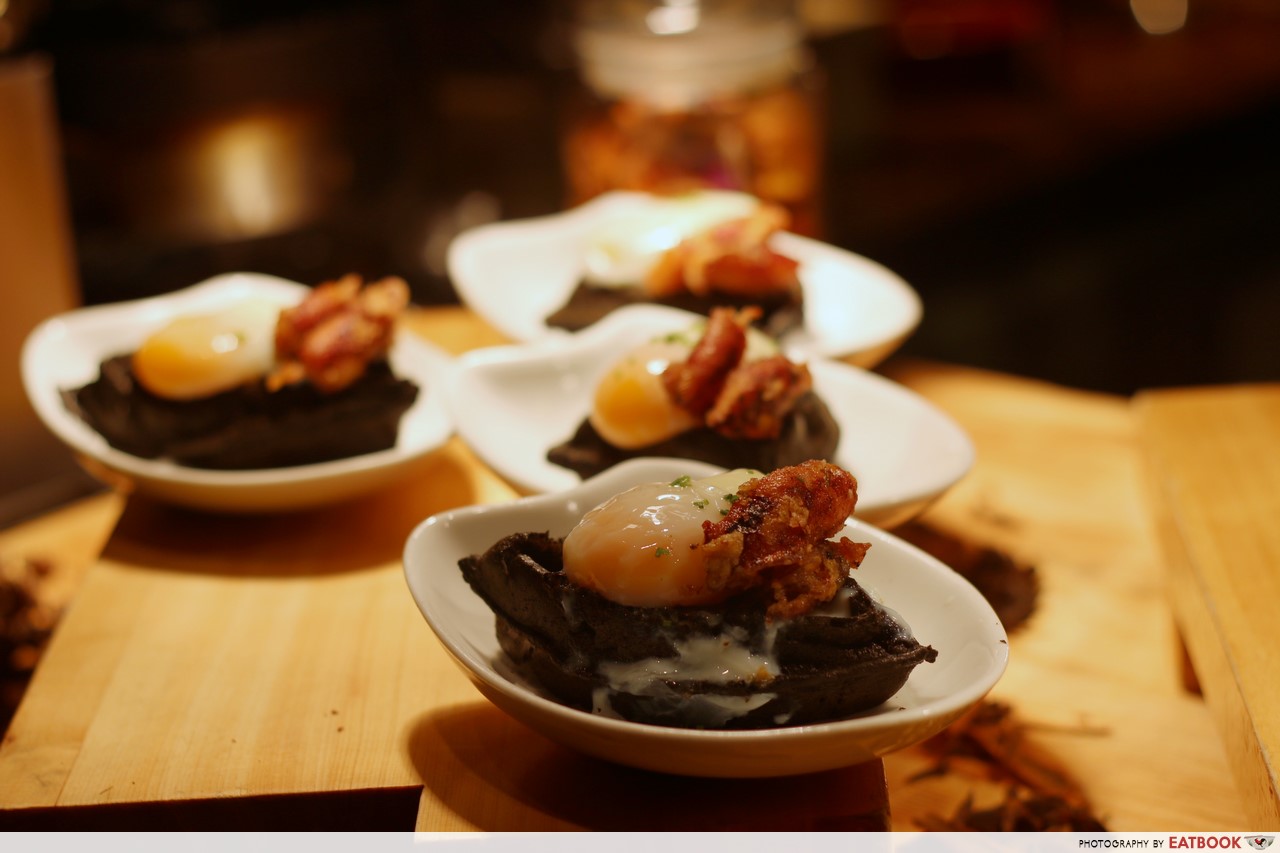 Edge has revamped its lineup of brunch delicacies with seven interactive live food theatres and more than 150 dishes at the Sunday Champagne Brunch. Look out for 40 different types of desserts in this marathon brunch session that lasts 3.5 hours. If you're a fan of the charcoal waffles at Pacific Marketplace on level 1, you'll be glad to know that they serve it here along with gooey poached egg and crispy fried squid.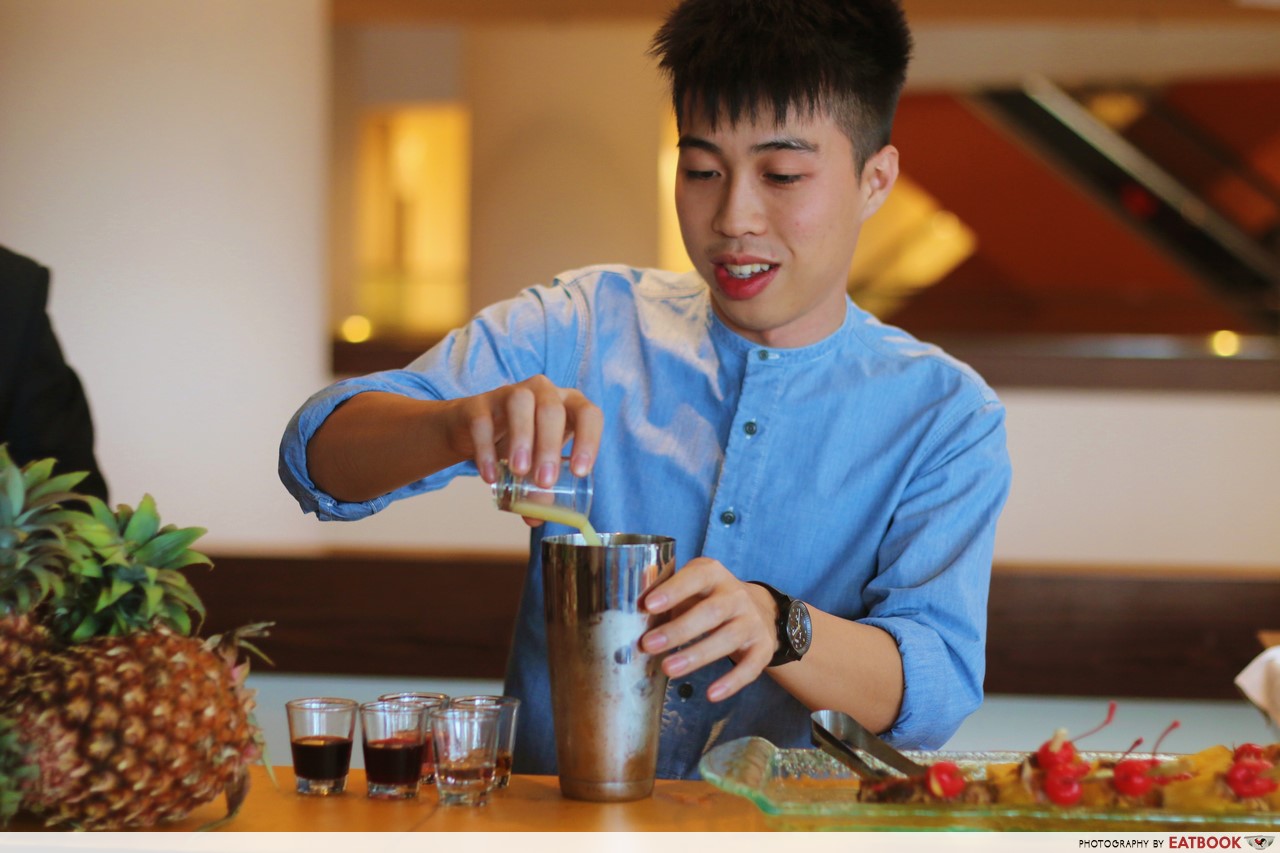 If you need to take a break from all the munching, you can try your hand at making your own cocktails at the DIY cocktail station. The staff will guide you through every step, while describing how each ingredient lends its flavour to the drink. Mixing the drink was only half the fun; gulping it down was even better.
Address: 7 Raffles Boulevard, Level 3, Pan Pacific Singapore, Singapore 039595
Opening hours: Sun 12pm to 3:30pm
Tel: 6826 8240
Website
---
Bonus 4: Wild Blooms
---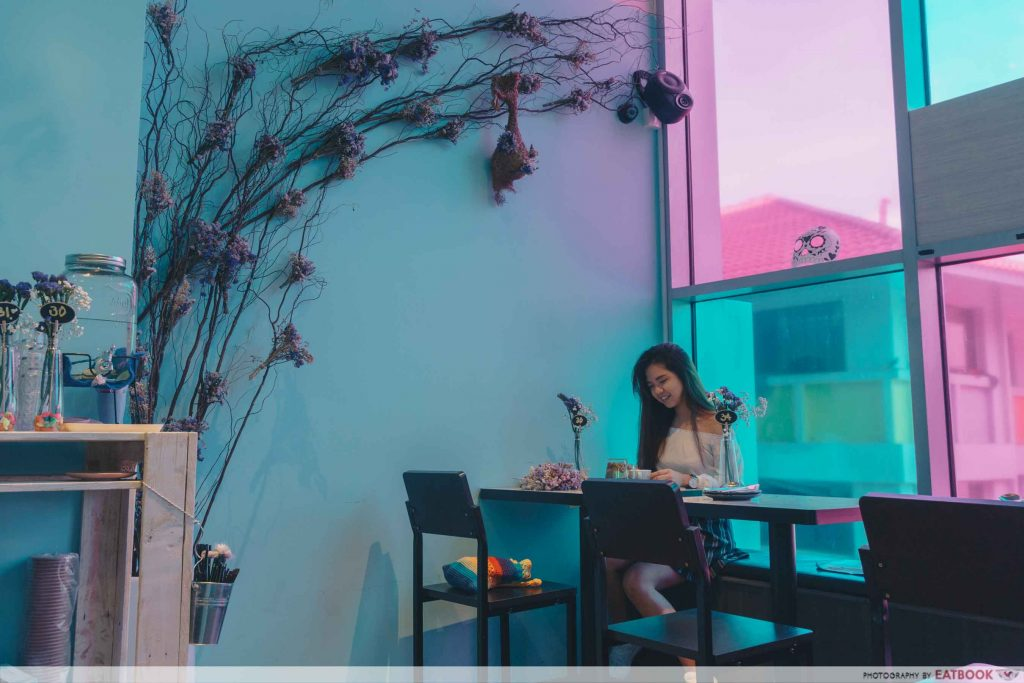 Tucked in a corner of Hougang central, Wild Blooms is one of the prettiest cafes we've been to this year. This floral-themed cafe serves up a wide variety of interesting fare, along with an impressive four-metre floral feature wall that is made by painstakingly placing each flower, petal by petal.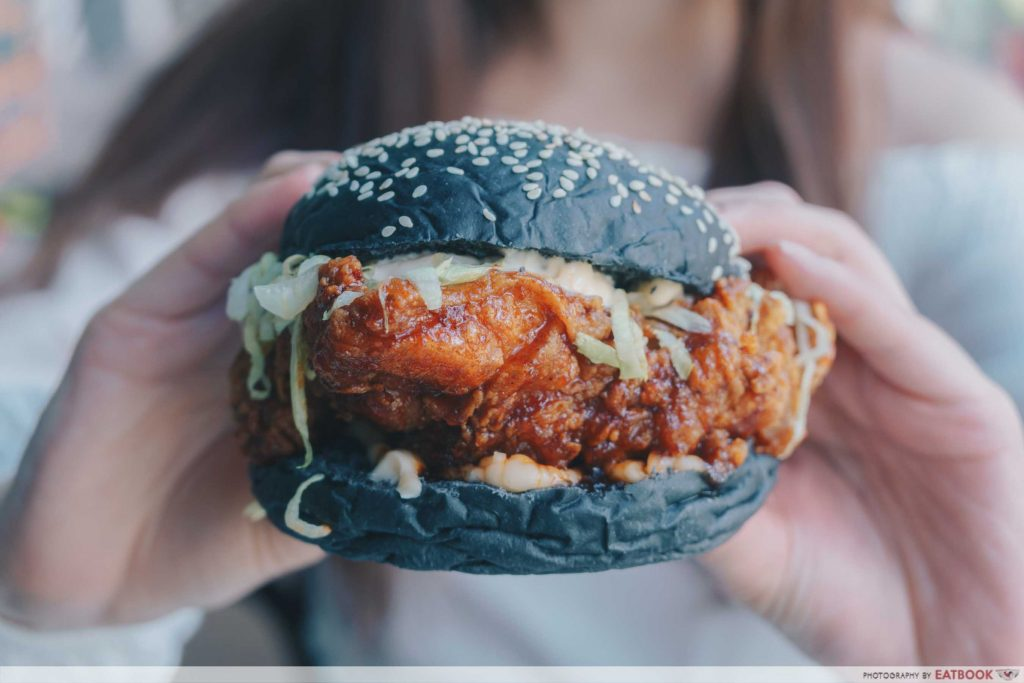 Their Korean Spicy Chicken ($13.90) is served in a soft and fluffy charcoal brioche bun that is accompanied by juicy and succulent chicken meat. It's also drizzled with sticky gochujang sauce that gives a nice sweetness and a little heat that slowly builds up with each bite.
Wild Blooms Review: Instaworthy Flora-Themed Cafe Serving Korean Spicy Burger And Seaweed Fries
Address: 1187 Upper Serangoon Road, #01-01, The Midtown, Singapore 533971
Opening hours: Tue-Thur 11am to 11pm, Fri-Sat 11am to 12am, Sun 11am to 9pm
Tel: 9191 9722
Website
---
New restaurants and cafes in November
---
As 2019 creeps in ever so slowly, take advantage of the calm before the holiday season to chiong these new makan spots before they get booked up.