Ng Ah Sio Bak Kut Teh has Teochew-style bak kut teh at Farrer Park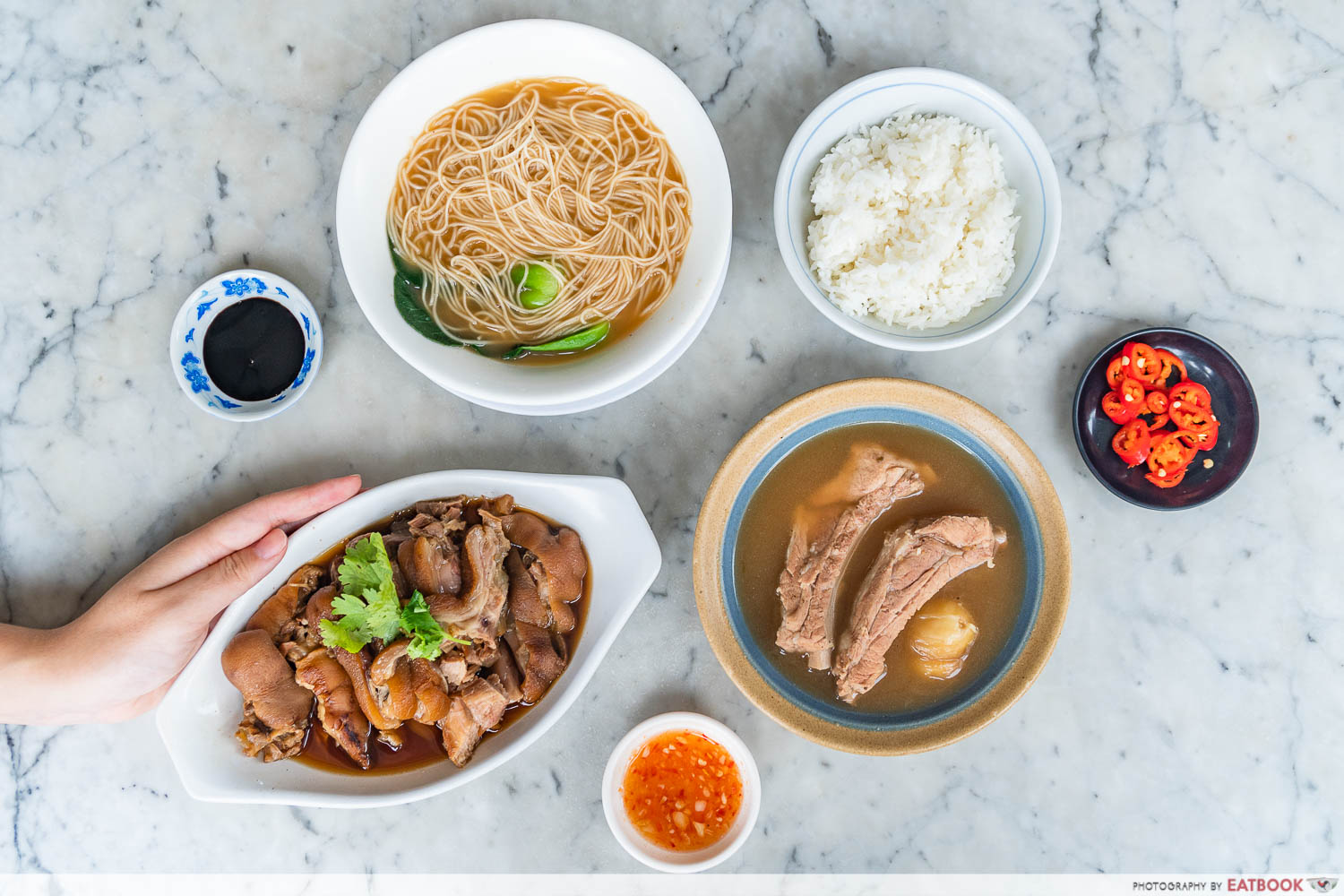 Bak kut teh (BKT) holds a special place in my heart: as a child, I used to look forward to the peppery pot of fall-off-the-bone pork rib soup that my grandmother would prepare on special occasions. Nowadays, when I can't visit her during busy periods, I'd seek familiar comfort by visiting Song Fa Bak Kut Teh, as they're easily accessible, with many outlets scattered across Singapore. Recently, I read about Ng Ah Sio Bak Kut Teh, similarly popular for their Teochew-style, peppery BKT, and knew I had to give them a try too.
If you didn't know, there are three styles of BKT in Singapore━dark, herbal Hokkien style, a similarly herbaceous, but less salty Cantonese style with cabbage, button mushrooms, and dried tofu, and my favourite, the clear, peppery, and garlicky Teochew style. 
Here's the story behind Ng Ah Sio: they started in the 1950s as a nameless street cart selling BKT around Hill Street and River Valley, before Mr Ng Ah Sio took over when his father retired in 1977. That was when he founded Ng Ah Sio Pork Ribs Soup Eating House, which has been known for their highly raved peppery BKT ever since. 
Food at Ng Ah Sio Bak Kut Teh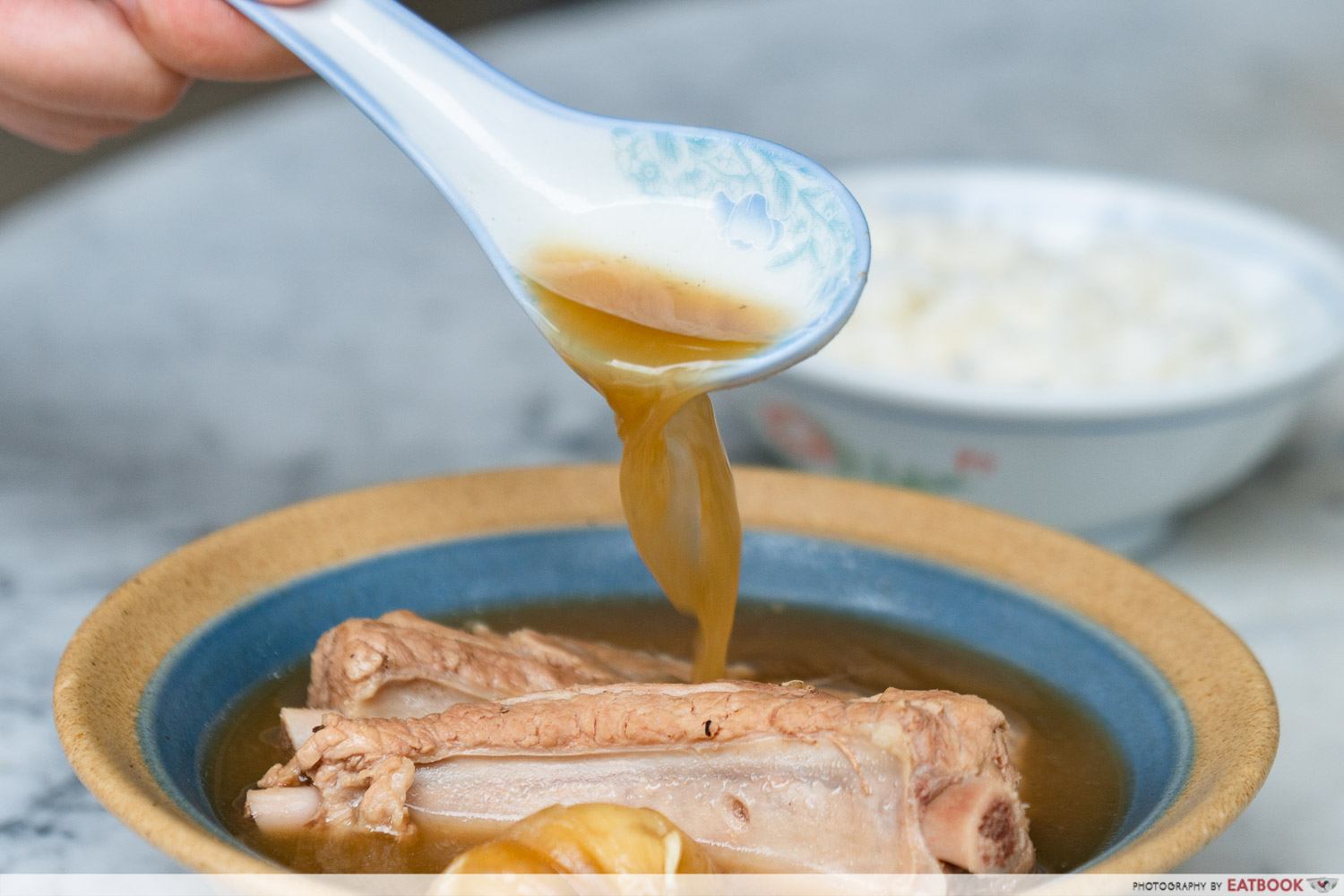 We started with their bestselling Premium Loin Ribs Soup ($10.80++). The soup was flavourful, with a strong kick from white pepper. However, compared to the BKT soup I've had at Song Fa, my colleague and I agreed that this soup fell a bit flat in taste.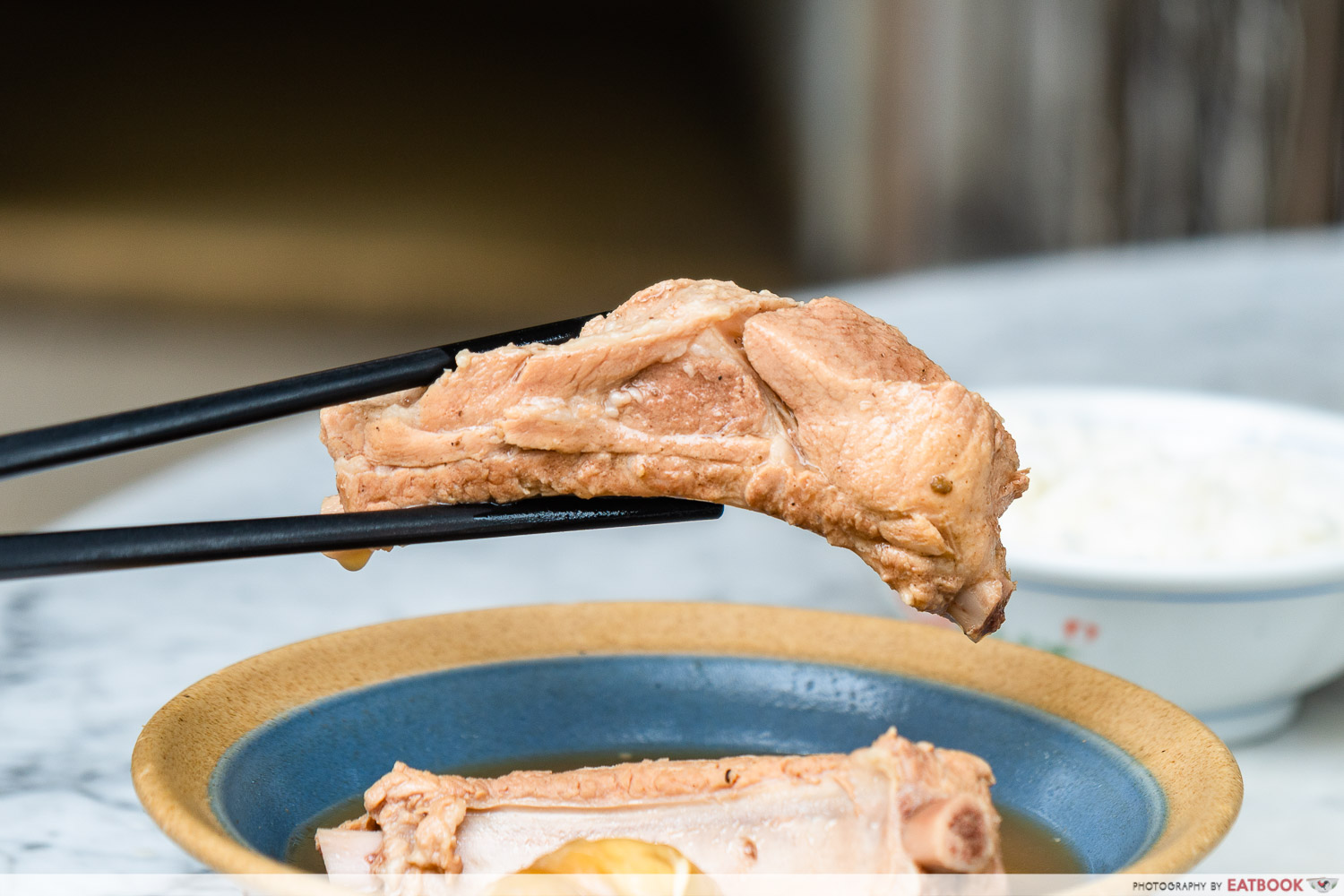 I moved on to the pork ribs, where I used my chopsticks to separate the meat from the bones—these came off with the littlest bit of effort. I could taste the herbs and spices used, while the meat was tender and juicy.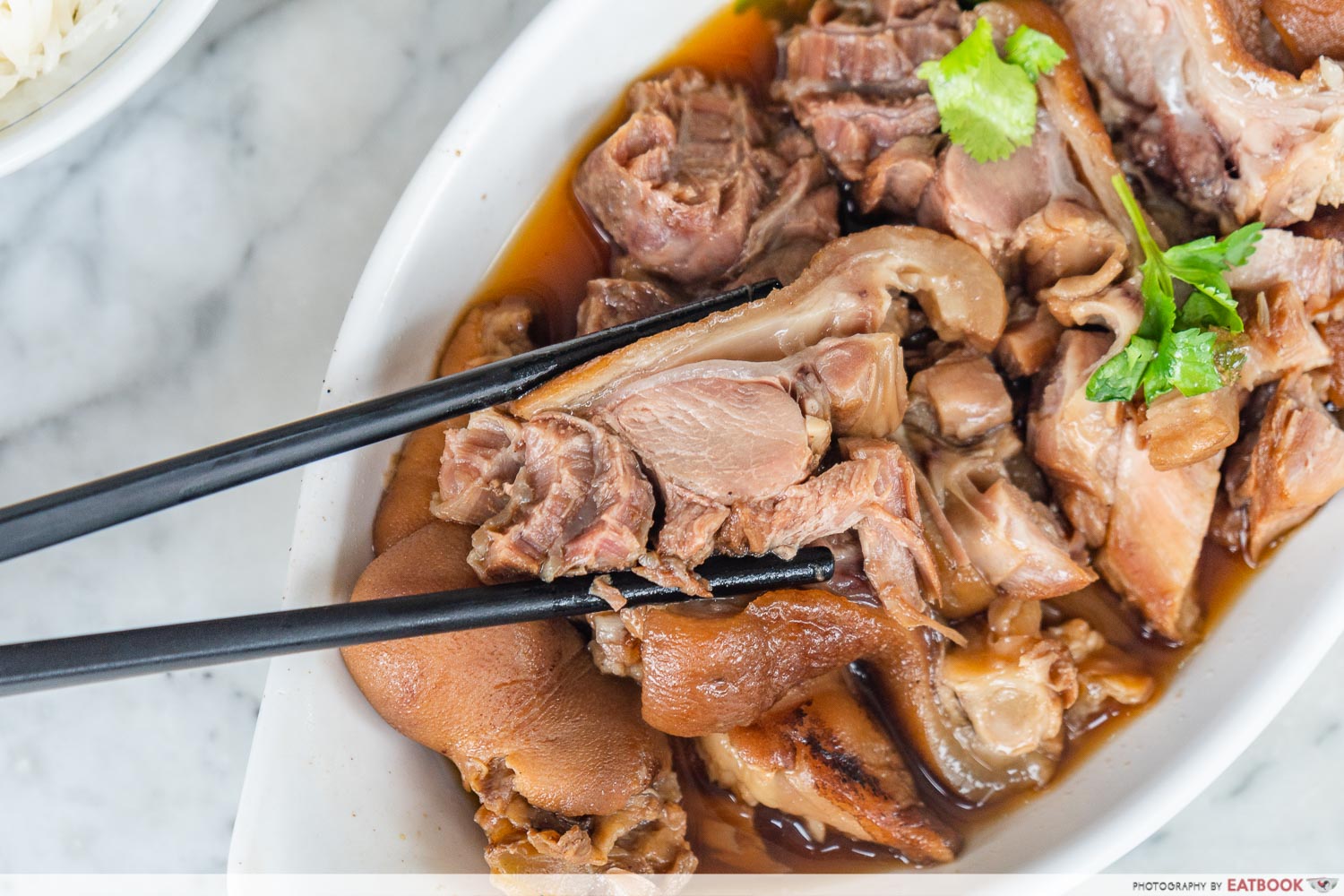 Next, we had their highly recommended Signature Teochew Braised Pig's Trotter ($10.80++). Having enjoyed my experience with pig trotters at Shi Nian Pig Leg Rice, I was looking forward to this dish. I was surprised to find it thinly sliced, rather than served in chunks like at Shi Nian.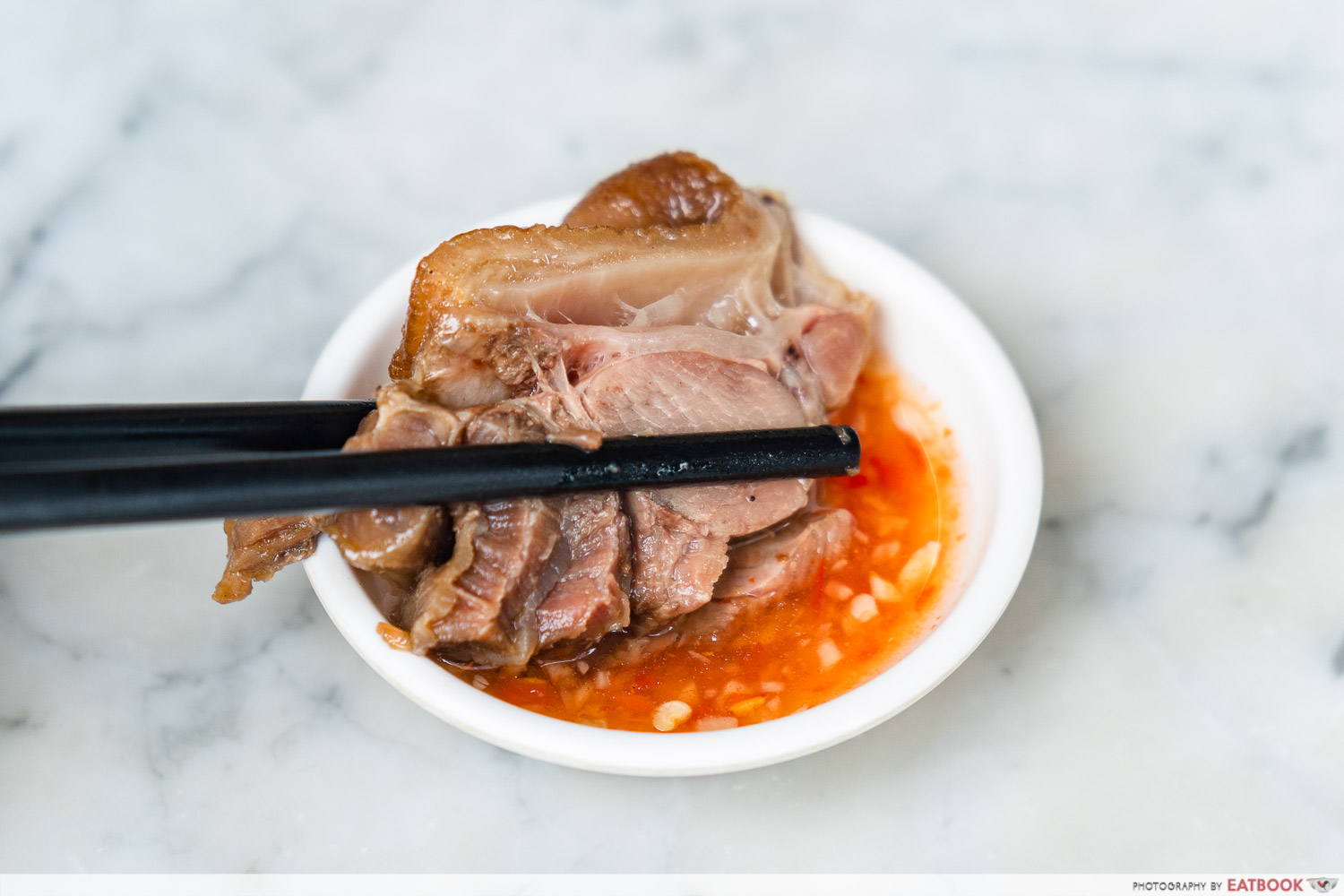 I was impressed. Ng Ah Sio's pig trotter was so tasty and tender. The meat practically fell apart in my mouth; it came with gelatinous fat and skin—what umami flavour! I also enjoyed dipping this into their sweet and tangy chilli.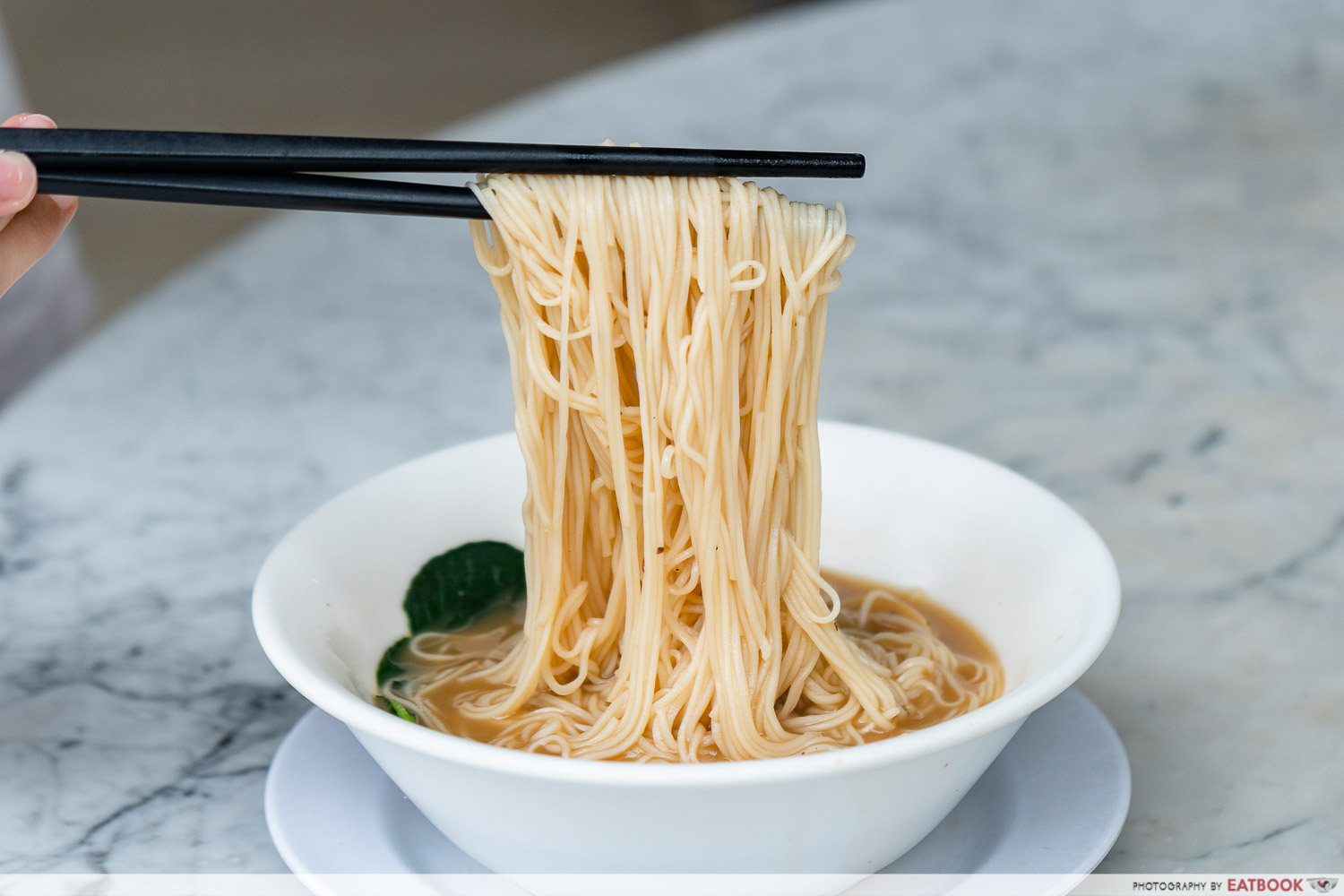 With your BKT at Ng Ah Sio, you can have Steamed Rice ($0.80++) or Mee Sua Soup ($3.80++). I found the soup slightly thicker compared to that of the Premium Loin Ribs Soup, but later realised it was due to the starch from the mee sua. My colleague didn't like this, but I didn't mind it.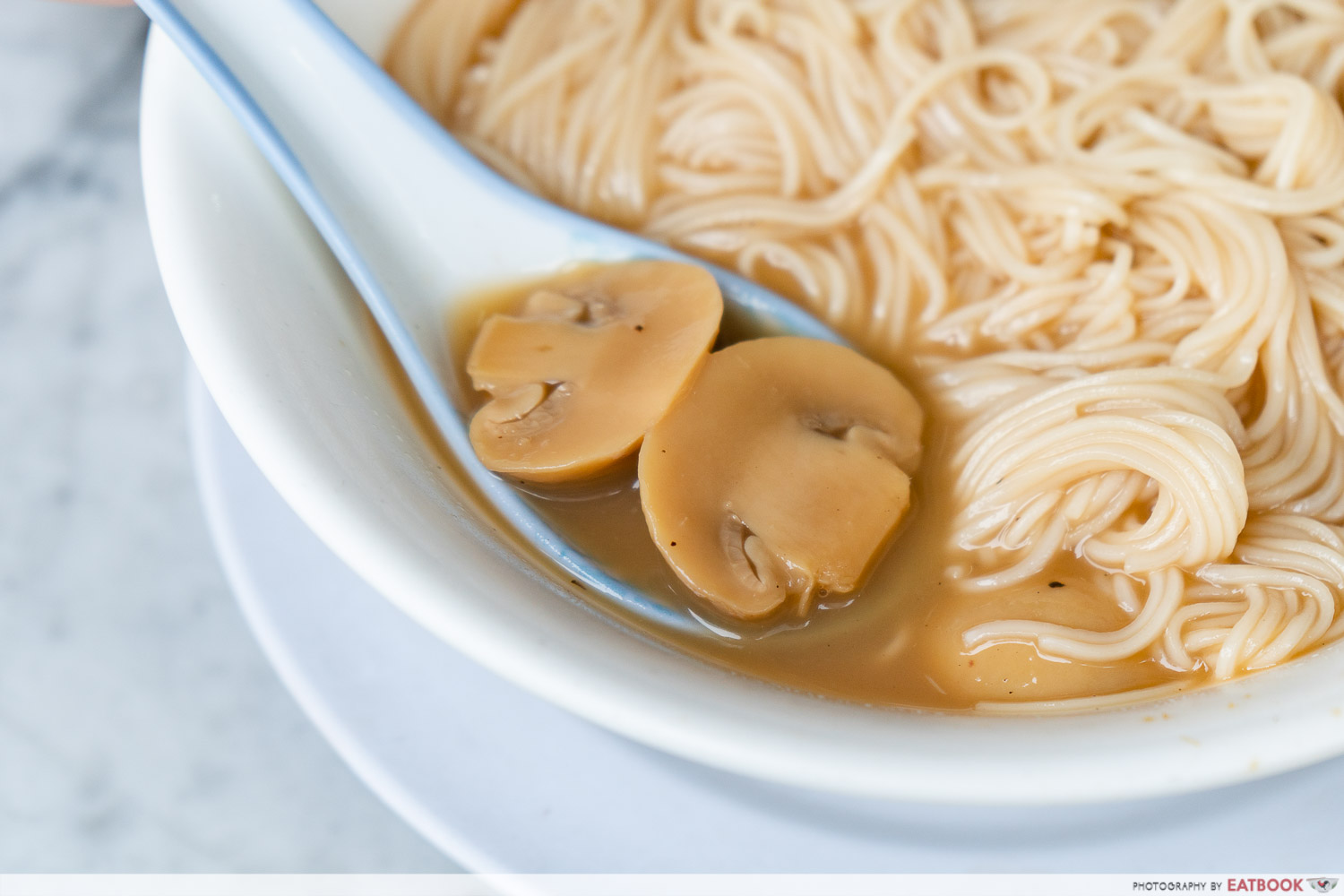 The mee sua, doused in the peppery soup, was springy and tasty. It also came with button mushroom halves, which added savouriness to the peppery broth. It was so tasty that I finished it all! However, I personally think that the dish is a bit pricey, since the bowl didn't come with much else.
Wooly's Bagels Review: Loaded Otah And S'mores Bagel Sandwiches Near Farrer Park
Ambience at Ng Ah Sio Bak Kut Teh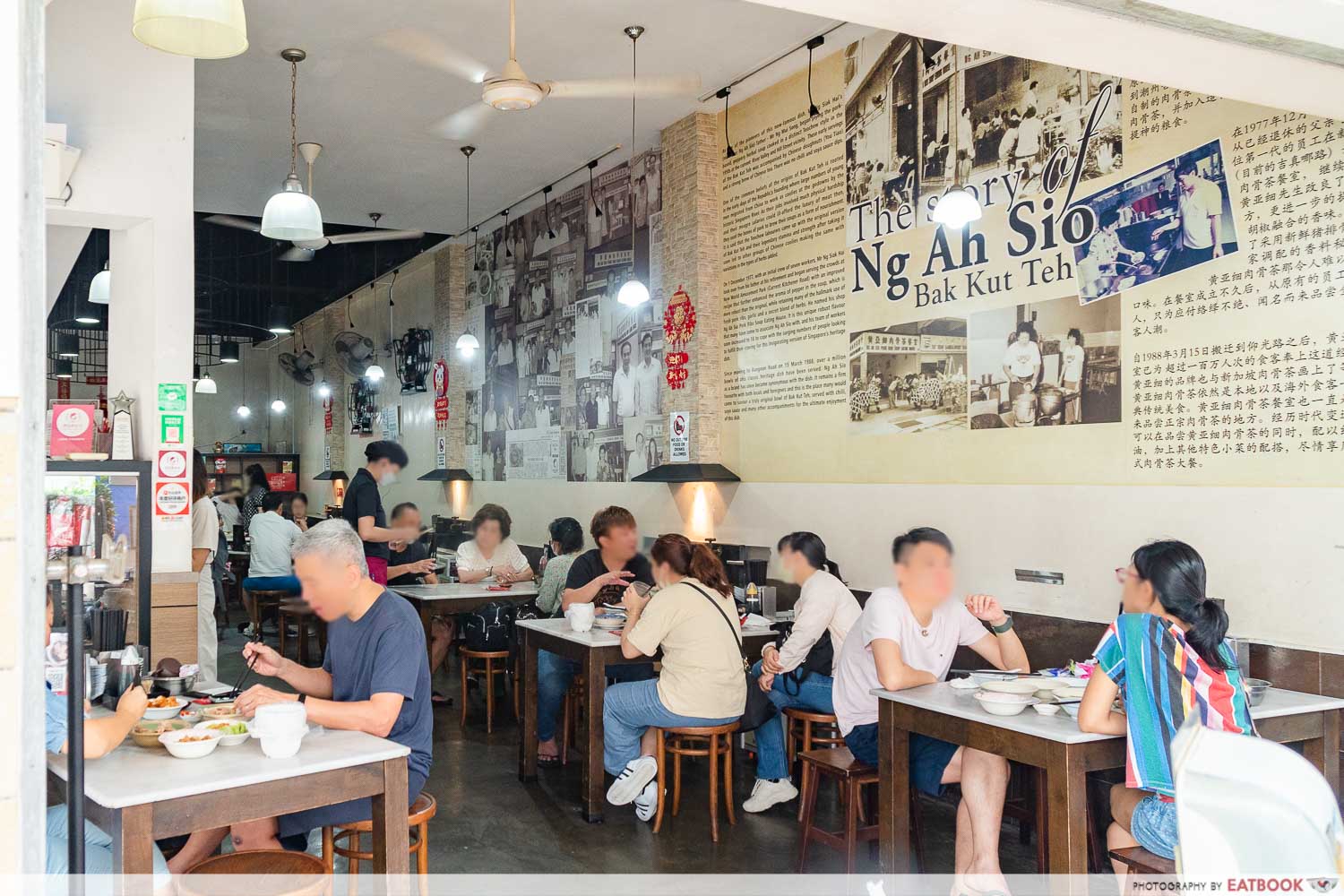 We didn't encounter a queue when we arrived at Ng Ah Sio just as they opened at 9am—though there were already two tables taken. After 10am, there were times when customers had to wait for a table. The restaurant faces the road, and I also found it quite comforting to have a bowl of hot soup while watching the cars go by. 
It is a slightly inconvenient nine-minute walk from Farrer Park MRT Station—still manageable if you're not in a rush.
The verdict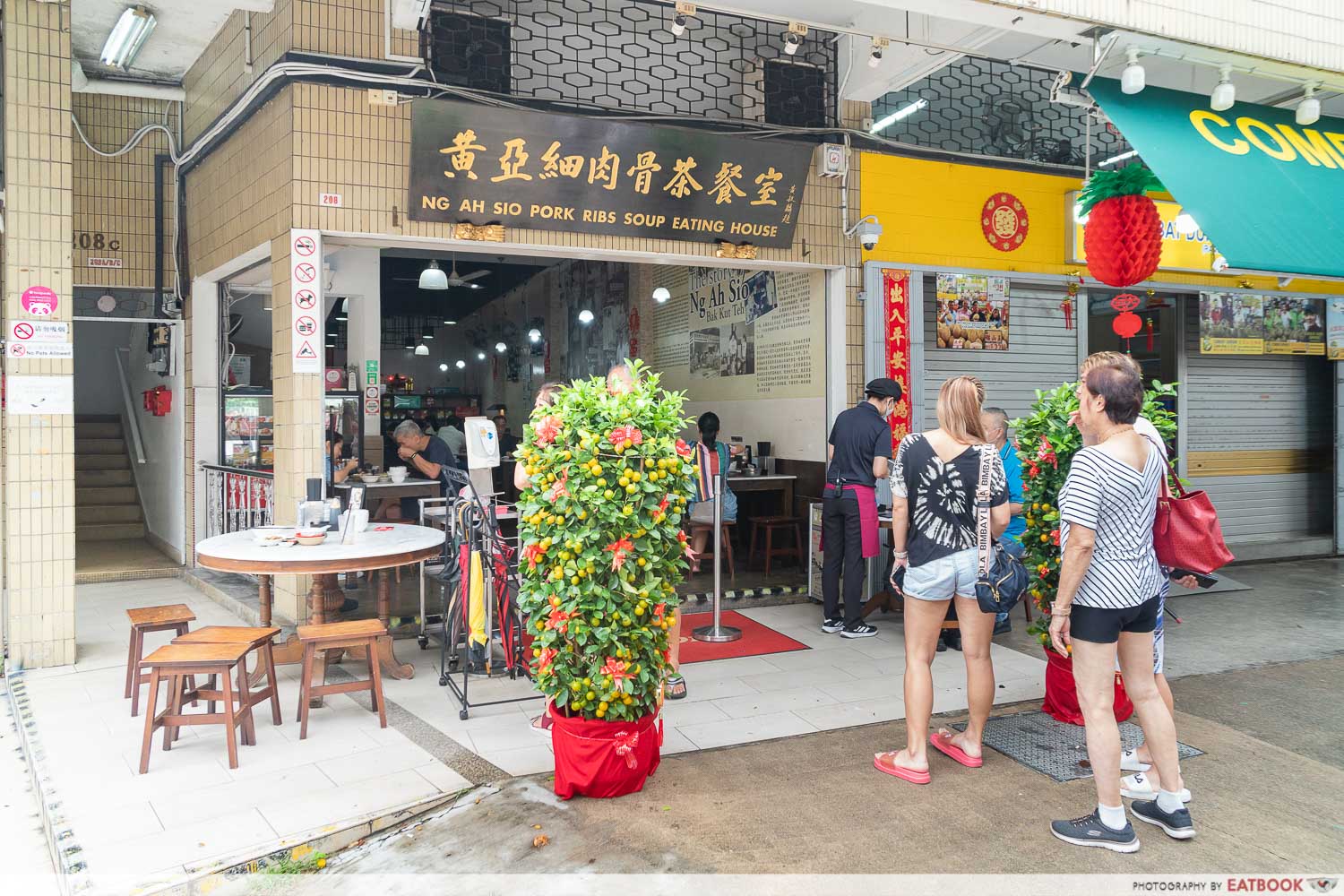 I think Ng Ah Sio's offerings are pretty standard, though fans might disagree with me. For convenience's sake, I'd rather stick to my favourite Song Fa, since they've got a branch near where I stay, and I prefer their broth anyway. However, if you're nearby, and crave peppery BKT, with a side of tasty pig trotters, Ng Ah Sio is the right place to visit! 
While you're in the area, check out the affordable, stuffed bagelwiches at Wooly's Bagels! Alternatively, if you want more BKT recommendations, read our guide to the best bak kut teh in Singapore, with dry Klang BKT and more. 
Address: 208 Rangoon Road, Hong Building, Singapore 218453
Opening hours: Daily 9am to 9pm
Telephone: 6291 4537
Website | Full list of outlets
Ng Ah Sio is not a halal-certified eatery.
17 Bak Kut Teh in Singapore To Try, Including Dry Klang BKT, 80-Year-Old Hokkien BKT And More
Photos taken by John Lery Villanueva.
This was an independent review by Eatbook.sg
Ng Ah Sio Bak Kut Teh Review: Popular Teochew-Style Peppery Bak Kut Teh Since 1955
Ng Ah Sio Bak Kut Teh Review: Popular Teochew-Style Peppery Bak Kut Teh Since 1955 -

7/10
Summary
Pros
– Tasty bak kut teh, broth, pig trotter, and mee sua
– Good portions, reasonable prices
Cons
– Mee sua was a bit expensive
Recommended dishes: Premium Loin Ribs Soup ($10.80++), Signature Teochew Braised Pig's Trotter ($10.80++)
Opening hours: Daily 9am to 9pm
Address: 208 Rangoon Road, Hong Building, Singapore 218453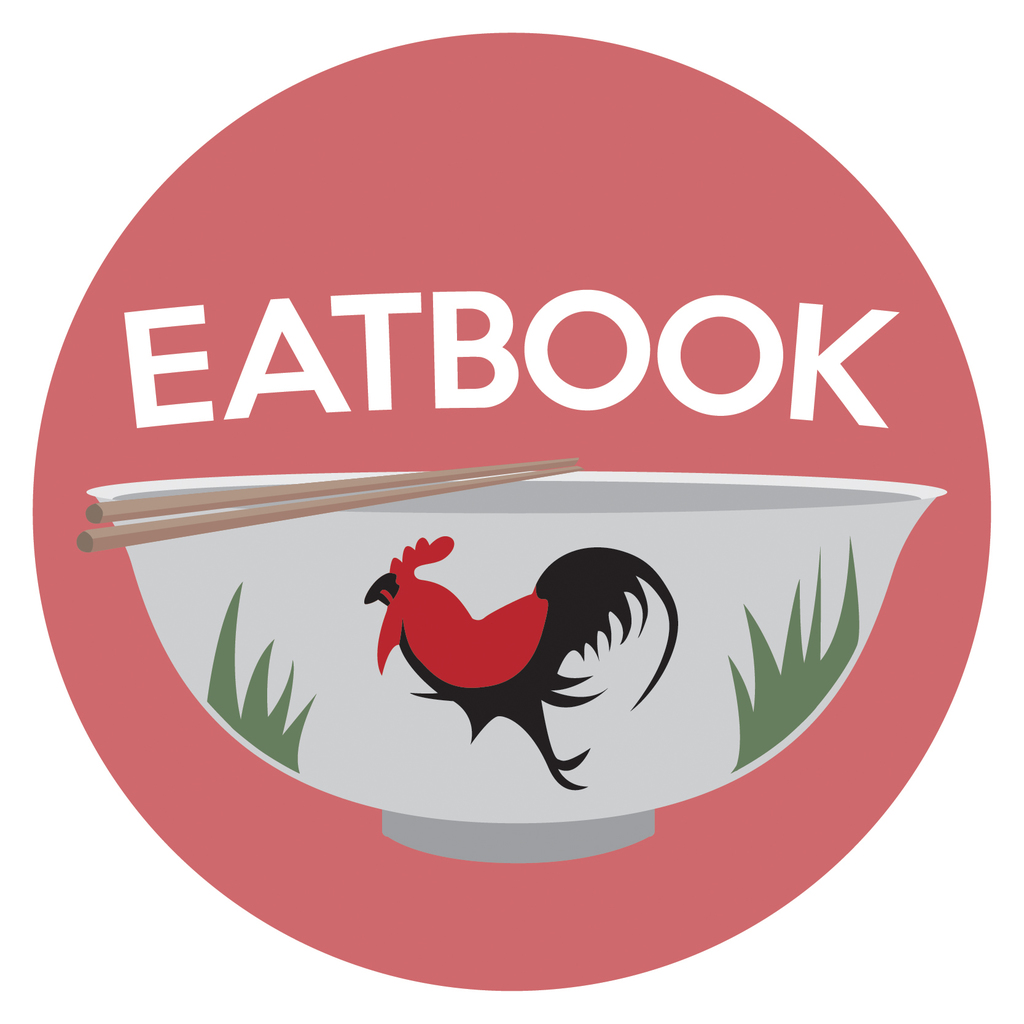 Drop us your email so you won't miss the latest news.