Min chiang kueh made cool
Update: The Pantree has moved to 5 Straits View, #B2-24 Marina One The Heart, Singapore 018935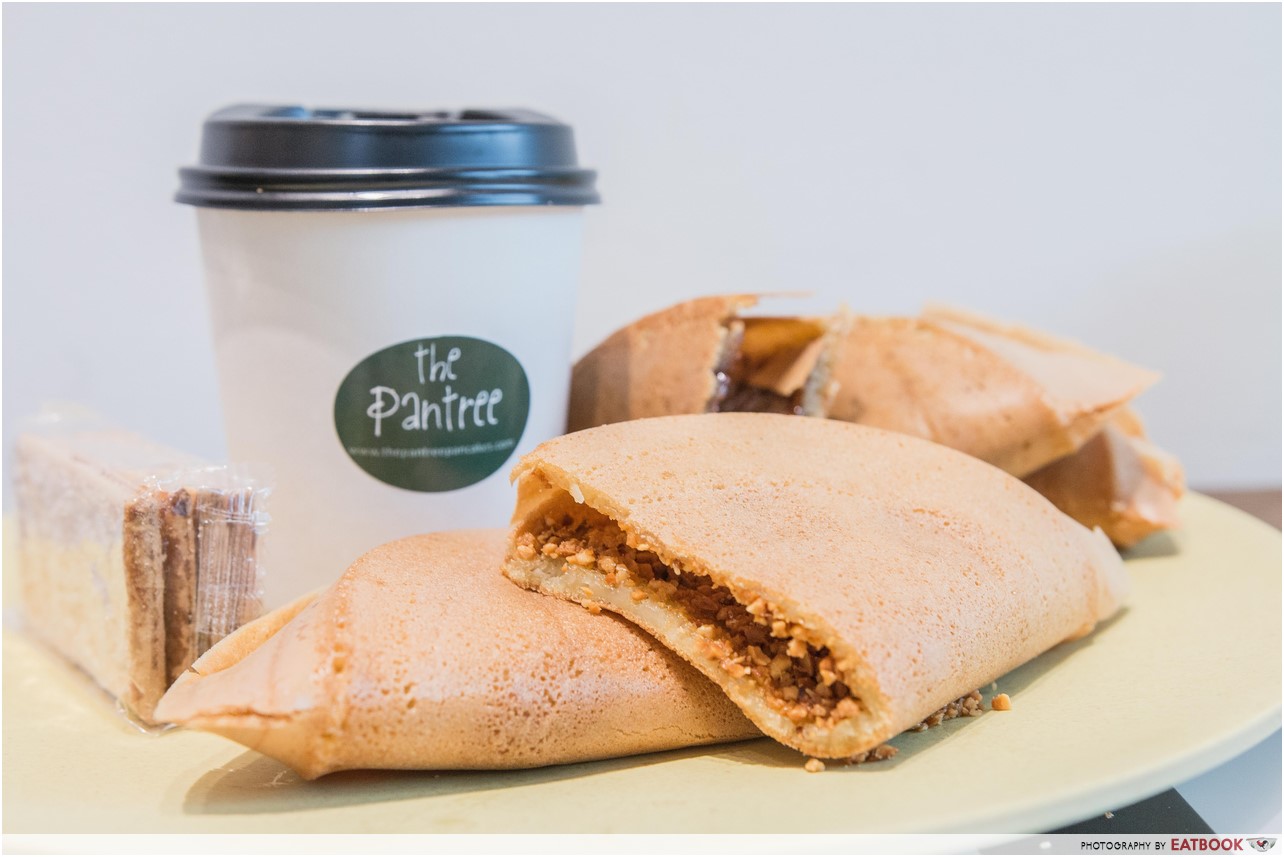 The smell of fresh min chiang kueh always brings back fond memories, but as years go by, fewer and fewer stalls selling these fluffy pancakes are left. So imagine my surprise when I heard of a min jiang kueh CAFE at Lavender Street.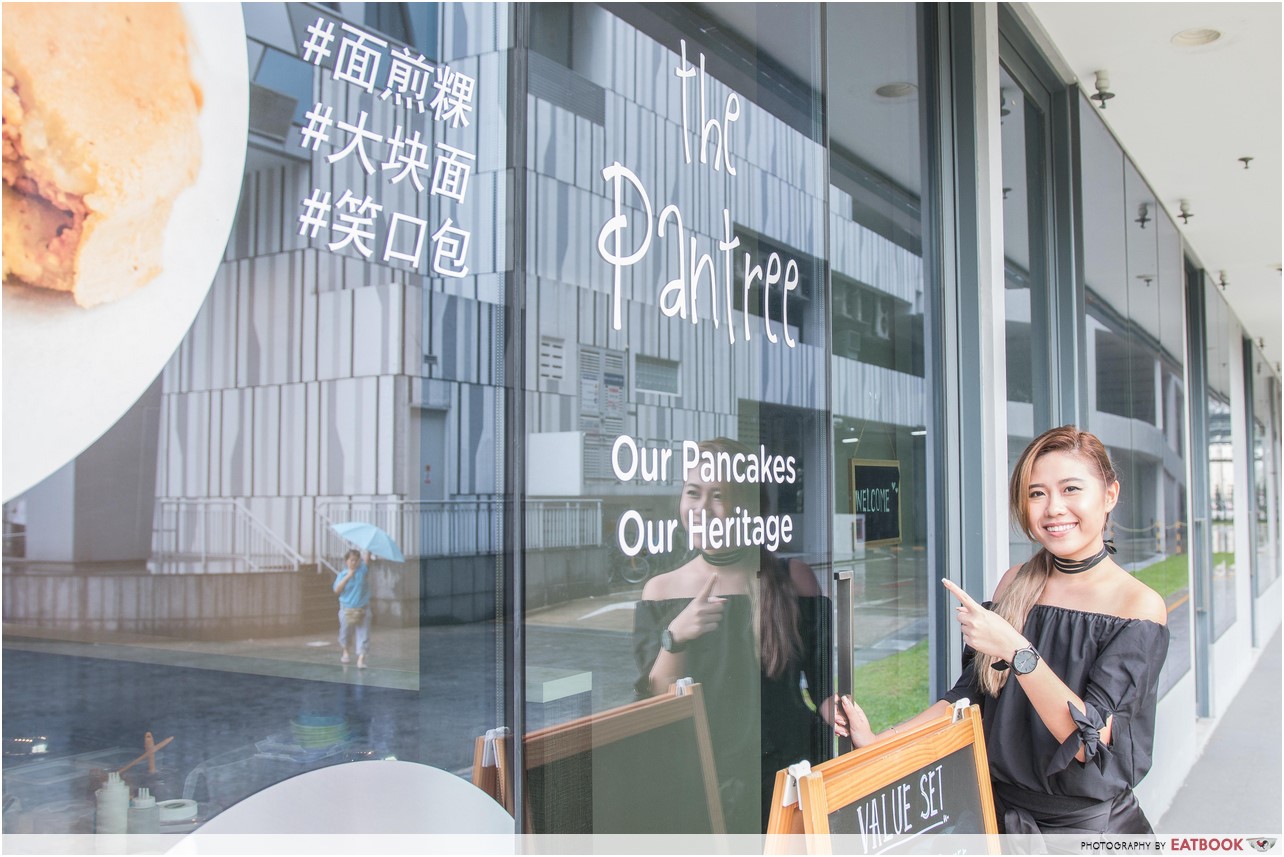 The Pantree was started by Victor and Xiao Yi, a couple who saw the gap between the older generation who love min jiang kueh and the younger ones who don't see the value in keeping these old-school pancakes alive. They learned the recipe from Xiao Yi's father in Ipoh before opening Pantree in March this year. As a min jiang kueh cafe, Pantree's menu is kept simple with just 3 categories: classic, sweet and savoury.
Min jiang kuehs at Pantree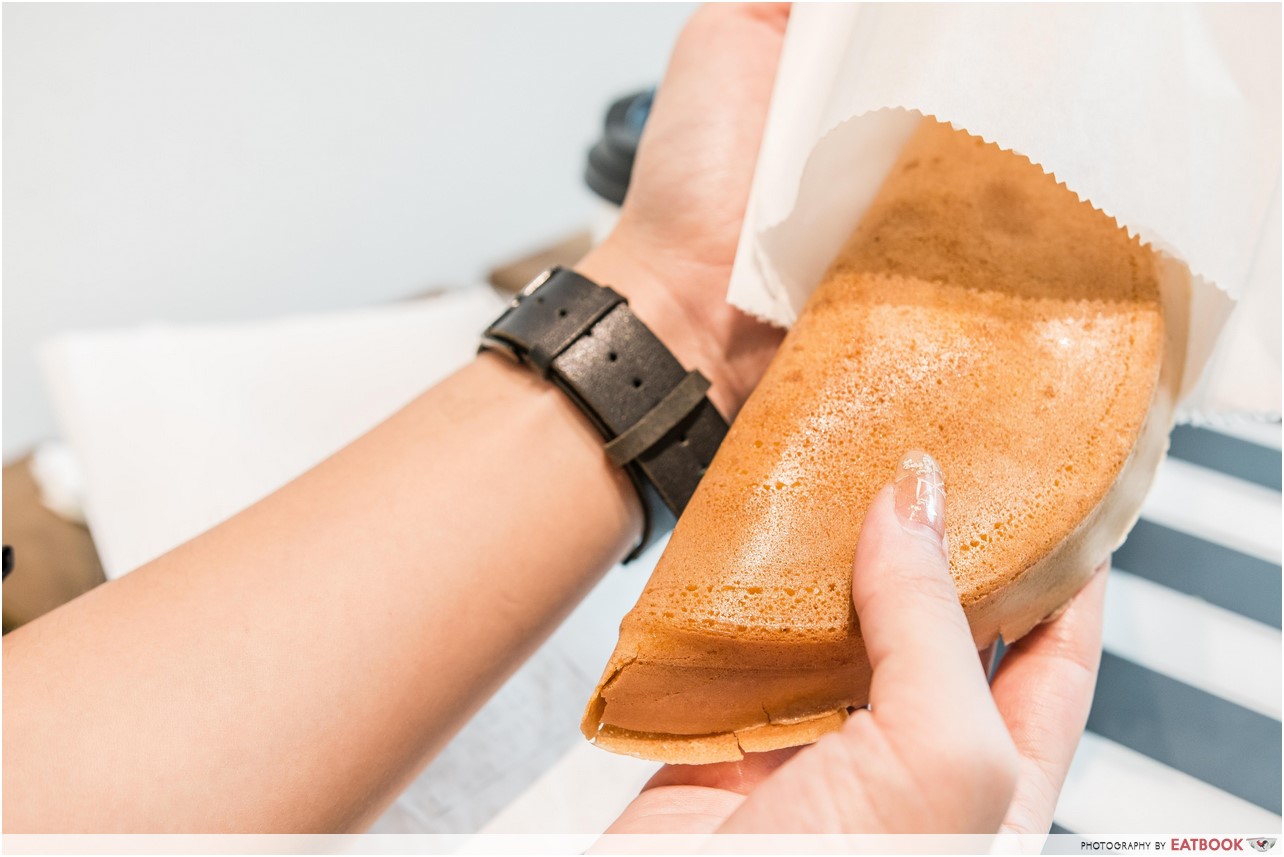 Although every paper bag is stamped with "Best consumed FRESH", it should also come with "Caution: Filling is hot" for someone like me. I slid my Chicken Floss & Egg Pancake ($3.70) out of the paper bag once I got my hands on it, and regretted it immediately.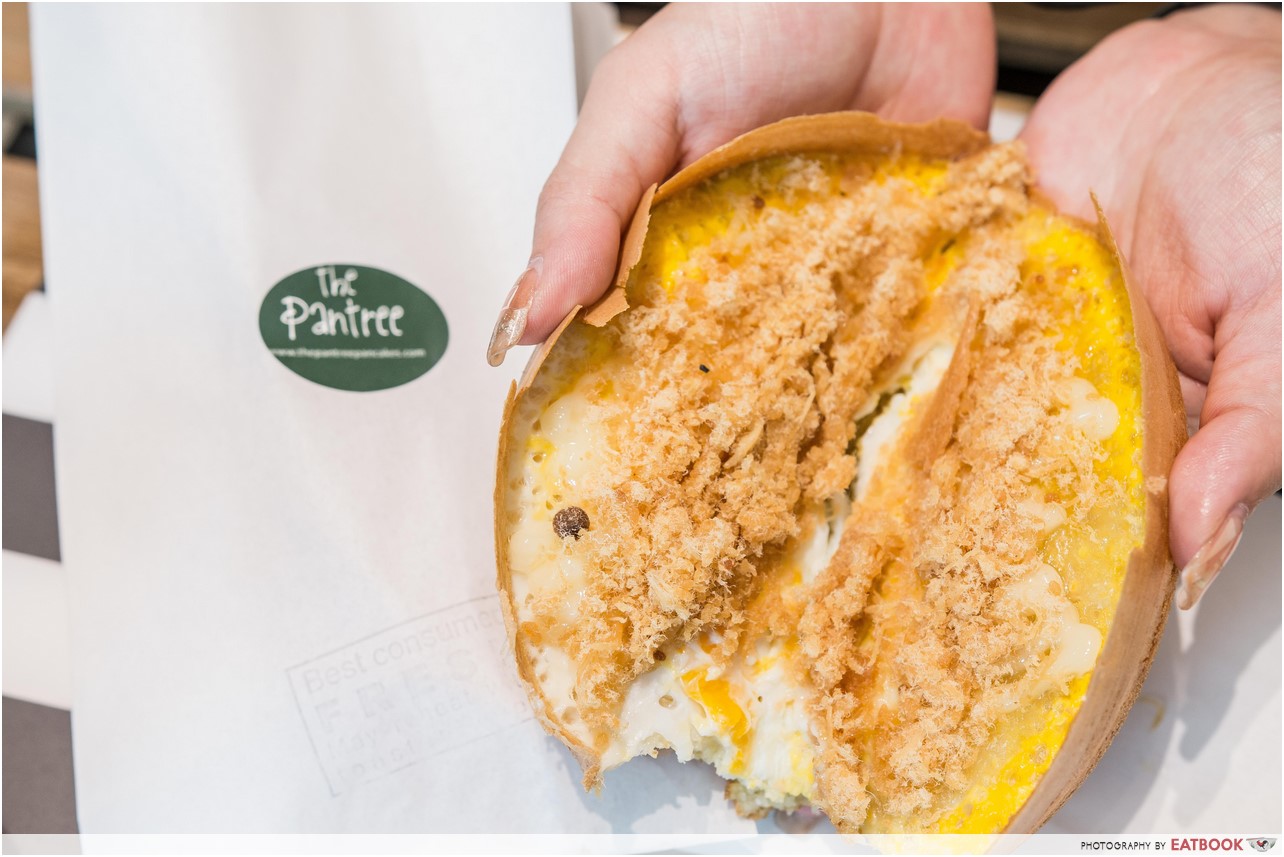 Forgetting it was served hot off the griddle, I was playing hot potato for a minute, while hurriedly blowing steam off the top. When I couldn't contain my excitement any longer, I chomped into my pancake and my palate was flooded with the sweet and savoury combination of fried egg, mayo and a generous amount of chicken floss.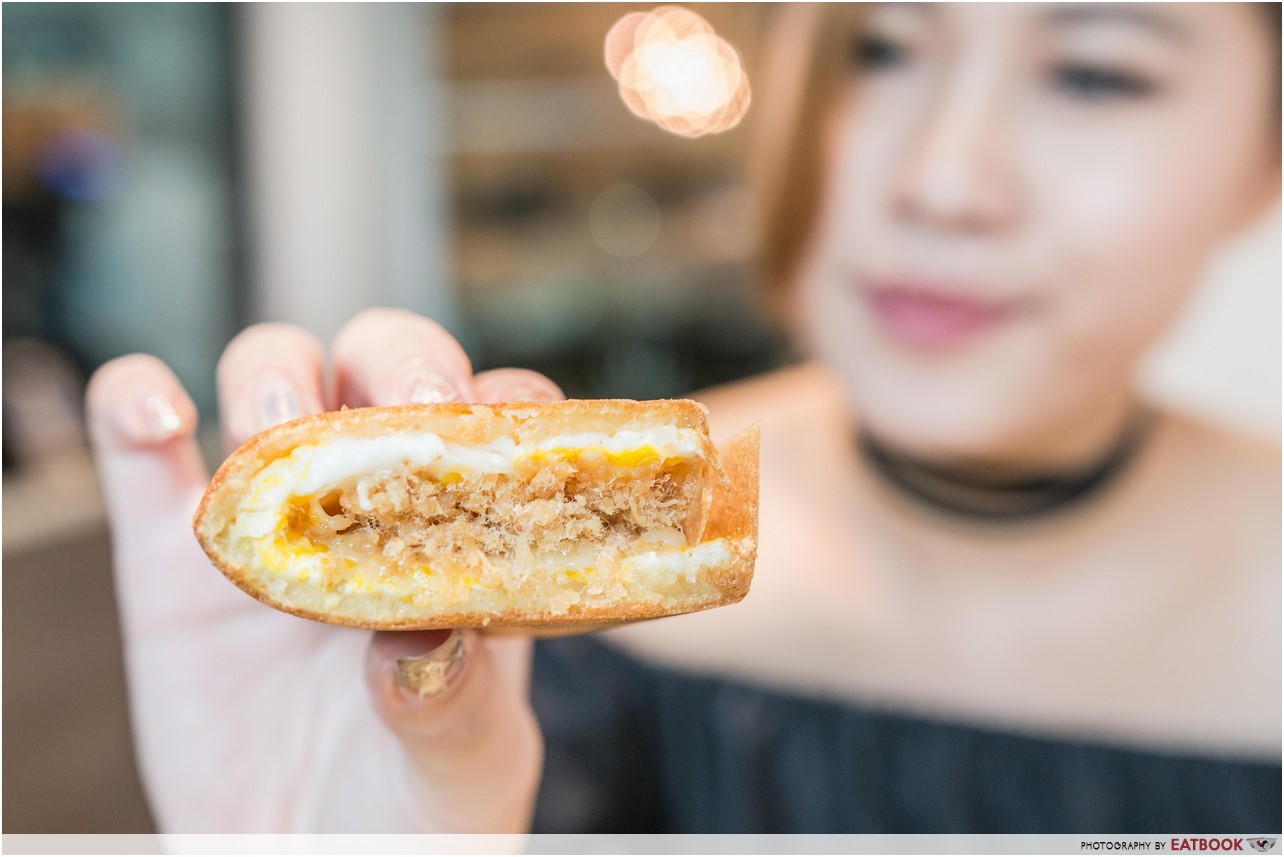 The mayonnaise didn't overwhelm the taste of other components, and the springy egg added another layer of texture to it.
Despite being the most expensive pancake on their menu, this was hands-down my favourite. It was filling to my stomach and fulfilling to my taste buds. If I worked in this area, I can definitely imagine myself grabbing this for a sizeable and easy breakfast to have on-the-go!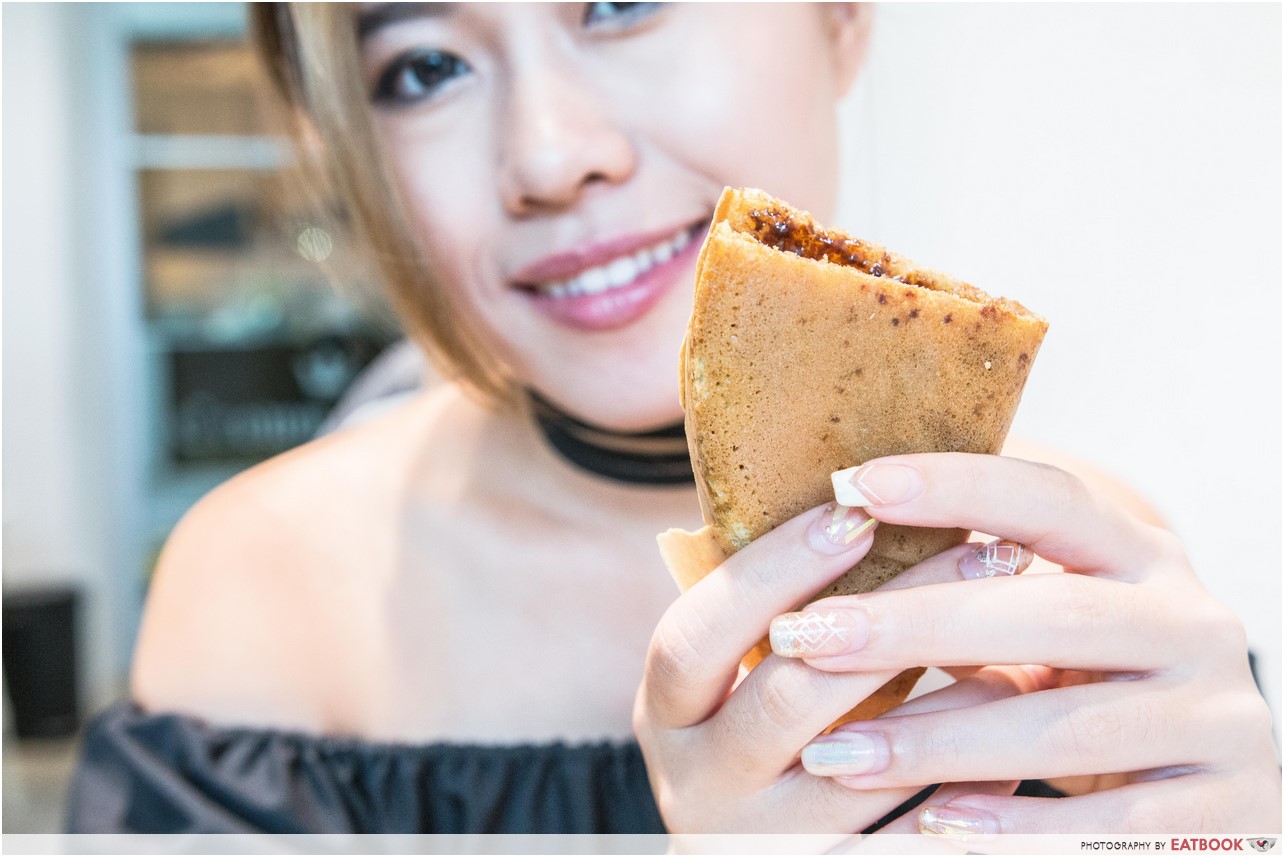 For those with a sweet tooth, try Nutella Pancake ($2.80). As the Nutella started to melt into the hot batter, it brought out warm hazelnut notes to match the aroma of the freshly made pancake.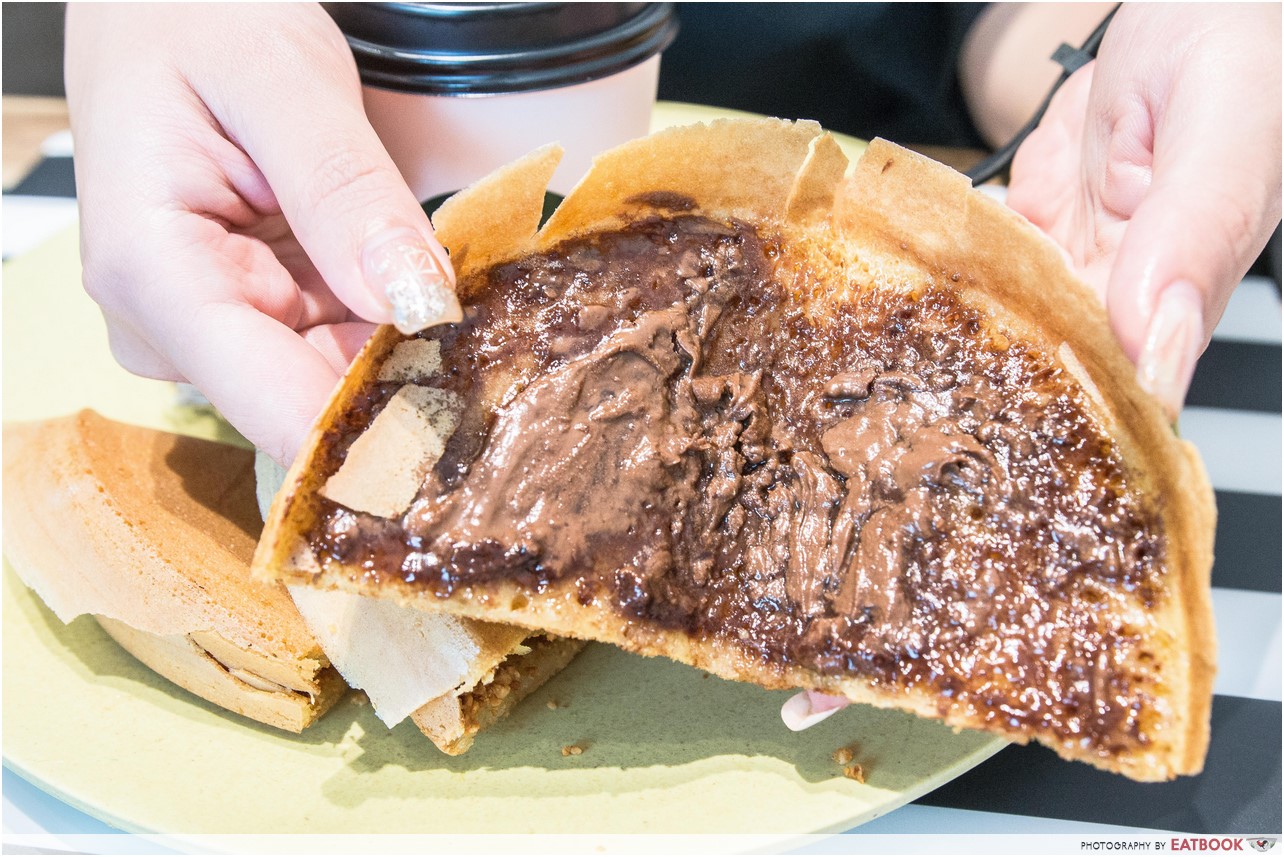 And Pantree wasn't giam siap at all with the Nutella, which was spread to the edges for a uniform bite. Overall, this is essentially what a marriage between a Nutella crepe and sandwich would look like – crispy on the edges and chewy in the middle.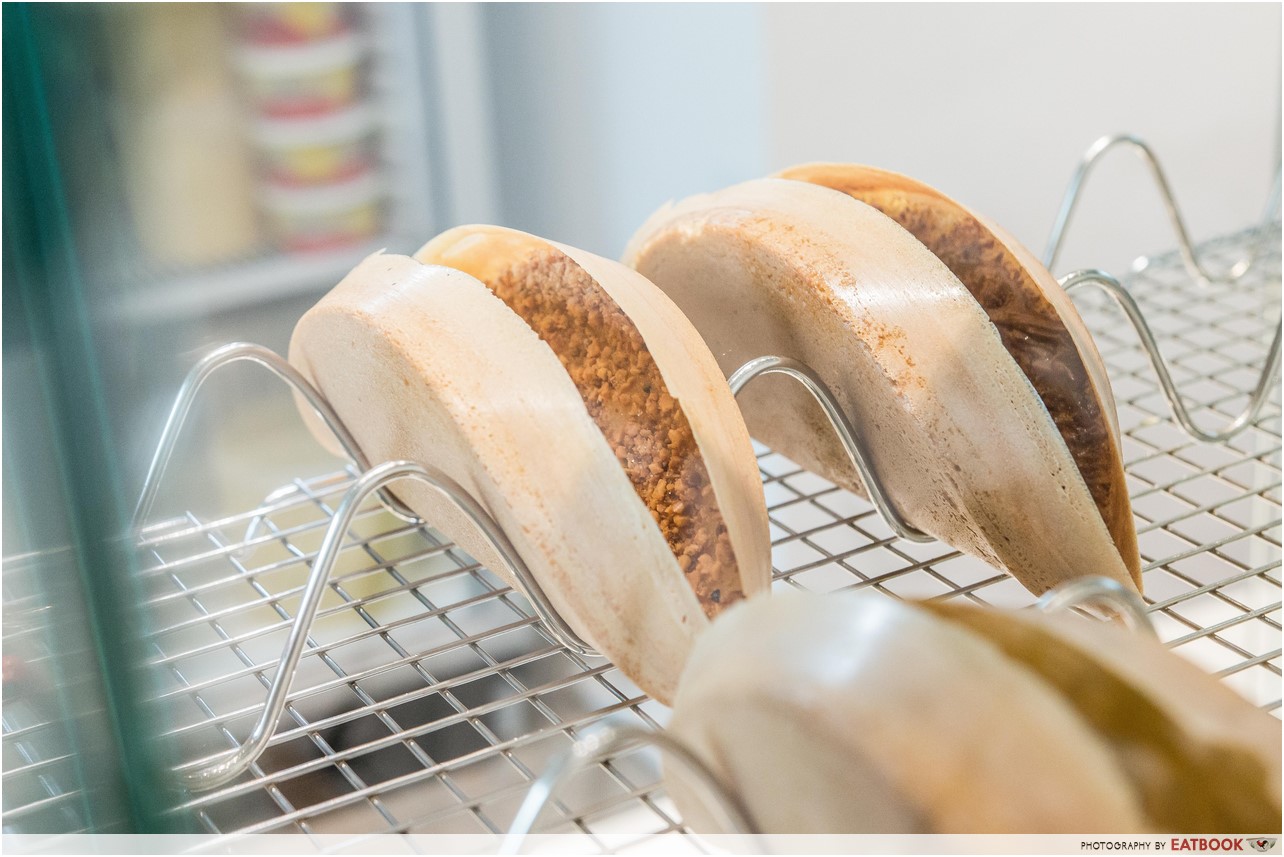 As a classic, it's no surprise that the signature Peanut Pancake ($1.80) is one of Pantree's bestsellers. Made fresh upon order, it wasn't long before this golden-brown pancake was served hot from the griddle and into a paper bag. For someone who has not tasted this in years, my first bite instantly made me regret not eating min jiang kueh more often.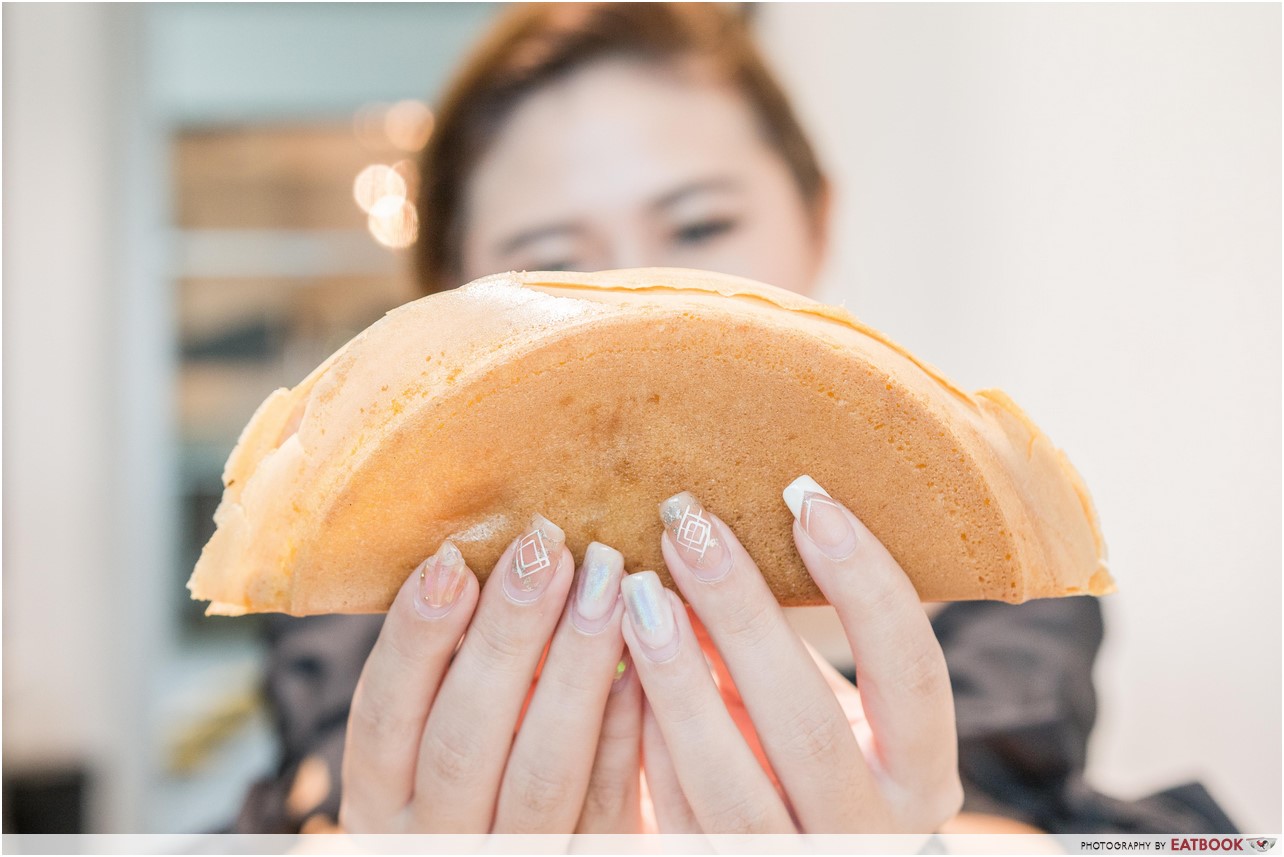 Most stalls outside produce pancakes that are either dense and bread-like, or thin to the point that it resembles a crêpe. Pantree combines the best of both worlds with a batter that's not as thick, but still maintaining a toothsome texture that melts in my mouth. Although the peanut filling was less aromatic than I had hoped for, I was glad it wasn't overly dry. Crunchy peanut butter lovers will appreciate how it adds a crunch to the springy pancake.
Aside from peanut, their classic selection also has Cream Corn ($1.80) and Kaya ($1.80), as well as a choice to combine 2 ingredients, such as Peanut & Corn ($2.20).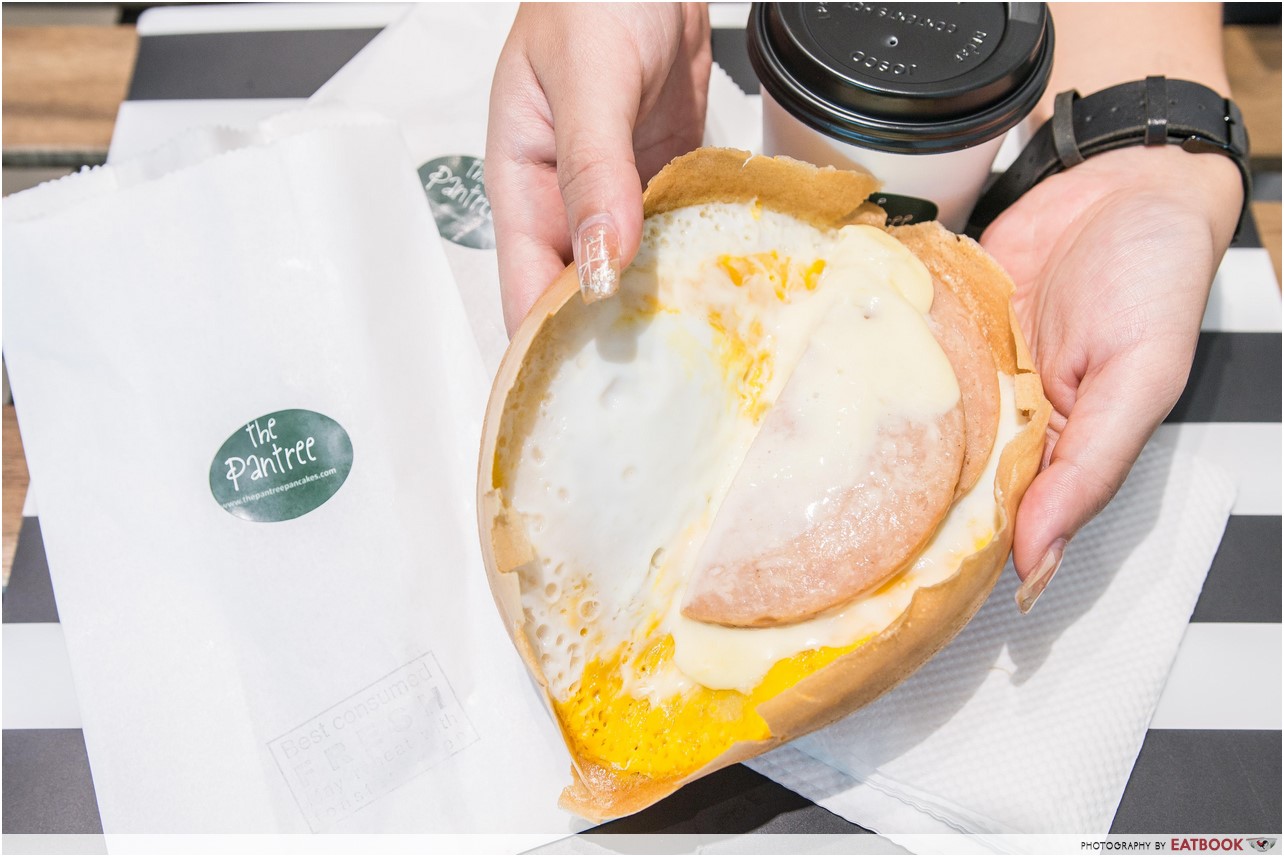 For the creative ones there's a D-I-Y option for you to mix and match toppings.
Since I wasn't allowed ham AND luncheon meat in one pancake as it was already quite thick, I opted for luncheon meat and cheese with egg ($3.70). Apparently, I wasn't the first to call it either, as Victor shared a story of a customer who orders it so frequently, his whole office knows it as "The Bomb".
I loved the umami of the cheese, paired with the aroma of fried egg and was pleasantly surprised to find that it wasn't too salty when paired with the luncheon meat. However, it can get quite greasy, so don't leave it in the bag for too long or it'll stick to the sides!
Ambience at Pantree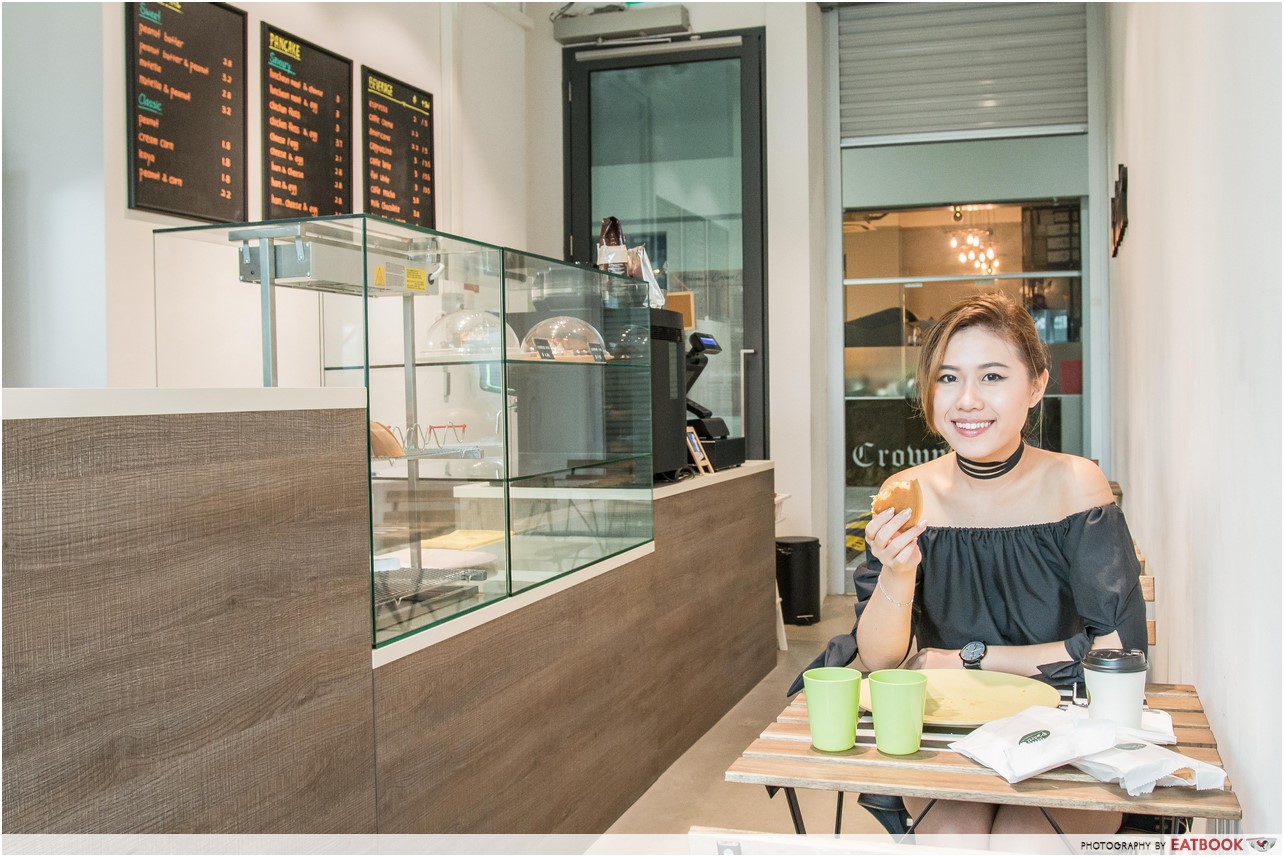 Even before I walked through the doors, their slogan, "Our Pancakes, Our Heritage" shows how close this place is to their hearts. Stepping inside, I was warmly welcomed by wafting smells of hot, fresh pancakes – the kind that once drew me into any bakery faster than my mother noticing I was gone. The layout was more functional than fancy; an air-conditioned space with an open kitchen to one side and a row of bistro tables on the other, sitting a total of 6.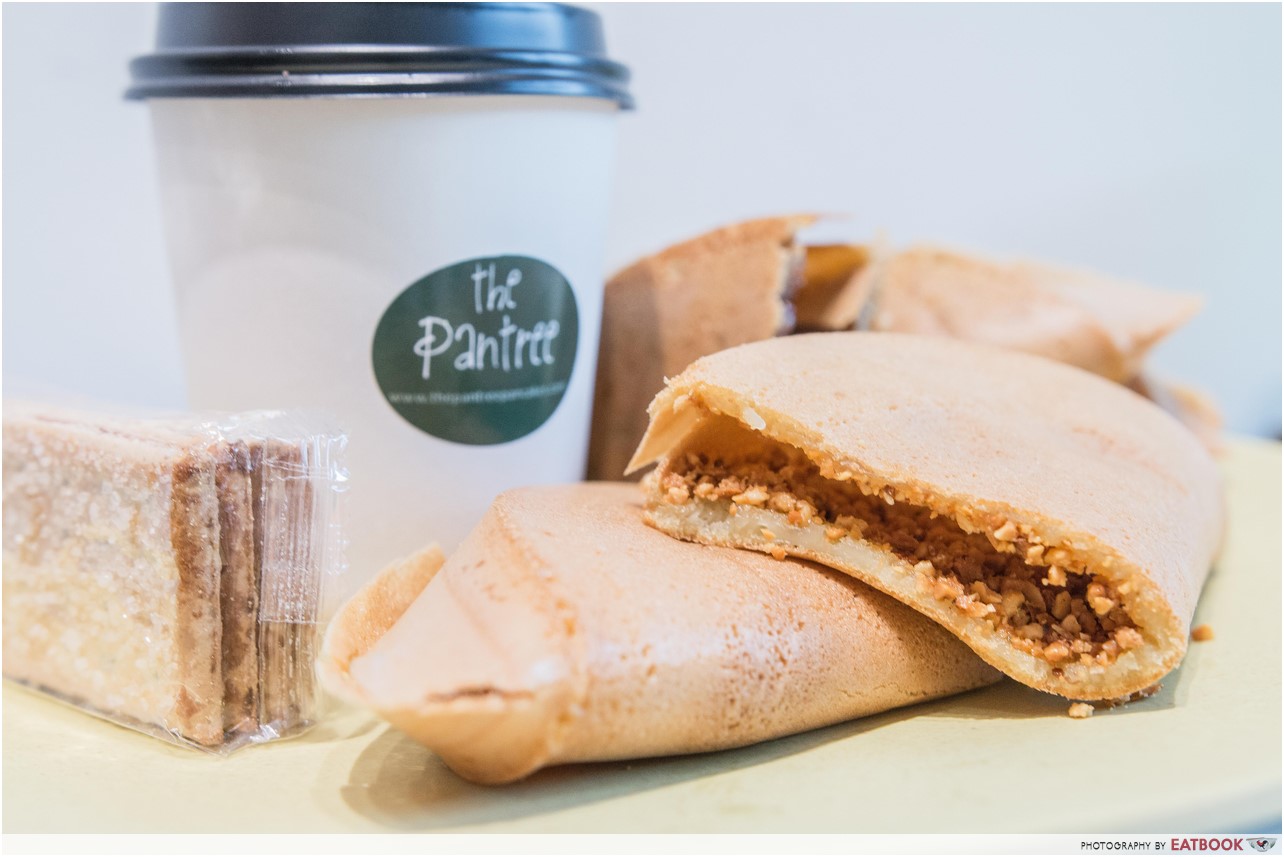 Manned solely by Victor and Xiao Yi, this takeaway cafe is self-service style, with a side table by the counter where you can help yourself to water, tissues and even complimentary packets of biscuits. Just like the pancakes they serve, Victor and Xiao Yi were warm, inviting and happy to answer any questions we had. I could tell they take great pride in making sure their food is served at its best and their service is stellar.
The verdict
I was never the greatest fan of min chiang kueh, but Pantree has converted me for sure. Other than being more expensive than kopitiam min chiang kueh, the only flaw I could pick on at Pantree would be the oiliness of the batter, which left grease stains on my fingers as I ate.  
I like their generous pancake-to-filling ratio along with the batter that'll appeal to those who like it both chewy and crispy.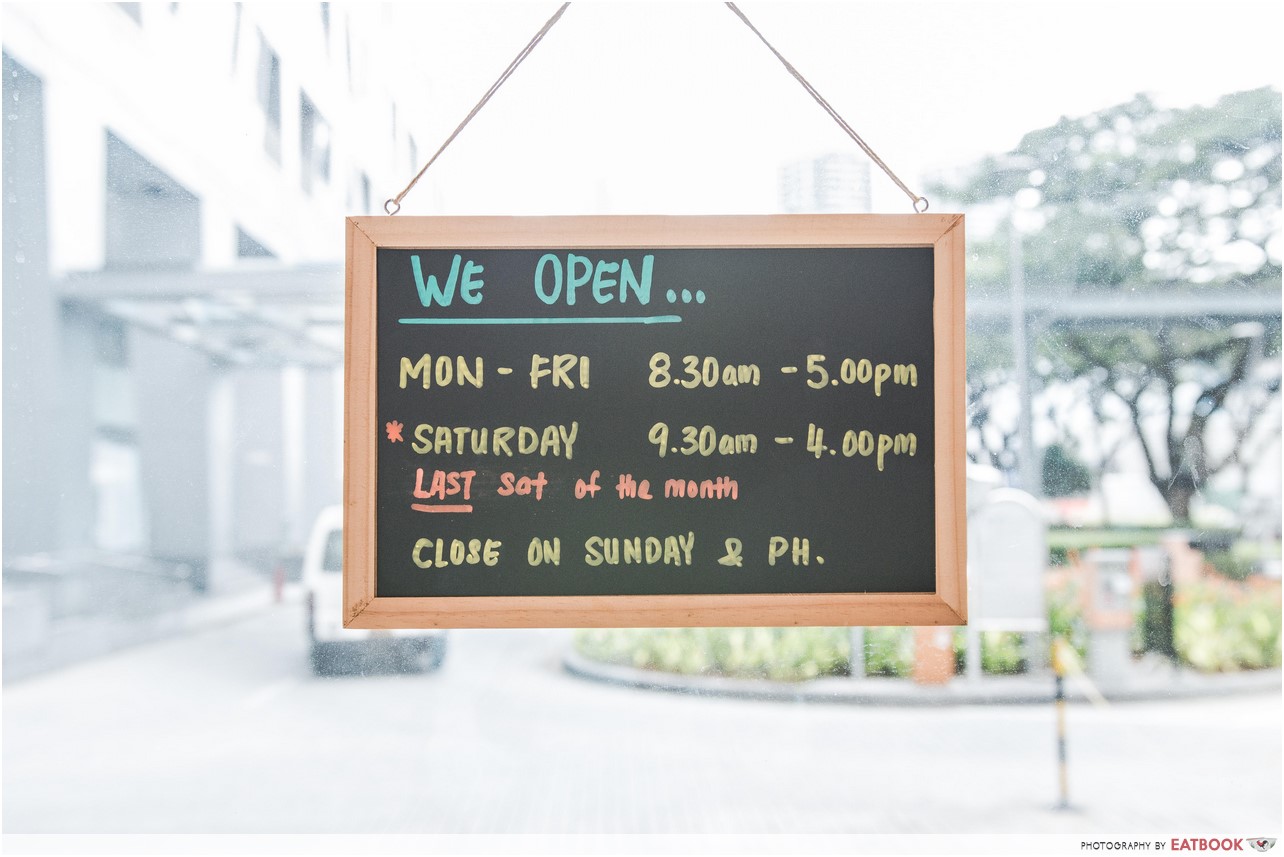 For a complete breakfast starting at $4, pair it with a drink worth $3 or more – like a cup of freshly brewed latte – and save 80 cents. Off-menu, they also offer slices of Marble Cake ($1.40) and Banana Cake ($1.30), making this the perfect spot for those wishing for a quick tea break to escape the humdrum of work.
This is an independent review by Eatbook.sg.
Summary
Pros
– Tasty pancakes
– Affordable
– Option to D-I-Y
– No GST or service charge
Cons
– Limited seats
Recommended Dishes: Chicken Floss & Egg ($3.70)
Operating Hours:
Monday – Friday 8:30am to 5pm
Saturday 9:30am to 4pm
Opened every last Saturday of the month.
Address: 5 Straits View, #B2-24, Marina One The Heart, Singapore 018935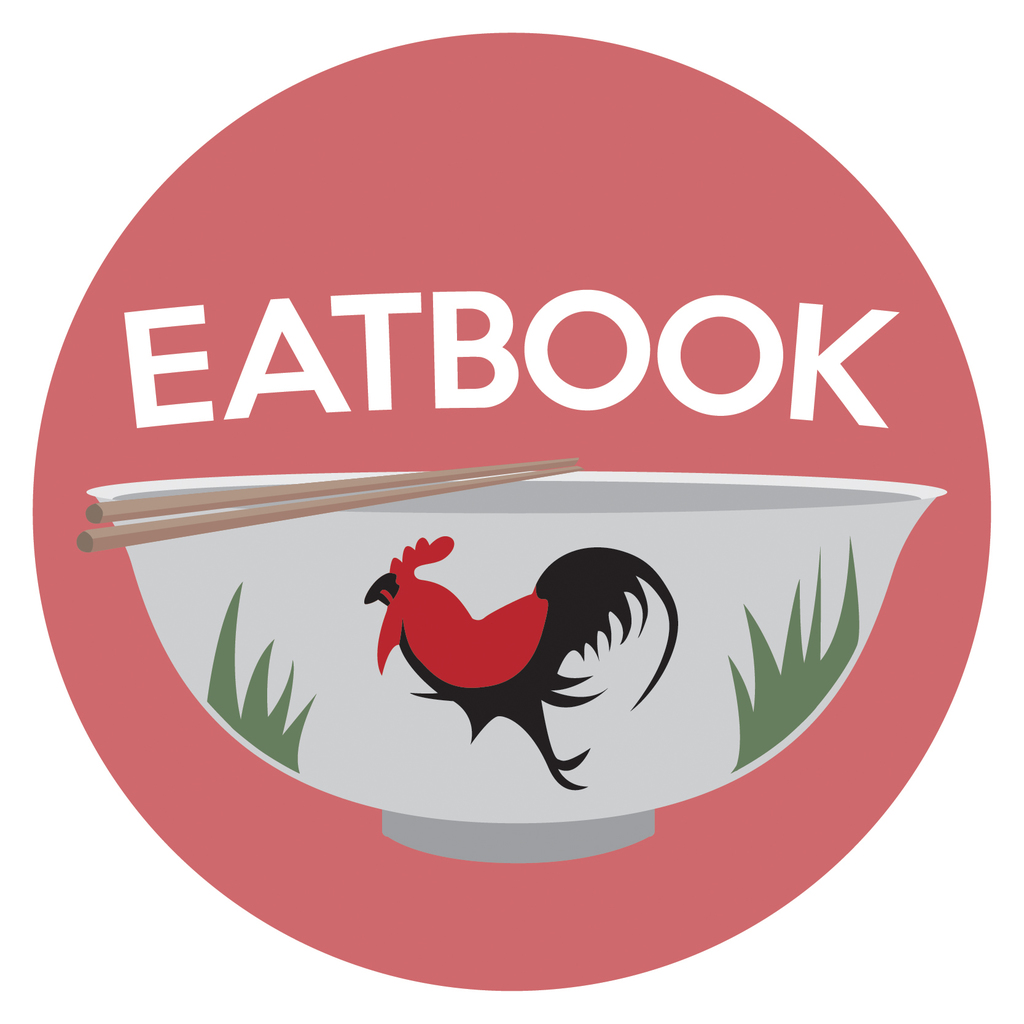 Drop us your email so you won't miss the latest news.