Five flavours of alcoholic xiao long bao at Paradise Dynasty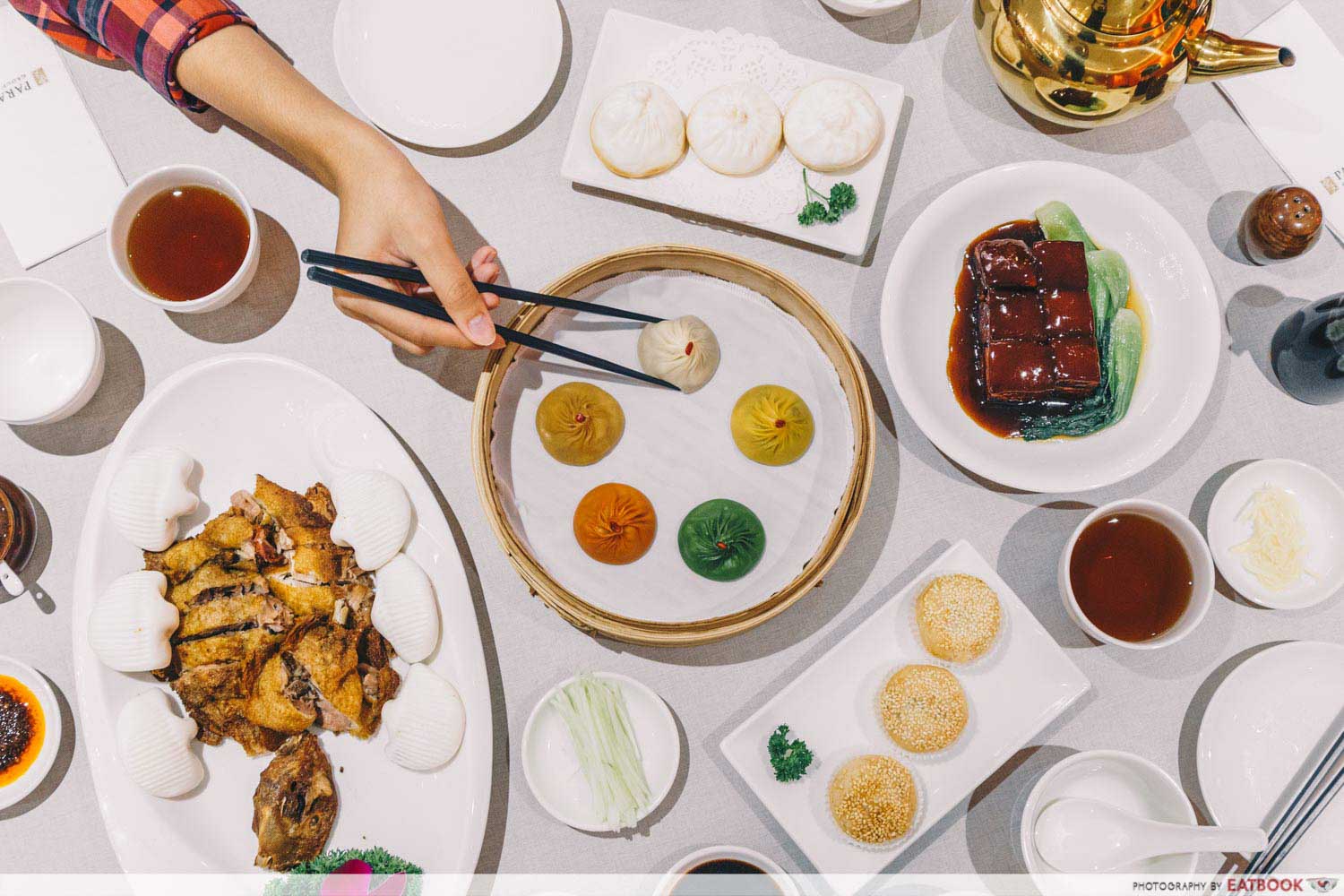 Paradise Dynasty at Funan is celebrating their opening with a limited-time alcohol-infused xiao long bao. Yep, you read that right. The Tipsy Surprise Xiao Long Bao comes with five different spirits. 
While the booze-filled dumplings usually go for $18.80++, you can get them at just $2.80++ if you order any of these four dishes that are making a comeback: the Shanghainese Crispy Duck ($30++), Dong Po Pork ($19.80++), BBQ Pork Pastry in Shanghai Style ($5.80++) or the Pan-fried Chilli Crab Bun ($10.80++).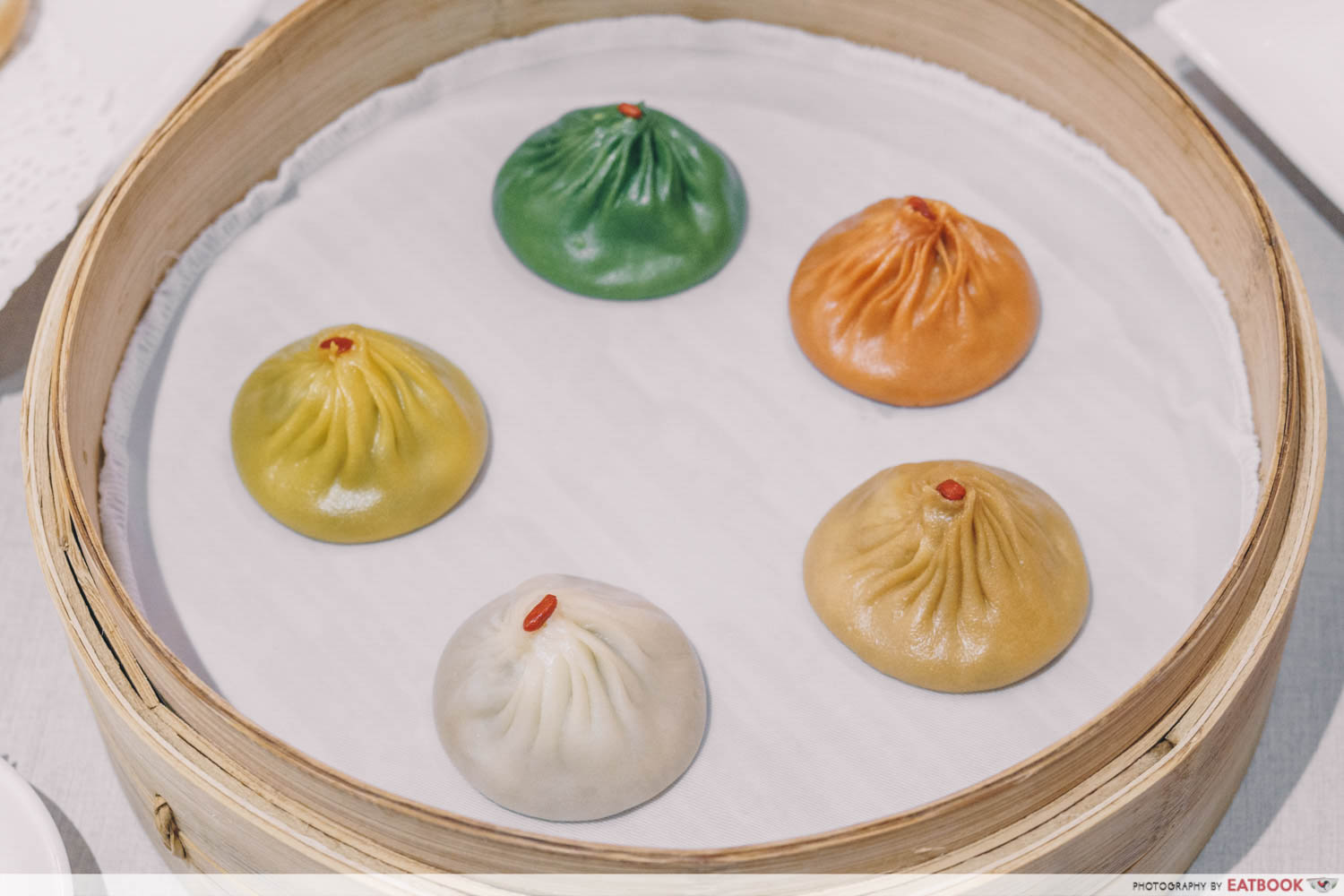 As the steaming basket was placed in front of me, I asked the waiter if there was any particular way to eat them. It turns out that the five xiao long bao are arranged from the weakest to strongest flavours, and it's recommended to eat them in this order: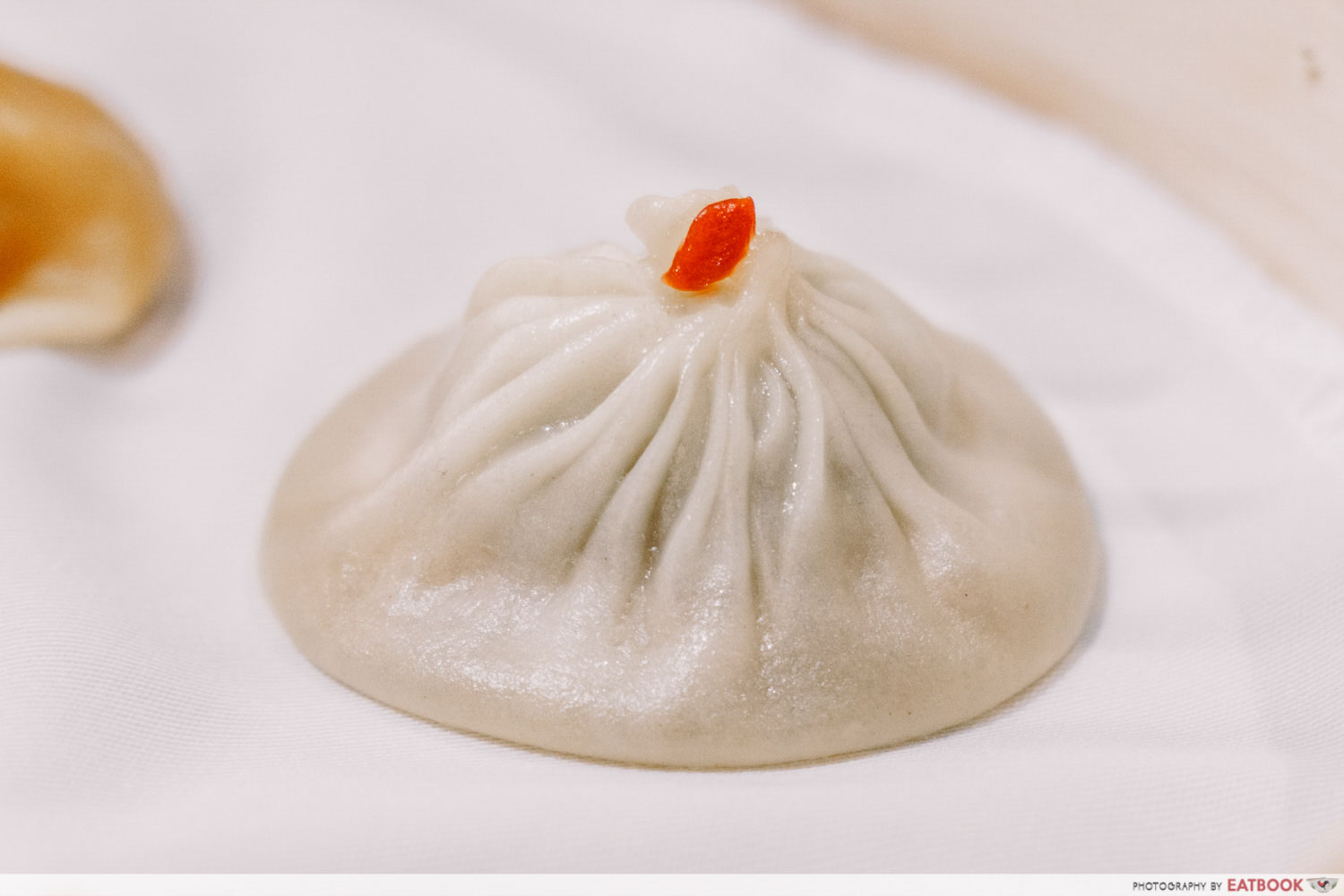 Start off with the white TsingTao beer flavour. A classic drink in China, the beer's distinctive maltiness pairs well with the savoury meat and piping-hot soup.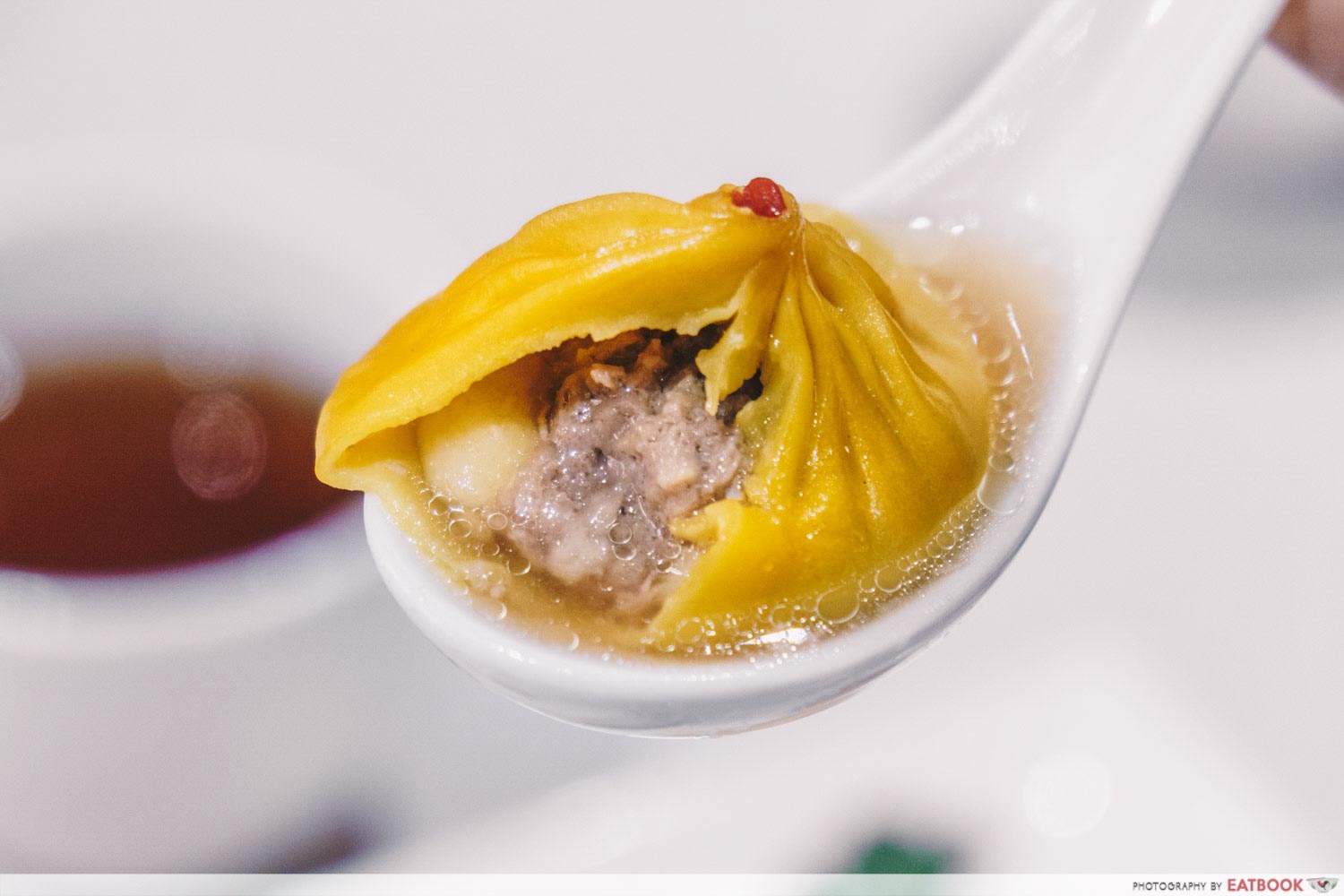 Next up is the yellow Red Wine and Cheese. The classic pairing needs little explanation. Get a mouthful of intense, full-bodied wine, along with a hint of cheese and juicy minced pork. Whether you pop it open and let the soup flow out onto your spoon or bite a hole to suck out the delicious soup, you're sure to get a strong kick of hearty flavour.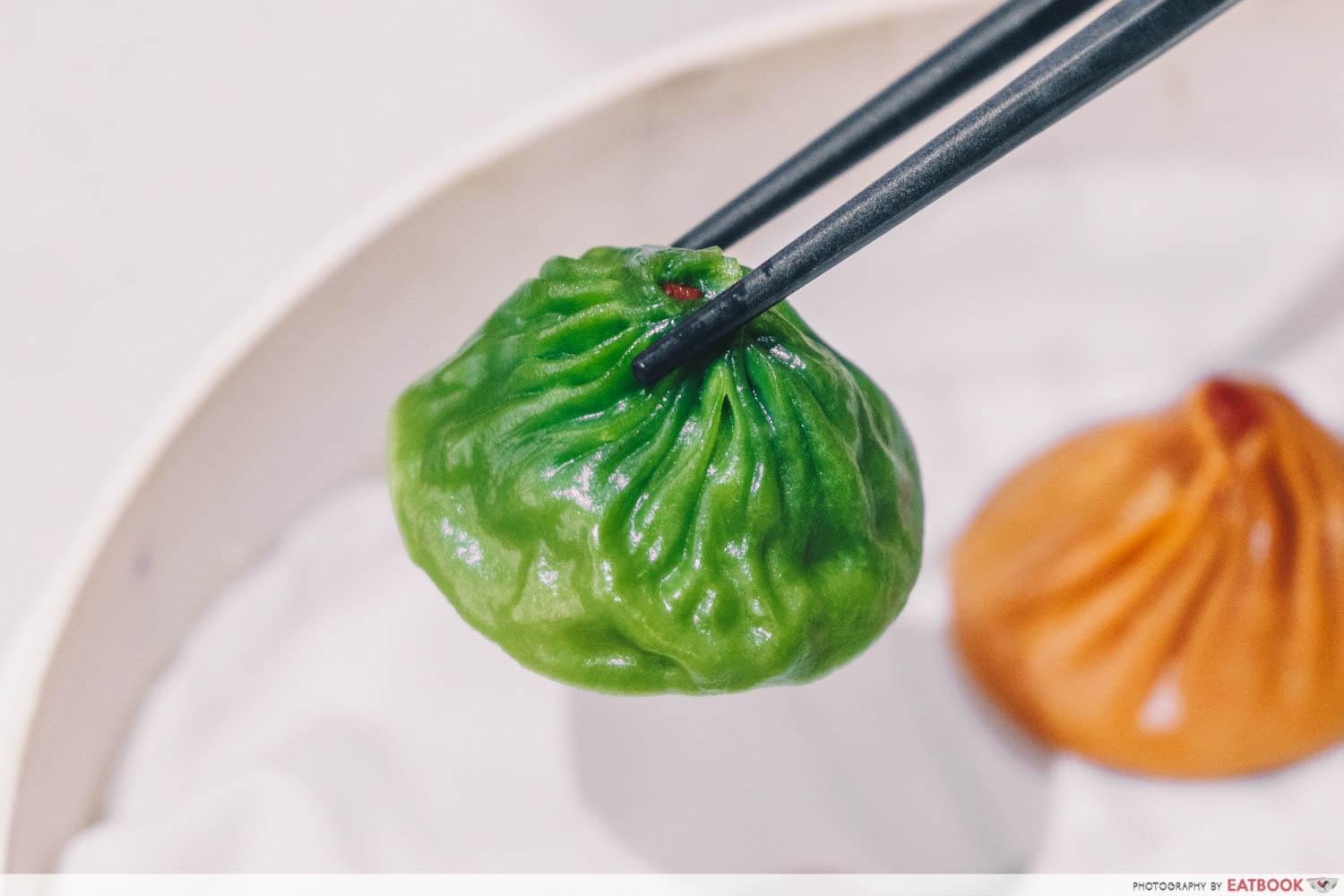 The green Shaoxing Rice Wine is a classic ingredient in Chinese cooking, and it's no less tasty when paired with food rather than cooked into dishes. It's tinged with vinegar, and the sharpness goes well with the soup and meat.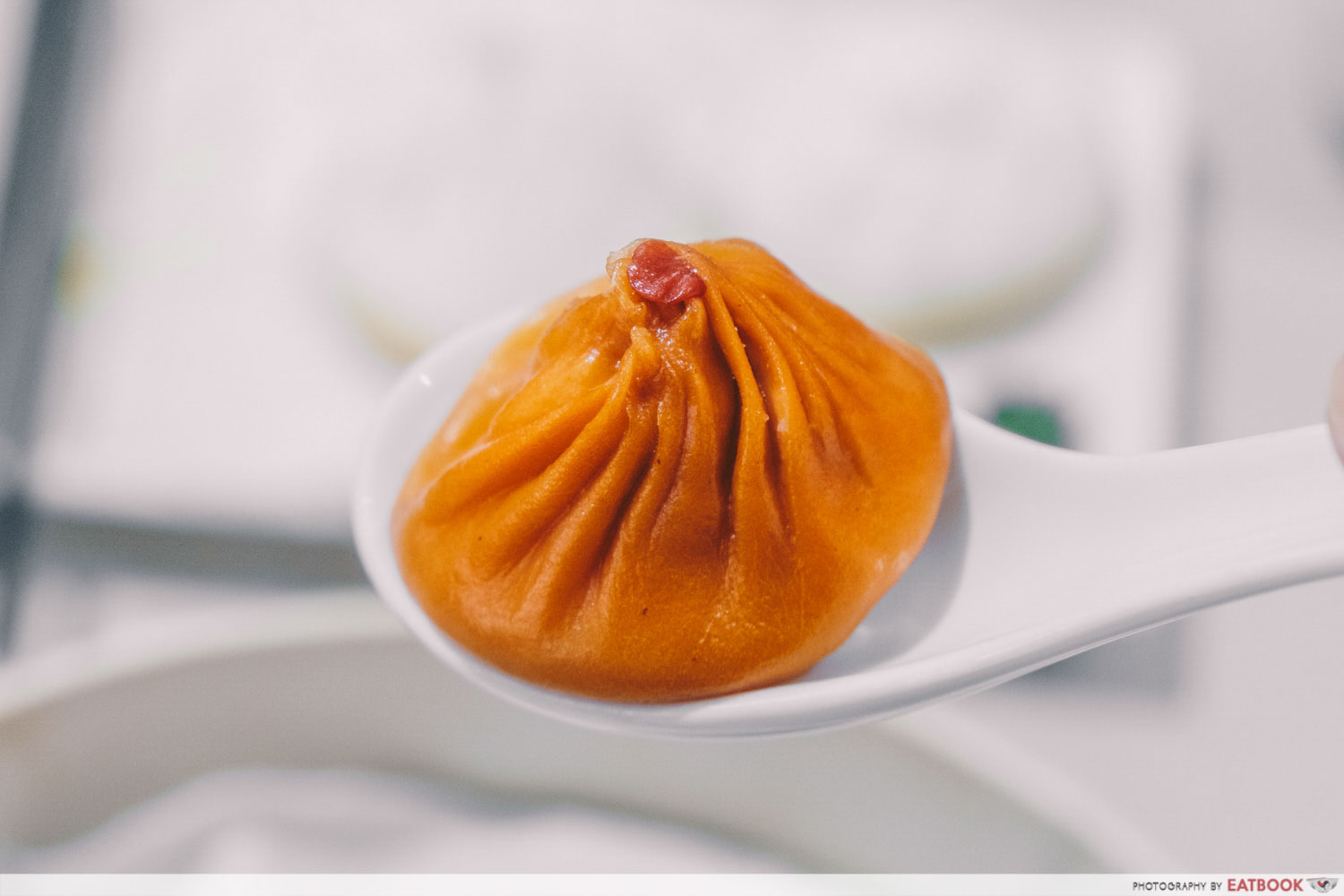 My personal favourite of the five is The Glenlivet. Beneath the orange skin is a mouthful of powerful, smoky whisky. It had the exact same taste and sensation as a shot of whisky, and the powerful flavour stood out.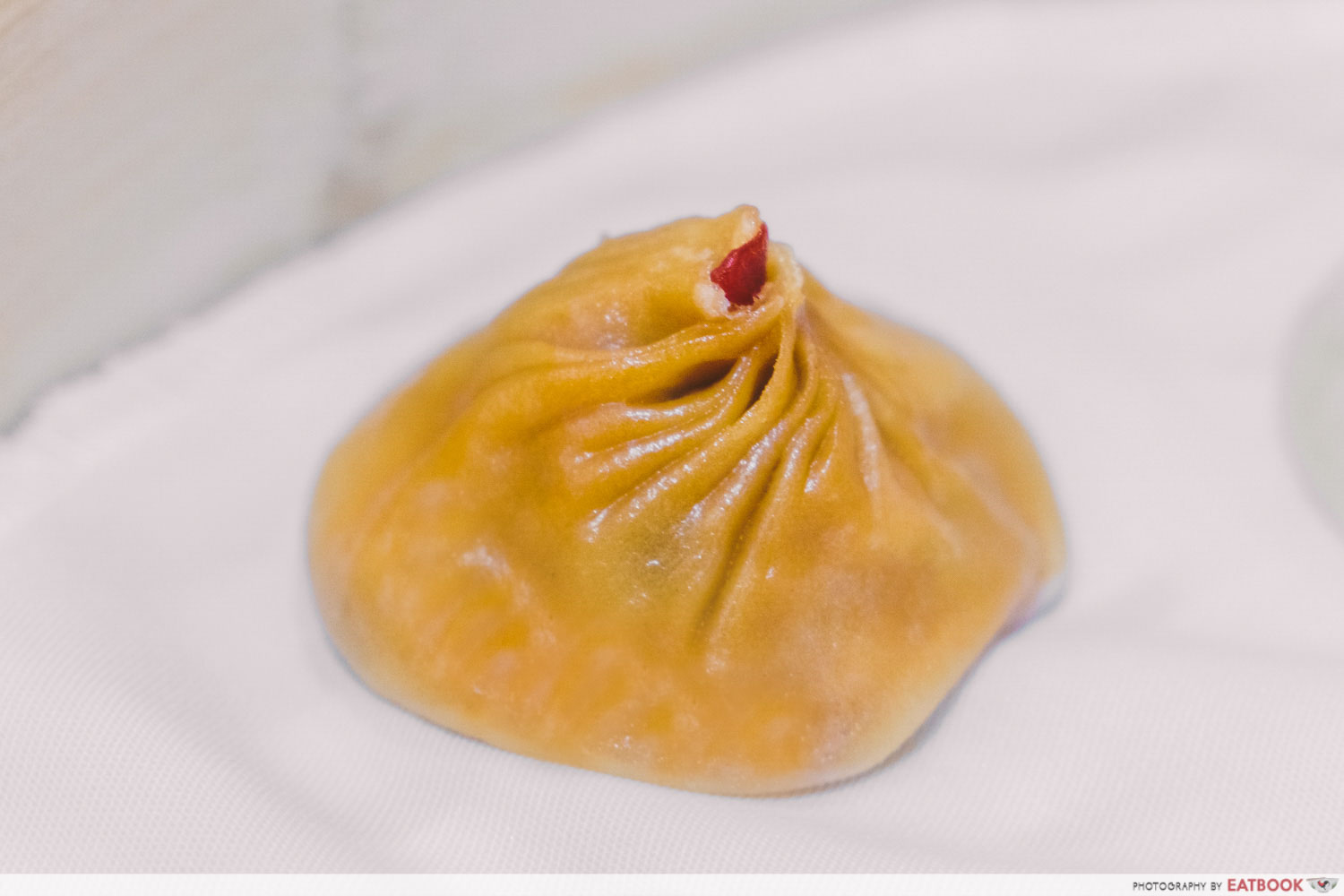 Finally, the pièce de résistance—the Martell Cognac xiao long bao. The French spirit is one of the priciest drinks in the world, and it's packed right into this little bomb of flavour. It's smooth and robust, and serves as a great conclusion to the basket of bite-sized delights.
All in all, the five dumplings were delightful and unique. The alcohol flavour is clearly present in each and every one. I wouldn't recommend dipping any of these in ginger and vinegar though; enjoy it with just the meat, soup, and spirits.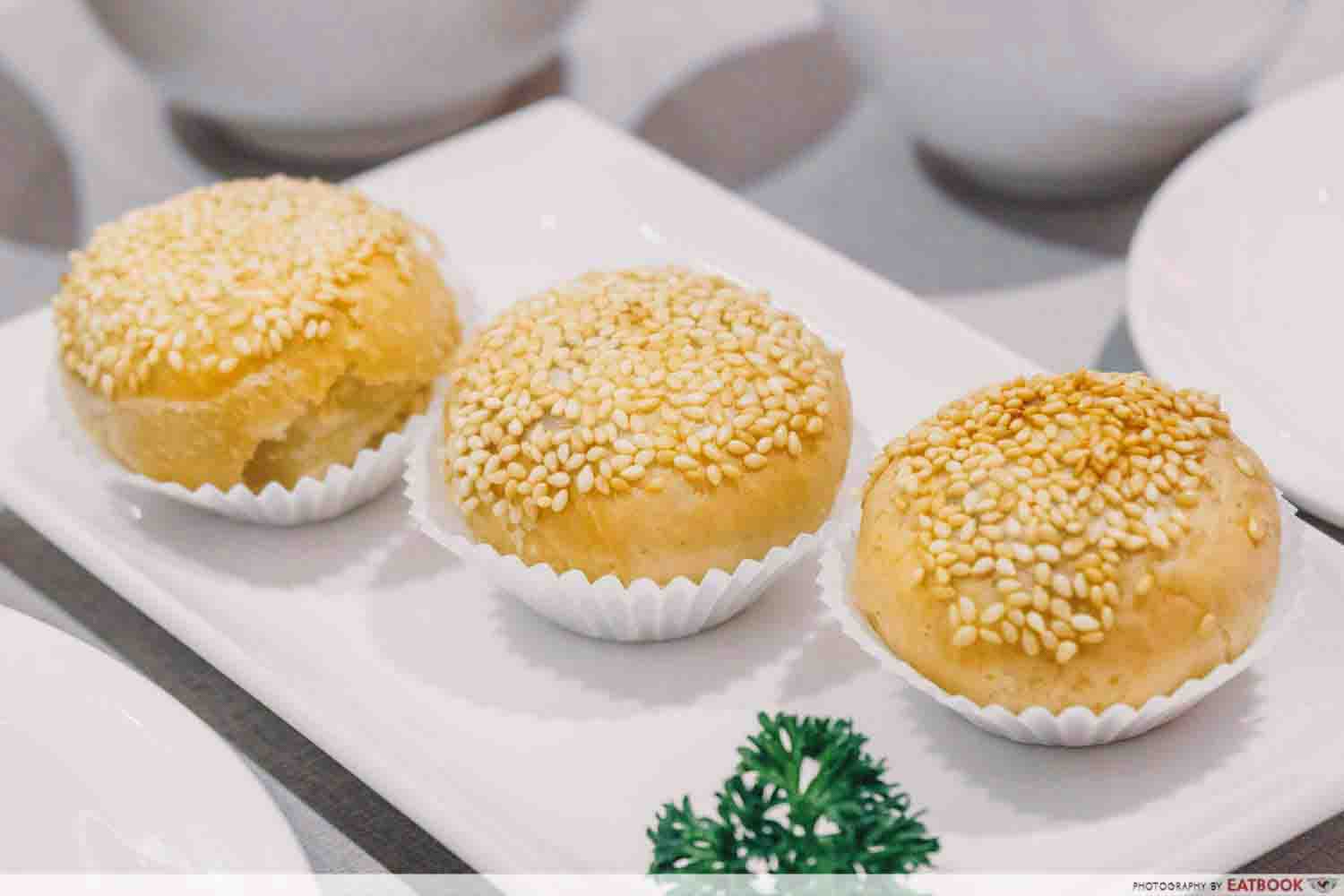 The cheapest way to get this basket of alcoholic xiao long bao is to order the BBQ Pork Pastry in Shanghai Style that's just $5.80++! This classic Shanghai snack comes in a set of three and has a crispy and flaky exterior. The insides are filled with savoury and sweet meat, and topped with sesame seeds.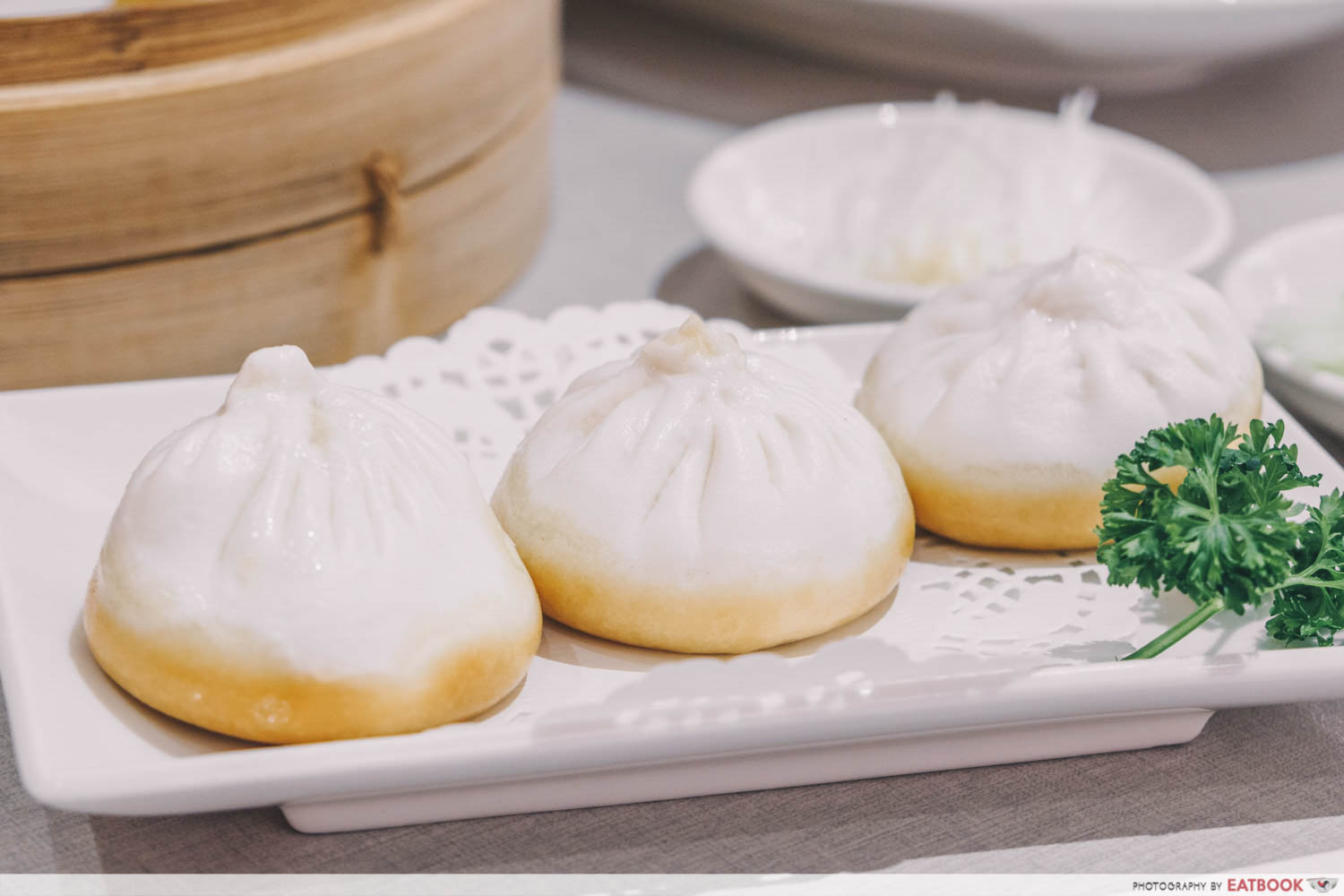 You can also get the Pan-fried Chilli Crab Bun ($10.80++) with actual bits of chilli crab and sauce inside. It also comes in a set of three, and is gently fried at the bottom for a little bit of crispiness.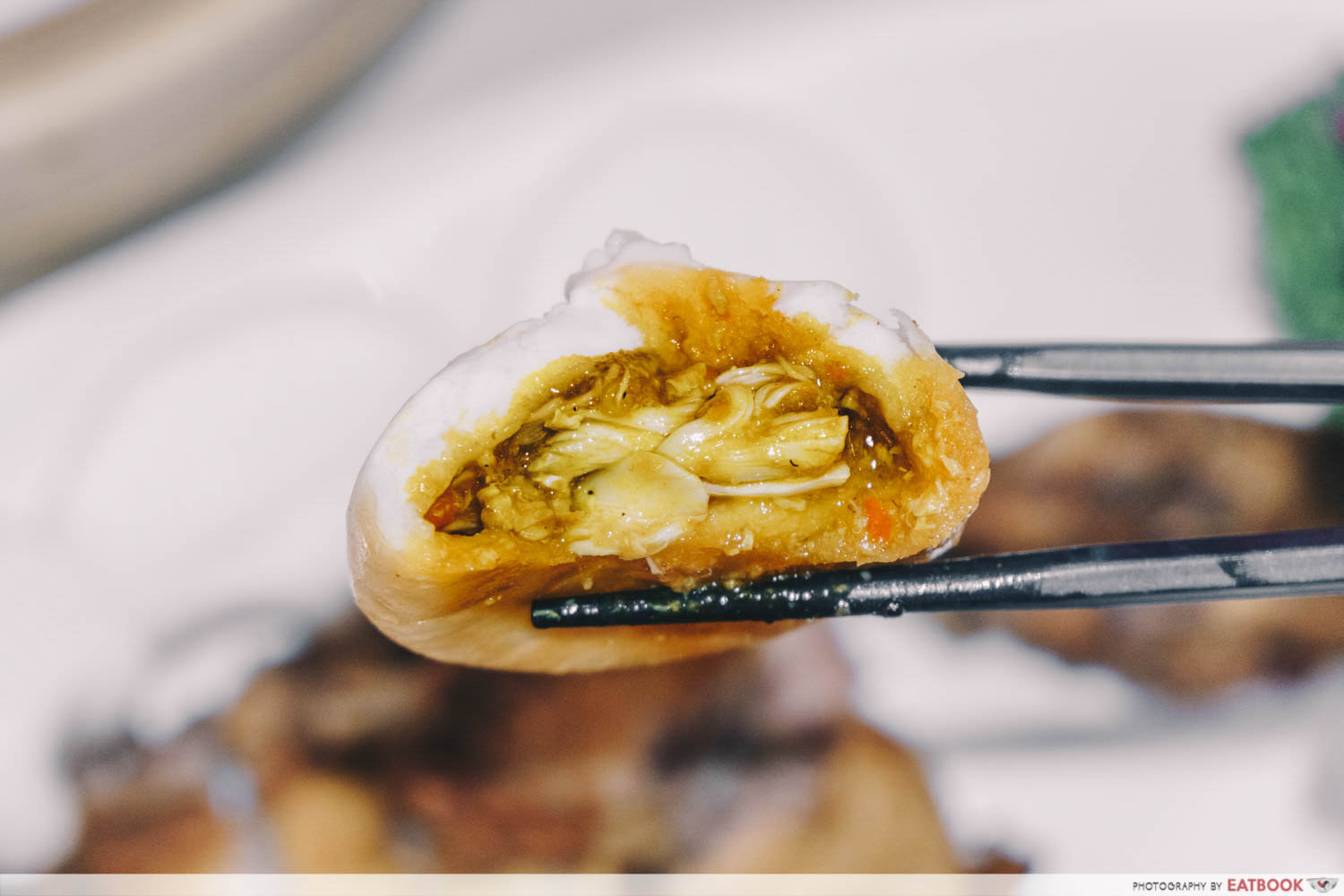 When we bit into it, we were surprised by the scrumptious sauce that burst out. The piquant chilli went well with the large chunks of meat and slightly crispy mantou exterior. As you can see, it most definitely contains chunks of actual crab, giving a sweet and delicate flavour.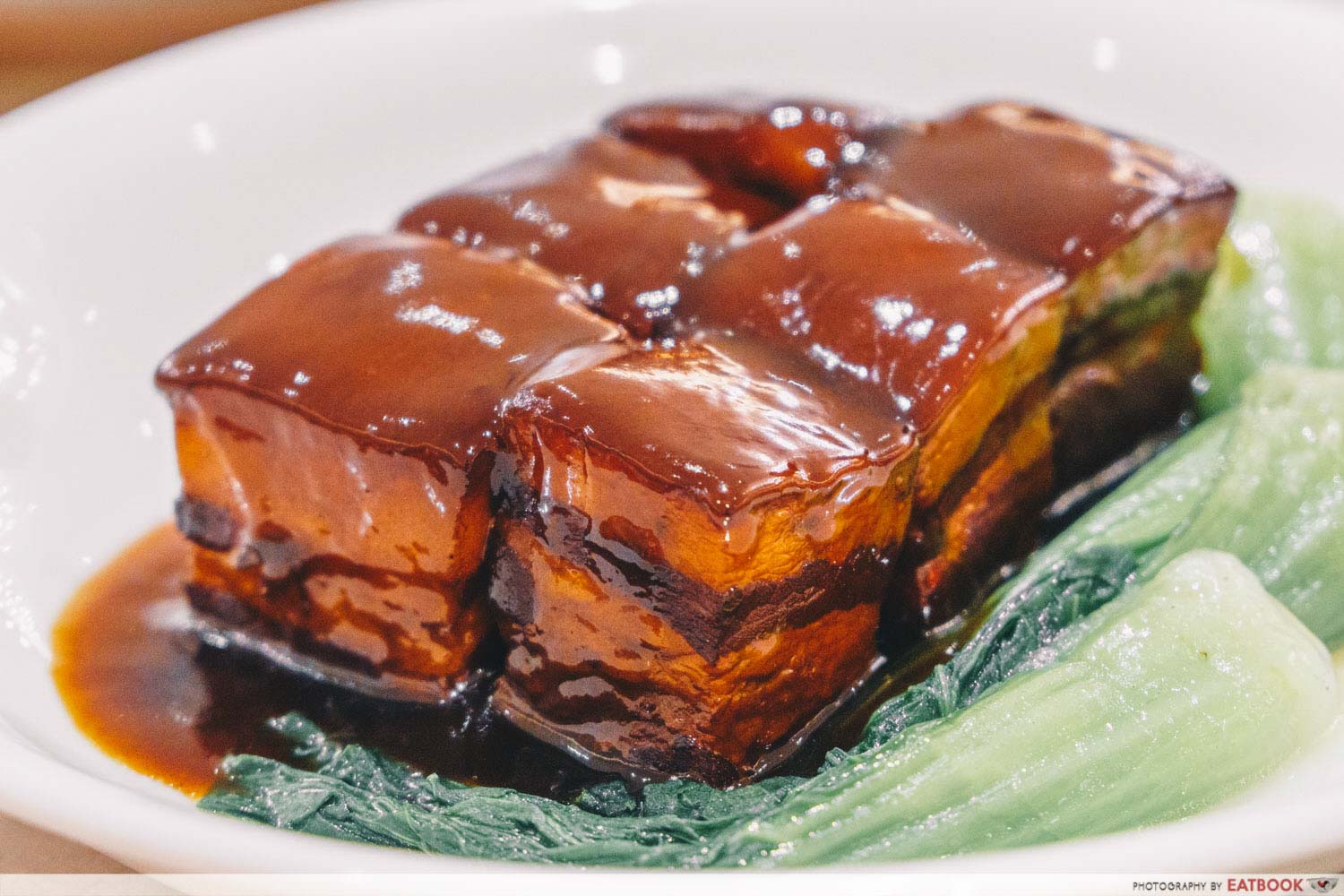 My absolute favourite at Chinese restaurants is always Dong Po Pork ($19.80++), so I was overjoyed to hear that Paradise Dynasty had it as part of this promotion. The layers of fat were incredibly tender, melting away in your mouth and falling apart with hardly any effort. It was savoury and juicy from the braising sauce, and the unctuous meat was oily without being greasy or cloying. The braising sauce was savoury-sweet, and thoroughly infused the meat with flavour.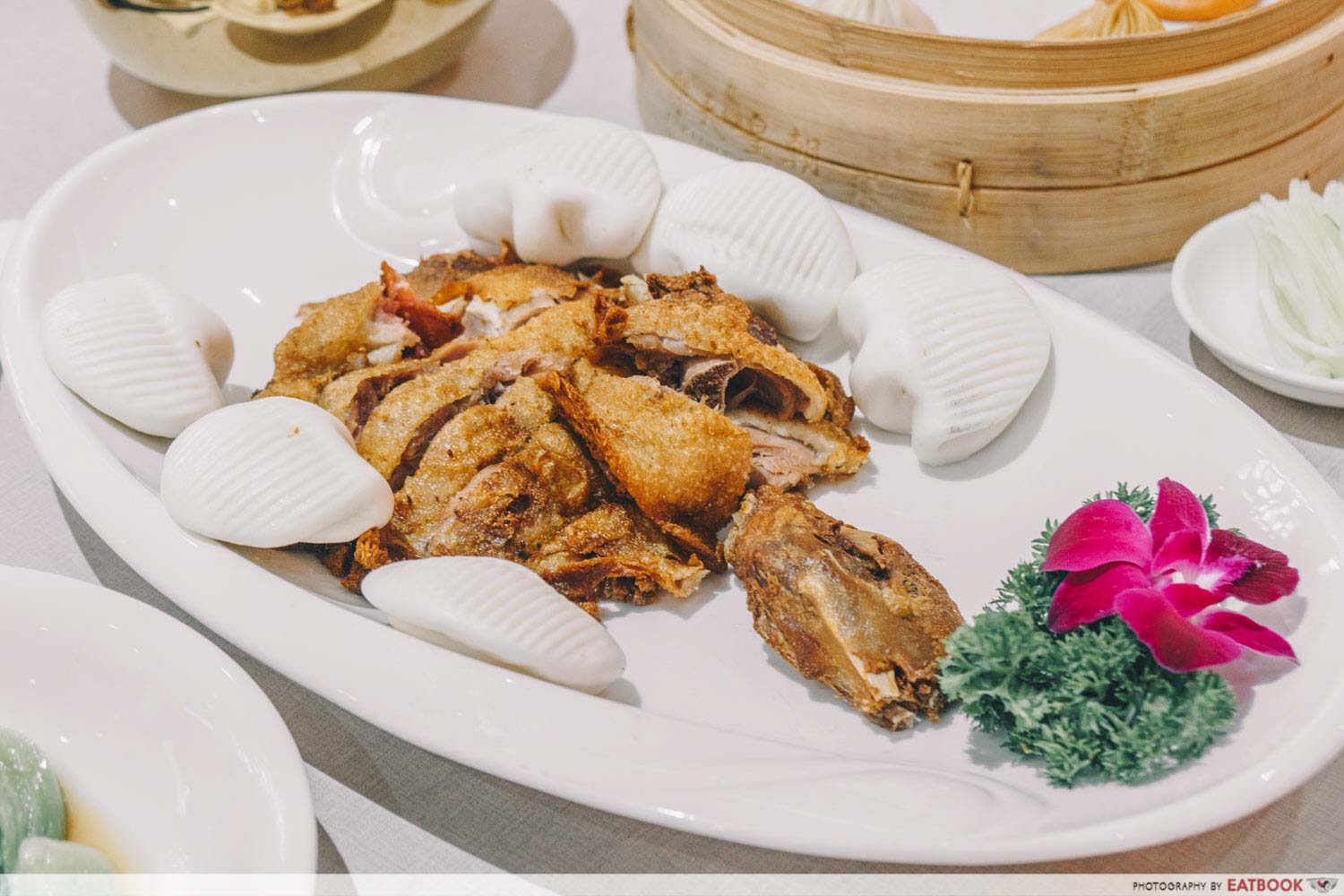 Last, is the Shanghainese Crispy Duck ($30++) that's best shared among family and friends. The meat is rich, crispy, and delightfully savoury. It's served with cucumbers, scallions, and plum sauce, along with lotus buns to wrap the succulent meat in.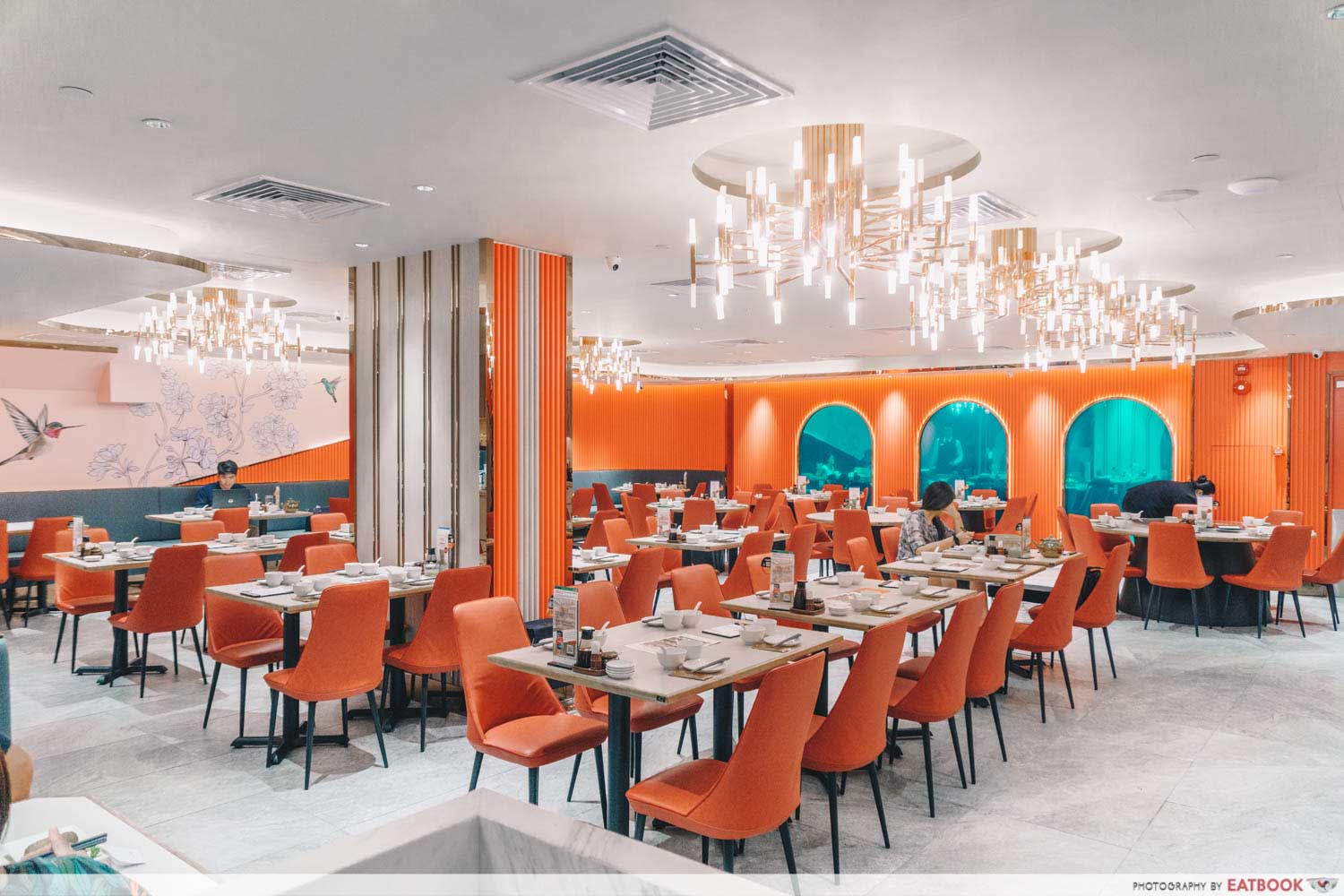 The Paradise Dynasty Funan outlet is far grander than the ones you're used to, as it is one of the newer outlets. Though the store is tucked into a corner, it's impossible to miss it once you see the golden lights, green jade walls, and vivid crimson furniture.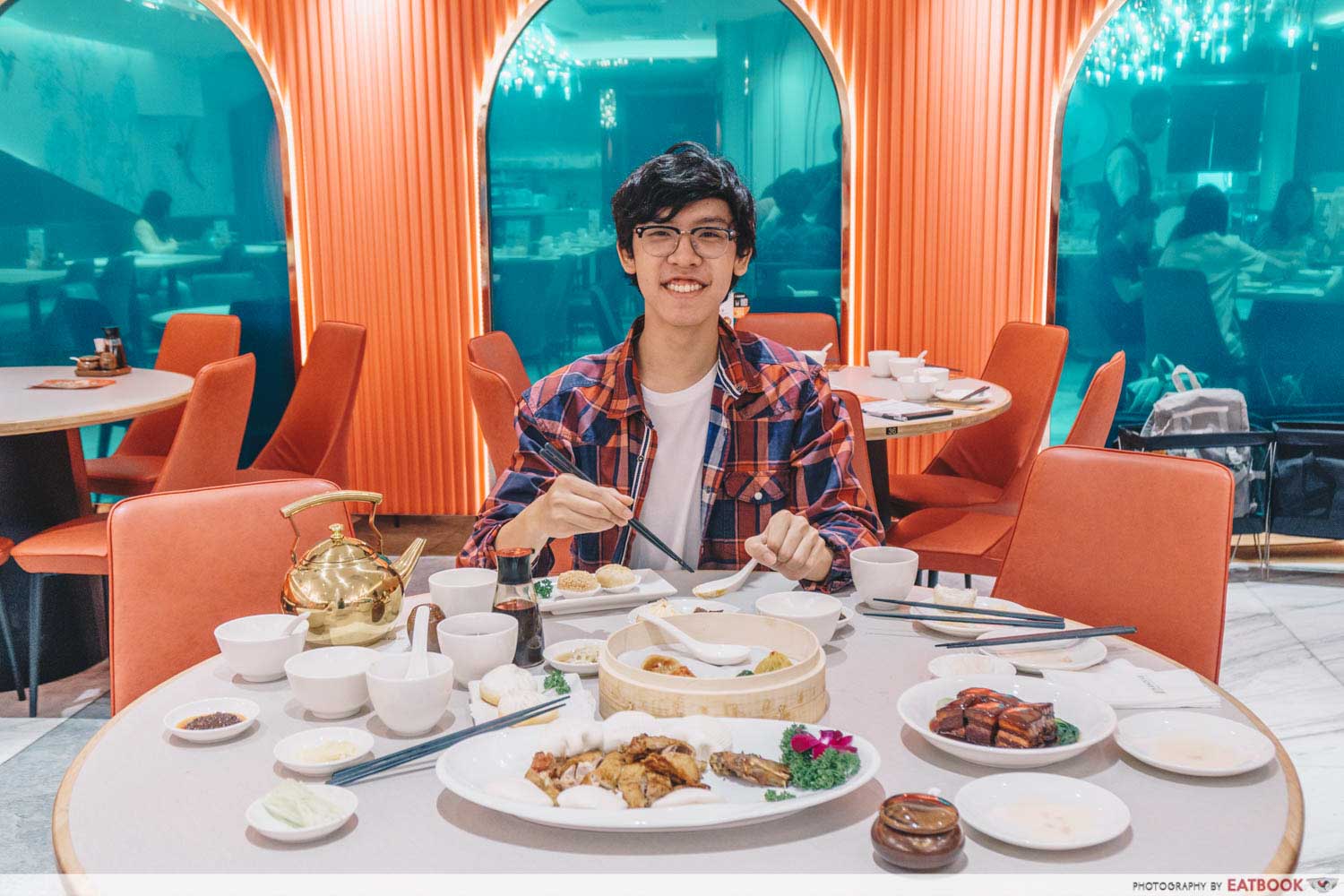 The Tipsy Surprise Xiao Long Bao is only available at this majestic outlet, so head down to Funan to try them out while they're still available! These succulent alcoholic xiao long bao, along with the four limited-time dishes, will all be around from now to 19 January 2020.
You can get one basket per dish ordered, so I suggest getting the pork pastries and booze-filled goodies if you're on a budget. It's best to have one whole set of xiao long bao to yourself, so you can try all five flavours instead of sharing. I never thought I'd see a combination as unique as this but after tasting it for myself, my doubts were dispelled. If you're a fan of dim sum and drinking, or just curious about how the xiao long bao will turn out, then come give it a try!
Address: 107 North Bridge Road, #B1-01, Funan Mall, Singapore 179105
Tel: 6805 1642
Opening hours: Mon-Tue 11am to 10pm, Sat-Sun 10:30am to 10pm
Paradise Dynasty is not a halal-certified eatery
Photos taken by John Lery Villanueva.
This post is brought to you by Paradise Dynasty.