---
Pizza delivery in Singapore
---
There is nothing more comforting than waking up without an alarm, ringing up a pizza delivery hotline and munching on slices of pizza in PJs while bingeing on How I Met Your Mother. But after trying out most of the usual pizza deliveries in Singapore, there are days where I crave for something unique. Thankfully, I found these #non-basic pizza places that dish up a wide variety of pizzas, from fusion to classic flavours. Oh, most of them deliver islandwide too!
---
1. DePizza
---
Offering Singapore's first Nasi Lemak Pizza ($24+) and Gu Lou Yok Pizza ($22+), DePizza is clearly not your basic pizzeria. Having recently launched their delivery service on honestbee and Foodpanda, hit them up on days you're craving for fusion pizza, or if you just want to check out a new joint. Hula Hawaiian ($21+) and Because It's Pepperoni ($18+) are a few of their classic flavours, for those who prefer the good ol' stuff.
Check out our full review of DePizza!
DePizza Review: Nasi Lemak Pizza And Gu Lou Yok Pizza At A New Restaurant
Address: 35A Boat Quay, Singapore 048624
Opening hours: Mon-Sat 11am to 3pm, 5pm to 10pm, Sun 11am to 3pm
Tel: 6588 1359
Website
Menu
---
2. Spizza
---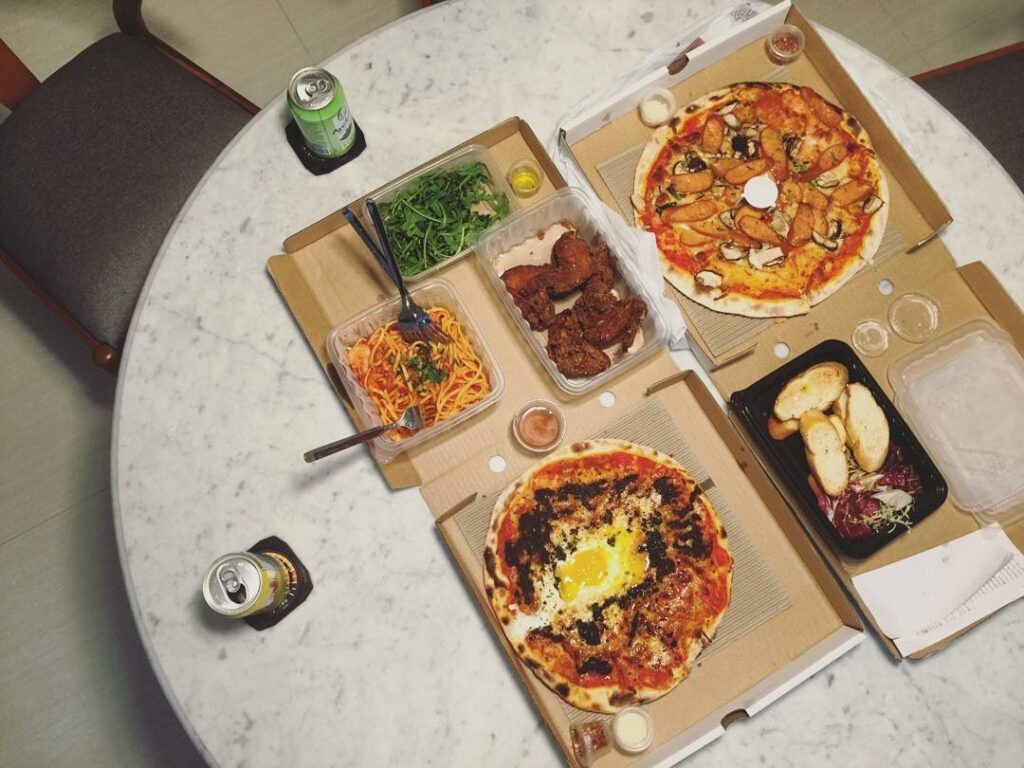 Image credit: @jojojoana
With a cosy outlet at Jalan Kayu, Spizza used to be my family's go-to on nights we eat out. Unlike the usual pizza menu, all their 12-inch pizzas are given female names in alphabetical order. A simple classic, Juliana ($23) is topped with tomatoes, mozzarella, ham and pineapples – suitable for fans of the usual Hawaiian. If you're craving for something interesting, Yasmin ($24) is your best bet. This scrummy pizza is topped with chicken satay for a Singaporean twist. Spizza also serves up a good plate of pasta, with my personal favourite being their Ravioli ($18), which is stuffed with ricotta and spinach.   
Address: 269 Jalan Kayu, Singapore 799497
Opening hours: Mon-Fri 12pm to 2:30pm, 6pm to 10:30pm, Sat-Sun 12pm to 10:30pm
Tel: 6481 2453
Website
Menus
Full list of outlets
---
3. PizzaBoy
---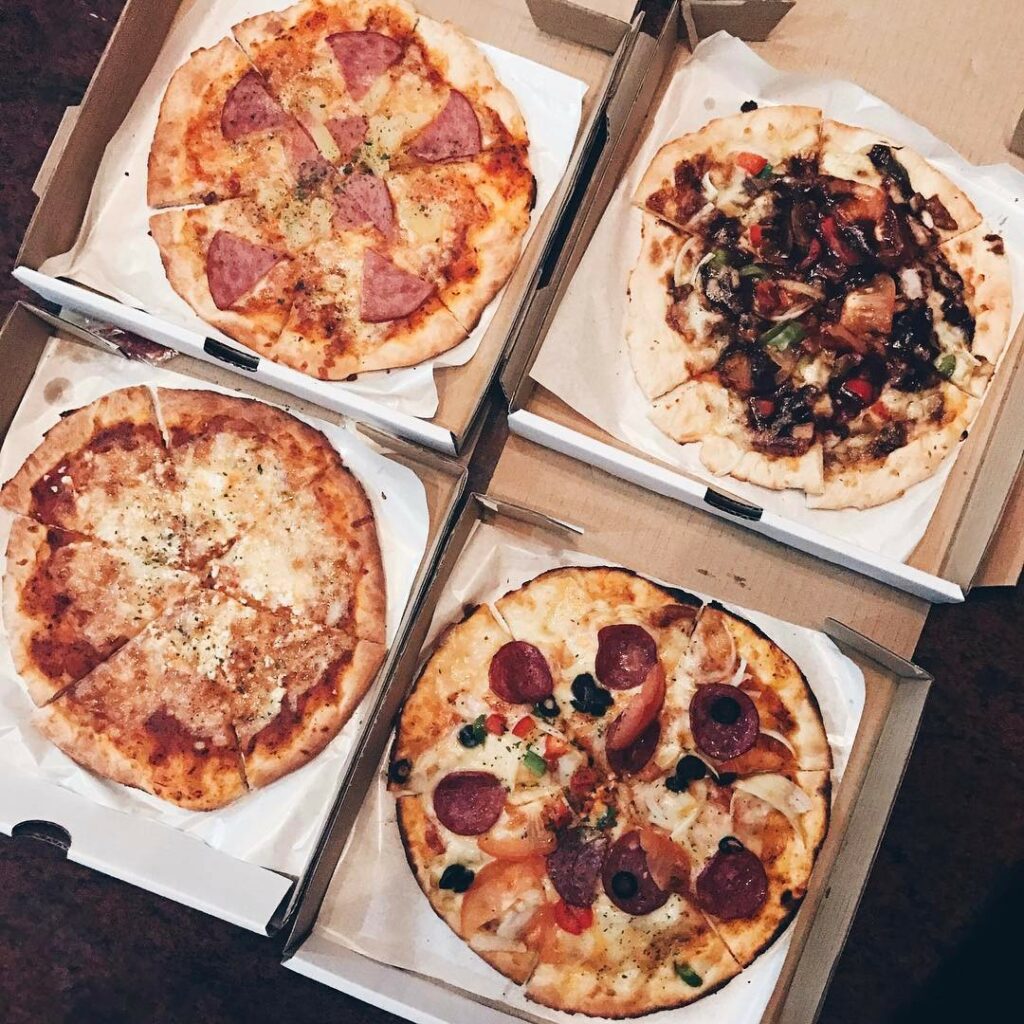 Image credit: @shuyingong
PizzaBoy's Daily Personal Meals ($6.90) are the solution for indecisive and single eaters. Think DIY pizzas on Mondays, wraps on Tuesdays and quesadillas on Thursdays – you'll have your meals practically planned out for you on weekdays. Alternatively, opt for their Super Pizzas ($12.90 each) that are smeared in a special concoction known as 'PB Pizza Sauce' and topped with various ingredients. My favourite is PB Margherita, which has stretchy mozzarella cheese atop tangy tomato sauce. PizzaBoy offers islandwide delivery with additional charges, and free delivery to selected areas with a spend of at least $80.
Address: 116 Changi Road, #01-09, Singapore 419718
Opening hours: Sun-Thur 11am to 9:30pm, Fri-Sat 11am to 10:30pm
Tel: 6493 5777
Website
Menu
---
4. Pizza Arc
---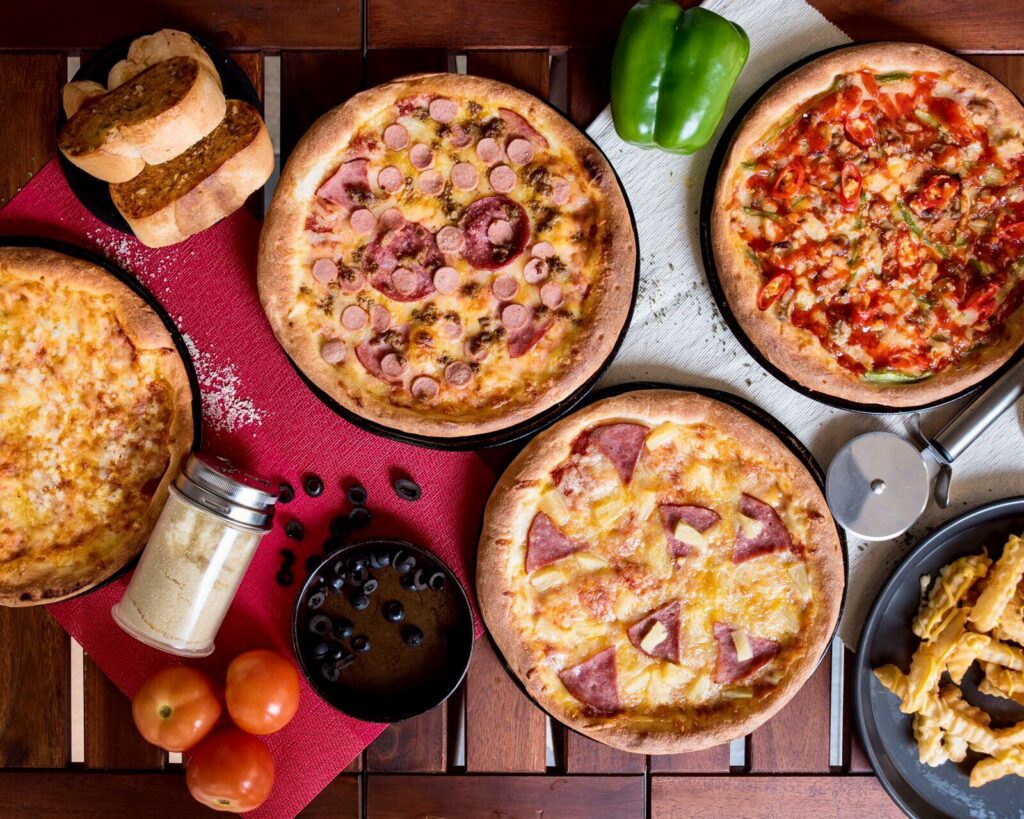 Image credit: Pizza Arc's Facebook page
Halal-certified Pizza Arc offers islandwide delivery and rewards members with a 5% return discount. Go straight for their all-time favourite flavours such as Spicy Garlic Chicken ($10.90 for 10", $12.90 for 12") and Yummy Cheese ($10.90 for 10", $12.90 for 12"). The latter is topped with eight different cheeses! If you're like me and enjoy stuffing yourself with carbs, opt for the creamy Cheesy Macaroni ($3.50) to satisfy the carb-nivore in you.
Address: Block 236 Yishun Ring Road, #01-1020, Singapore 760236
Opening hours: Thur-Tue 4:30pm to 9:30pm
Tel: 6755 6535
Website
Menu
---
5. Napolizz Pizza
---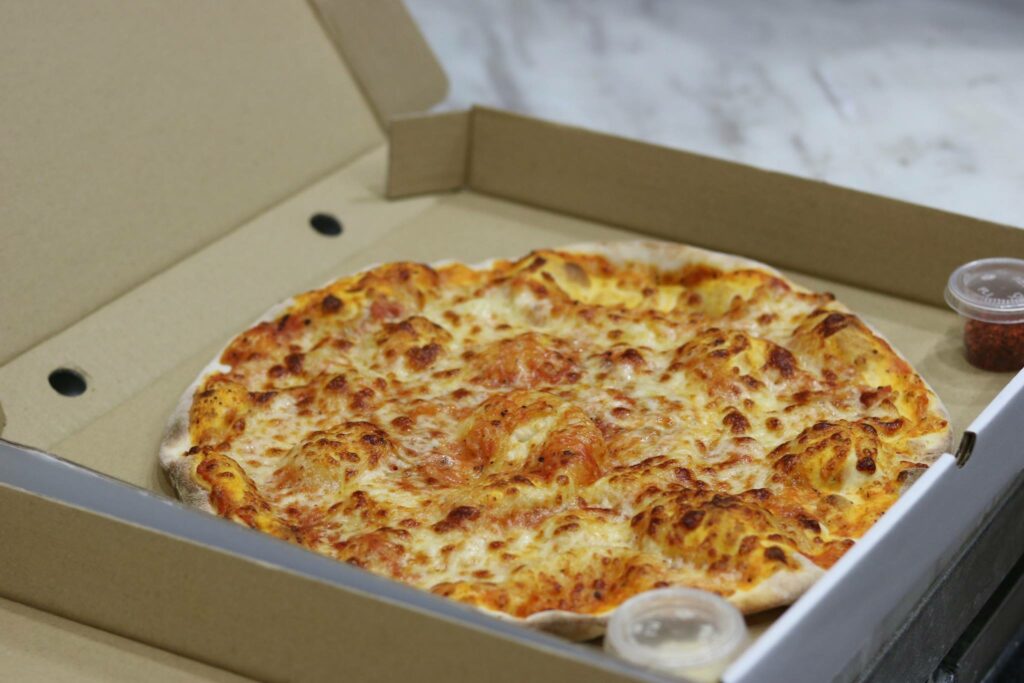 Image credit: Napolizz Pizza Delivery's Facebook page
Napolizz Pizza is your best bet if you're craving for a quick Italian fix but are feeling too comfy in that jammies to leave the house. Try Napolizz ($22 for 12") – the pizzeria's signature that is topped with mozzarella, bacon, baby spinach, blue cheese and a runny egg in the centre. Napolizz also offers various #meatfreemondays dishes, with my favourite being Melanzane All Parmigiana ($12), which comes with layers of baked eggplant, cheese and tomato sauce. Be sure to gather all your amigos for this chill day, and spend above $50 to enjoy free islandwide delivery!
Address: 216 Joo Chiat Road, #01-10, SOHO Life, Singapore 427483
Opening hours: Mon-Fri 11am to 2:30pm, 5pm to 10:30pm, Sat-Sun 11am to 10:30pm
Tel: 6280 8220
Website
Menu
Full list of outlets
---
6. Knicker + Bockers
---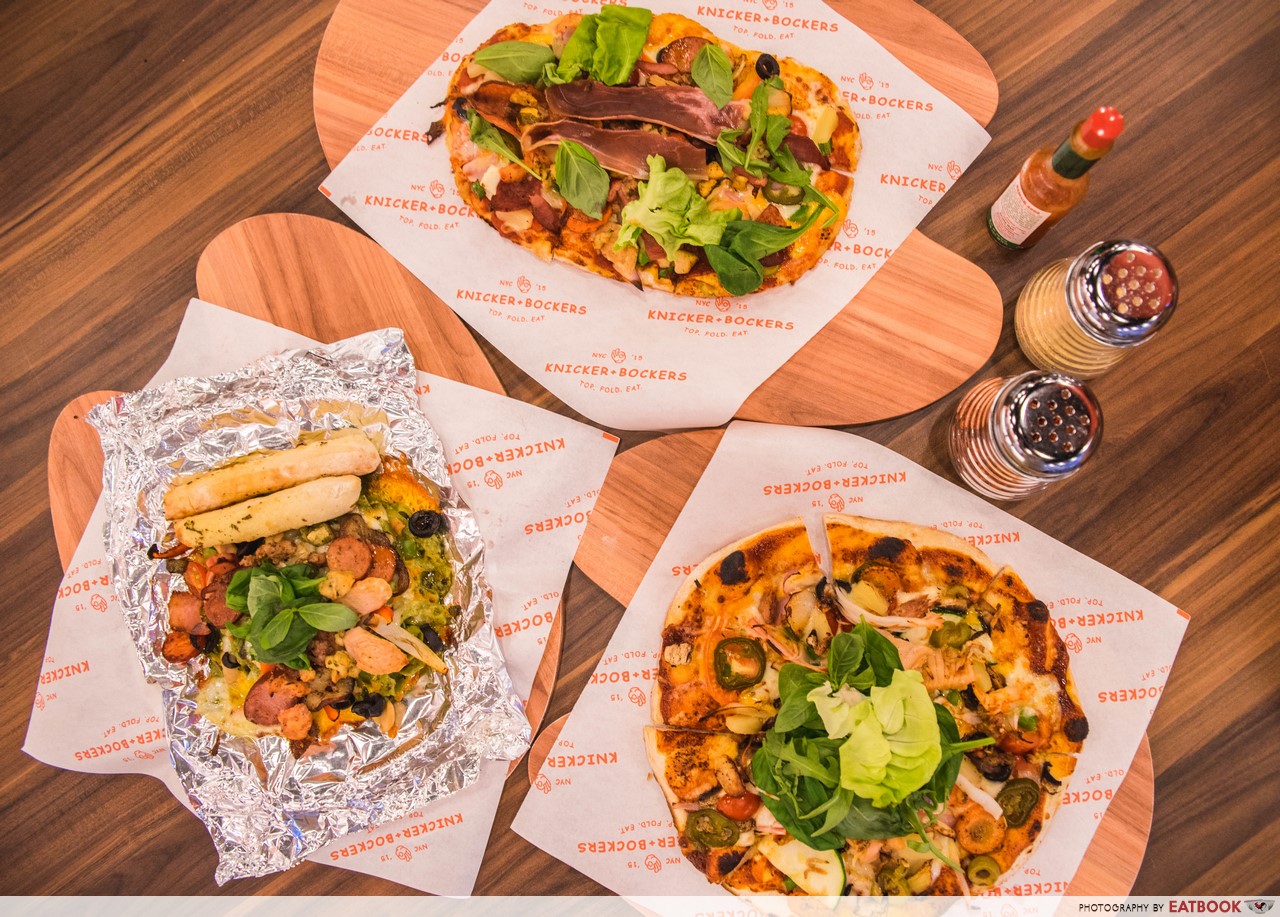 Strategically tucked in the basement of Ocean Financial Centre, Knicker + Bockers is for picky office warriors who want to DIY their own meal. At $13.90 and $8.90 for a pizza and pasta respectively, tick your preferred ingredients via a DIY order form that includes over 25 options. They offer pick-up services at Ocean Financial Centre and only deliver to areas around Raffles Place MRT Station.
Check out our full review of Knicker + Bockers!
Knicker + Bockers Review: DIY Pizza And Pasta With Unlimited Toppings At $13.90 And $8.90
Address: 10 Collyer Quay, #B1-10, Ocean Financial Centre, Singapore 049315
Opening hours: Mon-Fri 10am to 9pm
Tel: 6509 9247
Website
---
7. Crust Gourmet Pizza Bar 
---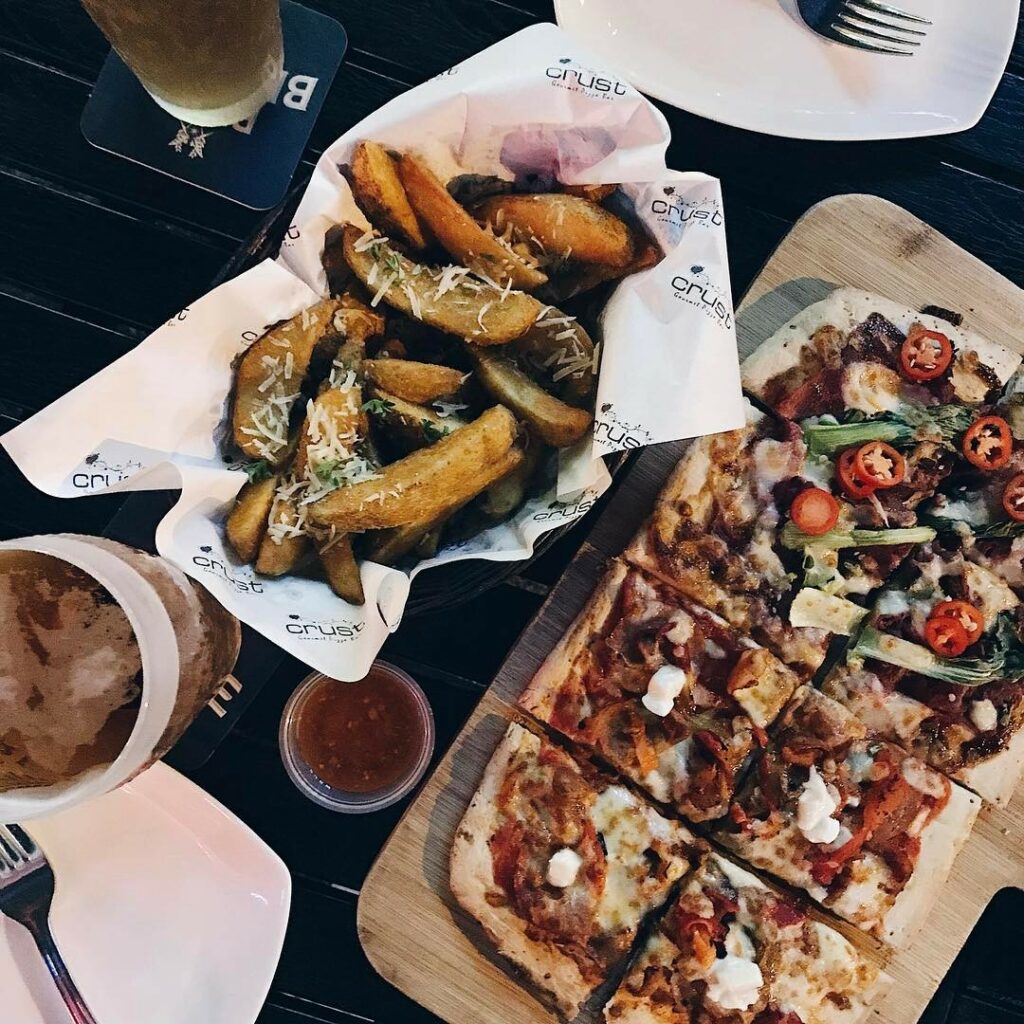 Image credit: @dnpdlsl
Founded in Australia, Crust Gourmet Pizza Bar stands out with rectangular pizzas that are 13 by 8 inches. Peri-Peri Chicken ($28 for rectangular, $22 for 9" round) has been voted as Australia's and Singapore's top-seller, and comprises strips of marinated chicken breast, caramelised onions, roasted red peppers, bocconcini cheese and their signature peri-peri sauce for an extra kick. Gluten-free advocates would be glad to know that they offer a gluten-free option for all their pizzas at an additional $3. The restaurant only does islandwide delivery for orders above $200, but they deliver to six areas in Singapore with a minimum spend of $25.
Address: 34B Lorong Mambong, Holland Village, Singapore 277691
Opening hours: Mon-Thur 12pm to 11pm (last order at 10:30pm), Fri-Sat 12pm to 1am (last order at 12am), Sun 12pm to 12am (last order at 10pm)
Tel: 6467 2224
Website
Menu
Full list of outlets
---
8. Yellow Cab Pizza Co.
---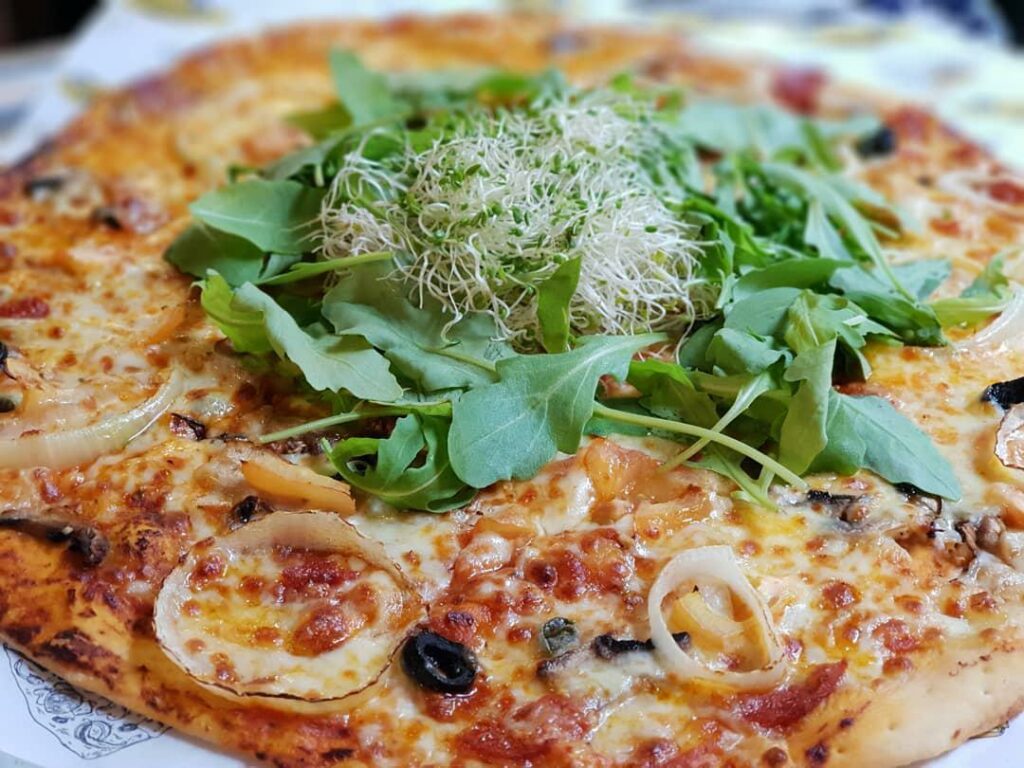 Image credit: @biyaheng_pagkain
Yellow Cab Pizza Co. dishes out New York-inspired pizzas that are thin-crusted, wide, and foldable so you can simply grab it, fold it and eat it like a true New Yorker. #4 Cheese ($15) will definitely yield some cheese-pull action, as it's topped with mozzarella, parmesan, feta and cheddar. For spicy food lovers, this pizzeria also serves up some smashin' Hot Wings ($8.80) tossed in their specialty spicy sauce. If your address does not belong in their delivery radius, you can pick up your pizza at their City Hall outlet.
Address: 1 Raffles Link, #B1-01/02, CityLink Mall, Singapore 039393
Opening hours: Daily 11am to 10pm
Tel: 6327 9000
Website | Menu
Delivery menu
---
9. Alt. Pizza
---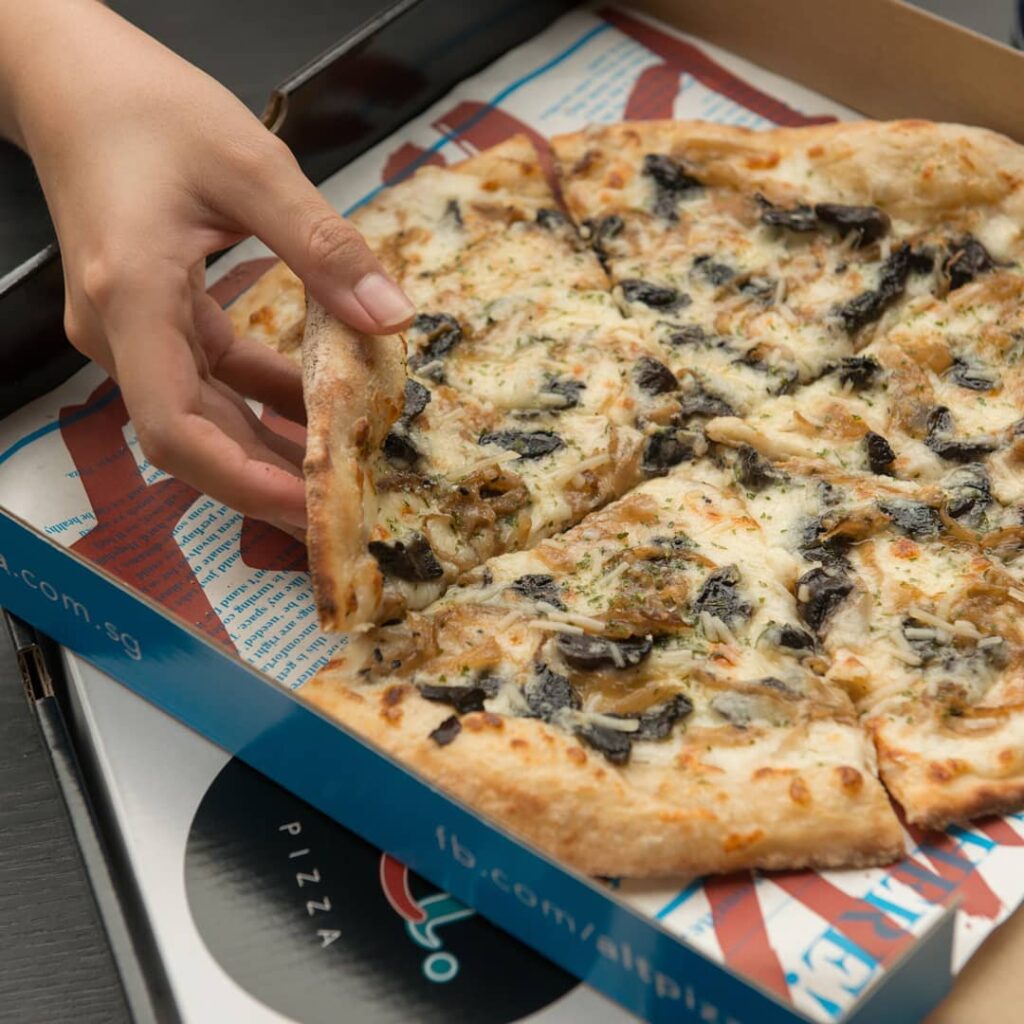 Image credit: @altpizza
Alt. Pizza's Truffle Shuffle ($18++) was the first truffle pizza I tried and loved, and was also the pizza that made this joint one of the top few in my list. It's outrageously strong in truffle smell and creamy from béchamel sauce. Lean and Green ($18++) is a lighter option, spread with a unique roasted garlic pesto and topped with mozzarella, feta, crunchy broccoli, baby spinach and creamy roasted squash. If you're kiasu like me, sign up for the Alt. Rewards Program for a free $10 voucher, no minimum delivery order and rebates along with other perks!
Address: 9 Temasek Boulevard, #01-602, Suntec City Tower 4, Singapore 038983
Opening hours: Daily 11am to 10pm
Delivery hours: Daily 11:15am to 10pm
Tel: 6836 9207
Website
Menu
Full list of outlets
---
Enjoy pizzas in your PJs
---
Enjoy quality and delicious pizzas at home whenever the craving hits! Drop us a comment on your favourite pizza delivery service, and check out this list of unique pizzas if you're an adventurous foodie.
---
Featured image adapted from Instagram user @altpizza's post.