---
Popular hawker food so good that snaking lines don't matter
---
Hawker food are an important part of our culture. Ingrained in every Singaporean's way of life, we average citizens consider ourselves experts on hawker food. With such a volume of hawker stalls available, we generally have a few considerations in picking our stalls of choice including price, convenience and taste.
But when we find hawker food that's undeniably delicious, these parameters get warped, and we're willing to let go of convenience to join a 45-minute long queue for our favourite bowl of bak chor mee.
Here are 10 popular hawker stalls with food so good, they compel us to sacrifice our precious time for a taste.
---
1. Heng Kee Curry Chicken Noodle
---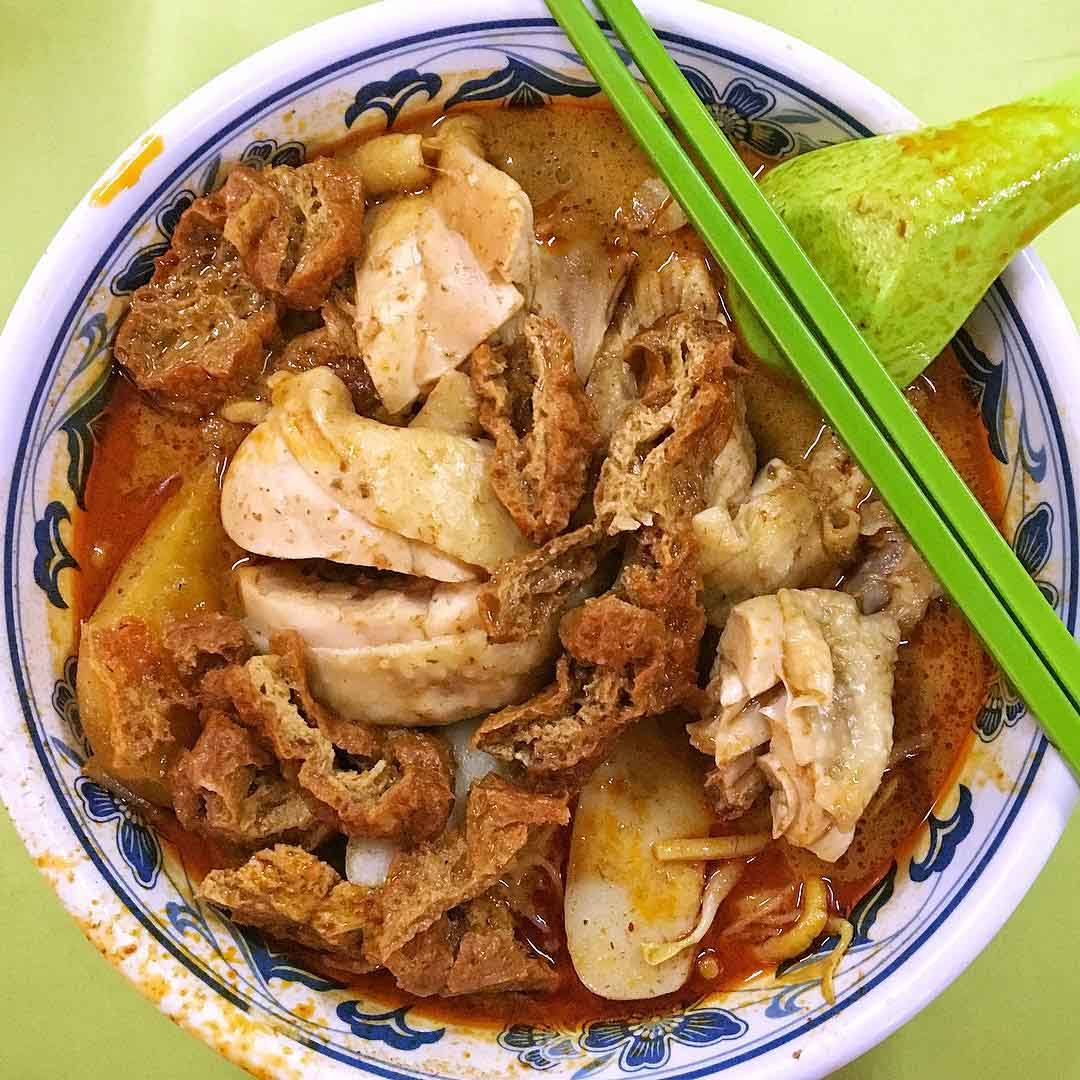 Image credit: @rayner.ng
Located at the perennially crowded Hong Lim Food Centre, Heng Kee Curry Chicken Noodles is one of the most popular stalls. Often drawing up hour-long queues during lunchtime for the eponymous bowl of curry chicken noodles ($5/$7.50 for drumstick), the dish is piled high with noodles, taupok, potatoes and Hainanese-style poached chicken.
The chicken is moist and juicy, and soaks up the curry broth's distinct flavour. Make no mistake though, the star of the bowl is the curry. The gravy isn't thick, but it is complex in flavour, with curry powder and coconut milk shining through, followed by a mild kick of heat.
Address: 531A Upper Cross Street, #01-58, Hong Lim Food Centre, Singapore 051531
Opening hours: Tue-Sat 10:30am to 2:30pm
---
2. Seng Kee Mushroom Minced Pork Noodles
---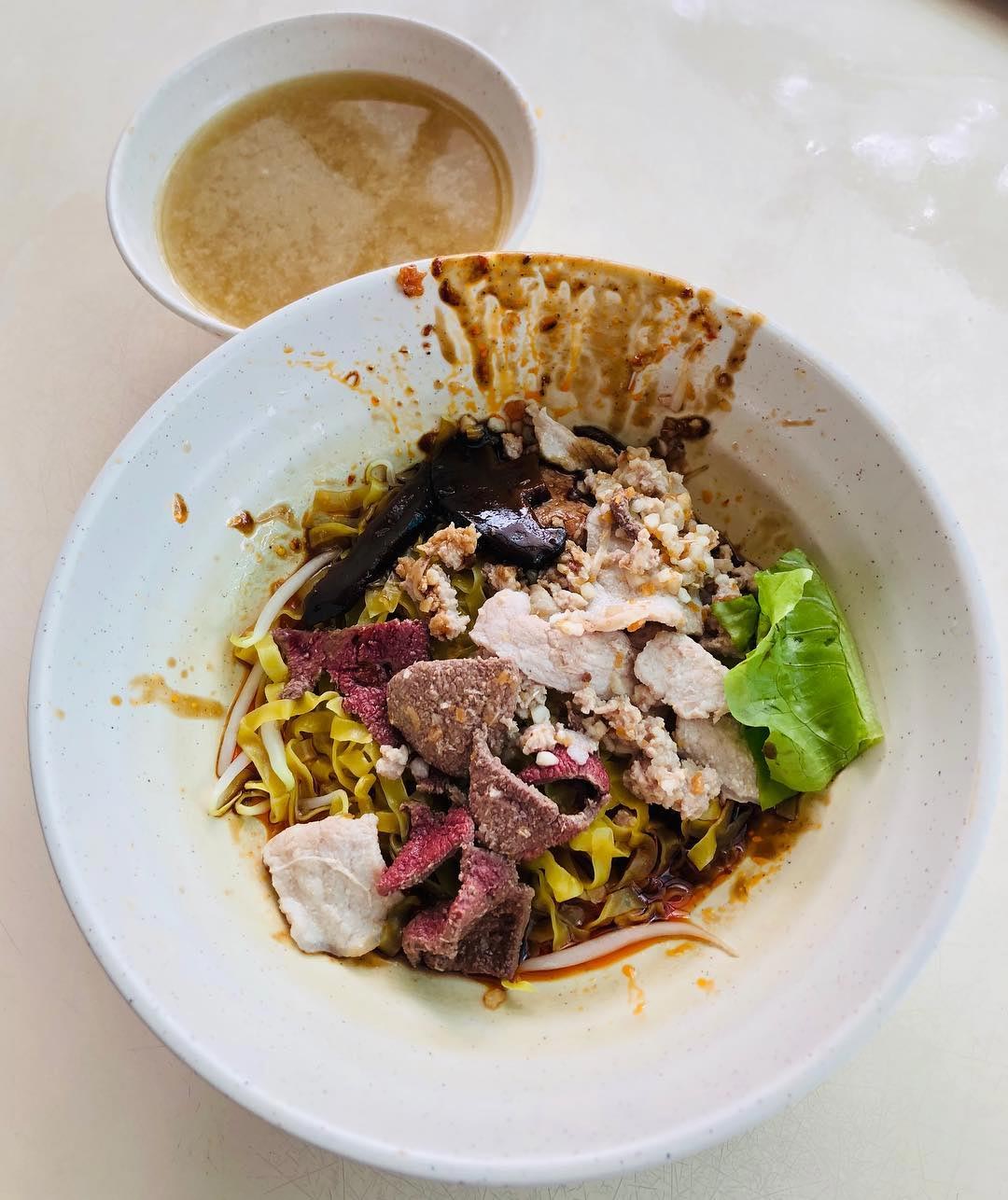 Image credit: @xingafood
Bak chor mee is simultaneously the least and most divisive hawker dish: it's one of Singapore's most beloved dishes, but disagreement reigns on which is the best. Seng Kee Mushroom Minced Meat Noodles at Serangoon Gardens Market is my personal favourite – and I'm not alone. I queued for 30 minutes at 10am on a Saturday morning just to get my hands on this bowl, and the line stretches even longer at lunchtime. But these noodles are well worth the wait.
Their signature Bak Chor Mee ($4.50/$5.50) is of the saucy variant, with a mound of tender sliced pork, minced pork, and liver on top, and a bed of piquant sambal below. Key to this bowl is the marinated mushrooms, which act like umami bombs littered throughout.
Address: 49A Serangoon Garden Way, #01-36, Serangoon Garden Market, Singapore 555945
Opening hours: Tue-Sat 7:30am to 1:30pm
Tel: 8439 0434
---
3. Selera Rasa Nasi Lemak
---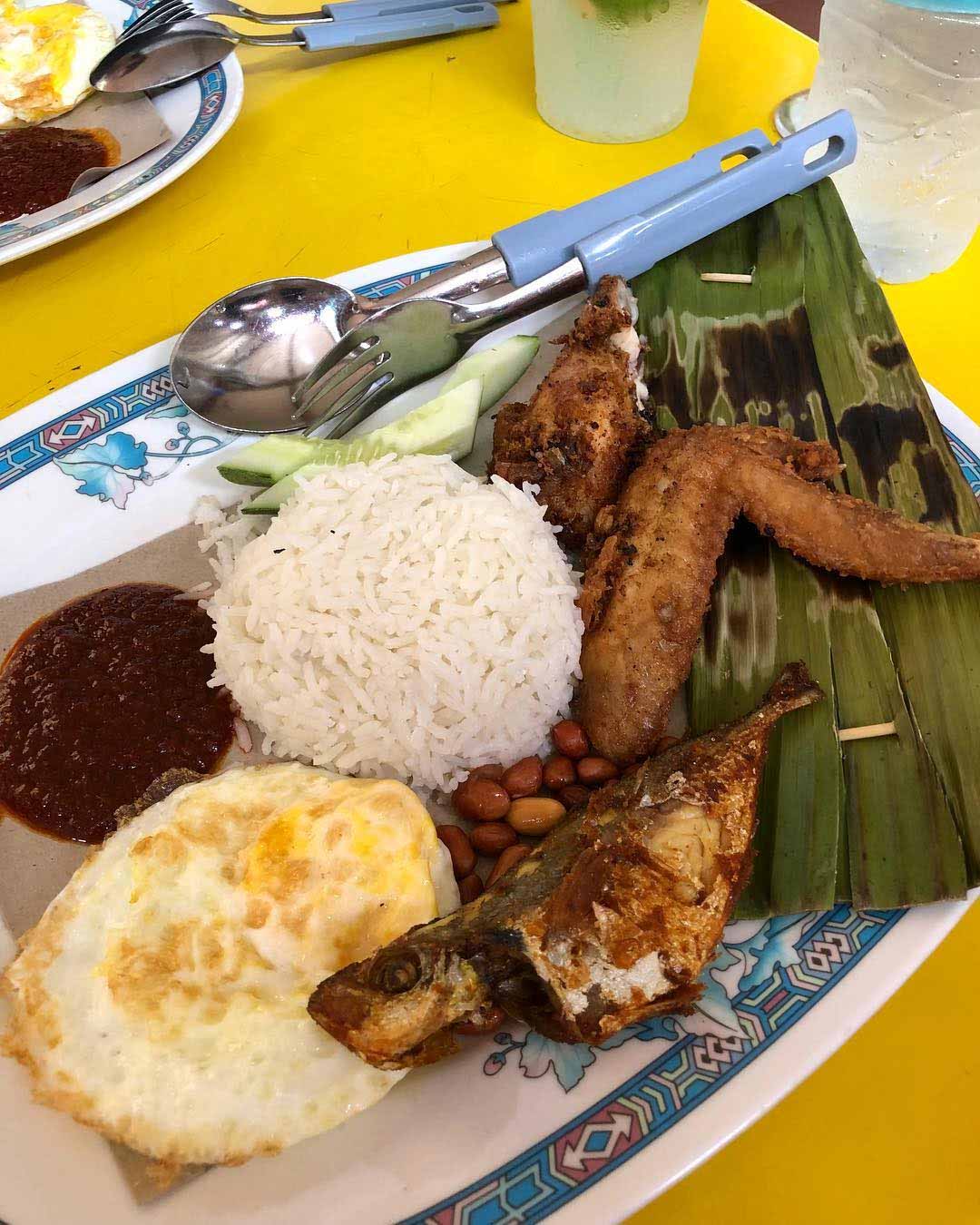 Image credit: @hungryelenakimchi

All you need to know about the popularity of Selera Rasa Nasi Lemak is that it spawned a spin-off, CRAVE, which is now a fixture at most shopping centre basements. Consistently the most crowded stall at Adam Road Food Centre, be prepared to wait any time of day you come.
Prices start at $2.50, but if you're feeling ravenous, opt for the Royal Rumble ($5.50), which comes complete with a fried egg, otah, fried chicken wing, fried fish, bergedil, ikan bilis and a dollop of sambal. The main attraction, though, is the rice. The rice has a tremendous coconut milk flavour and fragrance from pandan. Selera Rasa also uses basmati rice for their nasi lemak, and their long grains make the nasi lemak moist and fragrant without clumping.
Address: 2 Adam Road, #01-02, Adam Road Food Centre, Singapore 289876
Opening hours: Mon-Thur 7am to 5pm, Sat-Sun 7am to 3pm
Tel: 9843 4509
Selera Rasa Nasi Lemak is a halal-certified eatery.
---
4. Xin Mei Xiang Lor Mee  
---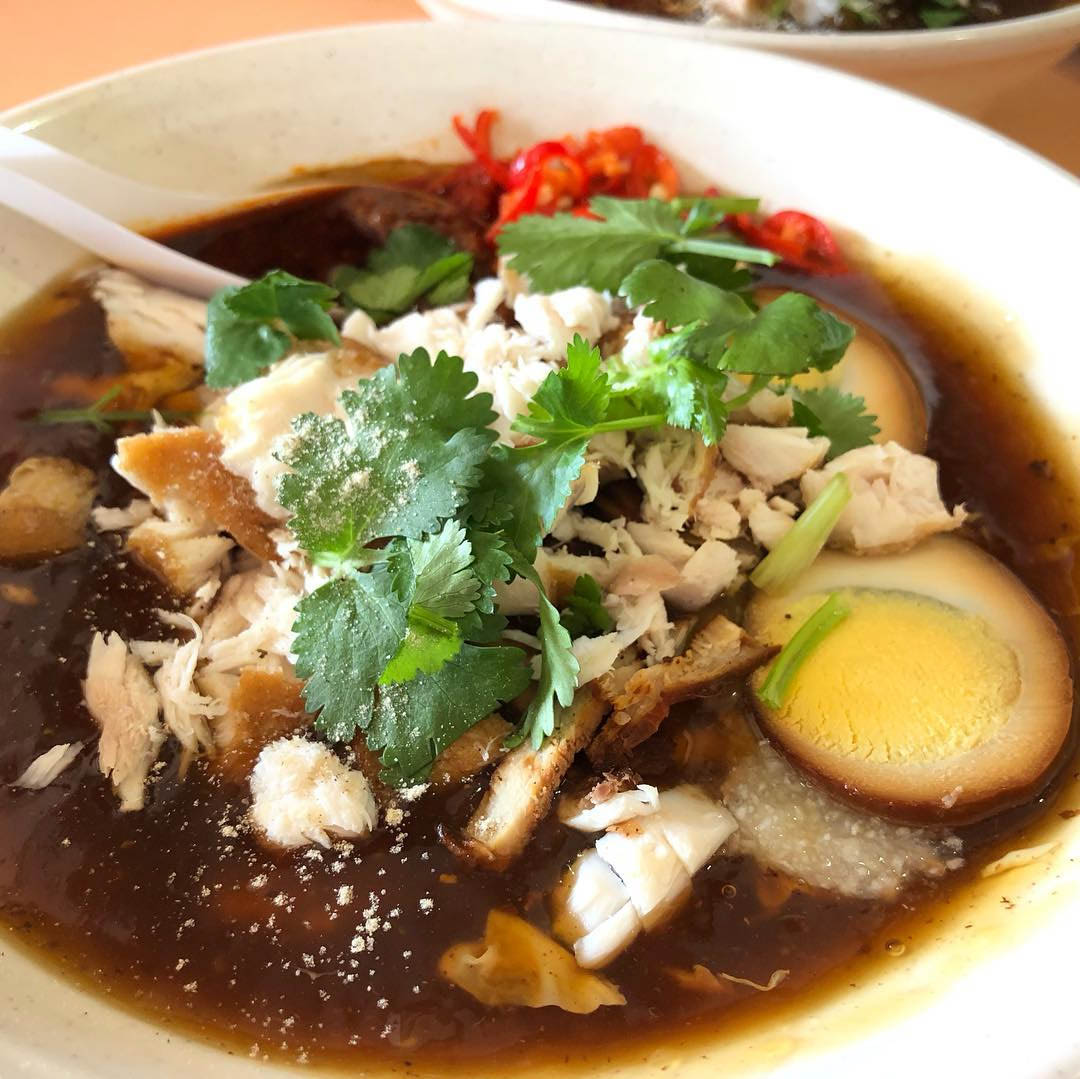 Image credit: @teh_ceci
Google "lor mee" and Xin Mei Xiang Lor Mee will top every list of lor mee stalls. It's inarguably the most famous lor mee stall on our island, and it really shows during lunchtime. What's striking about their Lor Mee ($4/$5/$6) is the distinct lack of fried items, making it a less guilty meal for those watching their waistline. Instead, there's a hill of freshly shredded batang fish on top, with a stewed egg and pork belly bits to fill you up. Still, the gravy is the main draw here. It's thick, garlicky and slightly herbal, and coats the noodles and meaty batang well.
Address: 51 Old Airport Road, #01-116, Old Airport Road Food Centre, Singapore 390051
Opening hours: Mon-Wed 6am to 2pm, Fri-Sun 6am to 2pm
Tel: 6836 4644
Website
---
5. Wah Kee Big Prawn Noodle
---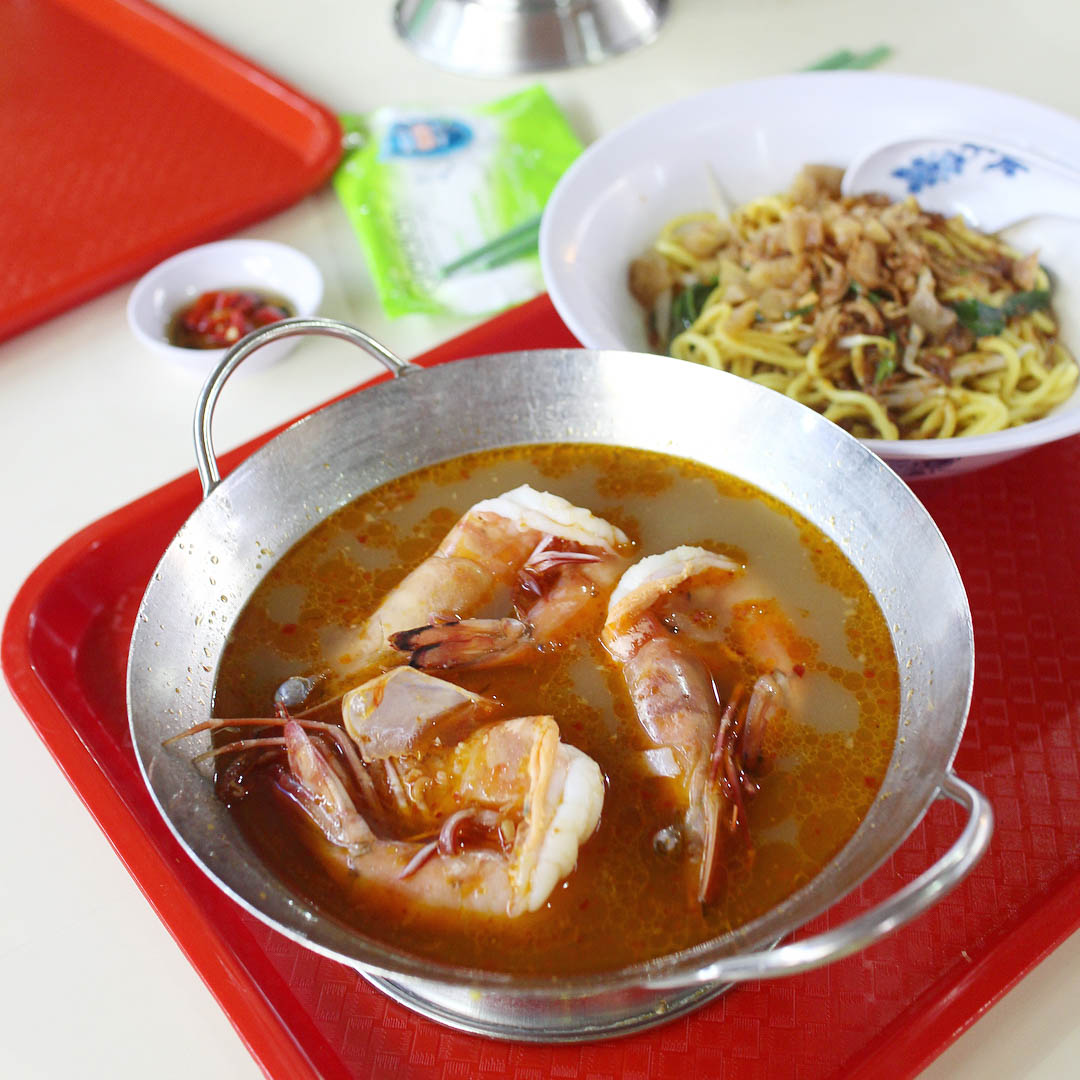 Image credit: @tomomi_13
With a spin-off restaurant at the Esplanade, Wah Kee Big Prawn Noodles is known for their extravagant $25 prawn noodles with gargantuan shrimp. However, if you're willing to queue and avoid breaking the bank, the stall here serves $3 and $5 bowls. Sure, the ones here considerably smaller shrimp, but still nets you in with a magnificent bowl of soup.
I can't stress how good this soup is. Personally, it's my favourite soup – ever. The broth has an incredibly intense seafood flavour from both fresh and dried prawns that are boiled for hours on end. If you love prawns, you'll fall in love with this soup. Just make sure you know your order before reaching the front of the queue, or risk getting chewed out by the notorious stall auntie!
Address: 41A Cambridge Road, #01-15, Pek Kio Market and Food Centre, Singapore 21004
Opening hours: Wed-Sun 8:30am to 2pm
Website
---
6. Toa Payoh Hwa Heng Beef Noodle
---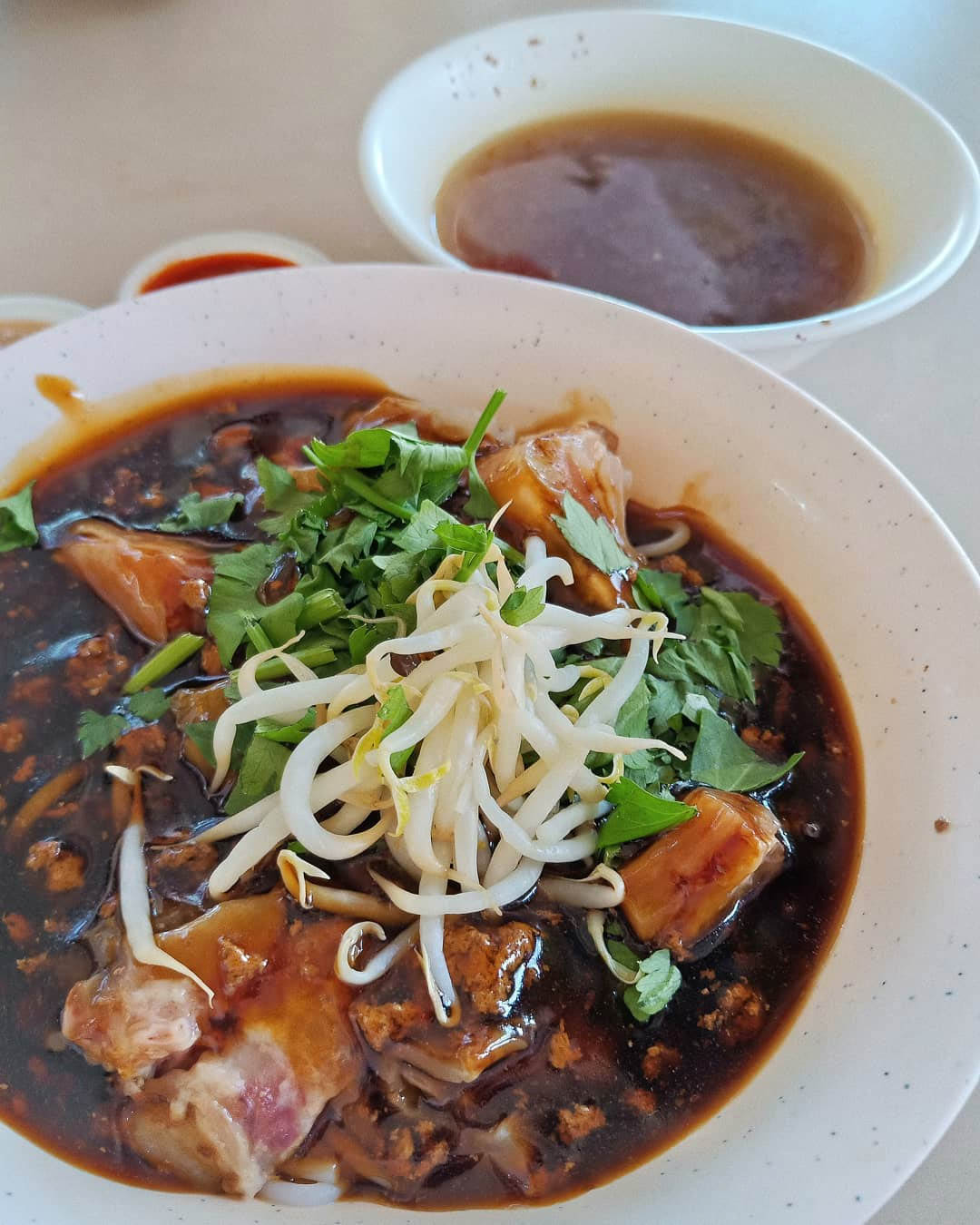 Image credit: @klutzyberry
Originally located at North Bridge Road, Toa Payoh Hwa Heng Beef Noodle has become an institution at Bendemeer Market and Food Centre, boasting long lines at all times of the day. The Dry Mixed Beef Noodles ($4) is highly recommended. Both generous in portion and flavour, the dish comes brimming with beef balls, brisket, slices and tripe. It's doused in a thick and flavourful sauce, with herbal and beefy notes coming through.
Address: 29 Bendemeer Road, #01-01, Bendemeer Market and Food Centre, Singapore 330029
Opening hours: Wed-Sun 10am to 3pm
Tel: 9368 1278
---
7. Jin Jin Hot/Cold Dessert
---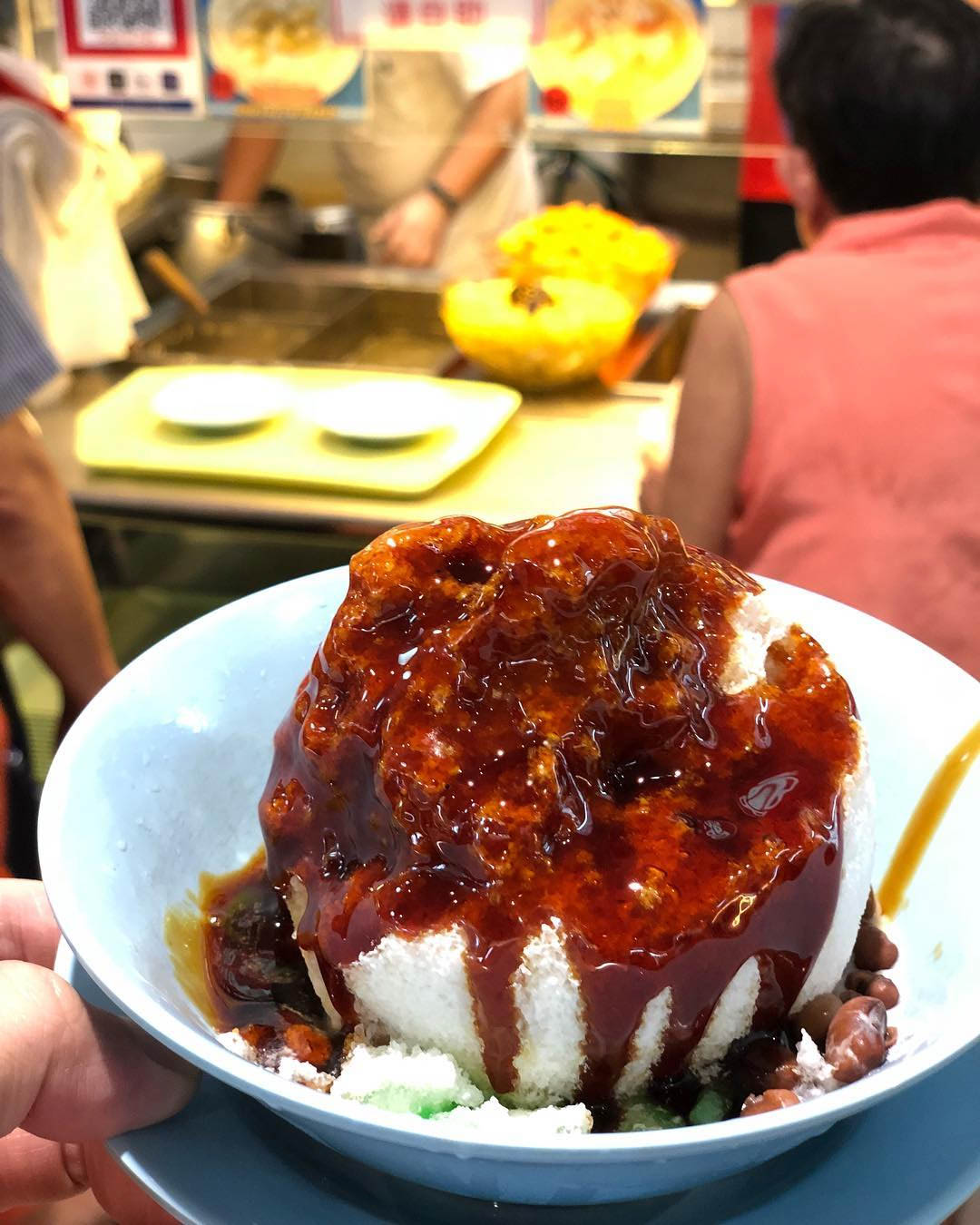 Image credit: @coolheart
Not many hawker centre dessert stalls are able to command long queues, so Jin Jin Hot/Cold Dessert's ability to consistently draw queues to ABC Brickworks Market Food Centre is a testament to the quality of their desserts.
While they serve a bevy of hot and cold dessert items, they are best known for the Power Chendol ($2). Drenched in thick, gooey gula melaka that gradually hardens like chocolate on a sundae, brown sugar milk drinkers will love this dessert. At just $2, it's a struggle not to order more than one of these addictive bowls!
Address: 6 Jalan Bukit Merah, #01-21, ABC Brickworks Market Food Centre, Singapore 150006
Opening hours: Mon-Tues 12:30pm to 10pm, Thur-Sun 12:30pm to 10pm
Tel: 9093 2018
Website | Full list of outlets
---
8. Roast Paradise
---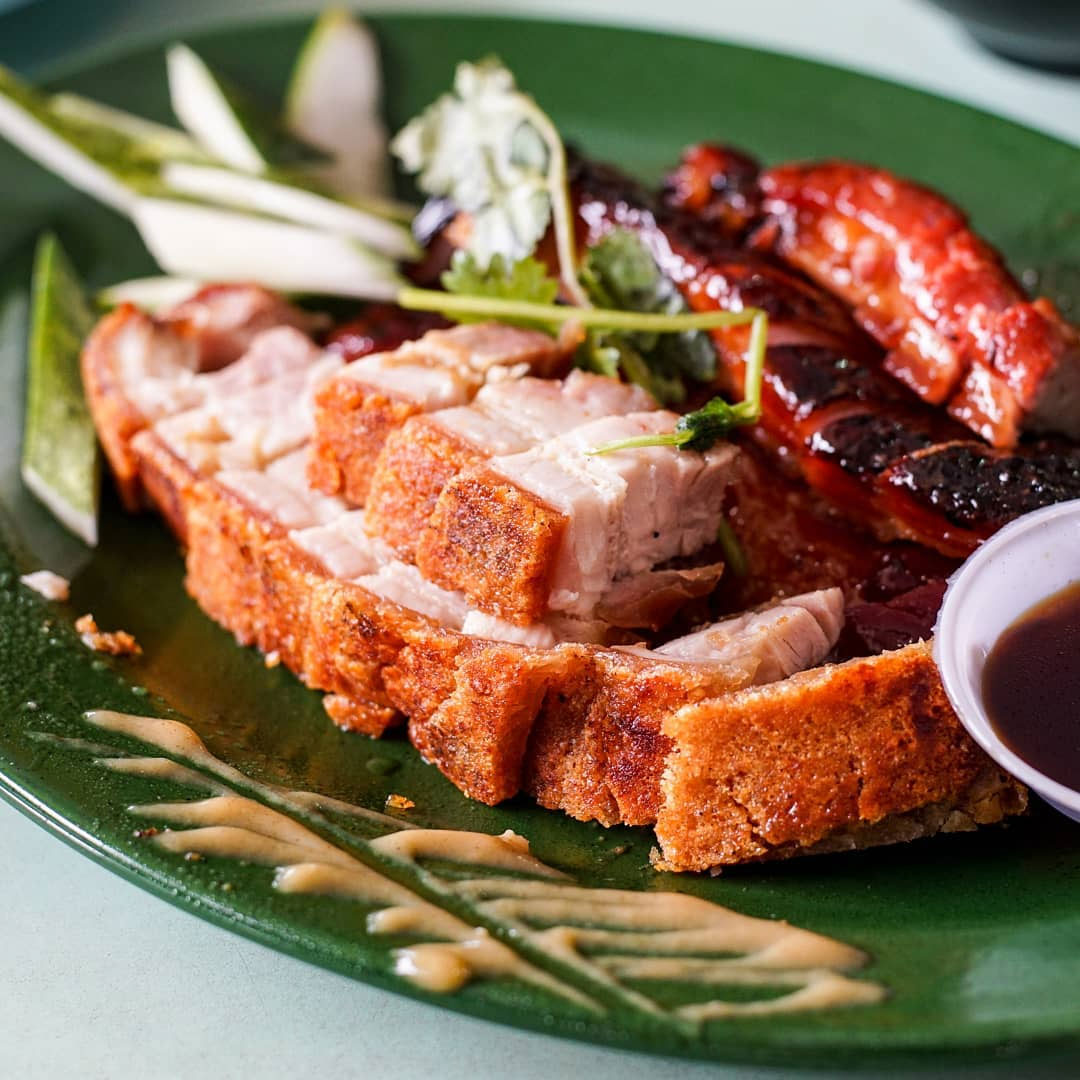 Image credit:@phlee48

Roast Paradise is one of the most well-known roast meat stalls in Singapore – and for good reason. What's make them great is their KL-style Char Siew ($15 for 300g) that's thick, glistening and fatty. The outside of the char siew is charred and candied to perfection, while the meat is moist and tender. You can opt for the regular leaner meat or the fattier premium cut, but we recommend the latter as both are priced the same. While the char siew is glorious, don't neglect the Roasted Pork ($15 for 300g), which is uber crispy and not too salty.
Address: 51 Old Airport Road, #01-121, Old Airport Road Food Centre, Singapore 390051
Opening hours: Mon 11am to 3:45pm, Tue-Sun 11am to 7pm
Tel: 9786 7396
Website
---
9. No. 18 Zion Road Fried Kway Teow
---

Image credit:@cliftonliang

No. 18 Zion Road Fried Kway Teow is what most patrons go to Zion Riverside Food Centre for, and it's easy to see why. Their Char Kway Teow ($3/$4/$5) is chock-full of wok hei, and is moist without being soggy. On the flavour front, it has a subtle sweetness rather than an overwhelming black sauce flavour, which I tend to dislike in a plate of char kway teow. The ample splash of lard used in the cooking isn't exactly healthy, but it's an integral component, permeating each ingredient with its flavour.
Address: 70 Zion Road, #01-17, Zion Riverside Food Centre, Singapore 247792
Opening hours: Daily 12pm to 2:30pm, 6:30pm to 11pm
---
10. Han Kee Fish Soup
---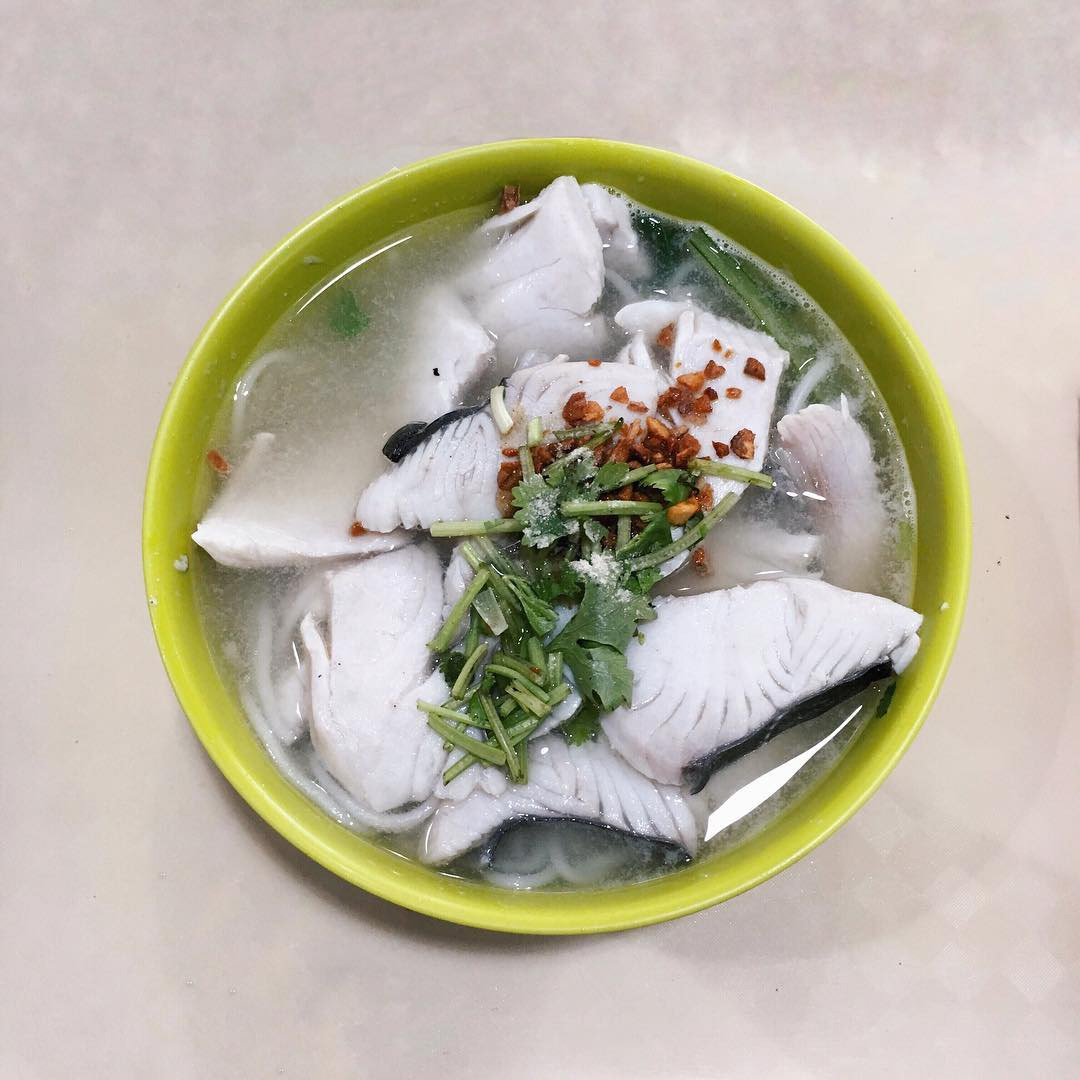 Image credit:@glutamatedimp
Sliced fish soup isn't the most glamourous hawker dish, but when done well, it's one of the most pleasant and satisfying dishes around. Han Kee Fish Soup is one place that does it well, as seen by the throngs of health-conscious office workers lining up during lunchtime. The Fish Soup ($5/$7/$9) is mild and clean-tasting with a tinge of sweetness, and the stack of mackerel slices is firm yet tender. Be warned: get your order ready beforehand and do not ask for extra chilli, or you'll incur the wrath of the stall auntie.
10 Famous Fish Soup Stalls Worth Queuing Half An Hour At Even On Cheat Days
Address: 7 Maxwell Rd, #02-129, Amoy Street Food Centre, Singapore 069111
Opening hours: Mon-Sat 10am to 3pm
---
Check these joints out if you've got time to spare
---
None of these stalls really reinvent the wheel when it comes to hawker dishes, but that isn't what hawker food is about. Great hawker food doesn't require anything fancy – it's about nailing the basics, which is what these stalls deliver. And this is why they attract hordes of loyal customers!
If you're hankering for more hawker food, check out our 10 best hawker places of 2018. Alternatively, opt for a deluxe hawker experience at Meatsmith Western BBQ.
If you've got other great hawker stalls that are well worth the wait, drop a comment down below!
10 Best Hawker Places With Pork Belly, Fried Chicken And More – Eatbook Top 50 Awards 2018
Featured image adapted from @phlee48, @tomomi_13, @xingafood, and @coolheart.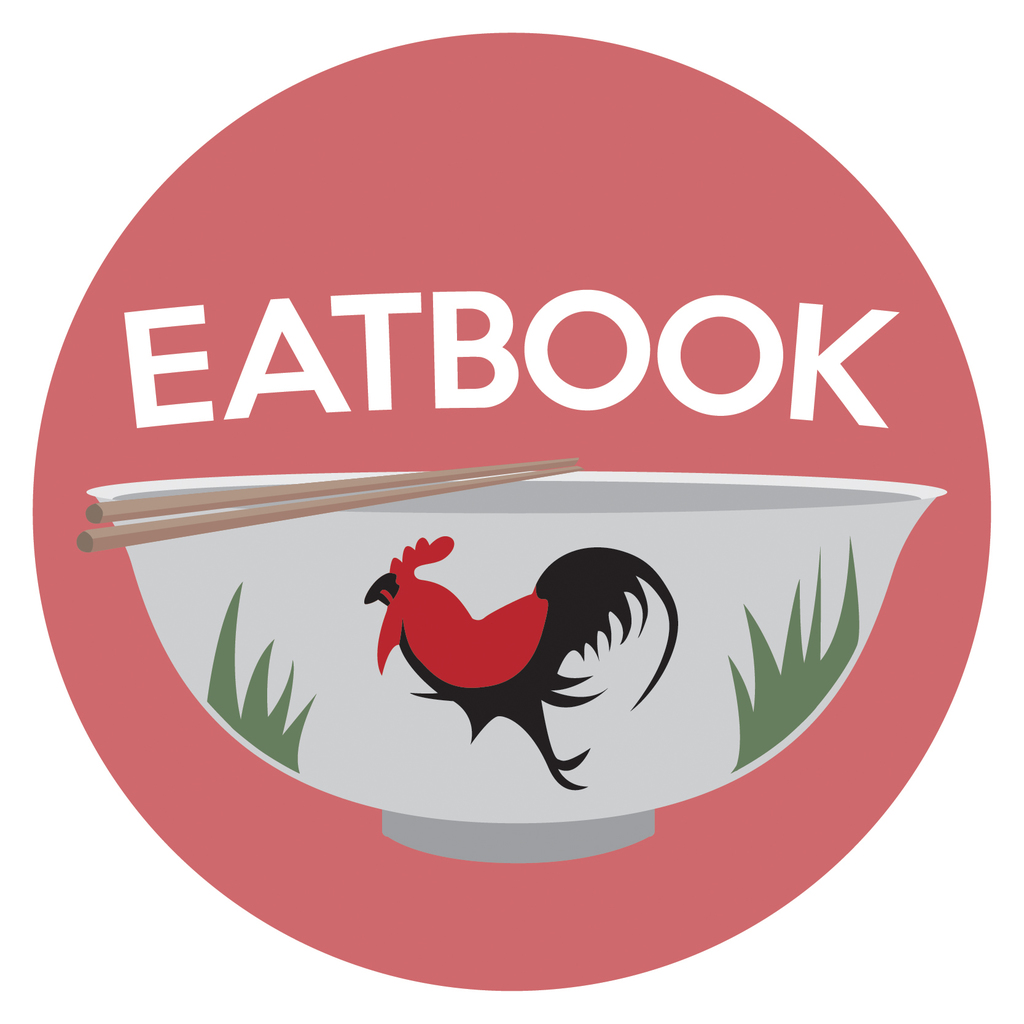 Drop us your email so you won't miss the latest news.