Sin Chew Satay Bee Hoon is worth the wait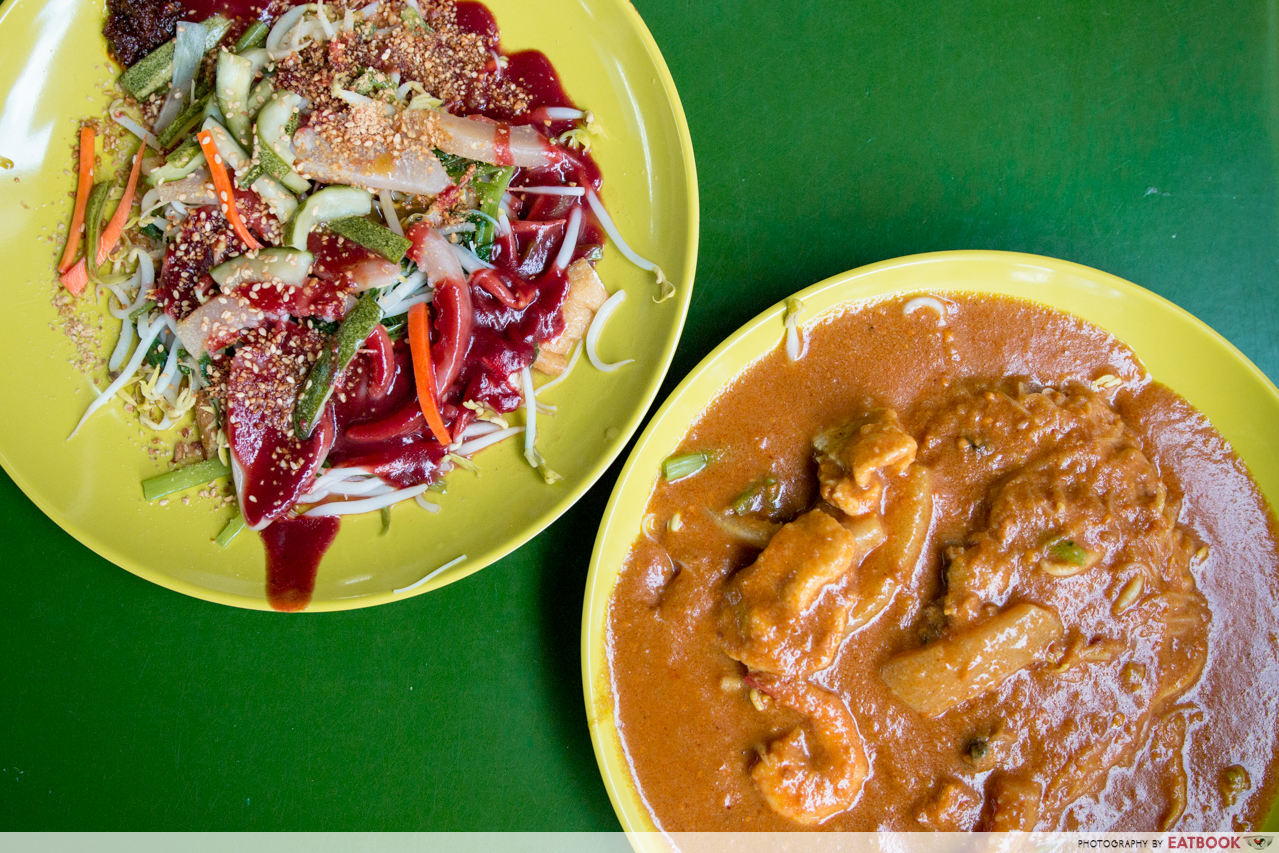 Satay bee hoon isn't the most common dish around, and even after living in Singapore all my life, it wasn't something I had come across. At least, not until I scoured the internet looking for new hawker food dishes to try. Being a fan of both satay and bee hoon, and after hearing much about Sin Chew Satay Bee Hoon from my friends who religiously visit it, I knew I had to check it out for myself.
I was surprised by the long queue at a stall that only serves two dishes, but I decided to withhold judgement until I actually tried the food.
Food at Sin Chew Satay Bee Hoon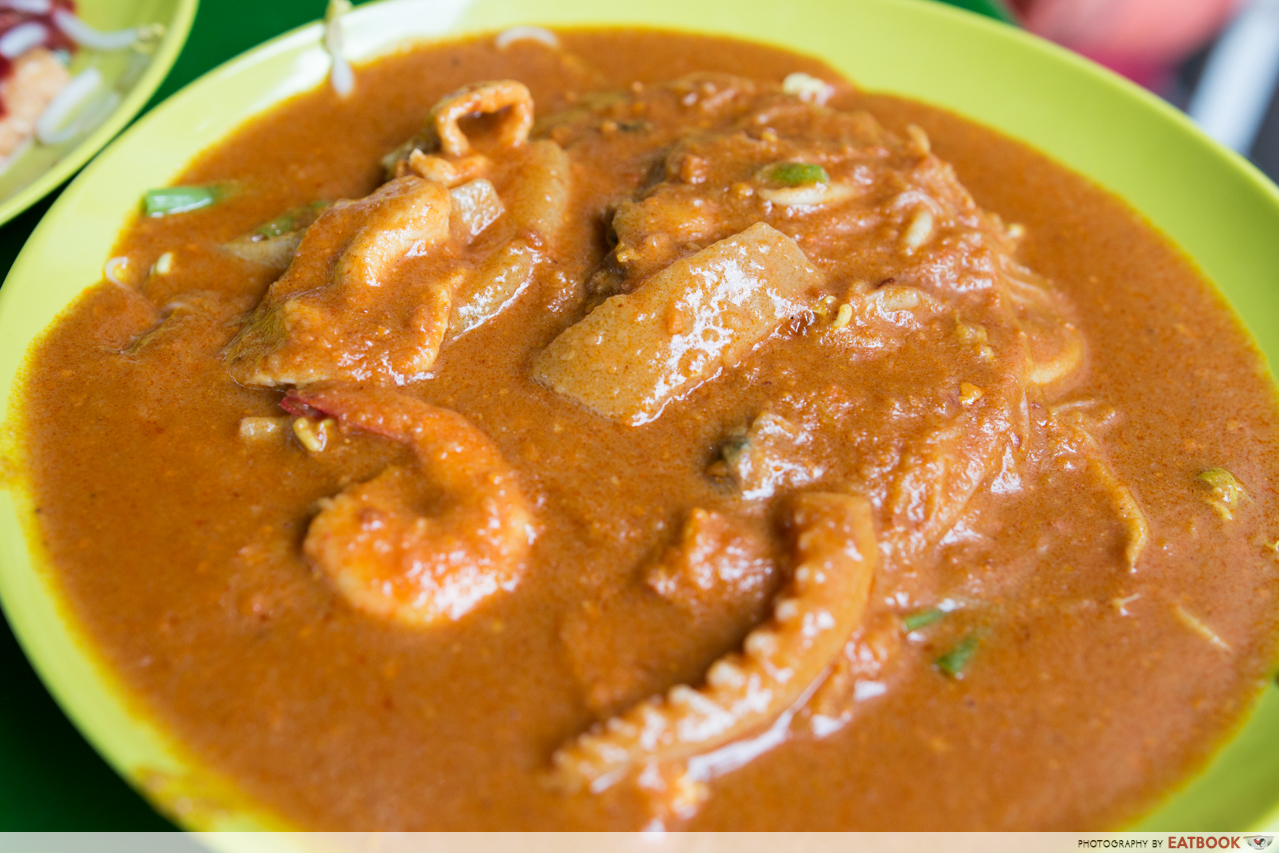 Sin Chew has only two things on their menu, so we decided to try both of them out. We started off with Satay Bee Hoon ($4). The plate of bee hoon was larger than I expected, and after expertly selecting and cutting all the ingredients to put on the plate, the stall owner doused the dish in mounds of silky smooth peanut gravy.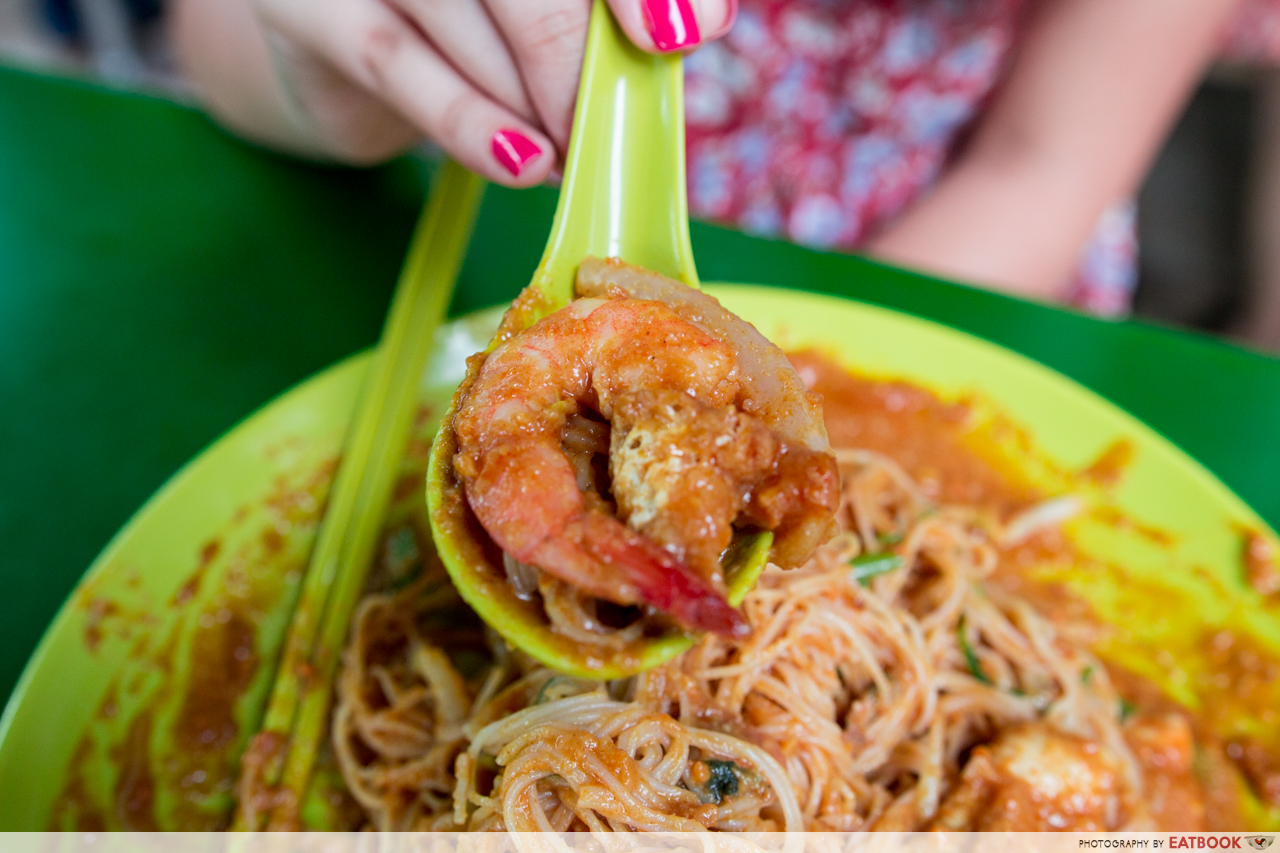 The dish included sliced pork, prawns, cuttlefish, and tau pok along with bee hoon noodles and satay sauce. The sliced pork was slightly tough, but soaked up the gravy and was flavoured well. The cuttlefish was firm, but was too fishy for my liking.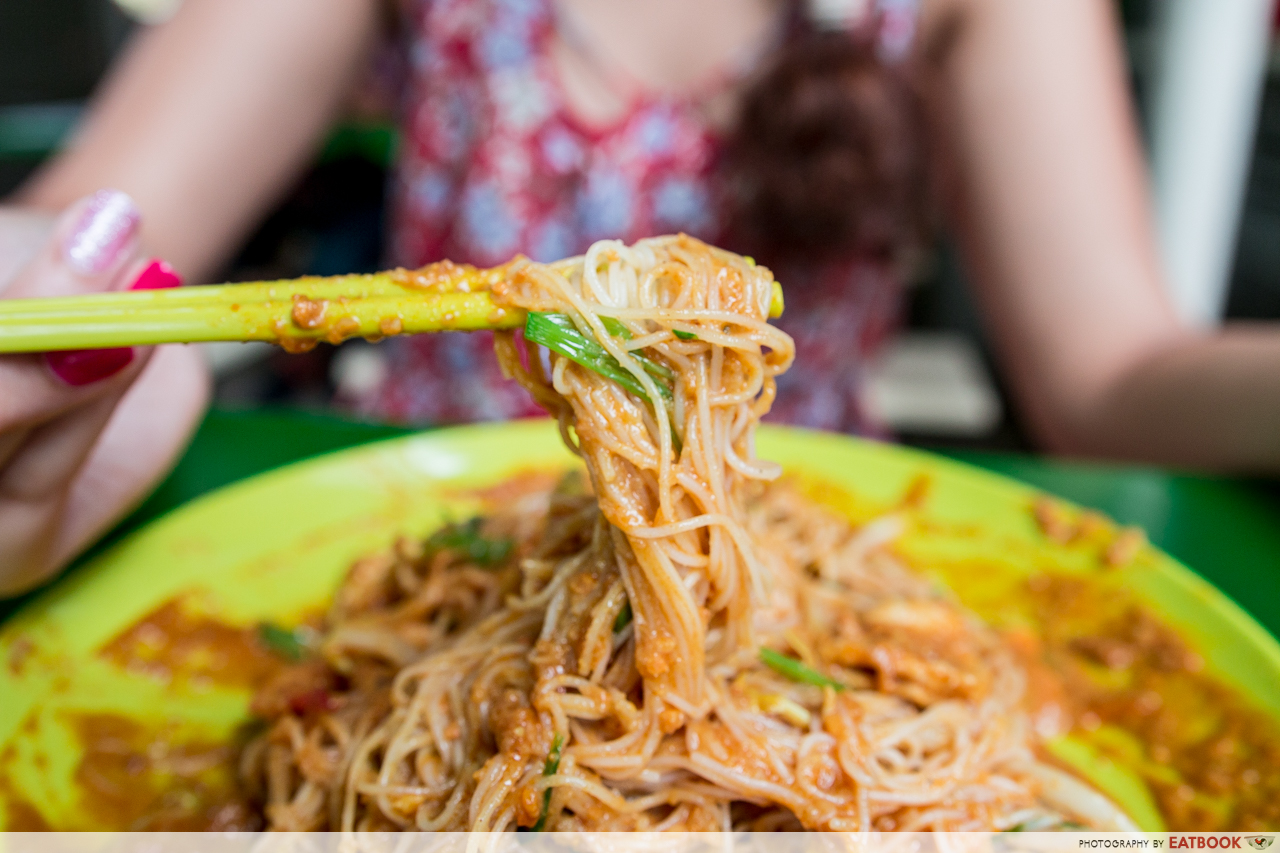 The portion of noodles was extremely generous, and the noodles themselves were pretty good. Don't leave it out for too long, because it gets slightly mushy and clumped together after absorbing the gravy. The satay sauce, on the other hand, was perfect.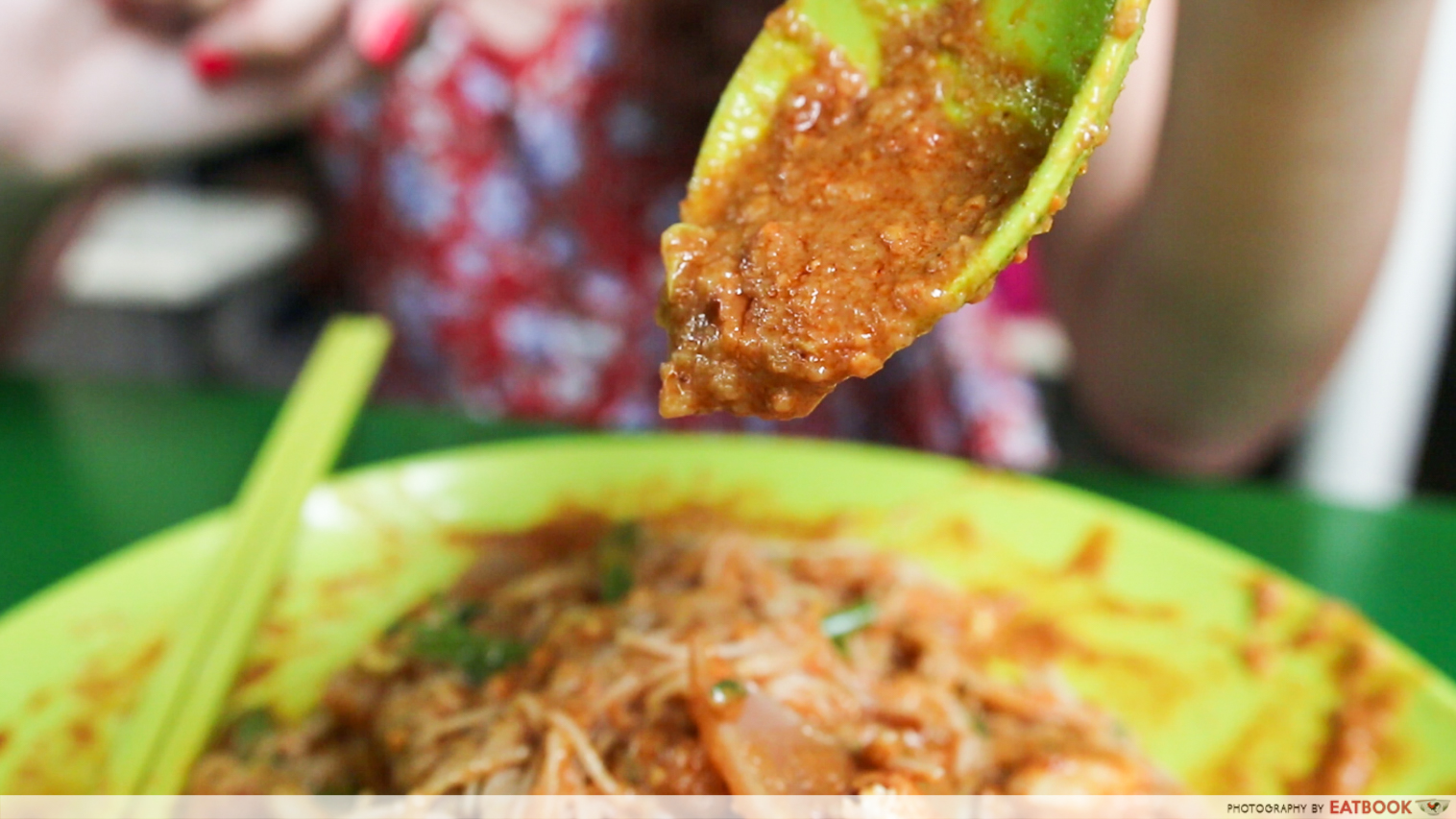 It was thick, smooth, and slightly spicy, with just the right amount of peanuts thrown in to add some texture to the dish. It coated the noodles and ingredients well, and really brought the entire dish together.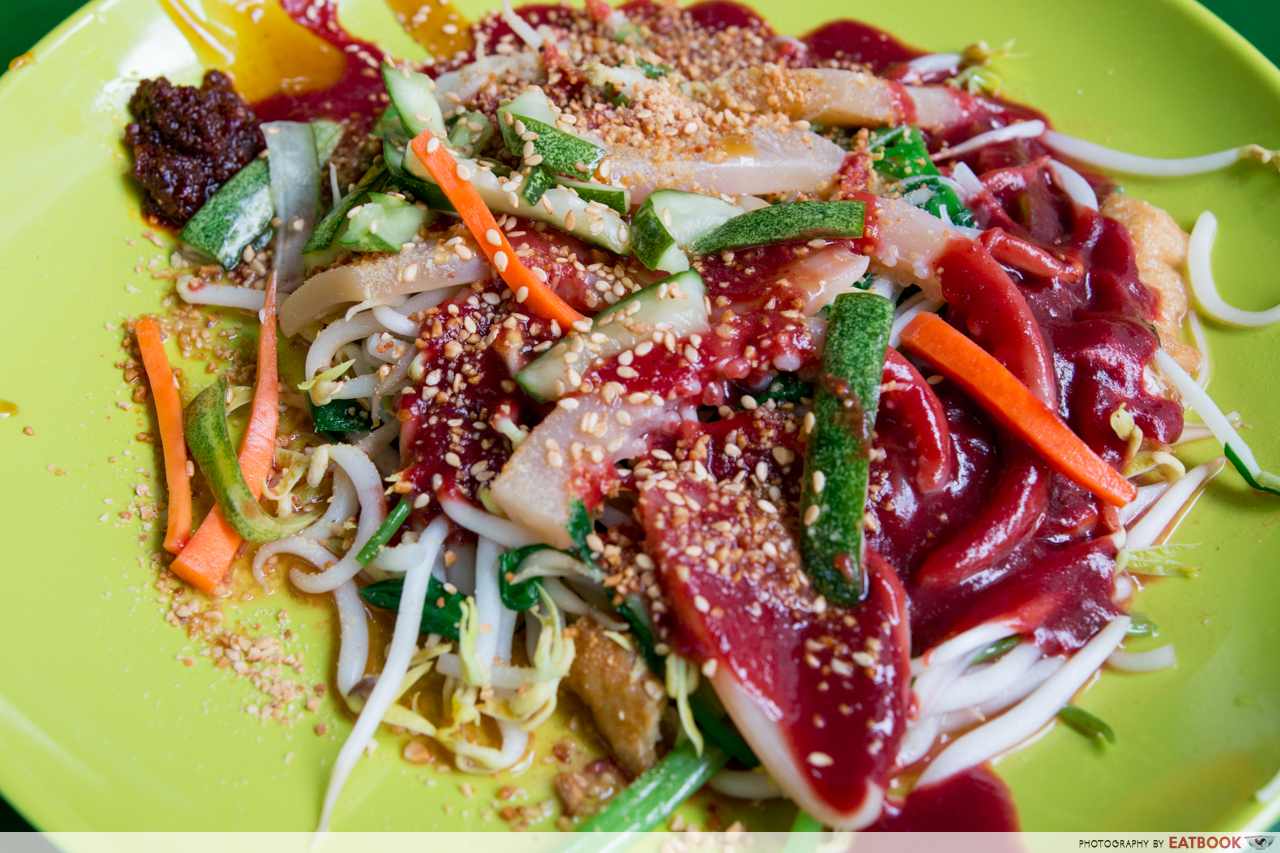 The only other dish served at Sin Chew Satay Bee Hoon is Cuttlefish Kang Kong ($4). For this dish, they offer the option of having it with or without bee hoon. We chose to go without, as we already had plenty of noodles in the satay bee hoon.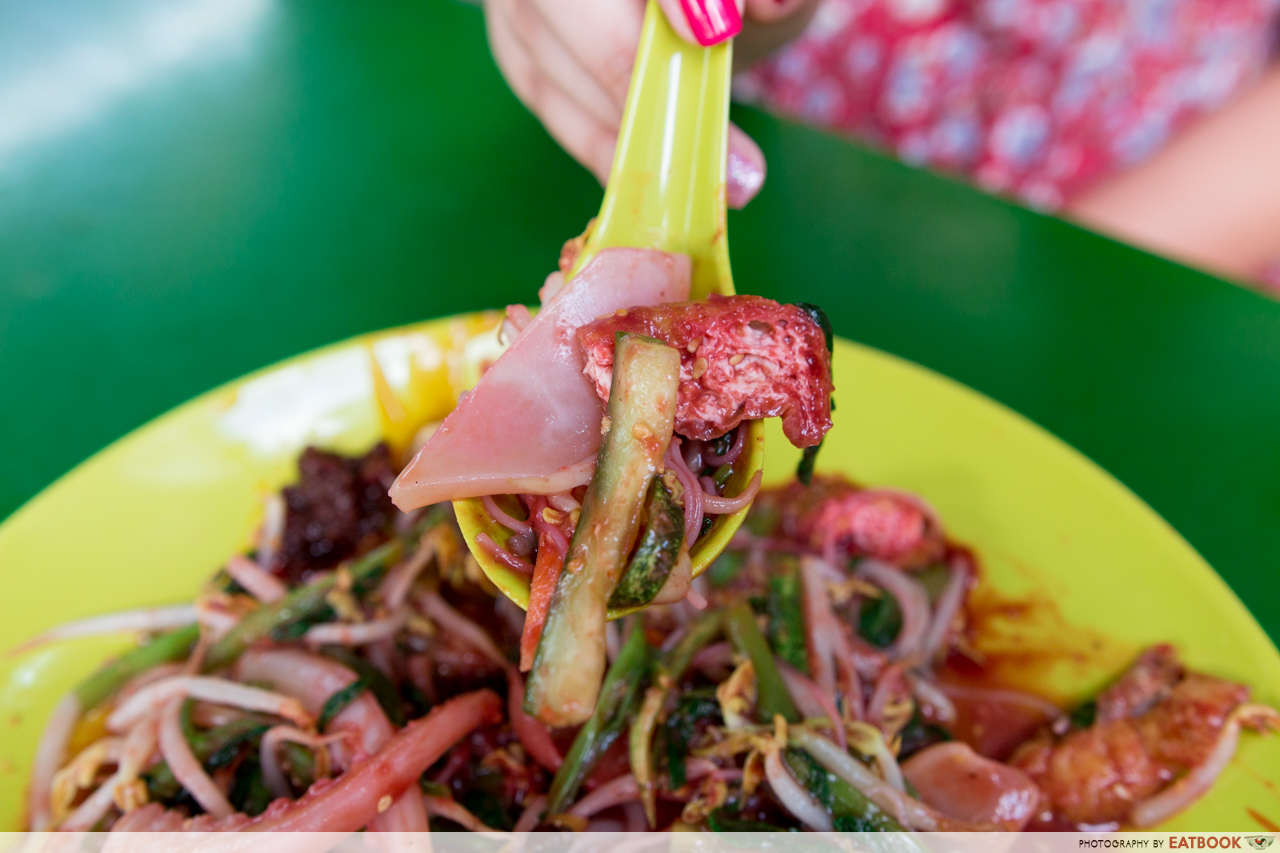 The dish was made up of loads of vegetables, including carrot, kang kong, bean sprouts, and cucumber, as well as chopped cuttlefish. The plate was then doused in a red, fruity, sweet and sour sauce, similar to the ones paired with yong tau foo, before being topped with sesame seeds. The sauce on its own was sweet, tangy, and had fruity undertones.
We loved having it paired with the sambal that came on the side. Mix it in and the sauce gets taken up a notch. The sambal was not overly spicy, but just enough to enhance the flavour, and is the perfect condiment for the vegetables.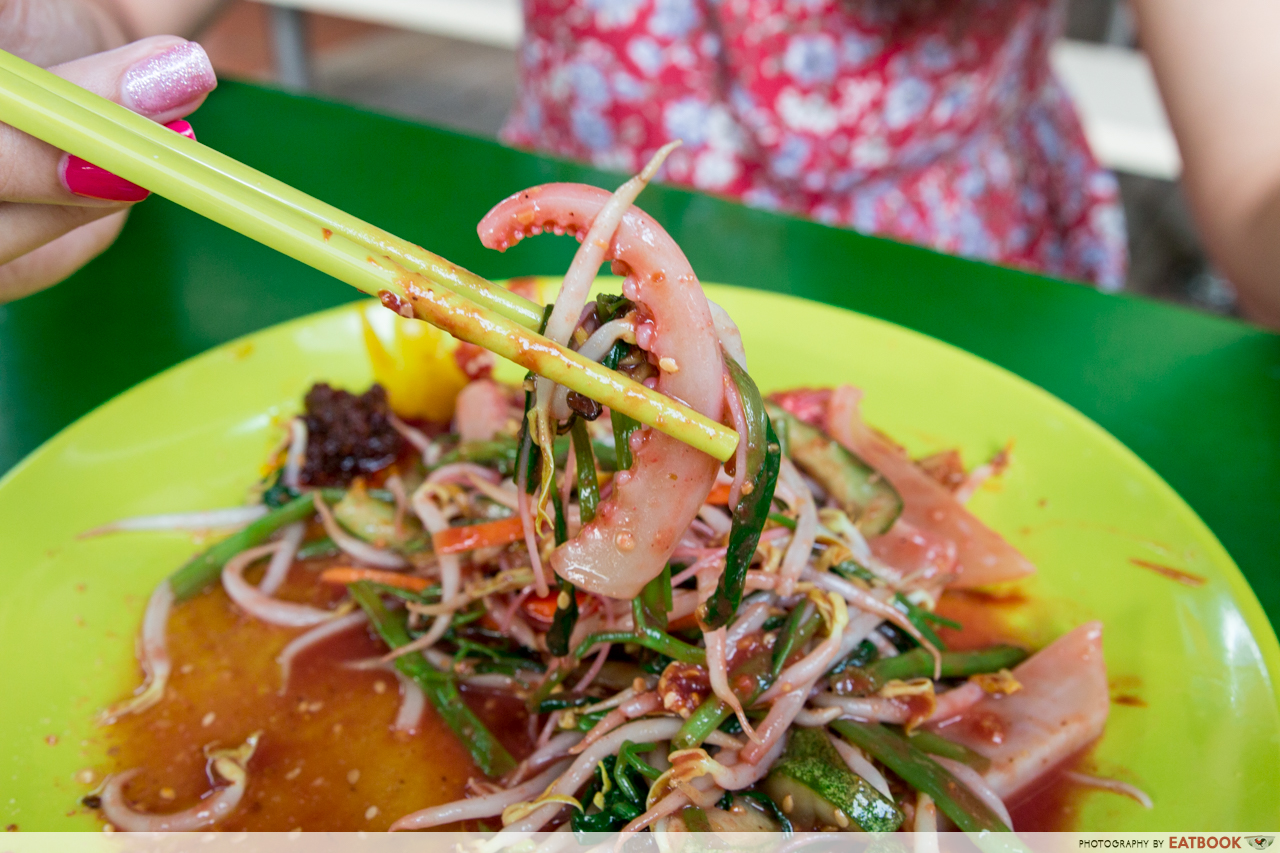 The vegetables themselves were pretty standard. They were fresh and crunchy, but without much flavour of their own. The cuttlefish was the same as in the satay bee hoon – firm but slightly too fishy for me.
Ambience at Sin Chew Satay Bee Hoon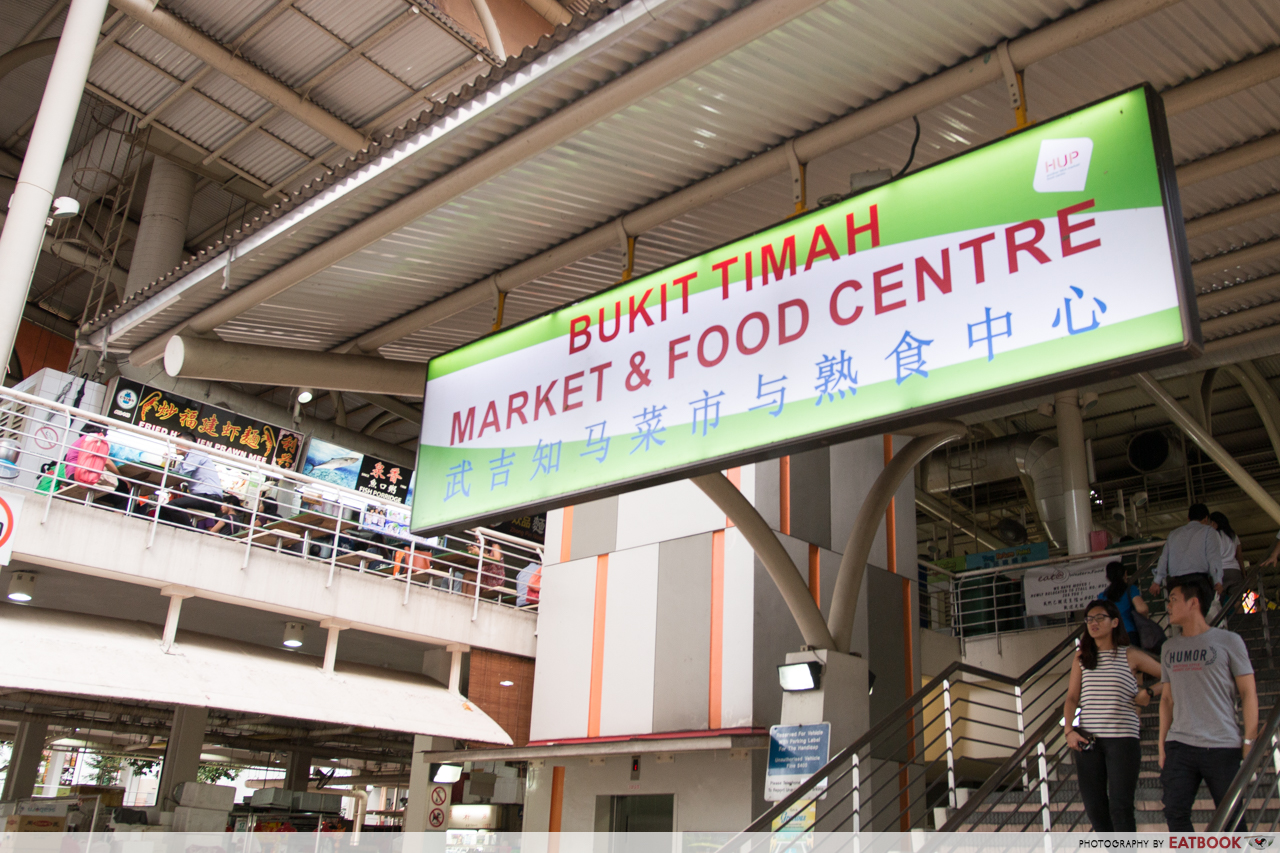 Located in Bukit Timah Market & Food Centre, Sin Chew Satay Bee Hoon is a typical hawker stall with an atypical queue.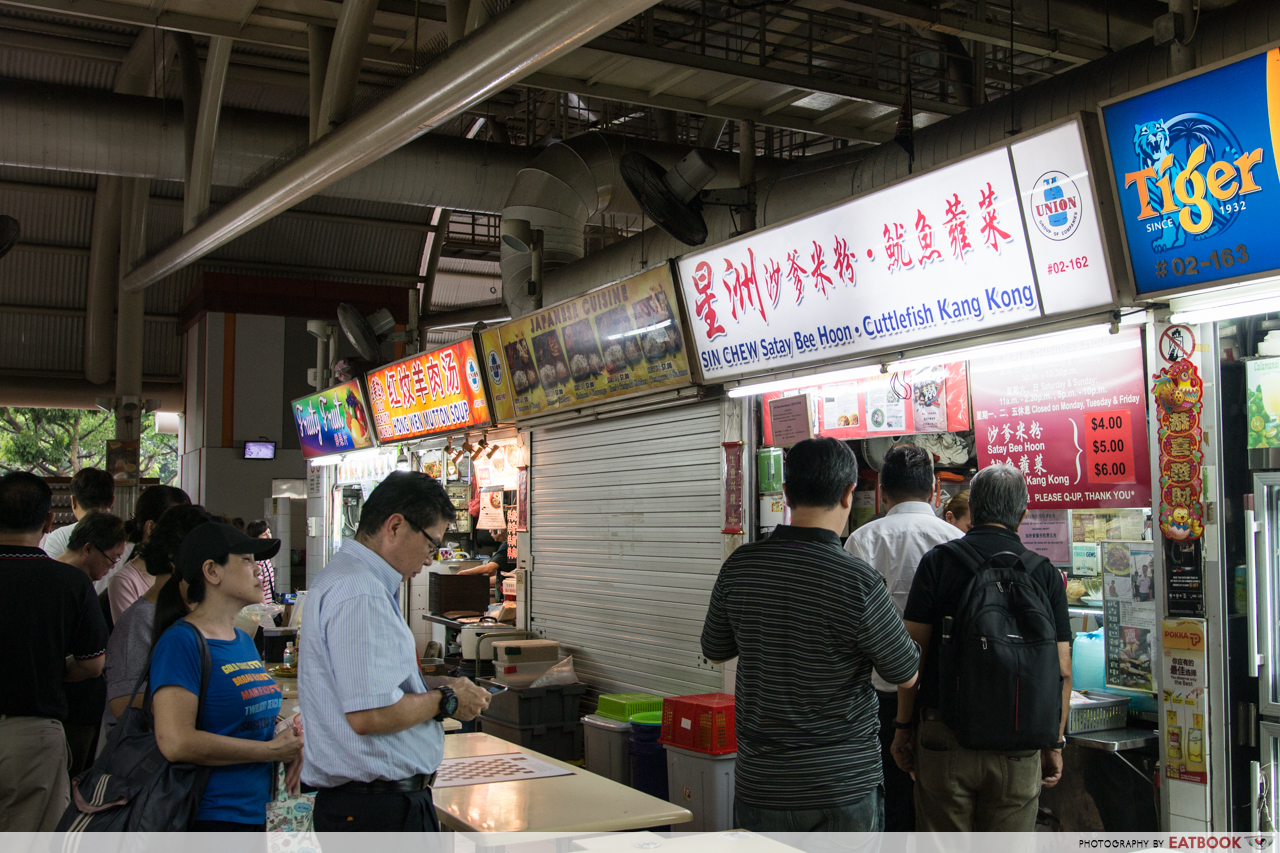 Walking up to the second floor of the market, I spotted the stall immediately due to the long line of customers already waiting not long after they opened at 5pm. With such a loyal following, Sin Chew can afford to open only four days a week, so be sure to check the schedule carefully before making a trip.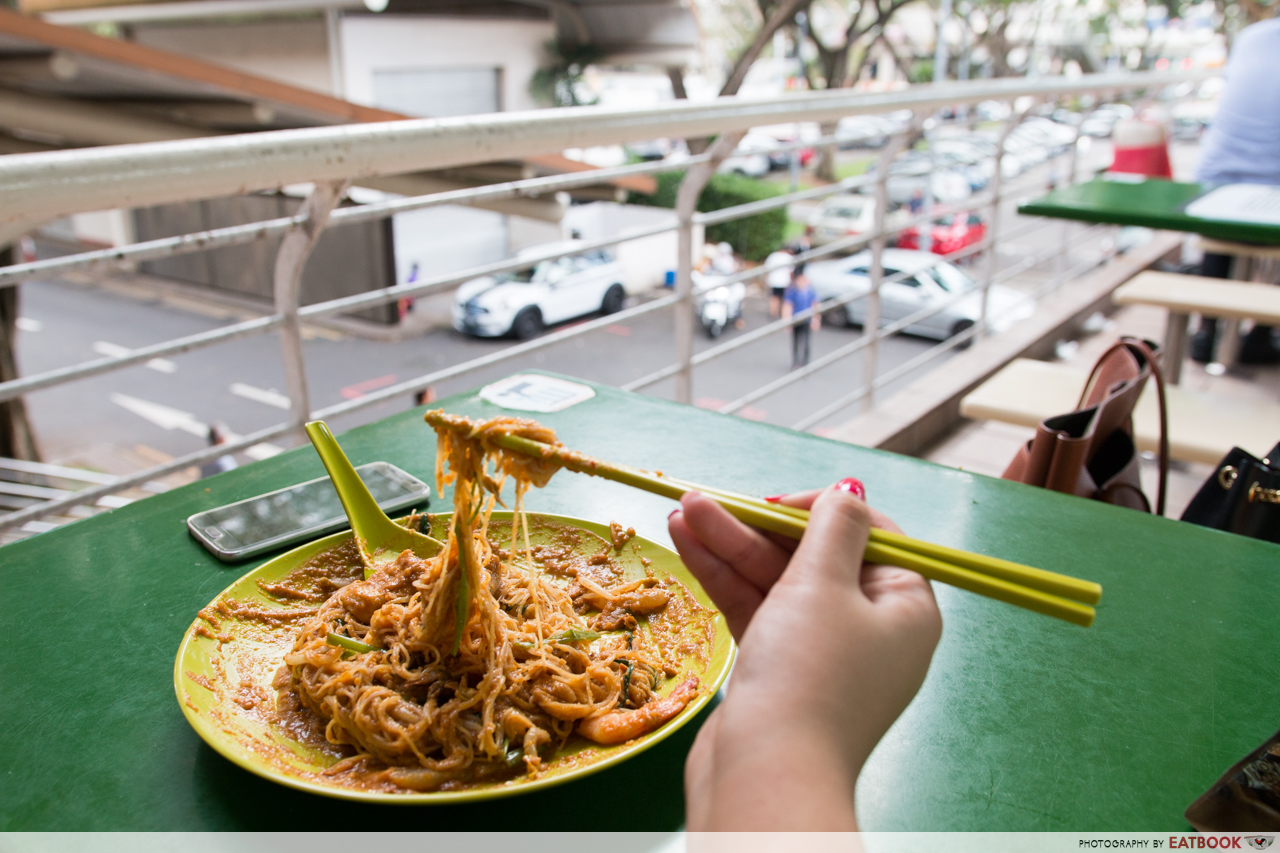 Seats were easy enough to find even at 6pm but, like at every hawker centre, be prepared for the heat as well as the hustle and bustle while queueing. The wait at this stall is rarely less than 15 minutes, but is well worth it.
The verdict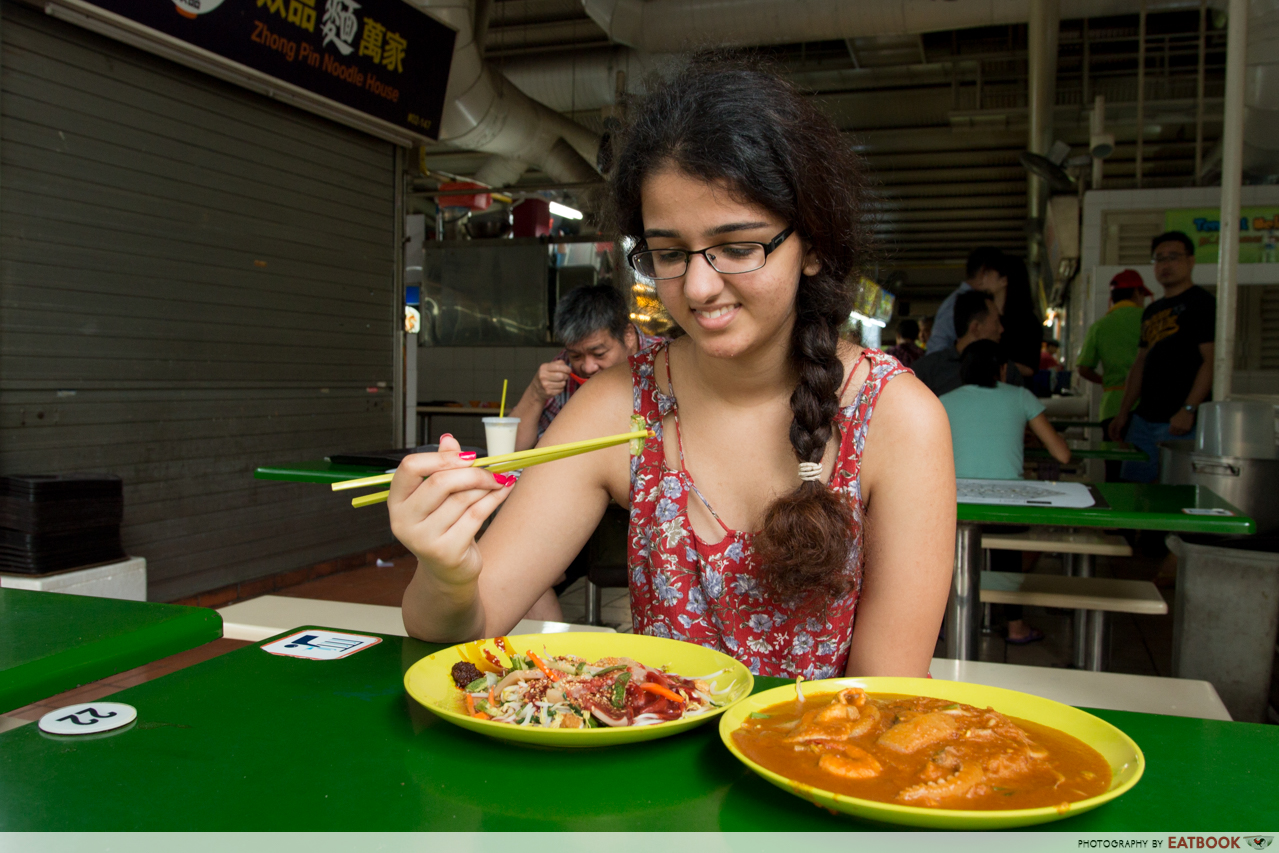 This was my first time trying satay bee hoon, but I can confidently say it won't be my last. Having only two dishes on the menu, Sin Chew has managed to perfect them both, resulting in plates heaping with flavourful goodness.
They're extremely generous with their portions, and each dish has the option of three sizes, ranging from $4 to $6, making it perfect to share between two to three people as well. Sin Chew isn't a place I'd visit regularly, but when the cravings hit you can be sure I'll be back. If you're at Bukit Timah Food Centre, remember to visit Fresh Generation for their seafood soup as well! Those on a budget can check out our list of cheap food at Bukit Timah.
Address: 51 Upper Bukit Timah Road, #02-162, Bukit Timah Market & Food Centre, Singapore 588215
Opening hours: Wed-Thur 5pm to 10:30pm, Sat-Sun 11am to 2:30pm, 5pm to 10pm
Tel: 9826 0782
This is an independent review by Eatbook.sg
Summary
Pros
– Affordable
– Delicious food
Cons
– Waiting time of around 15 minutes
Recommended Dishes: Satay Bee Hoon ($4), Cuttlefish Kang Kong ($4)
Operating Hours:
Wednesday – Thursday 5pm to 10:30pm
Saturday – Sunday 11am to 2:30pm, 5pm to 10pm
Tel:
9826 0782
Address: 52 Upper Bukit Timah Road, #02-162, Bukit Timah Market & Food Centre, Singapore 588215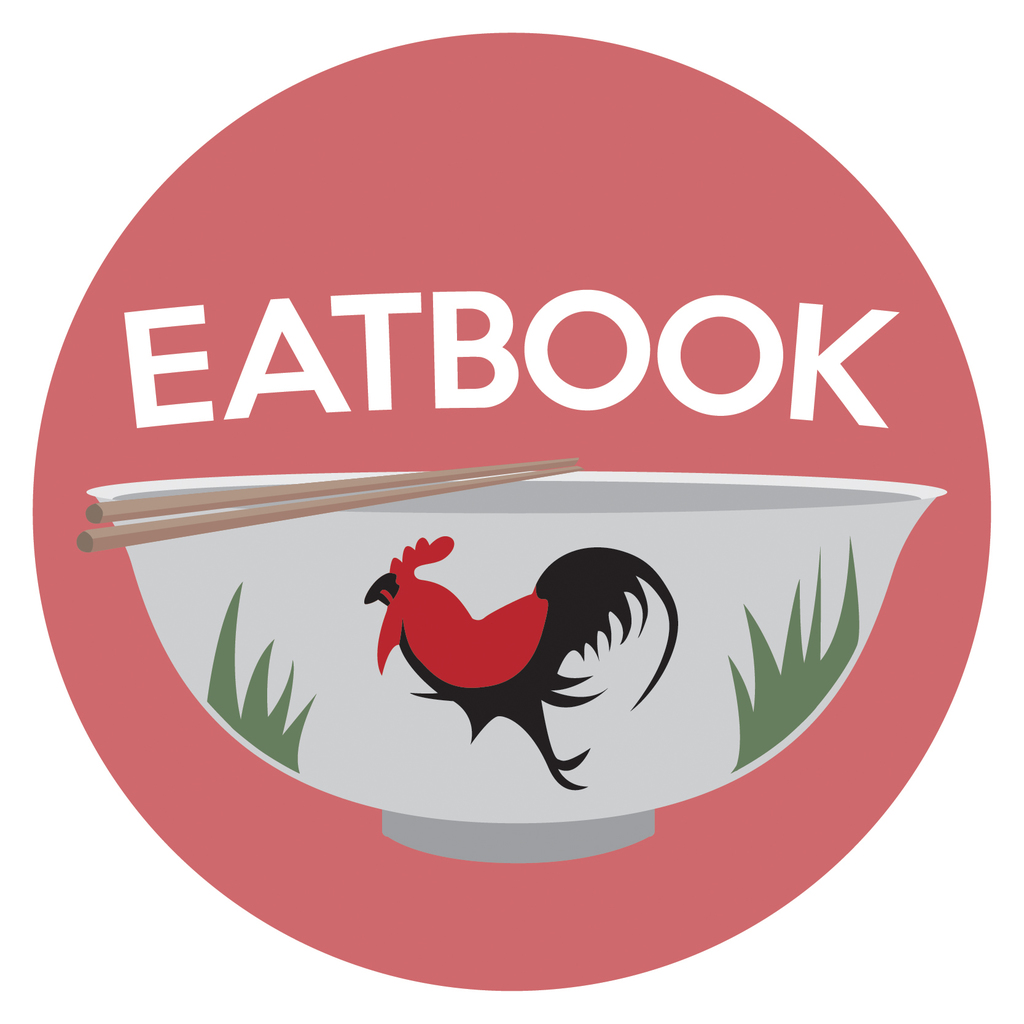 Drop us your email so you won't miss the latest news.