Sing HK Cafe is a hidden gem in the West
Update: SING HK has moved to 18 Raffles Quay, Lau Pa Sat, Singapore 048582.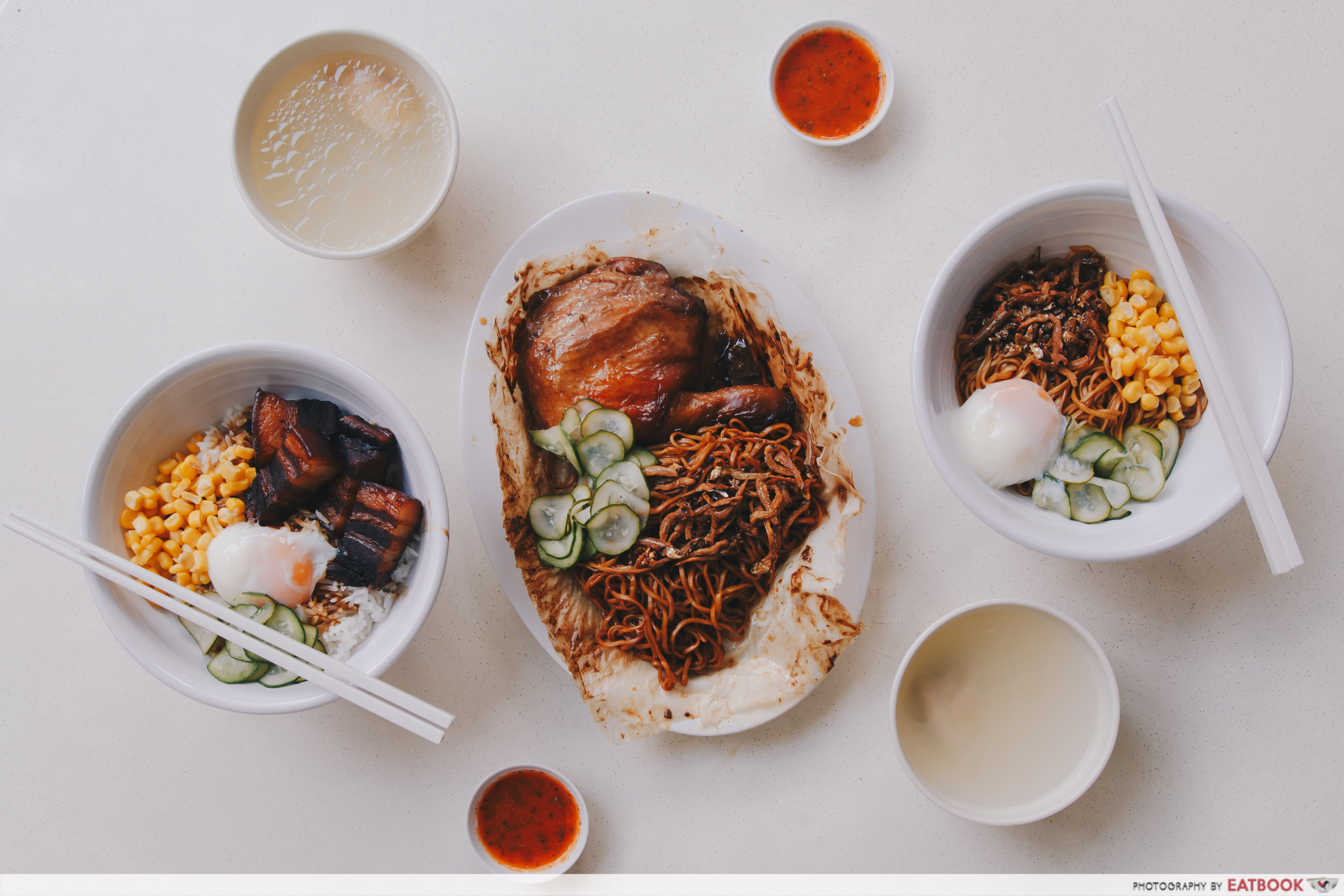 Sing HK Cafe used to be located at Everton Park. They offered "cha chan teng" delights like slow-cooked pork belly rice and Hong Kong Maggie noodles. Before I could find time to make my way down, it closed its doors for relocation. But thankfully for me, Sing HK Cafe resumed its operations in Jurong. As a Westie, I couldn't be happier! However, the menu has been scaled down, and they only kept their signature dishes like their salt baked chicken, braised pork belly, and dry noodles.
Food at Sing HK Cafe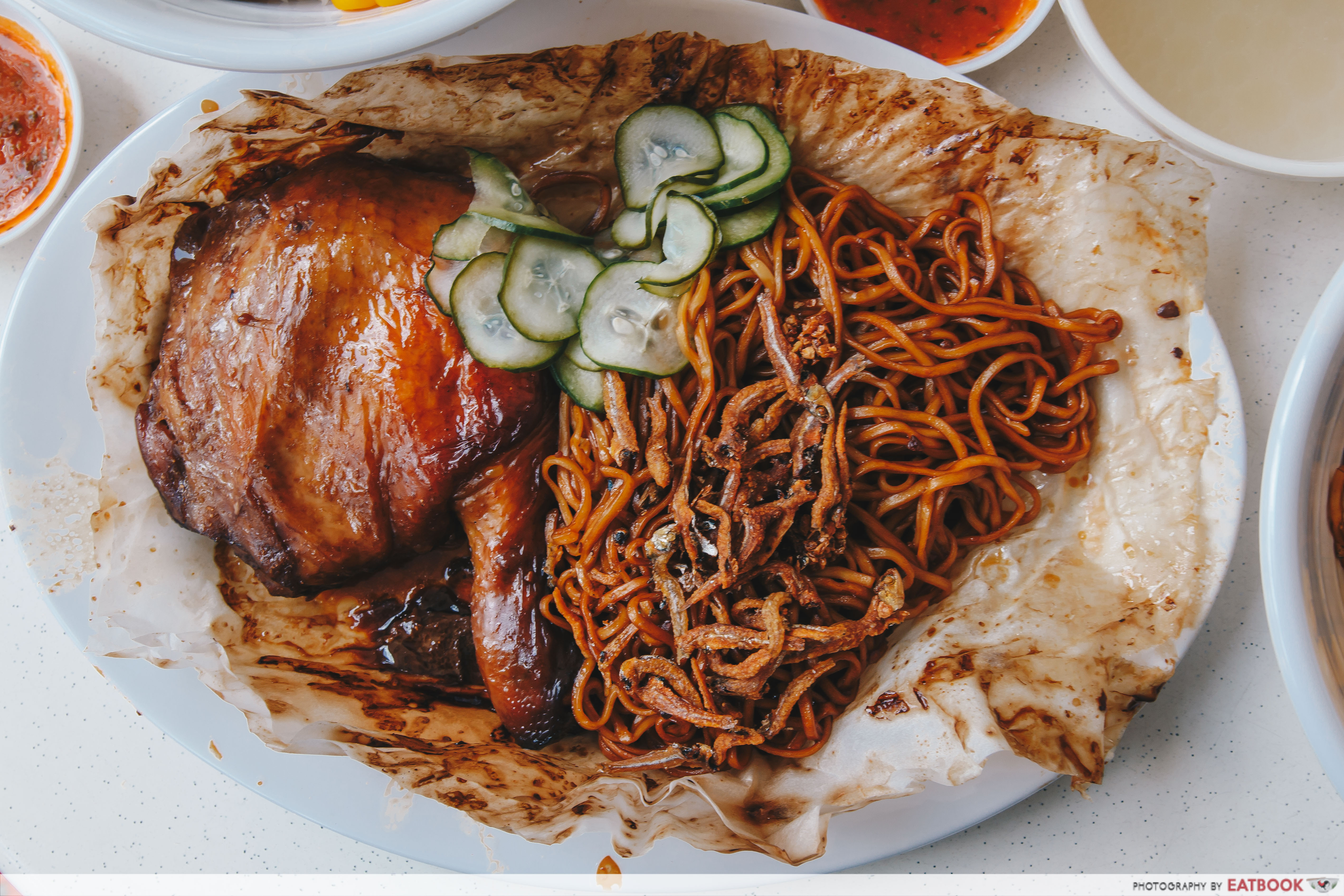 When I first laid eyes on their Signature Salt Baked Chicken Noodle ($6.50), I was intrigued; it reminded me of paper-wrapped chicken I used to love when I was a kid. The chef-owner peeled open the crisp, sauce-stained waxed paper, revealing not only the deliciously browned chicken thigh, but its aromatic essences as well.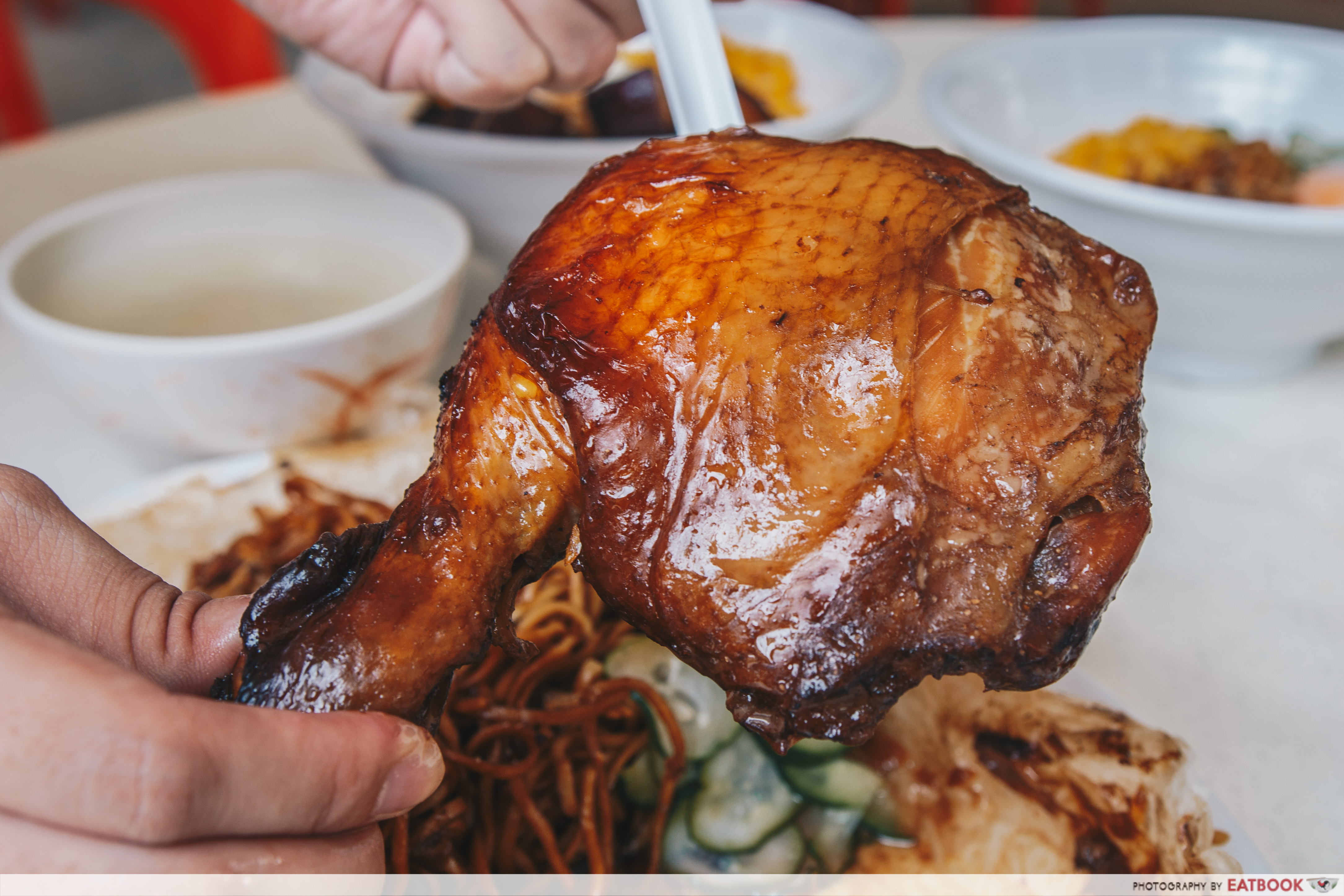 The size of the salt baked chicken was as wide as my fist and I could barely lift it up with just my chopsticks. Placing it gingerly back down, we decided to give it the ultimate tender test.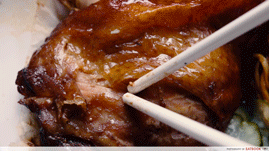 With my chopsticks, I poked through the chicken thigh and split it open. Cooked in low heat for a period of time, it parted effortlessly, telling us how moist and juicy it was. The chicken had a nice caramelised sweetness, and was so soft and well-marinated, it was as if it had been brined beforehand, like a turkey for Christmas.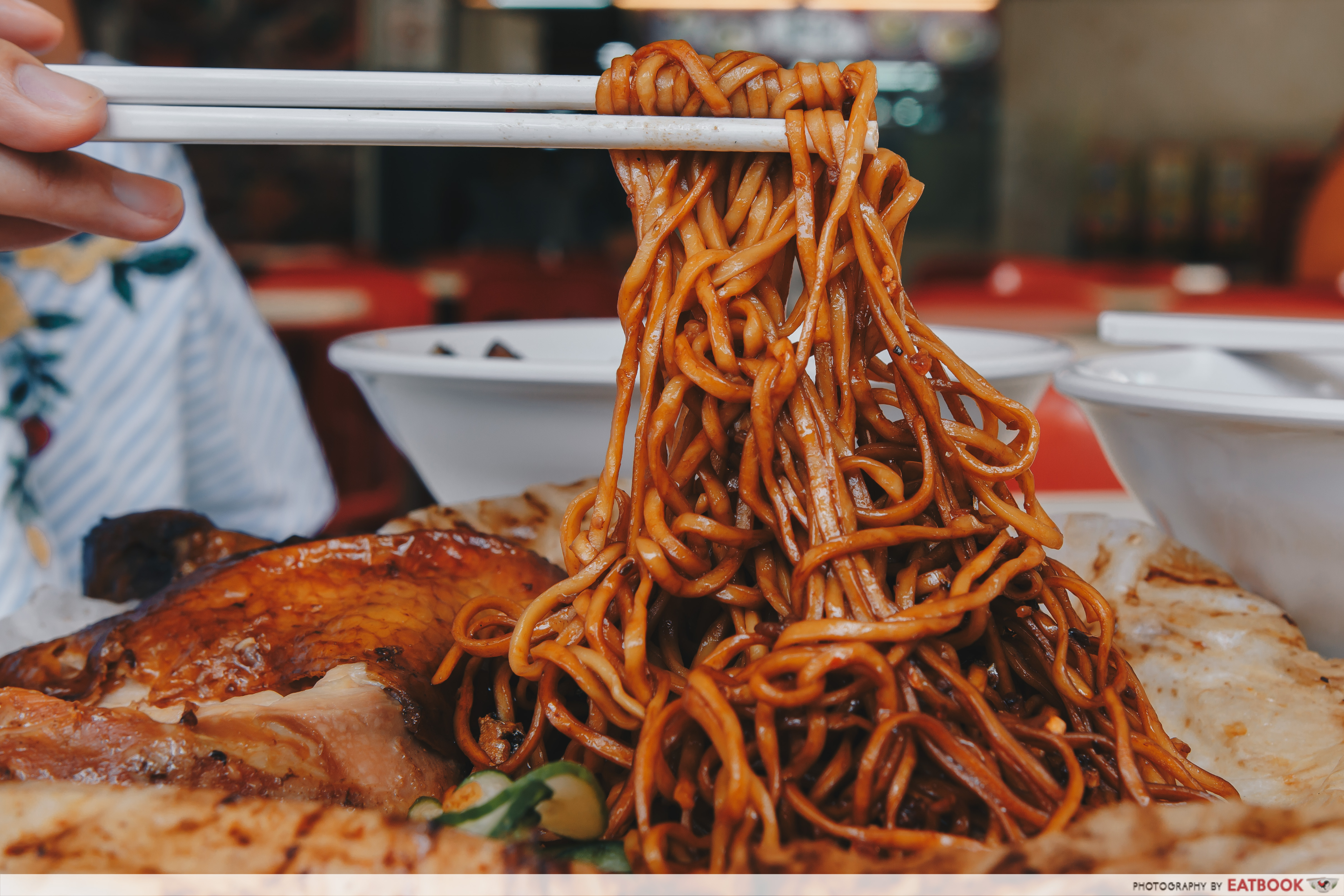 The chicken thigh was accompanied by dry noodles garnished with fried ikan bilis and house-made pickled cucumbers. The noodles were already evenly coated with dark sauce, but I was not going to let the juice of the chicken go to waste. After giving the noodles a good toss with the precious fowl's liquid, I slurped it up with gusto. Carrying a good bite, the noodles was like a mix between ban mian and you mian. As a whole, the dish was a combination of savoury and sweet nuances, with an intense depth of flavour.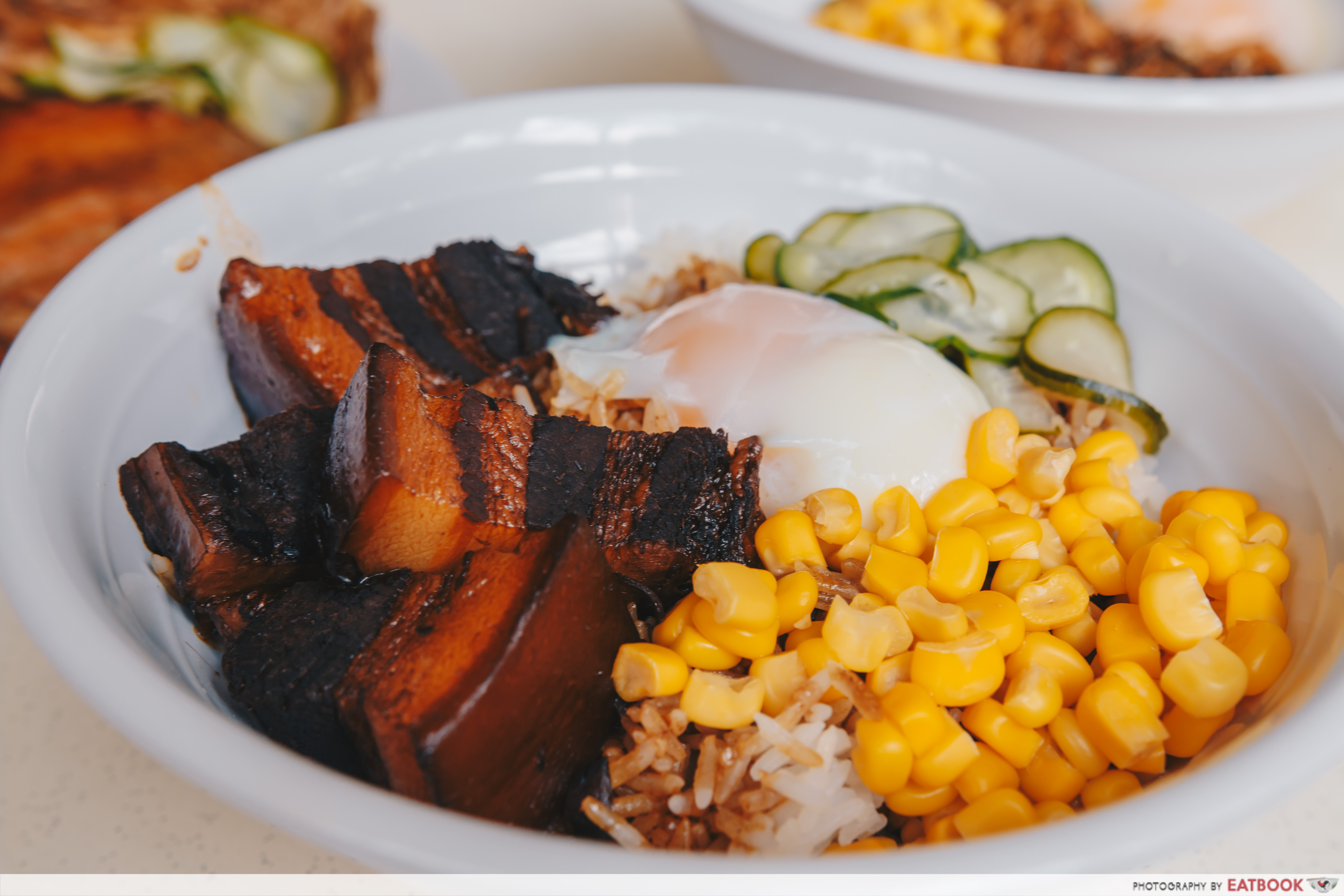 The Classic Braised Pork Belly Rice ($5.80) was begging to be tasted. It featured a bed of white rice covered with huge chunks of braised pork belly, pickled cucumbers, corn, and a soft-boiled egg.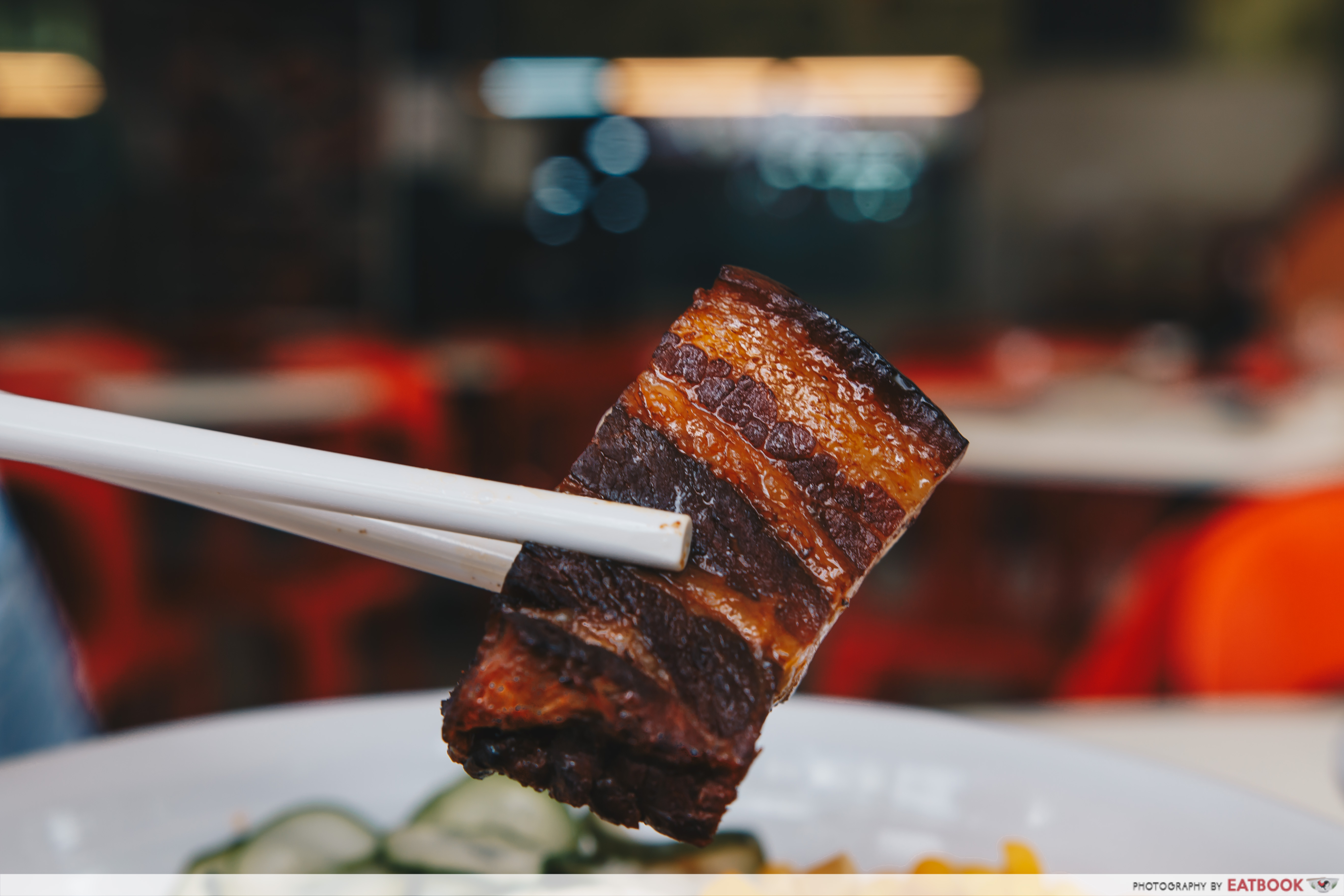 The braised pork were thickly cut, with a fat-to-meat ratio that was on point. We conducted our second taste test of the day: the pork belly jiggle test. The succulent chunks didn't jiggle as much as I thought it would, but the fatty parts were still a melt-in-your-mouth kind of soft. An umami-rich flavour was apparent with each bite; it reminded me of a homemade soya sauce braised meat dish.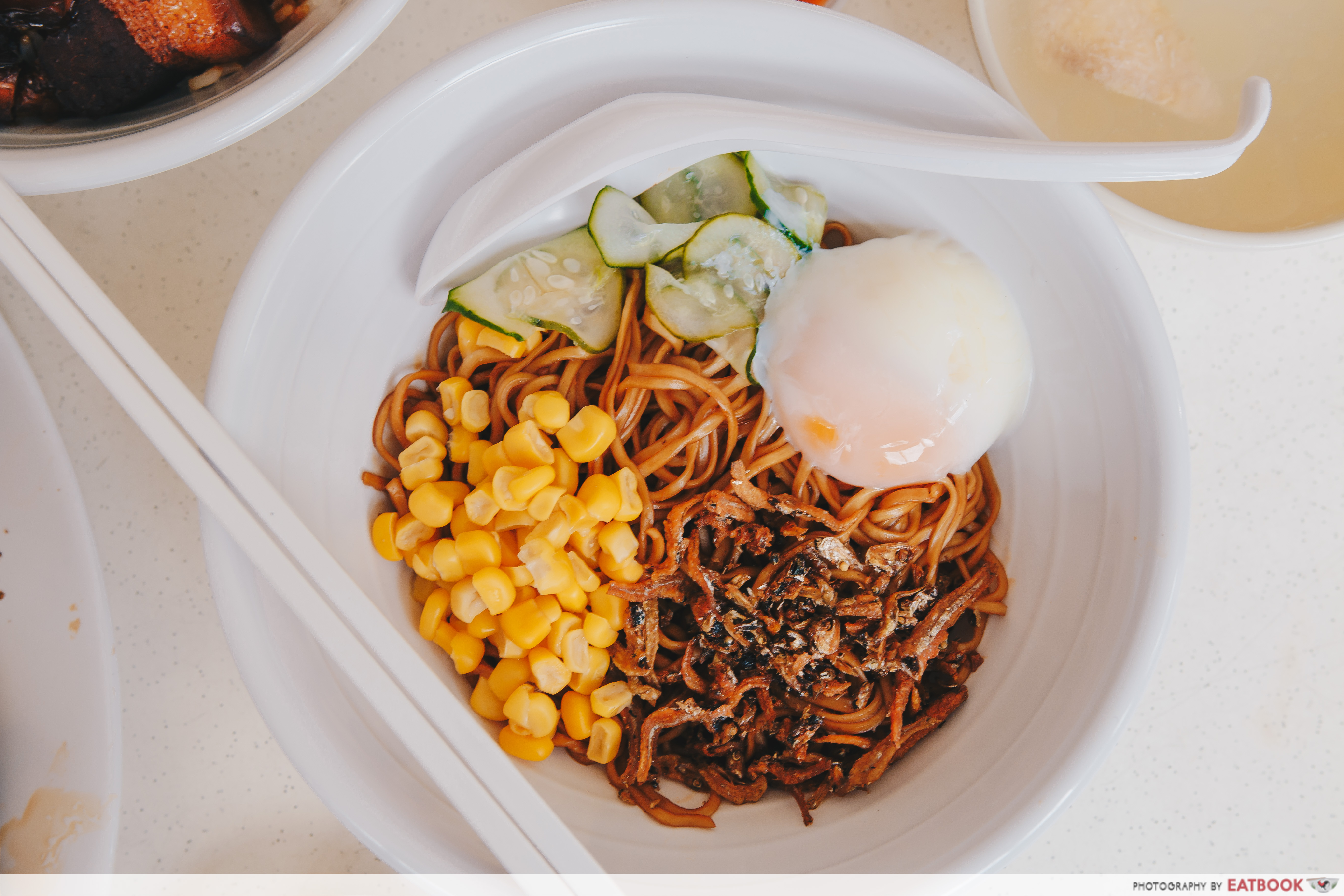 Similar to the classic braised pork belly rice, the Dry Mixed Noodle With Soft Boiled Egg ($3.80) came with pickled cucumbers, corn, and soft-boiled egg. There was an additional scoop of deep-fried ikan bilis added atop as well.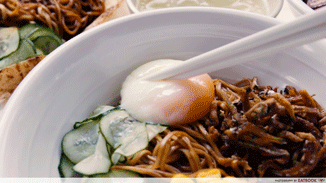 The noodles were initially a tad dry, but after mixing it up with the soft-boiled egg, the noodles started to glisten and my mouth began to water. The noodles had the same chewy texture as the one served with the salt baked chicken noodles, although with a creamier coating thanks to the egg.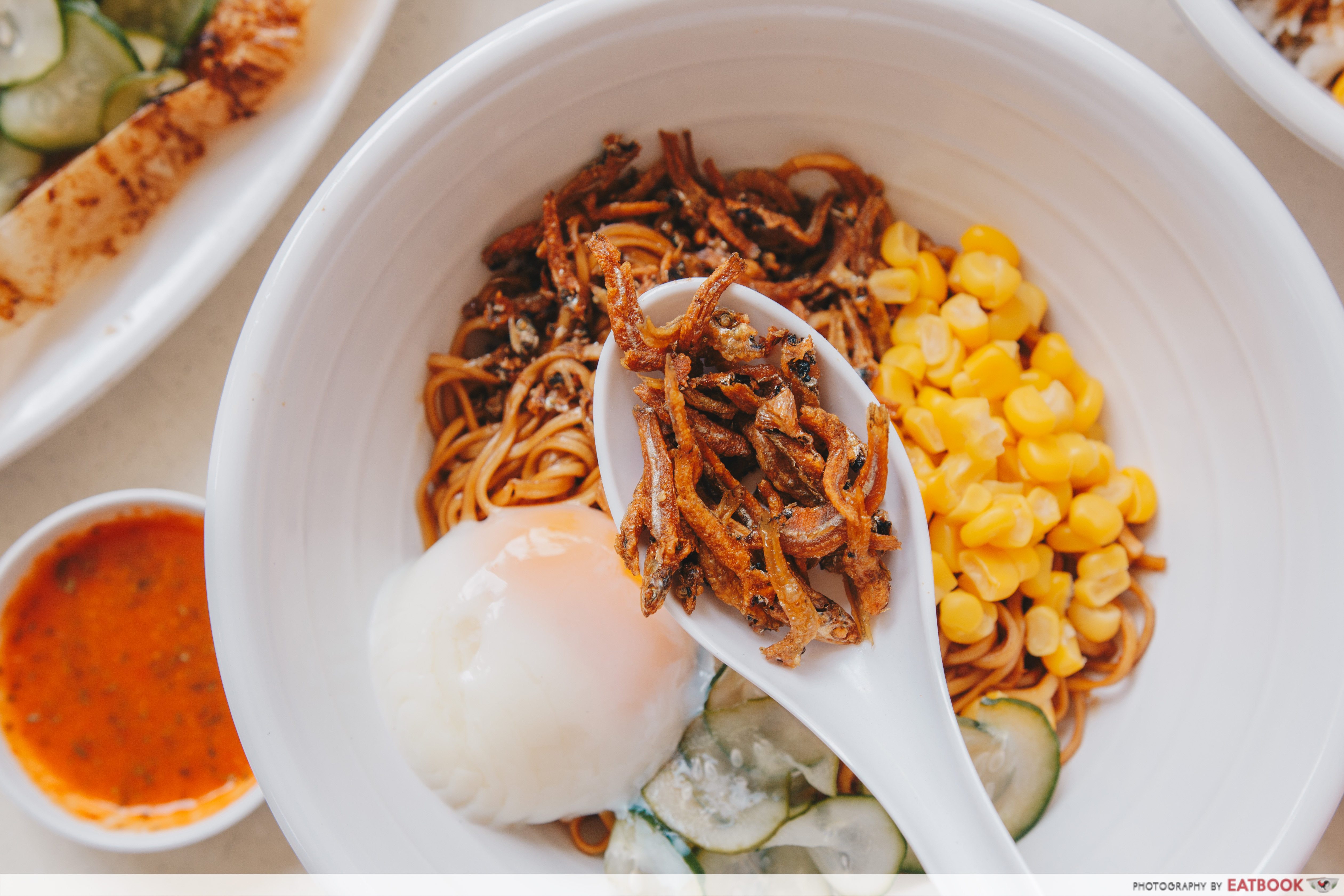 The addition of ikan bilis turned this dry mixed noodles into something exceptional. They were like little bouts of salty goodness that burst upon each crunch. The sour pickled cucumbers also stood out more in this dish. The ingredients might be simple, but this colourful bowl thrived with its harmonisation of contrasting flavour elements.
Ambience at Sing HK Cafe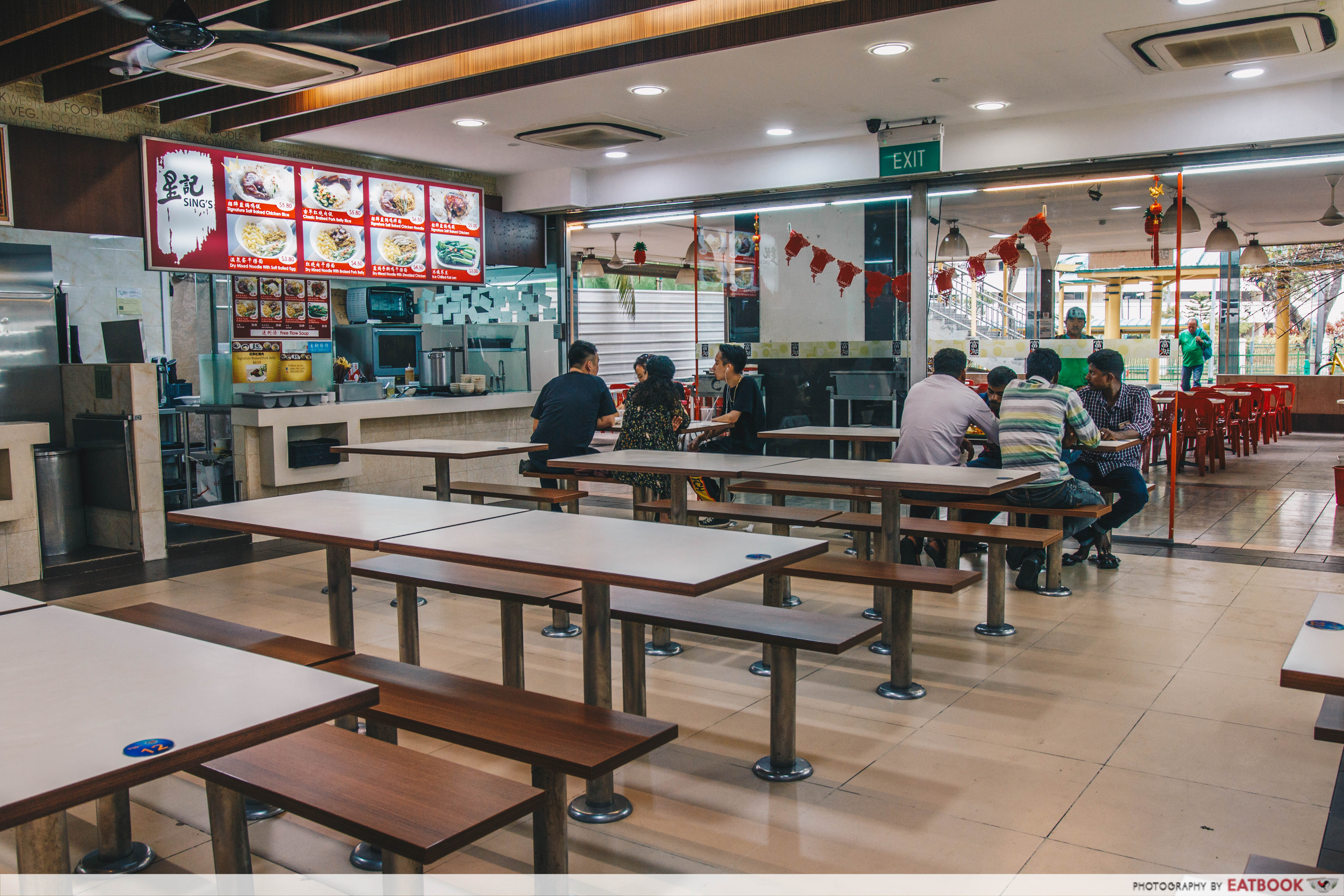 Sing HK Cafe is now located at a quaint little air-conditioned food court, which is a stone's throw away from Jurong East MRT station. Even though there are plenty of good food options at Jem, Westgate, and Jcube, Sing HK Cafe makes for a great place to have a meal without having to elbow your way through the maddening mall crowd.
The verdict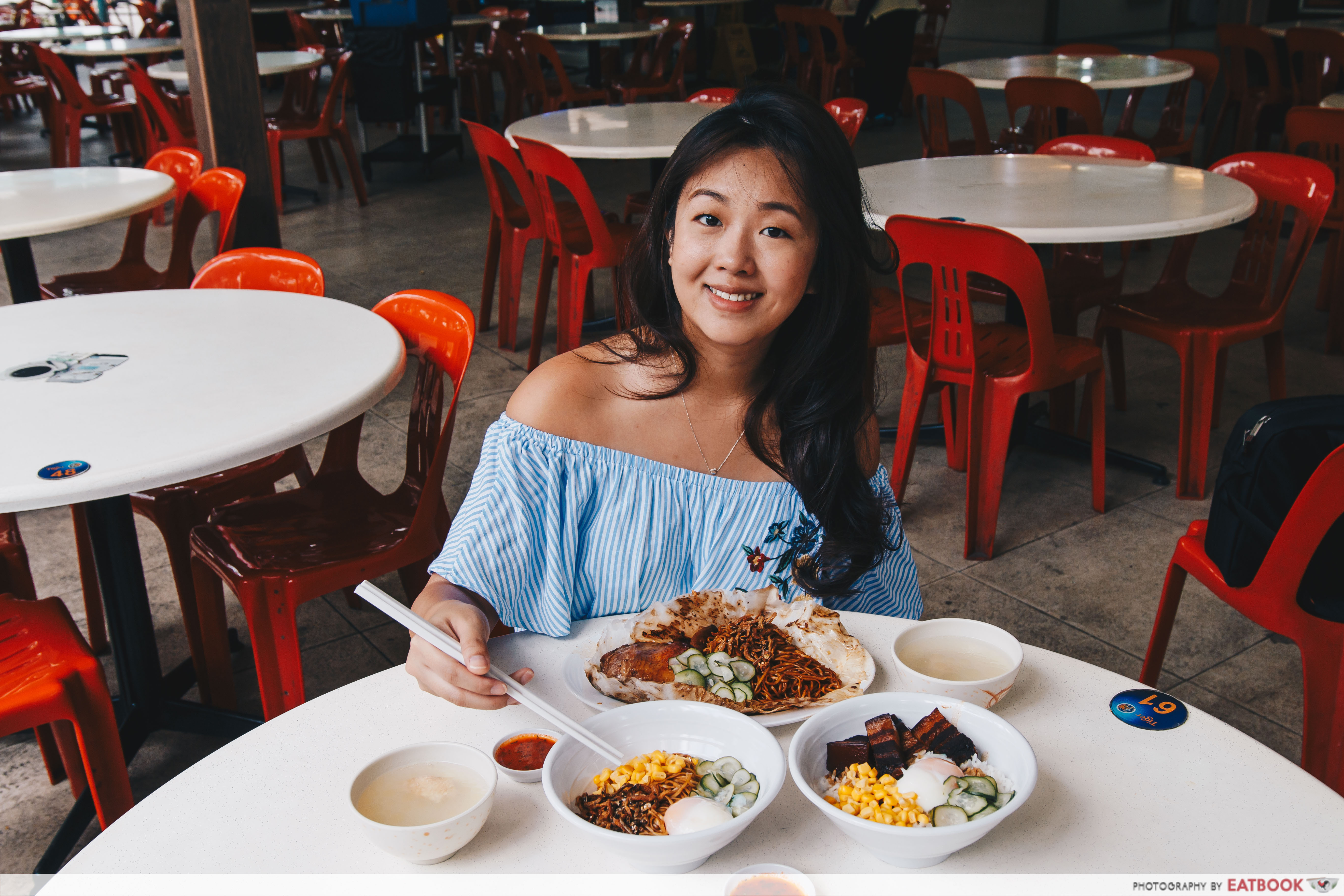 The food served at Sing HK Cafe is different and unlike many noodles or rice dishes sold at our hawker centres and kopitiam. The flavours in their food bring back nostalgic home-cooked meals to mind. It is like the kitchen is run by a bunch of grandmothers. The prices are reasonable too, as they fared well on both quality and quantity. They also provide free chicken soup and have their ingredients such as the ikan bilis and pickled cucumbers made in-house. I would definitely head back down again with my family when we are looking for a quick and fuss-free meal.
For places serving novel dishes, check out our reviews on Aw's Signature Minced Pork Noodles which serves a braised pork mee pok, and Nasi Coco which has tempura ingredients atop their Nasi Lemak.
Address: 18 Raffles Quay, Lau Pa Sat, Singapore 048582
Opening hours: Daily 11am to 10pm
Tel: 9384 5486
Website
Sing HK Cafe is not a halal eatery.
This is an independent review by Eatbook.sg.
Summary
Pros
– Quality ingredients
– Well-flavoured dishes
– Value-for-money
Cons
– Limited items on the menu
Recommended Dishes: Signature Salt Baked Chicken Noodle ($6.50), Classic Braised Pork Belly Rice ($5.80)
Opening Hours:
Daily 11am to 10pm
Address: 18 Raffles Quay, Lau Pa Sat, Singapore 048582