SIXBYSERA puts familiar fare into croissants
Update: SIXBYSERA is now permanently closed.
If you ask me what my ideal date involves, my immediate answer would be indulging in a slow weekend brunch at a quiet cafe, and having endless conversations while enjoying the food. The new SIXBYSERA offers just that, with their savoury donuts and interesting croissants.
Tucked in a quiet spot along Rangoon Road away from other bustling cafes, all the dishes at this five-month-old cafe are priced at $13 or less, so don't worry about burning too big a hole in your pocket if you're intending to pay for bae's meal!    
Food at SIXBYSERA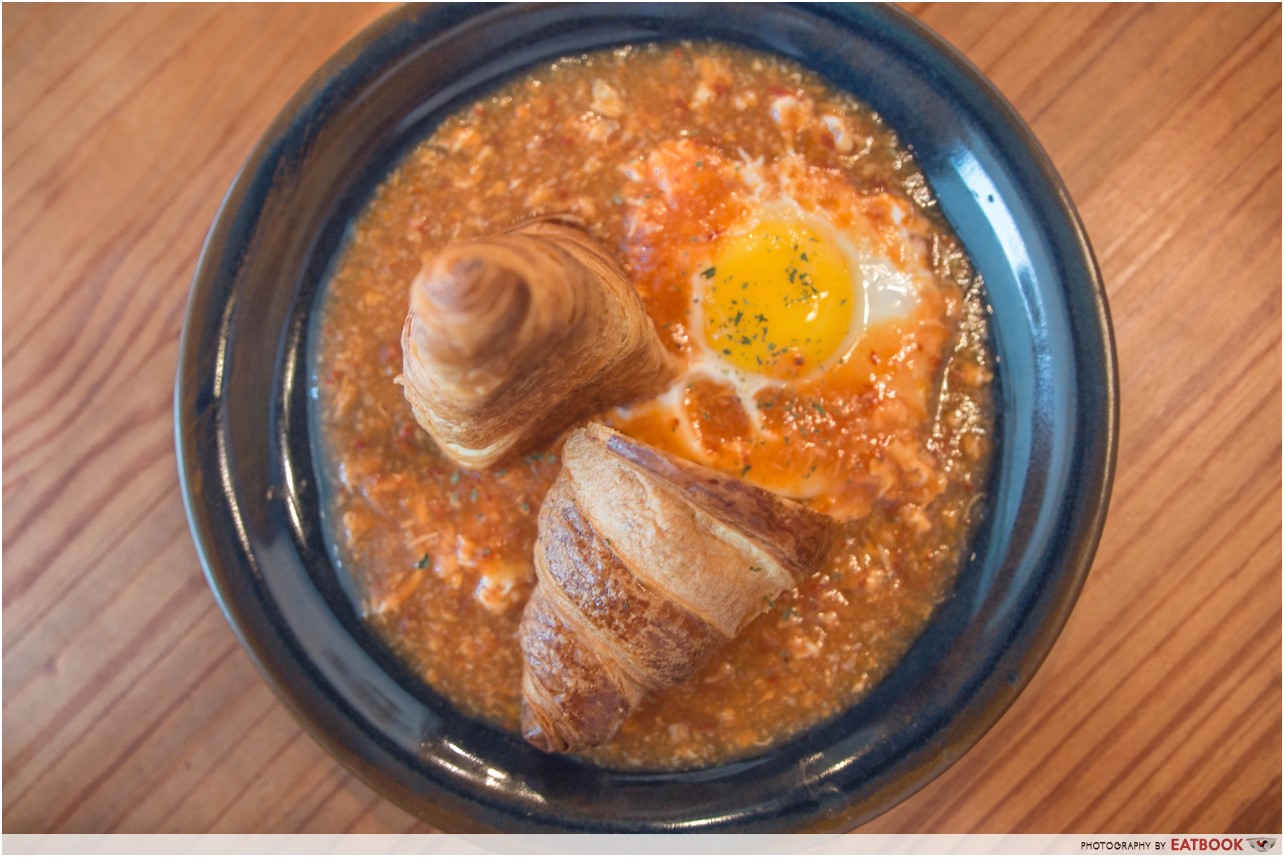 As an avid croissant lover who enjoys trying various unique croissants with my mum, chilli crab croissant is not new to me. SIXBYSERA's Chilli Crab Sauce ($11.90) is, however, presented in an entirely different manner from the usual. This weekend special has a croissant sliced in half and placed atop a pool of chilli crab sauce, complete with a sunny side up.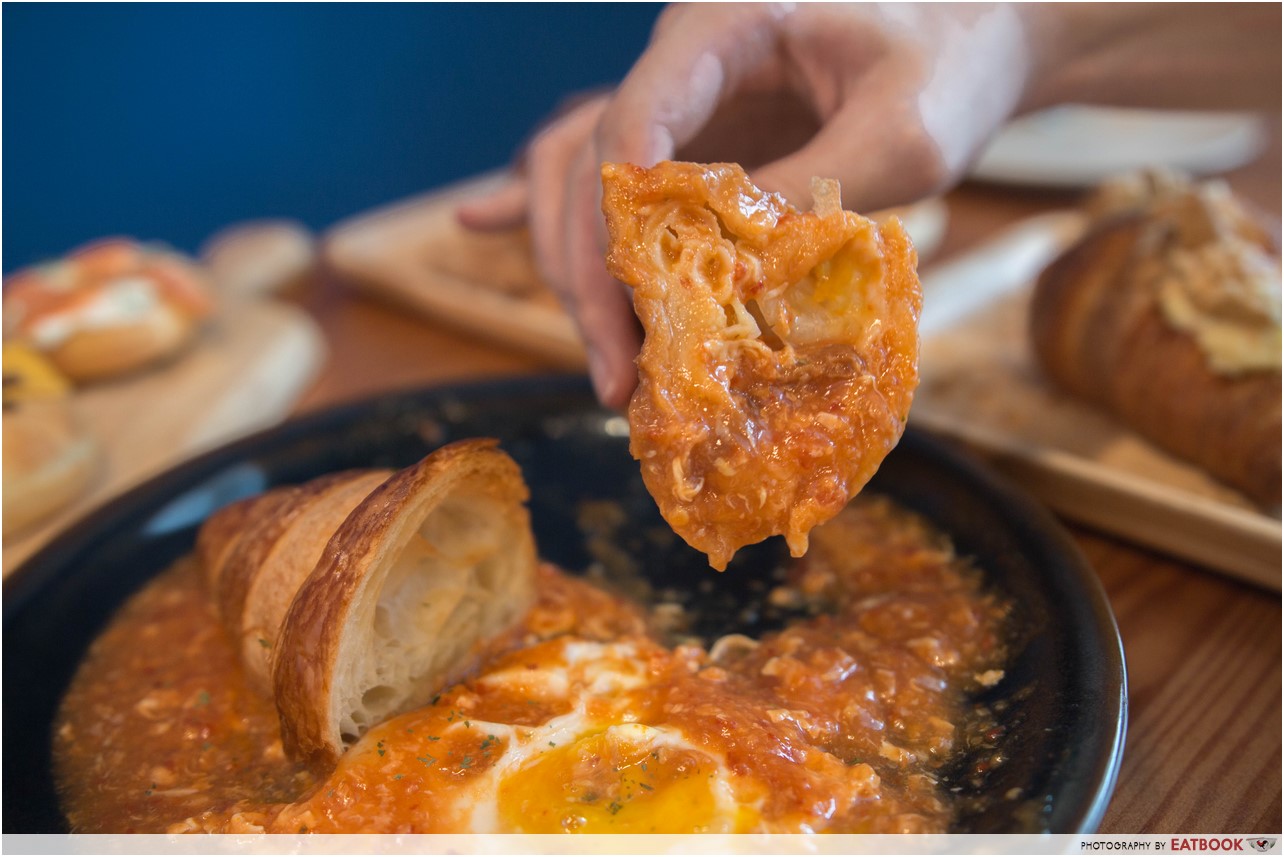 Buttery and flaky, this croissant is exactly what a good croissant should be. Though left sitting in the sauce for a while, it still managed to retain its fluffy interior and crisp exterior.
The chilli crab sauce took on a reddish-orange hue, and was thickened with laces of swirled egg. Taste-wise, it bordered on the tangy side with just a slight kick from red chilli. I thoroughly enjoyed dunking the croissant into the zhup, and it definitely made a great alternative to mantou!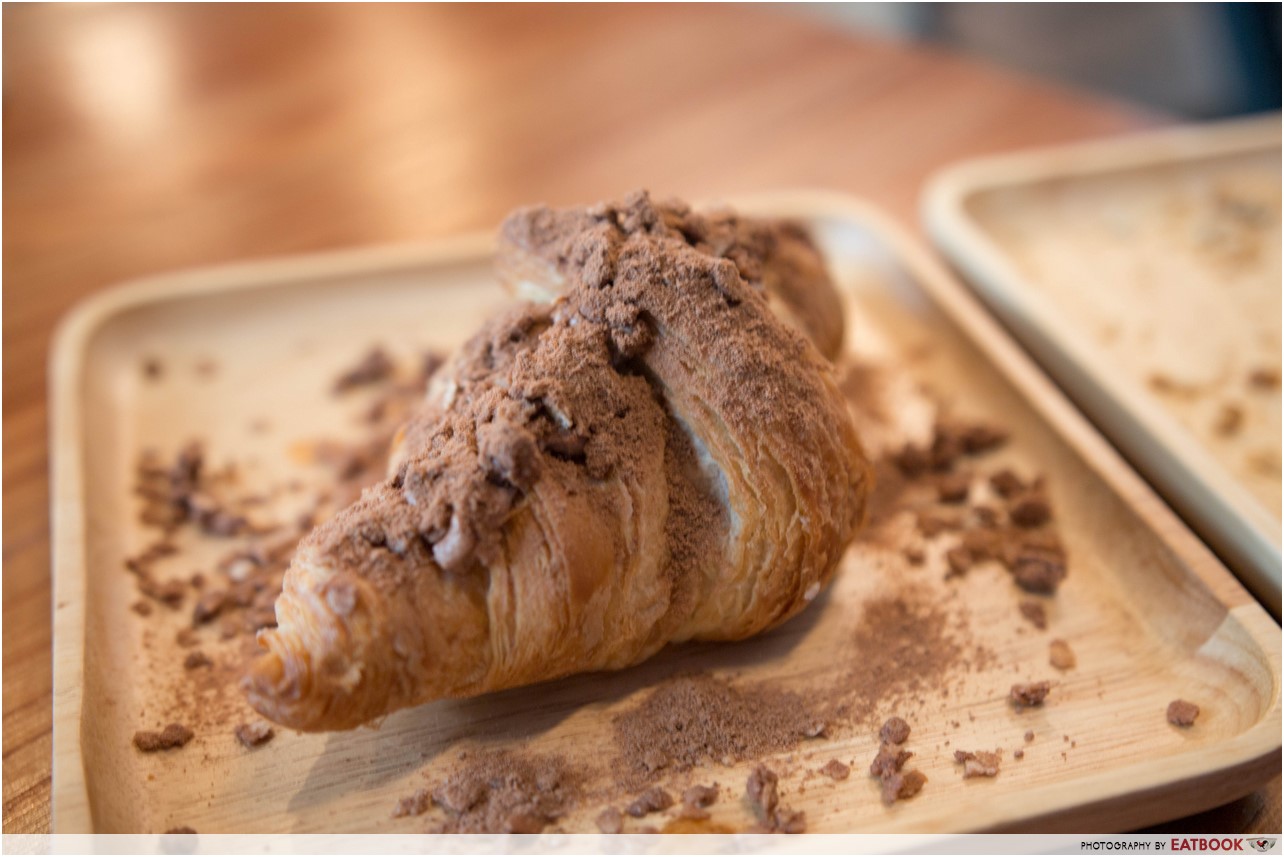 Even though this Milo Dinosaur Croissant ($5.90) looks rather simple, with just Milo powder and nuggets topped on it, its highlight was on the inside.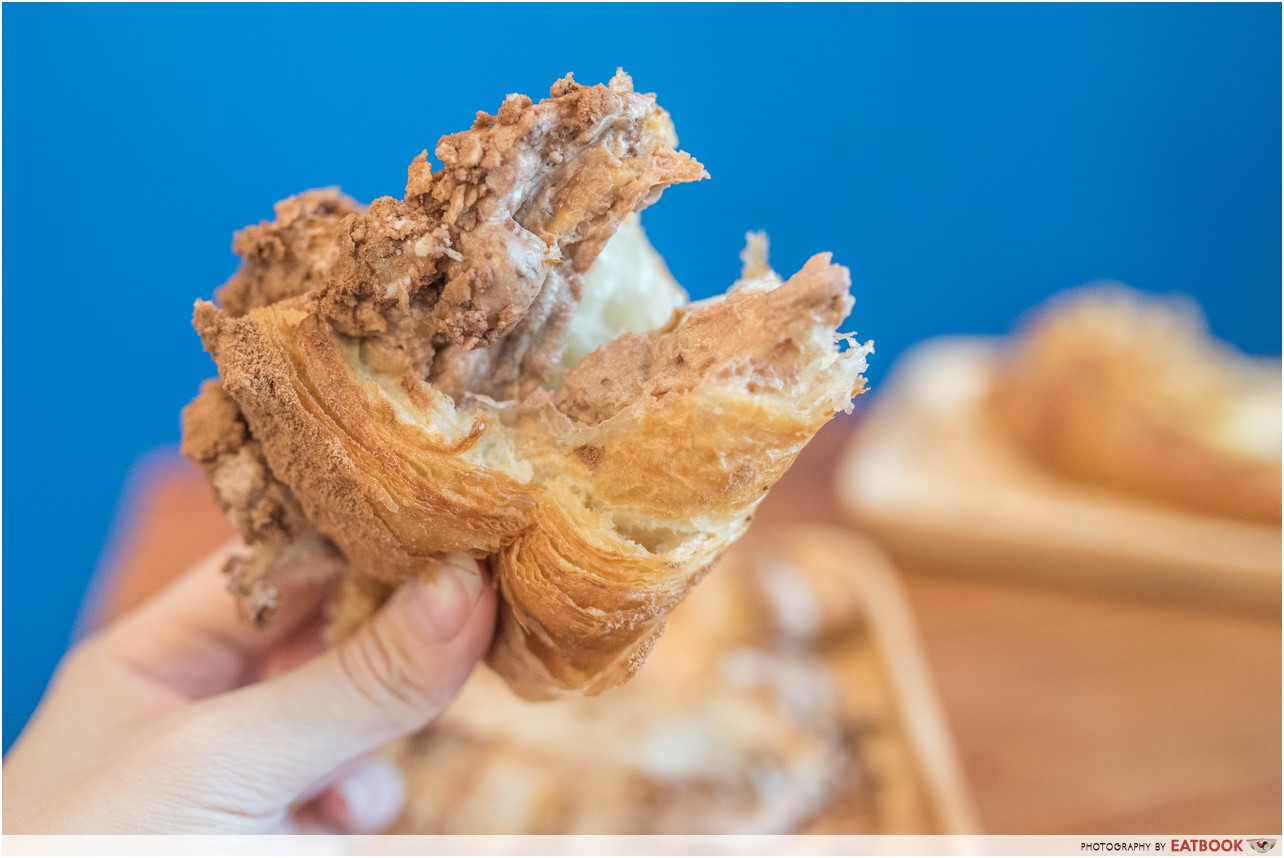 One bite, and I was pleasantly surprised by the Milo cream that oozed out between all the layers of buttery pastry. The light and airy mousse-like cream was not the least bit cloying, and its Milo flavour was heightened with bits of crunchy Milo crumble and a dash of Milo powder. This dish, in my opinion, would make even Nathan Hartono proud!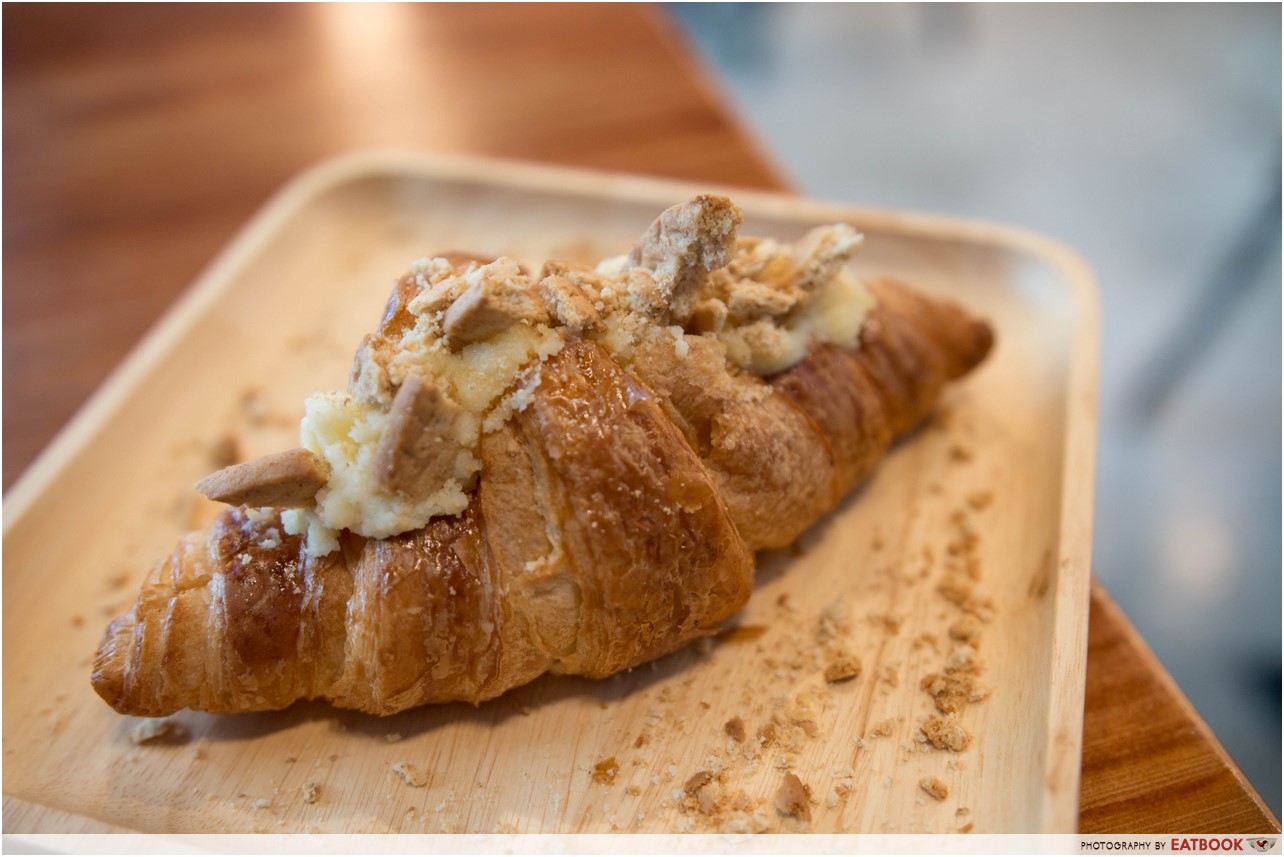 What seemed like cheesecake frosting was stuffed within a slit down the centre of Cheesecake Croissant ($6.60). Crushed digestive biscuits were added on top of the frosting.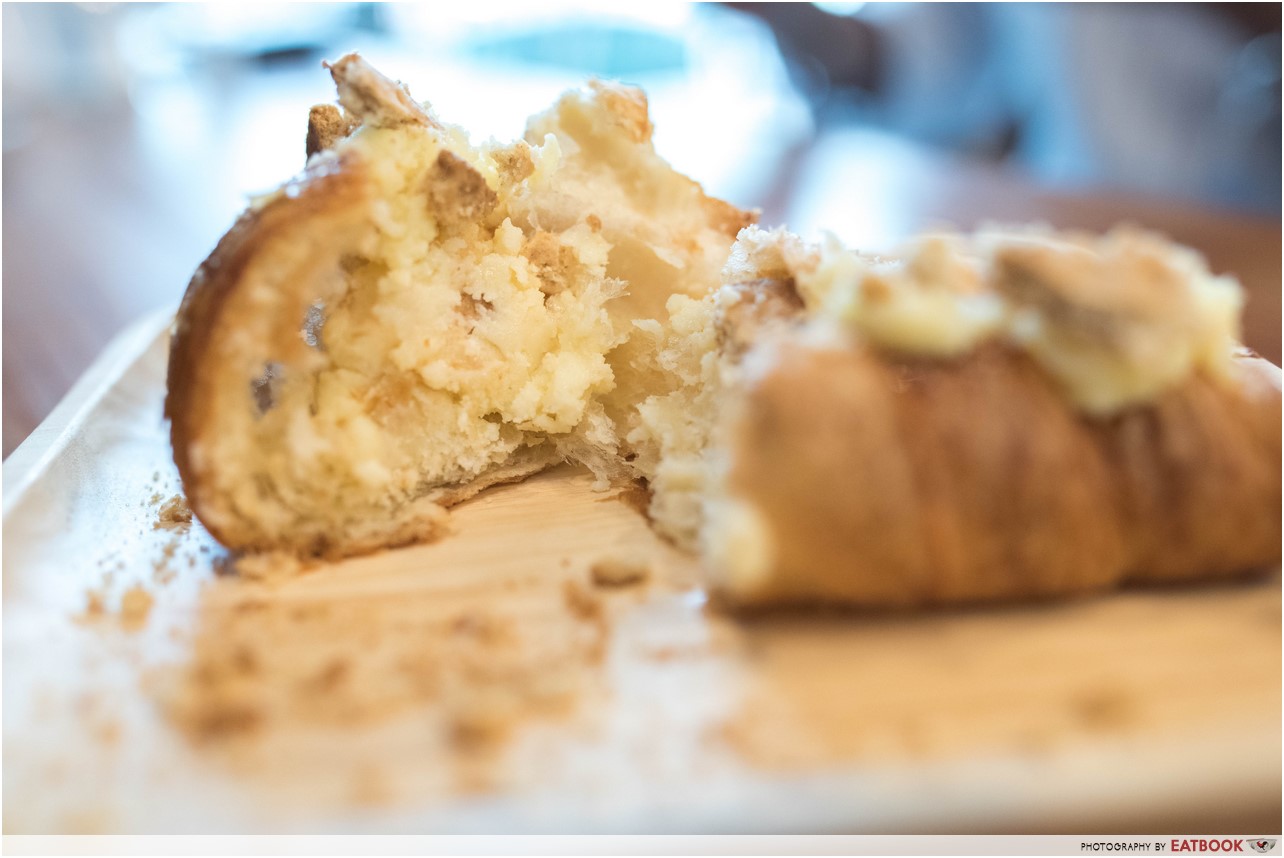 The cheesecake frosting vaguely reminded me of cookie dough, but with a lighter and creamier consistency. Other than imparting a nice crunch, the digestive biscuits gave the dish a slight saltiness, which complemented the sweet cheesecake frosting.  
Besides croissants, SIXBYSERA also serves a variety of savoury donuts. Truffle Smoked Salmon Donut ($2.90) boasts the classic combi one can never go wrong with – smoked salmon and cream cheese. Besides adding a nice fragrance, the hint of truffle oil also accentuated the savouriness of the smoked salmon. Meanwhile, the dill leaves imparted a delicate, earthy taste, cutting through the rich cream cheese.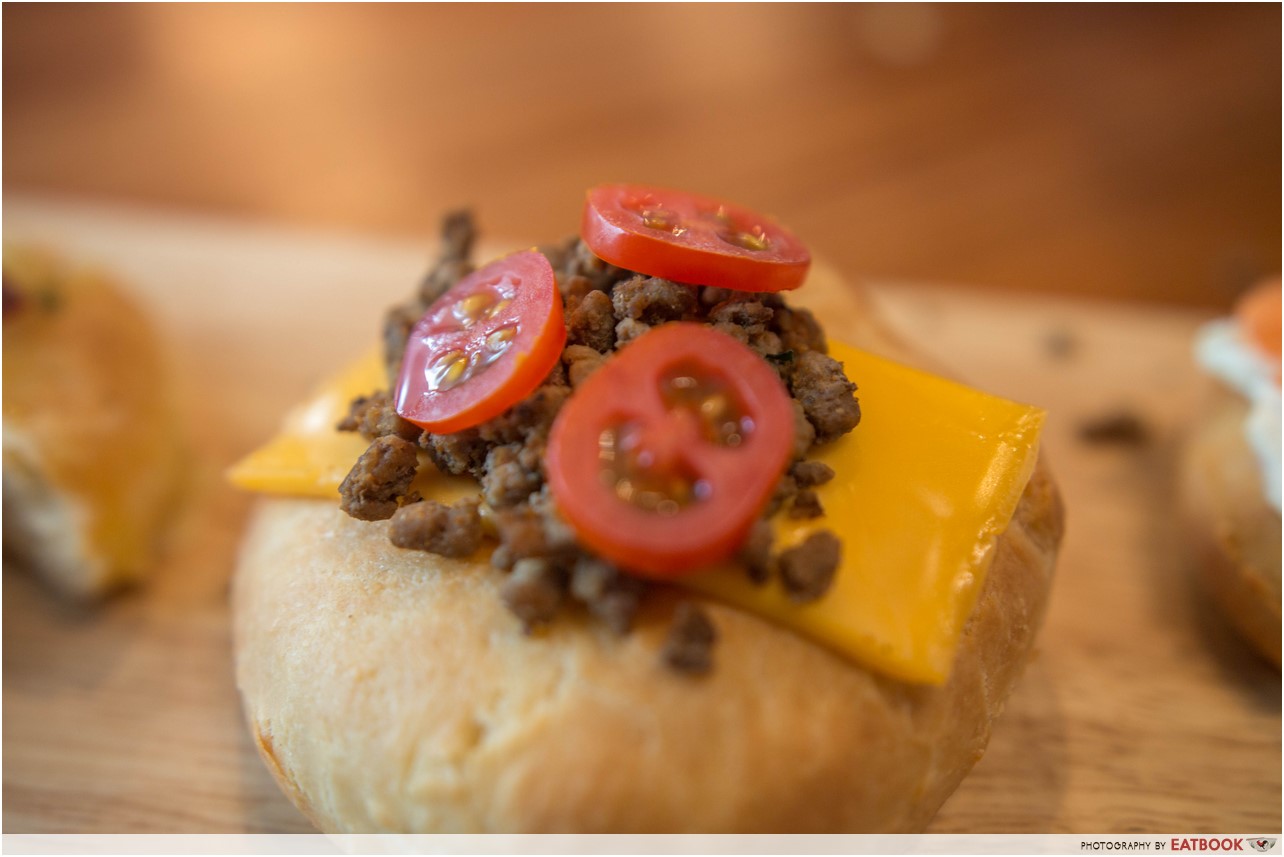 Cheeseburger Donut ($2.90) was quite a hassle to eat, with minced beef falling everywhere before I could get a proper mouthful. To add on to the disappointment, the beef was crumbly and dry. Some sauce, perhaps just ketchup or mustard, would have made this donut a whole lot better, and also live up to that cheeseburger title.
I'm all about that #cheesepull, but the meagre slice of cheese plastered on the top was nothing like the ooey-gooey melted cheddar I've come to associate with a cheeseburger.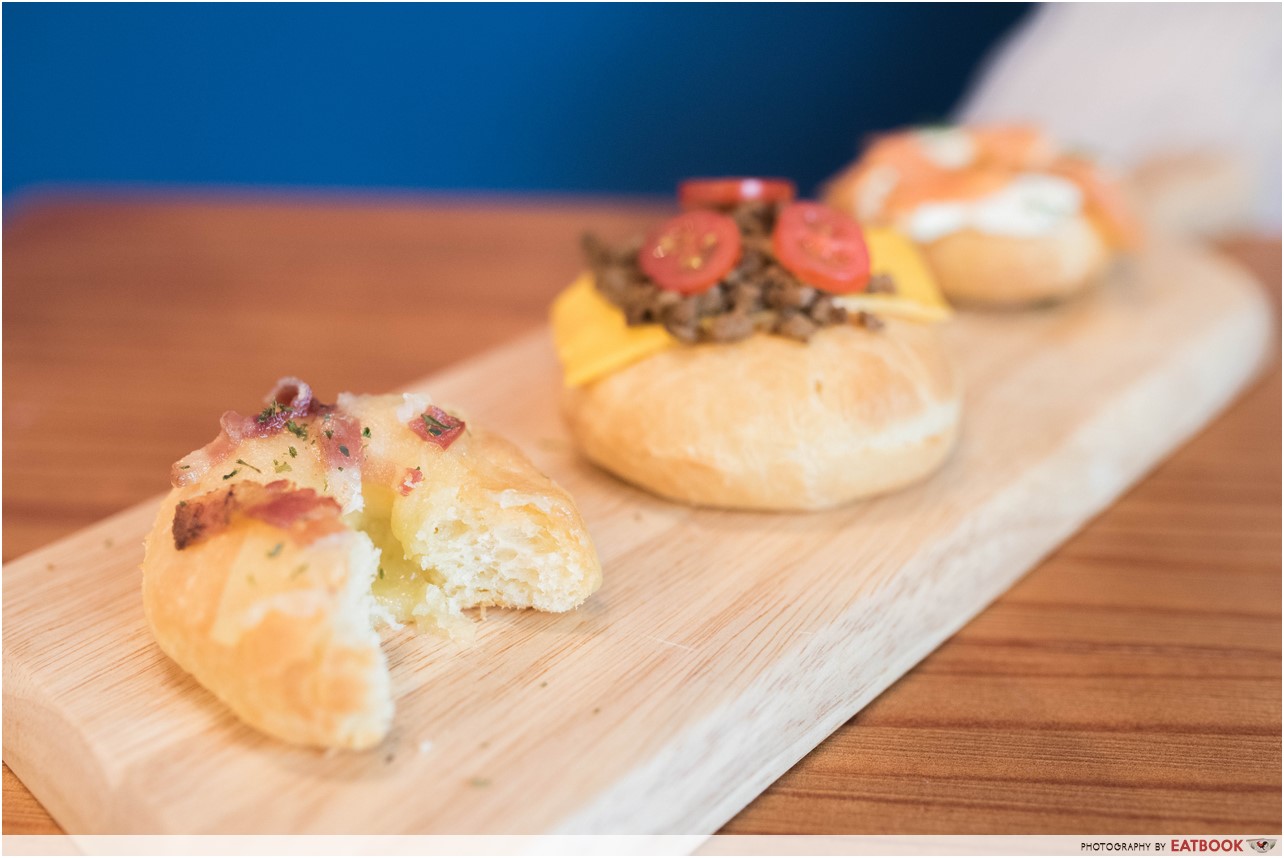 Though explicitly mentioned in its name, I couldn't taste the maple in Maple Bacon Donut ($2.90). Nonetheless, being a sucker for bacon errthang, I thoroughly enjoyed the smokiness from the crisp bacon, which was coupled with stringy mozzarella cheese.
Though these bite-sized snacks are called donuts, they took on more of a bagel-like texture. If you're one who loves traditional deep-fried donuts that are airy and fluffy, you might want to give these a miss.  
Ambience at SIXBYSERA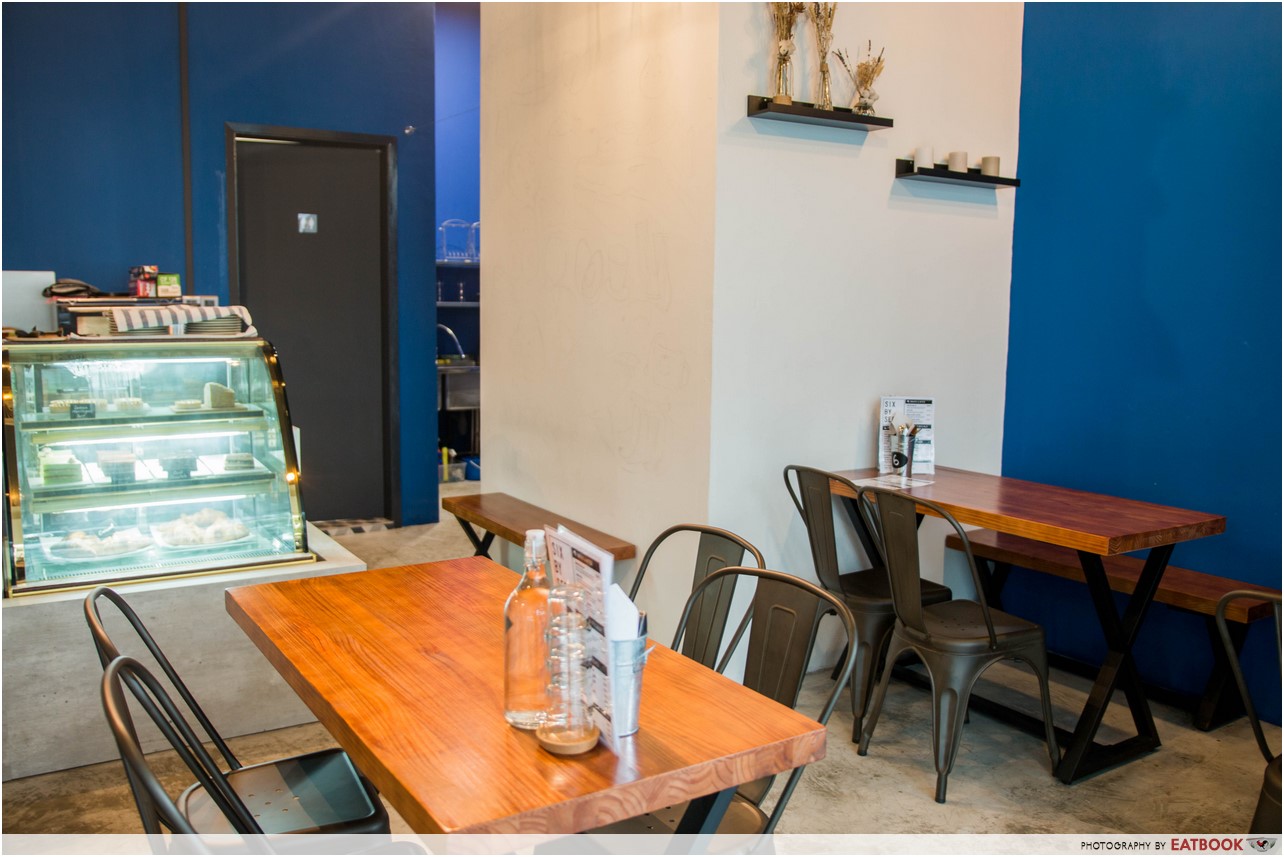 Less than a 10-minute walk away from Exit B of Farrer Park MRT Station, SIXBYSERA occupies a small area and has a minimalist interior. There aren't many seats, so be sure to head down early to get a good table. Sit near their blue wall if you want a good backdrop for selfies with your date, or grab a spot by the window if you're all about that #foodporn and want good lighting for your dish.
The verdict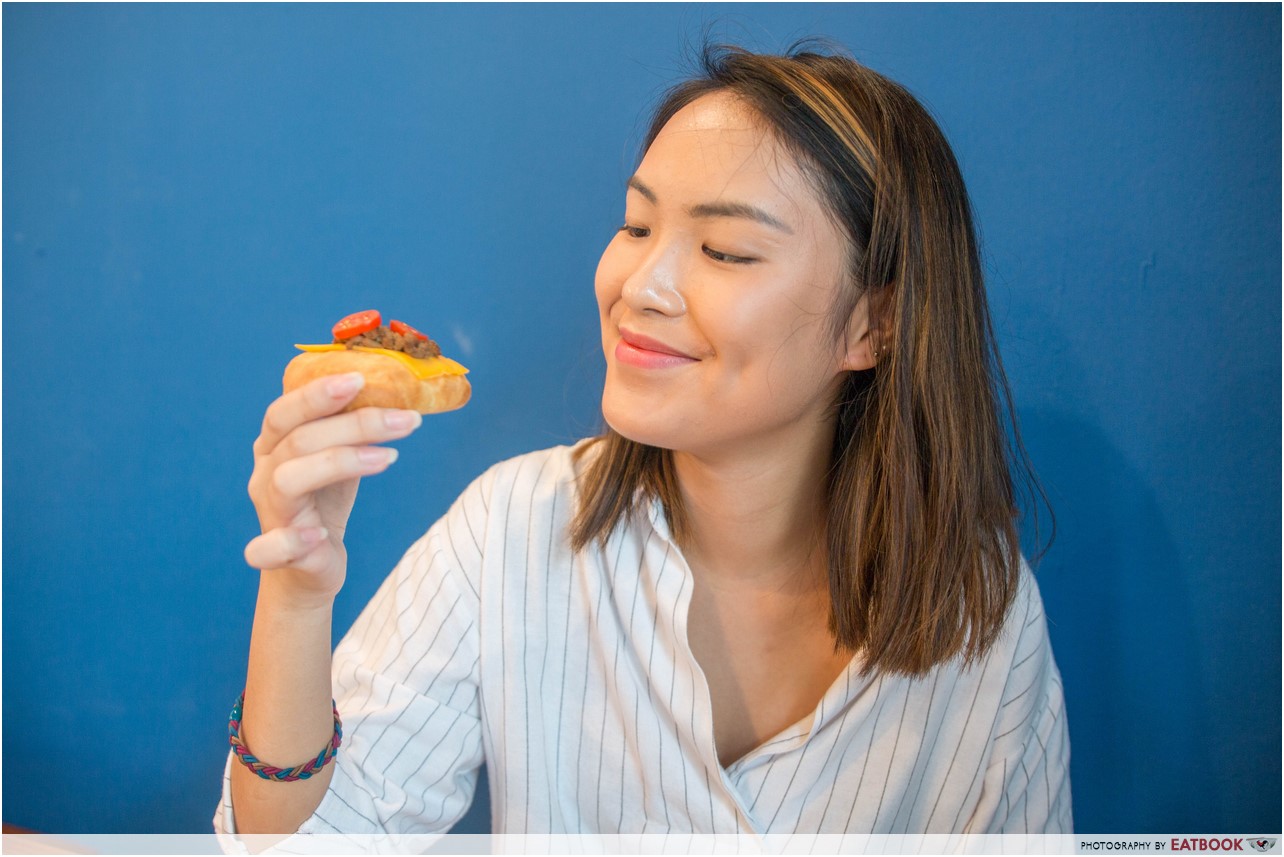 A buttery, rich pastry is one of my top weaknesses, and I can never say no to a good croissant. Considering the cafe's prices and location, I'll definitely head down again, and with my mum the next time.
If you're down for some cafe-hopping adventure around the area, check out Enchanted Cafe that boasts a magical, fairy-tale theme along with unique dishes.
Address: 89 Rangoon Road, #01-03, Urban Loft, Singapore 218375
Opening hours: Tue-Sun 10am to 9pm
Tel: 9652 8141
Website
SIXBYSERA is not a halal cafe.
This is an independent review by Eatbook.sg.
Summary
Pros
– Convenient location
– No GST or service charge
– Good service
– Interesting take on croissants
Cons
– Savoury donuts didn't taste like donuts
– Small space with few seats
Recommended Dishes: Milo Dinosaur Croissant ($5.90), Cheesecake Croissant ($6.60), Chilli Crab Sauce ($11.90)
Operating Hours:
Tuesday – Sunday 10am to 9pm
Tel:
9652 8141
Address: 89 Rangoon Road, #01-03, Urban Loft, Singapore 218375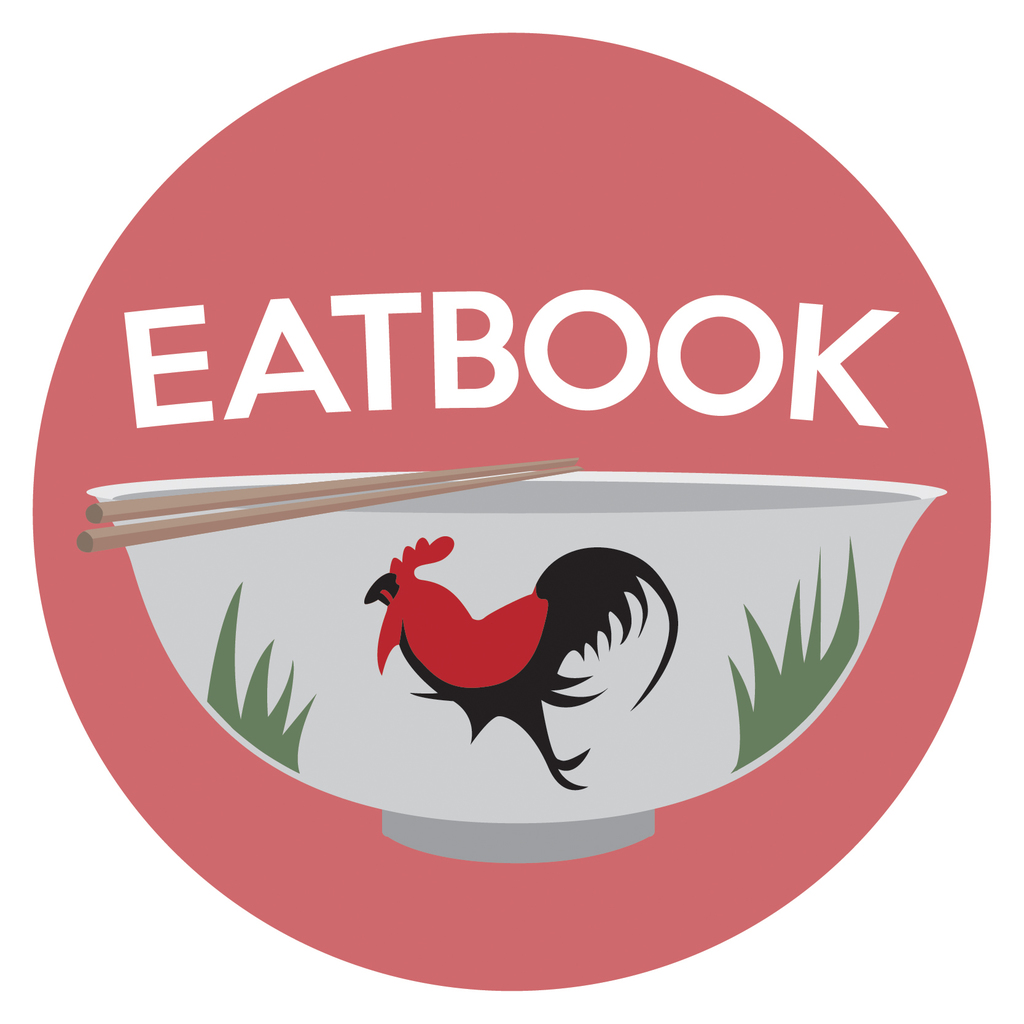 Drop us your email so you won't miss the latest news.