---
Get your sweet potato fix now
---
Anyone who has been to Hong Kong earlier this year would have noticed the city's obsession over purple sweet potato. From purple sweet potato croissants to lava purple sweet potato tarts, these beautifully-hued desserts have taken Hong Kongers' Instagram feeds by storm. And it seems like Singapore is starting to catch on, with sweet potato dishes, both purple and orange, popping up everywhere. For those itching to jump on the bandwagon, here are 10 places you can visit to get your sweet potato fix.
---
1. Cups N Canvas
---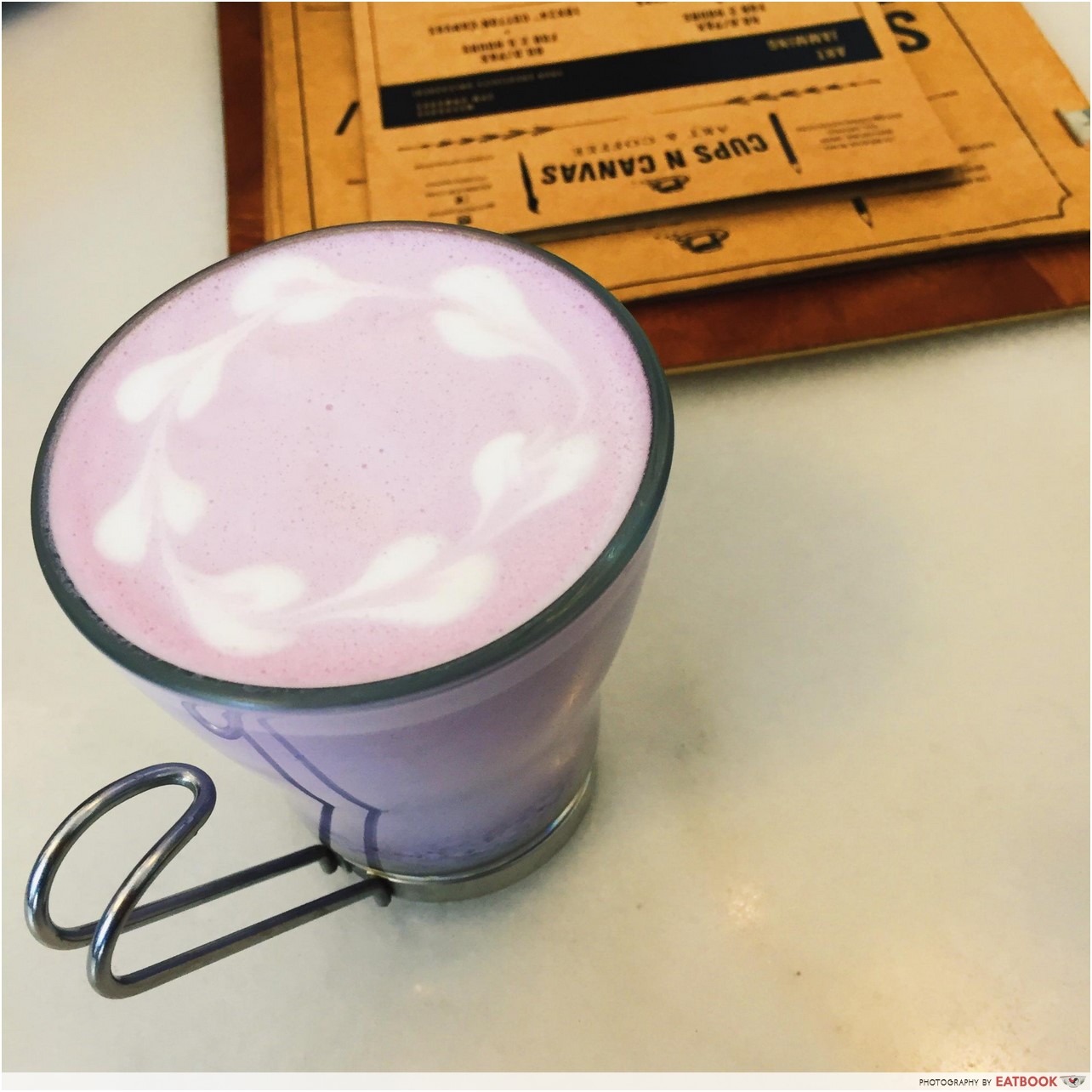 Cups N Canvas' Sweet Potato Latte ($4.80) is as beautiful as it is yummy. The cafe and art studio has birthed a milk latte that is incredibly gao yet smooth, and they've placed sweet potato bits at the very bottom of the cup. As an avid cafe latte lover myself, the lack of caffeine in this made my brain shout 'treason', but that didn't make me want to stop drinking this milky concoction. While you shouldn't count on it to wake you up in the morning, get a cuppa to go when you're in need of a sweet treat. If time permits, linger at their quaint little space at Selegie Road and bask in the artistic vibes they give off.
Address: 139 Selegie Road, Singapore 188309
Opening hours: Mon-Thur 11am to 10pm, Fri 11am to 11pm, Sat 9am to 11pm, Sun 9am to 10pm
Tel: 6884 6855
---
2. The Workbench Bistro
---
The Workbench Bistro is a safe haven for all those who want to revel in true blue, or in this case purple, cafe fare. This industrial-looking cafe is known for S'moreffles ($7.50, $10.80 with ice-cream), which is an extravagant combination of s'mores, waffles and ice-cream. But if you're a sweet potato fan, go straight for Purple Sweet Potato Waffle ($8.50). It may look like a typical golden brown waffle drenched with gula melaka on the outside, but its rich royal purple insides is fit for all kings and queens.
Address: Blk 332 Ang Mo Kio Avenue 1, #01-1881, Singapore 560332
Opening hours: Tue-Thur 12pm to 2pm, Fri 12pm to 11pm, Sat 10am to 11pm, Sun 10am to 10pm
Tel: 6452 0810
Menu
---
3. Rise & Grind Coffee Co.
---
Okay Westies, you win this round. Rise & Grind Coffee Co. is one of the few cafes I'd be willing to travel to the West side for, especially 'cause of their mouth-watering plate of Sweet Potato Fries with Mentaiko Mayo ($10). This gorgeous pile of golden brown sticks is topped off with just the right amount of mentaiko mayo that complements the natural tinge of sweetness from the sweet potato fries. Equal parts sweet and savoury, this is one dish worth digging your teeth into.
Address: 1 Jalan Anak Bukit, #L1-CA, Bukit Timah Plaza, Singapore 588996
Opening hours: Mon-Tue 10am to 9pm, Wed-Thur 10am to 4pm, Fri 10am to 10pm, Sat 9am to 10pm, Sun 9am to 9pm
Tel: 9154 8550
Menu
---
4. Small Potatoes Ice Creamery
---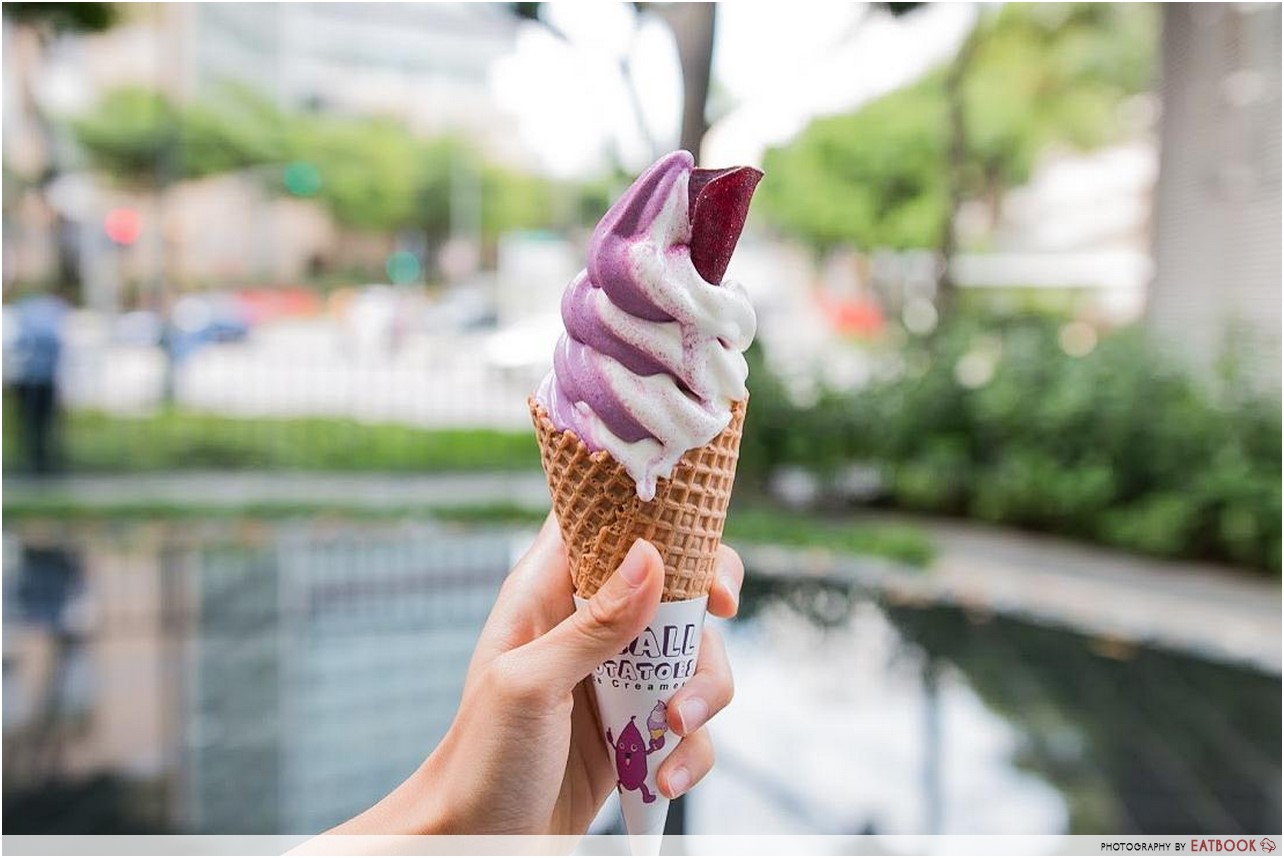 Hong Kong's Small Potatoes Ice Creamery has set up a kiosk right in the heart of Novena and they serve just 2 flavours of soft-serve: Japanese Purple Kumamoto Yam and Himalayan Sea Salt. There's nothing quite as shiok like eating an ice-cream cone on a hot day, and a blend of both flavours in Mixed Ice Cream Cone ($5.50) does the trick. As strange as the combination of sea salt and purple yam may sound, these distinct flavours complement each other wonderfully and you'll find yourself wanting more.
Address: 10 Sinaran Drive, #B1-131, Novena Square 2, Singapore 307506
Opening hours: Mon-Sun 11am to 10pm
Tel: 6352 2661
Read our full review here.
---
5. MK Levure Naturelle
---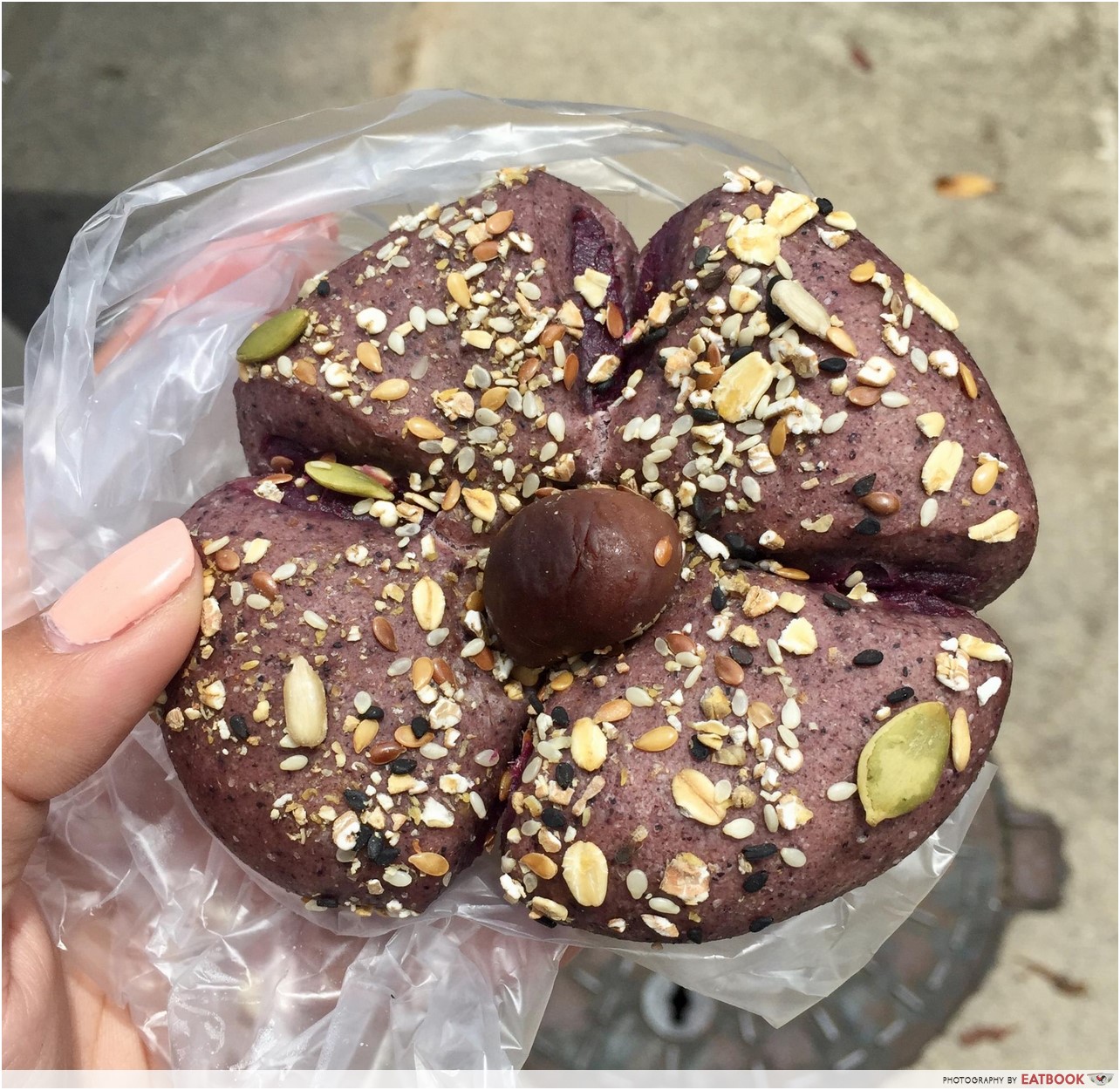 I love bread, period. Anyone who knows me or has met me at one point in life knows how much I love that sweet, fluffy carb. And for bread lovers like me, MK Levure Naturelle is a paradise. With rich and buttery Sweet Potato Buns ($1.80 each) and decadent Belgian Chocolate Buns ($1.80 each) alongside other unique buns and breads, you can't help but think to yourself what a wonderful world this basement shop at Holland Village MRT Station is.
Address: 200 Holland Avenue, #B1-04, Holland Village MRT Station, Singapore 278995
---
6. Curious Palette
---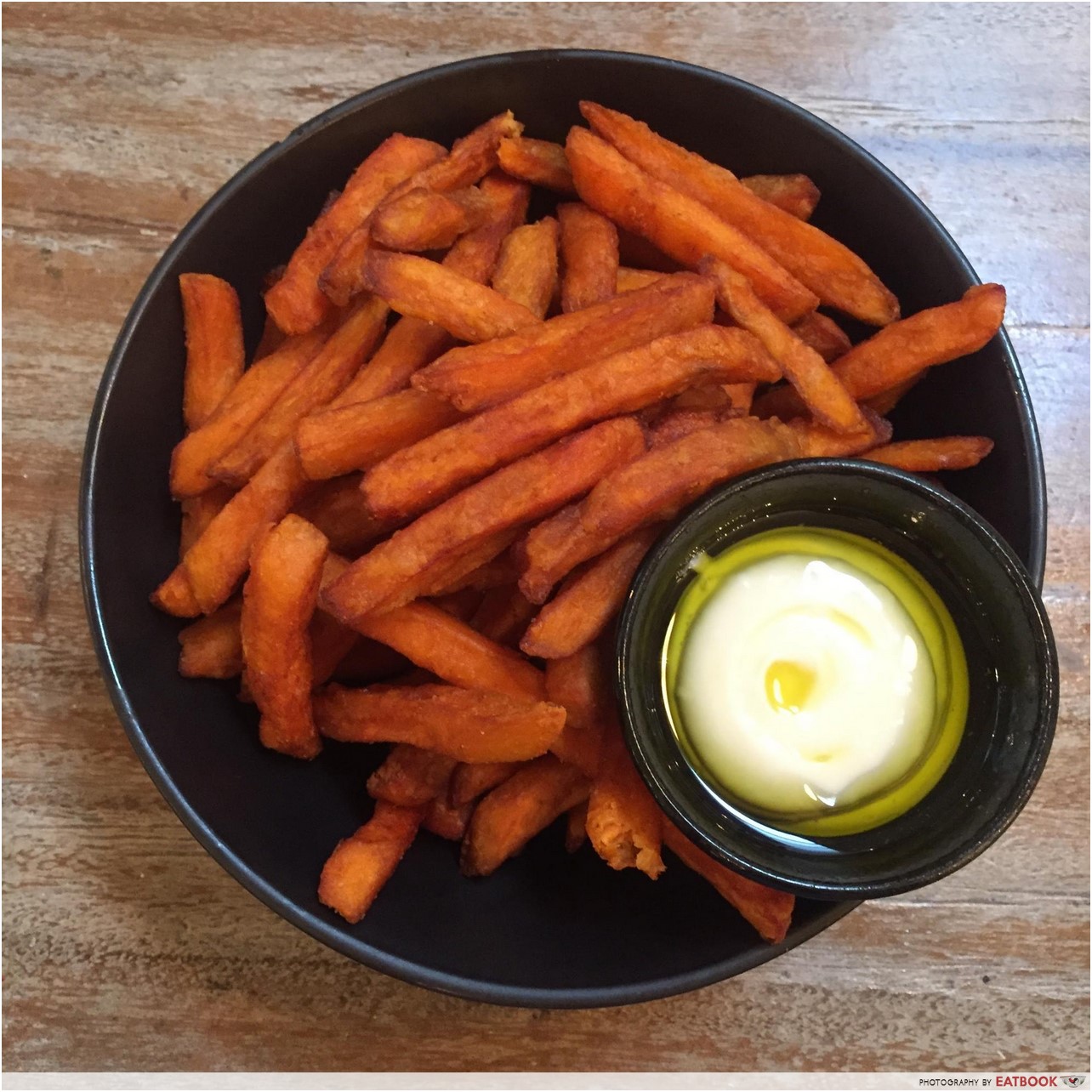 Deep fried to perfection, the thick-cut Sweet Potato Truffle Fries ($12.90++) at Curious Palette is an elevated version of the beloved truffle fries. Dip it into a pot of truffle mayo that comes with it and you'll find it hard to stop at 1. Another must-try when visiting this quaint cafe hidden on the outskirts of Prinsep Street is their beautiful Berry Ricotta Hotcake ($14.90++), which has been making its rounds on Instagram.
Address: 64 Prinsep Street, Singapore 188667
Opening hours: Sun-Mon, Wed-Thur 9am to 10pm, Fri-Sat 9am to 12am
Tel: 6238 1068
---
7. NICEDAY
---
Even though NICEDAY's Purple Sweet Potato Milky Snow Mountain ($9.90) looks like a typical bowl of Korean bingsu, it tastes distinctively Taiwanese thanks to its base of grass jelly. Feast on toppings that include taro balls, nata de coco, red beans, mochi and a scoop of ice-cream. There was a bit of a wait when I was there, but the final product served was well worth it. For those who want a local twist, get Gula Melaka & Soy Bean Curd Polo Ice ($6.80). Think of this as a bowl of tau huay topped with red beans, mochi, nata de coco and covered with a layer of shaved ice drizzled with gula melaka.
Address: 302 Tiong Bahru Road, #02-111A, Tiong Bahru Plaza, Singapore 168732
Opening hours: Mon-Sun 11am to 10:30pm
Tel: 9654 3544
---
8. d'Good Cafe
---
Aside from their Coconut Infused Cold Brew ($9.50++) that has been capturing the hearts of coffee connoisseurs around the island, d'Good Cafe is worth visiting for food too. Grand Marnier Sweet Potato Matcha Pancake ($12++) is a skillet pancake topped with crushed pistachios, adzuki beans, mashed sweet potato and a generous drizzle of Grand Marnier matcha sauce. A scoop of vanilla ice-cream is served on the side as well. Tuck into this eggy and dense Dutch pancake while taking in the clean London-themed interior.
Address: 391 Orchard Road, #B1-56, Takashimaya Shopping Centre, Ngee Ann City, Singapore 238872
Opening hours: Mon-Sun 10am to 10pm
Tel: 6694 1411
Find out where else to get unique coffee here.
---
9. Nunsaram
---
If you can't get enough of bingsus, Nunsaram has got you covered. Sweet Potato Bingsu ($14.90) with sweet potato cubes, silvers of almonds and ice-cream is one icy dessert I find solace in indulging. If you prefer something more classic, Choco Banana Bingsu ($14.90) is a safe choice. You can get a refill of condensed milk for free, so those struck with a sweet tooth can get ready to go wild here.
Address: 181 Orchard Road, #05-51/52, Orchard Central, Singapore 238896
Opening hours: Mon-Sun 11am to 10pm
---
10. Sin Lee Foods
---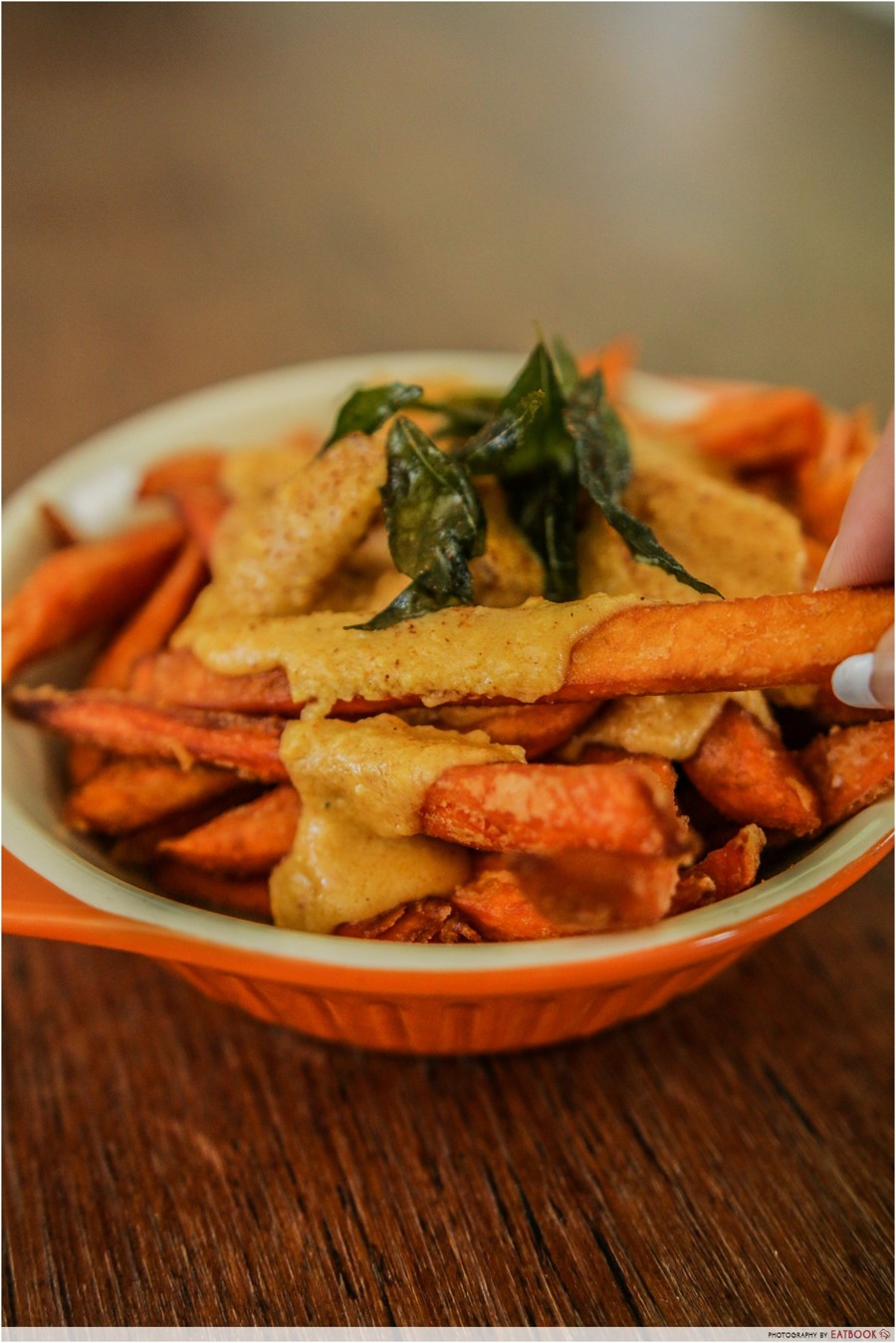 Sin Lee Foods is a heaven for all those desiring to make their Instagram feeds #goals. With a menu that boasts a wide array of photogenic dishes such as Lobster & Truffle Cassoulet ($24++) and Salted Egg Yolk Sweet Potato Fries ($12++), it's no surprise why this corner cafe is so popular with Instagrammers. While it may be on the pricier side, I personally wouldn't mind paying for twice-fried sweet potatoes drenched in the golden sauce we've all come to know and love.
Address: 4 Jalan Bukit Ho Swee, Singapore 162004
Opening hours: Tue-Fri 11am to 9pm, Sat 9:30am to 9pm, Sun 9:30am to 6pm
Tel: 6337 3170
Read our full review here.
---
The sweet potato feast begins
---
With all these choices one could possibly be spoilt with, I'd say your sweet potato journey is gonna be pretty smooth. For those who have time to spare, you can even try making your own coconut sweet potato ice-cream! If you know anywhere else with sweet potato dishes worth chowing down on, let us know in the comments!