---
Truffle Chips In Singapore From $1
---
We've seen humble dishes elevated with truffles ─ from pizzas, mooncakes and croissants to sandwiches from Trufflelicious. Now, potato chips have gotten the truffle treatment. If you've tried Shi Le Po's Truffle & Cheese Potato Chips, you'll know how highly addictive these snacks are.
Shi Le Po Has New Black Pepper Crab Fish Skin And Truffle & Cheese Potato Chips For Chinese New Year
We've curated 10 brands of truffle chips to satisfy all your cravings. Brace yourselves for the truffle invasion.
---
1. Aroma Truffle & Co
---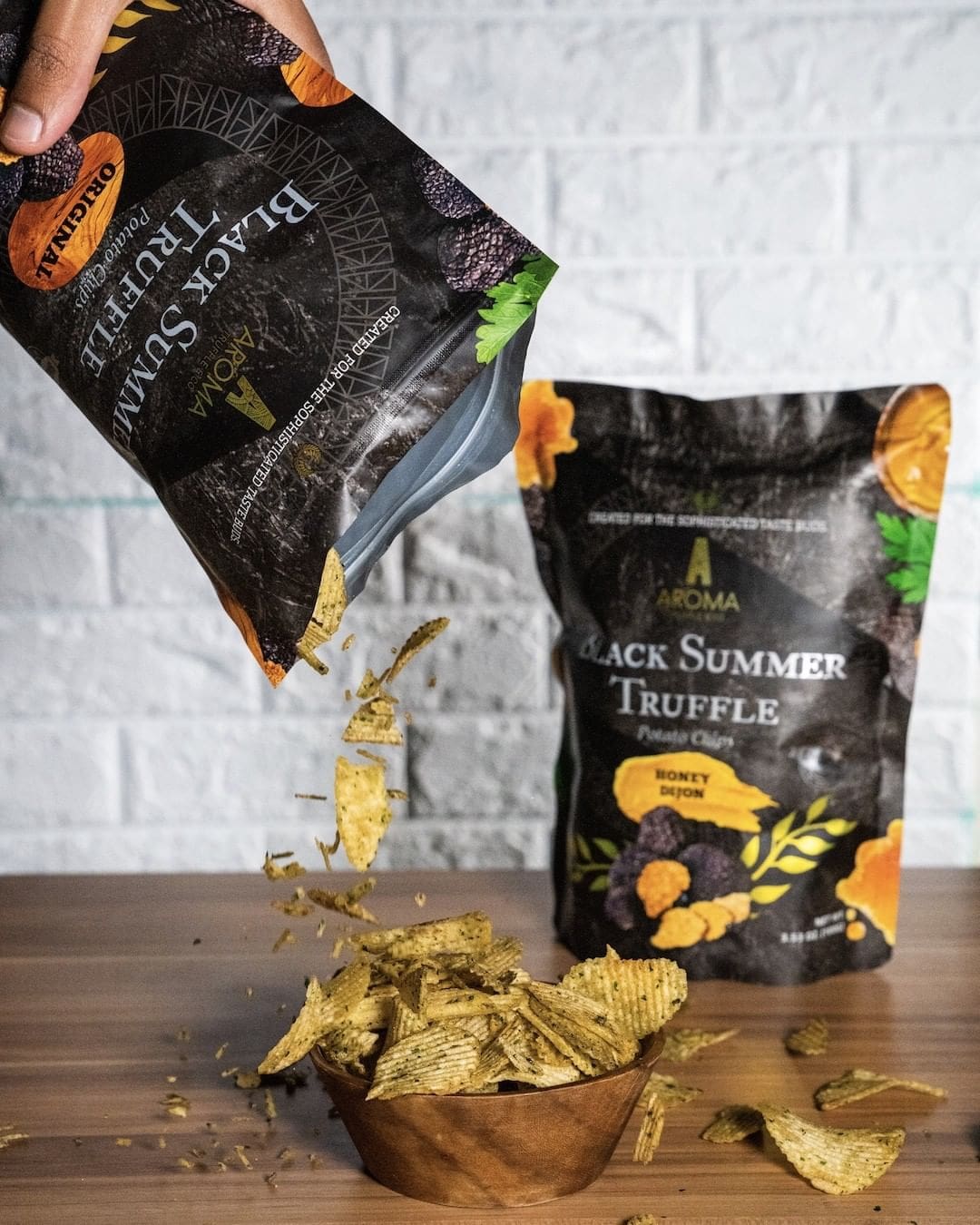 Image credit: @aromatruffle
We'll kick off this truffle mania with a fairly-new homegrown brand ─ Aroma Truffle & Co. Marketed as the World's Strongest Truffle Chips, their offerings definitely leave the average bag of chips in the dust.
Their Black Summer Truffle Potato Chips feature black summer truffles that are carefully selected and harvested in Spoleto, an ancient city in Umbria, Italy famed for its truffles. They're air-flown to Singapore to be made into Aroma's ambrosial chips within a week of harvest. Dredged with truffle bits, each hand-cooked crisp is imbued with an intense earthy flavour.
Other star flavours in the line include the Original, where crinkle-cut crisps are tossed in fine olive oils and black truffle, as well as the Parmesan Cheese, for the perfect blend of black truffles, dill and Parmesan cheese. 
Aroma is available at Cold Storage, Shopee, Lazada as well as their stores. Alternatively, you may order them directly through their site for $10 a pack.
---
2. Torres Selecta
---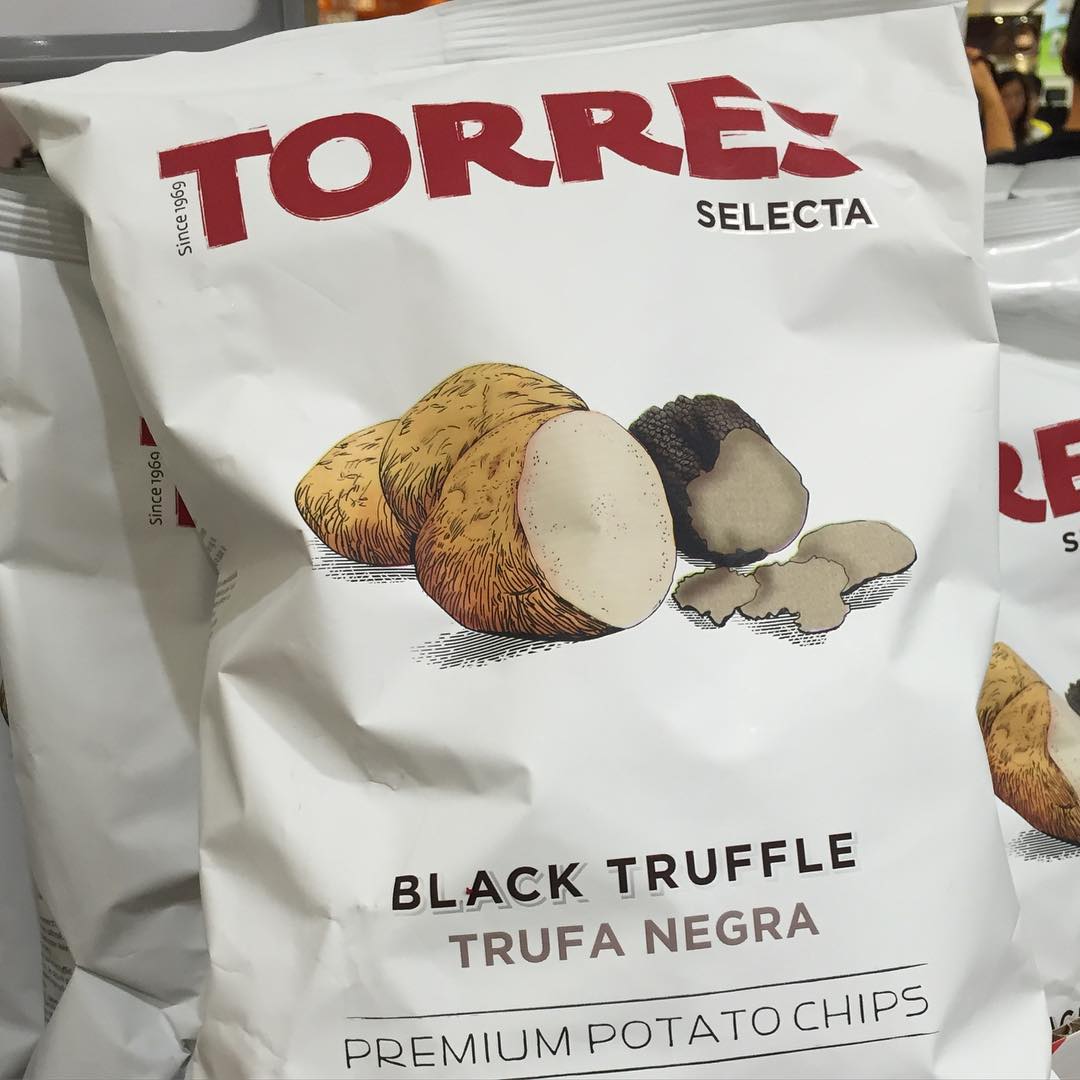 Image credit: @law.food.log
The Spanish artisanal snack brand, Torres Selecta, has a history that dates back to 1969. With more than 50 years in the gourmet snack scene, they must have done something right.
They are recognised for carrying an array of premium flavoured chips, including Caviar, Iberian Ham and Sparkling Wine. They're outstanding, but Torres Selecta's Black Truffle Chips remain the undisputed king of their offerings. Priced at $6.95, this bag of addictive chips has an intense truffle scent and just the right amount of salt that would surely help curb your cravings. Torres Selecta caters to those with food sensitivities too, since their products are free of gluten, nuts, lactose or eggs. 
Snag a packet of their truffle chips at any Cold Storage and NTUC FairPrice outlets. Alternatively, you may order them through RedMart. 
---
3. Meadows
---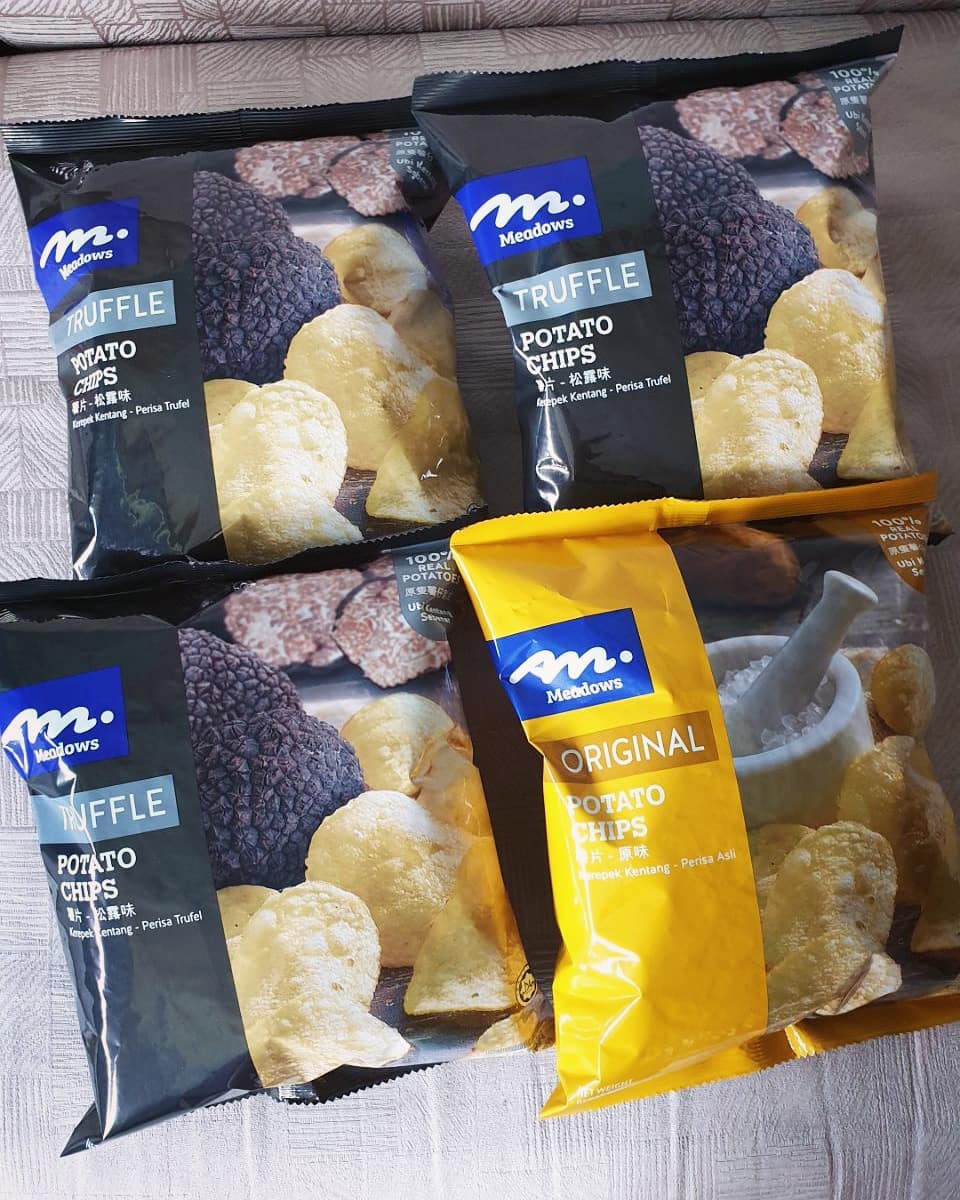 Image credit: @yunhl
It's hard to resist the temptation of $1 Truffle Potato Chips. Meadows is certainly enticing us with their version, tagged at just a fraction of their competitors' prices. This highly-raved snack features thinly-sliced crisps that pack a punch of truffle and are deeply satisfying. These truffle chips were a tough commodity to find when they first launched, but have now been restocked almost everywhere!
Meadows Now Has Atas Snacks Such As Truffle And Ma La Chips For $1
Meadows also offer other flavours that are more suited for the local palate, such as Mala Hot Pot and Tom Yum chips. For budget-friendly truffle chips, you should definitely grab these $1 packs at Cold Storage, Giant, 7-Eleven, Jasons, Market Place as well as Guardian. 
---
4. Luke's Organic
---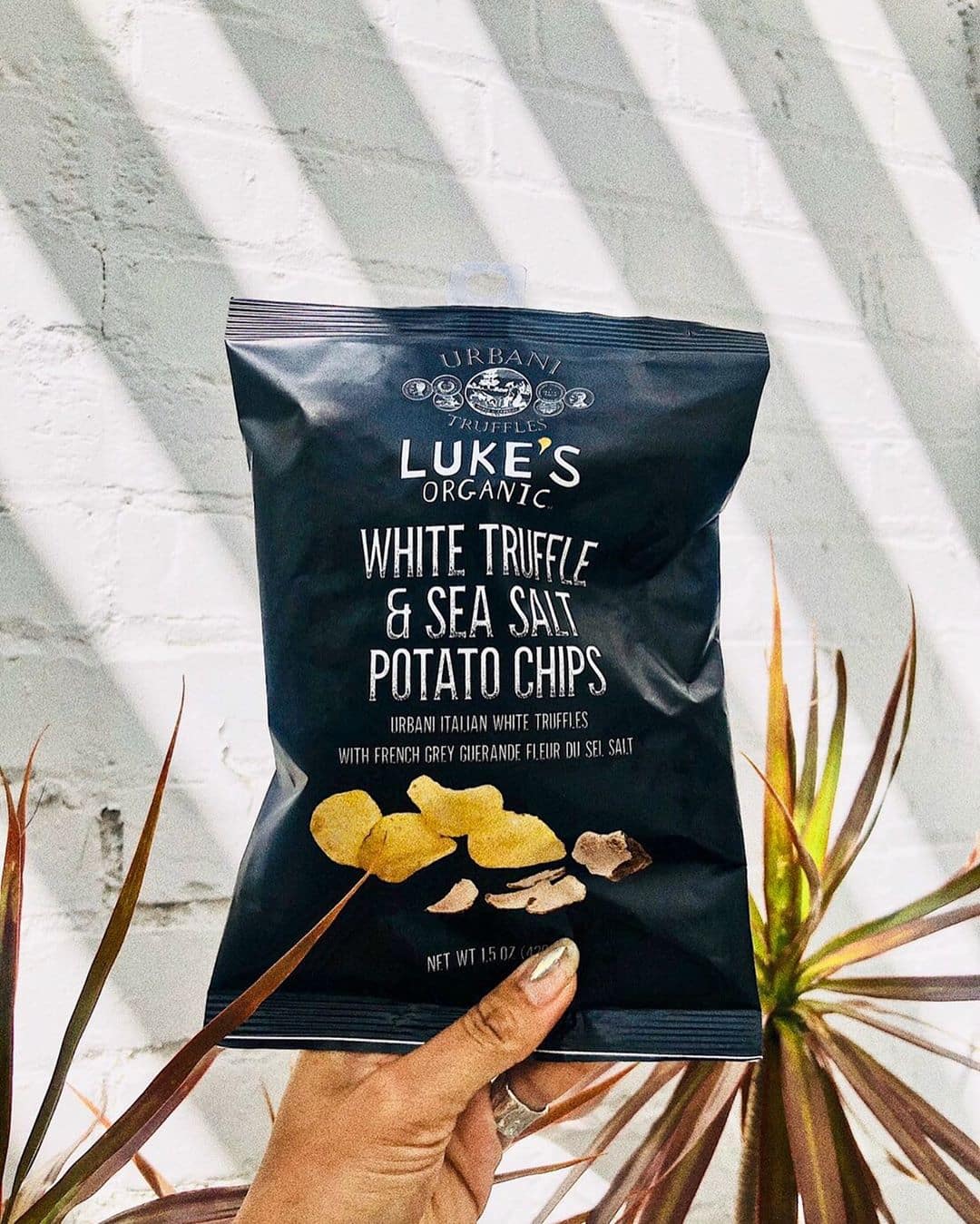 Image credit: @masaki_matsuda
As its name suggests, Luke's Organic promises USDA-Certified Organic products that are non-GMO. Their rendition of truffle chips features wild Italian Urbani white truffles instead of the regular black truffles that are commonly used. These pale white gems are rarer and more delicate in flavour as compared to black truffles.
Going at $6.90 per pack, the White Truffle & Sea Salt Potato Chips are lightly dusted with grey fleur du sel salt that's harvested by hand. It's one of the finest salts in the world, whose delicate flavour brings out the taste of the white truffles.
You can find Luke's Organic White Truffle & Sea Salt Potato Chips at any Cold Storage and NTUC FairPrice outlets. They are also available on Shopee and RedMart.
---
5. Yolky
---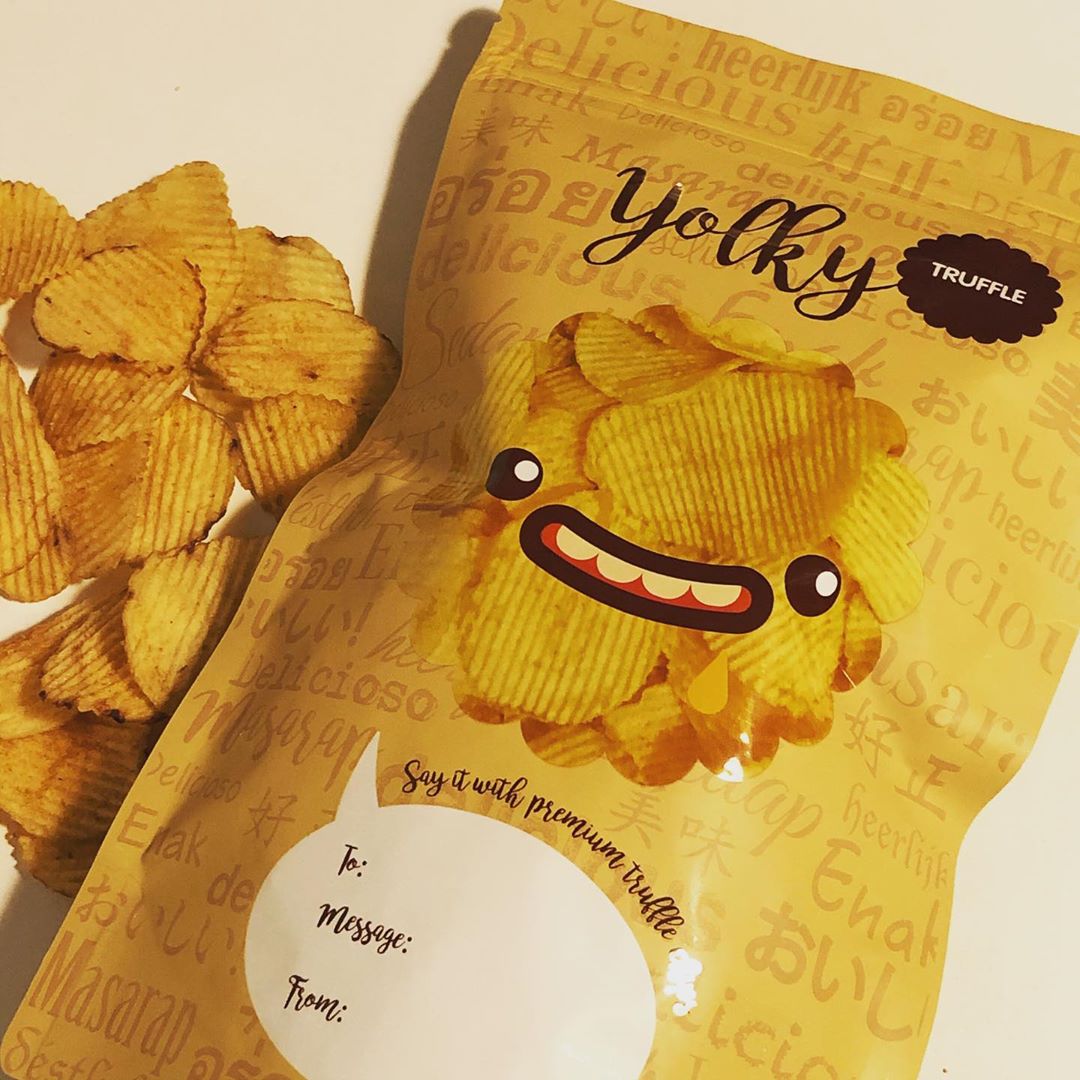 Image credit: @yolkychips
Do not dismiss Yolky because its packaging is cutesy. This local snack brand has chips that are chock-full of strong flavours. 
If you liked their salted egg chips that were featured in our list of salted egg chips brands, you might want to opt for their Truffle ($10) variation that's just as addictive. These ridge-cut chips have a just the right amount of saltiness, along with a potent but well-balanced note of truffle.  
10 Salted Egg Chip Brands In Singapore For People Whose Addictions Have Reached Level 99
These truffle chips are available at Cold Storage, Giant & Redmart in Singapore.
---
6. Flamencas Snacks
---

Image credit: @flamencassnacks
Like Torres Selecta, Flamencas Snacks originates from Spain, which is one of the largest truffle-producing countries in the world. Their Black Truffle Chips ($6.98) are popular are super crispy, with each piece bursting with truffley goodness. Accompany this with some salsa and guacamole for upgraded homemade tapas. 
Their chips range also include the smoky Iberian Ham (Spanish cured ham) flavour as well as the tasty Black Olives flavour. You may order Flamencas' black truffle chips at Little Farms or via their site online.  
---
7. Tyrrell's
---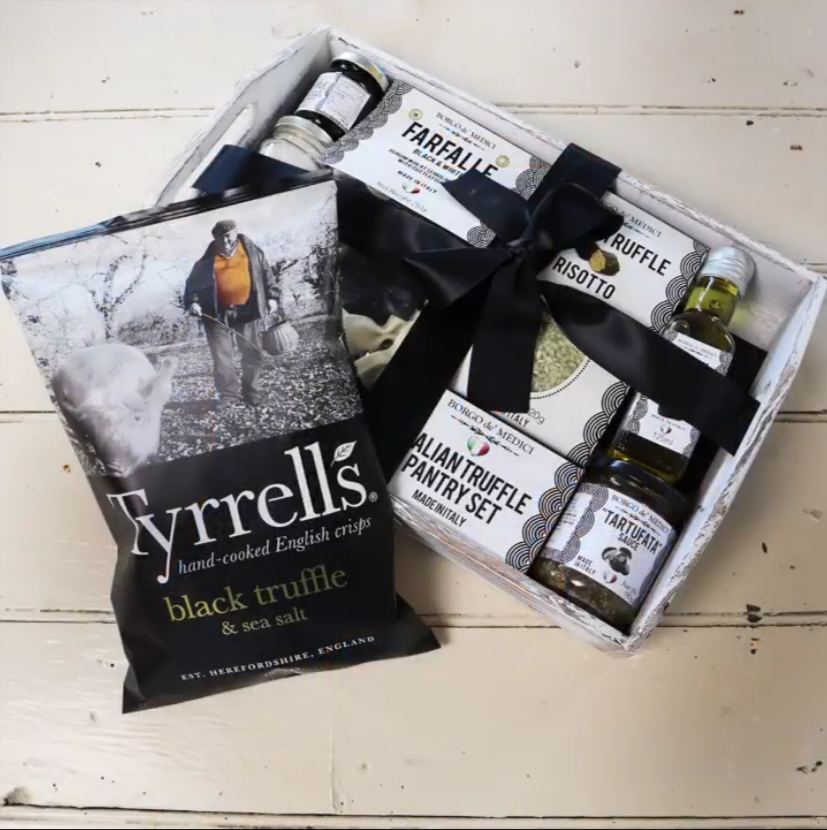 Image credit: @tyrrellsofficial
It's no secret that Tyrrell devotes their efforts to making quality English crips. What makes Tyrrell's chips stand out is the fact that they leave the skin of the potato on in their belief that it contains the bulk of a potato's hearty flavour.
Their Black Truffle & Sea Salt ($5.95) creation comprises crunchy thick-cut crisps with a fragrant undertone of black truffle. Be sure to give the bag a good shake to redistribute the sea salt at the bottom of the bag!
Apart from Black Truffle & Sea Salt, Redmart also offers other options in Tyrrell's series of crisps including Sweet Chilli & Red Pepper, as well as Roast Chicken chips.   
---
8. Oolala Potato Chips
---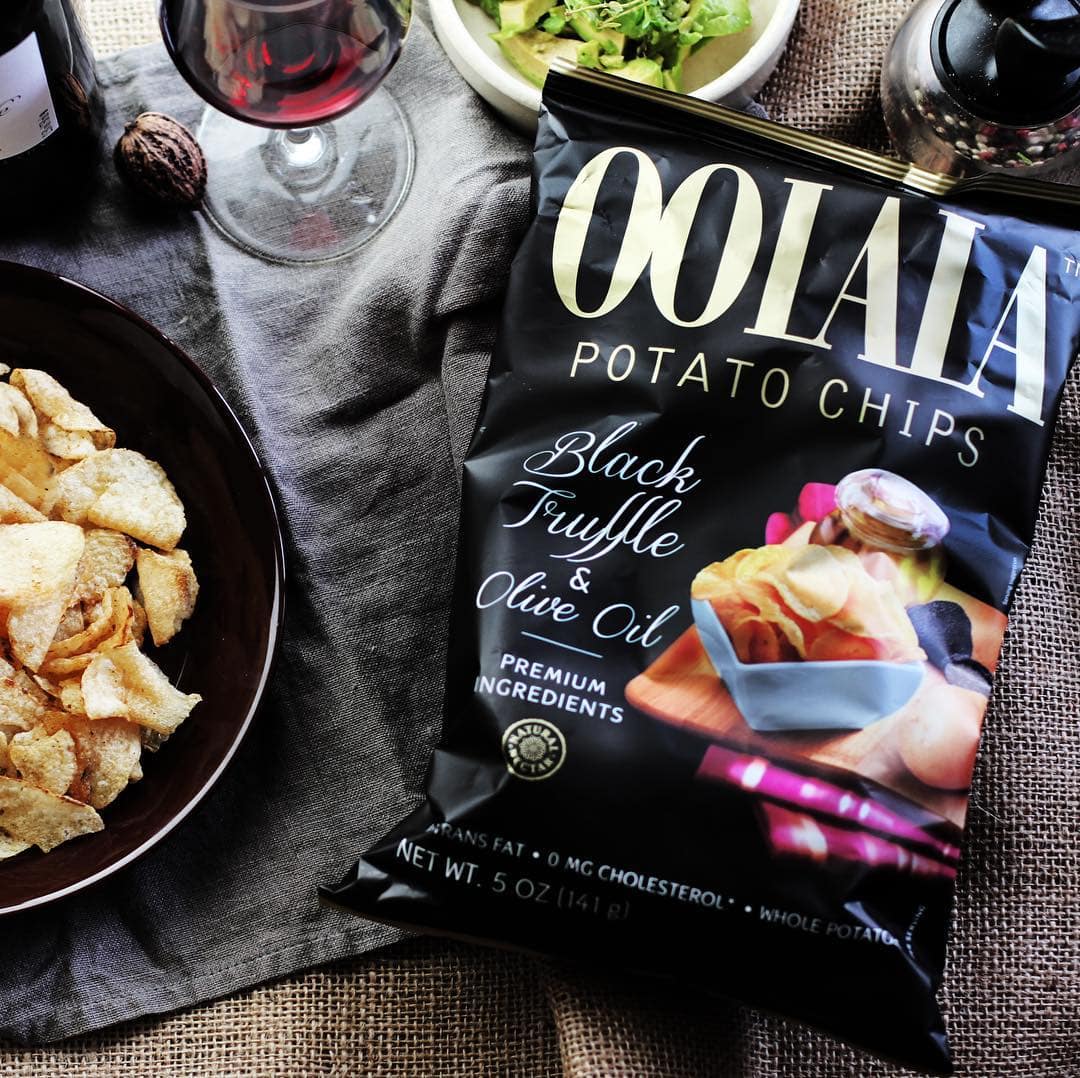 Image credit: @naturalnectar
Here's another brand that does thick-cut chips with truffles. Oolala has two variations of truffle chips ─ Black Truffle & Olive Oil, as well as White Truffle & Parmesan.
Opt for the classic Black Truffle & Olive Oil for a blast of truffle flavour. Lightly infused with herbs and spices, you can expect these chips to be aromatic and well-seasoned. Alternatively, go for the White Truffle & Parmesan, which has a more delicate and mellow taste as opposed to the pungent earthiness of black truffle. The flavour is also heightened with Parmesan.
For $6.50, grab a back of Oolala's truffle fries at any NTUC FairPrice outlets.   
---
9. Crusty's
---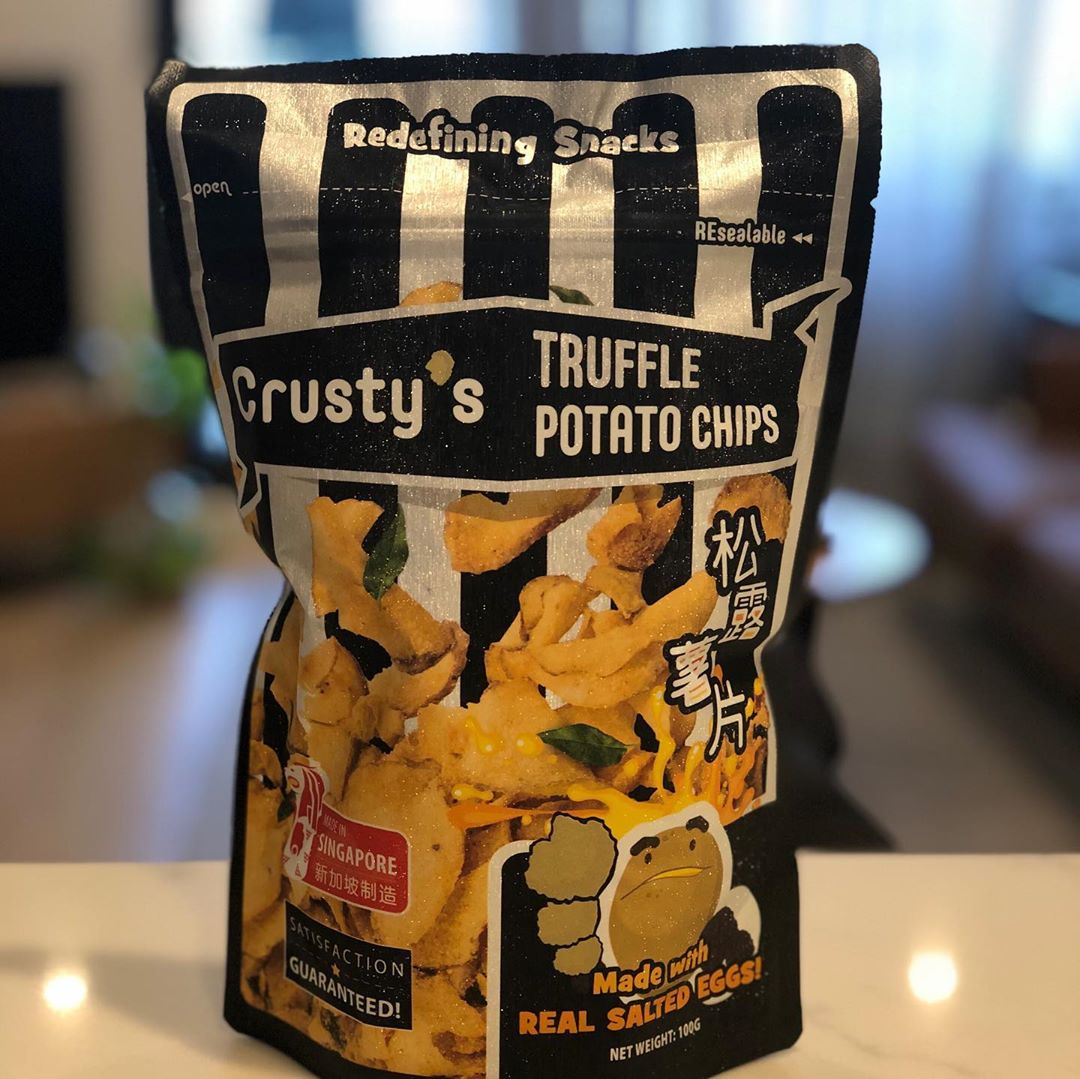 Image credit: @chipsconnoisseur
We've all heard about the rave over Crusty's Mala Salted Egg Fish Skin as well as their other fish skin snacks, especially during the Chinese New Year period. Founded by three childhood friends, Crave is a homegrown snack brand made to appeal to local tastebuds. Their creations also aim to mimic our favourite zi char dishes. 
Crusty's Mala Hotpot and Truffle Flavoured Fish Skin Is Now Available At Fairprice & Cheers Outlets
Look out now for Crusty's Truffle Salted Egg Potato Chips ($7.50), a blend of two bold flavours. They have doubled the decadence by combining the rich, savoury flavour of salted egg with aromatic truffle.
Crusty's Truffle Salted Egg Potato Chips are available on Shopee and Qoo10. You may also find them at NTUC FairPrice and Cheers outlets. Do note that there is a minimum order of a dozen packets if you choose to purchase directly from their site.
---
10. Hunter's Gourmet
---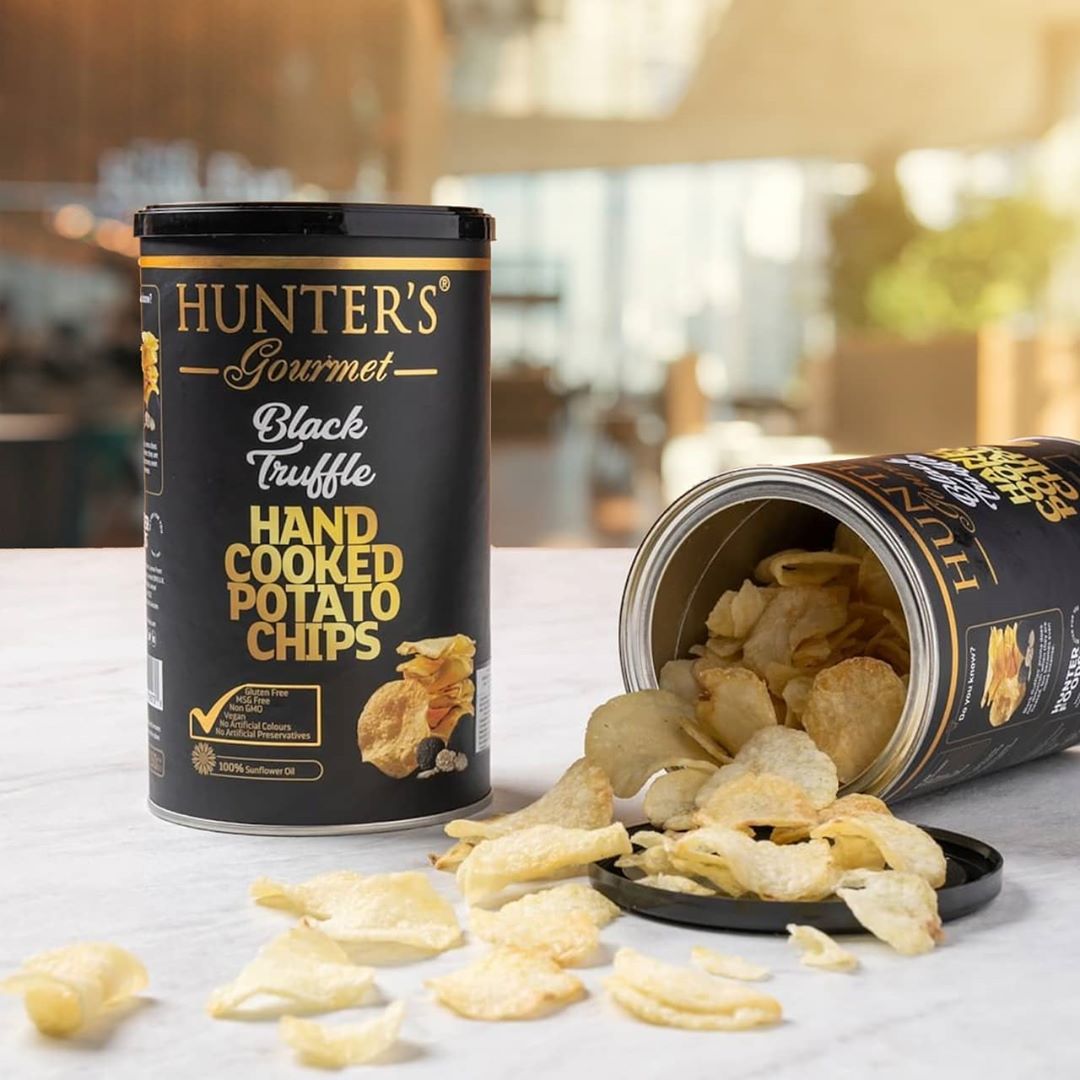 Image credit: @hunterfoods
We'll round off this truffle chips lineup with Hunter's Gourmet. Their signature Black Truffle Hand Cooked Potato Chips ($12.50) is presented in a classy black can, all the better for ensuring the chips avoid getting crushed. These non-GMO, vegan crisps are free of cholesterol, gluten, trans fat, MSG, artificial colourings and preservatives and trans fat! That's almost guilt-free, we think.
Take the lid off a can of Hunter's Gourmet Black Truffle Hand Cooked Potato Chips and allow yourself to bask in the earthy aroma of black truffle before savouring the crisps.
Drop by any NTUC FairPrice outlet to buy yourself some. These truffle chips are also available on Shopee and Lazada.
---
Best Truffle Potato Chips In Singapore
---
Stock up your cupboard with these chips and choose your favourite. If the smell of truffle drives you wild, we hope this list will help you sort yourself out. Happy snacking!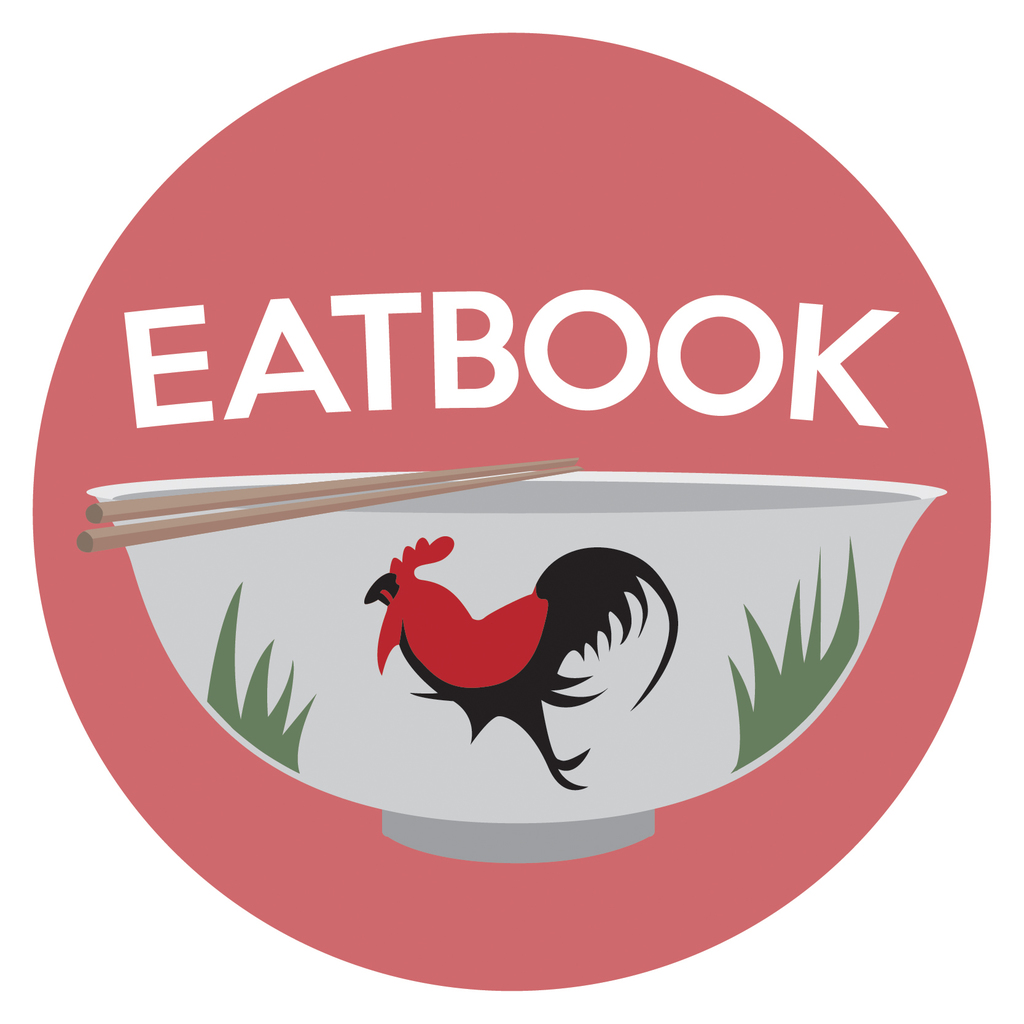 Drop us your email so you won't miss the latest news.