Youtiao and appam at Uncle Dough
Update: Uncle Dough is now permanently closed.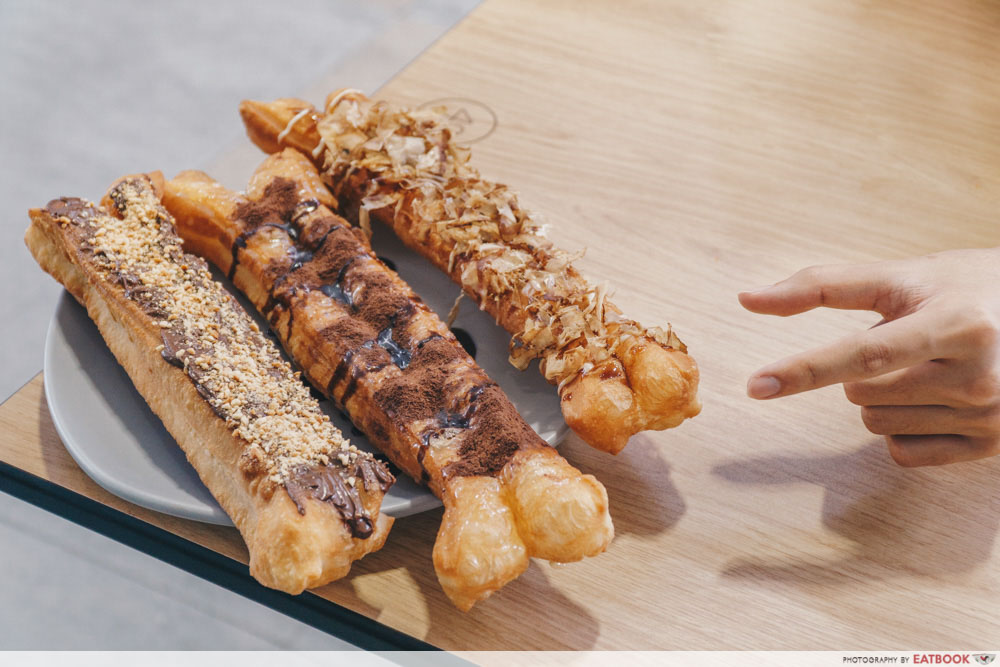 Youtiao is a snack that we're all familiar with. It's typically an affordable and simple snack, used to soak up soup and soybean pudding at times. But Uncle Dough at Yishun Park Hawker Centre has a different idea for the classic pastry. The stall hand-makes their pastries from scratch, and the owners aim to put a unique spin to their dishes by adding all sorts of special flavours to their youtiao.
The dough is rolled out and pressed into shape, before being deep-fried in vegetable oil. It expands from pieces of dough into large and crispy golden-brown pastries. We got to sit in the kitchen and watch the whole process take place, and it was interesting to see the transformation from raw dough to an edible snack.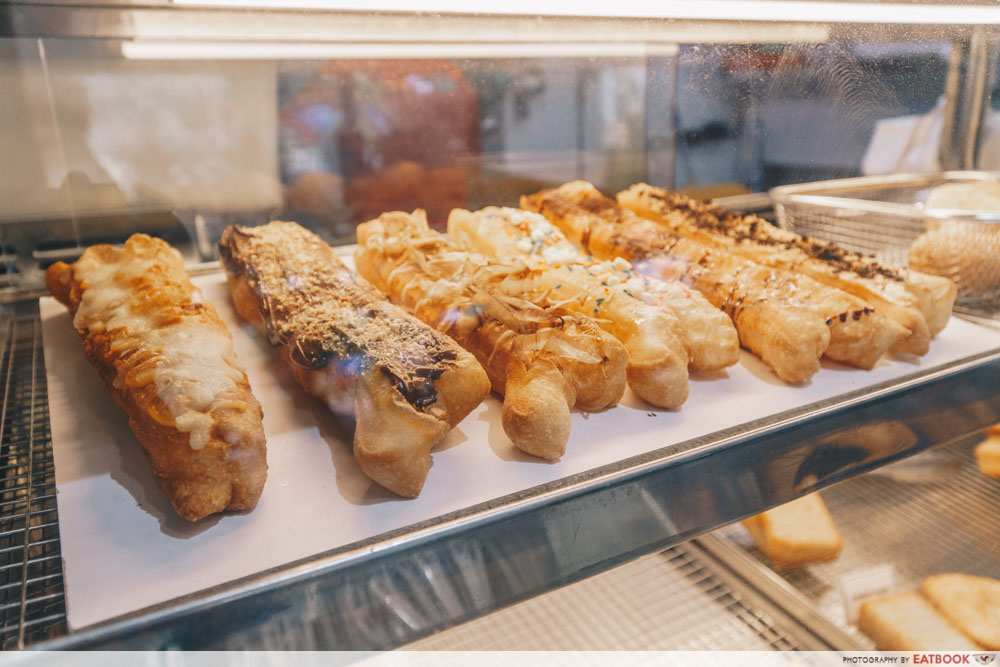 After being fried up, the sticks of youtiao are set up for display. There are four main flavours of youtiao, along with the original one. The stall also has other small bites such as Appam ($2.50 for two) and Butterfly Buns ($1). 
Food at Uncle Dough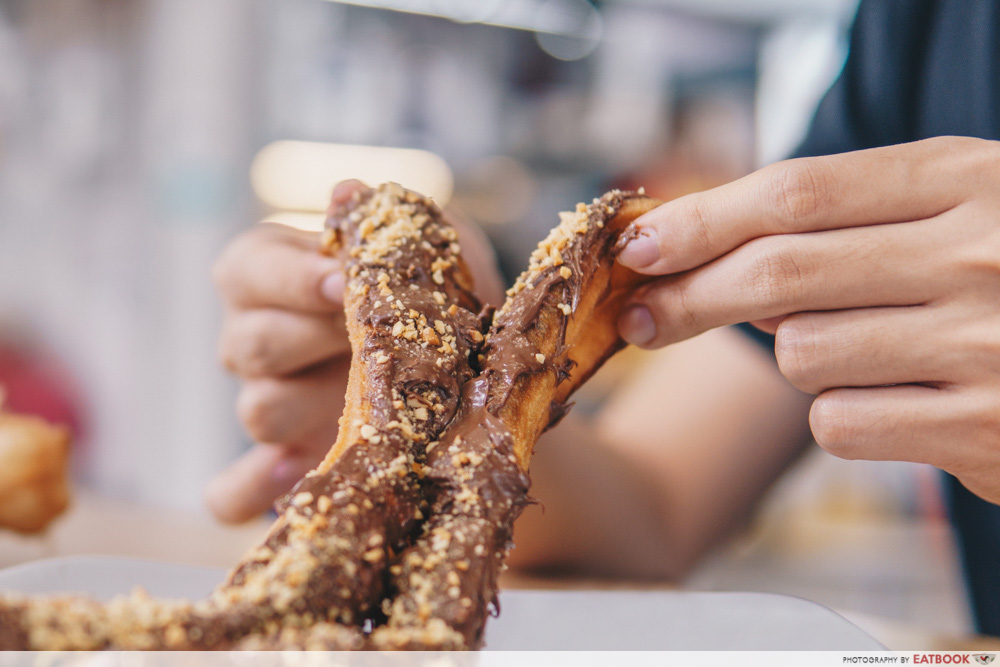 Our first choice was the Nutella & Nuts Youtiao ($2.20). The stall buys their Nutella in huge tubs, and they're very generous with it. After the pastry was coated in Nutella, it was sprinkled with chopped nuts for an extra crunch.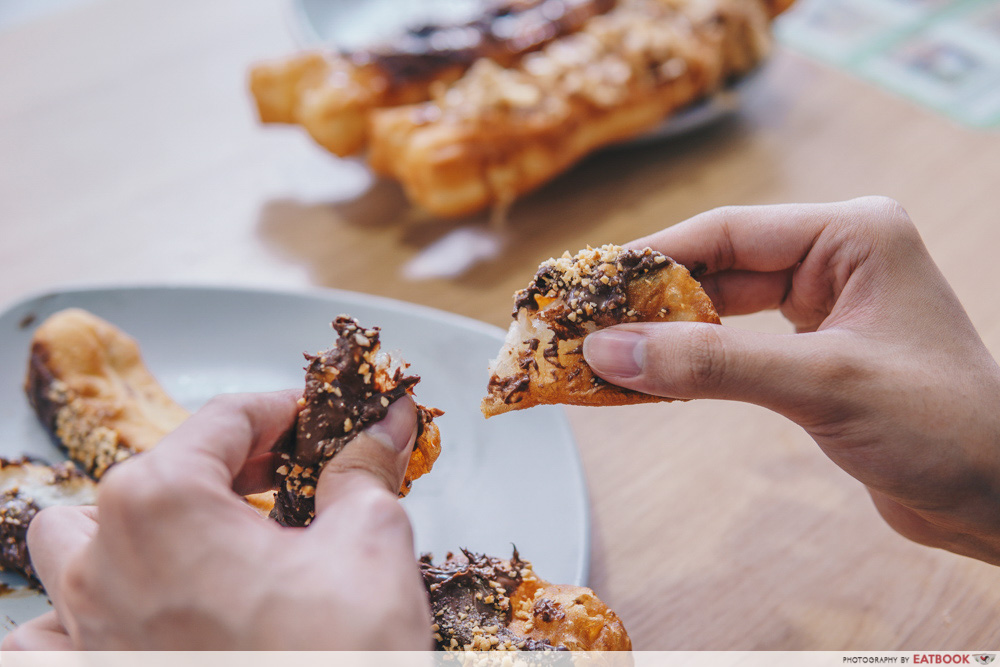 The youtiao itself was fresh out of the fryer and crispy on the outside, yet airy on the inside. It was easy to pry apart while warm. The only thing I noted was that the inside was fluffier than I was used to, but it wasn't anything groundbreaking, especially when compared to youtiao at typical stalls.
The Nutella didn't pair well with the youtiao, and there was a bit of a conflict in texture. While the Nutella was creamy, it didn't stick to the dough at all and would just fall off. However, if you're a die-hard Nutella fan, you might like the generous portions that were slathered on this rich snack.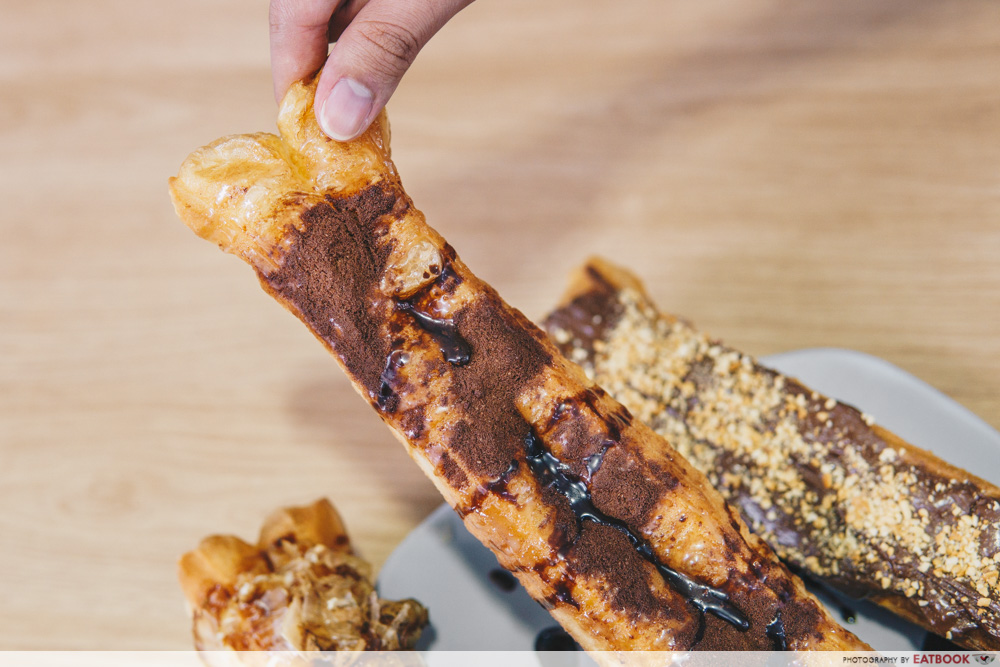 Next, we got the Milo Dinosaur Youtiao ($2.20), which had a generous dusting of Milo powder sprinkled over it. It's then drizzled with a thick lashing of chocolate syrup. Like the others, it was a pretty decent size, though I didn't think something as simple as Milo powder was worth the added cost for a youtiao. 
The Milo powder was a bit too light to flavour the youtiao properly. The ratio of dough to chocolate was way too high, and the powder had trouble sticking to it. Unlike something like a churro, where sugar can completely coat the dough, the youtiao didn't go very well with the Milo powder.
Seafood Pirates Review: $3 Oyster Omelette Rice And Seafood Ramen At Yishun Hawker Centre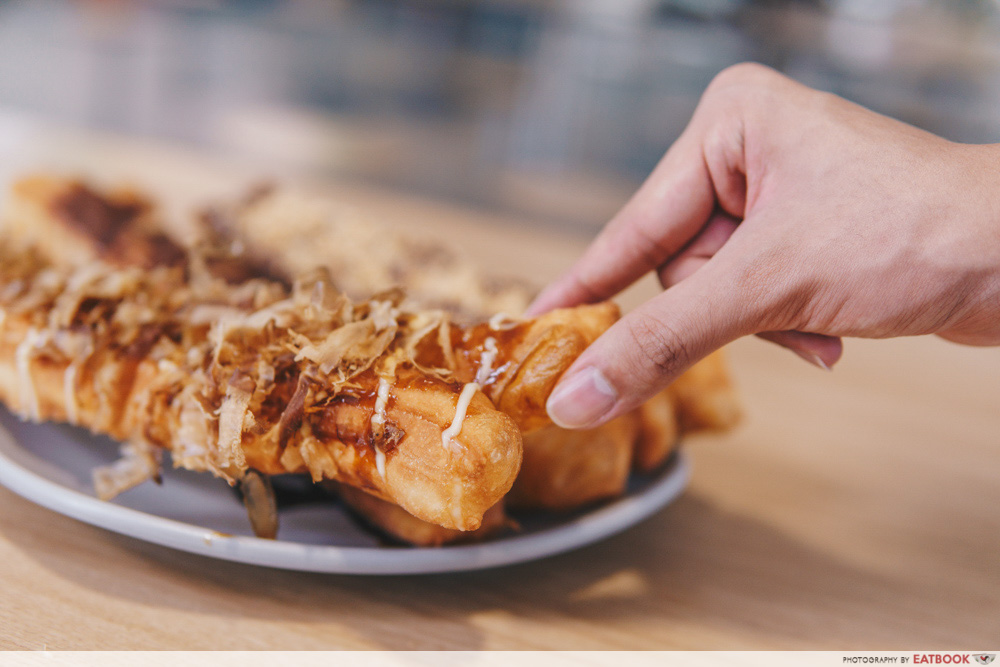 The last youtiao flavour we got was the MayoTako ($2.20), which resembles takoyaki. It came with a drizzling of takoyaki sauce, mayonnaise, and had a generous amount of bonito flakes sprinkled on top. I thought it was a rather clever concept, and it was pretty close to the flavour of real takoyaki—minus the seafood, of course.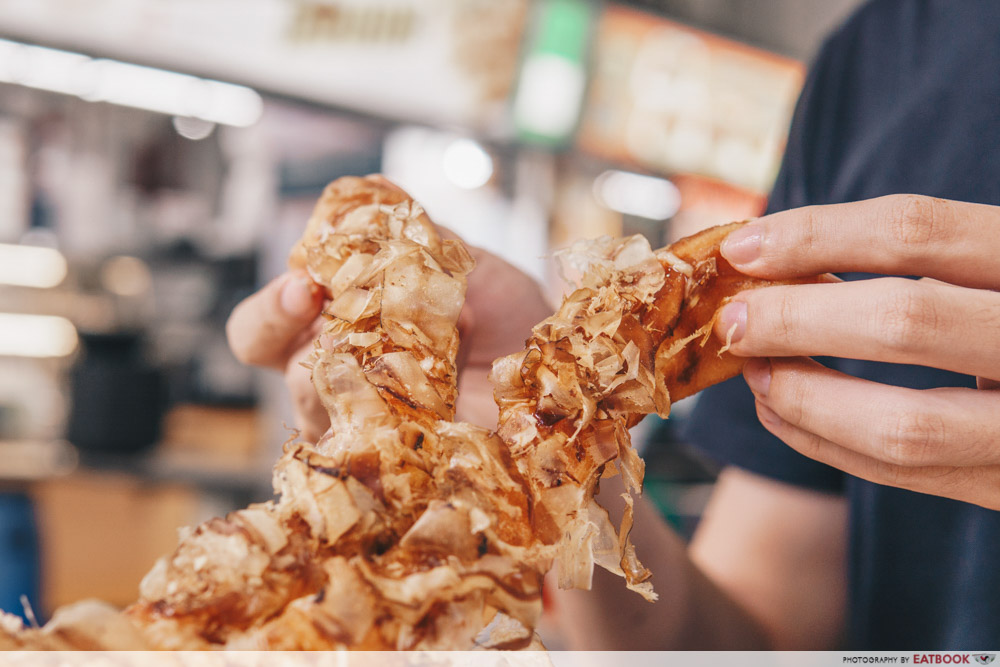 The savoury sauce and mayo went well with the deep-fried dough. The thin bonito flakes helped to add their own salty and umami taste to it. I thought it was a far better fit than chocolate, and this one ended up being my favourite of the three. If the MayoTako is anything to go by, the other savoury option—Cheesy Youtiao ($2.20)—probably won't disappoint. 
We were intending on tasting their Onde Onde Appam ($2) too, but unfortunately, they didn't have them on hand that day. The dish is only available on weekends, so plan your trip well if the appam catches your interest. I've heard good things about it in reviews, and regret that I didn't get to try it. 
Ambience at Uncle Dough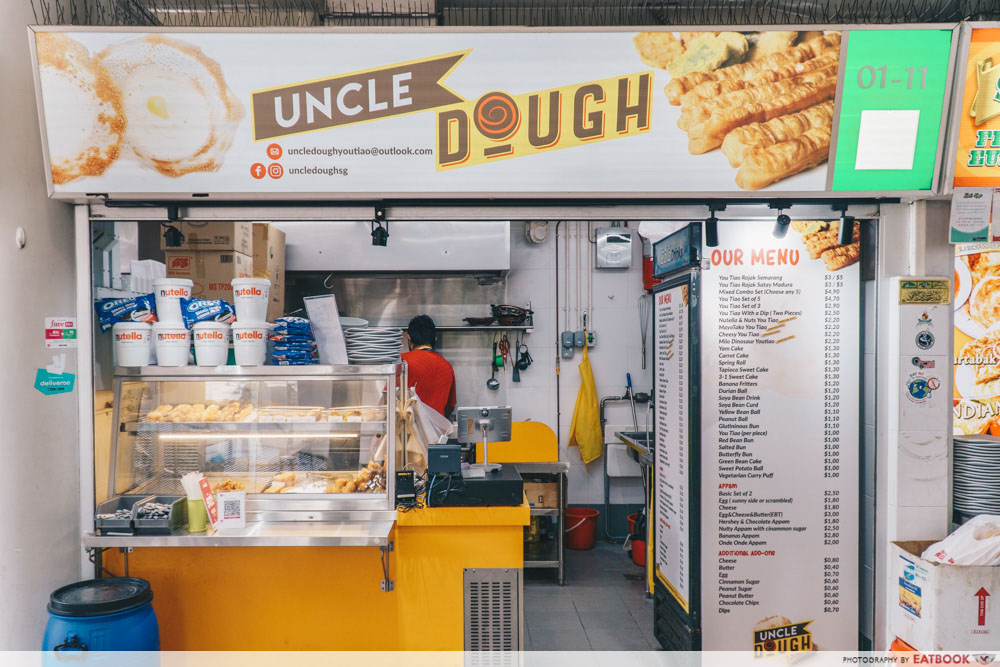 Uncle Dough is part of Yishun Park Hawker Centre. The whole place is known for its variety of stalls with fusion cuisine and modern twists on traditional food. Uncle Dough is one of these stalls. You can reach Yishun Park Hawker Centre via a short 10-minute bus ride from either Yishun Bus Interchange or a five-minute ride from Khatib MRT Station. Events take place there regularly, and they have modern conveniences such as automatic tray returns.
The verdict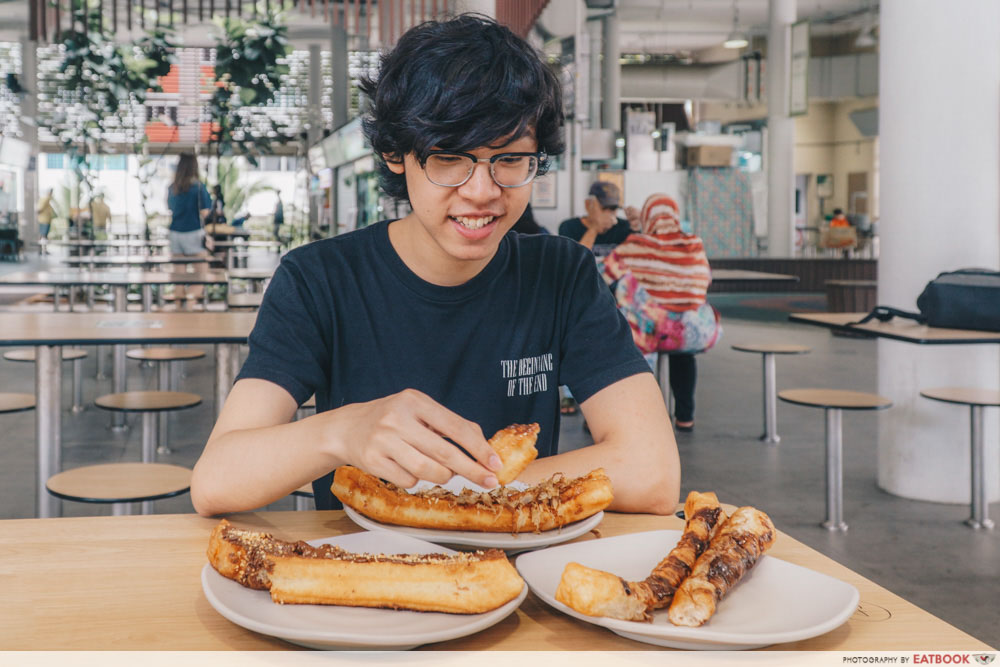 While the concept was interesting, I didn't think the youtiao was anything special. The Nutella and Milo Dinosaur ones weren't exactly my cup of tea either, though I liked the MayoTako and thought  it was quite a clever combination. It probably won't be worth going all the way down to Uncle Dough solely to try the youtiao, but if you live in the area, why not give it a try?
For more food in Yishun Park Hawker Centre, check out Shaker Lakers, a Western fusion stall helmed by an Irish chef! Or check out Tong Xin Ju, another hawker stall that sells handmade delights at Maxwell Food Centre.
Shaker Lakers Review: Ex-Marche Chef From NYC Opens A Western Food Stall At Yishun
Address: 51 Yishun Avenue 11, #01-11, Yishun Park Hawker Centre, Singapore 768867
Opening hours: Tue-Fri 7am to 4pm, Sat 7:30am to 2:15pm, Sun 7:30am to 2:30pm
Tel: 9015 1524
Website
Uncle Dough is a halal-certified eatery.
Photos taken by Kurtis Ma.
This is an independent review by Eatbook.sg.
Summary
Pros
– MayoTako youtiao was flavourful
– Youtiao is handmade and fresh
Cons
– Pricey for youtiao standards
– Sweet toppings don't go well with the youtiao
Recommended dishes: MayoTako Youtiao ($2.20)
Opening hours: Tue-Fri 7am to 4pm, Sat 7:30am to 2:15pm, Sun 7:30am to 2:30pm
Address: 51 Yishun Ave 11, #01-11, Yishun Park Hawker Centre, Singapore 768867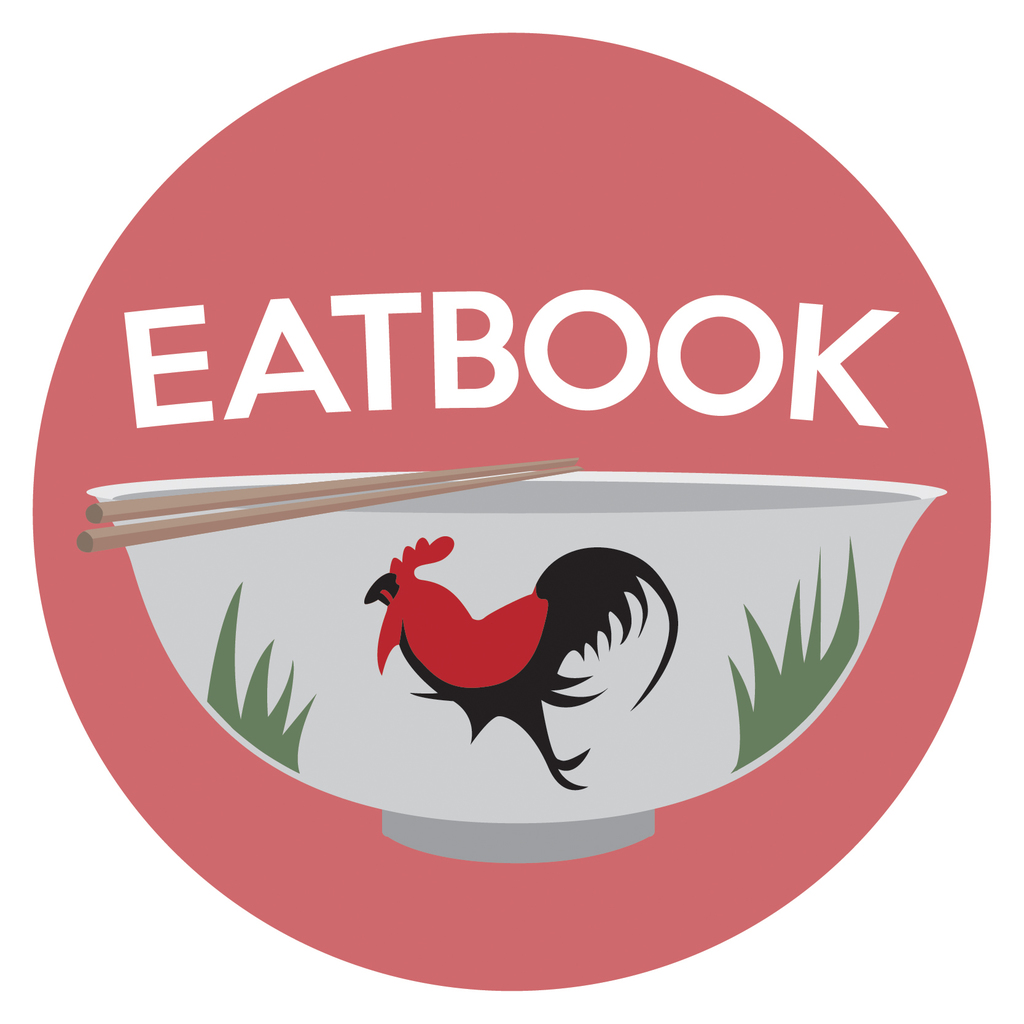 Drop us your email so you won't miss the latest news.