---
Unique claypot dishes around Singapore
---
Claypot rice and porridge are common dishes found in most hawker centres and food courts. Fighting with my siblings for the charred bits at the bottom of the claypot was basically my childhood. I don't know why, but food served in a claypot never fails to be more delicious and fragrant. And thankfully, other than rice and porridge, there are many more claypot dishes I can take pleasure in. Here are my top picks of scrummy claypot dishes that are not claypot rice and porridge.
---
1. Claypot Tom Yum
---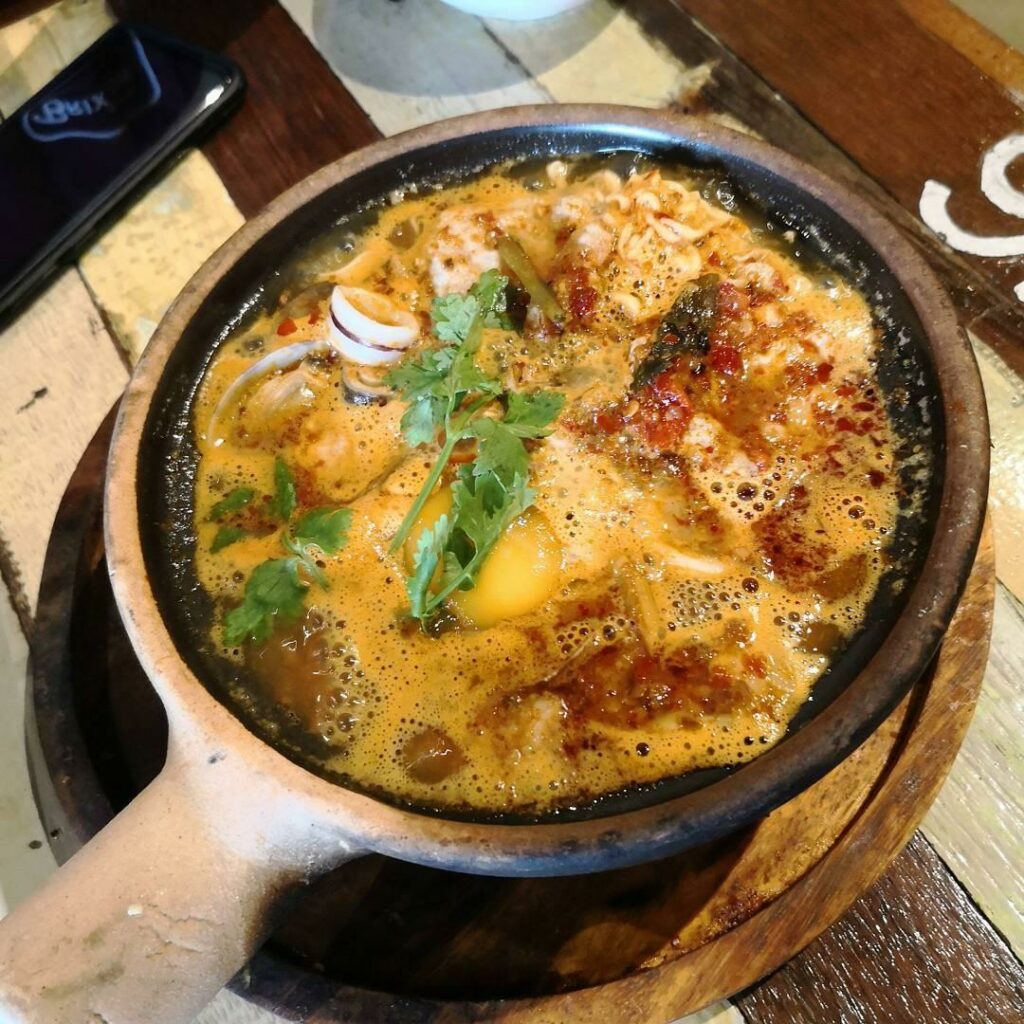 Image credit: @travelbellies
A similar concept to Bangkok's famous Jeh O Chula, which is known for their Tom Yum Mama in a pot, Tomyum Mama allows customers to personalise the spiciness and sourness of their Signature Tomyum Mama Claypot ($12.90). Watching the fiery red soup brimming with seafood bubble away in the claypot always makes me hungry. This is best shared between two to three people, and will make for a satisfying meal.
Check out our full review of Tomyum Mama!
Address: 244P Upper Thomson Road, Singapore 574369
Opening hours: Mon-Fri 12pm to 3pm, 5:30pm to 11pm, Sat-Sun 12pm to 11pm
Tel: 8687 9990
Website
---
2. Claypot Yong Tau Fu
---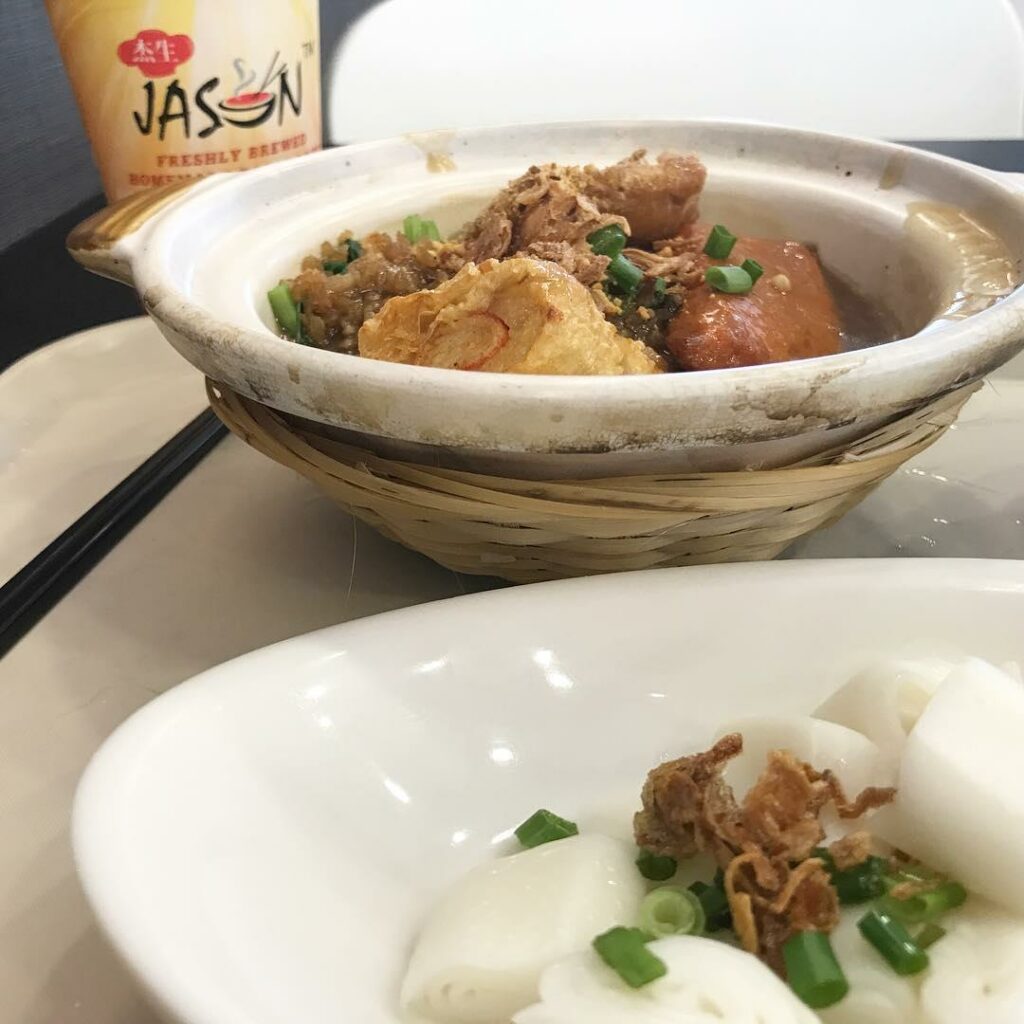 Image credit: @yatzerooni
Yong tau fu is a common dish in Singapore, but claypot yong tau fu is a pretty rare sight. At halal-certified Jason Niang Dou Fu, your YTF picks ($0.90 each, with a minimum order of five pieces) will be served in a claypot and drenched in a rich, savoury sauce that's peppered with crunchy chye poh. There are over 50 different items to choose from, so you will definitely be spoiled for choice. The stall also offers chee cheong fun in place of rice and noodles.
Address: 321 Beach Road, Singapore 199557
Opening hours: Mon-Sat 10am to 7pm
Tel: 6444 4309
---
3. Claypot Sesame Oil Chicken
---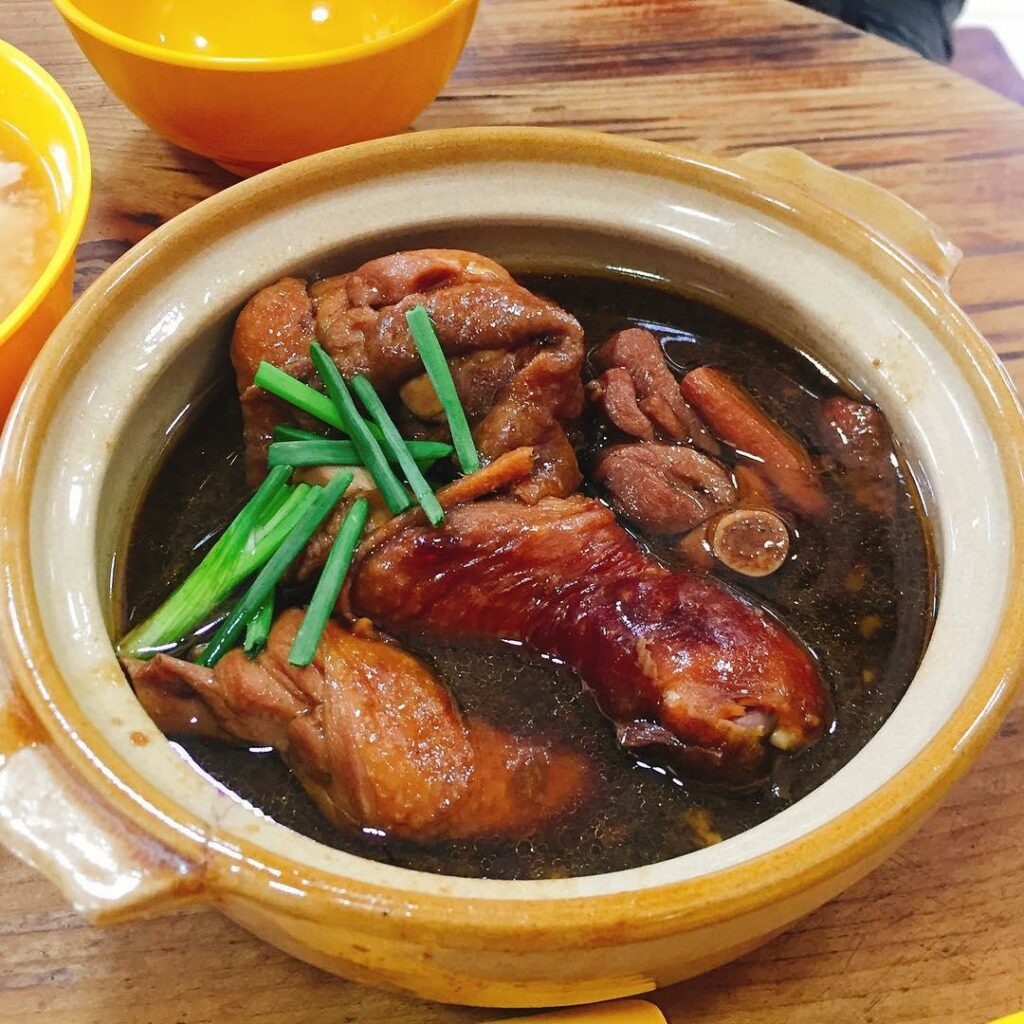 Image credit: @allabouteatgoodfeelgood
Even though Mun Chee Kee is best known for their pig's organ soup and lu rou fan, their Claypot Sesame Oil Chicken ($7) is a dish not to be missed. The meat is tender and falls off the bone effortlessly. A sip of the fragrant gravy brings along a wave of nuttiness from the sesame oil, and will make you crave another spoonful of the dark stew. Remember to request for more gravy upon ordering so that you'll walk out feeling satisfied!
Address: 207 Jalan Besar Road, Singapore 208893
Opening hours: Daily 10am to 5am
Tel: 9876 3838   
---
4. Claypot Assam Fish
---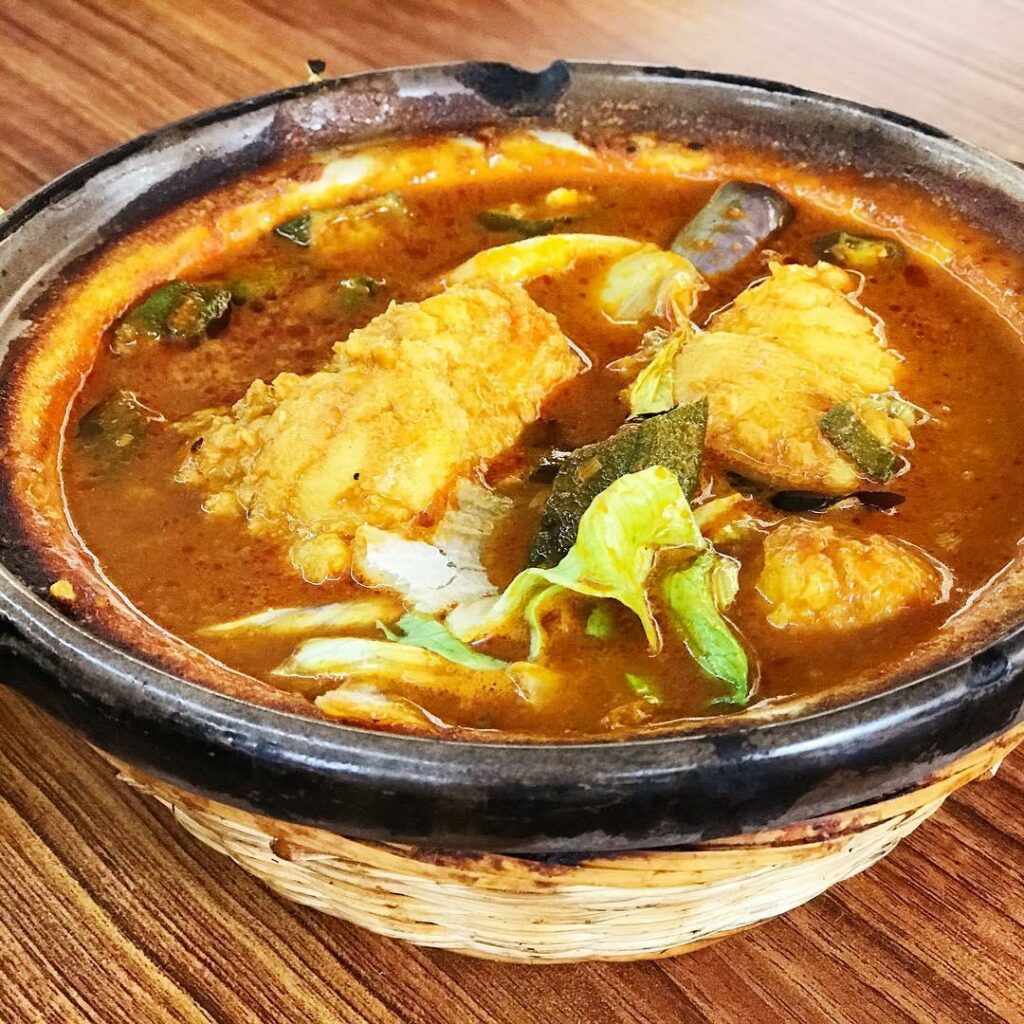 Image credit: @sengcgoh
Good assam fish has to embody a combination of sour and spicy elements. And Claypot Delights has managed to find the ideal balance in their Claypot Assam Fish ($4). The generous portion of fresh, tender, and flaky fish perfectly soaks up the spicy and tangy gravy, and goes best with a bowl of white rice ($0.50). If assam fish is not for you, Claypot Delights also offers other claypot dishes like Claypot Vinegar Pig Trotter ($4) and Claypot Bittergourd Pork Rib ($4).
Address: 23 Kallang Avenue, Yew Yi Hup Kee Eating House, Singapore 399414
Opening hours: Mon-Fri 10am to 5pm
---
5. Claypot Steamboat
---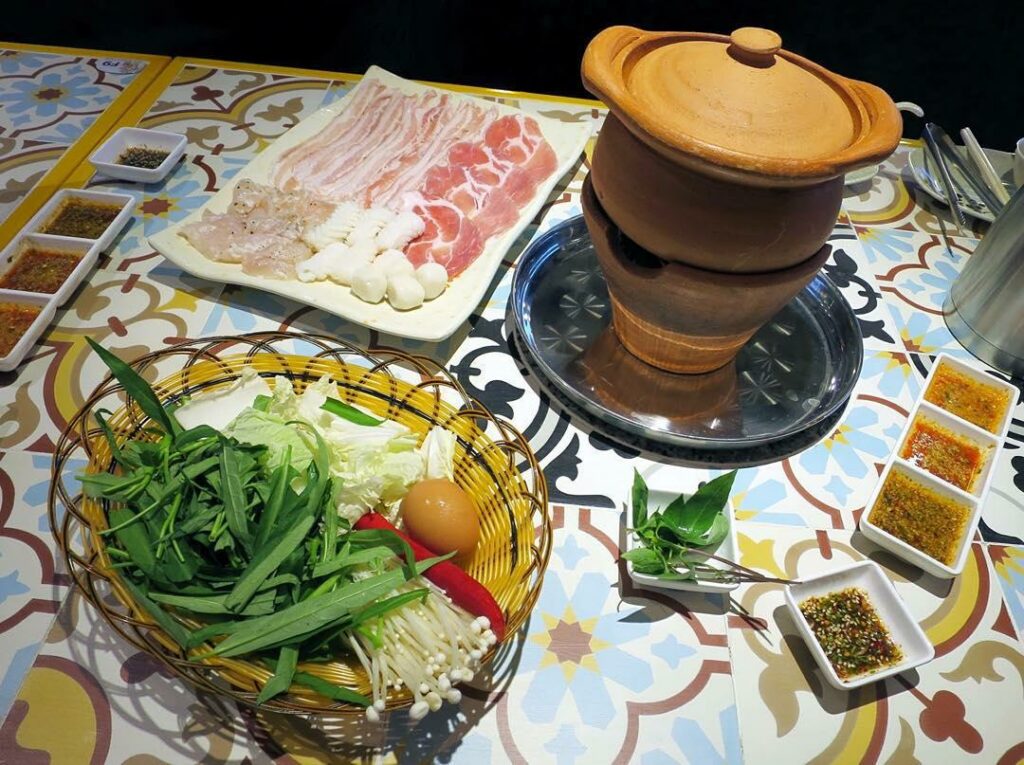 Image credit: @orto.sg
Available at Aroy Jing Jing is Jim Jum Claypot, a popular dish that originated from the Northeastern region of Thailand. Aroy Jing Jing serves this claypot steamboat as part of their Mookata and Seafood Buffet dinner ($35++ Mon-Thur, $38++ Fri-Sun, eve of PH & PH). The use of charcoal gives the chicken broth a robust smokiness that makes it super addictive. The soup is also available for refills. Thai food is nothing without some heat, and Aroy Jing Jing offers their three-level spicy chilli sauce to go with the steamboat.
Address: 81 Lor Chencharu, #01-05, ORTO, Singapore 769198
Opening hours: Mon-Thur 5pm to 11am, Fri 5pm to 1am, Sat-Sun 3pm to 11pm
Tel: 6257 2328
Website
Menu
---
6. Claypot Chicken Steamboat
---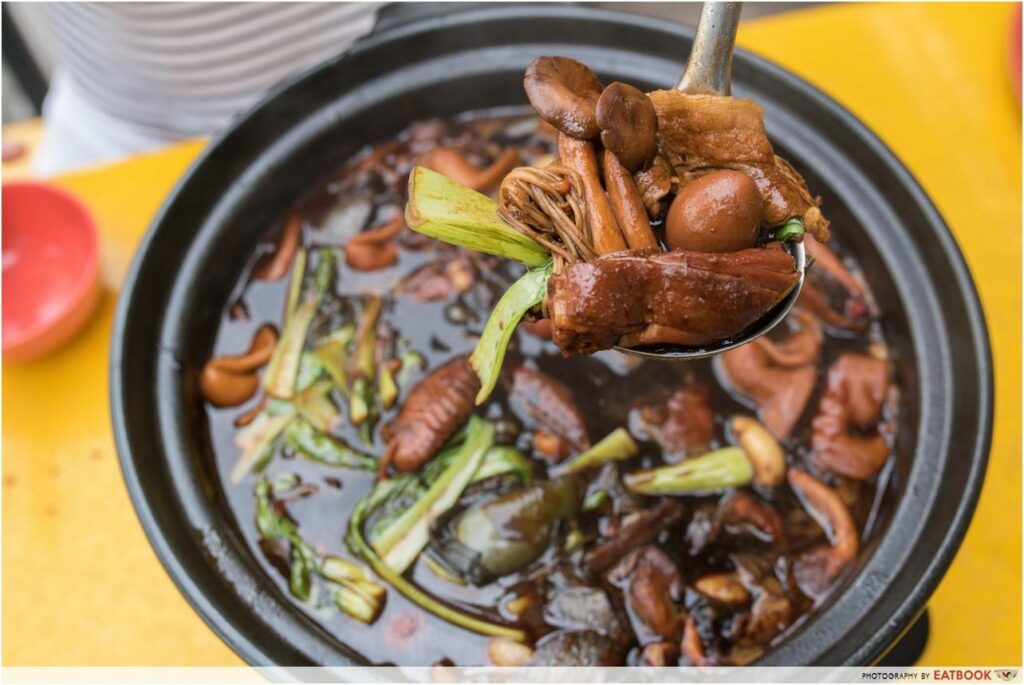 Available at Qi Xiang Chicken Pot, the Qi Xiang Chicken Pot ($26.90 for half chicken, $37.90 for whole chicken, $25.90 for two drumsticks) uses a dark soy sauce-based chicken broth that's different from the clear chicken broth most of us are used to. The spiciness of the broth is customisable to suit everyone's taste buds, so you can either turn up the heat or enjoy a mellow soup base. The broth has a pleasant herby tang that will have you lapping it off your spoon, unable to stop.
Check out our full review of Qi Xiang Chicken Pot!
Address: 973 Upper Serangoon Road, Singapore 534725
Operating Hours: Daily 4pm to 1 am
Tel: 8458 1921
---
7. Claypot Bak Kut Teh

---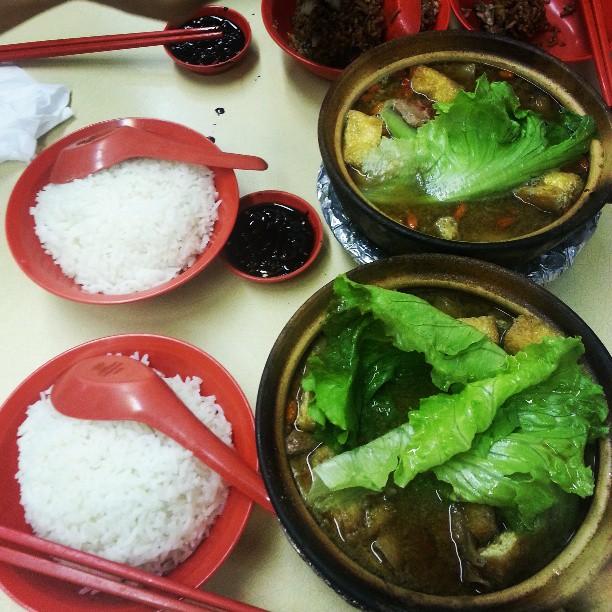 Image source: @katgoh
Song Ji Claypot Bak Kut Teh does the Klang-style of herbal bak kut teh, instead of the peppery version we are so accustomed to. In the claypot you will find bak, lettuce, enoki mushroom and tau pok. Forego your bowl of rice and order their Claypot Bak Kut Teh Mee ($5); the noodles soak up the earthy broth really well. They also offer Sesame Oil Chicken ($5.50) and Pigs Tail Soup ($6), along with many other claypot dishes. We recommend not coming down during the late afternoon though, as the owner of the stall is known to leave for a while to purchase a new batch of herbs to cook her BKT for the dinner service.
Address: Block 803 King George's Avenue, Singapore 200803
Operating Hours: Daily 11am to 10pm
---
8. Lau Wang Claypot Delights

---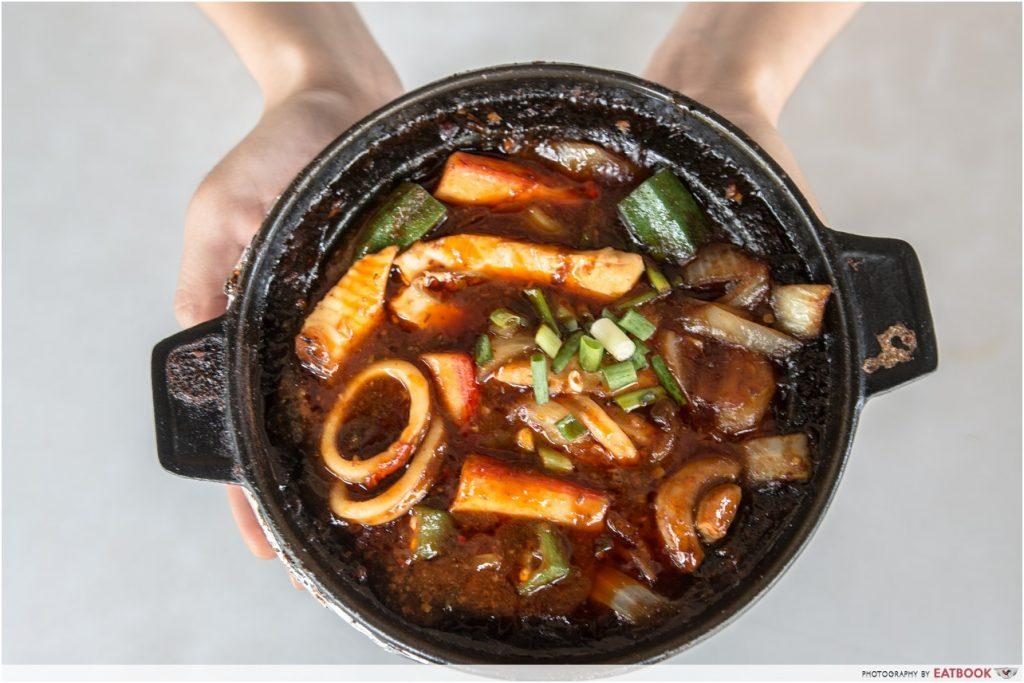 Located just a short walk away from NEX Shopping Centre, Lau Wang Claypot Delights serves up an array of claypot dishes including this Sambal Seafood ($7). The picante gravy clings onto each ingredient, and you can expect a red-hot heat creeping up on you with each bite. If you can't take the spice, Lau Wang Claypot Delights also serves up a mean bowl of Herbal Fish Soup ($5.50) and a crowd-favourite, Sesame Chicken ($4.80/$6.80).
Check out our full review of Lau Wang Claypot Delights!
Address: 263 Serangoon Central Drive, #01-43, Singapore 550263
Opening hours: Daily 11am to 9:45pm
Tel: 9001 0841
---
Switch up your claypot meals!
---
I don't know what it is, but food in claypots generally taste better. In addition to that, it helps that the rustic-looking pot makes the dish even more aesthetically pleasing. For more claypot goodness, check out these claypot chicken rice dishes!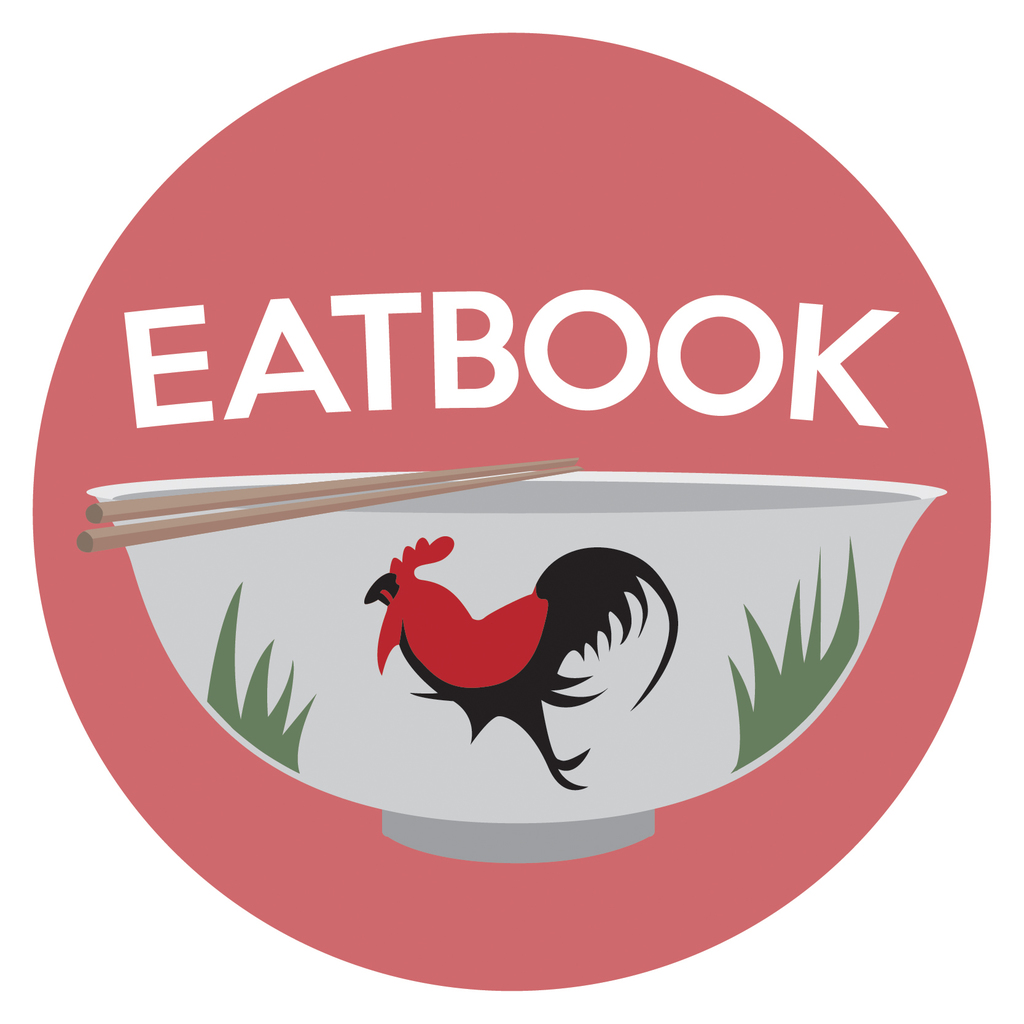 Drop us your email so you won't miss the latest news.