---
Unique laksa stalls in Singapore
---
Whenever I think of laksa in Singapore, my mind immediately goes to Katong Laksa. The brand name has become synonymous to the lemak noodle dish, which commonly comes filled with silky rice noodles, tau pok, cockles and fish cakes. While this classic dish remains popular, many renditions of laksa has since popped up. Check out these 10 unique laksa stalls that differ from the usual Katong laksa.  
---
1. Woo Ji Cooked Food
---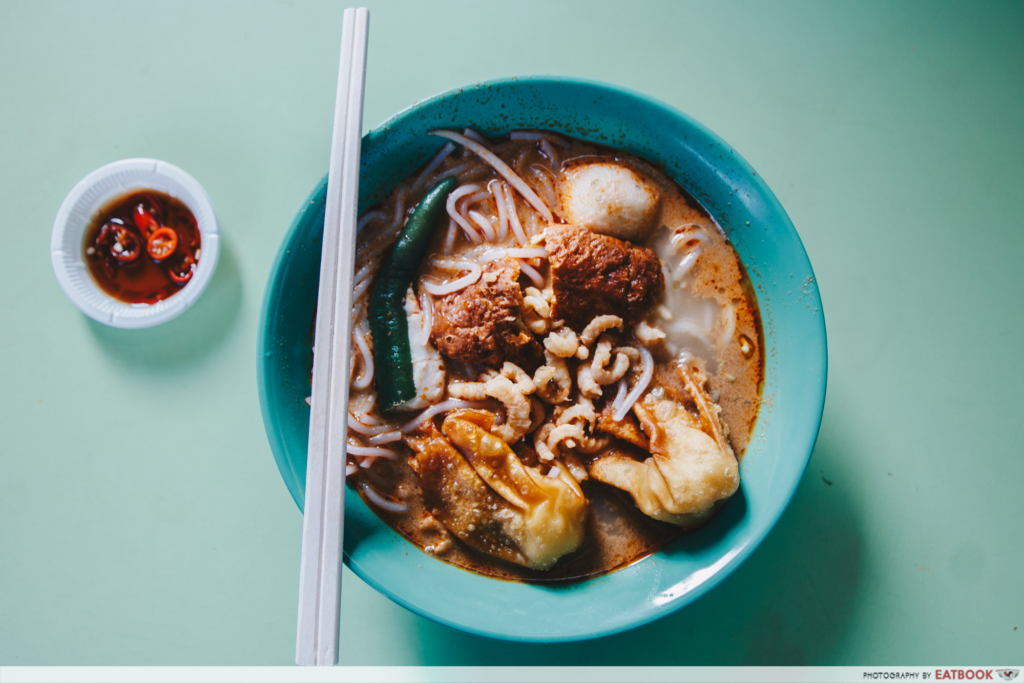 At just $2 a bowl, Woo Ji Cooked Food is in the running for dishing out the cheapest laksa in town. Their laksa differs from the classic, with ingredients comprising fried wontons, tau pok, stuffed green chilli, and fishball. Commendable was the piquant laksa broth – it was not too milky or oily, and left a tingling sensation on our tongue.
Woo Ji Cooked Food Review: Laksa With Fried Wontons At $2 At Chinatown Complex
Address: 335 Smith Street, #02-056, Chinatown Complex Market & Food Centre, Singapore 050335
Opening hours: Wed-Sun 6am to 10am
---
2. Hong Heng Beef Noodles
---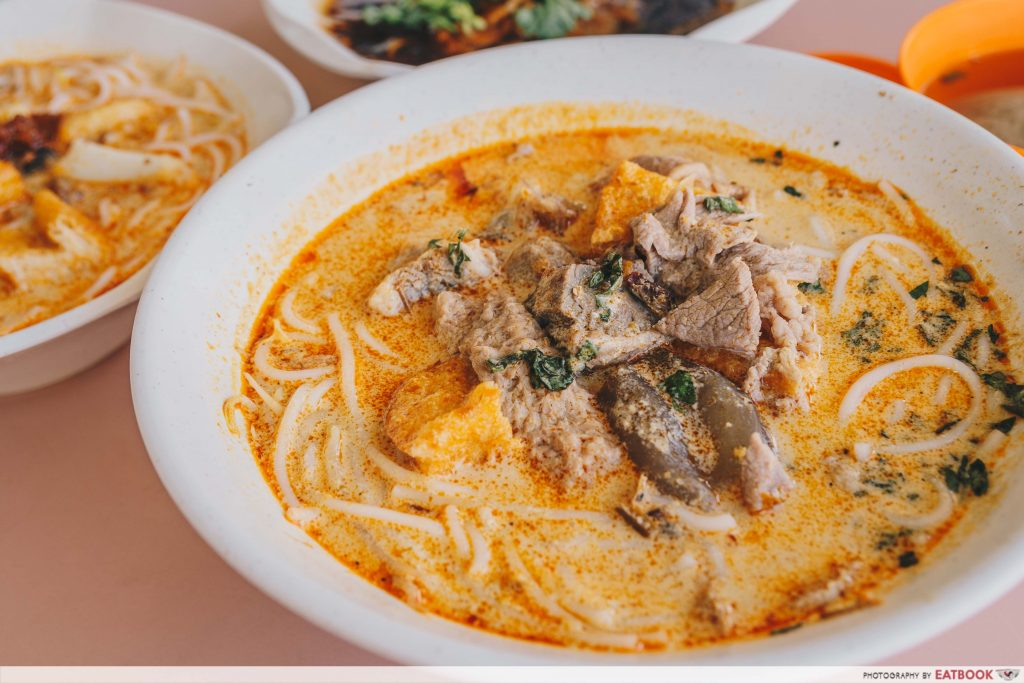 Carnivorous diners who can't live without meat must try Hong Heng Beef Noodles' Mixed Beef Laksa ($5.50). Swapping cockles for slices of tender beef, tendon and tripe, the laksa surprisingly works – it was beefy yet coconutty at the same time. Like tau pok, the beef offal acted as the perfect vessel for the soup, bursting with flavour as we bit into it.
Hong Heng Beef Noodles And Laksa Review: Beef Laksa Stall At Ang Mo Kio
Address: 226H Ang Mo Kio Street 22, #01-16, Kebun Baru Market & Food Centre, Singapore 568226
Opening hours: Tue-Sun 11am to 3pm, 6.30pm to 10pm
Tel: 6368 6927
---
3. Jenggood Jom Makan
---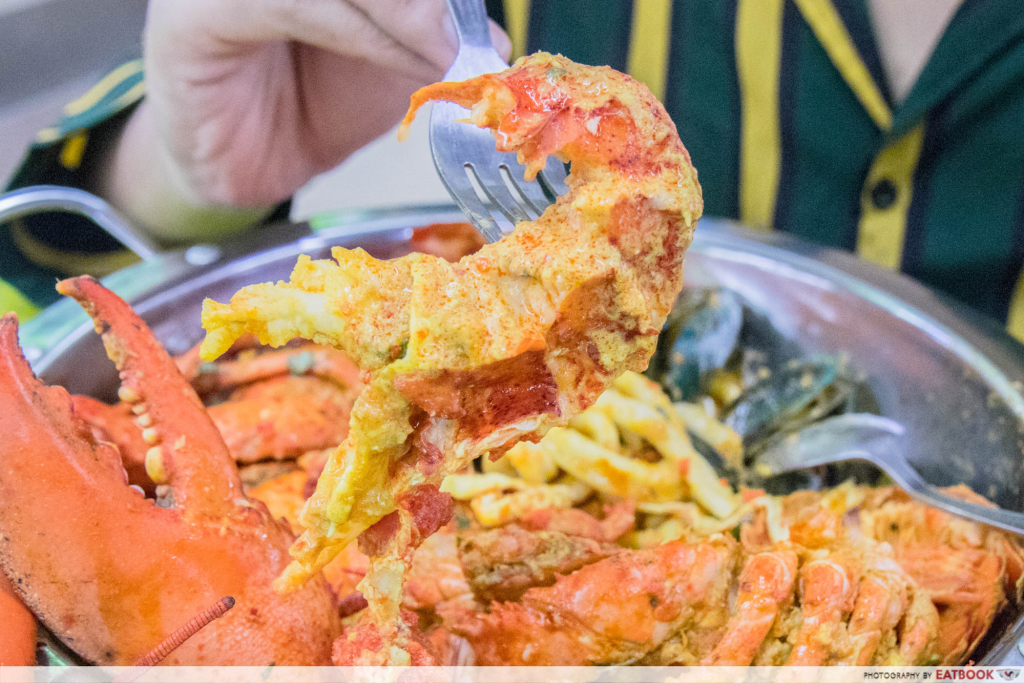 Up your laksa game at Jenggood Jom Makan. The humble hawker stall is best known for their Laksa Lobster Deluxe ($34.90), or Lakster for short. Served in a silver pot, the scrumptious dish features a shallow pool of laksa broth that's topped with chewy udon noodles, a whole Boston lobster, prawns, mussels and squid. While it lacks a certain fiery oomph, you can easily punch up the dish by adding sambal into the mix.
Jenggood Jom Makan Review: Lobster Laksa Udon Called "Lakster" At A Kopitiam At Jurong East
Address: Blk 49 Teban Gardens Road, Singapore 600049
Opening hours: Mon-Tue & Thur 6:30am to 7pm, Fri-Sun 6:30am to 10pm
Tel: 8722 5341
Website
---
4. Don's Signature
---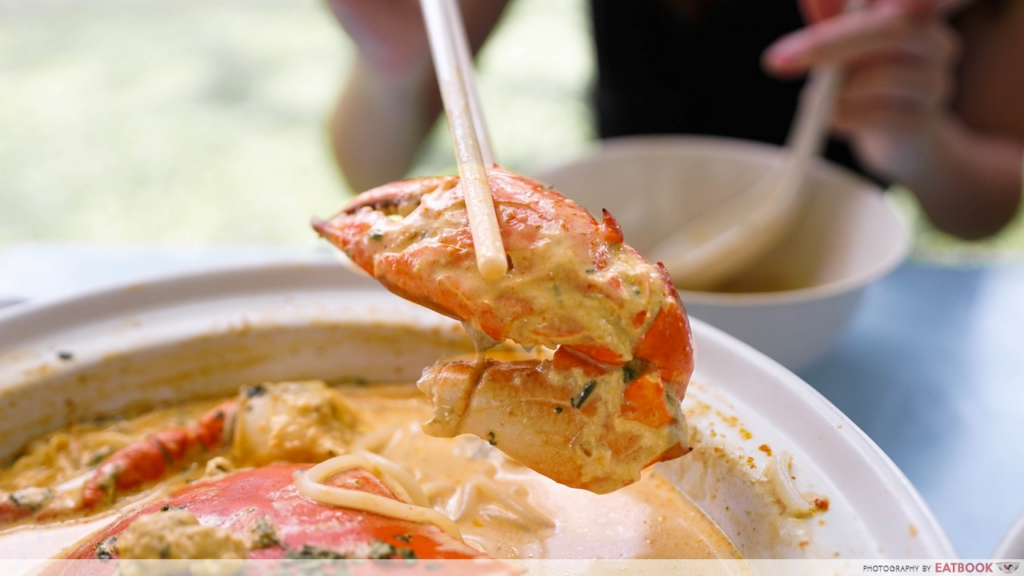 As you lift up the ceramic lid containing Don's Signature Crab Laksa (from $25), you will be greeted with an appetite-whetting aroma of coconut milk. While the broth was a tad cloying to be drank on its own, it made for an ideal coating for the slippery strands of bee hoon and fleshy crab. No good laksa is without tau pok, and biting into the beancurd delivered a gush of creamy goodness.
Don Signature Crab Review: Cheese And Laksa Crab Beehoon At $25 At Toa Payoh
Address: Block 206 Toa Payoh North 1, #01-1197, Singapore 310206
Opening hours: Daily 12pm to 8.30pm
Tel: 9691 6776
Website
---
5. Famous Sungei Road
---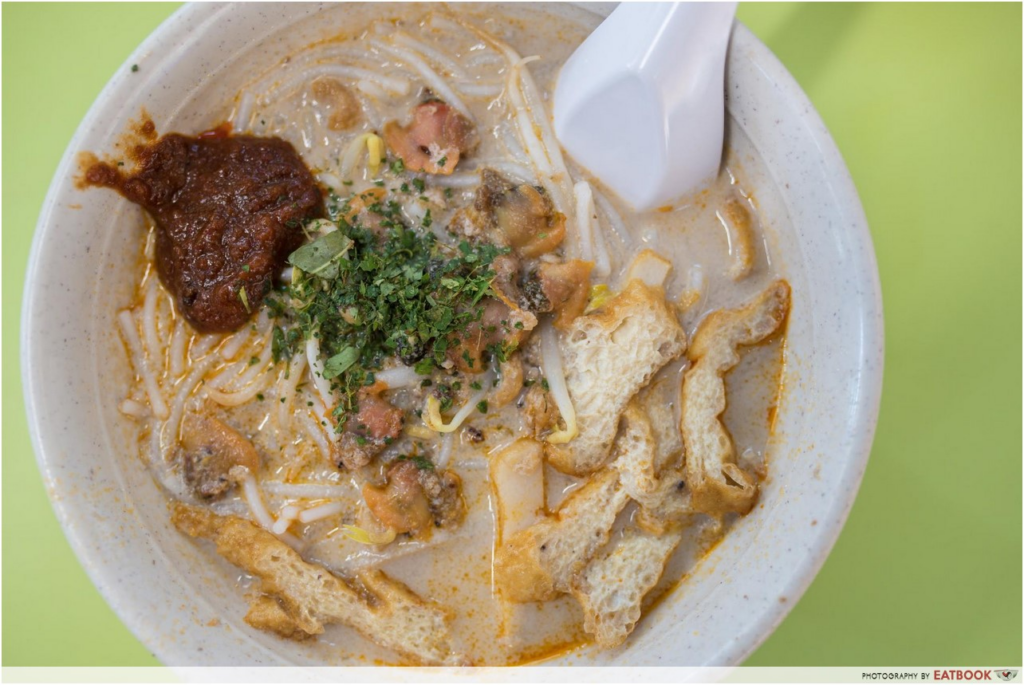 Famous Sungei Road conjures up a healthier alternative to the coconut milk broth. Refreshingly light, their Asia Delight Laksa ($3) doesn't boast the same orange hue as its counterparts – in fact, it looks a little grey and diluted – but is just as delicious. Its punchy taste comes from simmering scallops, dried oysters and dried prawns for two hours, while its invigorating aftertaste is thanks to the addition of fresh coconut juice.
Famous Sungei Road Trishaw Laksa Review: Fruit Juice Mee Siam And Coconut Juice Laksa
Address: 531A Upper Cross Street, #02-66, Hong Lim Food Centre & Market, Singapore 051531
Opening hours: Mon-Sat 11am to 5:30pm
---
6. 928 Yishun Laksa
---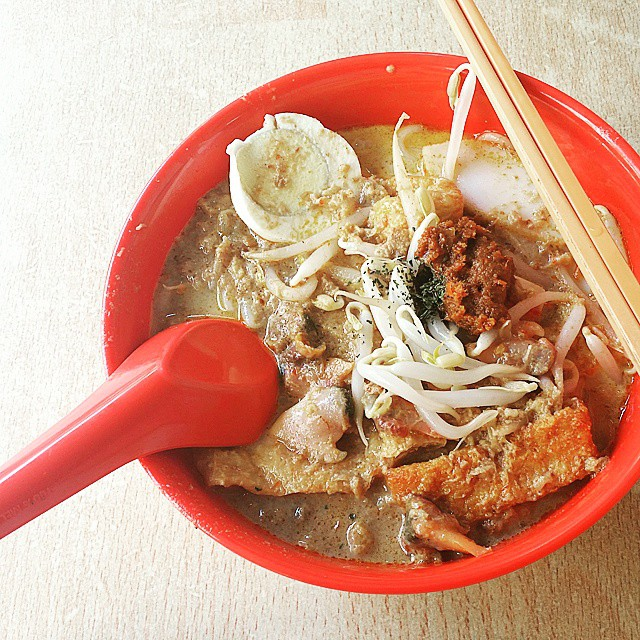 Image credit: @candyxling
If there's one reason you should visit Yishun, it's for 928 Yishun Laksa ($2.80/$3.30). Packed in a bright red bowl, the laksa base isn't too rich and comes topped with tau pok, mussels, crab stick, boiled eggs, fish cakes and bean sprouts. Be sure to add a generous dollop of their chilli, which is loaded with the umami richness of hae bee flavour, into the mix.
Address: 928 Yishun Central 1, #01-155, Singapore 760928
Opening hours: Daily 10am to 7pm
---
7. Janggut Laksa
---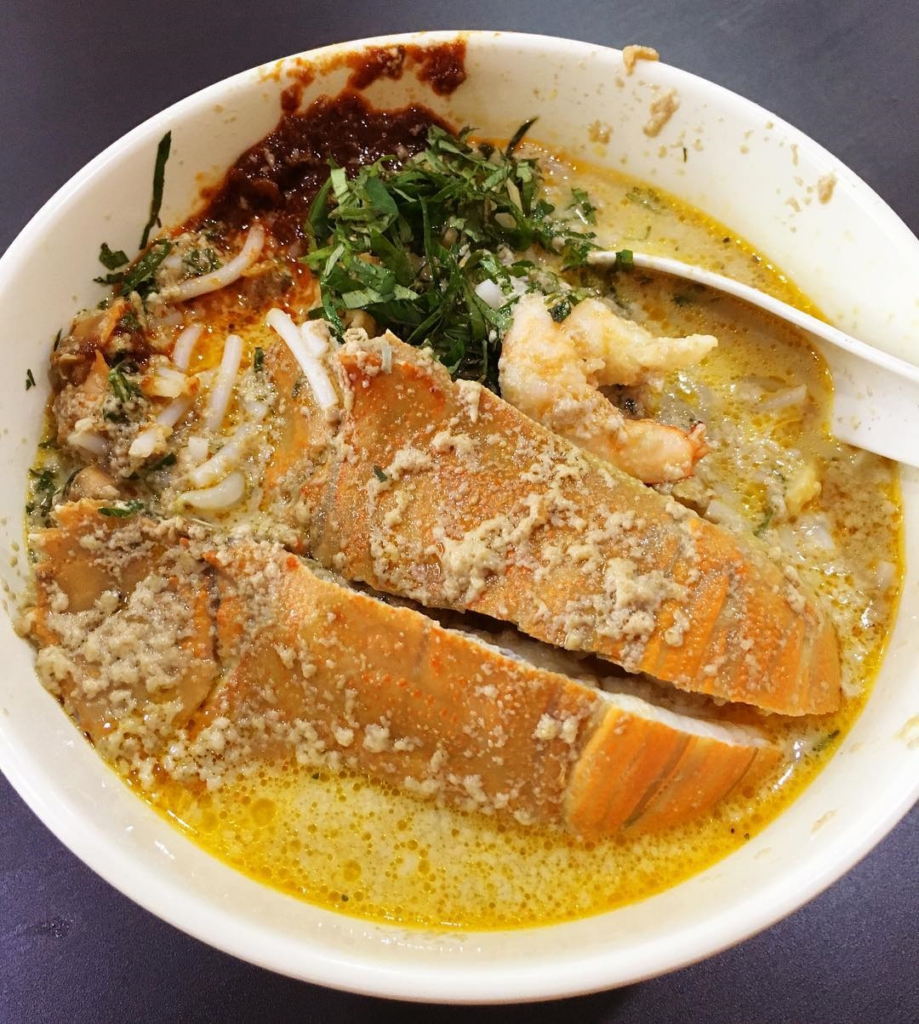 Image credit: @jasbysim
They claim to be the original Katong laksa, and while it's hard to tell the truth, Janggut Laksa does serve up a mean bowl of the coconut-based dish. For an even more decadent meal, order their Laksa with Crayfish (from $9.50). Fret not if you're broke and need to settle for their regular laksa (from $5), as you are still treated to a large number of plump prawns swimming in thick gravy.
Address: 31 Upper Paya Lebar Road, Singapore 534949
Opening hours: Wed-Mon 10am to 9:30pm, Tue 10am to 4pm
Tel: 6203 9526
Website
---
8. Penang Bagus
---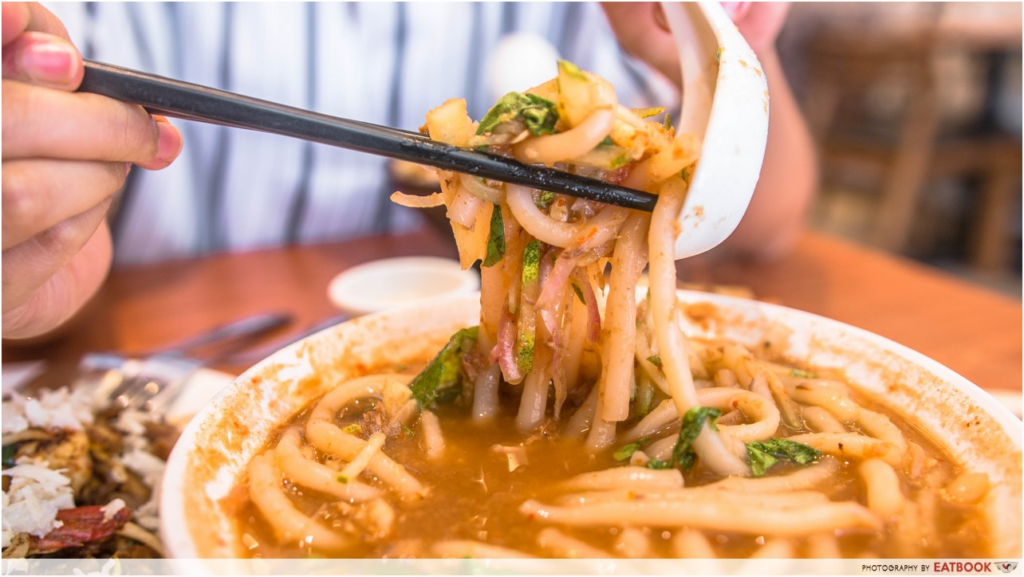 Disclaimer: this is not really unique – it's just Malaysian-style laksa. Nonetheless, if you prefer the tamarind-rich Penang laksa instead of the lemak Singapore version, check out Penang Bagus for their Penang Assam Laksa ($6)! The large bowl is filled to the brim with a pungent soup, thick, smooth strands of rice noodles, onions, sardines and cucumbers. The vegetables add texture, while the topping of mint leaves gave the dish a refreshing aftertaste.
Penang Bagus Review: Salted Egg Char Kway Teow And Bingsu In One Restaurant
Address: 232 Tanjong Katong Road, Singapore 437020
Opening hours: Sun-Mon 11:30am to 10pm, Wed-Thur 11:30am to 10pm, Fri-Sat 11:30am to 11pm
Website
---
Unique laksa in Singapore
---
From laksa filled with crayfish to ones featuring udon, these unique laksa stalls are great if you're bored of Katong laksa. Let us know in the comments if we missed out any unique laksa stalls!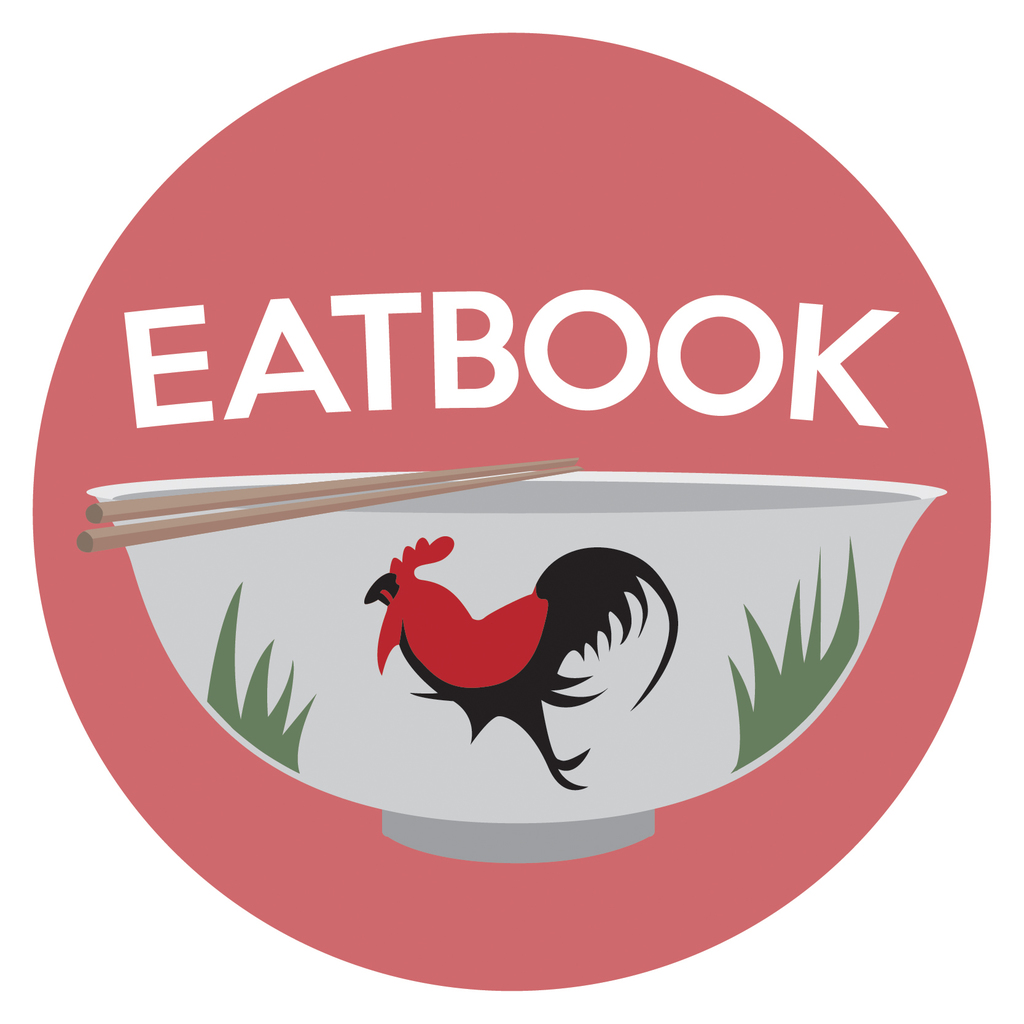 Drop us your email so you won't miss the latest news.