Wen Zhang Lao Mian from China has opened in Bugis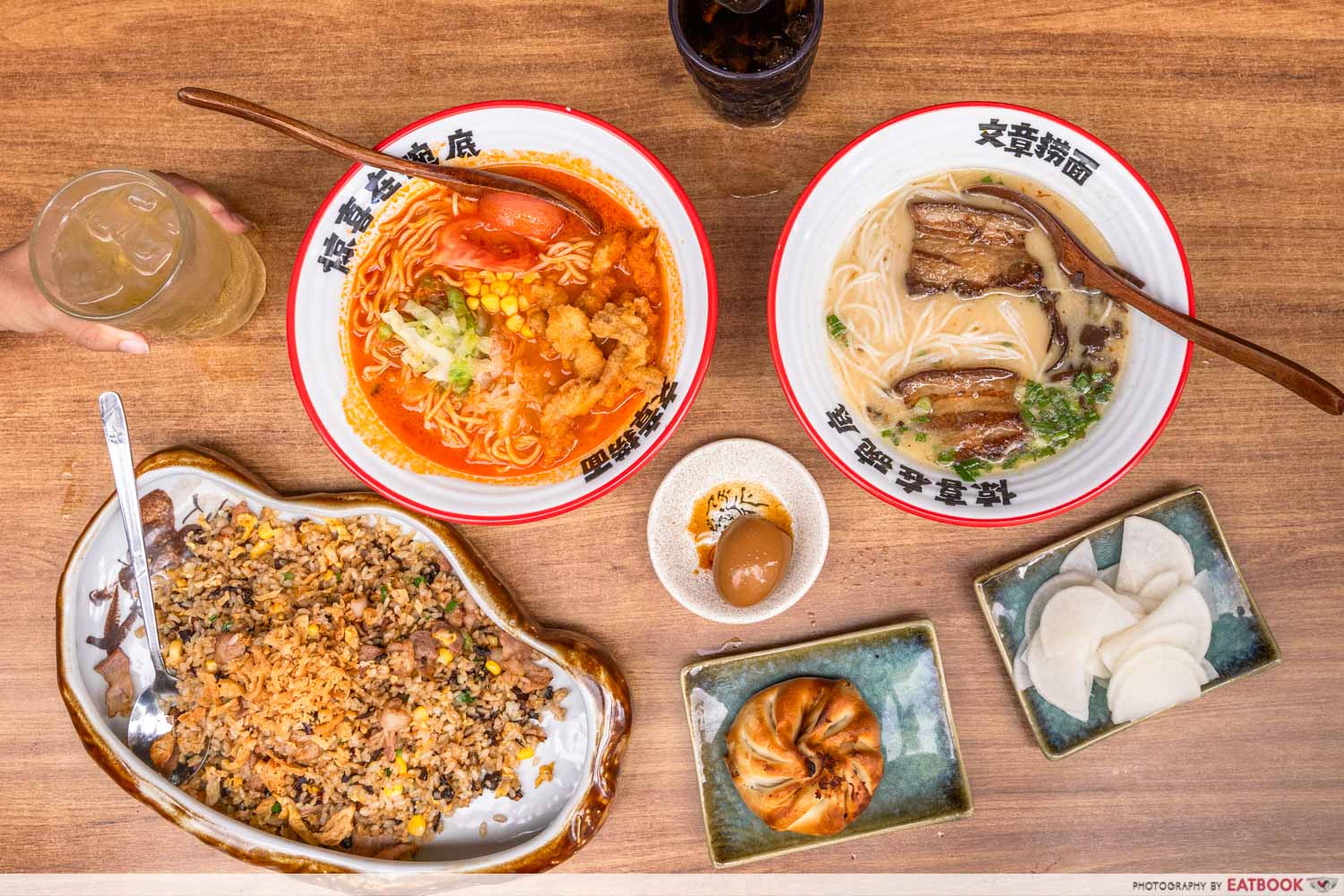 Like many others, you might have come across the three-month-old Wen Zhang Lao Mian on your FYP, with highly raved reviews from numerous Chinese influencers. Excited to jump on the bandwagon, I couldn't wait to head over to Bugis and see what the buzz was all about!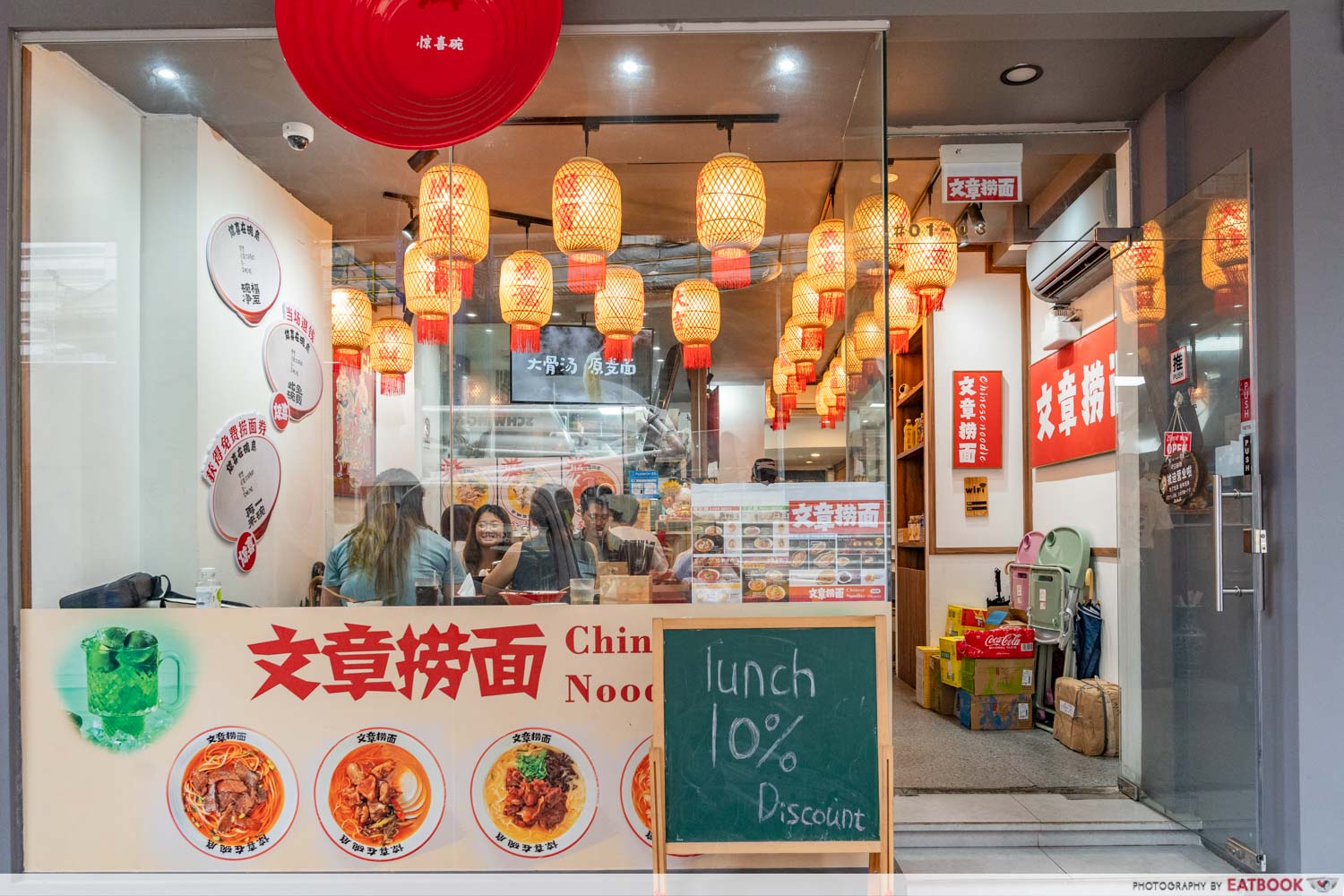 Opened in 2008, Wen Zhang Lao Mian has grown to over 150 stores in China alone. This distinguished eatery specialises in noodle soups, offering rich, heartwarming broths meticulously brewed for at least three hours. If noodle soups aren't your thing, don't worry, you're sure to find something you like━the menu here is extensive, featuring both noodle and rice options. 
The promos here are incredible. For those working around Bugis, you'd be delighted to know that there's a permanent 10% off available daily from 11:30am to 4pm. It gets even better for students: this discount is applicable the entire day.
If you're a big eater, you'll never leave here hungry. You're free to ask for additional noodles free of charge, or request for extra rice in your fried rice━as long as you ask for it when you place your order. All this is not forgetting the prize you're entitled to if you empty your bowl!
Food at Wen Zhang Lao Mian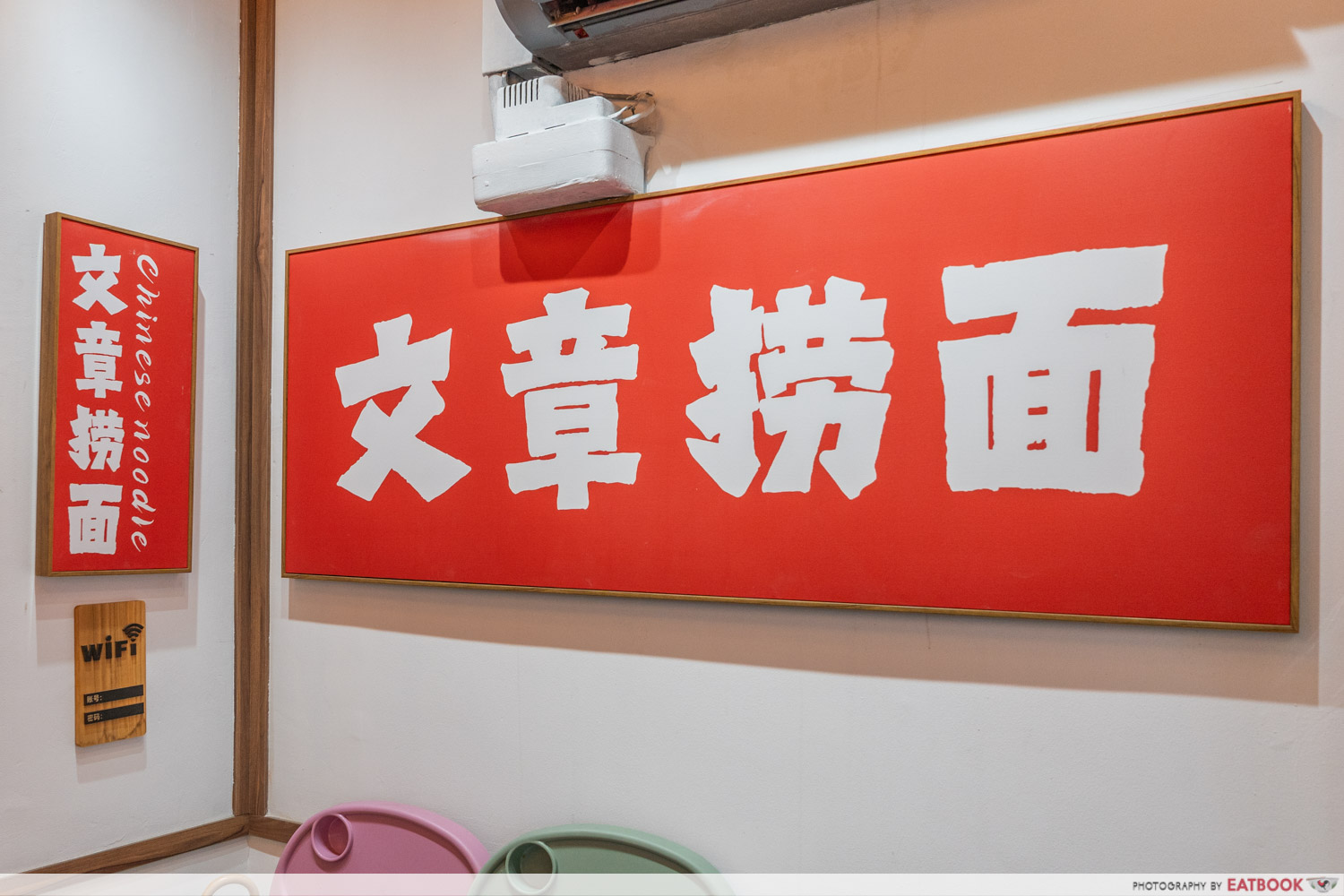 You can pick from four different broth bases: Pork Bone Pickled Cabbage, Spicy Beef, Big Bone Tomato, and Herbal. Then, choose between two types of noodles: la mian or rice noodles. Consider opting for a set, which is only available with certain mains and comes with various fixed side dishes including fungus, sliced radish, bamboo shoot, spicy chicken ribs, or chicken nuggets, and a drink of your choice.
12 La Mian Places For When You're Craving Hand-Pulled Noodles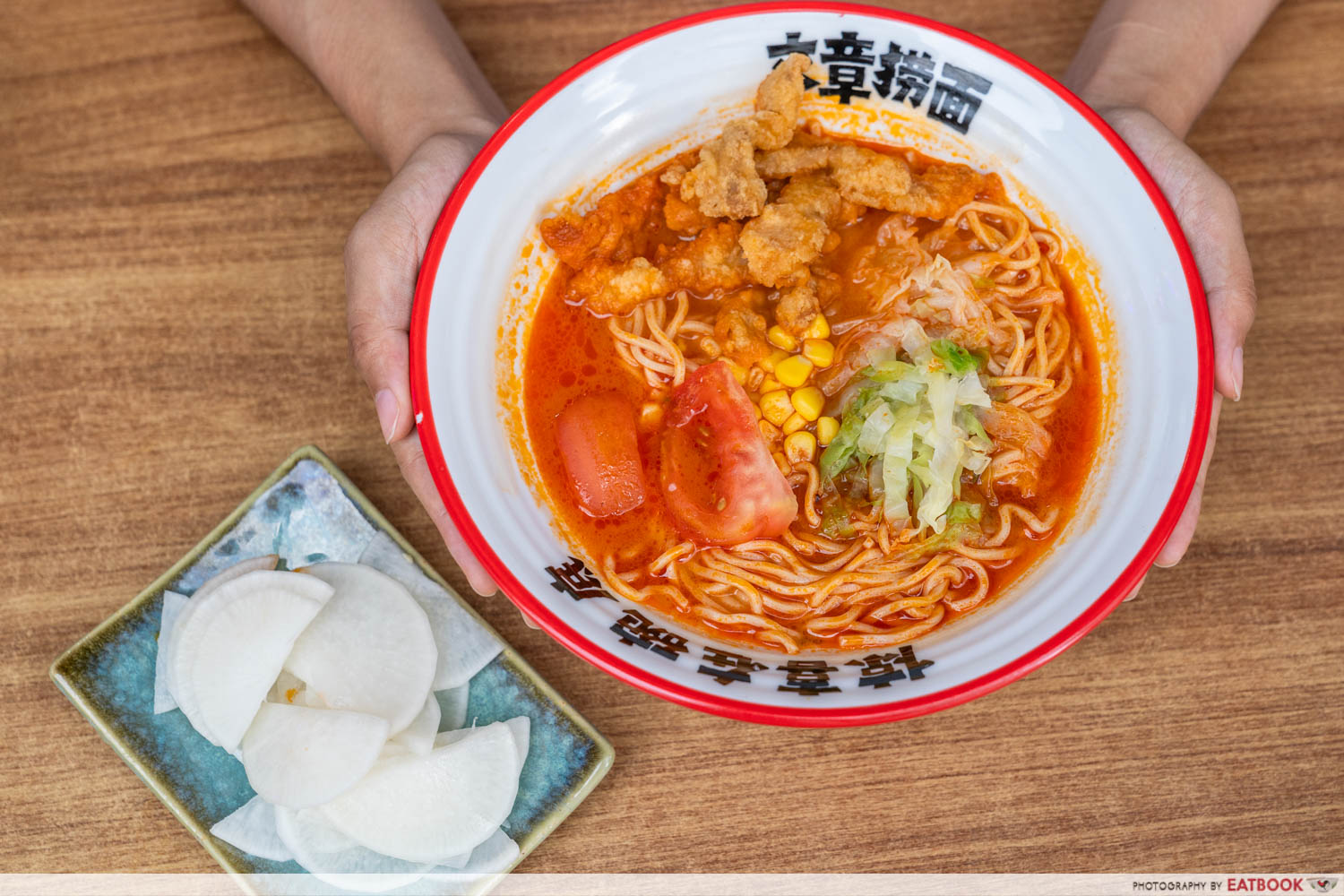 We began with their Tomato Fried Pork Noodles ($13.90), which features a tomato-based broth with chunks of tomato, as well as fried battered pork, corn, and cabbage.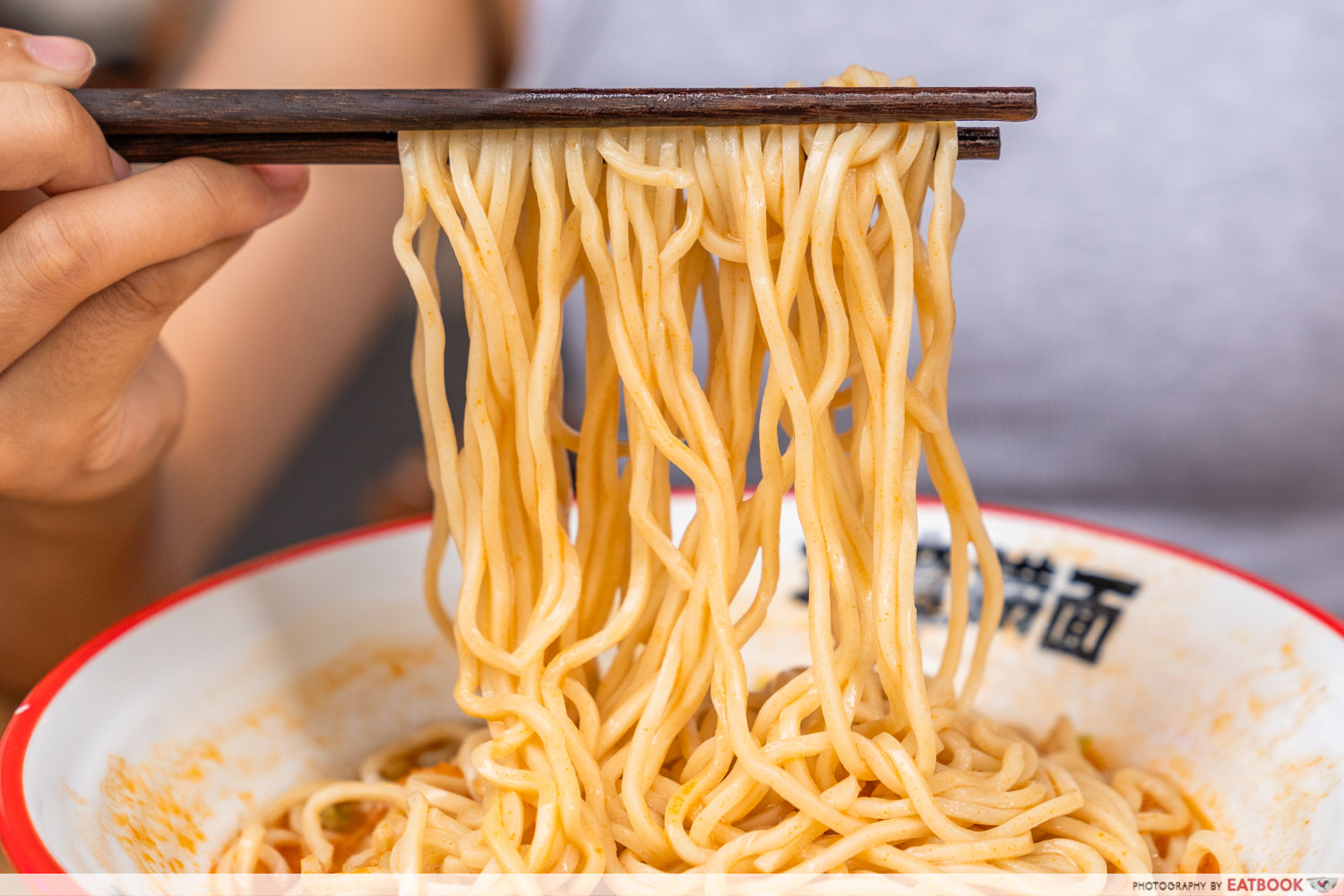 We paired this with la mian, which although is not handmade, was delightfully QQ and chewy. We were impressed as it didn't get soggy after some time, and still retained a good bite.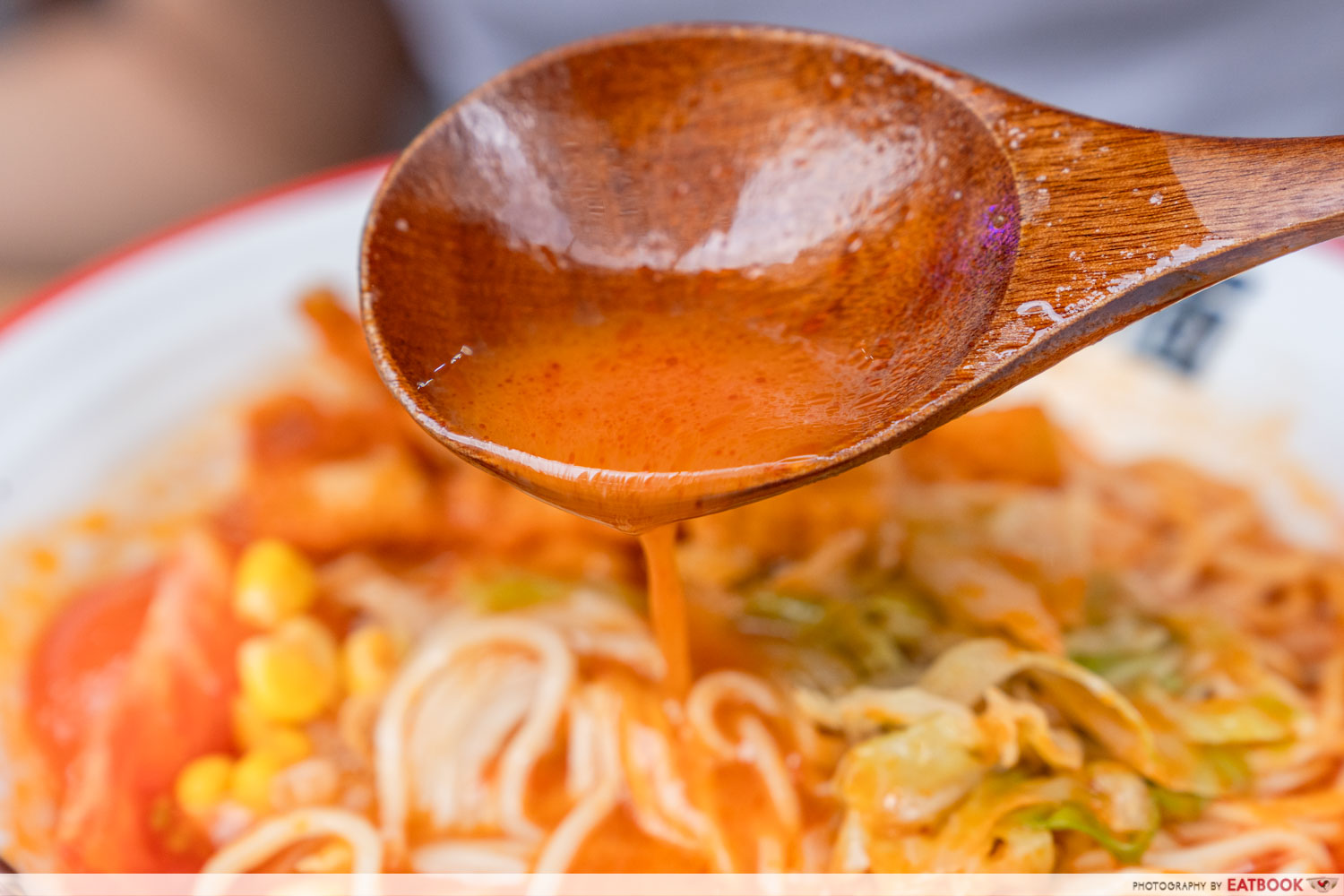 The soup had a tangy flavour with a hint of sweetness that I liked, though I must admit it tasted rather one-dimensional, which could possibly get a bit jelak after a while.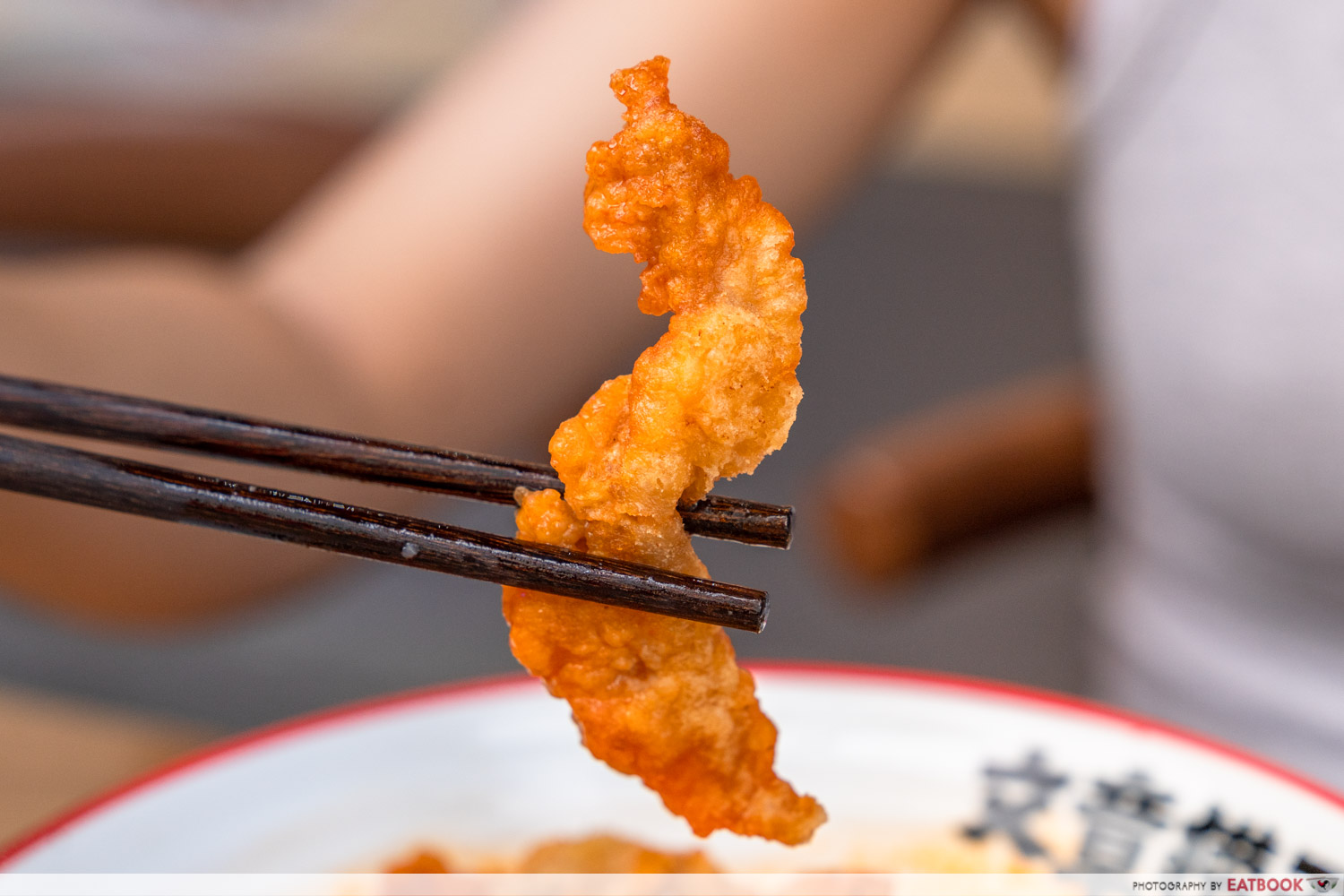 As for their fried pork, I found myself agreeing with reviewers online that it could be crispier. However, I enjoyed the flavour of the well-marinated meat, which was more evident because of the higher meat-to-batter ratio. Upon asking, I found out that it was deliberately cooked with a lighter batter so that it could be more crispy.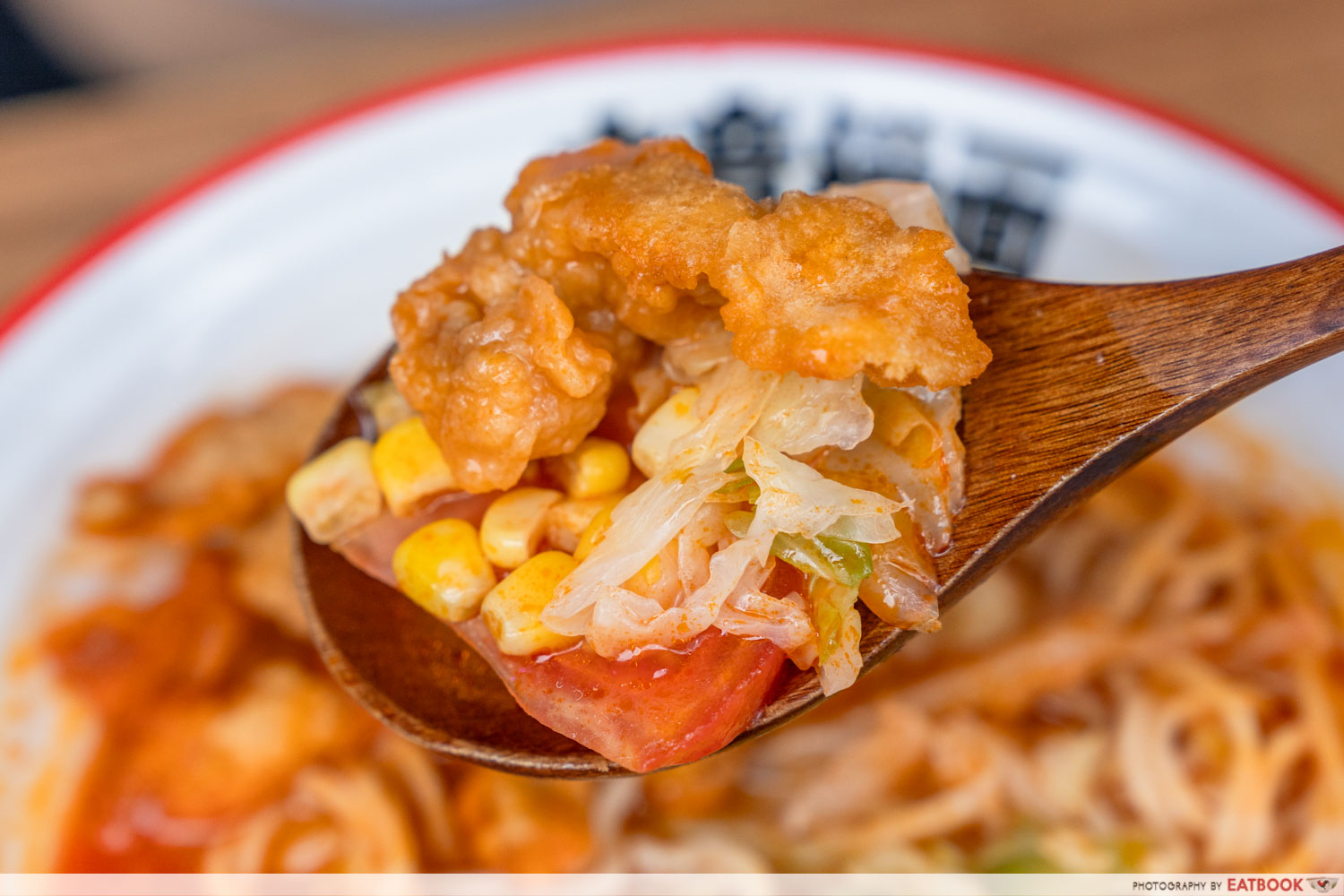 Overall, I appreciated how the different elements came together━you get the delightful crunch from the corn, tanginess from the tomato, and heartiness from the meat.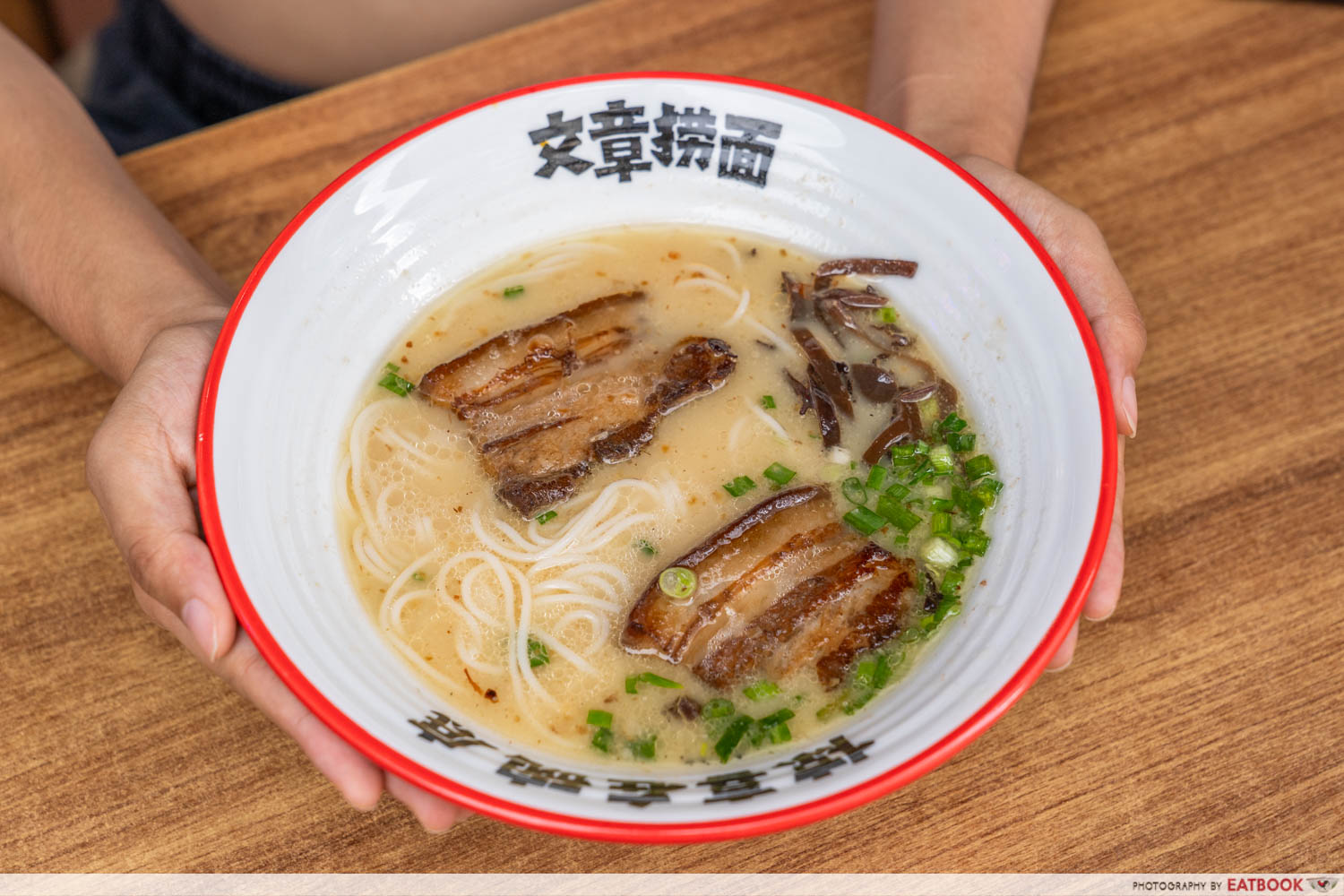 However, we much preferred the Herbal Pot-Stewed Meat Set ($16.90) which had a more complex flavour profile. This set includes a bowl of herbal pot-stewed meat noodle soup, Ajitama egg, and a drink of your choice.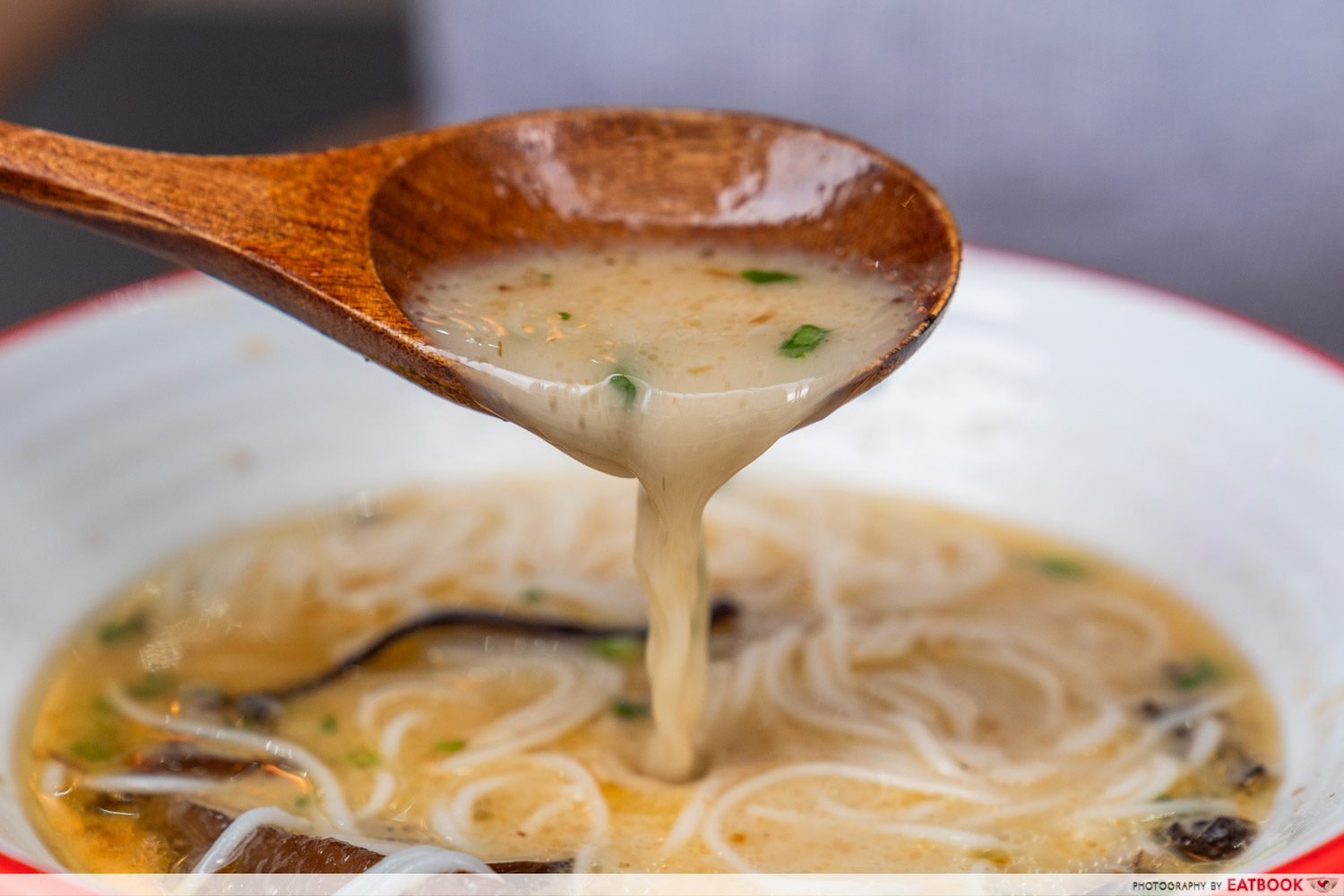 The broth boasted a rich umami flavour, with pronounced peppery notes. If you're a fan of tonkotsu, you can consider going for this soup base.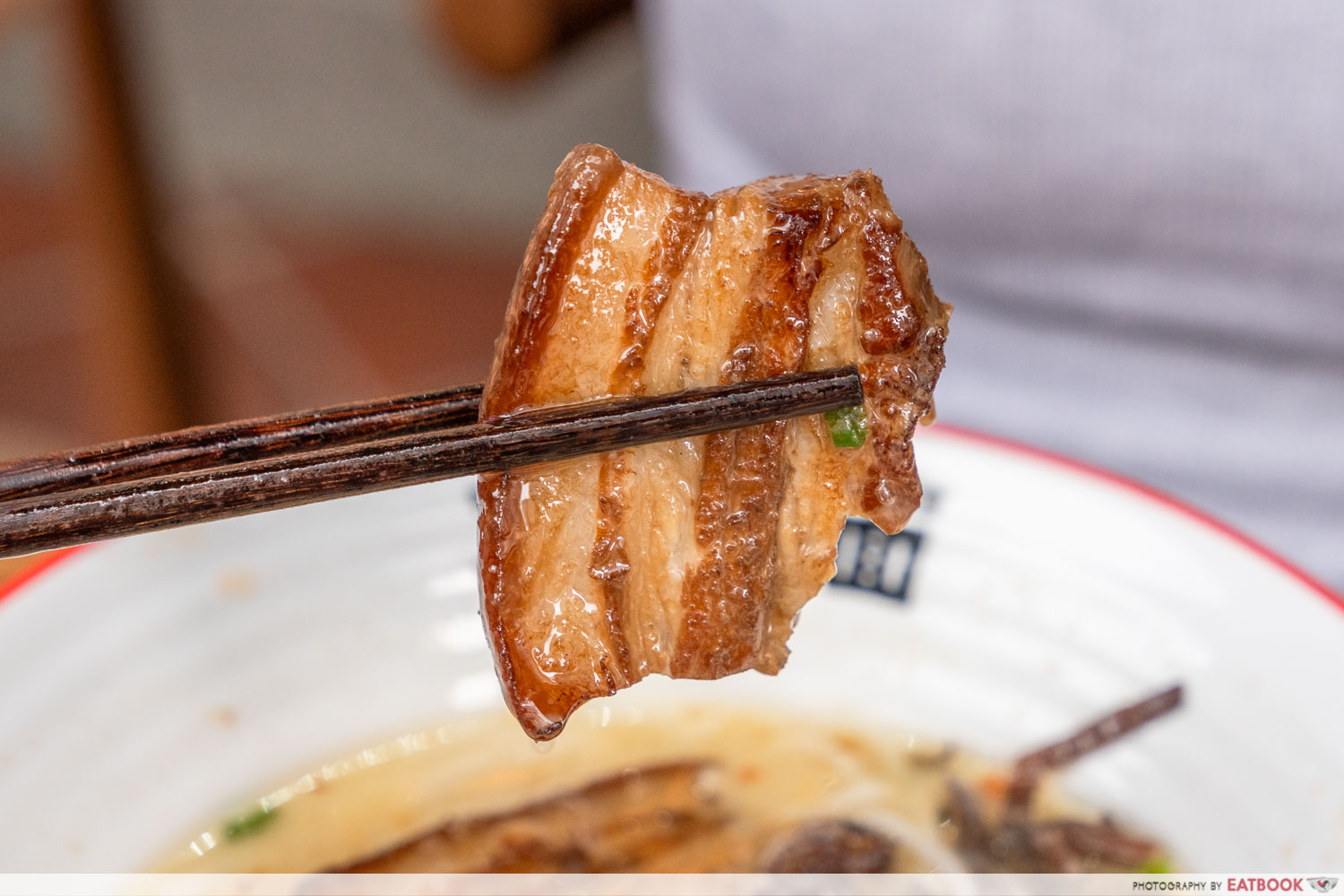 The stewed pork, while gelatinous and fatty, wasn't as tender and a little challenging to bite through━an issue noted by other reviewers. However, I won't complain; I appreciate that it comes in huge pieces, and you're certainly getting your money's worth.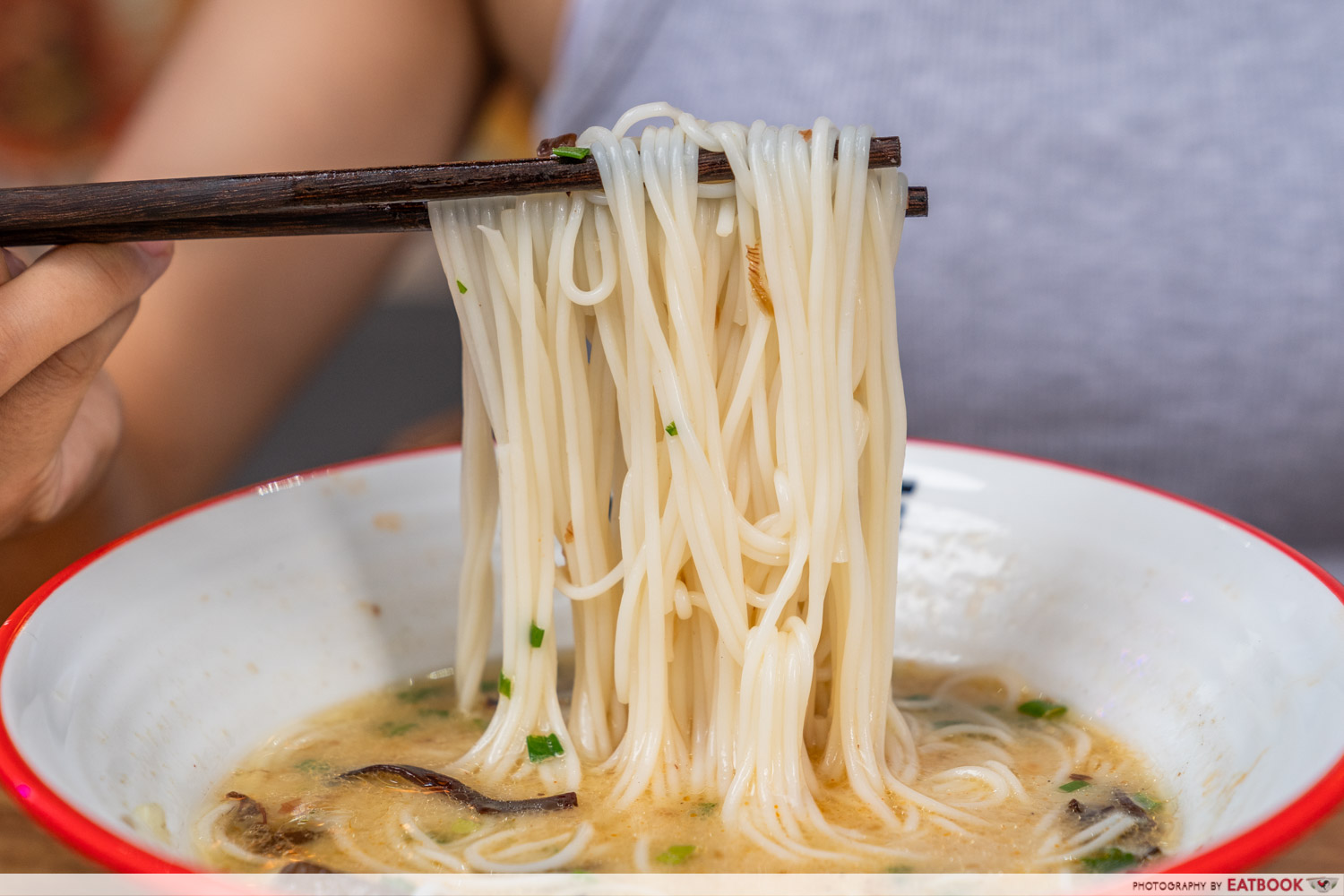 We got this with rice noodles, AKA 米线 (mǐ xiàn), which my colleague preferred over the la mian. It was softer, making it easier to eat and smooth enough to be swallowed without much effort. It also carried the flavour of the soup pretty well.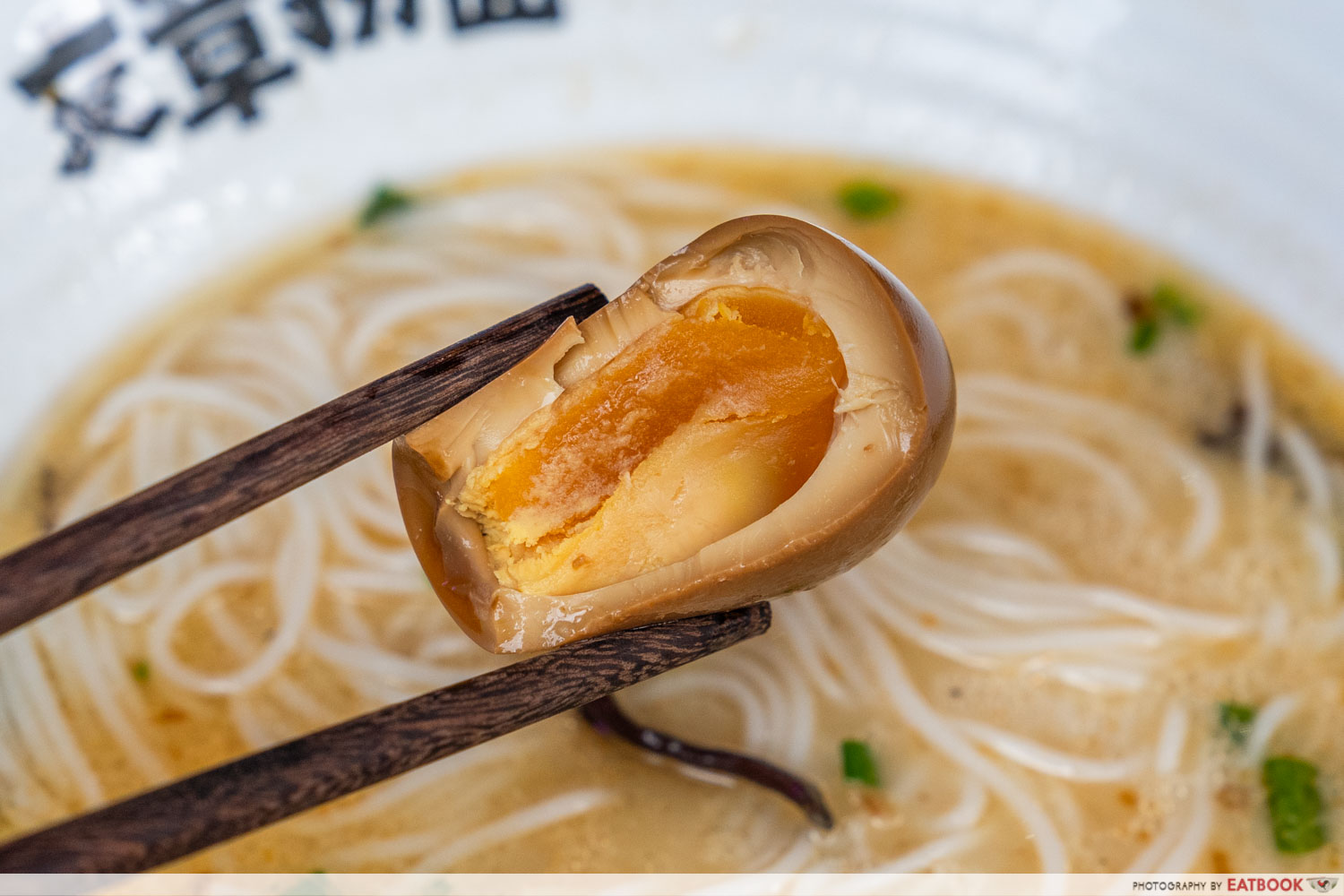 The Ajitama was a hidden star: it was marinated thoroughly with a robust soya sauce flavour, although I found it a tad bit too salty.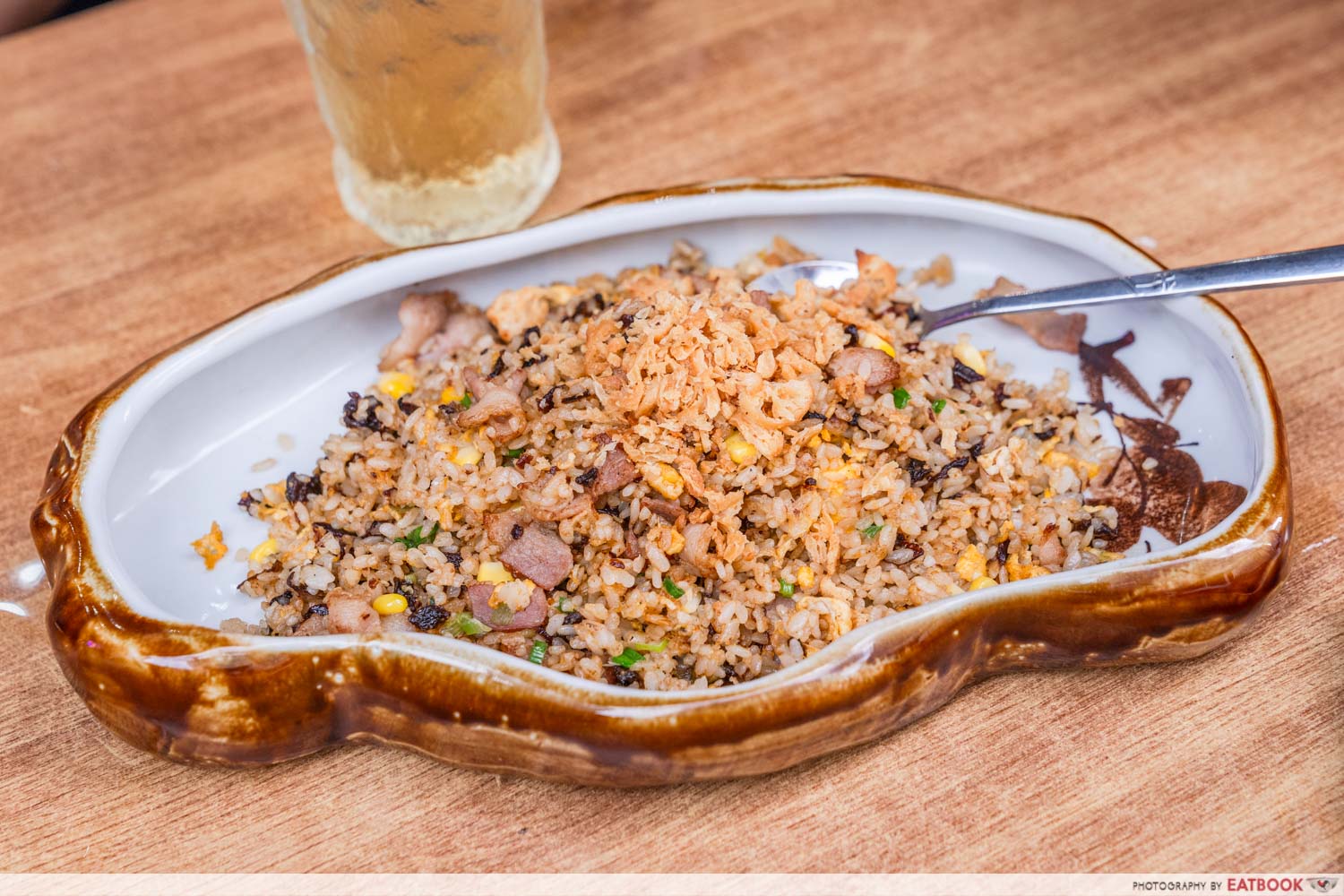 My personal favourite dish was the Bacon Fried Rice Set ($14.90), one of their bestsellers. This generous plate comprises stir-fried rice with ingredients such as bacon bits, corn, egg and more. You can get this as a set with sliced radish and a drink of your choice, of which we got their house-made sour plum tea.
I would suggest opting for the Bacon Fried Rice a la carte, priced at $10.60, rather than the set with the sliced radish. The sliced radish leaned sour with a spicy kick, which I thought didn't complement the fried rice well.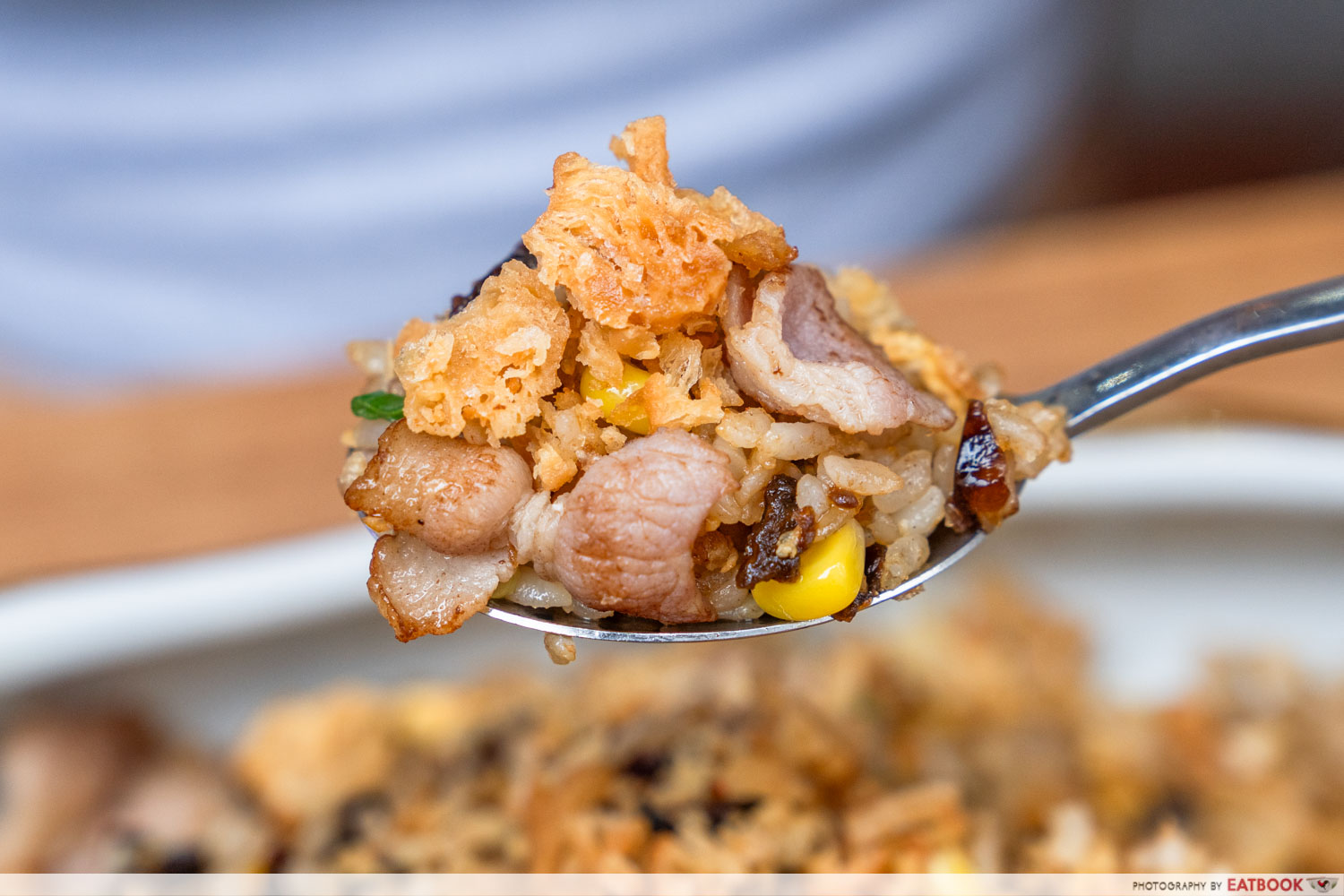 I loved the fried rice. It sported distinct, fluffy grains with an addictive sweet-savoury combination that kept us going back for more. The flavour comes primarily what looked to us like pieces of black Chinese olives. Upon asking, we discovered that it's part of their house-made 红葱香酱 (hóng cōng xiāng jiàng), AKA red shallot sauce, in which the rice is fried. This sauce is specially imported from their restaurant in China.
The dish is also garnished with satisfying crispy bits that look and taste like you tiao. They are actually bits of bo cui crackers, which is what you find in yu sheng during Chinese New Year.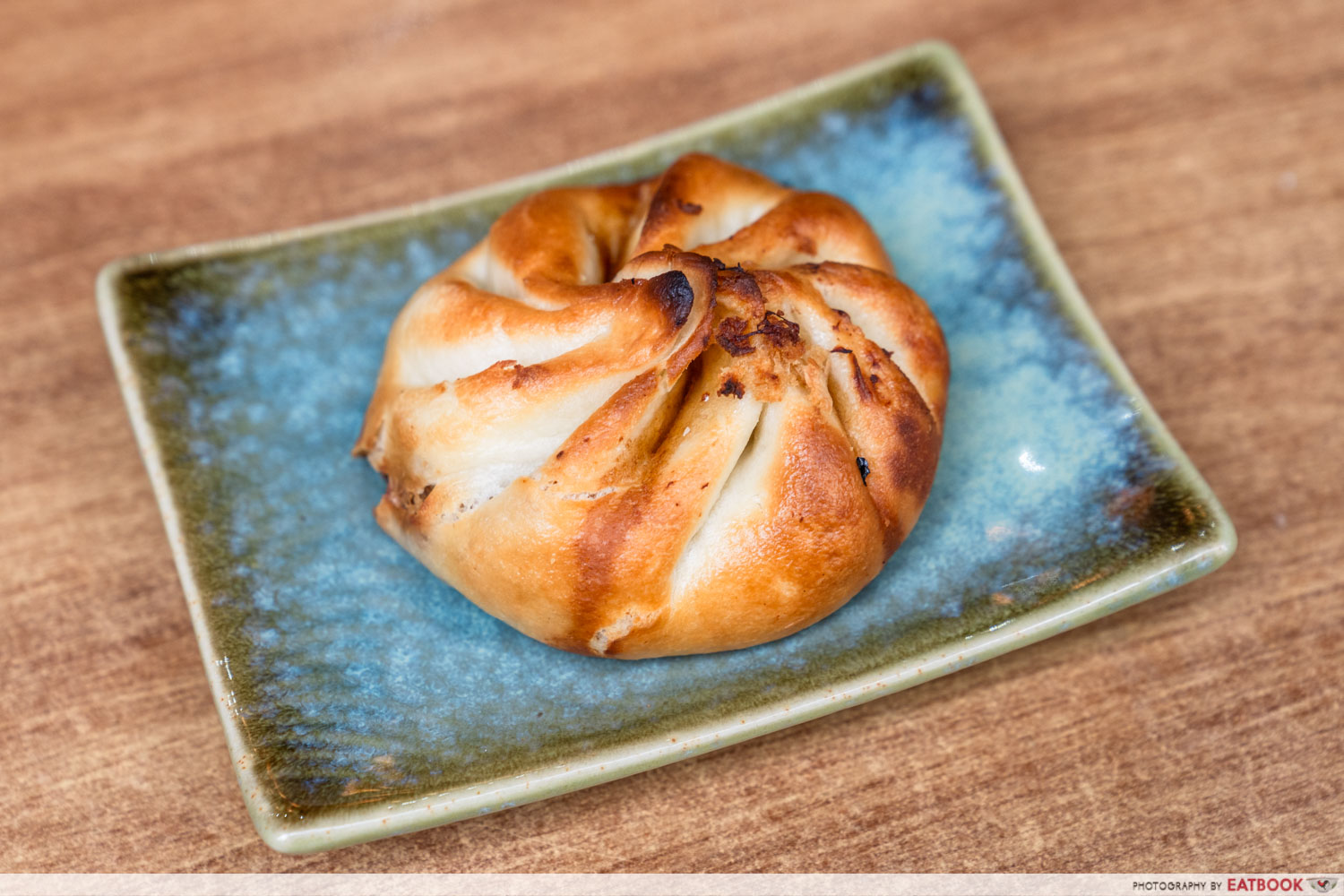 A must-order here is the popular BBQ Sauce Buns ($4.60), a crispy fried bao which tends to sell out pretty quickly.
Inside you'll find 京酱肉丝 (jīng jiàng ròu sī), AKA shredded pork in sweet bean sauce, which gives a satisfying burst of flavour. There are bits of vermicelli noodles that add texture too. I especially love the bao, which boasts a crispy exterior with a fluffy interior.
While the price might be steep for just one bun, I believe it's worth the price. The owner further explained that this dish is quite complicated to make, hence the price.
This Maxwell Hawker Has Curry Sheng Jian Bao And Handmade XLB From $4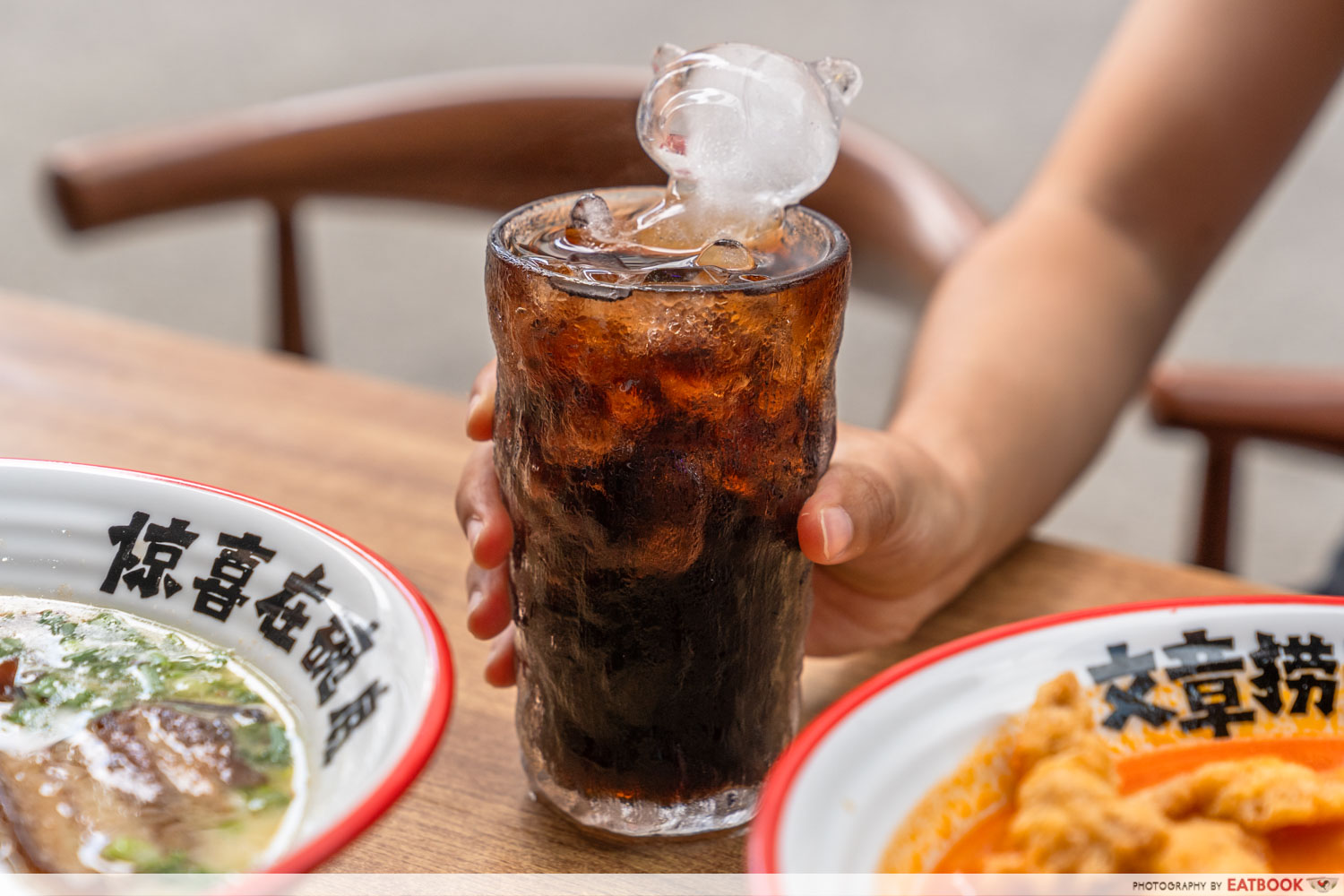 To wash down the hearty fare, definitely go for their house-made signature Sour Plum Tea ($3.80) that's also great for the 'gram. This is the only drink that comes with ice moulded into an adorable teddy bear.
The sour plum tea is crafted with a blend of pu er tea, jasmine tea, sour plum powder, and 香水柠檬 (xiāng shuǐ níng méng), AKA citron, specially prepared each night for the following day's service. For all that effort, I found the sour plum flavour to be quite mild, though still refreshing because of the citrusy flavour.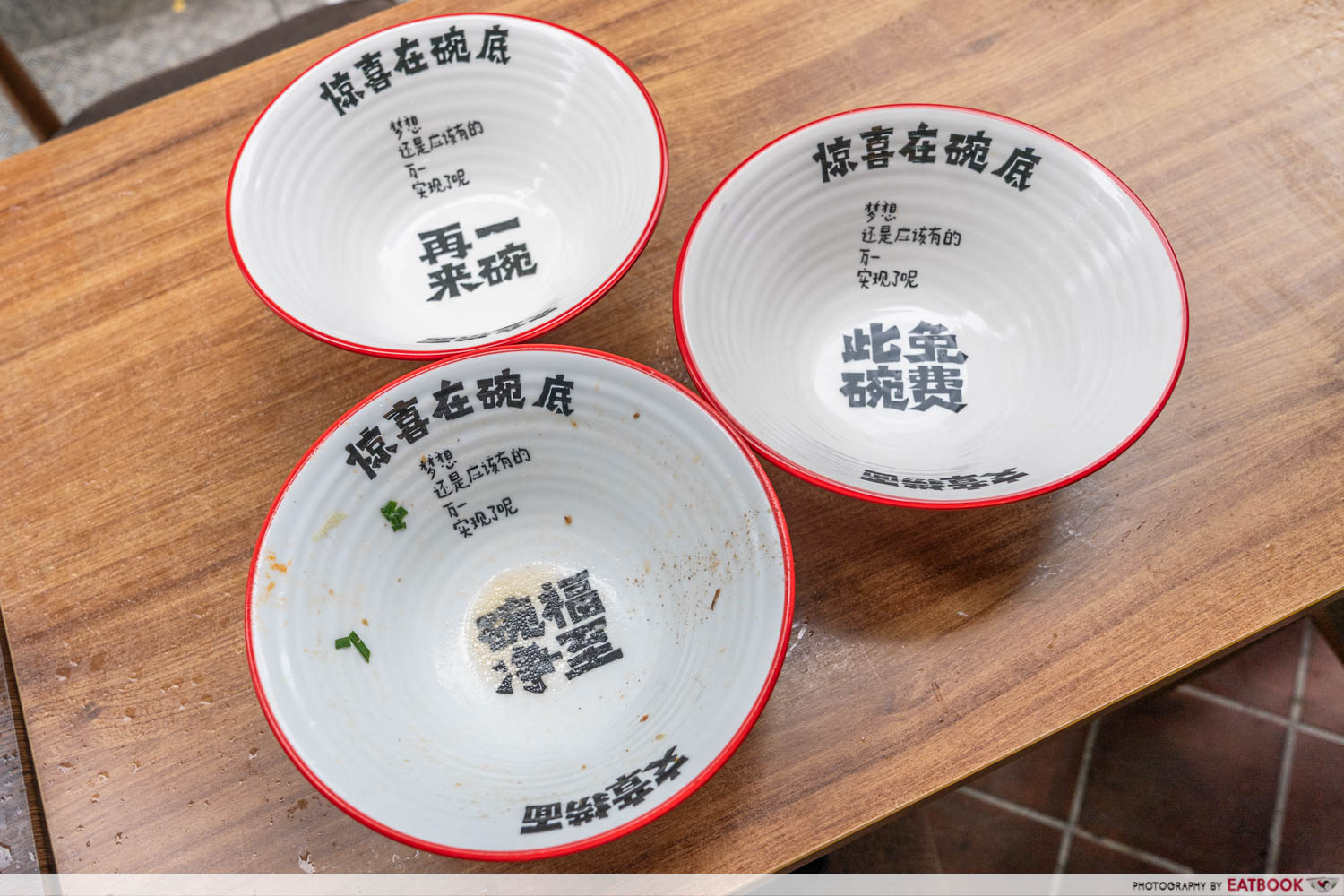 Check out the bottom of your bowls when you've slurped up all the soup! There are three different prints: 碗净福至 (wǎn jìng fú zhì), 此碗免费 (cǐ wǎn miǎn fèi), and 再来一碗 (zài lái yī wǎn). The first one is a dud asking you to try again with another bowl of noodles. The second tells you that your bowl of noodles was free, and with the last, you receive a voucher for a free bowl of noodles on your next visit.
If you're unsure, you can double check with the signs on the walls of the eatery!
Ambience at Wen Zhang Lao Mian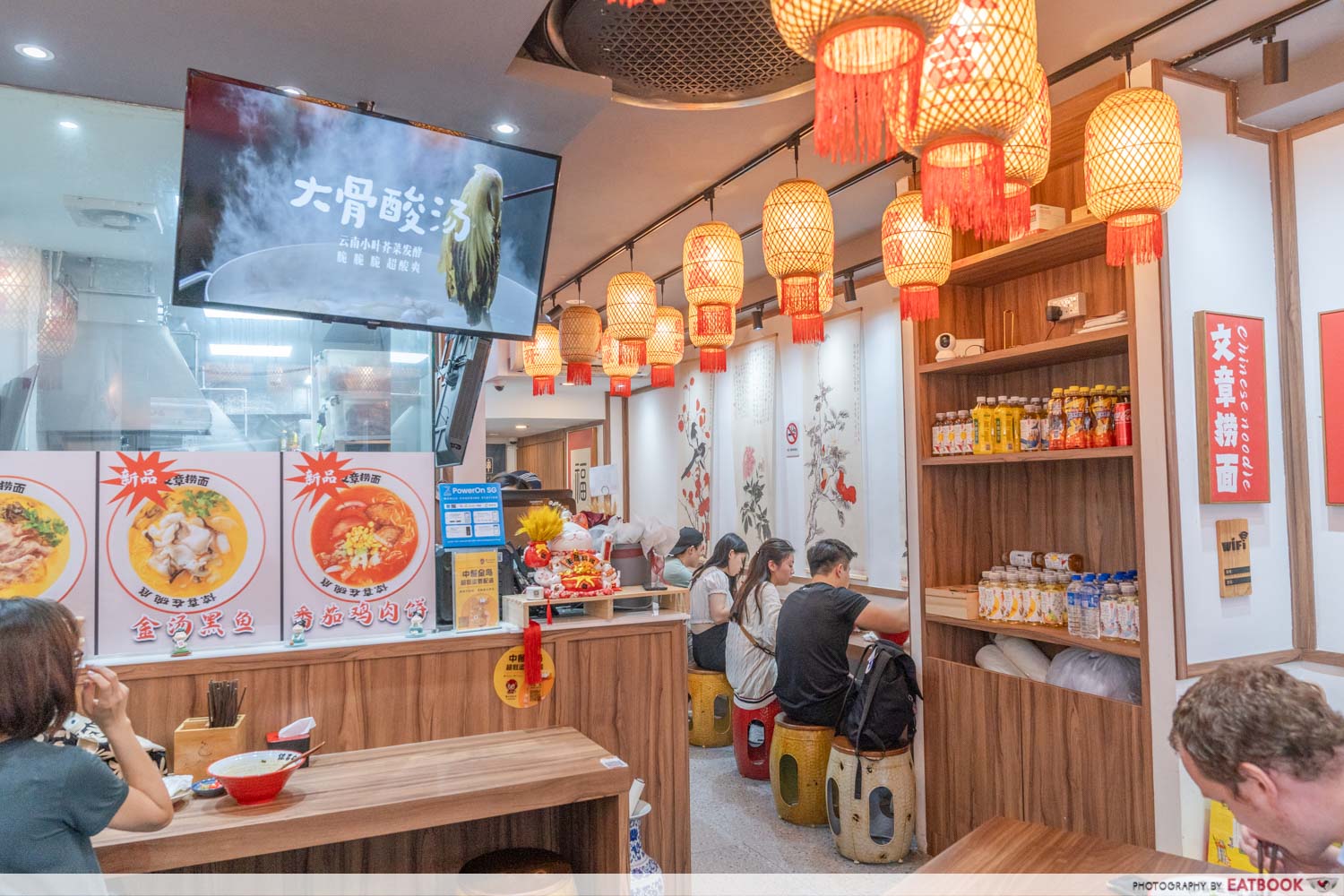 Wen Zhang Lao Mian is conveniently located just a four-minute walk from Bugis MRT Station. It's advisable to drop by before the peak hours to avoid the crowd as the eatery is relatively small, accommodating around 25 to 30 people at max capacity. Similar to their stores in China, the eatery boasts traditional Chinese decor, incorporating elements such as lanterns, wooden tables and melon-shaped stools.
The verdict
I would certainly visit again, given its central location and affordably priced mains. I also really appreciate the owner's heartfelt efforts to provide students and office workers with an affordable dining option, with the permanent 10% lunch discount and free add-ons too. Another plus point is that despite its proximity to Bugis, it's somewhat hidden, making it less crowded and cosier.
P.S.: we hear that they are planning to open their second store soon!
For more great Chinese eats, check out Hao Lai Ke, a hawker stall run by ex-Din Tai Fung Chef which serves similar dishes at half the price. Otherwise, for more food in the area, read our guide to food places in Bugis for affordable K-BBQ, famous kaya buns and more.
Address: 2 Tan Quee Lan Street, #01-03, Singapore 188091
Opening hours: Mon-Fri 11am to 10pm, Sat 11:30am to 10pm, Sun 11am to 11pm
Tel: 9817 3298
Website
Wen Zhang Lao Mian is not a halal-certified eatery.
Hao Lai Ke Review: Ex-Din Tai Fung Chef's Hawker Stall Serves Pork Ribs Fried Rice
Photos taken by Kaedynce Chew.
This was an independent visit by Eatbook.sg
Wen Zhang Lao Mian Review: Famous Noodle Eatery With Over 150 Stores In China Now In Singapore
Wen Zhang Lao Mian Review: Famous Noodle Eatery With Over 150 Stores In China Now In Singapore -

8/10
Summary
Pros
– BBQ Sauce Buns very flavourful
– Bacon Fried Rice has unique, addictive flavour
– Convenient location
Cons
– Set pairings not the best
– Soup bases in general could be stronger
Recommended dishes: BBQ Sauce Buns ($4.60), Bacon Fried Rice ($10.60)
Opening hours: Mon-Fri 11am to 10pm, Sat 11:30am to 10pm, Sun 11am to 11pm
Address: 2 Tan Quee Lan Street, #01-03, Singapore 188091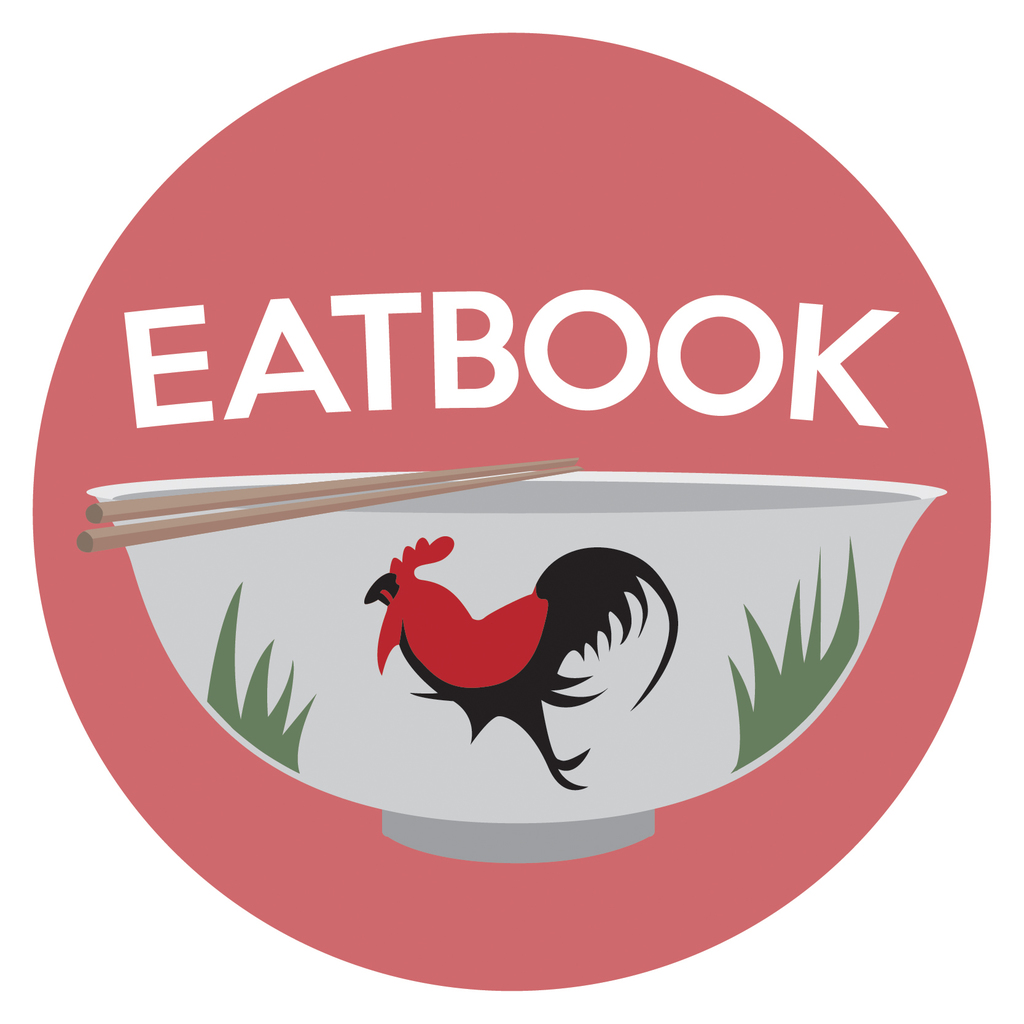 Drop us your email so you won't miss the latest news.