Wild Coco nasi lemak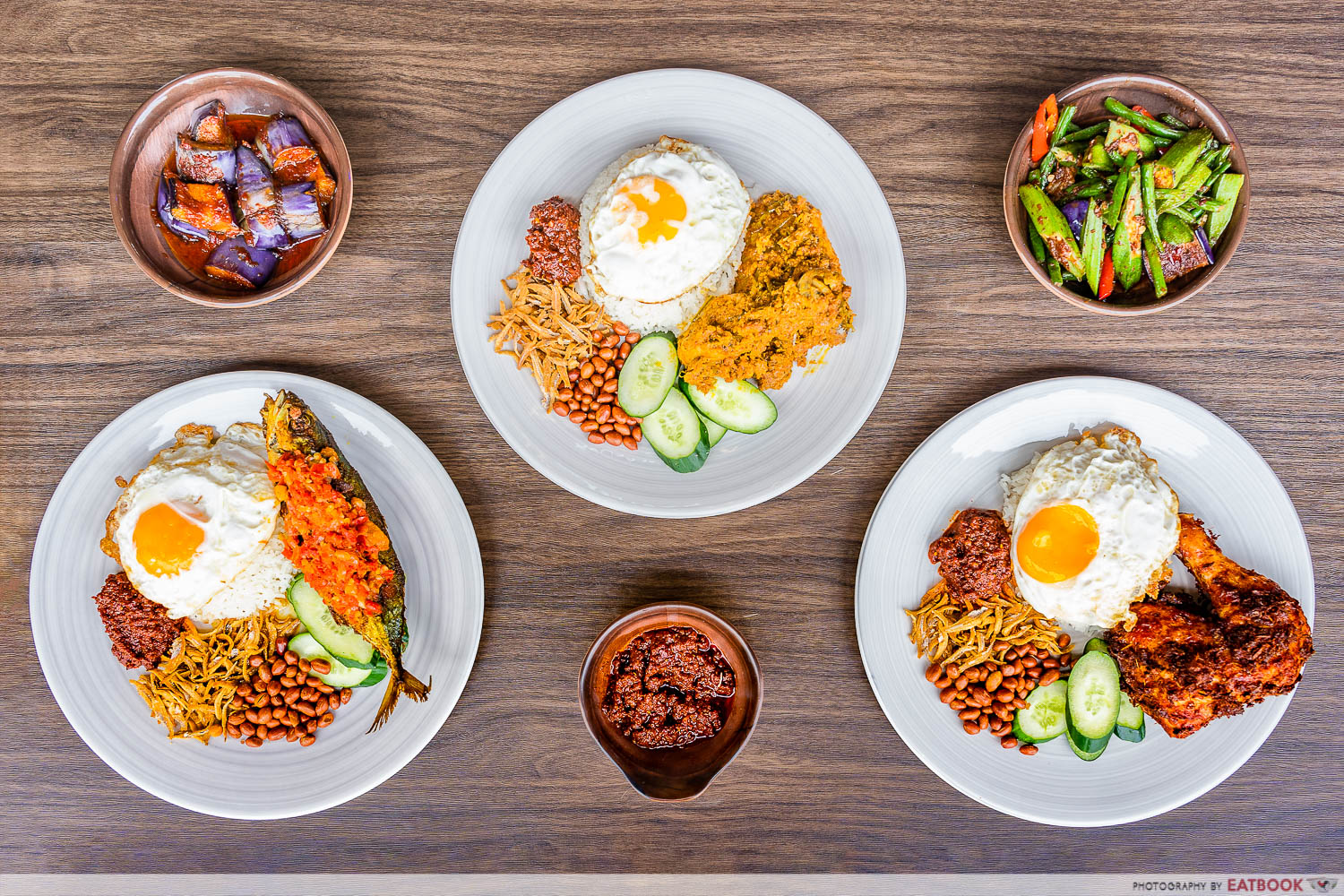 It's been a long time since the last I had Village Park Nasi Lemak, AKA the best nasi lemak in KL; it's also been a good while since I've had some from The Coconut Club—so naturally, when Wild Coco popped onto my radar, with comments online drawing parallels to both of these famed nasi lemak institutions, I had to try it for myself.
Dickson Nasi Lemak Review: Malaysian-style Ayam Goreng Nasi Lemak With 18-Ingredient Sambal
Food at Wild Coco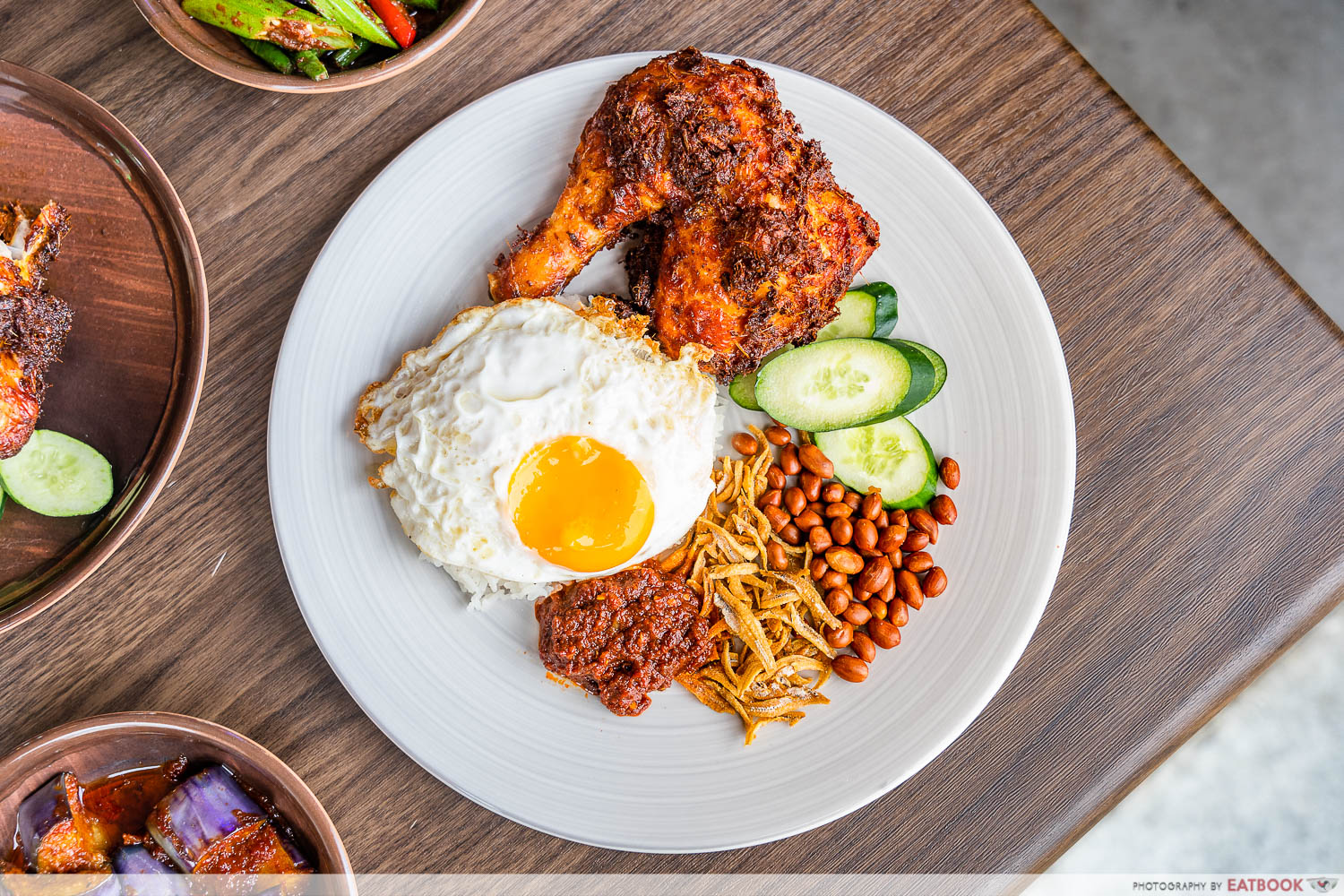 At $9.80, the Nasi Lemak Ayam Berempah (Leg) is slightly more expensive than my regular go-to order at Ponggol Nasi Lemak, where a set of rice with condiments and a drumstick is priced at $6.90. However, this comes with a whole fresh—not frozen—chicken leg, marinated for at least 24 hours and fried to a thoroughly juicy finish.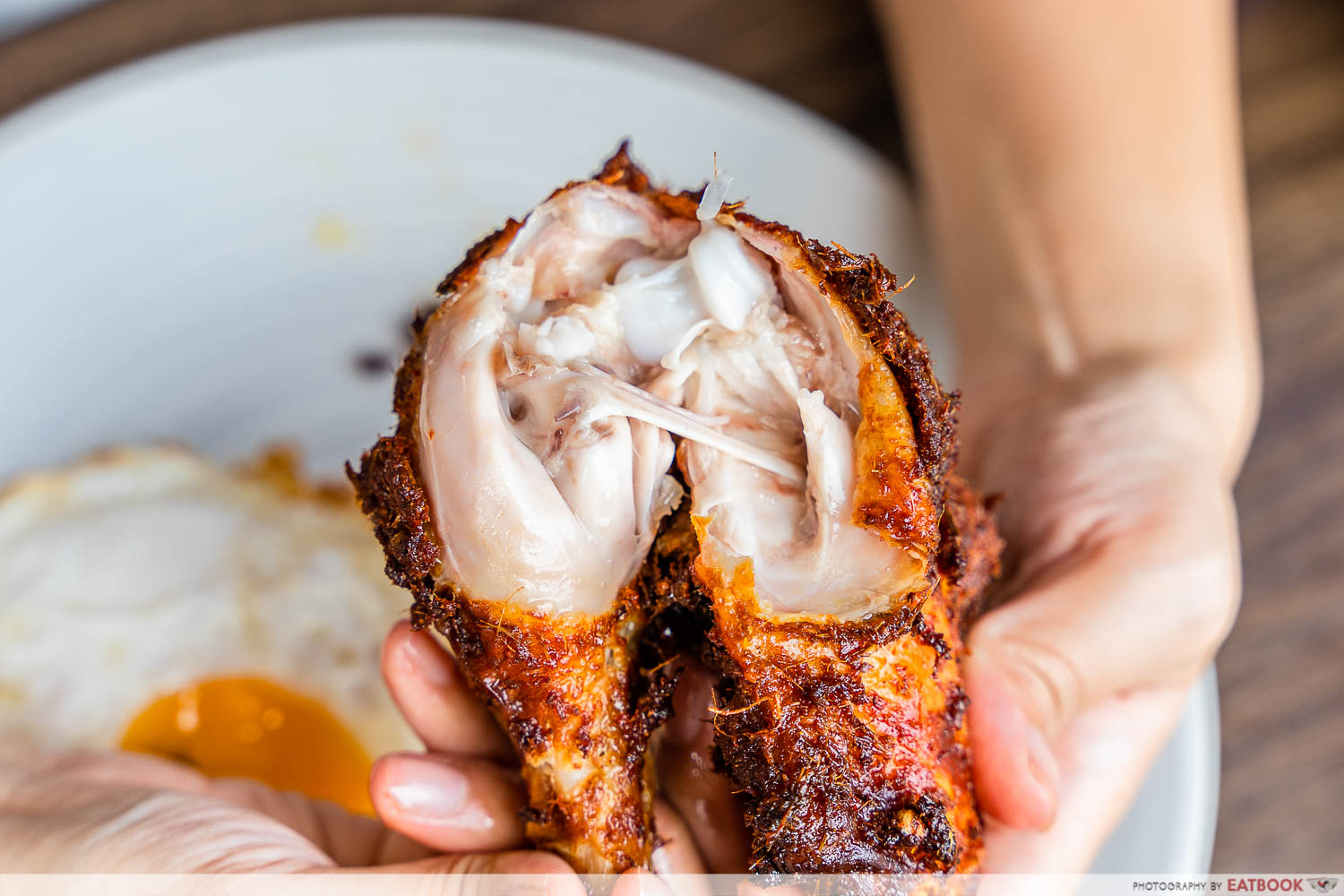 Also different is the lack of a floured batter—rather, it's the spice mix the chicken is marinated in that gets fried up into a fragrant crust, with shreds of lemongrass and ginger that I appreciated.
Bonus points go to Wild Coco too, for the not-using of MSG in all their food: it somehow makes this meal less of a guilty indulgence.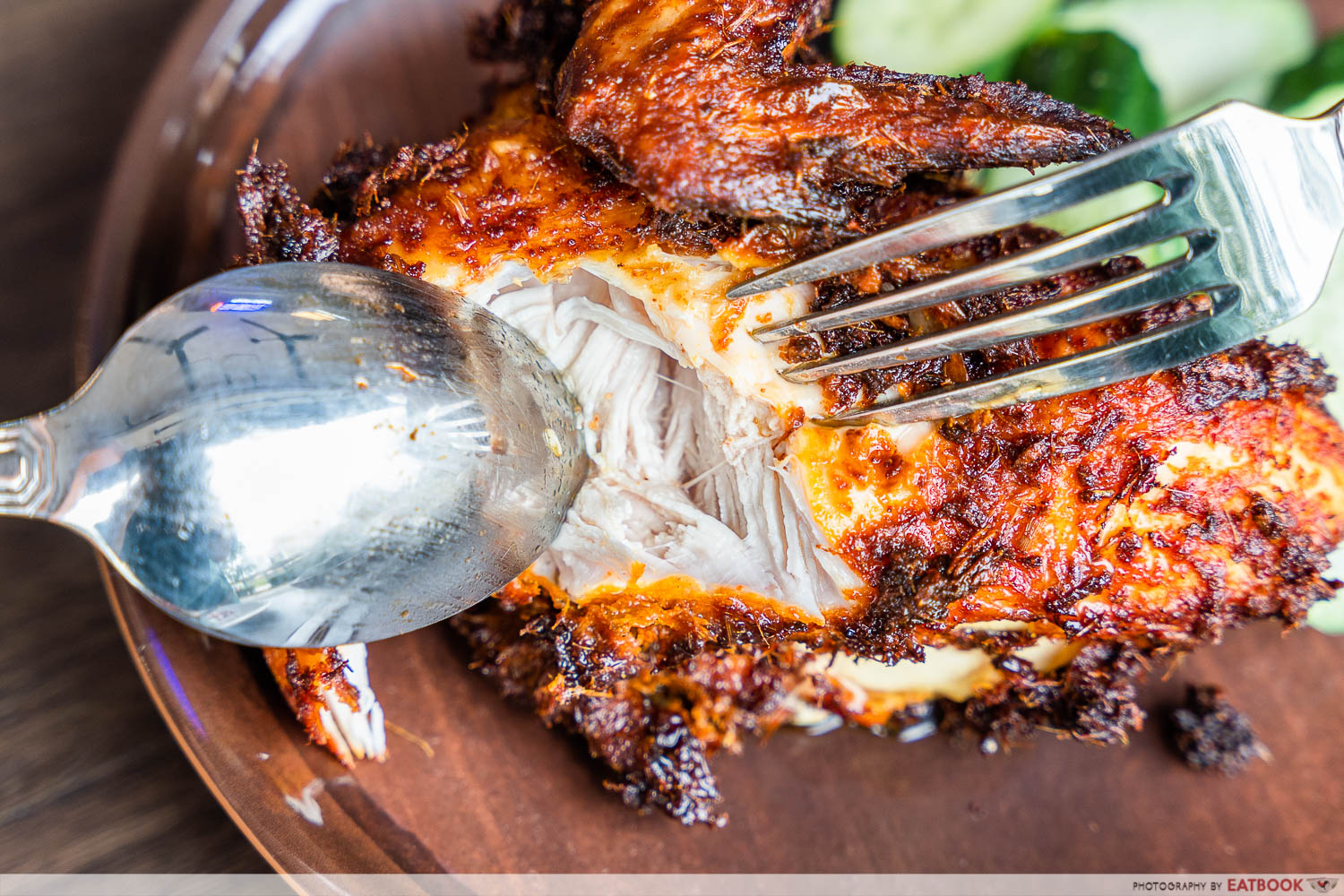 The running juices as I tore into the leg were drool-worthy, but what surprised us was the equally moist Ayam Berempah (Breast), which we ordered a la carte for $7. If you get it with the rice, it's the same price as with the leg.
Every plate also comes with a sunny-side-up too, complete with runny yolk.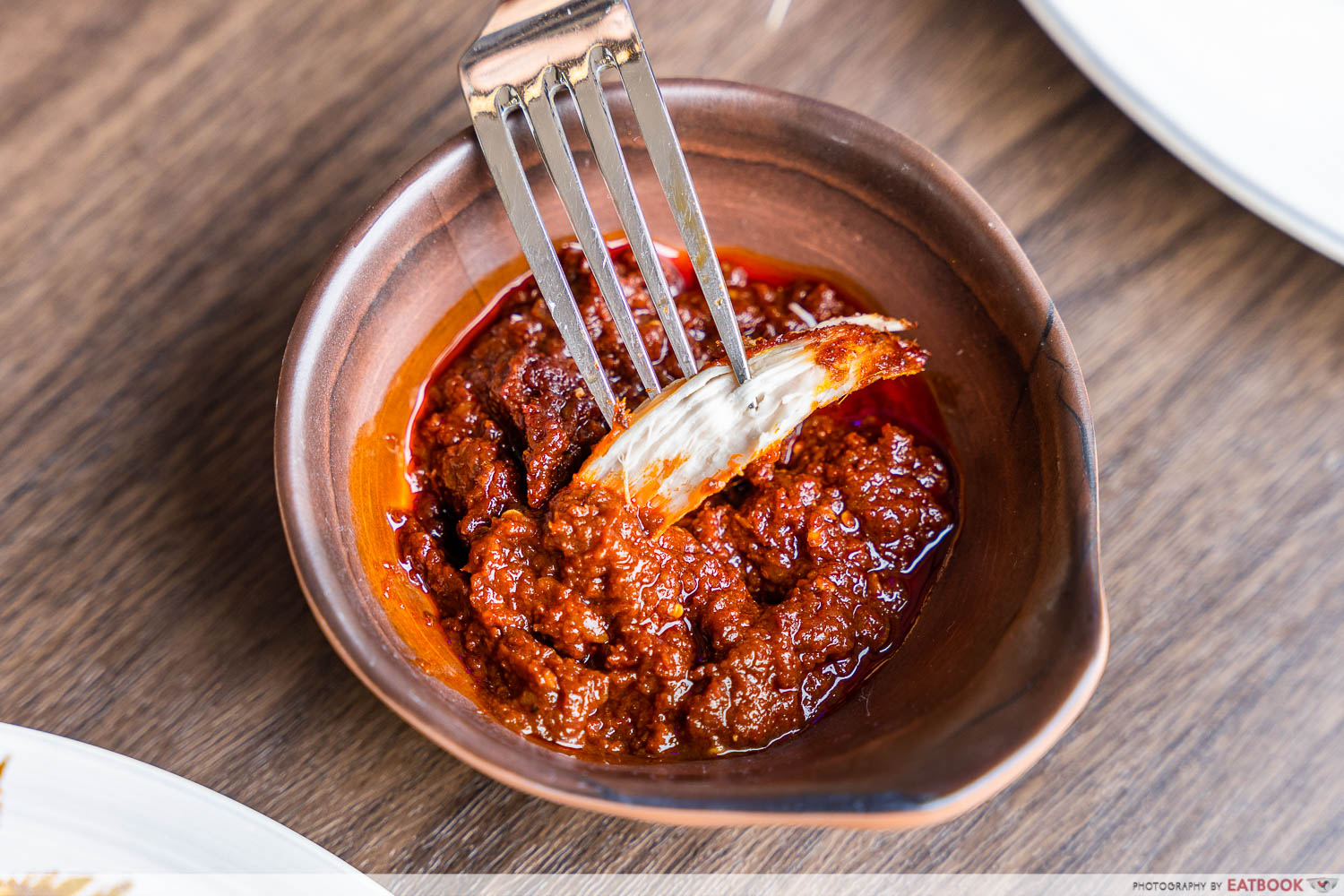 I personally am not the biggest fan of nasi lemak sambal, especially those that come in jars, because they tend to lean sweet. Wild Coco's, made in-house with more than 10 ingredients in a labourious, five-plus-hour-long process, is complex, savoury, and spicy.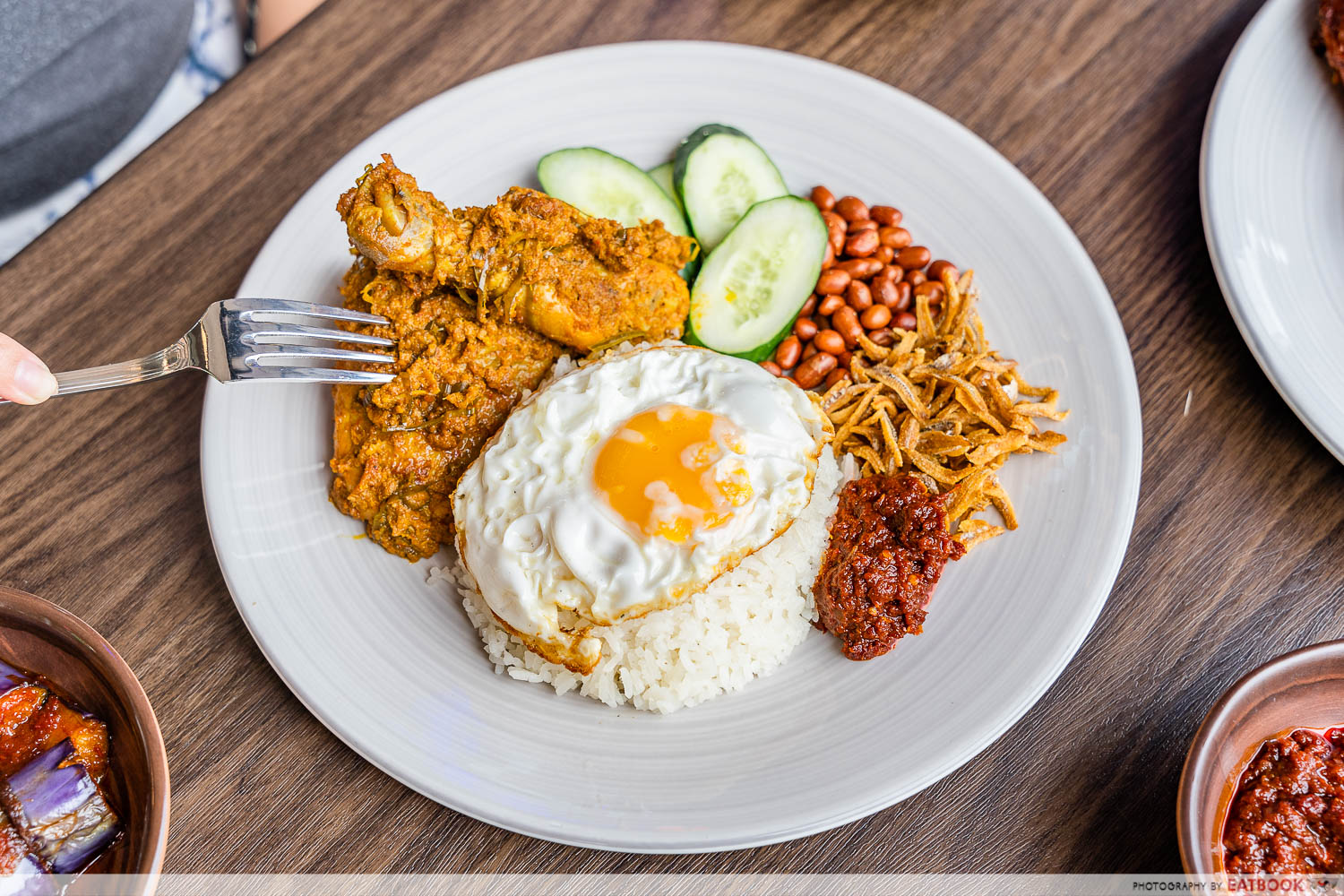 Like the sambal, which was satisfyingly gao IMO, the Ayam Rendang (Leg) Nasi Lemak ($11.80) came blanketed in a lush, lemak gravy. It's not your typical rendang, however, with a lighter, cleaner flavour to complement the other elements on the plate.
It's also slightly more costly than the berempah versions since making this requires even more work. In fact, this isn't available every day because of manpower issues.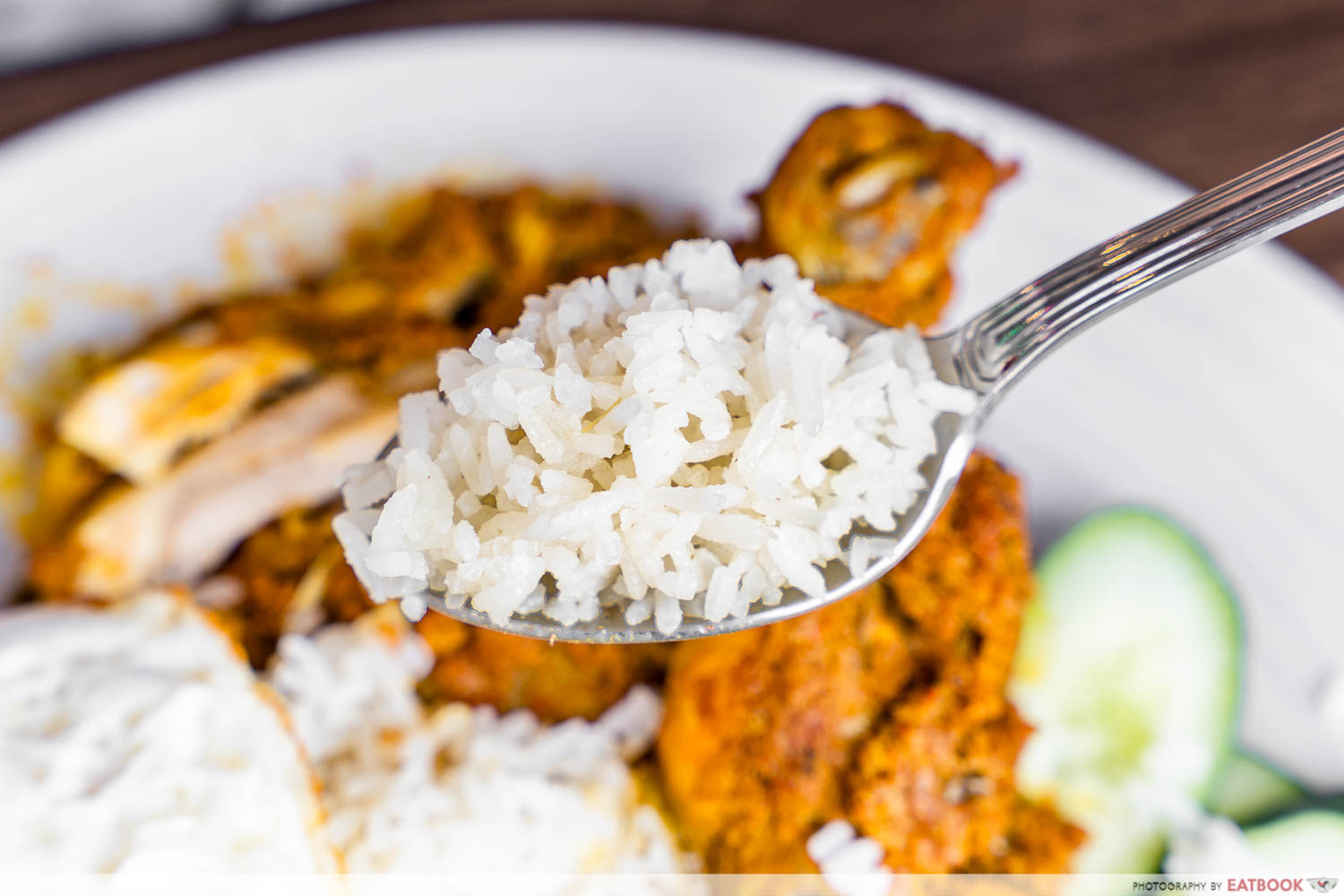 To be honest, when I dig into a plate of nasi lemak, my first call of business is to try a spoonful of rice without all the frills. I was rather pleased with this, finding it nicely moist and fluffy, redolent with the perfume of coconut, without being greasy or heavy on the palate. We found out that they get freshly squeezed Malaysian coconut milk delivered daily, and premium jasmine rice.
My colleague, however, prefers the drier grain of basmati rice in her nasi lemak, and so did not particularly like the texture of this.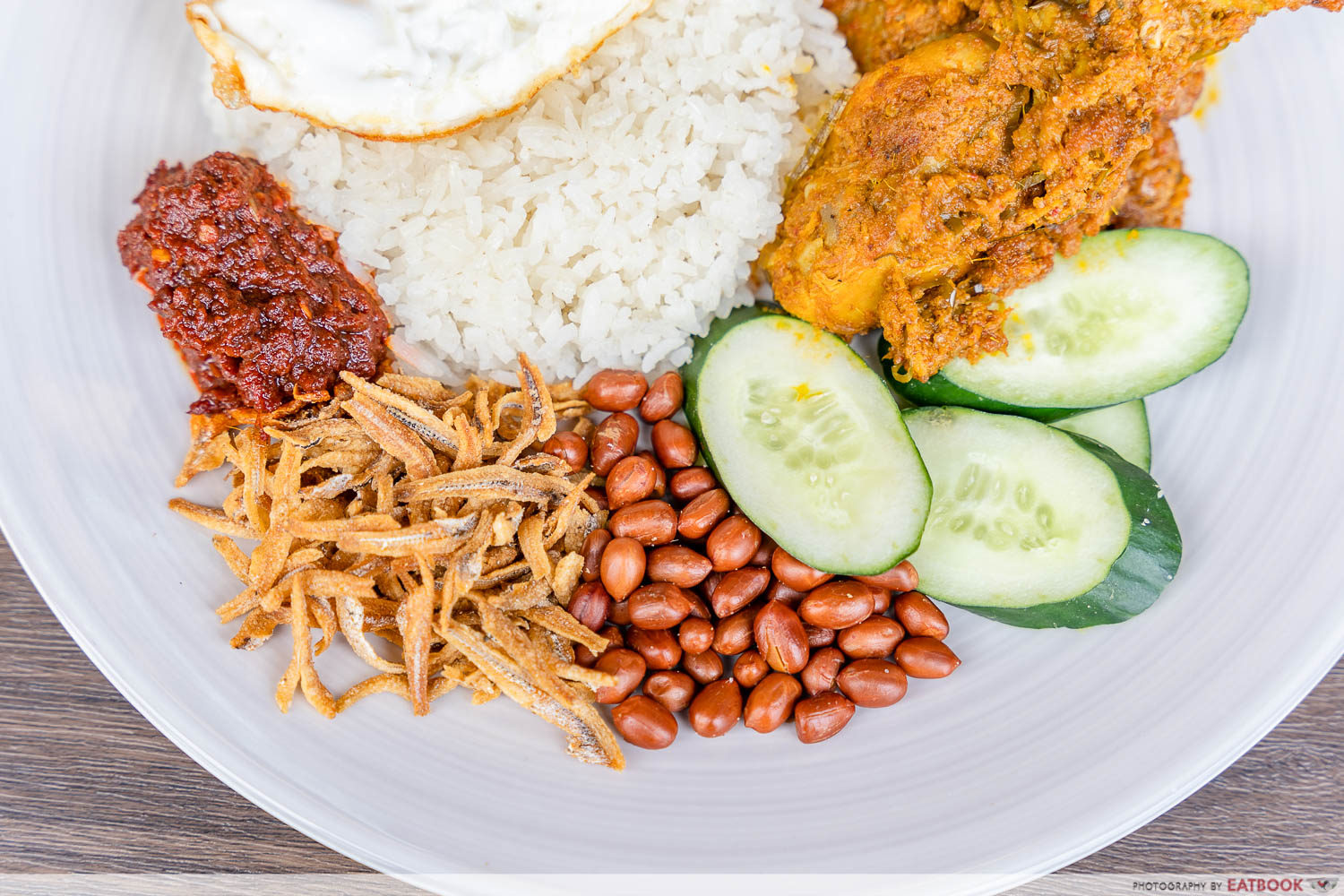 I don't usually pay much heed to the accompanying ikan bilis and peanuts in my nasi lemak, because my key points focus on the plate are the rice and chicken. Moving forward, you can count me in for these condiments if they're from Wild Coco.
Prepared fresh daily, both the ikan bilis and peanuts were just the right touch of crisp and fried. The ikan bilis also took the cake for me purely based on how they are headless—seeing the beady eyes really puts me off eating them. I also likened eating a mouthful of the peanuts to having a spoon of proper roasted peanut butter on the tongue.
I never order fried fish with nasi lemak, but the Sambal Fried Fish Nasi Lemak ($10.80) deserves credit for its bright-tasting sambal, made daily with fresh red chilli, onions, and garlic, among other ingredients. If you prefer, you can get the Fried Fish ($7) on its own, or an a la carte order of the Sambal Fried Fish ($8).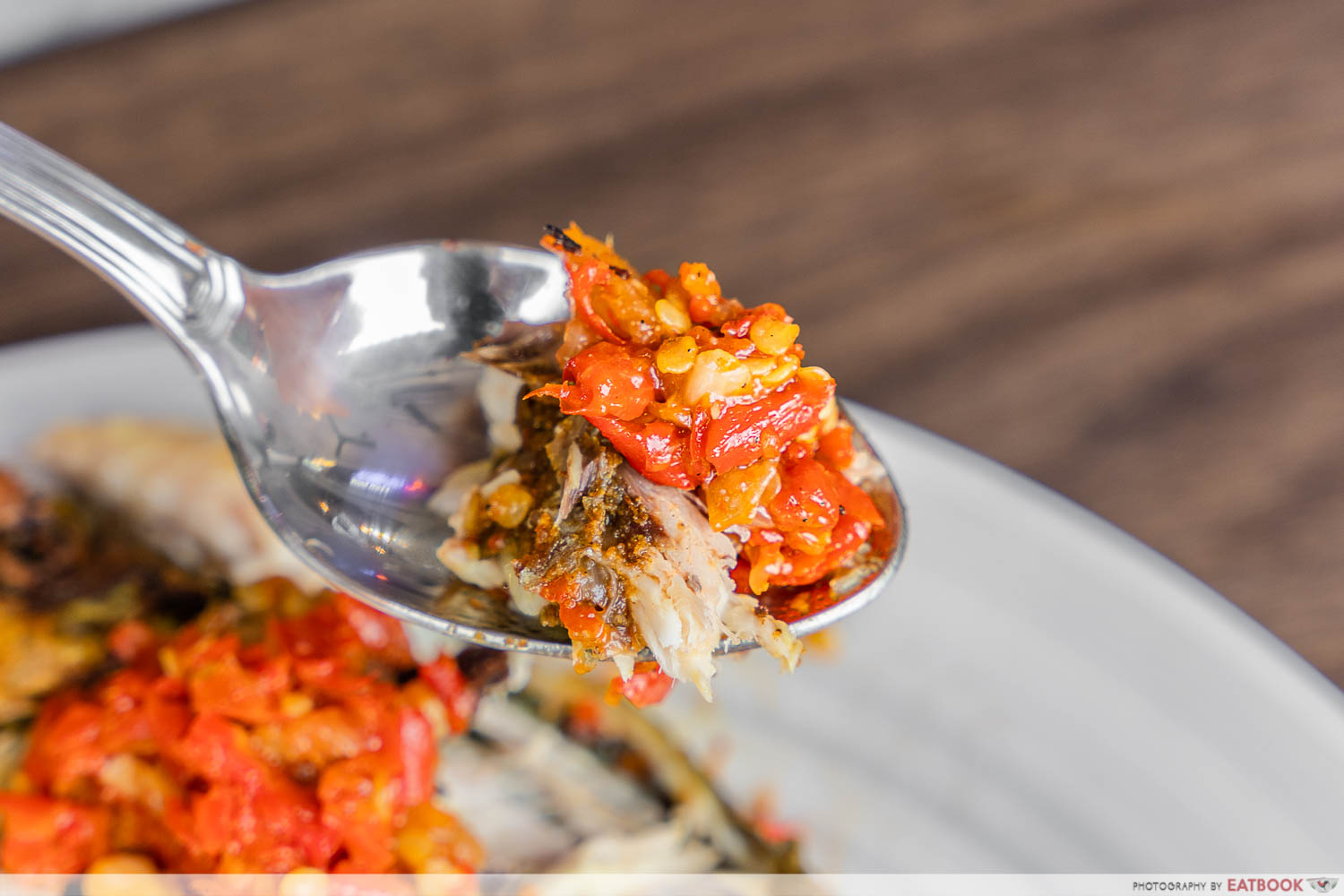 Hand-picked fresh in the market each day, the ikan kembong, or Indian mackerel, was fleshy and firm.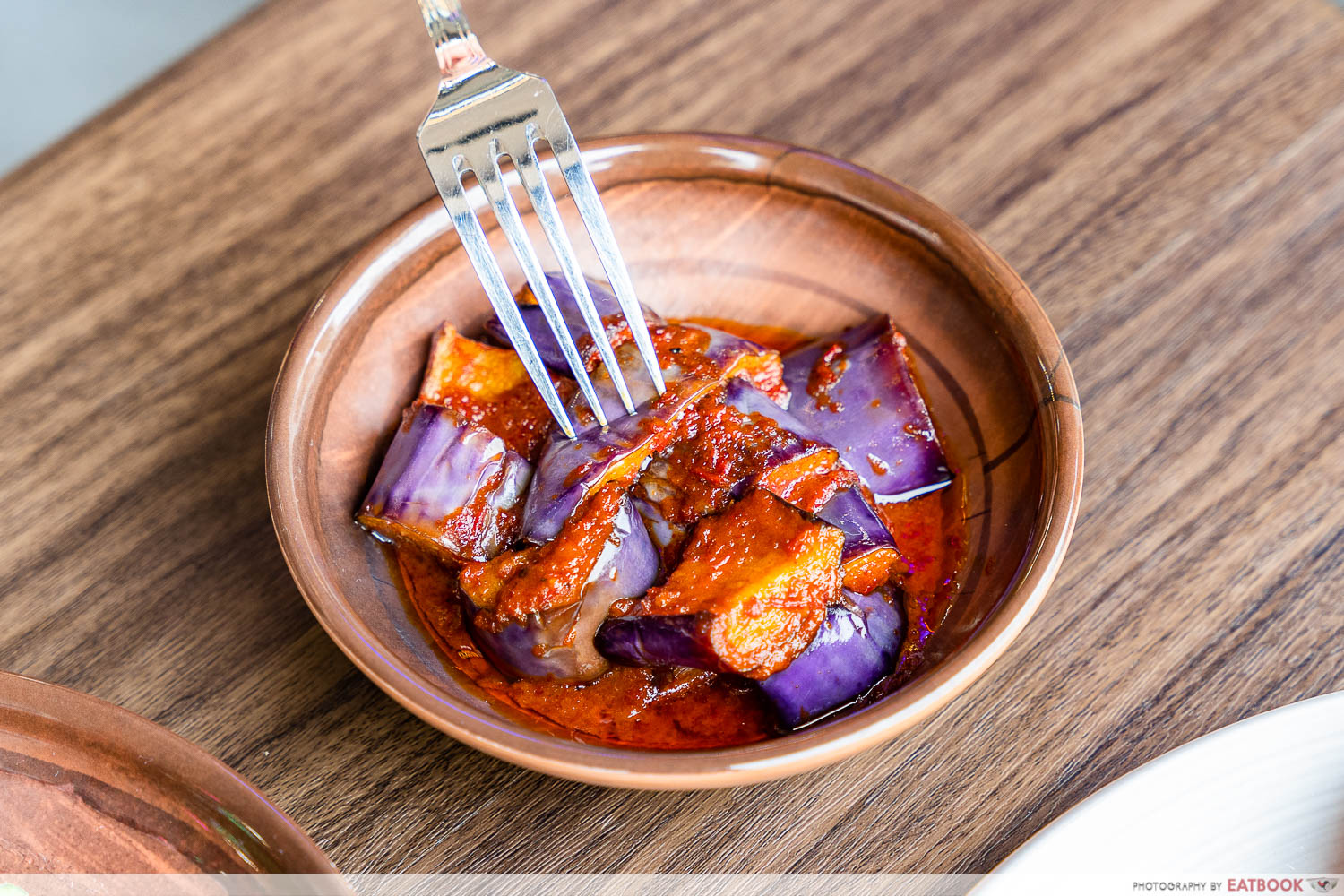 Wild Coco also has a selection of side dishes which you can pair with your meal. I enjoyed the Nyonya Assam Eggplant ($7.80), and was pleasantly surprised to discover the paste in this is also house-made. It's not overly sour, and is nicely balanced with a touch of sweetness.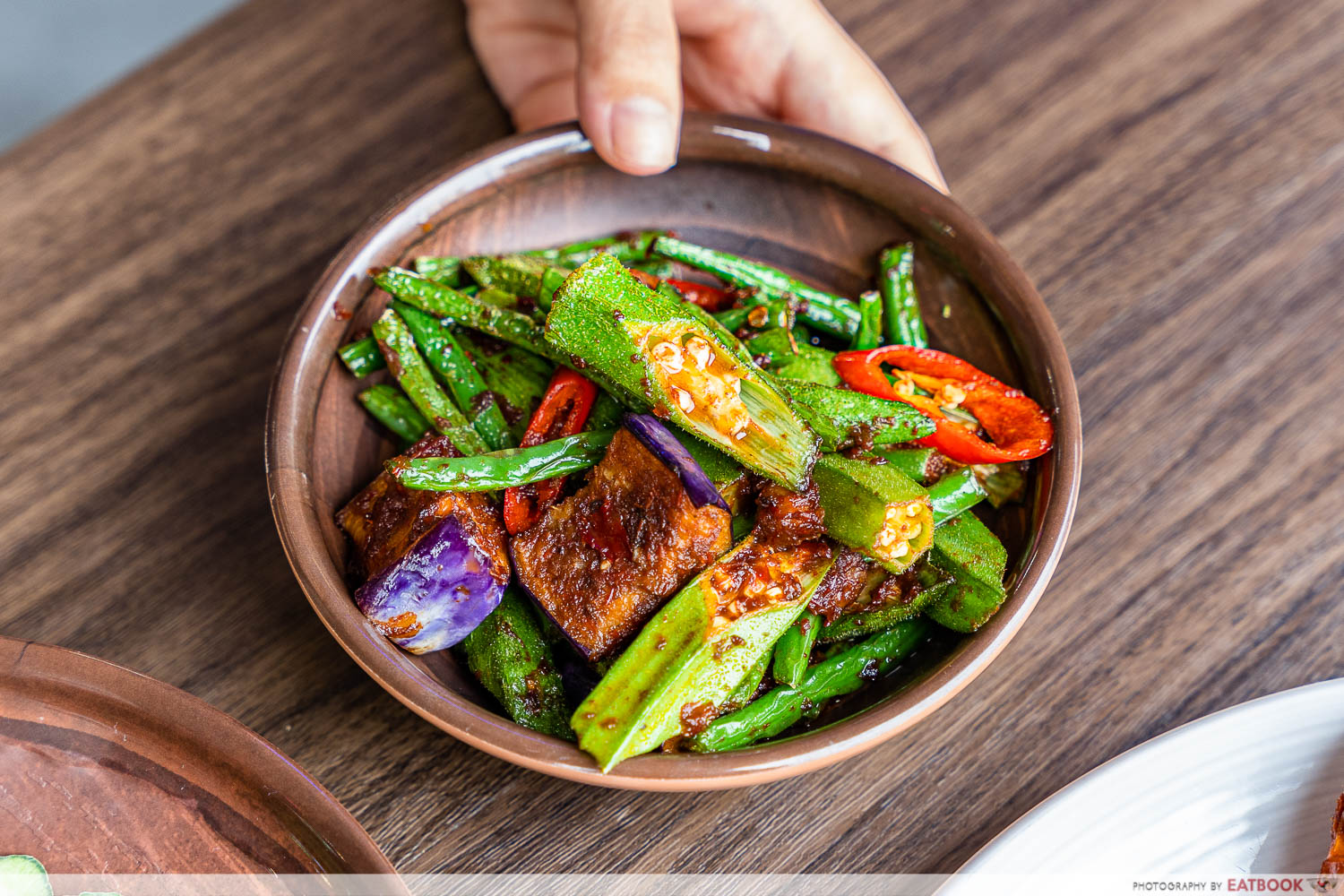 Featuring yet another house-made sambal is the Stir Fry Three Heavenly King ($9.80), where you'll get a mix of lady's finger, French beans, and eggplant in a savoury, shrimpy stir-fry.
The portions of these sides are rather small, so they are rather pricy relative to the nasi lemak.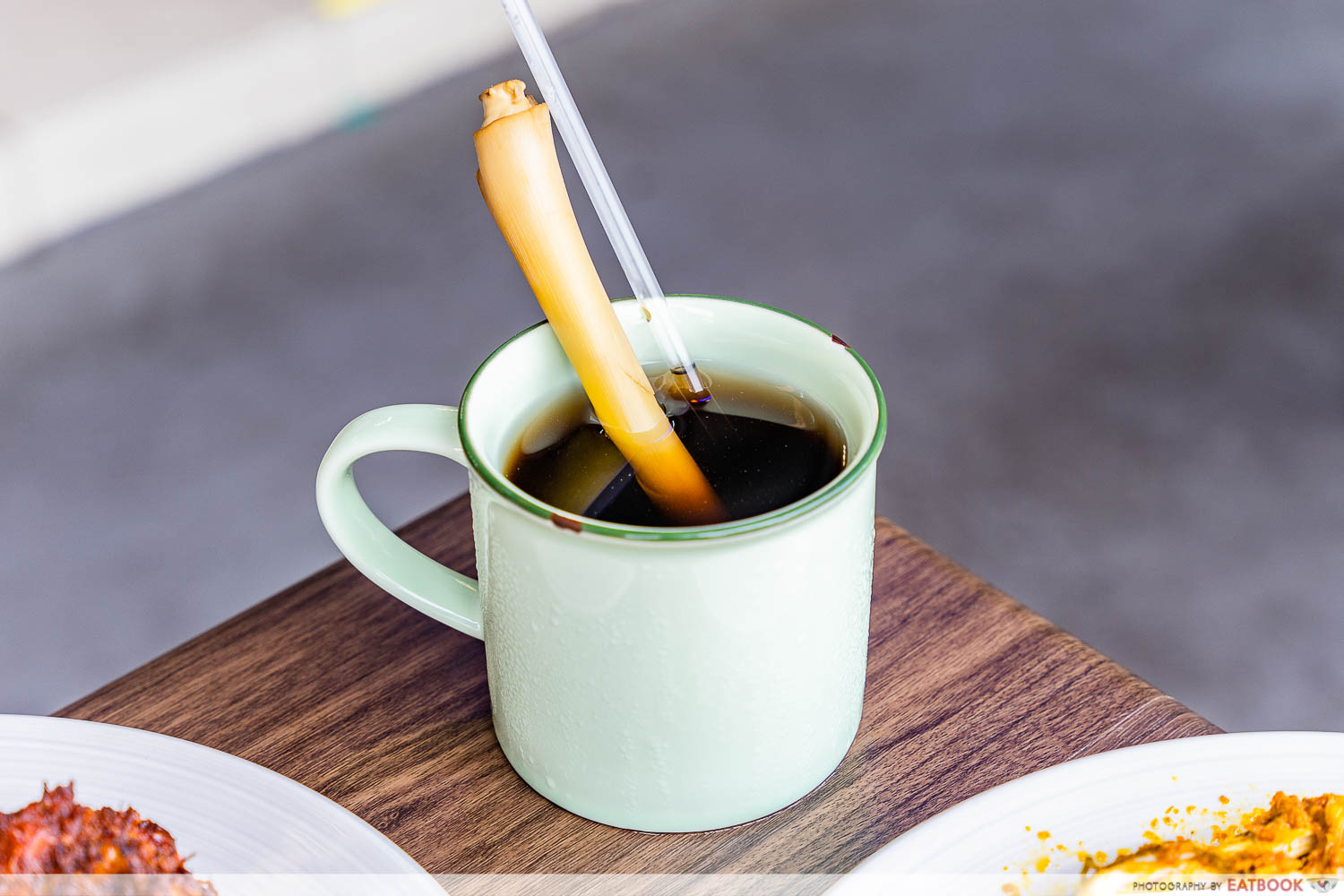 Wash it all down with a cuppa Double Grass ($3.50), which is a mix of lemongrass and grass jelly, spiked with honey. Otherwise, the Fresh Young Coco ($5.80) is a naturally sweet, refreshing finish to the meal.
Ambience at Wild Coco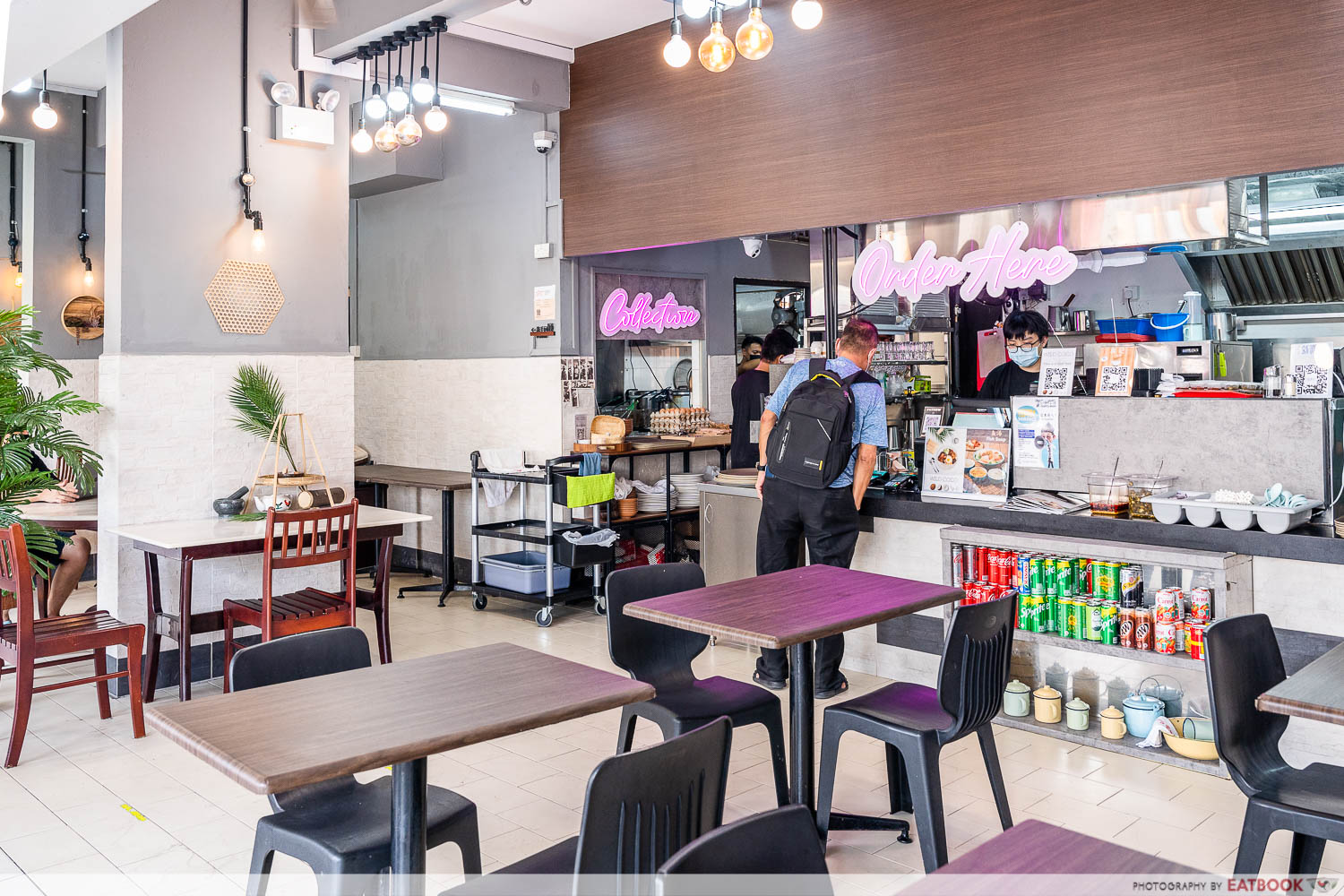 Located in 7 Days Coffeeshop, right by a roadside carpark, there's rather limited seating available. It's a pretty new space, though, with neon signages and modern bright, clean interiors, ventilated by fans. Wild Coco also shares the space with Hei Kee Wanton Mee and Xin Yuan Ji Fish Soup, and it gets rather crowded at mealtimes, so it's best to visit before or after these times.
Walking here from Boon Keng MRT Station takes about six minutes, otherwise you could also hop on a 15-minute bus ride from Newton MRT Station.
Uptown Nasi Lemak Review: Ayam Goreng And Beef Rendang Nasi Lemak In Telok Ayer
The verdict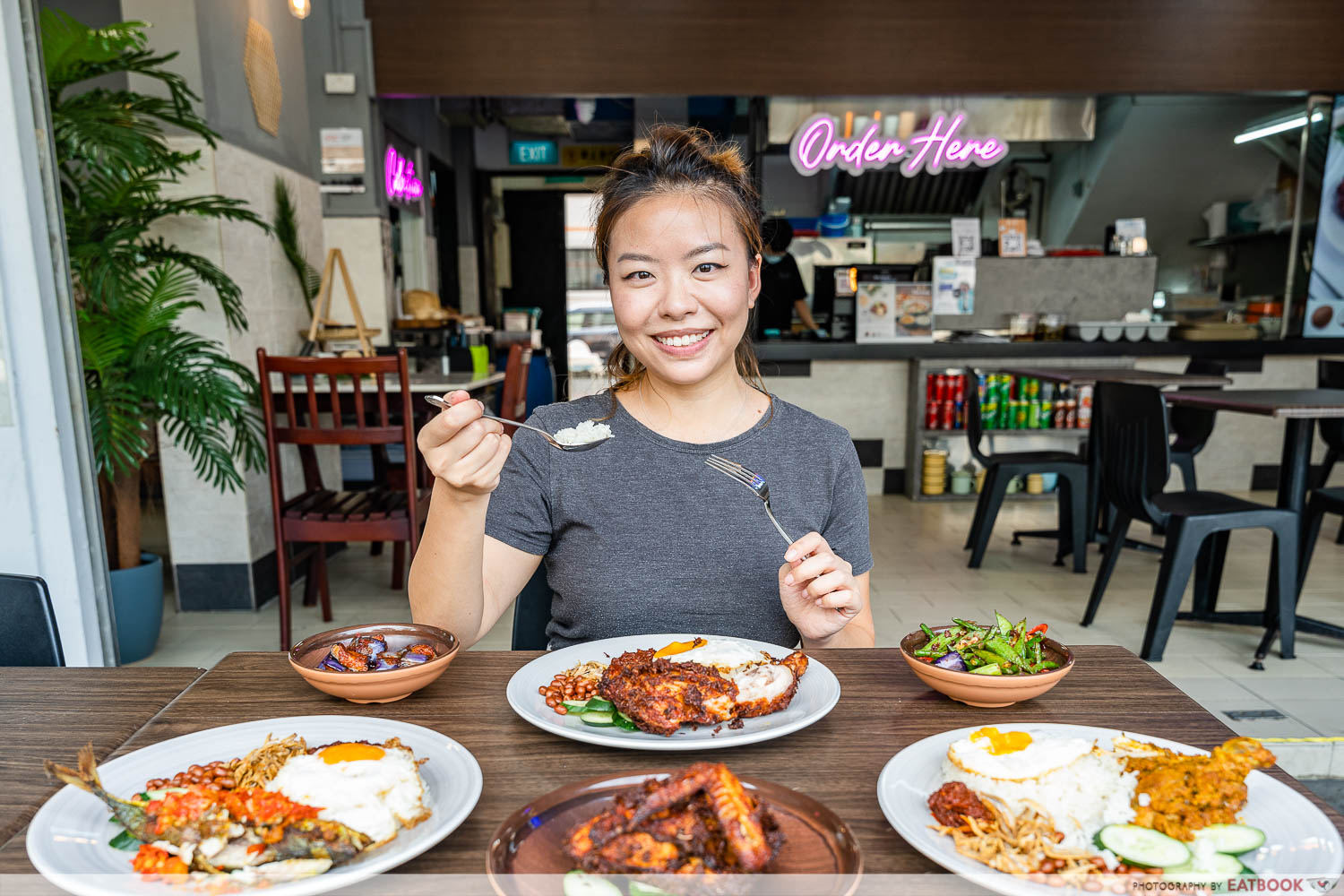 Wild Coco is a mere 15-minute walk from our office, so that definitely wins them some points for convenience in my books. Even if not, it's still good enough that I'd make a trip here just for this.
It also scratched that itch for Malaysian-style nasi lemak, which I previously would think twice about shelling out for at The Coconut Club, where it costs almost double. At sub-$10 for a hearty serving of the local favourite, with fresh, house-made components, no MSG, and that whole, well-fried chicken leg, it's surely nothing to complain about.
We recently also tried Dickson Nasi Lemak, a takeaway-only eatery that also serves Malaysian-style nasi lemak. If you're on a nasi lemak hunt, here's a list of nasi lemak you can try across our island!
Address: 122 McNair Road, #01-45, Singapore 320122
Opening hours: Mon-Sat 10:30am to 9pm (last order at 8:30pm), Sun 8:30am to 3pm
Tel: 9119 3822
Website
Wild Coco is not a halal-certified eatery.
22 Nasi Lemak In Singapore With Good Sambal, Crispy Fried Chicken And Coconutty Rice
Photos taken by Zi Hui Tan.
This was a media tasting at Wild Coco.
Wild Coco Review: Malaysian-Style Nasi Lemak With 24H-Marinated Fried Chicken
Wild Coco Review: Malaysian-Style Nasi Lemak With 24H-Marinated Fried Chicken -

8/10
Summary
Pros
– Tasty components, all house-prepared with fresh ingredients
– Good portion size for the price
Cons
– Side dish portions are a bit small for the price
Recommended dishes: Nasi Lemak Ayam Berempah (Leg) ($9.80), Nyonya Assam Eggplant ($7.80)
Opening hours: Mon-Sat 10:30am to 9pm (last order at 8:30pm)
Address: 122 McNair Road, #01-45, Singapore 320122