Wing Liao Lor in Hong Lim Market & Food Centre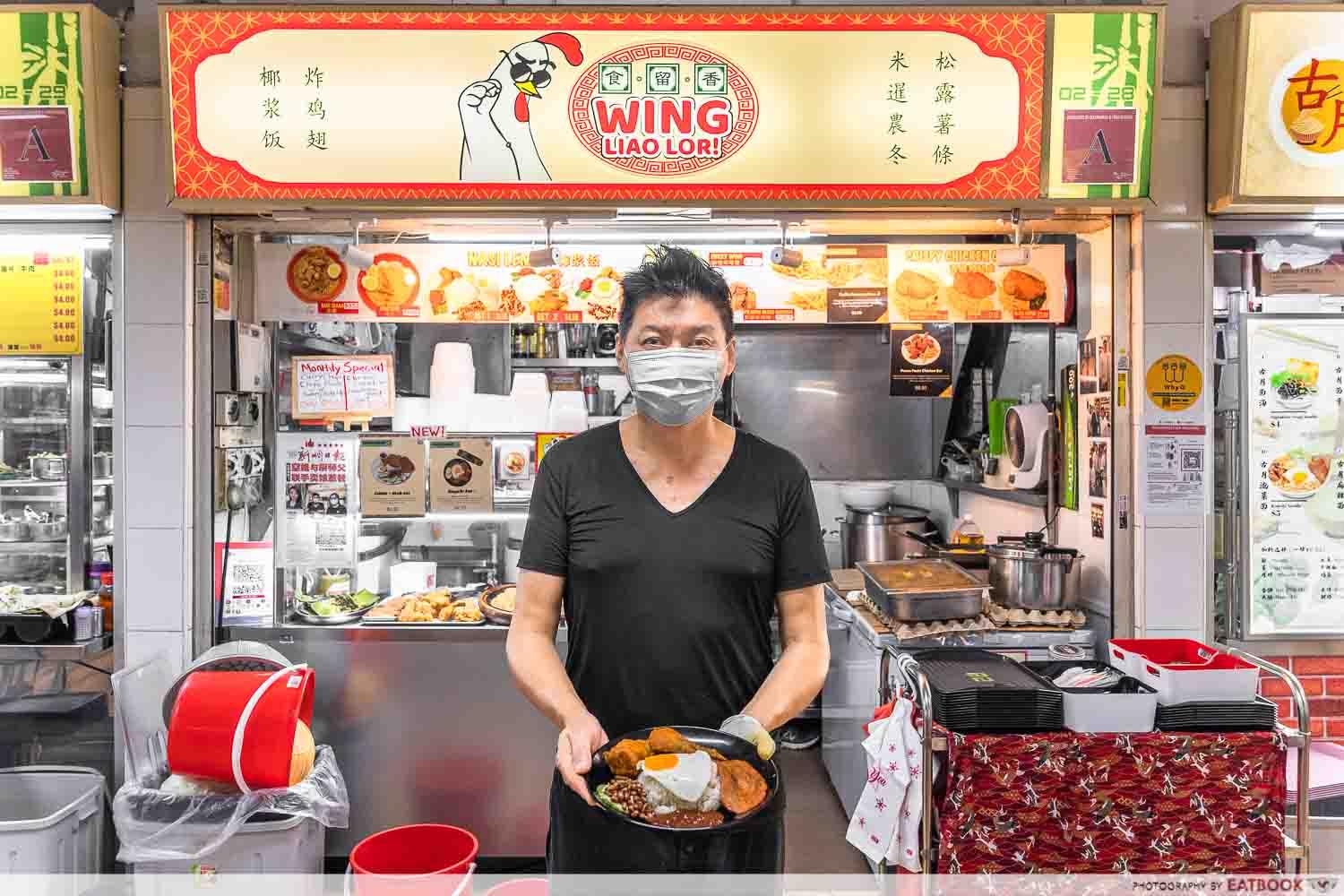 I have huge respect for F&B owners running their hawker stalls and restaurants, especially during these uncertain times. The past couple of years have been tough for the industry, so it's all the more admirable when someone starts a new food-related business in spite of the unpredictable dine-in situation. One such story is Wing Liao Lor, a father-daughter hawker stall that launched earlier this year.
Located in Hong Lim Market & Food Centre, Wing Liao Lor garnered a fair amount of media coverage when they first opened earlier this year. Started by Kenny, an ex-chef with over 20 years of culinary experience, and his daughter Jacelyn, a former air stewardess, the hawker stall specialises in Chinese-Nyonya dishes such as mee siam, nasi lemak, along with Western grub paired with house-made sauces.
Eddy's No.1 Review: $10 Duck Confit And Mala Spaghetti In Hong Lim Food Centre
The food at Wing Liao Lor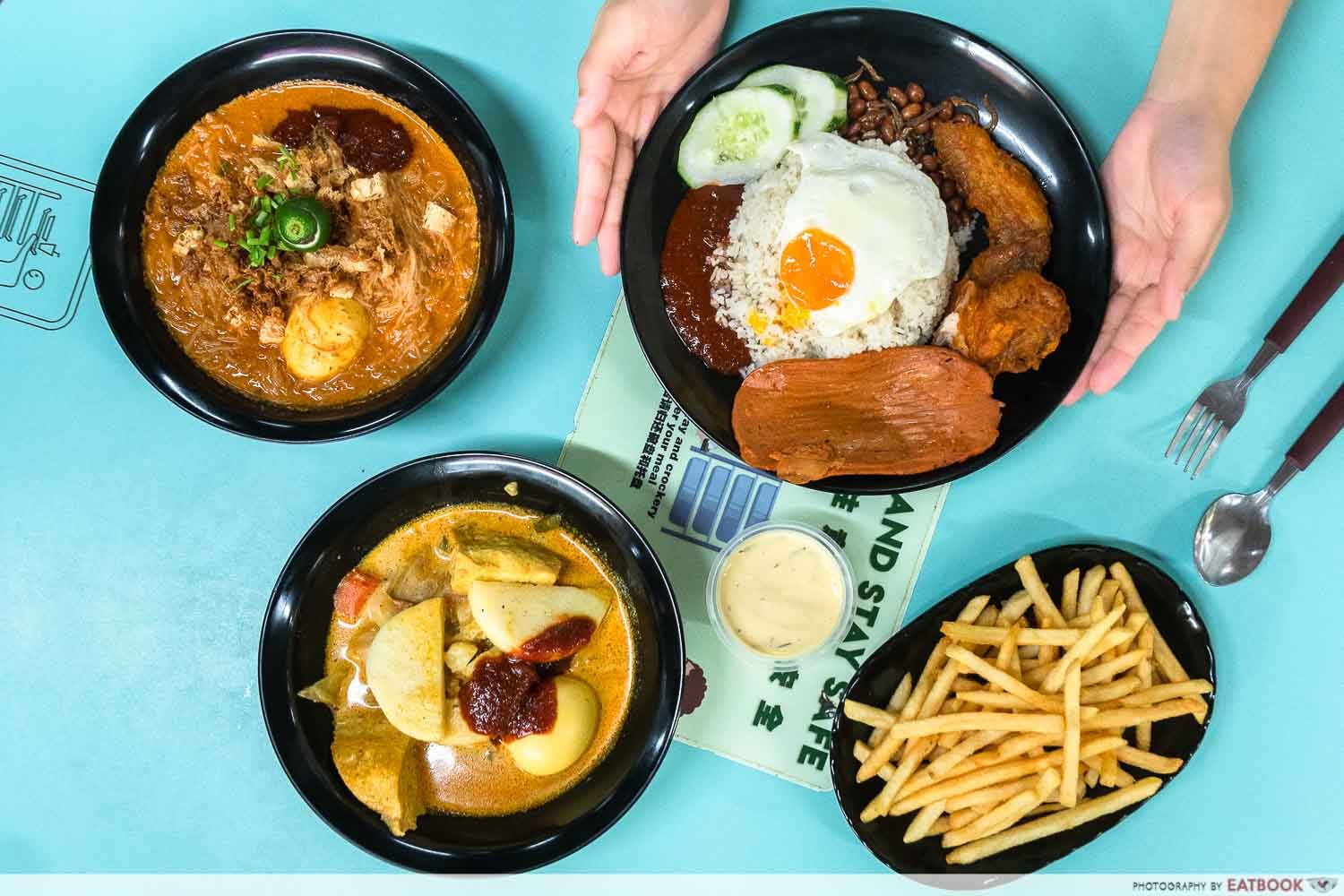 The menu is rather extensive for a small hawker stall, so we narrowed down our options to include a few of their best-sellers. We started with the French Fries ($4) with Golden Salted Egg Sauce ($1.50), which turned out to be a unanimous favourite at the table.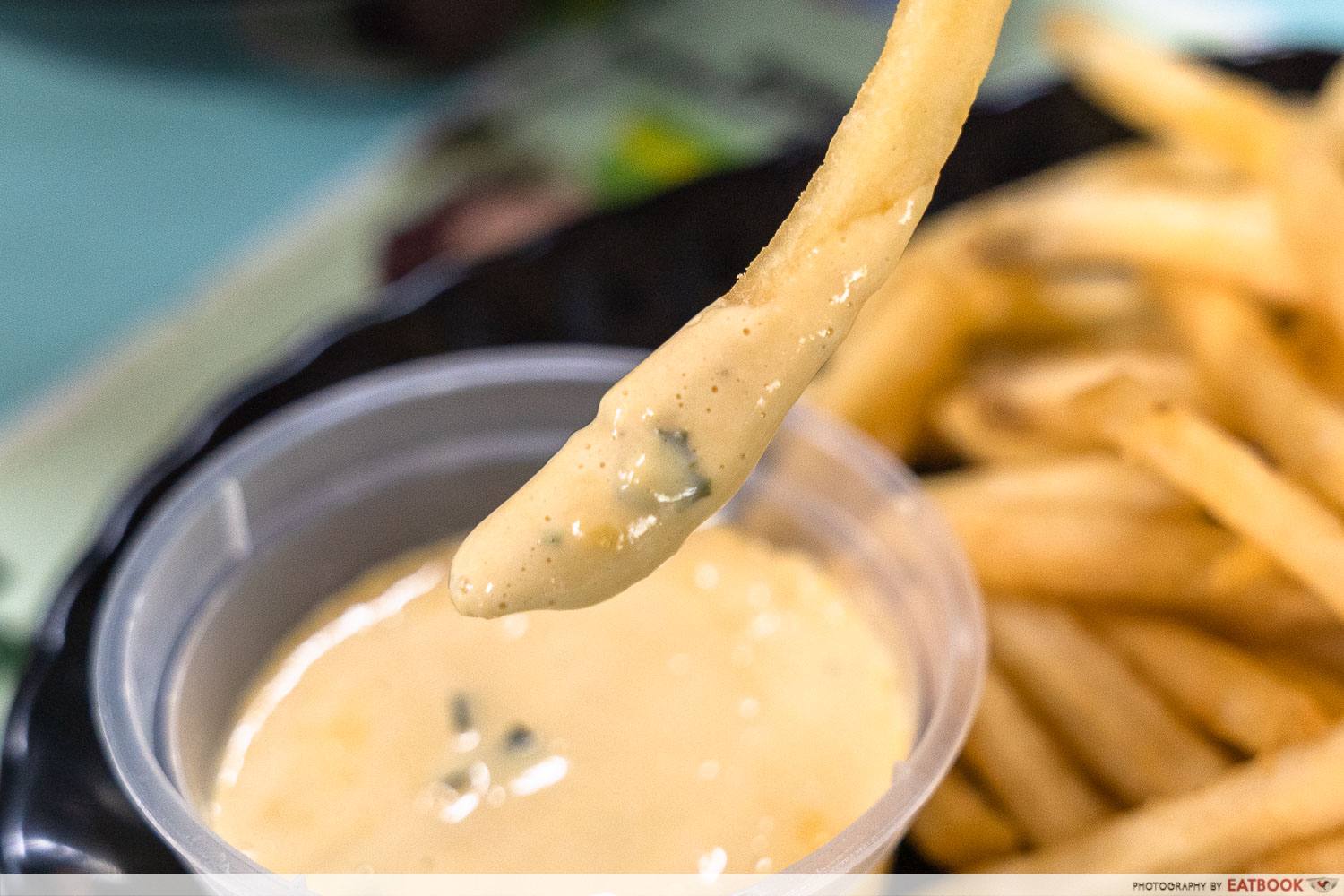 The skinny fries came piping hot with a generous serving of house-made salted egg yolk sauce. I unreservedly dunked my fries into the sauce, and was pleasantly surprised by how flavourful it was. Upon first taste, it was smooth and slightly sweet, with a distinct salted egg yolk flavour. It's definitely one of the better salted egg yolk sauces I've tried. I could just imagine drizzling this over everything else that's sinfully deep-fried—chicken nuggets, fried fish chunks, potato wedges and more.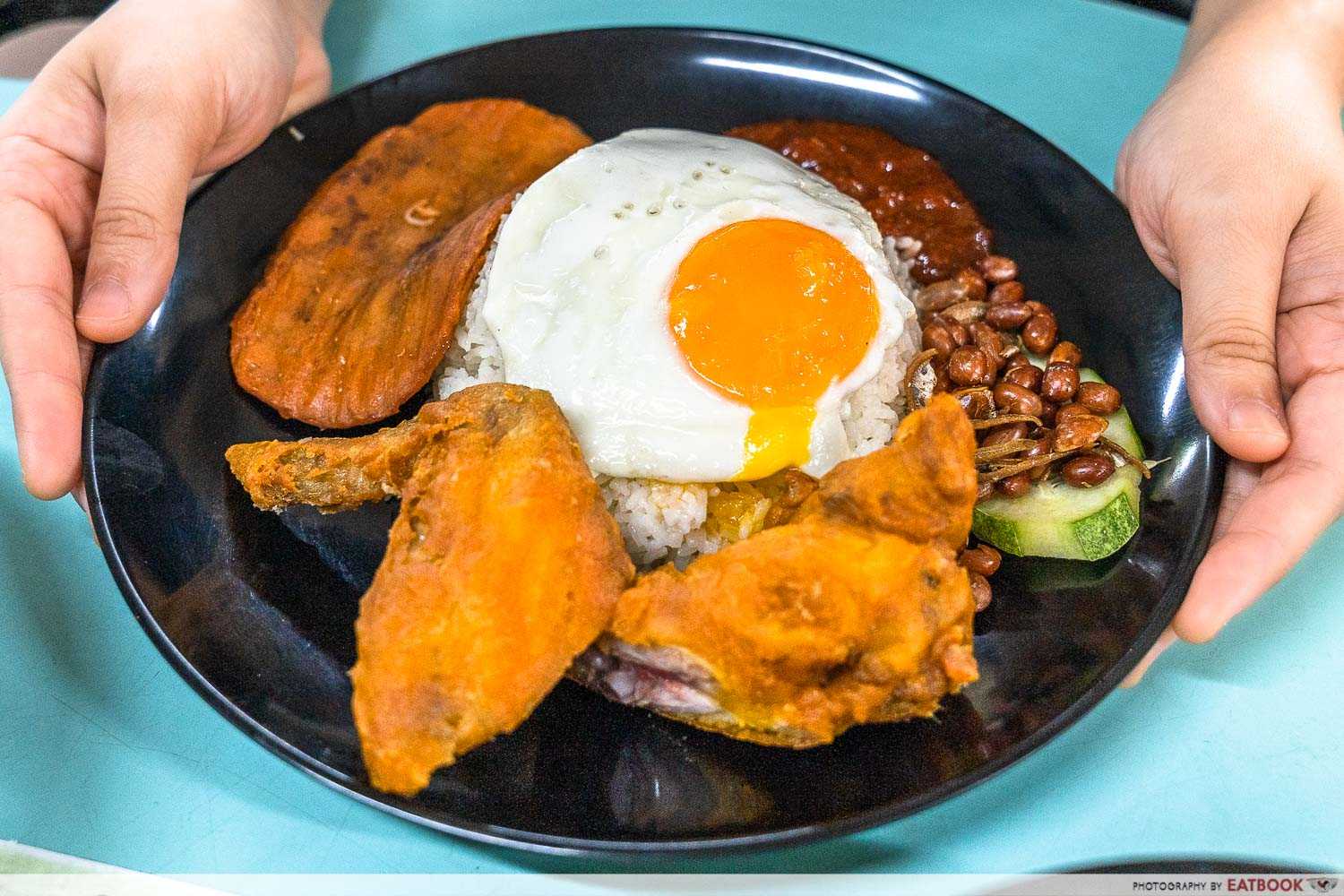 A good plate of nasi lemak can be pretty subjective, especially when it comes to the very base: the rice. I'm happy to report that the nasi here was the right amount of light and fluffy, with a marked coconutty fragrance. There was a homemade, nostalgic taste to this local classic, and when paired with the freshly fried peanuts and ikan bilis, each mouthful reminded me of a fond time in my childhood.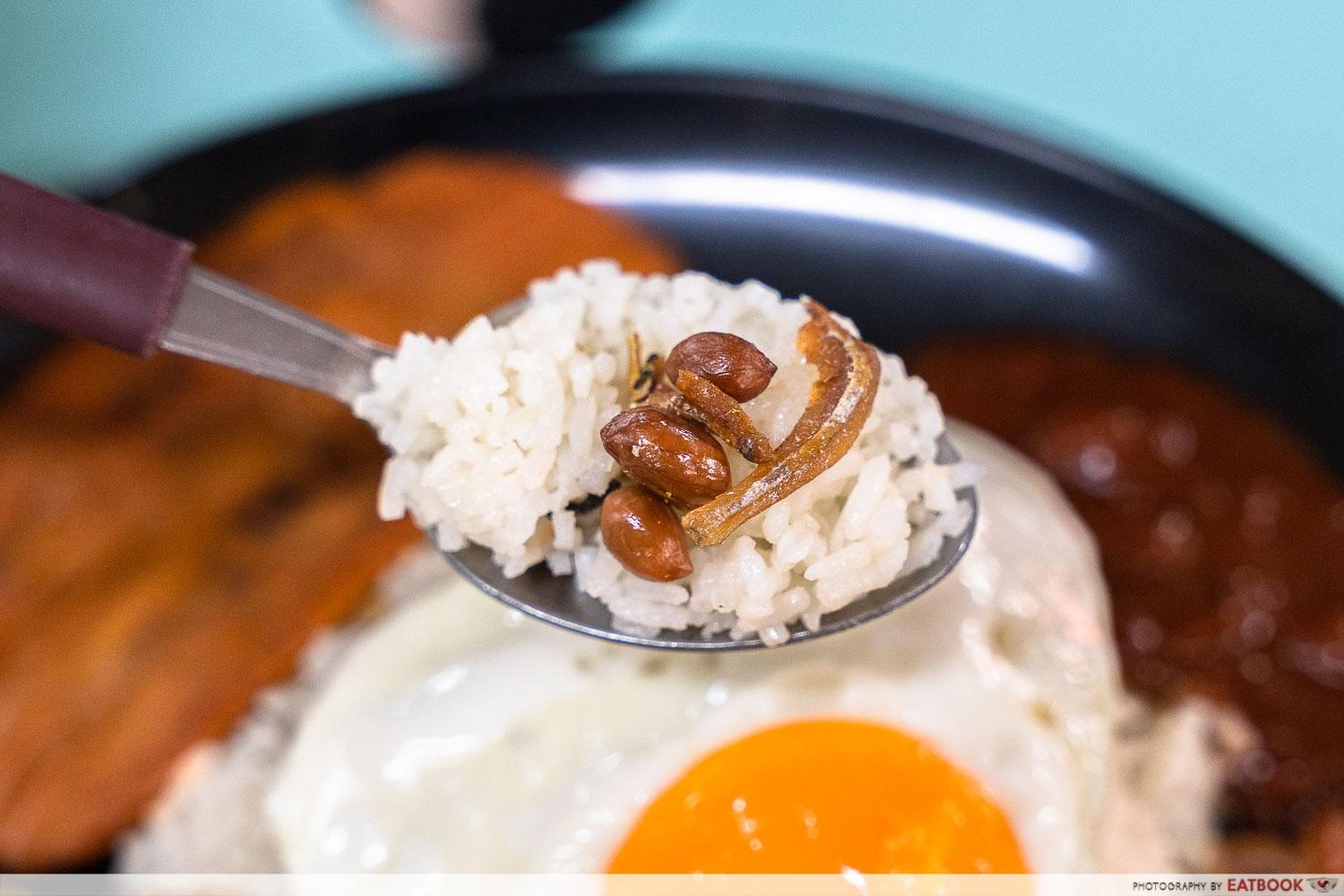 The Nasi Lemak Set 3 ($6) offered here neatly comprises a bed of coconut rice, fried curry chicken wing, and otah, served with peanuts, ikan bilis, and sweet sambal. While the rice was a hit, the chicken wing, unfortunately, missed the mark.
It's a pity that the chicken wasn't fried to order, as it arrived cold and soggy, almost. While the curry seasoning was a notable attempt by Wing Liao Lor to stand out, the flavour didn't fare well with the stale batter. Perhaps we'd just caught them on a bad day, as the reviews online seem to rave about the curry wings.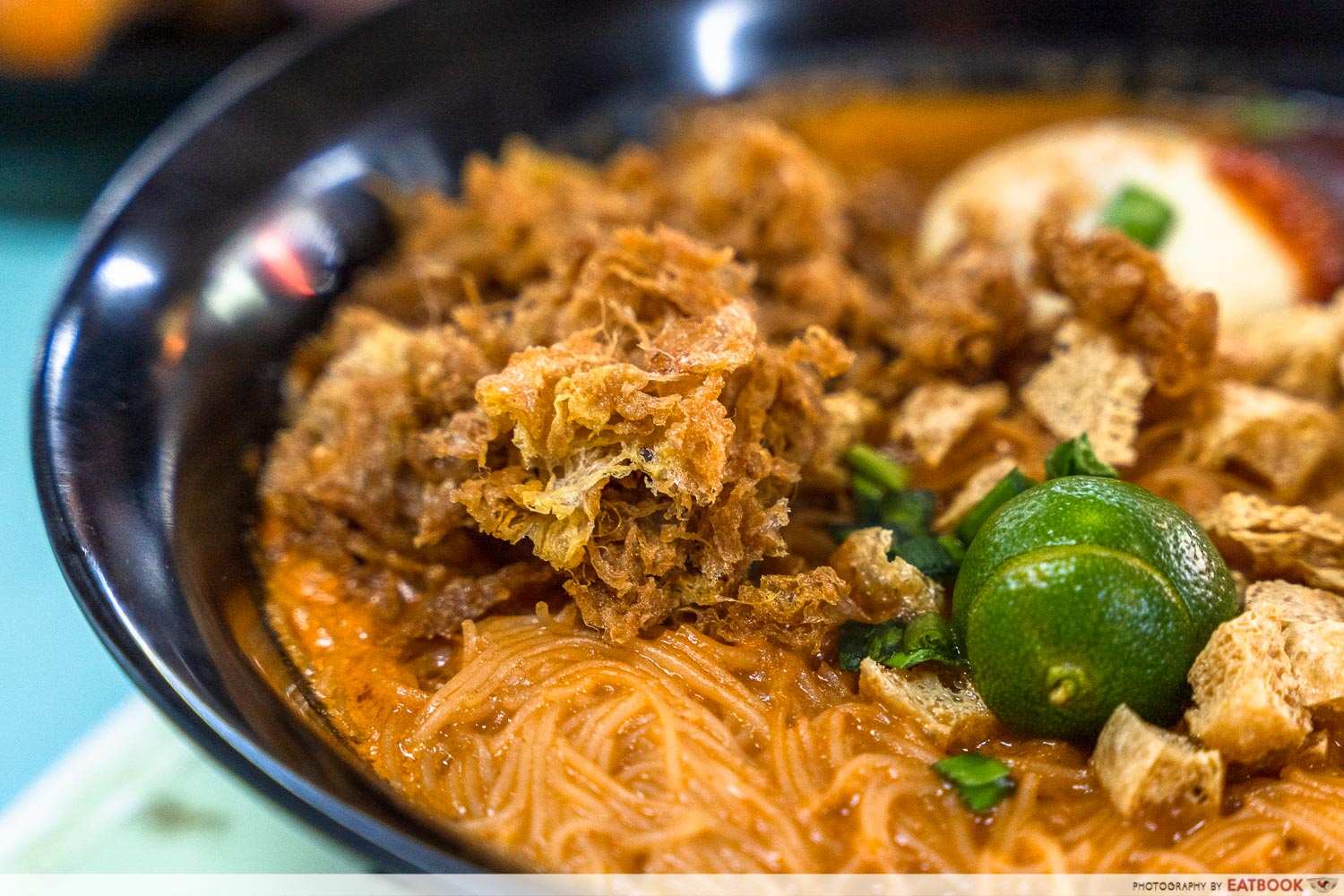 Up next is the Mee Siam ($4.50), a ubiquitous hawker dish steeped in Nyonya heritage. The version served here is light and well-balanced, leaning towards the sweet side. You get a hearty portion, which makes this a solid breakfast to kickstart your day.
My highlight for this dish was the mountain of egg bomb, AKA deep-fried egg floss, as it added much-needed greasiness and flavour to the otherwise mild gravy. It's not my favourite rendition, but nonetheless a decent bowl of mee siam at an affordable price.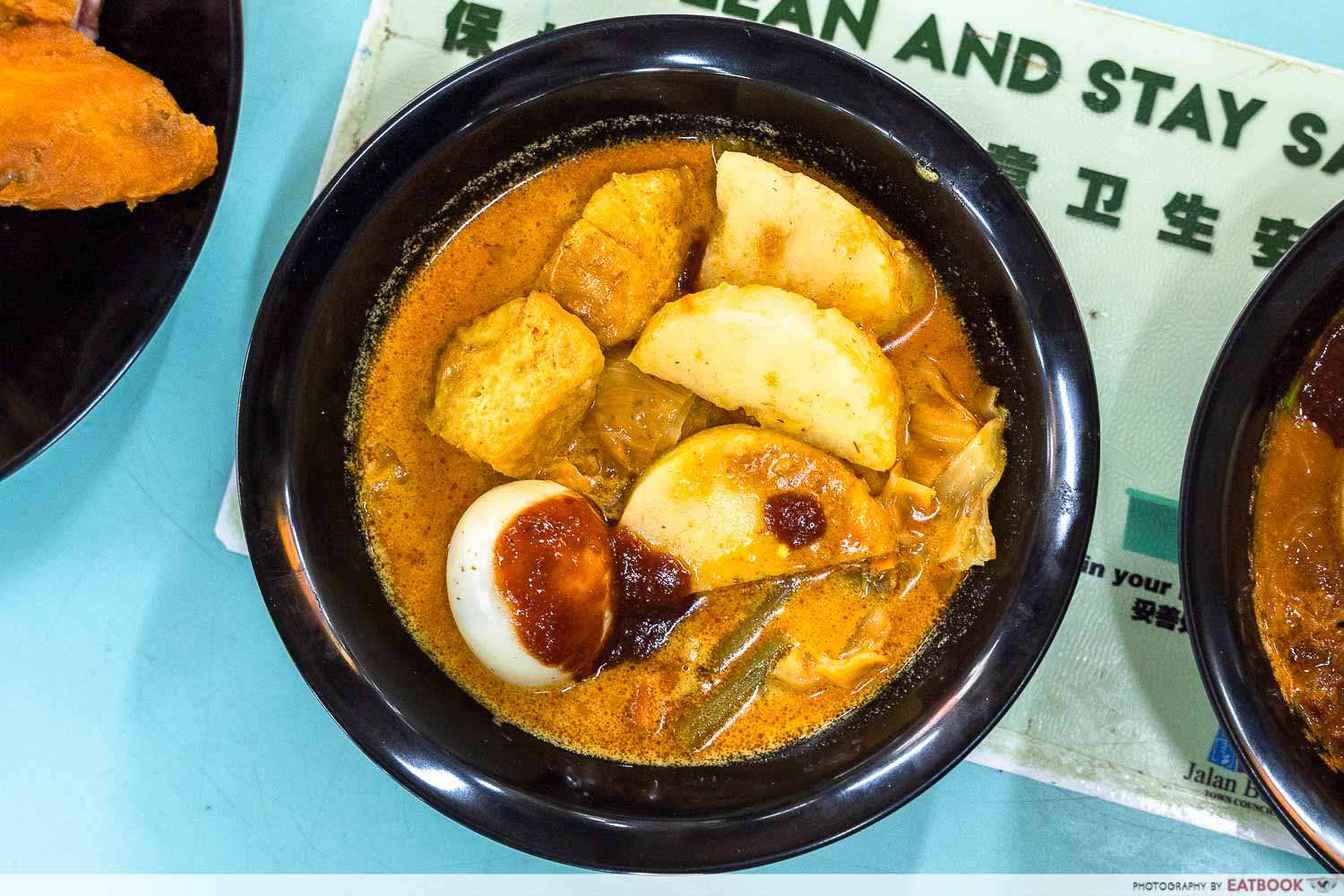 Another old-time favourite is the Lontong ($4.50). This dish, like the mee siam, came as a generous portion. Loaded with cabbage, long beans, and tau kwa to soak up all the flavours, the Nyonya-style lontong was topped with rice cakes and a hard-boiled egg for a complete meal.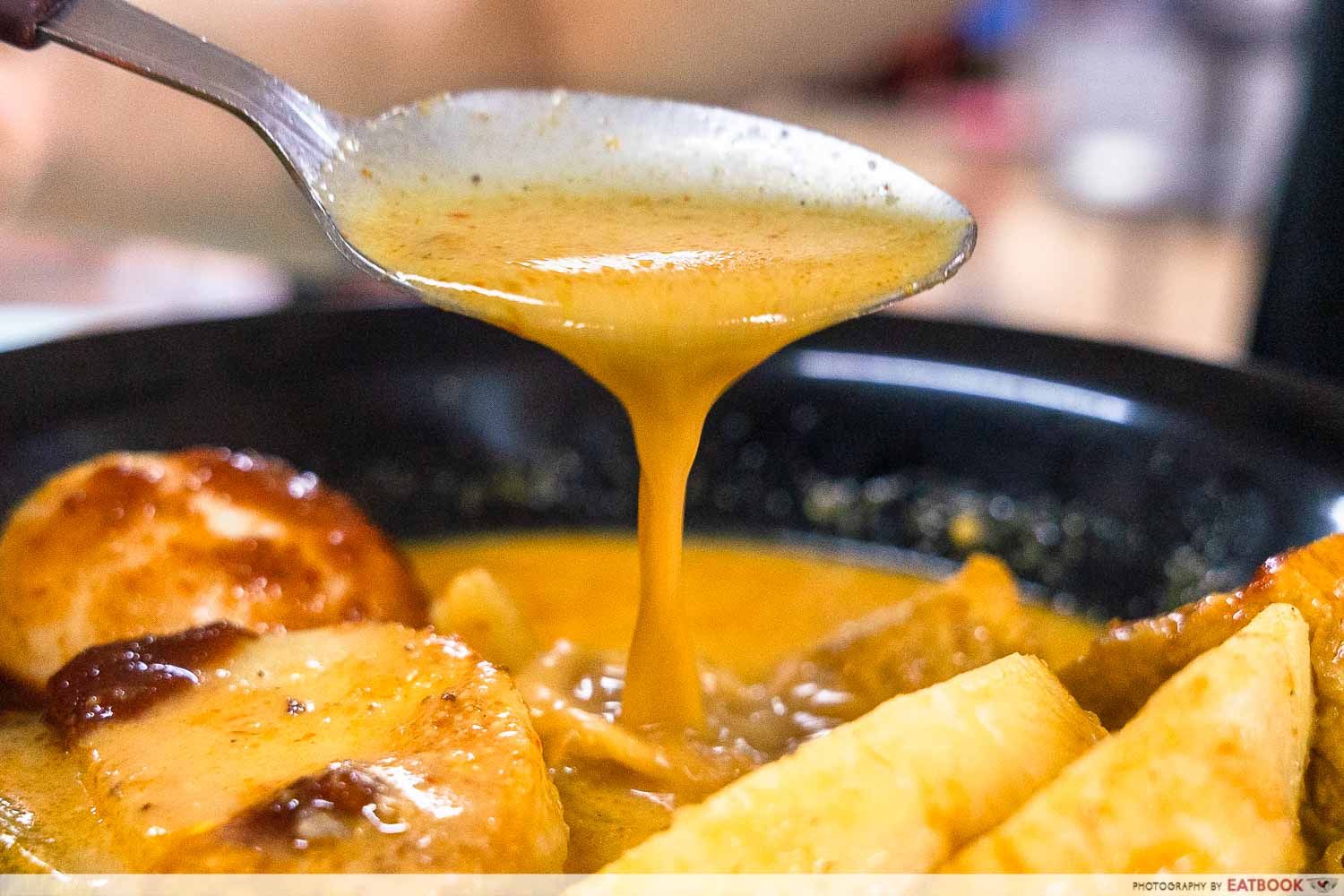 The gravy was fragrant and lemak, reminiscent of the old-school flavours one would associate lontong with. Unfortunately, there was a slightly sour aftertaste that didn't jibe with me. Perhaps it's a personal preference, but the sauce just wasn't my cup of tea.
Tangled Review: Freshly Made Pasta From $7.90 In Chinatown, Including Truffle Mushroom And Black Pepper Crab
Ambience at Wing Liao Lor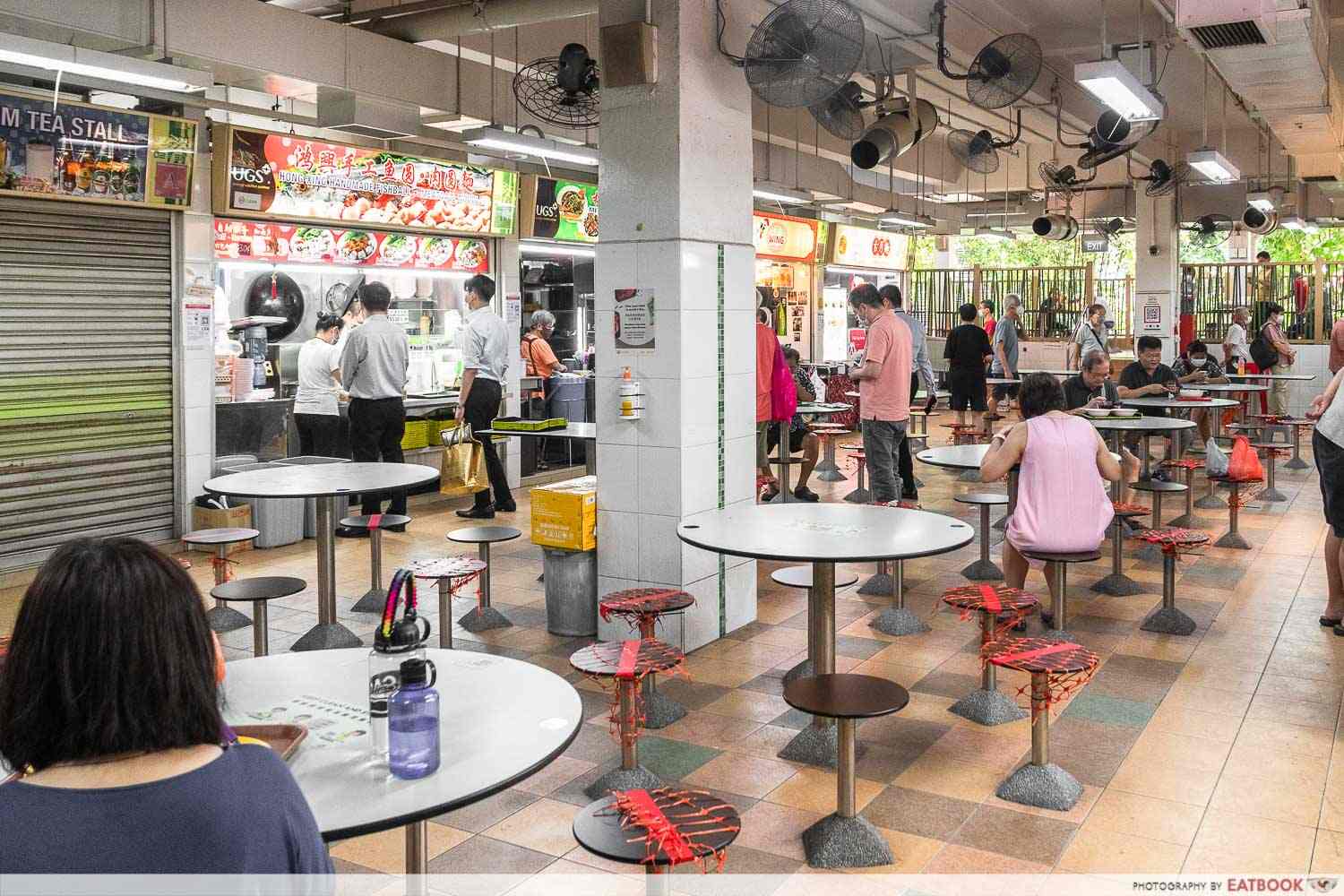 The hawker stall is centrally located in Hong Lim Market & Food Centre, which is a five-minute walk from Chinatown MRT Station. There are plenty of tables available at this food centre, and a number of ceiling fans dotted around to make the afternoon heat more bearable. It can get crowded during the peak lunch hour, so you might want to visit earlier to avoid the queues.
The verdict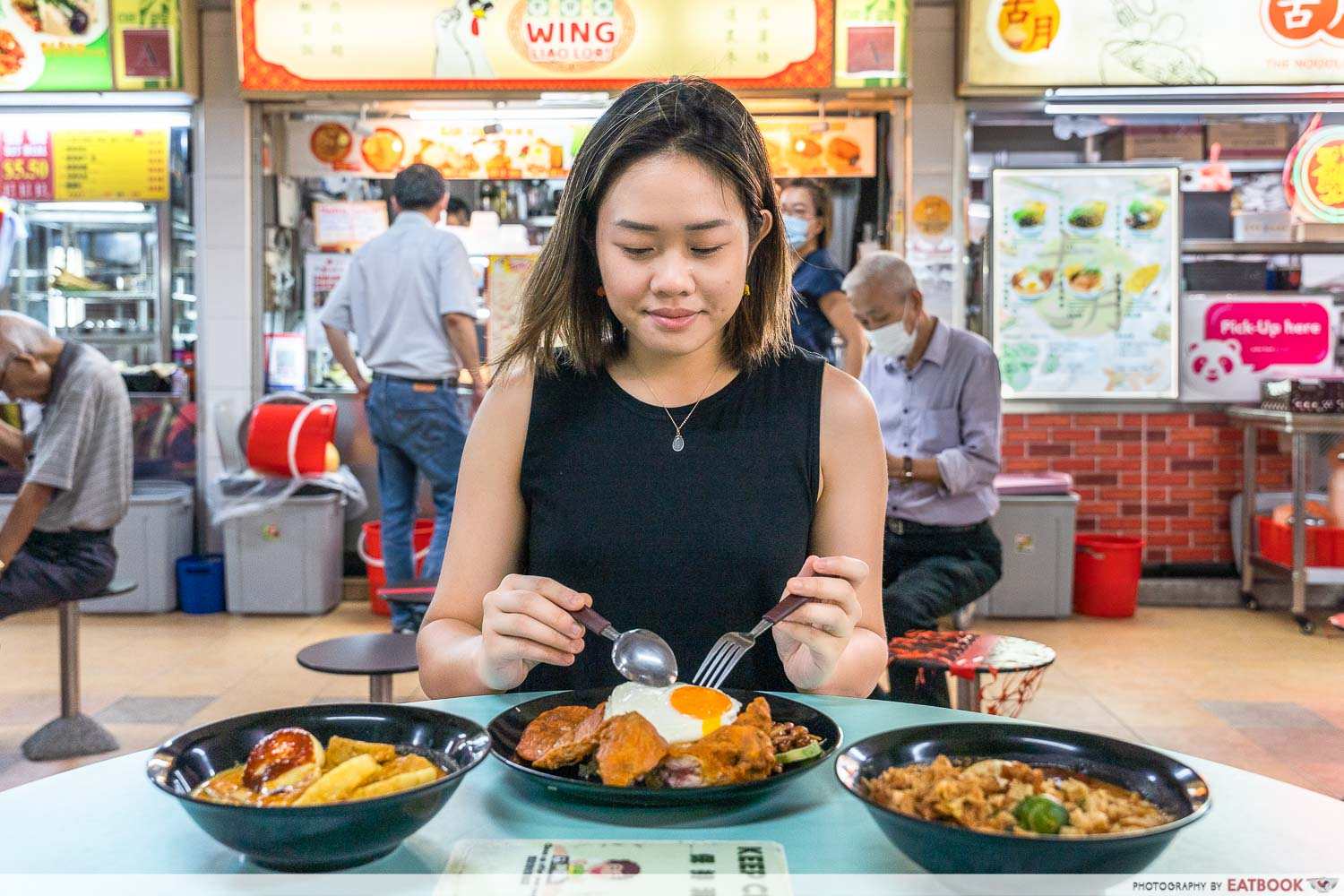 Hong Lim is home to a slew of popular eats, from Western-Asian stall Eddy's No 1 to Michelin Bib Gourmand bak chor mee stall Tai Wah Pork Noodle. This puts Wing Liao Lor in a tricky position as they're faced with stiff competition. One way for them to stand out is to have the wings freshly fried upon receiving an order, instead of displaying the pre-fried ones on the counter. It's an extra step that might be less feasible when it gets busy, but I think it's still worth the effort.
Additionally, they can consider expanding on their house-made salted egg yolk sauce by exploring more variations. The good news is you can also get it as part of their Crispy Chicken Cutlet with Golden Salted Egg set ($8.50), which I think is a smart move. I'd love to see new menu additions that place this heavenly sauce at the forefront of the dish!
If you're in the area, check out our Chinatown food guide for $2.50 chicken rice, handmade noodles and more.
Address: 531A Upper Cross St, #02-28, Singapore 051531
Opening hours: Mon-Sat 9am to 6pm
Tel: 8468 2188
Website
Wing Liao Lor is not a halal-certified eatery. 
17 Chinatown Food Gems Including Noodles At $1 And A 100cm Food Platter
Photos taken by Lim Yu Hui.
This is an independent tasting at Wing Liao Lor.
Wing Liao Lor Review: Father-Daughter Stall Selling Nasi Lemak With Fried Curry Wings, Salted Egg Yolk Fries And More
Wing Liao Lor Review: Father-Daughter Stall Selling Nasi Lemak With Fried Curry Wings, Salted Egg Yolk Fries And More -

6.5/10
Summary
Pros
– Convenient location
– Salted egg yolk sauce was delicious
– Wide variety of food
Cons
– Curry wing was not crispy
– Mee siam and lontong were pretty average
Recommended dishes: French Fries ($4) with Golden Salted Egg Sauce ($1.50), Mee Siam ($4.50)
Opening hours: Mon-Sat 9am to 6pm
Address: 531A Upper Cross St, #02-28, Singapore 051531