哇烤 Wow Skewer Bar will wow your tastebuds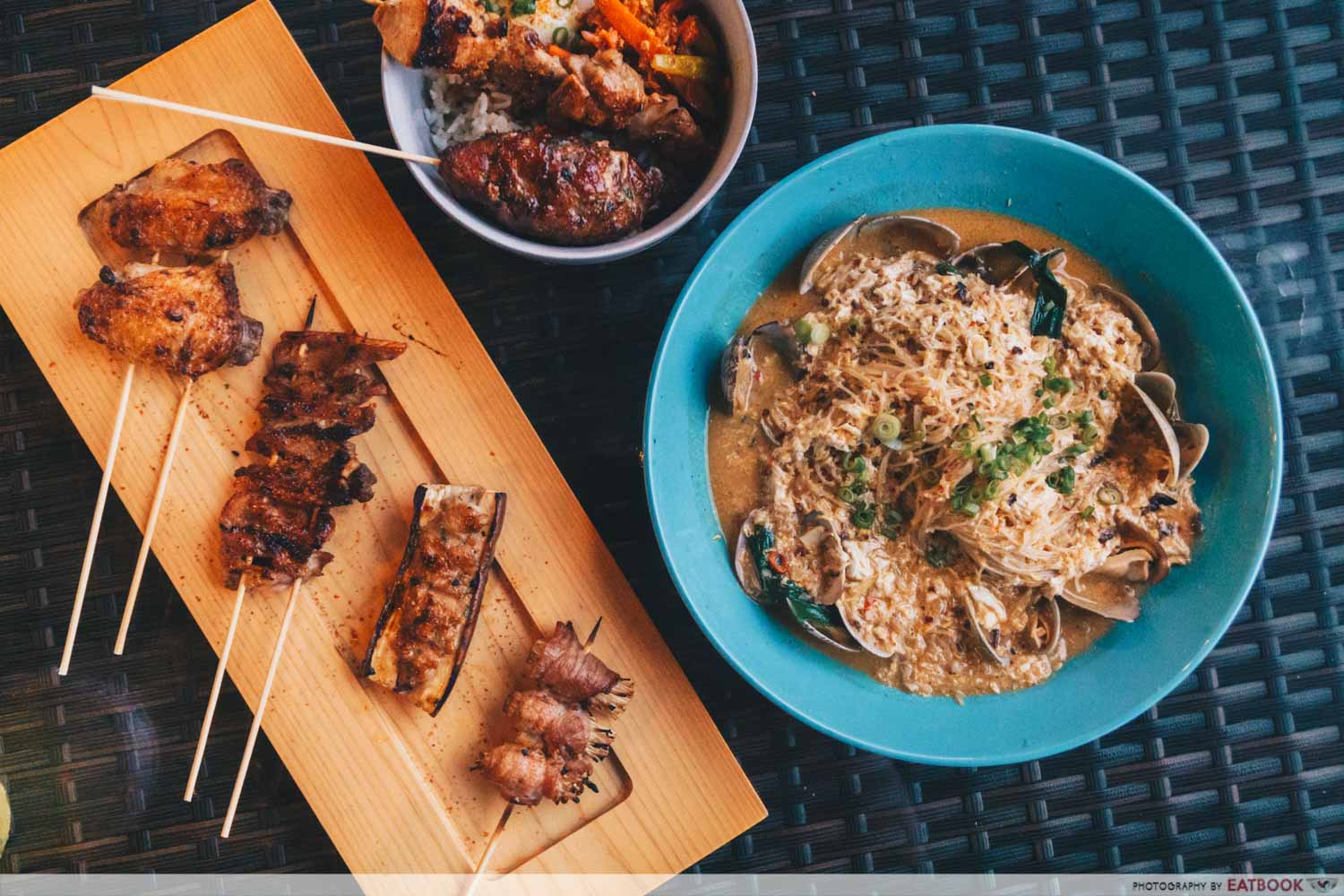 If you've ever travelled to the land of the rising sun, or watched enough Japanese movies, you'll know that izakayas are an integral part of Japanese culture. Like bees to honey, salarymen flock to watering holes across the country, acting as a post-work stress release valve.
In the quaint Bedok Marketplace, 哇烤 Wow Skewer Bar recreates that izakaya spirit while infusing distinctly Singaporean elements. Its shophouse facade evokes nostalgic feels from generations past, while local flavours cast a subtle shadow over every dish.
Famed grill masters Burning Oak reside only one row down, so can this burgeoning stall challenge their skewer monopoly and find success? Ultimately, that translates to emerging as a prime post-work hangout in the East to wind down with finger food and booze in hand.
Food at 哇烤 Wow Skewer Bar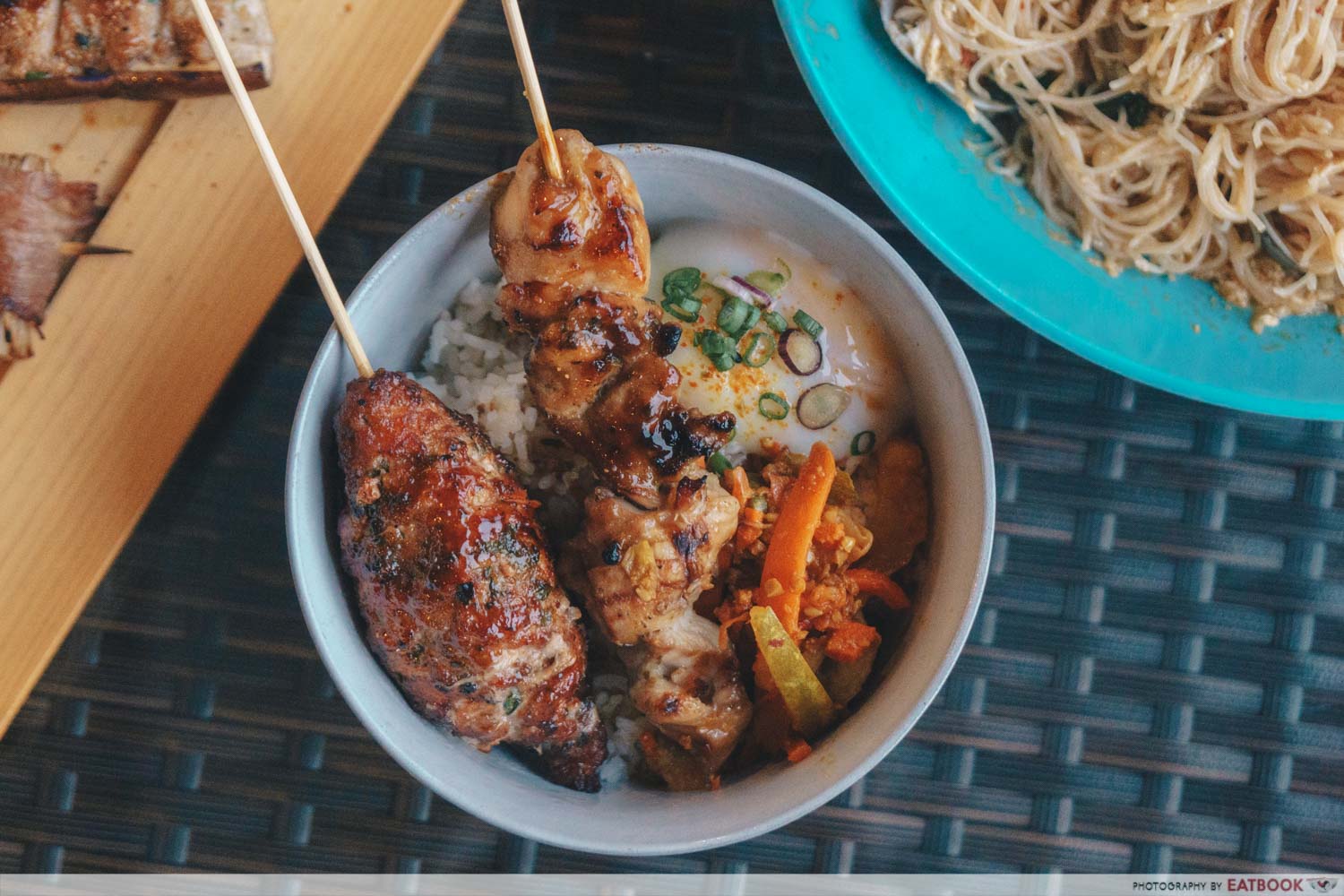 Considering Bedok Marketplace has stalls selling steaks for above $30, I was pleasantly surprised to see their eponymous Wow Skewer Bowl, a rice bowl suited for a light meal, going for just $5.50. For comparison, The Burning Oak's cheapest bowl is significantly pricier at $12.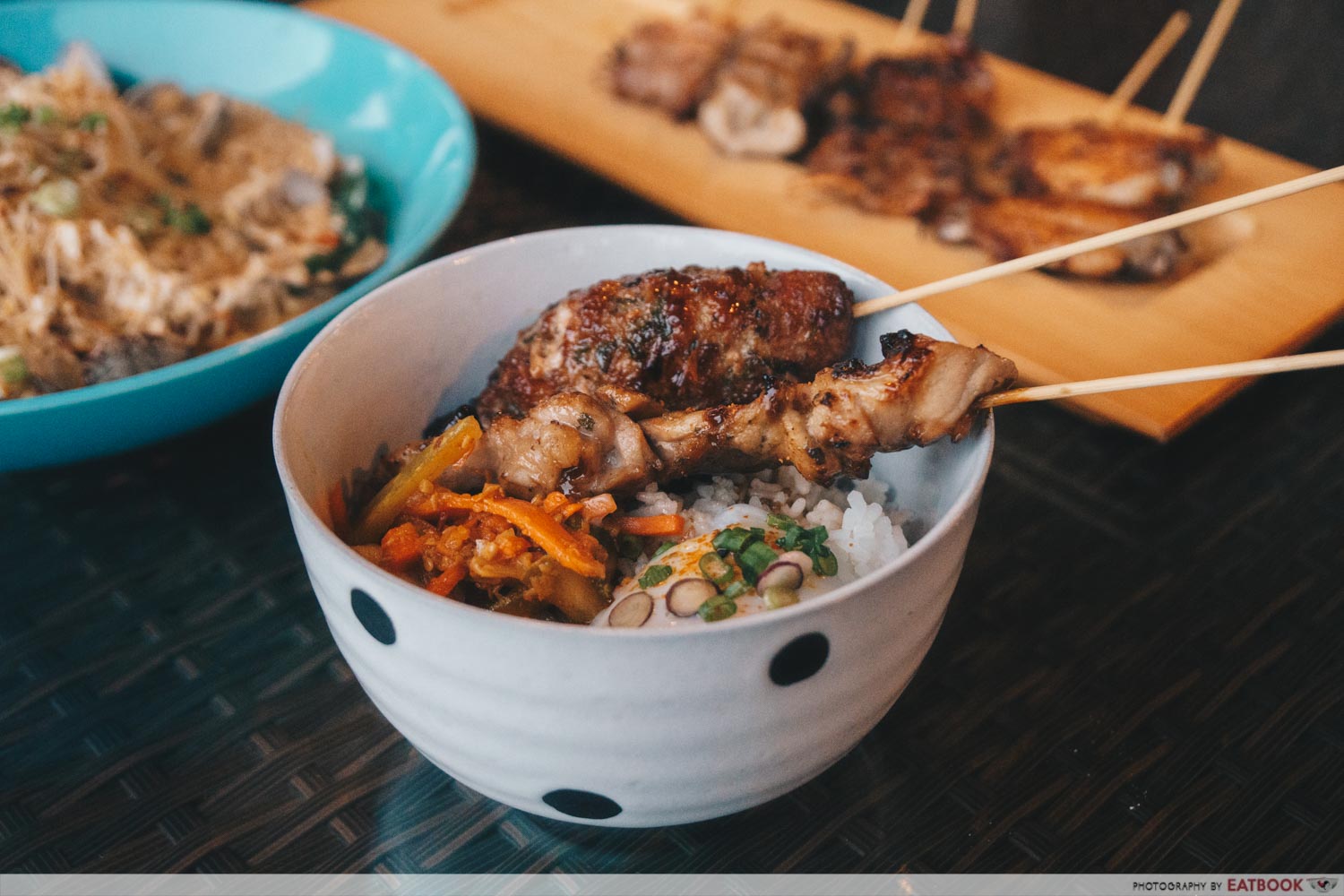 Japanese donburi influence is plain to see, borne by their two most popular kushiyaki skewers – Pork Meatball and Chicken Thigh. The Japanese squad is completed by a now-ubiquitous jiggly onsen egg, nestled snugly next to our skewers. Pan-Asian flair is injected with the inclusion of achar.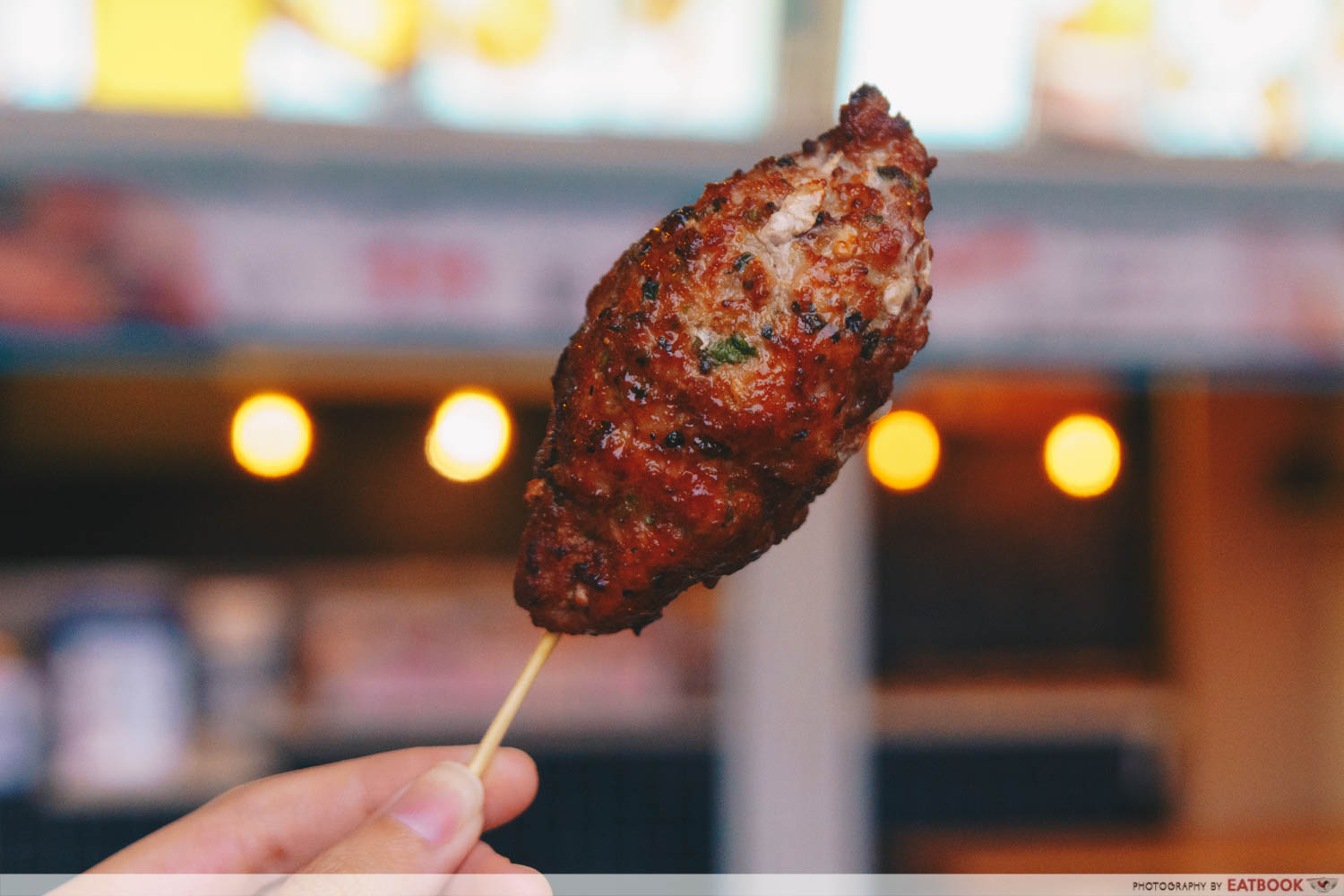 It's easy to understand why their meatball-on-a-stick is a fan favourite. For starters, it's enormous. I was taken aback by its heft as I picked it up for the first time. And even for $2.20 on the a la carte menu, you will be getting bang for your buck. Glistening with a yakitori-style glaze, this seductive skewer foreshadows deliciousness, even in my hand.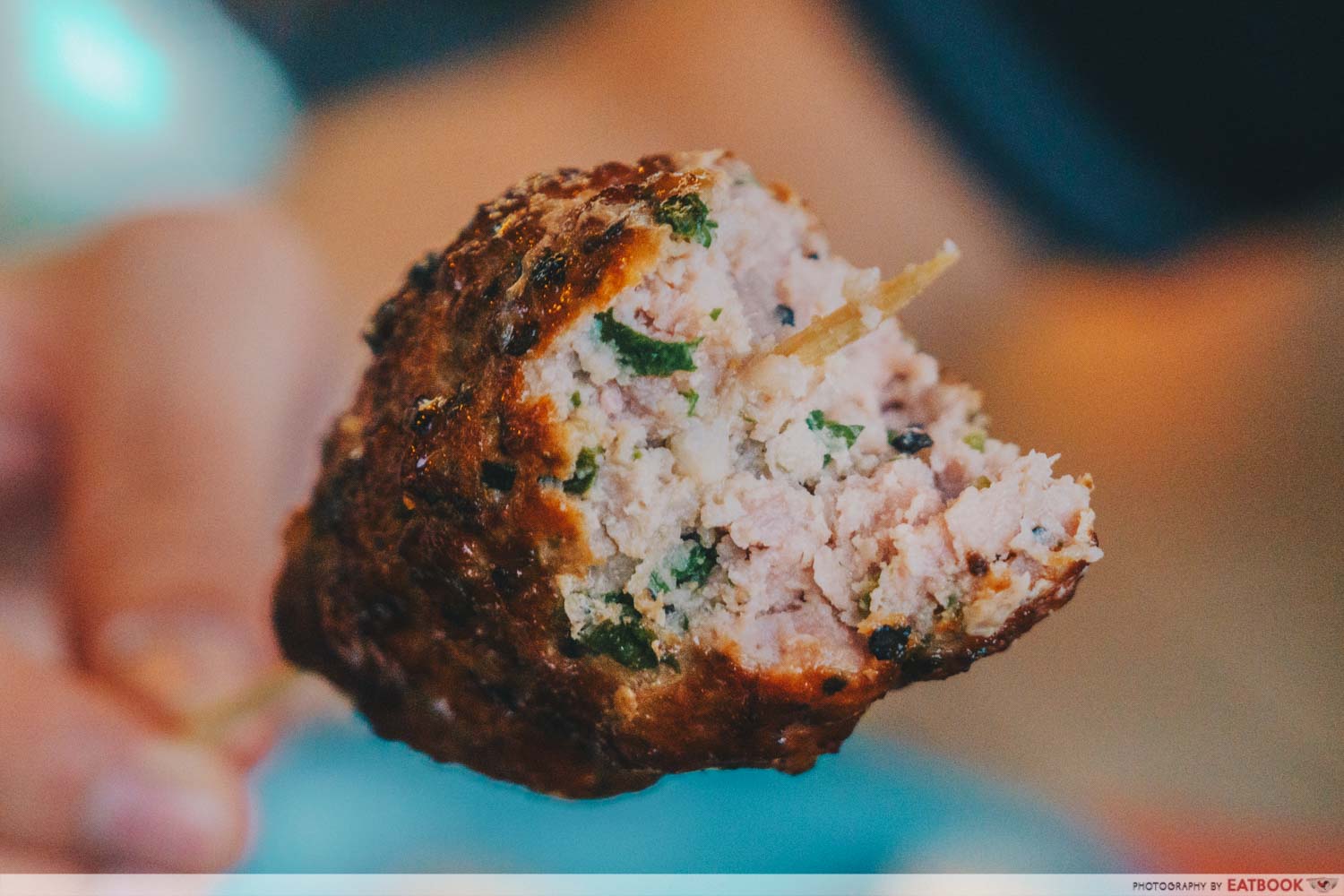 Our meatball was succulent, flowing with captivating pork juices as we bit down. There was a good balance between natural meatiness and seasoning, the latter headlined by umami flavour from fermented beans. Mild sweetness and subtle touches of ginger zing were like a crew of backup dancers, supporting the main flavours while dancing lightly on our taste buds. 
What we enjoyed most about this melodious meatball was its surprising bounce. In unison with the pork's natural tenderness, it created a really enjoyable texture that was worlds apart from dry and overly dense meatballs. This might be a result of adding tofu to the meatball mix, bolstering the savouriness and lending springiness.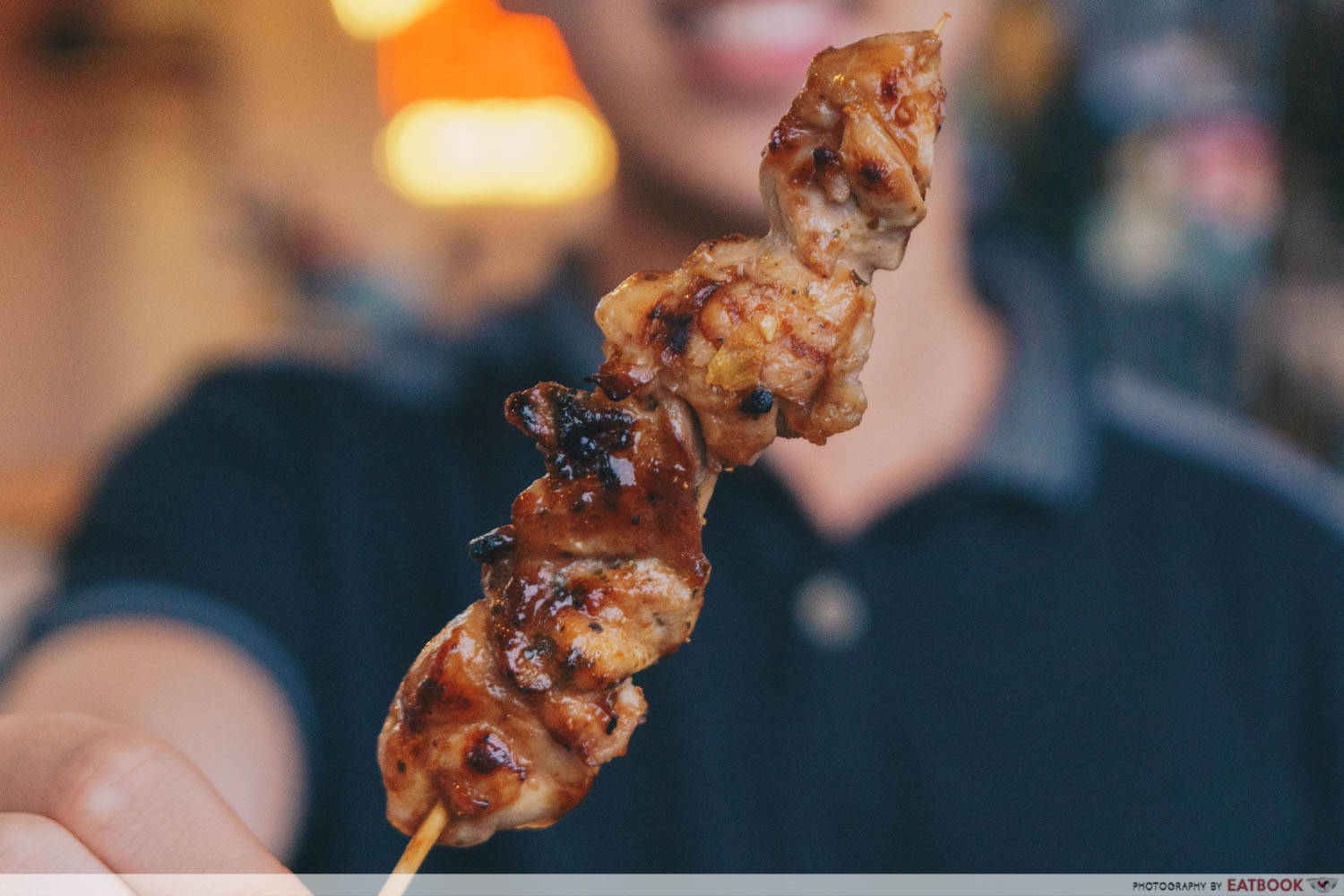 The chicken thigh skewer was decidedly second fiddle here. It was tender with a mellow, sweet teriyaki-esque glaze and a hit of spunky Japanese sansho pepper. But, it simply wasn't as gratifying as its porky brother, lacking that complex depth of flavours and enjoyable texture.
A commendable layer of char graced its edges, with the ensuing smokiness and fresh chicken meat complementing each other. This is undoubtedly a solid, standard skewer to order with a group of friends.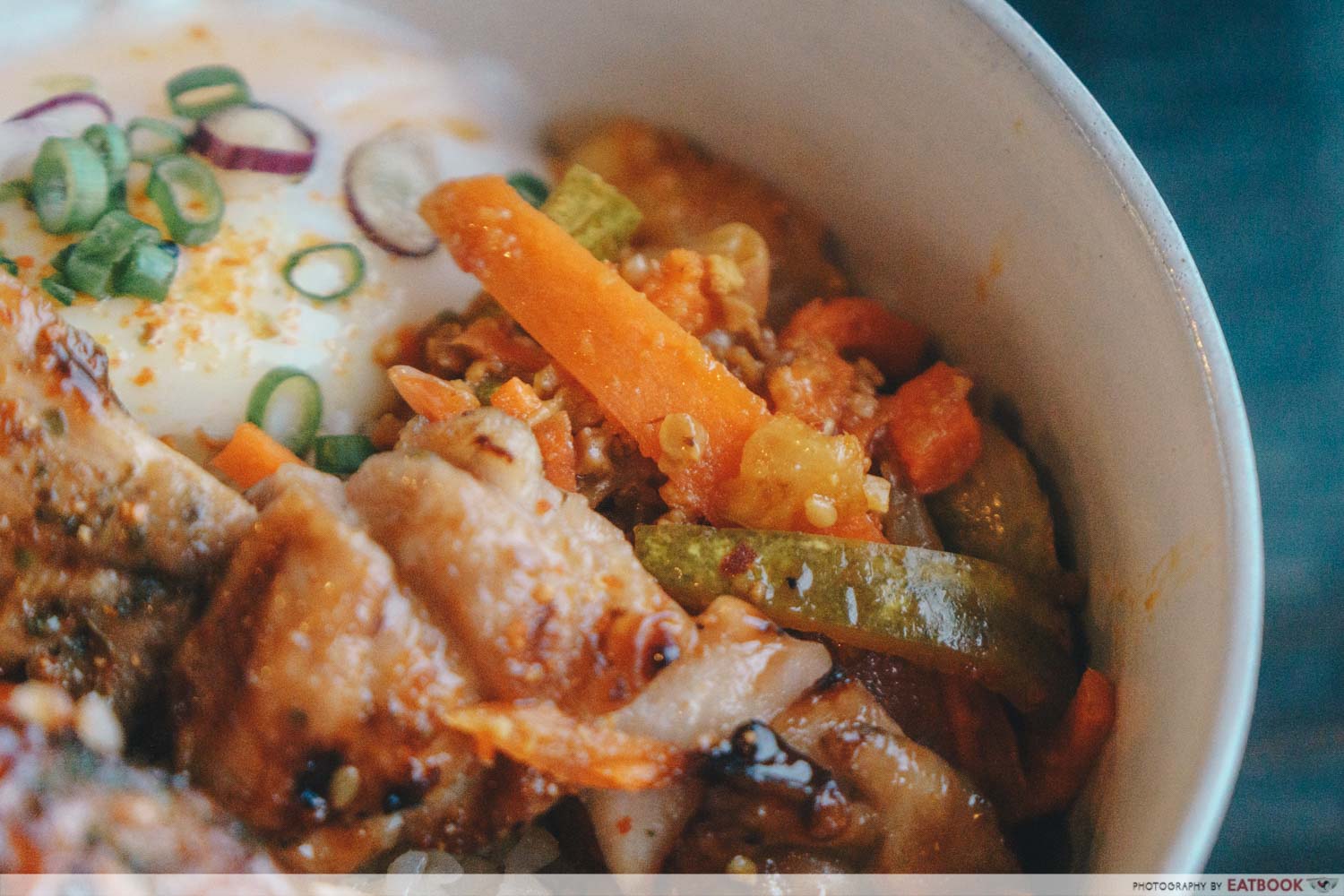 In contrast to the skewers' heavy flavours, achar gave a refreshing pickled punch to our bowl. This side's sour tang cut through any fat, while also brightening each scoop of rice.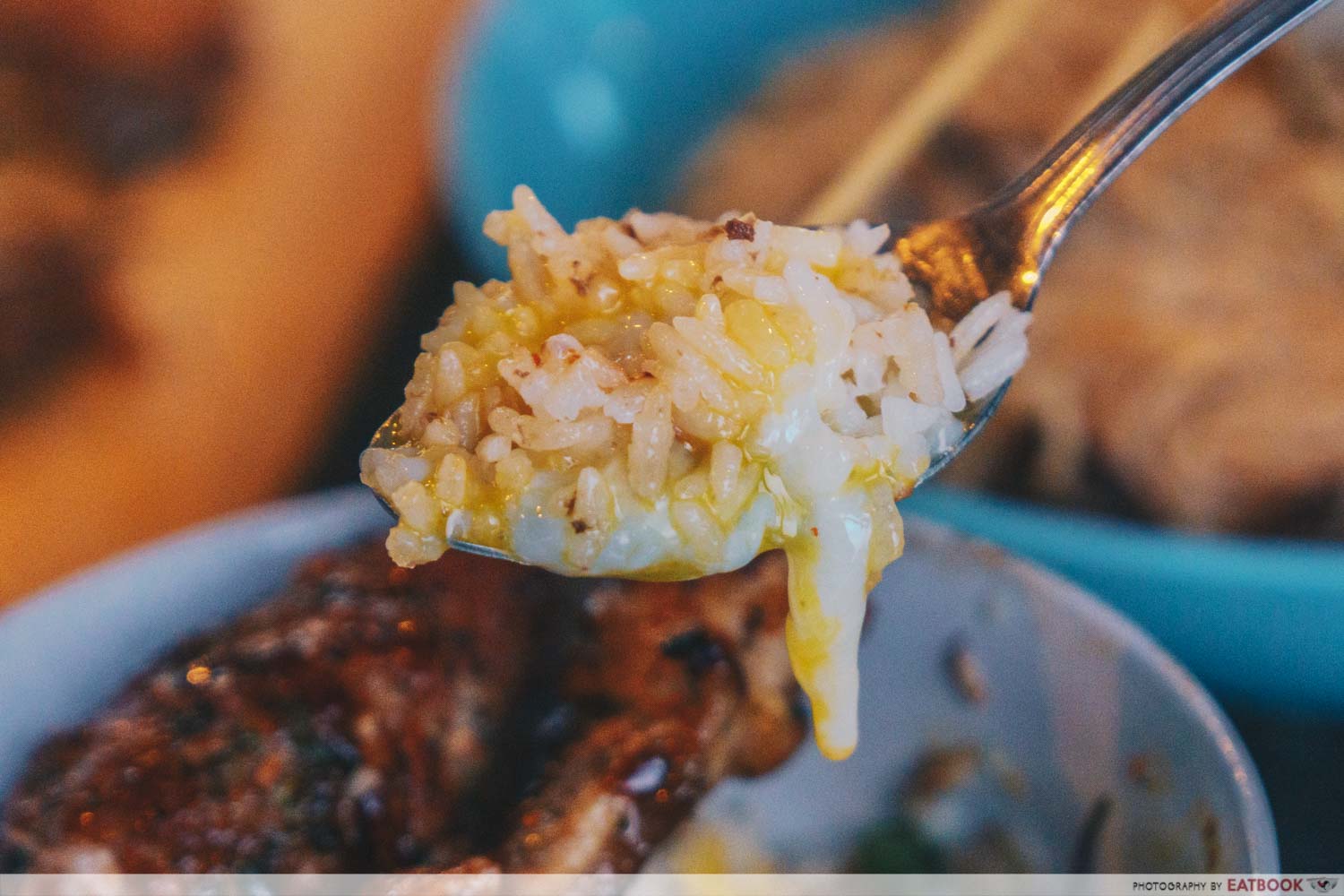 Speaking of the rice, it was a let down. When it comes to donburi, sticky Japanese rice is a must for me, so we were disappointed with the usage of regular Jasmine rice that simply did not have the same bounce. That said, it was not bland, with the achar, creamy onsen egg and remnants of meat glaze perking up the rice.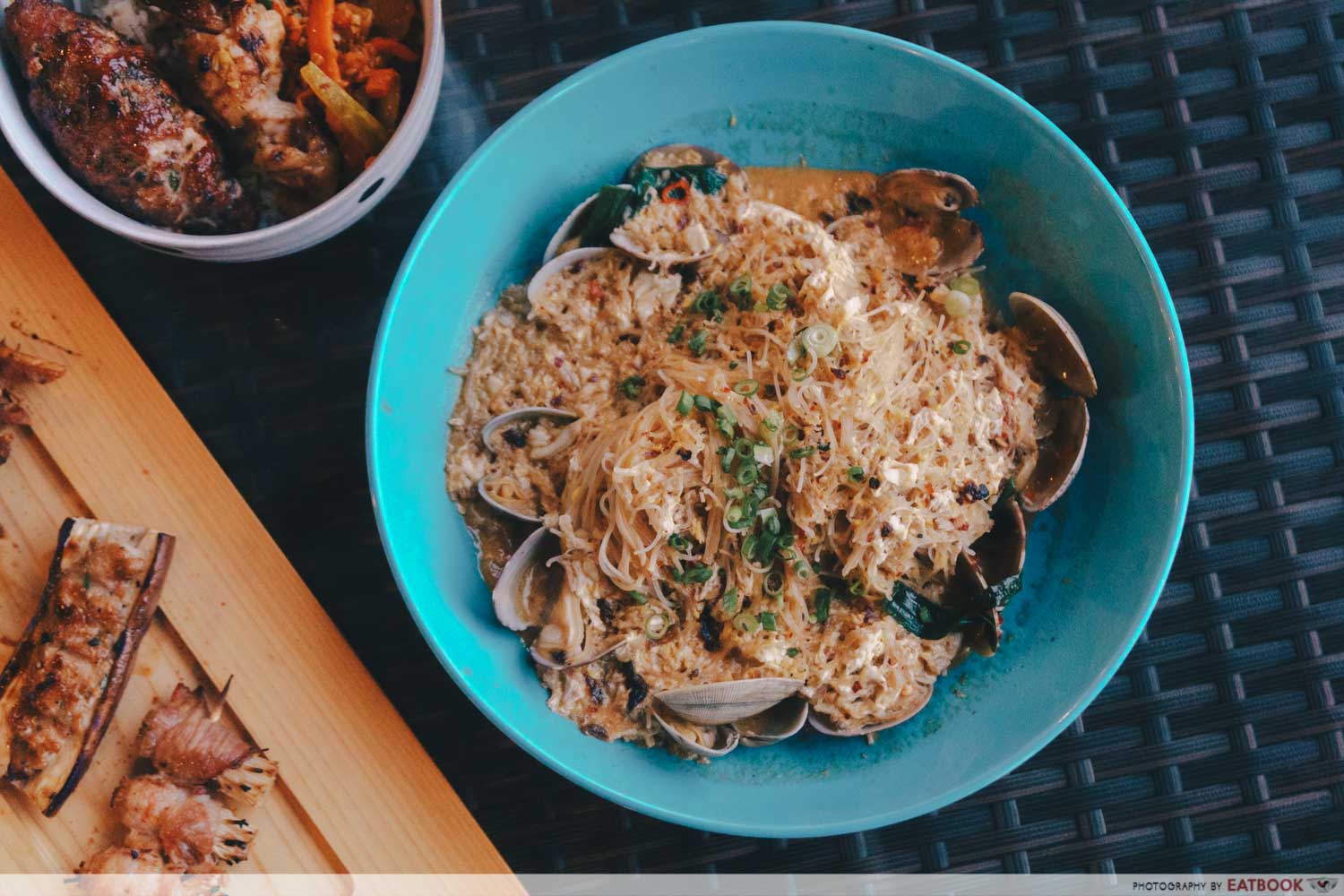 Wow Lala Bee Hoon ($10) is the flagship entrée here, appearing like a clam-topped cross between satay bee hoon and eggy white bee hoon. The gentle perfume of Chinese wine scented the surrounding air, while garlic, tau cheo (salted fermented soy beans), and flecks of chilli were spotted on closer inspection.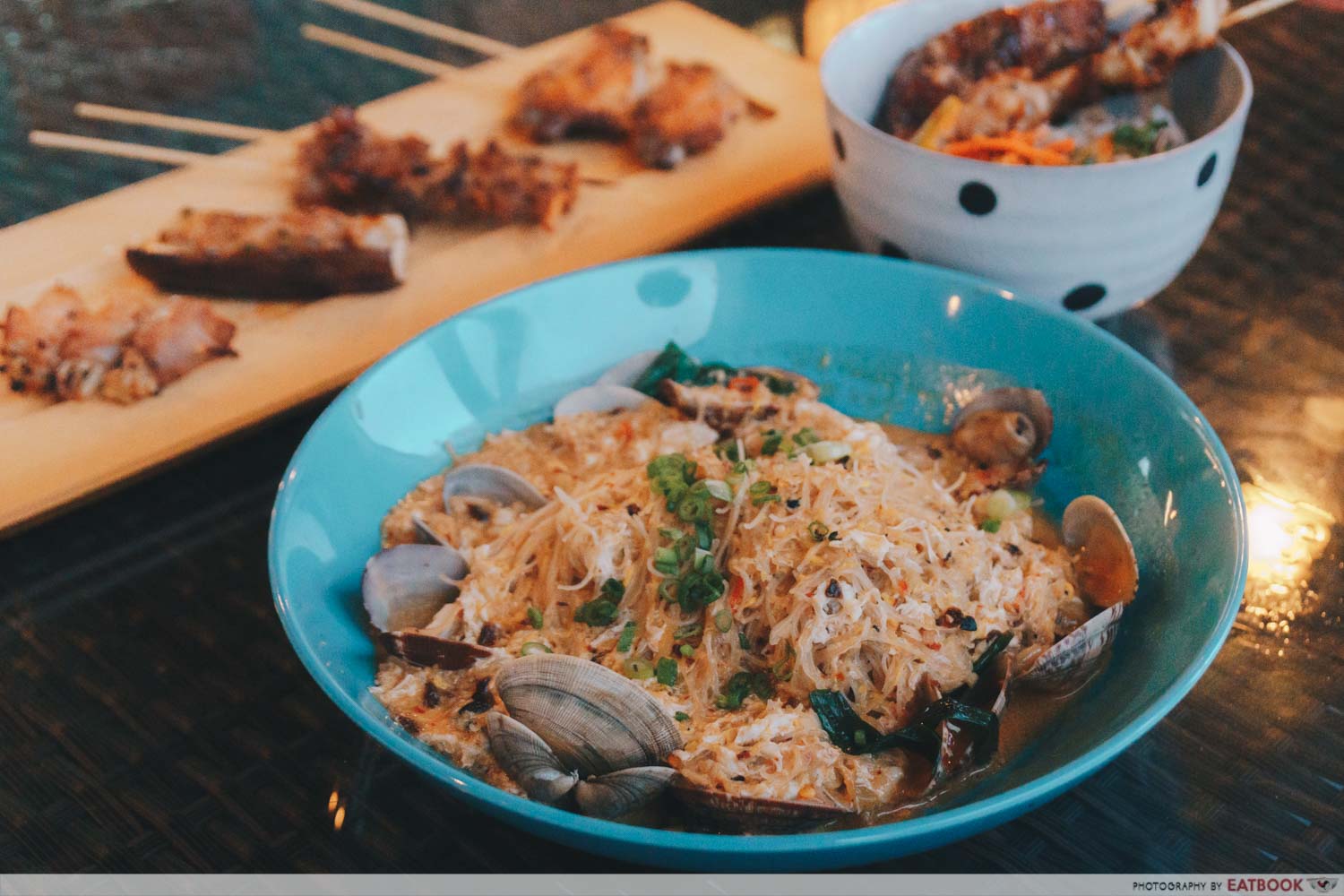 Cooked in lala stock, these noodles were reminiscent of Chinese vongole in flavour, down to the constant undertone of chilli heat. As the smell suggested, hua tiao had taken the place of white wine from its Italian doppelganger, the oriental alcohol's distinctive flavour bringing memories of weekday dinner stir-fries to the fore.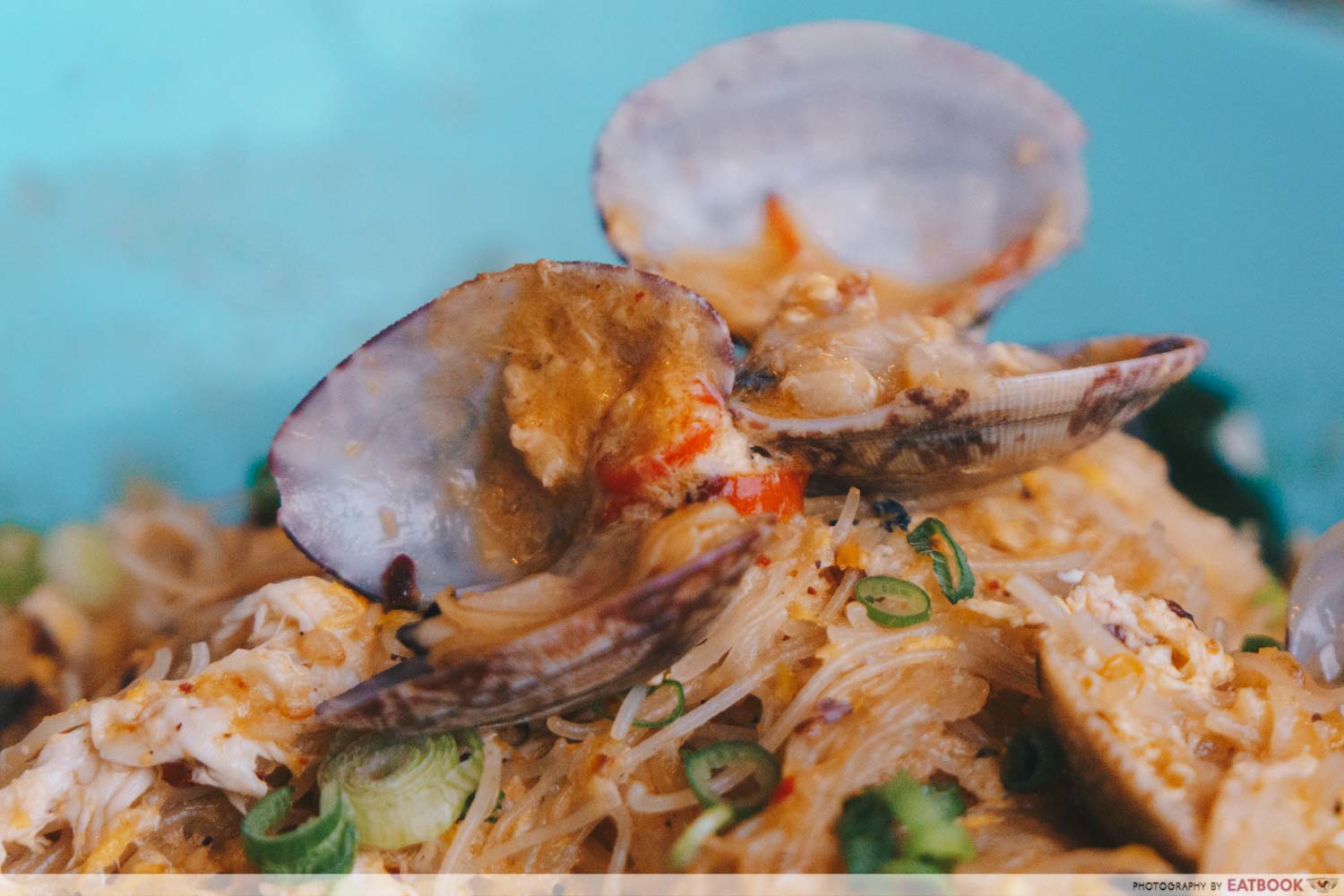 That full-bodied flavour was also given depth by a healthy dose of pungent garlic, as well as concentrated seafood brininess from the lala stock. The aromatic zing of ginger once again reared its head, while egg acted as a thickening agent, creating a creamy gravy rather than a sauce.
The clams themselves were executed well, plump and cooked through without being chewy or sandy – common pitfalls in all too many Teochew mui stalls.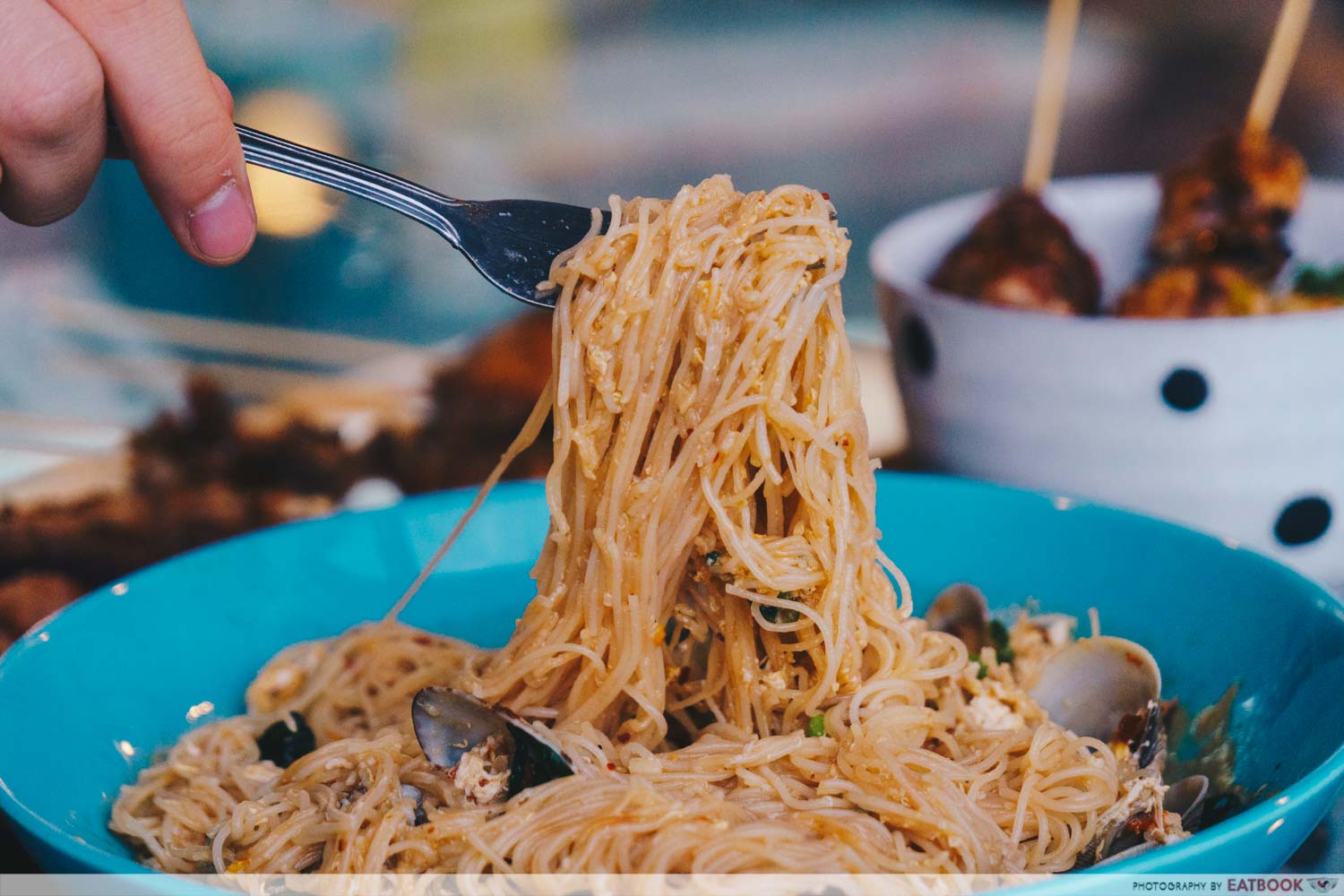 As someone who loves vongole, but isn't a big fan of white bee hoon,  this dish was a really clever idea. Using classic Asian ingredients and techniques to evoke and build upon traditional Italian flavours made the dish innovative yet familiar, and allowed the strengths of each culture to shine.
Nowhere was that more evident than in the wok hei that enveloped our wiry noodles, an entirely Asian concept transplanted to enhance our dish.
Considering that vongole costs $15 to $20 per portion in a decent Italian restaurant, the lala bee hoon represents great value if you're looking for a one-plate meal at this casual gastrobar.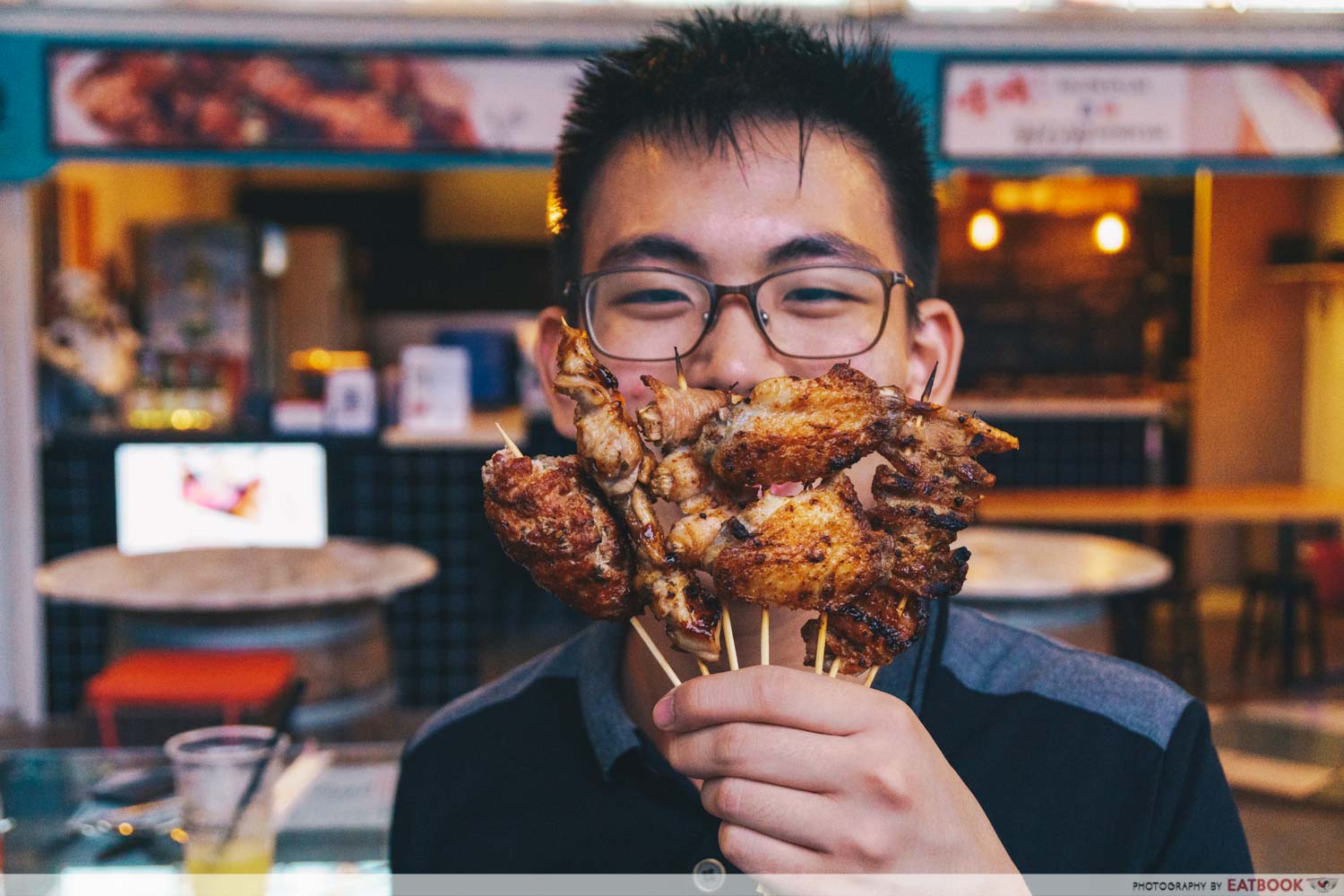 A four skewer lineup formed the final act of our meal. From my previous experiences at izakaya or yakitori joints, flavour fatigue is a common problem. Eventually, you hit a point where every skewer tastes similar, regardless of the meat.
Hence, we were impressed that each one varied in flavour, implying that they weren't all dumped in the same marinade.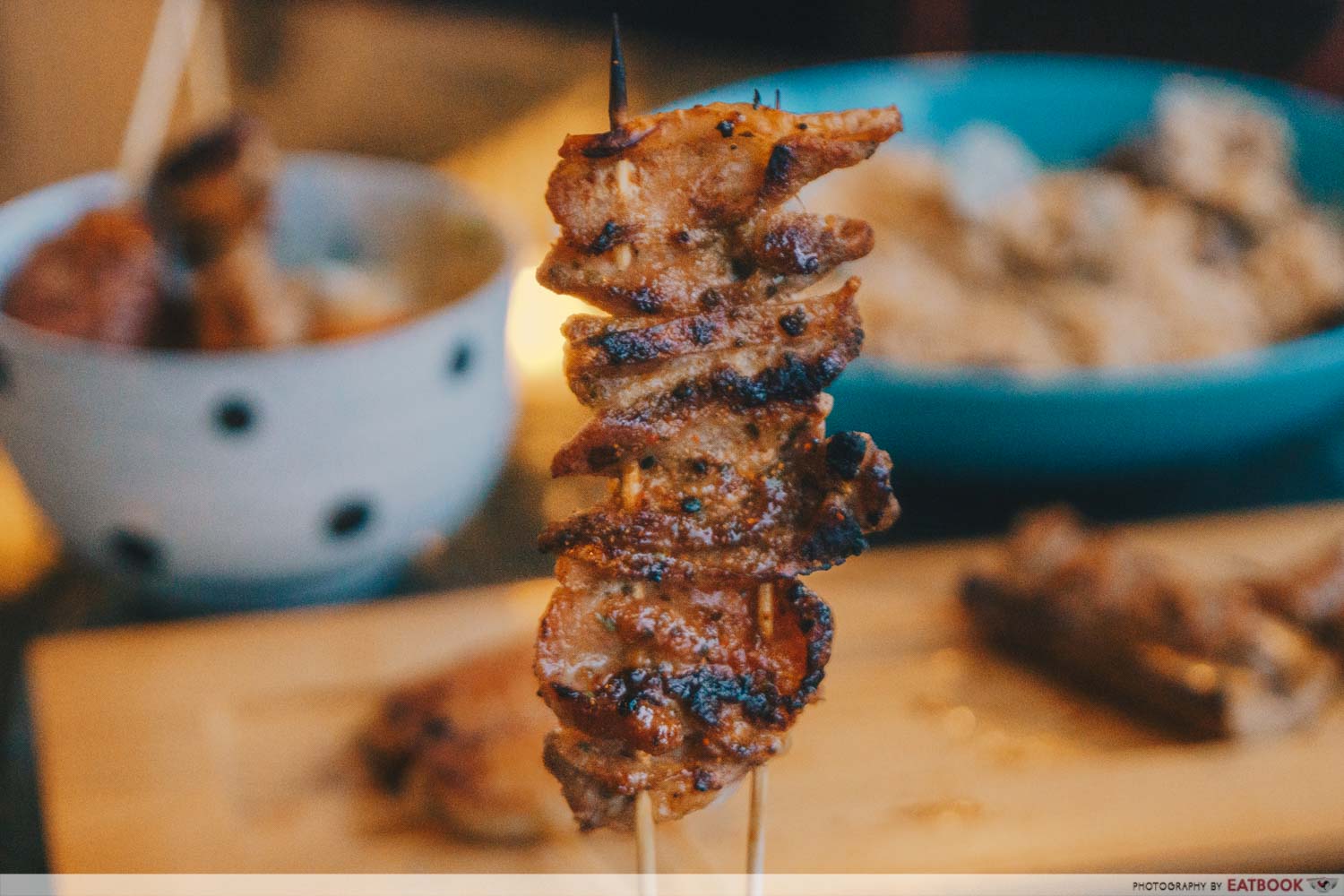 Pork Belly Skewer ($1.80) is an automatic choice for me when ordering kushiyaki, so I had high expectations. Unfortunately, this fell short. We expected substantial, alternating chunks of meat and unctuous fat that exploded with luxurious flavour, but we were instead greeted by thin, scrunched-up strips of pork belly.
While the belly did have good char, its fat wasn't rendered well enough, becoming slightly chewy rather than melting on our tongues. It also had Taiwanese flair, with a flavour reminiscent of san bei ji, possibly due to a soy sauce and hua tiao marinade.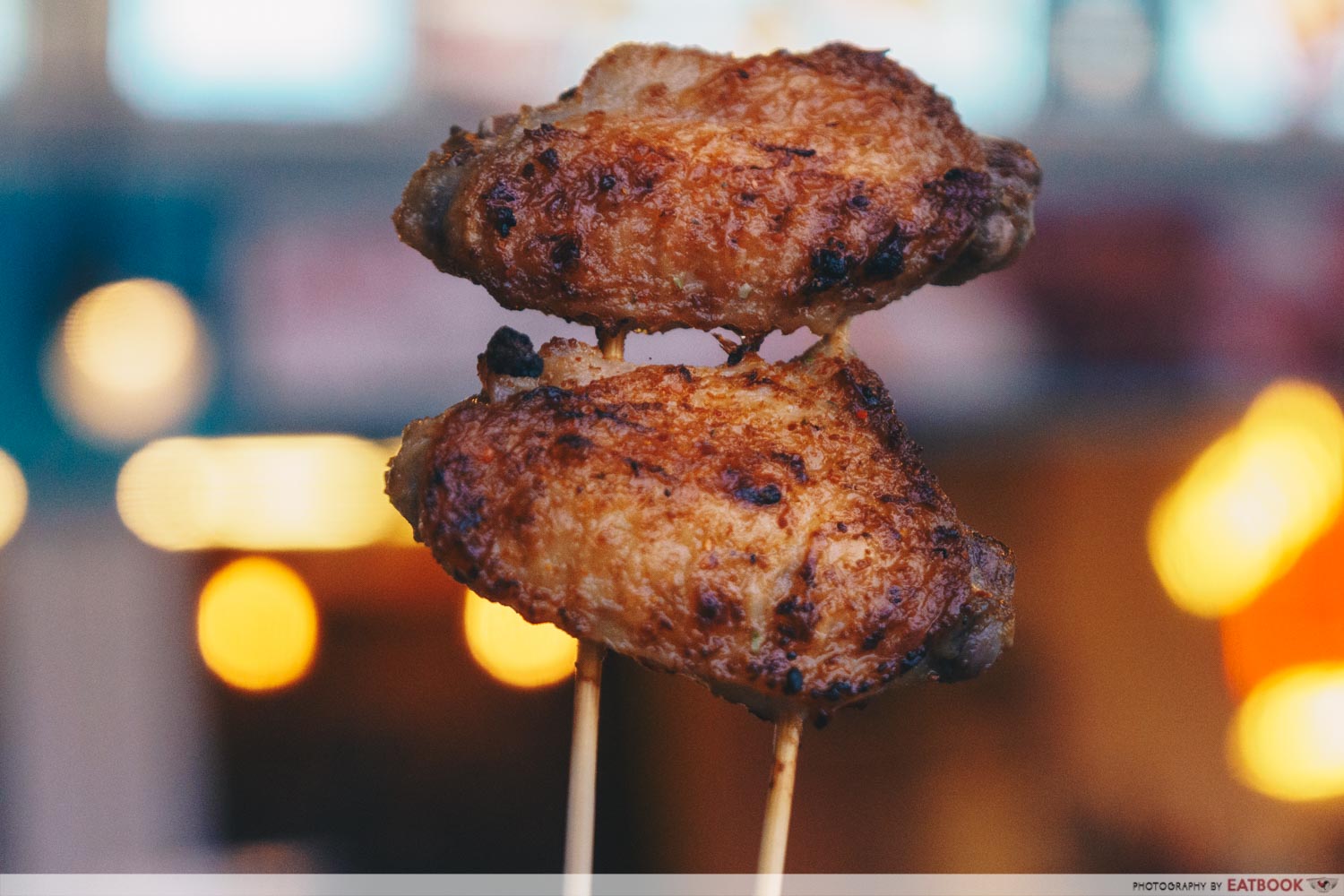 Chicken wings are a quintessential bar food – the natural partner for a tall pint of beer. The wings on this Mid Wings Skewer ($2.20) fulfilled the standard criteria, with tender flesh, slightly crisp skin and pleasant Asian flair. However, it didn't really blow our minds, due to being a touch too charred, resulting in a lingering bitter note on the palate.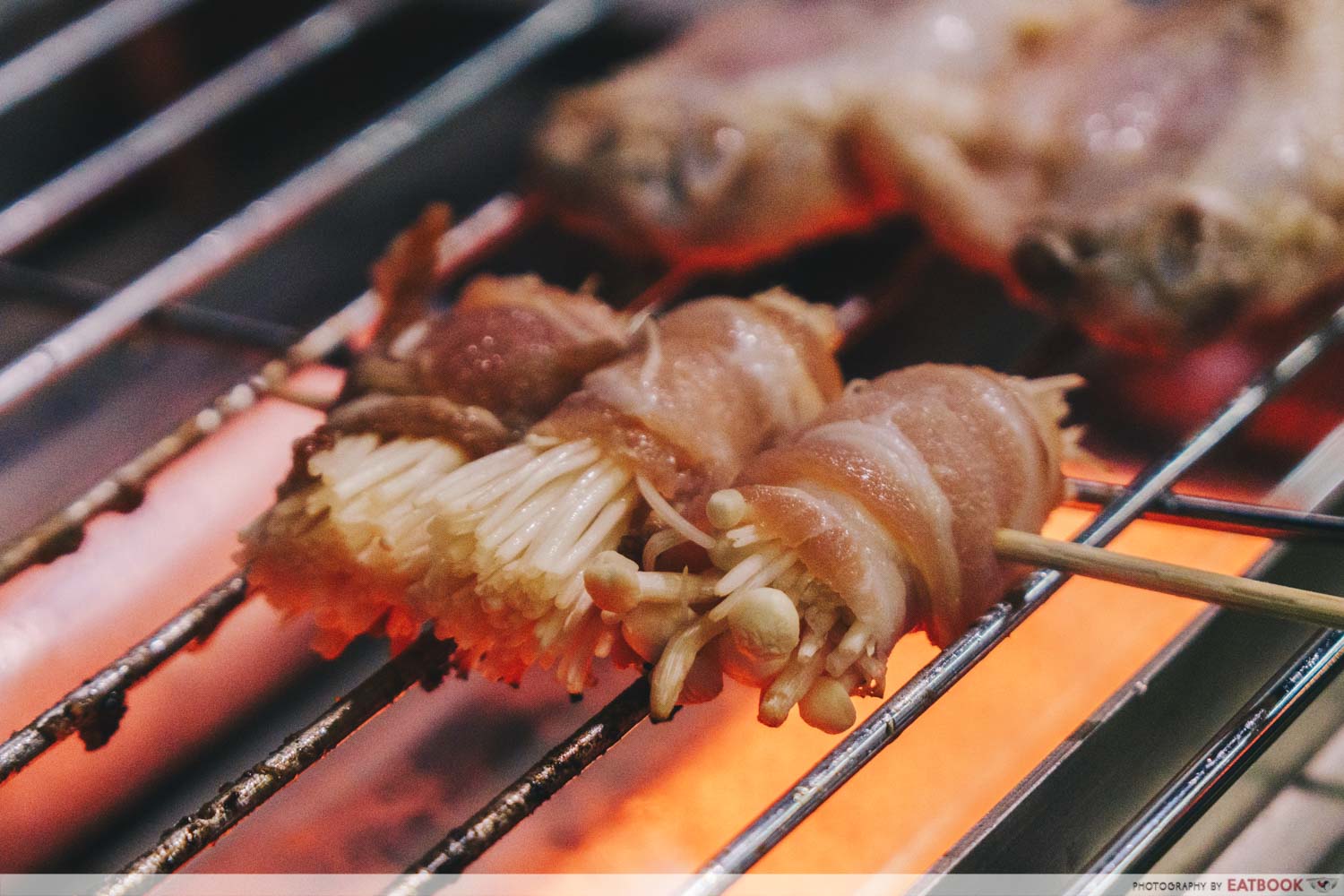 Bacon Enoki Mushroom ($1.80) is another standard skewer selection, but this rendition misses the mark. Theoretically, it's a simple formula: salt, smoky bacon and crunchy enokis. However, other flavours came in uninvited to spoil the party.
An unpleasant, almost chemical bitterness pervaded our bacon roll from the first bite, distracting us from all the other good things it had going. A sweet soy flavour was prominent, while cured ham flavour and char tapped in after. It was all for nought though, their work undone by that mysterious bitterness.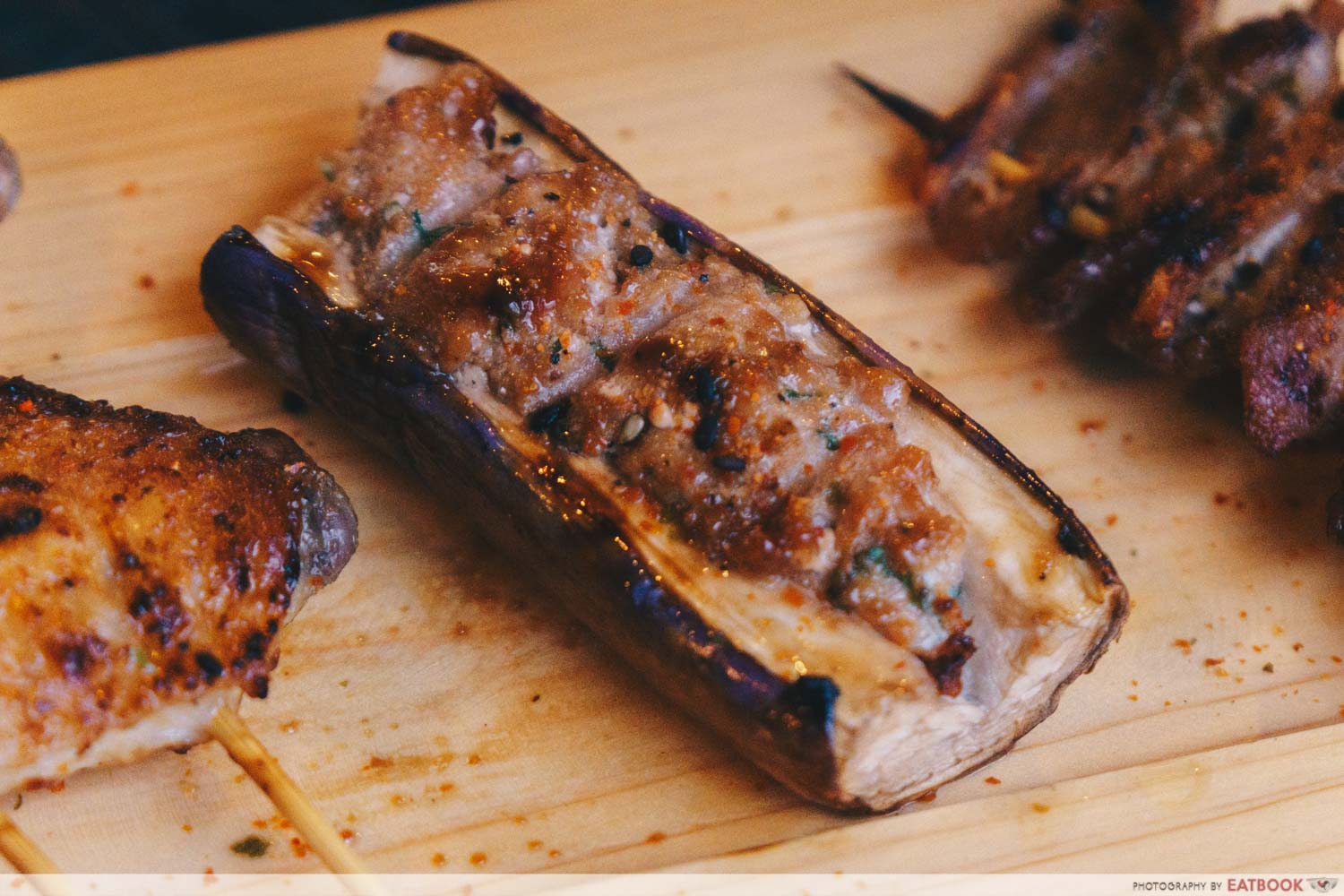 As someone who loves claypot minced meat eggplant, I was always likely to enjoy the Eggplant with Handmade Minced Pork ($2). The mellow foundation that eggplant provides allowed the minced pork, last seen in our gorgeous meatball, to snatch the spotlight with meaty umami flavour.
However, we did find some gristle in our mince, and the purple vegetable wasn't grilled to a sufficiently creamy consistency that would have better accompanied the robust meatball.
Ambience at 哇烤 Wow Skewer Bar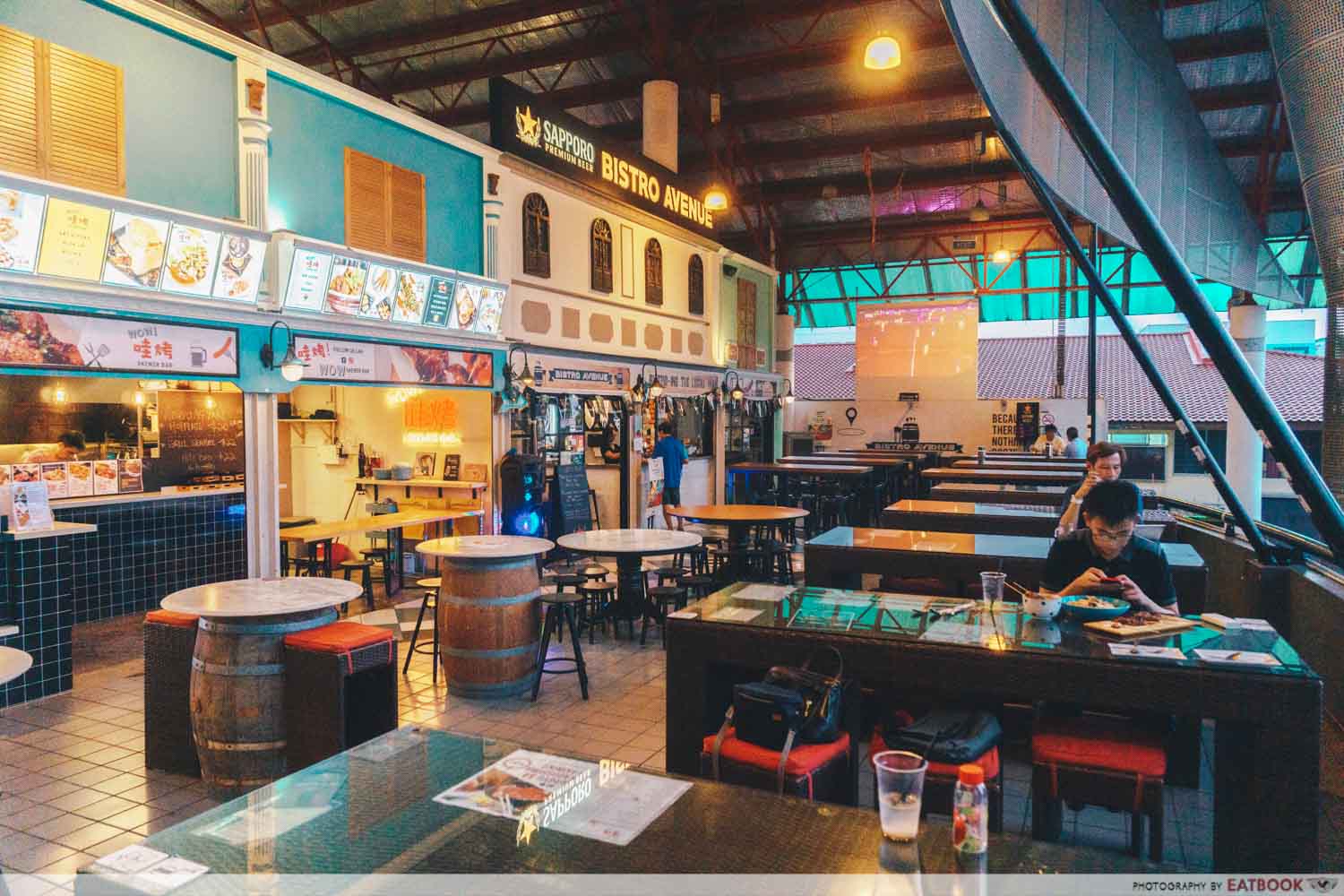 A short bus ride from Tanah Merah MRT, Bedok Marketplace isn't the most accessible place for non-East dwellers. Yet, this new age food court still sucks in visitors, even on weekdays. This is mostly adults looking to grab a pint and meal after a tiring workday.
Armed with a natural breeze, chill tunes and dim, warm lighting, there's a lazy late-night drinking hole feel to the entire space. Located next to sister bar, Bistro Avenue, this skewer specialist is particularly welcoming, its neon sign and faux shophouse storefront imbuing the area with an old-world charm.
The verdict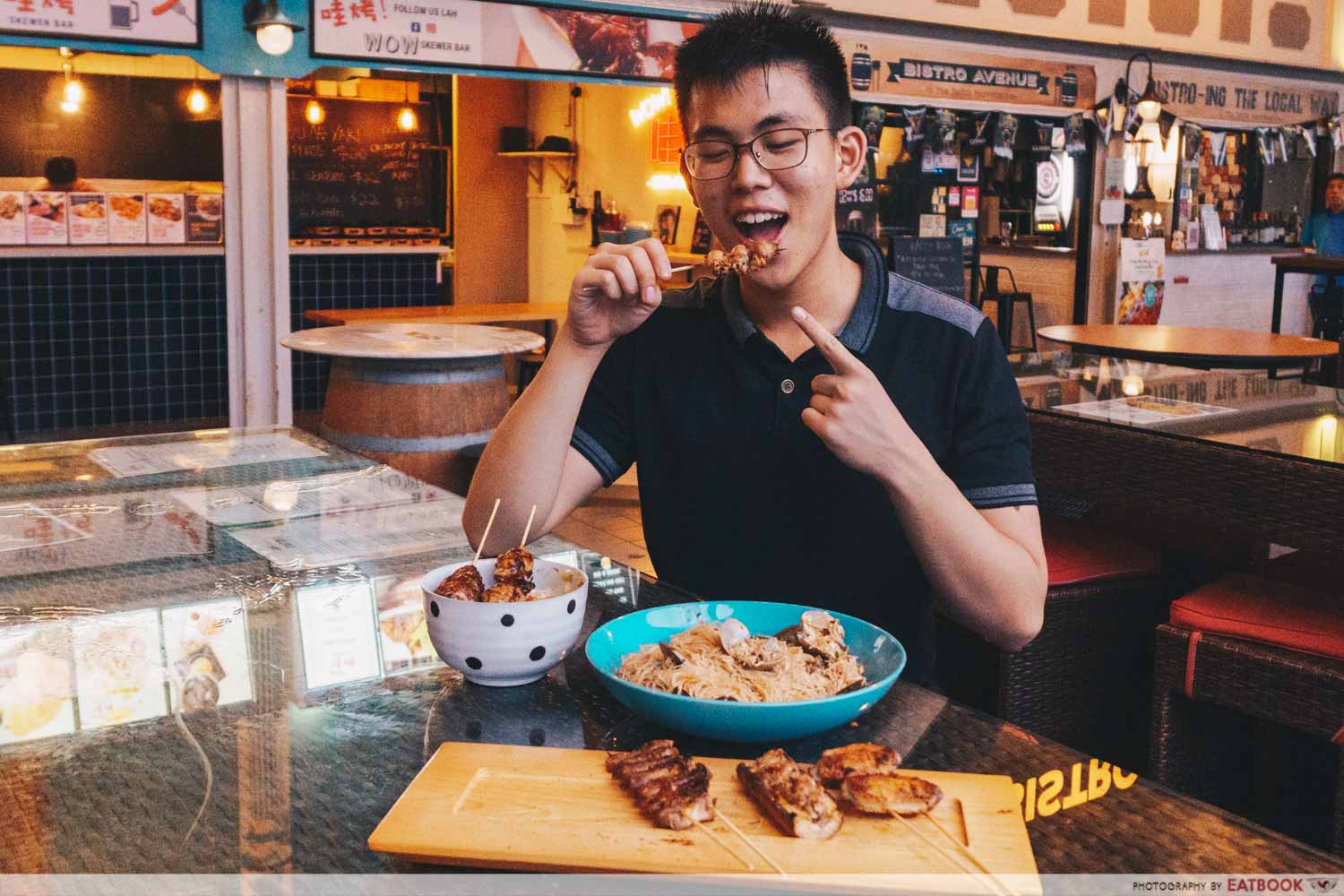 哇·烤 Wow Skewer Bar is a solid new addition to Bedok Marketplace's stable of stalls. With an affordable selection of skewers, bar snacks and full meals, it certainly appeals as a chill spot in the East for some after-work shenanigans.
They've done well to smoothly integrate uniquely Singaporean details into Japanese cuisine, instilling recognisable local flair in their dishes while retaining that izakaya atmosphere.
A bit more finesse and fine-tuning of recipes will definitely go a long way to ensuring sustained success, but this unpretentious stall certainly has the potential to be a fixture in Bedok.
If food on sticks really pokes your interest, our reviews of The Hungry Caveman and Enjoy Mala might suit your taste. For an idea of what else is in store at this hipster food court, check out our guide to Bedok Marketplace stalls.
10 Bedok Marketplace Food Stalls Including DIY Chirashi Don And White Chocolate Pizza
Let us know your favourite izakayas in Singapore in the comments below!
Address: 348 Bedok Road, Bedok Marketplace Level 2, Singapore 469560
Opening hours: Tue-Sun 4pm to 12am
Tel: 9663 0846
Website
Photos taken by Crystal Tan.
This is an independent review by Eatbook.
Summary
Pros
– Nice local spin on dishes
– Affordable
– Satisfying pork meatball
Cons
– Inconsistent char
– Weird flavour in bacon enoki skewer
Recommended dishes: Wow Skewer Bowl ($5.50), Wow Lala Bee Hoon ($10)
Opening hours: Tue-Sun 4pm to 12am
Address: 348 Bedok Road, Bedok Marketplace Level 2, Singapore 469560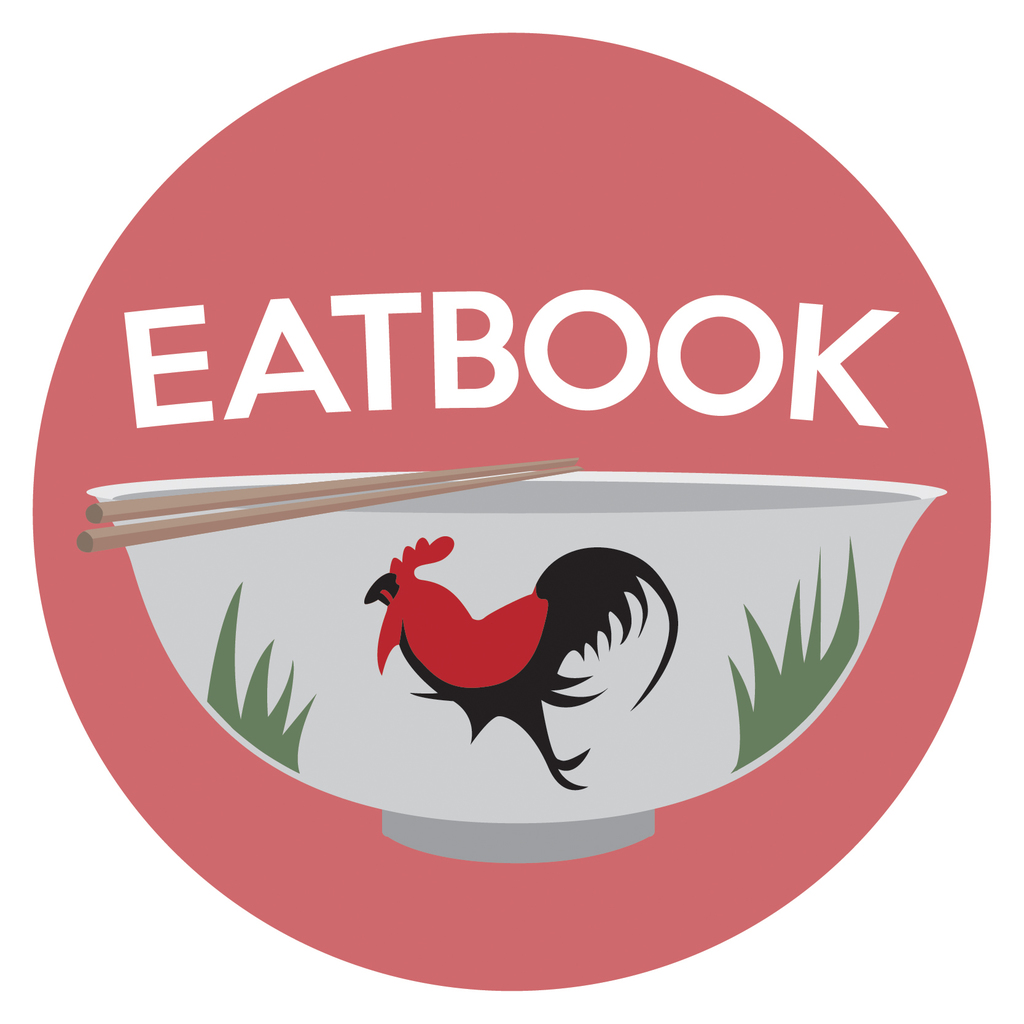 Drop us your email so you won't miss the latest news.