Cheap and good dim sum at Zi Yean Bistro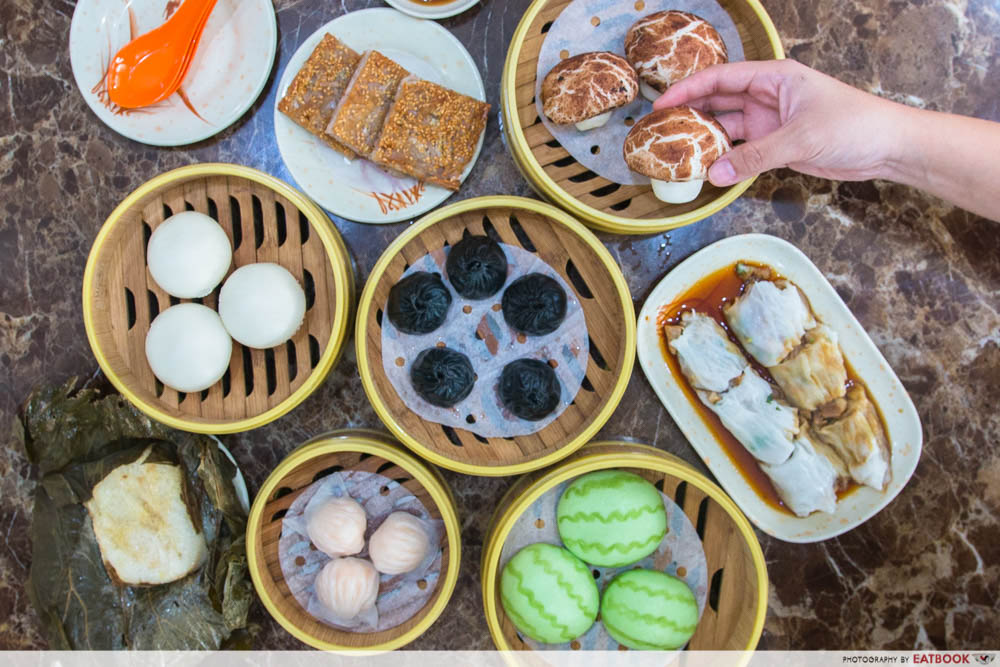 As a member of the 20-something club, it is always a struggle to juggle between maintaining my bank account balance and paying for good food. When I heard that in the estate of Redhill resides Zi Yean Bistro – a cheap and good air-conditioned dim sum spot, I was over the moon. It was perhaps somewhere I can finally head to for layers of bamboo steamers on my table, without burning a hole in my pocket.
A free weekday morning calls for a beeline down to the bistro. Except for a handful under the Chef's Recommendations, all dim sum paid for before 11am only sets you back $2.50! This means you get items such as liu sha bao, char siew bao, and har gao at only $0.83 a piece. For those who can only make it in the afternoon, Zi Yean Bistro offers 20% off all items from 3pm to 6pm as well.
Food at Zi Yean Bistro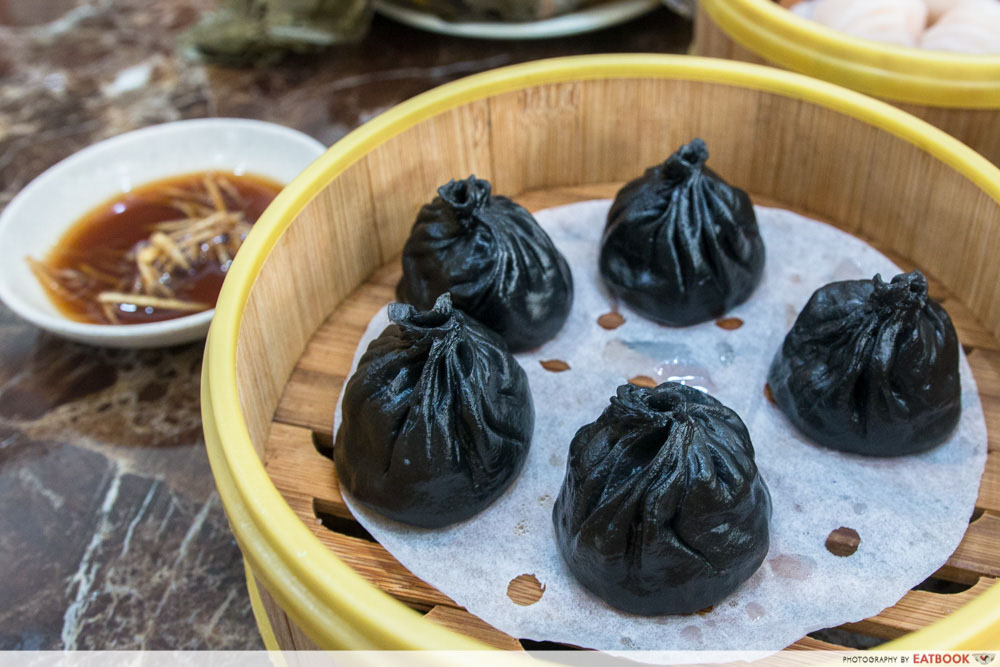 The first thing that might hit you when you take a step into Zi Yean Bistro is the strong and pungent smell of bleach. Determined by the cheap prices, we pressed on. Looking at the menu, the first thing that caught my eye was the black Kurobuta Xiao Long Bao ($8 for five pieces).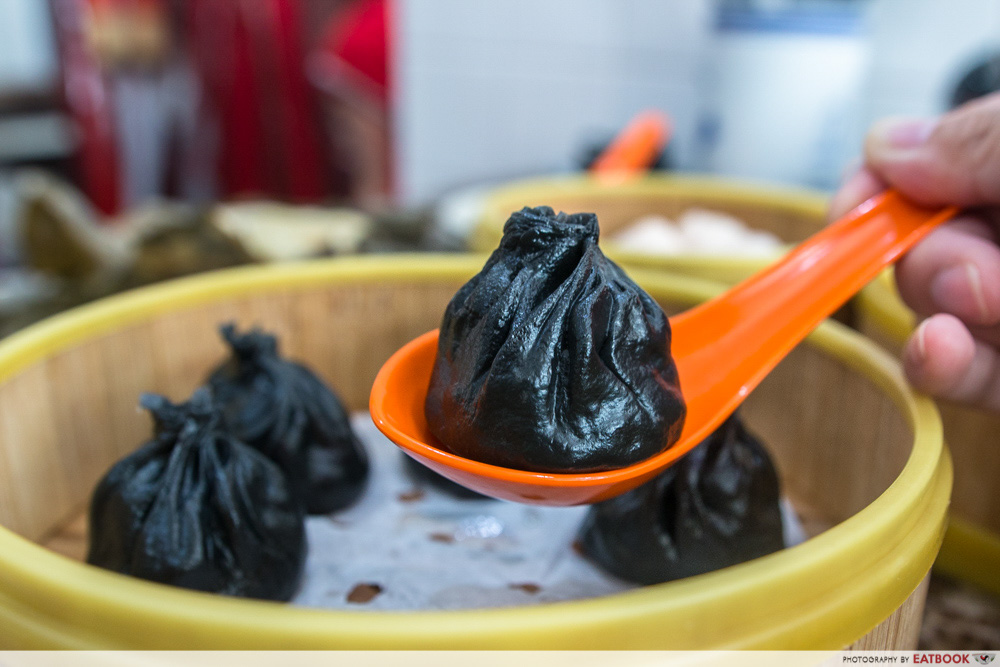 These dumplings were made for the eyes and mouth. Coloured pitch black, the XLB triggered my dumpling lust.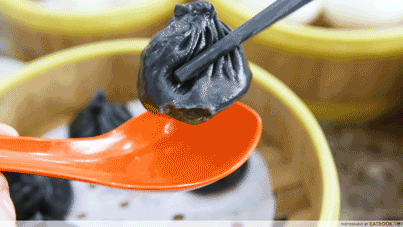 With haste, I popped a XLB into my mouth. To my delight, other than a meaty aroma, I was surprised by the taste of truffle oil. Its exotic and deep fragrance blended into this quintessentially Chinese dish, mingling contrasting flavours into harmony.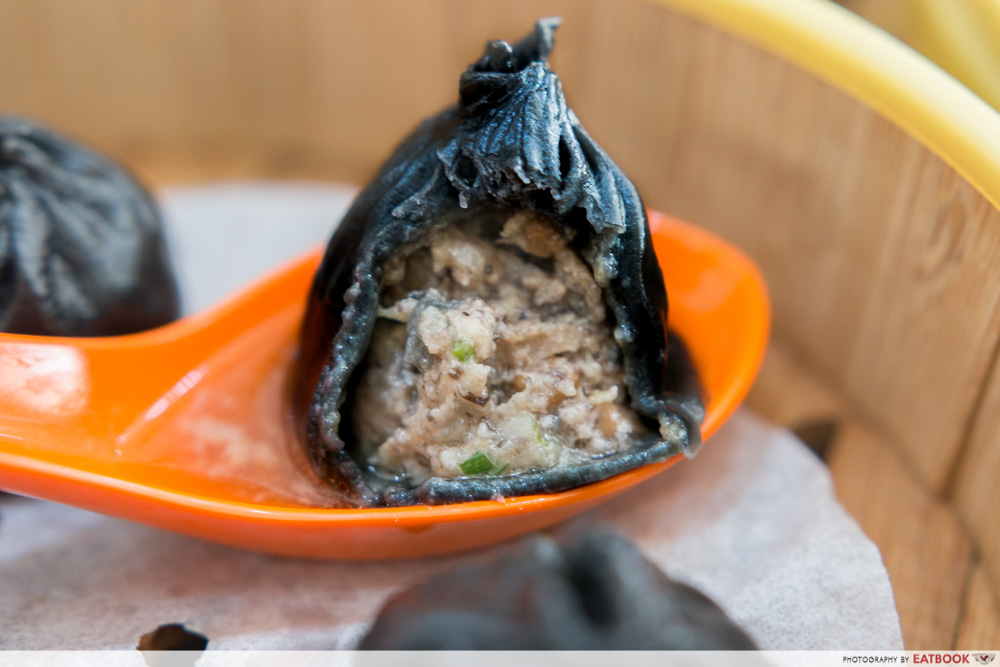 The minced pork filling was moist and also had an added texture of chopped spring onions, making this a dish you must order.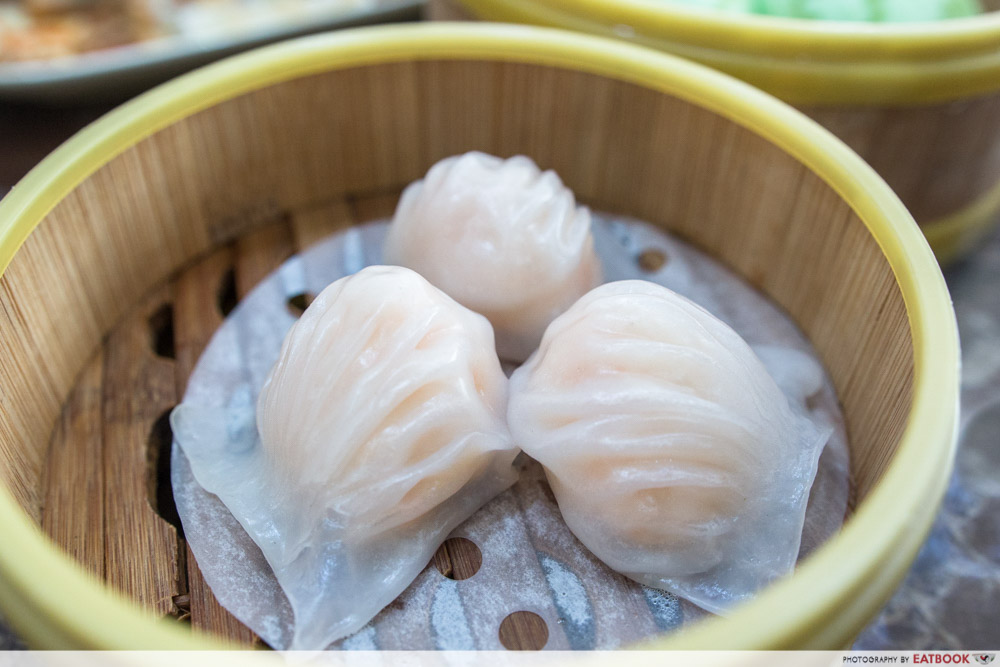 Har gao, liu sha bao, and char siew chee cheong fun are items I order like clockwork at every dim sum spot. For me, these are tell-tale signs of whether the restaurant serves legit food or not.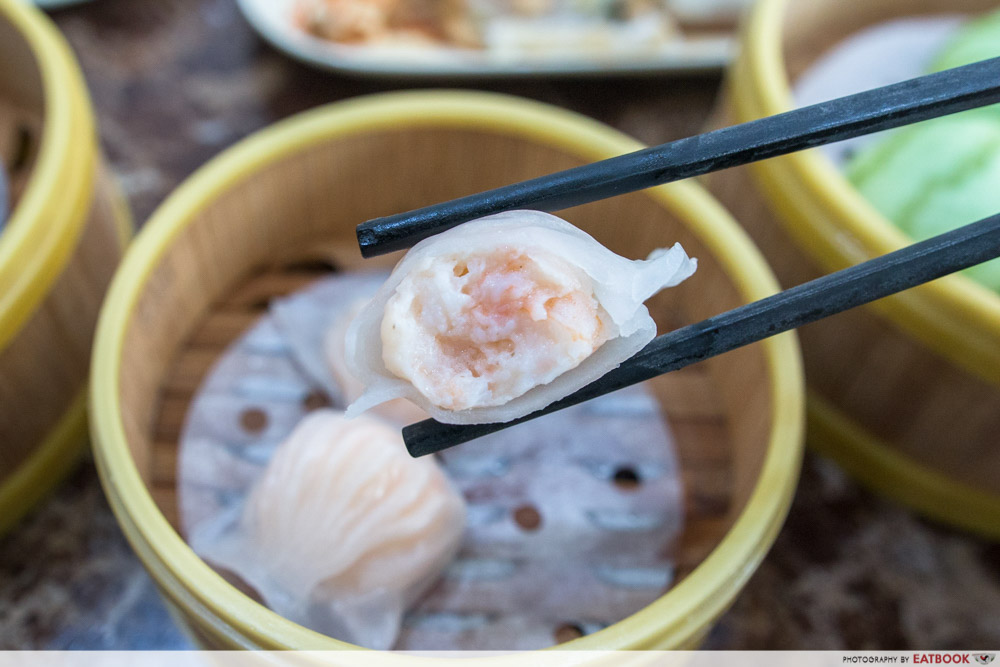 To start, the Prawn Dumplings ($3.60 for three pieces) were pearlescent, shell-shaped morsels begging to be savoured. These orbs were a tad more flavourful than others I've tried elsewhere. Instead of either finely cleaved shrimp or a whole shrimp encased in skin, Zi Yean does theirs both ways. Each har gao not only had the bouncy consistency of prawn paste, it also held the crunchy bite of roughly chopped prawn pieces.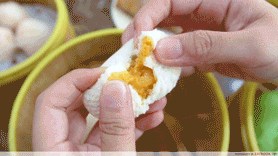 Hoping for another win, we went for the Salted Yolk Custard Bun ($3.60 for three pieces). The liquid gold in the middle was thick and molten. Taking a bite, I found it to be sweeter than how I would like my liu sha bao to be. This was more like a dessert than anything else.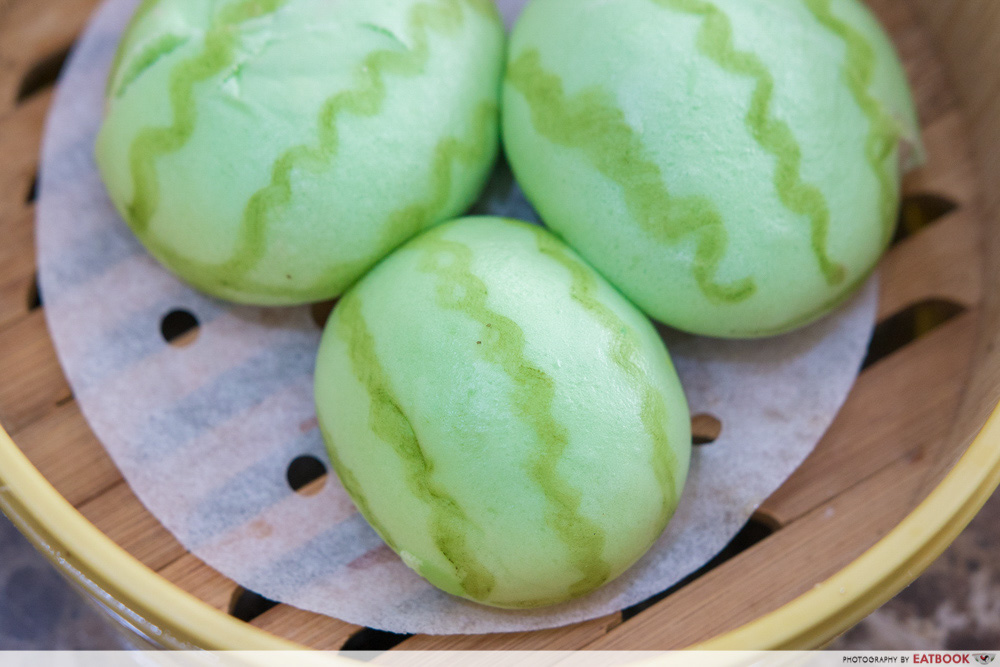 If you're looking for another sweet bao, I highly recommend their Cream Of Yam In Watermelon Bun ($3.60 for three pieces) instead.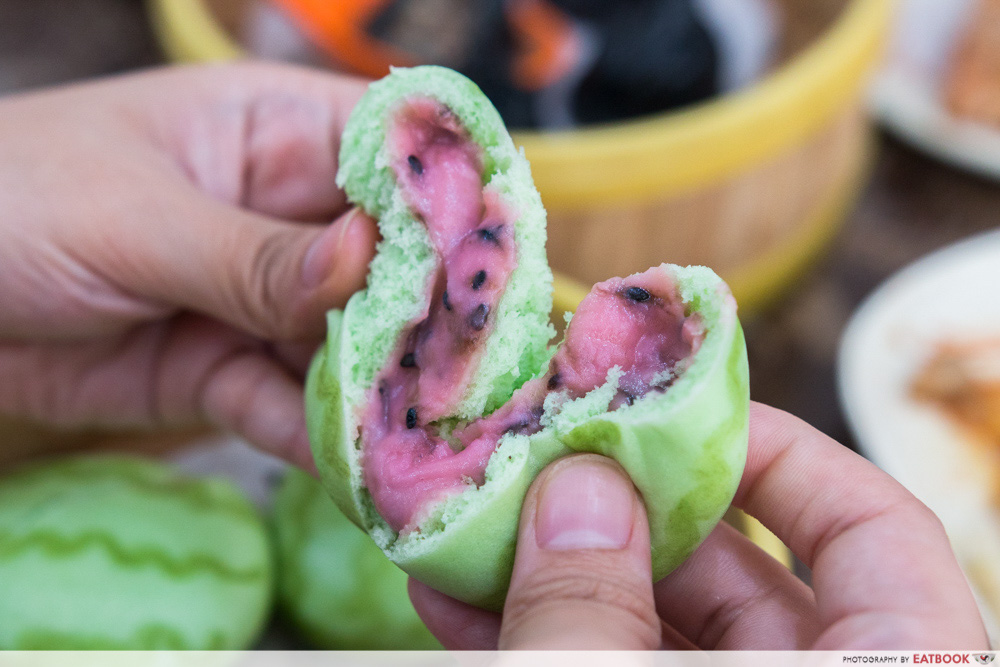 Mind-boggling in a light green bun with squiggly lines to imitate the rind of a watermelon, the bao hides a pinkish cream filling with sesame seeds inside! My colleague and I couldn't handle the mind tricks and we swore there was the taste of watermelon for a split second. The filling was thick and creamy, reminding me of a lighter version of orh nee.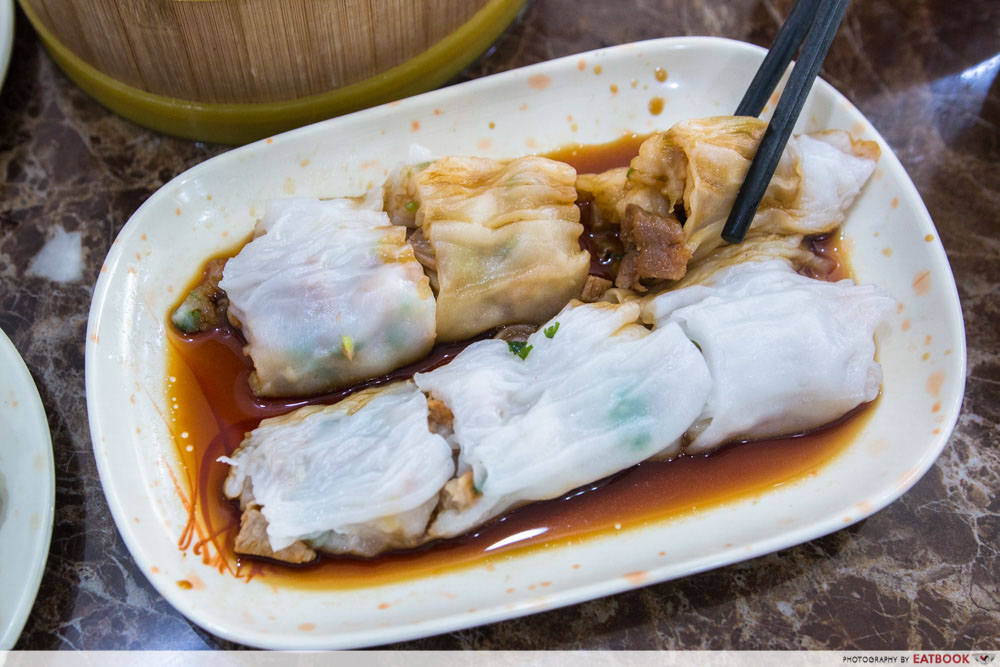 The BBQ Pork Rice Roll ($3.60) was a miss for me. The ratio of steamed rice rolls to pork was off, with the former completely overwhelming the latter. The slices of char siew were also too chunky for my liking.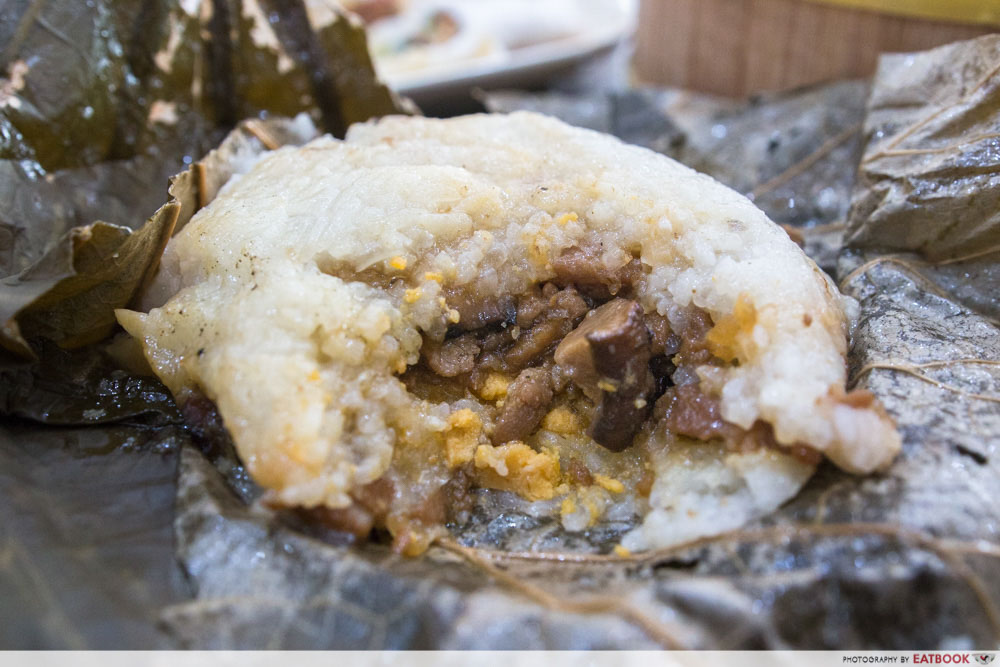 Opt for their Glutinous Rice In Lotus Leaf ($3.60) if you're hankering for more savoury meat dishes. Each spoonful gives you salty, savoury, and sweet flavours all at once. Those who like salted egg will also be happy to find a thin layer of it in the middle, sandwiched between tender meat and sticky rice.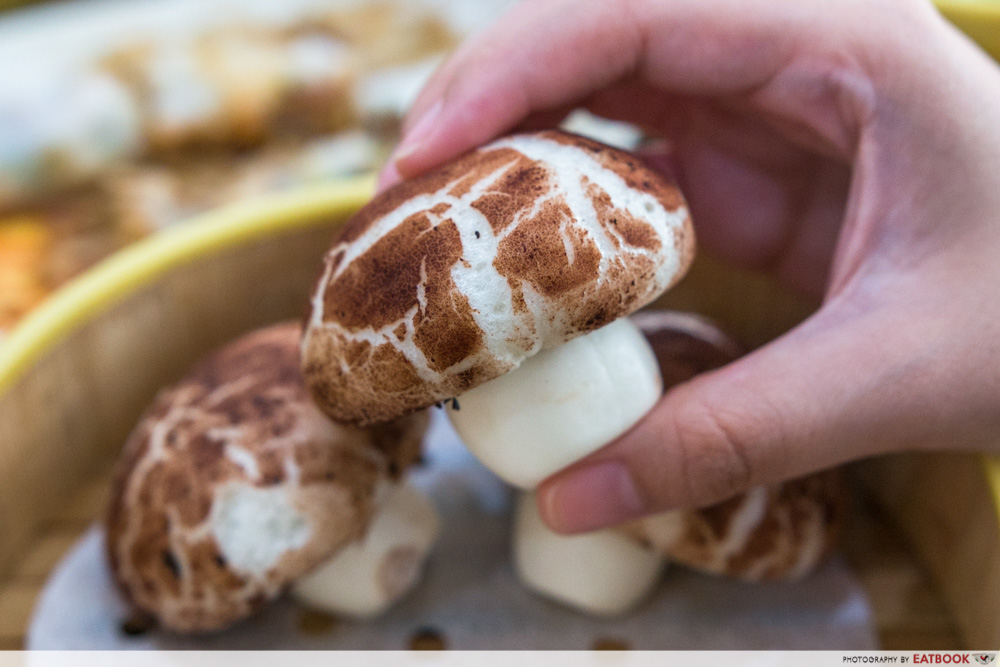 Zi Yean seems to be catering towards the younger crowd as they have another truffle item on the menu, Steam Black Truffle Mushroom Bun ($5 for three pieces). Unlike the black XLB, this lacked the umami taste of truffle oil. If there wasn't the word truffle tied to the name of the dish, I would have enjoyed this adorable and peppery mushroom bao a lot more.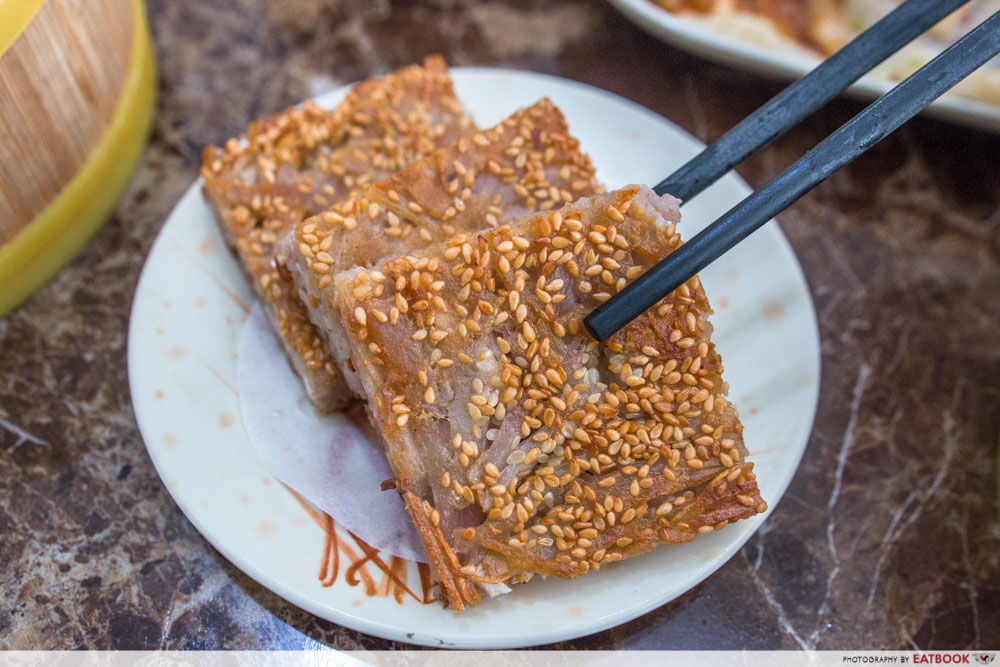 End your morning dim sum here with some Shredded Yam Cake ($3 for three pieces). Each piece was encrusted with sesame seeds on both sides, and pan-fried till golden brown.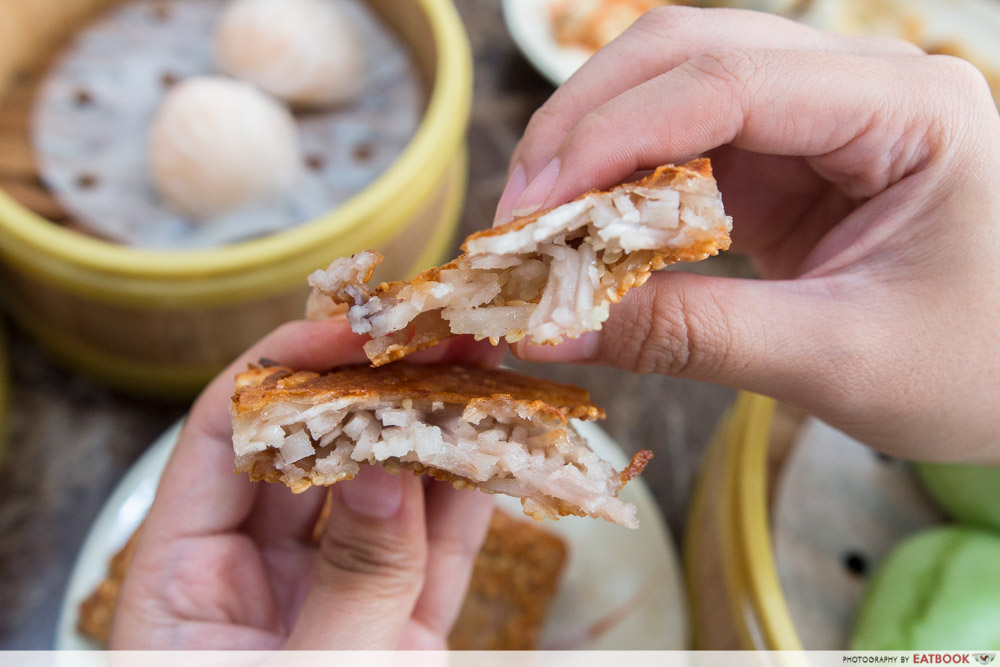 The shredded yam reminded me of a rosti, but a sweeter version that is robustly flavoured and moreish. The crispy sides and semi-crunchy texture of each bite turned an otherwise ordinary dish into something exceptional.
Ambience at Zi Yean Bistro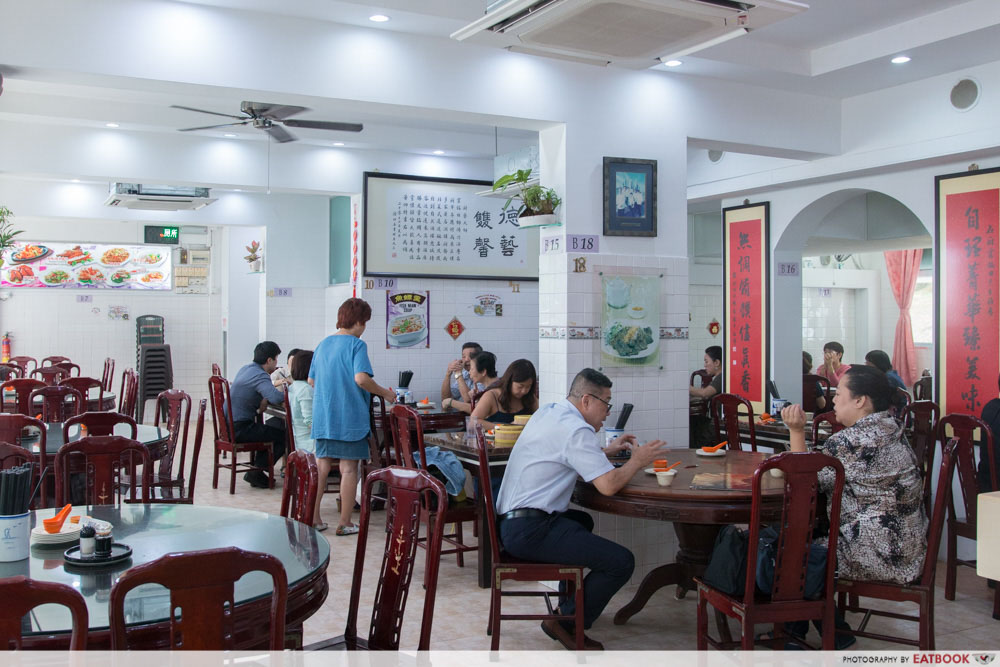 Customers include well-heeled office workers from the area, and couples both young and old. The space is fully air-conditioned and has plenty of seats, so you need not worry about breaking a sweat. Regarding the smell of bleach, do not let it deter you from heading in as my colleague and I soon forgot about it before we even realised.
The verdict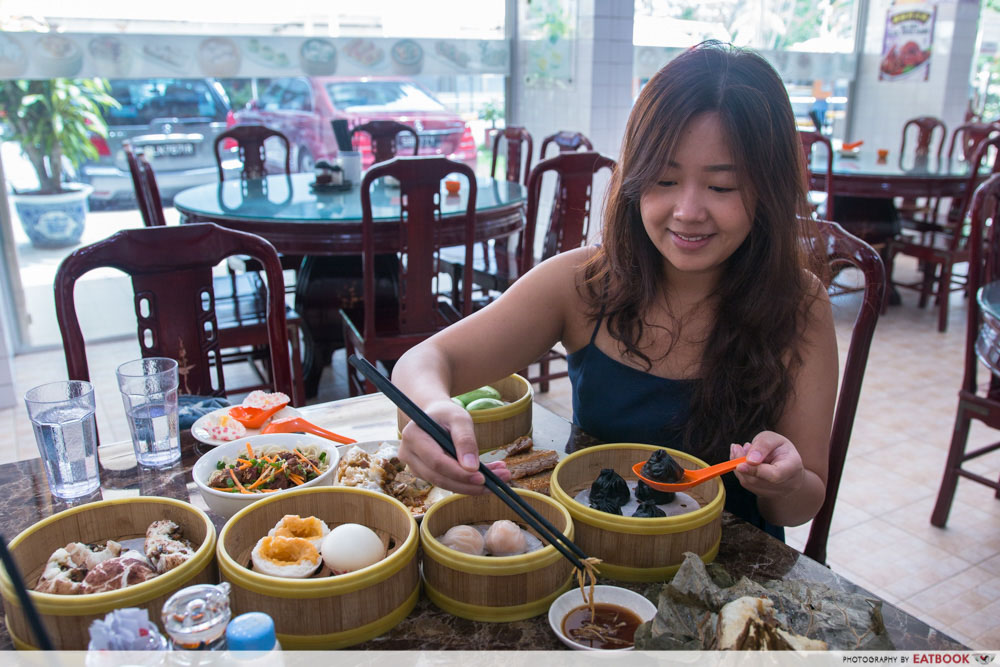 Going from dish to dish, I was crossing my fingers, hoping for more hits than misses. Thankfully, most of what we tried at Zi Yean Bistro impressed us more than we expected. I love how familiar classics are given a contemporary twist here. Their low prices and swift service also warrant a return visit.
For more places with cheap and good food, check out Xiao Jun Gan, which is a ma la hot pot restaurant with skewers starting from $0.50+, and Yakiniku Ohji, which serves a $17.80+ charcoal-grilled meat buffet!
Address: 56 Lengkok Bahru, #01-443, Singapore 150056
Opening hours: Daily 8am to 10pm
Tel: 6471 0253
Website
Photos taken by Tiffany Lim.
This is an independent review by Eatbook.sg.
10 Cheap And Good Dim Sum Eateries So You Don't Need To Rely On Swee Choon
Summary
Pros
– Wide variety of dim sum
– Nett prices
– Quick service
Cons
– Restaurant smells strongly of bleach
– Cash only
Recommended Dishes: Kurobuta Xiao Long Bao ($8 for five pieces), Prawn Dumplings ($3.60 for three pieces), Shredded Yam Cake ($3 for three pieces)
Opening Hours:
Daily 8am to 10pm
Address: 56 Lengkok Bahru, #01-443, Singapore 150056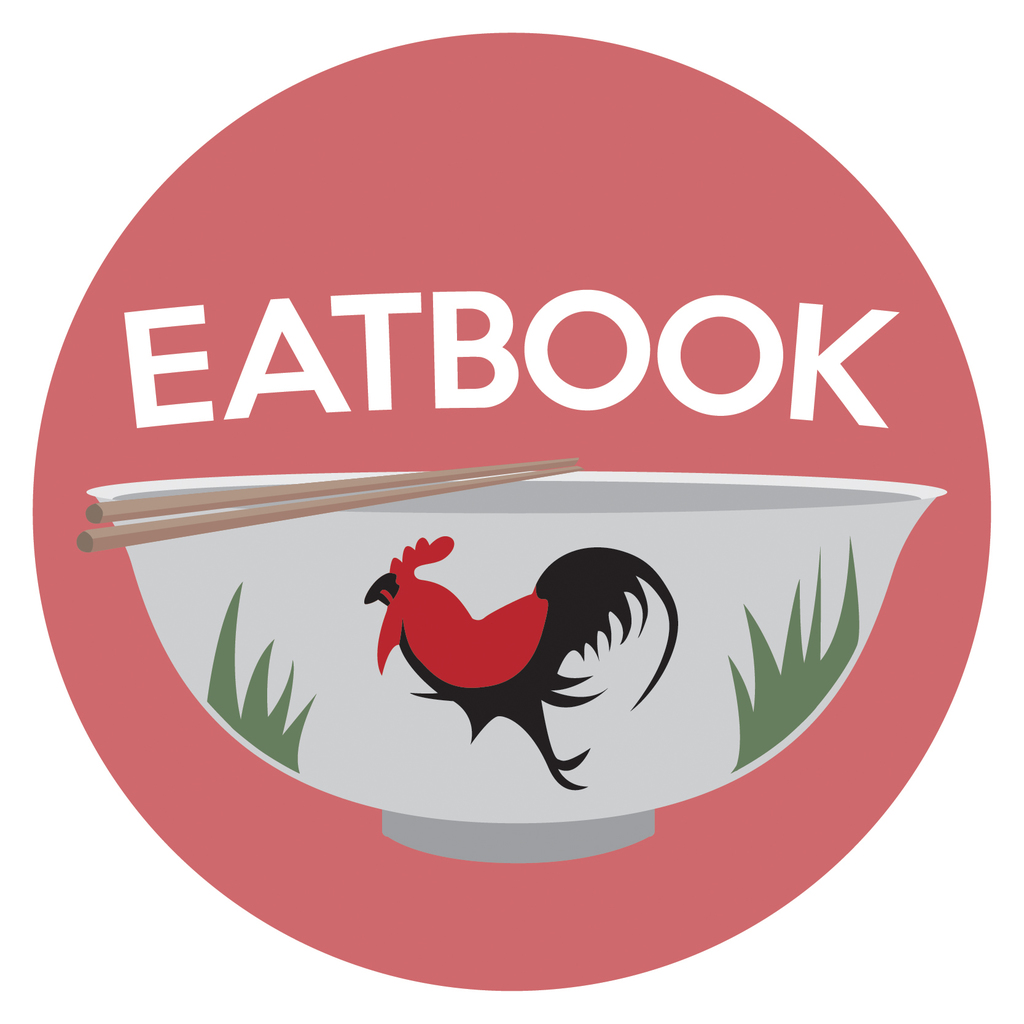 Drop us your email so you won't miss the latest news.