808 Eating House has buah keluak pork belly and Sichuan chilli oysters at Joo Chiat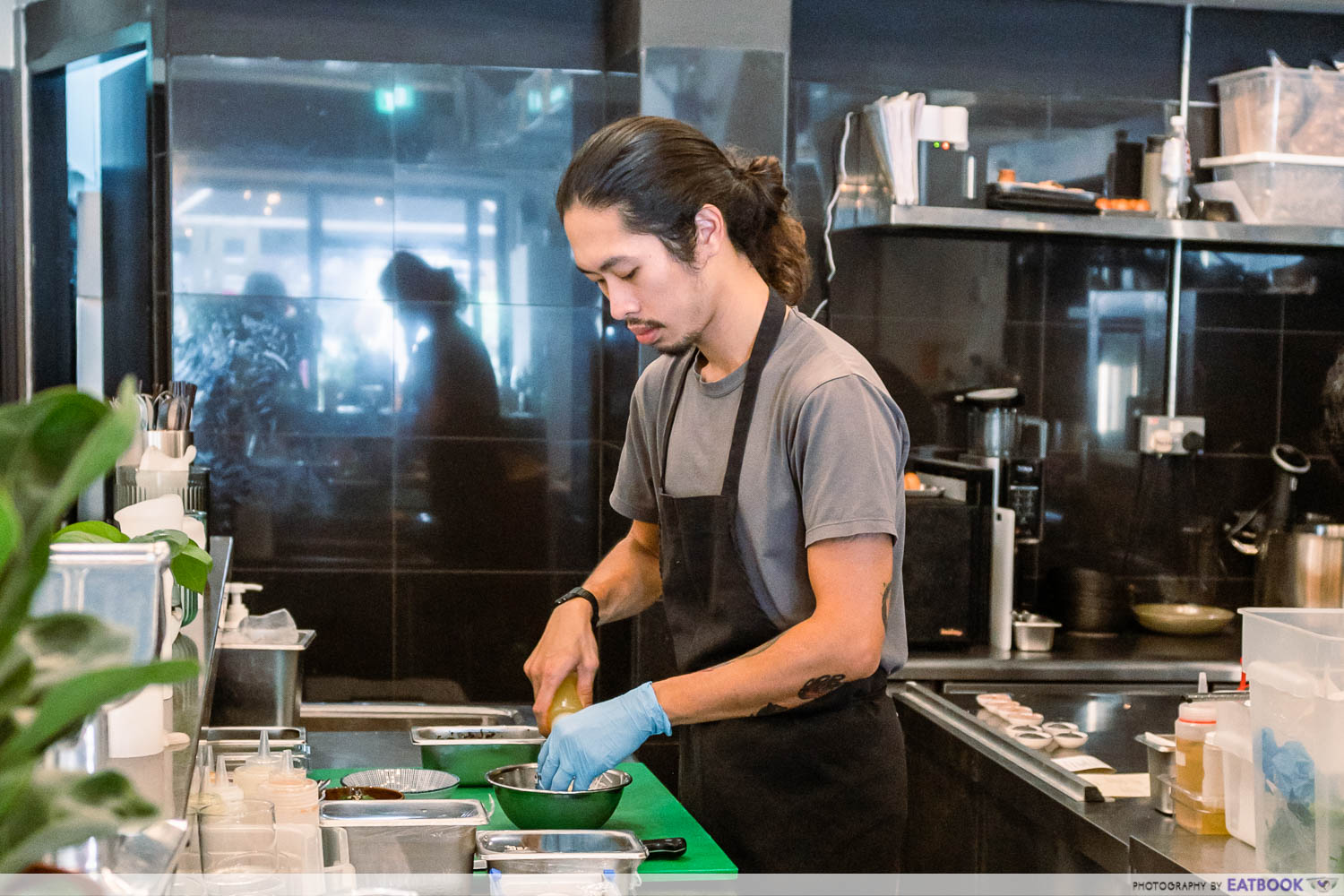 Let's face it: fine dining settings can often be stiff and even terrifying. There's a reason why one of last year's most unsettling films, The Menu, takes place in such an environment. Chef Eugene Chee, who has worked for three Michelin-starred restaurants, seems intent on avoiding that sort of atmosphere, while still offering the novel dishes of fine dining. His new restaurant, 808 Eating House, does exactly that.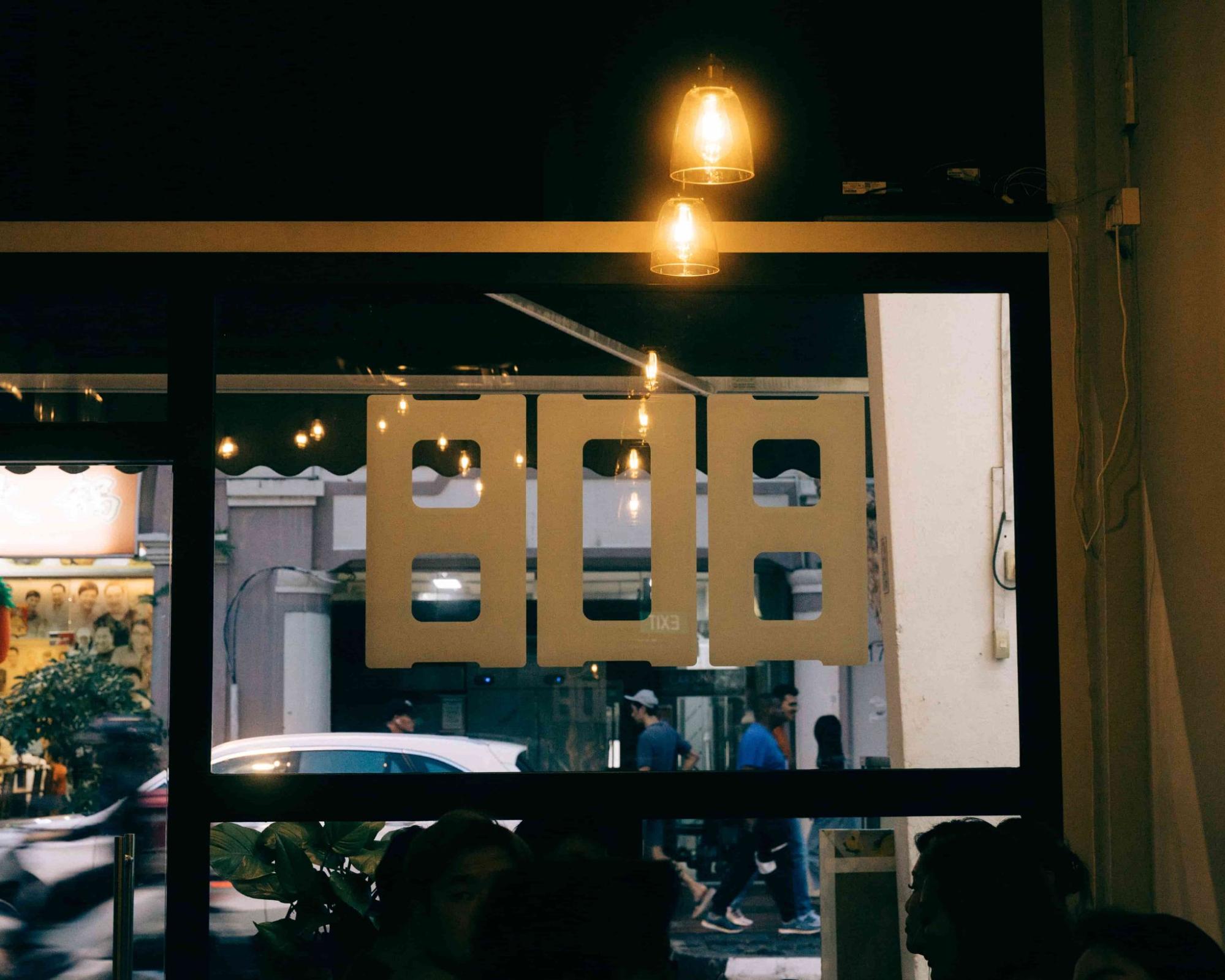 Image credit: @808eatinghouse.sg
Occupying a casual and inviting space at Joo Chiat, 808 Eating House specialises in Southeast Asian cuisine that's thoughtfully crafted and thoroughly satisfying. We had the chance to try the fare there recently, and boy, did it impress.
Char Review: Michelin-Approved Restaurant With Mala Char Siew And More In Jalan Besar
Food at 808 Eating House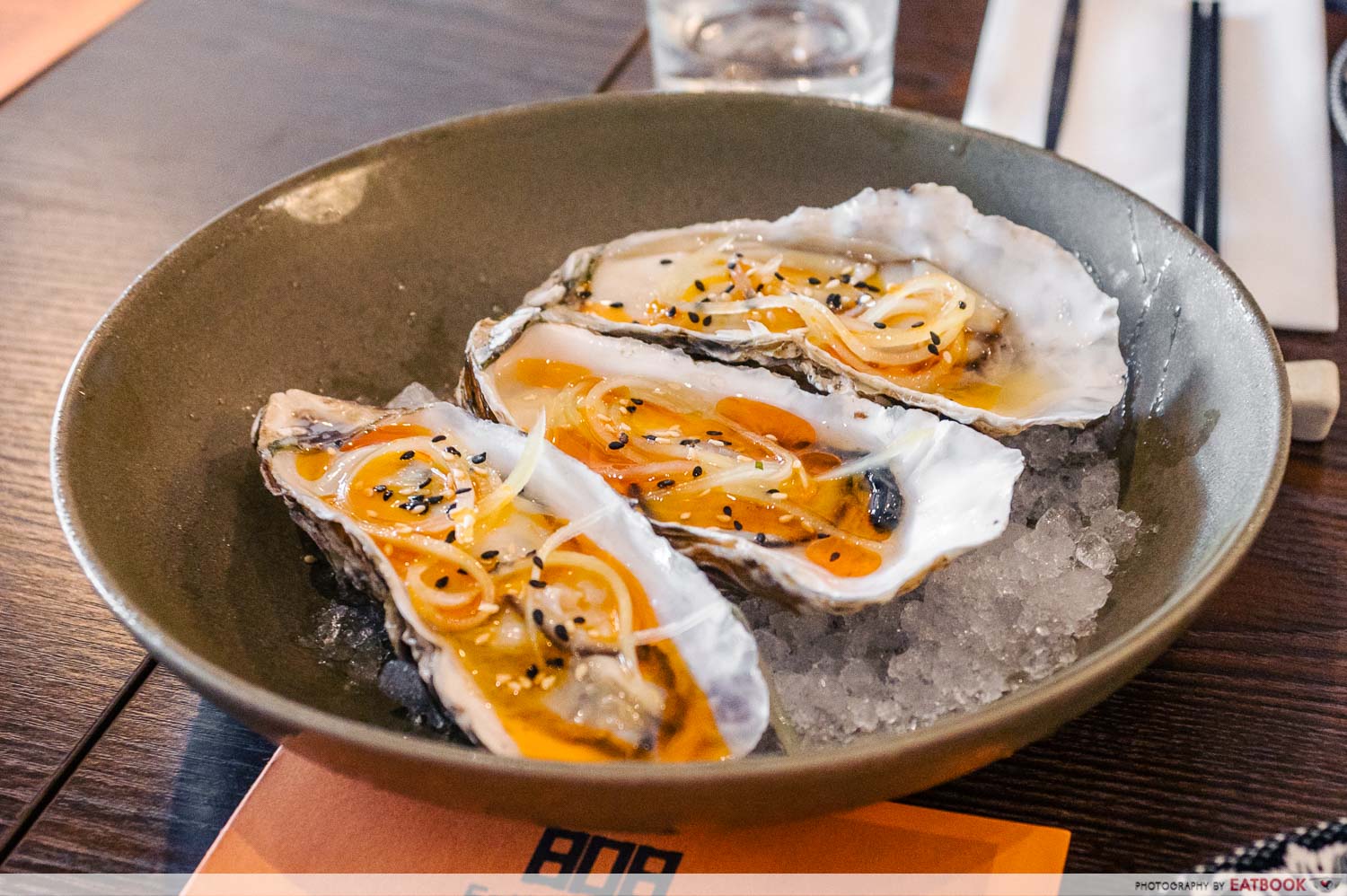 If I had to find a common theme shared by all of 808's dishes, it would be that they are creatively put together, but that creativity shines through rather subtly. That's apparent even in one of the restaurant's "snacks", the Seasonal Oysters ($8++ per piece).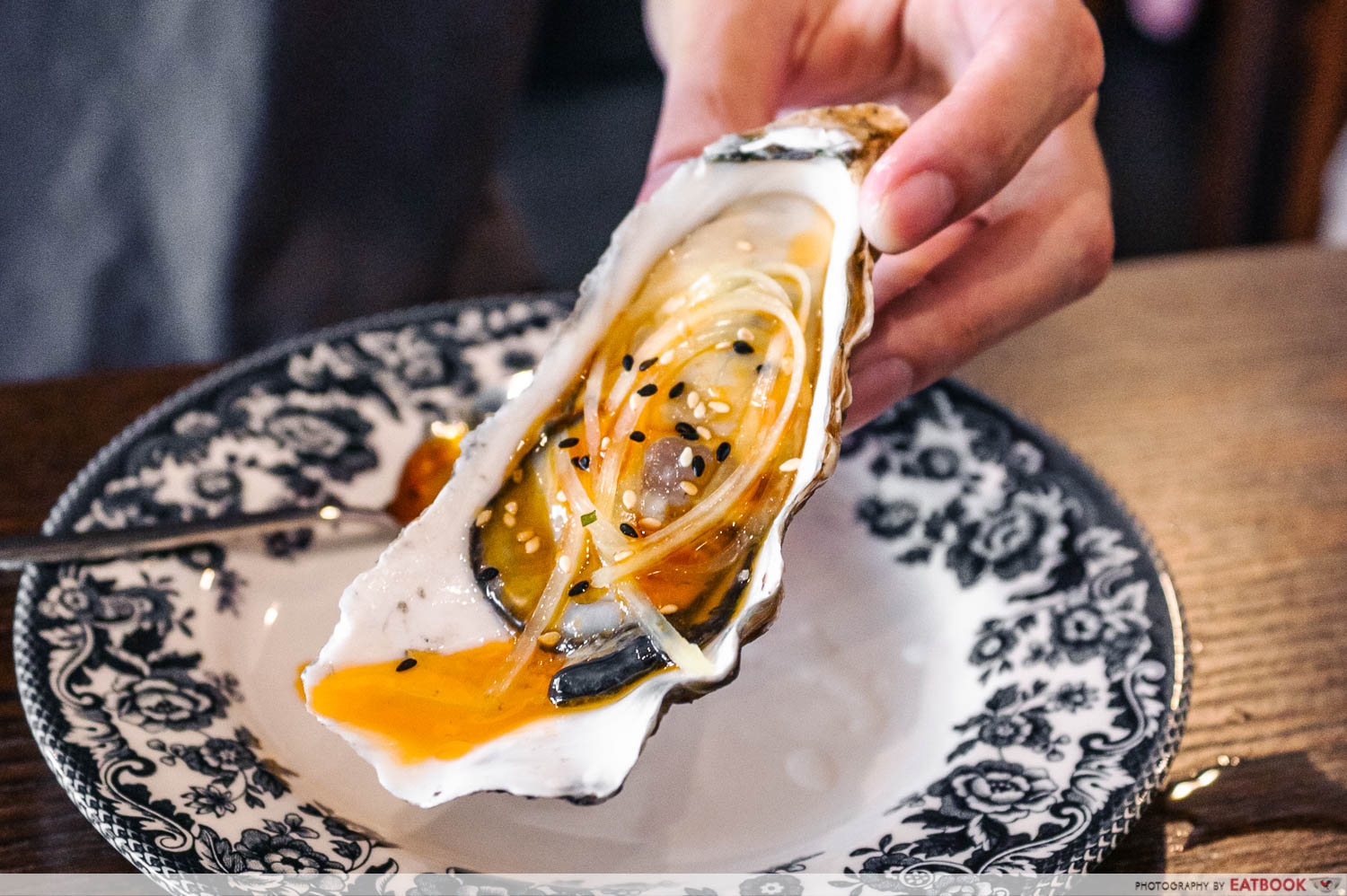 These Miyagi oysters weren't exactly the freshest around, but they were plenty plump and cleverly prepared. The Sichuan chilli drizzled on top gave a small spicy kick and a citrusy aroma to the briny oyster, and the slices of tangy green papaya sauerkraut imparted a crunchy texture to the slimy oyster. These understated additions made all the difference to the dish as a whole.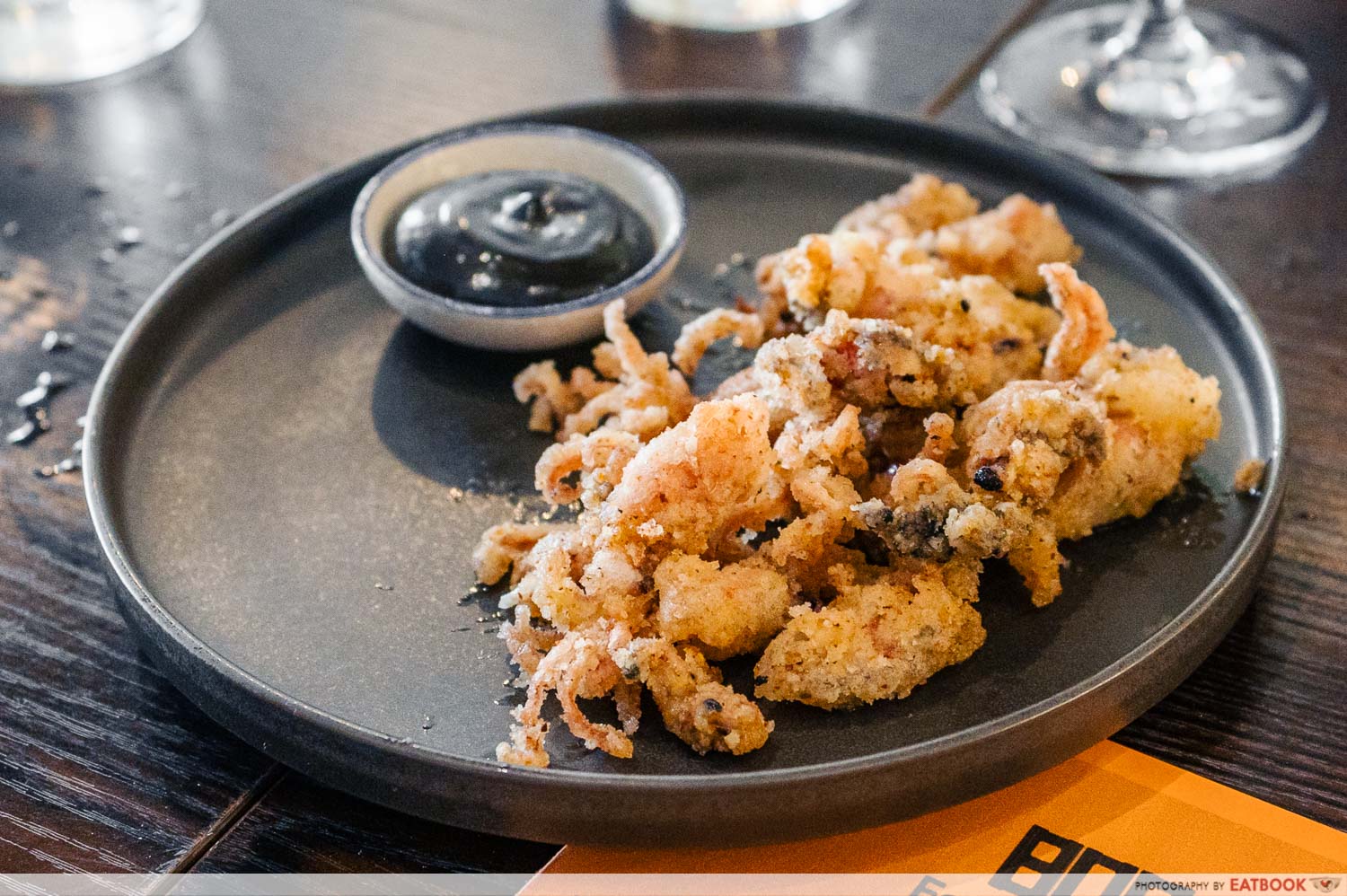 Similarly, the small plate dish Crispy Baby Squid ($16++) excelled because of its subtle creative choices.  Using baby squid caught in waters just off Singapore, every piece was coated with a thin layer of potato starch, deep-fried until wonderfully crispy, and then sprinkled with shichimi powder. When dipped into the smooth and rich squid ink aioli dip, each bite was an explosion of umami—to some, however, it may come across as a little too salty.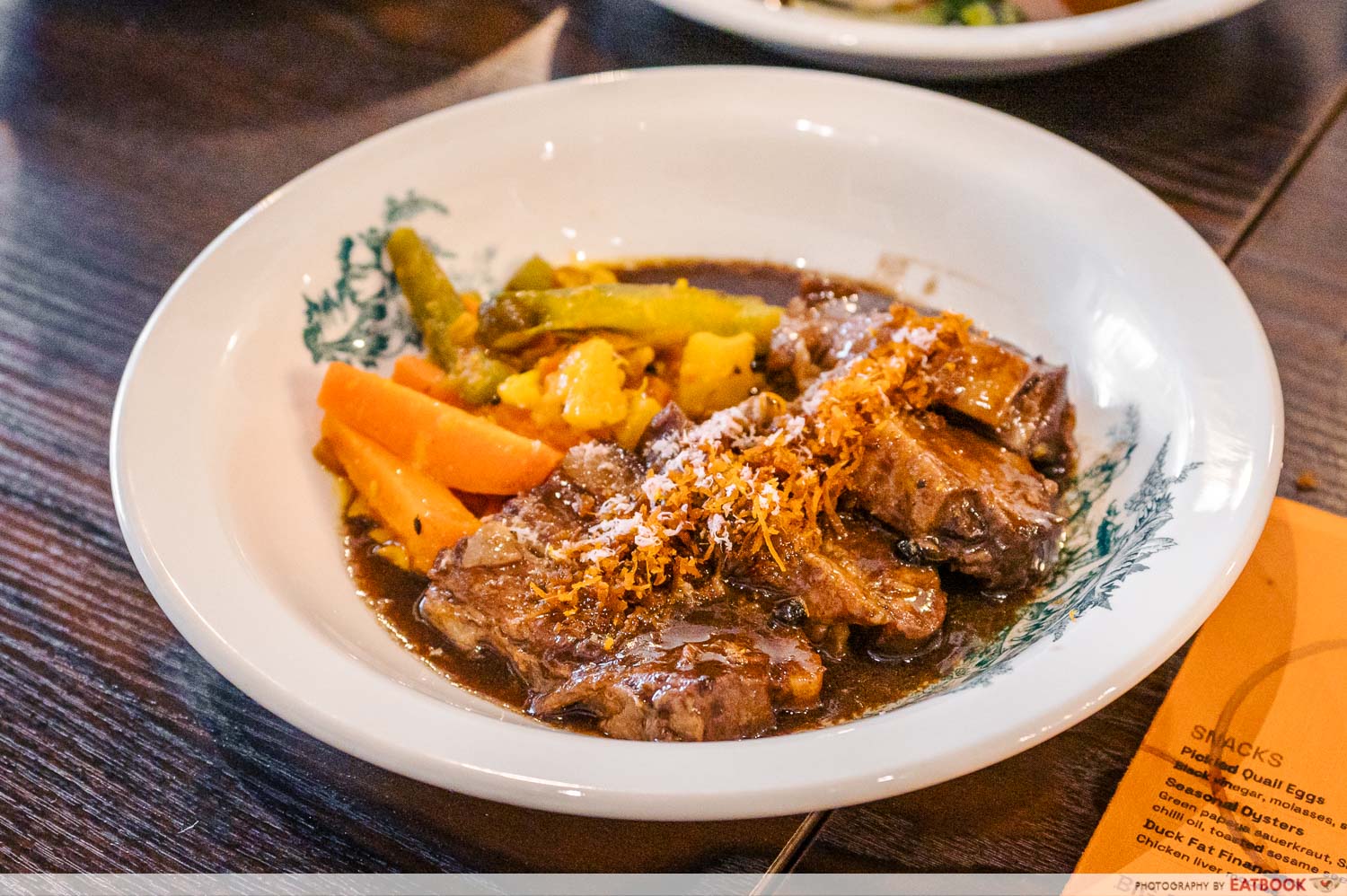 The main attraction—for me at least—was the Buah Keluak Pork Belly ($26++). To achieve this excellent dish, succulent pork belly was slowly cooked for 12 hours in a mixture of buah keluak and soy sauce, then enhanced with house-made coconut serundeng.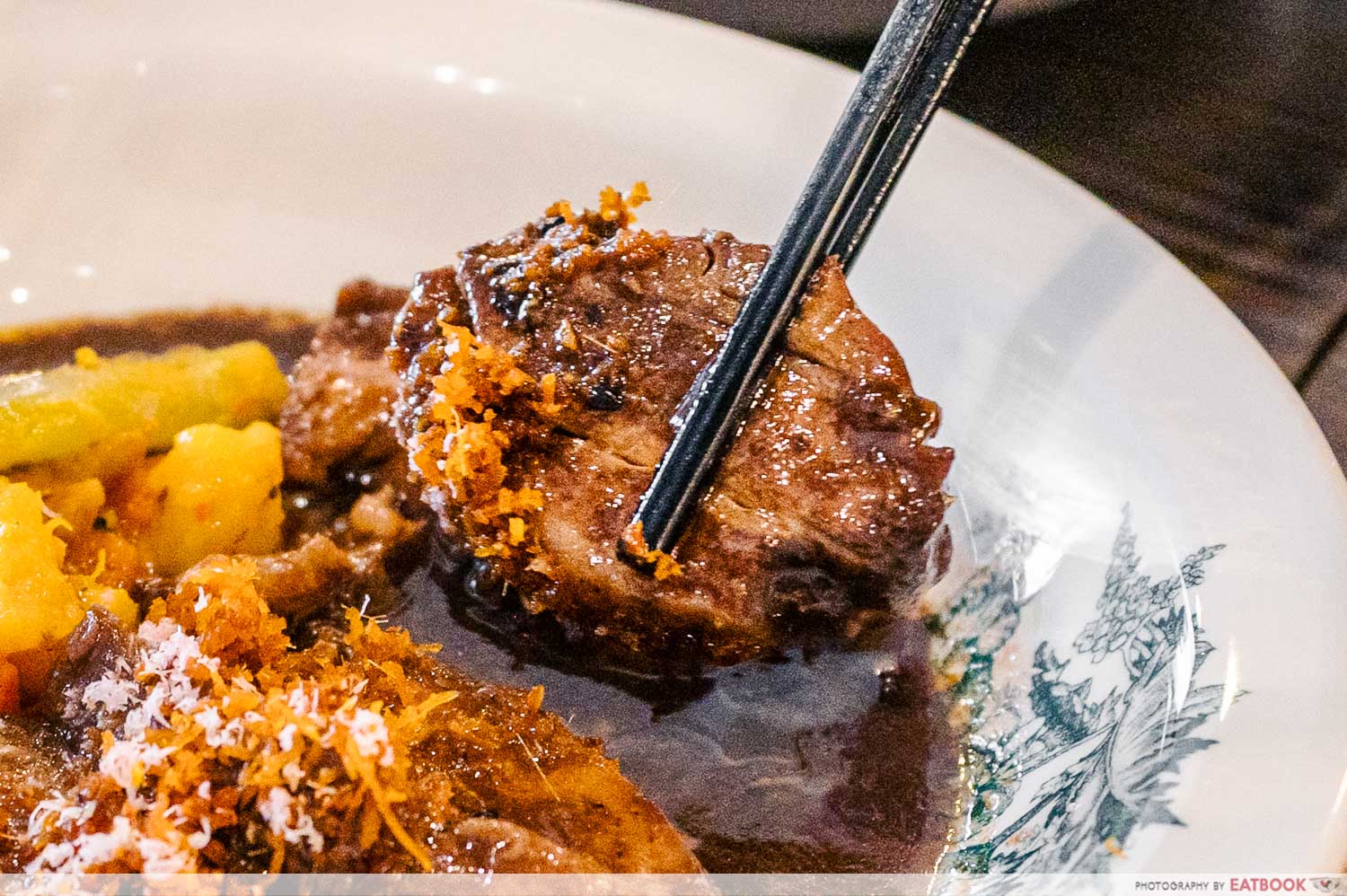 Earthy, savoury, and nutty flavours marked each slice of juicy and tender pork. Follow up with the crunchy and sweet-sour achar pickles on the side for a burst of flavours and textures. Despite all the varying parts, it all came together in an exciting, yet nuanced, way.
The Barramundi ($28++) was almost as good as the previous dish.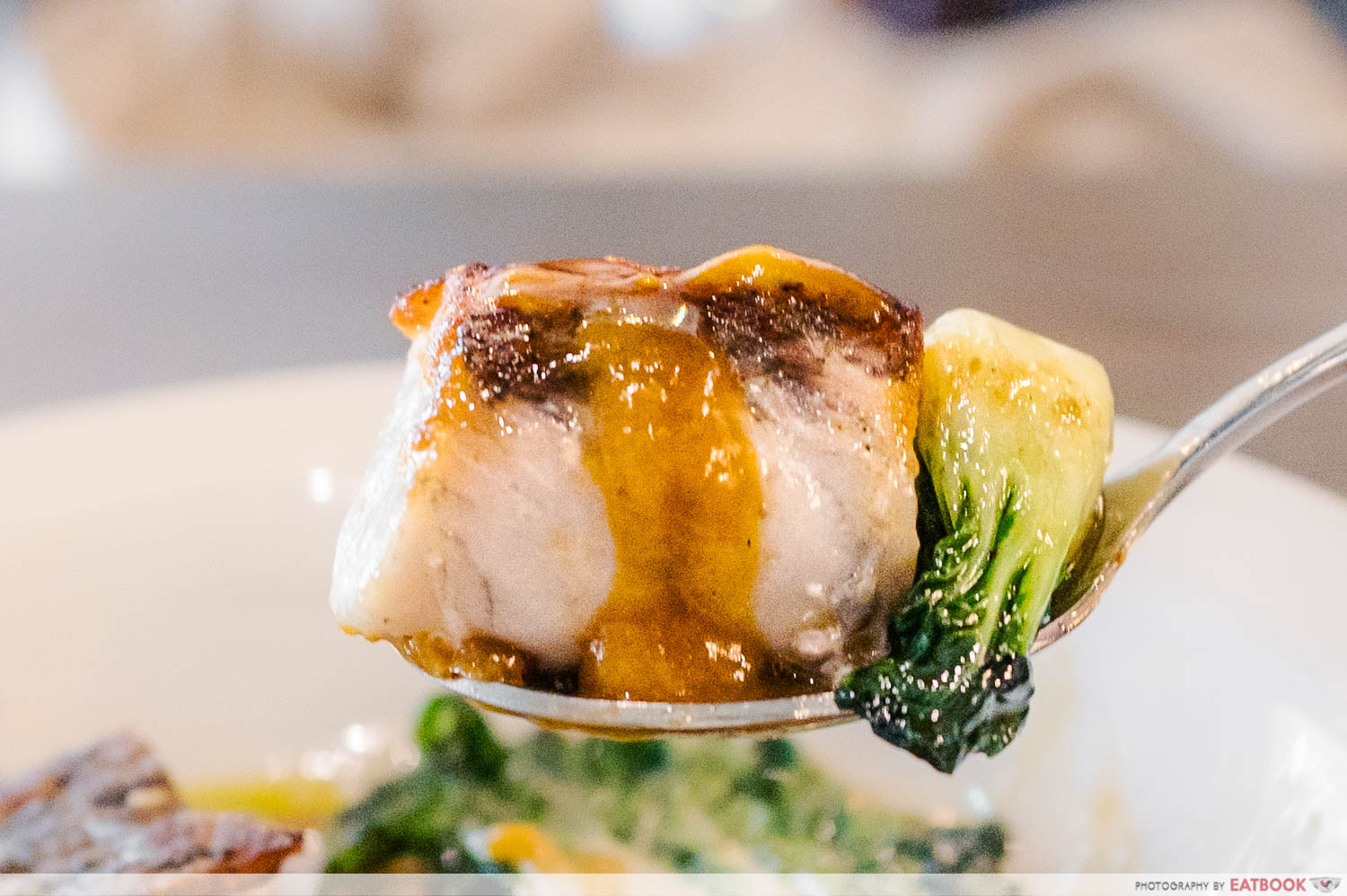 Barramundi fish was accompanied by garam masala pumpkin puree, pumpkin relish, and sauteed nai bai, all of which were drenched in a shellfish broth with hints of curry leaf oil. It was highly fragrant and flavourful, and best of all, the fish was fresh, tender, and impeccably seared.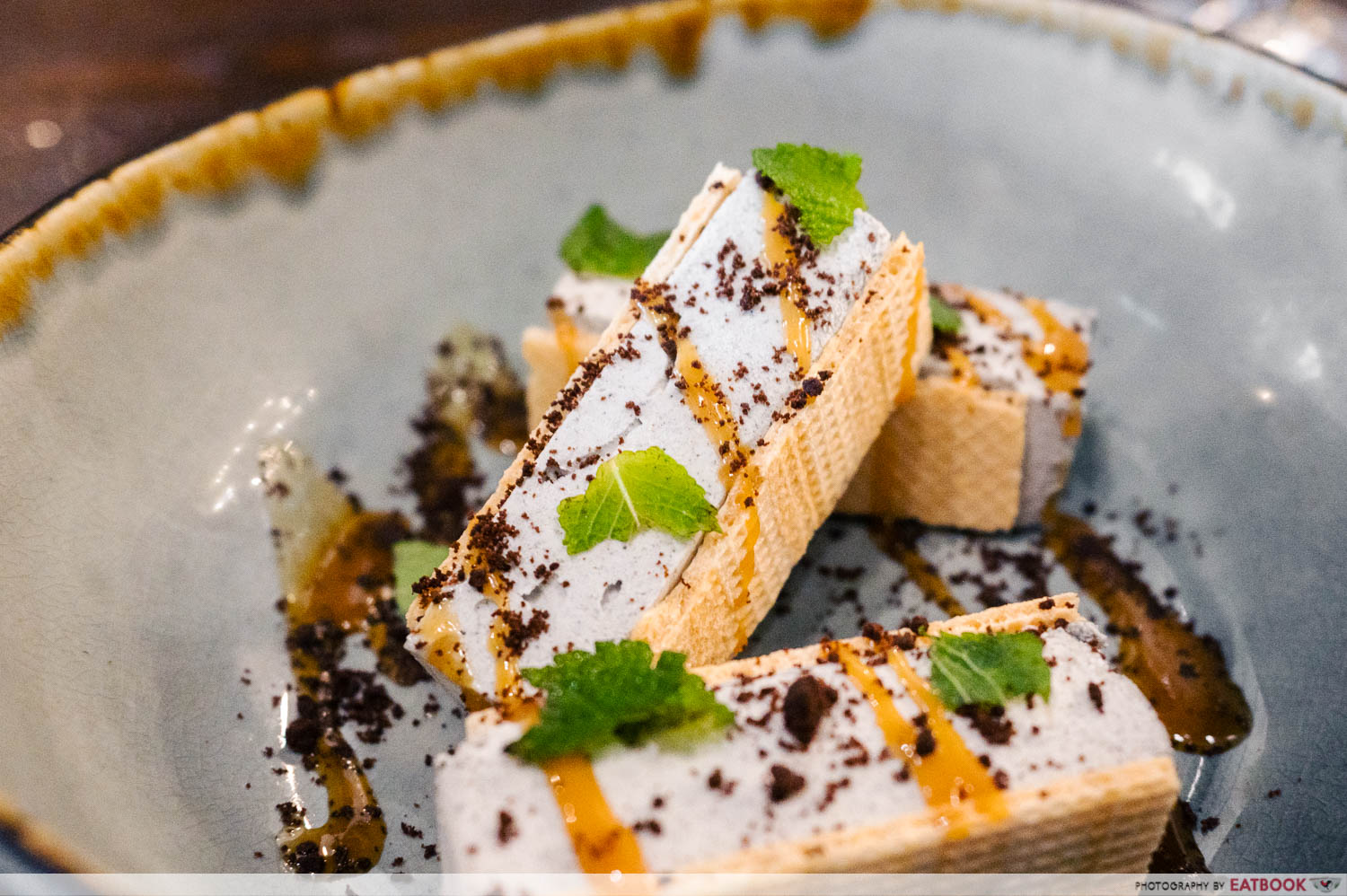 808 has a few interesting desserts as well. Our favourite was the Ice Cream Sandwich ($12++), which saw black sesame parfait nestled between two crispy wafer biscuits, generously drizzled with luscious coconut caramel sauce and garnished with a savoury mushroom crumble.
Ambience at 808 Eating House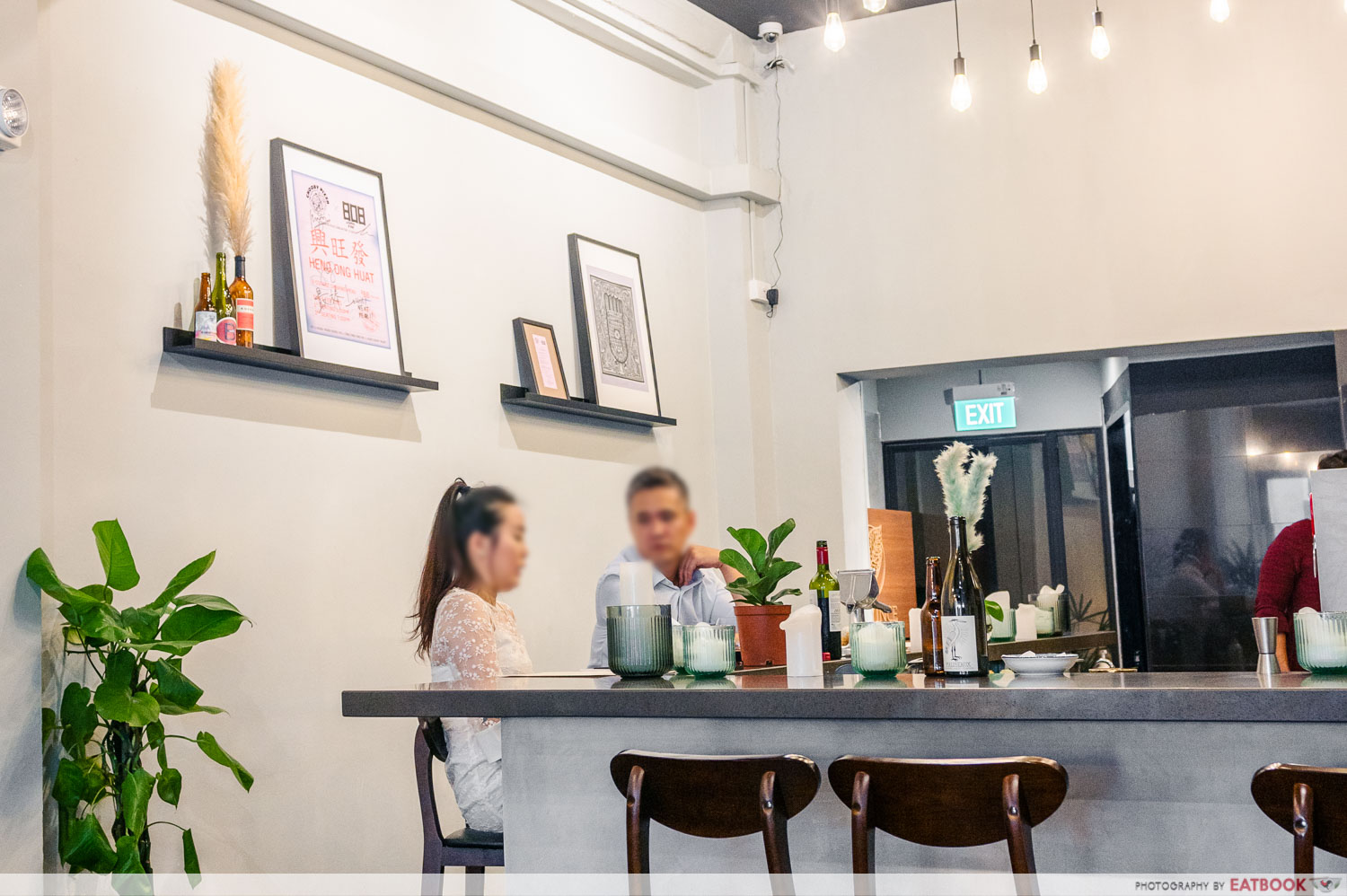 As mentioned earlier, 808 Eating House has a casual and inviting atmosphere, which is helped by its humble but effortlessly cool interiors and open kitchen concept. An eclectic selection of music, ranging from Teresa Teng to Nirvana, can be heard on its speakers. It's difficult not to be won over by the personality of the restaurant.
808 isn't the most accessible eatery out there, however, as it's a 14-minute walk from Eunos MRT Station.
WOKE Ramen Review: Wok Hei Collagen Ramen And Prawn Mee At Changi Airport
The verdict
With its innovative, well-prepared dishes and charming ambience, 808 Eating House is definitely a restaurant you should check out.
For a TCM-themed restaurant bar, check out our Synthesis review. If you're interested in trying mala Peking duck, read our Numb Restaurant review.
Address: 153 Joo Chiat Road, Singapore 427431
Opening hours: Tue-Sun 12pm to 3pm, 6pm to 11pm
Tel: 8946 8089
Website
808 Eating House is not a halal-certified eatery.
Synthesis Review: TCM-Themed Restaurant Bar With Suan Pan Zi Carbonara, Opens Till 2AM
Photos taken by Ke-ian J Leong.
This was a media tasting at 808 Eating House.
808 Eating House Review: Buah Keluak Pork Belly And Sichuan Chilli Oysters At Joo Chiat
808 Eating House Review: Buah Keluak Pork Belly And Sichuan Chilli Oysters At Joo Chiat -

8/10
Summary
Pros
– Buah Keluak Pork Belly was  juicy and delectable
– Barramundi was tender and impeccably seared
– Seasonal Oysters were plump and cleverly prepared
Cons
– Crispy Baby Squid may be too salty for some
– Not the most accessible location
Recommended dishes: Buah Keluak Pork Belly ($26++), Barramundi ($28++)
Opening hours: Tue-Sun 12pm to 3pm, 6pm to 11pm

Address: 153 Joo Chiat Road, Singapore 427431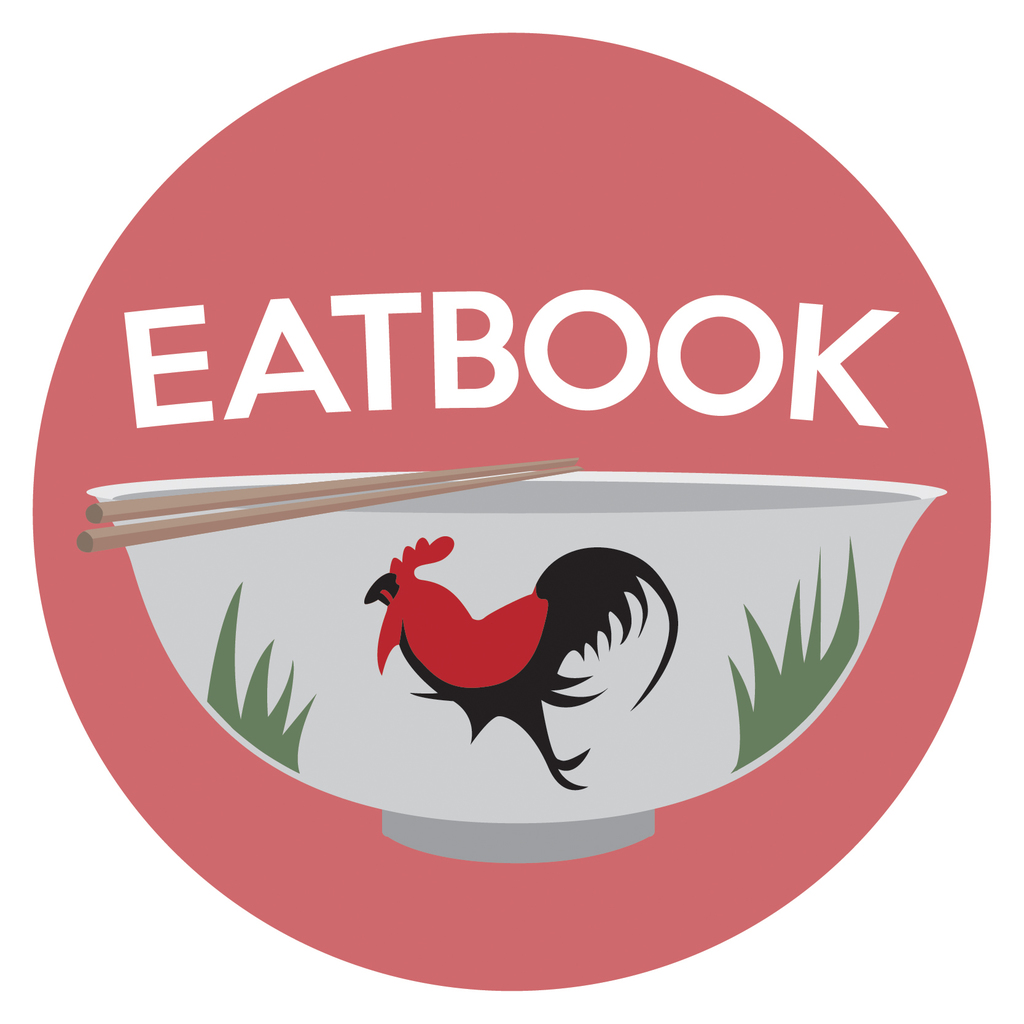 Drop us your email so you won't miss the latest news.