Synthesis is a new TCM-inspired restaurant bar in Suntec City
It's hard to find a restaurant that ticks these boxes: good food, great vibes, and a convenient location. However, when I heard about Synthesis, Suntec City's latest addition, it sounded like there was some potential.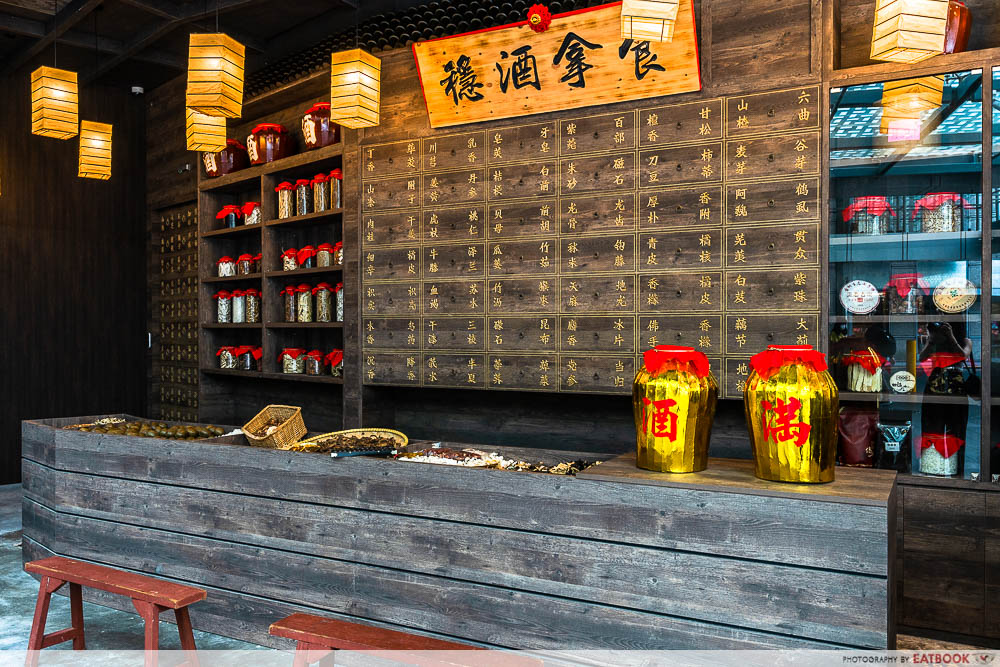 After all, the TCM-themed restaurant bar is helmed by Sebastian Ang, the owner behind the popular retro-inspired Mama Diam—surely they must know what they're doing.
Mama Diam Review: Speakeasy Bar With Secret Entrance Behind Retro Mama Shop
Food at Synthesis
Synthesis' food menu offers a wide variety of Modern Singaporean AKA Mod-Sin fare. If you've been to Mama Diam, you'll know just what I mean. Here, the grub elevates local flavours with premium ingredients—think char siew made with Iberico pork, and Japanese oysters zhnged-up with a unique mee siam foam.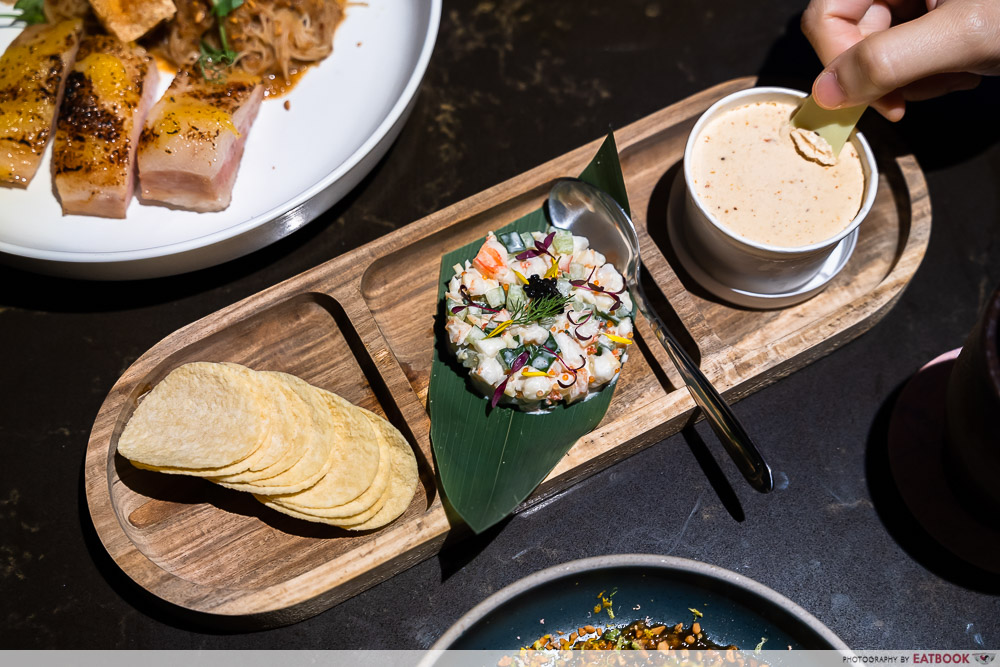 Start off with the Laksa Prawn Tartare ($22++). This cold appetiser came in a platter with three separate components: house-made laksa gelato, prawn tartare, and Pringles chips. The fun begins when you get to assemble your snack; simply add a spoonful of tartare and a smear of the savoury gelato.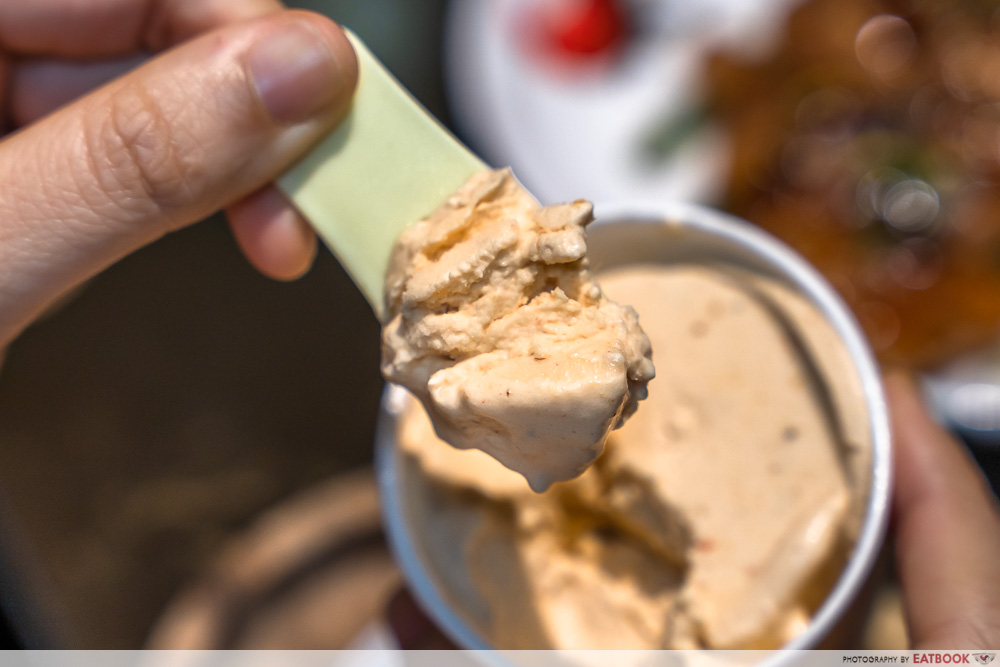 The laksa-flavoured gelato tasted a little weird on its own, but when combined with the other components, it made sense. The punchy, aromatic flavour of the gelato complemented the juicy prawn bits. I just wished they swapped out the store-bought chips for something made in-house—perhaps pappadum crackers or house-fried tortilla chips might work better.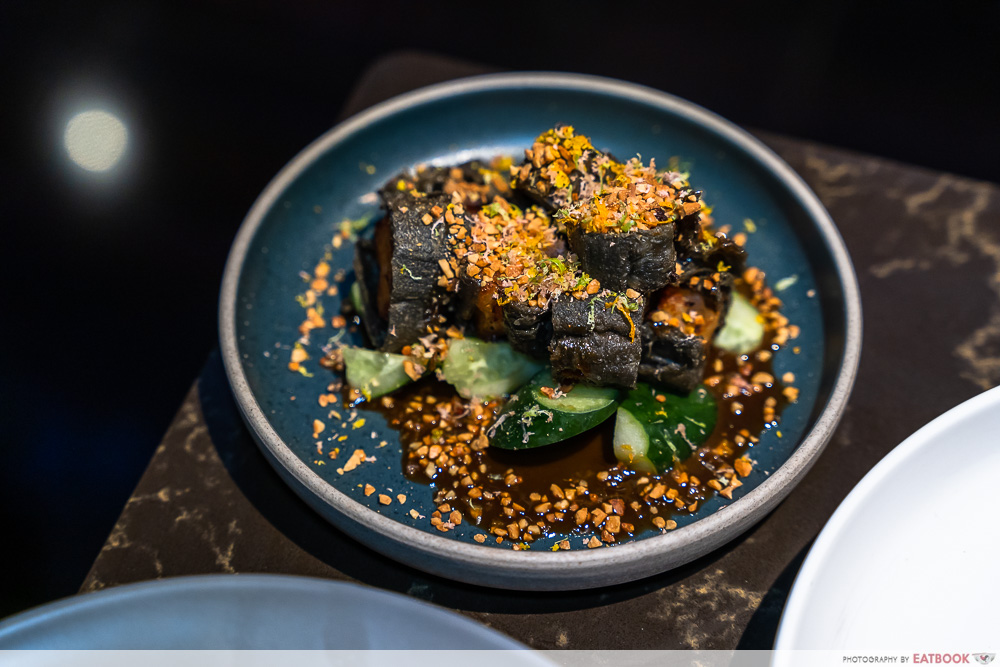 We also enjoyed the "Xia Hua" Charcoal You Tiao ($18++): eight pieces of crispy you tiao stuffed with prawn paste, sitting on a sweet-sticky rojak sauce and topped with peanuts.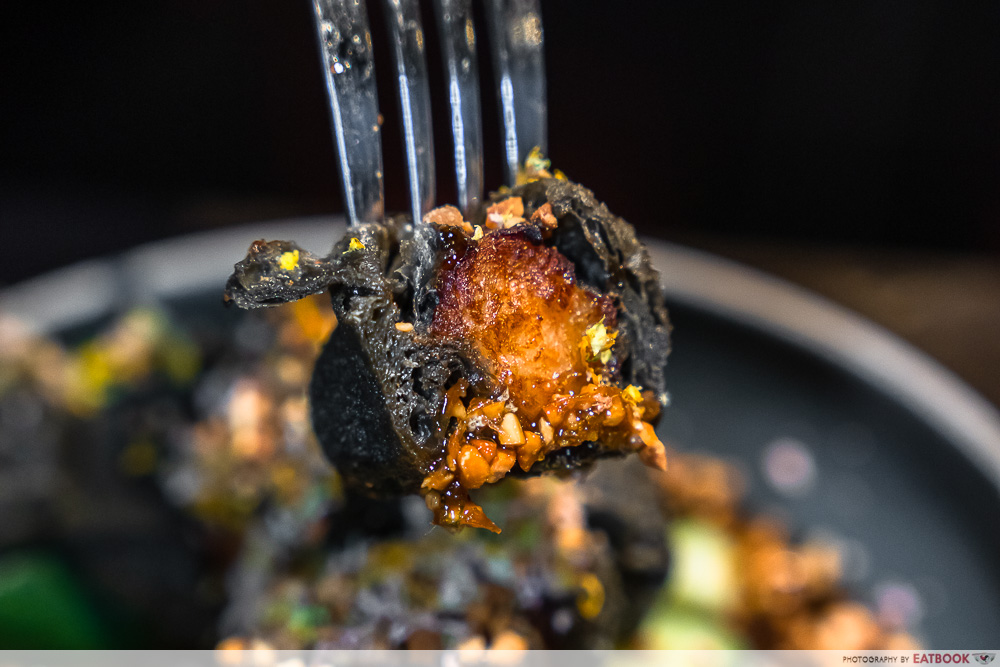 The different components went well together, but I felt there could have been an extra element of surprise to add pizazz to those predictable flavours.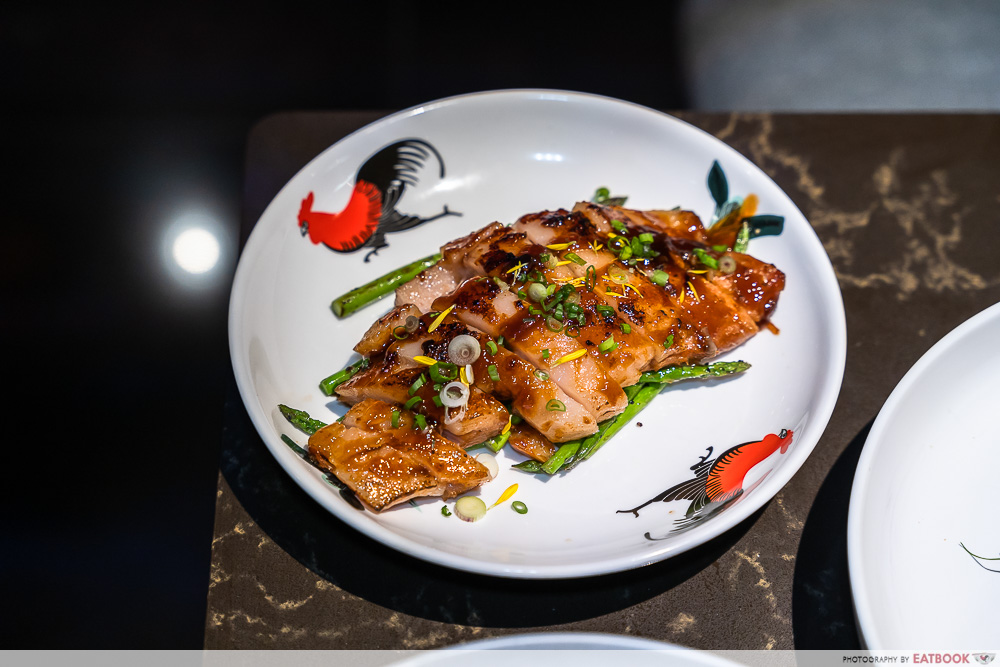 If you love fatty char siew, definitely get the aptly named Heavenly Char Siew ($22++). A whole strip of Iberico pork jowl is elegantly laid out on a bed of thin asparagus—it's a thing of beauty.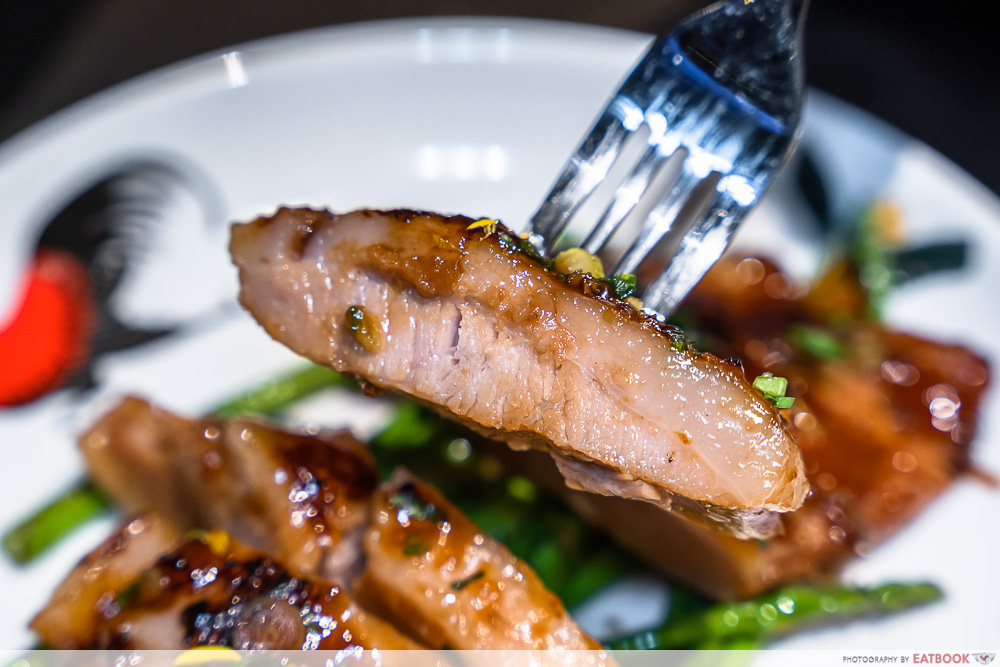 I was surprised by how melt-in-the-mouth this cut was; the rich fat layer disintegrated without much work, while the meat was exceedingly tender. Yet, its name was misleading as some may assume it would taste just like char siew—it didn't remind me of that one bit, as the meat slices were lacking in char.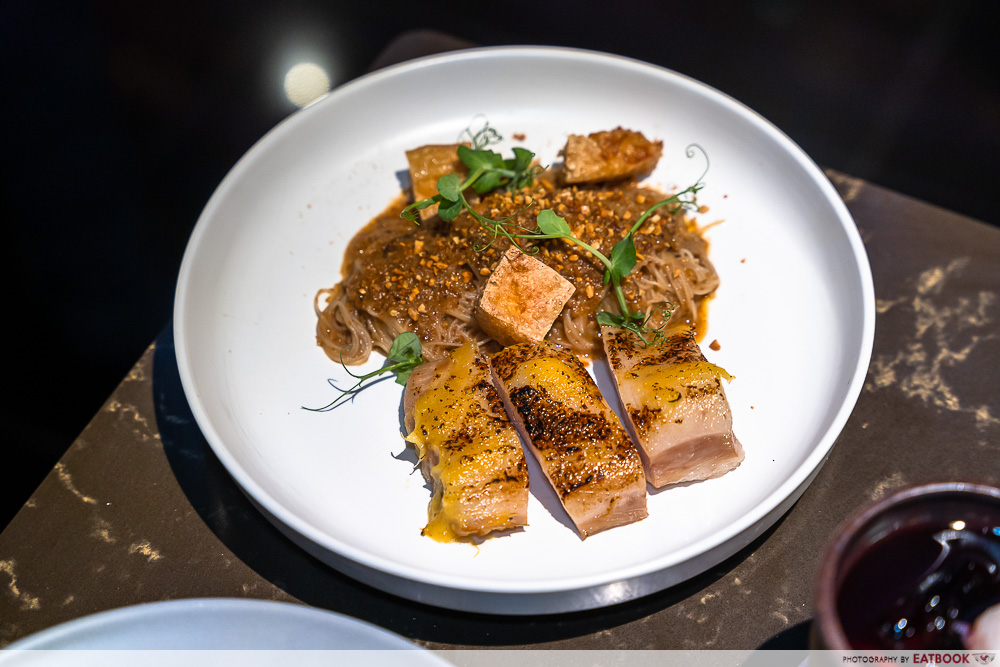 Moving on to the mains, the Glazed Pork Satay Bee Hoon ($28++) came with a decent portion of satay "bee hoon", accompanied by thick chunks of the same Iberico pork jowl. The meat was topped with pineapple glaze, which turned out to be a pleasant, sweet surprise. However, I felt that the pork could be a tad more tender.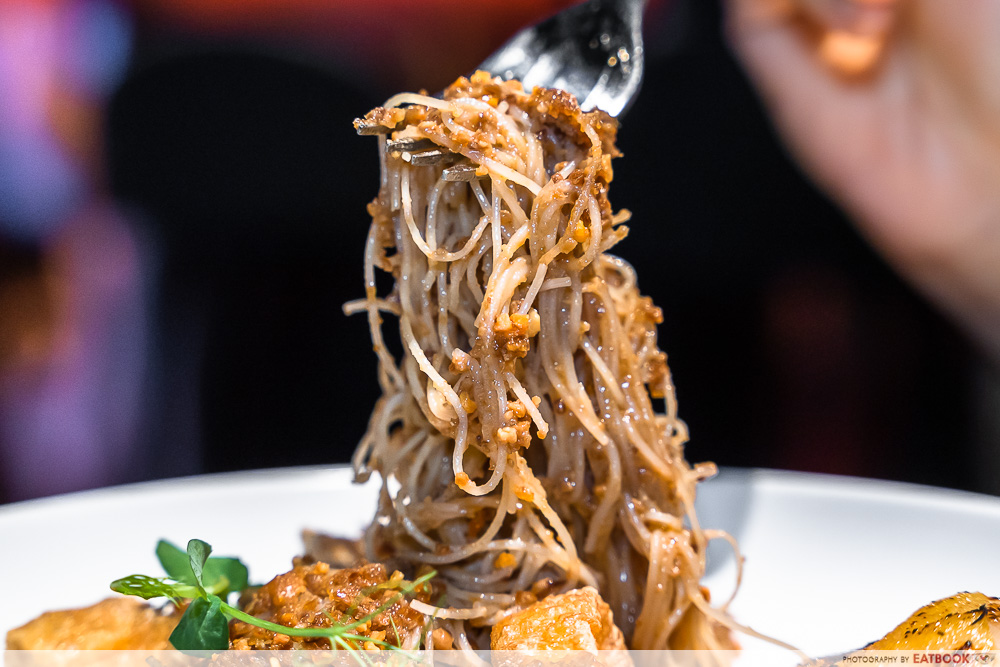 Done "dry-style", the satay pasta was indeed flavourful, but I didn't see the value in swapping out the thin rice noodles for angel hair pasta.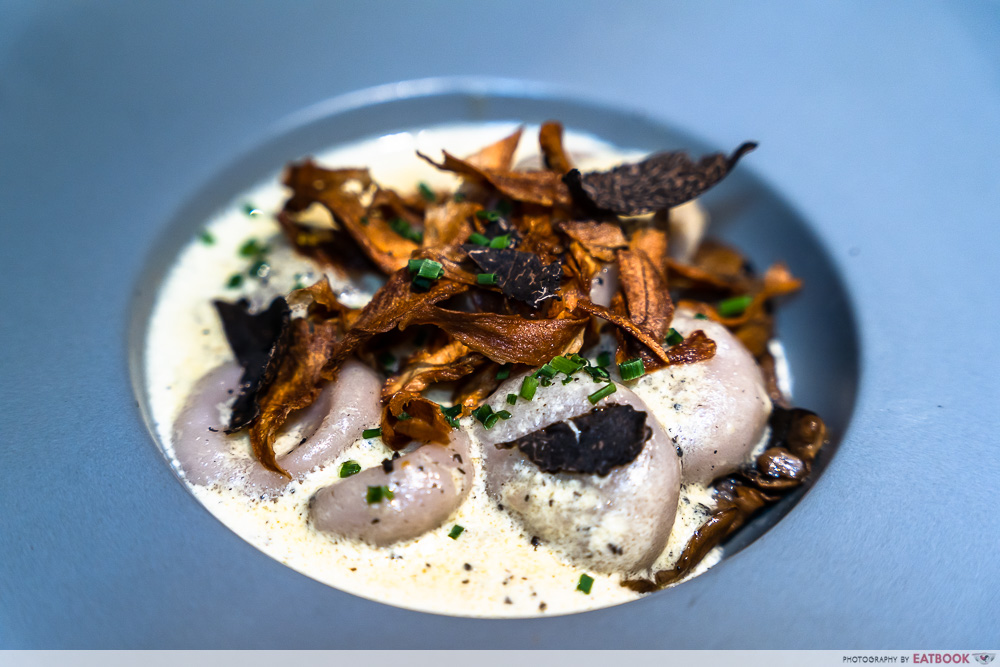 If there's only one thing you can order, let it be the Suan Pan Zi Truffle Carbonara ($30++). This was a unanimous favourite at the table despite its small serving.
Here, the Hakka classic was given an upgrade: house-made abacus seed was tossed in a rich and garlicky cream sauce, spiked with freshly shaved black truffle. According to Sebastian, less yam was used to make the suan pan zi, in order to mimic an al dente, pasta-like texture similar to that of ravioli.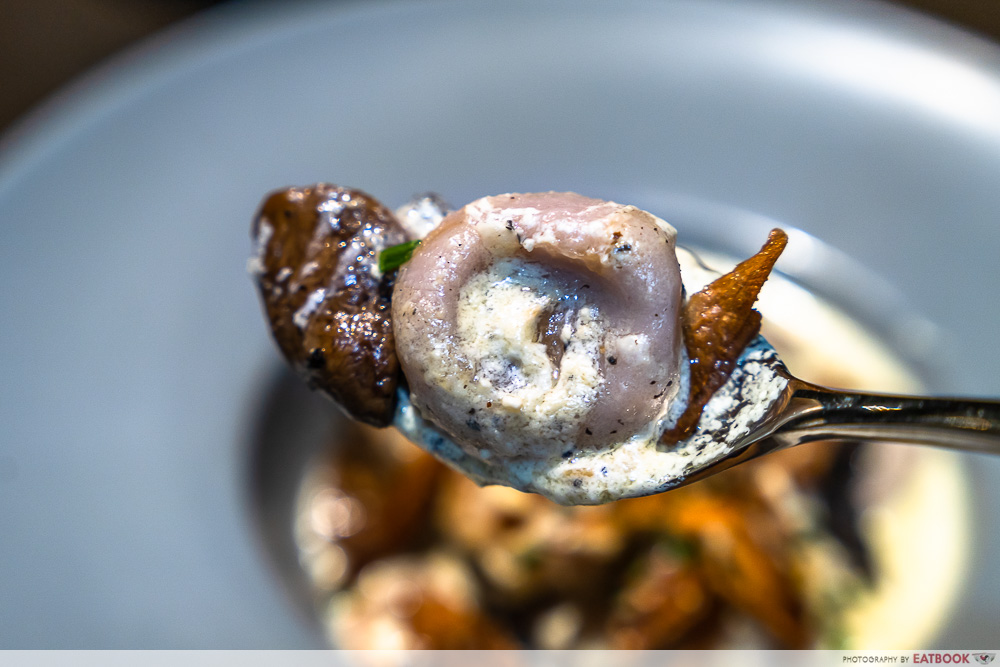 The chefs definitely nailed the ratio as the earthy yam flavour was prominent, but not overwhelmingly so. Bite-sized mushroom chunks complemented the umami notes of the truffle, while the deep-fried pieces of burdock root added a nutty sweetness to the dish.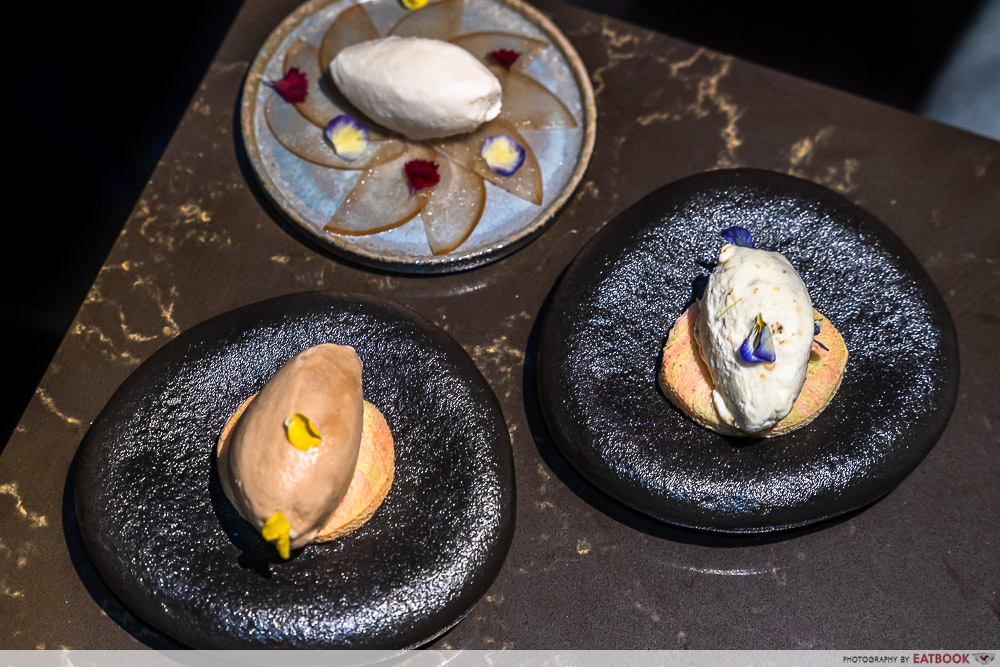 Desserts here are on the smaller side, so you won't have to worry if you're feeling stuffed. The pretty Yuzu Nashi Pear Swirl ($18++) pairs paper-thin pear slices infused with the citrus, topped with a house-made winter melon gelato.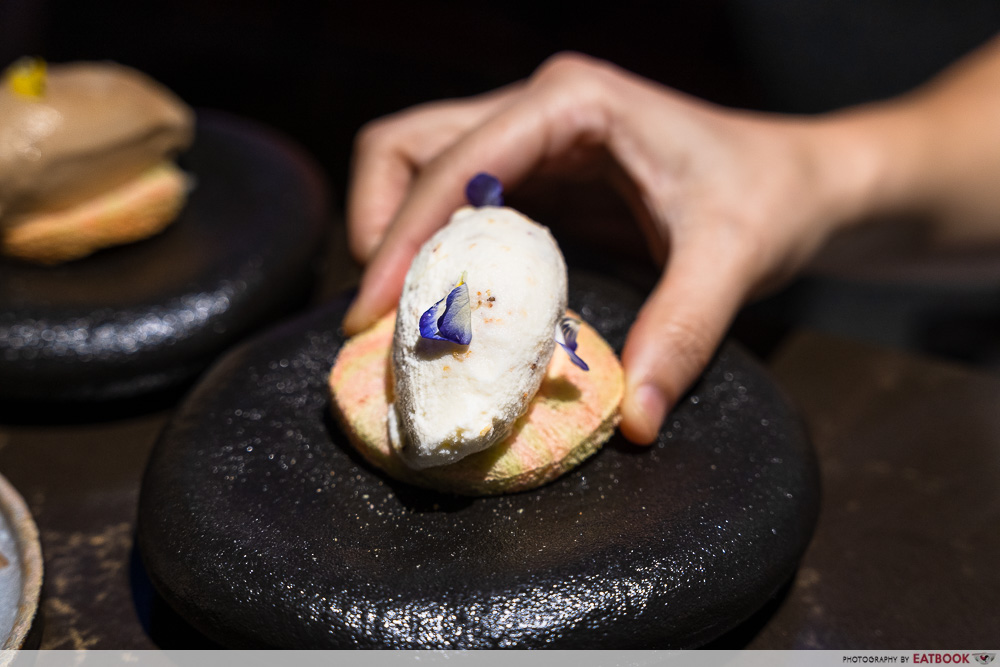 Alternatively, the Rainbow Bread Sandwich ($6++) is a nostalgic treat to end your meal with. Get the light and refreshing Honey Osmanthus ice cream, or the full-bodied Herbal Peppermint flavour if you want something bolder. Both flavours worked well with the tiny slab of crispy dehydrated rainbow bread.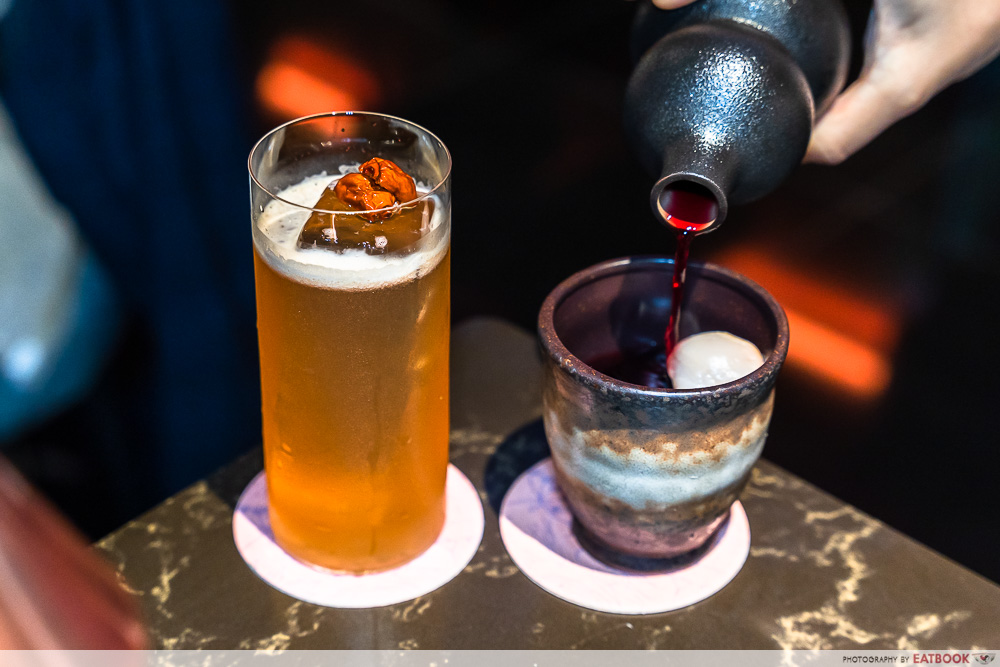 Then, wash everything down with their TCM-inspired tipples. Date With Jia Jia ($24++), a blend of cognac, rate date, and Jia Jia Herbal Tea, was dangerously crushable. But out of the two, I favoured the Ginseng Spiced Wine ($23++), made with cognac, reduced wine, spices, and ginseng. This mulled wine equivalent tasted like an adult's version of Ribena—thick and concentrated with a hit of ginseng at the end.
Ambience at Synthesis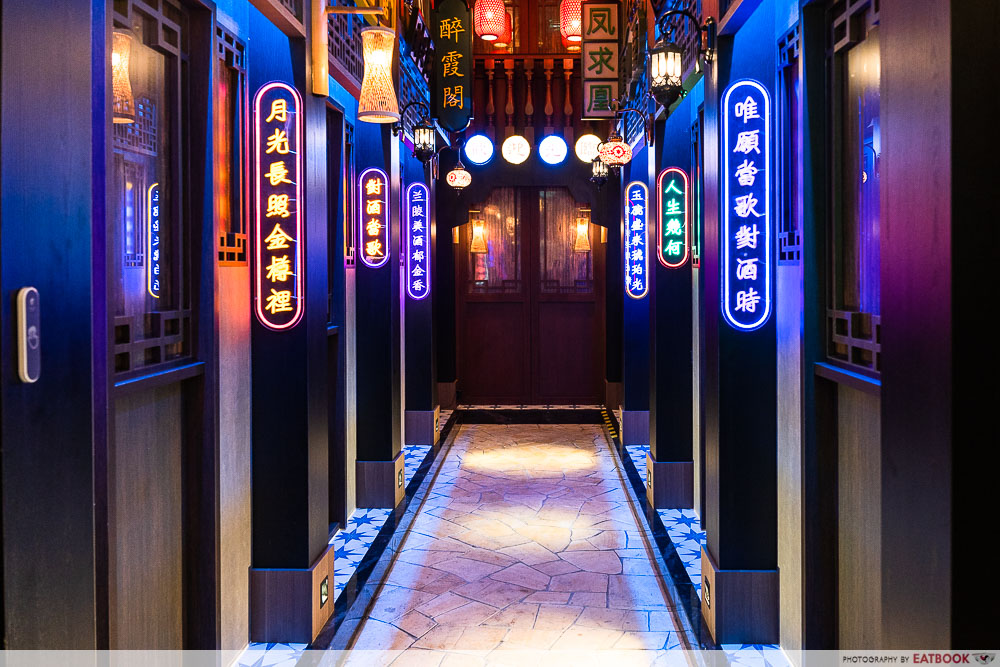 Synthesis is a three-minute walk from Promenade MRT Station. Do note that the entrance, which is right next to the 7-Eleven, is in fact a decoy that looks like a TCM store.
The whole experience starts even before you enter. We first caught a whiff of the herbs displayed right outside. Then, we were drawn in by their impressive exterior resembling that of a TCM hall in the 1950s.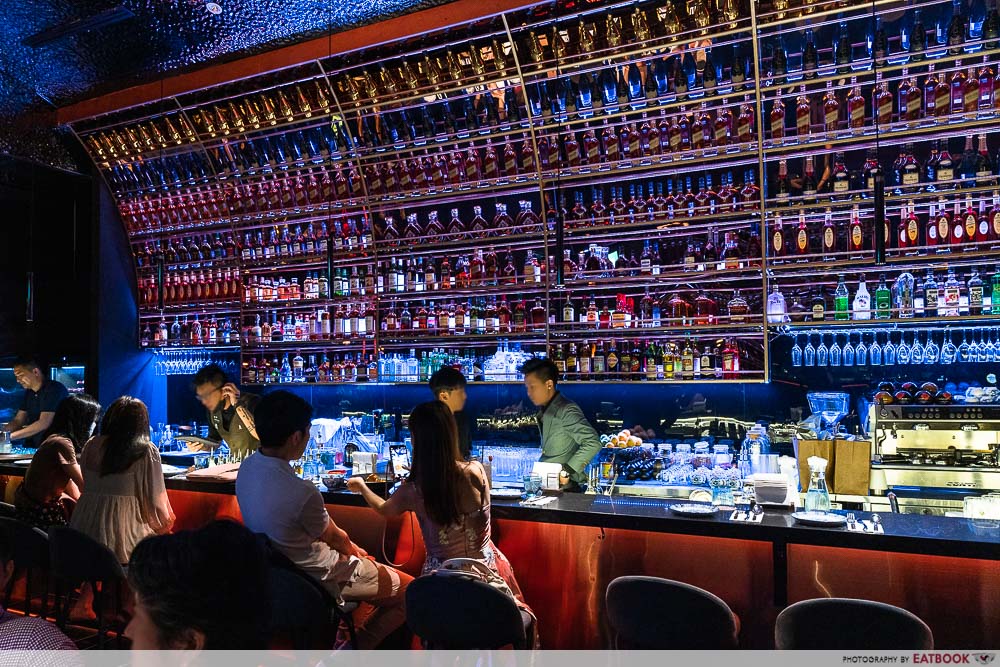 Upon walking in, we were wowed by the well-furnished space and impressive-looking bar. The red theme was consistent throughout, but in a sexy, subtle way: plush red sofa seats were muted by grey chairs and brown marbled tables, and the bar counter section boasted dark red accents. The restaurant was actually much more spacious than we thought, with a private dining room and a segregated area for more intimate settings.
Cafe Usagi Tokyo: New Matcha Cafe In Suntec With Mochi Ice Cream And More
The verdict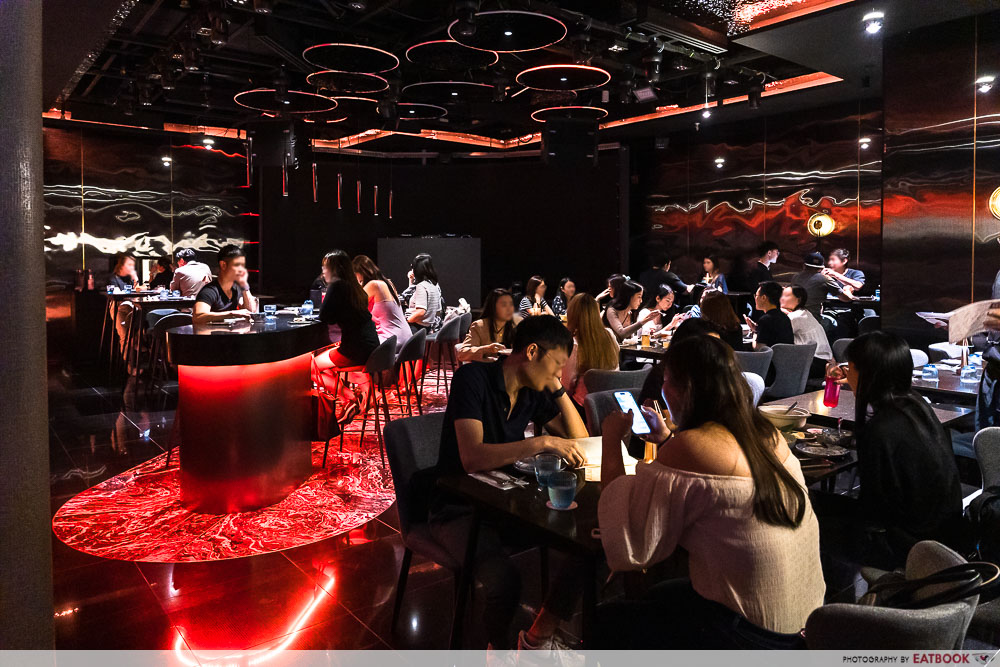 Although there were some minor misses in some of the dishes we tried, our overall experience at Synthesis was a pleasant one. All things considered—the cool vibes, the accessible location, and unique local-infused flavours—this is one great nighttime spot to add to your list of places for dates or get-togethers. I'll be back!
Another new Suntec City restaurant worth checking out is Kurohanabi, known for their Wagyu innards hotpot and freshly made Japanese pancakes. There's also Cafe Usagi Tokyo, a new matcha-focused cafe in the mall!
Address: 3 Temasek Boulevard, #01-643, Suntec City Tower 4, Singapore 038983
Opening hours: Sun-Thurs 4pm to 10.30pm, Fri-Sat 4pm to 2am
Tel: 9727 4649
Website
Synthesis is not a halal-certified eatery.
This was a media tasting at Synthesis.
Photos taken by Chew Yi En.
Suntec City Food Guide: 18 Places For Lu Rou Mian, Tteokbokki Buffet And More
Synthesis Review: TCM-Themed Restaurant Bar With Suan Pan Zi Carbonara, Opens Till 2AM
Synthesis Review: TCM-Themed Restaurant Bar With Suan Pan Zi Carbonara, Opens Till 2AM -

7.5/10
Summary
Pros
– Convenient location
– Unique Mod-Sin dishes
– Great vibes
Cons
– Prices were steep
– Small portions
Opening hours: Sun-Thurs 4pm to 10.30pm, Fri-Sat 4pm to 2am
Address: 3 Temasek Boulevard, #01-643, Suntec City Tower 4, Singapore 038983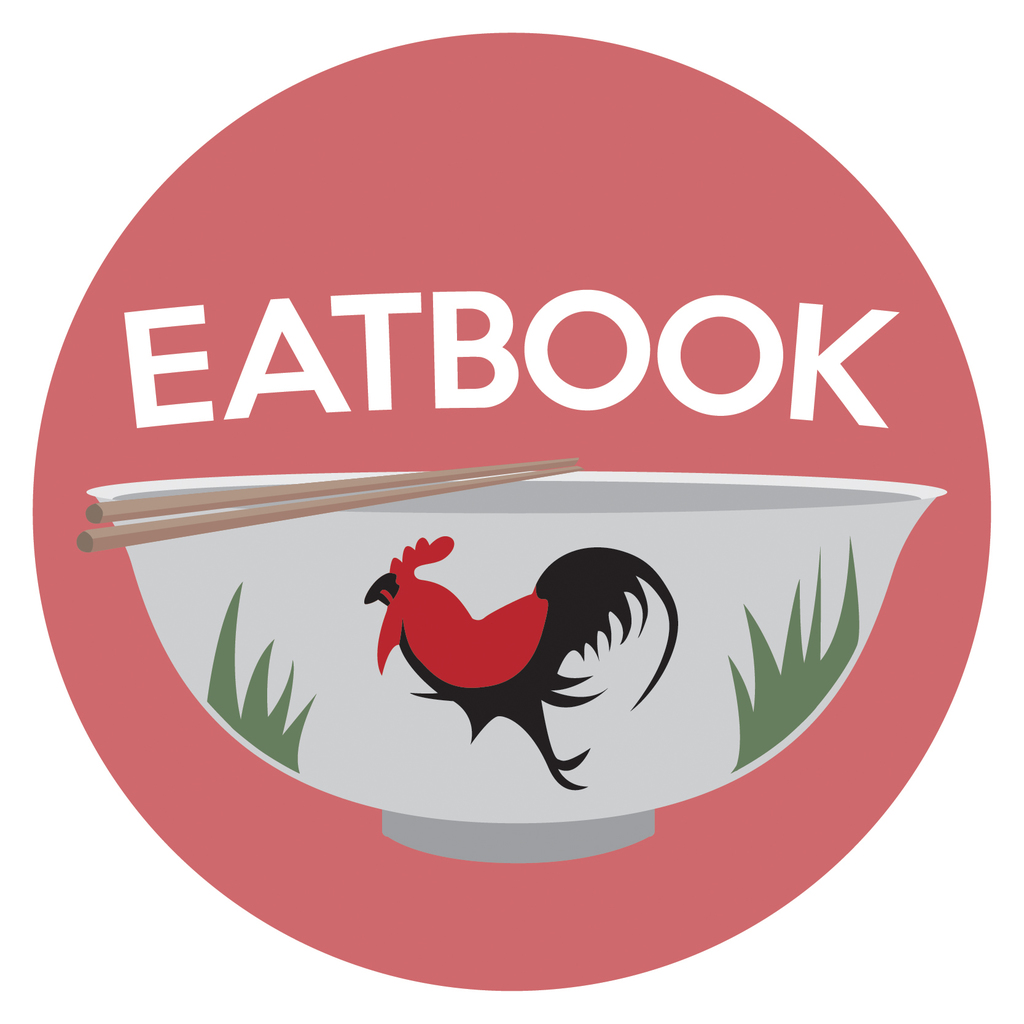 Drop us your email so you won't miss the latest news.